For SEO agency owners, using the best SEO agency software will make the road to client success a lot easier. But you must know which tools to use. Too many and your time is wasted learning each new software, too few and your time is wasted by extensive manual labor.
In this article, I've listed the top SEO agency software to efficiently manage all your tasks, research and data collection, improve collaboration among your employees, and increase your overall team productivity.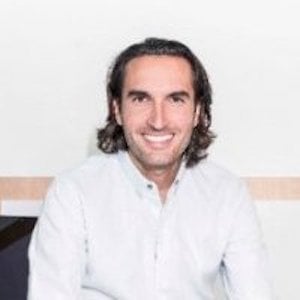 Yaniv Masjedi
CMO, Nextiva
Their expertise has helped Nextiva grow its brand and overall business
---
TABLE OF CONTENTS:
---
What Software Do SEO Agencies Need?
I've broken down the top SEO agency software into eleven categories, and each category includes about three software options with an overview/review of each. This will help you select the finest software for your specific SEO agency needs.
Keyword Research
1) Ahrefs Keyword Explorer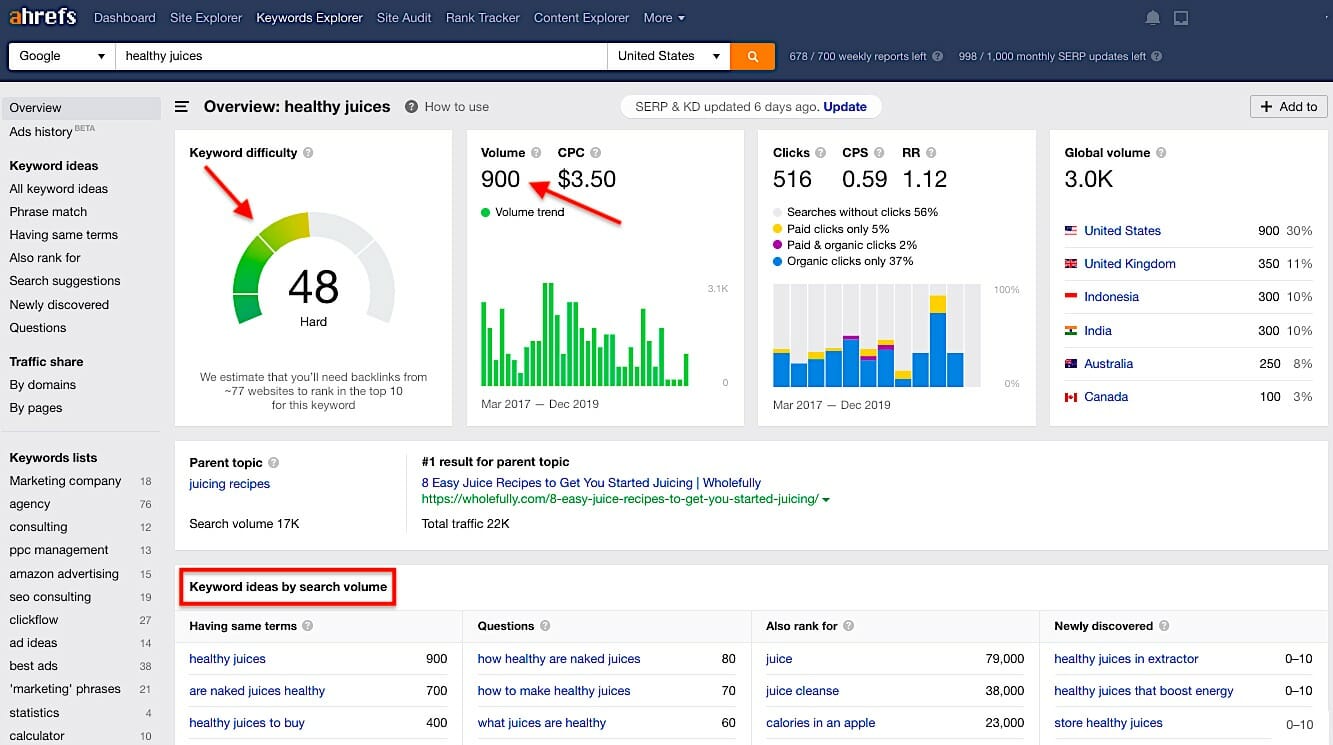 Ahrefs Keywords Explorer is a complete keyword research tool with the world's largest database of search queries. They "crawl the entire web 24/7 (much like search engines do) storing petabytes of information about live websites — how they link to each other and what keywords they rank for in search results."
In fact, check these stats out:
Ahrefs' crawler is the second-most active after Google (outperforming Bing, Yandex and Yahoo).
Every minute they crawl 5 million pages.
There are 170.1 trillion rows in their key-value database.
This tool lets you know the Keyword Difficulty score for every search query, which helps to determine how hard it will be to rank on the first page of Google for that particular keyword. The KD score ranges from 1 to 100, with 1 being the easiest and 100 the hardest.
Top Features:
For every search, Ahrefs generates thousands of keyword ideas (click on "All Keyword Ideas" in the left-hand column) in six different ways after taking into account phrase match, question keywords, and autocomplete keywords.
It has a database of 7.8 billion keywords.
It supports 228 countries and 10 different search engines.
The Keyword Difficulty (KD) score helps you select keywords that are easier to rank.
The Clicks metric lets you see the estimated number of clicks for any keyword.
You can see the "parent topic" for your chosen keyword, which helps you combine a set of closely related keywords.
You can use a variety of filters like clicks, cost per click, return rate, etc. to refine your keyword research.
The "SERP overview" feature helps you see the top-ranking pages for your selected keywords along with crucial SEO metrics like backlinks, traffic, and DR: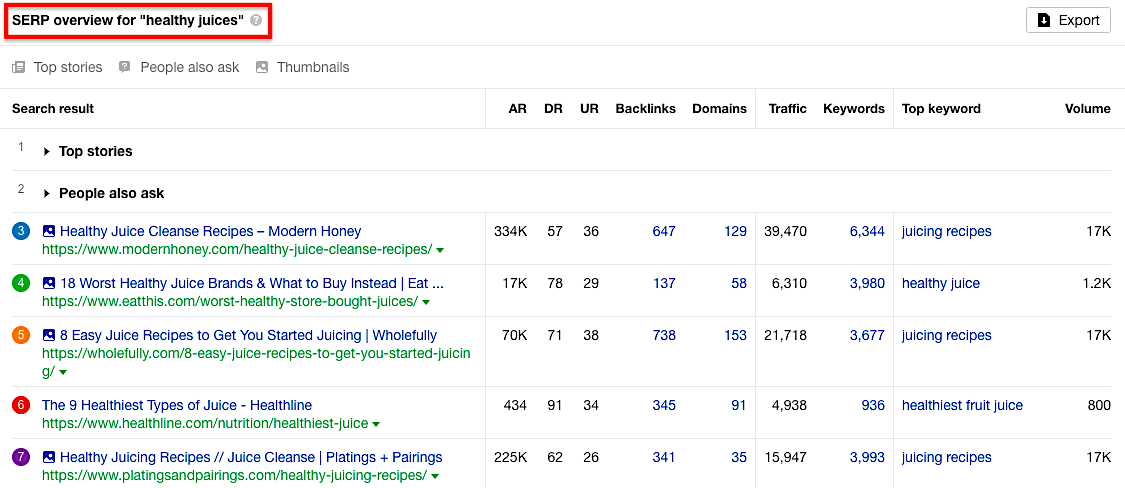 Pricing:
Ahrefs offers four pricing plans:
Lite: $99 per month that lets you save around 5 keyword lists.
Standard: $179 per month where you can save up to 20 keyword lists.
Advanced: $399 per month which offers unlimited SERP position history and you can save up to 100 keyword lists.
Agency: $999 per month with unlimited SERP position history and up to 250 keywords lists. This is the plan that is best suited for agencies.
2) Keyword Tool

KeywordTool.io is an online keyword research tool that uses Google's autocomplete feature and generates tons of relevant keyword ideas. Its version of Ahrefs' "Keyword Difficulty" is called "Competition":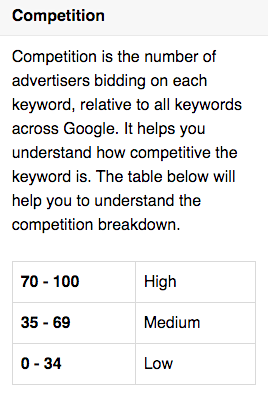 It is the best alternative to Google's Keyword Planner because:
The free version of Keyword Tool generates up to 750+ long-tail keyword suggestions for every search term
Unlike Keyword Planner or other tools, Keyword Tool is extremely reliable as it works 99.99% of the time
You can use Keyword Tool absolutely for free, even without creating an account
With the help of this tool, you can perform keyword research for Google, YouTube, Bing, Amazon, eBay and app stores.
Top Features:
KeywordTool.io lets you research keywords in 192 countries with 47,035 locations worldwide.
You get search volume data for a total of 46 languages.
You can bulk search for up to 70,000 keywords every single day.
It uses Google's autocomplete features and extracts all the keywords from Google Keyword Planner.
You can export the keyword search data in an Excel or CSV file for future use.
It categorizes your keyword search into basic keyword suggestions and questions: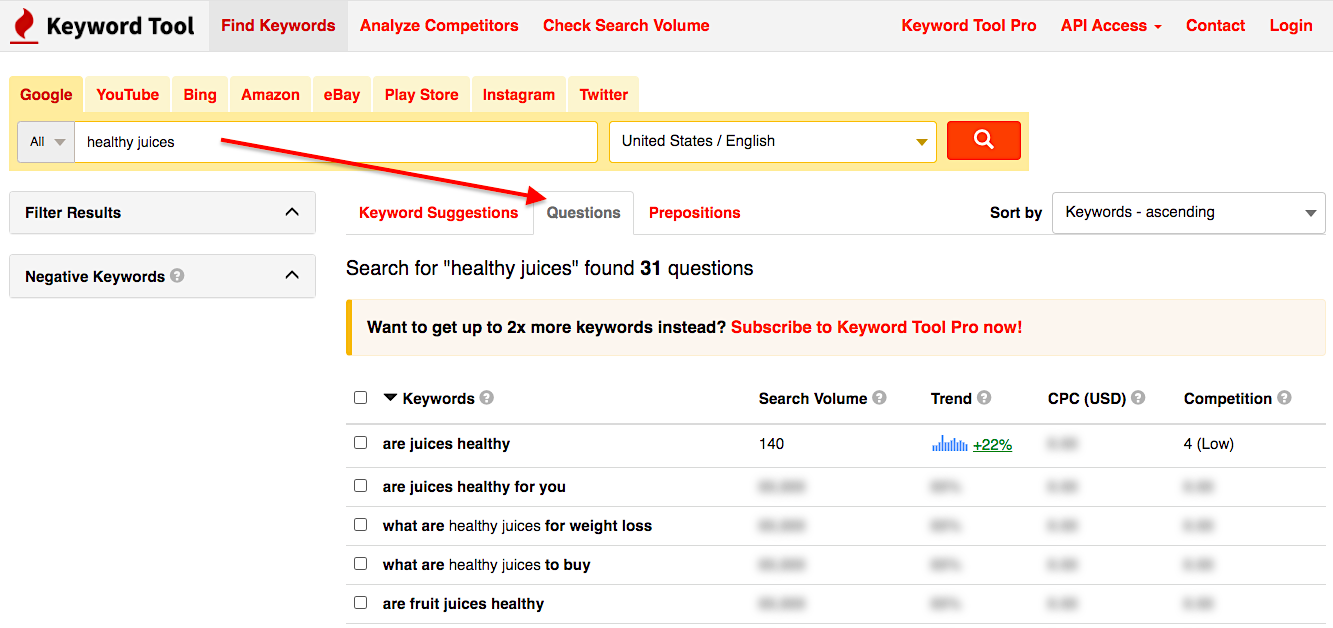 Pricing:
Pricing starts at $69 per month, which includes around 7,000 keyword searches per day. You can use the free version without creating an account, but you won't have access to the search volume or competition rating.
3) SEMrush Keyword Magic Tool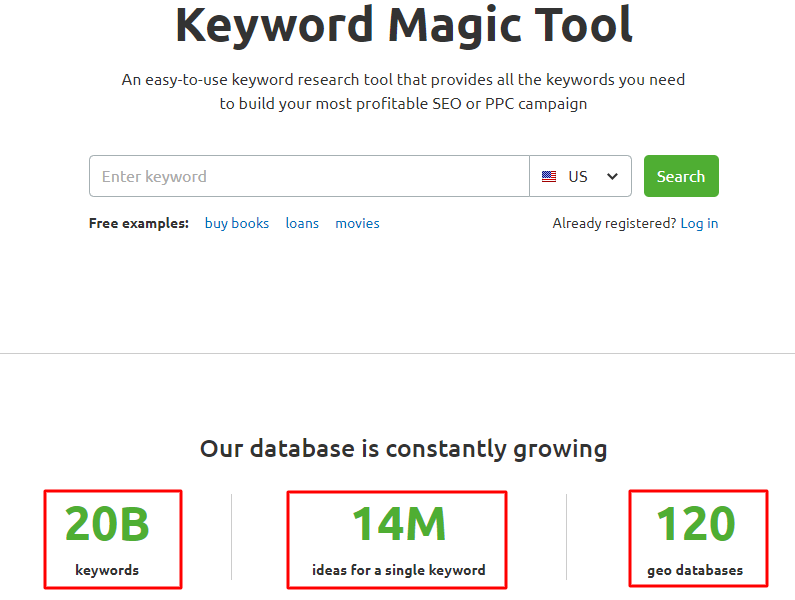 SEMrush's Keyword Magic Tool is a popular keyword research tool that allows you to find keywords related to your seed topic. Keyword Magic was named the Best Digital Tool at PubCon 2019 Interactive Marketing Awards.
You can search keywords in a variety of formats, like questions, broad match, phrase match, and exact match. One of its features is "Keyword Gap," a tool that helps you do a full keyword analysis with keywords of your competitors: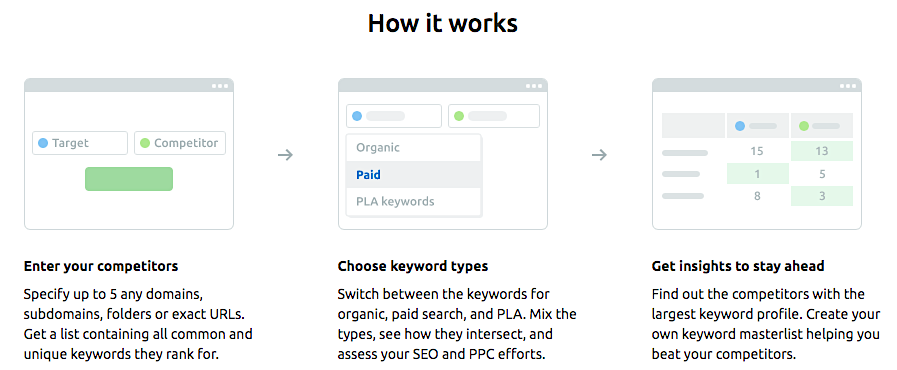 Top Features:
With the help of the keyword gap feature, you can find the competition's hidden keywords.
You can bulk search for up to 1,000 keywords to analyze the search volume data.
The Keyword Trend feature lets you identify the trending keywords for your selected category and the level of interest in a search query over 12 months. In other words, this metric enables you to see how often a keyword has been Googled over the last year.
For every search, SEMrush generates over 20 million keyword ideas with essential metrics like keyword difficulty, search volume, and CPC (cost per click).
You can also find thousands of question keyword ideas related to the primary keyword.
Pricing:
SEMrush offers three pricing plans:
Pro: $99.95 per month with 250 fresh metrics for every searched keyword.
Guru: $199.95 per month with 1,000 fresh metrics for every searched keyword.
Business: $399.95 per month with 5,000 fresh metrics for every searched keyword.
4) Ubersuggest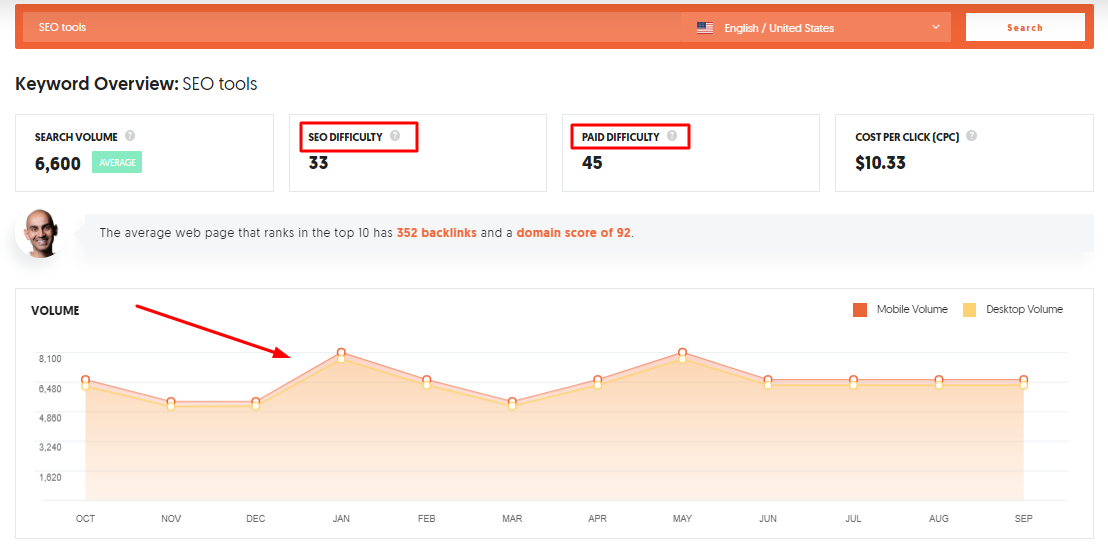 Ubersuggest is a tool provided by SEO expert Neil Patel. It is a user-friendly and cost-effective keyword tool offering most of the features that SEMrush and Ahrefs offer, but at a fraction of the price.
Top Features:
For every searched keyword, Ubersuggest displays the age group search data in a visual chart.
You can see the last 12 months' history of any keyword.
With keyword ideas, you can generate hundreds of suggestions for the seed keywords and export them in a CSV file.
It displays both the KD (Keyword Difficulty) and PD (Paid Difficulty) for every keyword you search.
You can see the top 100 ranking sites for a particular keyword with data like ranking page, total visitors, social shares, and domain score.
It provides backlink data so you can see the exact content in your space that people are linking to in order to improve your link profile.
With the top SEO pages report, you can discover which of your competitor's pages are ranking for popular organic keyword phrases and which ones are loved by sites like Facebook: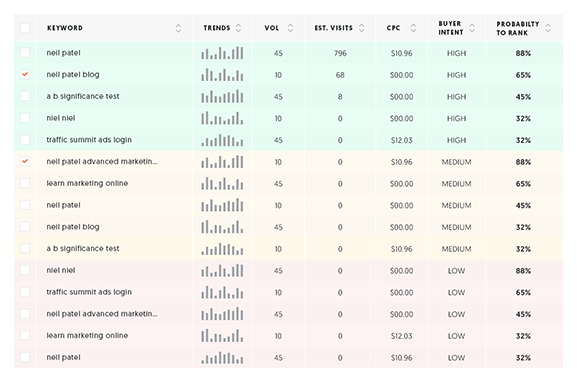 Pricing:
Ubersuggest offers three pricing plans:
Individual: $12 per month
Business: $20 per month
Agency: $40 per month
Dive Deeper:
* SEO Keyword Research Made Easy in 2023
* Why You Should Use Long-Tail Keywords in Your SEO Campaign
* 3 Things We've Learned From Ranking For Competitive Keywords With Viral Traffic

Rank/Keyword Tracking
1) SE Ranking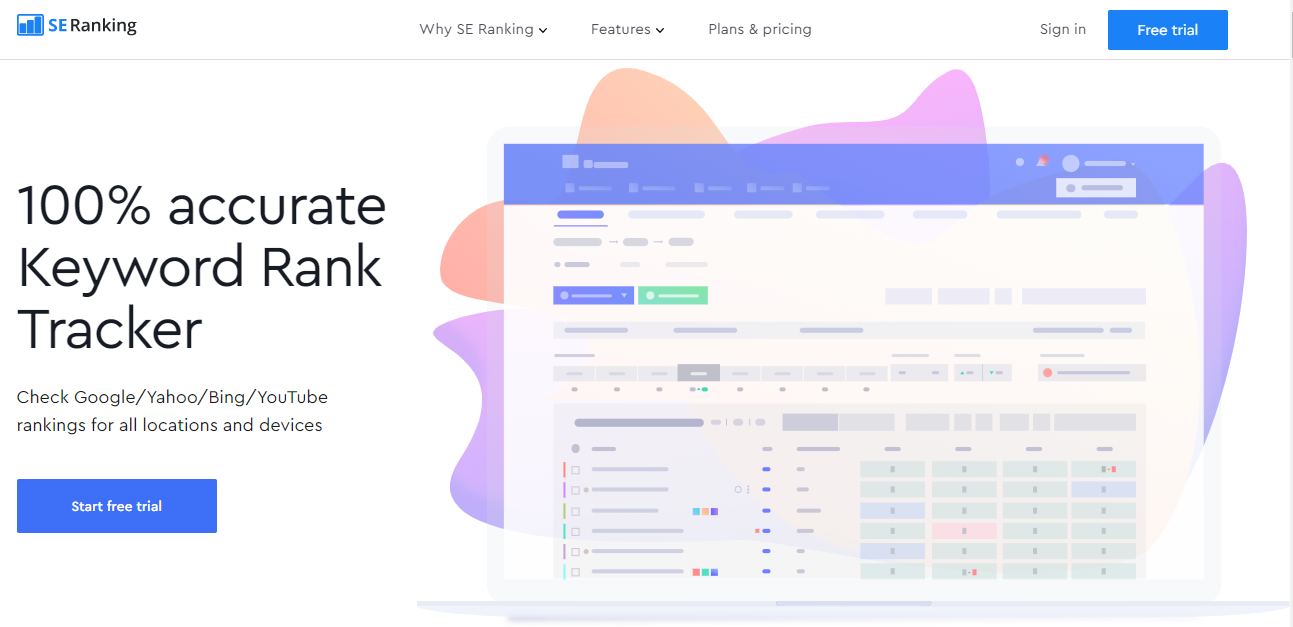 SE Ranking offers a robust rank tracking feature that is best suited for agency owners. Besides rank tracking, it provides a set of amazing SEO tools at a decent price.
This tool boasts 100% accurate data. Their "robots collect data by simulating a user's behavior with no prior browsing history for a precisely targeted location. Moreover, you can verify the data yourself by checking the cache copy that they store for you."
And not only can you track rankings, but you can track SERP features, paid rankings in Google Ads, search volume and a relative traffic forecast.
Top Features:
You can check keyword rankings on major search engines such as Google, Yahoo, Bing, YouTube and Yandex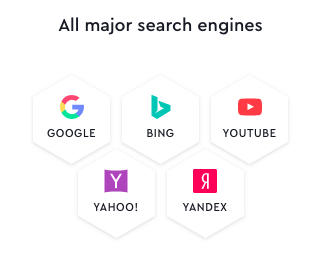 Rankings are tracked for both mobile and desktop.
You can also check rankings for the specific postal codes of any city.
For better ranking data, it allows you to add business competitors. You can add up to 5 competitors for every project.
You can also track your Google Maps ranking to monitor the success of different local SEO campaigns.
Pricing:
SE Ranking offers various pricing plans depending on the number of keywords you wish to track and the frequency you want them to check. Pricing starts at $31 for 250 keywords and goes up to $719 for 20,000 keywords per month.
2) Ahrefs Rank Tracker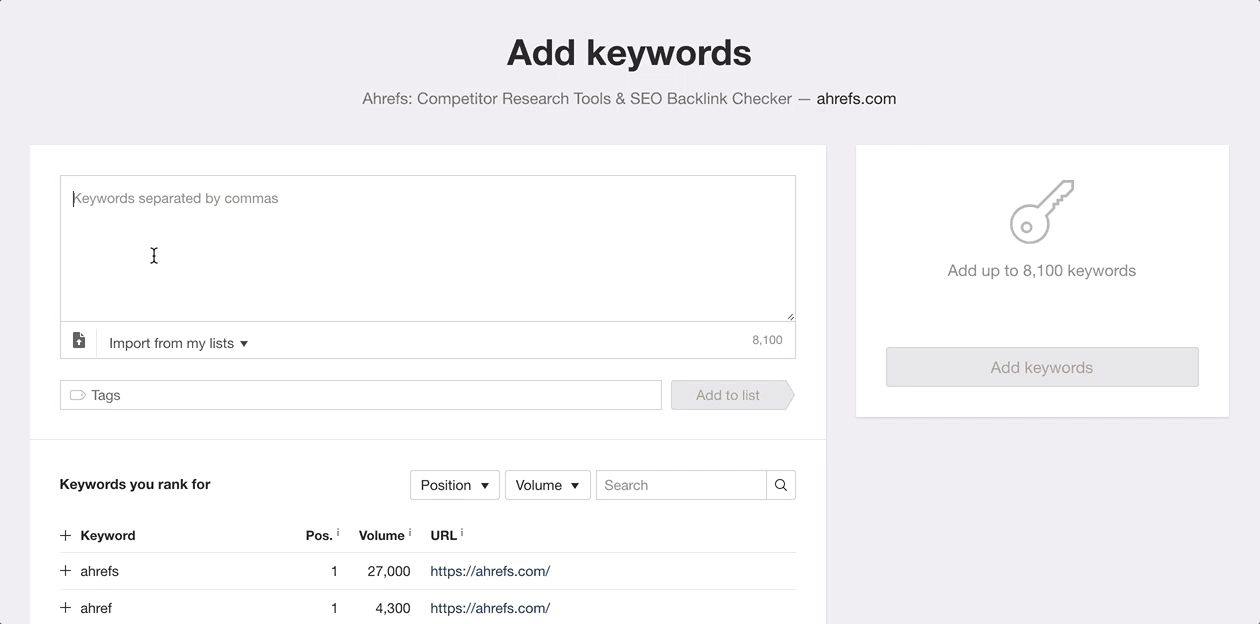 Ahrefs offers a robust rank tracker that comes with lots of advanced features. It is best suited for SEO agencies that are looking for more than just rank tracking, such as daily rank reports or featured snippet ranking report.
Top Features:
Ahrefs Rank Tracker lets you add up to 8,100 keywords for accurate rank tracking.
You get a visual representation of your ranking progress, like average position, visibility and SERP features.
You can also check the position distribution of ranking keywords by easily identifying the top three, between 4-10, 11-50, and 51-100 ranking positions.
It provides a total of 13 SERP features, including featured snippets, site links and top stories carousel rankings.
Ahrefs sends daily ranking reports directly to your inbox so that you don't have to visit the dashboard every time you wish to check your clients' project rankings: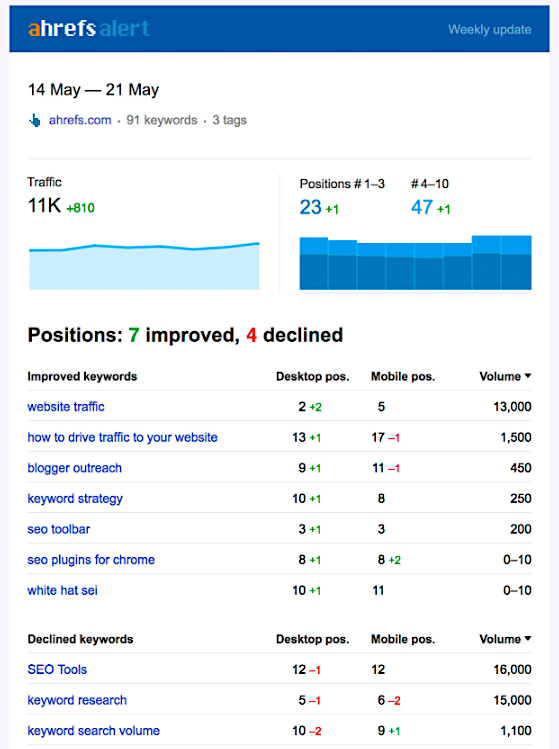 Pricing:
Ahrefs offer four pricing plans for rank tracker:
Lite: $99 per month with up to 500 keywords ranking
Standard: $179 per month with up to 1500 keywords ranking
Advanced: $399 per month with up to 5000 keywords ranking
Agency: $999 per month with up to 10000 keywords ranking
Dive Deeper:
* The Best Way to Track Your Keyword Rankings
* How Long Does It Really Take to Rank on Google?
* How to Rank on Page 1 of Google for Thousands of Keywords

Content Marketing
1) Contently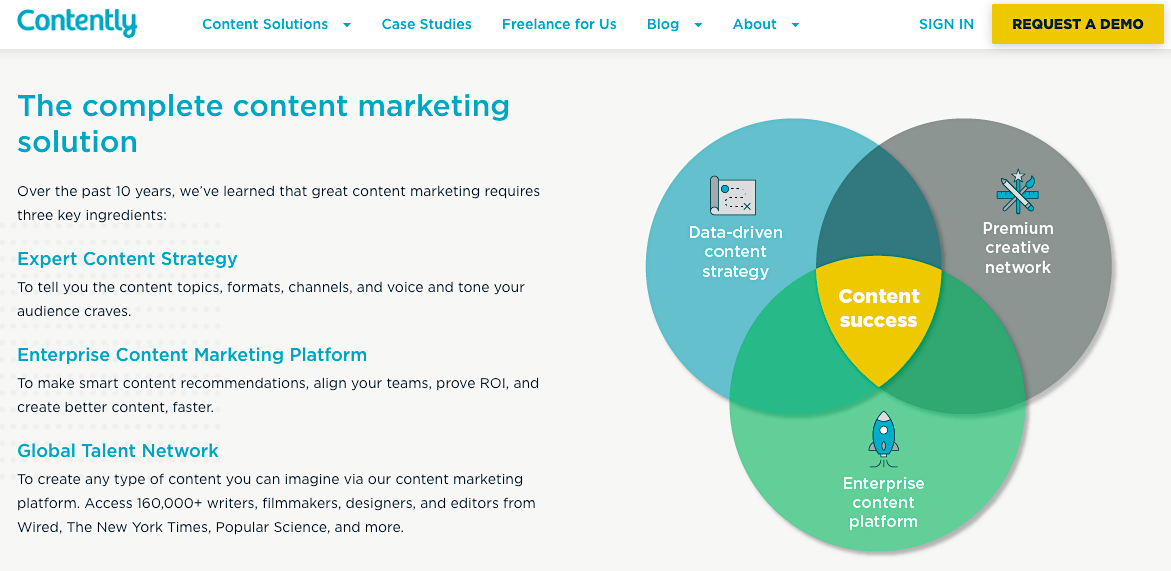 Contently is one of the top content marketing platforms specifically created for SEO agencies. It lets you prepare a documented content strategy based on actual goals and audience personas. Contently integrates with thousands of marketing apps, such as Google Suite, Mailchimp, Office 365, and others.
This SEO agency software was named the #1 rated solution in G2 CROwd's Fall 2020 Enterprise Content Creation Grid and the numbers are wild:

Top Features:
Contently offers a color-coded calendar where you can manage all your content production activities.
You can quickly create different content campaigns and measure the content marketing ROI of your client projects.
The powerful AI-powered content intelligence tool offers suggestions on the topics and content formats that gives the best results.
You can easily adjust the content tone for each target persona.
Your content team can send and receive automated messages on the progress of the different content assignments. This helps to improve team collaboration.
It provides thousands of app integrations, including popular CMS like WordPress and social media platforms like Facebook and Twitter.
Pricing:
Contently is priced at $1,000 per month, and you will be assigned a content manager who will coordinate with your team to achieve all your content marketing goals.
2) ClearVoice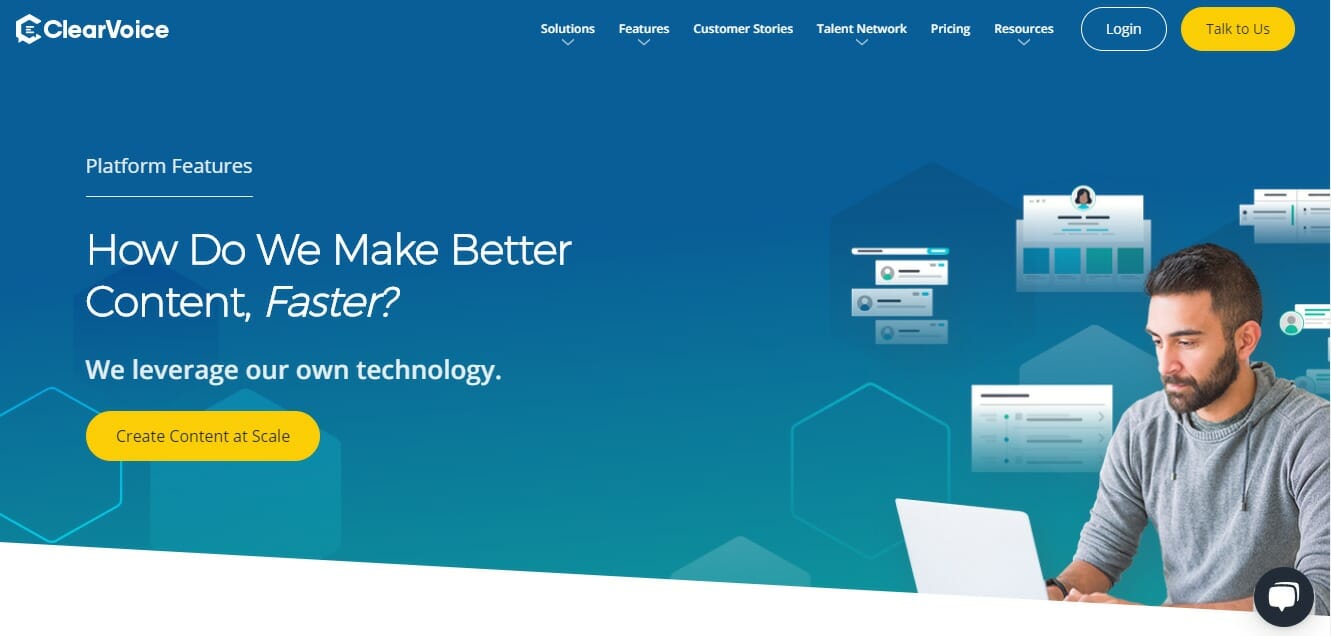 ClearVoice is a platform that makes it easy to outsource your content creation to a wide variety of 25,000+ vetted freelancers — editors, writers, designers, strategists, SEOs, etc. — which is managed by a team that is dedicated to your brand.
This tool lets you manage all your content marketing activities with ease and is a must-have online content marketing platform. ClearVoice offers you a dashboard where you can manage all your content curation activities.
Top Features:
ClearVoice provides a collaborative workflow which allows multiple users to edit, create, view and comment on assignments.
You can search for freelancers in over 200 different categories.
It lets you message freelancers, view their writing samples and send assignments directly from the freelancer's CV portfolio.
You can check all recent activities, latest campaigns, messages and other things directly from the dashboard.
It lets you directly publish content to WordPress with just one click.
Pricing:
ClearVoice is perfectly priced at $99 a month.
3) Kapost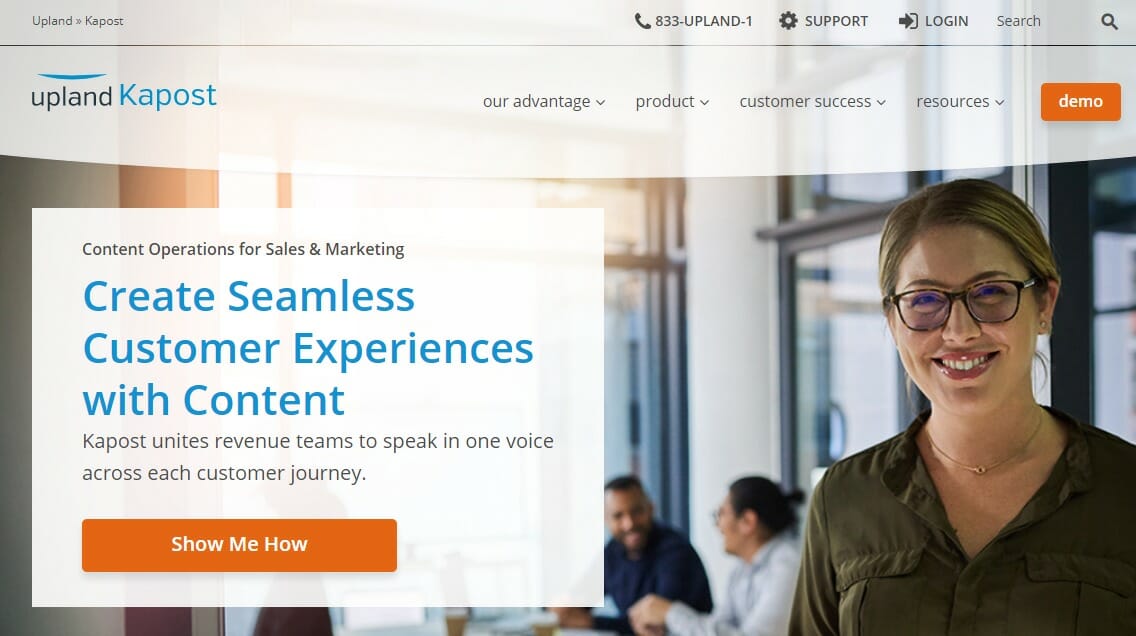 Kapost is a cloud-based content marketing platform for managing all your content needs. This site is built for agencies to help them create better content at a minimal cost. Kapost works with an automated workflow, which makes it easier to automate tasks such as content production, approval and publication.
Top Features:
Kapost offers a customized editorial calendar where you can delegate content tasks to your team members.
You can make a copy of your written content and translate it to other languages like French, Spanish, etc.
It supports 100+ CRM integration like Salesforce.
With Kapost's collaborative editing feature, multiple people from the team can access and edit the same document.
It's easy to plan, produce, distribute and analyze all in one place, and allows teams to speak in one voice across each customer journey:
Pricing:
Kapost content marketing platform costs you $3,500 per month.
Dive Deeper:
* How to Create a High-Performance Content Marketing Strategy
* 30 Ways to Come Up with Great Ideas for Your Blog Posts
* Content Strategy on a Budget: How to Grow Your Online Presence on a Shoestring

Link Building
1) Ahrefs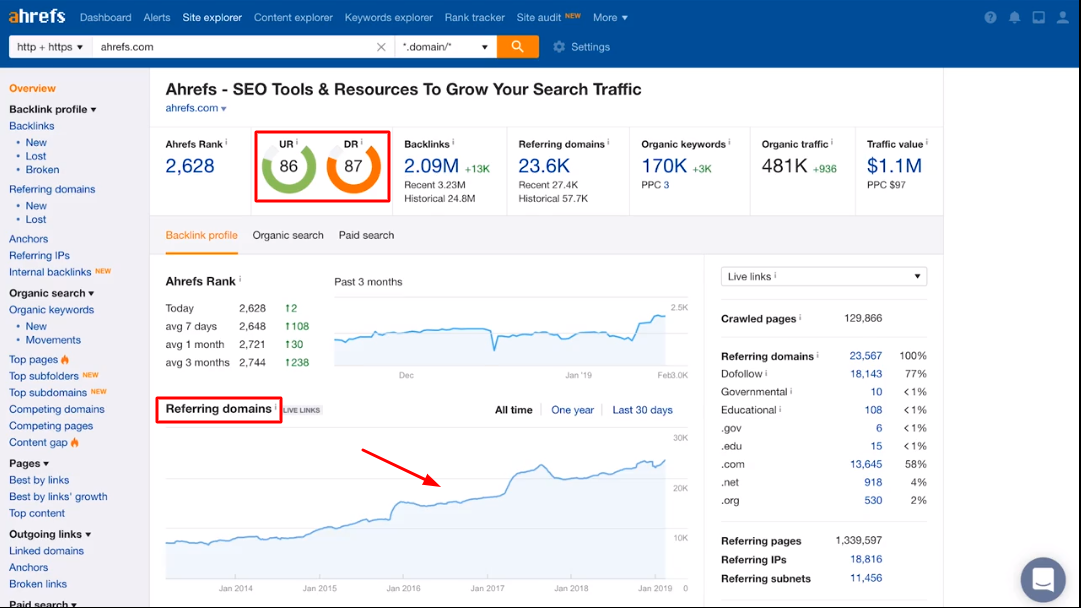 Site Explorer by Ahrefs lets you find new link opportunities for your link-building team. With this tool, you can also analyze the backlink profile of any domain with just one click.
Top Features:
Ahrefs offers metrics like DR (Domain Rating) and UR (URL Rating) that help you identify the website or webpage authority of any URL.
It shows not only the anchor text of the link but also the text surrounding the anchor.
You can check the first seen and last seen timestamp of generated links.
It shows the top pages of websites with the highest number of links.
Ahrefs offers a tool called "Alerts" that sends an email alert whenever someone links to your competitor's website or mentions their brand.
Pricing:
Ahrefs offer various pricing plans starting from $99 with up to 10 rows per report in link intersect, and it goes up to $999 with up to 10,000 rows.
2) Moz

Moz is a well-known SEO software in the marketing industry. The Moz Link Explorer tool is very effective in managing all your clients' link acquisition and link analysis tasks.
With 40.7 trillion links, Moz definitely has a massive link database that you can rely on for your project success.
Top Features:
Moz displays the DA (Domain Authority) and PA (Page Authority) metrics which are crucial to analyze the reputation and authority of any URL: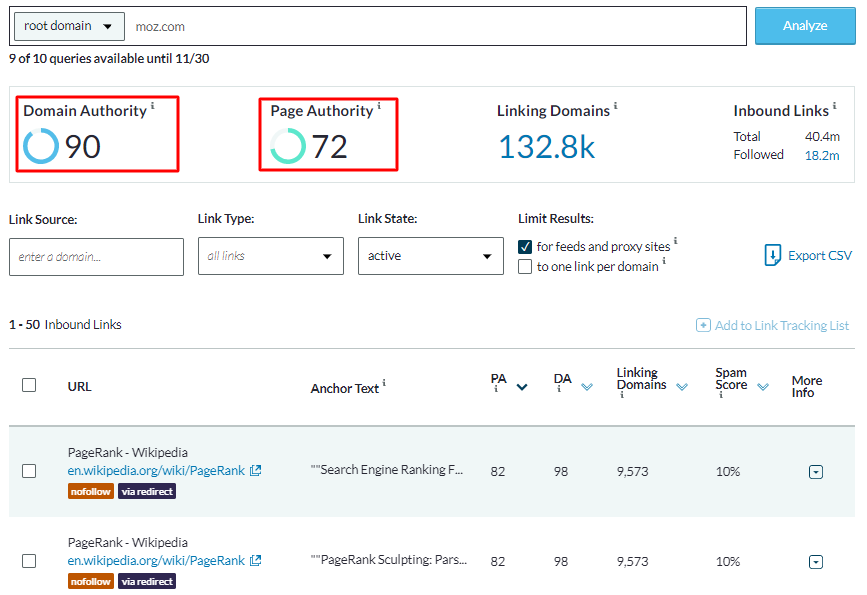 With Moz Link Explorer, you can see the spam score of the client websites. Higher spam scores indicate low-quality domains in most cases.
It makes it easy to find broken links to your site.
Moz's Link Intersect feature allows you to discover link-building opportunities by finding out who's linking to your competitors (but not to you).
You can track and monitor competitors' backlinks by comparing your client website domain with the competition's domain link profile.
Moz has a database of 40.7 trillion links, 718 million domains, and 7 trillion pages.
You can check new and lost domains to ensure your link acquisition activities are on the right track.
Pricing:
Moz offers four various pricing plans:
Standard: $99 per month
Medium: $149 per month
Large: $249 per month
Premium: $599 per month
3) Link Assistant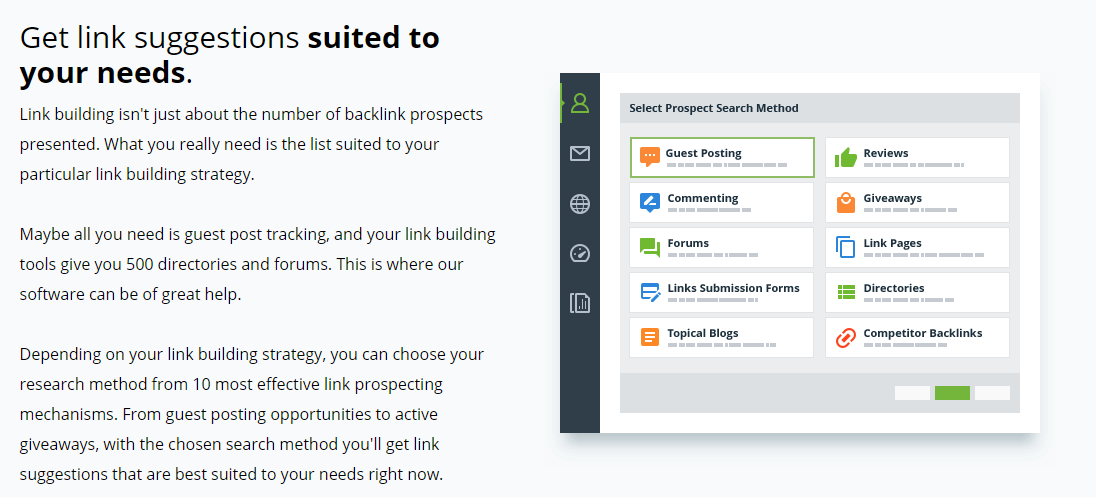 Link Assistant is an SEO software available for both Windows and macOS. With over 7.1 billion daily crawled pages, it helps you find thousands of relevant backlink opportunities.
Top Features:
Link Assistant lets you manage different link-building tasks such as guest posting, commenting, reviews, directories, giveaways and link pages.
You get hundreds of link-building suggestions by selecting the given categories. For example, if you need directory links, then you can choose the "directories" category.
You can find relevant link opportunities from 556 different search engines or locations.
It allows you to send an outreach email directly from the dashboard without even going to your Gmail account.
You can also verify any link with just one click. The link verification tracker helps you to monitor every link you acquire for each of your campaigns: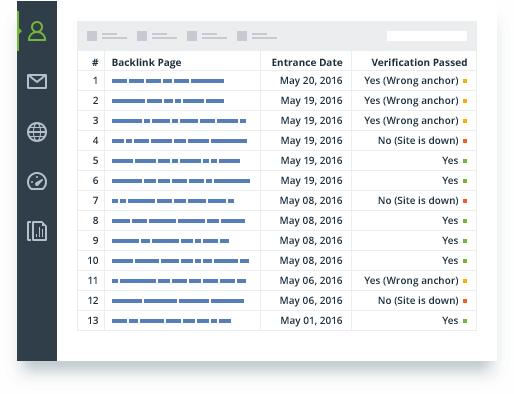 Pricing:
Link Assistant pricing starts at $149 a month and goes up to $699 a month.
Dive Deeper:
* The Easy Guide to Broken Link Building for SEO
* The Ultimate Guide to Link Building with Content for SEO
* The Marketer's Guide to Link Building

Competitive Analysis
1) SEMrush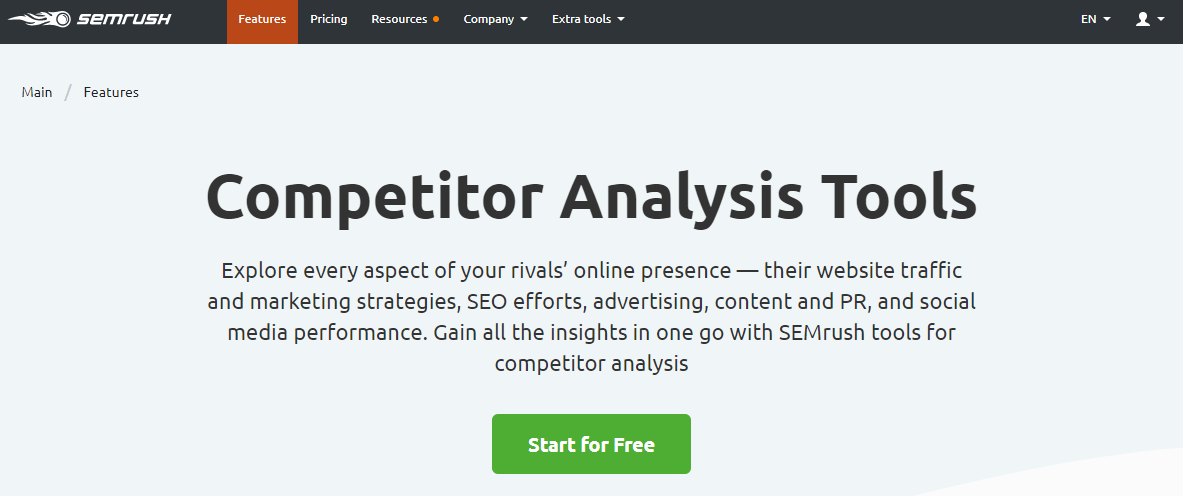 SEMrush is the most popular tool for analyzing the competition. With SEMrush, you can check the top pages of any website, backlinks, competitors, and other crucial metrics. It's a must-have tool for SEO agencies for doing competitor analysis.
Top Features:
With SEMrush, you can check the organic overview of a competitor's website with metrics like traffic, traffic cost, the major organic keywords, and the top backlinks.
You can easily differentiate between branded and non-branded traffic for any domain that lets you fine-tune your SEO strategy.
You can compare five competitors side by side to find the unique keywords they rank for.
With the help of the link analysis tool, you can find the top referring domains for any site and also find new and lost link opportunities.
You can compare five domains side by side to find their unique links.
The tool lets you prepare beautiful and customized competitor analysis reports which are must for SEO agencies.
Pricing:
SEMrush pricing starts from $99.95 per month in which you can compare up to 5 domains.
2) Ahrefs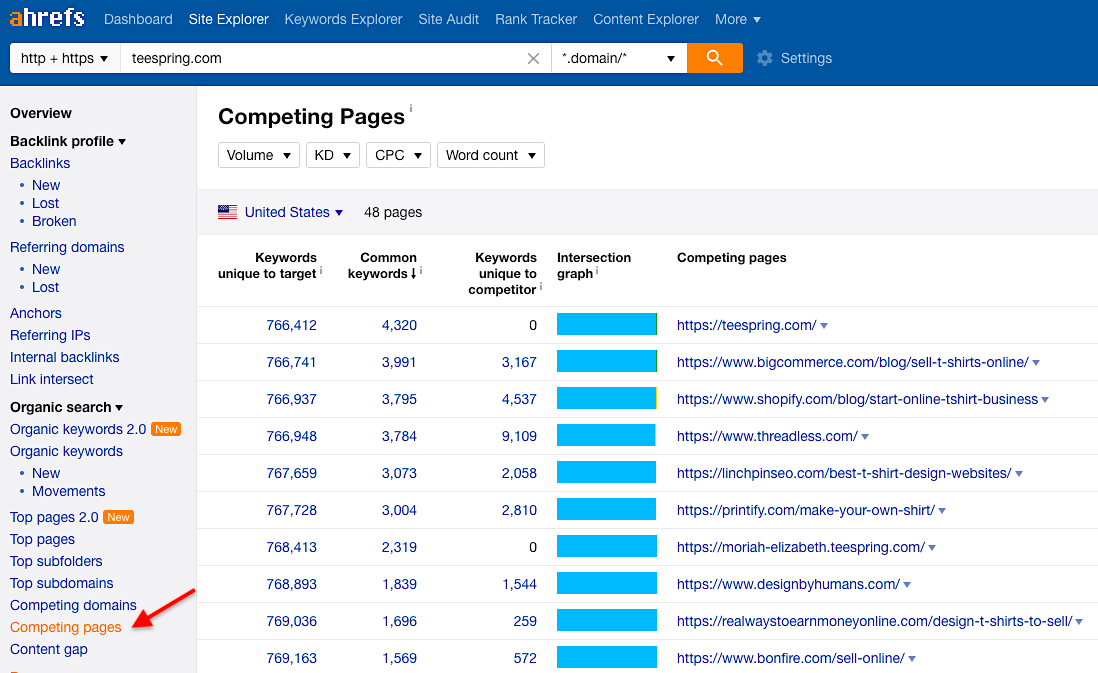 Ahrefs is another popular SEO agency software that lets you perform competitor analysis with ease. You can conduct a batch analysis to compare the strengths and weaknesses of all your competitors at once.
Top Features:
Ahrefs makes it easy to check the top pages of competitors' domains that are generating maximum traffic and revenue.
It provides a referring domain calendar where you can see the links acquired by any domain over time: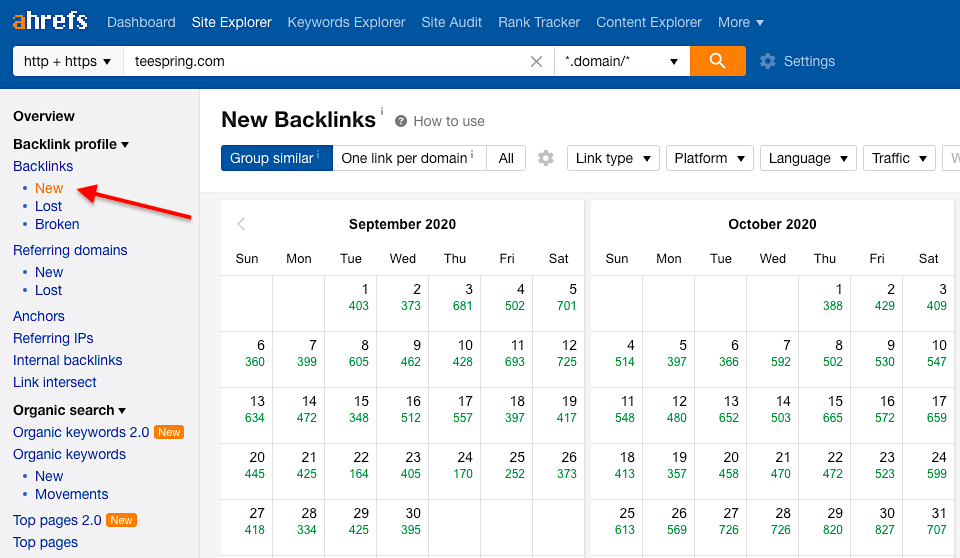 Batch analysis lets you analyze up to five competing domains. You can quickly compare Domain Rating (DR), Ahrefs Rank (AR), top referring domains, number of organic keyword rankings, and estimated organic search traffic.
You can also analyze the SERP history of the competitor's website, which enables you to identify the weak points of your competitors.
It comes with lots of advanced filters to help you get in-depth targeted data.
Pricing:
Ahrefs prices start from $99 per month for up to 100 searches. If you need to search more than 100 competitors in a month, then you can choose higher-tier plans starting from $179.
3) SE Ranking

Apart from rank tracking, SE Ranking also offers a powerful and useful SEO competitor analysis tool. With the help of this tool, you can generate in-depth competitor analysis reports for your clients.
Top Features:
SE Ranking sends an alert for every change made on the competitor's website, such as content changes, meta changes, URL changes, etc.
You can get a list of historical data for every organic keyword of the competitors.
SE Ranking offers page change monitoring which helps you track every change made on specific URLs.
You can also filter the results according to the device, search engine, and date.
Pricing:
SE Ranking offers three plans:
Optimum Plan: $31 per month with the ability to generate 100 reports each day
Plus Plan: $71 per month with the ability to generate 5,000 reports each day
Enterprise Plan: $151 per month with the ability to generate 10,000 reports each day
Dive Deeper:
* 9 Tools for Easy Competitive Website Analysis
* Why Competitive Analysis Is the Key to Early Success
* How to Perform Marketing Competitor Analysis (+ 6 Best Tools Comparison)

Local SEO
1) BrightLocal

BrightLocal is a local SEO software to help you manage your clients' business listings and online reputation in one place. It is trusted by thousands of marketers and SEO companies, which makes it one of the best local marketing platforms on the web. BrightLocal is an all-in-one local marketing platform to audit, analyze and take action faster to get ahead in local search.
Top Features:
BrightLocal provides a complete toolkit to help you improve the local SEO performance of any domain.
With the help of the "Local Search Rank Checker" you can track the local rankings in a visual chart format.
You can discover hidden optimization opportunities with data such as social sharing, links, reviews and ratings for any business.
It provides branded local search audit reports to share with your clients: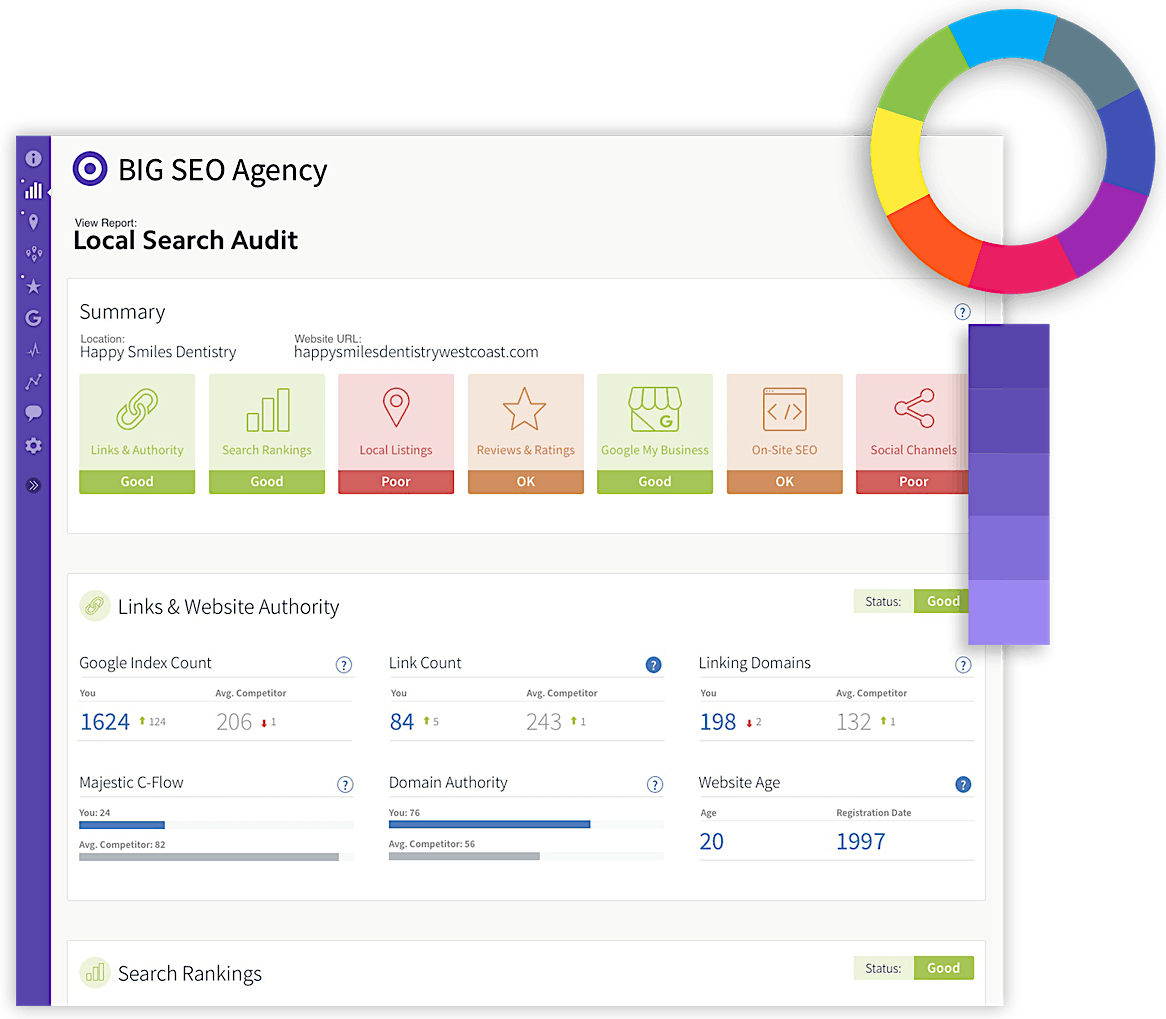 You can track business local citations on the web and optimize them to keep NAP (Name, Address, and Place) the same.
With the help of Citation Checker, you can find new citation sites where you can list your client business.
Pricing:
BrightLocal offers three pricing plans:
Single Business: $29 per month
Multi Business: $49 per month
SEO Pro: $79 per month
BrightLocal also offers a special plan where you can monitor, generate and showcase clients' local reviews. This plan costs you $8 per month.
2) Whitespark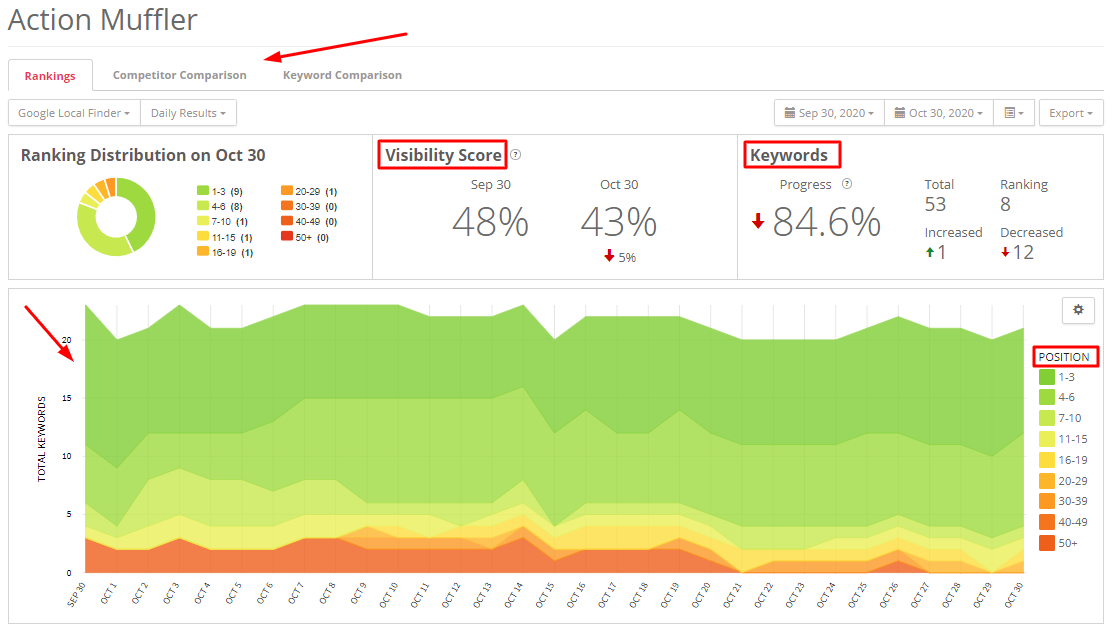 Whitespark is a local SEO software that offers eight different tools to help you manage and optimize your local SEO campaigns. This tool makes it easy to improve rankings, drive business, and fast-track your success in local search.
Top Features:
With Whitespark, you can easily manage the online reputation of a business, such as creating automated reviews, capturing negative feedback, and collecting testimonials.
It provides checklists with over 122 SEO factors which can be used to better optimize clients' local listing to boost local rankings.
Whitespark's "GMB Explorer" lets you extract data from over 8 lakhs business listings in a total of 72 different categories across 200 cities worldwide.
You can create an awesome printable handout to persuade customers to leave a Google review by using the free "Review Handout Generator":
Pricing:
Whitespark doesn't offer any single pricing plan. Instead, it offers different pricing options according to the set of local SEO tools that you want to use. Some of them are:
Local Citation Finder: Free for only 3 searches per day. You can buy premium plans starting from $17 per month.
Local Rank Tracker: Price starts at $20 per month for up to 100 locations.
Reputation Builder: Price starts at $55 per month per location.
Review Checker: Free to use.
Google Review Link Generator: Free to use.
Review Handout Generator: Free to use.
3) Moz Local

Moz Local is another powerful tool from Moz' products library to help SEO companies manage their clients' local SEO. Moz helps you get the most out of your online presence from review management to social posting.
Top Features:
You can monitor the complete local listings of your clients.
With Moz's free "Local Listing Score," you can run an analysis of your local listing and it returns a detailed report with issues and recommendations.
You can automatically delete duplicate listings with just one click using the "Automated Duplicate Deletion" tool.
You can also integrate Google and Facebook to get a deeper understanding of local businesses.
You get an excellent 24/7 online support from the knowledgeable Moz team.
Monitor results so you always know when you need to take action. With a single click from the dashboard, you can improve response times, make quick edits and keep track of your location data's completeness score as it grows over time.
Pricing:
Moz Local offers three plans:
Lite: $129 per year
Preferred: $179 per year
Elite: $299 per year
Dive Deeper:
* The Complete Guide to Local SEO
* 9 Factors that Can Immensely Boost Your Local SEO
* How to Do a Comprehensive Local SEO Audit

Technical SEO
1) SEMrush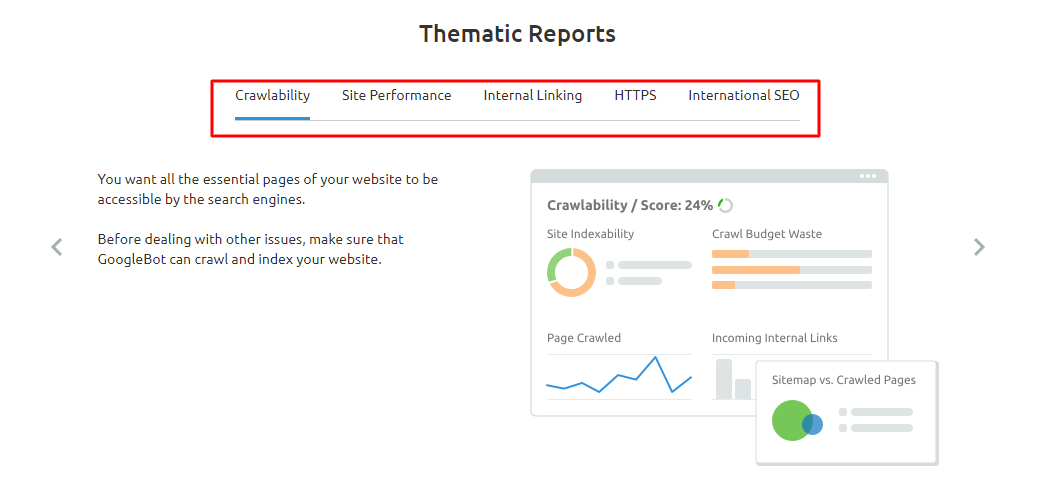 SEMrush offers a set of powerful technical SEO tools that lets you analyze your clients' websites for various issues. The popular tools include site audit, log file analyzer, and on-page SEO checker. With these tools, you can find all the hidden errors of any website, along with recommendations to fix them.
Top Features:
You can use site audits to find different site issues and fix them for better organic rankings.
SEMrush offers various in-depth reports for crawling, site performance, internal linking, HTTPS, and international SEO.
Its log file analyzer helps you understand how search engines interact with your website. By using this feature, you can optimize your web pages to rank better.
You can identify and optimize technical SEO issues on both desktop and mobile.
The site health score offers a quick overview of the overall health of your client website.
Track progress and compare crawls to ensure that your website's health is improving:
Pricing:
SEMrush pricing starts at $99.95 in which you can add up to 3 projects.
2) Ahrefs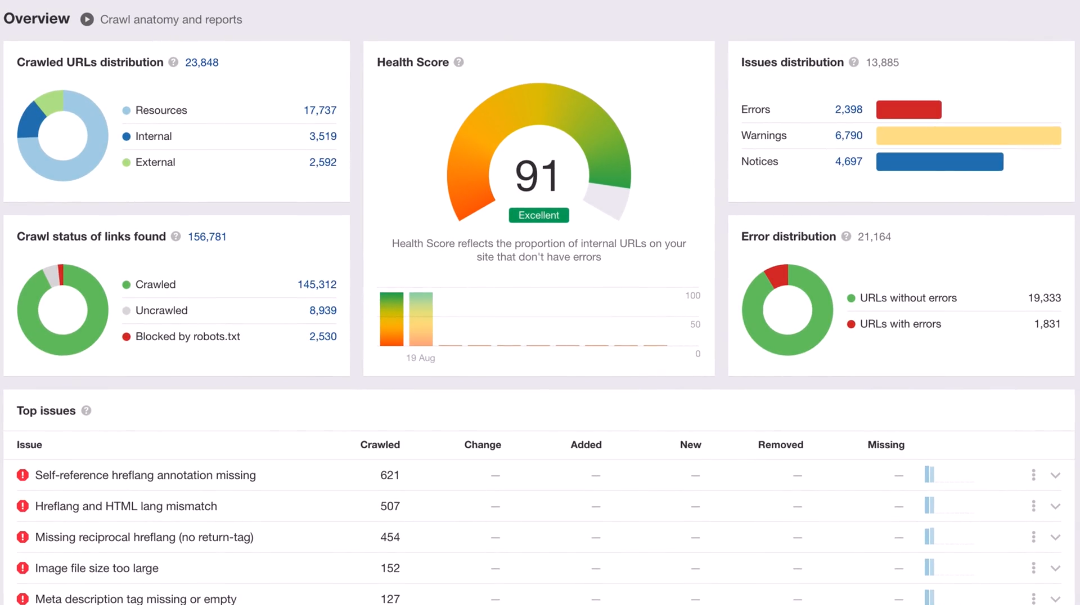 Ahrefs recently launched its Webmaster Tools, which you can use to optimize your clients' websites for different technical SEO ranking factors. It is a free tool that all SEO agency owners should use to improve the SEO performance of their projects.
Top Features:
You can use Ahrefs to identify duplicate content on any website.
It lets you quickly check no-follow internal links that can improve the flow of Page Rank for higher organic rankings.
Ahrefs provides suggestions on various technical SEO issues like 404 errors, indexing issues, HTTPS issues, and other critical errors:
The tool also offers detailed advice on how to fix over 100 SEO issues that might affect the organic presence of the website.
By using Ahrefs, you can also receive various automated custom email alerts directly to your email inbox.
Pricing:
Ahrefs offers up to 10,000 pages to crawl at a price of $99 per month. However, you can also select other pricing options where you can crawl:
500K pages for $179 per month
1.25M pages for $399 per month
2.5M pages for $999 per month
3) WooRank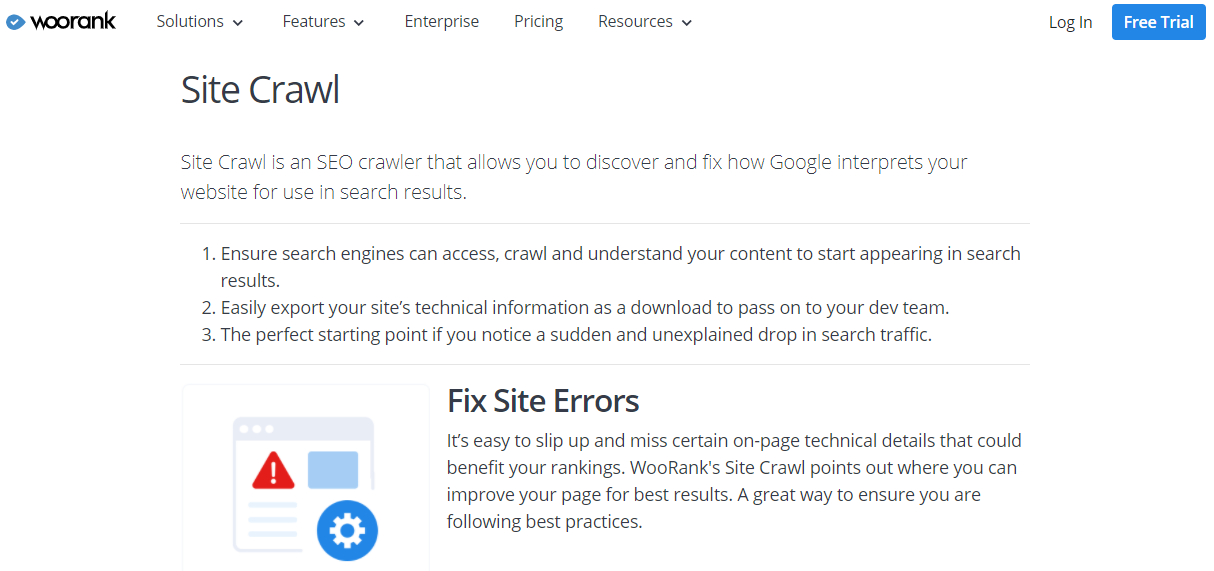 WooRank is one of the best technical SEO tools for agencies to check their projects for various SEO errors. With over a million active users, WooRank is a must-have tool for website monitoring and technical SEO analysis.
Top Features:
You can monitor the site health for issues such as security, redirections, duplicate content, and meta tag optimization.
Using WooRank, you can sync your Google Analytics and Search Console account to monitor in-depth technical errors.
You can analyze your client websites for different mobile optimization metrics such as mobile compatibility, font size, and site speed.
WooRank provides you with custom SEO reports to share with your clients.
Streamline your marketing efforts and increase your website's online visibility by tracking and analyzing your website's data for SEO, social media, usability and more critical factors in one place:
Pricing:
WooRank offers two pricing plans:
Pro: $59.99 per month
Premium: $179.99 per month
Dive Deeper:
* How to Fix 15 Common On-Site Technical SEO Issues
* 10 Effective SEO Techniques to Drive Organic Traffic in 2023

Social Media
1) SproutSocial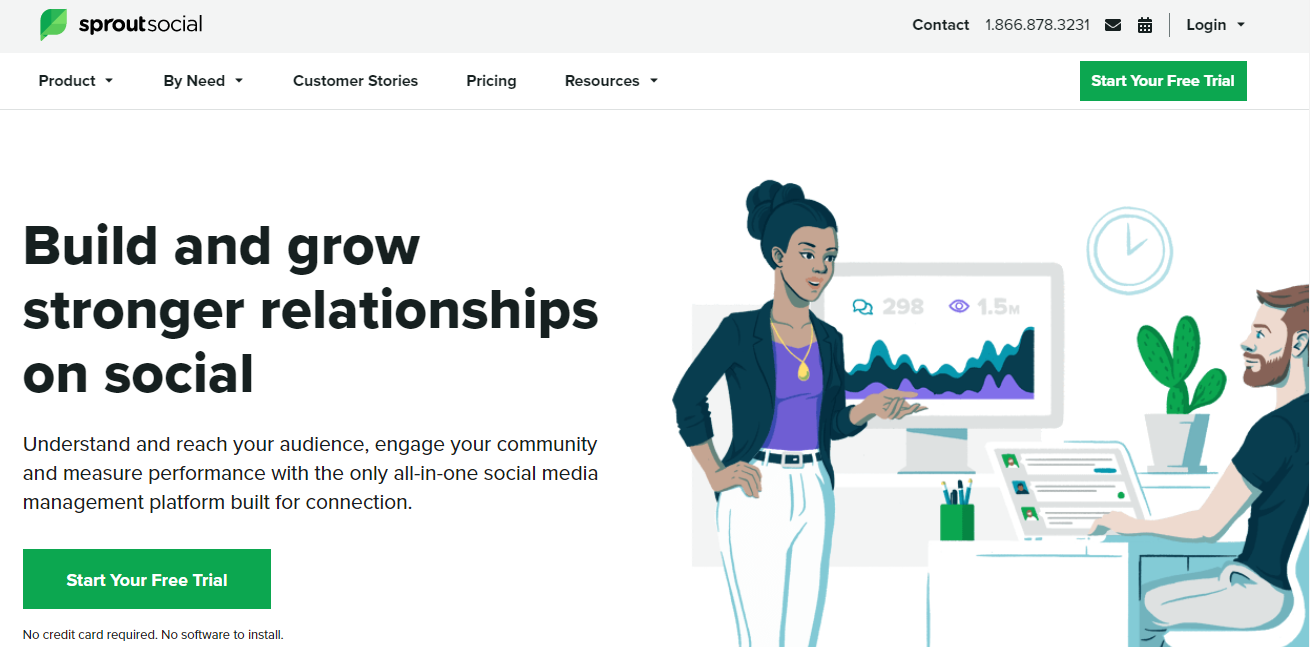 SproutSocial is an extremely powerful online platform that lets you manage all your clients' social media marketing activities. You can easily target audiences with the help of different tools related to publishing, scheduling, listening, and analytics. SproutSocial is trusted by over 20,000 small, medium and large organizations.
Top Features:
It provides a smart inbox tool, which collects all messages via different social accounts in one place.
SproutSocial comes with powerful automation tools like bot builder and Twitter automation that lets you automate customer interaction.
You can publish, schedule and edit your posts quickly with the help of a publishing tool.
SproutSocial offers a visual calendar where you can schedule all your social content accordingly:
You can integrate SproutSocial with third-party apps like Zendesk and UserVoice for better management.
You can check the analytics of your client's posts, including engagement, messages, Twitter trends reports, and other activity reports for efficient social media management.
Pricing:
SproutSocial offers three pricing plans and a free 30-day trial:
Standard: $99 per month
Professional: $149 per month
Advanced: $249 per month
2) Awario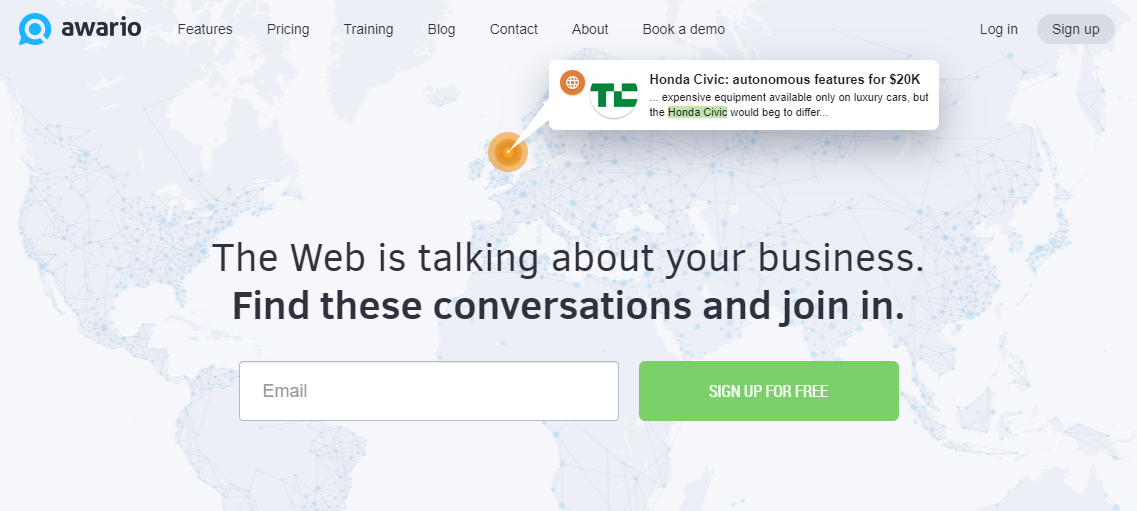 Awario is a brand monitoring and social analytics tool that helps you monitor all your brand mentions/interactions on the web. You can also use Awario for finding social selling opportunities.
Top Features:
Awario offers 24/7 monitoring of any brand or products on all social platforms, including Facebook, Twitter, YouTube, etc.
You can find maximize brand reach and engagement with Awario's social sharing tool.
Awario offers in-depth analytics where you can track all the active presence of any brand on the web.
It lets you set up email alerts for every brand mention of competitors or the client business. By doing this, you will not miss any important update or conversation: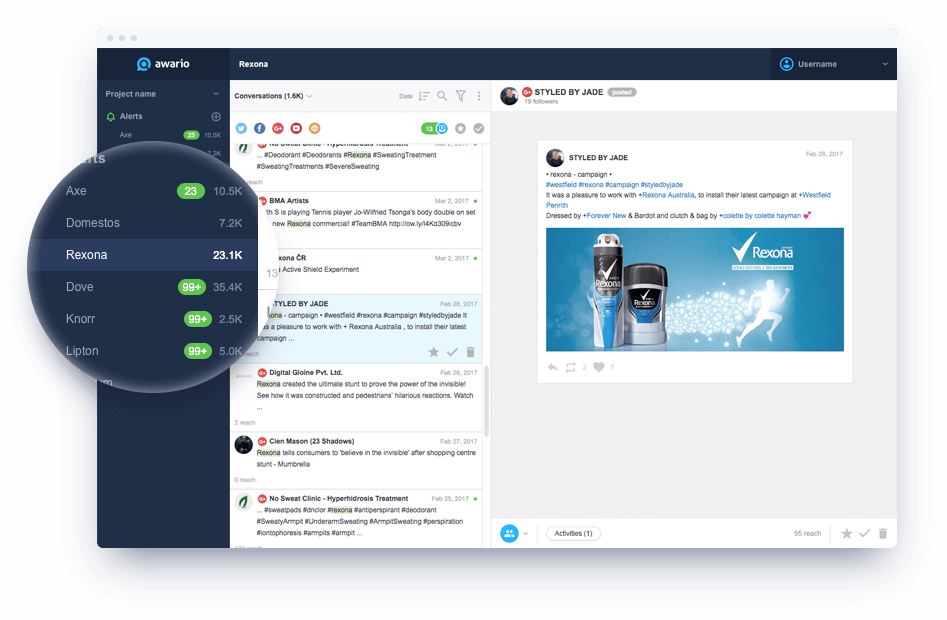 You can do a manual search on Awario with Boolean logic operations to help you find relevant brand mentions. It also provides a comprehensive guide to help users with the Boolean search.
Pricing:
Awario offers three pricing plans:
Starter: $29 per month
Pro: $89 per month
Enterprise: $299 per month
3) Sendible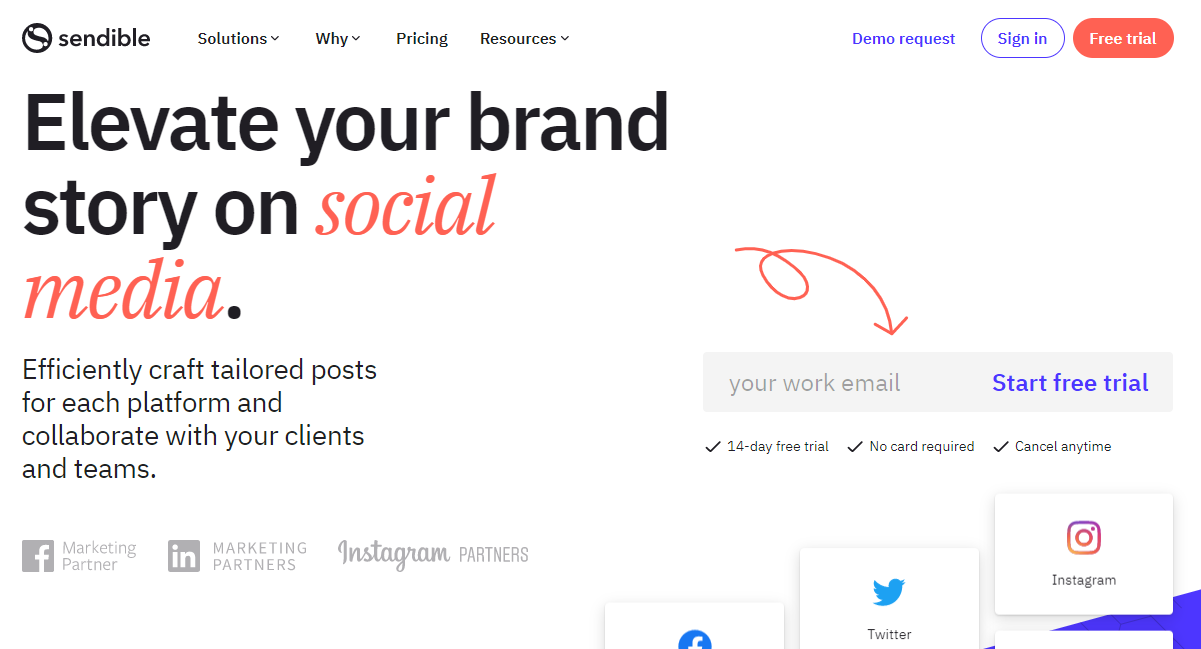 Sendible is an effective social media management tool for agencies that helps boost the social reputation of businesses. It is trusted by over 15,000 agencies, marketers and brand managers to amplify their brand stories.
Top Features:
Sendible integrates with over 15 apps, including social media platforms like YouTube, LinkedIn, Facebook, Twitter, etc.
You can plan content for the entire month or quarter by using the Sendible's content calendar.
You can see a preview of your posts before making them live on social media.
Sendible lets you prepare different client reports like top posts, follower growth, page likes, engagement overview, etc., depending on your project goals:

It offers various pre-designed templates for client reporting, or you can also build your customized template.
You can use Sendible's social media management app to do things like messaging customers, publishing posts, and monitoring brand mentions.
Pricing:
Sendible offers a 14-day trial plan and four pricing plans:
Starter: $29 per month
Traction: $99 per month
Growth: $199 per month
Large: $299 per month
Dive Deeper:
* 7 Social Media Marketing Trends You Can't Ignore in 2023
* How to Use Social Media to Substantially Improve Your SEO
* Social Media Marketing for Business Owners: How to Get Started in 2023

Project Management and Team Communication
1) Basecamp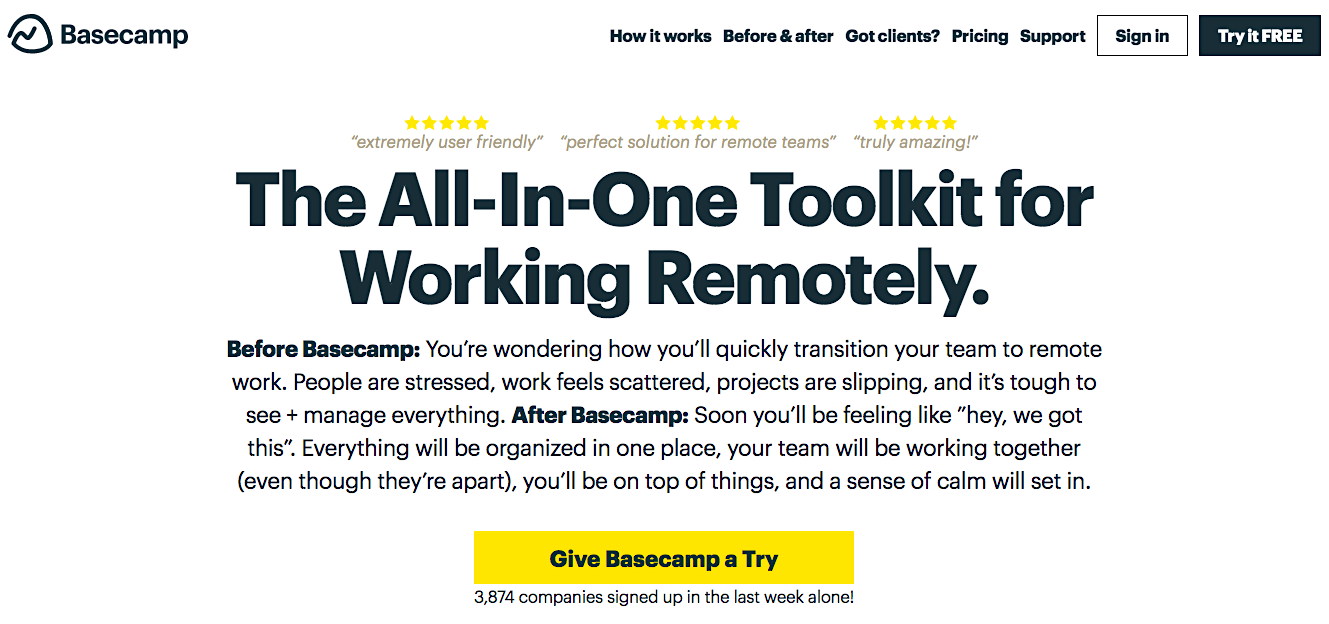 Basecamp is a project management and team communication software built especially for agencies and organizations to manage all office work in one place. In the time of COVID-19, most employees are working remotely; hence, this is a must-have software for remote work management.
Top Features:
You can create unlimited to-do lists for all your important work and delegate it to your team.
Basecamp offers a message board where you can discuss work-related issues with other team members.
You can add upcoming events, to-dos, and projects in the schedule calendar provided by Basecamp.
You can also link Google Docs to store and share various documents at one place.
Basecamp allows you to do real-time chat with your colleagues to discuss key points about the projects.
You can also offer project-specific Basecamp access to your client to have them check the project status.
Pricing:
Basecamp costs you $99 per month with unlimited projects and users, 500GB storage, unlimited templates, and other useful features. Basecamp also offers a free 30-day trial without the need of any credit card.
2) Trello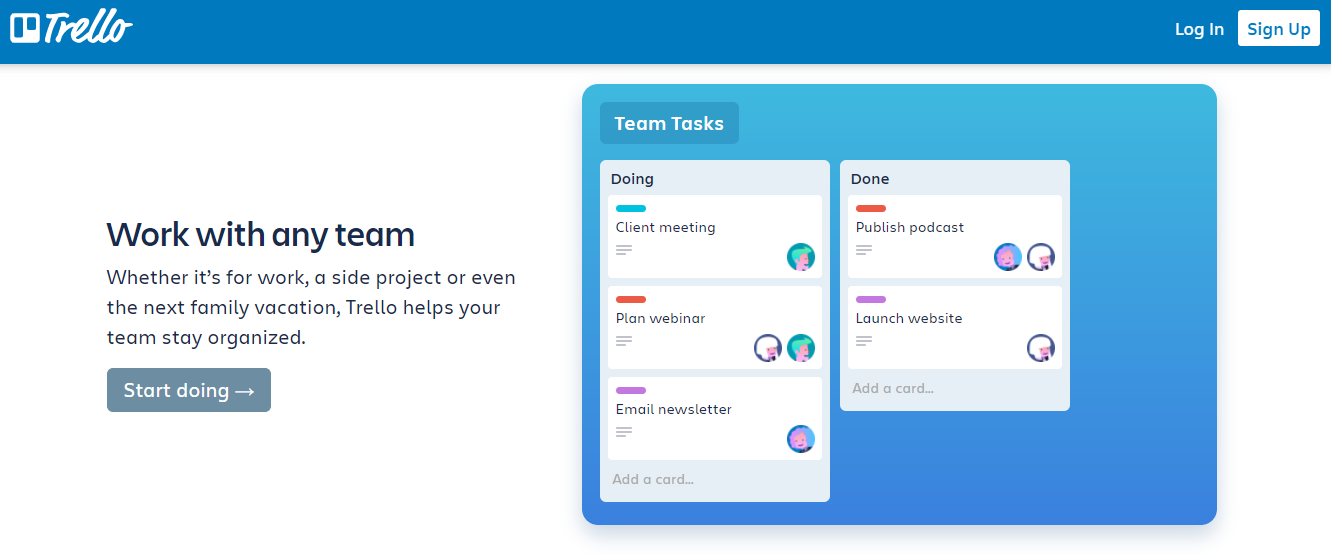 Trello improves the collaboration of your team to get more work done. This is one of the best visual team collaboration software used by over 1M active users worldwide.
Top Features:
Trello comes with easy drag-and-drop editing functionality: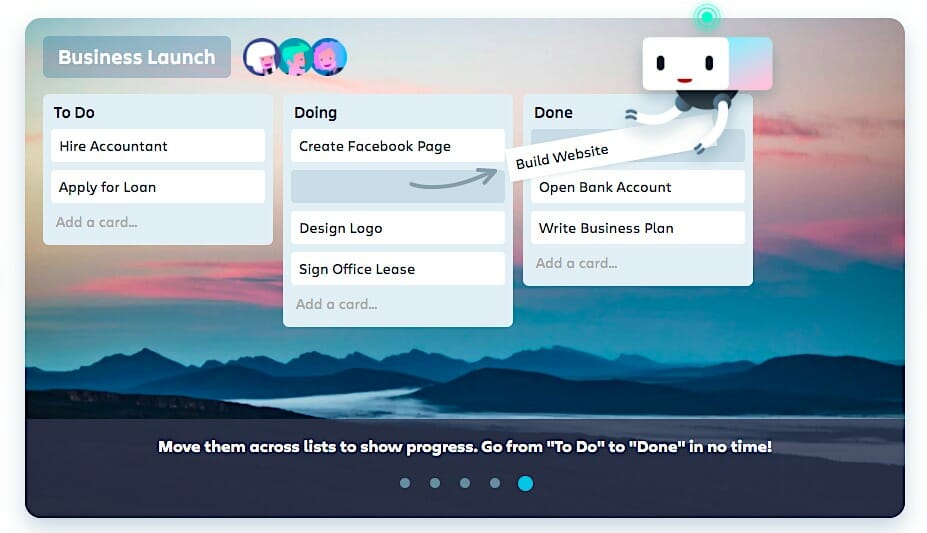 You can create different boards where you can add various tasks for your team members.
It comes with SSL encryption to keep all your data secure.
You can integrate storage apps like Google Drive, Dropbox, and even your local devices with Trello.
You can sync your work with Trello's app on android and iOS devices to manage work from anywhere.
Pricing:
Trello is free for up to 10 boards per team with unlimited cards and lists. If you wish to upgrade, the pricing starts from $12.50 per user per month.
3) Smartsheet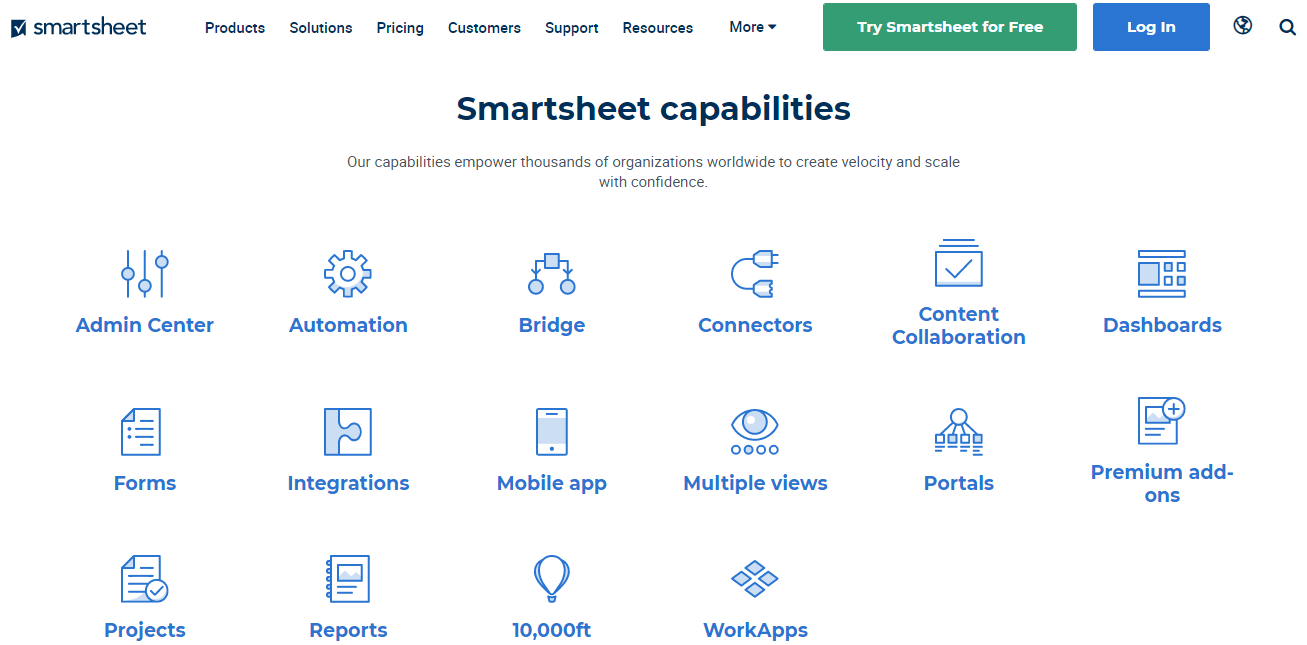 Smartsheet is a collaboration software for agencies that assists in effective project management. With the help of this tool, you can plan, automate and track the progress of multiple projects. Smartsheet has a very similar interface to Excel, which makes it easy to set up and organize your projects.
Top Features:
You can create and share unlimited project sheets with your team members.
You can also set alerts and reminders to help team members complete the given task on time.
Smartsheet offers the freedom to create projects, edit tasks and schedule work, on any device.
The reporting feature lets you create reports and schedule meetings automatically.
Pricing:
Smartsheet offers two pricing plans:
Individual: $14 per month
Business: $25 per month
4) Asana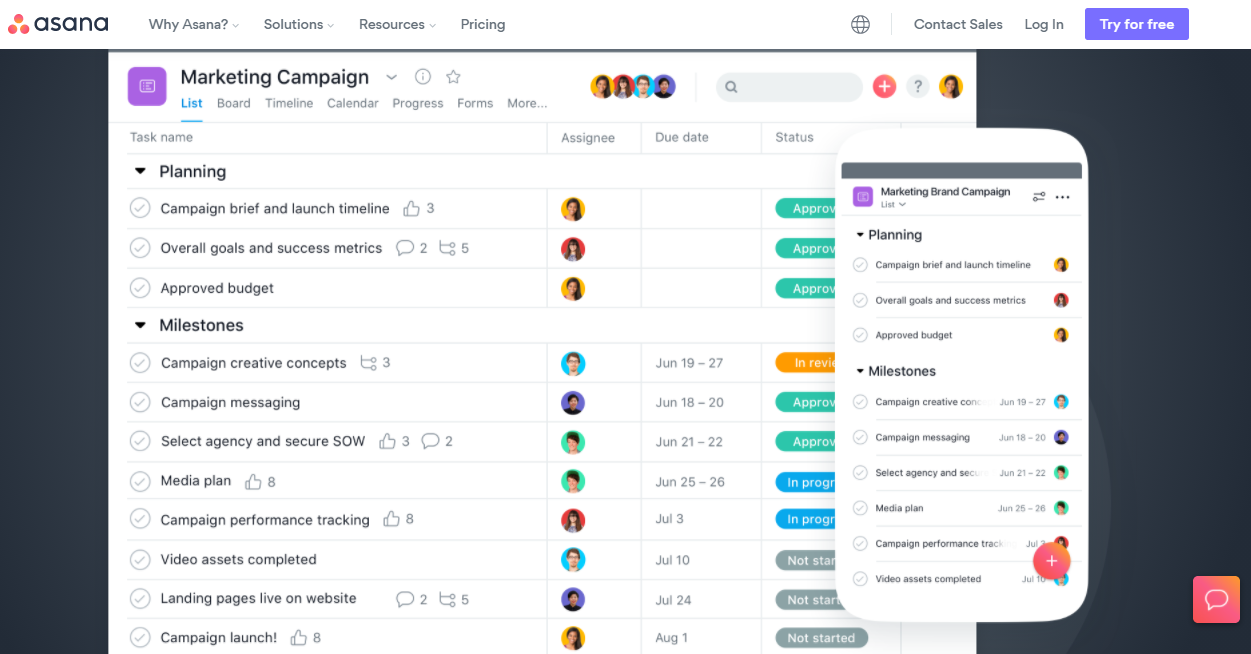 Asana is a cloud-based project management tool with the ability to handle multiple projects at a time. Asana includes some of the essential and powerful features like reporting, email notification, custom dashboard, document management, and collaboration tools.
The best part is that you can look at your projects by list view, timeline view, by board view (like Trello) or by calendar view. It's easy to keep an eye on your team's progress and workload. Asana also provides real-time charts and other visual highlights to share status, spot potential problems, and keep work on track.
Top Features:
You can plan your daily activities with a to-do list by using Asana "My Tasks".
You can create various projects and add team members with a shared calendar to manage the tasks.
Asana comes with some essential integrations such as Google Drive, Dropbox, Adobe Creative Cloud and others.
You can also add Asana to your Outlook and Gmail.
Asana also comes for Android and iOS devices to let you manage clients work from anywhere.
Pricing:
Asana offers a free basic plan where you can create unlimited projects and connect up to 15 team members. It also offers two premium plans:
Premium: $10.99 per month
Business: $24.99 per month
5) Slack
Slack is a popular collaboration tool for easy teamwork. It lets you make calls, share files, and engage in conversation with your teammates. Slack is trusted by over 750,000 companies worldwide.
Top Features:
Slack lets you communicate via voice and video calls with your team members.
You can easily tag team members, assign tasks to them, and send messages for task completion. Slack is the best alternative to email.
You can share photos, videos, documents, and other files directly from your computer.
Slack comes with high-security protection which keeps your important data secured from the cyber attacks.
You can do real-time chat with your teammates to do better work. You can also attach various documents during the chats.
There are also Slack groups for marketers, entrepreneurs, freelancers, SEOers, etc. to connect and share knowledge (and they don't have to be people from your own company):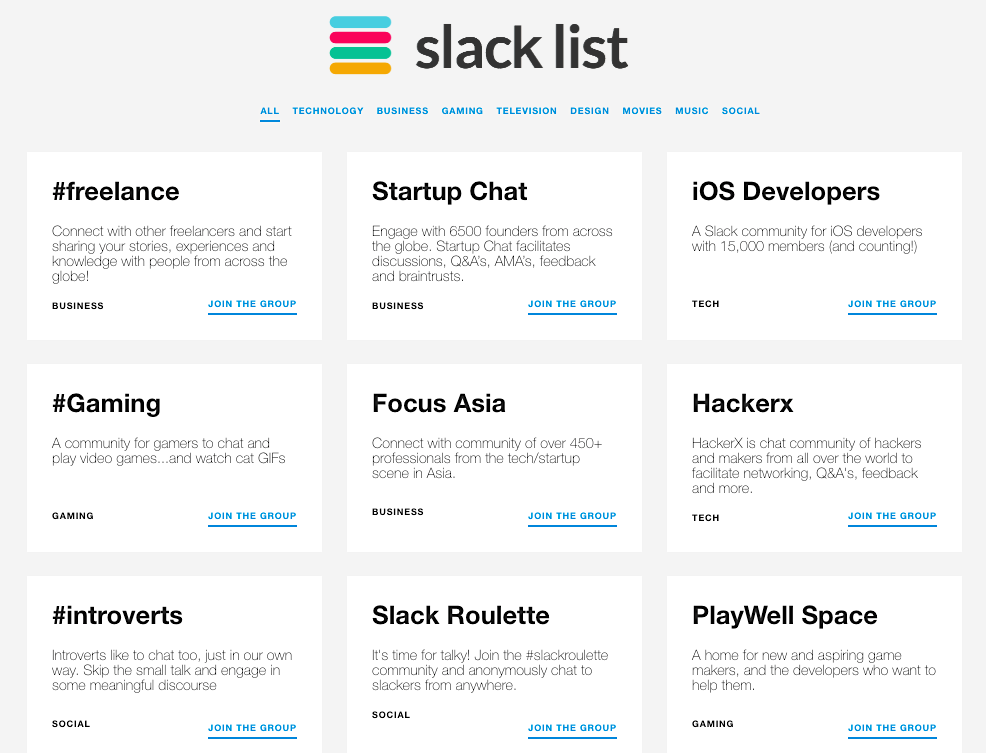 Pricing:
Slack comes with a free plan for small teams. The premium plan is priced at $2.67 per month for every active user.
Dive Deeper:
* 8 Slack Communities Every Marketer & SEO Should Join
* [Growth Study] Slack: The Fastest Business App Growth in History
* 10 SaaS Business Lessons from $1B+ Unicorns (like Slack, Twilio, Lyft)

Analytics
1) Google Search Console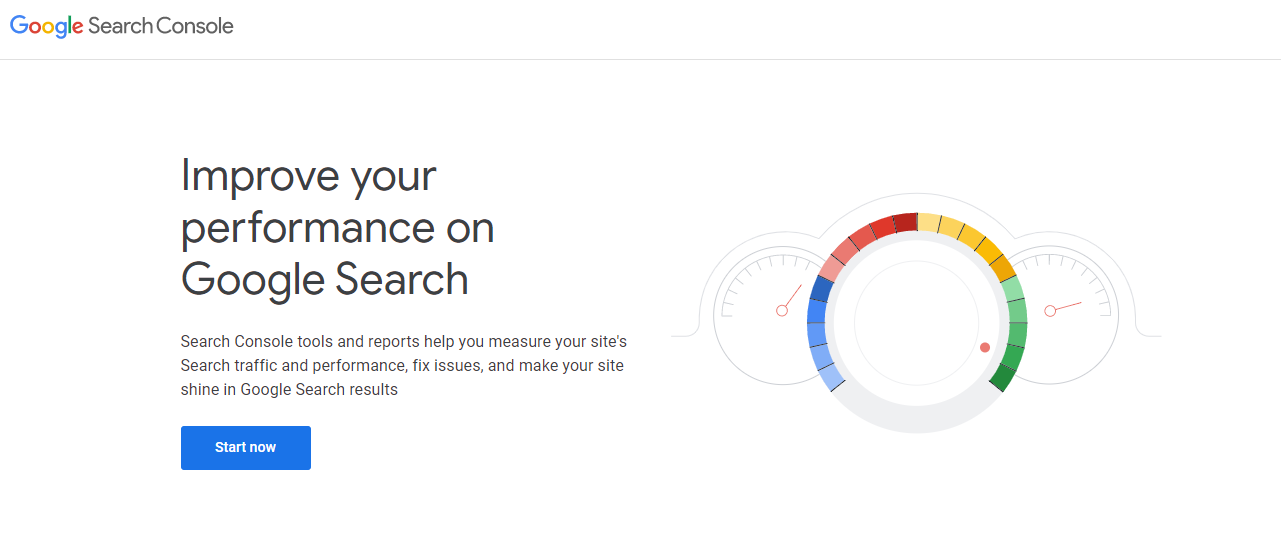 Google Search Console is a free tool provided by Google to monitor and troubleshoot website performance for better search visibility. This is a must-have analytics tool for every website to identify issues related to site indexation and crawling.
Top Features:
Google Search Console lets you see how your client websites are performing on the web. For example, you can see the number of clicks and impressions, along with any issues that are impacting the organic performance of the websites.
You can also inspect any URL of a website and check if there is an indexing issue with that URL.
You can generate a performance report for the last one year to compare the past range with the present.
With the help of the "Coverage" feature, you can check all major issues like server errors or page not found.
Search Console also lets you submit requests for removal of URLs from the search results.
You can also check any mobile usability issue on clients website, such as wider content, small text, LCP issue, Google core web vitals issue etc.
It also lets you find untapped keywords ideas under the searched query option.
Pricing:
Google Search Console is free to use.
2) Google Analytics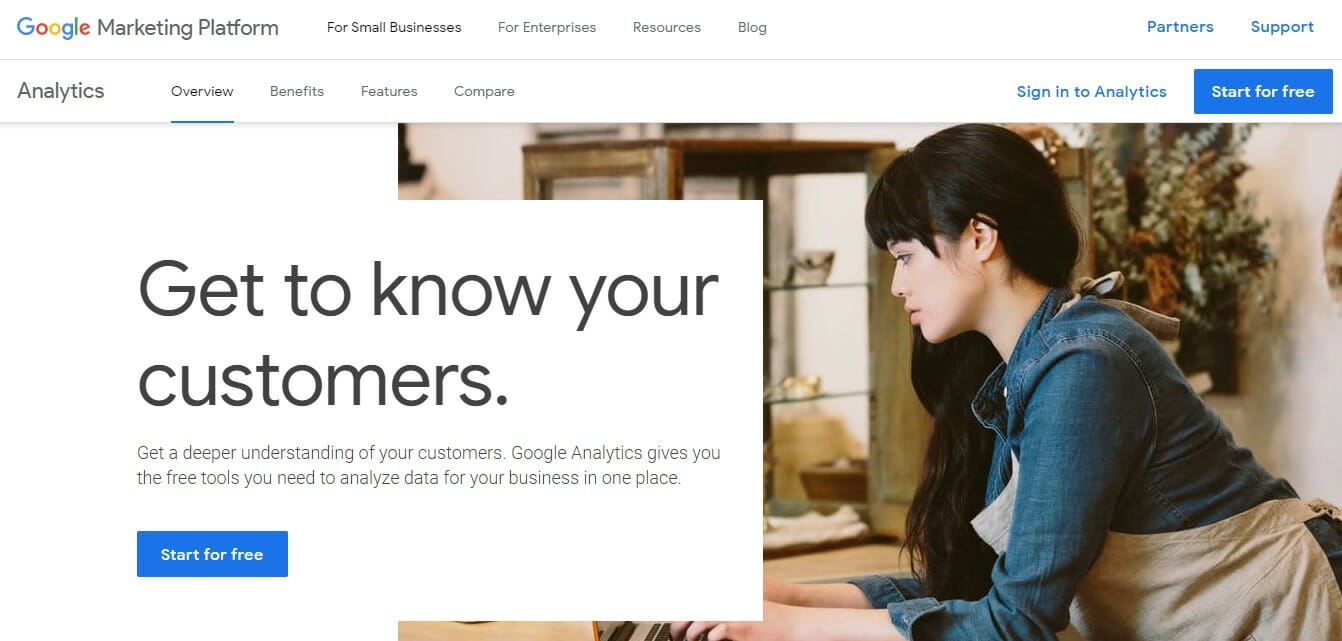 Google Analytics is a free web analytics tool provided by Google that tracks website traffic data such as organic traffic, social traffic, affiliate traffic and much more.
Analytics vs Search Console: Google Analytics is user-oriented, providing data related to those who visit and interact with your website. Google Search Console, on the other hand, is search-engine focused, providing tools and insights that can help site owners improve visibility and presence in the SERPs.
Top Features:
With the help of the audience section, you can see the age, gender, interest, device and location of your audience.
You can boost your organic traffic by analyzing which website page is driving most of your traffic.
Google Analytics allows you to measure the monetary performance of a website. You can attribute the channel that is generating the highest revenue.
You can also integrate various other platforms with Google Analytics such as Google Ads.
Pricing:
Google Analytics is free to use.
3) Alexa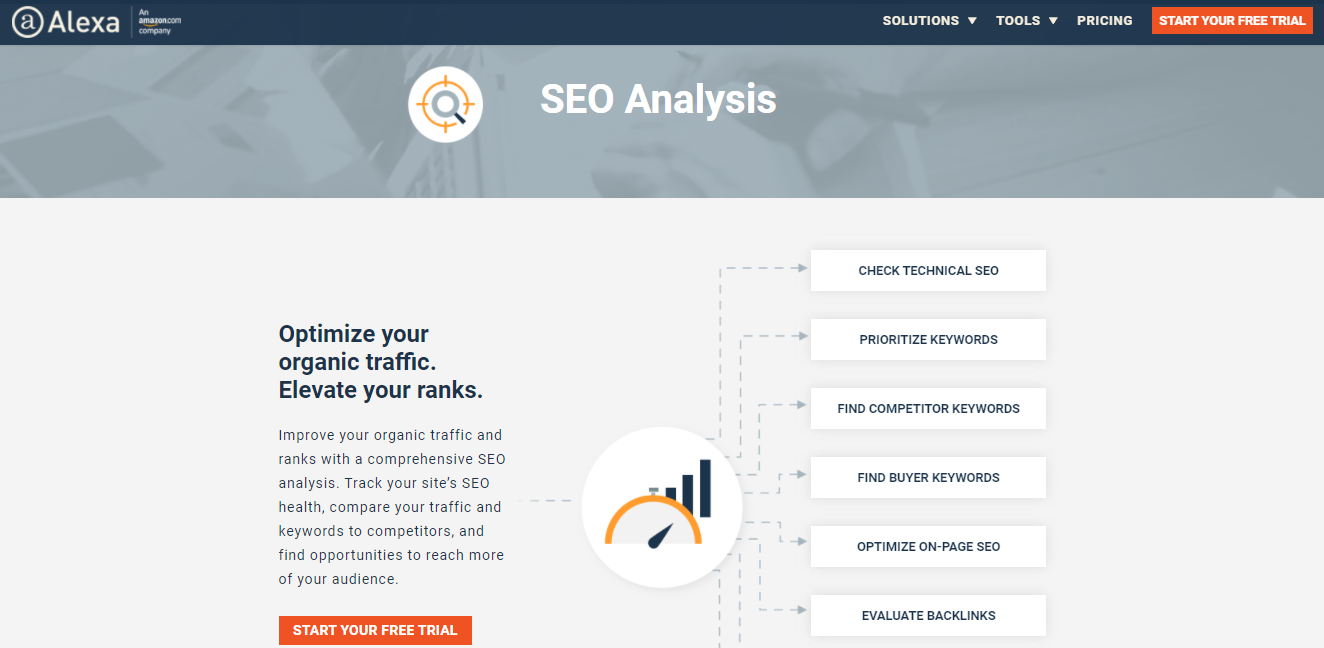 Alexa is a website analytics tool, launched in 2014, that lets you find, reach and convert your audience. It offers a full-stack marketing toolkit from content research to SEO analysis. With a chrome extension, Alexa makes it easy for users to analyze their website.
Top Features:
With Alexa, you can check the global and country ranking of your website.
Alexa also displays the top industry in which your client's website is searched the most.
You can also find hundreds of good competitors in your business.
With Alexa, you can find tons of easy-to-rank keywords with relevancy and search popularity.
You can easily find problems and take action for your website's good growth.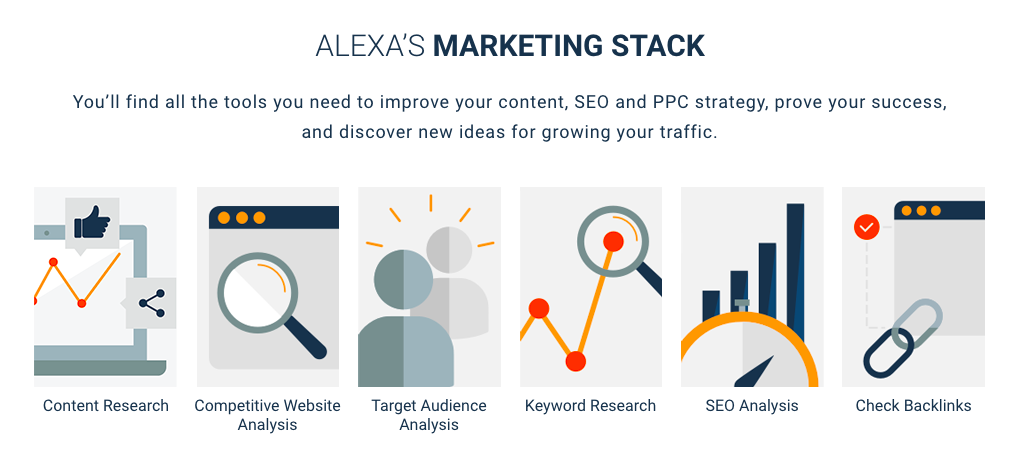 Pricing:
Alexa offers four pricing plans:
Basic:

$19.99/mo

Insight:

$79/mo

Advanced:

$149/mo

Agency: $299/mo
You can try out the Advanced Plan for free for 14 days. If you're an agency, you can test drive the Advanced Plan for 35 websites with 20 users for 30 days.
4) SE Ranking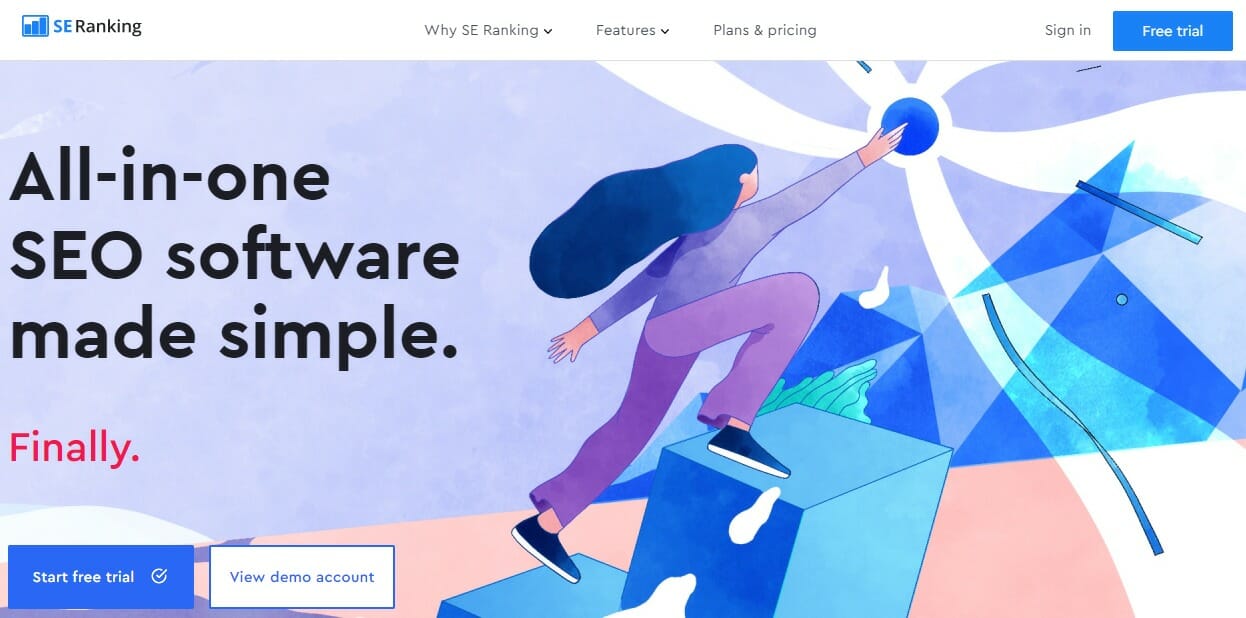 SE Ranking offers a website analytics tool with in-depth analytics of your client websites and competitors domain. With SE Ranking, you can improve your client's site by analyzing every point from organic traffic to keywords and backlinks.
Top Features:
Save time with SE Ranking's SEO reporting feature, which lets you create different manual and automated reports.
You can also integrate Google Analytics with SE Ranking to deeply analyze client websites.
You can find all types of issues on our website related to meta tags, images rendering, internal links and others.
You get actionable insights and suggestions on every SEO issue that helps you to optimize your client websites.
SE Ranking also offers you a built-in sitemap.xml generator.
Pricing:
SE Ranking has three pricing plans:
Optimum: $31 per month, which includes unlimited traffic analysis and page monitoring
Plus: $71 per month with up to 150K-page analysis
Enterprise: $151 per month with up to 250K-page analysis
5) VWO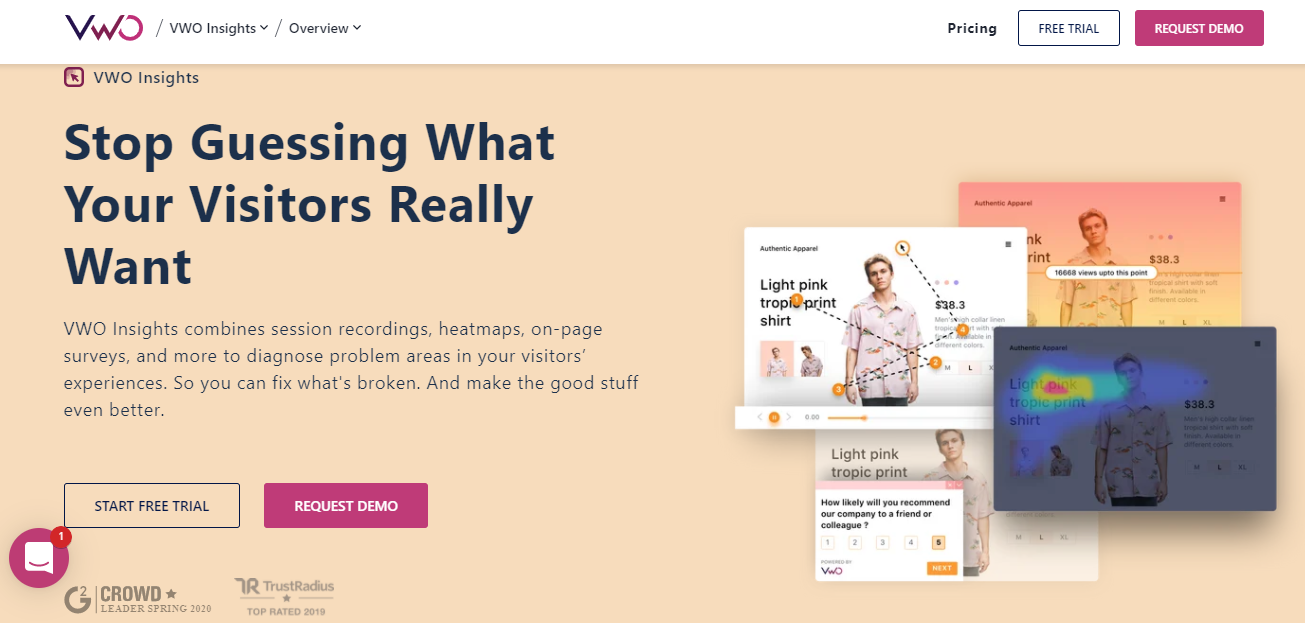 VWO is a great A/B testing tool. With the help of this tool, you can run various experiments on your website to find potential areas to optimize for better ROI. VWO serves over 2,500 brands across 90+ countries.
Top Features:
You can create multiple funnels to check the activity of the visitors on a website.
With VWO's heatmap, you can check which part of a website is attracting the most visitors.
VWO lets you record sessions of how visitors are interacting with the website.
Using form analytics, you can discover how visitors are interacting with the forms and apply changes to improve the conversions.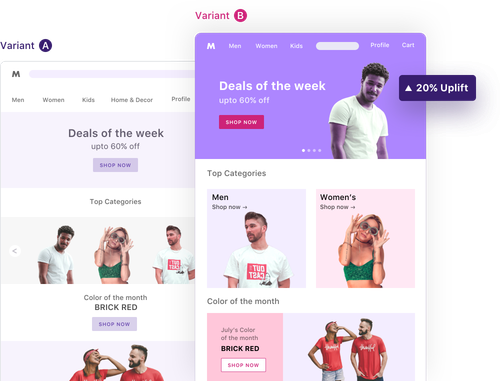 Pricing:
VWO offers three pricing plans:
Engage: $99 per month
Insights: $169 per month
Testing: $199 per month
Dive Deeper:
* 9 Alternatives that Are Just as Good as Google Analytics
* Google Analytics for Content Marketing: How to Track and Improve Your ROI

HR/Payment
1) HR Trace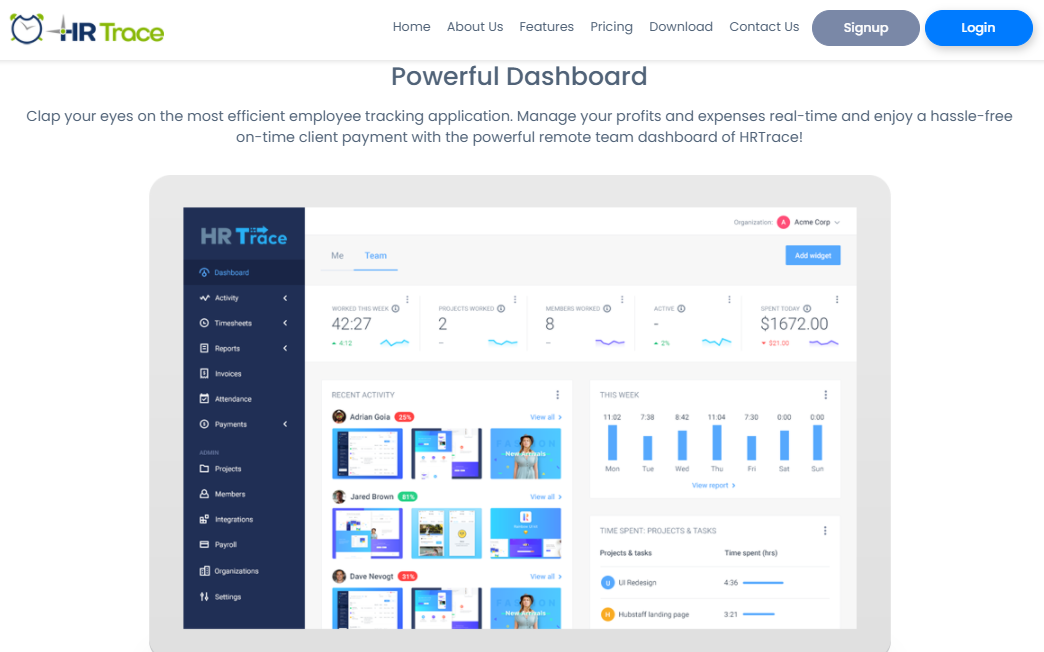 HR Trace is an employee and payroll management software that helps you monitor your employees and schedule automatic payments. It includes payroll and payslip automation, employee tracking, analytics, reporting and other useful features.
Top Features:
HR Trace helps you generate payslips and automatically calculates employee expenses with just one click.
You can automatically store and manage employee attendance.
You can also calculate monthly and yearly reimbursements and deductions.
You can track employee time sheets and leaves-of-absence by using the "Human Resource Activity Management Feature":
Pricing:
HR Trace offers a free basic plan and two premium plans starting from $4 per month.
2) FreshBooks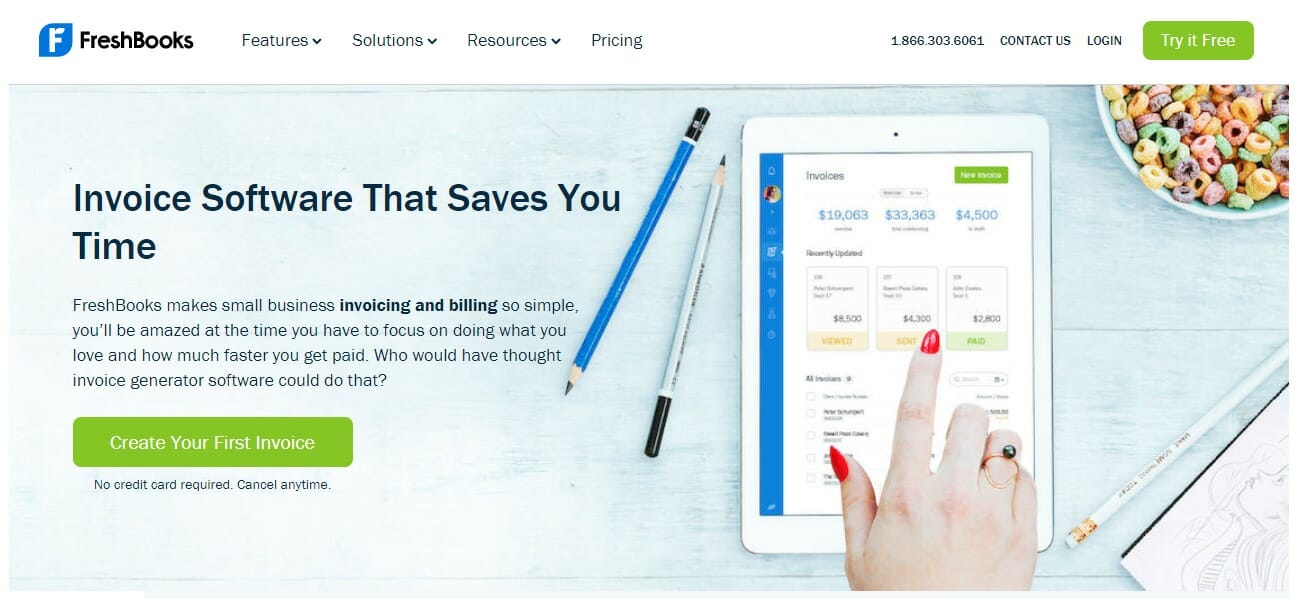 FreshBooks is an accounting software to generate invoices, very useful for freelancers and SEO agencies or other companies that use freelancers or contract workers. You can create and send invoices to your clients easily and schedule automatic payment reminders for your clients.
Top Features:
FreshBooks offers different custom invoice templates to create invoices for your clients.
You can automatically apply the late fees feature whenever your client is late in making a payment.
FreshBooks enables your clients to pay using credit cards or Apple Pay, and you can also add discounts to your invoice.
It also lets you create invoices in different languages. You can use this feature to send invoices to international clients.
FreshBooks makes creating professional-looking invoices for your business ridiculously easy. With their invoice generator, it's simple to create and customize your invoice, add your logo and personalize your thank you email.
Pricing:
FreshBooks offers three pricing plans:
Lite: $4.50 per month for 5 billable clients
Plus: $7.50 per month for 50 billable clients
Premium: $15 per month for 500 billable clients
Call for custom pricing for 500+ billable clients
3) Quickbooks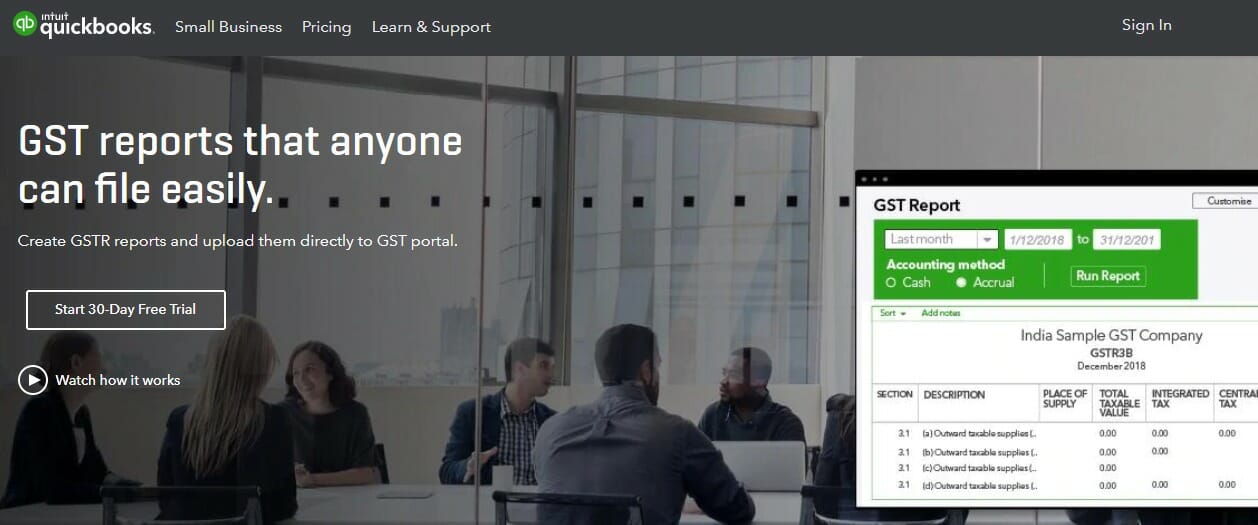 Quickbooks is a popular accounting software with built-in GST (Goods and Services Tax) functionality. With Quickbooks, you can run your business with ease. This tool lets you manage all the essential tasks related to your business, such as banking, invoicing, expenses, accounting, etc.
Top Features:
With the help of cloud accounting, you can manage your accounts anytime, anywhere on your computer or mobile devices.
With cash flow management, you can schedule recurring payments easily.
You can quickly analyze your business performance with custom reports.
With Quickbooks's online banking, your transactions and statements are automatically updated.
You can add employee hours to the invoices to keep them transparent.

Pricing:
Quickbooks offers a free 30-day trial plan and has three pricing plans:
Simple Start Plan: $12.50 per month
Plus Plan: $35 per month
Advanced Plan: $75 per month
Conclusion
Selecting the right tools for your SEO agency is crucial for the growth of your organization. Whether you are a new agency owner or already have a thriving business, SEO tools are important to improve productivity. Now that you've read through all this guide to the top SEO agency software, choose the right one and head into 2021 with confidence!