Be sure to scroll down to the bottom to check out our short video "How Slack Does Marketing"!
Slack has already entered Silicon Valley's hall of fame as the fastest growing business app. Since its public launch in February of 2014, Slack's accomplishments include:
These numbers are just mind-boggling. Slack went from $0 to $7 billion…in less than five years! And it's even more impressive considering that the Slack app was born out of previous failed businesses.
Every success story has done three things in their lifetime:
Product-market fit

– r

ight idea, right time
Rapid growth

– s

caling with hyper-speed
Reinforcement

– a 

built-to-last model
In this growth study, we'll look at the story of Slack, its beginning and underlying strategy for world domination, and how they built a platform that's transforming office communication.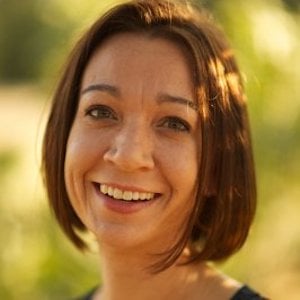 Kim Cooper
Director of Marketing, Amazon Alexa
Single Grain enables us to increase our impact without increasing our headcount
Prologue
Founder and CEO Stewart Butterfield is no stranger to fast-growing apps; he built Flickr about 10 years before starting Slack.
Stewart, born and raised in rural British Columbia, hadn't been exposed to technology until he went to university the late 1990s where he became fascinated by the school's Unix machine and how it could build something out of lines of code.
After escaping the dot-com bubble in 2000 with $35,000 severance pay from his e-commerce job, he started building a massively multiplayer web-based game called Game Neverending. With rudimentary graphics and a small but passionate community, Stewart fueled his passion for design and communication.
The game was impossible to fund and thus difficult to scale; however, the side effect was that the small team built a technology that let users tag images with other users, far before Facebook and Instagram offered that ability.
Meanwhile, Stewart's $35K was dwindling and the game was approaching its inevitable decline. Pressured by depleting finances, Stewart and his fellow tech-obsessed friends iterated to utilize the core technology that made the game unique — image sharing and tagging capabilities.
He then started Flickr and, with help from Google, they started getting users at a rapid pace. At the time, Google had just bought Blogger, a CMS platform that allowed anyone to create a website. But because you couldn't store images on Blogger, Google redirected users to save their images on Flickr.
The Flickr team wasn't profitable — it had astronomical server storage costs — but it attracted the attention of the Silicon Valley giants Yahoo! and Google.
Yahoo! offered the Flickr team $20 million and the team of eight became millionaires overnight. But instead of maintaining the culture of rapid iteration and agile workplace, the 11,000-employees at Yahoo! slowed down the startup-style decision-making process.
After three years they were fully vested, and Stewart took his core employees and returned to his initial project — another web-based multiplayer game called Glitch. As they were now known for Flickr's success, the team had an easier time finding investor. They raised $17 million, which was used for new hires (mostly graphic animators), and Flickr's success meant that the game attracted a lot of users.
But there was one major problem — the problem that kills most startups — a leaky bucket.
Even though users found the game and tried it out, 99% of them didn't return because it was too obscure and abstract. Much to Stewart's dismay, this project was nearing its end, so he made the hard decision to pull the plug in 2012. Devastated, Stewart helped every one of his 37 employees get a new job.
Dive Deeper:
Chapter 1: Brotherhood and Perfect Timing
From a business perspective, Glitch was a disaster. However, the team had developed an internal communication system that made them incredibly productive.
The platform was built on the concept of channels, which allowed team members to chat directly to each other or within a specific channel. It stored all communication and was an inversion of the typical inter-office communication: email. With email, team members don't have the context from the stored communication because 99% of messages aren't visible unless you're CCed.
The Glitch team didn't realize how useful the communication system they built was until they shut down the company. It was much better than the typical email-based communication, and they never wanted to work without a system like that again. Maybe, just maybe, other people would like it too….
After Glitch shut down, Stewart was left with his core people, the same group who was with him from the Flickr and game development days. By now, they had been working together for close to 10 years, and loved making products together. Plus, the hard times had connected the team even further.
Weeks after Glitch closed, Stewart and his team started working on the Slack app. They rebuilt the entire internal communication system within a couple of months.
Solving the Dreaded Inbox Problem
Internal communication was a problem for most companies, even though they weren't necessarily aware of it.
With more and more software start-ups rapidly scaling, they realized that internal communication encountered problems when a single-digit team grew to 20, 50 or 100+ people in a year.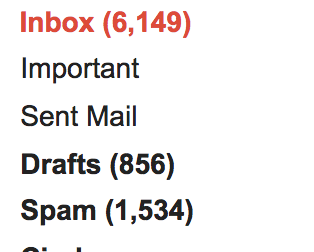 Slack was at the right place at the right time.
They weren't the first new communication system; apps like Yammer, Campfire, and HipChat already had small but loyal user bases. Seeing a trend, copycats were popping up left and right, so in order to succeed, Slack needed to solve the communication problem better than all the others.
Working in their favor was the ridiculously huge Total Addressable Market (TAM) — companies ranging from tiny start-ups to massive enterprises needed a tool like this.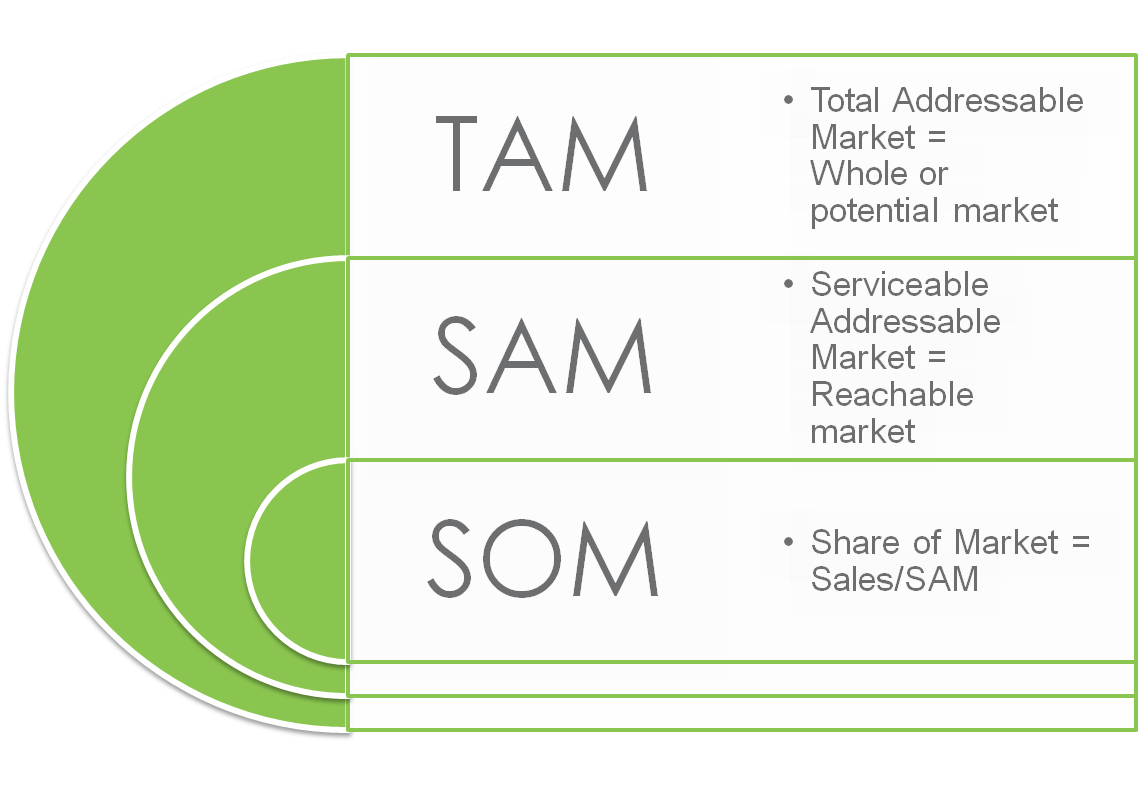 The core features and capabilities of Slack were: :
Contextually relevant and segmented communications, including persistent chat, direct messaging, and voice and video calls within and between teams
Synchronized communication and collaboration across multiple devices and platforms
Integration with third-party apps, legacy enterprise software, and custom-built apps and chatbots for Slack
Customizable notifications and advanced search across Slack's real estate
While the TAM was virtually the same for all existing rivals, Slack differentiated itself through their fun brand, ease of use, and customer-centricity. Combining that with a brilliant product launch, Slack had the edge in market share.
Why Yammer Failed
Microsoft's Yammer was essentially solving the same problems as Slack, but their approach was off. While 80% of the client's team got on board to use it, senior employees weren't quick to try it out.
You also had to use Microsoft Office 365 to access Yammer. Many potential users utilized Google Docs (especially for collaborative use). Microsoft Office 365 requires users to pay and commit, while Slack and Google Drive are free.
Slack was able to move past people's reluctance by having a fun interface (Chapter 4), generous freemium model (Chapter 5) and an easy-to-use platform so that everyone, from more flexible to more traditional employees, could see the benefit (Chapter 6).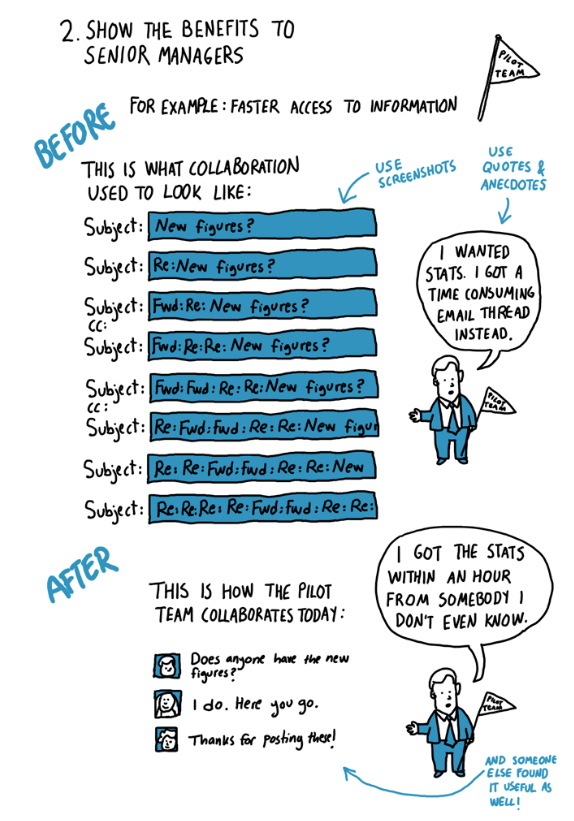 The Importance of Emerging Market
Slack's initial team consisted of four core members: Stewart Butterfield, Eric Costello, Cal Henderson and Serguei Mourachov.
The team's communication system that they developed during their tenures at Flickr and Glitch made them far more productive, and they noticed the productivity with the rest of the company members.
Everyone working with the core team realized how effective their system was, and when teams moved on to other companies, they quickly realized how much inefficiency the "proto-Slack" was solving. The core team knew they were onto something; they had the market validation they needed from their own team.
Takeaway: Emerging markets are a great place to launch a new product, especially when you already have market validation. Partner with the people who are the best at what they do and able to handle the pressure of a rapidly changing start-up. Competition is a good sign that you're on the right track, but launching a product in a competitive market means that you have to build a super product and serve your consumer base better.
Chapter 2: Execute the Perfect Launch
If you're running a start-up, the odds are against you.
You need to find a pain point, solve the issue, and gain clients who trust you. If your product hypothesis isn't right, you have to iterate while you still have financial runway.
Slack knew they had the solution to a major business pain point. Because of their prior success, the team was able to get venture capital so they could focus on a strategic and exceptional product launch.
Instead of 'growth hacks,' the Slack team combined the efforts of product design agency MetaLab, the reputation they had built from Flickr's success, and PR agencies that came up with Slack's unique hook: "The Email Killer".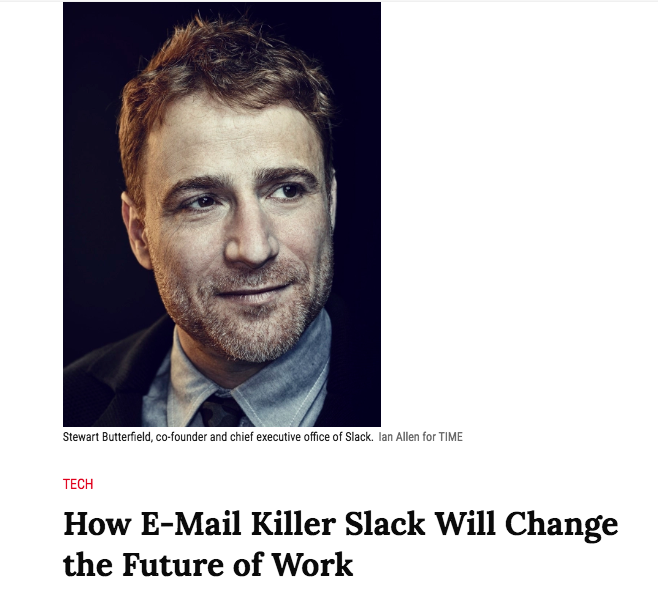 Slack's intention wasn't to replace email. As Stewart Butterfield said:
"Email has many benefits — it's the lowest common denominator for official communications. But it's a terrible way to manage internal communications."
A preview version gave Slack the chance to test core features while at the same time building relationships with a select few. (Note that Slack intentionally didn't name the pre-public version "beta". There is a massive difference in dynamic and perception from the user standpoint; in beta they're there to test things so they can help the company. But if the users are in the "preview" camp, they are one of the elite few who get to use the product before anyone else and enjoy its privileges of being first. Imagine how it would be if Tesla or Apple revealed a semi-tested product.)
They launched a 'preview version' of Slack so the team could:
Fix major bugs and errors
Determine and identify the features and benefits that resonated with the market
Galvanize the initial user-base to advocate Slack by word-of-mouth
Once they fixed the issues, they were ready to bring Slack out with a strong product launch.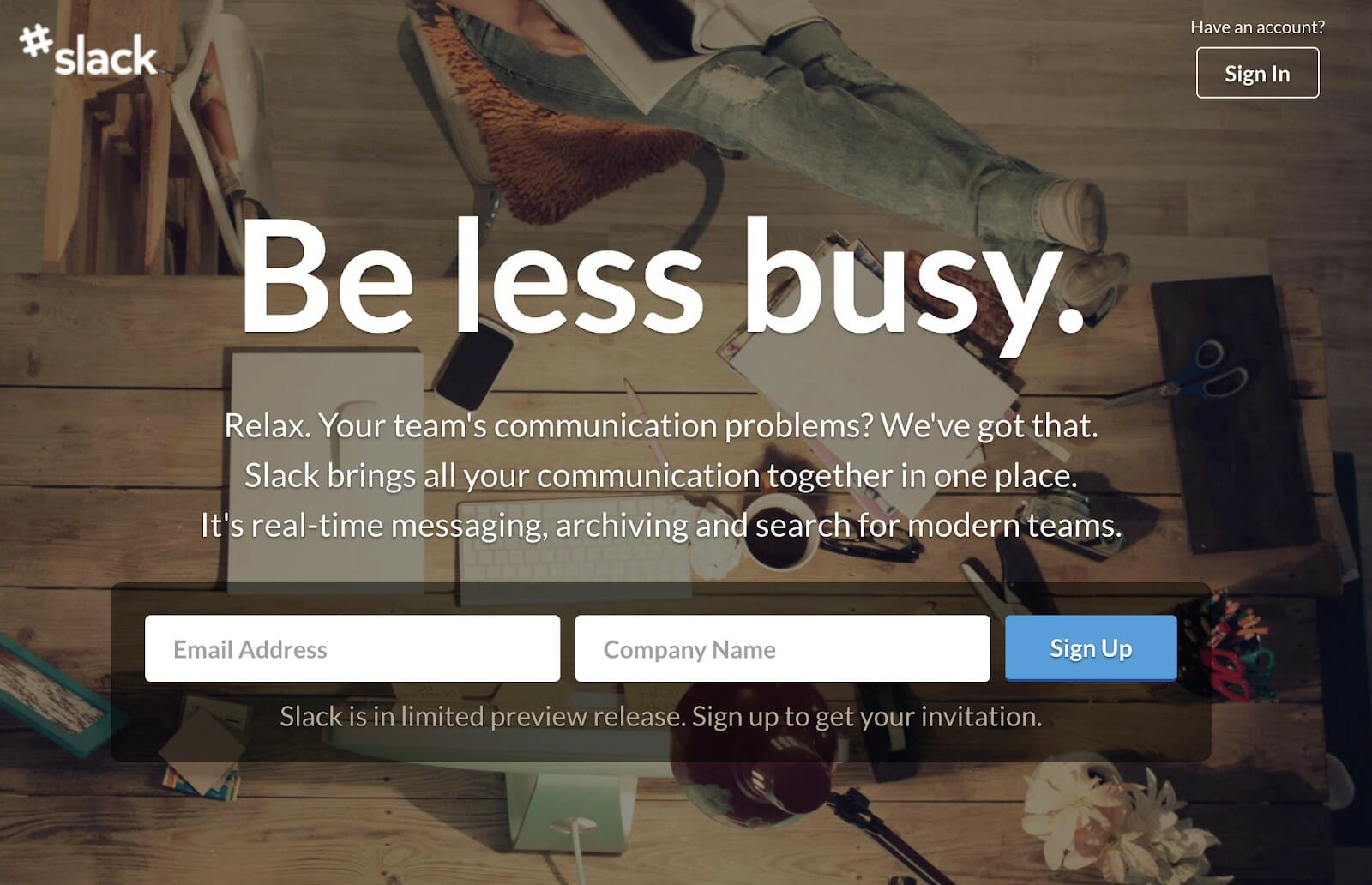 Hiring an outside company to build a brand might be unique to Slack. Their first marketing hire, Bill Macaitis, stepped into the role of CMO on November 2014, which meant that Slack completely relied on a third-party agency to deliver the look and feel of the brand. Outsourcing the whole department and relying on someone else like this is a journey of trust and belief.
Luckily for Slack, it paid off in the best possible way.
It took months of careful planning and synchronizing across the channels, but as soon as the product hit the market, it went viral.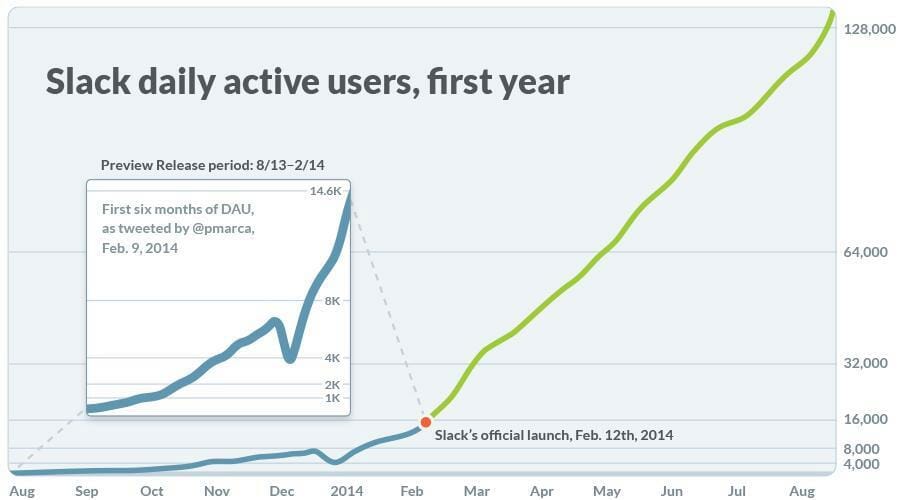 Here are some assets that Slack acquired before they launched:
Collected testimonials from known companies and displayed them on a landing page
Used Twitter to show off the "Wall of Love" – tweets from users who sang their praise
Used the PR firm to connect with most of the relevant online and offline tech publishers:
Slack tested the product-market fit to figure out how they would attract new users. They used multiple PR agencies with a hook that immediately attracted the user. PR agencies are usually expensive, but Slack knew that it would be the perfect way to get as much exposure as possible in a short time (you can do this by pitching reporters yourself, but it takes much longer since you have to build relationships first).
Building up their social proof via Twitter's Wall of Love created a surplus of social credit, and using the "email killer" headline hook from industry-recognized publishers such as Verge, TechCrunch and VentureBeat brought in unique traffic.
Slack's Wall of Love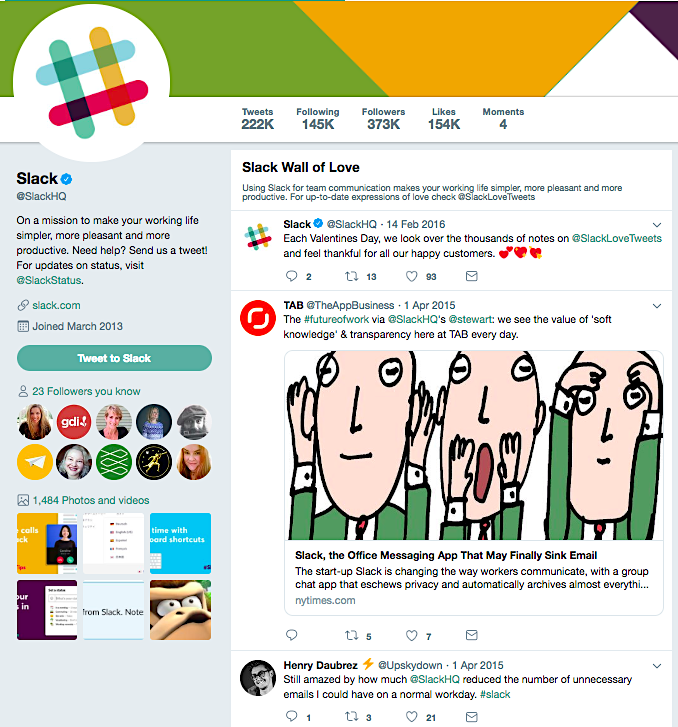 Whenever a Twitter account posts or retweets someone else, it appears on their timeline. Slack created a sort of repository of all positive tweets whenever they were mentioned. This created one giant wall of positivity and love, and thus they named it "Wall of Love." It's a separate Twitter account that stands on its containing everything nice that is being said about it.
Slack combined that with a traditional marketing channel — a print ad in the Wall Street Journal: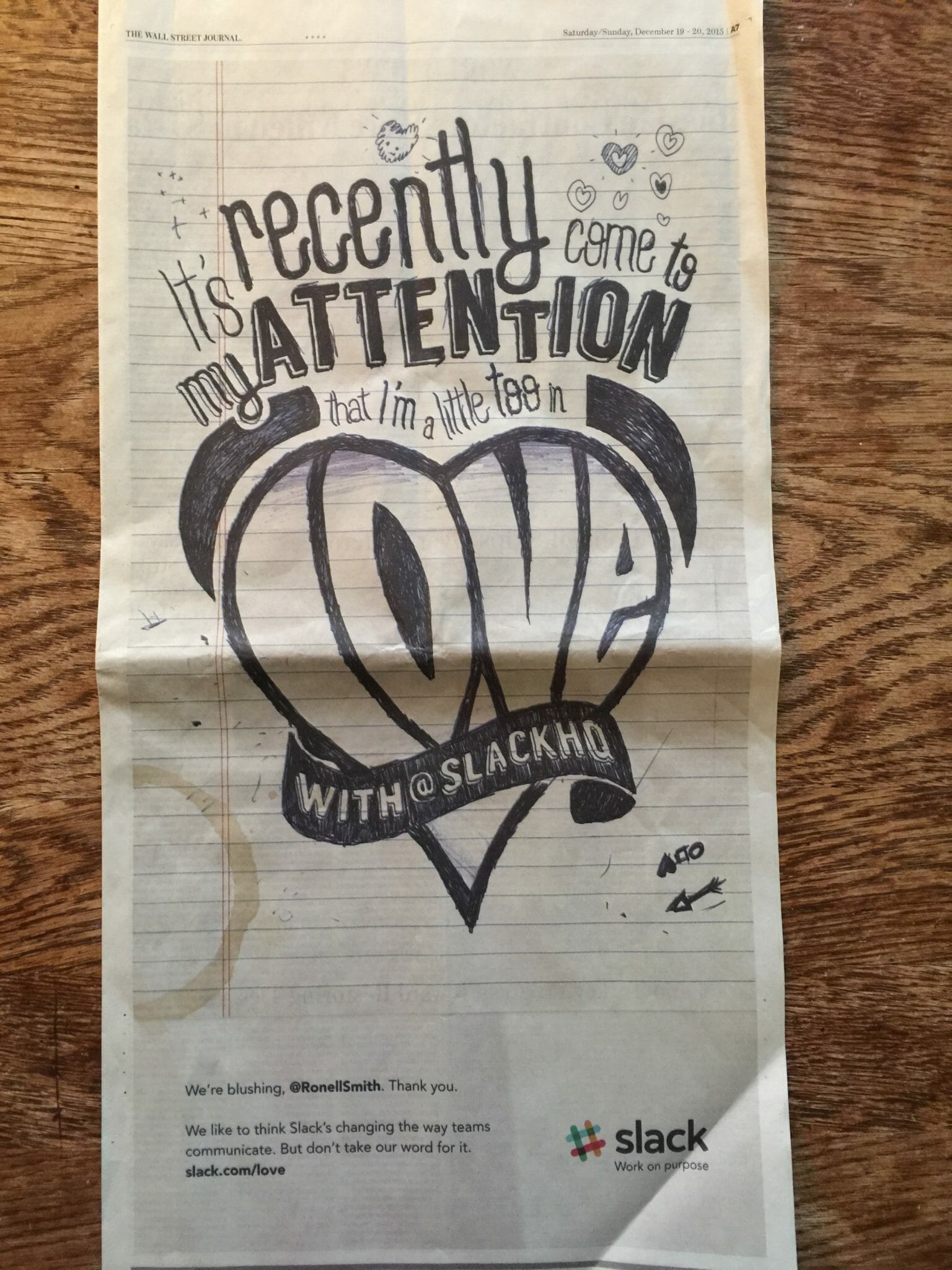 Why it works:
Peer-to-peer social credit. Potential Slack users trust the testimonials of their peers more than website claims or dry company testimonials.
The brand establishes and builds relationship with two-way transparent and public conversations that allows Slack to find out what their users really want.
Based on what their fans write, Slack can come up with an arsenal of information about how to address issues from new users.
It turns users into content creators. New (user-generated) content promotes a network effect since each Twitter user has its own social circle of followers.
Their Wall of Love was unconventional and new (for that time). It generated and proposed new articles that brought already warm traffic to the website.
Dive Deeper:
Deeper into the Brand Core
Keep in mind that most of the audience were companies from Silicon Valley where there are a lot of conversations happening on Twitter.
Great brands are built on top of solid foundations. Solid team with with proven track record — check. Clear value proposition and demonstrated product/market fit — check. Customer-centric company culture and solid brand — let's unpack this. If we borrow the term MVB (Minimal Viable Branding), we can deconstruct Slack's brand to individual elements.
MVB is the concept adapted by Scott Kraft, Denise Lee Yon, Tino Chow and Madeline Gerber to construct an image of a brand that's both recognizable to the public and sets the foundation for company culture and how they communicate in-house and outbound.
According to Kraft, the MVB of consists of:
Brand pillars — one to three one-word adjectives that represent your company
Audience needs — what are the audience takeaways
Functional needs — materialized benefits
Emotional needs — how the audience perceives the brand on an emotional level
Personality of the brand
The promise
The company's vision
Basically, it serves as an immediate blueprint for the product that conveys the future promise that the company will deliver.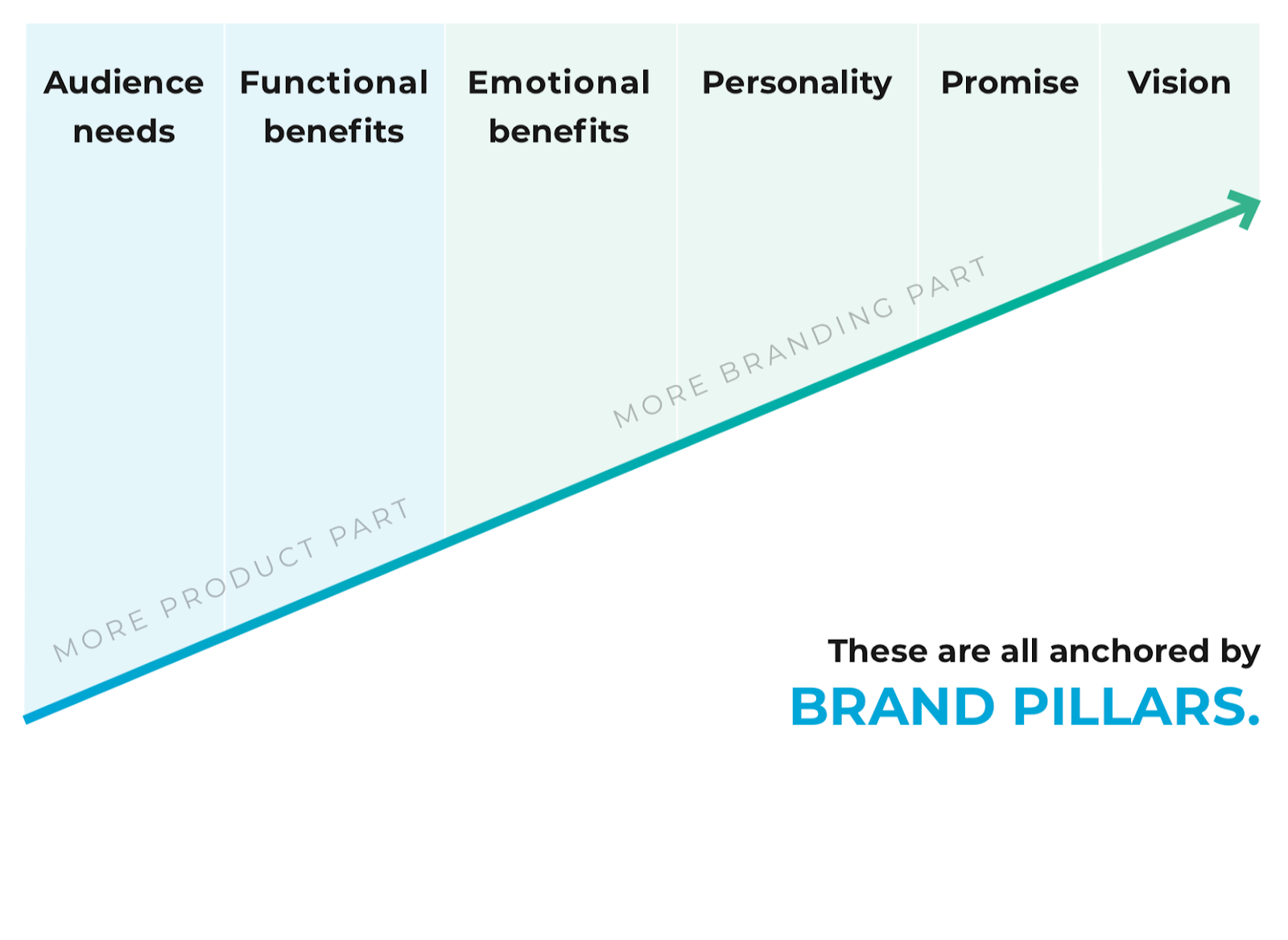 Image adapted from this video.
Slack's brand personality consists of:
Brand pillars + customer audience + their top 3 needs + top 3 emotional benefits
So for Slack, this would be:
Brand Pillars:

Fun, Inclusive, Connected

Customer Audience:

Employees having issues communicating within the company

Top 3 Needs:

More effective system to reach out to the rest of the team, faster feedback loop, just-in-time information
If we describe Slack as a brand by the other three elements of the MVB:
Personality: F

un, connected, diverse

Promise: T

o connect people in-house with a simple yet powerful system for team communication

Vision:

Make work happen
Whenever you see Slack content, you will be able to connect these values and elements to their brand. As you are going to discover further, this mindset is ingrained in every member of the company across the board.
Takeaway: Don't neglect the power of traditional marketing. Build the hype and use the hook's message to promote article re-sharing. Slack's message is "The Email Killer" — a controversial statement which addresses the pain point at the same time.
Chapter 3: Brand Is Everything
Branding is the holy grail of success. Slack hired the mega-successful design firm MetaLab to turn their early prototype into a polished product.
Design and UX
Enterprise software is notorious for being big, boring and lifeless. If you compare HipChat (Slack's main competitor), you'll have a easy time recognizing the one that looks more fun to use.
Andrew Wilkinson from MetaLab said about Slack: "We gave it the color scheme of a video game, not an enterprise collaboration product."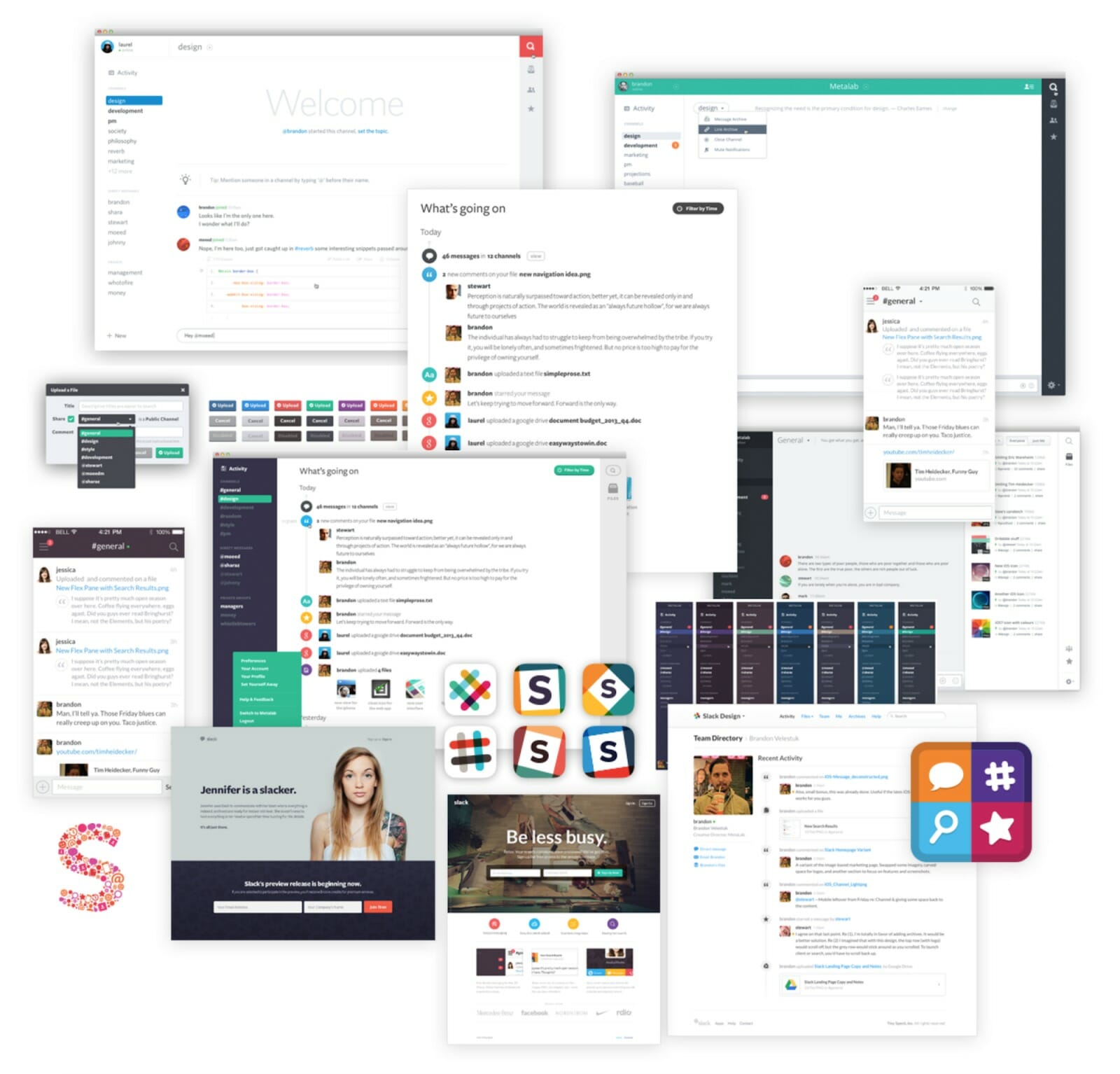 With an easily recognizable design that was equally fun and simple to use, Slack created a stark contrast against the competition which got them 133 million visitors per month.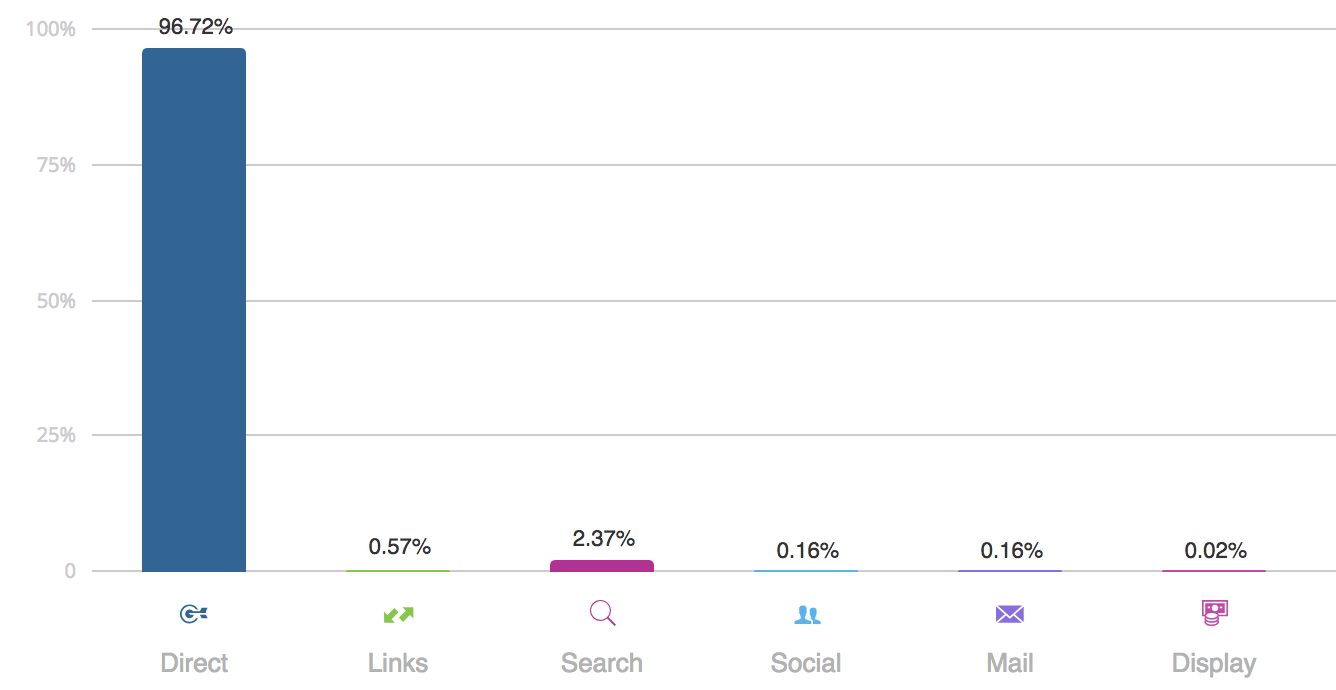 Different Kind of Marketing
Using content that fills each role in the Top of Funnel, Middle of Funnel and Bottom of Funnel phases of the customer's journey, Slack opted to create not just written content, but visual and audio content, too.
Their "Animals!" product video has been insanely popular:
The "Animals!" project cost the company $1 million. And the directors, Alan Smith and Adam Foulkes, went through a similar onboarding process ("Slackification") as users do, so they were able to accurately deliver the brand message in the video.
The animals in the video are as diverse as they could be (lion, dolphin, rabbit, sloth, owl, beaver, etc.), but they are able to complete a complex project with effective communication. Don't forget to watch the blooper reel with the beatboxing prawn!
Slack's first podcast was "The Variety Pack," published by Pacific Content and launched in May 2015. By the end of the year, they had published 17 episodes and had 3M+ listens as the bi-weekly format with half-hour episodes appealed to the Slack audience.
The themes in their podcast are not specific to Slack, but reflect the interests of Slack users: career change, lifestyle at work, future of jobs, etc. The podcast is also light-hearted, which showcases Slack's commitment to fun. The Pacific Content team worked with Slack to produce 28 episodes of Slack Variety Pack, and the bi-weekly format with half-hour episodes appeals to the Slack audience.
As Bill Macaitis, former CMO of Slack, says:
"Although podcasts are becoming more mainstream, if you're a die-hard listener of podcasts, there's a good chance you're also an early adopter, so it was a way for us to help spread the word about Slack."
Slack worked closely with Pacific Content broadcaster Steve Pratt, giving feedback for each episode. The focus was on telling engaging stories with small intertwined slogans like "Slack: Love What You Do" and "Slack: Making Work Less Work-y". The podcast reached a wide audience with a very soft sell.
Since a "brand is the the sum of all touch points the customer has with you" and Slack relies heavily on word-of-mouth marketing, their famous Wall of Love Twitter account collects and displays all the complimentary things people tweet about them: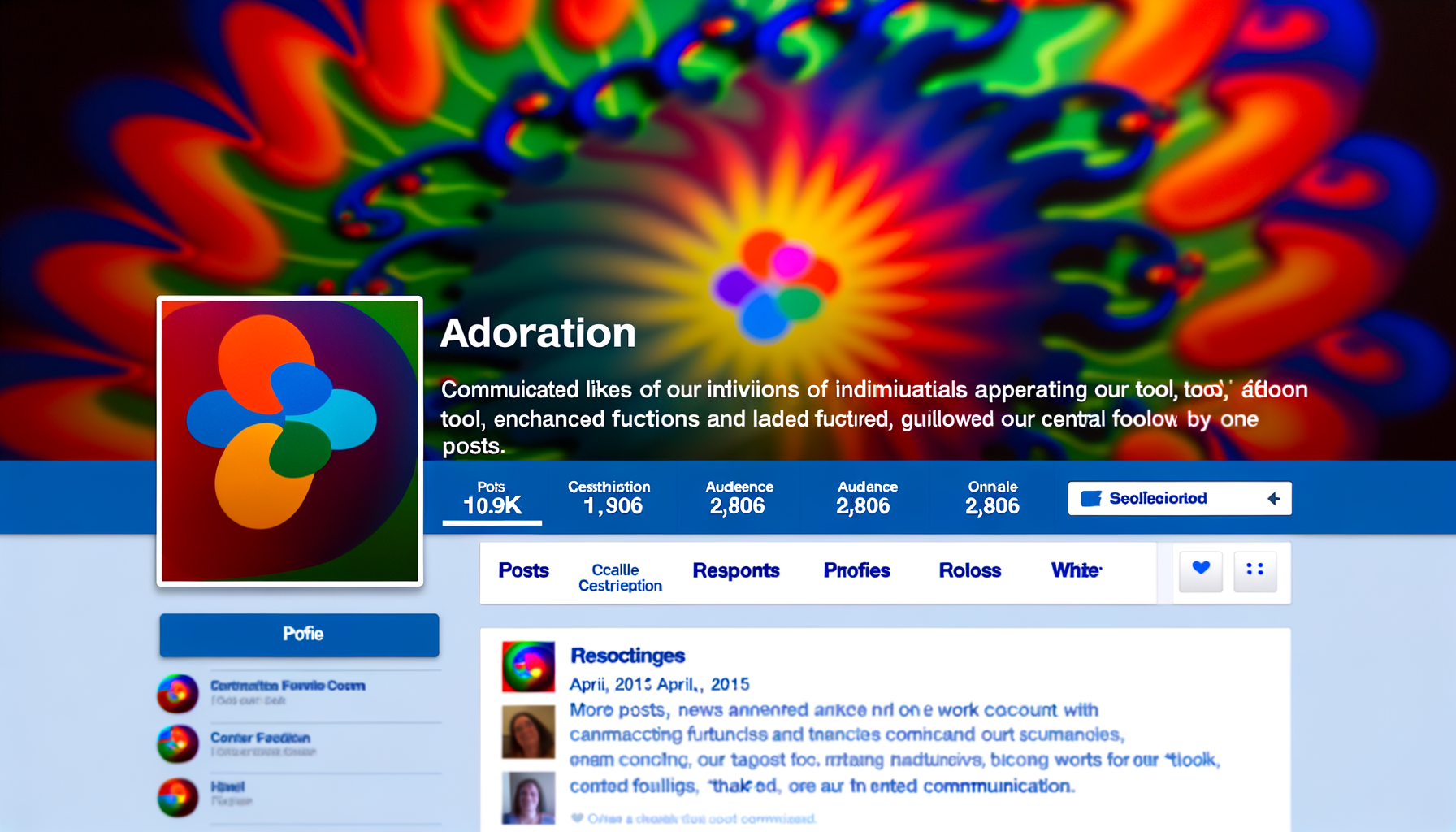 Stewart Butterfield adds: "Every customer interaction is a marketing opportunity. If you go above and beyond on the customer service side, people are much more likely to recommend you."
Localization, Not Just Translation
Personalization is not a nice-to-have option any more; it's mandatory in today's hyper-segmented marketplace to communicate with your users. You can't just copy and paste a business' model; you have to adapt to the market you're moving to. In other words, localization, not just translation.
On top of NPS (Net Promoter Score) data, a valuable customer satisfaction metric, Slack's Global Team marketers look at the growth and activation rates of new customers' teams. It's important that they get a sense of whether people signing up for Slack continue to use it. With such a wide market, segmenting your audience and creating a solid plan to conquer new customer lands is crucial.
For that reason, Slack chose a localized approach instead of one broad massage for the majority of the markets.
Chapter 4: Customer Experience as the North Star
Slack was able to enjoy hyper-growth without marketing staff. As Josh Constine, TechCrunch, says:
"Its growth rate is unheard of. Both Slack's daily user count and its paid seat count are up 3.5X in just a year."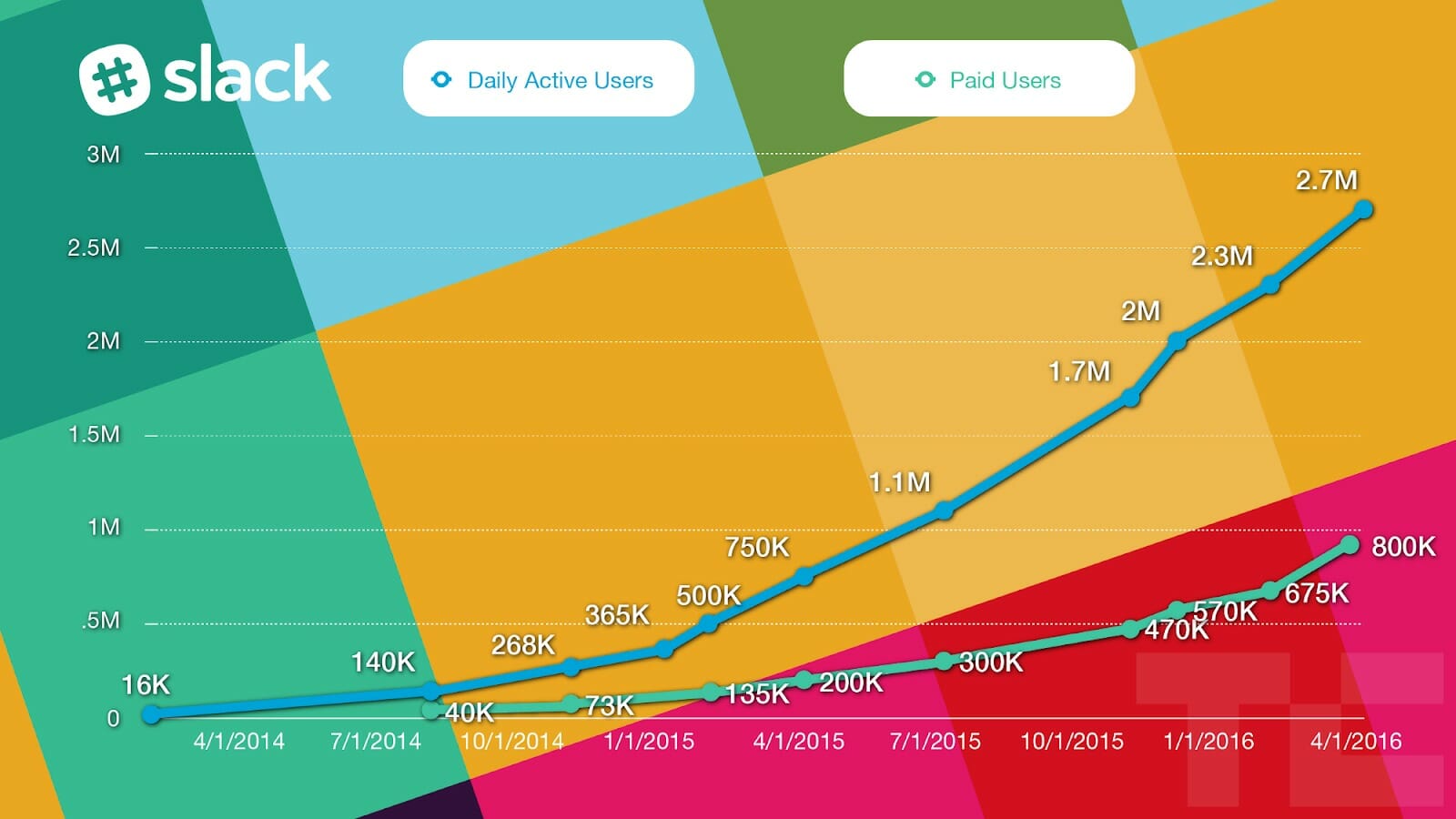 As mentioned before, Bill Macaitis, formerly the CMO at Zendesk and Senior VP at Salesforce, was brought on in November 2014, nine months after the public release. Instead of relying on growth hacks, paid marketing channels and short-term tactics, Bill Macaitis focused on only one thing: creating a customer experience that people love.
Andrew Chen, former VP of Growth at Uber and a marketing leader, talks about the law of shitty click-throughs — the inescapable point at which every company arrives. It's any marketing channel that worked like gangbusters in the past that stops bringing the same positive ROI over time. Or to say it differently: every marketing channel has an expiration date.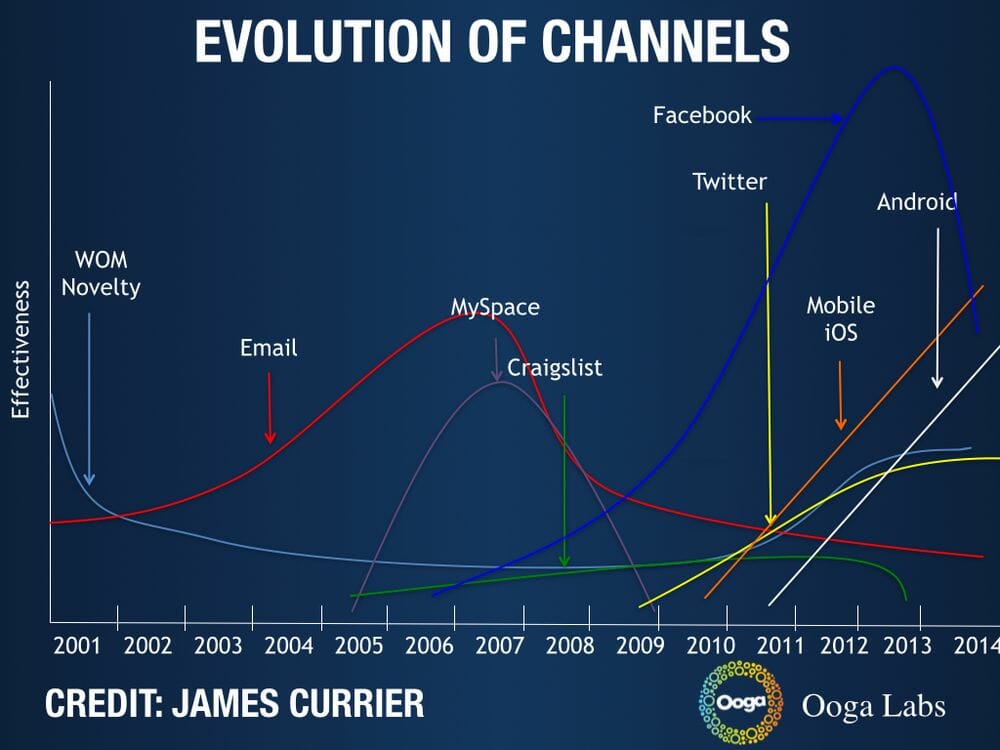 However, there is an exception to the law of shitty click-throughs — word-of-mouth will never stop being an effective marketing tactic.
Click To Tweet
If you can achieve a point where people are consistently recommending you to friends and colleagues, you're on the path of real growth. Once people tried Slack, they had to tell everyone else. Stewart Butterfield on Slack's word-of-mouth effectiveness:
"Unlike almost any enterprise software ever, people would talk about it…. [T]hey would post to Twitter and say…I recommend it. And…you know, no one ever says that about the software that they have to use at work."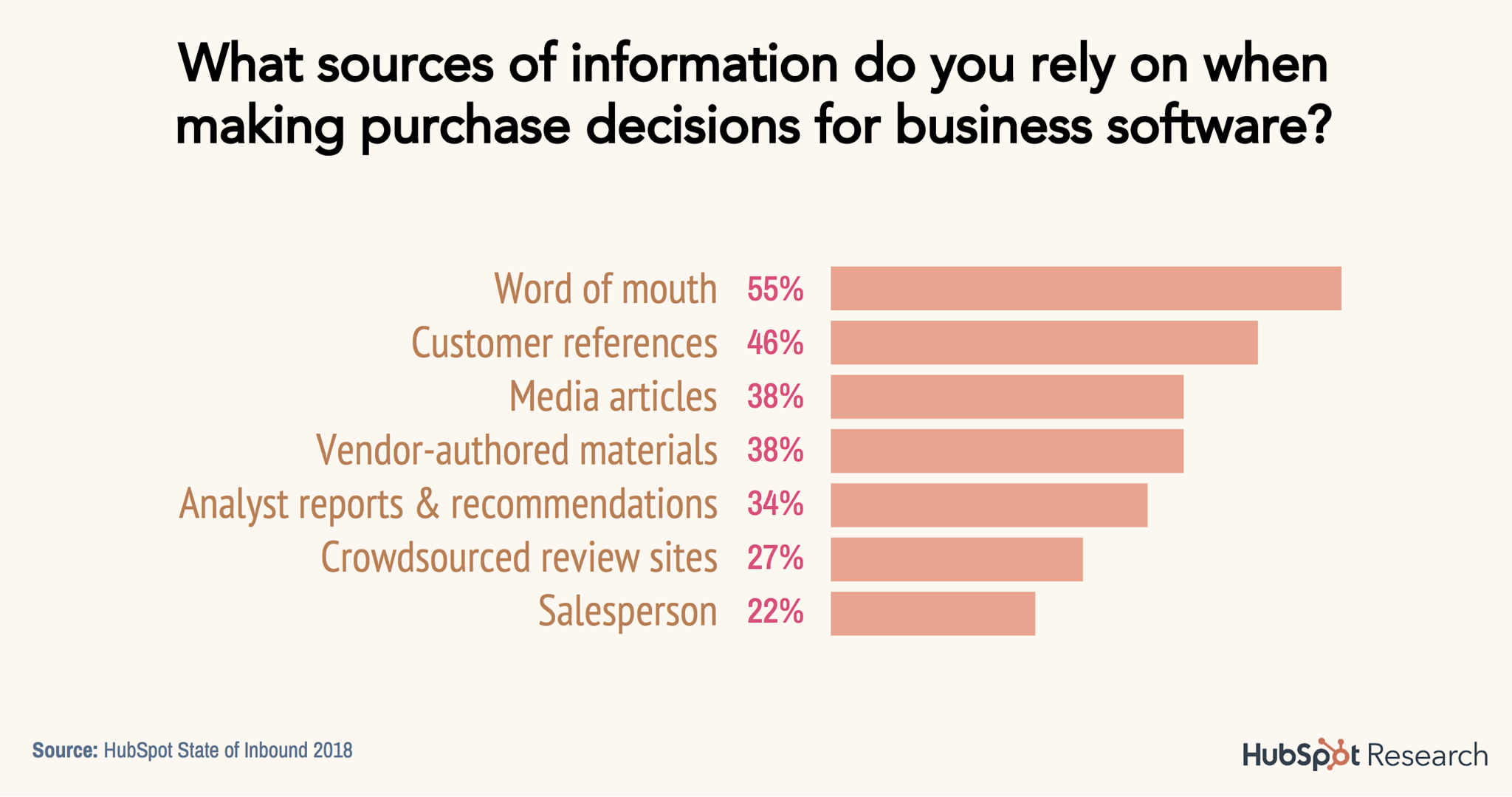 Y Combinator CEO Sam Altman's mantra is: "Customer love is all you need. A hundred people who love your product is better than a million people who kind of like it."
Hubspot Founder Dharmesh Shah would never trade short-term gratification for long-term benefit. He says: "Manically chasing growth at the expense of customer goodwill mortgages the future."
Slack's CMO Bill Macaitis explains that "a brand is the sum of every experience [a customer] has with you."
Slack embraced that philosophy:
Onboarding is fast and frictionless: It takes just three clicks to start using Slack.
Fair pricing: If you stop using Slack, they will return the credits back to you
Customer success: Every new employee goes through a nine-week training process so they settle in, adapt to the company culture and learn how to communicate in the Slack way.
Takeaway: Dare to be different, but never over the cost of functionality and the best customer experience. Word of mouth = growth.
Chapter 5: An Offer You Can't Refuse
Once a product hits a hot market, growth is contingent on continuing to stoke the fire.
Becoming a viral product depends on:
Your product becoming a part of users' daily or regular routine
Making it easy to share and get more people on the platform
Slack has an amazing freemium option and easy-to-understand (read: transparent) pricing.
Right from the start, you can use all the available features Slack has to offer, such as integration, document sharing, built-in features and more.
The limitations of a free account don't affect the user as they start using it; it's only once Slack becomes an integral part of their workflow does it make sense to upgrade. By then you're already hooked!
The limitations of a free account:
The number of searchable messages is locked at 10K
You're only able to connect 10 third-party or custom integrations
A modest file storage: 5 GB total
This is done intentionally: Slack wants you to use their products until the ease of communication and functionality is a daily part of your life. Then, once you hit a point where you want more storage or more integrations, you upgrade to a paid model. By then the product is integrated into your workflow and life.
Slack's conversion from free trial to paid is 30%, showing that giving away value pays off in the long run.
Click To Tweet
Slack is an absolute outlier with this conversion percentage. According to Jason Cohen from The Fader: "A really good conversion rate for free-to-paid is 4%, like Dropbox. Awesome for them, but normal rates are more like 1%, and that's if users are reasonably active."
The only brand that comes close is Spotify at 26.6% CR, while Dropbox and Evernote are far below at 4.1% and 4%: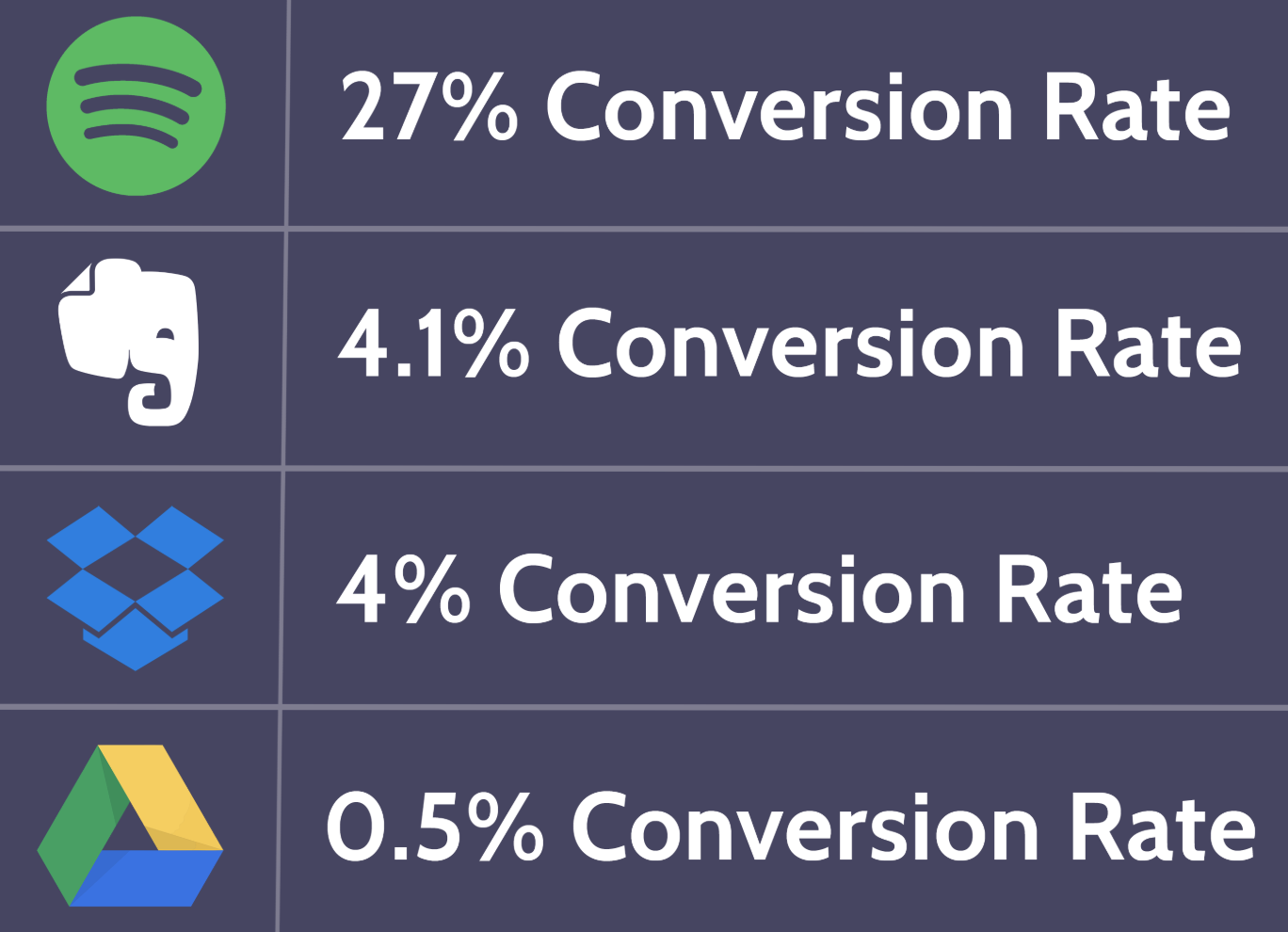 An important point is the fact that Slack is a tool for connecting teams. As soon as you enter the desktop app, you're prompted to invite your team members. Inviting team members is one of the steps of the onboarding journey: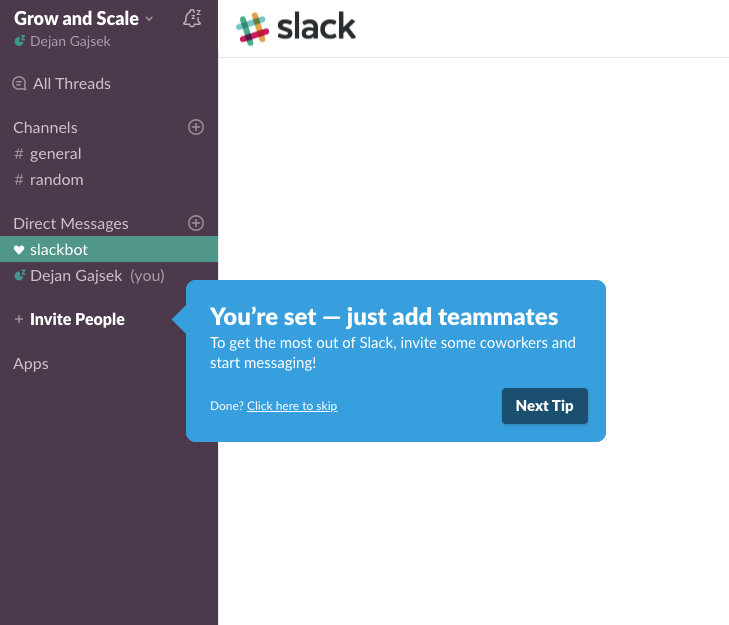 Even inside the app, the invitation CTA is highlighted above everything else:
Slack asks you to invite team members right off the bat.
They make it easy to share the invitation link.
You can invite users through a unique URL that can be shared through email, social media or on any website.
In the words of Bill Macaitis: "Optimize everything you do for word of mouth."
Dive Deeper:
Move the Bar of Success from Activation to Referral
The whole Slack brand was built upon the notion of a product that people love. And if people love something, they will tell their friends, colleagues and peers about it.
CMO Bill Macaitis moved the bar of success from converting a user to a paid account to convincing a user to recommend Slack further. This is much harder to achieve. The paid conversion is more of a short term goal — it's important but it pales in comparison to achieving a massive network effect.
Network effect is a condition in which every new user who joins makes the product stronger for everyone else. Each person who uses Slack becomes more likely to infect their whole company with the Slack love. This explains why insisting on NPS (Net Promoter Score) and CSAT (Customer Satisfaction) as the main metrics bring the biggest success. It's the ideal optimization for word-of-mouth marketing.
And the perfect example is Slack's pricing model.
If you're using Slack on a paid account and one of your team members hasn't logged in within a 10-day active window, Slack refunds your money, which is unusual for any company to do.
Let's think about the frictionless trial. Slack had to ask themselves what was best for both their brand and the customer:
Does the pricing model align with brand customer-centricity?

Does it surprise the user in positive way? (It does, since the user is refunded any unused funds.)

Is it likely that a customer will recommend the product? (Unusual things are often shared more.) 
Deeper into Customer Success
In the book From Impossible to Inevitable, Aaron Ross wrote that customer success is the core growth driver and is worth 5x more than sales.
It's for the same reason that Macaitis, coming from Zendesk where he focused on CSAT scores, made customer success a top priority.
In The Power of Habit, author Charles Duhigg explains the concept of the Keystone Habit, which is "an individual pattern that is unintentionally capable of triggering other habits in the lives of people." They're beliefs and routines that someone, or in this case a company, holds in the highest regards.
Just like sticking to a daily exercise schedule helps individuals become more organized, have more energy, and start eating better, customer success directly affects retention, drives referrals, and helps capture positive case studies.
Takeaway: Give away so much value that your users can't live without you. Make a product and experience amazing enough that they'll want to tell all their friends about you. Make it easy for people to begin using your product and get friends and colleagues on it. Competitors might be able to clone basic features, but they can't clone the community.
Chapter 6: The Recipe for a Multi-Billion-Dollar Company
Having an amazing product is not a ticket to riches. It's a prerequisite for growth. But there are two ways you can grow: slow, hard growth where you feel like pushing a boulder uphill. Or the easy way, where you just feel like you're guiding the rolling cart downhill.
But, of course, there are also terrible products that achieved amazing growth. Brian Balfour, former VP of Growth at HubSpot, explains that you need four pieces of the puzzle for growing to $100 million ARR and beyond:
Market/Product Fit 
Product/Channel Fit
Channel/Model Fit
Model/Market Fit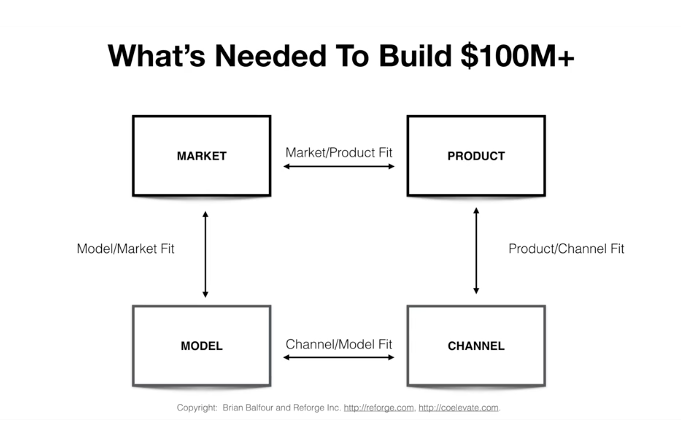 Companies who can make these four frameworks align are the ones for whom growth happens naturally.
Market/Product Fit

While a great product is necessary, you still need to find the market. Finding a solution before fixing a problem is just like putting a cart in front of the horse.
We should be thinking market first, then the product.
For instance, in 2016 and 2017 there was a lot of hype about virtual reality. It sounded new and exciting and numerous start-ups and other companies tried to build something around it.
Or in the last couple of years, cryptocurrencies and blockchain has been popping up in every online magazine. Yet, we still don't have a sticky solution – a clear, tangible way that those technologies are fixing the problem.
That's because they don't solve any major burning pain point.
Slack's team communication has a very clear value proposition: it reduces the time and effort of team communication so everyone can get the info they need just in time. Thus, working feels more smooth and productive.
Let's look at it in a visual representation: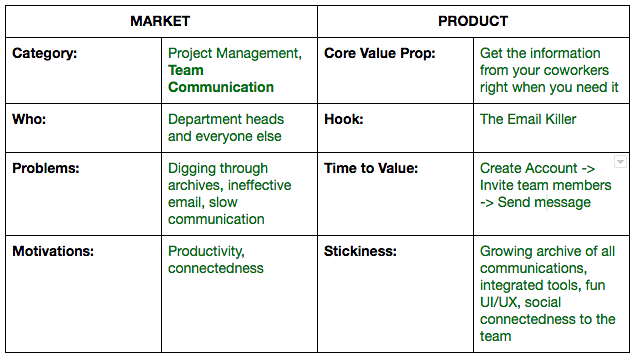 The product/market fit has to be proven with a combination of qualitative and quantitative measurements.
Slack's Northstar Metric has always been NPS, which is one of the best qualitative predictors. If your product solves the problem and it's made in such a way that people love using it, then they should recommend it further.
At the same time, on quantitative side you have to pay attention to two things: direct traffic and flat retention: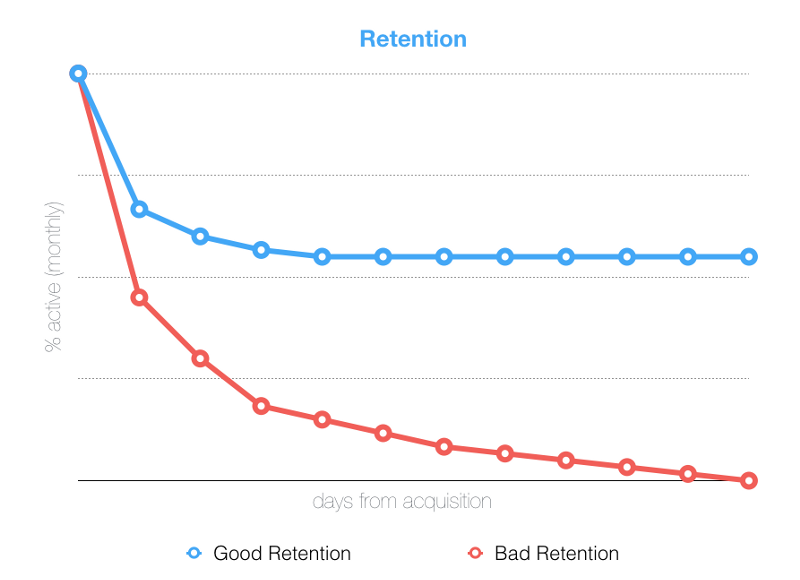 Slack figured both things out. The product is like quicksand: the more you use it, the more you depend on it. Every new person who joins the company has to use it as well.
Product/Channel Fit
What most start-ups fail to understand is that the product and channel are connected. We shouldn't treat them as silos. They are not separate entities; they are connected pieces that correspond with each other.
Products are built to take advantage of specific channels. But channels do not mold to products.
We can't define the rules of the channels. Google defines what gets ranked in SEO and shown as search results. Facebook defines what gets shown in the news feed. Gmail defines what goes into the spam folder and what goes into the promo tab.
What you need to do is mold your product into one of these channels as seamlessly as possible.
Which is what Slack did.
Slack's product has an amazingly quick time to value which doesn't only target an individual but a whole team.
Secondly, it's got a broad value proposition – everyone on the team gets the same benefit of increased productivity and shorter times of receiving information.
However, Slack managed to get all of those channels to percolate down to the holy grail of channels – word of mouth.
Peter Thiel, one of Silicon Valley's most known venture capitalists and the co-founder of PayPal, said: "We don't live in a normal world, we live under a power law."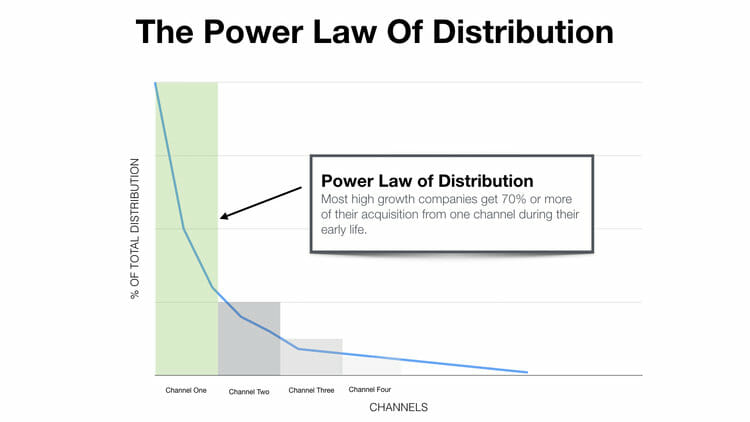 The Power Law of Distribution tells us that 70% or more of all acquisitions will come from one source (or one marketing channel).
One quick look at Slack's traffic sources will tell you what theirs is: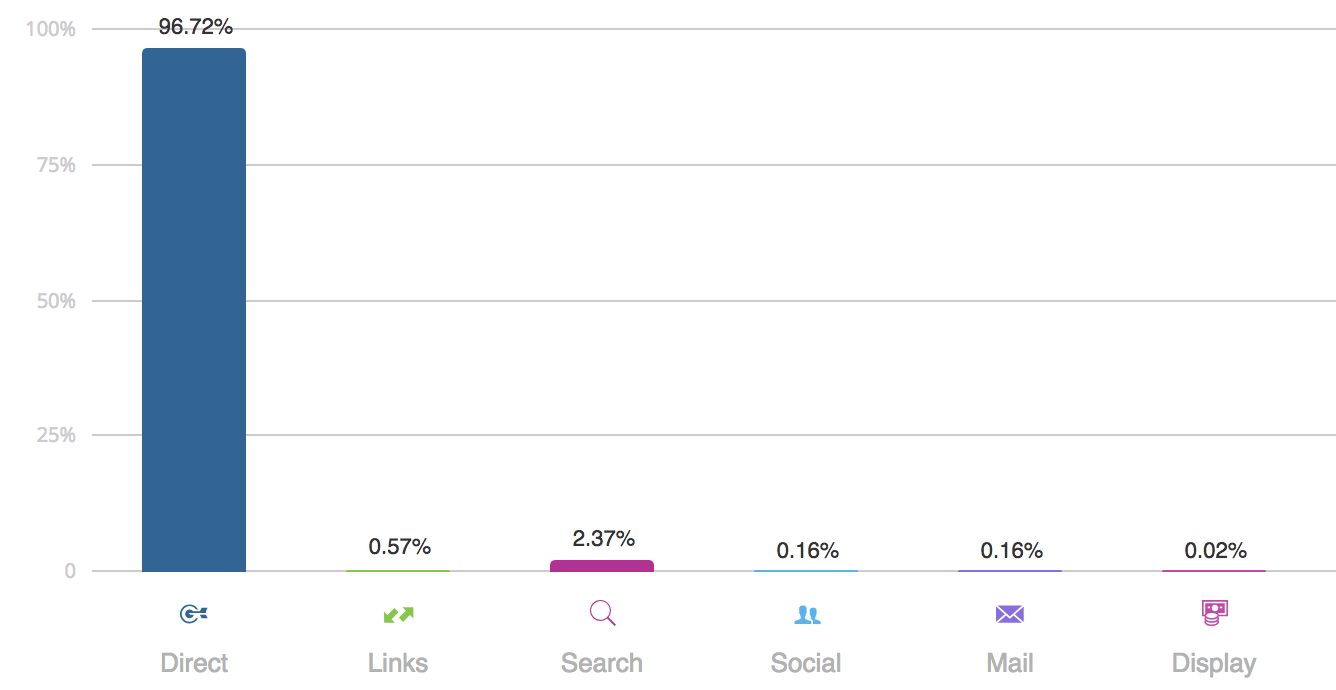 It's not just virality, but a combination of brand and word of mouth. It's the "direct" channel. This means that the Slack brand is so well known, most of the users are coming to the website by directly typing slack.com into the browser. Every company dreams of this kind of channel distribution.
You've probably heard of Pareto's Principle (also known as the "20/80 rule"): 20% of your effort gets 80% of your results. The Power Law of Distribution is similar and Peter Thiel used it in his quote: "We don't live in a normal world, we live under a power law."
This is explained by Product/Channel fit. Any business uses one or more channels to get users or revenue. In the book Traction by Gabriel Weinberg and Justin Mares, you will find 19 marketing channels that you can explore.
But it's unusual to expect that traffic or users are going to be distributed evenly across different channels. The companies that really make it work find one channel that brings in 70% or more users.
Some examples of companies that made this work:
Virality

– DropBox storage referral program and

Harry's shaving waiting list

SEO

– HubSpot and Neil Patel who cover almost every piece of marketing with content

User Generated Content (UGC)

– Reddit, TripAdvisor, Twitter, Instagram

Sponsored Podcasts –

Website builder

Squarespace and Casper mattresses are known to sponsor podcast hosts who plug their products.
Channel/Model Fit
Channel/Model fit defines the relationship of your pricing model and your channel. It should answer the question of how you charge your customers and how much Average Annual Revenue Per User (AARPU) you are receiving. In other words, ARPU is "the measure of revenue generated per user or unit."
To determine a good business, we need to look at the relationship between the ARPU and Customer Acquisition Cost (CAC):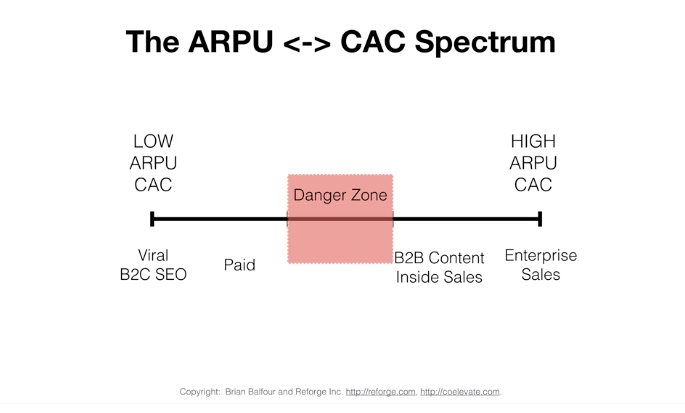 On one end you have low ARPU and CAC – these are channels that monetize quickly. Think of Facebook or Mailchimp.
On the other end you have high ARPU and CAC. These are companies like Palantir Technologies.
A company's pricing model has to be congruent with the channel. According to Brian Balfour, the worst thing to be is somewhere in the middle. This doesn't mean it won't work, but it might be harder to execute.
So what about product tiering, which allows you to offer your products at different prices with different features? Here's an example of product tiering from Mailchimp: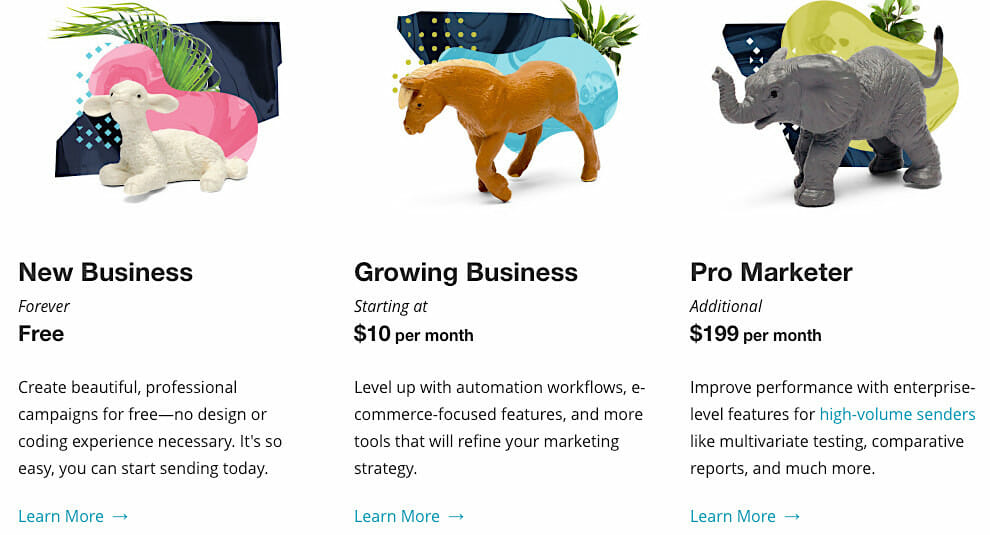 Bigger products with a variety of features can exist across the ARPU <> CAC Spectrum. If you look at LinkedIn, they have product offers on the low and high ends of the spectrum: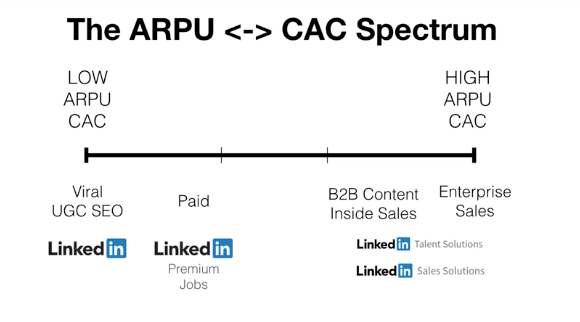 Where does Slack fit in?
We defined Slack as a product that uses virality to grow. Its freemium model allows you to onboard and value-lock the whole team quickly. But most users convert to a paid version in the first three months. This places Slack near left of the middle of the spectrum.
On the product tier level, Slack has benefitted from clear pricing. But they also have a solution on the higher end of the spectrum — Slack Enterprise Grid. At SEG, companies manage multiple workspaces with increased security features.
Model/Market Fit
For some companies, growth can feel like a lumbering mammoth, where you need to put a ton of effort in just to get it moving. For others, growth is a smooth natural process — it feels like growth just happens by itself. Slack is definitely one of the latter companies.
Why is that?
Because the road to 100M+ annual revenue is different depending on the pricing model and the market. Christoph Janz from Point Nine Capital developed their pricing matrix and named the different products by the animals they represent:
Elephants – Large enterprise products worth 6 or more figures. You need 10 clients to have your first million.
Moose –  Upper market B2B products where an account is worth around 10K. You would need to get a hundred of these customers to get to the first million. Example: HubSpot.
Rabbits – The majority of SaaS tools and software priced between $49 and $249 per month. Example: Most email managers like Mailchimp.
Mice – A small B2C tool worth a couple of dollars per year. Think of Shopify subscriptions or The New Yorker paid content.
Flies – Small B2C tools only worth about $100 per year. These are companies that get a tiny fraction of revenue. Example: BuzzFeed.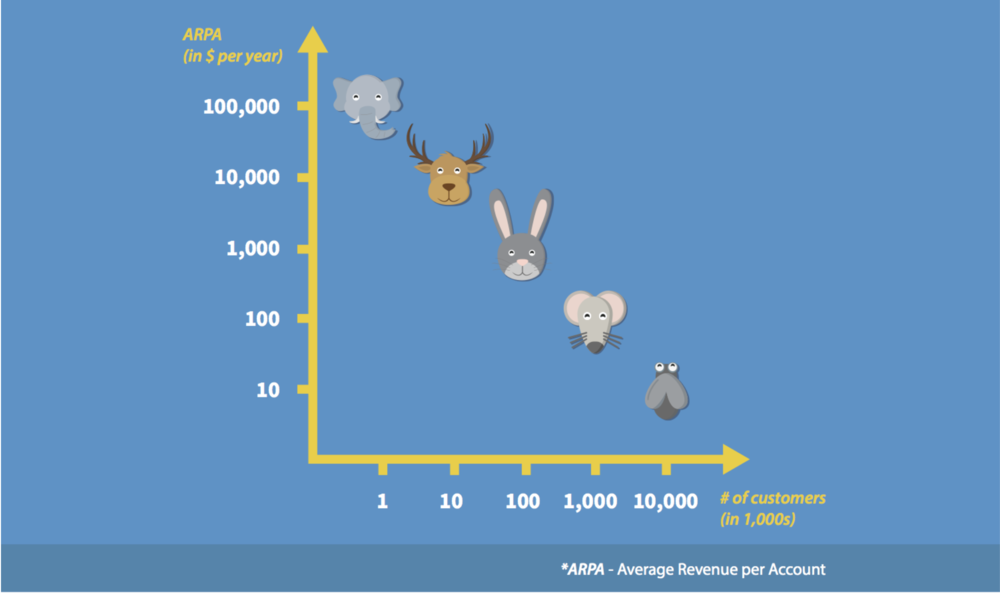 Depending where your products are in the Animal Pricing Matrix dictates the market. Are you going to hunt the big corporate/enterprise deals? You only need a couple of them.
Slack's default product is the rabbits — small- (2-20) to medium-sized (up to 150) teams where they can quickly earn a decent revenue. Since they earn per user, the price can stack up quite fast. For that reason, Slack held a record of earning one million ARR (annual recurring revenue) every 11 days. That was especially impressive because this occurred in the first year of their launch.
If you draw a line across the "animals", you get the Model Market Fit Threshold: on the line and to the right you have a Model Market Fit, while everything to the left is not: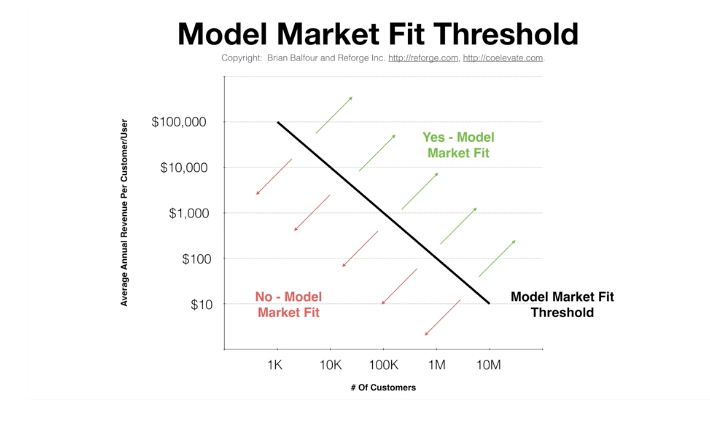 Here's how you calculate your Model Market Fit Threshold: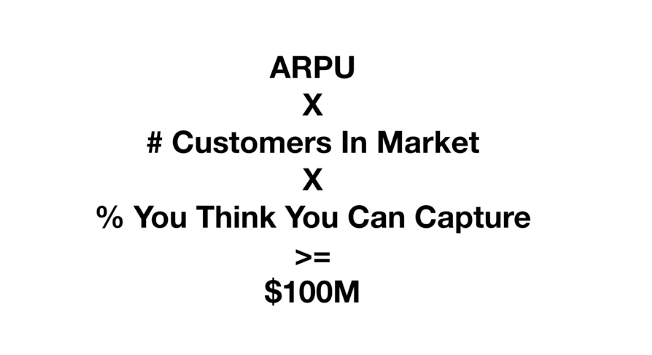 Start with total customers in the market, which you've already done at the Market Product Fit stage. If the customer size feels too small, you can cast a wider net. However, you'd need to check the Market Product Fit to see that you're still covering the customers according to your criteria.
Then calculate how much your customers are willing to pay. You have to be above the Market Fit Threshold. If your product sits below, you can raise your prices, but make sure that the Product Model Fit supports positive ROI.
Lastly, think about what percent of the market you can capture. This is the hardest metric to calculate since it's tough to predict. Brian Balfour suggests 10% as a rule of thumb as a starting point.
How all 4 Frameworks Apply to Slack
Let's put Slack in a table and review the frameworks to see if the hypothesis holds true:

Slack is valued at $5.1 billion.
During the years, Slack has evolved to cover a larger piece of the market with different pricing models, but for the sake of this equation let's look at the most common one:
Product – Slack is a team communication tool that solves the issue of internal communication within the company. It has a clear value proposition and solves a major pain point. It's simple to use, and with a plethora of apps and integrations, it becomes a valuable piece in the company's stack.
Market – Their most common client is the software company that starts with small numbers of employees (between 5-20 employees) and often quickly swell up to hundred or more.
Model – Pricing is straightforward. It's priced per active user. If a company of 20 takes a standard package, it costs them $1,920 per year. For every new member that joins the company, Slack earns another $96 towards their ARPU. This puts them in medium ARR (annual recurring revenue).
Channel – Word-of-mouth is accelerated by high customer satisfaction scores. Every user that joins Slack has the ability to pull another person in as well. Since the product is simple and doesn't require much setup, the viral channel works amazingly well.
There are roughly 20K tech start-ups in the Bay Area. Since 10% of 20K is 2K, that means that 2,000 companies with 20 users gets Slack an Annual Contract Value (ACV) of $4 million.
But Slack is not just targeting software companies, it caters to regular brick-and-mortar stores, offices, government agencies, and more. As we saw in Chapter One, the TAM is absolutely enormous.
Slack expanded the model with an enterprise option where they don't hunt the rabbits and mice, but go after bigger animals. The virality and word of mouth is the most scalable channel they can ask for. They figure out the pain points and desires of their users, which gives Slack an incentive to approach new international markets. In fact, more than half of Slack users are in 100+ countries outside of the U.S.
These markets have localized support and offerings. Every channel is constantly evolving and moving, which demands that every company stay on their toes and manage all four frameworks.
Dive Deeper:
Chapter 7: Slack's Friends and Family –  Partnership Moves & Integrations
Successful companies often acquire another company to get rid of the competition (TripAdvisor bought a plethora of local travel apps), acquire a wider customer base (Amazon with Whole Foods and Zappos) or gain access to the proprietary technology that will help them grow (Facebook with Instagram).
Most of the big companies wait for the disruptor to reach a certain stage: The acquirer eliminates the threat, prevents other competitors from swooping in and stealing the technology, and instantly reaches new audiences. Sometimes, acquisitions happen just because a company needs high-tier development talent and knows that a start-up has the top minds in the business.
A merger is a different strategy. When Facebook acquired Instagram for $1 billion, most of the public thought it was way too much for a simple mobile photo app run by twelve people with no revenue model.
But six years after the merger, Instagram has one billion monthly active users who are exposed to Facebook Ad campaigns. As of 2017, Instagram already made up 28%  of Facebook's mobile ad revenue. And the channel is growing year-over-year, expecting to hit $10 billion by end of 2019.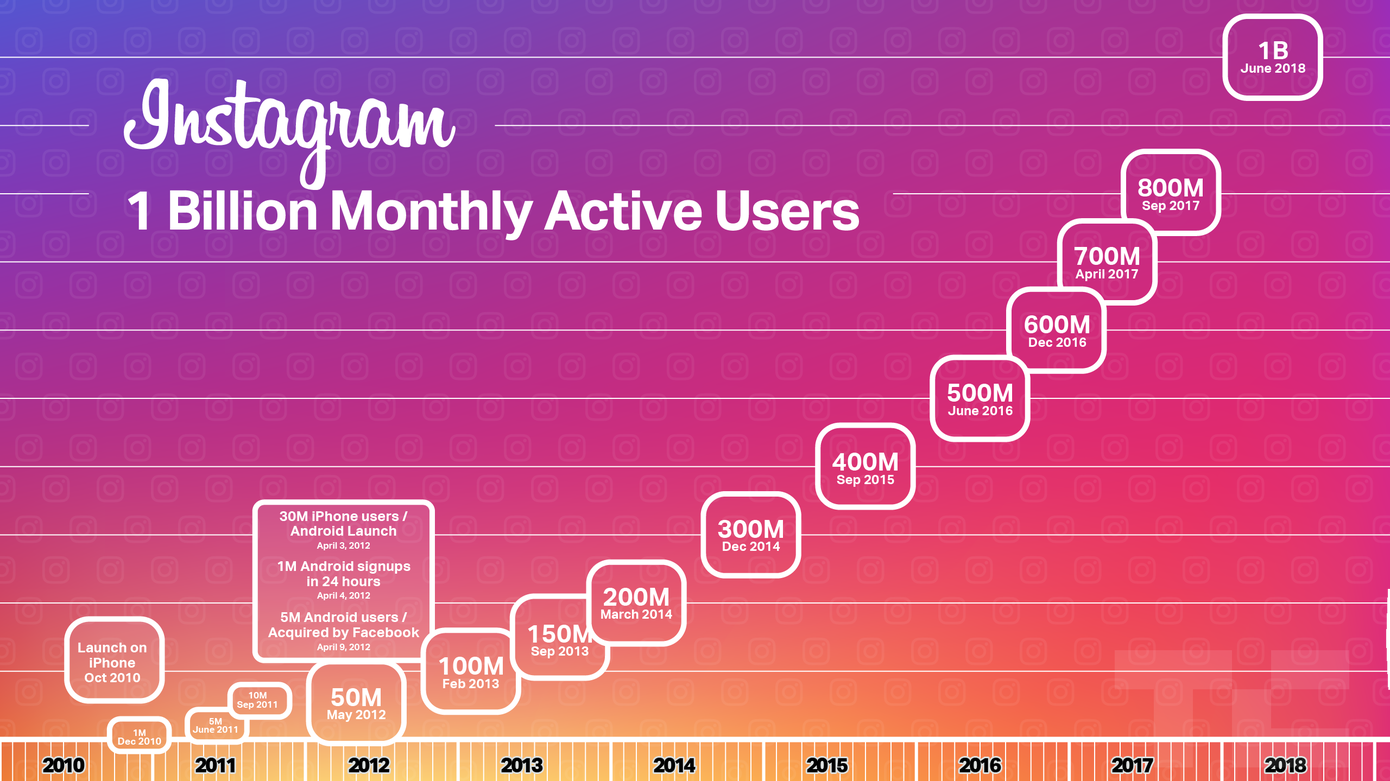 Slack's product idea isn't hard to replicate — internal chat technology isn't much different than Internet Relay Chat (IRC). Keep in mind that CampFire, Yammer and HipChat tackled team communication several years prior to Slack's launch. But for Slack to stay ahead of the pack, they had to grow fast. As Matthew Lynley, TechCrunch, says:
"Companies like Yammer, Microsoft, and others looked to remake internal communications in ways that looked more like consumer tools in the Web 2.0 era, but Slack came out with an approach that was initially just a slick chat and team communications tool."
Naturally there were other competitors, so they decided to use mergers and acquisitions to strategically fill in their success gaps:
Sep 26, 2014 – Slack acquires Spaces. Spaces had document collaboration technology that greatly increased Slack's capabilities.
Jan 28, 2015 – Slack acquires Screenhero. What's a messaging app without screen-sharing and voice chat? All six employees who worked for Screenhero joined Slack.
July 17, 2018 – Slack acquires Missions. Robots and Pencils' app Missions allows Slack users to build tools to automate simple routines without much technical knowledge. It's a lot like Zapier for Slack users. Slack's integrations are key to its success: Slack has more than 1,000 apps available in their app directory: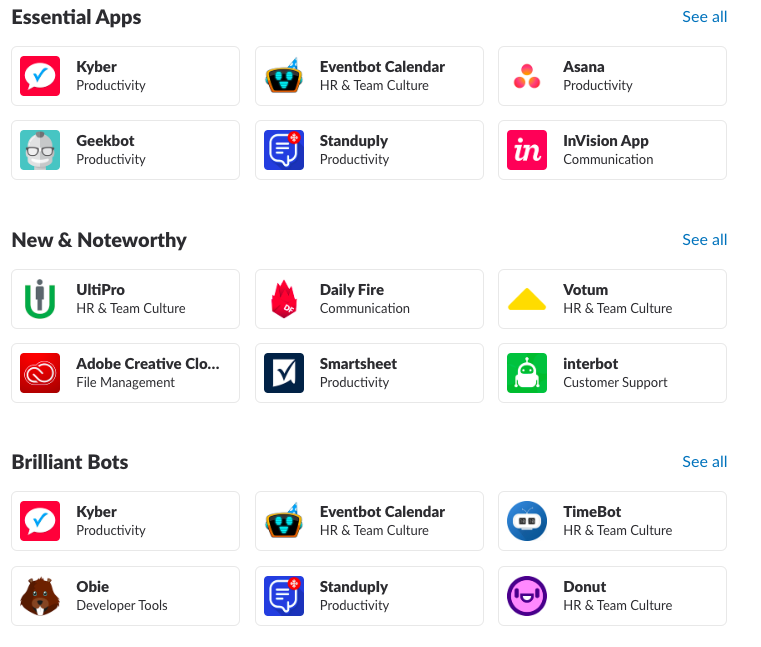 According to TechCrunch, 94% of paid business users use apps and integrations while 65% of teams have built their own. With Mission's visual flow, the creation of new integration is easy and allows for the customization that Slack users want.
Jul 27, 2018 – Partnership with Atlassian. Slack announced the acquisition of the Stride and HipChat products from Atlassian. Slack and Atlassian had a previous relationship, with Atlassian tools like Trello, Bitbucket and Jira already integrated with Slack, adding project management to the already robust communication tool.
Slack's acquisition of Stride and HipChat allows it to upgrade the workflow capabilities of the product, especially for large enterprise businesses. The Stride collaboration tool enables video, voice and chat at the same time, while HipChat has been one of Slack's largest competitors. As a predecessor (HipChat launched in 2010), they acquired a significant user base over the years before losing out to Slack's accelerated user acquisition.
Both HipChat and Stride will migrate their users to their once rival's platform, and cease all support by February 2019. About 2,600 employees from Stride and HipChat will begin using Slack.
Takeaway: Acquisitions are more than just getting rid of competition. Consider what else you can win by purchasing a competitor or complimentary product: customer base, new talent, new technology?
Chapter 8: Future-Proofing the Company and the Product
We've seen multiple high-growth companies 'rest on their laurels' rather than continuing to iterate and optimize.
How is Slack going to defend itself from the big players? Microsoft's Teams and Google's Hangouts Chat may threaten Slack's dominance from their sheer distribution advantage.
Slack's initial intention was building a solid customer-centric product that isn't just functional, but adored. The majority of their marketing efforts were poured into making their brand fun, lighthearted, and accessible. People who use it have the same perception of the brand and it's ingrained in their brains because Slack put all the effort into conveying that core message.
This is something Google or Microsoft cannot achieve. At least not in the short run.
While they can offer the best integrations, tools, and technical perfection, it will still be the product of Google/Microsoft. It's the product of a big corporate company who owns everything.
When someone looks at Slack they see the Animals! video with bright colors and quirky loading messages. If they look at Microsoft, they see a different brand message – a more corporate-oriented machine with a serious tone.
It's the same reason why HipChat, which is arguably the same product and was launched four years before Slack, couldn't grow.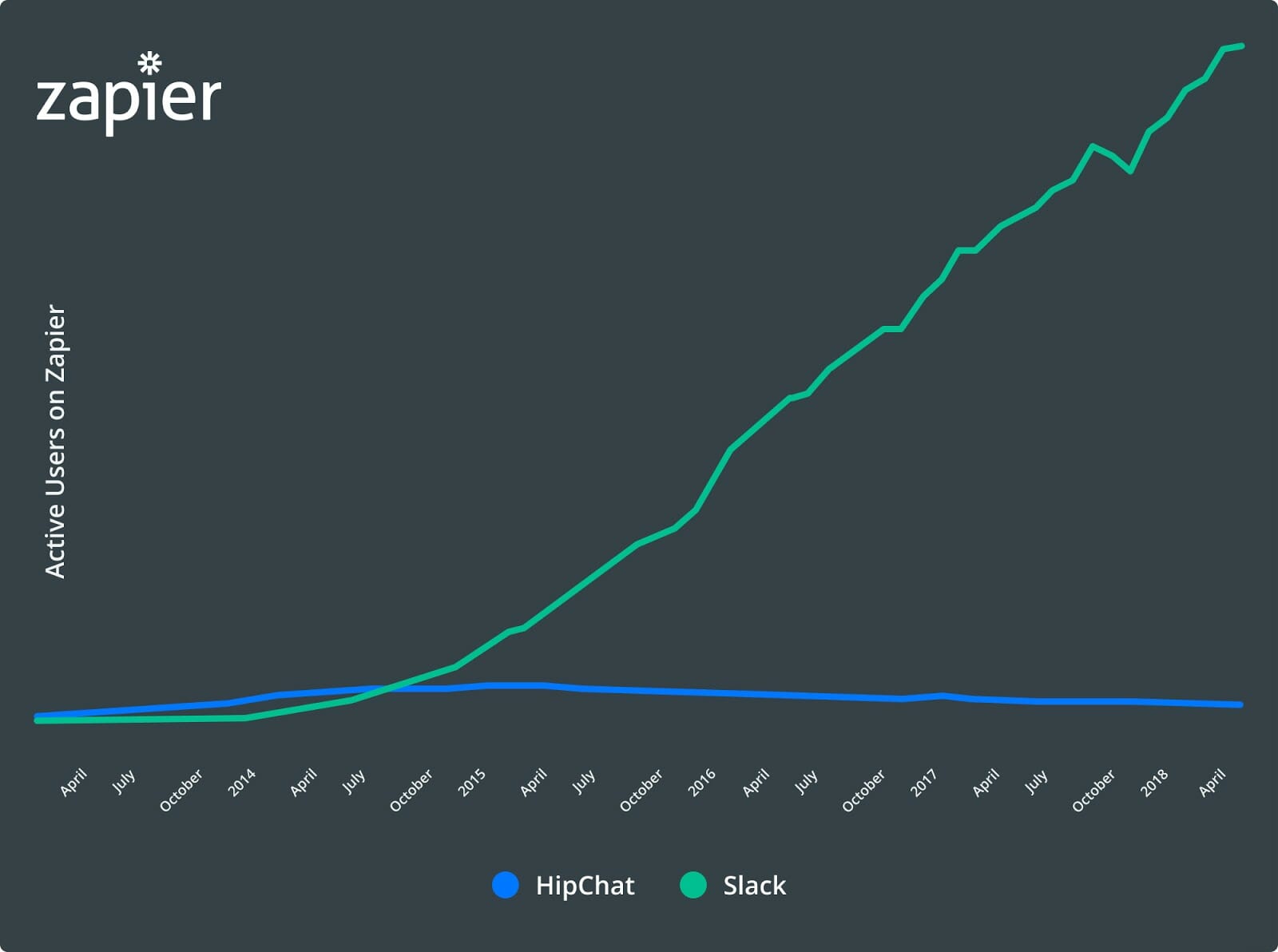 Slack won the branding game because they invested in emotional capital.
Integrations and technical flexibility keep the team at the forefront of the team-communication industry. Strategic acquisitions of companies allows them to have the best-in-class talent and an instant surge of new users.
Stewart Butterfield talks about the importance of inclusion and diversity – and it's not just empty virtue-signaling. At Slack:
Globally, 43.5% of their workforce is comprised of women (48.1% of managers are women)
11.5% of their U.S. workforce is comprised of people from one or more underrepresented racial and/or ethnic groups
7.8% of their U.S. workforce identify as LGBTQ
1.7% of their U.S. workforce identifies as having a disability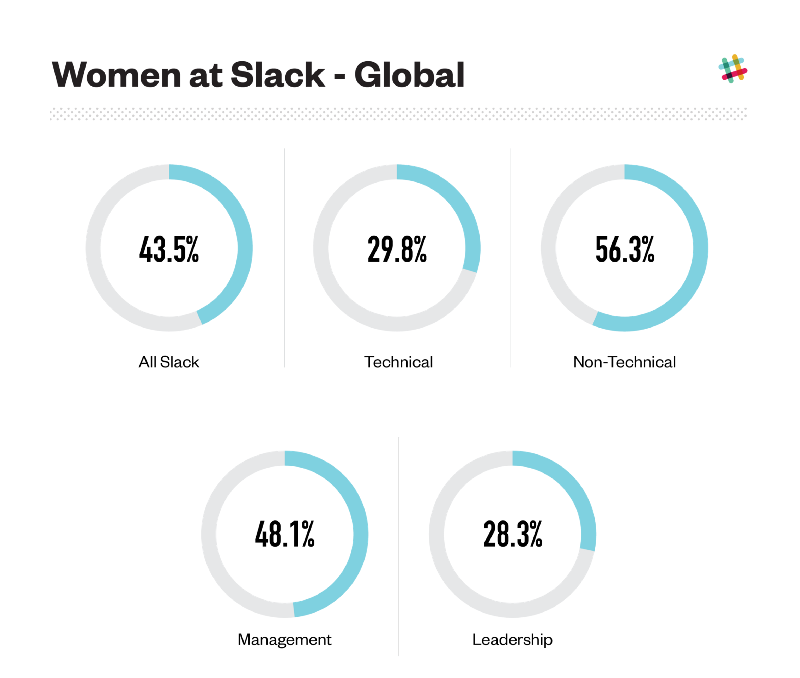 This is significantly better than such companies at Google, Facebook or Microsoft where women make up between 19-28% of leadership positions and 19-20% of technical roles.
This tells the public that Slack cares for its employees. And because they care and provide an inclusive and safe environment, the reviews on Glassdoor are glowing: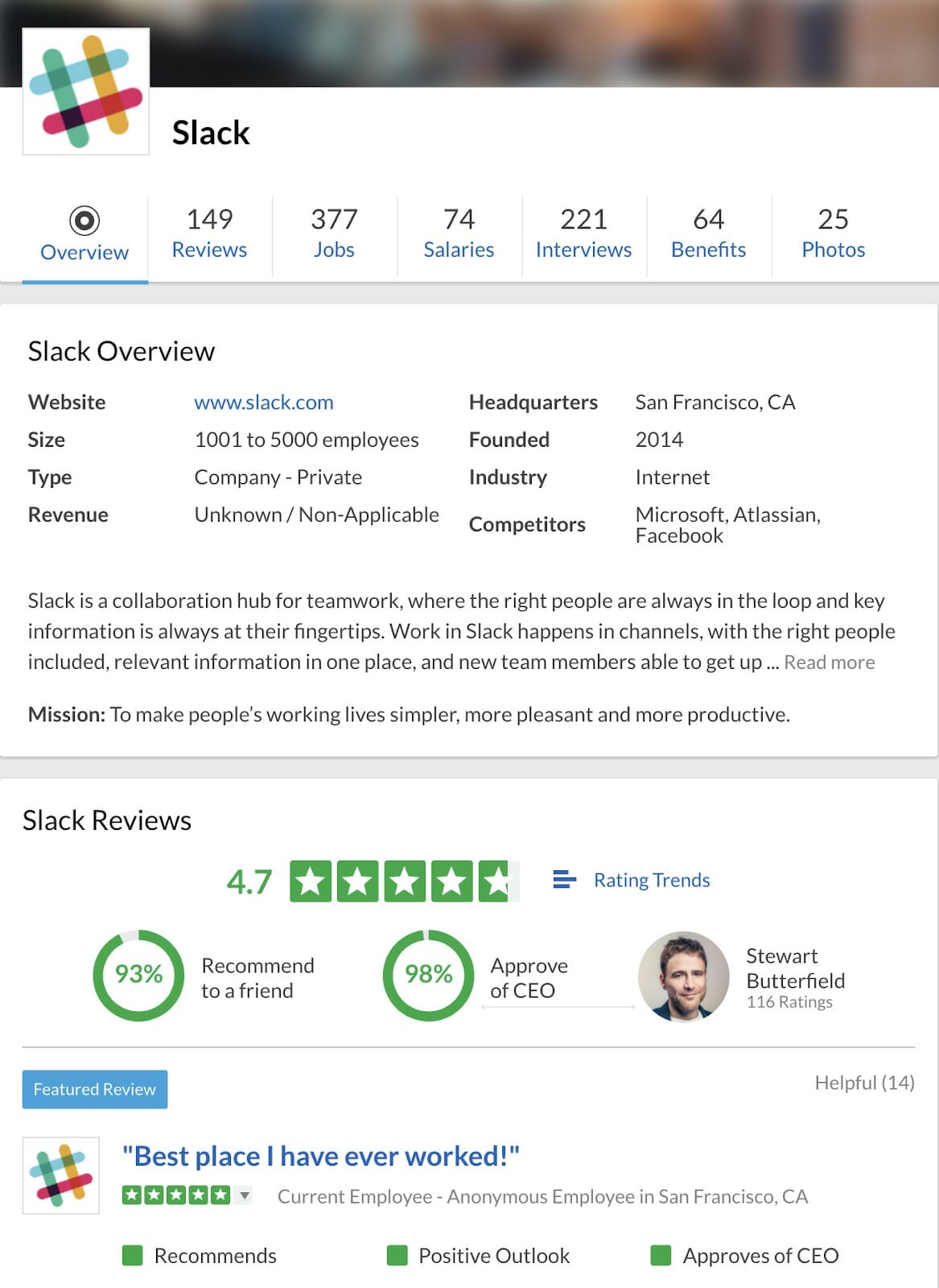 Dive Deeper: The Kick-Ass Guide to Increase Customer Reviews for Your Online Store
And lastly, the core Slack team, the original founders, love working with each other. They have been through thick and thin, ran the gauntlet and stepped over the charred corpses of failed products. They are connected with a common goal to keep their customers happy.
When you look at military history, the battle-hardened and seasoned soldiers who were part of the same company fared much better in the field than fresh recruits. It's only natural. Every individual in the tight-knit group knows each other and relies on them because they know their capabilities.
In his book, From Impossible to Inevitable, author Aaron Ross talks about defining your destiny — in every moment of growing your business you have two options:
You give up in the face of challenges
You use them to motivate yourself and others and push forward
During BUD/S (Basic Underwater Demolition/ SEAL) — a notoriously hard training phase of becoming a Navy Seal — the training officers figured out who would make it through the training. It's those individuals who find a buddy, a brother to rely on during the most mentally and physically grueling conditions. As Stewart Butterfield said in an interview on How I Built This with Guy Raz:
"You go through a trauma with a group of people, and you really get bound to them…. And so I think we all wanted to continue working together."
Takeaway: Brand is everything your company does with your customers. Tie everything into that mantra — the happiness of your employees, the love of the product and, most importantly, your customers' satisfaction.
Conclusion
Slack has established itself as an idol of a business company — they are loved by small startup teams and large enterprises.
Their panacea for internal communication was not only effective but also packaged in a way that is easy and fun to use. The extreme focus on customer satisfaction only made it better through the years for new users. And on top of that, the employees love working there, believing they are making a positive change.
People? Check.
Product? Check.
Process? Check.
Check out some of Single Grain's other case studies here!