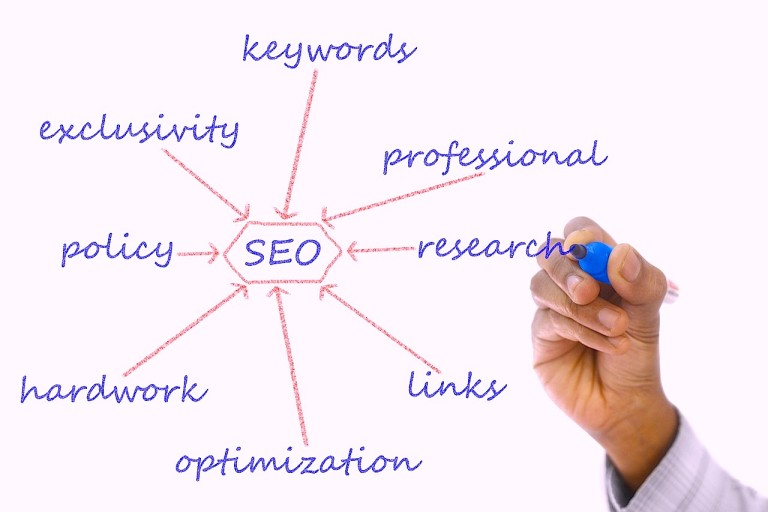 Keywords and keyword phrases are the currency of the Internet, and it's no secret that good search engine optimization is built on in-depth keyword research. But don't just click open the same tired research tools or navigate over to the Google external keyword tool yet again.
Instead, consider some of these new, little-known ways to perform SEO keyword research.
Go Straight to the Source with Google's Related Searches
Identifying sub-niches without significant competition is one of the biggest challenges that website owners face. Trying to compete in the natural search rankings for a general term like "dogs" is going to be an uphill battle, requiring substantial investment of time and/or money in order to see results.
So instead, Internet marketers are wise to look for the low-hanging fruit of sub-niches—but how do you know which sub-niches offer the most potential? The answer lies in Google's Related Searches feature….
To access this feature, simply navigate to Google and type a general keyword or evergreen niche keyword phrase into the search bar. Then, click on "More Search Tools" on the lower left column and finally, choose "Related Searches." This will bring up a list of several keyword phrases that Google considers to be related to your main keyword, as shown in the example below:
Simply copy the related search terms into a spreadsheet and enter them into the Google external keyword tool or any other SEO keyword research software program to find more information on their search volumes and overall competitiveness rankings.
Similarly, you can use the auto-complete results that pop up below your search bar to generate related keywords to analyze:
New Ways to Use the Google External Keyword Tool
If you've been involved in keyword research for SEO for any amount of time, you've probably used Google's free external keyword research tool before. If not, check it out, as it contains a wealth of free data on keyword metrics, straight from the horse's mouth.
However, once you navigate to the tool, don't just enter in your target keyword and have the tool generate results—that's Google External Keyword Tool for dummies! Instead, use the tool to reverse engineer your competition's websites to find the most profitable keywords to pursue.
Suppose we decided to target the phrase "dog training tips" using the process described above. Now, we know that we want to build a website around this keyword, but we want to find other keywords that Google thinks are relevant from a latent semantic indexing standpoint, as well as keywords that we know will be valuable to target.
To find these specific related keywords, enter the main search phrase into Google, then copy the address of the first natural search result:
Now, return to the Google External Keyword Research Tool and enter this URL into the "Website" box, ignoring the "Word or phrase" entry area.
Repeat this process for every site listed in the natural SERPs for your target keyword phrase and make a special note of any keyword ideas that overlap between URLs.
Searching in this manner will return SEO keyword phrases that your competition is targeting and that Google believes to be relevant to each other. Assuming that your competitors are well-established and have done their own SEO keyword research, we can be reasonably certain that the common keywords they're targeting are worthwhile to pursue as well.
So now, instead of devoting hours to uncovering sub-niches and drilling down for specific keyword phrases, you can cut your research time significantly and begin moving forward with your website.
Uncovering Competitive Keyword Data
As described above, discovering which particular SEO keywords our competitors are targeting is hugely beneficial in terms of increasing our speed to market. When we see that competitive websites are actively targeting the same group of keyword phrases, we can safely assume that they're strong keyword phrases, which reduces our risk and helps us structure our websites around quality SEO keyword searches from the start.
So in addition to the method described above for uncovering our competitor's keyword lists, we can also use the free search features over at Spyfu.com.
Simply entering our target niche or keyword phrase into the "SpyFu Classic" search bar reveals a ton of great information for free: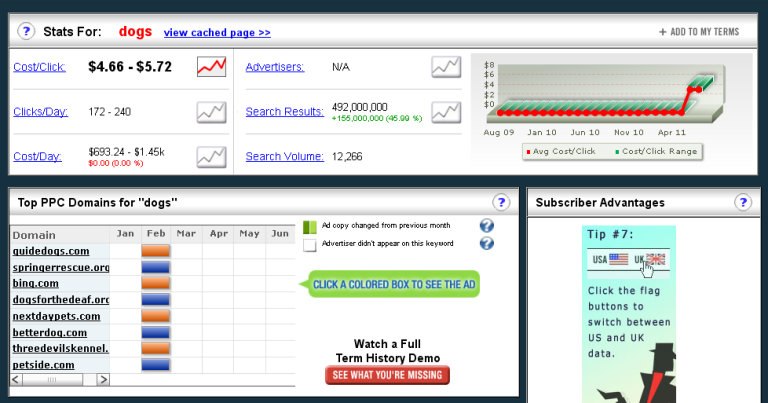 * Cost/Click – This number gives us an estimate of the average pay-per-click price that an advertiser in Google's Adwords program would pay each time a reader clicks on his ad in the sponsored search section of Google's search results. Although the specific price doesn't matter to our SEO keyword research, seeing a higher number there is beneficial, as advertisers who are willing to pay more to have their ads seen indicates demand and commercial viability for the keyword phrase.
* Search Results/Search Volume – Google has been known to inflate search volume figures in their keyword research tool, so it's always a good idea to compare results and volume data across different providers. SpyFu's estimates can help you determine if a keyword is too competitive or if it receives enough search volume to be viable.
* Top PPC Domains – This interesting feature shows us who is paying to advertise for our target keyword, how long they've been advertising and whether or not the text of their advertisement has changed. Finding advertisers that have posted PPC ads for the keyword phrase for several consecutive months is a good thing, as this indicates that the keyword is profitable. After all, few advertisers are willing to continue throwing money at a keyword if it isn't converting to sales!
Further down on the right hand column, we can also use SpyFu's free results to come up with more related SEO keyword search terms for our target phrase:
Although accessing the extended results requires a paid subscription to SpyFu, we can still use the limited free information provided to expand our lists of keyword phrases.
Insider Data from Google Analytics
As any successful website owner knows, keyword research for SEO is an ongoing process. Although you can come up with a list of quality keyword search phrases when you first launch your website, there are likely tons of good related phrases you never would have considered in the first place.
That's where Google Analytics comes in. If you have an established website with the Google Analytics program installed, you can use the data generated by this tracking system to determine which keyword phrases visitors are plugging into the search engines to find your site. This could uncover a sub-niche you hadn't previously considered, as well as help you determine which sub-sets of keyword phrases are most valuable for you to pursue.
To find specific keyword data for your website, navigate to your Google Analytics dashboard and click on "View Report" for the website you're researching. From there, click on "Traffic Sources" in the left hand column, then open the "Keywords" page. Adjust the data parameters to include at least a month's worth of data, and you'll see a screen similar to the image below showing which keywords visitors have used to find your website.
Image source: CLF
Take a good look at the data and see if you can identify any trends. Do you see a number of similar keyword phrases? If so, you may want to create a page or post on your website revolving around these terms to your site. Or, if you see a keyword phrase that's been used multiple times to access your website, you can perform additional SEO keyword research on that specific phrase in order to uncover more opportunities within your niche.
Performing good SEO keyword research isn't always fun, but it's well worth the time invested when it comes to achieving strong SERP rankings and sending a steady stream of targeted traffic to your website.
Image source: Pixabay