Most marketing articles you read online have "one size fits all" strategies.
Things like "10 Tips to Grow Your SEO," "How to Get More Clients Through Facebook Ads," and so forth. But the truth is, if you run a location-specific business, many of the so-called marketing "best practices" don't actually apply to you. This especially applies to SEO.
In fact, local SEO strategies are a lot different compared to strategies used by companies targeting customers from all over the world.
In this post, we'll show you how to do a comprehensive local SEO audit, how to optimize your site for local SEO, tools you can use to help your site with location-specific SEO, and provide case studies of companies who have succeeded with this.
According to Moz, here are the factors that Google takes into consideration when it comes to local SEO rankings (in order of most significant to least significant):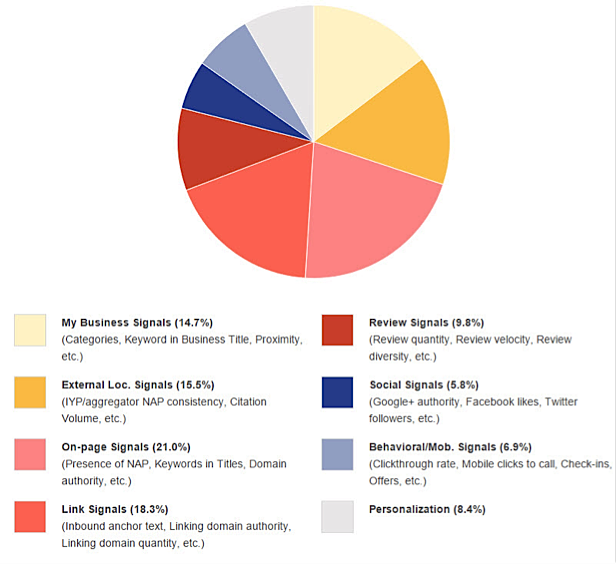 Business signals. This

 refers to whether your business title contains the relevant search term and how close your business is to the location of the user making the search.
External location signals. These include IYP (

Internet Yellow Pages

) and 

NAP consistency

(Name, Address, Phone + Website), based on information found by crawling data providers, citations of your business in close proximity to the home address, etc.
On-page signals.

These signals include keywords in titles and domain authority.
Link signals.

Link signals include inbound anchor text — the text within in a web link — as well as things like linking domain authority and quantity of backlinks. This means that p

lacing hyperlinks in descriptive text (i.e. "Los Angeles Lawyer" versus "click here") can improve relevancy of the linked page.
Review signals. One of the most important factors to getting sales as a local business owner is the quality of your online reviews. In fact,

according to Google

, 73% of all search activity is related to local businesses.

The number and quality of your reviews play a significant role in both your Google search rankings and whether customers buy from you or not.
Behavioral signals. This refers to your click-through rate in search, your mobile clicks to call, etc.
Personalization. This means

 how precisely you tailor your website's user experience to a specific user. The easiest way to personalize your site is by targeting a specific location, but more sophisticated forms of personalization include tailoring your site to previous interactions a user has had with you.
How to Do a Local SEO Audit
The best way to start optimizing your site for SEO is by knowing exactly where you stand today and how you stack up against the competition.
When running a local SEO audit, it's important to know what to include. Here are several things you should include when doing an SEO audit:
Google My Business page audit

Website and landing page audit

Citation analysis

Organic link and penalty analysis

Review analysis

Social analysis

Competition analysis

Ongoing strategy
These factors all play a significant role in contributing to your SEO rankings.  
The first step in running a local SEO audit to help your business rank high in search is getting all your information in one place.
One of the most common issues that local businesses face that costs them valuable search traffic is inconsistent NAP. NAP, which stands for "Name, Address, Phone," consists of basic location data that's unique to your specific business. Google finds this data by crawling the web and pulling information from various data providers and comparing them with their own data.
Keeping your NAP information consistent is critical to improving search engine rankings, and it's something that most businesses completely miss. But by gathering the right information up front, you'll make it easy for yourself to ensure that all your business info is consistent across the web.
You'll want to make sure that your company's information (company name, address, city, state, zip, and phone numbers) is consistent with your Google My Business information.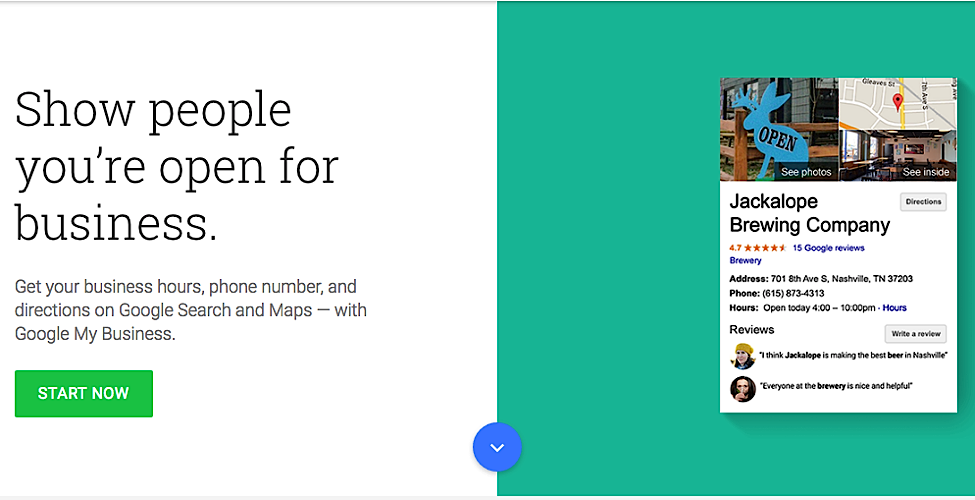 To do this, first log in to your Google My Business dashboard where you'll see the names of all businesses associated with that particular account.
Next, find out if you have any duplicate pages. Duplicate Google My Business pages can have a huge negative impact on your SEO rankings. The simplest way to find duplicate pages is by using a tool like Google MapMaker. (Please note that as of March 2017, Google Map Maker will revert to Google Maps.)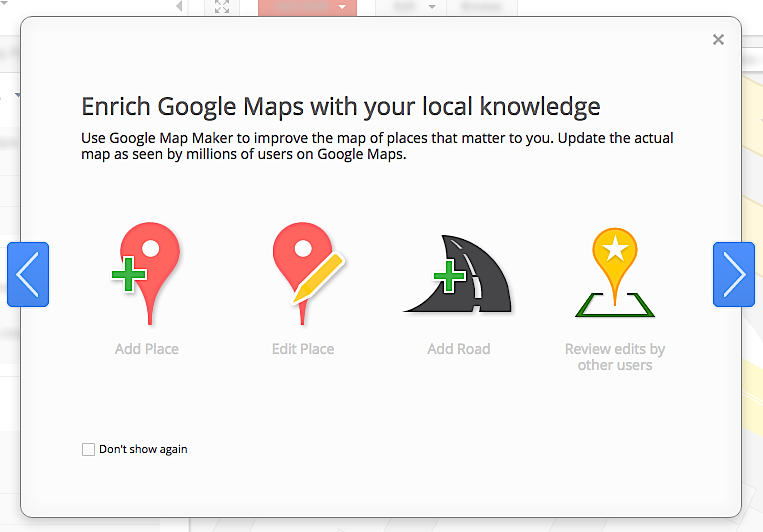 From there, you can search for your business name and phone number, check to see if you have multiple listings, and delete them.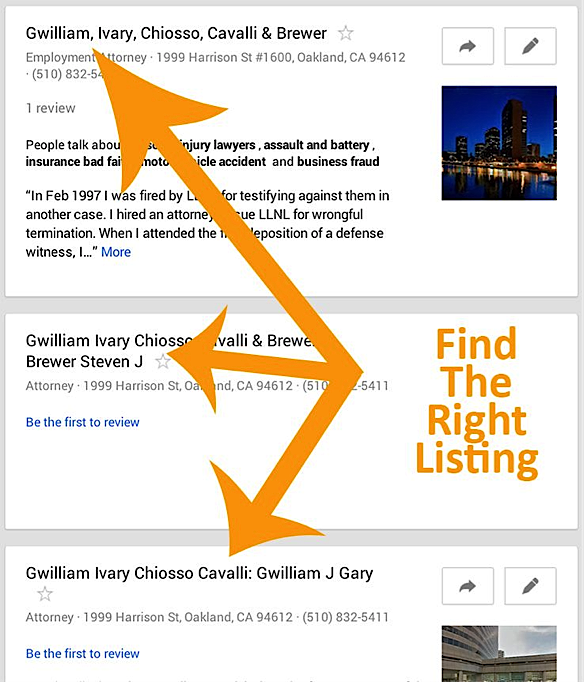 Source: Moz
There are a few other things to think about when going through your Google My Business listing:
Is your local listing penalized? Google's algorithm is constantly changing, and it's tough to keep tabs on which of your pages will do well in search and which ones won't. That's why one of your first steps in a local SEO audit should be to

figure out whether your site or your Google Places page has been penalized

. 

The simplest way to do this is by searching for your target keyword (i.e. "New York City family physician") in Google Maps and Google search. If you spot a discrepancy in your rankings between the two platforms, then chances are one of your pages has been penalized.





For example, if you're showing up at the top of Google Maps search results but not showing up at all in the first or second page of Google for the same search term, then there's likely a penalty at play that needs to be dealt with.



Is your page is verified? After you ensure that your Google My Business data is consistent, it's important to make sure that it's verified. You can quickly tell whether your page is verified or not right after you log in to your dashboard. If your page isn't verified, then you should do that by phone or postcard as indicated on your Google My Business Page.
What is your category association? It's important that you use the right categories to describe your business. According to Google, your categories should describe what your business

is

, not what it does (i.e. "Italian restaurant," not "Pizza and Pasta place"). 

With the right category association, it's not uncommon to see listings jump several spots in search, which could result in thousands of dollars in revenue.
Once you've got all that down, ask yourself the following questions:
What are the primary keywords you want to rank for? Which businesses are currently ranking for them?

Are you using a P.O. box for your business address? These are prohibited by Google Local Business Information Quality Guidelines, so using a P.O. box

 will n

egatively affecting your search engine

rankings

.

Have you used call tracking numbers in the past? If so, it could lead to inconsistent NAP information, which negatively affects your rankings.

Have you used a different business name in the past? Have you changed any of your business information? If so, you'll want to make sure that you update them across your online business profiles to keep consistent NAP information.
How to Optimize Your Website for Local SEO
Once you gather information from the right sources and know where you stand when it comes to getting local search traffic, you can start optimizing your website and landing page for SEO purposes. Here are some things to keep in mind:
Create the Right NAP on Your Landing Page
Having consistent NAP across your online profiles for your business is crucial for SEO success. Earlier in this post we talked about how to edit your Google My Business dashboard to reflect the right NAP, but you also need to be sure that you have it listed on your site as well.
Google sends bots that crawl through websites to make sure that this info matches your unique business information from Google My Business. This is why it's important that your NAP is crawlable. For example, your business hours should not be listed in an image because that cannot be crawled.
Learn More: 5 Important Landing Page Elements You Should Be A/B Testing
Site Structure
If you offer multiple services within your business, it's important that you have a specific page for each service.
Ideally, the home page of your site should follow the hub and spoke model, where the page provides a lot of helpful information to the customer with links to relevant subpages.
Other things like remembering to put the blog on the same domain as the rest of the site, and optimizing your URL to describe your actual physical location are also important to keep in mind.

According to Moz, one way to optimize your URL for SEO purposes is by creating a page with a URL like this example: http://www.YourSite.com/locations/Denver
Your Website's Content
When creating content, you should aim to produce separate pieces of content for each location, so that each of your locations benefits in search.
Duplicate content is penalized by Google, so you shouldn't copy and paste content between locations on your site.
Meta Title Tag
The name of the game in local SEO is optimizing for your business name, keyword, and city/state. When it comes to your landing page title tag, you should try to include your specific city and state for the location that you're writing content for.
Meta Description
The meta description is the snippet below the search results underneath the title of the page. If you use a plugin like Yoast on your site, you can edit your meta description directly: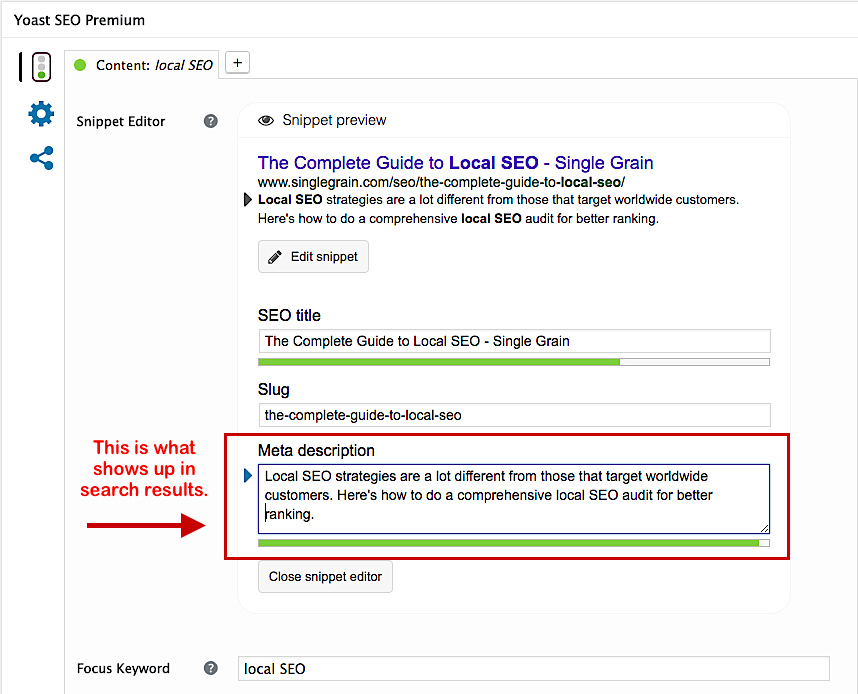 Ideally, your meta description should also include your business name, location (city and state), and/or phone number. The more elements you include, the more likely it is that you'll rank high for your location.
Embed a Map on Your Landing Page
Google is starting to place greater emphasis on user experience when it comes to prioritizing rankings in search. If you embed a map on your site and make it extremely easy for visitors to get directions to your physical location, you're creating a good user experience for them.
This can easily be done by going on Google Maps and generating an "embed" code for your location.
Customer Reviews on the Page
When it comes to local business, reviews are one of the biggest factors that give visitors confidence to make a purchase. Displaying reviews and testimonials on your site is a good way to boost sales by giving your visitors more reasons to trust you.
You should have customer reviews on your landing page placed within an "hReview" tag, which tells Google that you're including a review. Not only will it give visitors increased confidence to buy, but good reviews will also boost your click-through rates because the number of stars your business has will display in Google search.
Site Load Time
Site load time is closely correlated with good UX. Even if you have the best content on the web, users will hate going to your site if it's extremely slow. It also impacts your rankings.
There are some simple ways to check your site's load time to make sure that you're within the appropriate limits. You should be able to get 3.5 seconds at 1.5mbps load time using a tool like URI Valet.

Source: Moz
You can also check this data on Google Analytics.
Create Helpful Content
The days of keyword stuffing are gone. You can't just pack in a bunch of keywords that you want to rank for and expect to rise to the top of the SERPs. Google has gotten smarter about this and it can recognize when you're including keywords with the sole purpose of trying to rank for them without actually producing helpful content.
The best way to get backlinks and build domain authority is by creating helpful long-form content that's of value to your audience.
Read More: Establishing Trust Through Excellent Content – The New Digital Currency
Create Mobile-Friendly Design
More and more people are accessing the web through devices other than a desktop computer — like iPads, tablets, mobile phones, etc. It's important that your site is designed for all these different screen sizes.
You can use tools such as Browserstack to see how your site looks on various device screens. You can also use Google's website analyzer to see if your page is considered mobile friendly by the Google bots.
When designing your site for mobile, remember:
Don't use popups.

Popups decrease the quality of user experience on the site, especially on mobile. It can be difficult to close out a large popup on a mobile device where the screen is already small.

This is why Google will start penalizing

in-site popups

in early 2017.
Page speed is extra important.

Mobile users don't have as much patience as desktop users when waiting for a page to load, so be sure to take extra precautions against slow page loading times.
Be sure your mobile site isn't considered "duplicate content." Some mobile sites are listed on a separate domain from the main site — using something like m.yoursite.com. If this is the case for your site, you should make sure that the mobile site isn't showing up as duplicate content because that could be penalized in SEO.



To prevent against this, you can run a content check using a tool like

Copyscape

to make sure that both your main site and your mobile site appear in search.  
Those are the main things you should be thinking about when it comes to optimizing your site for local SEO.
Now, let's take a look at some tools and software that can help you with those goals.
Tools for Local SEO
Whitespark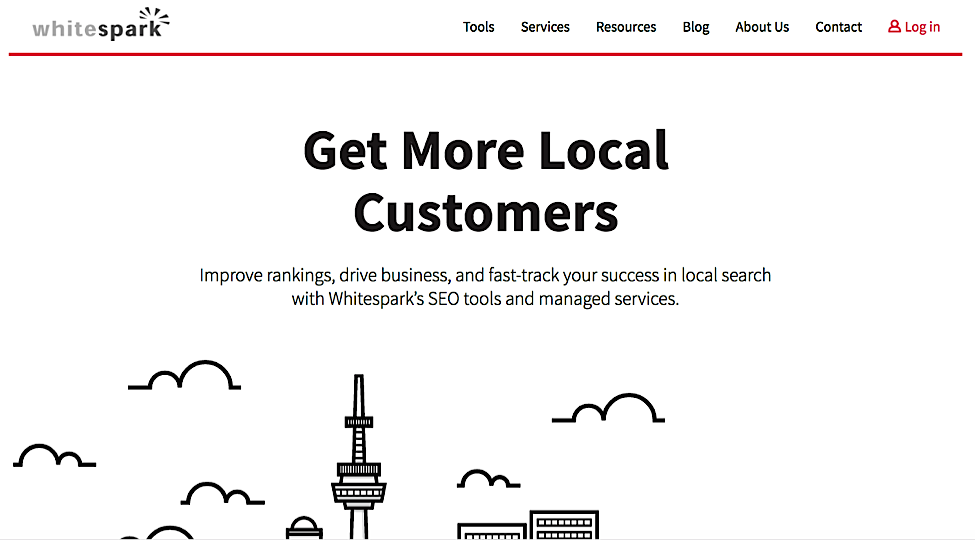 Whitespark has a variety of tools that local business owners can use to boost their online visibility and increase the amount of local customers in their area.
Here's a quick summary of what they've got available:
Local citation finder: Local citations are

one of the most important factors

in determining local SEO rank. Citations are essentially mentions of your business name on other web pages but don't necessarily include backlinks to your site. For example, your business listing on the Internet Yellow Pages would count as a citation, even if there's no link to your website.





Citations help Google verify that your business is active in the local community. The more citations you have, the more likely it is that your business is popular and filling a local need. According to 

Moz

, businesses with a greater number of citations will rank higher compared to businesses with a lower number.

Whitespark provides a tool to help you find new citation opportunities, measure how you stack up against your competitors, and suggest potential local keywords you could rank for (i.e. "family physician in Seattle").
Local Rank Tracker: This tool allows you to track your business rankings at every local "level" — including within your neighborhood, city, and nationwide. Using this tool, you can get a better sense of where you stand when it comes your local SEO efforts, and how you stack up against your local competition for your target keywords.
Reputation Builder: Because so many potential customers turn to Google search before making a purchase from a local business, it's extremely important to have high-quality reviews that are visible to the public.

You can enter a customer's e-mail into the reputation builder system and the tool automatically sends them an e-mail asking them to leave a review. If they indicate that they had a positive experience, they're automatically directed to one of your online profiles (Facebook, Yelp, etc.) to leave a positive review.

If they had a negative experience, then they're automatically directed to an internal feedback form, so that they can tell you about their experience directly instead of posting a public review that could negatively impact your sales.
Link Prospector: Link Prospector allows you to get more backlinks to your site, which helps grow your overall SEO. Based on your target search terms, the tool automatically pulls up high-authority websites in your space, content promoters who will likely share your content, forums you can contribute on, top business directories in your niche to add your listing, and more.
Moz Local
Moz Local helps increase the chances that your business will be found online. After entering your location data into Moz Local, the tool pushes your information to major data aggregators that Google crawls to determine how many citations you have.
By getting your business data on more aggregators, you can increase your search engine rankings. Moz Local also ensures that your business data remains consistent across the web, which is hugely important for Google.
Single Platform
Single Platform, a company owned by Constant Contact, is a comprehensive "one-stop shop" tool for local business owners. They offer the following services:
Web and mobile site creation to keep your site structure and UX consistent with Google's recommendations.

Easy-to-read reports to get a better understanding of what your audience is searching for online, and what topics related to your business they're consuming. You can also see whether your audience is coming from desktop, mobile, etc.

Social media scheduling, so that you can schedule all your posts to be released at the ideal time.
You can access all the features on a single dashboard.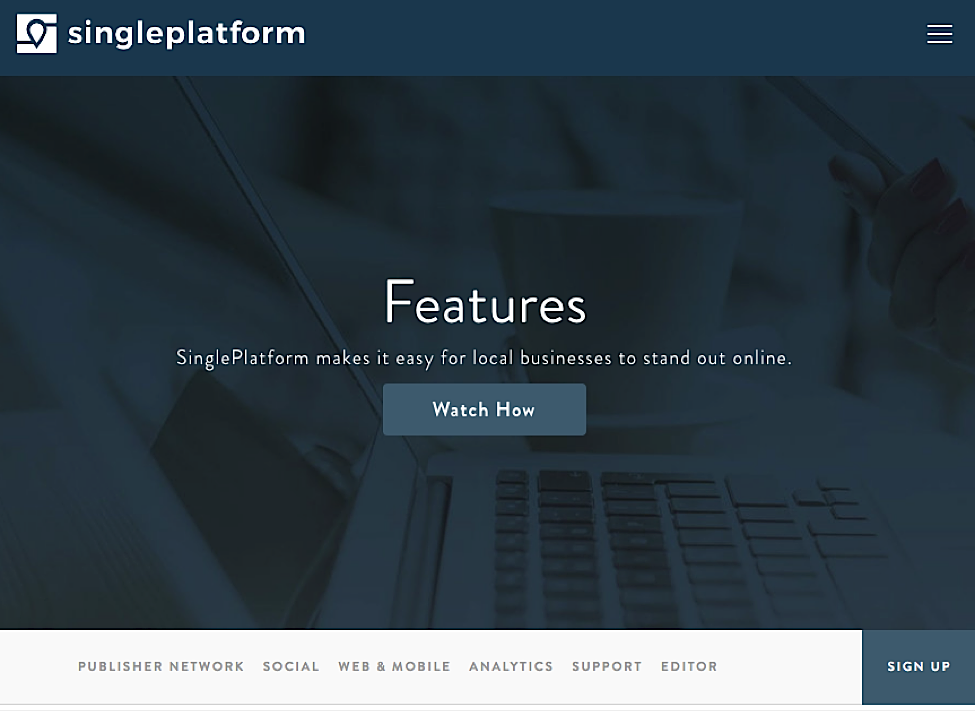 ClickX
ClickX is a tool that helps local businesses generate more leads. Once you enter your business information, they will promote it to over 50 directories. Since 61% of local searches on a mobile device result in a purchase, the more directories your site is listed on, the higher it will rank — meaning you'll generate more sales in less time.
ClickX also offers reputation management services (i.e. easily getting more reviews so that you seem credible to new visitors), assistance in identifying the right keywords, and help to understand how you stack up against your competition. In addition, they allow you to measure your return on investment from a variety of marketing channels, including AdWords, Facebook advertising, SEO, content marketing, and more.
The right tools with the right approach can help you skyrocket visibility for your local business. Let's check out a few businesses that have done exactly that.
Local SEO Case Studies
Laser and Medical Spa
Joie de Vivre Laser and Medical Spa (JDV) is a medical spa in Canton, Ohio. They wanted more visibility for their services in their area so they could get more clients, so they turned to TKG.
For a software company or a B2B service, an appropriate call to action on a website might be to get visitors to sign up for an e-mail list or purchase a low-priced product. But if you're running a local business, your goal should be to get as many sales calls or in-store visits as possible.
For this reason, JDV strategically placed forms and buttons on their site to boost the number of consultation calls.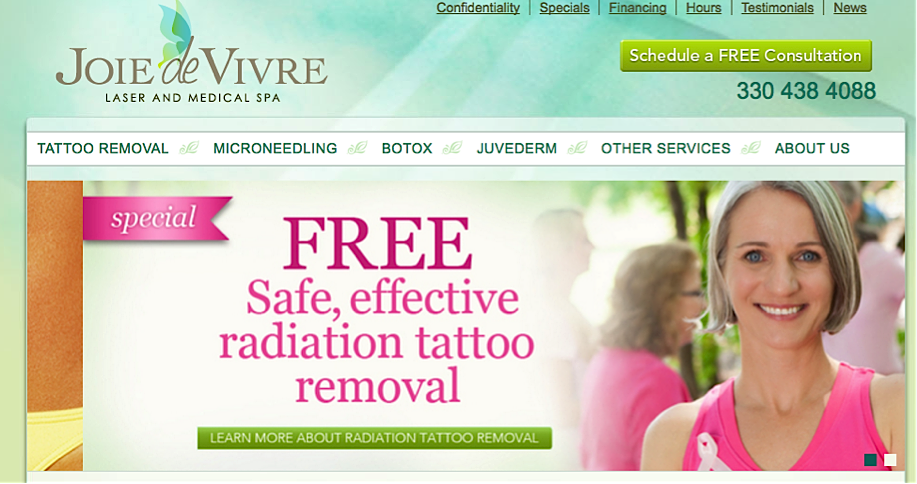 Notice how the CTA button says "learn more about radiation and tattoo removal" while the button on the top right corner gives visitors the option to schedule a free consultation.
The "learn more" option directs visitors to a form that they fill out so that a representative from JDV can call them directly.
Within one year, JDV got a 62% increase in form leads, a 107.8% boost in organic search traffic, and a 101% increase in sales call leads.  
Learn More: How to Create CTAs that Actually Cause Action
Fallsway Equipment
Fallsway Equipment is a company based in Akron, Ohio which trains forklift operators and sells trucking equipment. They wanted to increase the number of leads obtained through their website, so they turned to TKG to create a new website and develop a strategy to promote their forklift training programs and their trucking equipment across both Akron and the greater Ohio area.
TKG did a few things to accomplish this goal:
They created a blog for Fallsway and helped create comprehensive, high-quality content targeted at the the decision makers they were trying to attract, and formatted the content around relevant keywords.

They implemented a live chat feature on the site to increase conversions.

Live chat

is one of the biggest untapped resources that can help businesses boost conversions almost instantly, and 

44% of customers say

that live chat is actually one of the most important features a website could have. In this world of automation, people love getting their questions answered by a live person immediately.

Having a phone number listed on your site can also be helpful when it comes to customer support, but because so many companies use recorded messages and have high wait times to reach a real person, live chat has much higher perceived value.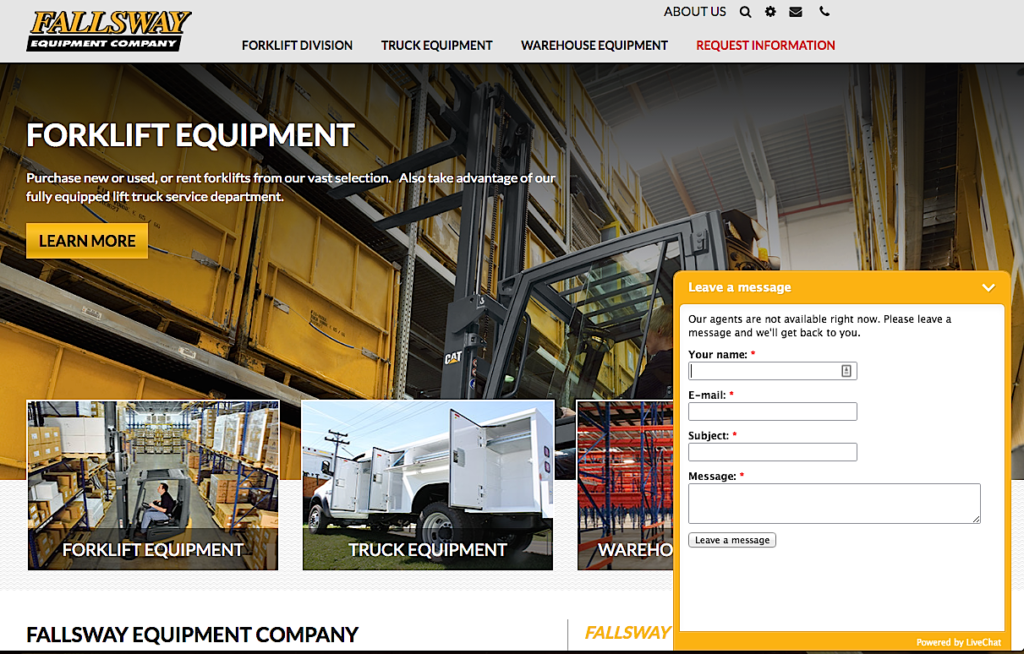 Fallsway saw a 71% increase in organic traffic growth, 42% increase in site leads, and a 45% increase in phone calls.
Notice the powerful effect that implementing "low hanging fruit" solutions like a company blog and a live chat feature can have on sales and conversions.
Learn More: How to Conduct a Blog Post Audit
Hauser-Ross Eye Institute
Hauser-Ross Eye Institute is an eye care provider located in the Chicago area. Their main source of income is through doing procedures for patients, and they figured that growing their SEO rankings locally would help them increase the number of procedures they do.
Their procedures fell into four major categories:
Lasik

Cataract

Optical

Cosmetic
According to Marketing Sherpa, the big challenge here was that the keywords for those procedures were being dominated by large brands and national companies, making it difficult for smaller companies like Hauser-Ross to compete, especially when they had minimal experience in SEO.
Marketing Sherpa helped Hauser-Ross launch their first SEO strategy by taking the following steps:
Finding the right niche.

Before coming up with a long-term SEO strategy, it's important to test whether you're hitting the right keywords that will result in profitable sales for your business.

To test this out, Hauser-Ross got PPC ads in search that were relevant to the procedures they were targeting, so they could get immediate visibility in search. For the first few months, the team was targeting keywords that gave them high volumes of traffic, had low competition, and saw high conversion rates.



The best way for a local businesses to compete with big national brands is by optimizing content for location-specific keywords. For example, "lasik eye surgery" might be highly competitive, but "lasik eye surgery Aurora" would not be as competitive.
Keyword research.

Next they did keyword research to get more insight into the niche that they should be targeting. 

The Marketing Sherpa team sat down with patient coordinators at Hauser-Ross to get a deep understanding of the demographics that the company was going after and the words they used to describe their own problems. They also looked into which keywords were already driving traffic to the site, and used tools like Google's Keyword Planner to uncover keywords with a high level of opportunity.
Fix site architecture.

As we talked about earlier, site structure is an important factor for getting high SEO rankings. If Google bots are unable to crawl your site in a logical, structured way, Google is going to assume that users wouldn't be able to either.





Some websites might also have duplicated pages on the web. For example, Hauser-Ross had hauser-ross.com,

www.hauser-ross.com

, and www.hauser-ross.com/index.html all with the same home page content.

Unfortunately duplicate content is penalized by Google, so it's critical to avoid it in your business.
Geo-targeting keywords on the site.

Instead of trying to compete with the biggest players in your niche, it's best to focus on dominating your local search results first.

The Marketing Sherpa team zeroed in on dominating the SERPs for searches within a 45-mile radius of Hauser-Ross, and included the names of the towns it would serve.
Improving on-page SEO factors.

On-page SEO factors include internal links, service pages, and metadata.

For example, the home page might have links to a variety of other subpages on the site so visitors can easily navigate through. Hauser-Ross linked to over 10 different pages on topics such as glaucoma, pediatric eye care, and other cosmetic procedures,

according to this case study

. 

They also updated their metadata to include relevant keywords that they were targeting.
Off-site SEO.

Off-site SEO such as link building, establishing a credible

Google My Business page

, and keeping listings consistent across local search all impact rankings significantly.

In fact, over time, local businesses may be able to overtake national companies for the top spot in relevant keywords if they continue to build links and create high-quality content.





This is what Hauser-Ross's Google My Business information looked like in search. Notice how they included short descriptions with relevant keywords, staff photos, business information that's consistent across the web, and even a short video: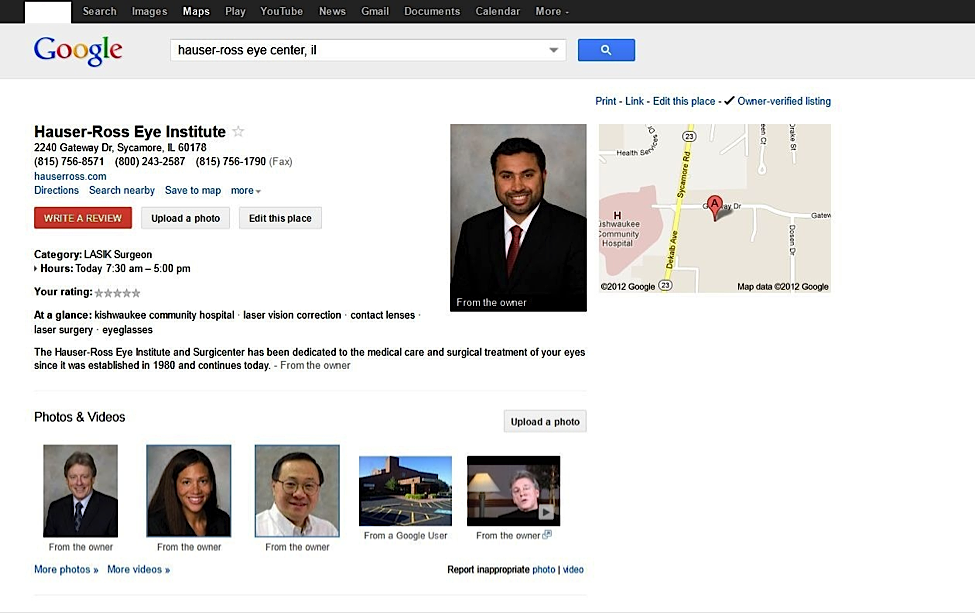 Source: Marketing Sherpa
The Hauser-Ross team saw the following results after implementing all the above points in their local search strategy:
52.8% year over year increase in organic search traffic.

61.6% year over year increase in organic traffic in February.

Higher search position in 429 keywords.
Conclusion
While factors like link building, simple site navigation, and mobile-friendly design is an SEO requirement for both big and small businesses, there are a lot of other SEO tactics that just don't work for small local businesses.
For example, instead of trying to dominate the biggest keywords in your niche, focus on adding location-specific keywords to your target search terms. And be sure to include information about the cities you serve so that Google surfaces you in search in the right locations.
Start by dominating your location, and eventually you could compete with the biggest brands in the country for the most competitive keywords.
Click here to read the next post in this local SEO series: 10 Free Local SEO Tools for Small Businesses
Which local SEO tactic will you implement in your business? Let us know in the comments below.