These days, finding good-quality links for SEO purposes is as challenging as it's ever been. Not only should your links appear within the editorial content of a page, they should be naturally acquired and placed on pages that are relevant to your own website's content.
But ever since Google's Penguin update, fewer and fewer opportunities exist to obtain backlinks that meet these criteria. If you've exhausted your email link building and guest posting efforts, another option to consider is broken link building.
What Is a Broken Link?
A broken link is when you click on a link and it takes you to a 404 page. Broken links are also often referred to as "dead links," as the page you were directed to is now dead.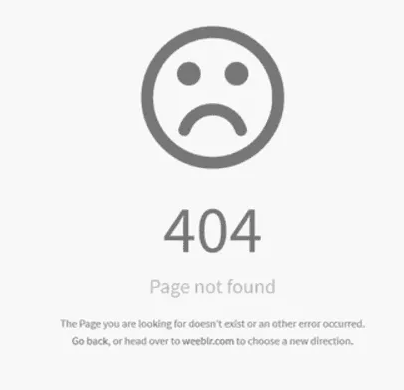 Even if you have tried broken link building in the past and say it doesn't work, you probably weren't doing it correctly. Don't worry, I'll tell you why in this article.
The process of broken link building involves seeking out website pages in your industry with broken links in their content and then contacting their webmasters to offer your own content or link as a replacement for these dead URLs. If you've struggled to find new link building opportunities in the past, read on to find out exactly how this useful process can be implemented on your own website.
Dive Deeper:
1) How to Find Broken Links: Identifying Web Pages
The first step in the broken link building process is figuring out how to find broken links. It's not as hard as you might think.
If you're going to contact webmasters with broken links and recommend that your own URL replace the dead references you've identified, the obvious first step in this process is to find web pages that contain these outdated links. There are a few different ways you can do this depending on your time constraints and budget.
CitationLab's Broken Link Finder (Big Budget)
If you're short on time and long on extra cash, CitationLab's Broken Link Finder tool will automate the entire process of identifying dead links on pages throughout your industry. Depending on your marketing budget, investing in a program like this can be a great way to build the largest possible number of links in the smallest amount of time.

Ahrefs' Site Explorer (Small/Medium Budget)
If you already have access to Ahrefs, you are all set. First, create a list of your biggest competitors.
Next, head over to Ahrefs' site explorer and type in the name of one of your top competitors. Let's say you have a plant blog and one of your competitors is Growing With Plants. Now click on "best by links" under the heading "Pages" in the left column.
Once you have that, make sure to filter by "404 not found" on the top, drop-down menu. This is where the real gold is.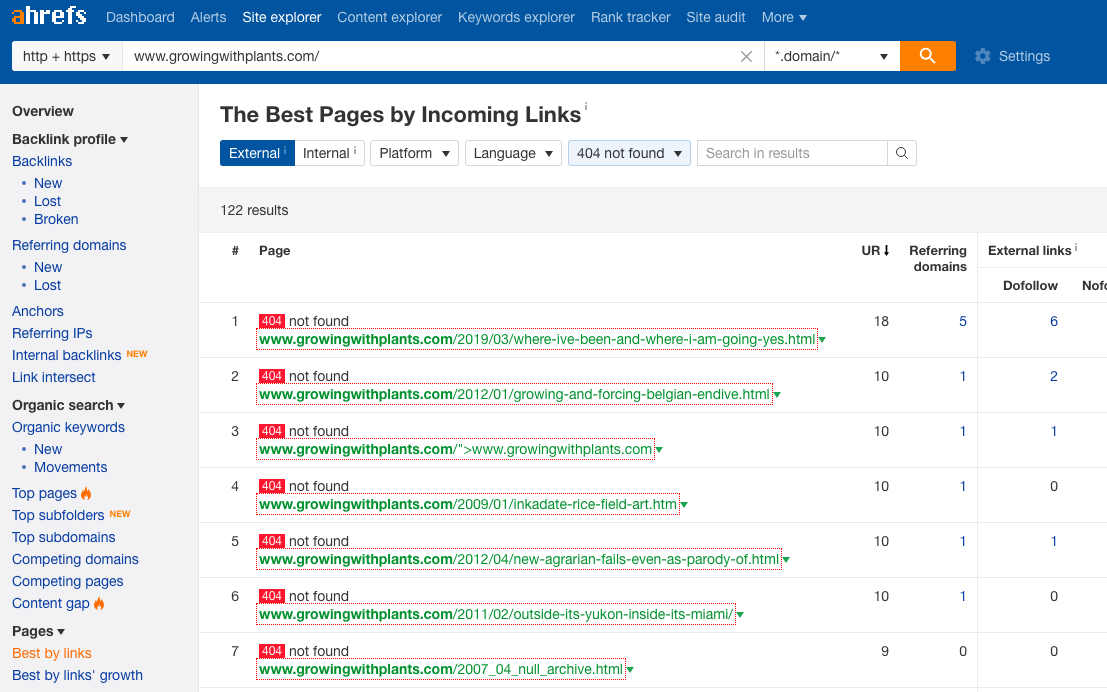 Look under the "Referring domains" column on the right. See that number 5 for the first entry? That is the number of sites pointing to the page that no longer exists on Growing With Plants.
One column over you'll see "Dofollow" under "External links". That number 6 is what you want to click on. It will reveal the exact URL that has a link pointing to the broken link from your competitor. It will look like this: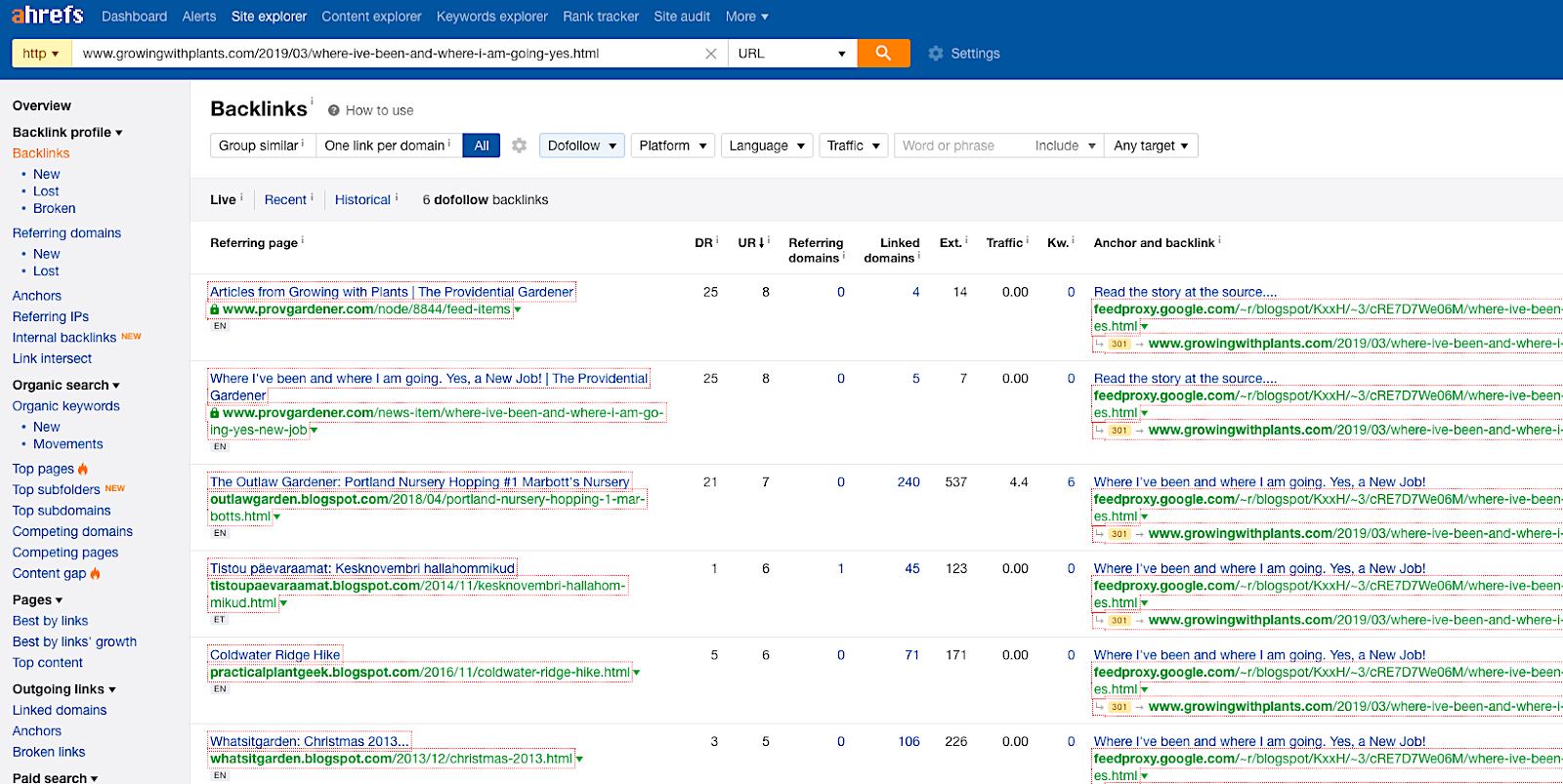 You can even see the anchor text that was used to link to your competitor. This can be helpful when trying to understand what the broken page was about, though you can usually tell based on its URL.
If you don't have access to Ahrefs and are working on a shoestring budget, don't lose hope! Here is how you can do this by manually.
Dive Deeper:
Manually (Shoestring Budget)
To start, generate a list of broad industry keywords. If, for example, you run a dog training tips website, the phrases "pet training" or "dog training" could be useful to this process, while long-tail keywords like "dog training classes San Francisco" should be avoided.
Next, you'll need to pair your broad keyword phrases with broken link prospecting phrases and enter them into Google in order to discover potential sites that could offer dead URL link building opportunities. Possible prospecting phrases could include (among hundreds of other variations):
"Suggested sites"
"Recommended links"
"Resources list"
"Favorite links"
In this example, I typed in "best dog training websites to follow" and these were the results.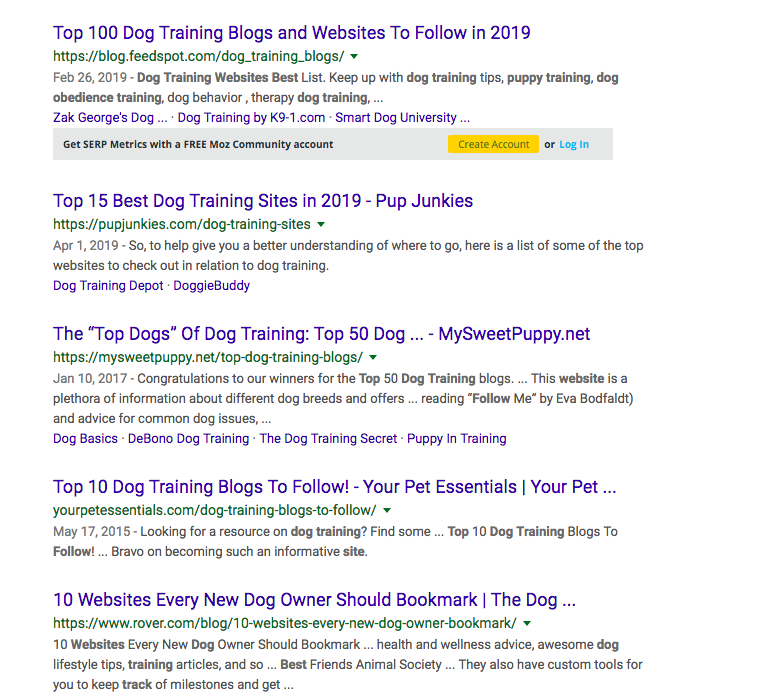 Now I can go through all of these results and see if they have broken links. So I might click on the second result, "Top 15 Best Dog Training Sites of 2019 – Pup Junkies". I used Check My Links (it's a free extension that you can download that will highlight any links that are broken) and it showed that "Love That Pet" is a dead link. So this would be a great opportunity for my post.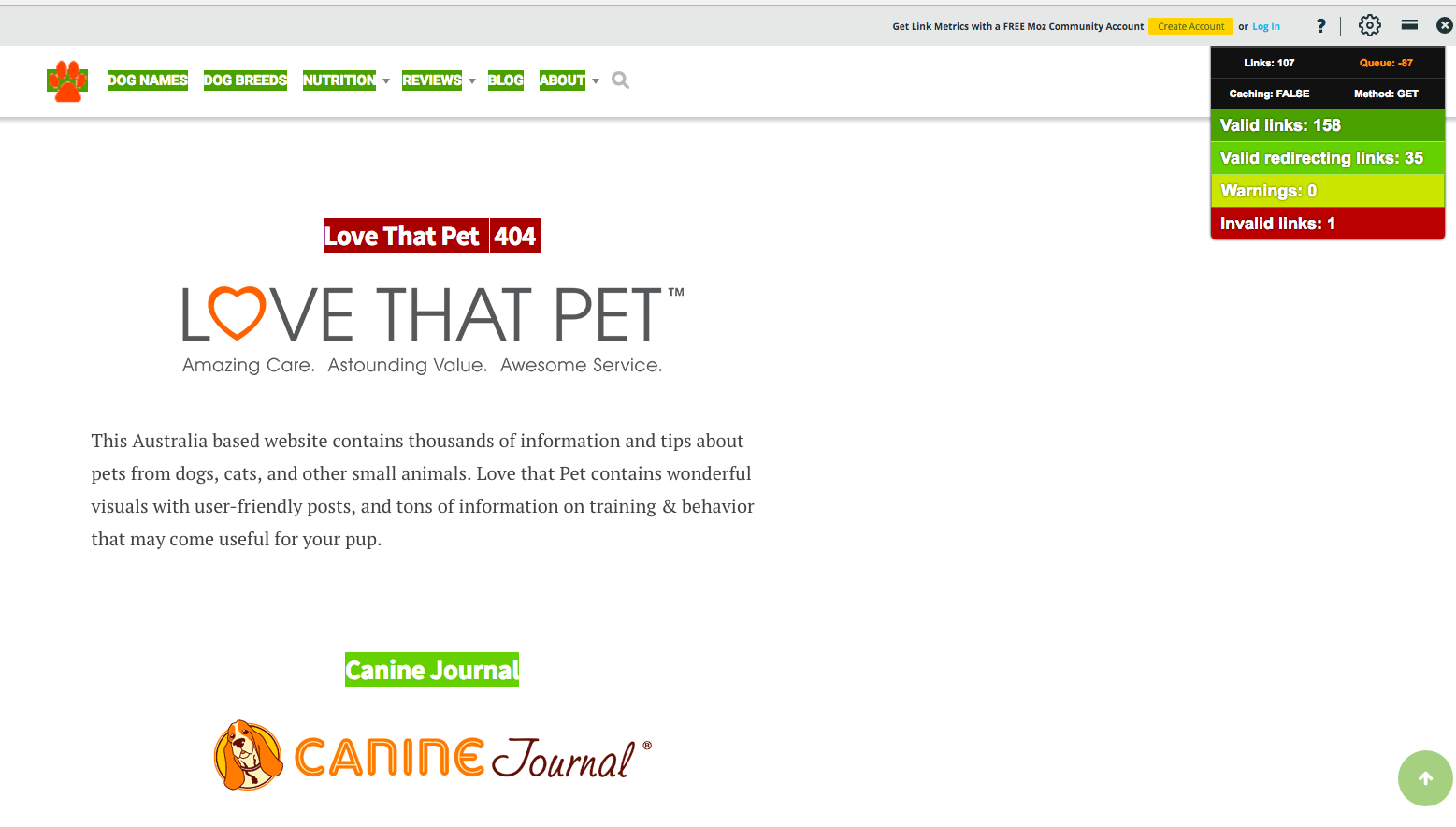 In general, the best place to find broken links is in the "recommended links" section that many sites have, so carrying out these search variations using different combinations of your generic keywords and prospecting phrases should turn up a number of websites that host link lists on their pages.
Keep in mind, though, that these aren't the only broken link building opportunities that exist. You may also find dead URLs in the editorial content of other sites within your industry, which presents you with the chance to rewrite outdated content that the sites you contact can use freely in exchange for a link back to your website.
Finding Outdated Linking Opportunities (New For 2019!)
These opportunities are a little more difficult to identify and don't scale as easily, though they may have bigger rewards in the long run. This is where you find a website that offers a link to an outdated piece of content. Sure, the link still works, but the information is no longer relevant or perhaps even incorrect. If you have a better piece of content that touches on the same topic but with a more updated solution, the site owner may be willing to swap out the links.
Neil describes how he goes about link building in this episode of marketing school. He uses the example of if Website A is linking to an article on Website B about how to use Vine to get more social shares, you might want to reach out to Website A. You can say something like:
"Hey, I saw your link to Website B about getting more social shares on Vine. Now that Vine doesn't exist anymore it won't really help your readers get more social shares. However, we do have an article about how to get more shares on Instagram. Do you want to swap the link to Website B for this one?"
2) Evaluate Linking Opportunities
Once you've completed step one in this process, you should have a list of individual web pages within your industry that contain at least one outgoing dead link. However, be aware that not all of these links are created equally.
The best broken link building opportunities are those that:
Are still actively managed by their webmasters
Are relevant to your website's subject
Have backlinks pointing at them
Is the Website Still Actively Managed?
Seeing evidence that a webmaster still updates his link page increases the likelihood that your broken link building request will be responded to, compared to pages that have long since been abandoned.
If the first newsletter listed on a web page is from 2008, do you think it is an actively managed website? Probably not.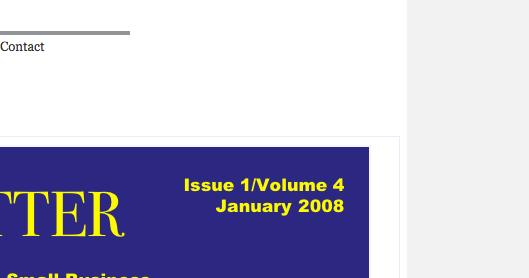 To get a feel for whether or not your prospective link building opportunities are still actively managed, take a look around the site in general. If you can't find any recent blog posts, news articles or other "dated" changes, consider pursuing other broken link building opportunities first.
Is the Subject Relevant to Your Topic?
At the same time, ensuring that the broken links you choose to target are found on pages that relate to your own website's content will increase the overall SEO value of any links that you're able to create. For the most part, this is a judgment call that's up to you – though you should keep in mind that links don't need to be perfectly related to be useful.
As an example, a broken link found on a dog breeding website still generally relates to your dog training tips content, even if your subject matter isn't exactly the same.
Does It Have Backlinks Pointing to It?
Finally, as a link from a page with several external links pointing back to it will serve your own site's SEO better than a link from a page without any inbound links, it's a good idea to filter your broken link building opportunities to pursue those that offer the greatest possible benefit to your site.
Any SEO tool should be able to give you this information, though the Majestic SEO Bulk Backlink Checker is a lightweight, easy-to-use option for identifying this data: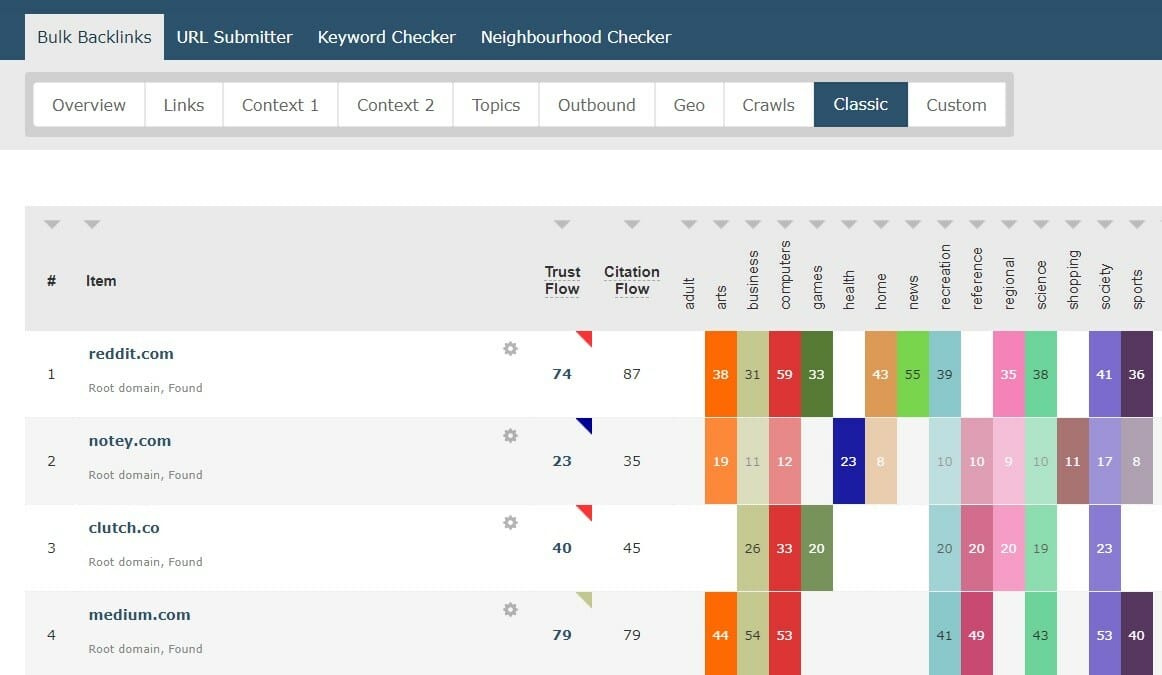 Dive Deeper:
3) Find Webmaster Contact Information
Once you've prioritized the broken link building opportunities you identified in step one, you'll need to find the webmaster's contact information in order to send your request that your own link be added to the pages you've found.
If you're lucky, the websites on which you've identified pages with broken links will have separate "Contact" pages that enable you to reach out to site owners or managers directly.
Email Finding Tools
Hunter.io is a great tool for finding email addresses. It is a Chrome extension that you can use for any website and can even sometimes be able to scrape not only the email address, but also the person's role. If you don't want the Chrome extension, you can simply go to the website and just type in the website domain. The free plan allows 100 searches per month.
With the Chrome extension, just go to any website and click the little "hunter" icon. It will drop down like this: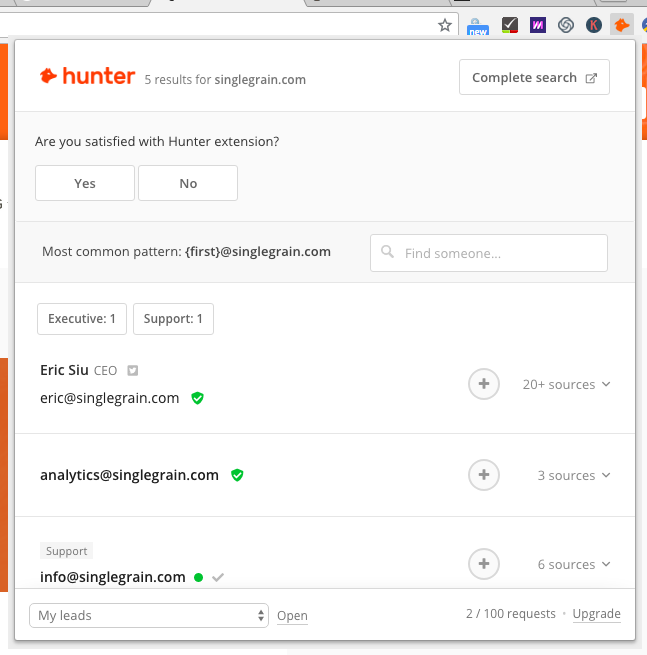 VoilaNorbert is another email finder that can help you collect contact information: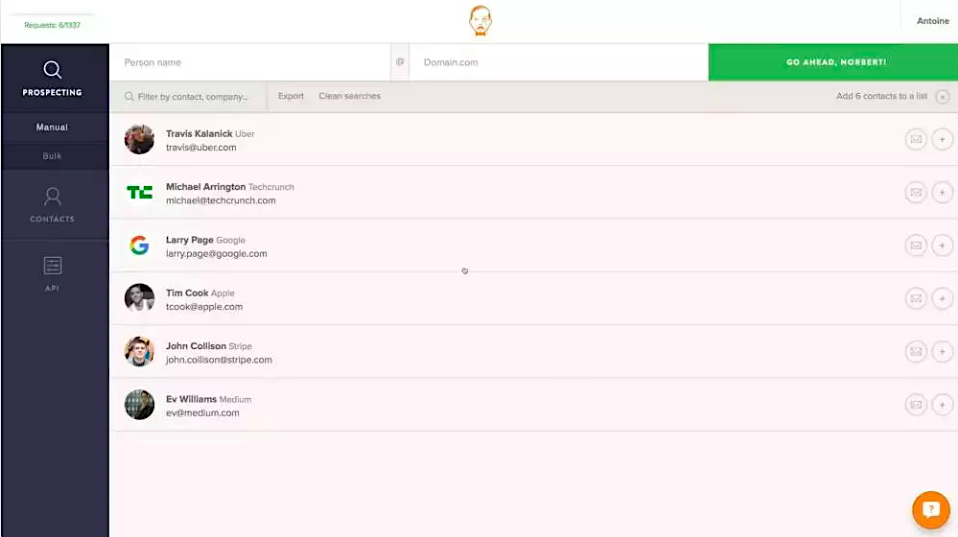 The first 50 leads are free and then it starts at $49 per month.
Link Research Tool's Contact Finder can also be used to scrape email addresses automatically:

You might not have had success in the past with broken link building because you did not follow this one very simple step: Make sure you are contacting the correct person.
Unless it is a personal blog or a small enough company that the founder is also running the website, don't reach out to the CEO. On the other hand, if the only email address you find is generic or for an unrelated department, you may want to try the CEO or skip that one all together, depending on how big it is.
Dive Deeper: Top 8 Tools to Improve Customer Experience Using Heat Maps, Feedback and Links
Other Ways to Find Emails
If you still can't find any email addresses using these tools, you can also search social media or Google the person's contact info. Or if you know what the email format in the company looks like, try using that formula with your contact person's name. Hunter.io will tell you exactly what the pattern is:

If you don't know the name of the webmaster, I'll show you where you can find that later.
As soon as you've compiled your webmaster contact information, you can move on to the next step…
Dive Deeper:
4) Create Your Broken Link Building Offer
Now, when it comes to contacting the owner of the pages you've identified as hosting broken links, you have a number of different options. For example, you can:
Alert the webmaster to the presence of dead links to external resources and request that your own URL be substituted in its place
Point out outdated content on the webmaster's website and offer to rewrite it or provide better text in exchange for the inclusion of your website's URL
Tell the webmaster that you've found broken links on their site, but will only reveal them if they agree to post your link instead
Obviously, the path you decide to take will be up to you, based on both your own desire to be helpful and the type of broken link you've identified. Once you've made this decision, you'll need to compose a message to your target webmaster, as described in the next step.
5) Contact the Webmaster
When it comes to sending out broken link notifications to the webmasters you've identified throughout this process, you'll find that it's easy to have a series of templates on hand that enable you to compose and send your messages as quickly as possible.
Here is an example template that we will break down together: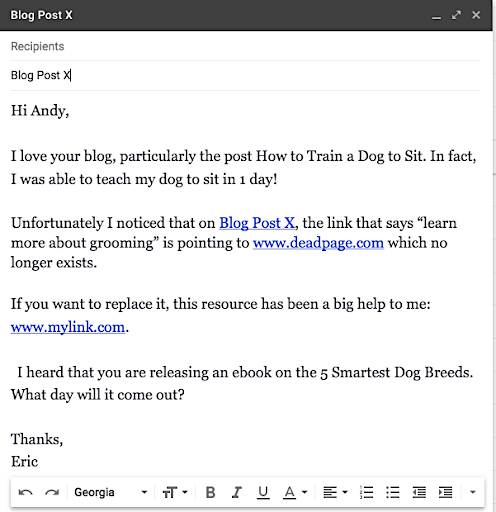 Here are some components of a great outreach email for broken link building:
Subject Line
Do not include "broken link" or "dead link" anywhere in the subject. I would try something like the title of the blog post. Imagine what the subject lines from their readers look like and try to put yourself in their shoes.
Name
Please make sure you find at least the webmaster's first name if possible. It is a major turnoff and spam alert if your email begins with "Dear Mr/Ms Last name," or even worse, no name at all. Here are some ways you can find the webmaster's name.
Check the "Contact" page. Many times the name will be listed on the contact page like this:


Try Google's "Whois" search:

In fact, contacting the webmaster and getting his/her first name correct is so important that even Google chimes in with some very specific info on finding the webmaster:

Starting the Email with Familiarity
When you begin the email, make sure that you are not saying in the first or second sentence anything about a broken link. Bloggers and websites are used to getting broken link emails by now, and since you can see the first sentence in your Gmail inbox's preview, this is a great way to make sure your email is deleted before it is ever opened.
Instead, make an effort to connect with the blog by mentioning a post that you really liked or something to demonstrate that you actually read the blog.
✖ "I found a broken link on page X…"
✖ "I noticed that on page X there is a broken link…"
✅ "I love your blog, particularly the post How to Train a Dog to Sit. In fact, I was able to teach my dog to sit in 1 day!"
This means that if you do decide to use a Pitchbox or other automated tool for broken link building, you are going to have to customize this line on every email before you send it out. This is also why it is important to vet the site and make sure it is worth it before reaching out to swap the dead link.
Your Pitch
Keep it short and simple. Just include the bare minimum. There are a few things you must include to make it super easy for the webmaster to find the broken link and switch it to yours:
The name of the blog post with a link to it (you can just put a hyperlink on the title of the blog post as I have done in my example above with Blog Post X)
The anchor text (I say "…the link that says "learn more about grooming")
The dead link (in my email example it is www.deadpage.com)
Your link to replace it (mention that your page also talks about grooming)
Bonus Tip: End with a Question
If you aren't doing this as a mass email and want to really skyrocket your conversion rate, end with a question for the webmaster. This will give them a greater incentive to respond as they don't want to disappoint their reader base.
"I heard that you are releasing an ebook on the 5 Smartest Dog Breeds. What day will it come out?"
Who wouldn't respond to a question like that? You are actually demonstrating an interest in them and a desire to learn more about their products. This will set you very far apart from spam and other broken link builders.
Final Step: Tracking
Think you are done? Not quite. If you really want to succeed with broken link building, you need to follow up with people. Generally 1-2 follow-up emails is reasonable. More than that can get your email marked as junk.
Make sure that you have a spreadsheet that lists the date of when you sent out the original email and the first follow up. You will probably want to wait 3-4 days before sending the first follow-up email.
How to Streamline the Process
Because this process has to be personalized, you can't use Pitchbox or any other automated email software. Obviously, this means it will be very time consuming. So how can you streamline it? Hiring a virtual assistant is a great option. Just give him/her a clear process to follow.
I would also recommend that if you do have to do it by hand yourself, really vetting the websites and making sure that your article is truly an appropriate replacement will save you a lot of time writing emails. You have to shift your mind from playing a numbers game to playing a quality game. Sending five targeted and appropriate emails will yield better results than 100 inappropriate emails.
Why the Broken Link Building Method Often Fails
Broken link building still works. So why is it that so many people have no success with it? Here are the top reasons:
The replacement link isn't the same topic
The email is generic and is obviously a blast email
It isn't focused on helping the blog owner
Conclusion
If you follow this guide you should have much more success with your broken link building process. No, you won't win every single link, but I'll bet that you will lift your conversion rate with these tactics. Make sure that you are always providing value to the other person so that it is an equal trade. Give it a try and I'm sure you will find that it is well worth your time!