How to Do a Comprehensive Local SEO Audit
Did you miss the previous post in this local SEO series? No worries, you can catch up right here: 10 Free Local SEO Tools for Small Businesses
Before you can dive in and start fixing the biggest SEO issues on your website, you have to know what your biggest SEO issues actually are.
An SEO audit is the first step to launching a successful, profitable SEO campaign. Without following a step-by-step process to figure out exactly what you need to fix, it can be difficult to focus on the efforts that yield the most profitable results.
With the right approach, you can knock out your site's local SEO audit in a matter of minutes and come away with a clear set of action steps to implement.
In this post, we'll go through how to do a comprehensive local SEO audit, and what tools can help you along the way.
Learn More: Effective SEO Techniques that Work In 2016
The Components of a Local SEO Audit
On-page SEO
On-page SEO refers to the tactics that you can use to optimize a specific web page to rank higher in search. This might include optimizing your content quality or adjusting some parts of your HTML source code. There are a few things you should keep in mind when doing an audit on your on page SEO:
Metadata
Metadata is the data on your site that tells Google what your page is about. For example, you should make sure that your title and headers contain targeted keywords that are relevant to your geographical location. 
If you have the Yoast plugin for WordPress, this is where you'll find the meta title (called the SEO title):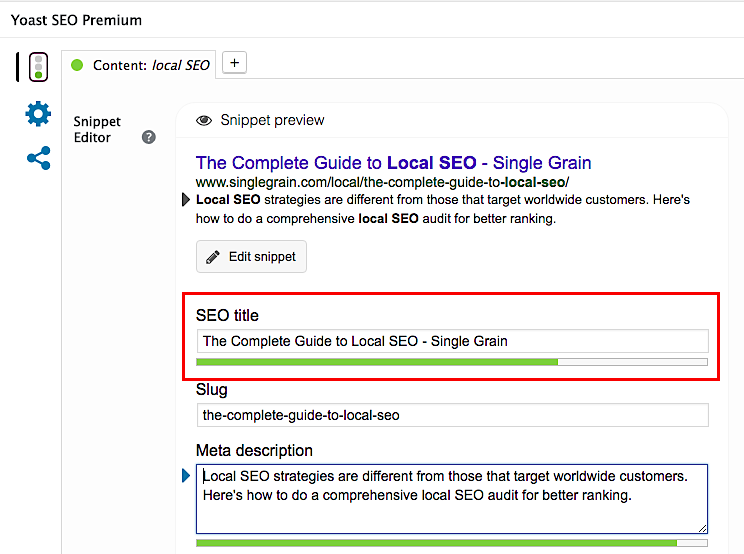 Your meta title tag will be what users see when they see your site on the search results page, so it should be both relevant to the topic they searched for. This is what it looks like in the SERPs:

By using a tool like Screaming Frog SEO Spider, which "allows you to crawl websites' URLs and fetch key onsite elements to analyse onsite SEO," you can get a quick sense of how to adjust your keywords.  
Your meta description is the short description that users see under the title of your page in search results:

This is where you'll find it in WordPress if you have the Yoast plugin: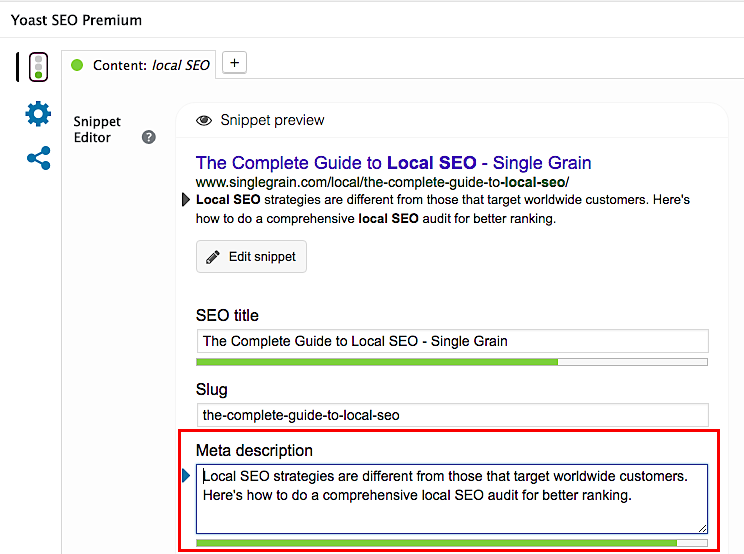 This should give a good overall sense of what your page is about. The title tag should be under 55 characters and the meta description should be under 155 characters.
Here's an example of how a local pizza restaurant in Oakland, California does it with the inclusion of their geographical location:

Duplicate Content
Google wants your website to contain unique, valuable content for its users — sites that simply repost other content that's already on the Internet don't offer too much additional value to searchers.

It's important to make sure that you don't have duplicate content on your own site or you might be unintentionally penalizing your site's SEO. You can use tools like Copyscape to check whether any content on your own site has already been posted before.
Also, if you repost your content on another site, be sure to use the canonical tag, which points the blog post back to the original site and avoids creating duplicate content (as far as Google is concerned).
Use the canonical tag formula (just replace the underlined part with your own URL): <link rel="canonical" href="https://YourSite.com/marketing/" />
Here's where you'll find it in WordPress with the Yoast plugin: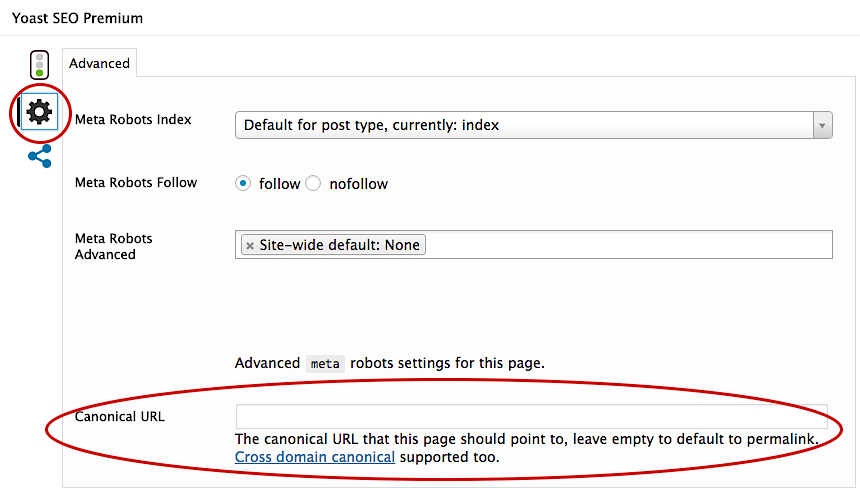 URLs
You want to make sure that your URL is not only readable for a regular user, but for the search bots, too. When Google crawls your site, it checks to see whether it's easy to navigate — so your URL readability is a big factor. 
Source: Moz
SEO-friendly URLs are structured in the following way:
http://store.example.com/topics/subtopic/descriptive-product-name#top
Here's a quick breakdown of each part within that URL:
"Store" is the subdomain

"Example.com" is the domain

"Topics/subtopic" represent a top-level folder

"Descriptive-product-name" represents a product page

"#top" represents a named anchor
Here's an example of a URL that is not SEO-friendly:
http://example.com/index.php?product=1234&sort-price&print=1
Using dashes to separate words within your page URLs is an easy way to make your pages more readable.
Another way to make your URL more SEO-friendly is by ensuring that pages aren't buried deep inside other categories or topic, which is called "deep website hierarchy." This hurts a user's ability to navigate your site and Google will pick up on it.
Instead, ensure that you implement "flat website hierarchy" or "flat architecture" which means that your web pages are not buried too deeply in many categories. This makes it much easier for readers and Google to navigate through your site.
Here's a visual description of what your site should look like (SEO-friendly/flat architecture on the left, non-SEO-friendly/deep website hierarchy on the right):

Source: Nielson Norman Group
Read More: 10 Google Search Console Hacks to Boost SEO
Schema Markup
Your website's schema, which is code that you add to your site, helps categorize your website's information in a way that Google's bots can easily understand. Once Google crawls it, it has the option to display the data from your page in an easily digestible way in the SERPs.
For example, if you run a local restaurant, you could set up your schema to allow Google to display your average reviews, number of stars, and price range directly in search results. If you have a page where you post recipes, Google will display those recipes at the top of search.

Source: Search Engine Land
Displaying information in this way draws more eyes to your site while still in the search results page, which can ultimately boost your click-through rate.
You can audit your schema by using Google's webmaster tools for structured data testing. Just copy/paste your URL into the site.
Off-page SEO
Citations
One of the most important elements in local SEO is making sure that your citations are consistent across the web.

Citations refer to your business's name, address, and phone number (or NAP). Google crawls the web for this information and prioritizes businesses that not only have a higher volume of citations, but those that have consistent citations.

This is why it's important that you have your updated phone number, business name, and location information listed clearly on your site.

In addition to making sure that your information is consistent on your site, you should list your business in as many directories as possible. Some of the most important directories are:
Google

Yelp

YellowPages.com

CitySearch

Superpages

DexKnows
Here's an extended list of 50 online local business directories that you could list your business on.
Related Content: 20 Ways to Grow Your SEO Rankings
Google+ Page
Having a complete Google My Business page is an essential step to ranking high in local search.
Make sure that your page is verified, that your NAP info is up to date, and that your Google My Business page is connected to your website.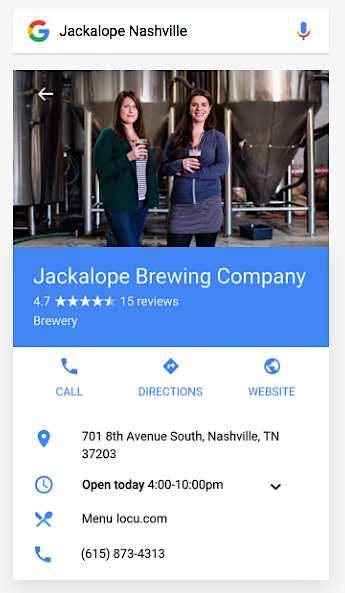 You can check whether your site is verified by Google by entering the following in search:
allintext:examplesite.com site:plus.google.com
Backlinks 
Backlinks still matter when it comes to SEO rankings. When Google sees that a lot of sites are linking back to your content, the search engine giant will rank your content higher because it's clearly quite valuable.
However, backlinks from low-quality sites (i.e. gambling sites, sites that sell illegal or questionable products, etc.) can actually hurt your rankings. When Google sees this, it believes that you're either trying to "game the system" by buying links, or that your site should simply be grouped in the same category as the lower quality ones that are linking back to you.
Of course, both of those options will hurt you in the long run.
You can check to see which sites are linking back to you content on Google Webmaster tools. Look under the "search traffic" tab and click on "links to your site." From there you can see who is linking to your website the most, and where your links are coming from.
If you find questionable links that could harm your site, you can use Google's "Disavow tool" to disavow those links.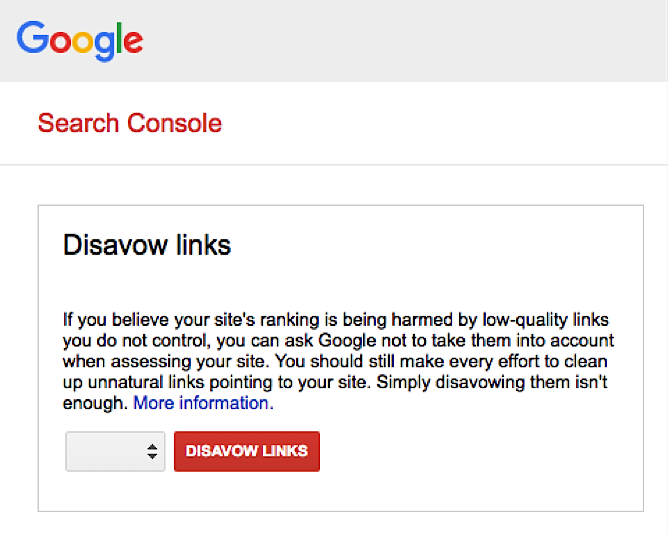 You can also contact the site's owner and ask them to take down the relevant links.
Online Reputation Analysis
Online reputation is more important for local businesses than for a lot of other types of companies. In fact, according to Search Engine Land, 72% of consumers say they trust online reviews as much as personal recommendations — and 90% of people say that reviews affect their purchase decision.
This means that by getting positive reviews for your business and displaying them in search, you can essentially do word-of-mouth marketing at scale (and for free)!
Here are a few tactics you can use to make sure your online reputation is giving a good impression, and manage your reputation going forward:
Use Google Alerts: To make sure you don't miss out on any key business news in your industry, set up Google Alerts for your business name to get an e-mail every time someone mentions your business. 
Create conversations around your business:

By getting other people to talk positively about your business, you can help convince  prospects to turn into customers. The most common way businesses do this is by getting existing customers to leave online reviews.





For example, use a tool like

Whitespark

to give customers an easy, step-by-step guideline on how to leave a review. This reduces much of the friction in the review process so that they don't have to figure it out on their own. It's a lot easier to do something when someone is holding your hand and pointing the way for you. 



Another way to create conversations around your business is by interacting with prospects on public forums. For instance, if you run a pizza place in Chicago, you can search for "chicago pizza places" in a site like Quora and check out the relevant results that come up:


From there, you can answer questions while weaving information about your company into the answer, and interact with people in the comments.

Manage negative reviews:

Even if you manage your business really well, you'll still probably have to deal with negative reviews at some point. And the truth is, too many negative reviews will have a negative effect on your business sales.

But if you manage them properly, negative reviews can actually work in your favor by:
1) Diffusing the situation
2) Making up for whatever the customer's dissatisfaction was
3) Highlighting the positive parts of your business (and referencing other positive reviews in your answer)
Rather than ignoring or deleting any online customer complaints, you can get viewers to realize that you're actually invested in helping your customers, no matter what.
According to surveys, here's what customers say makes their interactions with businesses unpleasant: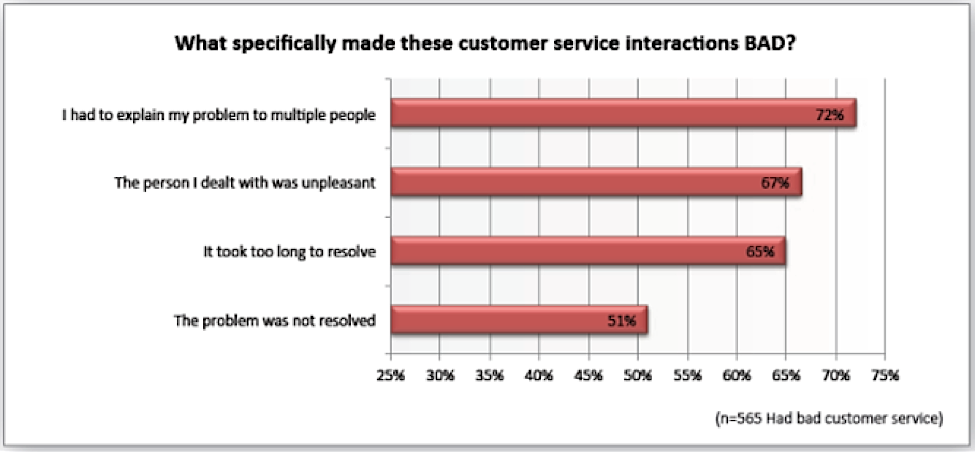 The most common things that make customers feel dissatisfied include having to explain their problem to multiple people, dealing with unpleasant customer service reps, taking too long to resolve a problem, or not getting any resolution to their problem.

Site Speed
Site speed is an important part of having a high-converting website. In fact, drop-off rates start to increase more and more for each additional second that your site takes to load. You should be aiming for under 5 seconds (and preferably 3) at the 1.5 mbps load time. 
There are many different tools you can use to manage your site speed, like URI Valet, WebPageTest, PageSpeed Insights, or even find that info on Google Analytics.
Data shows that users are a bit more forgiving when it comes to slow load times on mobile phones, but they'll only wait around 6-10 seconds maximum for a page to load before abandoning it.
If your load time is too slow, you'll probably have a higher-than-average bounce rate, which could result in less traffic and in-store visits.
Conclusion
If you're trying to grow traffic to your local business, it's important to start off with a comprehensive SEO audit so you know what exactly you're dealing with. The best part is that this doesn't have to take a very long time — in fact, you could knock out this entire process in under an hour and get a complete picture of what needs to be fixed. That's the best way to stay a step ahead of the competition.
In reality, there are only a handful of critical factors that determine how your business stacks up in search results, like the quality of your backlinks, your online reputation, citations, and the other factors we covered above.
What local SEO tactics have you used in the past that you've found most useful? Let us know in the comments!
Did you miss the previous post in this local business SEO series? No worries, you can catch up right here: How to Do a Comprehensive Local SEO Audit