B2B SEO: How to Rank Your Business Website Higher in Search
What is B2B search engine optimization?
B2B SEO refers to getting your business site ranked higher in the SERPs in order to drive more traffic and sales to you. The way you do this is via content creation, content marketing, link acquisition, and UX optimization of your website.
SEO for B2B organizations puts your products in front of your prospects at the right time because it helps you reach and convert key business decision-makers within companies through specific keywords that they search for while at work. In this way, you get high-quality inbound marketing leads, which in turn bring in more sales and higher revenue. 
Here are some useful B2B SEO stats to whet your appetite:
70% of B2B search queries are made on smartphones.
57% of B2B marketers say that SEO generates more leads than any other marketing strategy.
In this article, you will learn how B2B SEO is different from B2C SEO, why B2B SEO is important for your business, and the best B2B SEO techniques to improve the visibility of products.
Difference Between B2B SEO and B2C SEO
In a nutshell, here's the difference between business-to-business and business-to-customer SEO:
In B2C SEO, the ideal target market is a broad demographic group like "people in the 18-27 age group" or "people who want to get fit."
In B2B SEO, your target market is typically a small group of decision-makers in companies in your niche. For example, if you provide marketing automation software for enterprises, your target audience will comprise only large corporations (that fulfill certain criteria like revenue greater than $100 million or 500+ employees).
Here is a table that describes the key differences between B2B SEO and B2C SEO: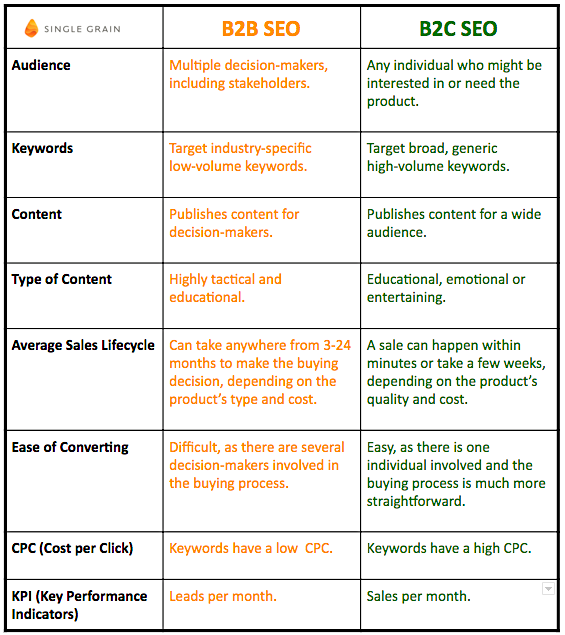 Similarities Between B2B SEO and B2C SEO
The fundamental process of SEO remains the same for both B2B and B2C sites. Here are the similarities between the two:
Technical on-page optimization is done on both B2B and B2C sites to improve the user experience. It also ensures that the search engines can accurately crawl and index different pages on the site.
Content marketing is a vital part of both B2B and B2C SEO. Content creation and distribution are done to educate prospects and to influence their minds so that they start using the promoted products or services.
Link acquisition is a primary ranking factor that both B2B and B2C sites need to follow. PR, content distribution, influencer marketing, and media tie-ups are done to acquire relevant and quality links. Authority links help improve the ranking of the website, which leads to higher traffic and better conversion rates.
Related Content:
* 10 Effective SEO Techniques to Drive Organic Traffic in 2023
* The Ultimate Guide to Link Building with Content for SEO
* How to Create a High-Performance Content Marketing Strategy in 2023

Why Is SEO Important for B2B?
71% of B2B buyers begin their research with a Google search.
A good B2B SEO strategy can help you build trust in your market, put your product or service in front of potential customers, and successfully convert them.
Click To Tweet
B2B buyers want to determine if the vendor is reliable, can be trusted, and knows what they are doing. With a tailored content marketing strategy, you can fulfill all these criteria and attract key decision-makers' attention.
Here are some more reasons that SEO is important for B2B companies:
Improves overall user experience
Positions your company as an authority in your industry
Reduces dependence on paid ads
Boosts website traffic
Increases conversion rates
Helps gain market share
Brings in results even when you stop doing it (though this is not recommended)
Keeps you ahead of your competitors
Top B2B SEO Strategies for 2023
As mentioned above, there are several differences between B2B SEO and B2C SEO. What works for B2C might not work for B2B.
Here are the eleven best B2B SEO strategies that can help you get to the top of the search results and attract potential customers:
1) Conduct Comprehensive Keyword Research
In order to get in front of potential customers, it is vital to incorporate the terms that they are searching for to find your business. Keyword research helps you identify the most valuable search terms that can lead customers to your website.
Here are three good ways to find highly relevant keywords for your business.
Use Google
Most B2B research starts with a Google search. It may be simple, but it's the best place to find keywords.
Enter your seed keyword and check the autocomplete suggestions. For example, if you sell IP transit to other businesses, enter "IP transit" and wait for Google to provide recommendations based on the most-searched-for terms: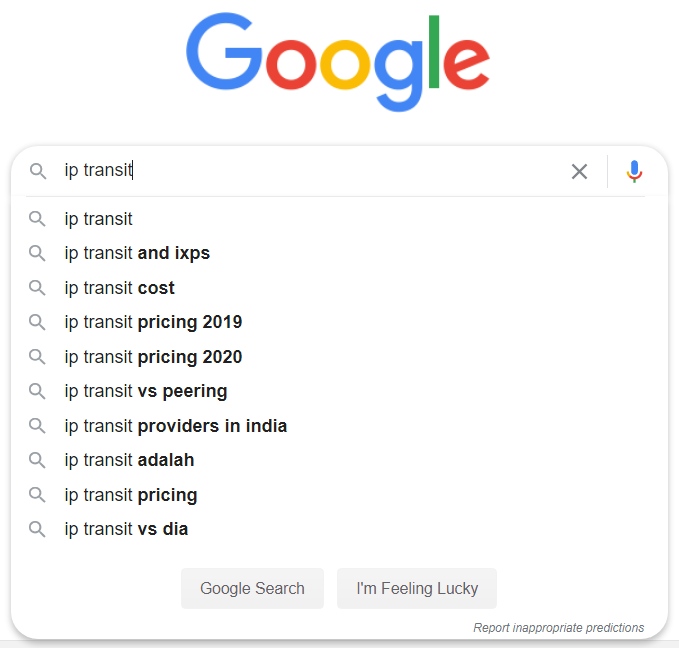 Once you have collected a few keywords, search for your seed keyword ("IP transit" in this case) and review the search results page. To be precise, look at the "People also ask" section. This contains the most common questions asked by your target audience. By answering these or similar questions in your content, you can increase your site's chances of ranking higher in search results.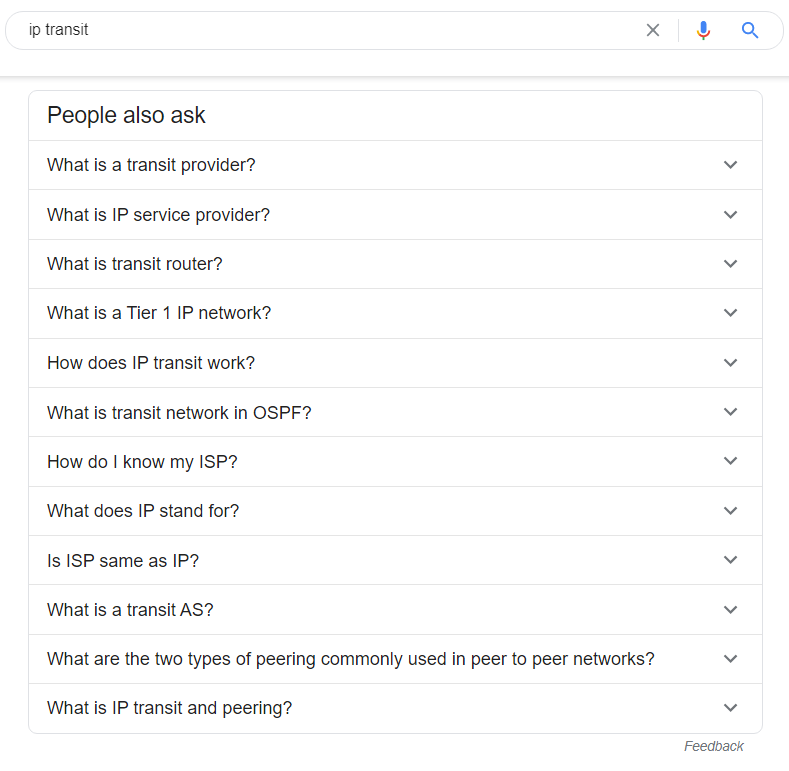 Lastly, look at the "Searches related to" section at the bottom of the SERPs. These keywords are worth targeting because, once again, lots of people are searching for them: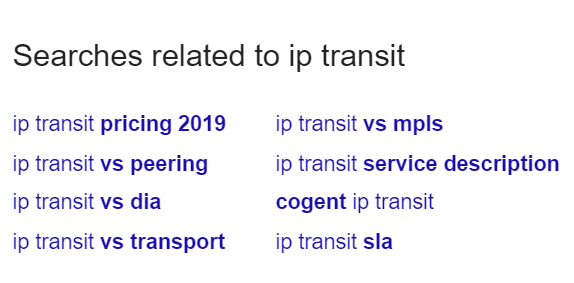 Use Tools
Tools like SEMrush and Moz Keyword Explorer can help you find keywords based on average monthly volume, ranking difficulty, CPC, and competitive density.
When using these tools (we'll use SEMrush in this example), simply enter your seed keyword and analyze the results. For instance, I entered the term "IP transit" and SEMrush displayed details like volume, keyword difficulty, and CPC. 
TIP: You should look for phrases with a keyword difficulty of less than 50% as they are the easiest to rank for.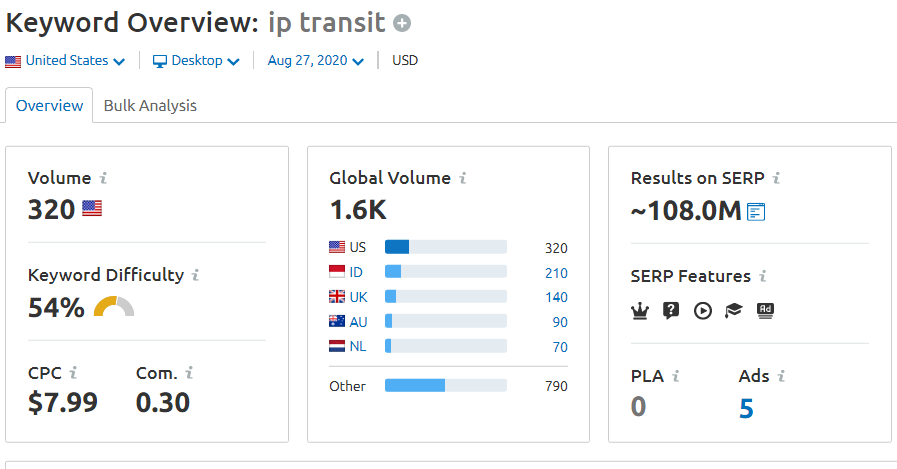 Next, check the related keywords, questions, and variations. This allows you to include LSI keywords ("latent semantic indexing") to further increase your chances of ranking higher:

Check Your Competitors' Top Keywords
Identify the keywords that your competitors are targeting and ranking for. The advantage of this approach is that you get a better idea of the keywords that drive potential customers. In other words, you're letting your competitors do the work for you! Another benefit of competitor research is that it helps you find keyword gaps between your and your rivals' websites.
For instance, I used SEMrush to compare two domains – AWS and Microsoft Azure – for the keyword gap: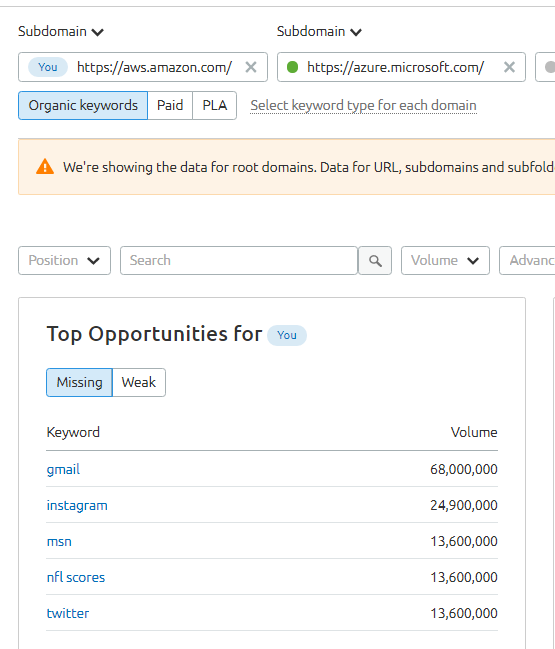 The tool displays the missing keywords (as opportunities) for AWS. It means that those are terms that Azure is using, but AWS is not.
Related Content:
* SEO Keyword Research Made Easy in 2023
* 9 Tools for Easy Competitive Website Analysis
* How to Conduct Smart Competitor Research for Better Customer Acquisition

2) Create Content that Targets Multiple Stakeholders and Decision Makers
Now that you have curated a list of keywords, it's time to use them. You need to create content for all stages of the customer journey, which effectively targets the selected keywords.
Here are some types of content you can create for different stages of the sales funnel:
Awareness Stage
Analyst reports
Research reports
E-books
Educational content
White papers
How-to guides
Consideration Stage
Expert guides (preferably written by CEO)
Live videos
Webinars
Podcast
Pre-recorded videos
Decision Stage
Vendor comparison
Product comparison
Case studies
Customer success stories
Live demo
Here is an example spreadsheet by Foundation Inc (go to File > Make a Copy to save a version for yourself) that shows the types of content a CRM company should create for different stages of the sales funnel: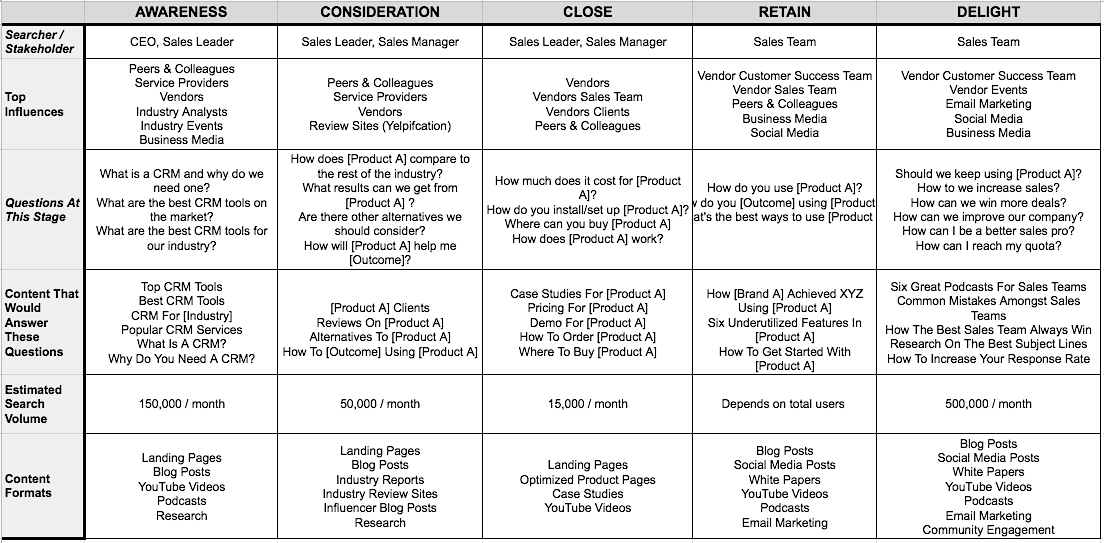 This spreadsheet consists of the kinds of questions that B2B buyers have at each phase of the sales funnel and the type of content that will answer their queries. It also includes the estimated search volume for each search query and the best content formats for them. You can create a similar sheet for your business to better plan your content strategy.
Now that you know the types of content you should create, here are the best practices to attract and convert B2B customers:
Address your customers' pain points.
Make sure each piece of content adds value to the readers' life. You can do this by writing unique (and advanced) strategies, along with examples to help readers better understand the content.
Ensure that your content stands out from your competitors' (when writing on a similar topic). Check the topics and subpoints they have covered. Analyze what's missing or isn't explained in detail and cover those things in your own content.
Write compelling titles and meta descriptions to entice searchers into clicking on your article.
Produce evergreen content that doesn't get outdated with trends or events. For example, if you provide marketing automation software, an evergreen topic for you would be How to Choose Marketing Automation Software or Best Practices for Using Marketing Automation Software.
Back the claims you make in your content with linked-to statistics and data. For instance, if you say, "X% of marketers regularly use marketing automation," ensure that you have proper research to back this claim.
Lastly, promote your content on B2B niche platforms and community websites, including LinkedIn, to reach more customers and drive more traffic to your website.
3) Host Webinars and Podcasts
Webinars and podcasts are popular marketing strategies in 2023:
Given the current state of the world, with people avoiding travel during this pandemic, the numbers quoted above are likely to increase. So the question is: how do you take advantage of this?
Here are seven steps to make the most of webinars and podcasts to improve your site ranking:
Step 1: Pick topics that address the biggest pain points of the businesses you serve.
Step 2: Promote your webinar and podcast extensively via social media and email.
Step 3: Provide viewers/listeners with expert guidance, something that's not available for free.
Step 4: Repurpose your webinars and podcasts into blog posts.
Step 5: Publish repurposed versions of your webinar and podcasts on your website (in both text and video/audio format) and share it with your email subscribers.
Step 6: Publish your webinar on YouTube. Make sure to add closed captions to make it easier for YouTube to understand your video's context. Add links that take interested users to your website. For podcasts, host it on various top platforms, including Apple Podcasts, Spotify, Podbean, and Buzzsprout.
Step 7: Repurpose your webinar into various short videos and share them on social media to compel users to visit your website.
4) Create Videos to Support Your Content Strategy
Apart from webinars, you also need to create videos to support your content strategy – because 65% of senior executives visit the website related to the video posted on YouTube. Another benefit of creating videos is that they can be easily repurposed into blog posts.
These are the best types of videos that you can create for your B2B business:
Educational videos (top of the funnel videos)
Promotional videos (that demonstrate the value of your product)
Customer success videos (to create social proof)
Customer interaction videos (in which you ask users about their biggest challenges and show how your product solves them)
Once you have decided on the topic and the type of content for your video, follow these video marketing best practices to boost your site's ranking:
Use closed captions to make it easier for viewers and search engines to understand the video's context.
Include a video transcription for every video you publish. This helps cater to different reader preferences and increases your chances of appearing in Google searches.
Make sure your video thumbnail is persuasive enough to attract potential customers.
Implement schema markup on your videos to provide additional information to search engines.
Make sure your videos are of higher quality or more detailed than those already ranking for relevant keywords.
Repurpose your best-performing blogs into videos by adding or removing content from them.
This video by Slack is one of the best examples of B2B video marketing. It is a case study of how Slack helps Sandwich Video Inc., a video production company, communicate within the company. It is great because it contains fun elements to hold viewers' attention, highlights the features and benefits of Slack, and shows how it gets integrated into their work-life easily.
Related Content:
* 17 Engaging Video Content Types that People Love to Watch
* The Types of Videos to Use at Each Stage of the Marketing Funnel
* 20 Pre-Production Tips to Create Successful Video Content in 2023
* The Video Structure that Big Agencies Use to Create Successful Videos

5) Audit and Update Existing Content
Auditing your content is an essential part of SEO.
B2B marketers should do on an annual basis to assess the results and improvise their content marketing strategy. Google prefers blogs that are updated and accurate, so check if your content contains outdated statistics or tips and update them with the most recent ones.
Another benefit of auditing your content is that it helps find broken pages, bad links, and other SEO-related errors (e.g., slow-loading pages, duplicate content, core web vital issues etc.). By fixing these errors, you can prevent your site from getting penalized by search engines.
For example, HubSpot audits and updates its blogs regularly. As you can see in the image below, it reads "Originally published Jun 4, 2019, updated June 15, 2020."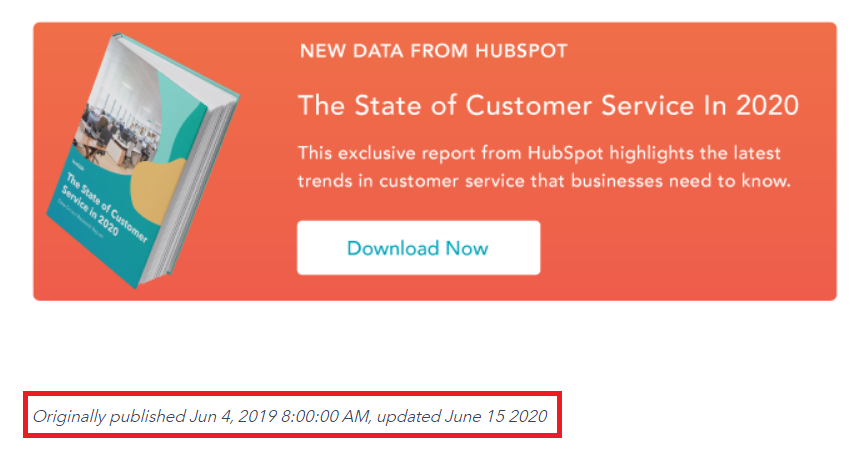 TIP: Analyze and update your most-popular blog posts first to prevent them from falling from the top of the search results.
6) Optimize Your Product Pages
B2B buyers who are ready to purchase are likely searching for your products on Google. For instance, if someone searches for "IP transit provider," it indicates that they are almost ready to buy.
By optimizing your product pages for these kinds of "bottom of the funnel keywords," you can increase your site's chances of appearing for buying terms.
Here are some things to keep in mind when optimizing your product pages for rankings:
Every landing page needs to have 100% unique content. If not, you risk getting penalized by the search engines.
Craft long-form content that provides readers with a detailed understanding of your product and services. Another benefit of creating long-form content is that it enables you to naturally add multiple keywords on your page.
Make sure your product page's URL consists of your primary keyword.
Ensure that your landing pages provide value to the customer. For instance, if you provide marketing automation software, highlight what users can achieve with your marketing automation software and what makes you better than your competitors.
Include FAQs to answer the most commonly asked questions related to your product and industry. This increases your chances of appearing in featured snippets.
Communicate the most important points with bullet points and visuals to grab visitors' attention and improve user experience.
For example, Freshbooks offers invoice and accounting software to businesses. They have optimized their landing page for the bottom of the funnel keywords "small business," "invoicing"and "accounting."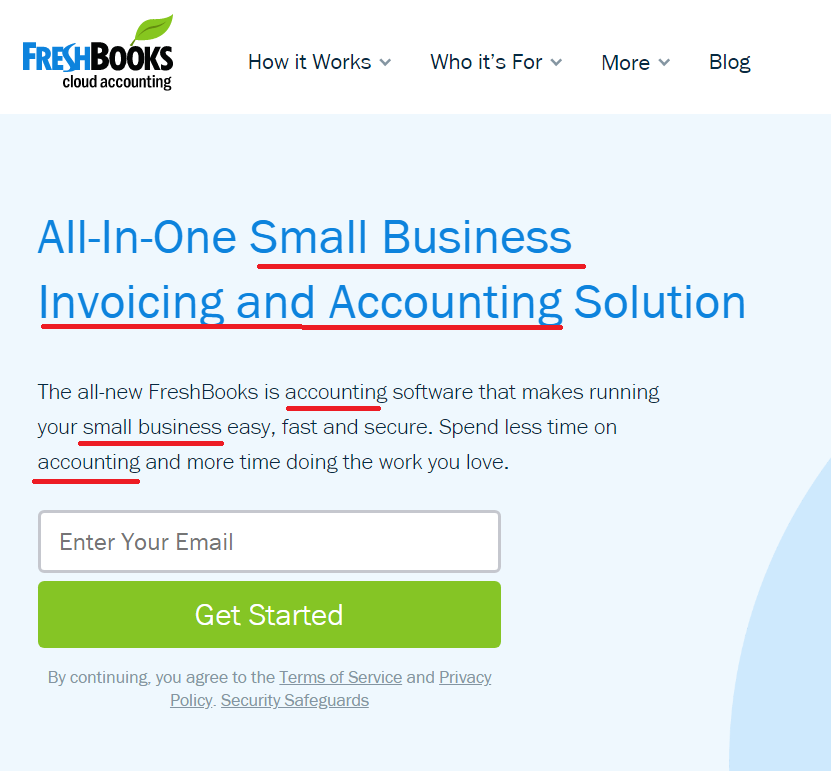 Additionally, ensure that your on-page SEO is in place to increase the chances of your business site ranking higher in search results. That said, B2B on-page SEO is no longer only about optimizing your pages for keywords (there's more to it).
Here are other things that you should do to make sure your on-page SEO is apt:
Craft unique, compelling meta descriptions and titles for each page.
Write only one H1 tag for each page. You can have multiple H2-H6 tags on any page.
Create unique permalinks for each page. This should explain to the user and search engines what they can expect on the page. For instance, if you provide marketing automation software, you can change your URL to something like www.company.com/marketing-automation-software.
Ensure that your internal linking structure is in place. Link to at least three to five relevant internal pages of your website on each blog. This prompts your visitors to spend more time there and helps search engines crawl your site efficiently.
Use "Alt text" tags for all the images on your website. Search engines cannot view pictures as we humans can. Alt text tag is the only way to tell search engines what the picture is about.
You can use a tool like SEOptimer to conduct a basic on-page SEO audit. It helps identify all the on-page SEO errors, making it easy for you to fix the issues. Simply enter your business site's URL and the tool will show you the health of your optimization. It also provides recommendations to improve your on-page SEO.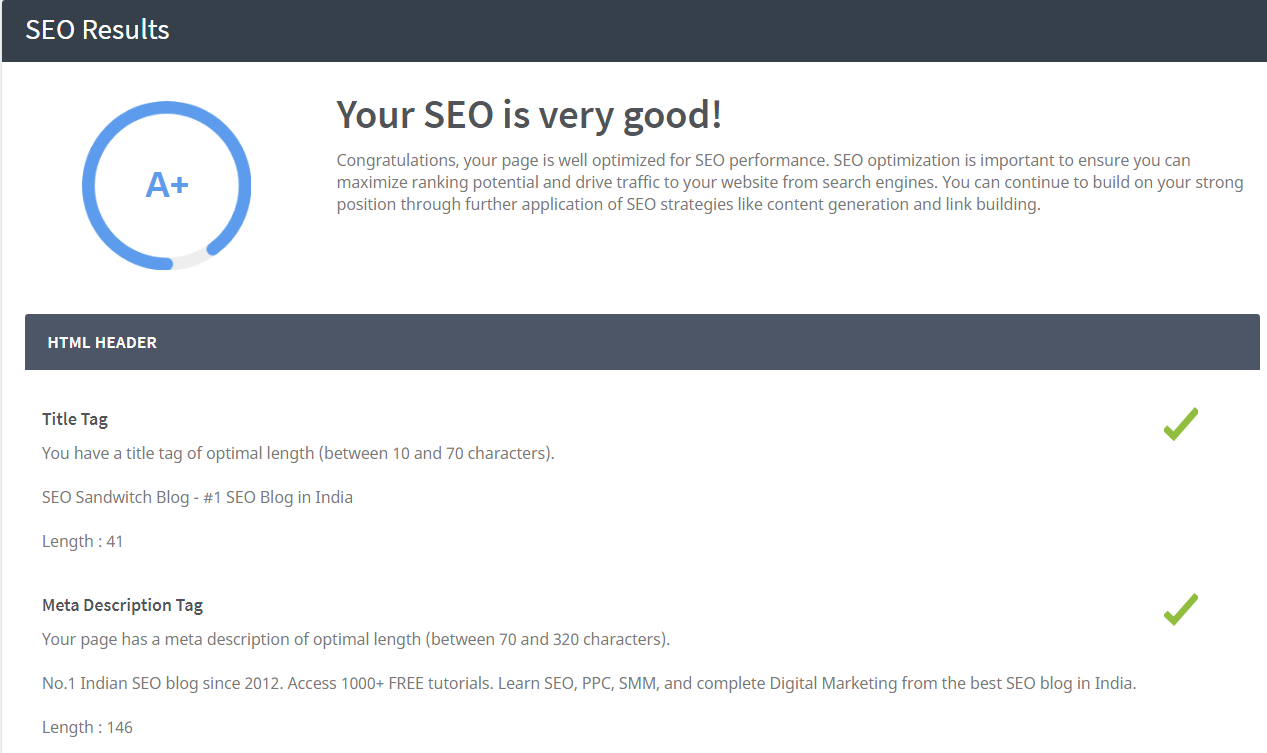 7) Improve Your Technical SEO
Technical SEO helps search engines better understand and index your website, thereby increasing your chances of appearing for relevant search queries.
Technical SEO is one of the most important yet ignored aspects of search engine optimization.
Click To Tweet
Tools like SEO Site Checkup can help find technical SEO errors on your business website. Enter your URL and the tool will display all the SEO issues: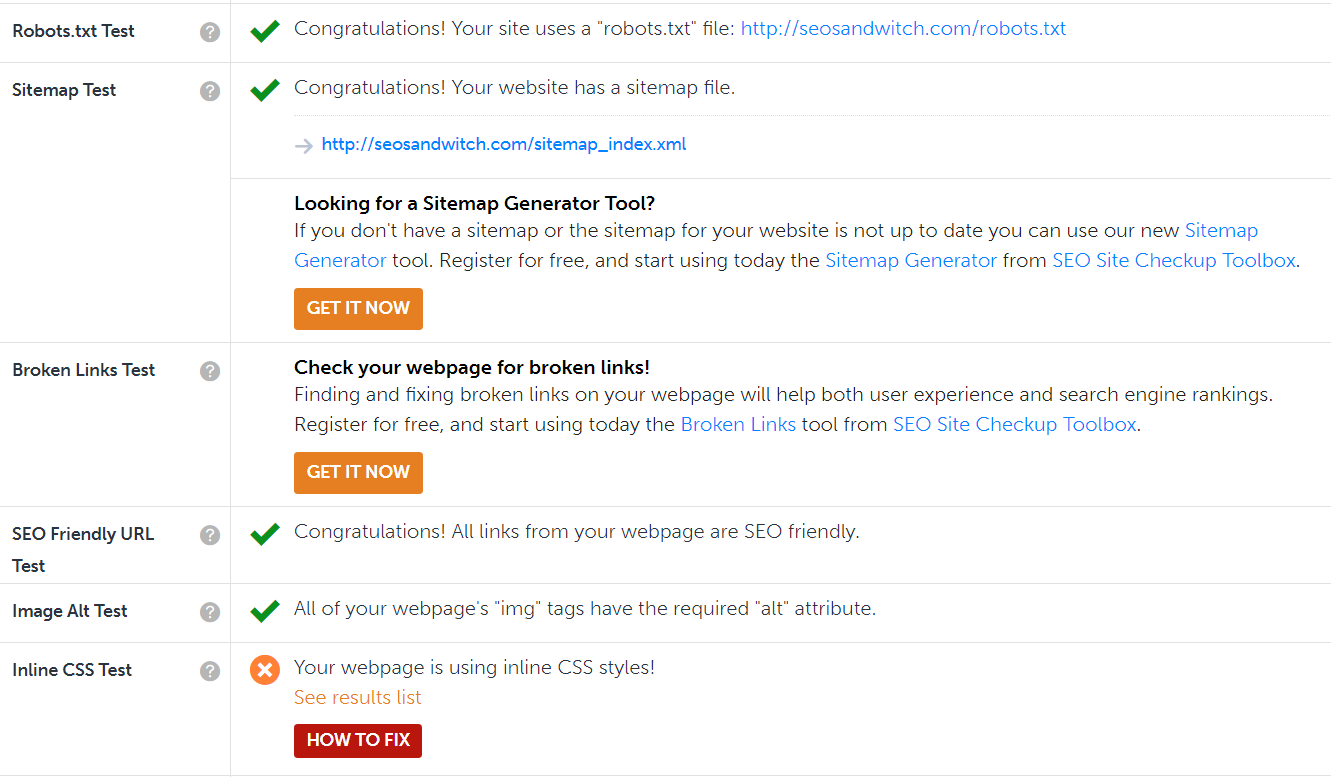 Once you fix the errors suggested by the tool, check your site for these things:
Page speed: Ensure that your site loads quickly because Google considers site speed as a ranking factor. The longer the site takes to load, the higher the bounce rate.  The ideal loading time is less than three seconds.
Links: Remove all the bad and broken links on your site. You can do so by sending an email to the webmaster of the site linking to you and ask that they change or remove the URL.
Robots.txt: This instructs search engines which pages to crawl and which to avoid. Be sure your robots.txt doesn't block the important pages of your site. Also, use it to block search engines from indexing outdated or broken links of your site.
Sitemap: This helps Google understand the hierarchy of your site. It also enables search engines to find all the pages on your website.
Security: Google uses security as a ranking factor. By moving from HTTP to HTTPS, you can significantly boost your chances of ranking higher.
Duplicate content: As mentioned above, Google loves unique content. Having duplicate content increases your odds of getting penalized by search engines.
8) Get Your Product on Third-Party Review Sites
Many B2B buyers check for product reviews on third-party sites for the unbiased opinion they bring. By getting your product on third-party review sites, you can build trust with your prospects and increase your site traffic.
Another benefit of getting your product on third-party review sites is that you will get a backlink from them.
Here are the top third-party review sites that you should aim to get your product on:
Make sure to choose the right B2B review site for your product. Check if any of your competitors are listed on that site. Also, analyze whether decision makers trust the website. You can do so by checking their monthly traffic. If it is high, it indicates that people trust it.
To list your product on any of the B2B third-party review sites, you need to contact the website.
9) Build High-Quality Backlinks
Getting high-quality backlinks from different sites is essential for SEO. The more the backlinks, the more organic traffic your site gets from Google.
Here are some tried and true ways to get backlinks to your business site:
Digital Press Release
Digital press releases help reach CEOs and other decision makers who are searching for your product. By publishing press releases on high-authority websites like PR Newswire and Business Wire, you can increase your credibility. A few links from these websites can boost your site's domain authority (DA), thereby improving your odds of getting on the top of search results.
Free Tools and Calculators
Providing free tools and calculators for your target audience can help you get tons of backlinks from multiple domains.
Create a tool that acts as a complement to your main product and helps your ideal customers solve their problems. For instance, Ahrefs is an SEO tool, but they created a link checker tool to help their target customers check their backlinks.
The Ahrefs free backlink checker has over 38,000 links from 2,574 unique domains:

Research Reports
Websites and bloggers in your industry likely write on topics related to the product that you sell. They look for recent research to improve the credibility of their content. By publishing unique research reports, you can get lots of backlinks.
For example, this report by Gartner has gathered around 700 backlinks from 262 unique domains:

Partner Pages
Do you work with other businesses? If so, you can get a handful of links from them. Create a partner page and link the companies you do business with. Then reach out to them to add you to their partner page (if they have one).
Guest Blogging
Guest blogging is still one of the best ways to get high-quality backlinks. Most websites accept guest posts. Identify a few top sites in your industry and send them guest post requests. However, make sure to read the site's guidelines before reaching out to them!
Related Content:
* The Power of Guest Blogging (And How to Get Started!)
* 5 Types of Guest-Post Content that Support Your Link-Building Efforts
* The Most Underrated Tactic to Boost Your Search Ranking: Podcast Guesting

10) Don't Forget International SEO
If you serve global customers, you might want to make their native language available on your site. It is also worth mentioning that your website's language has an impact on your rankings.
For instance, let's say a customer searches for your product from Spain and has set their browser language preference to Spanish. Google will rank the pages that are in Spanish above than non-Spanish ones.
You can combat this by using hreflang tags. When you implement hreflang tabs on your site, it tells Google all the languages that you support, enabling it to deliver your site to users searching in that language.
Having the right language and location-dependent information (e.g., prices in different currencies depending on the searchers' location) reduces the number of people bouncing back to the search results page.
Click To Tweet
11) Stay On Top of Search Engine Updates
Search engines make changes to their algorithms almost every day. In 2018, Google made 3,234 updates to its algorithm. That's nearly nine changes per day!       
While most of these updates have a negligible effect on your SEO, it is essential to keep an eye on core algorithmic changes. For instance, Google has scheduled a "Page Experience Update" for the next year (the exact date hasn't been decided yet). Check out our guide: How to Prepare Your Site for the New Google Page Experience Update
These kinds of algorithmic changes have a significant impact on your SEO. By staying on top of the search engine updates, you can better prepare your website for them and increase your chances of outranking your competitors.
Conclusion
B2B SEO requires you to follow a different approach than B2C SEO. In B2B SEO, your buying cycle consists of multiple decision makers, so you should focus on creating content that targets each decision maker and entices them to choose you over your competitors.
Try to get your product on third-party review sites to get some backlinks and boost your website's credibility. Ensure that your product pages are optimized for search engines, and technical SEO is apt. Best of luck!