You definitely want your website to rank at the top of the search results, but you can't do this unless you defeat your existing organic competitors. This is the reason that competitor analysis is crucial for the success of your SEO campaigns.
Competitor analysis helps to:
Figure out the exact strategy used by your competitors to rank on the first spot in the SERPs so that you are able to devise a strategy that is 10x better than your competitor
Find the strengths and weaknesses of other businesses within your niche
Find new link opportunities, which in turn increases the chances of ranking high in the search results
Encourage innovation and improve the overall user experience
Prioritize a set of SEO tasks that you need to perform on an ongoing basis
It is easy to find your main competitors in the organic search results but it is extremely difficult to defeat them. This guide will help you to uncover your competitors major SEO strategies so that you are able to define your plan of action and defeat them easily. Let's start!
Step 1: Identify the Keywords Your Competitors Are Targeting
Keyword research is one of the most important tasks that every SEO needs to perform and you definitely want to know the exact keywords that your competitors are targeting under organic search. This will help you plan your next strategy accordingly.
There are a few things that you need to keep in your mind while doing competitor keyword research:
Pick keywords that are less competitive, since high-competition keywords are hard to rank for. The best approach to follow is a ratio of 80:20, meaning 80% of your keywords should be low competition and 20% should be high competition. This approach will help you start getting results from SEO as soon as possible. You can always change the optimal ratio once your website becomes an authority in your niche.
Identify keywords that are driving traffic to your competitors and that are low in competition. These are the best keywords to target. You can use a tool like SEMrush to accomplish this task (more on tools below).
Check both the organic and paid keywords that are being targeted by your competitor. Doing SEO keyword research doesn't necessarily means that you need to analyze just organic keywords. Conducting a paid keyword research often lets you find super relevant and high-converting keywords.
Always analyze each and every keyword before adding them to your list because a keyword that's working for your competitor might not always work for you. Choose them judiciously.
Conduct a Google search to see which sites are ranking in the top three positions. Do this after you have eliminated the high-competing and irrelevant keywords and are left with a select list of keywords. If you find super high-authority sites in the top three, keep in mind that it is hard to rank for those keywords. Continue eliminating keywords that are hard to rank for at this stage.
Analyze the content that's ranking in the first position of the SERPs. Ask yourself if you can make that content 10x better (see step 3 below for more help). If yes, keep that keyword. The keywords that you are left with now are the ones you must target to get satisfying SEO results faster.
Dive Deeper:
Step 2: Identify the Top-Performing Pages of Your Competitor
In this step, you need to discover the top performing pages of your competitors. This will help you figure out the kind of content you need in order to outrank your competitors. Always remember that SEO and content go hand in hand.
To find the best performing pages of your competitor, you can use the Top Pages report in Moz's Link Explorer. Simply enter your competitor's URL in the search bar and click on the "Top Pages" tab: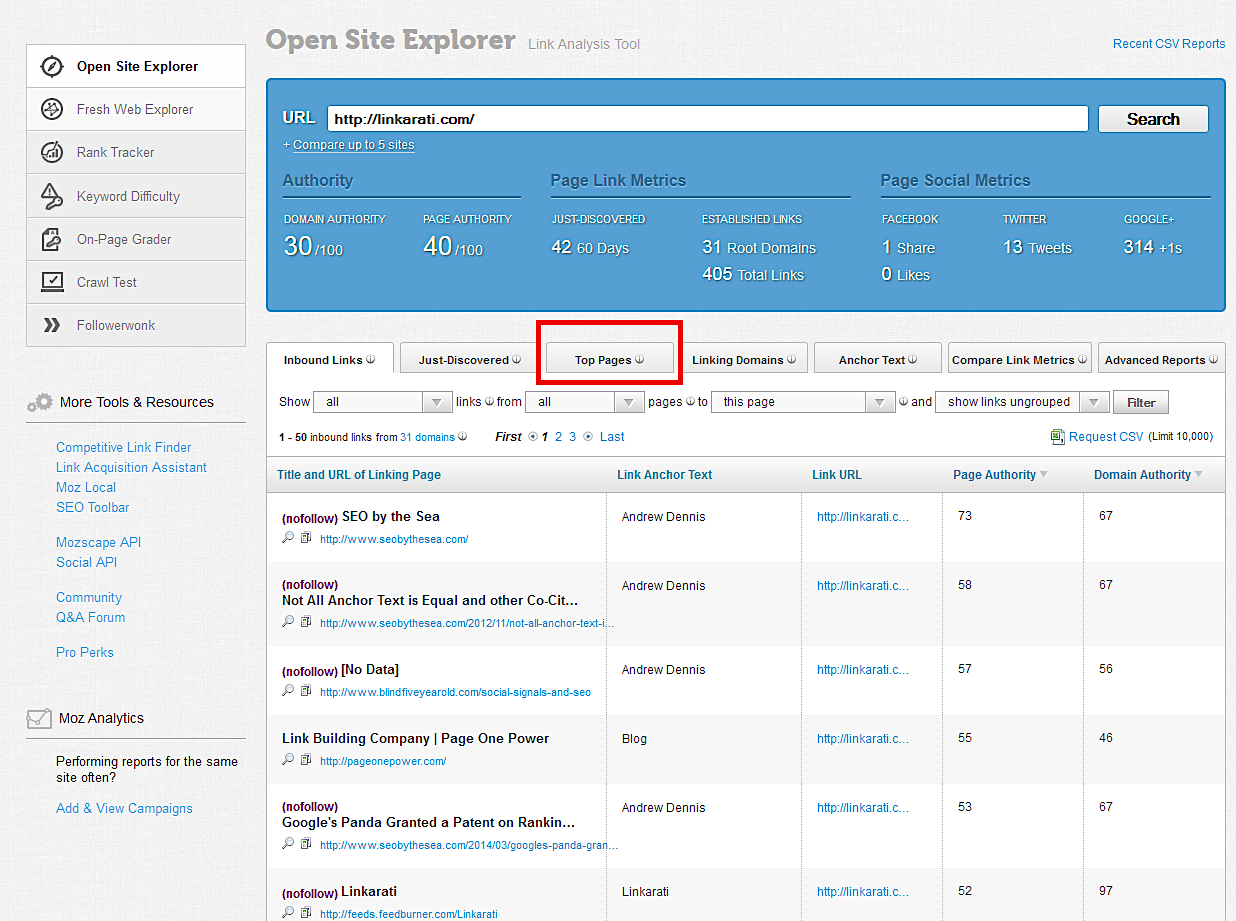 Link Explorer will return a report that displays the best pages of the site, their page authority and the number of inbound links: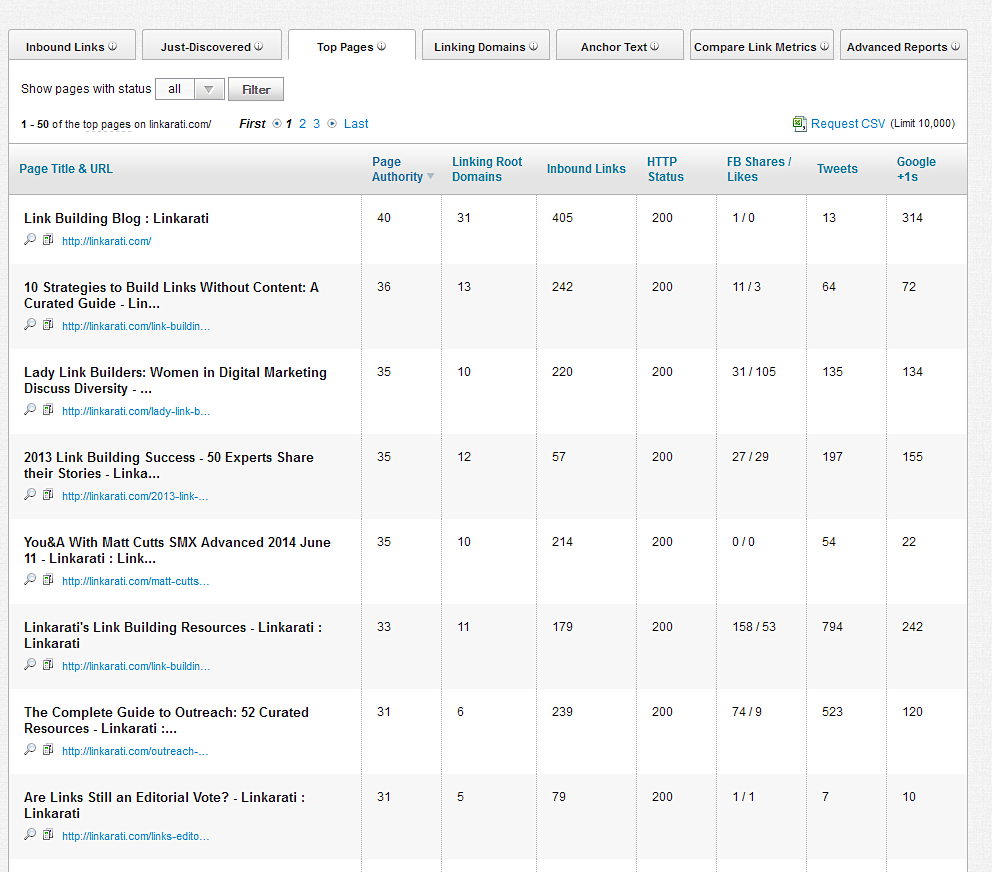 Similarly, you can use Buzzsumo for this task. Log in to the dashboard and enter the URL of your competitor. Then click on "Top Content" to identify the best-performing content of your competitors. Use the drop-down menu to sort by number of social shares, backlinks, total engagements, etc. You can also filter by date.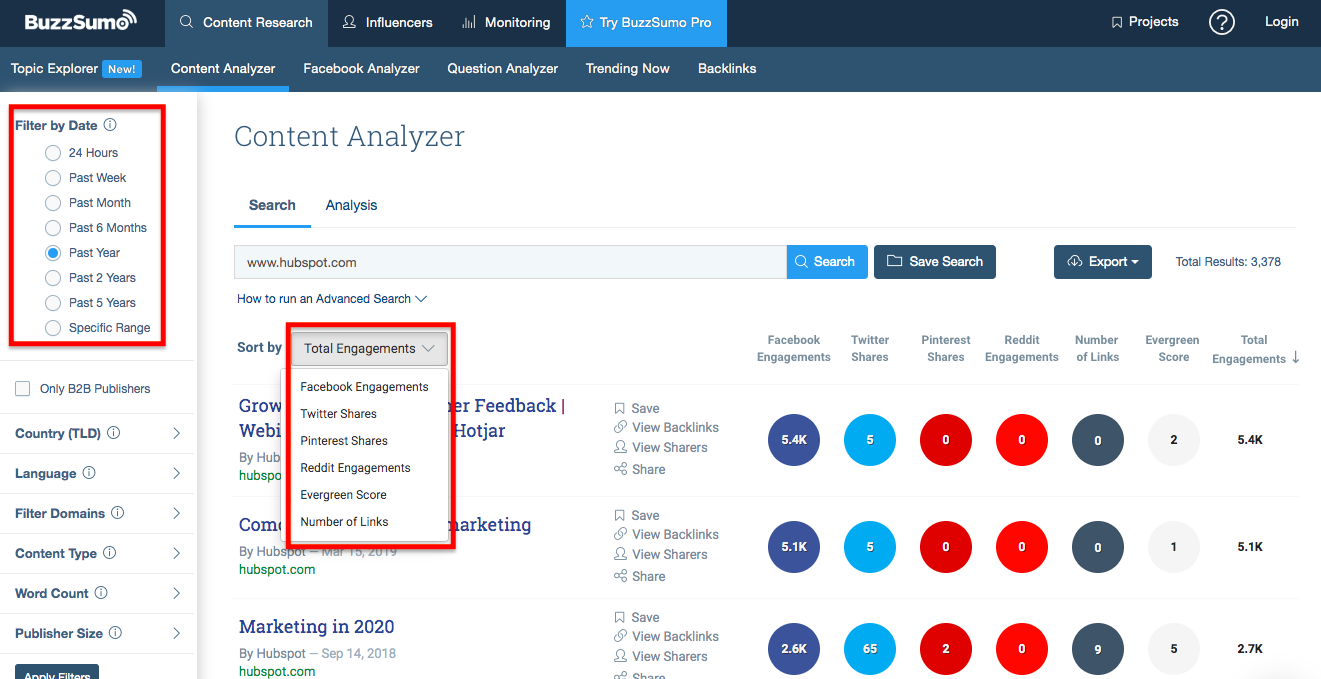 Dive Deeper:
Step 3: Create Content that Is 10X Better than Your Competitor
Content is one of the major deciding factors to secure your place in the first position of Google's search results. Once you have discovered the top pages of your competitor, you need to carefully analyze the below aspects related to the website and content in general:
Check the word count of the content. As per Neil Patel, "although the ideal word count of each of these three studies varies, it's still obvious that long form is best" when it comes to ranking high in the search results:
Use the skyscraper technique to figure out what your competition is doing with their content, where they are getting results and then brainstorm how to improve upon their content and write your own.
Prepare a content inventory sheet and note down all the details related to your competitor's content strategy. The below table from Content Marketing Institute is a good place to start: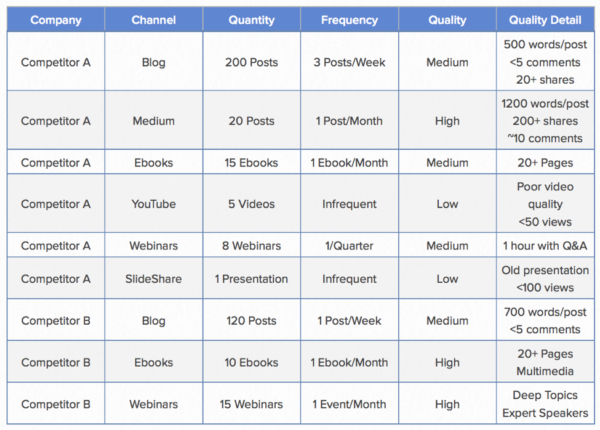 The Rule of Seven says that people need to see your brand seven times before they decide to take an action, but how do you produce that volume of content? The Content Sprout Method. You start with a great piece of content, which is the "seed" (say a podcast), and from the seed, you can easily "sprout" new forms of content (a blog post from the transcript, a YouTube video with visuals, an infographic, etc.).
Dive Deeper:
Step 4: Conduct a Link Audit of Your Competitor's Backlinks and Monitor Their Brand Mentions
Links remain one of the most important ranking factors and hence it is crucial to track the link activities of your top competitors.
Begin by checking the rate at which your competitors are acquiring links from new referring domains. You can use the Ahrefs Site Explorer to do this task. Go to Site Explorer > Enter Domain > Overview > Referring Domains Graph > Set to 'One year':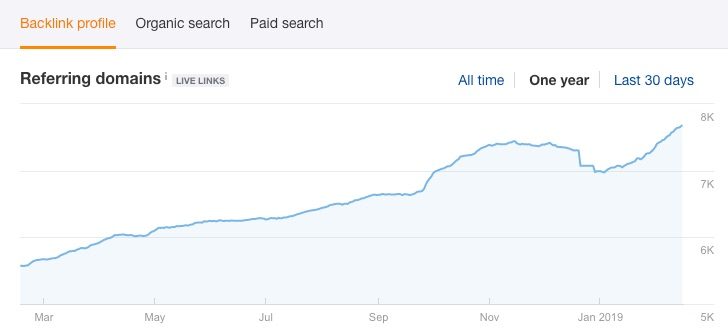 This 12 month cumulative referring domain graph can give you a clear idea of how many links your competitor is acquiring each month. For each competitor, you can take the number of referring domains they have today minus that same number from a year ago, then divide it by twelve to get a monthly average.
For example, if your competitor has 2,000 referring domains today and had 700 referring domains one year ago, then the calculation will be: 2,000 – 700/12 = 108 domains. This is the rate of link acquisition of your competitor each month. It's not rocket science that you need to keep your link acquiring frequency higher than this.
Now that you have a clear idea about the number of links you need to acquire each month, the next step is to identify the sites that are linking to your competitor on a regular basis.
To do this, you can set up a weekly competitor backlink alert with the help of Ahrefs. The Ahrefs "New and Lost Backlink Alert" feature lets you keep track on all the new backlinks that your competitors acquire on a regular basis.
Simply specify the domain that you wish to track, add the email in the recipient section where you wish to receive the alerts and choose the frequency (daily, weekly or monthly). If you think your competitors are acquiring links too frequently then you can set up a daily alert; otherwise you can opt for a weekly reminder: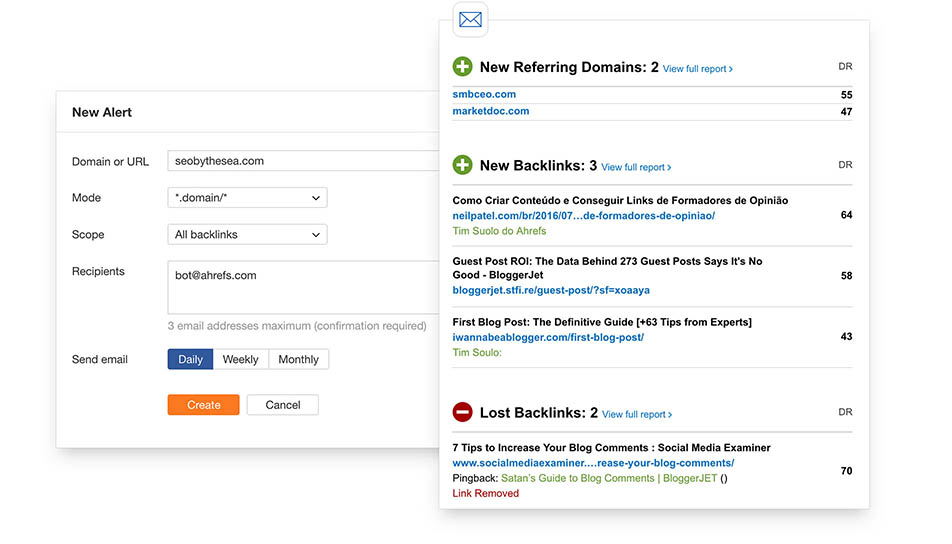 I advise you to add all your main competitors in the alert because it will help you acquire lots of data related to niche links: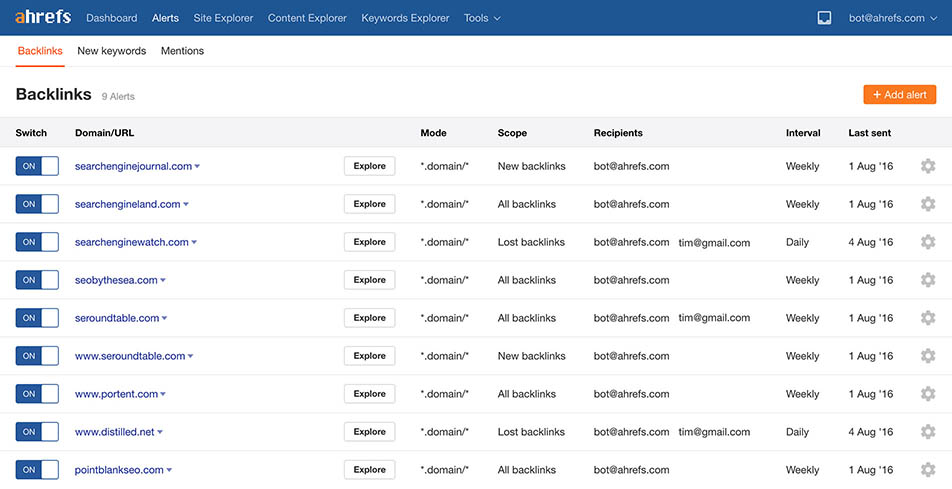 Similar to the link alert feature, you can create an alert to track all the web mentions that your competitor is acquiring on a regular basis: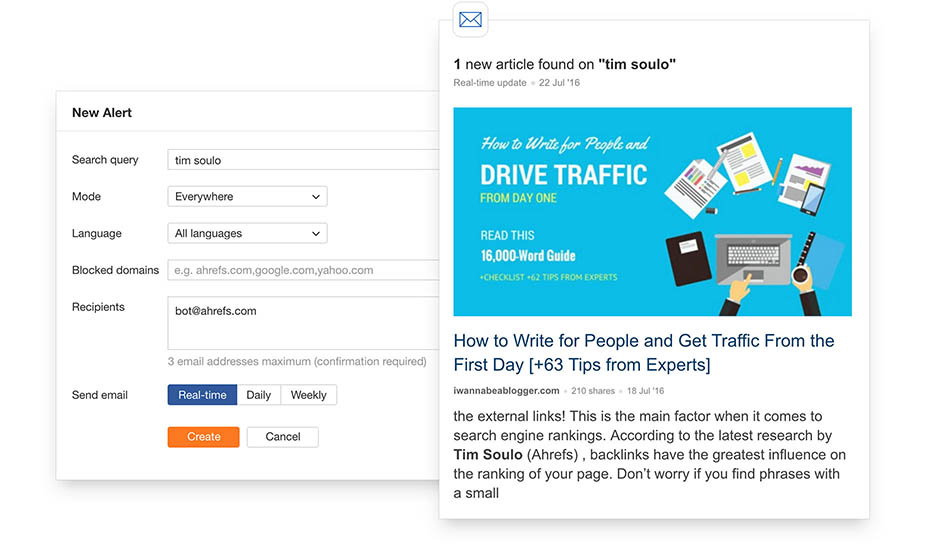 Once you have an ongoing list of link and web mention data, you can forward that data to your outreach or link-building team for further review.
When reviewing the links, it is important to track and compare the below metrics in order to identify stronger link opportunities:
Domain authority of the linking domain. A high DA generally indicates that the site is strong. You can check the DA of any domain with the help of Mozbar.
Total number of organic traffic to the site. You can check this with the help of SEMrush or Ahrefs.
Ahrefs rank. A site with a low rank indicates that the site is strong. You can check this with the help of Ahrefs. (See the tools section below.)
Additionally, you need to carefully review the following:
Check the number of broken links your competitor has and prepare a list of them. You can then email those webmasters and suggest your website (typically a relevant, updated and high-quality article) as an alternative for the broken link.
Check links coming from spammy domains that have a high Moz spam score or lots of irrelevant links. You need to exclude such domains from your link-building efforts as this will affect your site negatively.
Dive Deeper:
Step 5: Conduct a Site Audit and Look for Things Your Competitors Are Doing Best/Worst
Search engines rank websites on the basis of two major factors: links and relevancy. We have already discussed how to analyze the linking strategy of our competitors. Now, let's discuss the main factors that decide the relevancy of web pages for a search query.
Here are the top things that you must analyze while looking at the on-page factors of your competitors' sites:
Page load time as Google uses speed as a ranking factor in the search results. You can check any page load time with the help of the Page Speed Insights tool.
The main elements of a web page to find out which elements they are using above the fold, in the sidebar, in the CTA or in the images. An example image of a website layout is provided below. You need to properly scan through each and every element given in the image and note the deciding factors.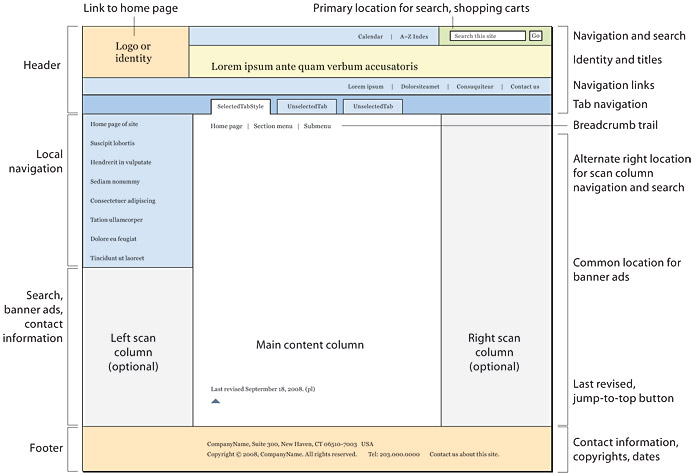 The title tag, description tag, H1 tags and use of keywords within the content of the web page.
Check for Schema Markup in the source code because it will help you decide the kind of schema markups you can add in your site. These are the content-only schema.org types that Google is actively using: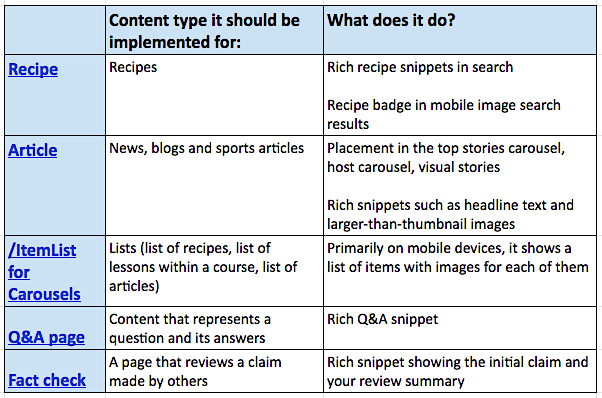 Check the internal linking of the site and note the usage of keywords in them. You can use the SEMrush On Page SEO Checker to check the important on-page SEO metrics of your competitors' websites.
Dive Deeper:
Step 6: Determine How Your Competitors Are Using Social Media
You certainly need to uncover your competition's social media strategy if you want to excel in your SEO strategy because you really can't ignore social media. The social media performance of a business is a good indicator of how successful that business is and if they offer a good experience to the users.
Leveraging the social media data of your competitors can prove to be a game-changer in your overall marketing strategy. Use the Sprout Social Facebook competitors report to compare the fan growth and message data of your competitors. You can easily visualize the fan growth by day and better understand the engagement generated via messages: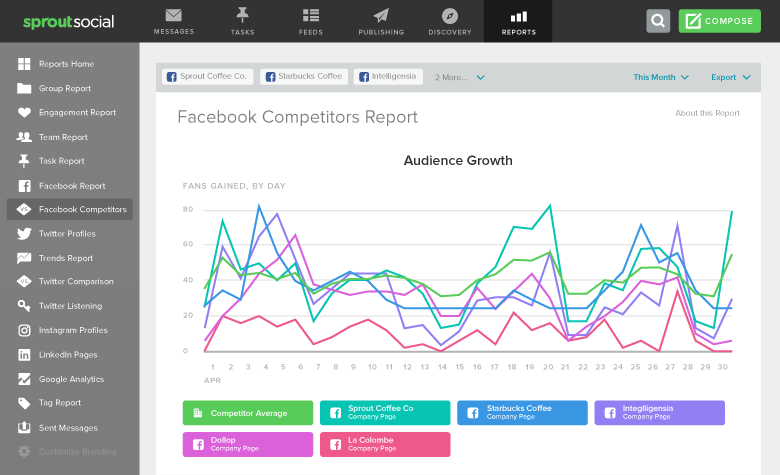 Similarly, the Twitter comparison report shows the overall engagement, influence and followers added/lost during a specified period of time: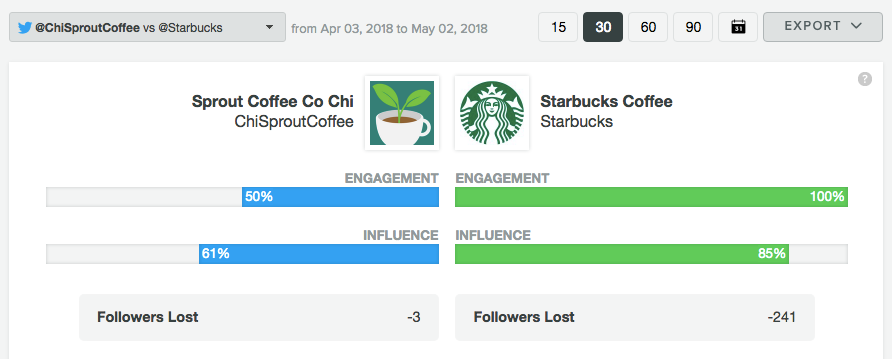 Alternatively, you can use tools like BuzzSumo to find the exact posts shared on social media by your competitors that have received the maximum shares:

Dive Deeper:
Top Tools that Help You See What Your Competitors Are Doing
You'll need the help of several tools in order to complete the actions that I suggested above. Although I have given you proper recommendations and examples of the tools that you should be using, I will list some of the top tools that can help you with most of the tasks related to competitor analysis here.
SEMrush provides you with complete data after analyzing your competition so that you are able to make faster and smarter decisions. The tool offers several features that quickly uncover your competitor's most successful SEO, content and social media practices:
Under the organic research tab, you can see the top domains that are competing with your site in Google. You can identify your competitors' exact keywords and exact web pages that are ranking in Google.
You can easily monitor the new and lost links of your competition and explore all the link metrics in great detail.
With the help of the Backlink Gap analysis tool, you can compare the top organic, unique keywords of 5 of your main competitors and quickly compile a list of the best keywords that you might have overlooked. You can also compare your backlink profile against your competitors and plan your link-building campaign accordingly.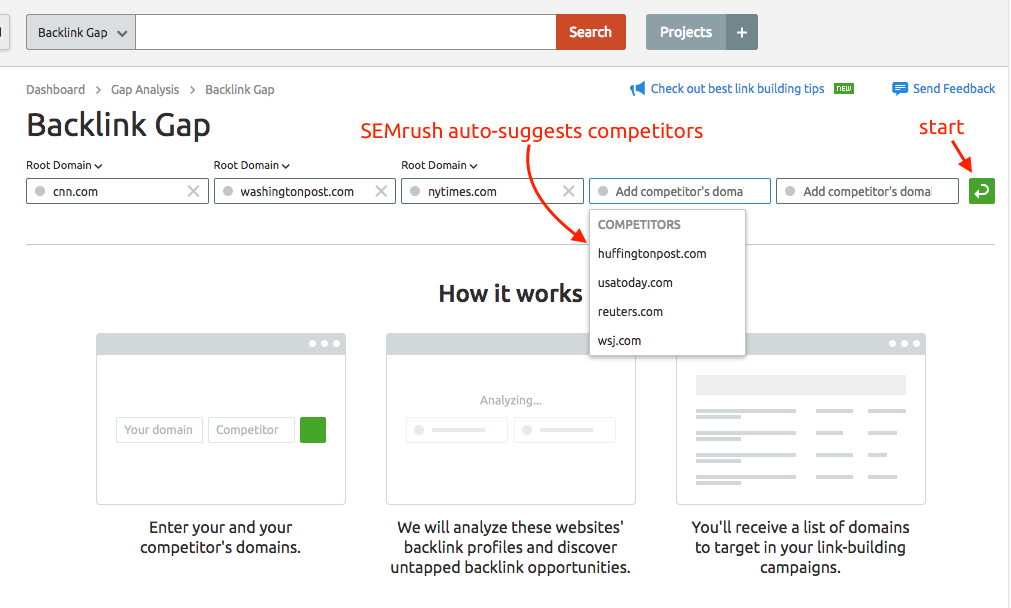 The smart mentions tracking lets you keep an eye on your competitors' brand mentions.
The topic research feature helps you identify the topics that your competitor has already covered on their website.
You can easily monitor the social media performance of your competitor's articles with the help of the post tracking feature.
The social media tracker lets you monitor all the social media activities of your competition.
Ahrefs is a fantastic tool for competitor research because it has certain unique features that help you reveal your competitors' SEO growth strategy. Here are the top features of Ahrefs:
With the help of the "Also rank for" search feature, you can find keywords that are high in search volume: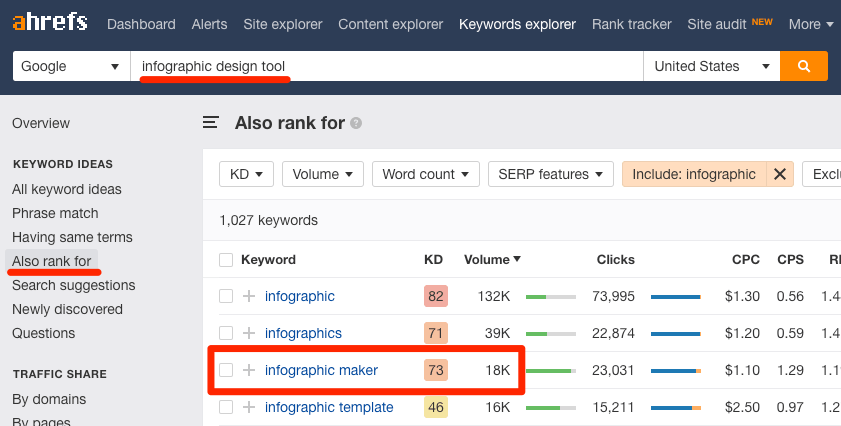 Clicking on the SERP overview will enable you to see the websites that currently rank in top 5 for those keywords: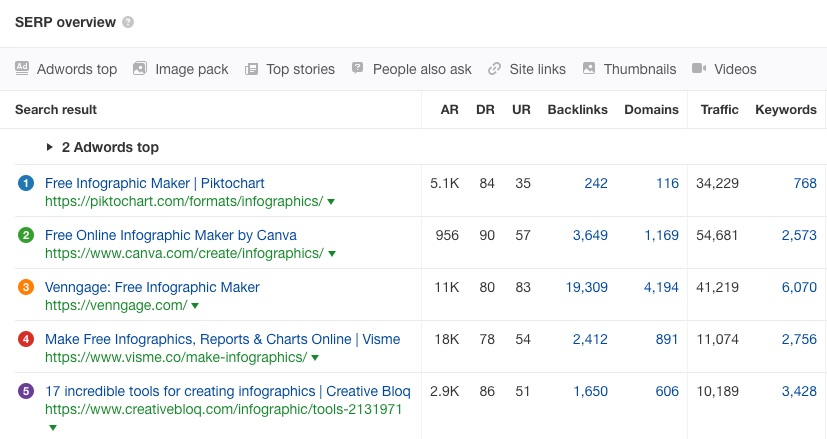 It lets you study traffic breakdown by country. When you know that certain countries are pushing traffic to your competitors, then it becomes obvious which countries you need to better target: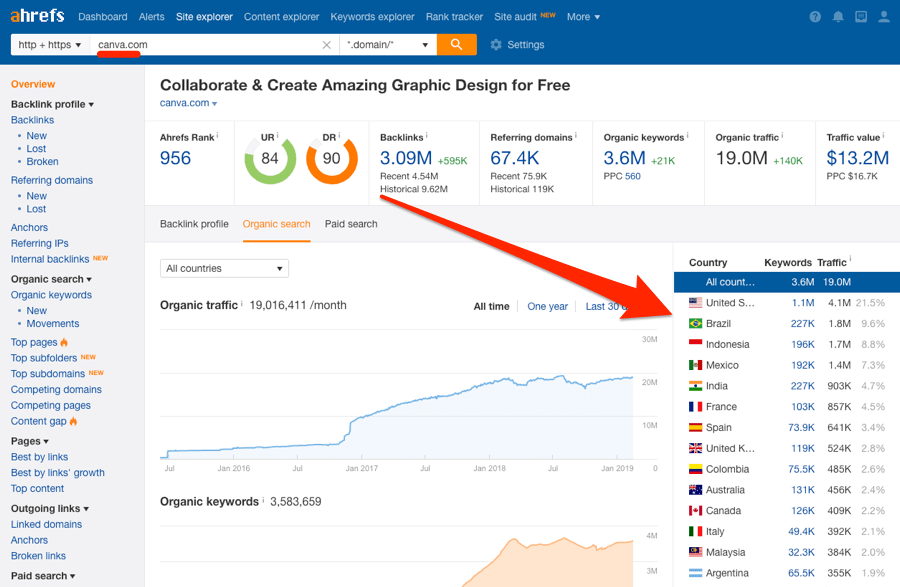 Additionally, Ahrefs lets you compare the traffic value of individual countries so that you know which countries are worth targeting:

Ahrefs also lets you track the number of featured snippets your competitors own. Simply click on the SERP features section to learn more:

Moz is the most trusted SEO software that has its own set of competitive research tools. Here are the prominent features of Moz: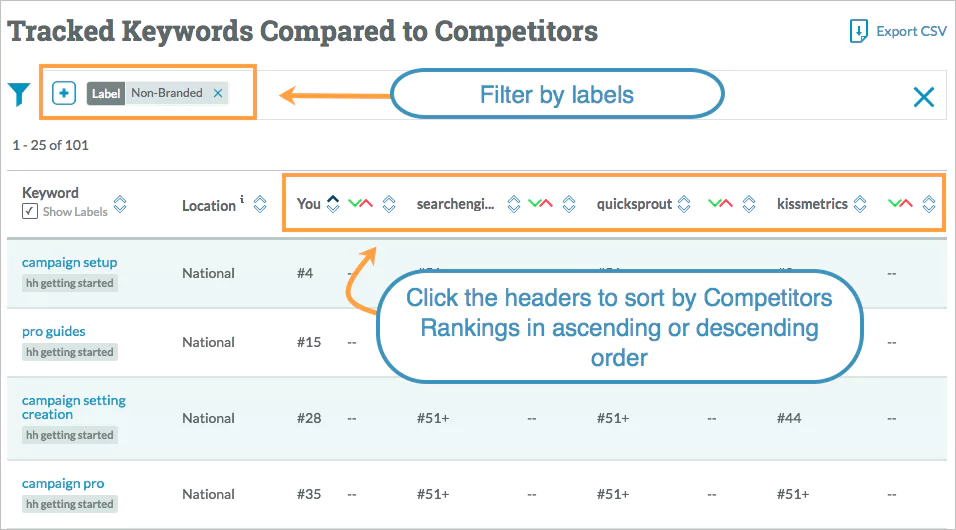 You can conduct a backlink gap analysis by clicking on the linking domains tab. This will help you see all the websites that are linking to your competitors but don't link to you.
The Majestic site crawler is one of the best in the industry and it provides some exceptional SEO metrics to track. Here are the top features offered by Majestic:
You can track the Trust Flow and Citation Flow of your competitors' websites. This will give you an idea of the amount of effort needed to defeat your competitors.
The compare tool allows you to compare the important SEO metrics of up to 10 domains side by side: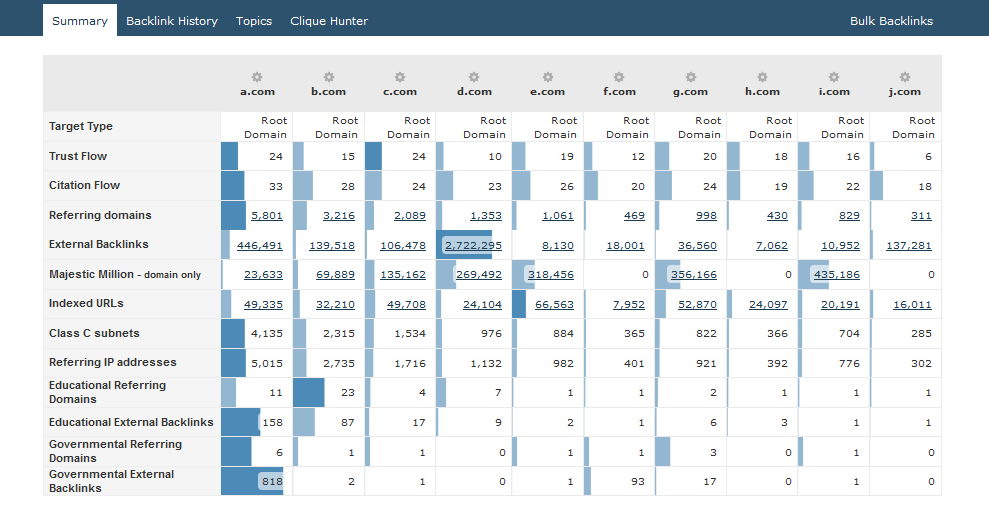 With the help of the Clique Hunter you can track which websites are linking to your competitors' sites but aren't linking to you.
The backlink history tool lets you analyze which of your competitors has gained the maximum number of links over a period of time.
BuzzSumo is the newest of all but is certainly the master when it comes to content analysis. Here are the top features offered by BuzzSumo:
It lets you analyze your competitors most shared content over a period of time.
BuzzSumo also lets you see the influencers who are sharing your competitors' content so that you can approach them in future.
With the help of the Content Analysis feature, you get a detailed analysis of all the content published on a domain during a period of time. For example, in the graph below, the average engagement of Content Marketing Institute declined when they increased their content publishing frequency. You can easily analyze the content publishing frequency of your competitors and identify what worked for them in the past. This will help you to accurately plan your future content strategy.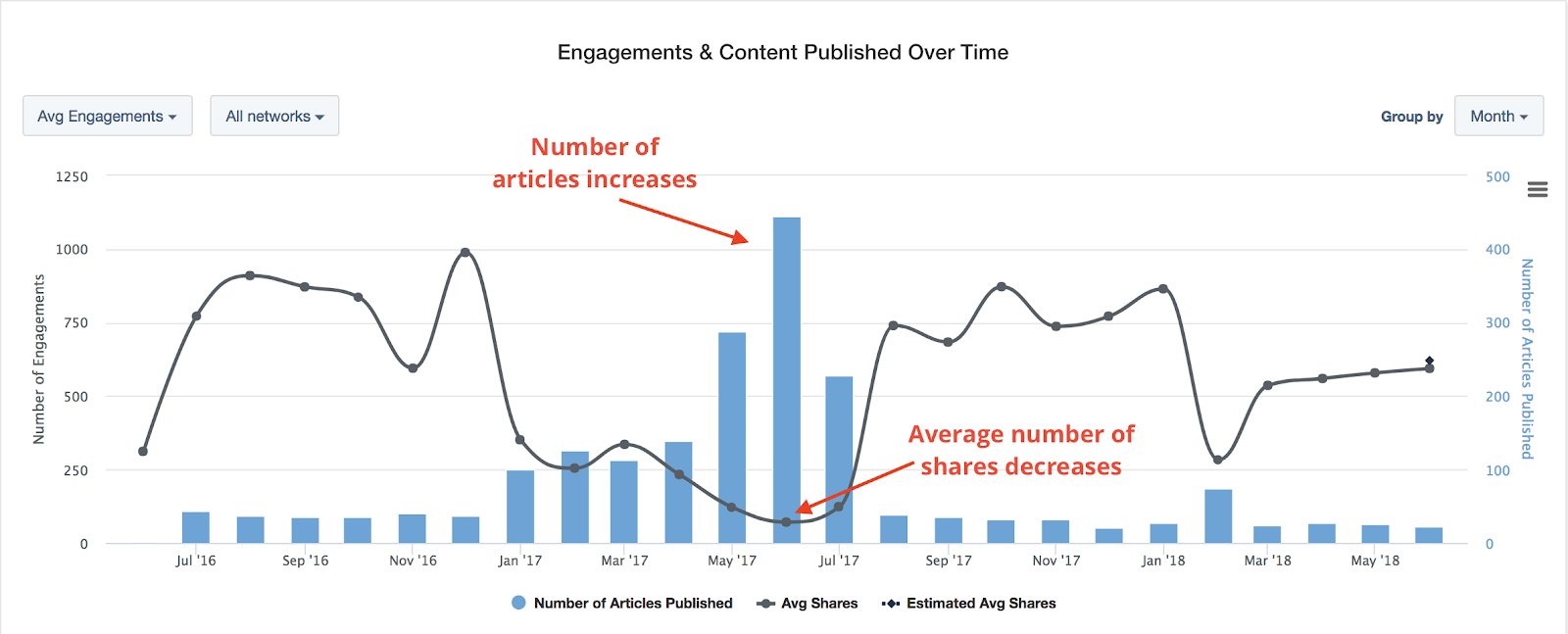 With the help of the content alert feature, you can get a notification every time your competitor publishes a new piece of content.
Dive Deeper: 
Don't Fall Into the Trap of Analysis Paralysis
There's a lot that you can do with these tools, but a word of caution: watch out for analysis paralysis, which is when you spend so much time on these tools that you end up doing nothing because you can live in the data all day and feel like you're accomplishing something. But over-analyzing or over-thinking the data can lead to a situation in which no action is ever taken:

You need to avoid analysis paralysis because it can spoil all your efforts and lead you to nowhere. Here are some tips to avoid analysis paralysis while doing SEO competitor analysis:
Always identify your objectives so that you know what your end goal is.
Keep the goals easily measurable and don't chase perfection because in reality nothing is perfect.
Avoid the trap of falling into too many options. Keep your options down and try to extract the maximum value out of them.
Always set a time limit to complete a task.
Don't wait for the perfect beginning and don't wait for the perfect end. Start at the earliest and end the analysis as soon as you get some actionable data. You can always restart at a later time. Remember, action needs to be taken fast.
The key lies in actually executing the plan that you created for yourself because without proper and timely execution it's going to be a complete waste of time.