5 Types of Guest-Post Content that Support Your Link-Building Efforts
Guest posting is one of the best ways to build a high-value backlink profile, allowing you to earn brand authority in your industry, drive clicks back to your site, and boost organic traffic. However, landing page links are almost always removed by the editor before publishing.
Websites want you to link to content that provides value to the reader — a resource, data point or insight that further illustrates the point you're trying to make. This more legitimate format for building your backlink profile with guest posting — not spamming editors — is what will help you land the most opportunities.
A quick word about backlinks: Matthew Barby analyzed a million SERPs and saw the correlation between a page's Google ranking and how many backlinks pointing to it:
This is why great content is key for guest posting. Not only does it allow you to get the much-needed in-text link — versus a bio link — but great content gives you unique pitching angles. If you can intrigue the editor with your idea, you're more likely to get the opportunity while fitting your link naturally within the text.
If you want to get your guest posting program off the ground, add these five pieces of content to your blog calendar. Use them as tools for getting more guest posting opportunities that further your brand and drive SEO value for years to come.
1) Case Study
A case study shows your value as a brand, making it a great piece of content to have, regardless of whether you use it as a tool for guest posting. It's also ideal for building backlinks because data helps to support your argument — a bonus if you have a graphic from the case study that you can also include in your article.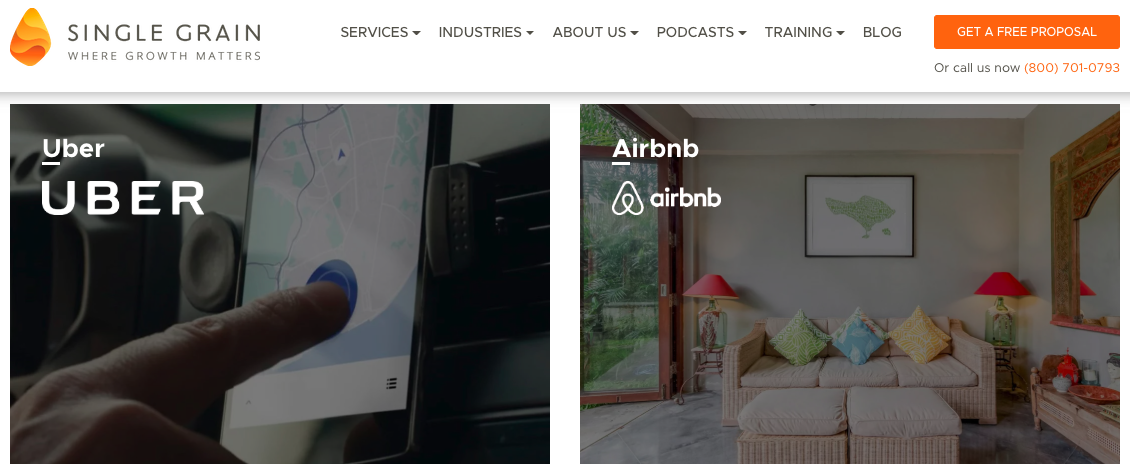 However, this is only a great piece of content to link to within a guest post if it further illustrates the point you're trying to make. Meaning: your blog post needs to be closely related to your case study so you can naturally highlight it in the article without being promotional.
Here are a few tips to get the most out of your case study:
Plan Topics Before Creating Your Case Study
To make sure you can naturally link to your case study, start by brainstorming which data is most usable. The best way to do this is to look at each data point and come up with at least five blog post titles you could pitch to editors that would allow you to include that supporting data point.
For example: a data point about how much time it took to increase by X spots in Google's SERPs and what was done to reach that top spot would lend itself well to an article like:
5 Ways to Get to the First Page of Google
In this article, you would then reference the data you found like:
"Remember to be patient. It took [client name] 6 months to get to the first page of Google using on-page SEO optimizations, including X and Y."
Make sure you have a number of angles like this for each case study data point.
To Gate or Not to Gate?
Another detail to consider is whether your case study is gated, meaning someone needs to enter their email address to access it, which is common practice. In this case, it's ideal to have the data you plan to source in your article on the landing page of the case study so that the editor can quickly reference the link to check your facts. While not all editors are concerned with whether the data is gated or not, some do.
Another easy way around this potential challenge is to gate the full case study, so you can still drive leads, but create a supporting blog post as well. You can include a few snippets of data in the blog post with a CTA to download  the full report. This is common practice for a wide range of brands and allows you to drive traffic and leads.
Dive Deeper:
2) Proprietary Data Report
Publishers are always looking for data that tells a story. While your case study can do that, proprietary data is a little different. Holly Rollins, President of 10x Digital, explains, "Survey-based content is one of the most sought-after pieces of content by editors, which can be a huge differentiator. It's also one of the best types of content to present on your site, your blog and social posts — speaking to all of your audiences."
For example, with proprietary data, you can make broader statements like:
"X retailers publish on Twitter X times each day, according to the 2018 State of Social Report."  
Not only is this great for linking to in guest posts, but it also benefits your status as a leader in the space, says Rollins. She explains, "Real data from statistically valid surveys that relate to your industry really shows that you or your company [are] an expert and [have] the data to backup your claims."
Here are a few ways to uncover this proprietary data:
Customer or Company Data
What kind of data can you extract from customers? Not one specific customer, but information that speaks to a broader audience. For example, if you have a keyword-tracking tool, you might be able to extract data like:
How many keywords brands track
How many keywords businesses in specific industries track
The most-tracked keywords — in general and per industry
When choosing this data, look for clusters of information that can cover a broad topic, like SEO for retailers. In the example above, you might be able to do an entire report on keyword usage, but make sure the data is both interesting and fills a gap in the industry, suggests Rollins.
Survey Data
There are two main ways to get this data: survey your customers or user base, or use a tool like Google Surveys to get data from a large set of people: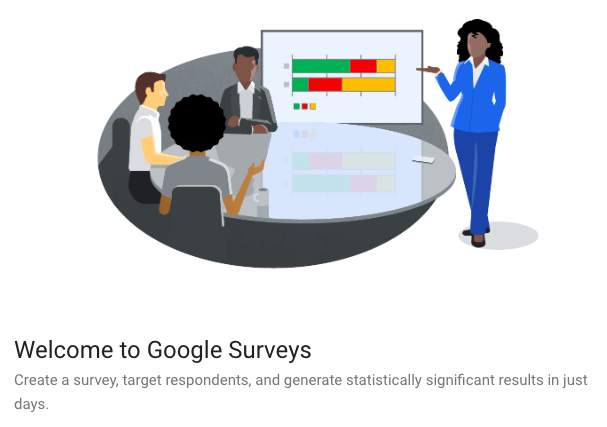 In either case, you want to do the same thing you did with your case study: start with the topics.
With surveys, begin by asking yourself: which questions will give us data that we can use to pitch unique topics and include naturally in each guest post? Thinking in this way ensures that you're getting useful and unique data.
When using Google Surveys, you pay per response. Set a budget that allows for at least 500 responses, which is the minimum that most editors will want to see when you reference the data. It also makes the data stronger in the article when you can say something like In a survey of 500 small business owners, we found that  73 percent published one blog post each month.
Get an overview of pricing from Google Surveys to decide what a reasonable budget will be. If this takes a substantial amount of your budget, remember that you can reuse this data in social media posts, email marketing and even as proof of the need for your product or service on your website.
Dive Deeper:
3) E-book
An e-book provides a lot of value to your business. As Julia McCoy of Express Writers says:
"The rationale behind it is that an ebook offers something to the customer in exchange for something else, usually an email address and permission to be added to a mailing list. Lead generation through this way allows for follow-ups through email and is a great way to get people talking or simply interested in your product or service."
In the case of link building, an e-book is a great resource to help readers delve deeper into a topic of your guest post. Better yet, you can use it to pitch ideas like:
5 Resources for New Marketers in 2019
And then list your e-book alongside other related e-books. This format for linking to your e-book is even more valuable than most because you're directly calling it out in a way that encourages readers to click through. Rather than linking to it as a source to data, you're saying, "Check this out." That CTA can be powerful for driving clicks.
To get started, consider both your topic and author:
Choose an E-book Topic
The key to using this piece of content to drive guest posting opportunities is writing about a truly unique topic. In their guide on how to create and sell an e-book, FounderU suggests that you need to consider:
What you're passionate about
What your audience wants to read about
And what's unique in your industry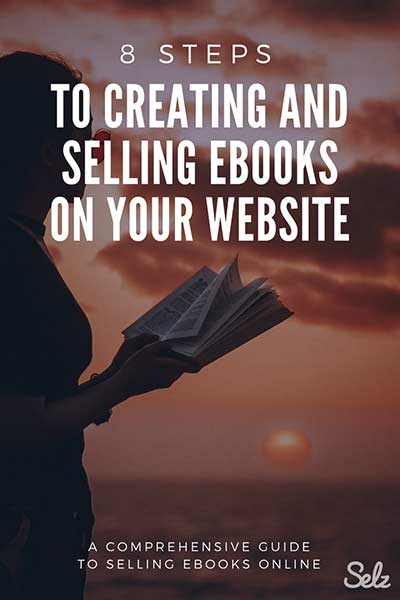 FounderU explains:
"A great way to gauge what your audience responds to is to look at which of your blog posts and social media updates currently get the most comments or shares. Before finalizing your topic, do some research on the existing market. Look at potential competitors already selling Ebooks in similar categories on Amazon or their own site. Consider ways in which your story and unique perspective can help you to stand out."
Choose Your E-book Author
As a business, you have a few options for authoring the e-book: the company itself, or the CEO or other chief officer within the company. The latter may provide more clout and boost your brand as a thought leader. It also makes the link more "sellable" in a guest post because you can say, "In his brand new e-book, John Smith, CEO for Company X, shares his insights on…."
In this way, the book sounds more legitimate and valuable — everyone wants to hear from the person in charge. Remember that the marketing team can still ghostwrite the book; the CEO doesn't need to do that herself.
Dive Deeper:
4) Thought Leadership Article from the CEO
A thought leadership article from your CEO or other executive is a great way to add value to both your own blog and your guest post because with their title comes an assumption of expertise and knowledge.
For example, in your guest post, you can source the blog post using a quote: "Technology is forcing the marketing industry to evolve at a rapid pace," says Sarah Brightman, CEO of Marketing Company.
This type of linking in your guest post gives you, as the author, more legitimacy because you're referencing insights from experts in your industry. It also allows your business to develop their thought leadership with the mention of your CEO.
When creating the initial content for this blog post, choose topics based on two things:
Your CEO's experience
Your brand and niche
By combining these two factors, you create content that's both valuable to your audience and allows you to highlight the knowledge of your CEO.
For example, if your CEO was the brainchild of your best-selling marketing tool, and you're a B2B company targeting other marketers, you might have him or her write a post called:
How We Generated $100K in One Year With X Tool
In this way, your audience is learning, your brand looks great, and you can easily and naturally feature your CEO's experience.
Again, remember that the CEO does not need to write this piece — your marketing team, or an outside writer, can ghostwrite it.
Dive Deeper:
5) In-Depth How-To Blog Post
An in-depth blog post is like a case study or report, but more content heavy. In this case, you're teaching your audience how to do something from start to finish, providing a significant amount of value and showing your expertise as a company.
Many brands do this. Check out a few examples:
As you build your in-depth, how-to post, consider the topic first. Turn to your social media metrics and blog post data to determine which topics your audience cares about. Once you have a topic chosen, fill out the post with:
Graphs that make data easy to understand
Screenshots that make it easier to follow processes
Actionable tips that your reader can use to implement your ideas
Definitions of terms, if needed
Embedded videos to complement your text
You can also add a linked table of contents at the top. This makes the piece more interactive, and also allows your reader to jump around — as a longer post, it can be hard to scan, so this makes your reader's life easier.
Create Guest Post-Worthy Content
Great content will help you land high-quality placements with your guest posting efforts. These pieces allow you to pitch unique ideas and naturally include a link back to your site in a way that provides value to the reader. Use this style of guest posting to build thought leadership, develop content that will drive SEO value for years to come, and form relationships with publishers that will continue to benefit your brand over and over again.