Marketing automation is extremely important to improve the overall success ratio of your marketing campaigns because it manages every activity related to marketing. Automation software helps marketers understand the customer journey, automate repetitive tasks, generate qualified leads, nurture leads and finally convert them into sales.
The marketing automation software market is set to grow from $3.3 billion in 2019 to $6.4 billion by 2024 by 2024 and, moreover:
75% of business owners have said that they currently use marketing automation to run their marketing campaigns: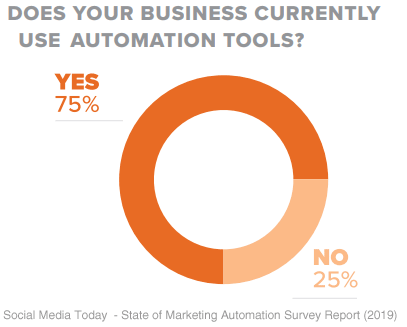 91% of users think that marketing automation is of "vital importance" for the general marketing campaign success in every communication channel.
Marketing automation is one of the four most popular methods to create personalized customer experiences.
Marketing automation drives a 14.5% increase in sales productivity – and companies using automation enjoyed an average 12.2% reduction in marketing overheads.
Let's discuss the definition of marketing automation and understand the different advantages of it.
What Is Marketing Automation?
Marketing automation refers to the use of software to automate your marketing efforts across multiple channels such as websites, social media, email and others.
The software automatically manages repetitive tasks which improves efficiency and reduces the chances of human errors: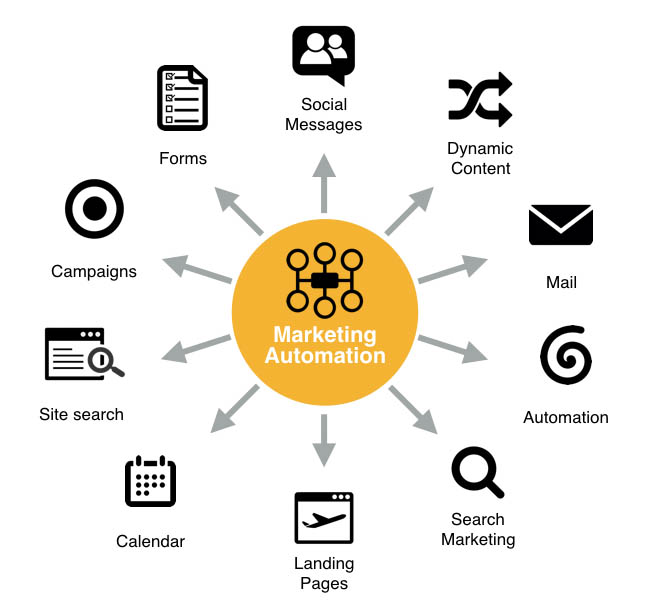 Marketing automation is the perfect technology that helps plan your strategy, create different content, segment customers, generate leads, nurture the leads and convert them into sales.
Dive Deeper: 5 Trends that Will Define the New Vision of Marketing Automation
How Does Marketing Automation Work?
Let's understand how marketing automation works with an example.
Suppose 10 visitors land on your e-commerce store and register themselves. The automation software triggers a set of emails to confirm the email IDs of the customers and welcome them. Five out of those ten customers visit the e-commerce store again after a day or two and add products to their cart. However, two of them leave without purchasing anything.
The automation software keeps an eye on the customers' behavior and sends a different set of emails to the different customers, such as:
An email containing special offers are sent to the five customers who never visited the site after registering.
An abandoned cart email is sent to the two customers who have left part way through checkout.
An order confirmation and product tracking ID email is sent to the three customers who have purchased products from the site.
This is how marketing automation software works. It identifies the lead, nurtures it and closes the sale all by itself without the need for any manual interference.
Dive Deeper: 4 Ways to Use Automation with Account-Based Marketing for Better Lead Nurturing
The 3 Elements of Marketing Automation
Here are the top three elements of marketing automation:
1) Creation of Behavior-Based Market Segments
Marketing automation is powered by artificial intelligence and it uses  different tracking codes to monitor the online behavior of users. Nowadays, most e-commerce sites present personalized product recommendations to their customers after gathering data via marketing automation software. Amazon, of course, has this down to an art:
2) Business Development Automation
The biggest use of marketing automation is for lead generation and conversion, eventually generating more revenue for your business. The automation software automatically identifies, nurtures and converts the leads based on their priority – called lead scoring, which is usually a scale of 1-100, with 100 being "ready to make a purchase" and 0 being "no way José".
The software can understand the position of your potential customers in your sales funnel and use the information to push them further towards the sale by sending out automated prompts (such as reminders, discounts, informative emails, etc.). 
These software use a variety of channels like SEO, content marketing, social media and email to reach the buyers at every stage of their buying journey.
3) Workflow Automation
Every marketing department has a multi-step process that consumes a lot of work hours from their employees. Consider, for example, a prospect who has subscribed to your wealth management advice newsletter. You'd ideally want to:
Personalize the content of the newsletter

Pitch relevant products in the newsletter

Follow up on the pitches based on buyer's "interest" signals (like email opened, clicked, but not responded to)

Propose a discount offer
Marketing automation simplifies the entire workflow, be it budgeting, email marketing or digital asset management.
Dive Deeper: What Is Post-Click Automation & Why Should Agencies Offer It as a Service?
Key Benefits of Marketing Automation
For businesses looking to improve the flow of qualified leads, marketing automation offers several key advantages. Let's discuss them one by one.
1) Reduce Marketing Costs
Marketing automation helps cut down on the resources needed to manage different marketing tasks. For example, you don't need separate software or expertise to create a landing page for your PPC ads and there is no email software needed to send different emails to prospects at different times of the day. All such tasks are performed by one software.
Marketing automation also helps declutter your database by deleting duplicate records, helping you host your files and distributing content based on predefined rules.
The need to buy different software for designing marketing materials, distributing content via email or social media, and managing the database is avoided. This helps to drastically reduce the overall marketing costs.
2) Identify Bottlenecks in Your Sales Pipeline
The marketing lifecycle revolves around generating leads, nurturing them and turning them into sales. However, there are large bottlenecks that might choke your sales funnel if you do not solve the issue ASAP: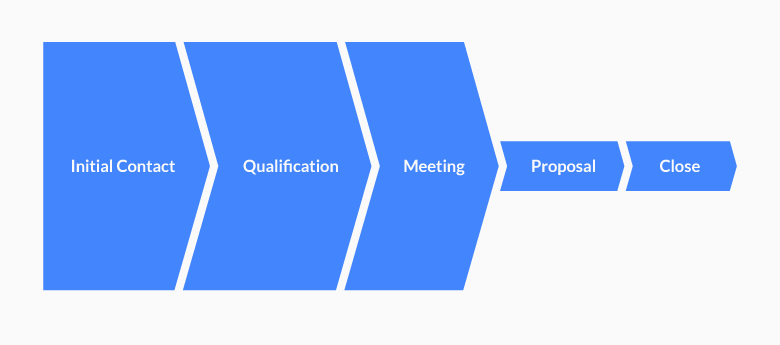 The different bottlenecks that can affect your sales pipeline include the following:
Manual management of leads by examining emails, spreadsheets, paper, etc. takes time. Moreover, identifying "warm" and "cold" leads by following a manual process takes additional time, making it easy to drop several leads before they reach the final (or next) stage of the funnel.
Easy access to buyer personas and customer conversations isn't available: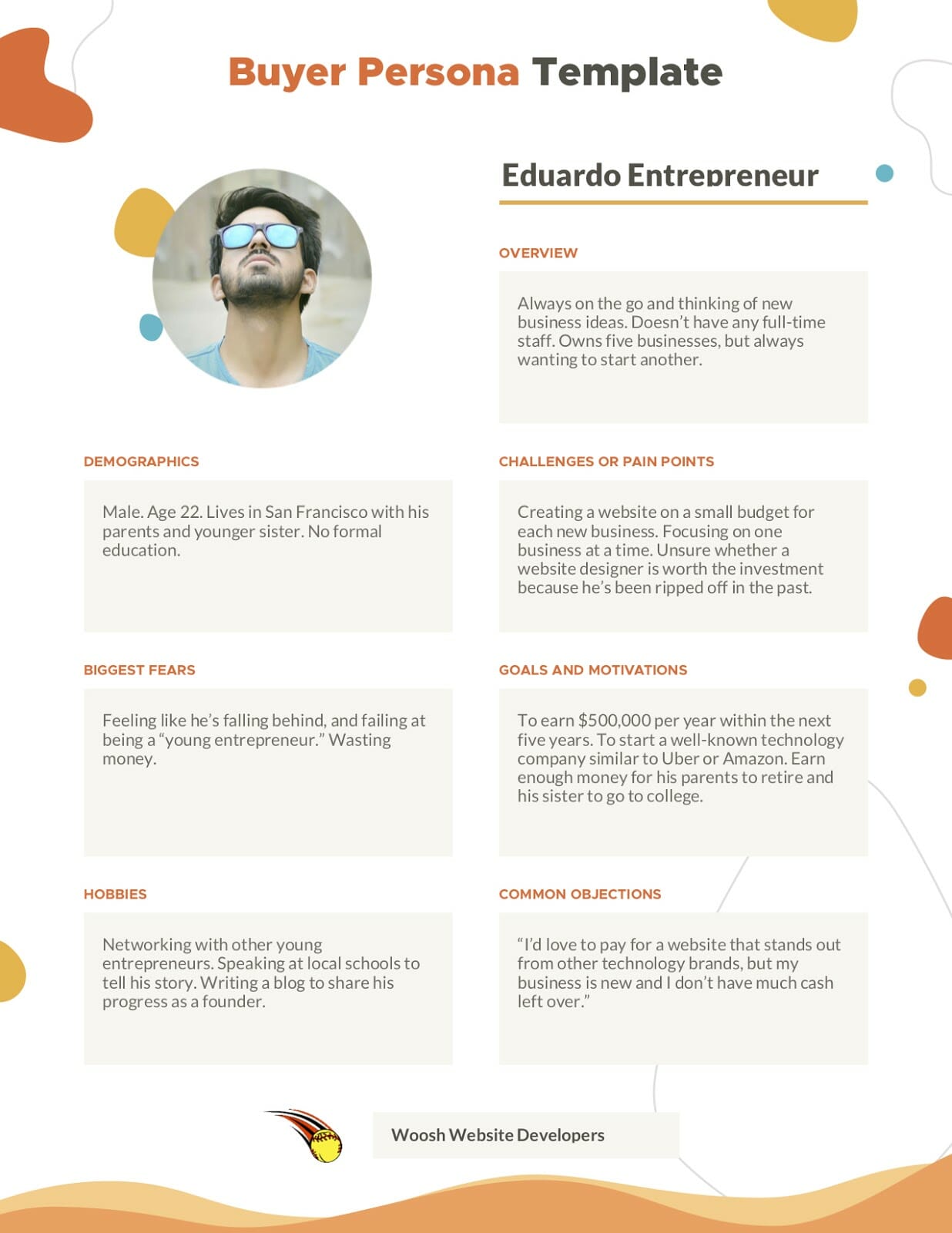 Sales executives spend a lot of their time in meetings in order to discuss the available leads, get access to the data, sales KPIs, etc.
Sending final proposal and quotes to the customer takes time because the sales executives have to go through the past conversations they had with the client and match it with the latest pricing. The entire process is complex.
Manual forecasting of sales takes up a lot of time that can be used to nurture leads.
People on the marketing team and sales team work differently and often find it difficult to collaborate with each other in real time.
Marketing automation is the solution to each of the above bottlenecks that affects your sales pipeline. With automatic lead management, the platform scores the lead on the basis of behavior, geography and demographics. The dashboard presents all the key metrics in real time so the sales team has a single view of the customer dashboard at any point of time in the purchase cycle, which means that sales forecasting is done with greater accuracy.
Dive Deeper: Here's How Targeting Cold, Warm & Hot Traffic Builds Successful Customer Relationships
3) Automate Your Marketing Activity
Marketing automation offers a single platform to automate many tasks and workflows at every stage of the buying cycle, such as:
Sending emails to a list of qualified prospects.
Measuring customer behavior and scoring leads on the basis of that behavior.
Sending qualified leads to the CRM for lead nurturing.
Presenting the leads on a single dashboard so that the sales team can work on the qualified leads and push them to the next stage of the buying cycle.
Nurturing the leads via email, content and social media to pull them towards the sale.
All the sales team performance data/customer behavior data/overall campaign performance is stored in a single CRM and important KPIs (Key Performance Indicators) like revenue and customer retention rate are given preference.
Marketing automation is a smart way to collect, process and convert qualified leads. You can fully automate and segment all the important activities of your marketing campaigns.
Dive Deeper: The Only 4 Marketing/Content Marketing KPIs That Really Matter
4) Nurture Leads by Reaching Them Across Multiple Channels
Automated lead nurturing can make a big difference to your overall marketing strategy. It has been estimated that 50% of leads need nurturing to take them to the next stage of the buying funnel. They aren't ready to buy immediately. And the sales cycles are getting longer because people research, read reviews, compare the prices and then shortlist the products more than ever before.
The buyer's journey generally comprises of three stages of the funnel, namely:
TOFU / Awareness – At this stage, prospects are actively looking to find a solution to their problem. They aren't yet aware of your products or services, so you need to use smart content marketing strategies to display your products or services to them via SEO, blog posts, email marketing or ads.
MOFU / Consideration – At this stage, prospects know about a possible solution to their problem and they dig deeper into it by looking at case studies and guides to see if anything is a fit.
BOFU / Decision – Prospects have now shortlisted possible vendors and are comparing the pros and cons of each, including price, guarantees and other detailed specs. They ultimately make the final purchase decision at this stage.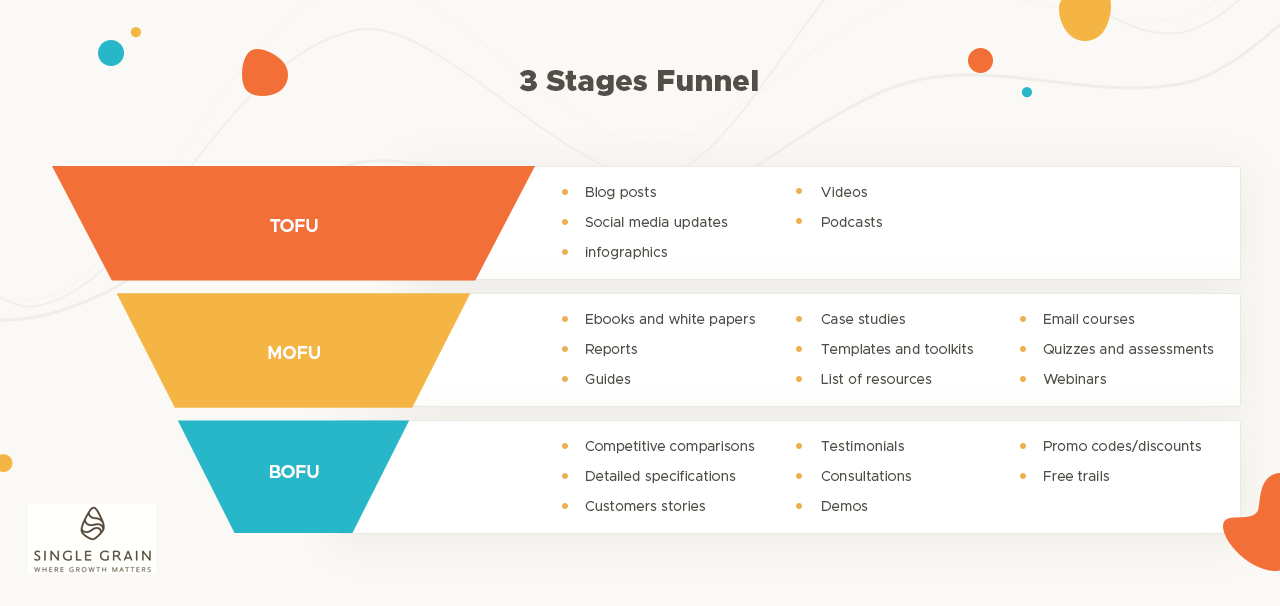 Automated marketing lets you present your brand to the customer in a positive manner on the channels where they are present during their entire buying journey.
Dive Deeper: How to Optimize Your Content Strategy with the Buyer's Journey
5) Build Long-Lasting Relationships with Customers
Marketers who use more than three or more channels (omni-channel) to reach prospects have a 90% higher customer retention rate, and 250% higher engagement and purchase rates.
Marketing automation helps you not only understand your customers by identifying their exact pain points, but personalize the communication with them, too. Automation offers a one-to-one strategy that reaches the customer on a variety of channels where they are present at different points of time.
When you add value to the life of your customers by solving their pain points, they start trusting your brand. And when you have a lot of happy and satisfied customers, they get involved in word-of-mouth marketing, which turns into a two-way customer relationship: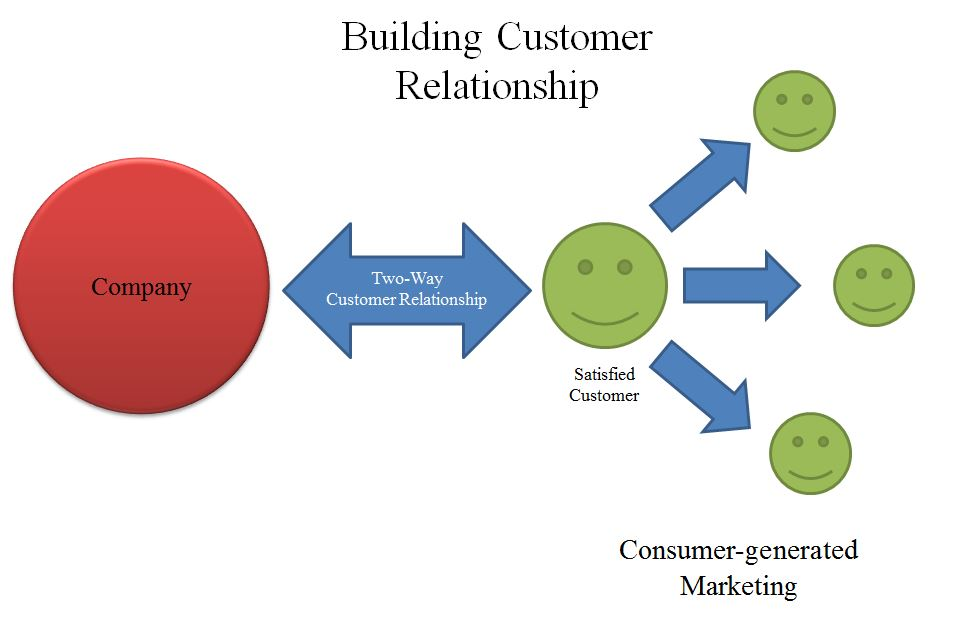 Dive Deeper: Omnichannel Marketing: Using the Content Sprout Method to Overcome Info Overload
6) Measure the Performance of Your Marketing Campaigns
Both the marketing and sales teams are involved in generating a sale, and there are several people responsible for performing different tasks in an overall marketing campaign.
Measuring the performance of different marketing activities can be a challenge. With the use of marketing automation, it becomes easier to track the performance of a particular team or even a particular individual.
Measurement leads to proper management and proper management leads to better optimization of the entire process. Optimized workflows help generate better results in the longer run.
7) Save Time
The core job of a marketing automation platform is to automate repetitive tasks, such as sending emails, sharing social media updates, conducting competitor analysis, preparing reports, etc. Once you identify the set of tasks that are repetitive, you simply feed them into your automation software and let the platform manage the tasks automatically.
74% of marketers say that automation helps them save time spent on preparing reports and doing analysis. Moreover, just by automating the scheduling of social media posts, marketers are able to save 6 hours a week.
No marketer, entrepreneur or small business owner wants to spend time on repetitive tasks when they have bigger and more important things to do to grow their business. Automation helps personalize communication at scale, automate the triggering of marketing messages based on customer behavior and present all the customer related data in a single dashboard.
8) Maintain a Central Hub for all Your Marketing Activities
Marketing automation keeps all the data and information from various customer touch points in one place, thereby acting as a central hub for all your marketing activities.
When all your customers' data is stored in one place, it saves you a lot of time that you would otherwise have to spend in analyzing the performance of your marketing efforts across different channels. It also allows different people across multiple departments to remain synced up with the ever-changing customer behavior. It keeps all the customer data up to date and ensures consistency in contacting prospects.
Therefore, your marketing and sales team can easily coordinate, resulting in higher sales.
9) Lets You Innovative More
Marketing automation lets you automate repetitive tasks and allows you to focus on innovating marketing strategies based on customer behavior. You get a detailed report containing buyer personas, the result of past marketing campaigns and the entire journey that prospects follow from awareness to sale.
Automation uses split testing to understand what's working best for your business, like:
How long you should wait before sending each message
The number of times you should reach out to a prospect in order to convert them
Which channels the prospects are most likely to convert on
Which email template triggers the maximum actions
When you get a clearer picture of what your prospects expect from your business, you can implement new strategies to keep them engaged.
What Are Some Uses of Marketing Automation?
Marketing automation is a powerful tool for any business. It allows sales teams to work with qualified leads, which keeps sales people motivated and, thus, more leads get converted to sales.
Some of the various uses of marketing automation are:
1) Identify "Hot Leads"
Hot leads are prospects who are ready to convert. They are identified on the basis of their past behavior, such as:
Visitors who add some items to the cart and visit the payment page but, for whatever reason, didn't complete the purchase.
Visitors who have given you their details to contact them at a suitable time.
Visitors who have visited your site twice in the past two days after clicking on the discount link sent via an email.
Your automation software automatically identifies such leads and scores them on the basis of how likely they will convert. Such hot leads are then presented to the sales team for further processing.
2) Reduce Cart Abandonment
Cart abandonment is one of the biggest worries for e-commerce brands.
The global average cart abandonment rate stands close to 78%, and those abandonments using mobile devices hit a whopping 85.65%. Have a look at this graph to get a better idea: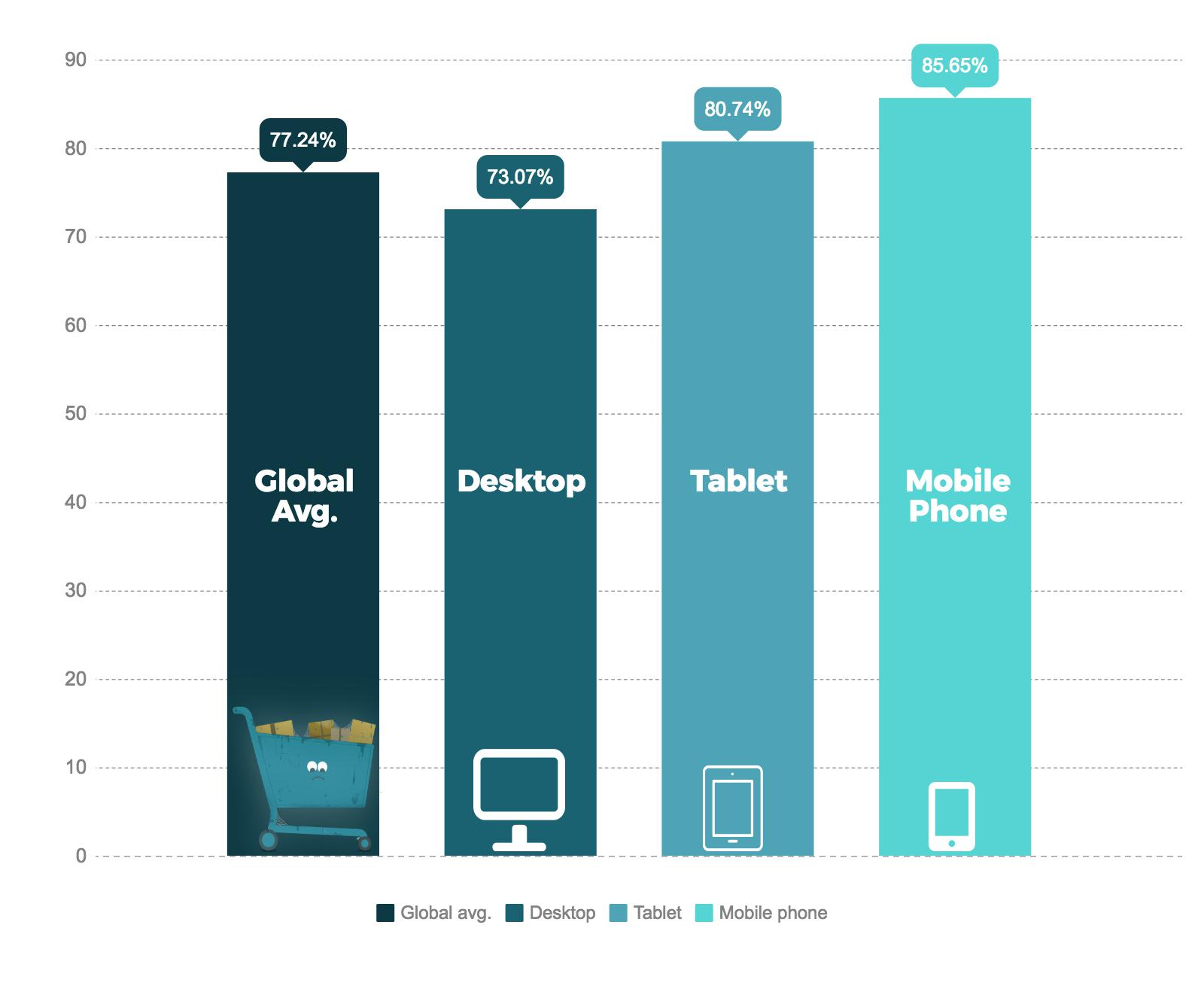 Thankfully, marketing automation helps reduce the chances of cart abandonment and pushes the customer towards a sale. The software identifies all such visitors who have added items to their cart but haven't pulled out their credit card yet. It sends a personalized email reminding them to complete the purchase – and the average conversion rate for shopping cart abandonment emails is about 18%.
Dive Deeper: Build Backlinks – and Website Traffic – with Blogger Outreach
3) Target Customers Across Different Channels
By combining all data and campaign details in one place, marketing automation makes capturing users' attention easier.
Marketers can use automation software such as Ontraport or Optimove to target customers across multiple channels, such as on-site messaging, retargeting ads, SMS, direct mail and postcards.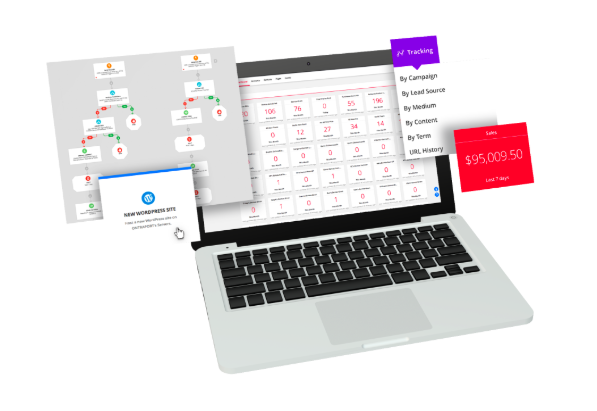 In order to target customers across different channels via marketing automation, marketers can:
Customize the message for customers or prospects based on where they are in the sales funnel and reach them across multiple channels like email, postcard, text message, tweet or phone.
Send automated messages to prospects across multiple channels (both online and offline) after specific actions, triggers or periods of time.
Identify your customers' most preferred channels of communication and reach out to them to improve targeting.
Automate the delivery of emails and contextualized messages across different channels based on customers' analyzed behavioral data and usage pattern.
Remind them about upcoming events or announce your latest feature across multiple channels to ensure that they complete the set of actions you want them to.
4) Boost Customer Lifetime Value (CLV)
To grow your business, you must keep an optimal balance between customer acquisition and customer retention.
Marketing automation is used to create personalized campaigns for both new and existing customers. You can recommend products, send them offers or answer their queries to keep them engaged with your brand.
When the customers remain engaged with your business for a longer period of time, they remain loyal to your brand. This helps generate repeat orders and increase the customer lifetime value.
5) Upsell and CROss Sell to Customers
Marketing automation keeps all the customer data in one place enabling you to trigger products based on recent or past purchase behavior.
Upselling means selling products of a higher price to customers.
CROss selling means selling related products to customers.
Marketing automation tools do the job of cross selling and upselling automatically without any manual interference. Here is an example from Amazon (of course) in which they use automation software to personalize recommendations in order to cross sell and upsell their products:

Amazon also leverages the power of email to cross sell products. Since transactional emails contain important information (i.e. confirmation of the order along with track package link), people are more likely to open them. This is a great way to increase the number of sales from the same customer: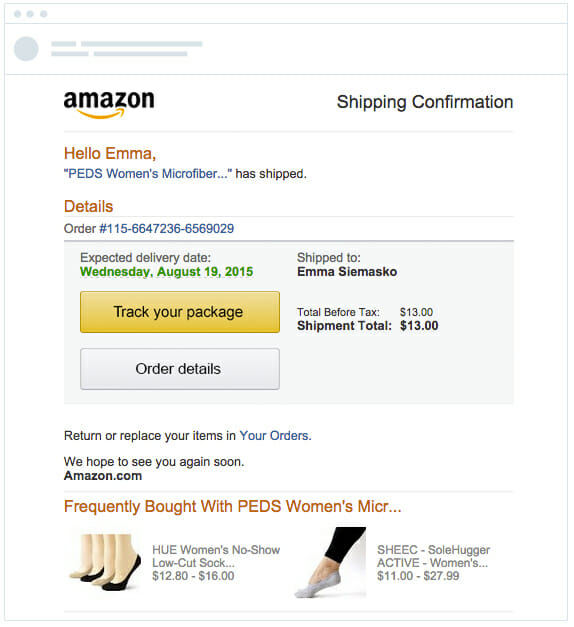 Dive Deeper: What Amazon's Marketing Strategy Can Teach SMB Owners
6) Improve Blogger Outreach
Blogger outreach is one such task that requires you to send several emails every day.
Marketing automation lets you send emails to bloggers automatically and also tests the engagement rate of every email. The system then automatically chooses the best email template based on the subscriber engagement rate.
Here is an example of an email template from the marketing automation platform Sales Fusion: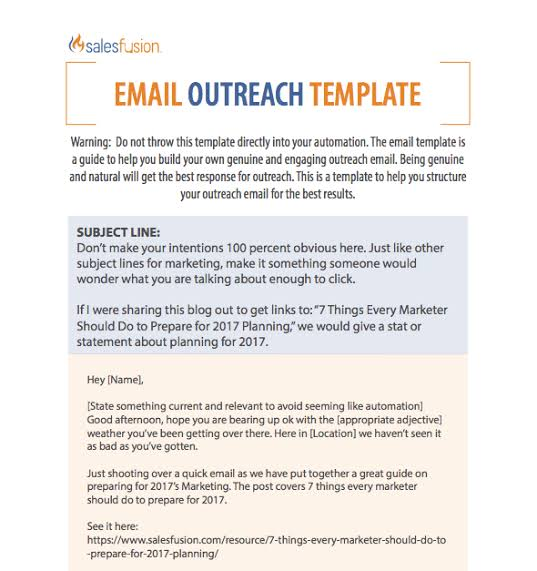 The platform automatically replaces the value between the square brackets by personalizing it for every prospect, thereby improving the response rate of blogger outreach campaigns.
Dive Deeper: Build Backlinks – and Website Traffic – with Blogger Outreach
7) Generate Leads from Thank You Pages
Marketers would agree that generating leads is their biggest challenge – and marketing automation enables marketers to generate leads even from thank you pages.
Here is an example of a great thank you page from Smart Bribe that directs visitors to take the next action. When people start tweeting about your brand, you drive more engagement, which results in a higher number of leads.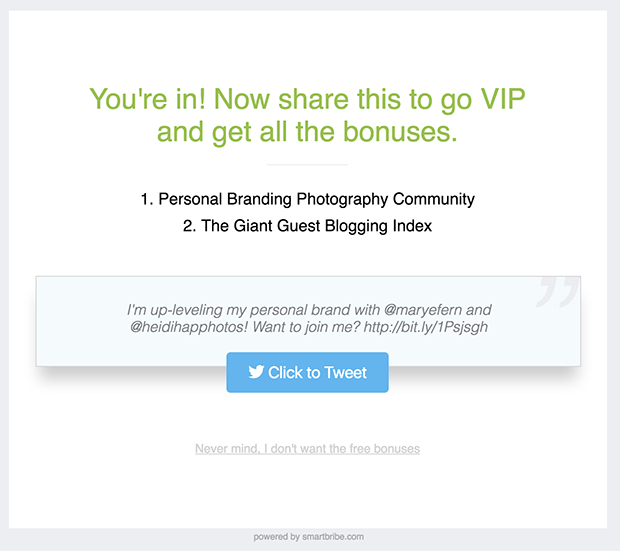 Dive Deeper: 5 Ways You Can Use Your Thank You Pages to Boost Conversions
8) Use Artificial Intelligence to Automatically Suggest Content to Visitors
Marketing elements that are leveraged by artificial intelligence include consumer content consumption patterns, past purchasing behavior and customer demographics.
Unlike other personalization techniques, marketing automation uses AI for one-on-one personalization at scale. This helps improve both the customer experience and your customer retention rate.
As a marketer, you can analyze millions of data points to help predict the best times, messages and environment for increasing conversions. Marketing automation can then use the data to trigger the right content for the customer at the right time.
Netflix, one of the biggest online streaming platforms, uses customers' watch history to recommend new content: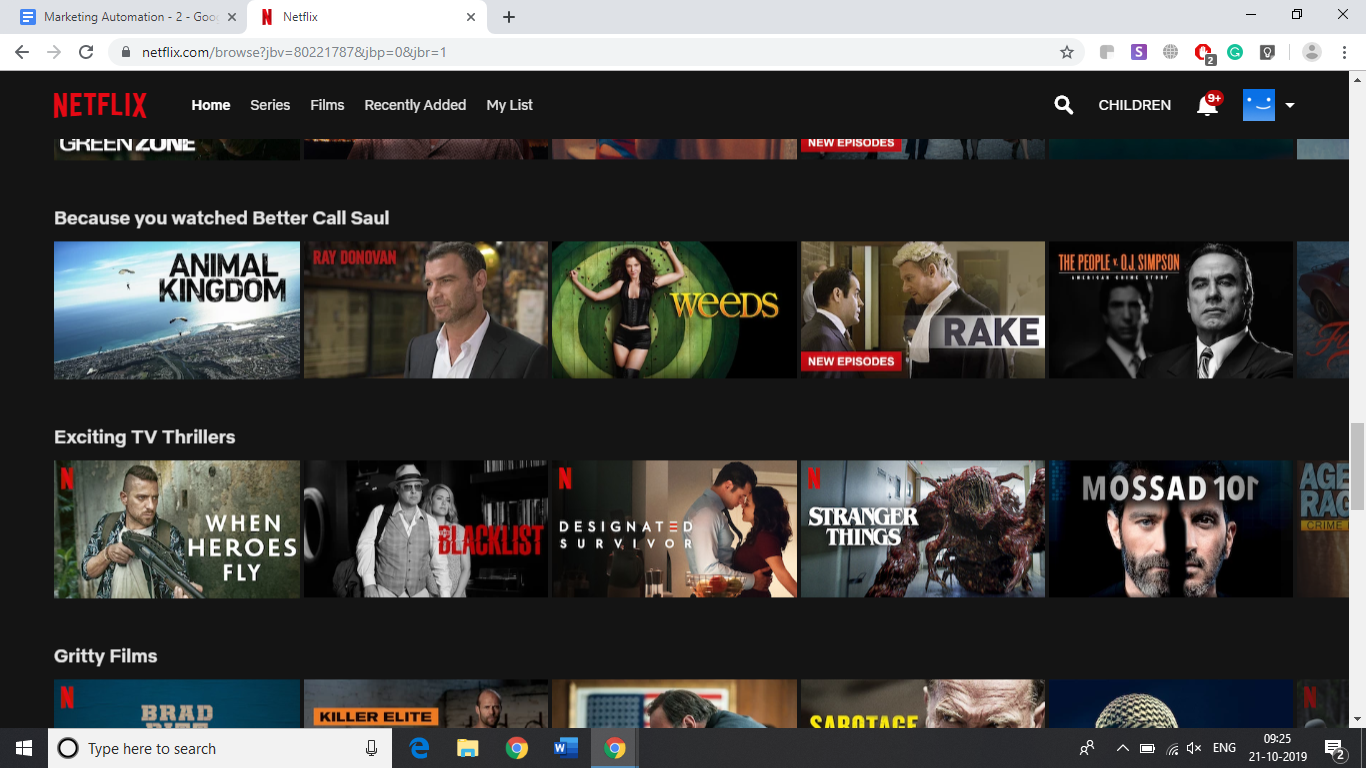 One-on-one personalized recommendations help improve the overall customer experience, guarantee repeat visits, increase conversions and improve audience engagement rate.
Dive Deeper: 10 Easy Ways to Get Started with Marketing AI (Artificial Intelligence)
Is Marketing Automation Necessary for Your Business?
If you want to improve your lead generation and nurture those leads to produce paying customers, then marketing automation is, indeed, necessary for your business. If you answer yes to at least half of these points, then you should invest in marketing automation:
You do too many repetitive tasks, such as email marketing or manually posting to social media.
Your website is not able to generate enough high-quality leads because of poor content marketing.
You are unable to convert leads into customers because you don't have time to nurture the leads or you simply don't know how to do it.
You want to provide personalized and useful content to your visitors.
You would like to re-engage with your customers and increase campaign efficiency.
You want to get rich insights into the current industry trends.
You want to maintain consistency in reaching the customer at every point in the customer journey like emails, search or social media.
You want to reduce points of customer friction and follow up with leads as soon as they send inquiries.
You would like to combine all your marketing activities (SEO, email marketing, PPC, social media, etc.) from multiple channels in one place.
You would like to maintain productive and long-term relationships with your customers.
Final Thoughts
Competition levels are increasing day by day and you need an effective solution to defeat your competitors. Marketing automation is that solution because it lets you automate your marketing, generate relevant leads and close them all at an affordable cost.
Automation saves time, improves customer engagement, raises the quality of leads, boosts conversions and increases overall sales. Start using marketing automation and notice the difference it can bring to your overall marketing strategy!