33 Essential B2B SEO Statistics Every Marketer Should Know
The world of search engine optimization in the business-to-business world is forever changing, but knowing the latest B2B SEO statistics can help you stay current.
Being on top of the latest data will help you understand what's really going on right now and what your business needs to do about it.
In this guide, we've curated 37 important B2B SEO statistics about essential topics like keywords, backlinks, search rankings and content optimization.
33 Essential B2B SEO Statistics Every Marketer Should Know
All of these insights are based on the latest available data from industry thought-leaders and top SEO experts, including straight from Google itself.
Top 3 Most Important Stats
Key Takeaway for Your B2B Business: These statistics should quickly silence anyone who tells you that SEO is dead or no longer effective. For the majority of B2B businesses, it still produces such significant results that close to 90% of marketers are continuing to make it an integral part of their marketing strategy.
B2B Keyword Statistics
71% of digital marketers say their most effective SEO strategy is strategic keyword use. (HubSpot)
3.2-3.5 words is the average keyword length for 10% of top-ranking websites. (Semrush)
Long-tail keywords generate 3-6% more click-throughs than short-tail keywords. (Smart Insights)
15% of all Google search terms have never been searched for before. (Google)
Key Takeaway for Your B2B Business: Based on this data, keywords remain as essential to your SEO strategy as ever. With long-tail keywords leading to better rankings and more traffic than their short-tail counterparts, it makes sense to focus on those 3-4 word search terms in your next round of keyword research.
Dive Deeper: Why You Should Use Long-Tail Keywords in Your SEO Campaign
B2B Organic Search and Page Ranking Statistics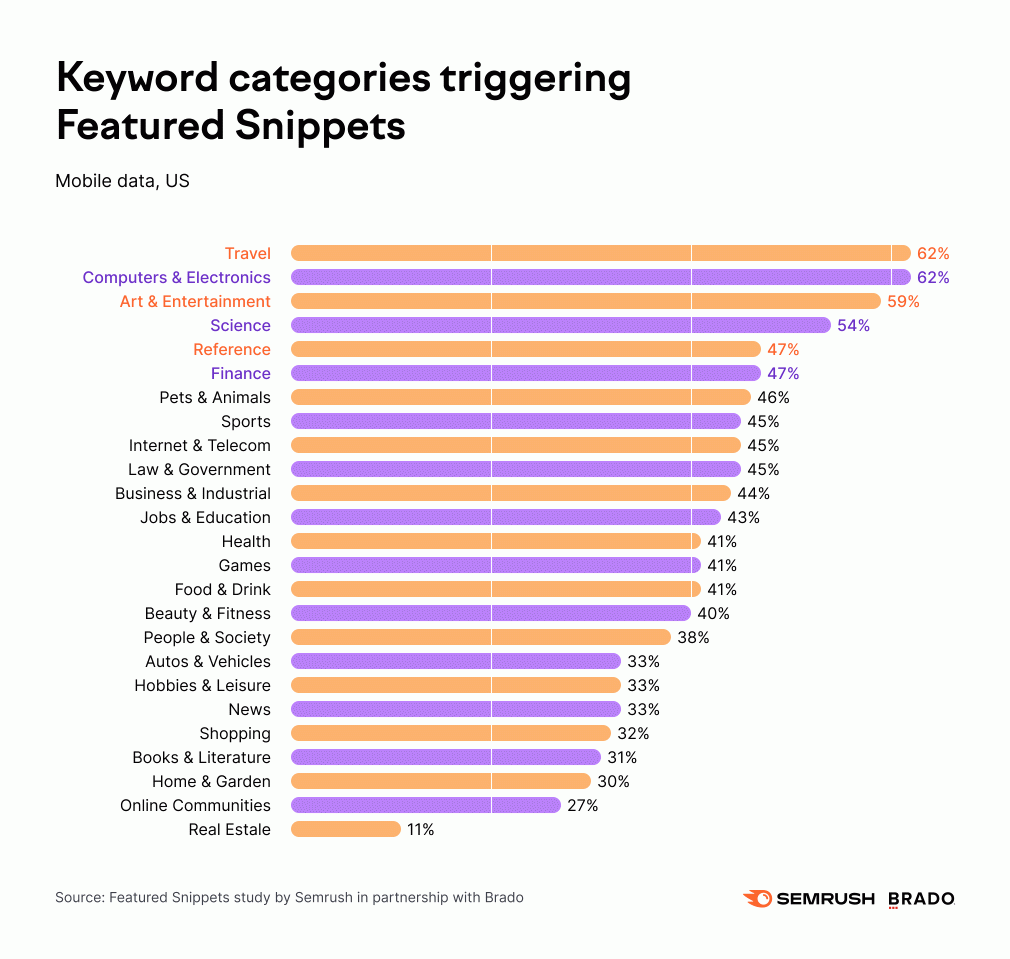 The three most frequently used words in search queries that trigger a featured snippet are "recipe" (2.3%), "best" (2.3%) and "vs" (1.4%). (Ahrefs Featured Snippets Study)
15% of SEO professionals list keyword rankings as their main metric for measuring the success of their search engine optimization practices, followed by page views (12.4%) and conversions (9%). (Search Engine Journal State of SEO 2023 Report)
Key Takeaway for Your B2B Business: With over half of businesses attracting most of their web traffic from organic search results, targeting those coveted #1-3 positions in search results should be a priority for any B2B marketing strategy.
Not that achieving and maintaining high keyword rankings isn't without it's challenges. With 95% of domains losing their first-page rankings within a month, that strategy should focus on a long-term approach to boosting overall rankings rather than quick-fixes.
Dive Deeper: How Zero Search Volume Keywords Can Generate a Ton of Traffic
B2B Backlink Statistics
66.31% of pages that get zero traffic from Google also have zero backlinks, and 26.29% of them have between one and three. (Ahrefs Search Traffic Study)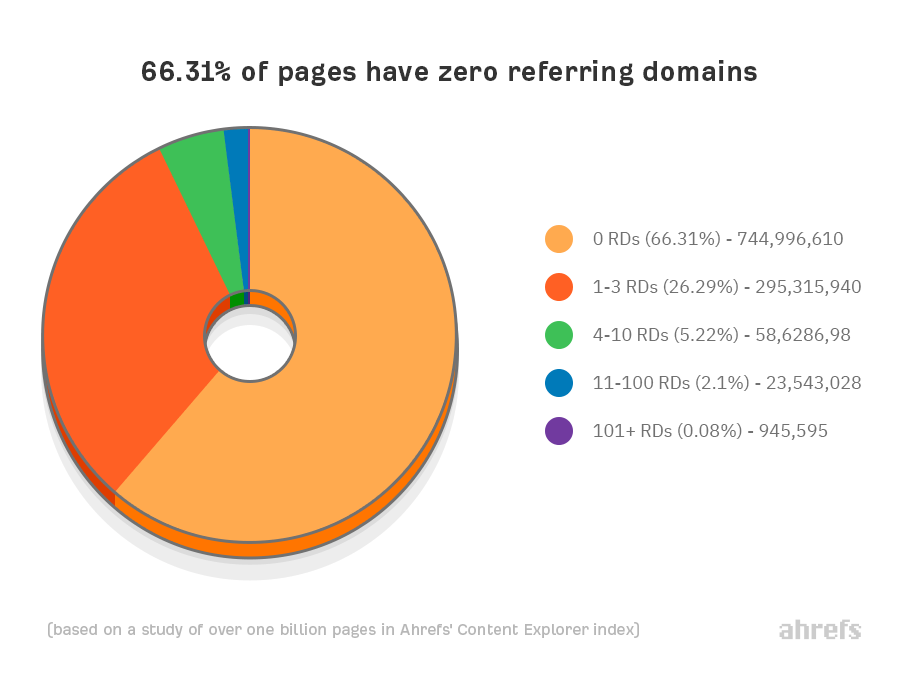 Pages appearing in the first position in search results have an average of 3.8X more backlinks than those in positions 2-10. (Backlinko)
Key Takeaway for Your B2B Business: Although there's only two backlink-related SEO statistics listed here, they're more than enough to prove why most SEO experts agree that backlinks are playing an ever more pivotal role in achieving optimum search rankings.
As you'll read later, less than 10% of all content indexed on Google gets any traffic, and these figures show that a lack of backlinks (especially high-quality ones) could well be the reason your content marketing efforts are going to waste.
Dive Deeper: How – and Why – to Build a Backlink Portfolio
Local B2B SEO Statistics
60% of smartphone users have contacted a business directly using "click to call" and other features in search results. (Think with Google)
Local business listings in the top 3 results on Google Maps results have, in this order, 868 reviews, 762 reviews, and 682 reviews. (Semrush Local SEO Rankings)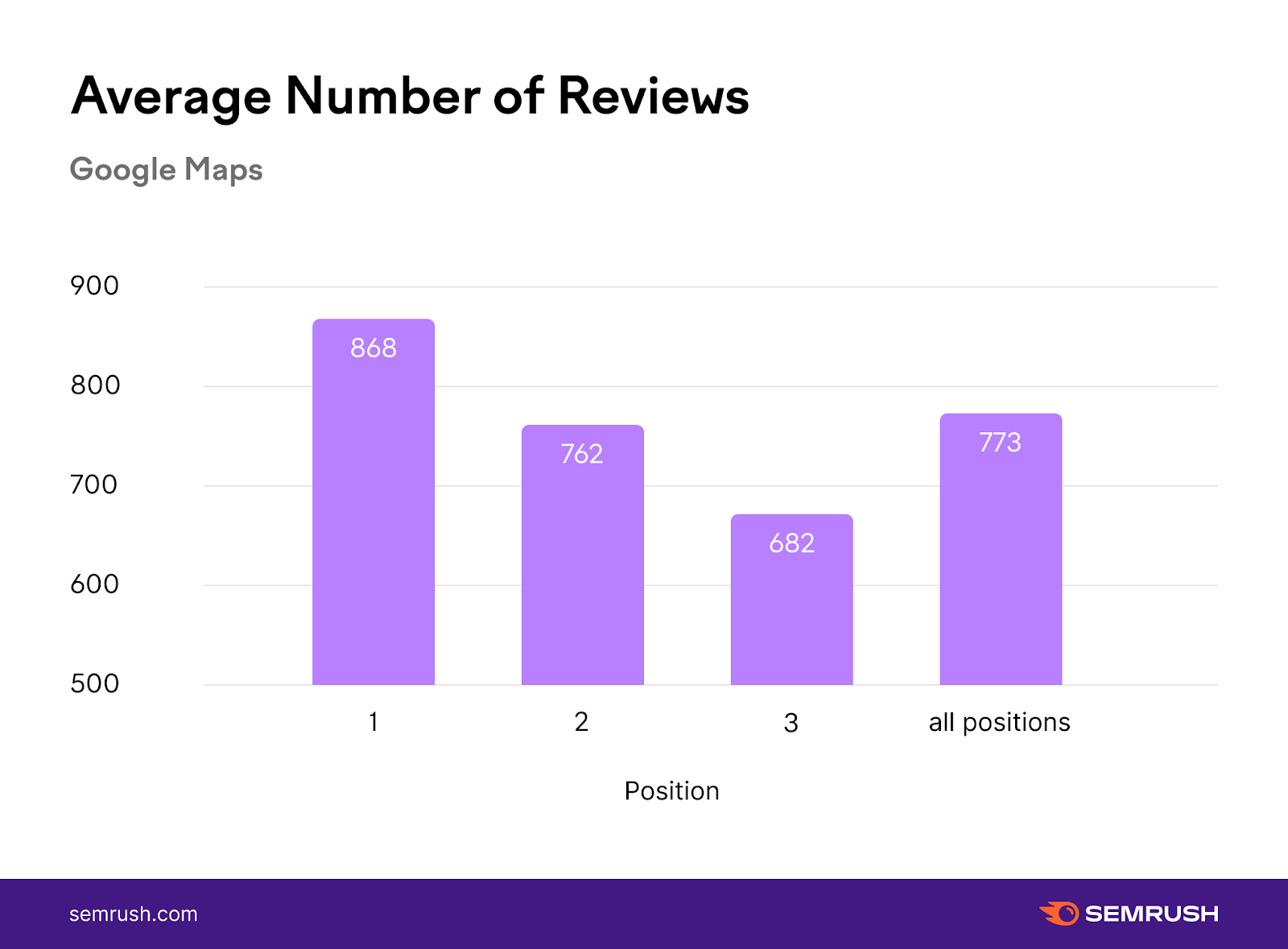 Key Takeaway for Your B2B Business: Local SEO isn't the exclusive reserve of B2C companies. After all, even small, local businesses need their suppliers and service providers.
These statistics show us that B2B marketers can benefit by optimizing websites and local listings for mobile users, focus on narrow geotargeting to improve the likelihood of appearing in relevant "Local Pack" results, and engage in effective off-page optimization to generate the quality and quantity of positive reviews that lead to better search engine rankings.
Dive Deeper: 9 Factors that Can Immensely Boost Your Local SEO
Mobile B2B SEO Statistics
92.3% of internet users access the internet using a mobile phone. (Exploding Topics)
58.33% of all global website traffic comes from mobile devices. (Statista)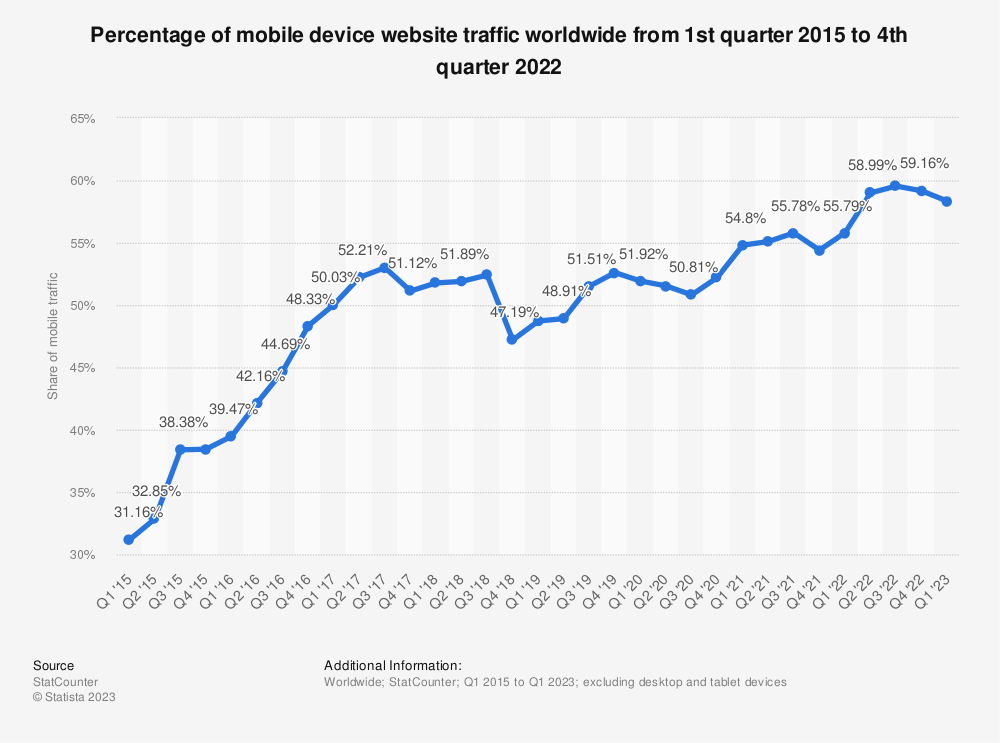 48% of smartphone users have visited a website with such poor formatting that made it difficult to read. (KISSMetrics)
90% of buyers say they're more likely to purchase again from a B2B site if they have a superior mobile experience. (RevenueZen)
Key Takeaway for Your B2B Business: These statistics show how vital it is for B2B companies to provide an excellent mobile experience, with clear navigation, pages optimized for mobile search, and properly formatted mobile pages.
Given that the majority of all search traffic comes from devices such as smartphones and tablets, this is one aspect of technical SEO no business can afford to ignore if they take their revenue growth seriously.
Dive Deeper: B2B SEO: How to Rank Your Business Website Higher in Search
B2B Site Speed SEO Statistics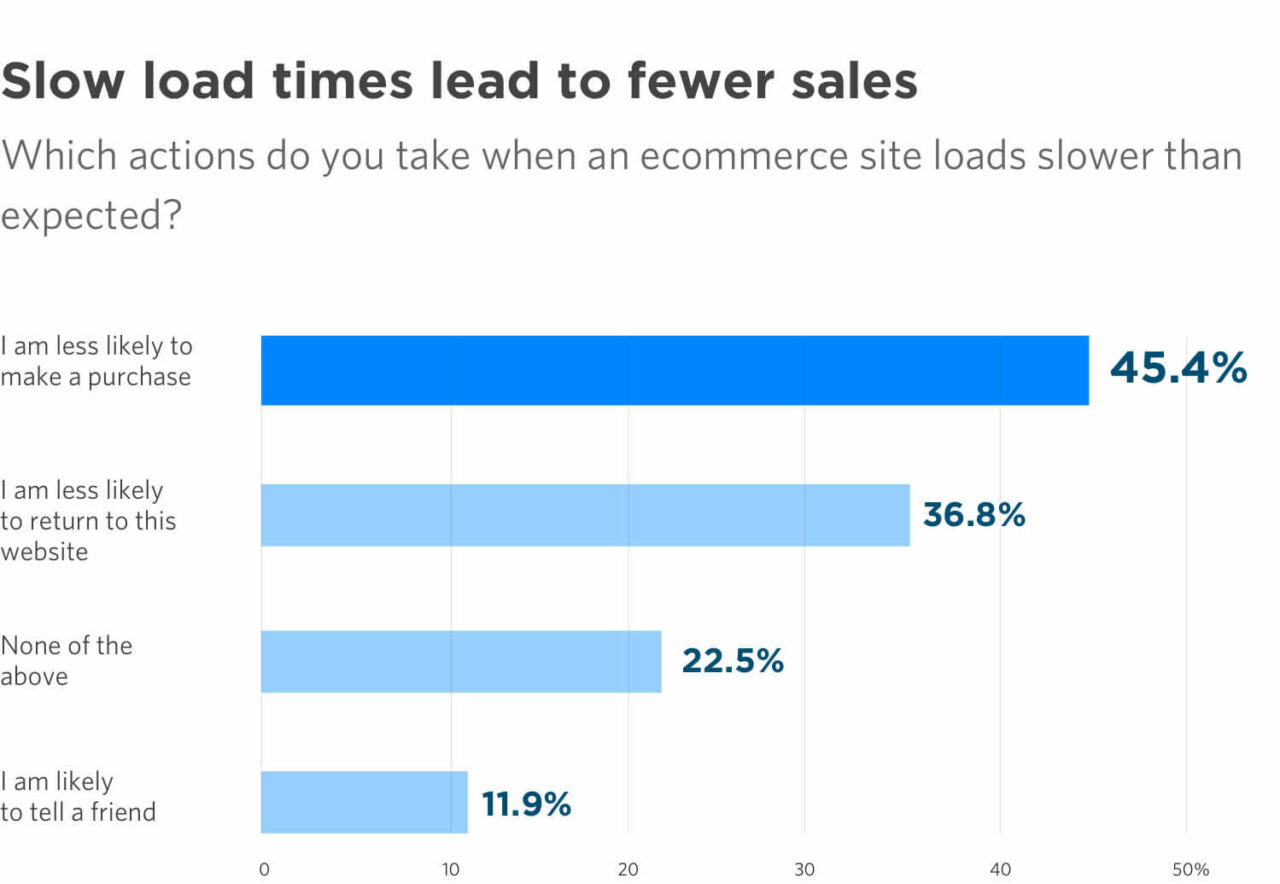 Key Takeaway for Your B2B Business: If ever you needed evidence to convince management to invest more in technical SEO, here it is. Every split second that your site takes to load is losing you money, perhaps far more than it would cost to make your website faster.
Dive Deeper: Best Technical SEO Agency: Our Top 5 Picks for 2023
B2B Content SEO Statistics
83% of marketers focus on creating the best quality content as their primary means of standing out from the competition. (Content Marketing Institute)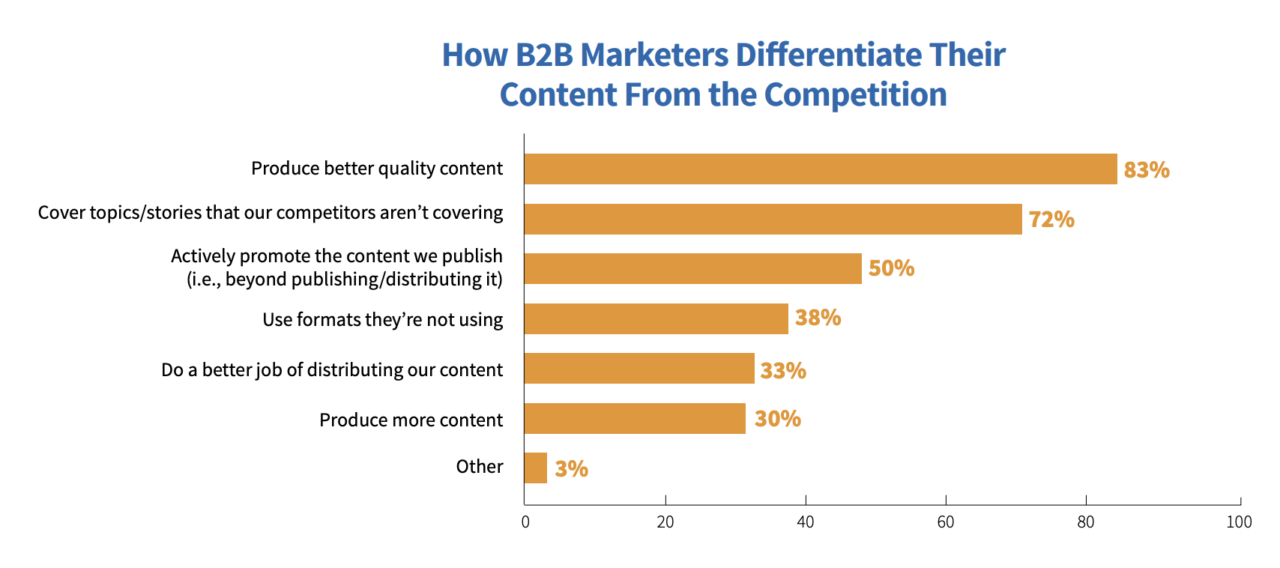 61% of marketing professionals say that covering a topic in-depth is the most crucial element for creating SEO content.  (Semrush)
90.63% of content gets no traffic whatsoever from Google. (Ahrefs)
51% of small B2B companies have one person handling all types of content, including blog posts, ad copy, social media, landing pages and other types of content. (Content Marketing Institute)
Key Takeaway for Your B2B Business: You've heard so many times about how creating content of absolute impeccable quality, accuracy and depth is essential to your SEO strategy that you're probably sick of hearing it by now. Even still, it's a message worth repeating.
With over 90% of all web content getting absolutely no love from search engine users, your B2B business needs to go above and beyond the call of duty with your content marketing campaigns if you're ever going to stand a chance of generating serious organic traffic.
The Last Word on B2B SEO Statistics
Paying attention to the latest statistics will prove to be invaluable for ensuring that you stay on top of emerging B2B SEO trends and adequately prepare to overcome the fresh challenges presented by the ever-evolving world of search engine optimization.
Throughout this guide, we've strived to not only share with you the most up-to-date data from industry thought leaders, but also to leave you with valuable takeaways to help you evaluate whether your current SEO efforts are up to par.
After all, with 70% of businesses generating more sales with SEO than online advertising, tackling the following essentials should be a no-brainer:
Focus keyword research on long tail keywords: Remember that keywords at 3-4 words in length generate better rankings and as much as a 5% increase in click-throughs, making them an invaluable asset.
Increase your link building practices: Latest statistics give us a good indication that a lack of backlinks is directly related to a lack of traffic from search engine results pages, making them a pivotal part of your strategy.
Enable the call button on Google My Business (GMB): Well over half of users have clicked this button to contact businesses from directly within search results, so be sure you've added your phone number to GMB and enabled call features.
Up your technical SEO game: Fast websites optimized for mobile devices lead to more website traffic and better conversion rates. If your site is floundering, it may be time to call in a technical SEO agency.
Invest more in content marketing: Of all the stats in this guide, the fact that over 90% of content generates zero organic traffic is the one that still blows our mind the most.
This goes a long way to proving why every piece of long form content you create has to be as accurate, in-depth, and outstandingly good quality.
Of course, this is a task that's all the more difficult if you're one of the 51% of small B2B companies with just one person taking on all content creation responsibilities.
If you need help with your B2B SEO strategy, Single Grain's B2B SEO experts can help.👇
---
B2B SEO Statistics FAQs
Which search engines have the largest market share?
Google currently has the largest search engine market share of 88.89% as of April 2023: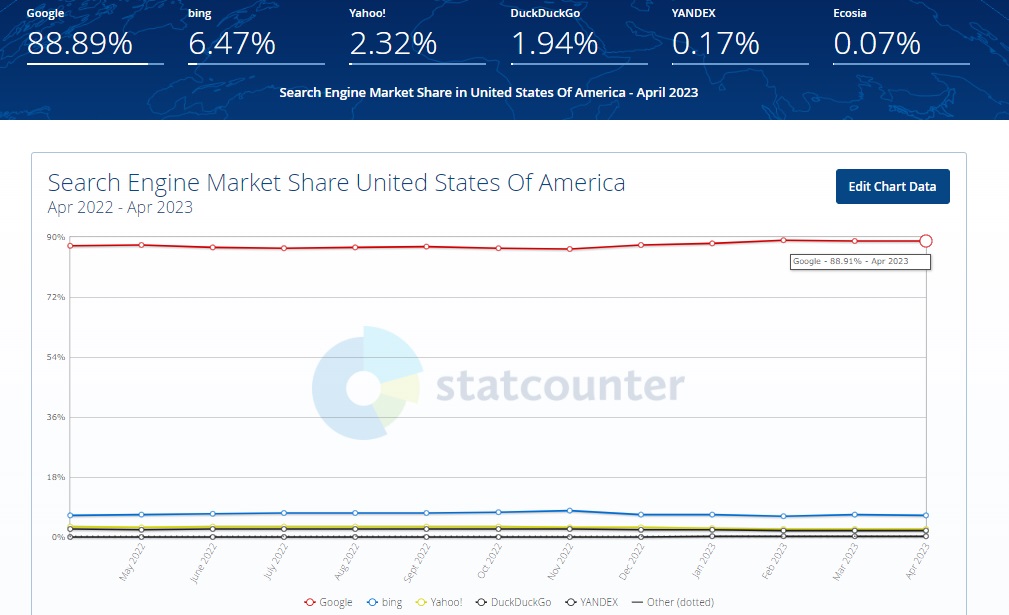 This includes all of Google's search options, including its main search engine, Google Images, Google Maps, and YouTube. The second largest search engine is Bing, with just 6.44% of the total market share, followed by:
Yahoo – 2.32%
DuckDuckGo – 1.94%
Yandex – 0.17%
Ultimately, this data means that while the likes of Bing and Yahoo certainly shouldn't be ignored, it pays to focus the majority of your SEO campaigns around Google to reach the largest audience.
What is the most important SEO element?
In one study, over 30% of SEO industry professionals said effective headlines and title tags were the most important elements of search engine optimization, followed by headers and bodies, URLs, and meta descriptions. (Statista)
Although we'd argue that technical aspects such as page speed and mobile optimization are equally as important for SEO success, it goes without saying that even the fastest page in the land isn't going to generate much traffic if both search engines and search users can't identify it's subject from the title tags.
What B2B industries produce the best Return on Investment in SEO?
B2B markets that generate a significant ROI include Software as a Service (SaaS) with 702%, construction (681%), and IT staffing (612%).
How long does it take to break even with SEO?
Though it varies from industry to industry, it typically takes between 6-9 months to break even with SEO, and between 9-15 months to generate a positive ROI.