For B2B brands, LinkedIn can be an advertising goldmine.
With over 630 million members, it's the largest professional network on the Internet. LinkedIn Ads can be an effective tool for generating leads, driving traffic or increasing engagement…if you get the targeting right.
If you've never used the platform before, there are seven basic types of LinkedIn Ads: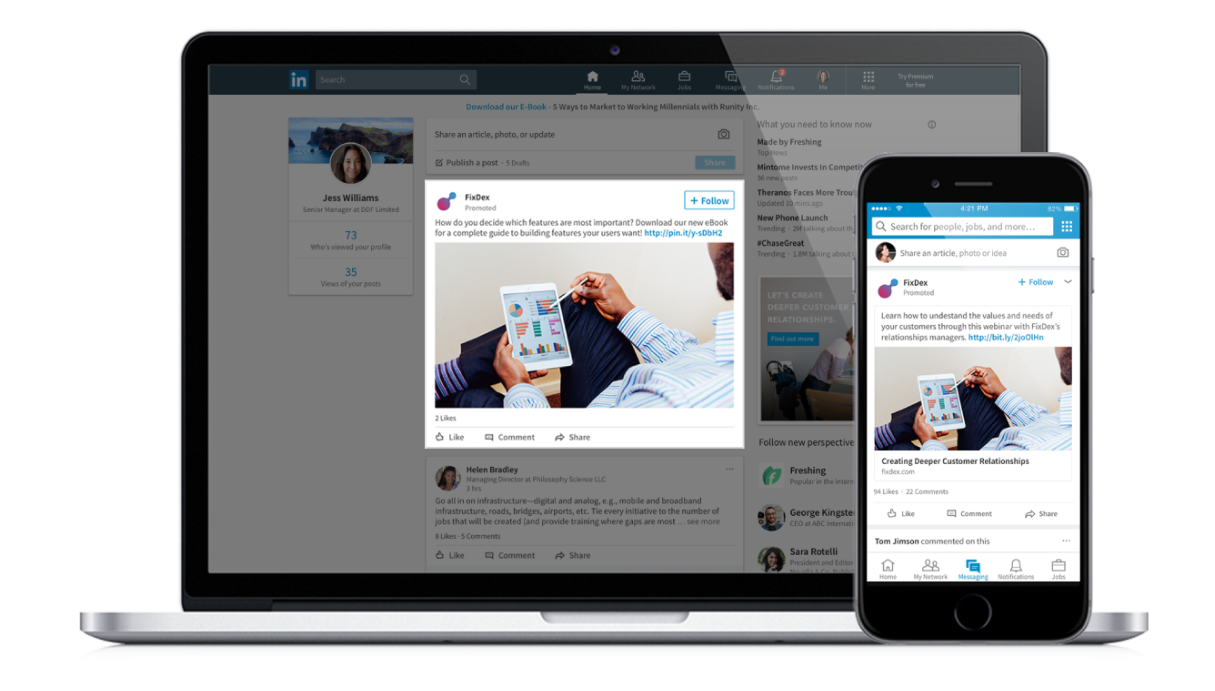 Deciding which ad type is right for you comes down to your objectives, resources and budget. Creating sponsored content involves simply boosting a post, for example, whereas running a video ad will require actually producing a video.
But no matter which type you choose, you have to get the targeting right. LinkedIn Ads aren't cheap, so if you're not targeting the right people, you're basically just throwing money away.
Fortunately, you have a lot of different options for targeting. First, let's focus on job titles, specialties and seniority.
Target by Job Title
Targeting job titles is the easiest option. It's also the most expensive because it can be the most effective.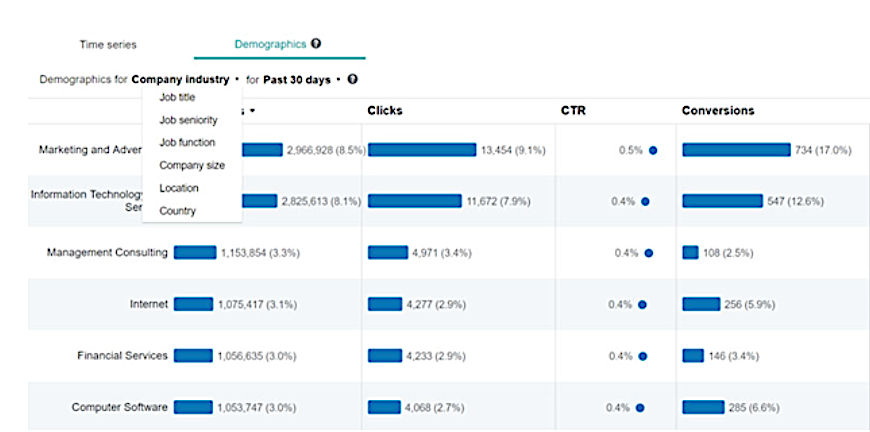 Let's say I'm selling SEO software. I could simply target marketing managers on LinkedIn, because they're the ones who will be using it. There's a good chance that'll get me to the right people, but there are disadvantages to targeting job titles.
For example, there's been a growing trend lately toward giving people unique titles. Someone might be doing the job of a marketing manager but their actual title is Growth Hacker, Marketing Strategist or Performance Marketer. If you're only targeting 'marketing managers', you aren't going to reach those people.
Dive Deeper: The Ultimate Guide to Creating a LinkedIn Ads Campaign
Target by Specialties
The specialties option allows you to search for job function. Using the same example as above, instead of targeting marketing managers, you can target people who work in marketing. That will pull in the marketing managers, growth hackers, marketing strategists or performance marketers.
Unfortunately, you'll be pulling everyone else in, too. The coordinators, the directors, the PPC people – folks who probably aren't going to ever be your target customers. These ads won't be as expensive as ads based on job title, but they won't be as laser-focused, either.
Related Content: 7 LinkedIn Growth Hacks That You Might Not Know
Target by Seniority
Seniority helps you narrow down the level of employee you are seeking. These are the categories of  job seniority:
Unpaid: Includes volunteer positions or other job positions that are not traditionally considered paid positions (e.g. unemployed, retired, volunteer)
Training: Student, intern, and trainee positions, but also includes members who may have many years of experience in a different role and are new to the latest role or field
Entry: Individual contributor position with no direct reports or leadership role
Senior: Individual contributor with direct reports and leadership responsibilities
Manager: Positions that have direct reports or involve managing a set of processes and programs
Director: Multi-functional management, typically includes members who are managers of managers
VP: Executive management, typically refers to the head of a major business function
CXO: Top managerial positions within company
Partner: Partial operational control with high level of influence
Owner: Full operational control with high level of influence
For my SEO software, for instance, I could choose to target only those who are senior-level or managers, which would increase the likelihood that I'd reach people who are the decision makers when it comes to purchasing my software.
Learn More: Segmentation 101: A Strategist's Complete Guide to Marketing Segmentation
Other LinkedIn Targeting Options
While job titles, specialties and seniority are the most commonly used options, there are others that might help you narrow in on a potential match, including:
Years of experience: This filter can help you reach people at a certain level who may be working as consultants, but wouldn't have a specific seniority match, since they don't work within an organization.
Skills: If you're looking for someone with expertise in a certain area — i.e. you want to find the marketing person who is responsible for SEO to sell your software to — this is an option to consider.
Company name: Use this option to target employees at up to 100 companies, which may be especially useful if you're practicing account-based marketing or sales.
Company size: This is an excellent option if your product or service is intended specifically for businesses of a certain size, because you can exclude all of the sizes that don't fit. If you sell an enterprise-level solution, you'd probably benefit by weeding out those at SMBs who likely won't have the budget for your product or service.
There are several other options, of course, but these are probably the ones that will be most relevant to your LinkedIn advertising strategy.
Dive Deeper: The Account-Based Marketing (ABM) Mega Guide
Layering LinkedIn Ad Targeting Options
That said, you don't have to pick just one. The most effective approach is to 'layer' multiple targeting options for your LinkedIn Ads.
I like to use the specialties, and then layer on seniority to increase my odds of targeting the actual decision makers within an organization. I find that approach more effective than just using job titles where you can miss a lot of people you don't want to miss.
It's important not to make your targeting too narrow, however. In order to run a LinkedIn Ad campaign, your audience needs to have at least 1,000 members.
Dive Deeper: LinkedIn Ads for Enterprise B2B SaaS: The Only Guide You'll Need
Focus on High-Intent Ad Content, Not Going Viral
You can have the best targeting in the world, but if you have the wrong message, no one is going to click on your ad. It's important to post content that's related to your business, as opposed to just content that you think will do well.
A big mistake people make on LinkedIn is focusing too much on engagement and views, and not enough on the content itself.
Click To Tweet
When I post content on LinkedIn that goes viral, it tends to be more generic content, like top 10 lists. I get the views and engagement, but I'm not getting the right type of people: customers.
When my posts are more specific, I get engagement from real leads. For instance, if I post something about how to recover declining Google traffic, it won't go viral, but the people who do engage end up converting into leads.
Instead of focusing on views, start thinking about the problems that your potential customers — and even your current ones — are facing, and create content around that. That's when you'll see the right people gravitating towards you and you'll start collecting quality leads and sales.
Learn More: 8 Facebook Ad Copywriting Tricks to Maximize Conversions
Target LinkedIn Groups
You may already know about the strategies I shared above, but did you know that you can target members of specific LinkedIn Groups with your ads? Not a lot of people are doing it, so this can give you a competitive advantage.
If I want to use groups as a targeting option for my SEO software ads, I would do a little research to see if there are groups where members are sharing SEO tips (spoiler alert: there are!).
If I find any groups that are particularly active, I can target the members of those groups, with the seniority and job function layers added in so that I can weed out everyone who's too junior, too senior or in the wrong specialty.
Don't Forget to Retarget
Just like with Google and Facebook, you can add a retargeting pixel — called the LinkedIn Insight Tag — to your website in order to retarget people on LinkedIn who visit your site. Again, you can layer all of those option from above to ensure that you're targeting the right people.
You can also segment people based on what pages they visited on your site in order to deliver personalized ads to them. For example, if someone visits the product page of your SEO tool's website, you can retarget them with an ad featuring a testimonial from a customer about how much their website traffic grew with your SEO software. If they read a blog post, you can serve them an ad with related SEO tips content.
Dive Deeper: Retargeting 101: Why It's Essential for Any Marketing Funnel
LinkedIn vs. Facebook Advertising
A lot of B2B companies have abandoned Facebook advertising completely, given how much more difficult it's become. We prefer to do both, because there are advantages and disadvantages to both.
Facebook is the winner when it comes to reach. More than two billion people are on Facebook. My potential customers are on Facebook. Your potential customers are on Facebook. And Facebook does offer some targeting options that line up with professions. Plus, Facebook advertising is cheap.
Not everyone is on LinkedIn, but if you're selling B2B goods or services, you'll get more of your prospects' professional data than on Facebook. And LinkedIn has robust targeting to sift through all that data. But it's definitely more expensive and a bit harder to use than Facebook's Ad Manager.
We do both because the ROI is there on both platforms. Your experience may vary. Don't do both because you think you have to: Do both because you've tested both, and they both work. If one performs significantly better than the other one for you, then you should definitely focus on that one.
Learn More: 30 Winning Facebook Ads and Why They're so Effective
LinkedIn Ads Best Practices
Once you've got the targeting down, it's important to deliver an ad experience that will generate clicks, leads and conversions. I hinted at the importance of content above, but no matter what type of ad you're creating, keep these tips in mind:
Include a strong call-to-action, so that users know the specific step you'd like them to take next. Examples include "Register now," "Read more," and "Get offer."
Link to a destination that matches the messaging in your ad to prevent cognitive dissonance between the two pages.
Include strong visual elements, like images or video.
Tell compelling, emotionally-driven stories about your brand (to the extent you're able to, given the limitations of LinkedIn Ads).
Establish your brand and executives as experts in your industry by including insights about what you're linking to.
Don't Forget to Test
Finally, the most important thing to keep in mind with any ad campaign is testing, especially if you're trying out a network you've never used before. Try out similar messaging with different ad types to see which ones perform best. A/B test images, calls to action, headlines and any other critical elements.
The two biggest mistakes I see are people not testing enough and people testing too much. You want to test so that you can refine your ads over the life of the campaign to improve performance. If you don't do enough testing, you won't have enough metrics to make improvements. But if you're always testing and tweaking, you're not giving your ads a chance to succeed, and you won't really learn anything about what works.
LinkedIn recommends running your ads for at least two weeks to ensure you collect meaningful data. There's a sweet spot in between testing too much and testing too little. Find it and stick to it. Otherwise you're throwing money away, rather than collecting meaningful data.
Dive Deeper: 5 Important Landing Page Elements You Should Be A/B Testing
Targeting Effectively on LinkedIn
LinkedIn comes with several powerful targeting mechanisms, which is why businesses — specially B2B product and service-oriented ones — spend big bucks to advertise on this network, rather than on Facebook and Twitter. But you have to dig in and really use it.
Targeting by job titles is easy, but it isn't always the most effective way to find the right people. By layering other targeting options, you'll get much closer to your ideal customer. Then create awesome content and test it in order to market your business smarter.
That's the winning formula for LinkedIn. Follow it, and you can look forward to more followers, better engagement, quality leads, increased traffic and a boost in conversions.