14 Ways to Improve Customer Loyalty During COVID-19
Customer loyalty is a measure of how satisfied your customers are and how likely they are to share their experience with others:
Existing customers are 70% more likely to buy a product or service than a new client.
36.5% of shoppers said they would spend more on products if they were loyal to a brand, even if they found cheaper options elsewhere.
The performance of every company is now measured online (or will be soon), so you can't really ignore customer loyalty. This means that measuring and improving the loyalty of your customers is extremely important for every business, especially during the COVID-19 pandemic when spending is at an all-time low across the globe.
Of course, this is also good advice anytime things go a little awry (like the 2008 recession or whenever unemployment rates get higher, etc.).
Here are the steps to take in order to continually improve the customer experience of your brand during the Coronavirus.
14 Ways to Improve Customer Loyalty During COVID-19
Here are 14 excellent ways to boost customer loyalty during (and after) the Coronavirus pandemic.
1) Invest in Customer Engagement Initiatives
When businesses engage with their customers regularly, consumers are more likely to build a long-term relationship with the brand – which means that they will probably refer your brand to their friends and family.
Customer engagement initiatives might include sending emails or phone calls just to ask if they are okay or facing any problems with your product.
SEMrush, for instance, sends me emails saying I haven't opened their newsletter in a while. The subject line reads: "Are we still friends? Please say we are!"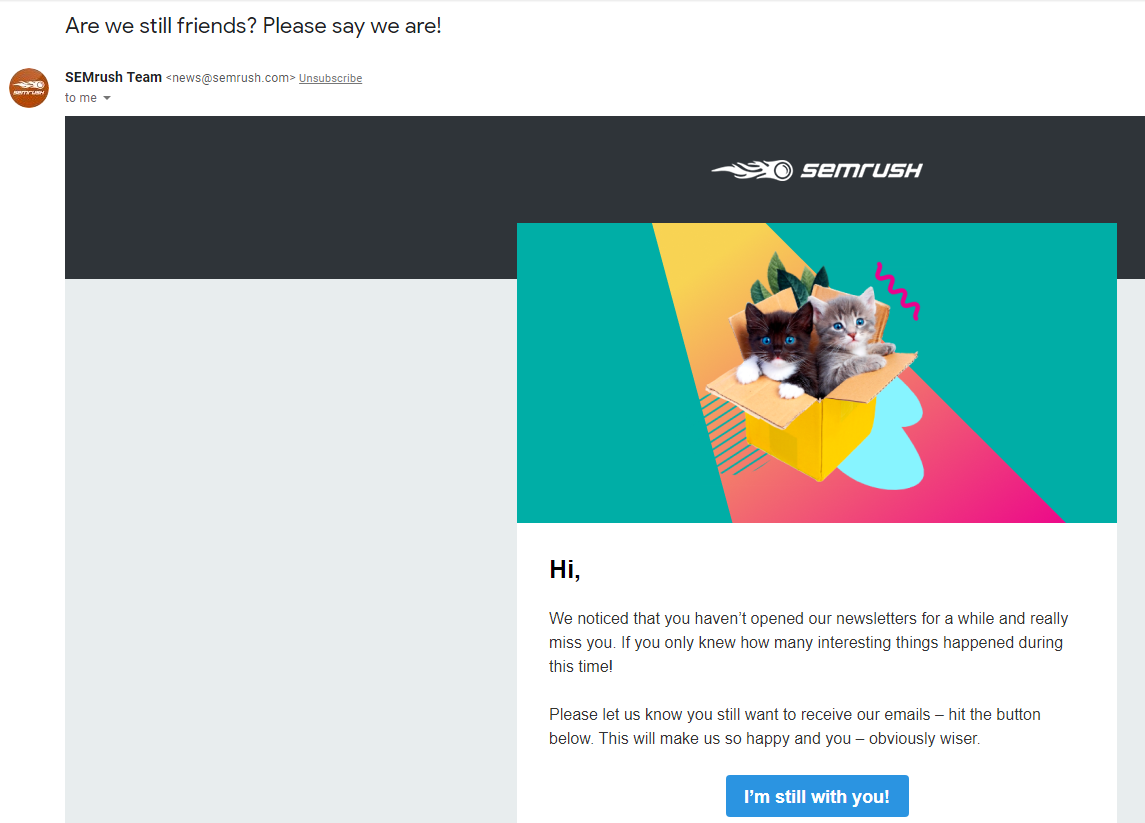 This is great because it shows that the brand is checking to see if I'm still engaging with them. If not, they are taking a step to re-engage with me. Not only that, but they are using words like "friends" to create an emotional connection.
Other customer engagement initiatives that you can invest in:
Use social networks to connect with your customers on a personal level.
Leverage in-product messaging to increase engagement rates.
Create custom content for customers who are familiar with your product.
Use co-browsing to view and interact with customers' browser in real-time. Co-browsing allows your sales executive to assist customers in filling out a form and completing the transaction.
Conduct customer engagement summits/conferences to meet your customers face-to-face.
Use in-app customer needs assessments for data and feedback to identify their needs.
Dive Deeper: How to Increase Your Conversions with Online Customer Engagement
2) Offer Customer Service Around the Clock
Customer service is all about memorable interactions between your brand and your customers. If they don't get a helpful answer right when they need it, chances are that they will go to your competitors.
88% of customers expect you to respond within 60 minutes – and 30% of them expect a response within 15 minutes or less.
Because of this reality, one of the best ways to offer customer service around the clock is by creating a self-service help center. This gives people an easily accessible forum to ask questions, raise their concerns and find solutions. Another benefit of a knowledge forum is that you won't have to answer the same question over and over again, thereby saving a lot of your precious time.
Tools like ProProfs help you create a self-service help center that reduces support tickets by 80%. ProProfs also enables you to easily manage all customer-complaint emails by converting them into tickets, so you never miss any requests and you can reply to your customers directly from the platform.
Another way to offer customer service 24/7 is by integrating a chatbot. It can answer most common questions and even guide your customers through the buying process, thereby satisfying their needs.
Some of the benefits of using a chatbot in your business include:
They are easy to build.
Chatbots emphasize the company's brand and image.
They offer straightforward services.
Chatbots automate processes.
For example, HubSpot uses chatbots to help visitors find what they are looking for instantly. The chatbot provides three options for the visitors:
Learn about products
Learn about pricing
Get educational content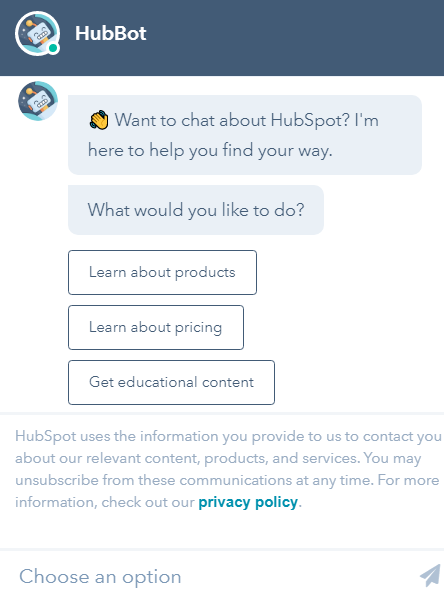 When you click on any of the options, the chatbot will then ask a few more questions to provide the best results. When I clicked on "learn about products," the chatbot asked about my biggest business challenge, and provided three common responses to choose from: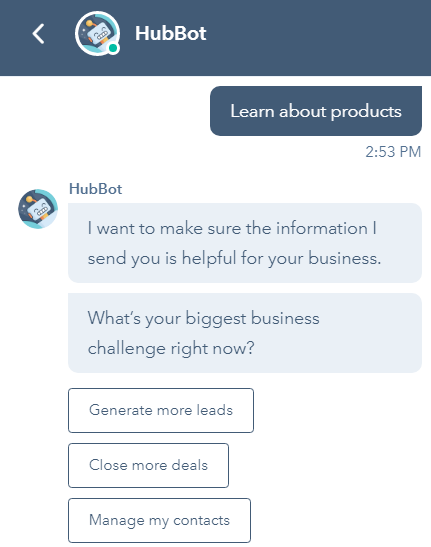 Depending on your answer, the chatbot gives an option to get started with HubSpot for free or talk to someone from their sales team: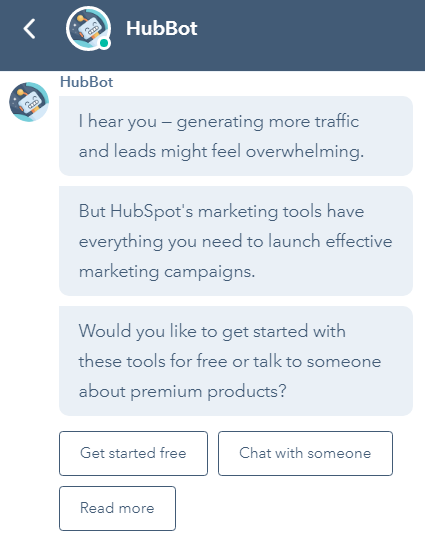 This is great because the chatbot tries to understand my concern and then offers a solution accordingly.
There are many tools to help you create a chatbot for your website and make your customers happy (without any coding knowledge):
Dive Deeper: Why Chatbots Are a Must-Have for Businesses (and How to Build One!)
3) Offer Your Services Virtually
Although COVID-19 has forced people to stay at home, you cannot simply wait for the pandemic to be over. As a business, you should try to continue providing your services to your customers, if not physically, then virtually.
Video conferencing software has made it easy for many businesses to connect with their existing customers. For example:
Pretty much all schools across the world are now providing virtual classes to continue their students' studies.
Many fashion stylists are offering virtual consultations via Instagram video calls.
Sparkhouse, a video marketing, advertising and production company, is offering to make free promotional videos for small businesses and startups who are affected by the pandemic.
And because nobody has a personal, in-house IT department, Support.com is offering free tech support (for any device, about any issue, at any time) to help people working or studying remotely during the Coronavirus outbreak.
Analyze your business to see how you can use technology to provide virtual services to your customers. When you offer services to your customers during a crisis, they are less likely to leave your brand.
Dive Deeper: These 75+ Tech Companies Are Giving Away Free Tools to Support Businesses During COVID-19
4) Deliver Consistent Omni-Channel Customer Service
Omni-channel customer service refers to gathering data and information about a consumer across all engagement channels during their complete lifecycle.
33% of customers get frustrated if they have to repeat themselves to multiple support reps – and omnichannel customer service helps you eliminate this frustration.
To demonstrate how omnichannel models work, imagine that you are a health insurance provider. A customer visits your website, browses some plans from their account, but leaves without buying. The customer again visits your site after a few days and requests a call from you. Your sales agent responds with a call and provides the customer with all the details to make a decision – because the sales rep knew the plans that the customer looked at on the first visit to your site. This is the power of omnichannel marketing. You never leave the customer during any stage of the buyer journey.
To employ an omnichannel approach, you must connect sales, marketing and customer service teams together. Bring all the customer touchpoints together in a centralized system, and enable your employees to act on the information and provide the best experience to the customer.
Oasis, a UK fashion retailer, surely knows how to deliver an omnichannel shopping experience. If you walk into any of their stores, you will find sales associates with iPads to provide you accurate and up-to-date product information. What's more, if a specific product is out of stock, the staff places an online order for you to have the item delivered directly to your home.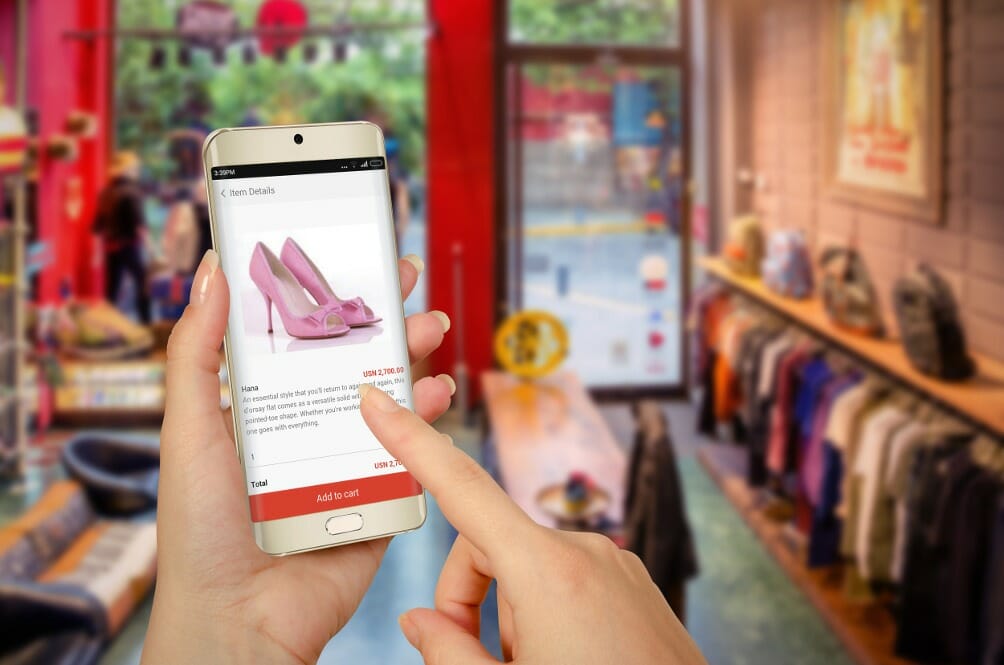 This helps the brand satisfy their customers and keep them coming back for more.
Dive Deeper: Omnichannel Marketing: Using the Content Sprout Method to Overcome Info Overload
5) Add Fun Things in the Invoice
Your invoice is another vital – yet most-ignored – place to improve customer loyalty. You can customize the invoice by adding your logo, colors, fonts, and even a picture of the client to wow them.
Most invoicing software allows you to add fun things to it, such as custom messages, emojis and images. This will not only amaze your customers, but it will also make them remember you.
When your clients receive an invoice with their picture or a tailored message on it, they are more likely to show it to their friends. This way, they will be doing word-of-mouth marketing for you.
For example, the invoice template below consists of three images (client's photo, service provider's picture, company's logo). It also includes key information such as project, description and delivery date. At the bottom, it clearly thanks the customer for their business: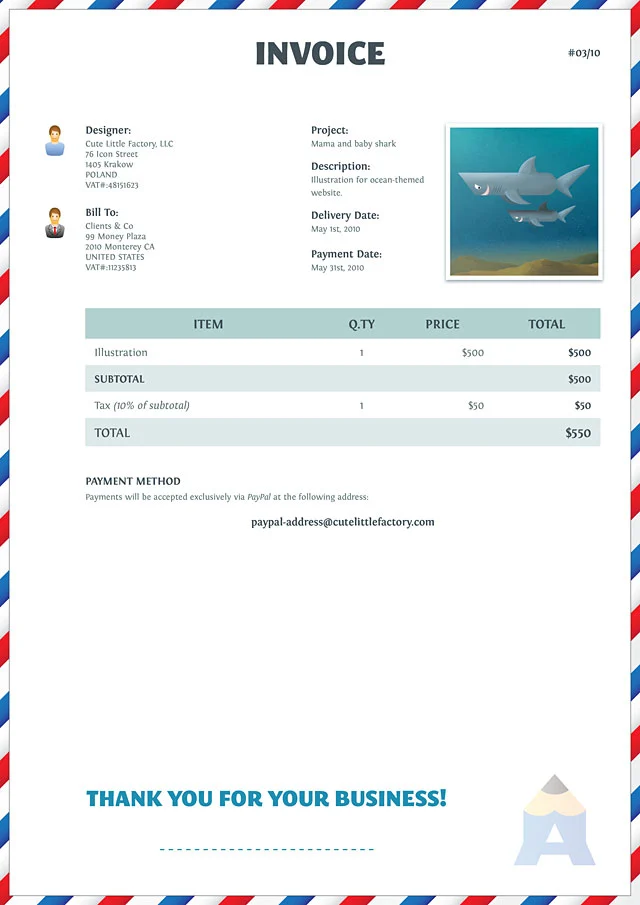 6) Practice Active Listening and Focus on the 'Problem' and the 'Customer'
First impressions are everything:
51% of consumers will never do business with a company after just one negative experience.
On the other hand, 77% of consumers would recommend your brand to a friend after having a single positive experience with your customer service.
Listening to your customers is essential to make them feel valued so that they will stick with your brand. Another benefit of active listening is that it helps improve your products or services.
One of the best ways to listen to your customers is by monitoring review sites, such as Google My Business, Yelp, Yahoo Local, etc. Analyze and reply to every review of your product. Another way to get customer feedback is by creating surveys. Send emails or push notifications to your customers asking for their direct and honest feedback.
Kaspersky sent me this message via a pop-up: "We really value your opinion and want to do everything we can to remain the best software provider for you." It then asks me to write a review for them.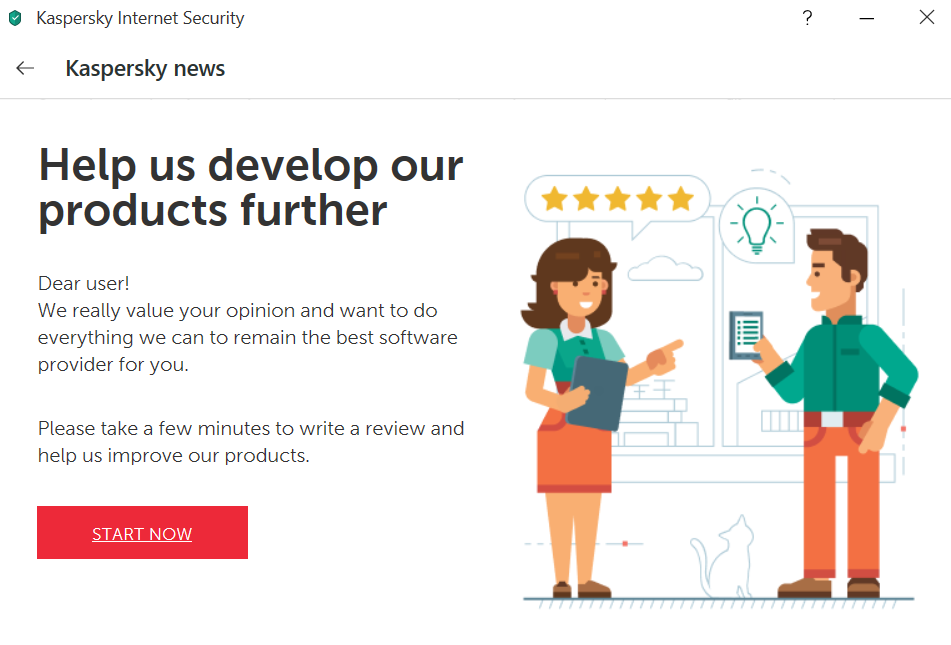 This is great because first they make me believe that my opinion matters, and then they ask for my help to improve the product.
Calling your customers is yet another great way to listen to them and thus uncover their experience with your brand. Customers will always appreciate when a company calls them just to listen to their opinion about the brand.
These small things will make them loyal to your company.
Dive Deeper: What Should You Do When People Complain About Your Product or Service?
7) Make Your Customers Feel Special by Giving Them Free Upgrades and Promo Codes
Every business has some regular customers, so identify yours. For those buyers who are actively engaging with your brand, do things that will make them feel special.
For example, if you have premium content on your website, give your regular customers a free upgrade. If you have a sale coming up, offer early access for these customers to view and wishlist products for faster checkout. You can mention that this is exclusive to select, loyal customers and that no one else can see it.
Also, think about creating an exclusive community consisting of your customers. Add to your VIP list customers who have been with you for a long time, purchased several of your products, referred a friend, and talked favorably about your business on social media.
And every now and then, host special events for your VIPs. For example, you can launch an exclusive sale that gives access only to selected people instead of the public or create unique promo codes reserved for loyal VIP customers only. Not only will this make them feel special and thus loyal to your brand, they are also more likely to share this experience with their friends and family.
8) Take Personalization to the Next Level
Personalization is yet another great way to improve customer loyalty. In fact, 51% of consumers expect companies to anticipate their needs and provide relevant suggestions before making contact.
So encourage your customers to create user profiles on your website. This will make it easier for you to track their browsing behavior and purchase history in order to personalize their experience. It will also enable you to send personalized emails and create campaigns that your customers appreciate.
If you offer your services in multiple countries, make sure to save the customer's preferences in terms of location and language. This will ensure that they get the right content at the right time without having to choose their area every time they visit your website.
Netflix, Amazon and YouTube are excellent examples of brands that take personalization to the next level. YouTube recently launched recommendation filters in the form of topic bubbles that are situated at the top of your feed. These topics are related to the video or the channel you are watching or based on your browsing behavior.

When you show personalized recommendations, customers are more likely to revisit your website, thereby staying loyal to your brand.
Dive Deeper: How AI Helps Add Personalization to Your Email Campaigns
9) Use Reciprocity to Your Advantage
When people receive a gift, they feel obliged to repay the kindness. This is referred to as the reciprocity principle.
Two basic types of reciprocity can be used to increase customer loyalty:
Surprise Reciprocity: In this case, you surprise the customer with a gift or gesture. An example of surprise reciprocity would be when you send your customers a ticket to a company event or free access to premium content without them doing anything.
Trumpeted Reciprocity: In this case, you tell your customers that you are doing something for them. An example of trumpeted reciprocity would be when you send freebies to your customers only when they ask/claim it.
Both of these will not only make your customers loyal to your brand, but also increase word-of-mouth marketing.
Uber is a great example of a brand that leverages reciprocity to their advantage. During the Boston bus strike in 2013, Uber offered bus services to all the public schools in the area. As a result, kids were able to get to school and Uber earned goodwill in the community:

Reciprocity doesn't always need to be in terms of your own product freebies. If it benefits the community you live in, you will generate good PR while making your customers loyal to your brand.
10) Engage with Unsatisfied Customers and Solve Their Issues
A satisfied customer is a retained customer. However, unsatisfied customers will start looking in your competitors' direction if you don't resolve their issue ASAP.
Whenever a customer leaves a negative review about your product, tell them that you are sorry about it and then present a solution to them. If they are still unhappy with your proposed solution, give them the power to resolve things. Ask what you can do to make them happy. This will make your unsatisfied customers feel that you care about them.
Once the issue is resolved, follow up after a few days to ensure that they are happy with the solution. Whenever you can, go beyond their expectations. For example, you can send them a discount voucher for their next purchase or a gift card as a token of apology. This will not only make them come back for more, but they will likely share their experience with their friends and family.
PayPal surely knows how to deal with unhappy customers. They begin by thanking the customer for reaching out to them. Then they apologize for not keeping up to the customer's expectations, and offer an explanation as to why it happened. The message also contains a link to connect with them directly: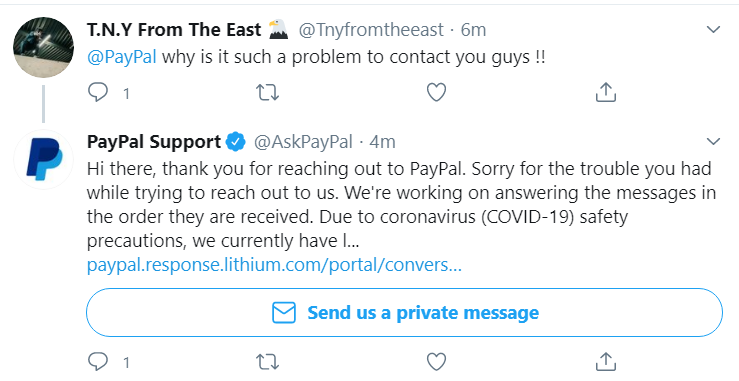 At times, there might come a situation when you do the right thing, but the customer still isn't satisfied (maybe because they were expecting something else). Try to explain the situation to the customer. If they are still upset, make it up by offering some reward or a refund. If they are still adamant, it's time to lose the customer.
11) Create Loyalty and Reward Programs
73% of members will probably recommend brands with good loyalty programs. When you offer incentives to your customers every time they engage with your brand, they will be more likely to become repeat buyers.
To build a successful loyalty program, you need to offer something that none of your competitors are offering. Take customer expectations, behavior, market trends, and the size of your business into account when creating a loyalty program.
Take Uber Rewards, for instance. They saw that a lot of people were canceling cabs at the last moment (due to different reasons), so they included "flexible cancellation" in their loyalty program. They also added "price protection between your two favorite places," "priority pickups at airport," "complimentary upgrades" and more in their loyalty program: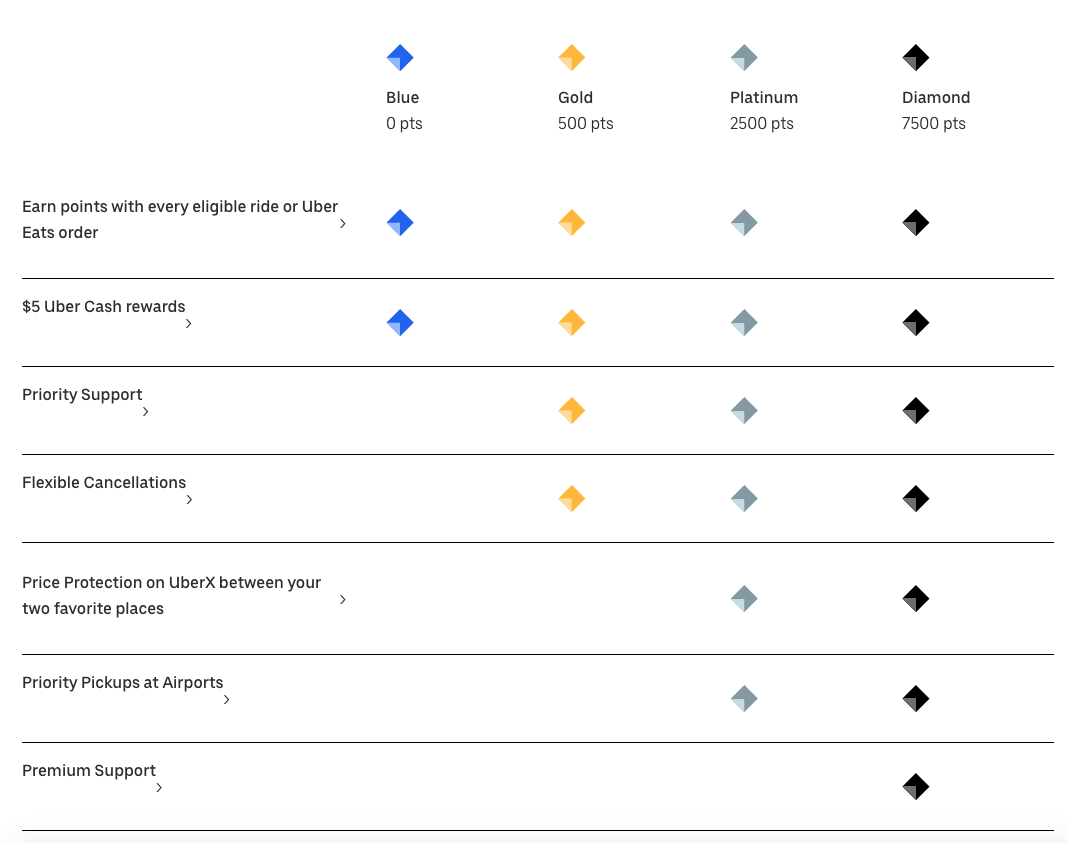 And you don't have to be a huge, well-known company to offer rewards. Annmarie Gianni, a small skin care business, created a customer loyalty program for customers who took a short quiz on their site, which rewarded them with a sample kit for a promo price, free shipping, a free e-book, a $10-promo code for the next purchase, and a money-back guarantee.
Depending on the type of your business, you can decide when and how a user earns points. For instance, if you sell physical products, you can offer free shipping. If you sell digital products, you can provide free access to users when they reach a certain number of points.
Use email campaigns to tell your audience about special deals just for loyal members or renewals (if your program requires it). However, don't send emails using a generic email address (with @gmail.com or @rediffmail.com) because this decreases trust and increases the churn rate. Always use a custom email address that represents your domain.
Also, encourage users to shop more to get to the next stage in the loyalty program. For example, if a user has 37 points but requires 50 to get special benefits, send them an email stating, "You're almost there! Shop for $X and get 13 loyalty points that can be used to claim your reward." This will not only help you increase your sales, but it will also make them stick to your brand.
Dive Deeper: 6 Ways to Improve Customer Loyalty with AI
12) Feature Your Customers in Your Content
Featuring your customers in your content is a good way to tell them how much you appreciate them.
Repost their content on social media that features your product or is related to your business. You can also create a blog post highlighting what they achieved using your product.
This has two benefits:
It acts as social proof for your products or services.
It makes the customer happy, thereby making them loyal to your brand.
SodaStream, a home carbonation product manufacturer, knows how to please their customers by sharing their user-generated content. They shared a review from one of their customers and encouraged others to tag them when uploading pics for a chance to win a treat: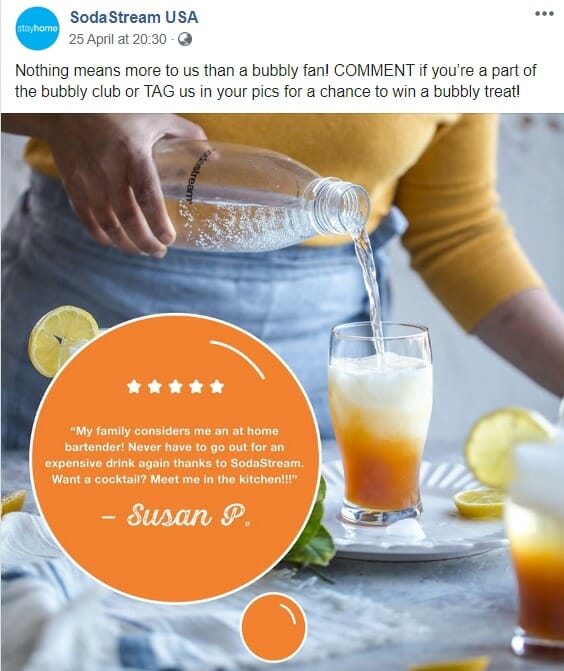 This not only helped them give social proof, but it also provided them with tons of user-generated content.
Dive Deeper: 8 Ways to Encourage More User-Generated Content (UGC)
13) Create a Referral Program
83% of Americans say that they are more likely to purchase a product or service if their friends or family recommend it. By creating a program that rewards your existing customers for every successful referral, you will be able to attract new buyers and retain the current ones.
Much like loyalty programs, you need to offer something that your customers will benefit the most from. For example, if you sell cosmetic products, it would be best to provide a free product or sample for anyone making a referral. If you sell software, your customers might prefer a discount or access to a premium feature for free.
This way, you encourage them to purchase from you again, while adding a new customer to your business. Remember, the best referral programs offer something to existing customers as well as the person they referred. If you give incentives only to the referrer, the other person will be less motivated to take advantage of the connection.
Koodo Mobile, for instance, has a great referral program. Koodo Mobile gives you and your friends $50 in bill credits when your referral activates with them. You can save up to $300 on your bills each year just by referring your friends. Now that sounds interesting!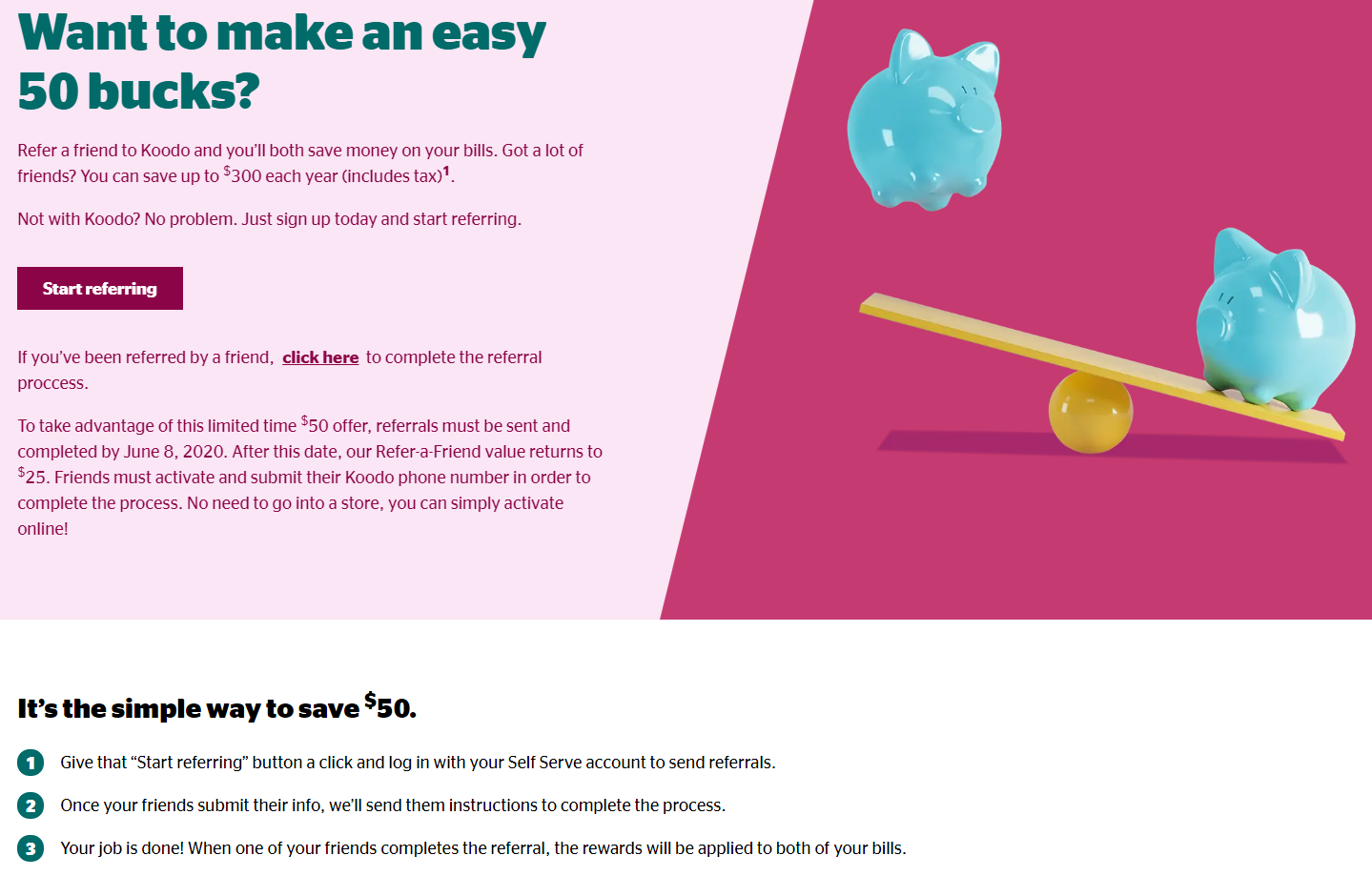 14) Measure and Improve
There's nothing in the world that couldn't have been done better. Even when you think you are doing your best, there is always something more you can do. The same goes for customer loyalty. But it's not enough to just offer rewards – you want to measure the results to make sure you're on the right track.
Analyze whether there's a significant increase in customer loyalty after you implement these tactics. Four KPIs you should focus on include:
Retention rate: This can be calculated by dividing the number of active users by the total number of active users at the beginning of the period. For example, if at the start of the month you had 100 active customers, and at the end of the month you had 80 customers who decided to continue with your services, then your retention rate is 80% ((80/100)*100).
Loyalty redemption rate: This can be calculated by dividing the total number of points used by the total number of points issued. For example, if you have issued 1,000 points and 150 points have been spent, this means the redemption rate is 15% ((150/1,000) * 100).
Increase in referrals: This can be calculated by subtracting the total number of referrals at the end of a time period with the number of referrals at the beginning of the time period. For example, if at the start of the month you had 150 referrals, and at the end of the month you had 225 referrals, then the increase in referrals is 75 (225 – 150).
Customer lifetime value: Determining CLV is a little more complex than other KPIs. The most fundamental way to calculate CLV is by multiplying the annual revenue earned from a customer by the average customer lifespan minus the initial cost of acquiring them. For example, if the customer's acquisition cost is $5,000 and you generate $4,000 per customer per year with an average lifetime value of 10 years, then your CLV will be $4,000*10 – $5,000 = $35,000.
If any of the numbers in the KPIs is below your expectations, then it's time to optimize the tactics.
Final Thoughts on Customer Loyalty During the Coronavirus
Improving customer loyalty at any time is an effort, but during the COVID-19 pandemic, it is especially tough. During this difficult time, it will require special efforts from your side. The 14 tactics mentioned above can help you retain your existing customers and boost word-of-mouth marketing to gain new ones. Make sure to measure the results and optimize the tactics accordingly.