To be a good copywriter, you need more than an outstanding author portfolio; it is crucial to have a strong understanding of those with whom you are trying to connect and convert. Merely coming up with attention-grabbing titles will not work.
This becomes even more significant when writing for B2B companies, as it is similar to and yet different from writing for B2C sites. The fact that you are writing for a customer who is checking out products and services is the same, but the type of customer is where the similarity ends.
In this article, I will show you some tips and tricks specifically for writing B2B SaaS copy. The tips are divided into two sections: The first half discusses the methodology to be used when writing copy, and the second half highlights web design features and styles of copywriting.
Whether you're a full-time copywriter or simply a freelancer trying to land a gig, these tips should help you improve your copywriting skills!
Related Content:
* How We Built a B2B SaaS Marketing Agency Unlike Anyone Else
* LinkedIn Ads for Enterprise B2B SaaS: The Only Guide You'll Need

Understanding B2B SaaS
Understanding the basics of B2B business models is essential to writing good copy for this industry vertical.
Business-to-Business Software as a Service (B2B SaaS), is a cloud-based model where software services are developed by one business and sold to another business. The cloud-based model allows for direct access to the software through the Internet via apps or browsers. A large range of business software is available, and well-known B2B SaaS companies include Google, Adobe and Slack.
Just as B2B represents commercial undertakings between businesses, B2C is a Business-to-Consumer undertaking. The business model is the same, but the marketing approach differs. Both have similar metrics, including churn rates and customer acquisition costs, and can also be subscription or non-subscription-based.
B2B marketing is structured, fixed and guided by a sales framework. In contrast, consumers in the B2C segment can be influenced by a multitude of personal, social and environmental factors.
This differentiation is primarily due to a segmentation of persona, one representing a commercial entity and the other a personal identity. 
Check out this 3.5-minute video for some quick tips on B2B marketing:
Differences in Copy Between B2B SaaS and Non-subscription Models
There are differences in writing for B2B SaaS, which is normally a subscription-based model as compared to non-subscription, or traditional, models.
The approach differs based on the business objectives: SaaS provides an exclusively packaged service, whereas non-subscription models are inclusive without restrictions on purchases. Quality, quantity and price range of services are typically better on subscription models. There is also an added social environment based on membership.
B2B packages are full-service models that include the software, infrastructure to house the software, and support services. A subscription is paid for using the services for a fixed term. There are variations to this subscription-based model based on business needs, management culture, and costs.
Some organizations prefer greater flexibility and opt for non-subscription models where they only use the software and manage the rest of the items such as infrastructure and support services themselves.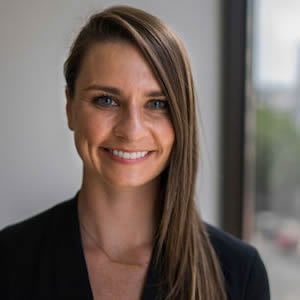 Jacqueline Foster

Demand Generation Marketing, Lever.co

We can count on them to bring new ideas to the table consistently
15 Tips and Trick to Help Write Better SaaS Website Copy
Now that you have a better understanding of B2B SaaS, let's get on with some tips that will improve your website copy for this particular business model.
Tip #1: Research the B2B SaaS Provider
The first thing to do is to get to know the SaaS provider for whom you're producing the copy. Learn their intentions for the copy:
Will it be entirely new?
Are you enhancing or replacing existing content?
Is it to inform, promote, generate sales or improve customer satisfaction?
B2Bs are corporations with set frameworks, rules and policies. Get information on the provider's overall performance, culture, financial and sales performance, and competitive rankings.  
Based on the company's culture (values, reputation and brand personality), the tone of voice can be determined. Trust and integrity are two important factors that cannot be compromised.
Good questions to ask include:
What is the provider known for?
How do customers perceive its brand, products and services?
A summation of the performance and tone of voice should give you a composite picture of the provider. Get a feel for the company, what it stands for, and what  its direction is. This will give you a general overview before diving deeper.
Tip #2: Collect Information from Important Stakeholders
The benefit of doing this is to get a feel for the company's culture or tone of voice. Determine important stakeholder needs and assess how the website can assist them. The most vital stakeholders for B2B are usually:
Sales
Marketing
Customer services
Public relations
These stakeholders will be the ones who must communicate a strong message to potential customers.
Corporate employees are guided by regulations, so work within these frameworks. Sales and marketing can provide information on sales figures, challenges, success stories, and plans.
Customer services and public relations are important, as they have direct communication with customers. They know the personas of the customers, including likes and dislikes.
Being in sync early in the game gives you time to learn and plan goals accordingly. Keep in mind that the information collected should be useful for your end goals of driving traffic, engaging potential customers, generating leads, and retaining existing customers.
Tip #3: Gauge the Health of the Current Website
The current metrics of the website such as traffic, visits, time spent on it, bounce rates, and generated leads need to be analyzed. The provider's history, current status, and plans are to be used as a reference point for analysis.
Ask yourself: What is the provider doing or not doing? Compare the answers with its competitors' websites, internal sales leads, and customer reviews. Web analytic tools such as Google Analytics, Ahrefs Crazy Egg can help assess the health of the current website. (By "health" we mean the functionality, performance and design of all your web pages.) Here's an example of a health score and issues found from Ahrefs: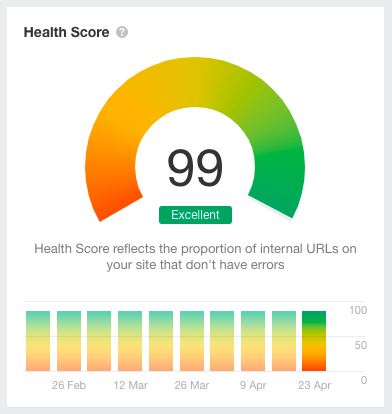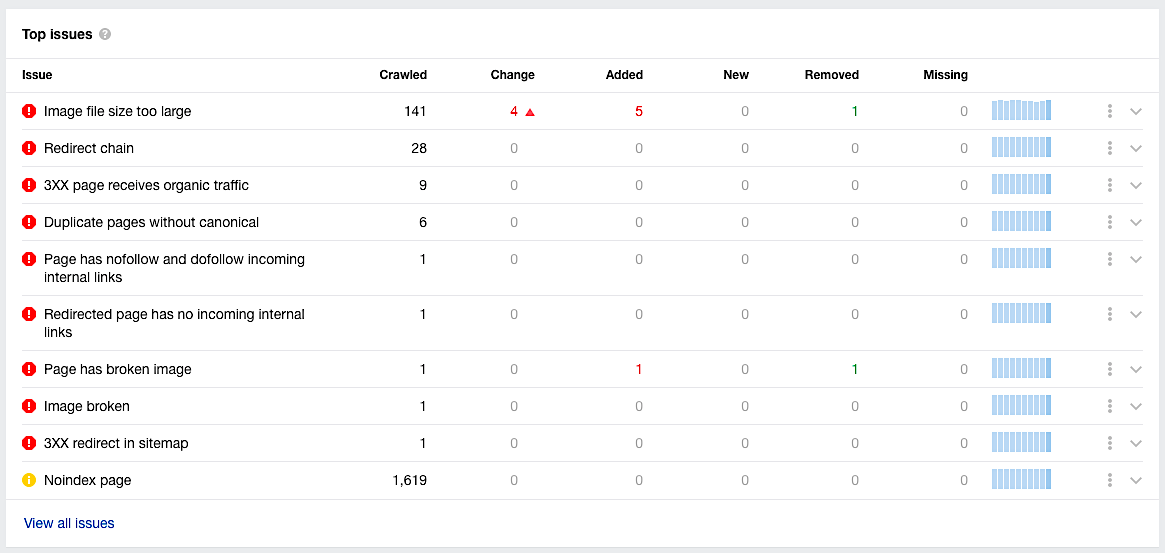 In addition, analyze the current gaps in website copy that can be improved or updated or the strengths that should be highlighted.   
Related Content: How to Perform an SEO Audit for Your Website
Tip #4: Check Out the Competition
A study of competitors' copy provides insights on strategic shifts and new tactics being employed. You can decide on a similar approach or experiment with a fresh approach to get ahead of the game.  
Some of the things you can do include:
Search for a ranking of B2B SaaS service providers
Analyze their service offerings and major products
Check out competitor home page stories
Identify the kinds of social proof used
Use this information to help you determine which areas will be your prime targets.
Analyze search results and ranking against the content structure, tone, emotional and logical appeal, CTA, and social proof. Match the primary targets with the purpose of the site. Is it informational, transactional, or both?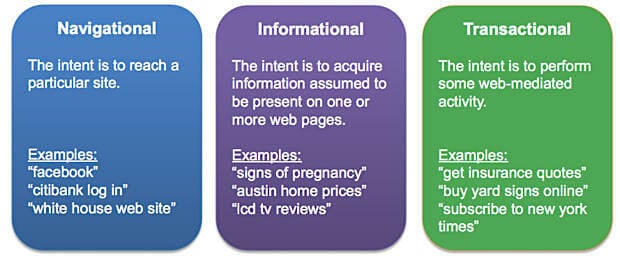 Identify content that is driving engagement. Use web analytics to compare site traffic, including bounce rates, average time on site, percentage of new visits, and search rankings. Analyze highly visited pages for the page title, meta descriptions, and type of content.
These are benchmarks for understanding B2B SaaS industry trends that can be used to set realistic, measurable goals.
Your approach to content should be a combination of industry standards and the company's tone of voice in messaging and positioning frameworks.  
Related Content:
* 8 SaaS Marketing Trends You Can't Ignore in 2023
* How to Create a High-Performance Content Marketing Strategy in 2023
* How to Conduct Smart Competitor Research for Better Customer Acquisition

Tip #5: Define Business Goals
B2B SaaS companies (and their websites), just like any others, have S.M.A.R.T. goals, which stands for Specific, Measurable, Attainable, Relevant, and Timely: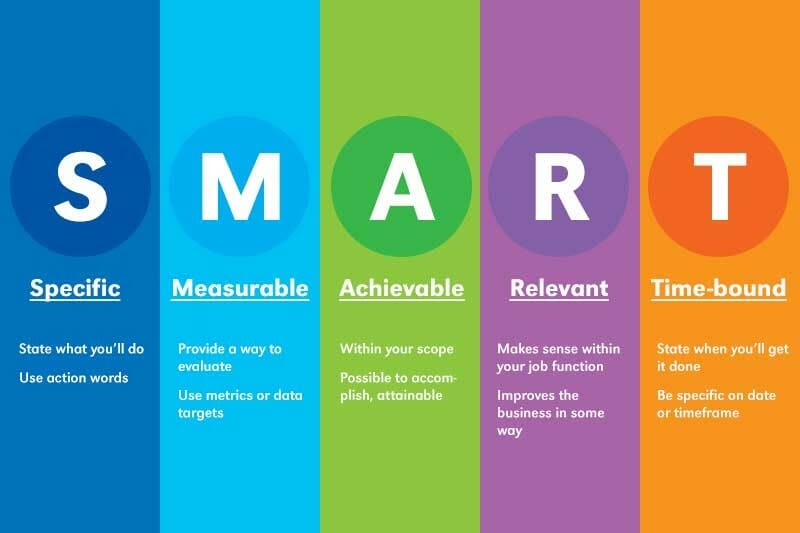 S.M.A.R.T. goals are a combination of business and website goals:
Business goals are decided and agreed upon with stakeholders

 –

for example, increasing the percentage of qualified leads or improving sales conversion rates and customer satisfaction. Goals are stated as general statements without distinct values such as an increase in leads.
Website goals, such as web traffic and page visits, ensure that business goals are achieved. Use measurable tools, like web analytics, to assess the site's effectiveness in achieving your goals. Based on the current metrics, plan for goals within deadlines

– f

or example, an increase in the percentage of lead conversion by a specific date.
Tip #6: Define Objectives
Planned goals provide a guideline for coming up with the objectives of the website. Similar to project management, a detailed plan with specific business objectives and an understanding of those objectives provides greater clarity when writing your copy.  
B2B SaaS businesses sell services directly online to customers. The website's objectives are customer acquisition, conversion, and sales retention. This has to be specific by percentage, such as increasing customer acquisition by 10%.
Sales conversion and retention rates measured as a percentage of visitors are indicators of the website's effectiveness. The factors measuring customer satisfaction include user experiences when visiting, awareness, conversion, and overall experience on the site.
For non-subscription businesses where selling is not conducted online, the objective is to support sales communications – that is, to educate and create an awareness of the services/products from an informational perspective.
Social proof, including achievements, case histories, customer testimonials, awards and industry acknowledgments, need to be showcased.
Related Content: 3 Steps to Increase SaaS Conversion Rates with Customer Education
Tip #7: Build Customer Persona
Inbound marketing depends strongly on user experience (UX). To create an ideal customer profile, you need to have an in-depth knowledge of the target customers, especially qualified leads. Qualified leads are customers with higher buying power, such as purchasing managers.
Start building buyer personas and the ideal customer profile of your target customers. The buyer persona will help you write relevant content for the target segment.
To write copy that resonates with B2B customers:
Empathize with the provider's performance and tone of voice
Empathize with customer personas in what they are seeking
Merge both
The factors influencing buyer personas can be categorized as:
Environmental (economics, politics and technology)
Organizational (policies, procedures, systems and structure)
Interpersonal (authority and status)
Individual (age, education, job role, personality and risk management)
Keep these factors in mind when writing your copy.
Tip #8: Note Ethics, Emotions and Logic
When building your target customer persona, remember these three words: pathos, ethos, logos
As defined by Greek philosopher Aristotle:
"Of the modes of persuasion furnished by the spoken word there are three kinds. The first kind depends on the personal character of the speaker; the second on putting the audience into a certain frame of mind; the third on the proof, provided by the words of the speech itself."
In other words: ethics, emotions, logic 
Conversion rates can be sustained by building deep relationships based on trust combined with an emotional and logical appeal. Since B2B SaaS transactions are high-cost ticket items, customers must feel they can trust the B2B provider. That means your copy must identify and exhibit high levels of trust and integrity.
The content needs to be a combination of provider performance and tone of voice written in a casual style. A study by CEB in partnership with Google shows that customers identify emotionally with B2B providers on a personal level:
"B2B buying is highly personal — even more so than B2C buying — due to the level of personal risk buyers feel."
The user content should be accurate and relevant, intending to inform and educate. Industry jargon can be leveraged for building that bond. This is in contrast to B2C content, typified as being light, shareable and humorous.
Tip #9: Map CTA for Each Persona
Based on your customer persona(s), identify the appropriate CTA for each one. These can be visual, in-line, heroes, pop-up, form, or conversational. The CTA should be mapped for the correct action to be taken that will tie in with the goals of the website, such as increasing sales leads.
The user's intent in visiting your site can be to seek information or to view products/services. Your messaging and positioning style based on the customer persona should prompt the user towards the CTA. Most SaaS companies use a demo form to capture potential leads' contact information. A/B testing can determine the most effective CTA to be used.
Having multiple CTAs may be useful for B2B. On the Slack homepage, the CTA to "Try for Free" is positioned in the upper right and the middle above the fold. 

This is based on the Rule of Thirds and the F-pattern for positioning important images, messages, CTAs, the latest news, and special offers. The human eye scans first in the upper left corner, followed by the right corner, the bottom left corner, and finally settles in the middle right corner.  
Related Content: How to Create Better-Converting In-Content Calls to Action (CTAs)
Tip #10: Structure Content around User Experience
The user is the core of your website and each section of the site should tell a story that resonates with the user's journey of awareness, consideration and decision making.
A page layout that follows this journey entices people to navigate seamlessly throughout the site, as it builds awareness of the product which transforms into giving it greater attention and consideration. The user feels curious enough to want to know more about the product/service.  
Empathize with both new and existing customers' personas. New customers come with a blank page, whereas current customers have prior knowledge and are aware of the site's story. Your copy should resonate with both sets of customers.
Related Content:
* How to Optimize Your Content Strategy with the Buyer's Journey
* 3 Advanced Ways to Write Content that Converts
* How to Write Lead Nurturing Content: 7 Proven Tactics

Tip #11: Home Page Story of What, Why and How
The home page should present the "what, why and how" of the business. B2B subscription-based and non-subscription-based sites' titles should use a logical appeal instead of an emotional appeal. The focus should be on problem resolution with a specific solution.
Take, for example, the Slack homepage. It narrates the "what, why and how" of their business concisely:
What: A place where people communicate and get work done together
Why: A company that highlights popular problems, that teamwork is hard, messy and complicated
How: A solution is presented to resolve the problem by offering better communication using calls, a singular place to share files, and the ability to easily connect with other business apps
This is followed by social proof that integrates the voice of customers: customer testimonials and stories, statistics, and support from corporate customers. It represents a reaffirmation of Slack as a reliable service provider.
For subscription-based models, the user should be enticed towards taking membership based on the benefits of subscription packages. Packages with discounts are a great way to attract new customers.
Tip #12: Emphasize Benefits Followed by Features  
Many businesses are often enamored by the features of their own products and endlessly harp upon them. In some cases, perceived top features may not be what your audience needs – which can wind up a bit counter-productive.
When customers search for something, it is often to solve a problem they have. So rather than describing the features and hoping that those potential customers connect the dots to how the product will benefit (help) them, describe how your solution overcomes specific challenges, like this Dropbox example: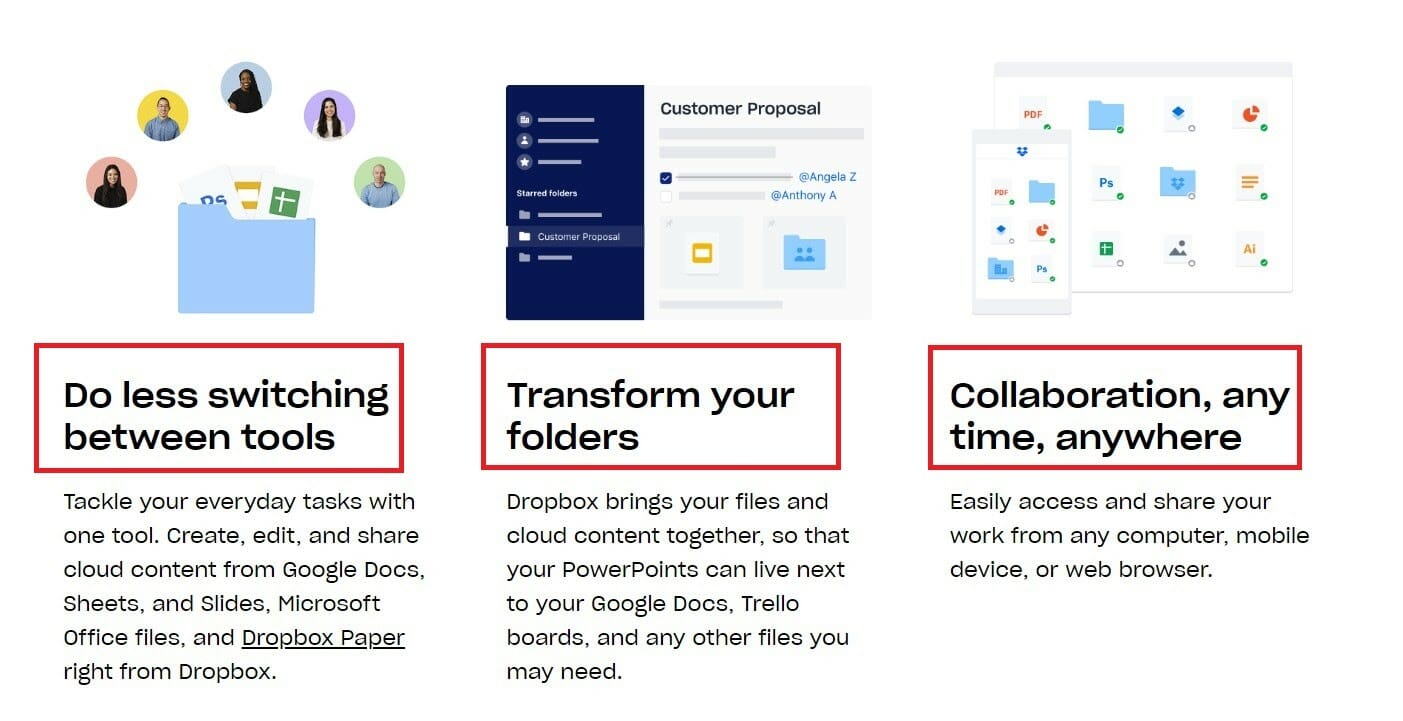 It's natural that the technically proficient people at a company know about the features of their products – they built them, after all. But unless you come at it from the user's point of view, you're going to have a hard time selling the product based on its benefits. This is why a use-case scenario can more clearly demonstrate the unique selling point that the competition does not have.
Let us consider the case of an enterprise cloud storage service provider. If the service is promoted based on features, most core areas will be similar to what's already on the market. Instead, if the solution can show the reduced long-term operational cost for specific market segments, for example, it directly addresses a pain-point faced by many organizations.
Let your copy demonstrate how your solution helps, not what it can do.
Although features can't be eliminated from the sales process, of course, they should be prudently placed in a lesser focus.
Tip #13: Create One Segment for Each Persona
Avoid "one-size-fits-all" content, as different personas will be visiting the site. Your content has to resonate and be personalized for each persona within the hierarchy of your target segment, ranging from executive to senior management.
If you have built three different personas, then create personalized content for each of the three. This can be based on roles or compartmentalized by functions such as sales, marketing or services.
This segmentation enables you to communicate and engage directly through customized CTAs and messages and tells each persona that the company recognizes their issues and can provide personalized solutions.
Related Content: Segmentation 101: A Strategist's Complete Guide to Marketing Segmentation
Tip #14: SEO Keyword Optimization
SEO keyword optimization is important to gain customer awareness and reach. Having the correct keywords on your website will enable people to easily search for it. But content is more than just about including the right facts and presenting them neatly – you need to convince search engines that your content is the best version that's available online. 
Thousands of websites compete for keyword rankings and if you fail to optimize properly, you'll find yourself pushed down the SERPs ladder. The lower you roll, the less likely you'll get good organic traffic. By using a keyword tool such as Ahrefs, you can find the Keyword Difficulty and Search Volume of any keyword or phrase. For instance, the phrase "international delivery" is a "hard" keyword to dominate and has only a search volume of 450: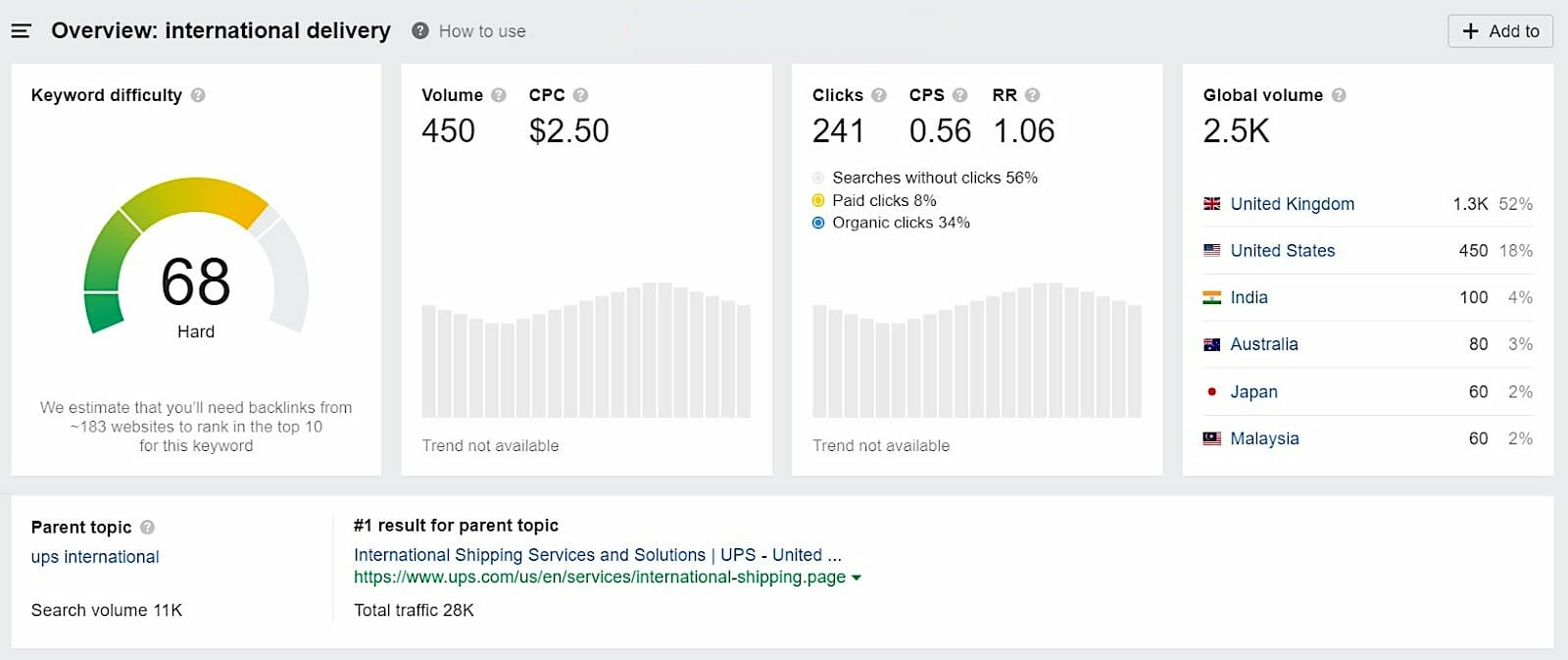 Analyze your competitors' websites for keywords used in meta descriptions, header tags and URLs. By adding these keywords to your own list, it could improve your search rankings. You will reach and guide a greater number of customers into your website.
What is a good keyword density? The recommendation is for keywords to be used once or twice on a page. Optimal keywords differ from page to page and between phrases. But just remember: even basic keywords can get a massive amount of competition for ranking.
Related Content: SEO Keyword Research Made Easy in 2023
Tip #15: Show Performance Numbers
Most people read visuals (such as infographics) and numbers much more quickly compared to words. Show the business' performance rates in numbers, graphics, statistics and videos to build credibility and respect within the industry.
These specific numbers form an impression on visitors — that the business is a force to be reckoned with and a strong, trustworthy player in the industry.
HubSpot is a good example of a site that shows its KPIs with 150+ user groups, seven million monthly visits, and 100,000+ customers. The promising figures show that the company is proud of its achievements, increasing its credibility and trust with customers.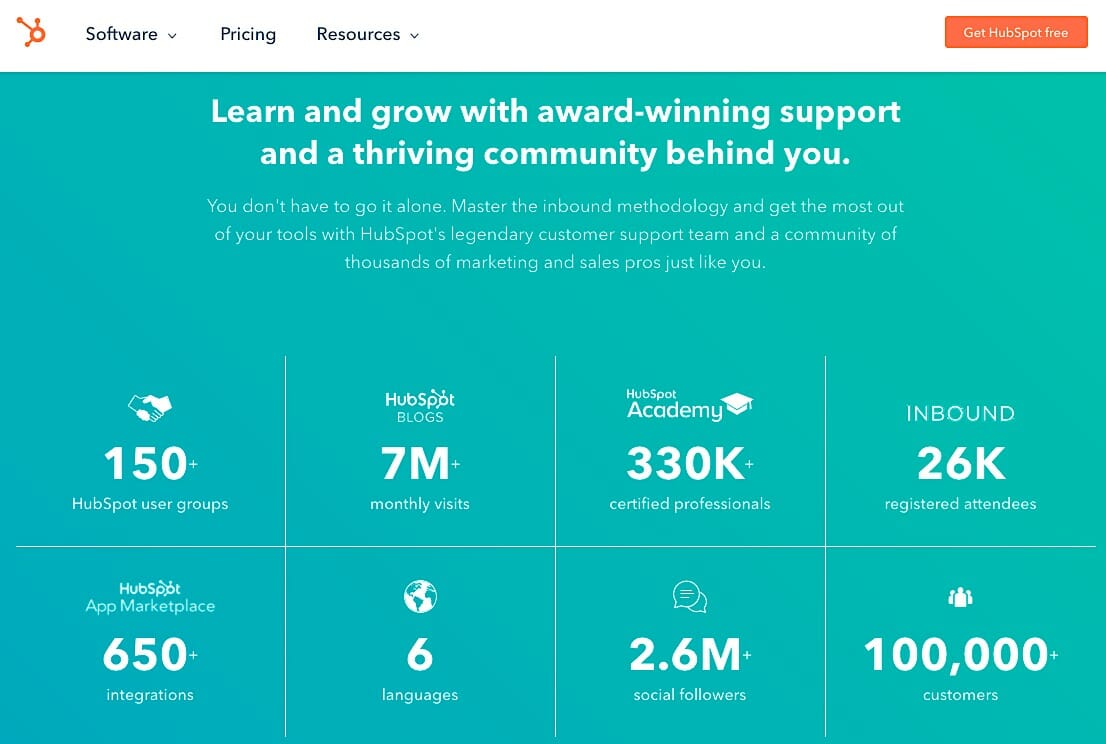 Within the B2B SaaS industry, the right performance numbers (i.e. KPIs) are a reliable standard in gauging the business' performance, and customers can decide quickly if the business is a suitable service provider.
Dive Deeper: Best SaaS Marketing Agency: Top 5 Choices for 2023
Conclusion
Writing B2B SaaS copy requires detailed planning and communications. Equally important is the analysis of providers, customers, competitors and the industry. These 15 tips and tricks are guidelines for your copy in meeting (and, hopefully, exceeding!) the expectations of B2B SaaS stakeholders and their customers.
Hopefully you learned how to write better B2B SaaS website copy, but if you just want a SaaS agency to do all the work for you, click the orange button below!