Realistically, not all of your marketing campaigns are going to generate the results you're after. Some might fetch good results, while others might convert badly.
But no matter what the performance of your campaign may be, tracking proper B2B marketing KPIs always helps you learn something so that you can improve the performance of your current and future campaigns.
What Is a B2B Marketing KPI and Why Is It Important?
A KPI (key performance indicator) is a measurable value that allows you to track and thus assess the success or failure of any given activity in terms of the growth of your organization.
Every B2B marketing campaign should have KPIs associated with its marketing strategies, because these are the metrics that will help keep your business goals in place. If you can track all your strategies, you'll know which initiatives are working (so you can double down on them) and which are not working (so you can improve, change or remove them).
We all need to take to heart the old saying:
"What gets measured, gets done."
Not only do KPIs let you measure your goals regularly, they help boost your employee morale by improving conversations. How? Because measurement leads to discussions, which drive your entire team to continue innovating new and better strategies.
Dive Deeper: Everything You Need to Know About B2B Performance Metrics
Top B2B KPIs with Examples
Today's businesses are driven by data, and you need to rely on numbers more seriously than ever before. Your KPIs will support decision making, foster performance, boost employee morale and influence business objectives.
The below table lists the top B2B business KPIs that every business needs to track, along with a description of the key performance indicator, the tools needed to measure the KPI, and an example to better understand its purpose.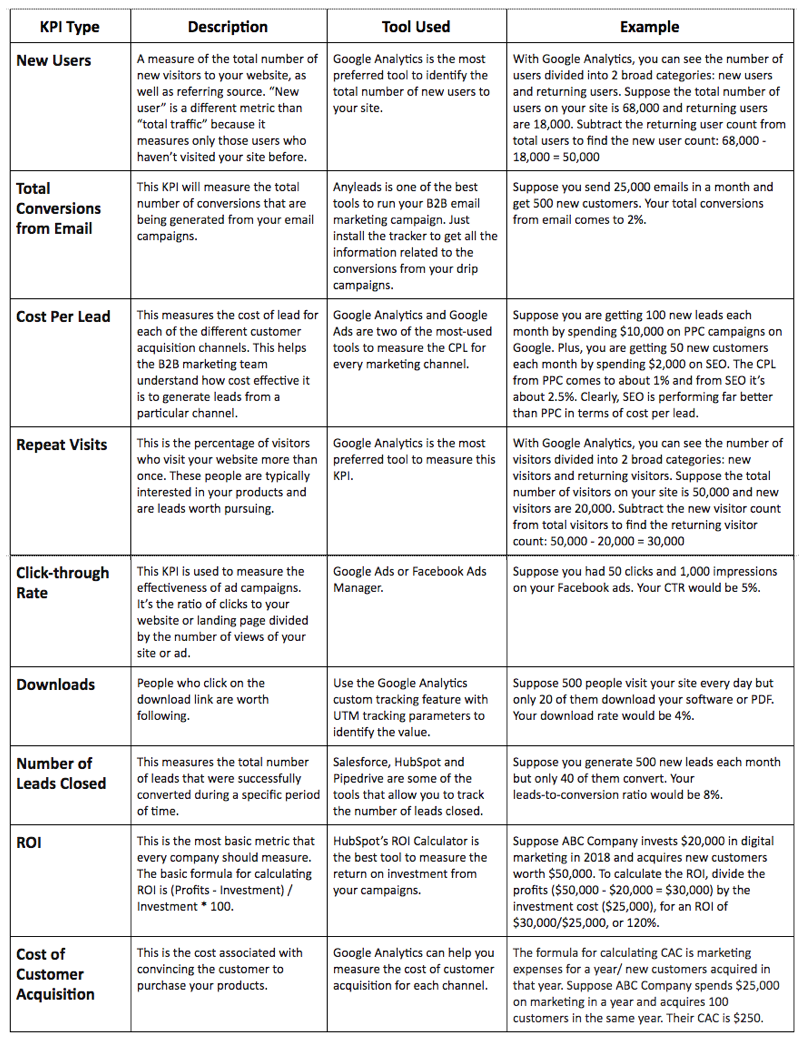 How B2B Marketing KPIs Affect Sales Growth
Carefully selecting sales KPIs helps you assess the overall performance of your sales within a specified period of time. It is important to remember that KPIs are not a one-size-fits-all concept. You need to define the right metrics for your sales team and measure the growth right from the beginning.
Defining the Right Sales KPIs
Every B2B organization is different and has specific objectives, so KPIs should be chosen with those objectives in mind.
Driving B2B sales growth requires understanding another company's business process and creating a business-specific strategy that speaks to those in charge of the decision-making process. Therefore, the KPIs you define must align with your strategy and the marketing activities you follow.
For instance, if your sales team conducts webinars to show how your product can solve your target audience's problems, then you can analyze the engagement analytics to understand your prospects better.
The ClickMeeting webinar platform, for example, offers several CRM integrations like HubSpot, Salesforce and Pipedrive.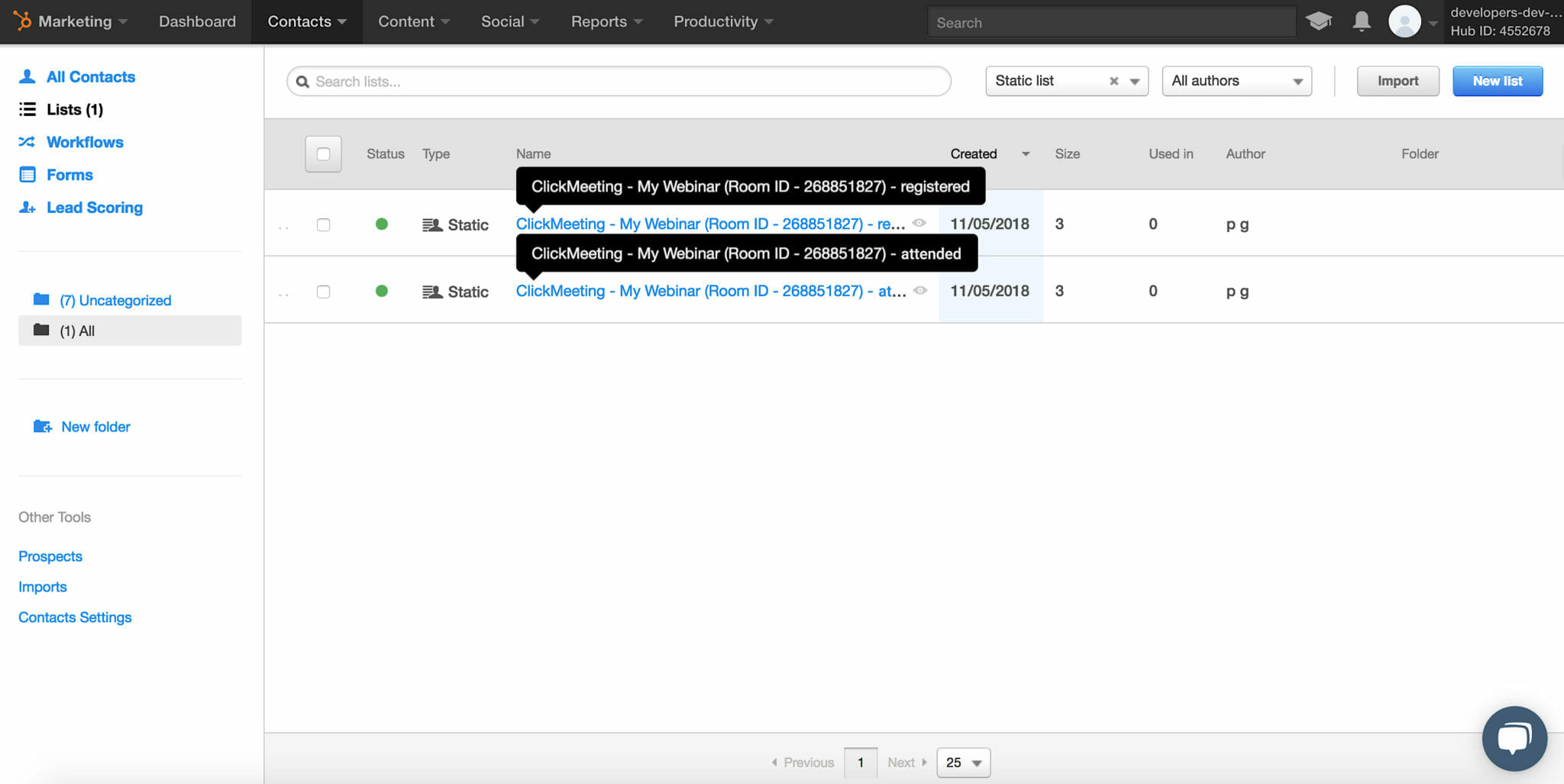 This allows you to include a few webinar-related metrics in your lead scoring system, such as:
The number of webinars that each contact has registered for
Which webinars they attended
Total webinar attention minutes
How many questions they asked during each webinar
These data points help you formulate highly targeted personalized marketing strategies. They also allow you to evaluate the effectiveness of each webinar when it comes to nurturing leads towards sales KPIs.
Moreover, your goals can fall into two categories: primary goal and secondary goal. Both should be considered when evaluating the performance of your sales team. In the above example, webinar engagement metrics are secondary because they help you understand what needs to happen in order to unlock the primary goal of driving sales conversions.
Follow the below best practices for defining the right KPIs for your B2B marketing and sales teams:
Choose KPIs that are directly related to your primary and secondary business goals.
Think big when setting KPIs but also remain practical. Also, ensure that everyone in your company knows them.
Consider the current state of growth of your company before setting the KPIs. Also, consider the overall market growth in your country or city.
Do not focus on headline KPIs that deviate away from the main aim of bringing more revenue to the company.
Carefully consider both lagging and leading performance indicators.
Be as specific as possible. A KPI should not be "increase revenue." Rather, it should be "increase revenue by 4% by the end of 2023."
Create action-oriented KPIs that lead to sales.
Keep a mix of contextual metrics and activity-based metrics while selecting the final KPIs.
Always monitor the performance of your sales team and motivate them to keep an eye on the selected KPIs regularly.
B2B Sales Team Goals and KPIs
Here is a table that provides an example of the type of sales goals and their associated KPIs.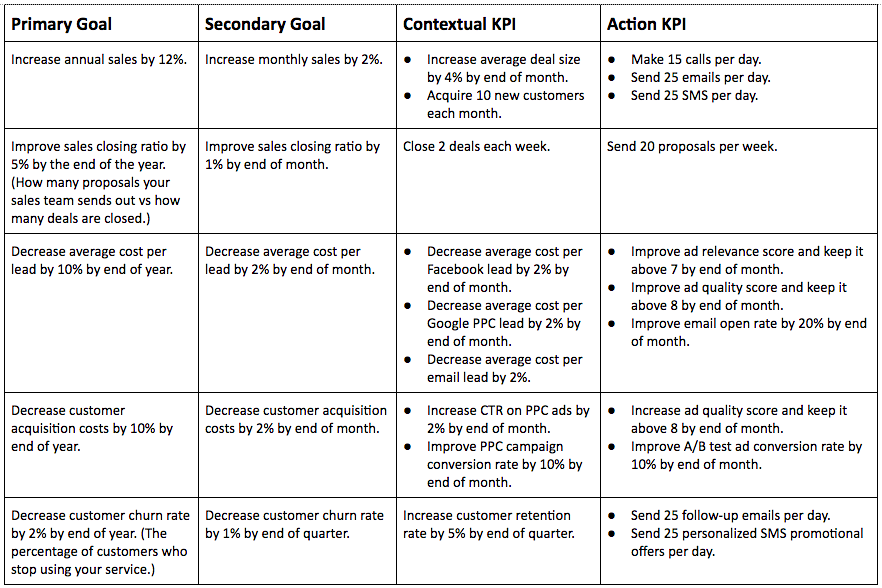 Account-Based Marketing Campaign Objectives
Account-based marketing (ABM) is the newest strategy to convert valued B2B prospects.
Account-based marketing takes into account the individual, so a personalized marketing strategy is applied to every single customer in order to increase the number of conversions.
The ABM funnel considers a few high-value customer accounts to nurture and engage. Prospects are finally converted and long-lasting customer relationships are built.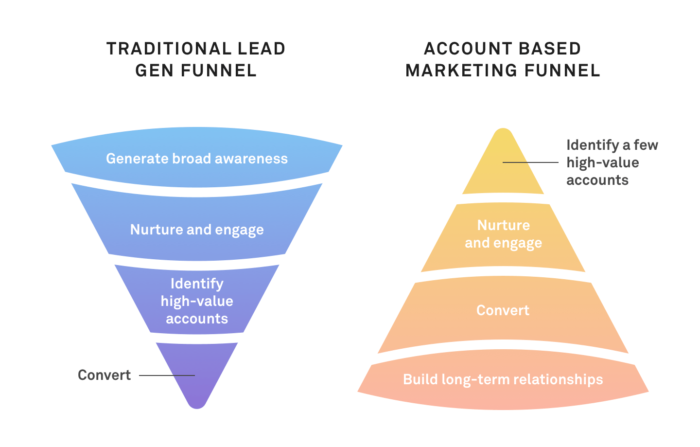 There are several KPIs that need to be tracked under ABM in order to reap the maximum revenue. The below KPIs are used to measure account-based marketing campaign objectives:
Marketing Qualified Accounts: These are the accounts that are qualified under certain specific criteria, depending on your ideal customer profile.
Account Engagement Rate: This is the rate at which engagement happens on your customer accounts. The customer who remains engaged with your business qualifies to become a relevant and high-quality lead.
Pipeline Velocity: This is the measurement of time taken by the customer from the first touch point to the closed deal. ABM pipeline velocity is always better when compared to other lead-nurturing campaigns.
Target Accounts Converted to Customers: This is the number of targeted customer accounts that have been successfully converted into customers.
Dive Deeper:
KPIs Specific to Digital B2B Marketing
Digital marketing is one of the best ways to generate leads for your B2B business:
59% of B2B marketers have acknowledged that SEO is the most successful lead-generating channel for them.
50% of LinkedIn users say they are more likely to buy from a company with whom they have interacted on LinkedIn.
Here are the important KPIs specific to digital B2B marketing that should be tracked in order to measure the success of your digital marketing efforts:
Total Visits: This is the sum of all visits to a specific website. For example, if 100 people visit your website in the past 30 days then total visits for the website for that month would be 100.
Unique Visits: This is the sum of all unique visits to a specific website. For example, if 100 people visit your website in the past 30 days and 40 of those have visited your site before, then the total unique visits would be 100-40 = 60.
Total Conversions: A conversion is a completed activity that you can track in Google Analytics. For example, if 100 people visit your website and 10 out of 100 download a PDF (which was predefined as a conversion), then the total conversions on your site would be 10 and the conversion rate would be 10%.
Bounce Rate: For all sessions that start with the page, the bounce rate is the percentage that were the only one of the session. For example, if 50 people visit your site and 5 of them leave immediately after viewing just one page, then the bounce rate for your website is 10%.
Exit Rate: The percentage of visitors who leave your website from a particular page is known as the exit rate for that page. For all page views to the page, the exit rate is the percentage that were the last in the session.
Cost Per Acquisition (CPA): The amount that the advertiser pays for acquiring a customer is known as the cost per acquisition. For example, if 10 new customers register for your services through Facebook PPC and you have invested $2,000 in the ads, then the CPA would be $2,000/10 = $200.
Cost Per Click (CPC): This is an advertising model where advertisers pay the publisher a specified amount for every ad click. For example, if you invest $100 in PPC and 10 people click on your ad, then your CPC would be $10.
Return on Investment (ROI): This is the ratio between net profit and the cost of investment. For example, if you invest $2,000 in SEO and acquire $5,000 in net profits, then your return on investment would be 2.5%.
Retention Rate: This is the ratio of retained customers to the numbers at risk. For example, if 10 customers leave your company in a month and the total customers your business has is 100, then the retention rate would be 10%.
Visits Per Channel: This is the number of visits that your website receives from every marketing channel. If 50 people visit your site via Google Ads in one month, then visits via Google Ads for that month would be 50.
Pages Per Visit: This is a measure of the number of pages a user or a group of users visit when they land on your website. For example, if 100 people visit your website and view 10 pages on average, then the pages per visit would be 10. It is calculated by dividing the total number of page views by the total number of visitors.
Inbound Links: This is a link from an external domain that points to one of your web pages. The more links, the better the chances of your website ranking on Google.
Dive Deeper: How B2B Firms Can Acquire Leads with Programmatic Ads
Tracking B2B Marketing KPIs
There are several tools that can be used to help you track B2B marketing KPIs. Here are some of the best ones:
Google Analytics is the most popular KPI-tracking tool and is free to use for individuals and SMBs. Large enterprises can opt for the premium version, Google Analytics 360.
GA can help you measure most of the KPIs associated with your website performance, namely:
Total traffic
Unique visitors
New visitors
Repeat visitors
Top channels
Top content
Demographics
Mobile traffic
Session duration
Bounce rate
Exit rate
Customer lifetime value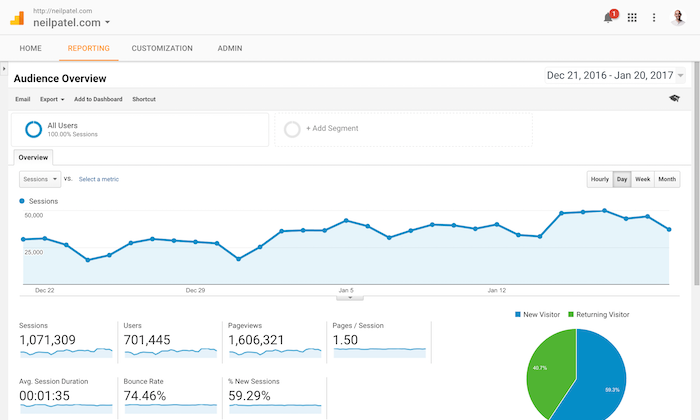 Watch this 15-minute video to get started with Google Analytics:
Related Content: Google Analytics for Content Marketing: How to Track and Improve Your ROI
Salesforce is the world's number one customer relationship management (CRM) platform. It connects data across multiple sources and devices that enables you to easily view each of the top marketing KPIs in order to make effective business decisions faster.
Some of the top KPIs that Salesforce allows you to track are:
Lead response time
Rate of contact
Rate of follow-up contact
Clicks from sales follow-up emails
Social media usage
Opportunity to win ratio
Deal size vs discount
Margin by sales representative
Total leads created by month
Total opportunities won/closed
Emails sent
Outbound calls made
Open rate per campaign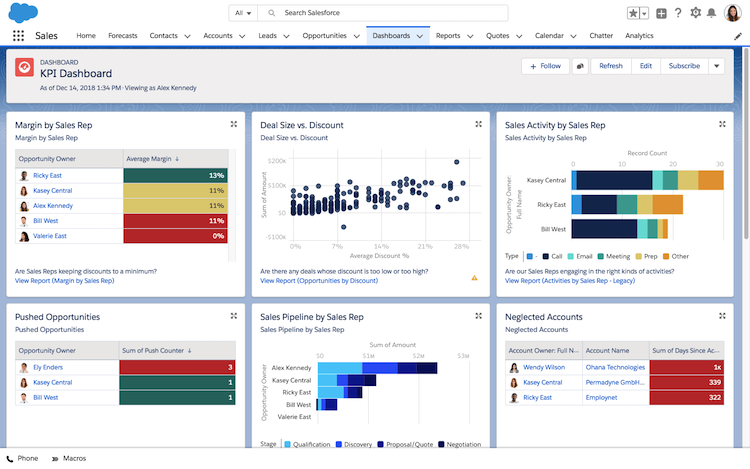 Salesforce is a complete CRM platform and offers different views, depending on the organizational hierarchy.
DashThis is a marketing dashboard tool that helps you to pull marketing KPIs together in one place. It's user-friendly, with a drag-and-drop editor that requires no technical analytics or coding experience.
There are native integrations with popular tools for all major marketing channels, such as Mailchimp, Ahrefs, Google Ads, Facebook Ads, LinkedIn Ads, and many more.
With DashThis, you can easily track KPIs such as:
Total traffic (per source)
Total conversions
Cost per lead or cost per acquisition
Bounce rates
MQLs
Social followers
Email opens & unsubscribes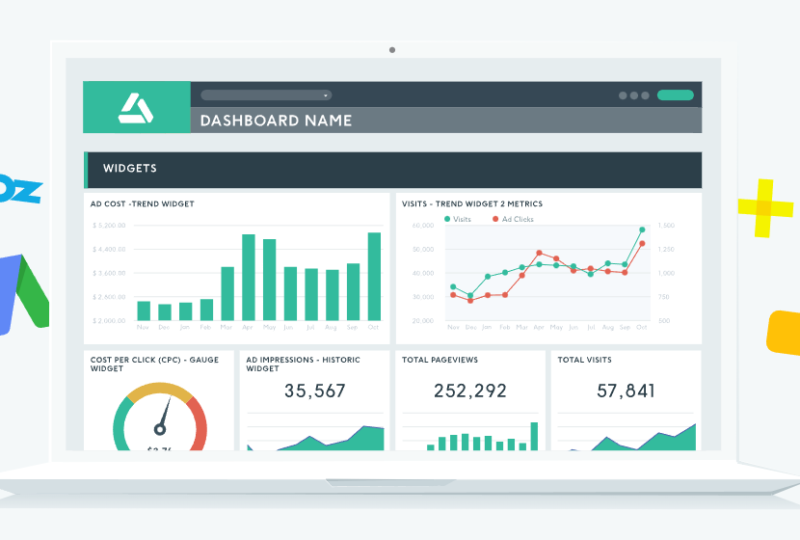 Once you've made a DashThis dashboard, you can add your own branding and generate a shareable link so that clients or colleagues can check on progress any time.
Geckoboard offers clear and effective business dashboards that display all the essential KPIs to give a boost to your B2B business.
It is a live TV dashboard where you can pull all the business metrics from other tools like Google Analytics, Salesforce, Zendesk, Basecamp, etc..
You can track the following KPIs with Geckoboard:
Total users
Total organic traffic
Total social traffic
Total conversions
Total organic conversions
Total paid conversions
Bounce rate
LTV to CAC ratio
Monthly revenue growth vs goal
Monthly leads created vs goal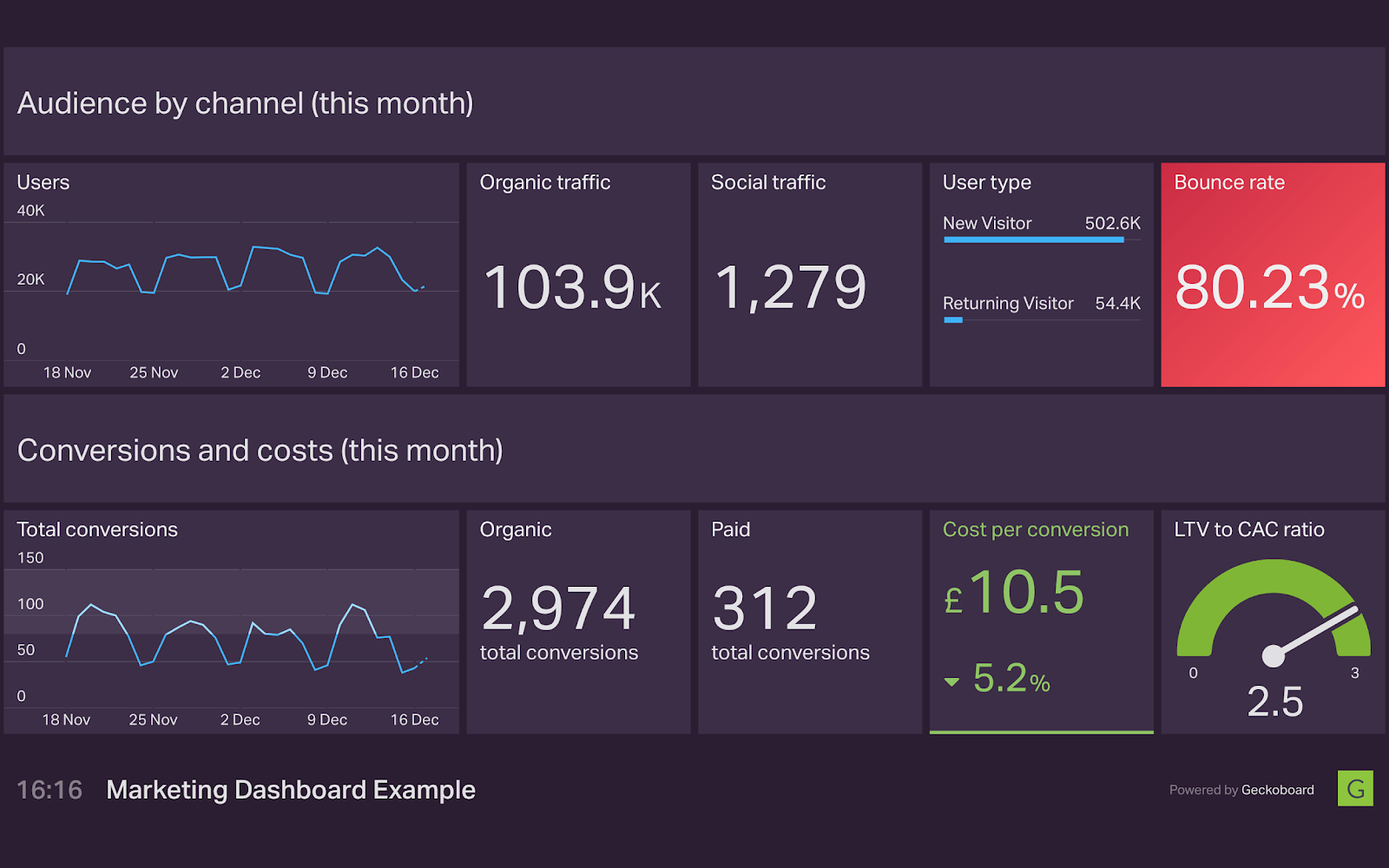 You can put all your key goals at center stage with Geckoboard. The platform offers four different kinds of dashboards, such as a Web Analytics dashboard, a Social Media dashboard, an Ads dashboard and a Digital Marketing dashboard. Simply sign up, set up your dashboard (after integrating it with other tools) and start viewing the data.
Scoro is an all-in-one business management platform that makes it easy to track all your projects and finances. It brings your marketing teams together and provides enterprise-level reporting automatically compiled for you.
The special KPI dashboard from Scoro displays the following metrics:
New leads this month
Revenue this month
Active budget
Revenue comparison
Sales reps who have sold the most
Team hours by activities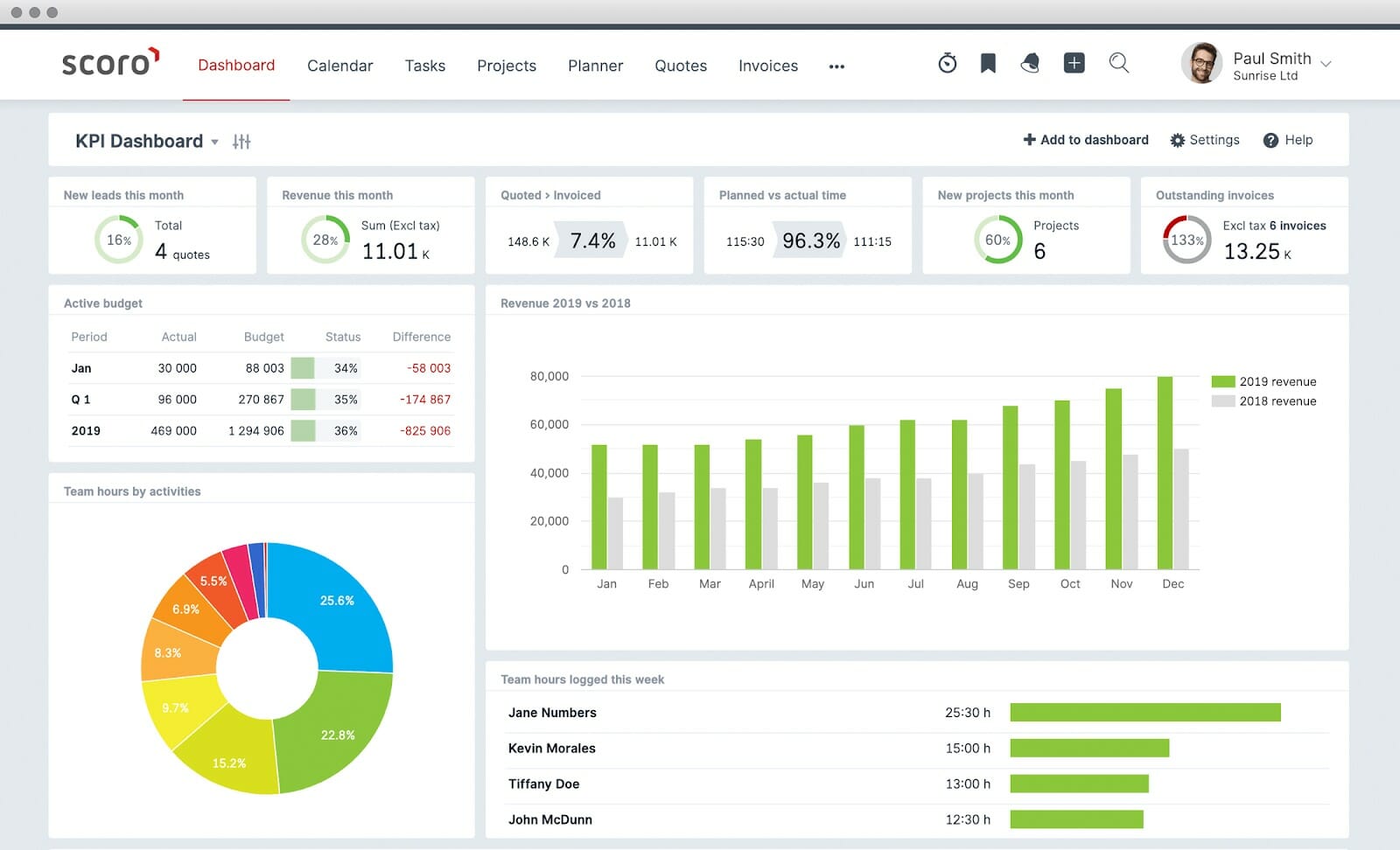 You can make better business decisions based on the data provided by Scoro. It is easy to use and helps manage your marketing team's data in one place.
Visualizing the right KPIs is easier with Datapine. It provides you with all the power and flexibility to visualize your marketing team's data in the most professional manner.
You can track the following KPIs with Datapine:
Cost per acquisition
Cost per lead
Sales target and growth
Average revenue per customer
Actual revenue
Target revenue
Lead-to-MQL ratio
Goal conversion rate
Bounce rate
Customer lifetime value
ROI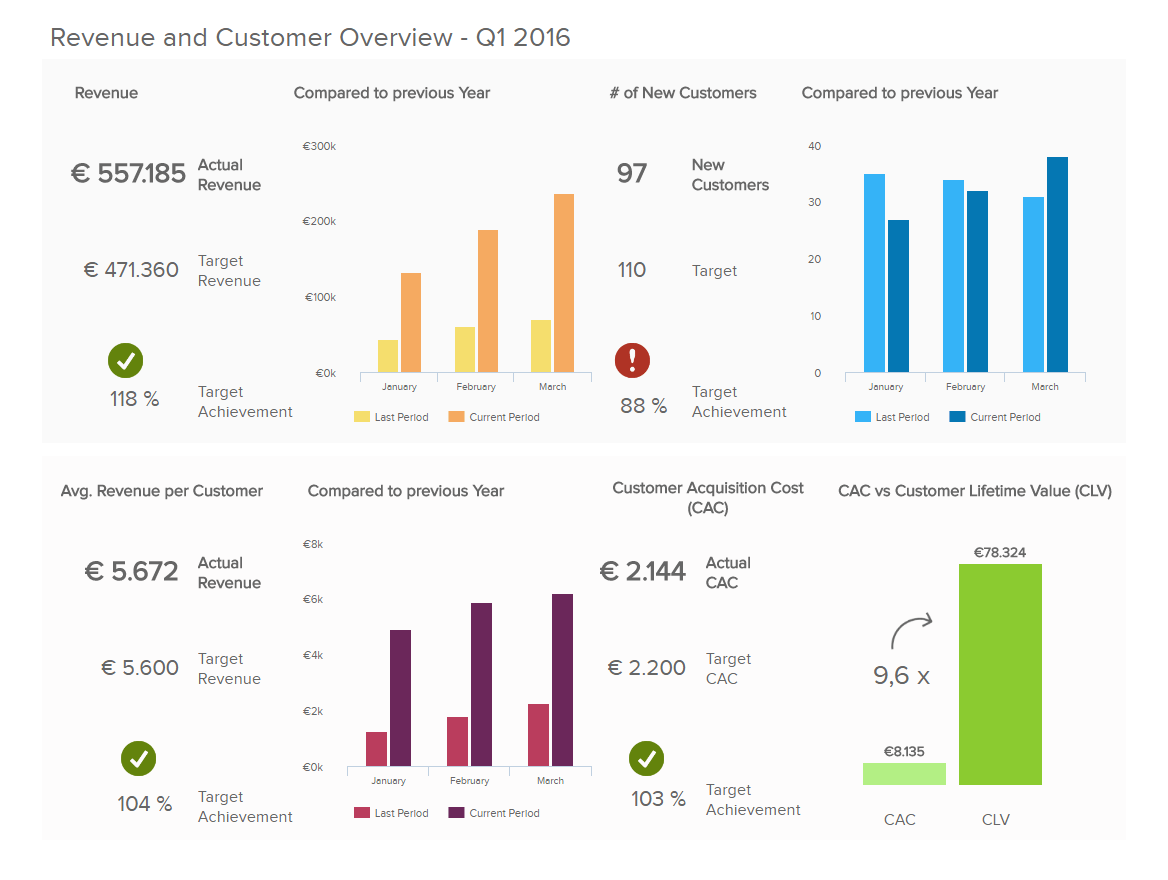 With Datapine, you get 250 ready-to-use KPI templates that matches every need of your business.
Related Content: How to Use UX Testing to Improve Your Customer Lifetime Value (CLV)
Tableau lets you unleash the world of data in a powerful manner. It is business intelligence software that not only tracks data but also extracts meaningful information from it so that you can make faster and more efficient business decisions.
You can track the below KPIs with Tableau:
Total sales
Profit ratio
Percentage of sales change
Sales by region
Profit by region
Top sales channels
Top markets
Top products
Revenue comparison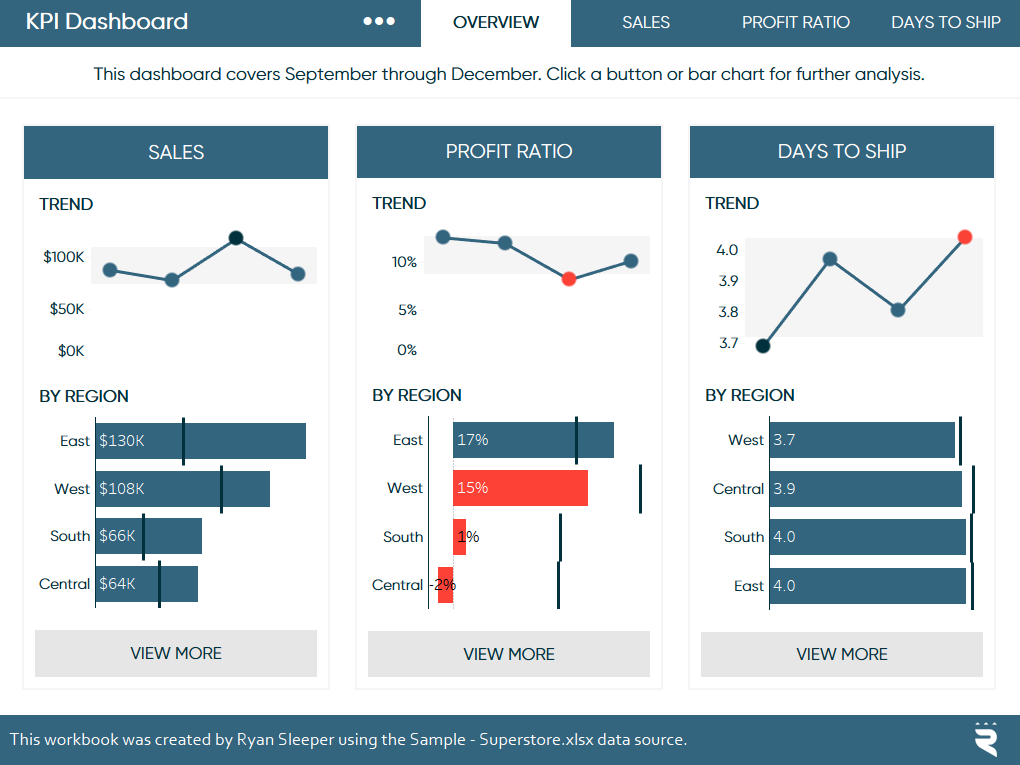 You can easily create your own customized KPI scorecard dashboard in Tableau and share it with your team members. Understanding data is fun and taking actions based on it becomes easier.
Related Content: 7 Business Intelligence Trends You Can't Ignore in 2023
How to Fix Broken B2B Marketing KPIs
Most B2B businesses have a hard time answering the common questions associated with selecting and tracking the main marketing KPIs. The reason is that they don't take KPIs seriously from the very start or they lack the tools needed to properly track KPI right from day one.
A data-centric approach to your marketing strategy is absolutely necessary to power up your sales.
If you are still unsure about which KPIs you need to track, then start with the "three-stage funnel analysis," which has four main elements:
TOFU (top of funnel)
MOFU (middle of funnel)
BOFU (bottom of funnel)
Elements that impact the input and output of the funnel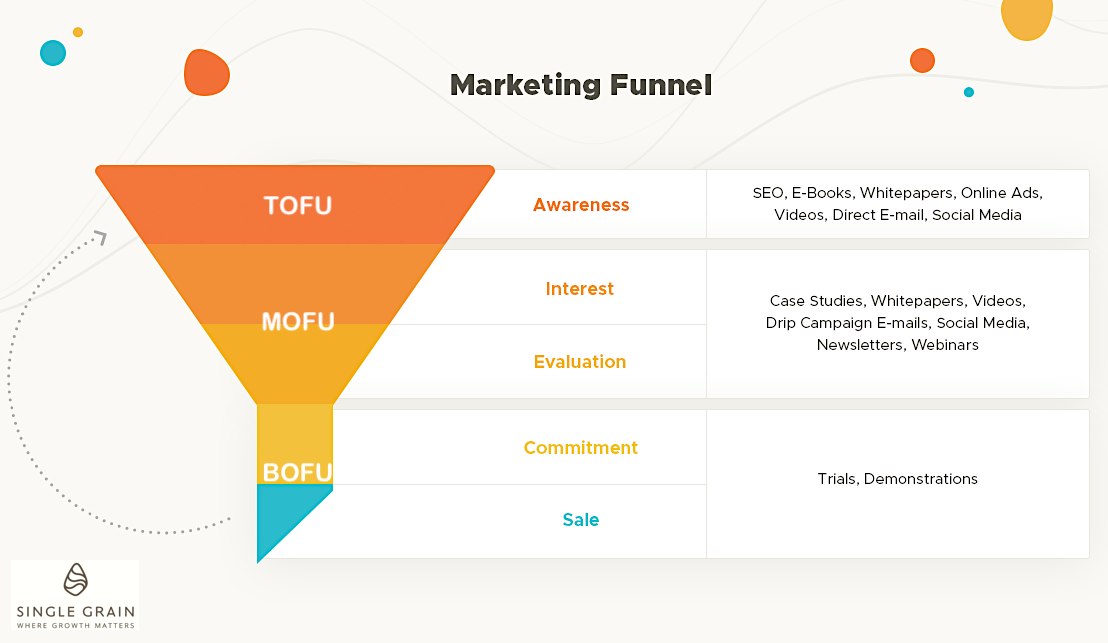 At the top of the funnel (input), you have the total leads, and at the bottom of the funnel (output), you have the total conversions. Simply by tracking the number of leads and conversions, you can start your KPI measuring process.
For example, if you are getting 100 leads a month and 20 are converting, then your lead-to-conversion ratio is 20%. You simply need to increase this ratio in order to increase your overall revenue.
Once you are familiar with the workings of the three-stage marketing funnel, you can move on to tracking more complex metrics like cost per acquisition, net promoter score, churn rate, etc.
Related Content:
Final Thoughts
Thankfully, there are so many tools available today that can help you track the performance of your marketing campaigns easily and effectively. Start measuring your KPIs to establish a sense of continuous improvement and personal satisfaction. If you need help, contact us. Happy B2B marketing!