3 Steps to Increase SaaS Conversion Rates with Customer Education
A universal parameter that determines the success of your business is the ability to communicate with your target audience.
This makes perfect sense, considering that these are your potential customers, and the time and money you invest in them has a direct impact on your sales and business income.
For a SaaS company, coming up with innovative ways to connect with customers becomes essential as the need to grow expands – and investing in customer education is one of them. But what the heck is customer education?
What Is Customer Education?
Customer education describes the process in which a business provides consumers with the information, tools and resources they need to become informed buyers.
It is an organized learning activity that is designed to develop the knowledge and skills of consumers on how to use a product or service. What's great about customer education is that it has many uses and benefits: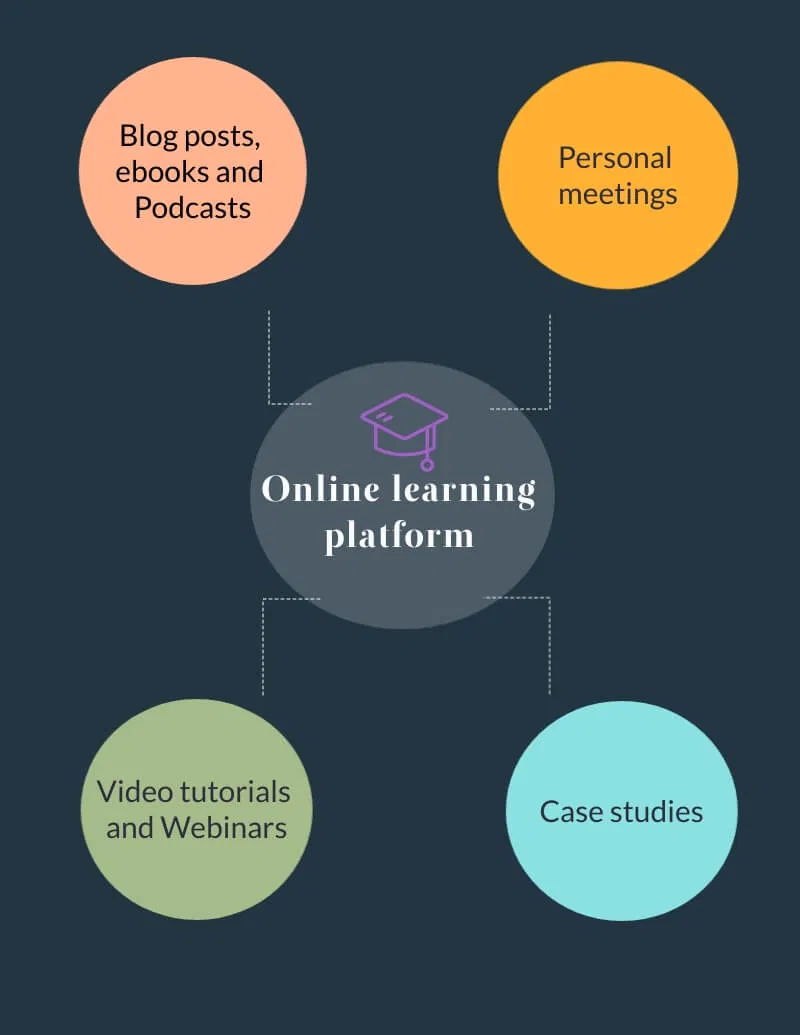 You may also be interested in:
* Vertical SaaS: The Future of SaaS Is in Niche Industries
* The Anatomy of an Effective SaaS Lead Generation Strategy
* SaaS CAC: A Guide to Customer Acquisition Costs
* How to Create a Persona-Driven Content Strategy for Online Education
* B2B SaaS Lead Generation: How We Improved Axure's Lead Quality Overnight

Customer Education Improves SaaS Metrics
Customer education can improve SaaS metrics and transform the way you do business. This tactic is heavily connected with customer retention and cannot be overlooked. The problem, however, is that most SaaS companies (still) don't have a clear product-onboarding process.
Educating customers in all stages of the onboarding process, with the right strategies in place, can help with customer acquisition and retention, reduce churn rate and, most importantly, increase the MRR (monthly recurring revenue). How can you make it happen? Well, there are a couple of ways.
You can drive customer acquisition and reach out to people by using education as a lead capture and encourage people to opt in to your mail list for the exchange of a free product or unique educational content.
Then you can get more conversions using customer education as your onboarding process to help people become more familiar with your product. Helping a user go from beginner to expert with your product will lead to a loyal customer in the future.
By looking into our own data, we did a comparison analysis of 17,000 trial accounts. Account owners who visited our customer education academy were 4x more likely to purchase compared to account owners who did not. Conversion data analysis based on 17K accounts by LearnWorlds: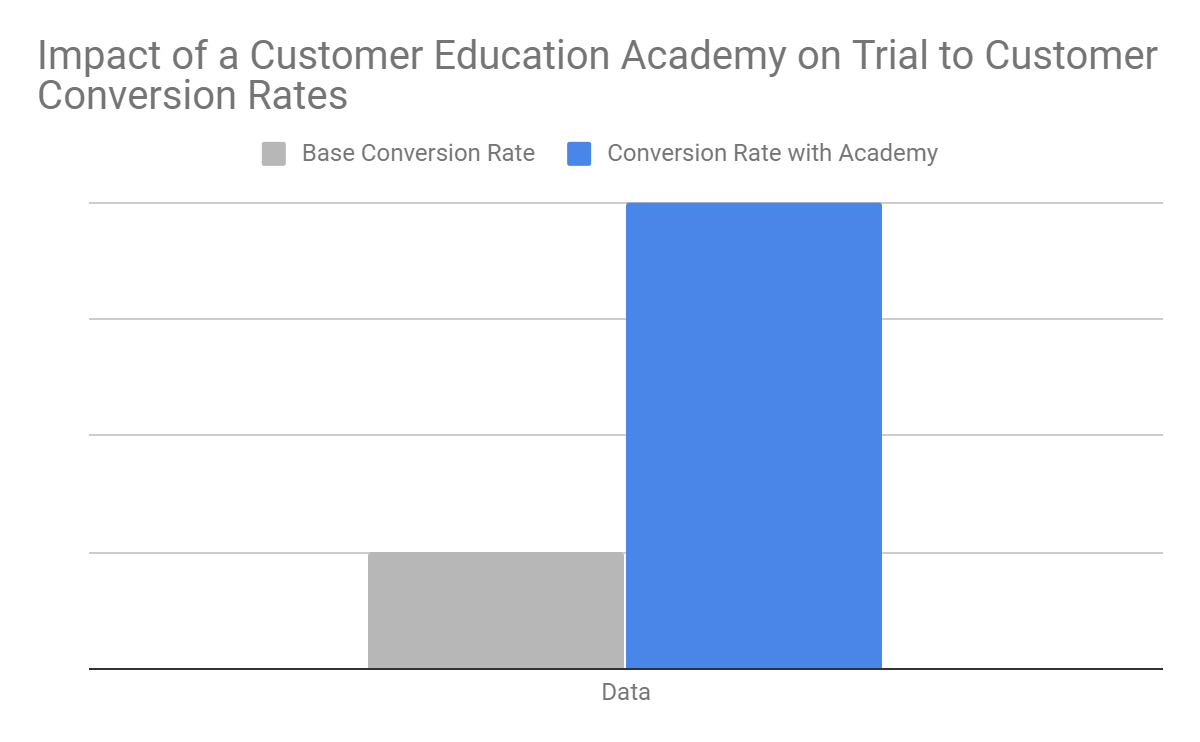 This shows a direct correlation between educating your customers on your product and purchase intent.
Finally, you can reduce churn and increase retention by educating customers to create a positive experience. Expert users, again, are more likely to stay engaged and active when building on the factors of loyalty and trust.
Of course, these are just a few examples of what customer education can do for your business; its power is not limited just to these points. In fact, here are some of the benefits that customer education offers:
It lowers support requests
It showcases your product
It provides gated content for upsells
It strengthens your brand awareness
It is highly scalable
It can be used to train and onboard your staff
Are you ready to start utilizing customer education?
How to Use Customer Education Step-by-Step
Before we begin, bear in mind that every customer education journey is different for every SaaS company and that is largely because it is used to accomplish different outcomes. Hence, the first step is determining the purpose of using it and setting up your goal(s).
Step 1: Set Your Goals
Just as described above, SaaS customer education can do a number of things. It can bring more leads and cultivate them, it can reduce churn, and so on. On a quest to create a successful education program, however, you will need a solid target to aim for.
So what should this goal be?
Think about what drives the biggest change in terms of business growth and what you can do to achieve it. It might be wise to investigate your marketing strategy to find out what is lacking and give that your full attention. For instance, are you in need of more qualified leads? How about reducing support tickets? Do you want to increase product sales?
Determining an overall growth goal – like increasing conversions – should help you align your business goals with learning goals and help you create a customer education program that meets the needs of your customers and of your business:

Here's an example:
Learning Goal: Customers learn how the product/service can be used to its full potential.
Learning Objective: Customers able to identify the different uses of the product and apply them in real life.
Action: Create three sets of education programs (courses) as part of a school/academy that offer different levels of product education (from beginner to expert) using graded quizzes as assessment tools.
Once you have decided on these, you are ready to start planning the learning content.
Step 2: Plan the Content
Before you are ready to create content, first you have to plan it. Start with sketching out an outline of the learning objectives so that you can come up with a road map for what you want to achieve:

Steps involved for planning your content:
Write an outline: Choose the subject of the training/learning and start developing ideas from that. This brainstorming phase is important because it can help you come up with important topics and subtopics that can make learning easy and digestible.
Decide on the type of content: Once you've come up with a good topic, choose what type of content you want to create. Opt for the ones that have the greatest impact for learners' engagement and that are consumed easily. Such types of content include blog posts, e-books, audiobooks, podcasts, video tutorials, case studies and webinars.
Reuse content where possible: To make your life easier, gather all your content material in one place and start working on it. If you have already written about the topic you've just come up with on your blog or talked about it in your videos, you can repurpose that content to fuel your product training.
Get organized and start creating content: Depending on what medium you choose to develop content for, you will need the appropriate equipment. For example, for videos, you may need to buy a microphone and camera, or invest in a video software that can help you create professional video tutorials. Find out which tools you need to get started creating your content.
Dive Deeper: 9 Ways to Repurpose Your Old Blog Content
Step 3: Choose the Right Delivery Method
Now that you've created amazing customer educational content, you need to select the right delivery method for your it. Ask yourself what is best for your audience (i.e. where are they hanging out) and invest in those strategies and mediums that are most effective for your business.
There are many methods to choose from: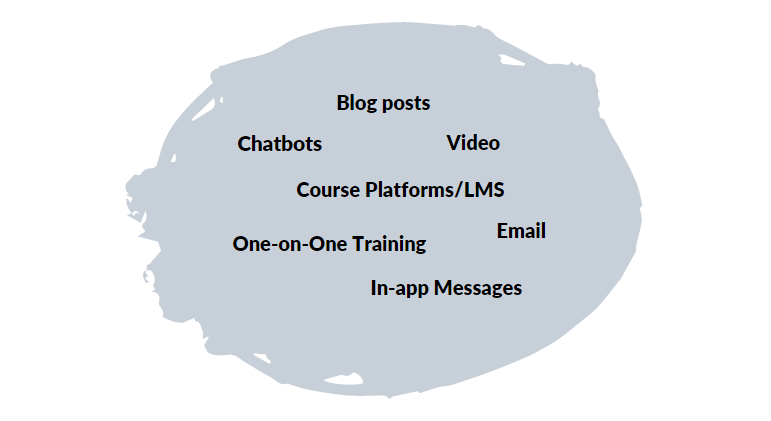 A sample of content delivery methods includes:
Blog Posts: A series of blog posts that is designed to educate your users can do the work. Articles, case studies, feature releases, or any other educational content that brings customers closer to your company will allow them to learn more about your product and what it can do for them.
Video/YouTube: One of the most widespread methods of content delivery is video because this format makes it easy to pass on knowledge quickly and effectively. It also helps increase learners' engagement and has the potential to reach out to people from all over the world.
Visuals/Infographics: Visual information, especially in the form of infographics, is used to explain difficult concepts or represent data in an easier-to-digest way. Educational infographics can support other forms of knowledge.
Email: When email is used as a supporting tool for your customer education strategy, it can do wonders. Sending an onboarding sequence to your email list helps new users learn about your product. This can be either A) sequential onboarding, like introducing functionalities, or B) trigger-based, when a user has completed an action, such as opening their dashboard for the first time (you could send an email with screenshots on how to get the most out of it).
In-app Messages: In-app messages encourage people to take meaningful actions towards educating themselves about your product. They exist to direct people to the support page, to a video tutorial, or to an explanatory blog post from which they can get answers. Such messages allow you to offer a personalized user experience that drives more sales and conversions.
Chatbots: Chatbots are a great addition to your customer education strategy. As AI progresses, it strives to improve interaction with users while making information easily accessible. Chatbots can be used to bridge the gap between a company and a consumer by using live website chat windows that are available to help on a 24/7 basis.
Adding a live chat option can help increase conversions as well as improve your interactions with clients by making it easier and faster to deal with your product or service.
One-on-One Training: Traditional one-to-one training can't be overlooked. Such an approach can make customers feel unique and valued as trainers become more attentive to their needs. One-to-one training like video calls offers great insights as to what can be improved and is a great way to gather feedback.
Course Platforms/LMS: Last but not least, you will need an online learning platform or an LMS (learning management system) that can help you organize all your training material. An LMS can offer you thorough reporting and analytical data on who has completed their onboarding or training courses successfully.
Dive Deeper:
* Beyond the Blog Post: 21 Inspirational Branded Content Examples
* A YouTube Video Marketing Guide to Increase Prospects in Your Funnel
* 11 Best Cold Emailing Tools to Help You Quickly Close Sales Deals
* Why Chatbots Are a Must-Have for Businesses (and How to Build One!)

Increasing Conversions with Customer Education: The Case of LearnWorlds' Academy
One of the main challenges of a SaaS product is getting users to learn how to use the software. This is especially true when the product is complex and has a longer learning curve.
By actively educating your customers, you can shorten this learning curve and hasten the "aha moment". As an e-learning platform, we decided to tackle this challenge using our own software to create an academy with two main purposes: A) customer education and B) lead capture.
The LearnWorlds Academy makes it super easy for users to start learning how to create an online course, and offers guides on creating the content and using our software: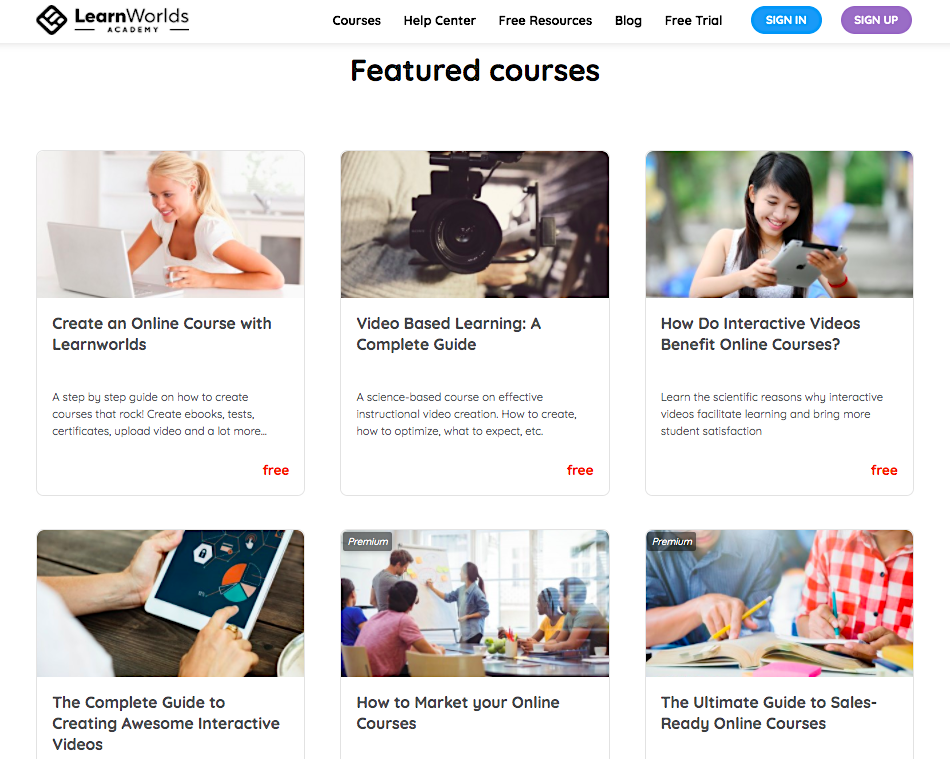 New users find our academy either from remarketing ads or through prompts inside the software. On the platform, their account is connected to the academy via a Single-Sign-On (SSO), making the transition seamless.
New learners see a list of top courses that are relevant to their account and are taken directly to them simply by clicking on one: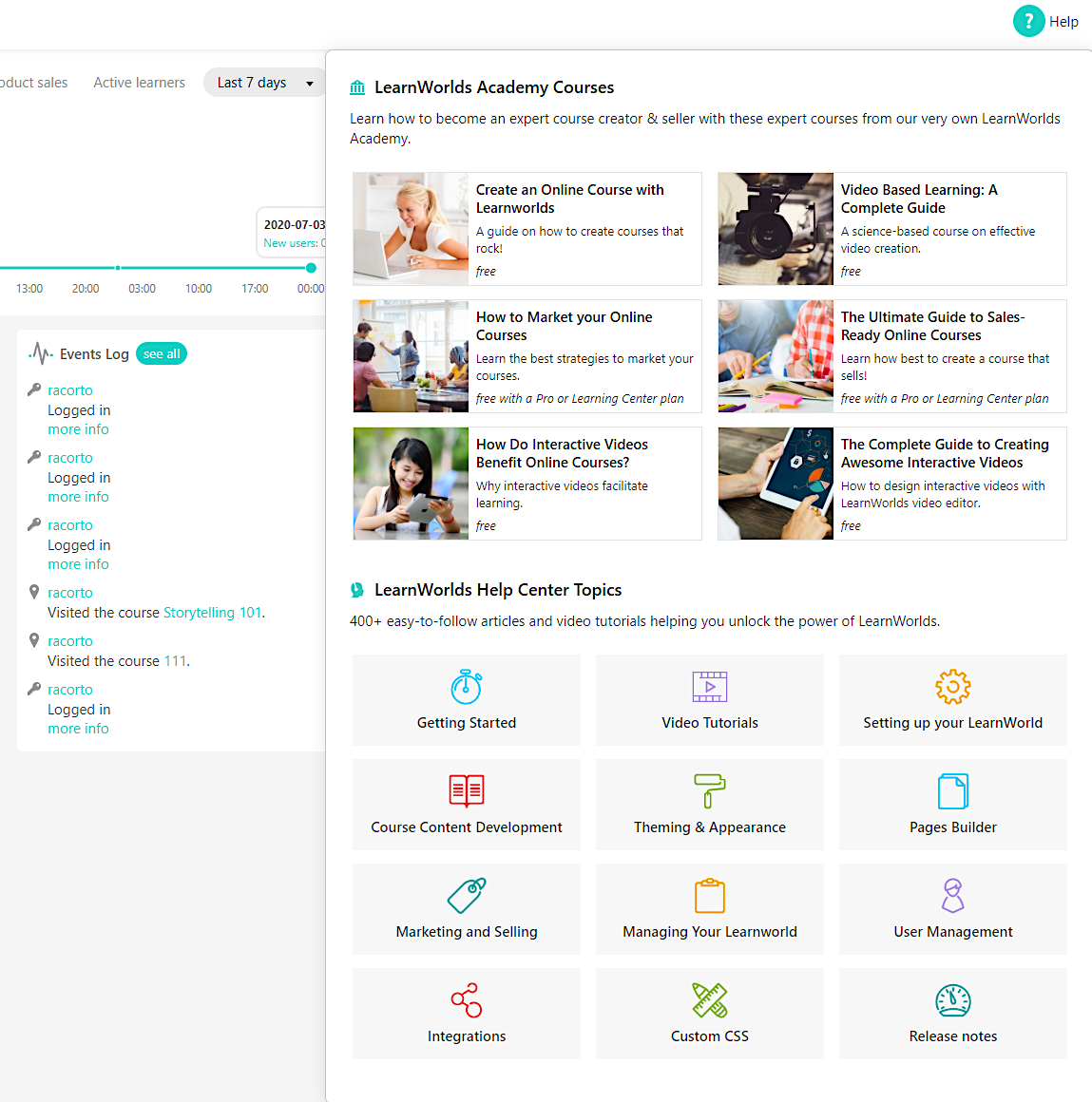 Each course is backed up with a mixture of video, text and PDFs. They offer a learning experience that is unique and, most importantly, informative. Each course offers examples and guides on small tasks that add up to getting more value out of the software.
This leads to a quicker adoption and more perceived value, as an expert user will always utilize the software to its fullest potential.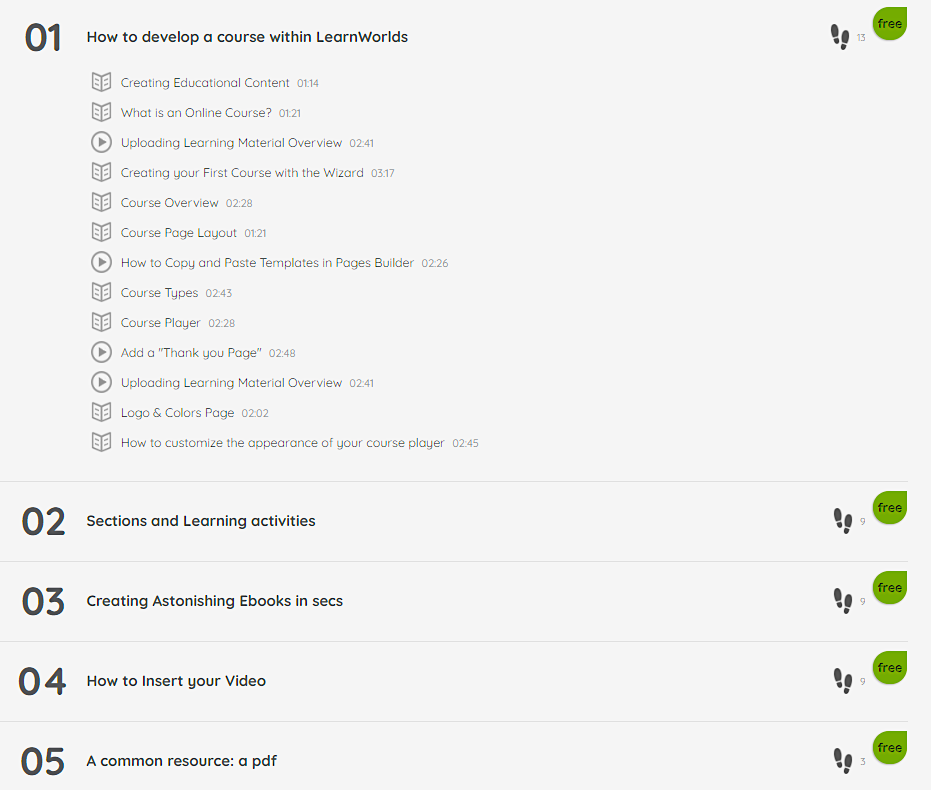 The inside of the course (course player) is equally captivating, with a clear path for each course on the left and the educational material on the right. Video is the strongest medium you can use, but e-books, PDF guides, articles and screenshots can also work well when onboarding new customers: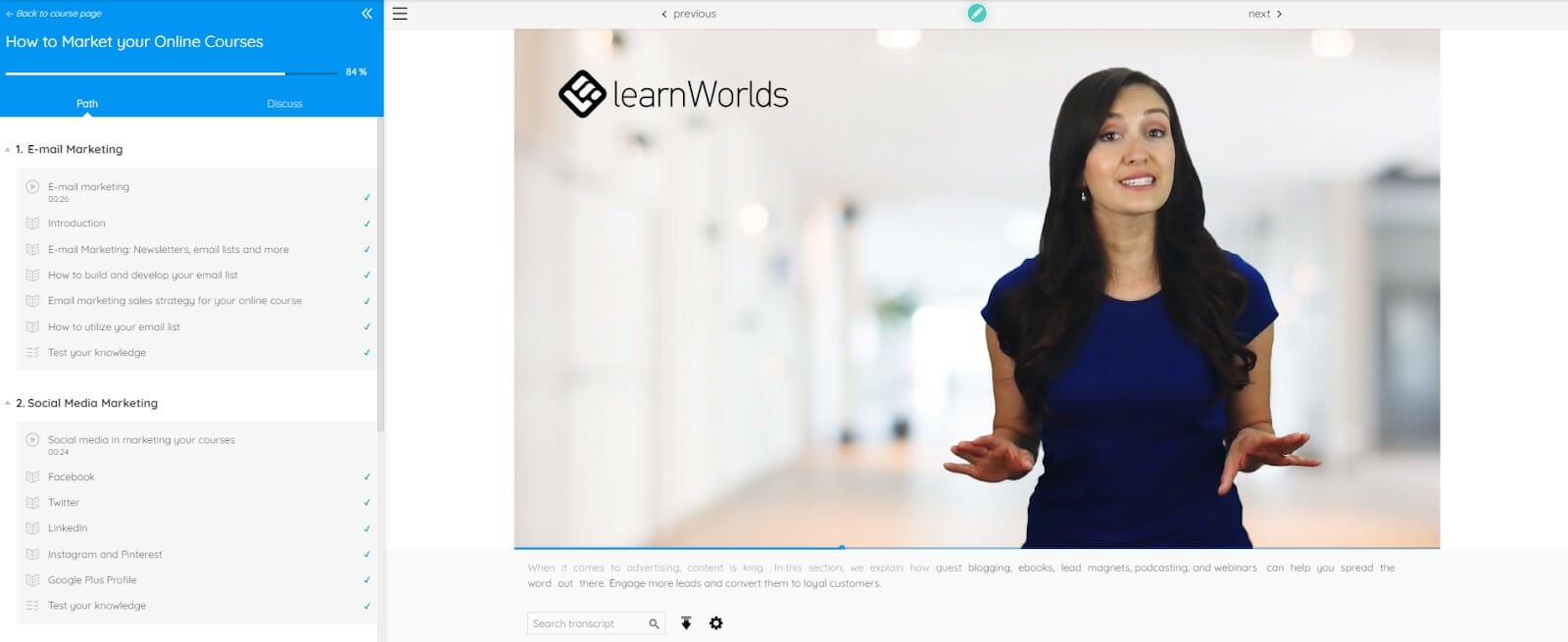 Learning by Doing
The best way for a SaaS user to learn something is by doing. This means that they need to have "prompts" that will lead them to practice their knowledge.
These prompts can be to "do it yourself" by using the software to achieve a task…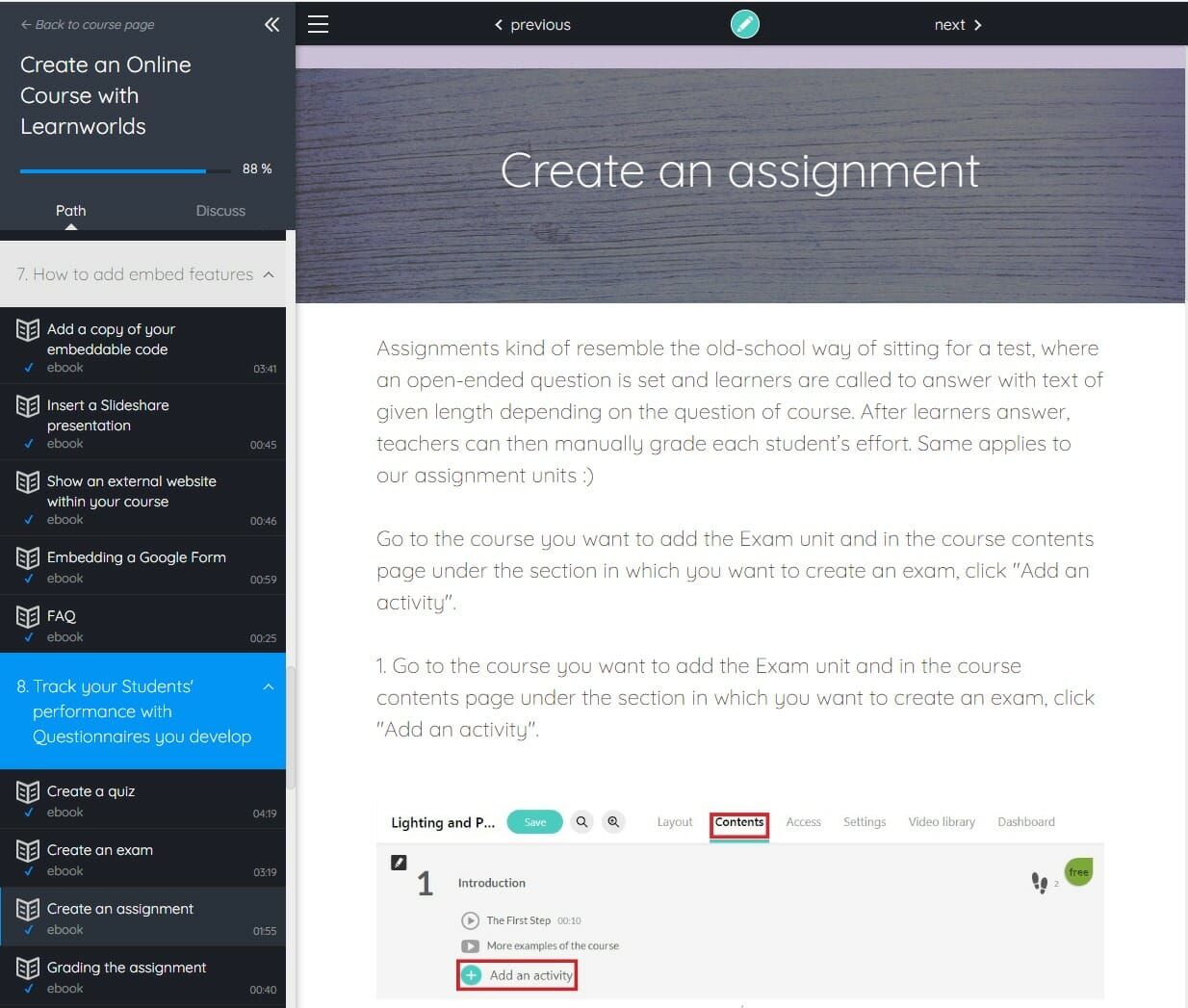 … or by including a quiz or assignment to test what they have learned so far.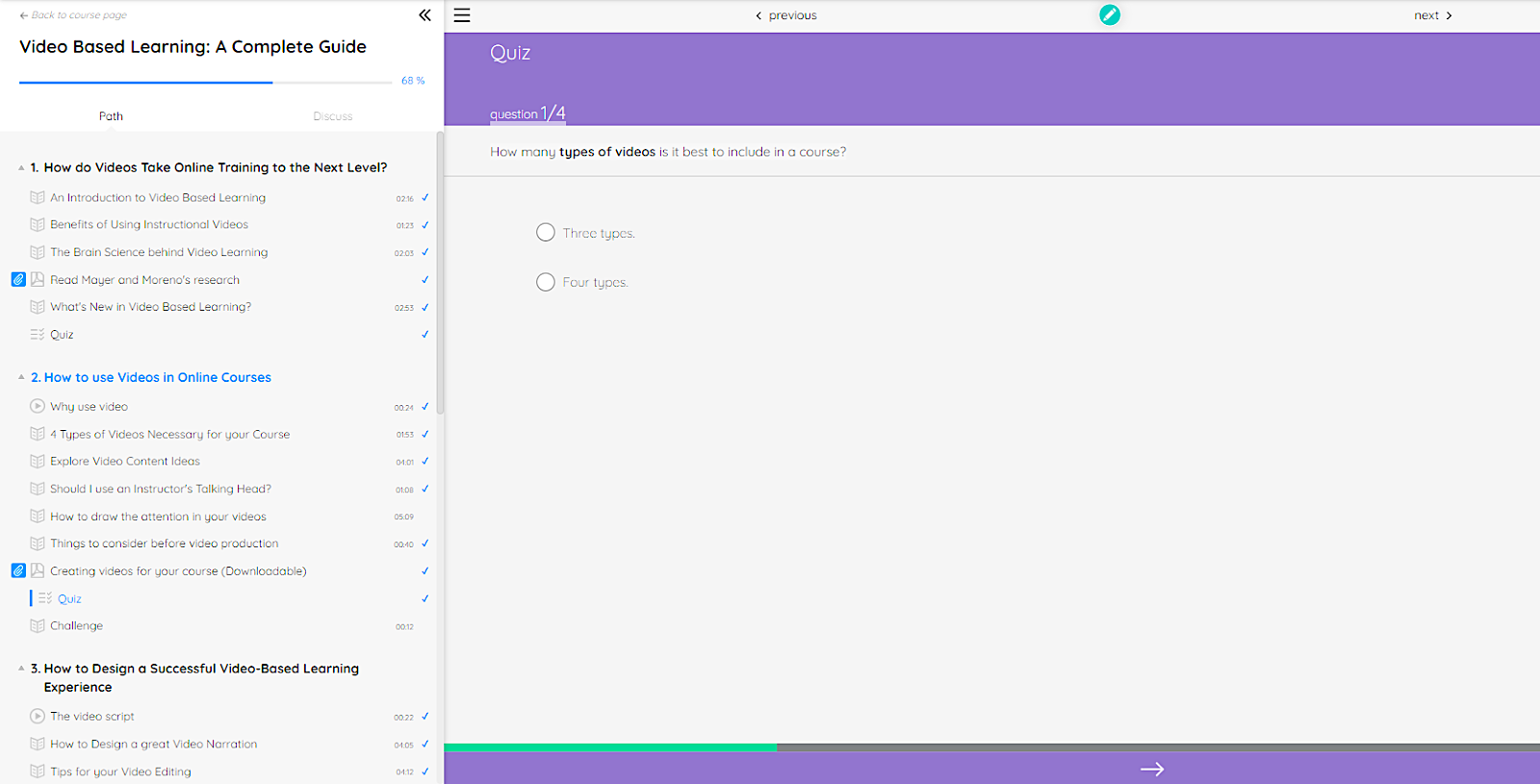 Branding
Following on the seamless experience, branding and representation is hugely important.
The LearnWorlds Academy home page is captivating and welcoming, following the design of the main website and recreating the main aspects of the menu on the subdomain.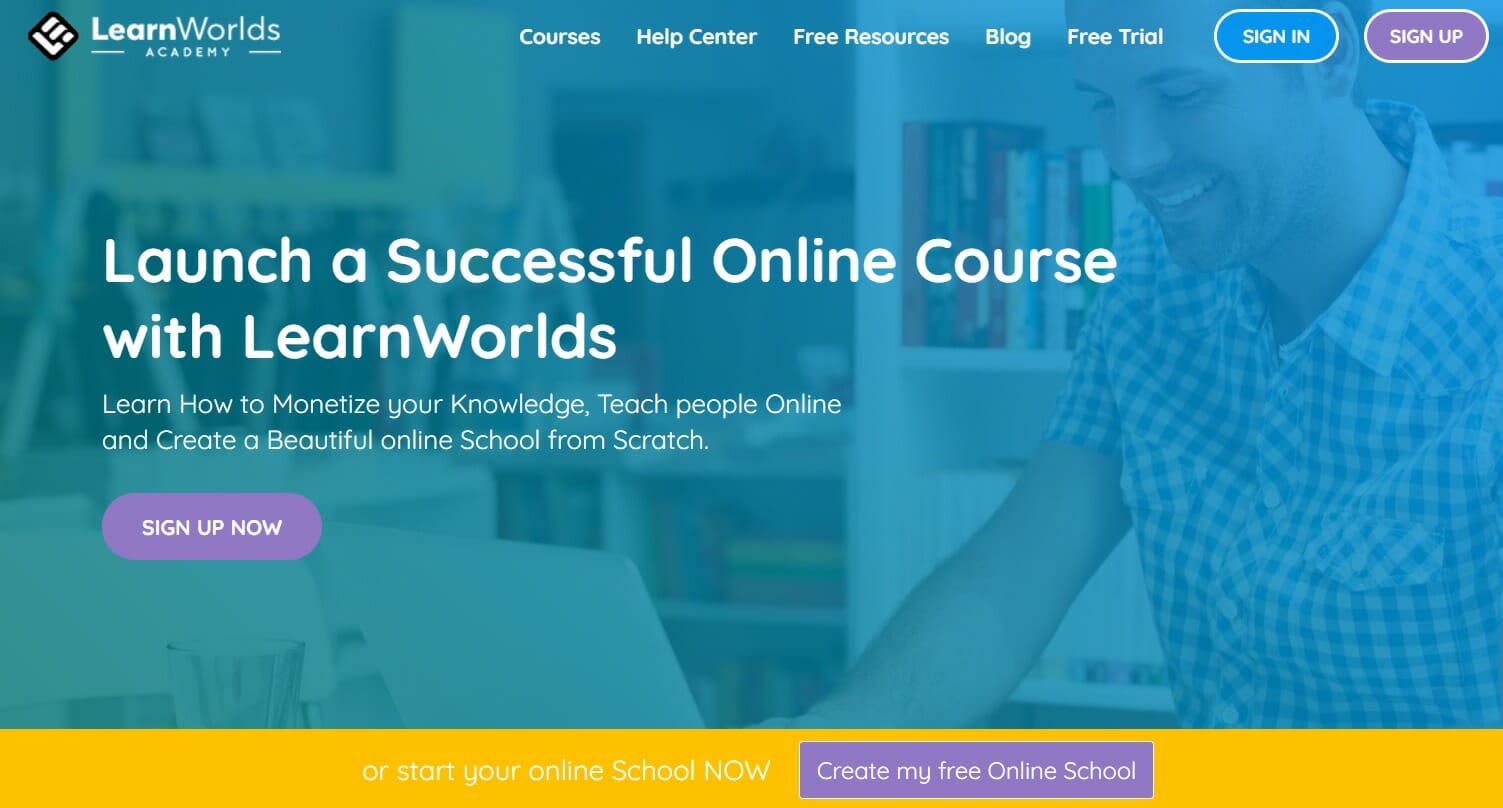 The home page also includes well-positioned CTAs for signing up to the academy, but also trialing LearnWorlds, acting as an educational platform and a lead capture.
More Examples of SaaS Companies Using Customer Education
Most SaaS organizations that care about the customer experience they provide make sure to include at least one or two of these content delivery methods as part of their customer education program.
Let's examine a few examples of how they do this.
AWS (Amazon) Training
Through their customer education strategy, Amazon Web Services (AWS) helps businesses develop cloud adoption knowledge by offering a wealth of training resources (e-books, case studies, toolkit) and they do it in a neat way.
Successful completion of such AWS programs earns credits for their cloud services, which in turn engages their user base even more and, ultimately, creates experts who act as ambassadors for AWS: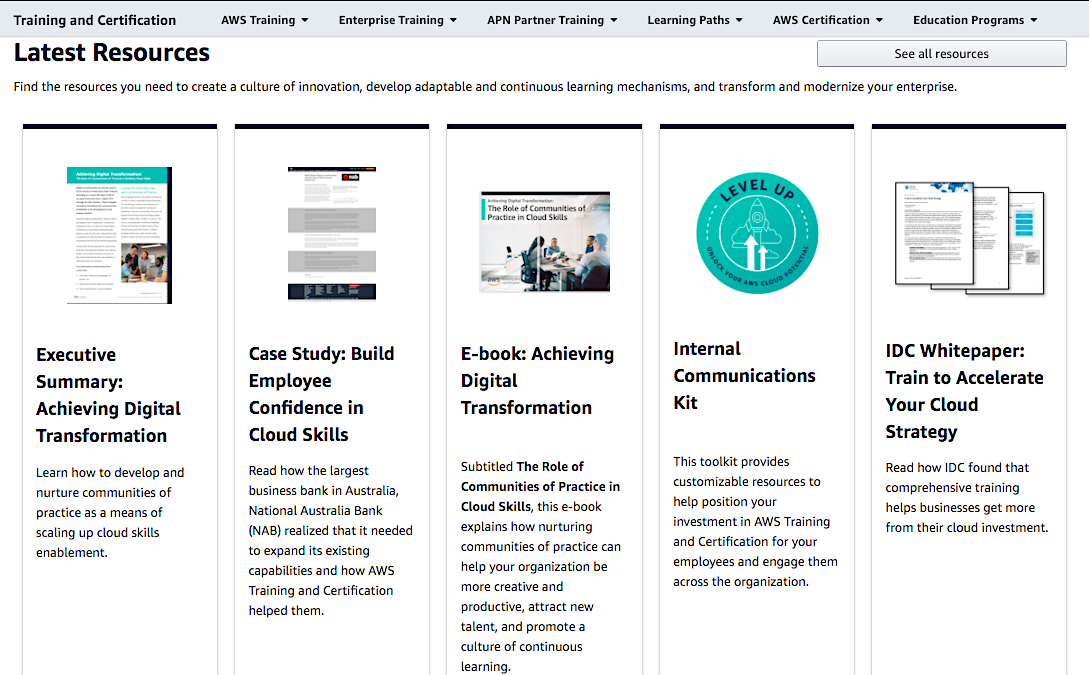 How do they achieve that?
First, they offer users the ability to gain a certificate upon completion of their customer education program. Then, to motivate enterprises to invest in AWS, they focus on the benefits of joining the program and also offer video customer testimonials: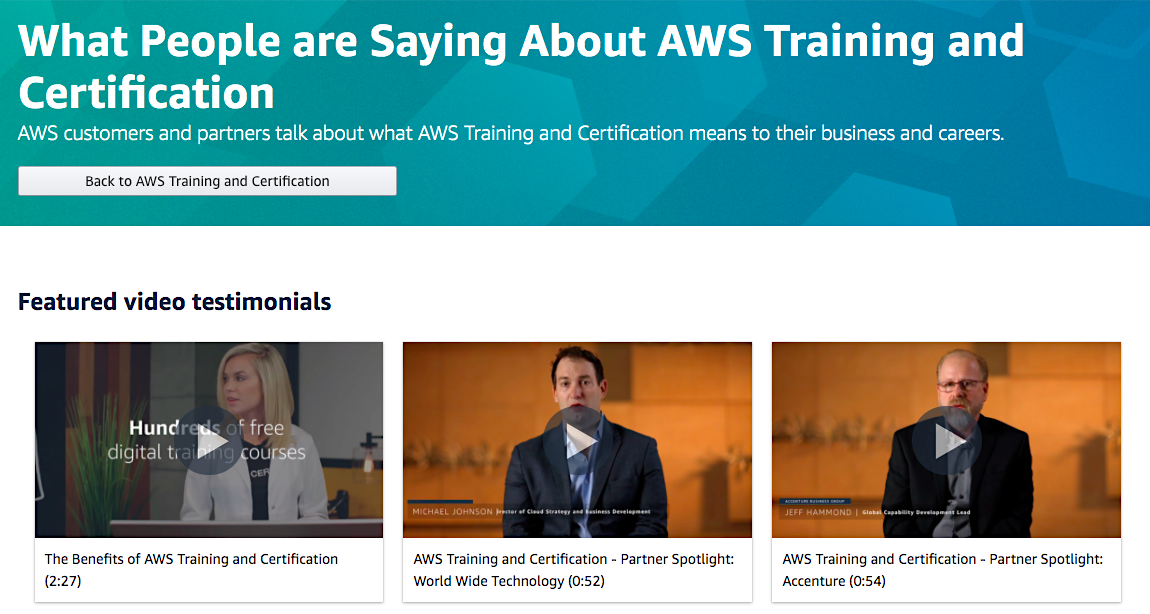 These provide an insight into what AWS can do for their business.
What's more, they organize online summits and urge their customers to join for free. The same goes for their recommended training courses:

This way they are welcoming potential customers onboard their own academy while asking nothing in return, which makes them easily trusted.
Dive Deeper: What Amazon's Marketing Strategy Can Teach SMB Owners
Softomotive Academy
Softomotive Academy aims to educate professionals and developers with the knowledge and skills to become RDA (Robotic Desktop Automation) and RPA (Robotic Process Automation) experts.
They offer courses and diplomas in process automation and they create customized learning journeys for each individual user, depending on their educational background and expertise: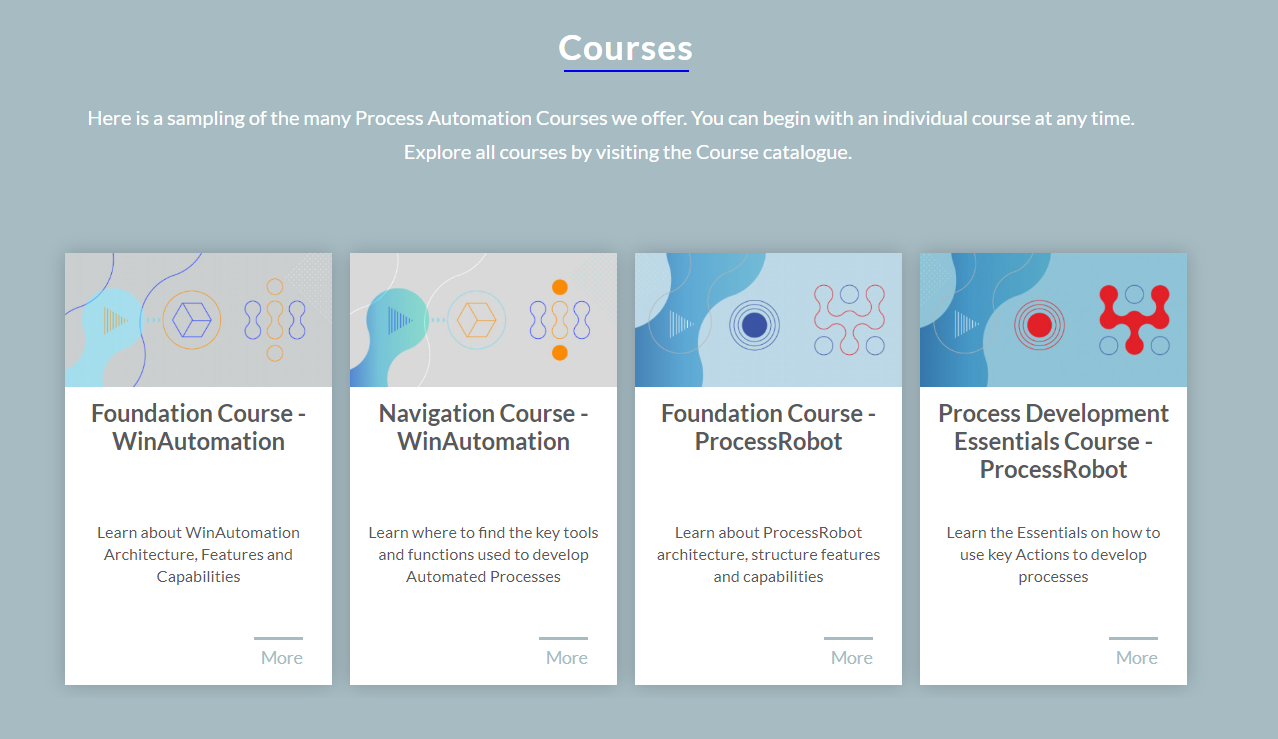 Offering diplomas and certificates adds value because an expert user of Softomotive can present it when seeking a promotion or a relevant job: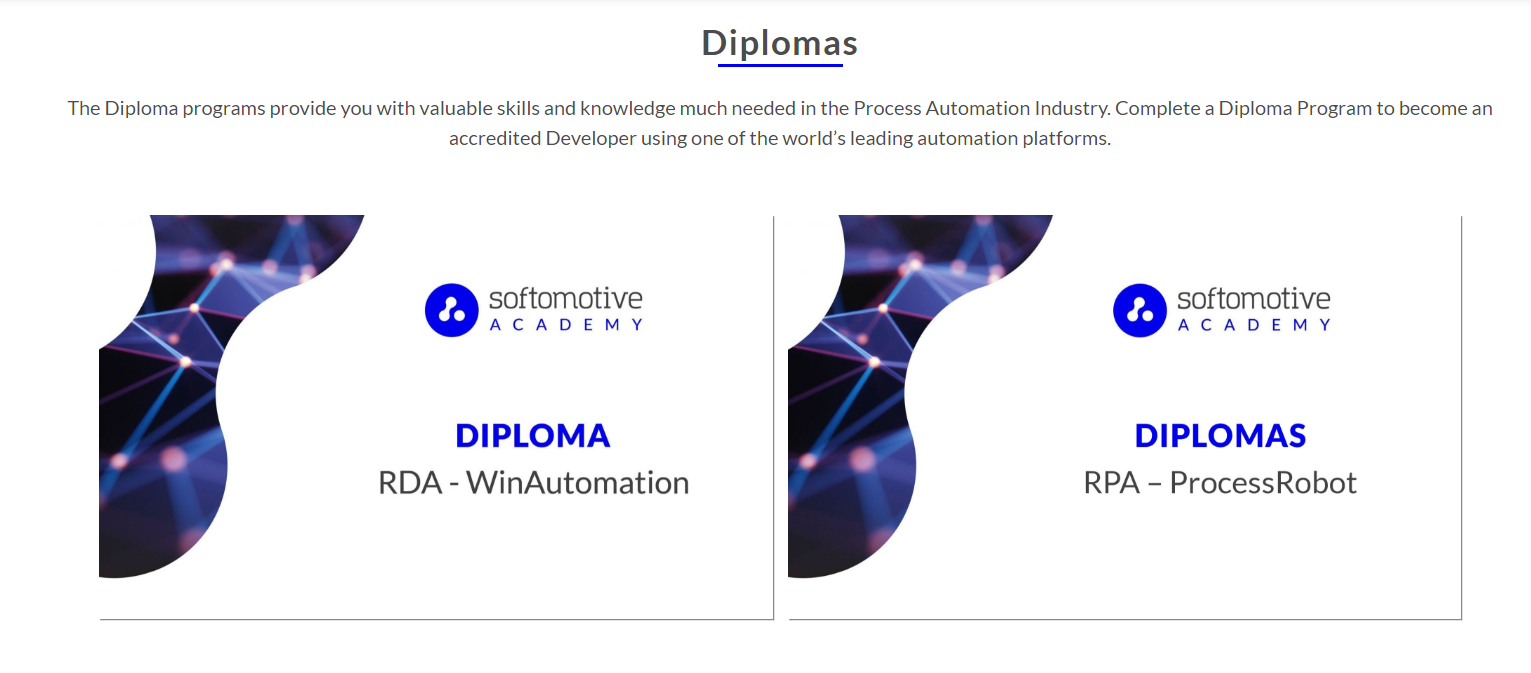 Depending on who you are and what your role is as a developer, it is recommended that you take specific courses that will meet your professional needs and career ambitions:

Softomotive is investing in long-term relationships with users and is committed to providing accredited courses that respond to the educational needs of its customers.
HubSpot Academy
HubSpot Academy is one of the friendliest and most welcoming academies around. Its customer education strategy is heavily based on e-learning through the delivery of training courses. The way the company presents them is quite distinctive.
They start by dividing courses into subject categories and popularity. Then every course in their catalogue provides an outline of the curriculum and the name of each instructor: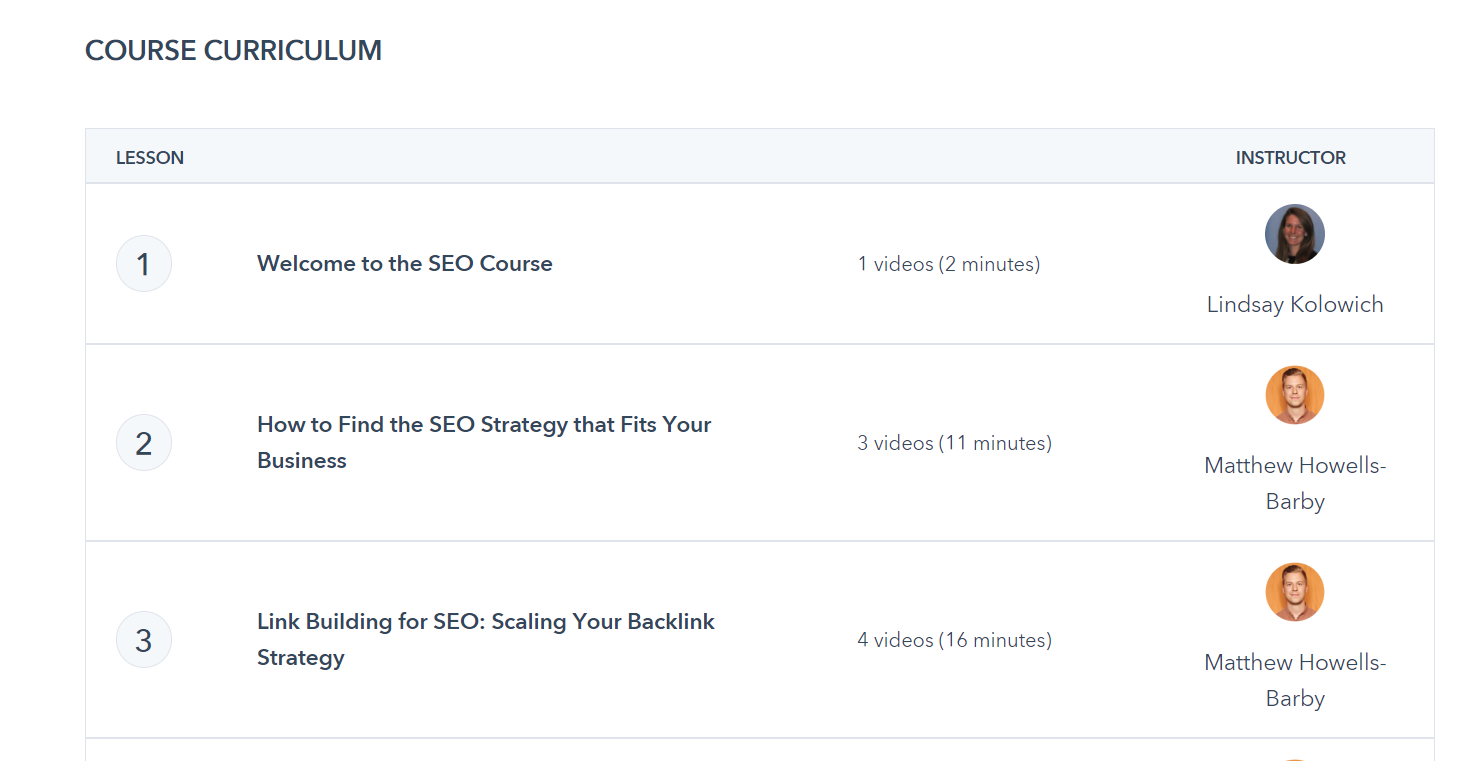 HubSpot focuses on the benefits of joining their academy by giving users profound reasons to do so. Perhaps the biggest motivating factor is that it provides recognition and offers certifications to those who complete their courses: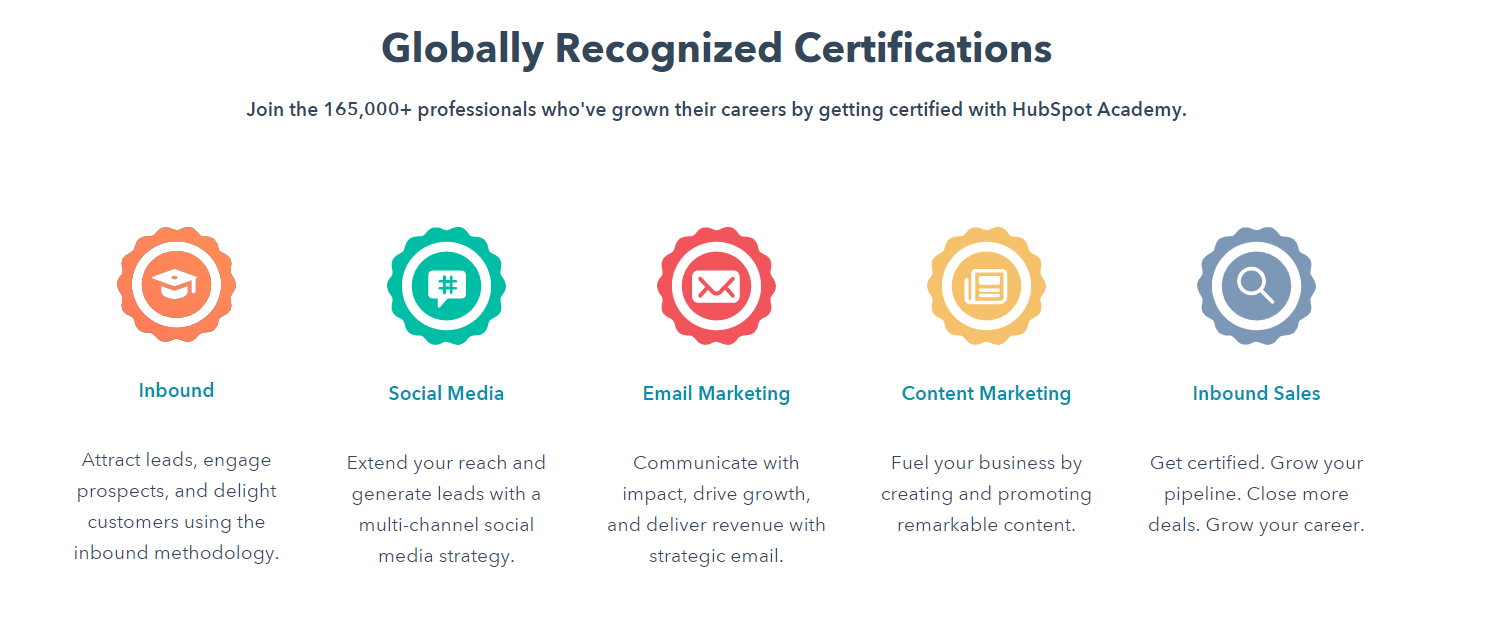 Finally, to improve user experience and make navigation easier, HubSpot uses HubBot. This clever web-based chat feature provides options to site visitors and prompt them to reach out to the company if they need to: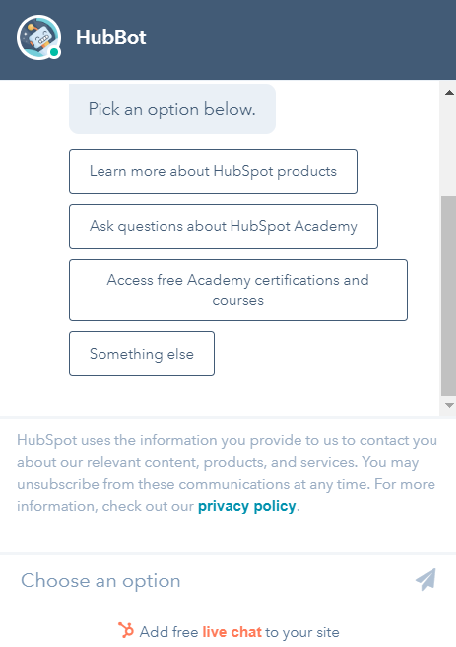 Those who are not sure about what to do on their website are welcomed and given several options or other help on the spot. The chatbot either connects you with the right person or sends you the resource you need.
Similar to Softomotive, HubSpot-certified marketers can earn recognition from their own companies to seek promotions or even land them a new job.
Ahrefs Academy
The Ahrefs Academy has a simple and minimalistic design – it doesn't need much because it uses video to engage its users: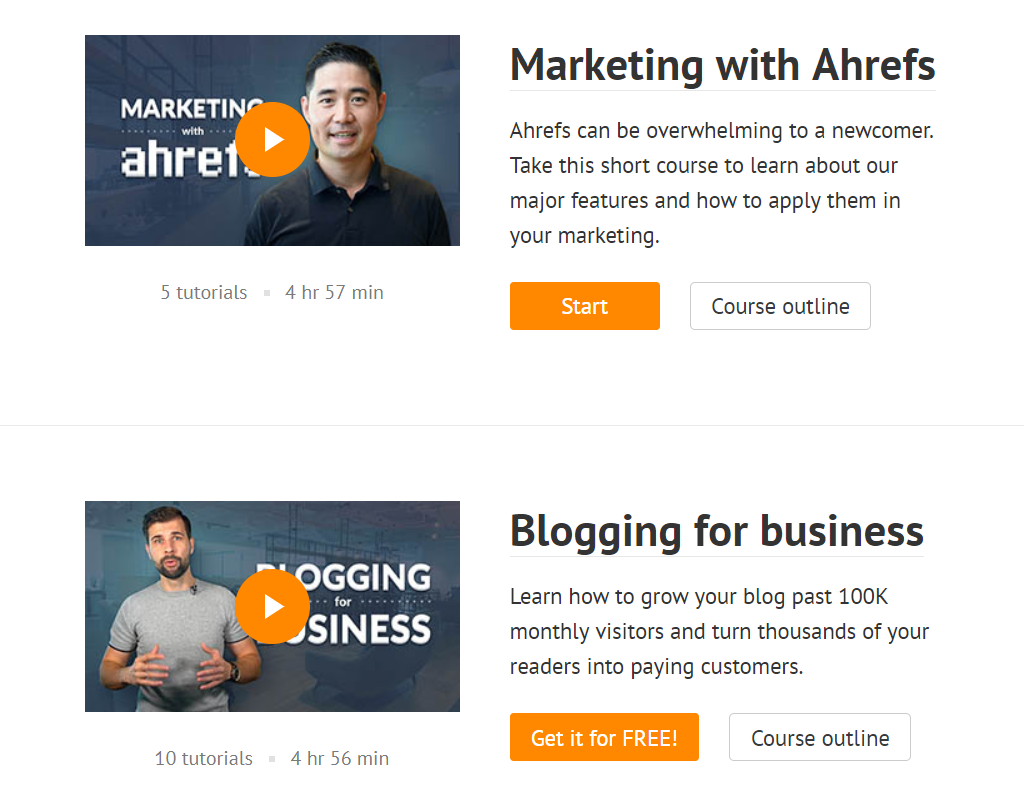 Most of Ahref's product education happens on their YouTube channel, but they also go a step beyond and offer online courses for their customers. This way, they lead their customers to conquer their main pain point, which is to grow their traffic with SEO, and they do an incredible job with these tutorials: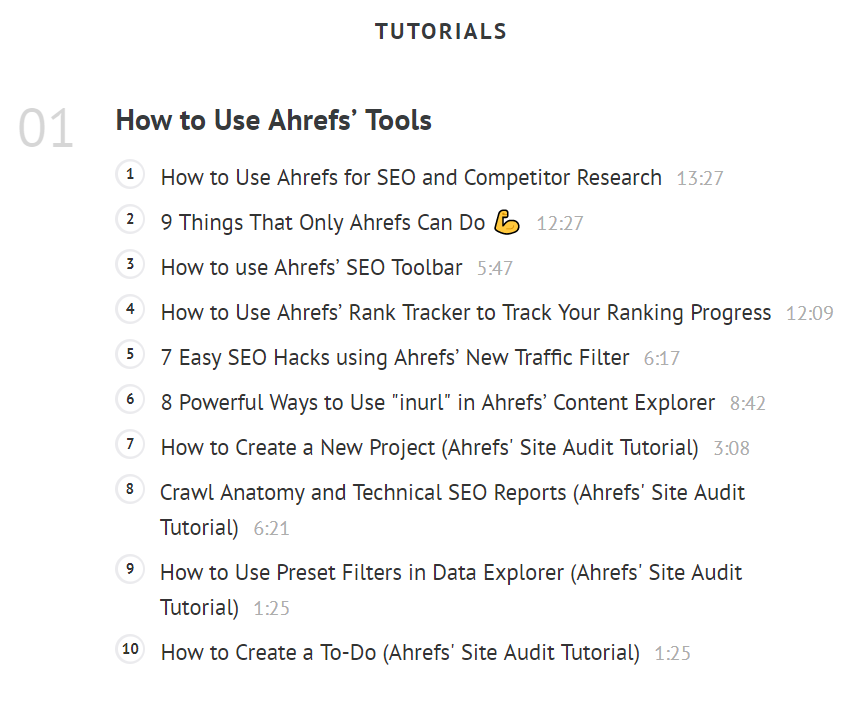 The best thing about these video tutorials is the approach that the instructors take in an effort to be as explanatory and descriptive as possible (which is also one of their strongest selling points):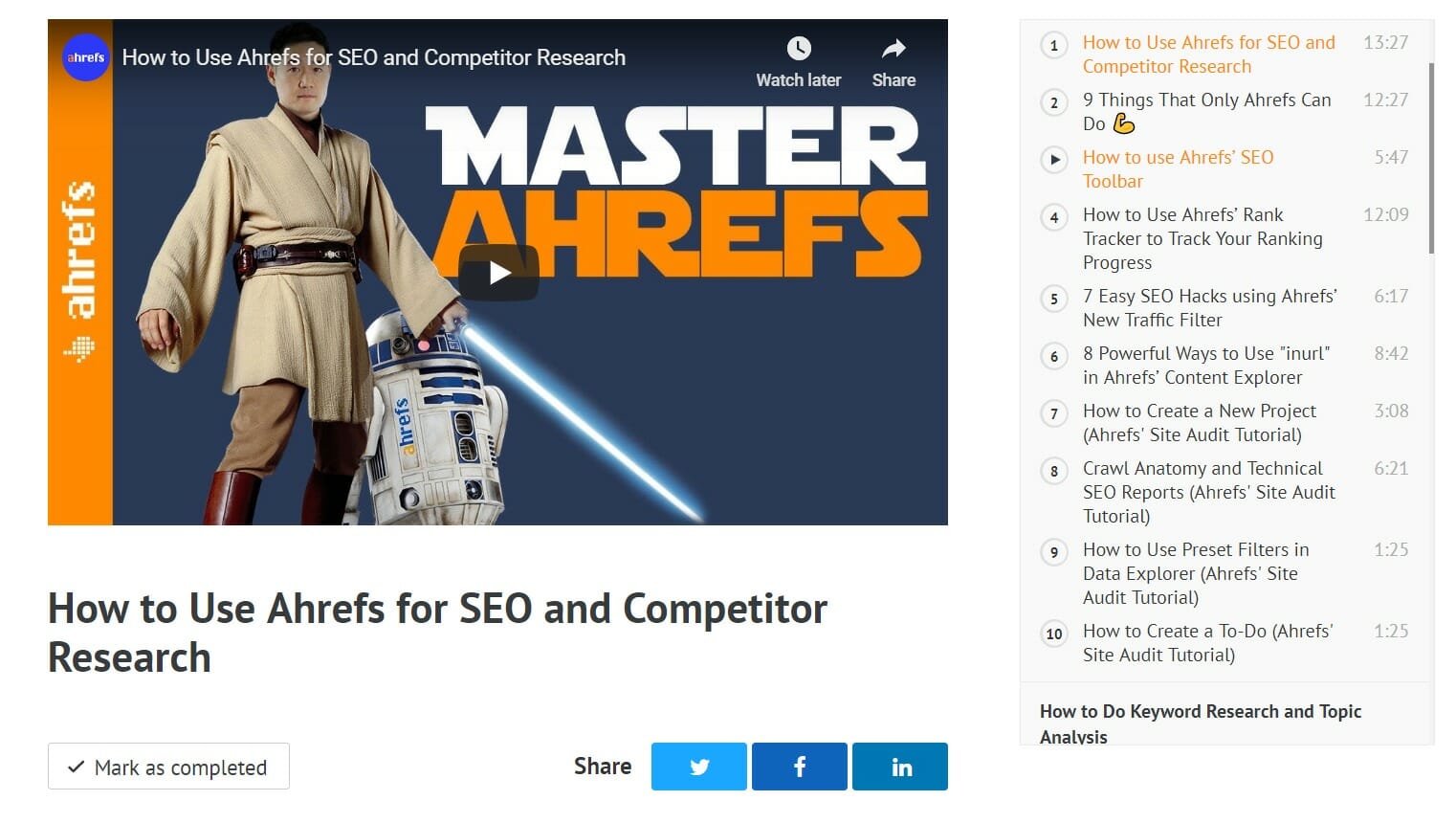 In an attempt to create a unique user experience, Ahrefs Academy gives references to pop culture and creates a trusted learning environment that leaves customers assured that Ahrefs has them covered.
Aproplan Academy
Aproplan's LetsBuild Academy offers training courses to help customers become familiar with the Quality, Health, Safety and Environment Management (QHSE) standards.
To make it happen, they make use of a one-minute introductory video to welcome users and explain how they can navigate to the academy and through the courses: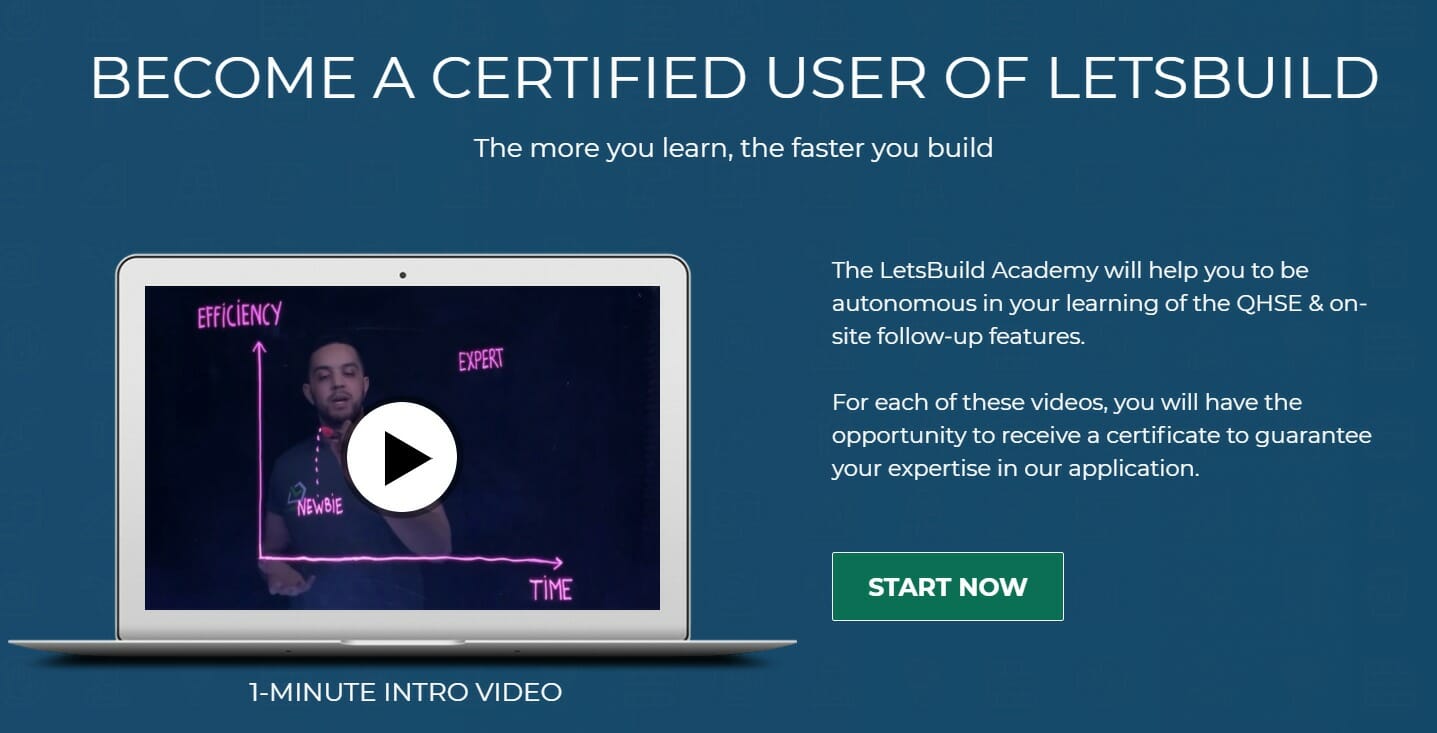 For users to become certified with Aproplan, they need to progress through the different grades: newbie, pro and expert. All three courses are free and anybody who is interested in Aproplan can access them.
Customers who have already taken the course are talking positively about the program, which encourages others to do the same: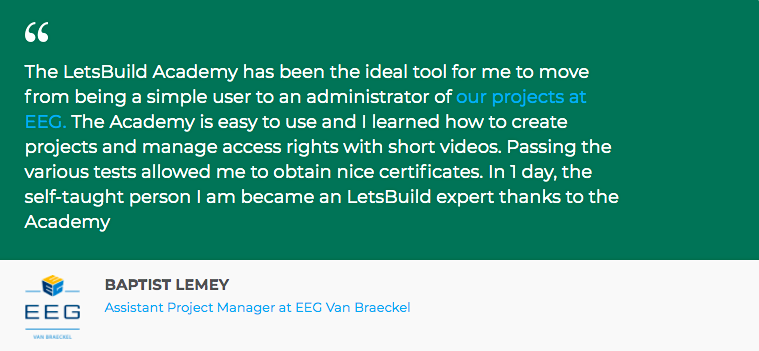 Aproplan also gives customers the opportunity to learn more about the instructors and their backgrounds, which is a good strategy to start with.
Dive Deeper: Using Webinars to Generate More Sales
Stories On Board Academy
Stories On Board Academy offers product design training material for product owners, business analysts and scrum masters.
The company focuses on what the customers can get out of the Academy and shows that they care about the needs of their users. That's why they focus on the "what's in it for me?" factor as a way to entice users to join their academy.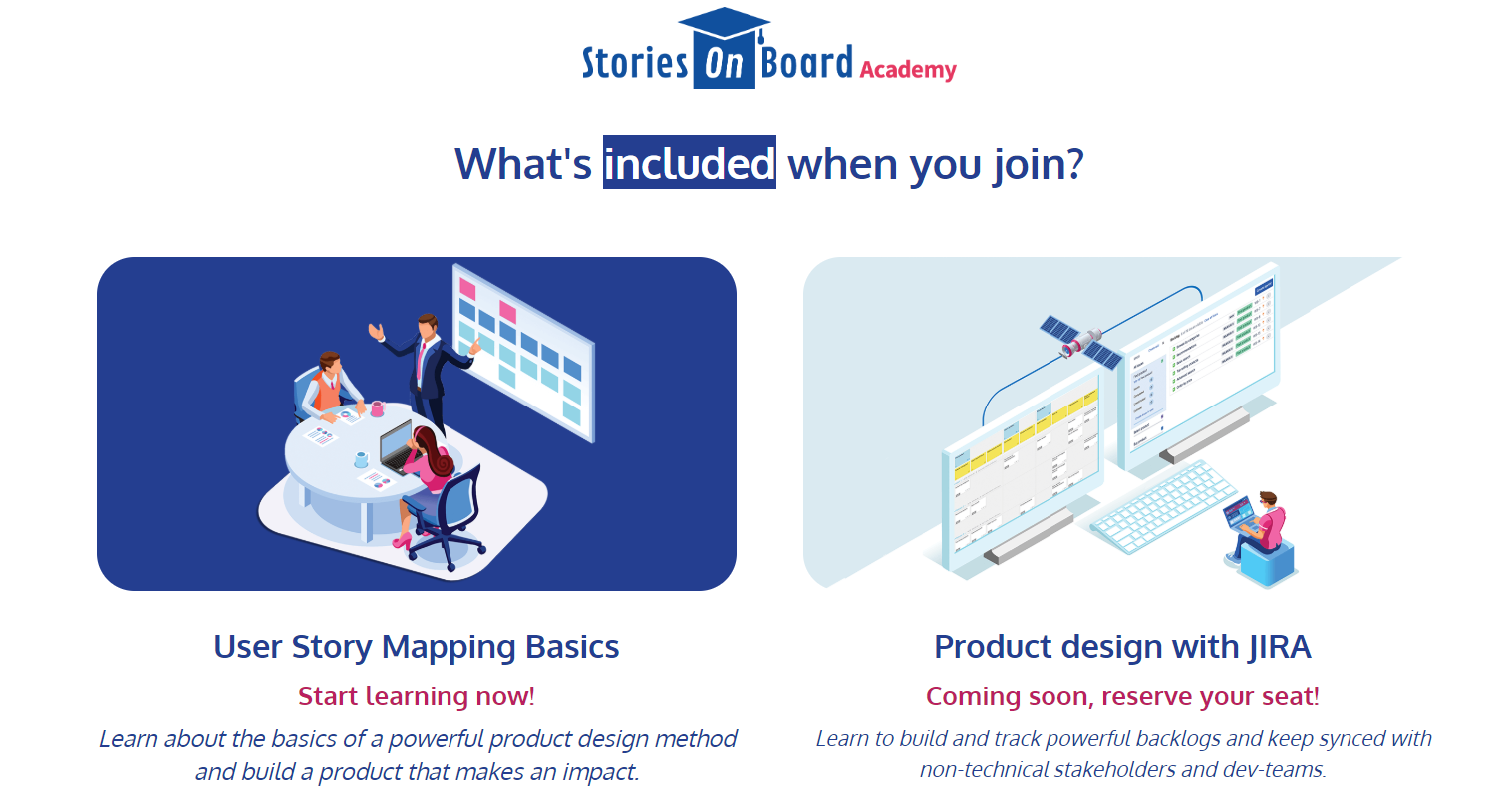 Apart from courses, Stories On Board offers a range of templates, cheat sheets, e-books, and bonus materials to help their customers get started:

Intercom Academy
Intercom Academy offers courses on sales and support to help users become more familiar with how they can use Intercom.
By doing so, they divide the training material into target audiences: support and sales teams. Each course comes with an outline, a brief description, and a video introduction that guides users to it: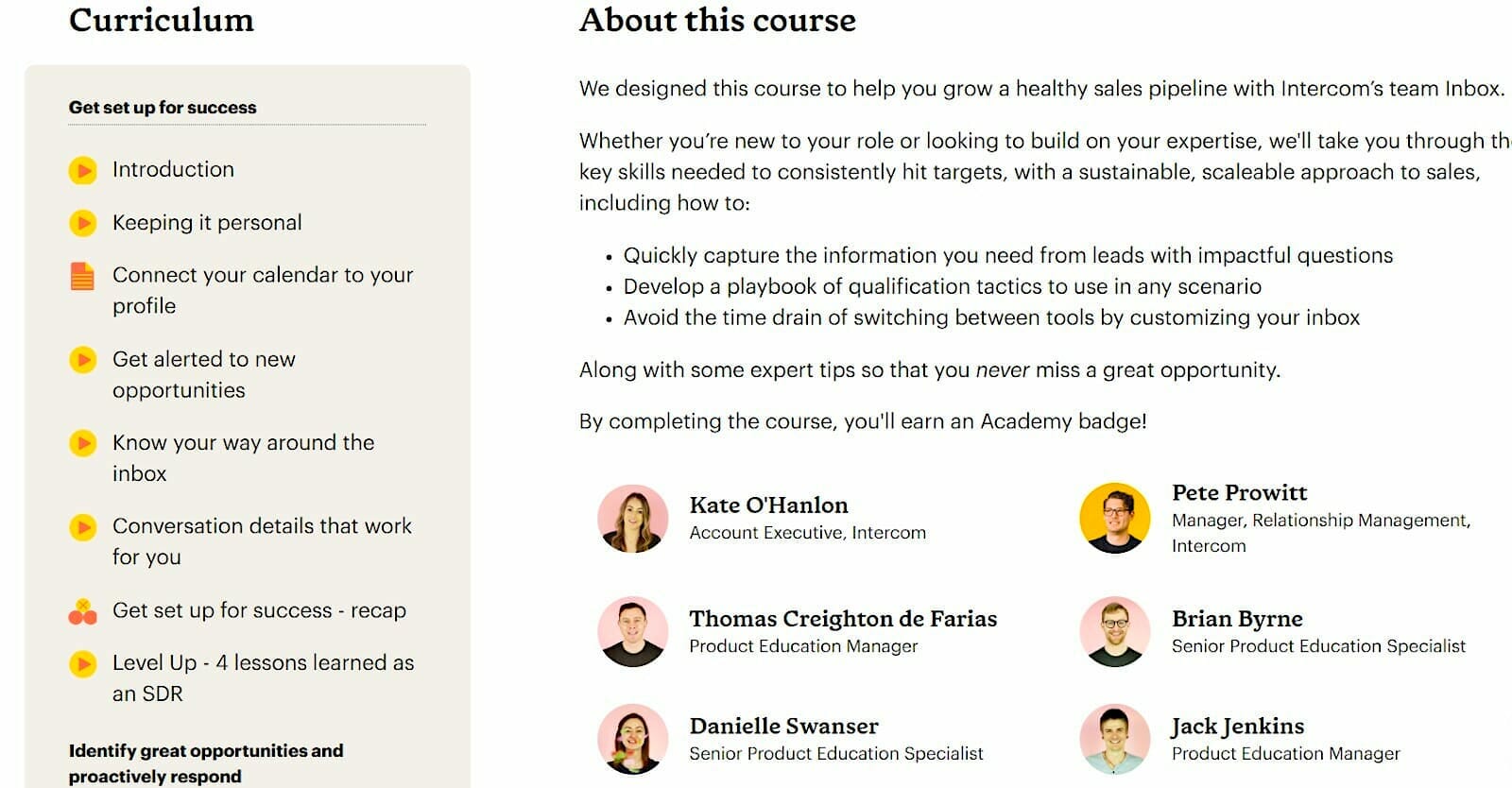 Intercom does a good job educating users on how to use their product – but they don't stop there. Their goal is to establish a working relationship with their users. What's great about their approach is that they give their customers the opportunity to reach out to them to offer their opinion on what course ideas should be out next: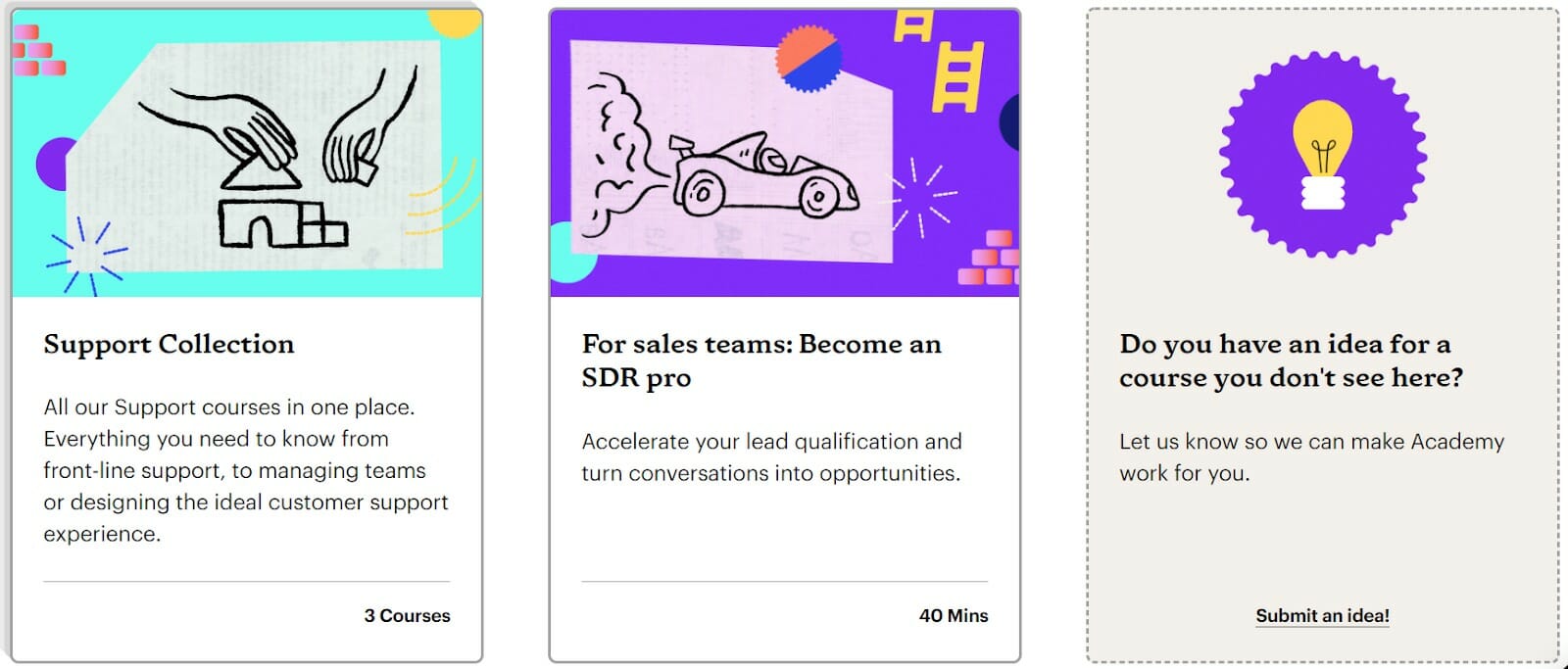 This shows that Intercom pays attention to their customers' learning needs and they are always on the lookout to offer their assistance. They also have a chatbot to humanize the onboarding process by prompting users to talk to a real person to ask for help directly or even to join their academy: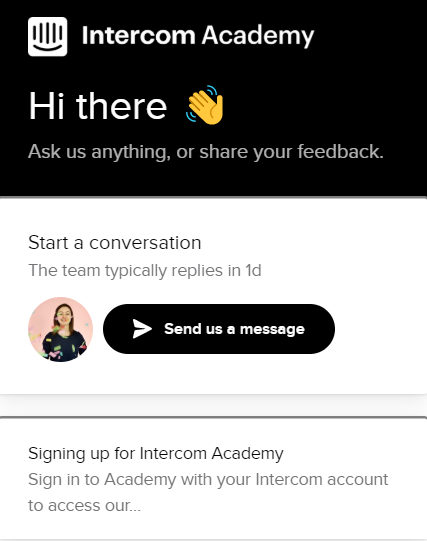 Final Word on Customer Education for Improving SaaS Conversion Rates
All these academies are great examples that you can take inspiration from and it's easy to see how their techniques can prove to be effective in the long run.
Creating a learning academy that can be the center of all your customer education efforts is a winning business strategy for getting more conversions for your SaaS business.
The key objective here is to encourage people to learn more about your product through your customer education strategy so that they don't feel like they have to, but rather that they want to.
While there are many ways to offer customer education, you need to choose what is right for you and your user base.
Good luck!