If you're running a Software as a Service (SaaS) business, you know how important it is to have a strong marketing strategy in place. But it can be difficult to manage marketing efforts on your own.
That's where a SaaS marketing agency comes in.
These agencies specialize in helping SaaS companies improve their online presence, generate leads and, ultimately, grow their business. They can help you improve your MRR (Monthly Recurring Revenue) and minimize SaaS customer churn.
In this post, we'll take a look at the best SaaS agencies to consider partnering with in 2023, based on their reputation, expertise, and client success stories.
---
---
Top 5 SaaS Marketing Agencies
If you are looking to accelerate the growth of your B2C or B2B SaaS company or your software-as-a-service product, then you should consider working with a top-tier agency.
Here are the five best SaaS agencies:
Single Grain is an ROI-focused, SaaS digital marketing agency focused on growing your business.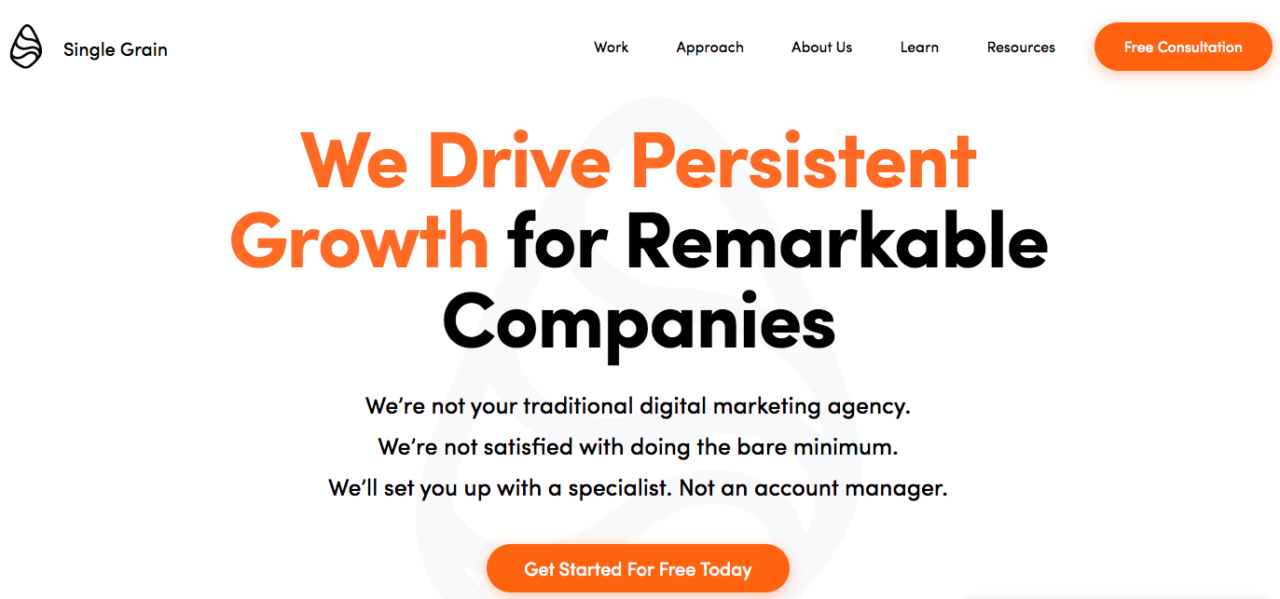 Just under a decade ago, Eric Siu bought Single Grain and transformed the failing business into a multi-million-dollar full-service digital marketing agency. Their expert teams create personalized marketing strategies for each client that are data-driven, get a high ROI and increase conversion rates.
Whether you run a B2C or B2B SaaS business, this SaaS growth agency offers expert marketing advice for both niches.
Single Grain specializes in:
They have an expert PPC management team with a Premier Google Partner status to assure that you always get the best value for every dollar spent on advertising campaigns.
They have experience working with multi-billion dollar businesses such as Amazon. They have helped both B2B and B2C SaaS companies (and non-SaaS) generate maximum sales on their products.
They use a combination of the best digital marketing growth hacks and remain up-to-date on the latest SaaS marketing trends to maximize conversions in order to prepare a customized SaaS marketing proposal for every client.
They are experts in conversion rate optimization (CRO), pay-per-click/PPC campaigns, content marketing strategies and other specialties that will get you more qualified leads that result in better business growth.
You can reach their friendly support team, and they are always proactive in offering the best assistance.
Their social media marketing team has expertise in promoting products and services on LinkedIn, Facebook, Twitter, Instagram, and other leading channels.
Single Grain has one of the best SEO and content marketing teams in the industry to improve organic traffic, leads, and conversions.
They have expertise in acquiring loyal customers to your businesses who can generate a monthly recurring revenue (MRR).
Top clients:
Amazon
Salesforce
Drift
SEMrush
TurboTax
Intuit
Address: Los Angeles, CA, United States
Contact Details: via the orange button below
Pricing: Single Grain offers custom pricing plans based on your campaign goals and needs.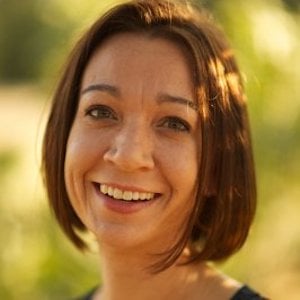 Kim Cooper
Director of Marketing, Amazon Alexa
Single Grain enables us to increase our impact without increasing our headcount
Dive Deeper: How We Built a B2B SaaS Marketing Agency Unlike Anyone Else
2) Bay Leaf Digital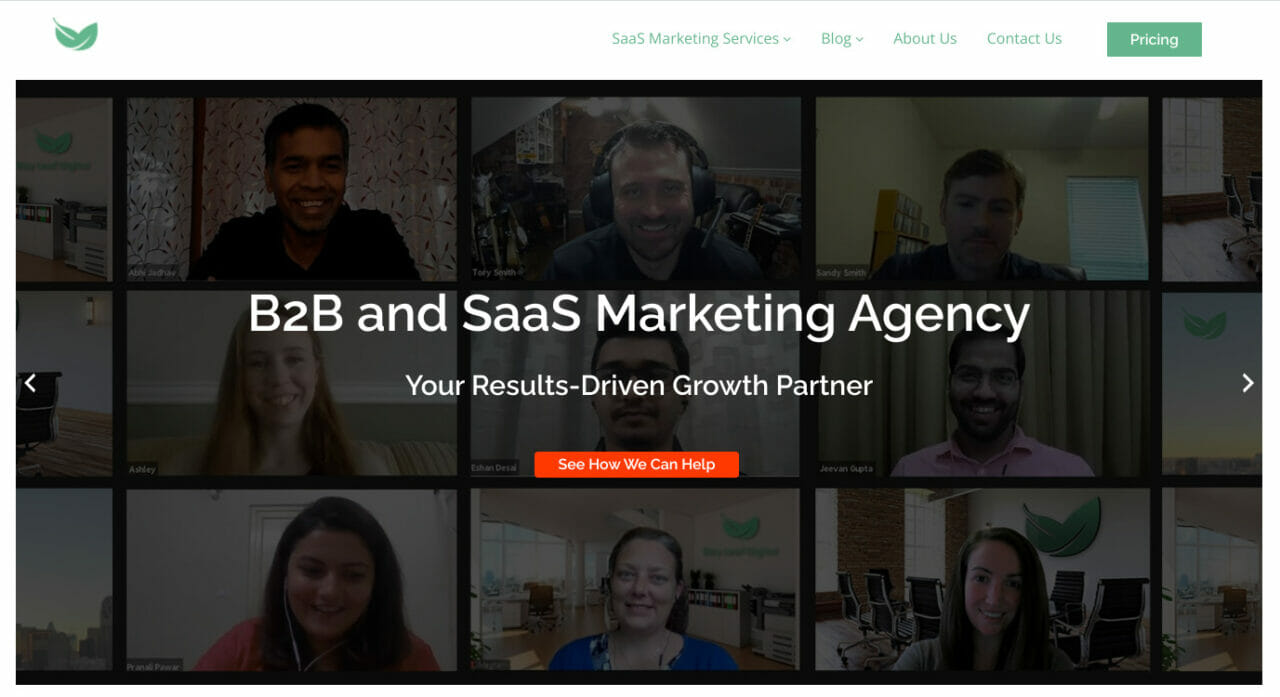 Bay Leaf Digital is a top SaaS marketing agency founded in 2013 to help B2B SaaS businesses promote their products through advanced inbound marketing strategies.
From content marketing to analytics, and from marketing automation to SEO, their expert team of SaaS marketers takes care of all the activities to get your product in front of your target audience.
Bay Leaf team has more than 30 years of combined experience promoting SaaS businesses.
Bay Leaf Digital specializes in:
Their expert PPC marketing team is well-versed in managing SaaS advertising campaigns on channels such as Google, Facebook, LinkedIn, and Bing.
They are a HubSpot Gold partner, so all the lead generation and tracking activities are monitored closely via the HubSpot marketing platform.
They have a team of expert SaaS content writers to help your business reach prospects at every stage of the buyer journey. From increasing brand awareness to converting customers, their content team helps close more deals.
Bay Leaf Digital also offers a B2B SaaS analytics service to uncover the growth opportunities to improve conversions and lower the cost per lead.
They have an experienced SEO team to help you prepare a solid SEO strategy to reap benefits in the long term. The SEO tactics used are focused on scaling the growth of your SaaS product and reducing the cost per acquisition.
Their experienced B2B social media marketing team identifies the top social media platforms to shape your brand personality and reputation.
Top clients:
Angie's List
Citigroup
Kabbage
Activate
VHT
Travelocity
Address: Bedford, TX, United States
Contact Details: 1-866-200-9814
Pricing: Bay Leaf Digital pricing starts from $6,500 per month for early-stage SaaS startups.
Dive Deeper: 5 Reasons How SEO Benefits Your SaaS Business (+ SaaS SEO Strategy)
3) SimpleTiger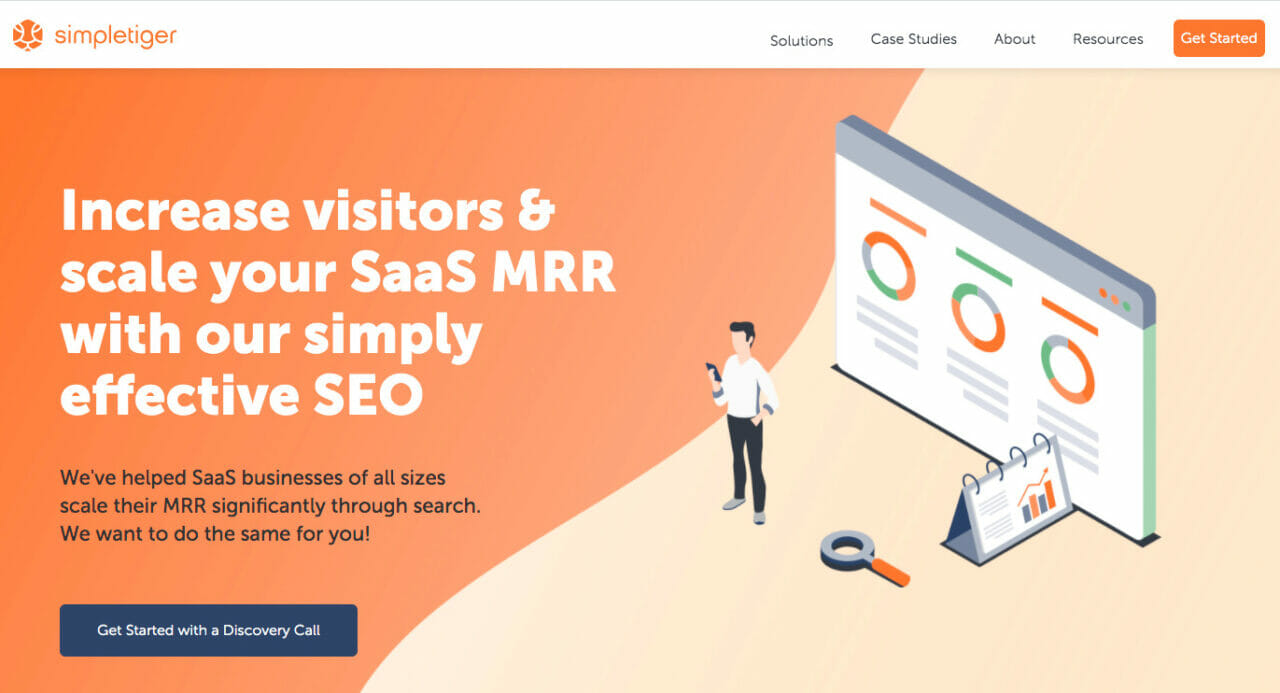 SimpleTiger is a Washington-based B2B SaaS marketing agency specializing in SEO and PPC.
They integrate with your team and coordinate tasks through a shared Slack channel so that you always stay updated regarding the campaign progress.
Simple Tiger offers consistent growth for your B2B SaaS platform leveraging SEO and paid advertising.
SimpleTiger specializes in:
They have years' of experience finding relevant keywords that generate traffic and leads for your SaaS business. They use industry-leading tools like Semrush and Ahrefs to perform quality keyword research.
SimpleTiger specializes in technical optimization powered by top tools like Ahrefs so that you can get the best SEO recommendations in real-time.
Their content marketing service covers every aspect of SaaS content marketing like competitor content analysis, keyword research, landing pages content optimization, content production strategy, and existing blog optimization.
SimpleTiger helps you generate authentic and relevant backlinks. They handle the complete link-building process like analyzing your competitor's backlinks profile, link prospecting, outreaching, and quality link placement.
They also offer ROI-focussed PPC strategies for SaaS businesses. Their team manages and optimizes your paid ad campaigns to get more leads to your SaaS platform.
Top clients:
JotForm
Bitly
Crew
PayJunction
Segment
Securedocs
Address: Sarasota, FL, United States
Contact Details: 1-941-893-4118
Pricing: SimpleTiger offers custom pricing plans based on your business goals and needs.
4) Klood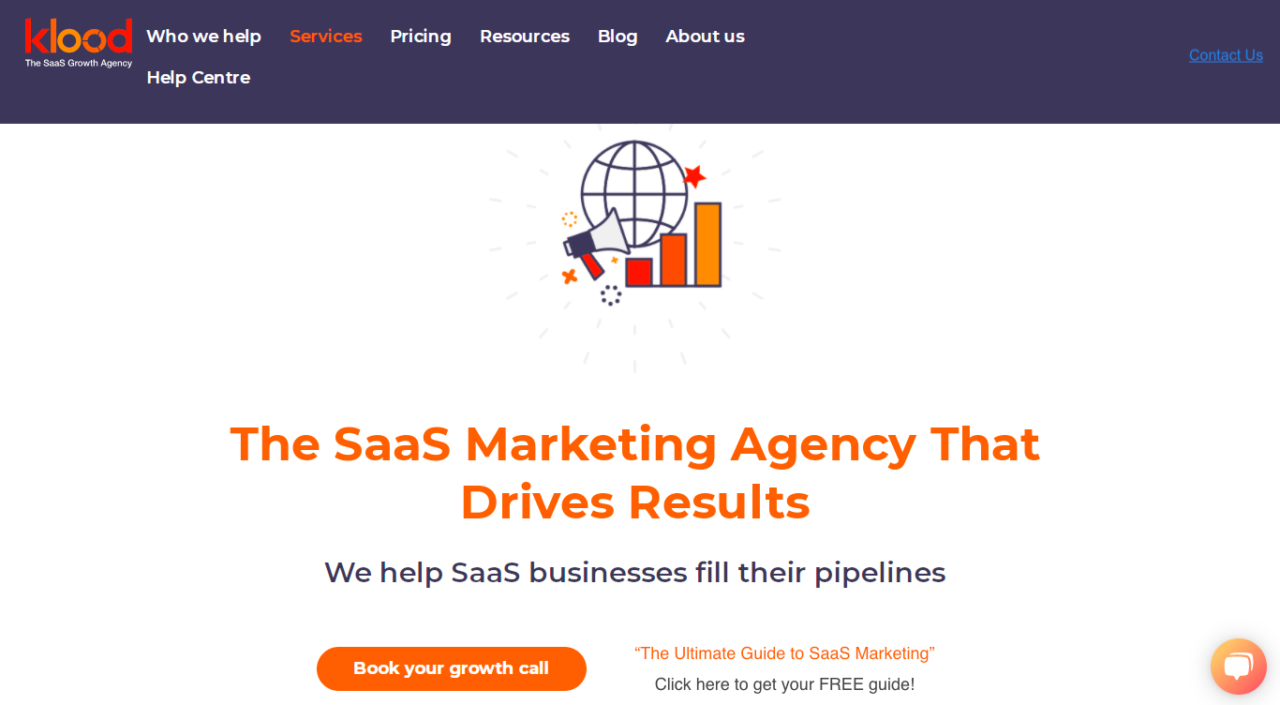 Klood is a SaaS growth agency that is passionate about growing SaaS platforms.
They are a team of digital marketing experts that help SaaS companies develop and implement an appropriate, strategic marketing plan to attract, nurture, and retain clients.
Klood helps SaaS and B2B businesses create sales pipelines using data-backed inbound marketing strategies.
Klood specializes in:
Klood works on a three-step SaaS growth model that attracts prospects, provides suitable systems and processes to engage them, and offers world-class customer onboarding service to increase their customer lifetime value.
If your website lacks good design, Klood offers expert website designers to make your site more attractive to customers.
Being a HubSpot partner, they help get the most out of your marketing investment and use HubSpot marketing automation to enable the growth of your SaaS business.
Klood has a team of expert digital marketers who offer top-notch SEO, SEM, and content marketing tactics to reach your goals within the specified time.
Top clients:
Rocket
ResourceSpace
Silverbug
Irisys
Aerovex Systems
Occam
Address: Newport Pagnell, United Kingdom
Contact Details: +44 1908 299579
Pricing: Klood offers multiple pricing options as per your business needs. SaaS Sales Funnels service starts at €2,500 (~$2,846 USD) per month, while complete inbound marketing service is priced at €3,200 per month.
Dive Deeper: SaaS Marketing Strategy: 12 Killer Ideas to Grow Your Company
5) Accelerate Agency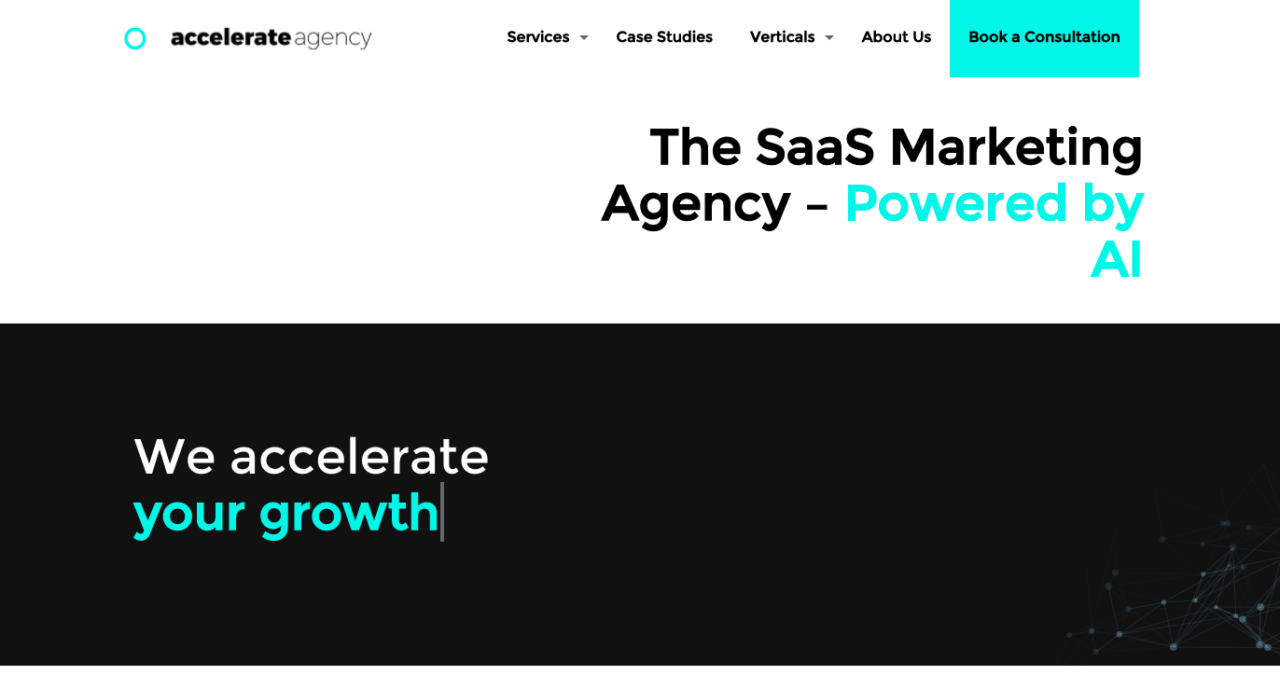 Accelerate Agency is a UK-based top SaaS marketing agency fueled by a combination of data, human expertise, and machine learning. They offer great SEO and content marketing services that deliver exceptional marketing results for your SaaS platform.
Accelerate Agency is also an official member of the Forbes Agency Council and a Google partner agency. The company is awarded by The Drum Awards and UK Search Awards.
Accelerate Agency specializes in:
Accelerate Agency is made up of veteran SEO experts who were providing SEO services even before the birth of Google. They offer a 360-degree SEO approach to optimize every essential on-site and off-site SEO element to turn traffic into sales.
They offer expert SaaS content marketing services to help you create quality content that helps to capture and convert audiences.
Accelerate Agency has expertise in creating different types of highly engaging content pieces, including blogs, articles, e-books, interviews, how-to guides, and user stories.
The team can get your SaaS business featured on prominent industry-leading platforms such as TechCrunch, HubSpot, PandaDoc, Keap, BigCommerce, FlippingBook, and Drift.
Top clients:
RingCentral
Toggl
Dialpad
Brightpearl
Databricks
Affise
Address: Bristol, United Kingdom
Contact Details: [email protected], +44 1173 361103
Pricing: Accelerate Agency offers custom pricing plans based on your business goals and needs.
What Is a SaaS Marketing Agency?
SaaS companies are trying their best to make their product stand out in the competitive SaaS space to increase product demos and adoption and decrease churn rates. However, since the number of SaaS startups is growing each year, it is becoming challenging for these companies to establish themselves in their respective niches.
Hence, specific SaaS marketing efforts are essential for SaaS companies to attract potential customers and increase customer retention rates (sometimes known as growth marketing). This is why many such businesses are turning to marketing agencies that specialize in SaaS products.
A SaaS marketing agency (or SaaS growth agency) is a digital marketing firm that focuses on your software's USP, identifies your target market (particularly high-quality leads), and helps you increase your software adoption rates. These agencies are experts in the SaaS space and offer various SaaS marketing services and strategies while tracking key metrics to amplify customer acquisition, improve software branding, and enhance the organic reach of the company products.
Here are some SaaS industry stats that are worth considering:
Benefits of Hiring a SaaS Marketing Agency
Here are some of the top reasons why you could benefit from working with SaaS marketing agencies:
1) Top Skills
If you have an in-house marketing person or a small marketing team, having all the necessary skills and certifications can be challenging. A lack of marketing expertise may also lead to higher customer acquisition costs.
Partnering with a SaaS marketing agency allows software companies to work with a complete team of SaaS marketing experts who have a range of skills and vast industry experience to give you the best return on your marketing investment.
2) Familiarity with the Latest Trends
An experienced SaaS marketing company is familiar with the latest SaaS marketing trends. They are proactive and understand how to revamp their current marketing strategies based on recent changes in the industry.
Therefore, working with a SaaS advertising agency assures that your product marketing strategy stays innovative and remains on top of the minds of your target audiences. Following a trend-focused marketing strategy also helps you stay ahead of your competitors.
Dive Deeper: 38 Digital Marketing Trends You Can't Ignore in 2023
3) Cost Effectiveness
It is always cheaper to work with a SaaS marketing company than to hire a team of marketing experts.
Digital marketing consists of several strategies such as SEO, PPC, social media marketing, influencer marketing, email marketing, etc. Hiring niche experts in every field and with the right experience is costly. In addition, digital marketing agencies use several tools for their work, and all such tools come at a monthly recurring cost. Subscribing to a bunch of tools adds to your marketing budget.
When you hire a SaaS digital marketing agency, you get to work with qualified and experienced marketing experts who bring their own team and tools to the table.
4) Higher Quality of Leads
The quality and quantity of leads are vital for SaaS companies. You don't just need visitors, but paying subscribers.
SaaS companies' customer service teams often complain of "no good leads." In such a case, it is critical to identify your sales funnel.
Top-rated SaaS marketing agencies have the expertise in building effective sales funnels based on your preferred buyer persona. Therefore, you start receiving higher quality leads leading to an increase in revenue.
Dive Deeper: The Anatomy of an Effective SaaS Lead Generation Strategy
How to Choose a SaaS Marketing Agency
Here are the top elements to look for when selecting a SaaS marketing agency for your business:
1) Check Their Experience
You should evaluate the experience of the SaaS consultancy, like whether they have experience working in B2B SaaS, B2C SaaS or both. A SaaS agency may also have expertise as a content marketing agency, ecommerce agency, etc., but relevant industry experience is crucial to getting the desired edge in your marketing campaign.
Find out how many years they have been in this industry and check their clientele. If their client list is missing SaaS companies, it is better to find another agency. Read the case studies on their website to understand their tactics to market a product and study the campaign achievements.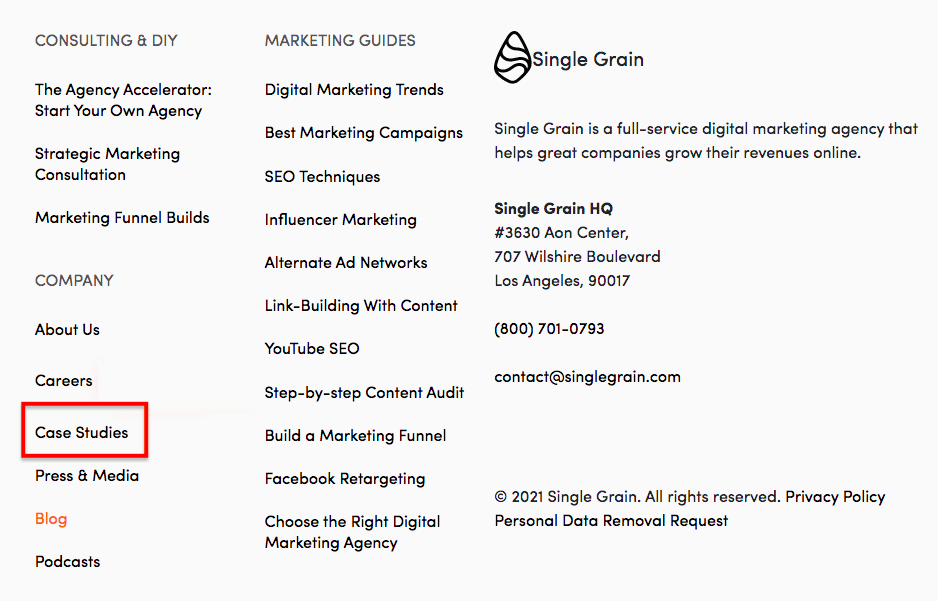 Dive Deeper: What Is B2B SaaS? Everything You Need to Know
2) Evaluate Ratings and Reviews
Find out if their business is present on major review sites and agency directories: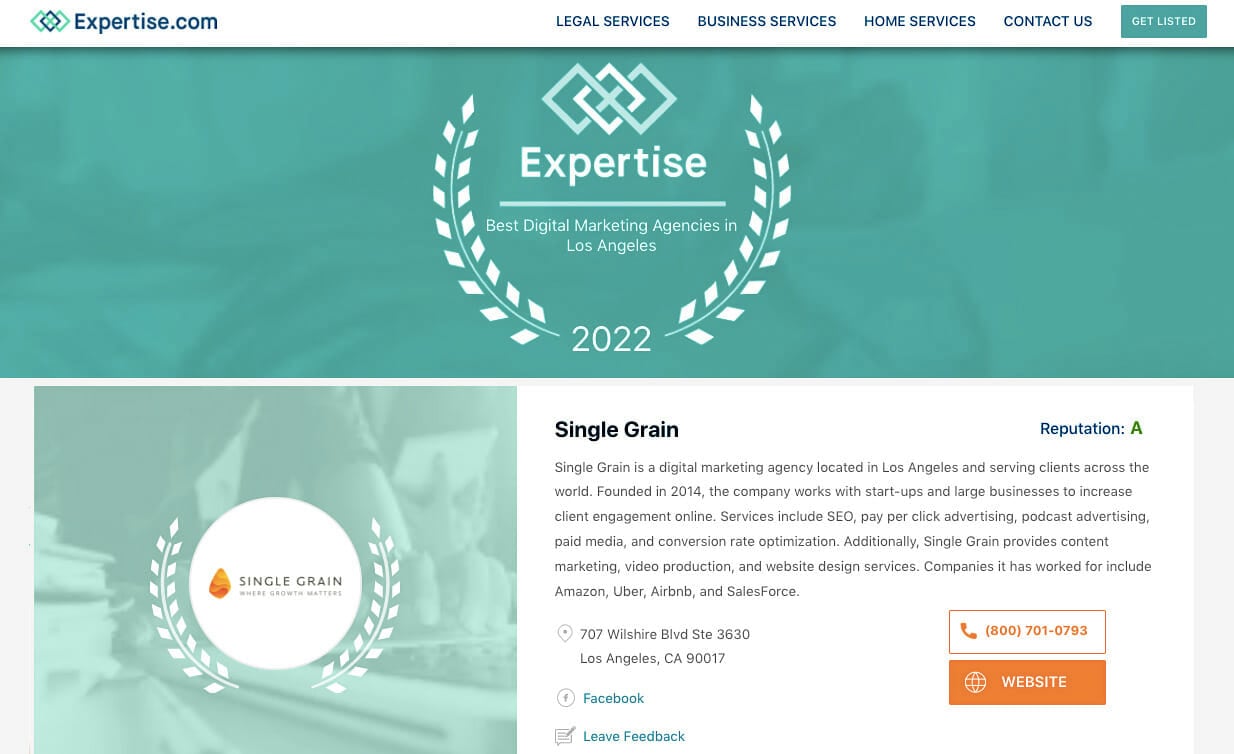 Check the Google reviews and read the comments other customers left about their business. You will learn a lot about the company after reading what others say about them rather than what they are saying about themselves.
Also, read the testimonials on their website and check out the businesses that have left reviews about them.

Evaluating reviews is the best way to determine if other clients love the company you will work with. Customer experience should always be a top priority in selecting a digital marketing company.
3) Schedule a Call 
Schedule an initial call with the SaaS marketing agency to better understand what they can do for you.
Before the call, prepare a list of questions to ask the agency representative. Here are some questions that you should discuss on your call with a potential marketing agency:
What is your marketing team experience in the SaaS industry?
Please share the name of some of the SaaS clients you have worked with in the past.
What are the KPIs you use for SaaS marketing campaigns?
What are the tools you use for optimization and report preparation?
How do you measure the progress of the campaign? Do we have access to any dashboards?
Tell us about the top three techniques you use for SaaS marketing?
Who will be our campaign manager, and what are the communication channels your team uses?
What are the pricing plans? Are there any hidden charges or contracts?
Promoting your SaaS company is challenging because your entire business rests on the success of your marketing campaign. Therefore, it is vital to call the SaaS marketing agency to clear any confusion before the campaign starts.
How Much Do SaaS Marketing Agencies Charge?
Different pricing models apply depending on the agency you choose to work with.
Some agencies charge a fixed hourly rate, while others charge a flat monthly fee:
The primary pricing model for SaaS marketing agencies is a fixed hourly rate between $100-$250 or more, depending on your target KPIs and goals.
Agencies that offer a flat monthly fee usually charge between $1,000-$10,000 per month or more depending on your project goals.
Some digital marketing companies add a performance-based fee to their standard package, which they charge once they achieve the predefined set of targets at the start of the campaign.
More SaaS Content You May Like:
* 7 Steps to Get More SaaS Customers with Cold Email
* SaaS Email Marketing: 12 Best Strategies to Follow
* Top 16 SaaS Bloggers: Best Business Blogs You Can Learn From
* LinkedIn Ads for Enterprise B2B SaaS: The Only Guide You'll Need

What to Expect from a SaaS Marketing Agency
So what can you expect a SaaS marketing company do for you? These agencies take care of all marketing activities, such as:
Content optimization
SaaS acquisition funnel creation and optimization
Search engine marketing (SEM)
Social media marketing
Email marketing
Search engine optimization (SEO)
Content marketing
SaaS influencer marketing
Landing page optimization
And more
From website designing to app promotion and marketing funnel creation to ROI tracking, SaaS digital marketing agencies carry out all the tasks to help scale the reach and profits of SaaS companies.
Ready to Start Working with a SaaS Marketing Agency? 
Software as a service (SaaS) businesses require a specific marketing strategy to improve their branding and acquire new customers every month, not to mention retaining their existing subscribers.
Hence, SaaS companies can always use the help of a dedicated marketing agency to reach their campaign objectives and meet their sales goals.
SaaS marketing companies offer ROI-focused strategic marketing advice and provide a custom marketing plan to improve the monthly recurring revenue, crucial for SaaS companies.
Schedule your FREE consultation with Single Grain's SaaS experts to discuss your project requirements.  👇
Or learn more about what we can do for you here 👉  SaaS Marketing Agency
---
Best SaaS Agency FAQs
What services do SaaS marketing agencies typically offer?
SaaS marketing agencies specialize in creating and implementing marketing strategies specifically for Software as a Service companies. They typically offer services such as website design and optimization, content creation, lead generation, search engine optimization (SEO), paid advertising, email marketing, and social media management.
How do I choose the best SaaS agency for my business?
When selecting a SaaS marketing agency, it's important to consider their experience, expertise, and client success stories. Look for agencies that have worked with similar businesses in your industry and have a track record of driving results. It's also important to have clear communication and alignment with the agency's goals and strategies.
How much does it cost to hire a SaaS marketing agency?
The cost of hiring a SaaS digital marketing agency can vary depending on the size of your business, the services you require, and the agency's pricing structure. Some agencies charge a monthly retainer fee while others may charge per project or hourly. It's important to discuss pricing and budget expectations upfront with the agency before signing a contract.
What is a SaaS growth agency?
A SaaS growth agency is a marketing agency that specializes in helping Software as a Service (SaaS) businesses grow and scale their operations. Unlike traditional marketing agencies, SaaS growth agencies focus specifically on the unique challenges that SaaS companies face, such as acquiring and retaining customers, optimizing the customer journey and improving product adoption rates.
They use a combination of SaaS marketing services, marketing strategies and growth hacking techniques to help SaaS businesses increase revenue, improve customer engagement and achieve sustainable growth over time.