Updated November 2023.
If you're running a Software as a Service (SaaS) business, you know how important it is to have a strong marketing strategy in place. But it can be difficult to manage marketing efforts on your own.
That's where a SaaS marketing agency comes in.
These agencies specialize in helping SaaS companies improve their online presence, generate leads and, ultimately, grow their business. They can help you improve your MRR (Monthly Recurring Revenue) and minimize SaaS customer churn.
In this post, we'll take a look at the best SaaS agencies to consider partnering with in 2023, based on their reputation, expertise, and client success stories.
---
---
The Importance of Marketing for SaaS Companies
The SaaS market has continued to grow steadily, with an estimated 30,000 SaaS companies in operation by the end of this year (skyrocketing to 72,000 by next year), hitting a value of $896.2 billion: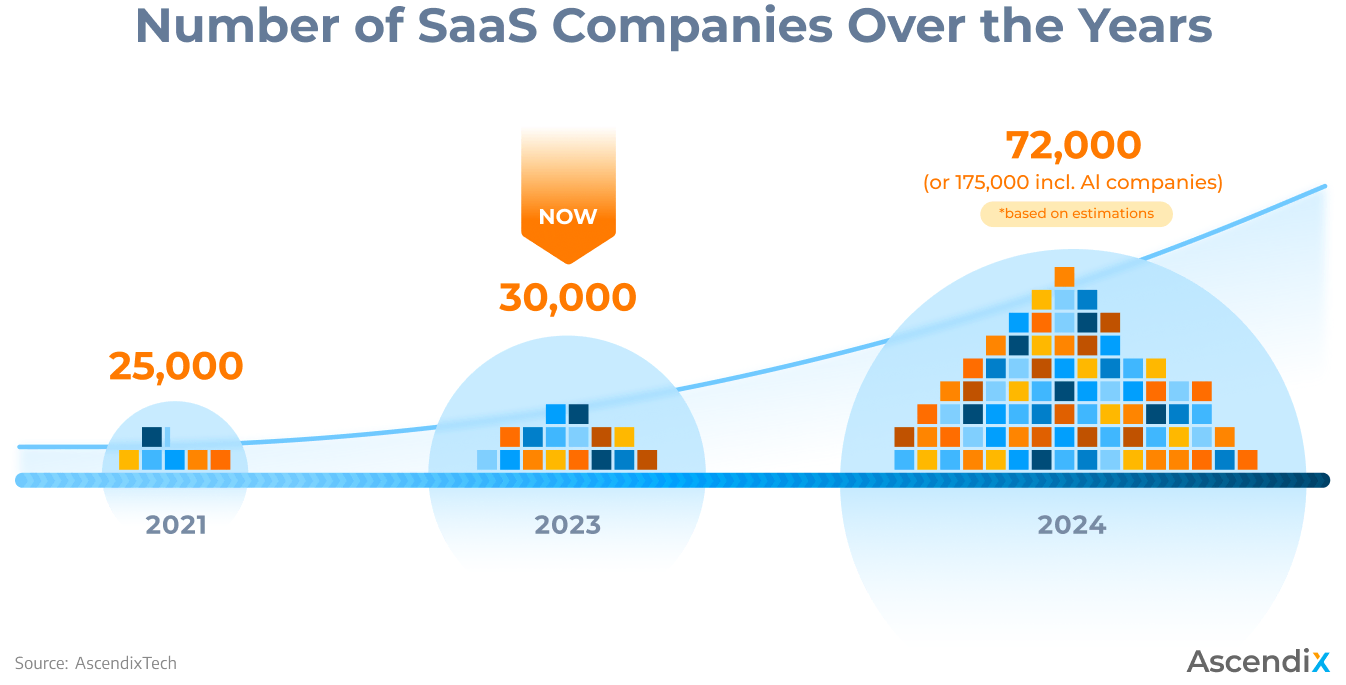 On the one hand, that's good news. It shows that more and more people are turning to Software as a Service platforms to solve their particular problems and challenges.
On the other hand, the unique nature of SaaS presents challenges that can make it tough to compete for a slice of that multi-billion-dollar pie in a crowded market.
With most forms of traditional marketing, the goal is to land that initial sale, getting customers to handover their credit cards to make a one-off purchase of a product or service. Only then do aspects like customer loyalty and retention become an important issue.
With SaaS, however, the entire industry is run on a subscription-based model, making it vital to focus on long-term retention and a continuous, customer-centric approach right from the word go.
What's more, it's important to note that the SaaS industry tends to evolve at a much more rapid rate than others, with frequent software updates and feature enhancements that need to be communicated as quickly as possible.
Finally, since SaaS companies are all about solving users problems, it makes sense that the industry relies more on informative content marketing that helps, guides and educates audiences. Semrush Academy is a great example of the educational content marketing that works best for SaaS: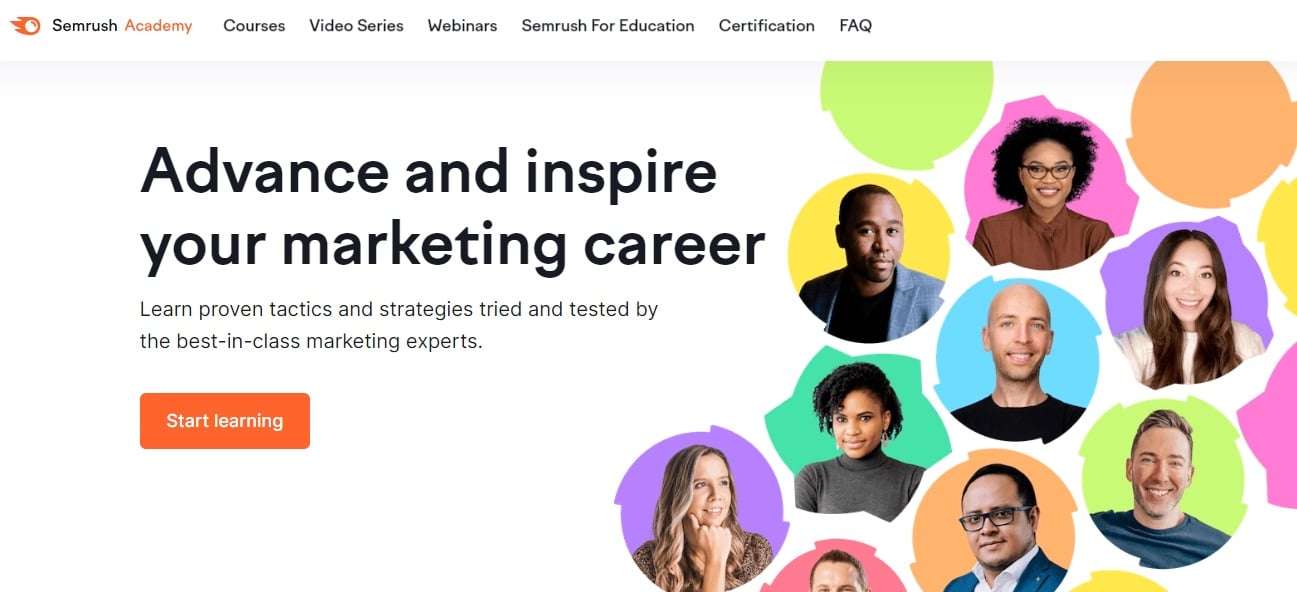 Webinars, tutorials, and knowledge hubs that help users achieve their goals  play a bigger role in a successful campaign than the kind of promotional, sales-centric marketing efforts deployed in other industries.
With all this in mind, it's easy to see why it's so important to work with an agency who truly understands the unique nature of SaaS marketing. That way, you can be sure that your marketing strategy aligns with the specific demands of the SaaS landscape, maximizing your chances of success in this rapidly evolving, subscription-driven industry.
What Is a SaaS Marketing Agency?
A SaaS marketing agency (or SaaS growth agency) is a digital marketing firm that focuses on a company's software as a service USP, identifies your target market (particularly high-quality leads), and helps you increase your software adoption rates.
These agencies are experts in the SaaS space, understanding the differences between SaaS and traditional marketing: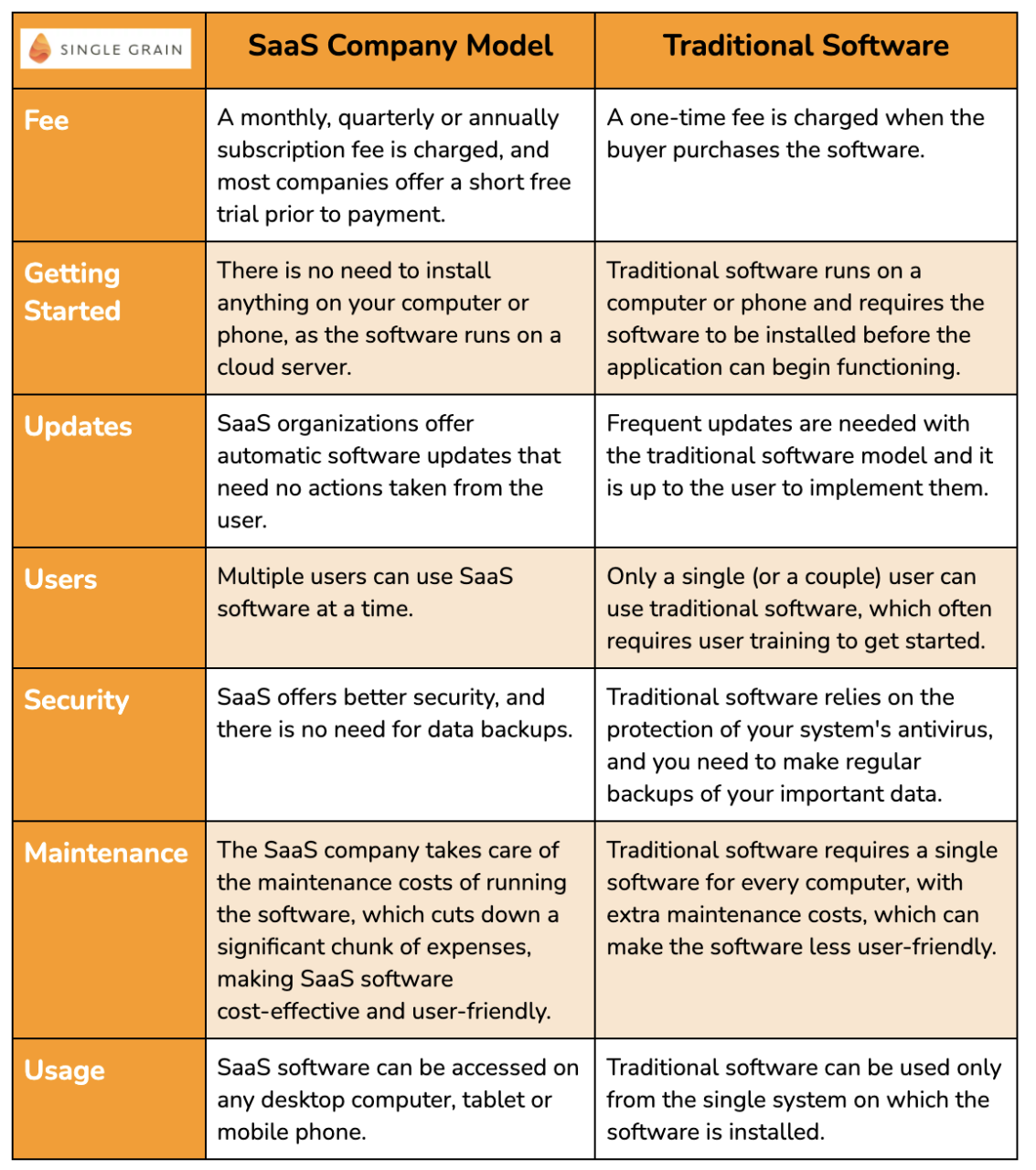 They offer various SaaS marketing services and strategies, such as lead generation and nurturing in the context of a longer sales cycle, while tracking key metrics to amplify customer acquisition and retention, improve software branding, and enhance the organic reach of the company products.
SaaS companies must also make their product stand out in order to increase product demos and adoption, and decrease churn rates. However, since the number of SaaS startups continues to grow each year, it's challenging for these companies to establish themselves in their respective niches.
Hence, specific SaaS marketing efforts are essential for SaaS companies to attract customers and increase customer retention rates (sometimes known as growth marketing). This is why many such businesses are turning to marketing agencies that specialize in SaaS products.
What Can a SaaS Marketing Company Do for You?
These agencies take care of all marketing activities, such as:
Content creation and optimization
Content marketing
SaaS acquisition funnel creation and optimization
Search engine optimization (SEO)
Search engine marketing (SEM)
Social media marketing
Email marketing
SaaS influencer marketing
Landing page optimization
And more
From website designing to app promotion and marketing funnel creation to ROI tracking, SaaS digital marketing agencies carry out all the tasks to help scale the reach and profits of SaaS companies.
Dive Deeper: How We Built a B2B SaaS Marketing Agency Unlike Anyone Else
Top 5 SaaS Marketing Agencies
If you are looking to accelerate the growth of your B2C or B2B SaaS company or your software-as-a-service product, then you should consider working with a top-tier agency.
Here are the five best SaaS agencies:
Single Grain is an ROI-focused, full-service digital marketing agency that specializes in growing your SaaS MRR.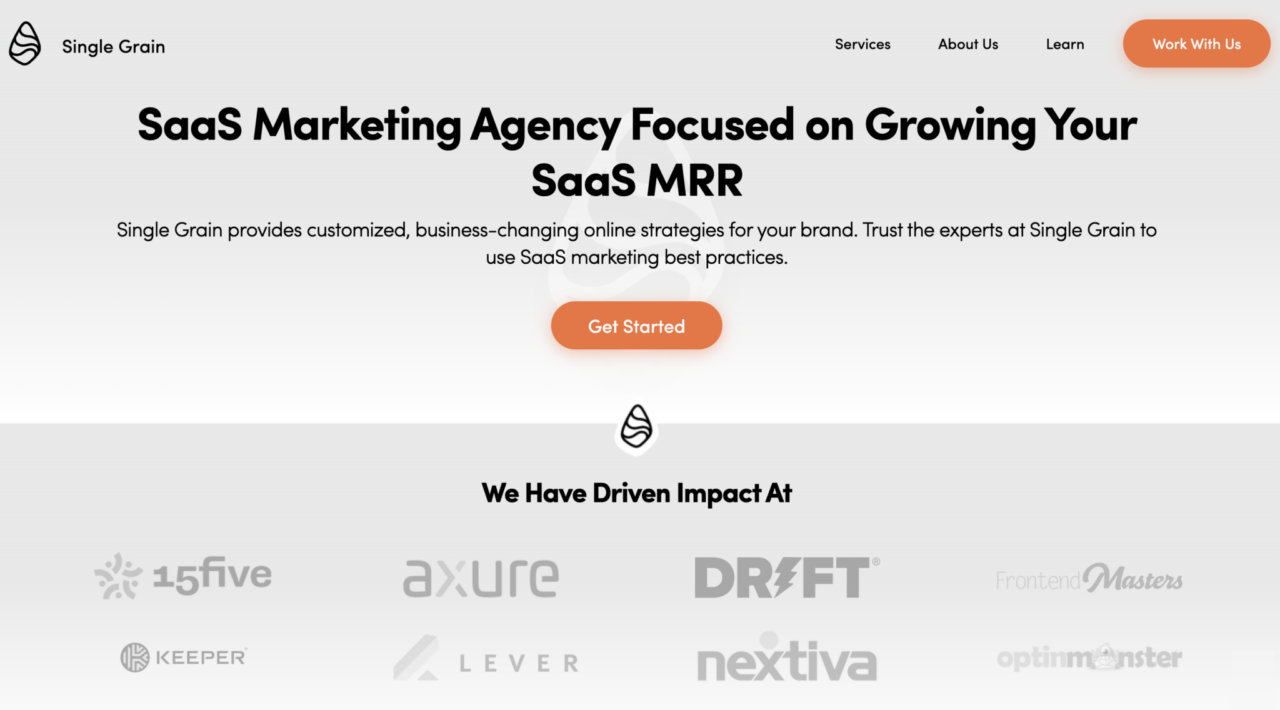 Just over a decade ago, Eric Siu bought Single Grain and transformed the failing business into a multi-million-dollar full-service digital marketing agency. Their expert teams create personalized marketing strategies for each client that are data-driven, get a high ROI and increase conversion rates.
Whether you run a B2C or B2B SaaS business, this SaaS growth agency offers expert marketing advice for both niches.
Single Grain specializes in:
They have an expert PPC management team with a Premier Google Partner status to assure that you always get the best value for every dollar spent on advertising campaigns.
They have experience working with multi-billion dollar businesses such as Amazon. They have helped both B2C and B2B SaaS companies (and non-SaaS) generate maximum sales on their products.
They use a combination of the best digital marketing growth hacks and remain up-to-date on the latest SaaS marketing trends to maximize conversions in order to prepare a customized SaaS marketing proposal for every client.
They are experts in conversion rate optimization (CRO), pay-per-click/PPC campaigns, content marketing strategies and other specialties that will get you more qualified leads that result in better business growth.
You can reach their friendly support team, and they are always proactive in offering the best assistance.
Their social media marketing team has expertise in promoting products and services on LinkedIn, Facebook, Twitter, Instagram, and other leading channels.
Single Grain has one of the best SEO and content marketing teams in the industry to improve organic traffic, leads, and conversions.
They have expertise in acquiring loyal customers to your businesses who can generate a monthly recurring revenue (MRR).
Top clients:
Amazon
Salesforce
Drift
SEMrush
TurboTax
Intuit
Pricing: Single Grain offers custom pricing plans based on your campaign goals and needs.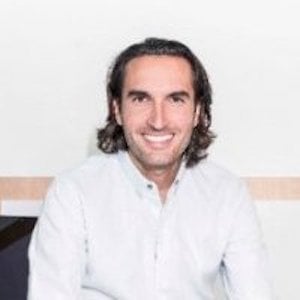 Yaniv Masjedi
CMO, Nextiva
Their expertise has helped Nextiva grow its brand and overall business
2) Kalungi
Kalungi is a full-service digital marketing agency based in Seattle, Washington that specializes exclusively in the B2B SaaS industry.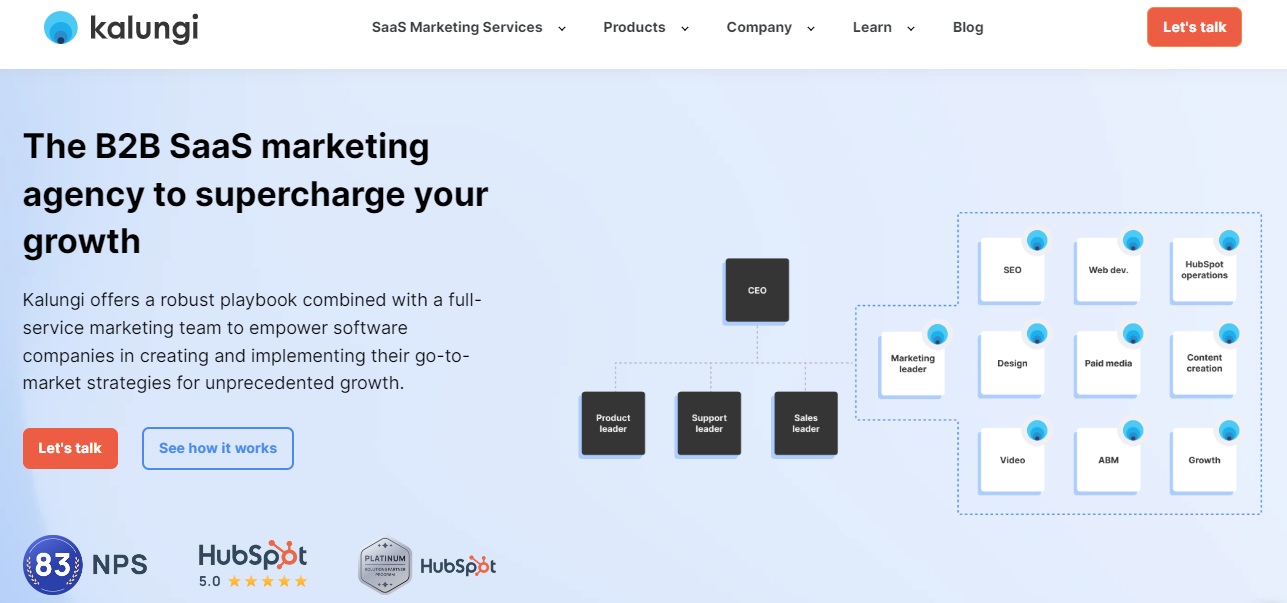 The team covers the full gamut of marketing services, from content marketing and conversion rate optimization (CRO) to paid advertising and web development.
By doing so, the agency aims to save SaaS firms all of the hassles, complications and added expense of hiring multiple agencies to tackle individual components of your marketing strategy.
Kalungi specializes in:
Kalungi are a HubSpot Gold partner and help specialize in helping SaaS brands use the platform to optimize Customer Relationship Management (CRM), content management and sales pipelines.
Their team includes experienced marketing coaches who can work with SaaS CMOS (Chief Marketing Officers) to help them refine their approach and lead their brand's marketing efforts.
They provide a 95-point marketing audit, including a 90-day roadmap outlining key improvements or adjustments to be made.
They have an experienced SEO team to help you prepare a solid SEO strategy to reap benefits in the long term. The SEO tactics used are focused on scaling the growth of your SaaS product and reducing the cost per acquisition.
Kalungi works with emerging SaaS startups to develop and fine-tune their go-to-market strategy ready for success.
Top clients:
Acumatica
Ascend Software
Beezy
Caveonix
Clearwave
SocialLadder.
Pricing: Kalungi's full-service digital marketing service starts at $45,000. The company offers a pay-per-performance model for long-term clients.
Dive Deeper: 5 Reasons How SEO Benefits Your SaaS Business (+ SaaS SEO Strategy)
3) Klood
Klood is a SaaS growth agency that is passionate about growing SaaS platforms.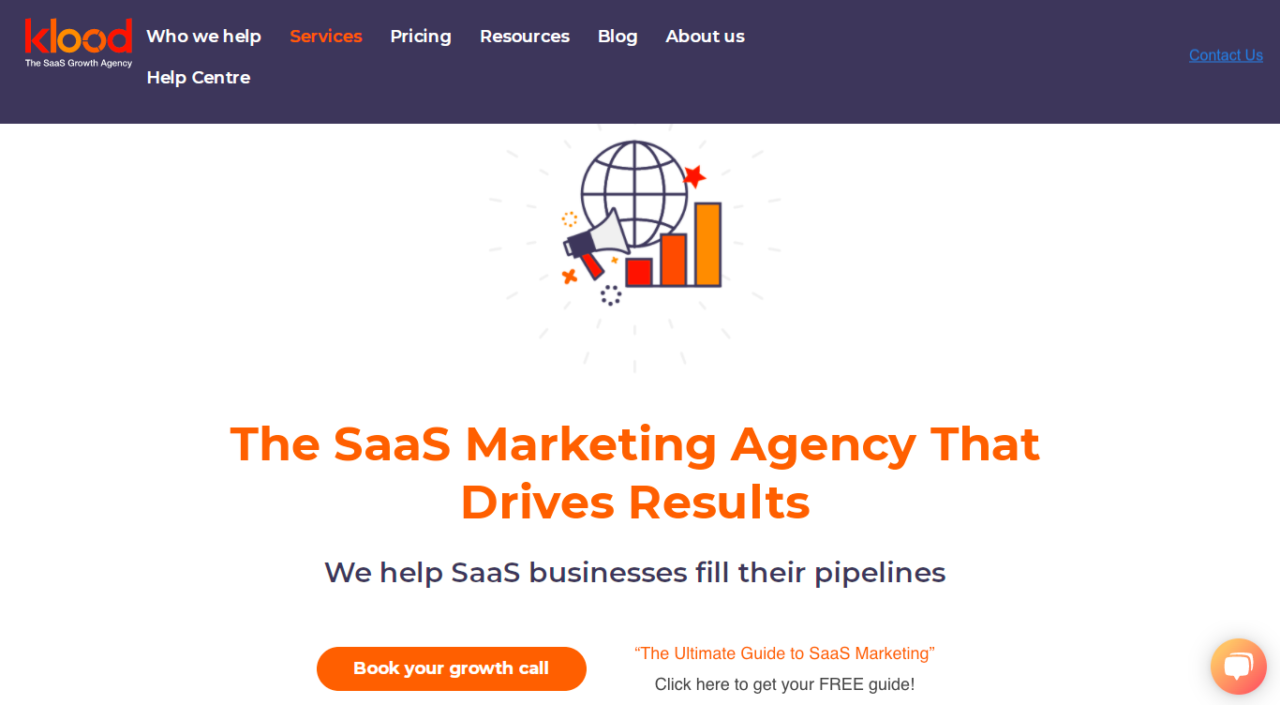 They are a team of digital marketing experts that help SaaS companies develop and implement an appropriate, strategic marketing plan to attract, nurture and retain clients.
Klood helps SaaS and B2B businesses create sales pipelines using data-backed inbound marketing strategies.
Klood specializes in:
Klood works on a three-step SaaS growth model that attracts prospects, provides suitable systems and processes to engage them, and offers world-class customer onboarding service to increase their customer lifetime value.
If your website lacks good design, Klood offers expert website designers to make your site more attractive to customers.
Being a HubSpot partner, they help get the most out of your marketing investment and use HubSpot marketing automation to enable the growth of your SaaS business.
Klood has a team of expert digital marketers who offer top-notch SEO, SEM, and content marketing tactics to reach your goals within the specified time.
Top clients:
Rocket
ResourceSpace
Silverbug
Irisys
Aerovex Systems
Occam
Pricing: Klood offers multiple pricing options as per your business needs. SaaS Sales Funnels service starts at €2,500 (~$2,846 USD) per month, while complete inbound marketing service is priced at €3,200 per month.
Dive Deeper: SaaS Marketing Strategy: 12 Killer Ideas to Grow Your Company
4) Refine Labs
Refine Labs specializes in demand generation, using an array of data-driven strategies to help B2B SaaS companies achieve their growth goals.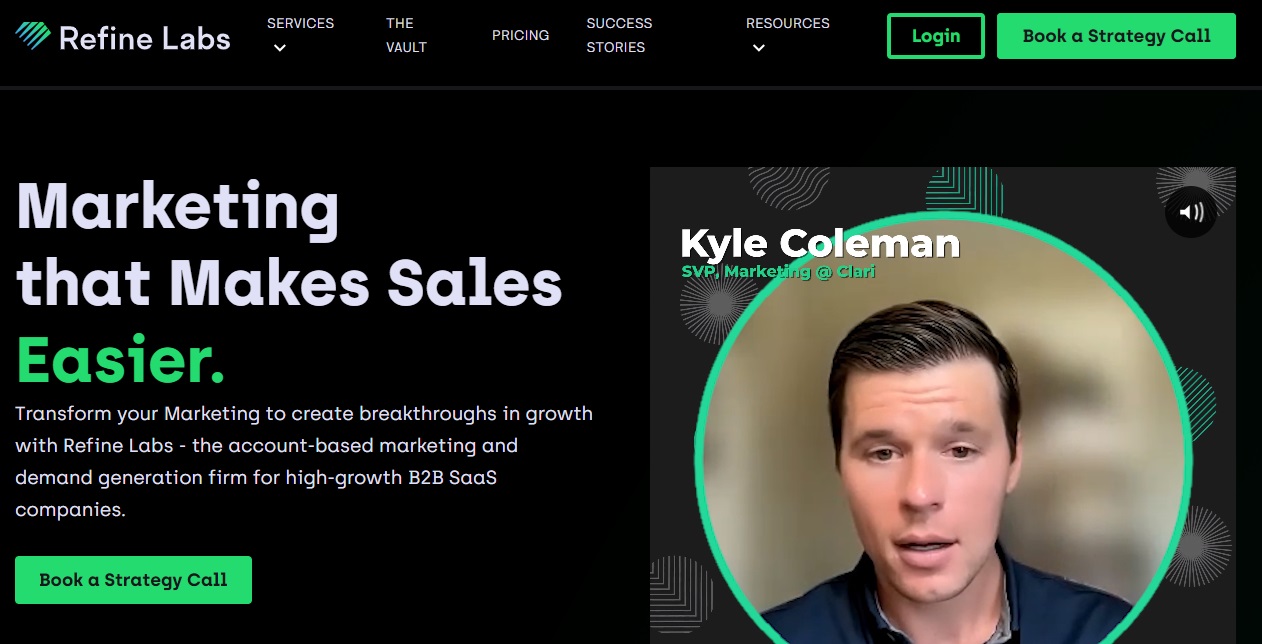 Refine Labs' approach to demand generation is unique in that it combines a focus on target audience research, creative storytelling and data-driven insights. This allows them to develop and execute demand strategies that are both effective and efficient.
Refine Labs specializes in:
They use a variety of data sources to identify their clients' ideal customer profiles (ICPs). This includes data from website analytics, CRM systems and social media.
Their approach to content marketing covers encompasses strategic content planning, generating high-quality content in a variety of formats to suit different audience segments, and distribution/amplification.
The agency specializes in account-based marketing (ABM), helping clients identify their most valuable accounts (MVAs) and create customized ABM campaigns tailored to each one.
Refine Labs specialize in leading marketing tools and platforms like HubSpot, Salesforce, and Demandbase, meaning they can integrate y our existing systems into a robust revenue growth architecture that continues to generate leads and recurring subscriptions.
They also offer ROI-focussed PPC strategies for SaaS businesses. Their team manages and optimizes your paid ad campaigns to get more leads to your SaaS platform.
Top clients:
Algolia
Clari
Cognism
MyCOI
Splash
Zappi
Pricing: Refine Labs offers custom pricing plans based on your business goals and needs.
5) Accelerate Agency
Accelerate Agency is a UK-based top SaaS marketing agency fueled by a combination of data, human expertise and machine learning.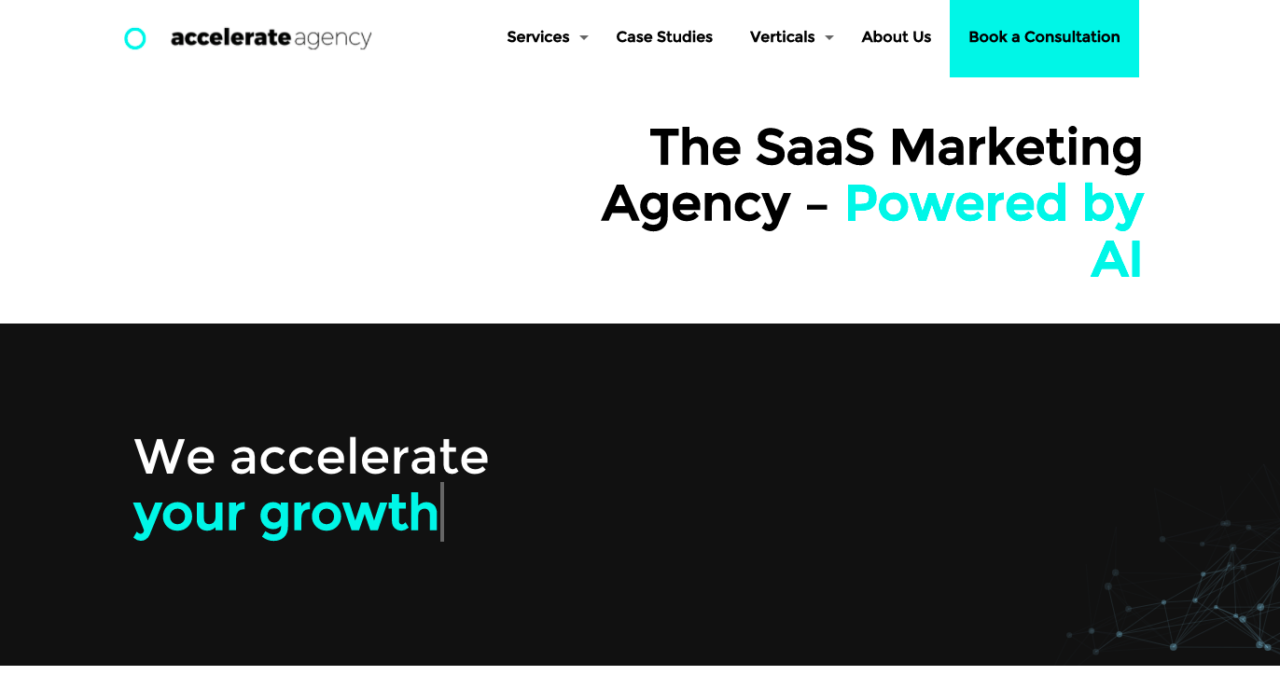 Accelerate Agency is an official member of the Forbes Agency Council and a Google partner agency. The company is awarded by The Drum Awards and UK Search Awards.
They offer great SEO and content marketing services that deliver exceptional marketing results for your SaaS platform.
Accelerate Agency specializes in:
Accelerate Agency is made up of veteran SEO experts who were providing SEO services even before the birth of Google. They offer a 360-degree SEO approach to optimize every essential on-site and off-site SEO element to turn traffic into sales.
They offer expert SaaS content marketing services to help you create quality content that helps to capture and convert audiences.
Accelerate Agency has expertise in creating different types of highly engaging content pieces, including blogs, articles, e-books, interviews, how-to guides, and user stories.
The team can get your SaaS business featured on prominent industry-leading platforms such as TechCrunch, HubSpot and PandaDoc.
Top clients:
RingCentral
Toggl
Dialpad
Brightpearl
Databricks
Affise
Pricing: Accelerate Agency offers custom pricing plans based on your business goals and needs.
Benefits of Hiring a SaaS Marketing Agency
Here are some of the top reasons why you could benefit from working with SaaS marketing agencies:
1) Top Skills
If you have an in-house marketing person or a small marketing team, having all the necessary skills and certifications can be challenging. A lack of marketing expertise may also lead to higher customer acquisition costs.
Partnering with a SaaS marketing agency allows software companies to work with a complete team of SaaS marketing experts who have a range of skills and vast industry experience to give you the best return on your marketing investment.
2) Familiarity with the Latest Trends
An experienced SaaS marketing company is familiar with the latest SaaS marketing trends. They are proactive and understand how to revamp their current marketing strategies based on recent changes in the industry.
Therefore, working with a SaaS advertising agency assures that your product marketing strategy stays innovative and remains on top of the minds of your target audiences. Following a trend-focused marketing strategy also helps you stay ahead of your competitors.
Dive Deeper: 38 Digital Marketing Trends You Can't Ignore in 2023
3) Cost Effectiveness
It is always cheaper to work with a SaaS marketing company than to hire a team of marketing experts.
Digital marketing consists of several strategies such as SEO, PPC, social media marketing, influencer marketing, email marketing, etc. Hiring niche experts in every field and with the right experience is costly. In addition, digital marketing agencies use several tools for their work, and all such tools come at a monthly recurring cost. Subscribing to a bunch of tools adds to your marketing budget.
When you hire a SaaS digital marketing agency, you get to work with qualified and experienced marketing experts who bring their own team and tools to the table.
4) Higher Quality of Leads
The quality and quantity of leads are vital for SaaS companies. You don't just need visitors, but paying subscribers.
SaaS companies' customer service teams often complain of "no good leads." In such a case, it is critical to identify your sales funnel.
Top-rated SaaS marketing agencies have the expertise in building effective sales funnels based on your preferred buyer persona. Therefore, you start receiving higher quality leads leading to an increase in revenue.
Dive Deeper: The Anatomy of an Effective SaaS Lead Generation Strategy
Factors to Consider When Choosing a SaaS Marketing Agency
Understanding of the SaaS Business Model
You should evaluate the experience of the SaaS consultancy, like whether they have experience working in B2B SaaS, B2C SaaS or both.
Remember, the goals and challenges of SaaS marketing are different from those in other industries, making extensive knowledge of this unique market essential for any marketing agency entrusted with the growth of your brand.
Specific Experience
A SaaS agency may also have expertise as a content marketing agency, ecommerce agency, etc., but relevant industry experience is crucial to getting the desired edge in your marketing campaign.
Find out how many years they have been in this industry and check their clientele. If their client list is missing SaaS companies, it is better to find another agency. Read the case studies on their website to understand their tactics to market a product and study the campaign achievements.
Range of Services Offered
The scope of services offered by a SaaS marketing agency is another pivotal factor. It's not merely about having experience; it's about having the right tools for the right job at the right time.
The most effective SaaS marketing typically relies on a range of strategies, including content marketing, SEO, PPC, email marketing, and more. As such, it's essential to ensure that your preferred agency has the tools, skills and experience to handle this multi-strategy approach in a way that produces results.
Pricing and Contract Flexibility

As you'll have learned from checking out the top five agencies listed above, not all SaaS marketing companies use the same business model.
Some may offer performance-based pricing, whereas others sell a pre-packaged bundle of services for a fixed fee and others still work on a retainer. Either way, it's important to choose an agency whose model best aligns with your budget and objectives.
Ratings and Reviews
Find out if their business is present on major review sites and agency directories.
Check their Google reviews or other review sites like Clutch and G2, and read the comments other customers left about their business. You will learn much more about the company after reading what others say about them rather than what they are saying about themselves: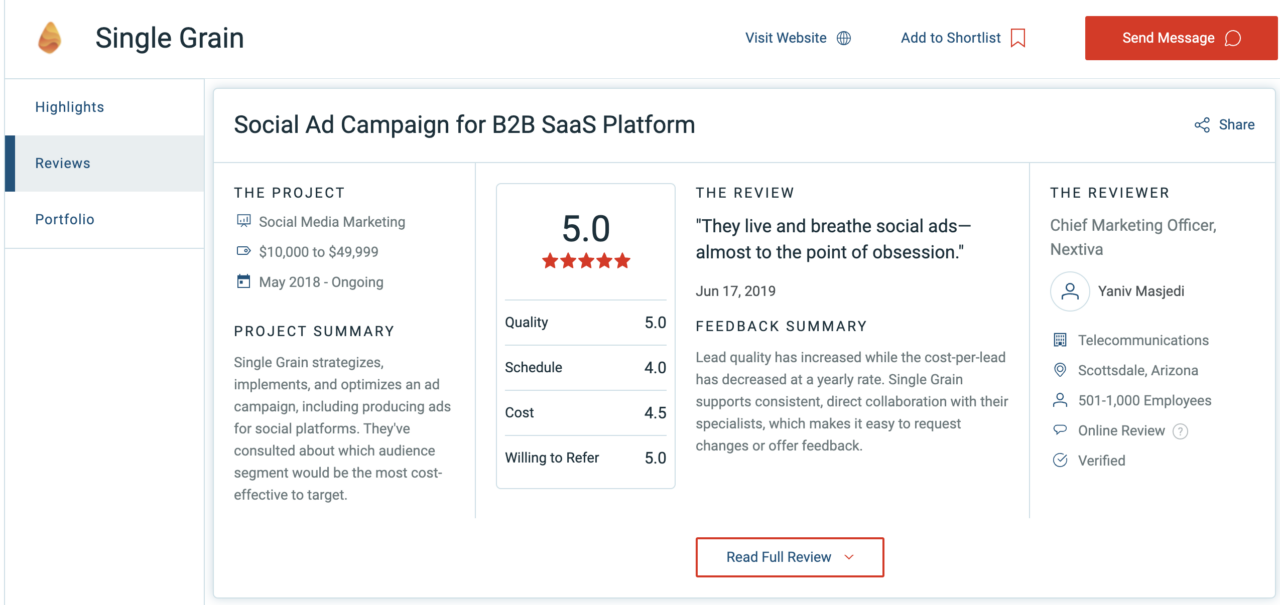 Also, read the testimonials on their website and check out the businesses that have left reviews about them.

Evaluating reviews is the best way to determine if other clients love the company you will work with. Customer experience should always be a top priority in selecting a digital marketing company.
How Much Do SaaS Marketing Agencies Charge?
Different pricing models apply depending on the agency you choose to work with.
Some agencies charge a fixed hourly rate, while others charge a flat monthly fee:
The primary pricing model for SaaS marketing agencies is a fixed hourly rate between $100-$250 or more, depending on your target KPIs and goals.
Agencies that offer a flat monthly fee usually charge between $1,000-$10,000 per month or more depending on your project goals.
Some digital marketing companies add a performance-based fee to their standard package, which they charge once they achieve the predefined set of targets at the start of the campaign.
Ready to Start Working with a SaaS Marketing Agency?
Software as a service (SaaS) businesses require a specific marketing strategy to improve their branding and acquire new customers every month, not to mention retaining their existing subscribers.
Hence, SaaS companies can always use the help of a dedicated marketing agency to reach their campaign objectives and meet their sales goals.
SaaS marketing companies offer ROI-focused strategic marketing advice and provide a custom marketing plan to improve the monthly recurring revenue, crucial for SaaS companies.
Schedule your FREE consultation with Single Grain's SaaS experts to discuss your project requirements.  👇
SaaS Marketing Agency FAQs
If you were unable to find the answer you've been looking for, do not hesitate to get in touch and ask us directly.