Case studies are one of the most important lead generation strategies. A good case study not only proves a marketing company's success, but also zones in on the strategies used to identify leads, customer pain points, increase sales, convert leads, and accomplish other goals.
But which lead gen strategies are the real winners?  
In this post, we'll go over seven effective lead generation campaign case studies, the strategies involved, and the results that the brands received – so you can get inspired for your own strategy.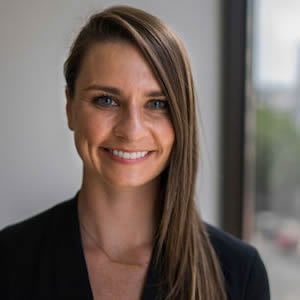 Jacqueline Foster
Demand Generation Marketing, Lever.co
We can count on them to bring new ideas to the table consistently
7 Lead Generation Case Studies to Inspire You
From startups to established enterprises, these seven case study examples will inspire you to take action and improve your own lead generation efforts.
Twenty20
Visual media company Twenty20 may be breaking ground in the stock image world, but they struggled to convert users into paid subscribers. They relied on an inconsistent sales process that didn't deliver the growth they needed. As a result, they sought help from us.
The Challenge: Convert Prospects into Paid Subscribers
Twenty20 suffered from many barriers in its growth and needed to overcome them. Digital design is a competitive field, and prospects were choosing the competition.
There were also issues in their sales process. The team relied too heavily on their internal sales staff, using account-based marketing and cold calling tactics. They needed to stand out from the competition by using sales tactics with more value, all while improving their sales process.
Strategy: Optimize Digital Strategies
Instead of relying on a traditional lead gen process, we implemented digital strategies that optimized sales funnel marketing.
We focused on two core digital marketing strategies: search engine marketing and social media advertising. They used an Alpha-Beta-Gamma testing strategy to ensure that they converted prospects at all angles while keeping costs down.
Results: Converted Leads With Free Trial Sign-Ups
Twenty20's website traffic increased by 403% while achieving the same consistent revenue per session.
We advertised to Twenty20's target market, which reduced advertising expenses by 72.49%, and promoted a free trial rather than a paid service. Free trial sign-ups were enhanced, with MQLs at a 16.42% increase. Twenty20 no longer needed to rely on traditional advertising methods and its internal sales process.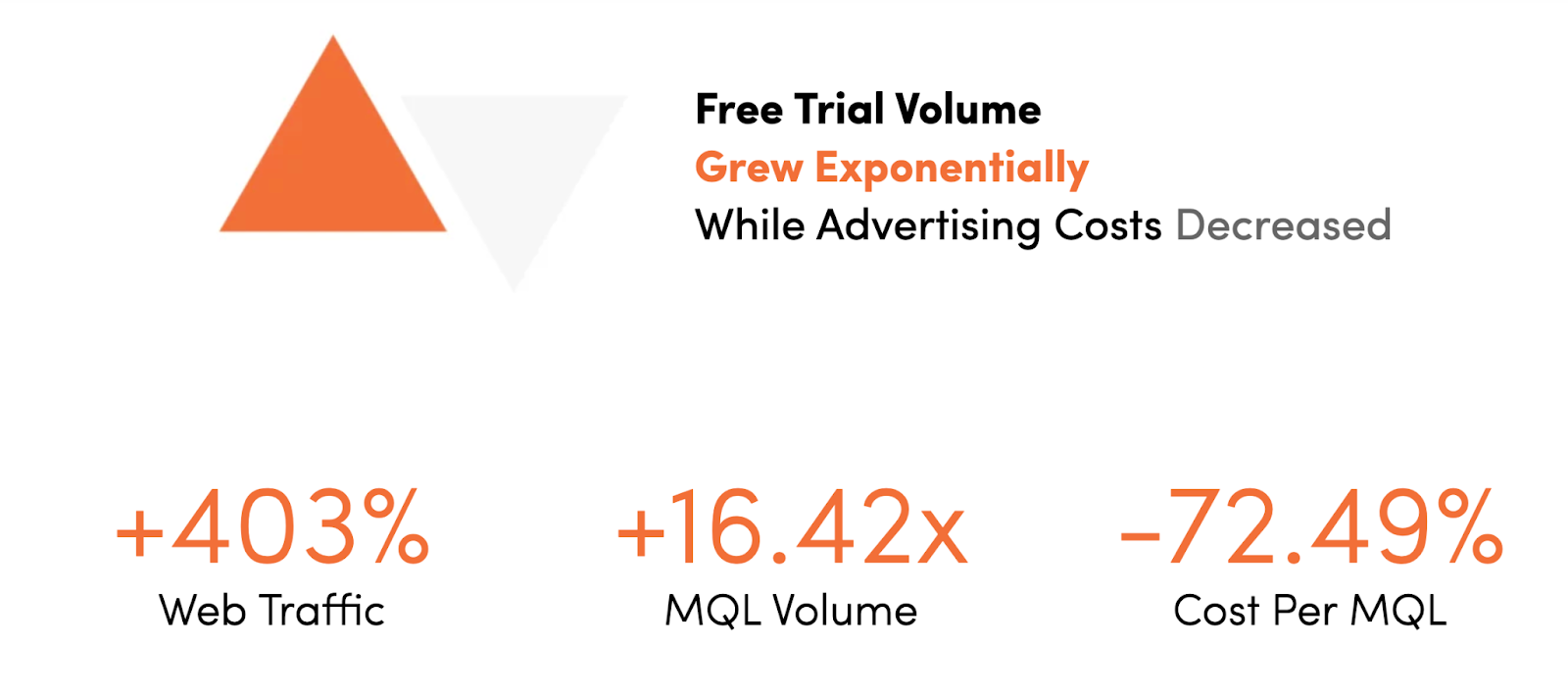 Dive Deeper: MQL vs. SQL – Serve Up The Right Type Of Content To Your Leads
All great websites start with a prototype, and many web developers turn to Axure. Their software is optimized for website prototypes so that developers can build functional and realistic websites.
To become the best website prototype software, Axure needed to generate more B2B leads and specifically wanted to target SaaS services.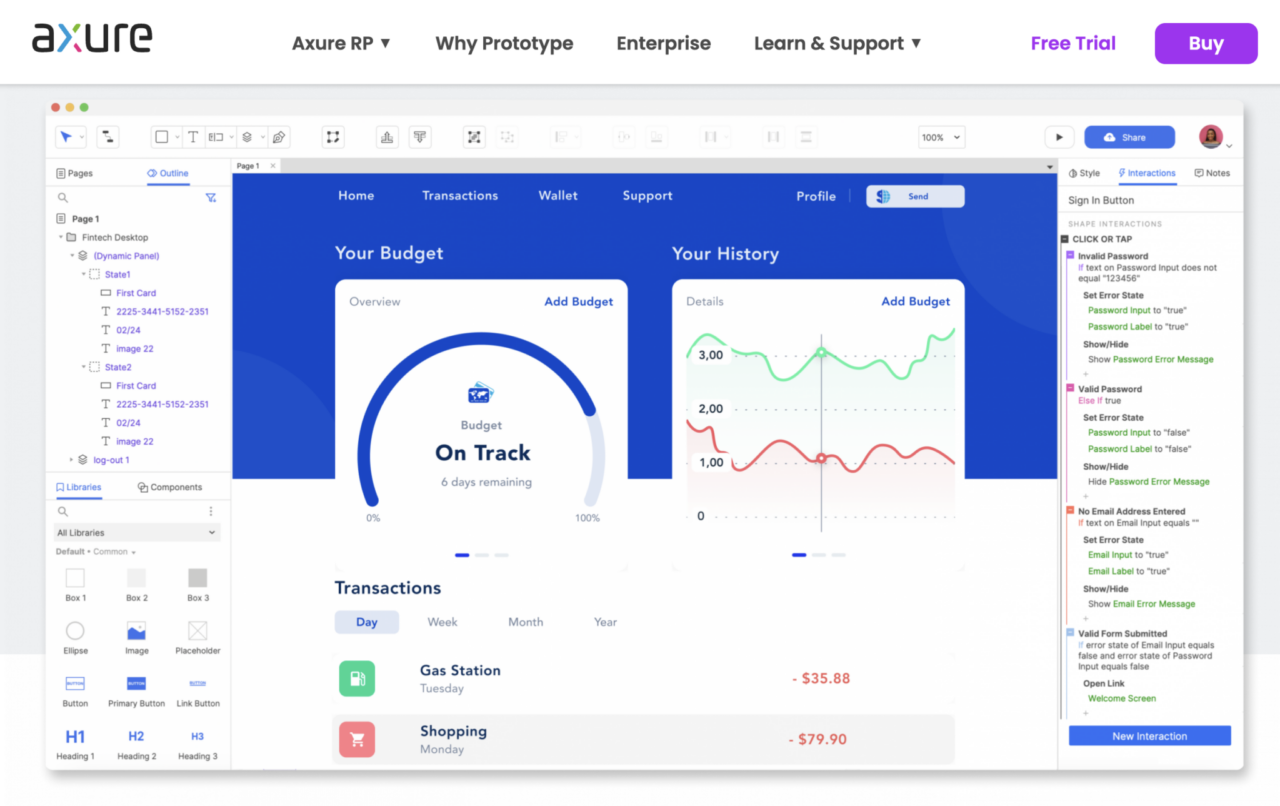 The Challenge: Generate Quality B2B SaaS Leads
Axure needed to generate more leads and attract new customers from B2B SaaS services. Their current strategy was generating website traffic but not new leads. However, advertising can be expensive, so Axure knew they needed help attracting new clients while decreasing CPL costs.
They partnered with us, PPC advertising experts, to accomplish Axure's lead gen goals: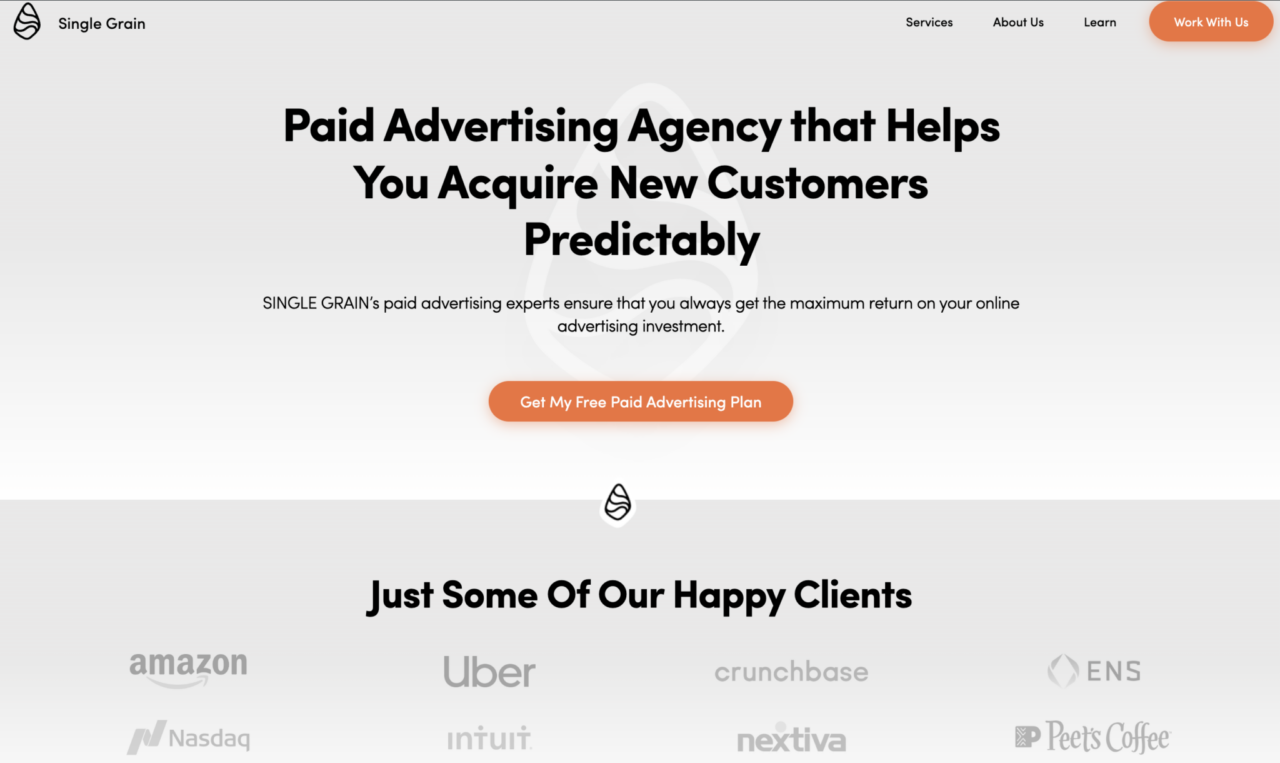 We noticed various issues in their strategy. First, they targeted countries whose traffic had no value. Their SEO and PPC campaigns optimized broad keywords, and the traffic from those keywords wasn't converting. Their competitors were also ranking higher for those keywords.
Strategy: Target Quality Leads and Branded Keywords
By measuring where Axure was failing, we created lead generation strategies with value. They prioritized their marketing dollars to target countries that would provide high-quality traffic and were more likely to convert. They also ranked for converting keywords, which included branded terms.
Results: Generated Leads, Increased CTR and Reduced Costs
By putting Axure's marketing dollars toward smarter avenues, they achieved a 32.04% CTR and reduced conversion costs by 0.51%, with an overall savings of 26.33%. Google Ad spending decreased by 60%, and they maintained an average of $10 CPL. Their cost per conversion decreased by 15.61% while maintaining a conversion rate of 7266.22%.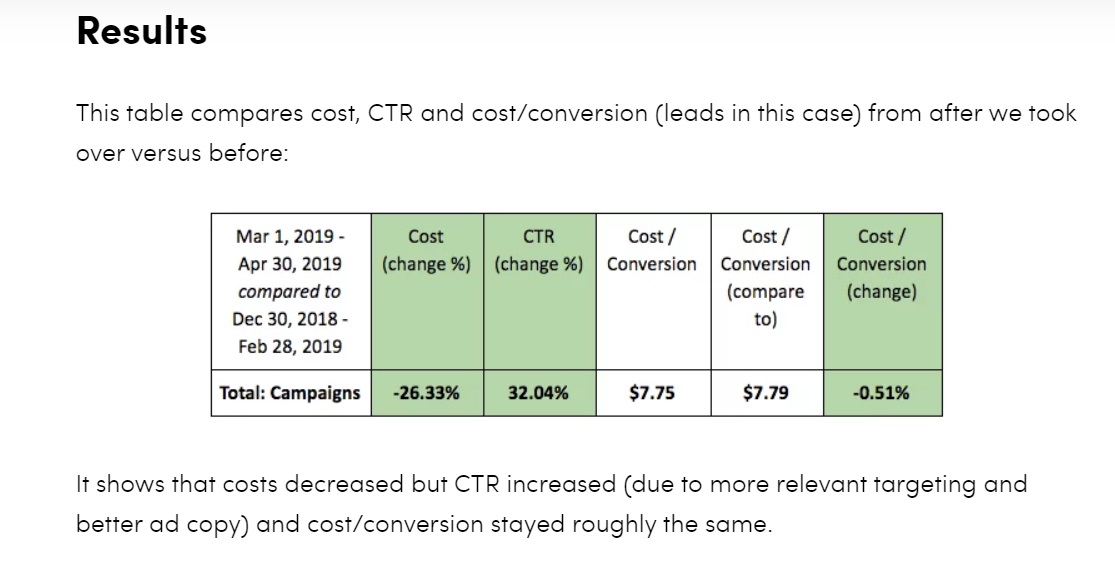 Thanks to their improved advertising efforts, Axure generated 1,113 leads from branded search alone and increased branded search impressions by 5,400%.
Dive Deeper: SaaS Lead Generation: How We Improved Axure's Lead Quality Overnight
ThinSlim Foods was experiencing serious growth: 100-150% over the course of just a few years. They offer the ultimate solution to dieters – low-carb foods that are healthy and taste great.
They also had an effective advertising strategy, so much so that their paid advertising accounts were generating $70-$80K a month alone.
So, what needed to change?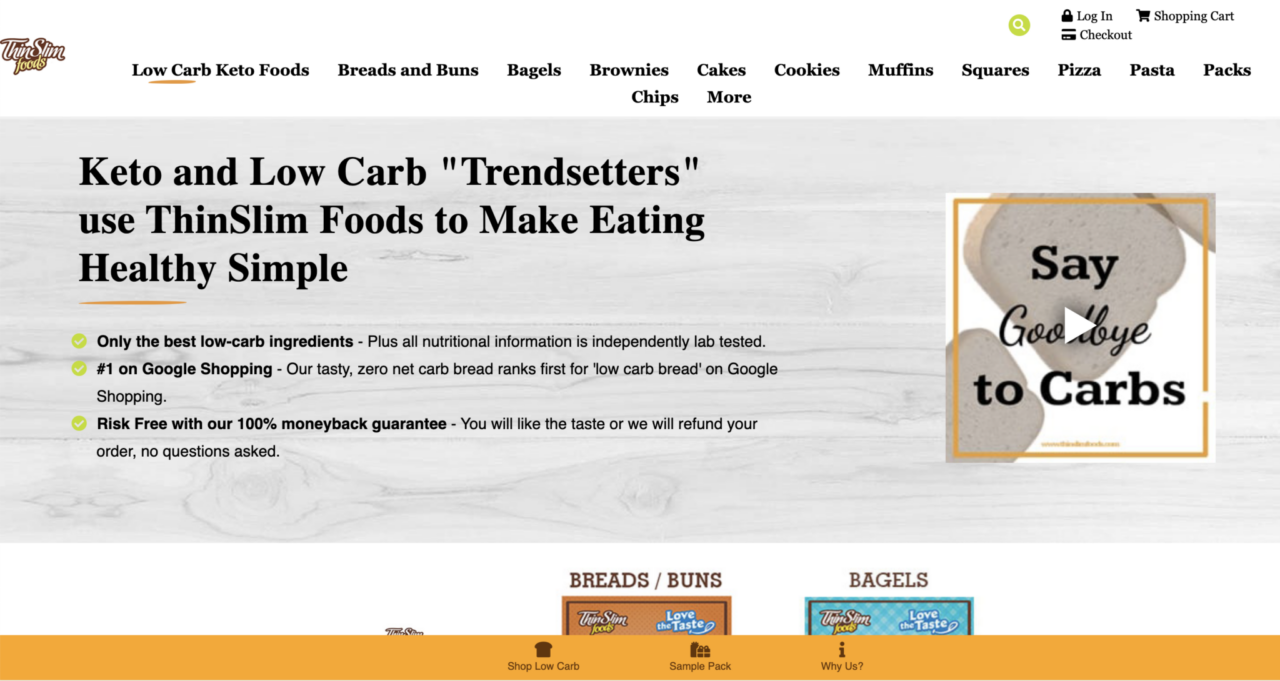 The Challenge: Scale Conversions and Maintain a Better ROAS
ThinSlim Foods' advertising solution was on the right track, but still needed improvement. Specifically, the company wanted to scale conversions and maintain a healthy ROAS. They also wanted to focus on paid search and social media services more than other marketing initiatives.
They knew they needed a professional digital marketing agency help to achieve this, so they contacted us.
The Strategy: Adjusted Messaging, Rebuilt Ad Structure and More
We implemented multiple services to convert more leads for the e-commerce brand:
Adjusted messaging to align with the brand
Rebuilt the Google Search Account to drive organic traffic through non-branded searches
Retargeted all products
Allocated the budget to relevant audiences
Dynamic product ads
Used "dark posts" on Facebook ads
Dynamic search ads
Display ads
A/B testing in paid search headlines
Results: More Client Impressions, Conversions and Savings
The changes we made to their advertising strategy resulted in a 95% impression share for clients, up from the 40%. This resulted from switching ThinSlim Foods to a target CPA conversion mode, where they had more control over increasing or decreasing bids.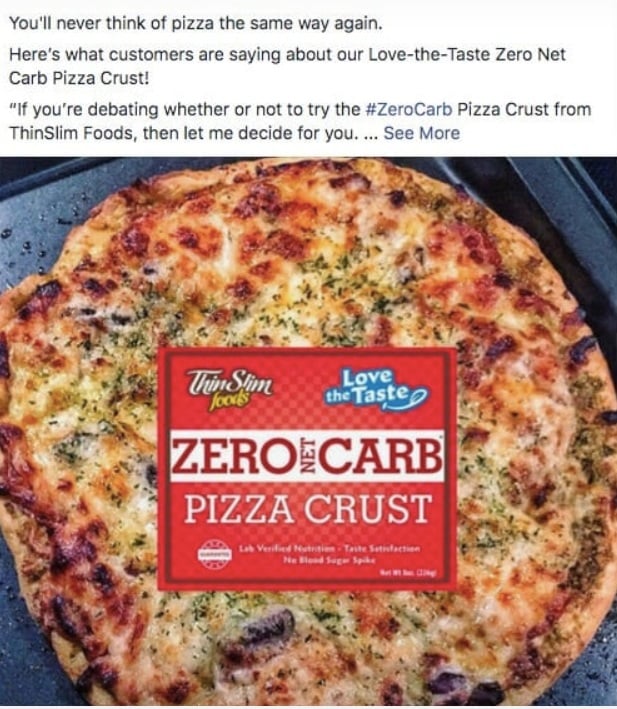 Many advertising services were also very effective. For example, dynamic product ads alone resulted in a 200% increase in conversion volume.
To save money, we spread the CPC budget across multiple campaigns. We also helped ThinSlim Foods target more keywords and expand its audience without increasing its budget. And we decreased TSF's ad spend from $82K to $71K: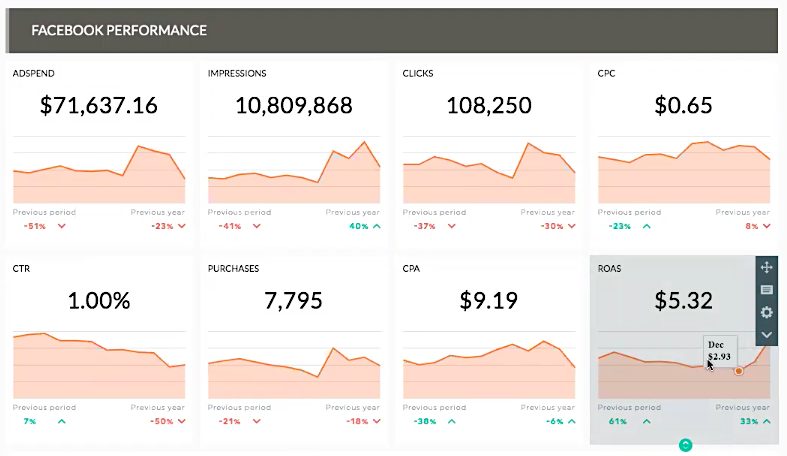 Here are other key results from the campaign:
Increased Google Shopping conversion volume by 2.5x
Increased Google Search conversion volume by 2.5x
Profitable Google Discovery campaign
Profitable Google Display campaign
Increased Facebook conversion volume by 2.5x
Dive Deeper: E-commerce Advertising Strategy: How We Doubled PPC Sales for ThinSlim Foods (with a 3X+ ROAS)
Stanley Tate knows a thing or two about the student loan debt industry. After all, he also has massive debt to pay off. This is one of the many reasons why he created Tate Law: to represent other former students in the same position.
Tate was doing all the right things with his marketing strategy. He had a high-quality landing page, compelling copy and a strong CTA. But something was missing….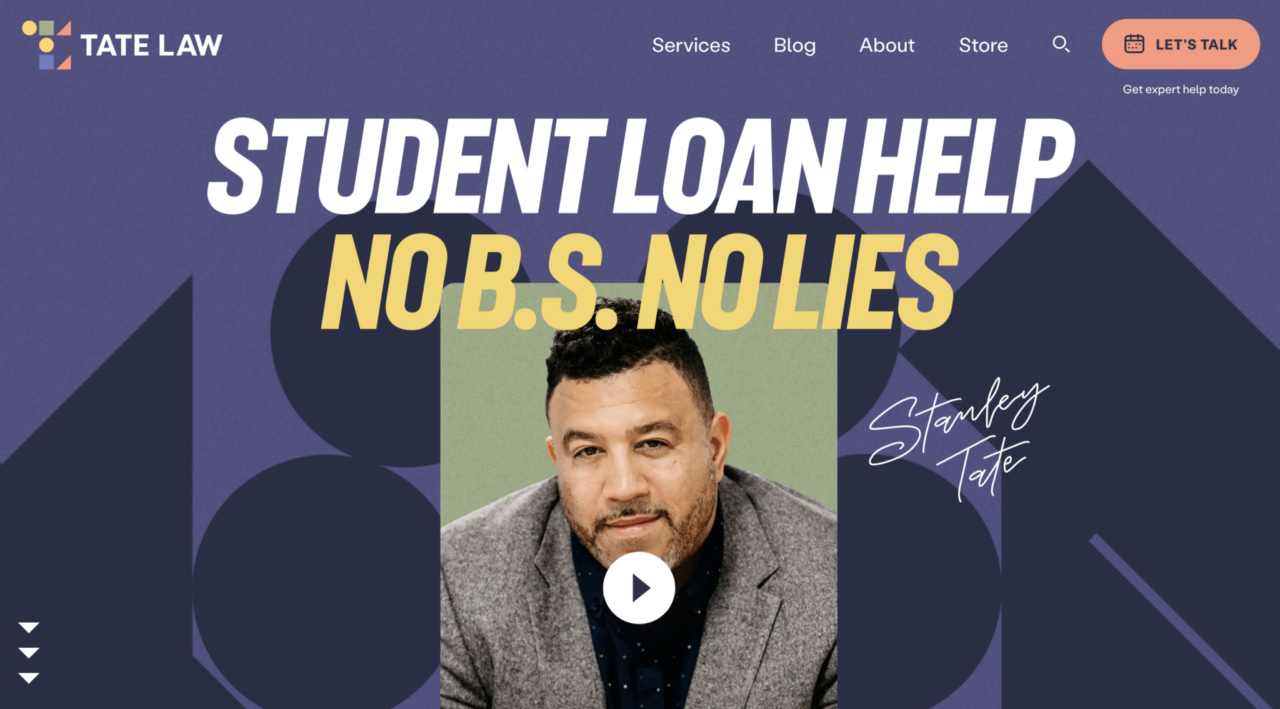 The Challenge: Create Engaging Content for His Audience
Tate knows how young people communicate, and bland legal web copy from landing pages doesn't draw them in. Instead, he wanted his landing page to communicate in a way they're accustomed to – using video and interactive media to engage his website visitors and promote his services.
Strategy: Interactive Chatbox Video
An interactive chatbox video was added to his landing page. This video combined the best of a chatbox and Zoom chat, resulting in personalized and interactive video content:
The video starts with an introduction that leads to a "How Can I Help?" button. Viewers can choose any of the options that fit their needs. This button leads to a video where Tate explains the basics of the services they need and invites the viewer to learn more about their pain points. They can also click the button to schedule a free call.
Results: Consultation Increases
Tate saw a 654% increase in calls from potential buyers after adding the video chatbot. His conversion rate also increased from 1.03% to 6.74%.
There are a couple reasons why this was so successful:
First, the video is educational. Tate introduces himself as a lawyer who wants to help his clients and teach them the basics of student loan law. This immediately creates trust with the viewer.
Second, viewers don't have to jump through hoops to learn more about his services. They either click the buttons on the video or schedule a call. All actions are on the same page, so website visitors don't have to go far to satisfy their demands.
Dive Deeper: 18 Engaging Video Content Types that People Love to Watch
Although fitness is integral for your health, the personal training industry is oversaturated.
This is the issue that was facing UK-based personal training company Intent91. Not only that, but as a small business, they didn't have a lot of funds to work with.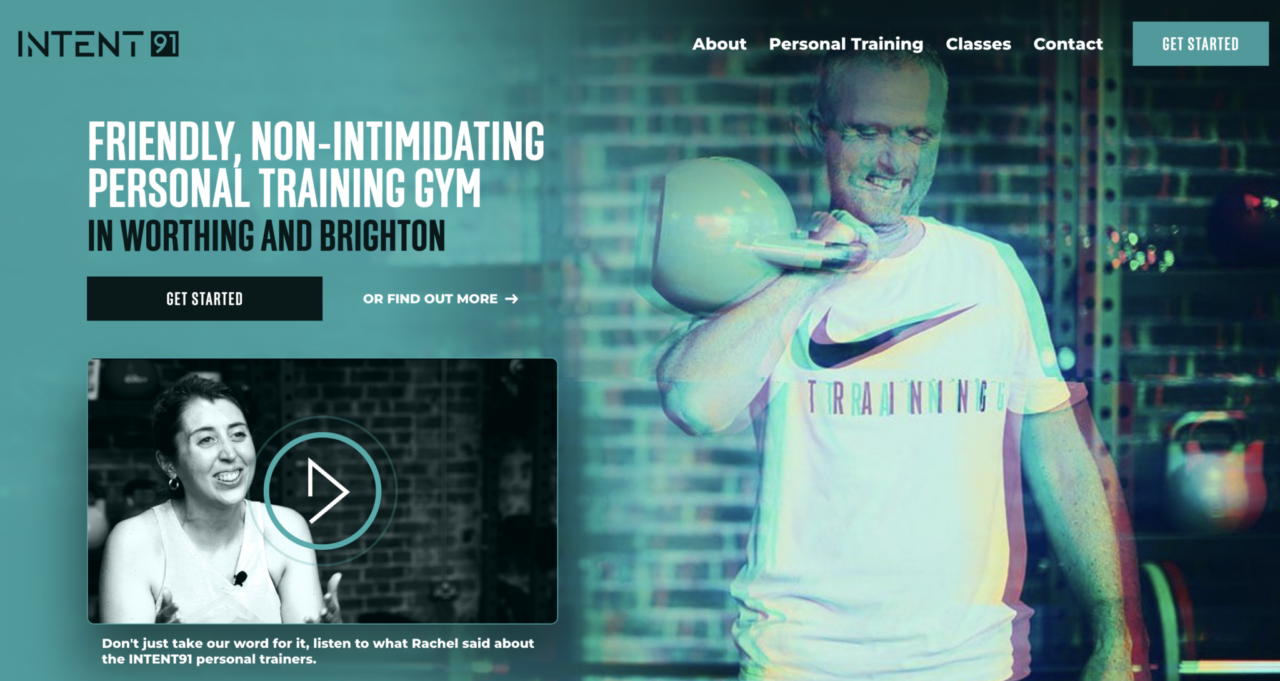 The Challenge: Generate Leads
Intent91 needed a solution to separate itself from the competition and generate more leads. They wanted to abandon the pushy and intimidating sales tactics that other gyms and trainers used. Instead, they focused more on education and making their advertising strategy less demanding.
Strategy: Facebook Advertising and Social Media Listening
Intent91 invested a small amount – €51.07 GBP – in Facebook Ads. Their goal was to not only enhance brand awareness, but listen to their audience. They did this by experimenting with different CTA buttons.
Facebook offers numerous CTA button options, including:
Sign Up
Learn More
Get Quote
Message Now
Download
Get Offer
Book Now
From here, Intent91 developed a lead-first strategy. They posted more customer testimonials demonstrating that their personal training service helped clients achieve their fitness goals. They also prioritized video testimonials over written ones.
Results: Converted Leads With Educational Content
Of all the Facebook advertising buttons, Intent91 converted the most leads with the "Learn More" button:
This told the company that its audience values information more than pushy sales tactics.
The customer testimonial videos also generated more leads. This content created more trust with prospects, and Intent91 received more engagements.
What Intent91 discovered is that their target audience wants:
to join a gym that's less demanding
to hire trainers that aren't harsh
a more personable experience in the fitness industry
They listened to their audience and converted more leads as a result.
Dive Deeper: How This E-commerce Store Doubled Its Revenue Using Our Facebook Ads Advice
BMC Software figured out the solution to complex IT problems: They released a platform that offers a scalable, open and modular platform, reinventing the technological side of their service.
However, they still struggled to convert B2B leads and attract new customers.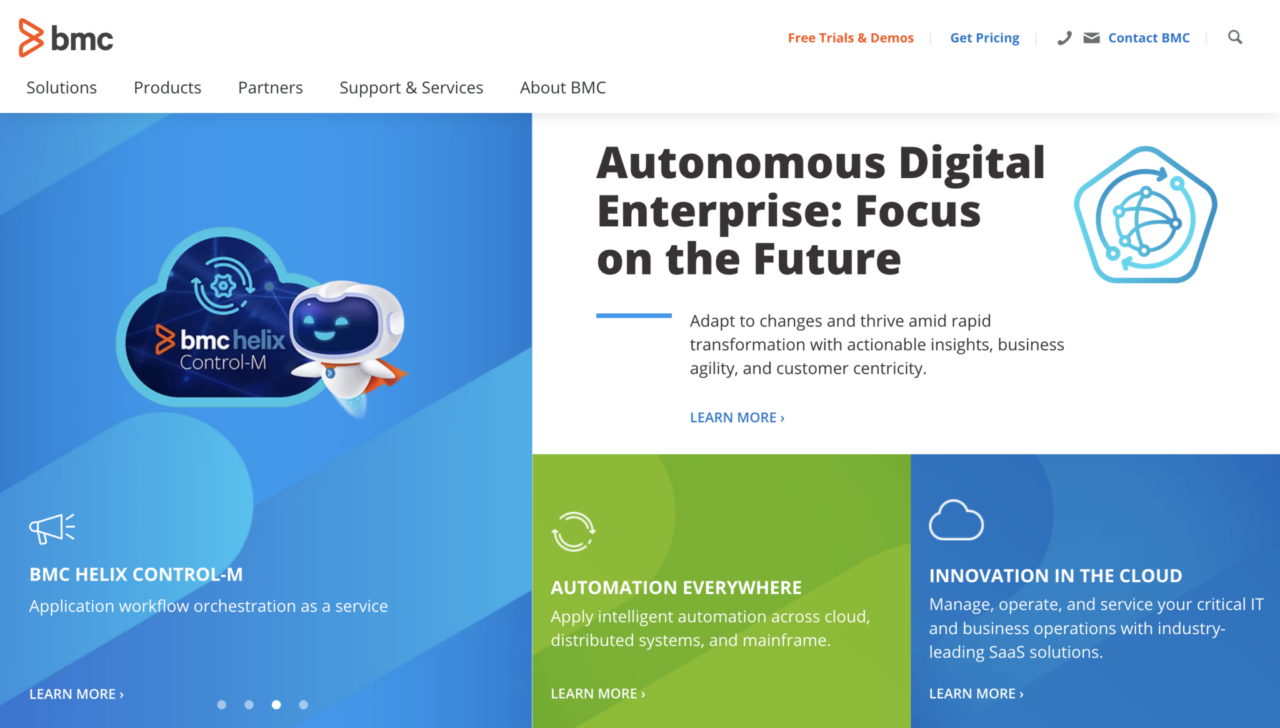 The Challenge: Strategic B2B Lead Gen Approach
BMC Software wanted to create a more strategic approach to its B2B lead generation efforts. The ultimate goal was to drive revenue growth and attract quality leads. Since tech has only become more competitive, they needed to dominate the competition and set themselves up as the premier B2B IT solution.
Strategy: Targeted Existing Leads
The strategy was simple: use their database to target new customers. Since they were attracting leads from their own resources, this decreased the CPL and avoided other budget issues. These leads were already familiar with BMC Software, so they traveled down the sales pipeline faster: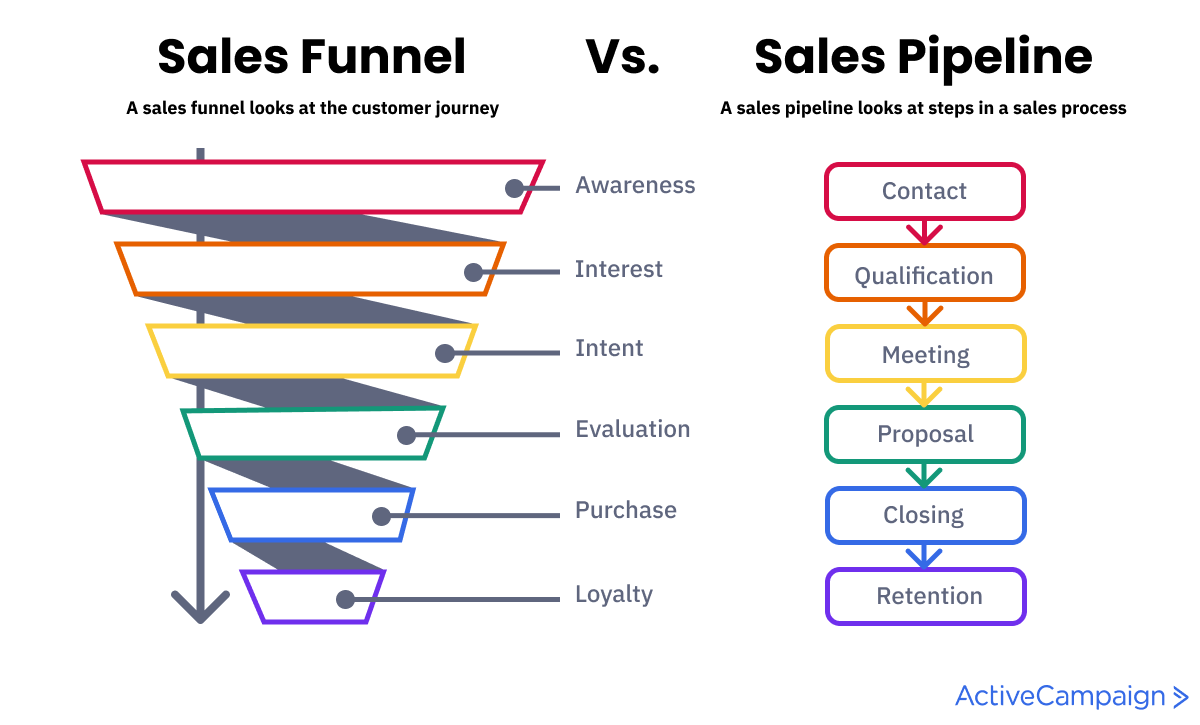 Results: Converted More Existing Leads
In this B2B lead generation case study, BMC Software saw results on different levels. There were improvements among their sales professionals. Targeting high-quality leads resulted in more conversions, expediting the sales process. This also improved the performance of internal sales team members, resulting in more productive employees.
In total, BMC Software attracted 5,000 leads. BMC Software not only converted existing leads, but increased the number of MQLs by over 2,500, resulting in a 49.5% conversion rate. This increased their revenue but enhanced growth, making them a more competitive force in the B2B technology sector.
Dive Deeper: 8 Key Demand Generation Strategies to Capture & Convert High-Quality Leads
Cornerstone OnDemand is one of the forces revolutionizing HR tech. They offer various SaaS talent management solutions for HR, focusing on training and retaining employees.
Initially, Cornerstone OnDemand only needed digital marketing help. However, they quickly realized their lead generation strategy also needed some help.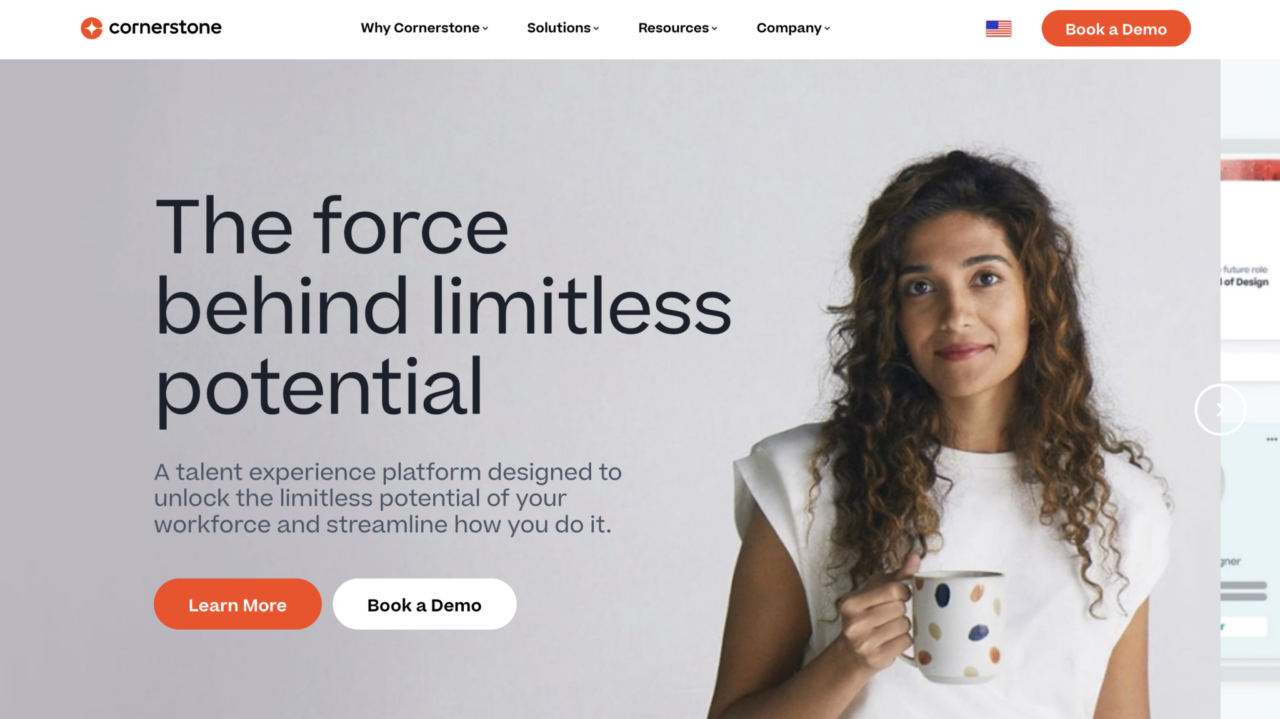 The Challenge: Increase Leads with a Digital Marketing Approach
Their Director of Digital Marketing originally left the company, so Cornerstone OnDemand needed to assess its digital marketing needs. The goal was to promote their software using various digital marketing strategies, enhance brand awareness, and use key channels to increase leads and new customers.
Strategy: Invested in a Multi-Channel Marketing Campaign
Cornerstone OnDemand sought help from a digital marketing agency that created a multi-channel approach.
They invested in paid ads throughout North America and Europe, focusing heavily on Google and LinkedIn. They included a combination of display, search, ABM and programmatic ads. They also developed a content marketing strategy and chatbot marketing automation. And, finally, they improved their web design.
The firm experimented with different CTAs to see which resulted in more leads. These CTAs included:
Register for the webinar
Schedule a demo
Listen to the podcast
Download assets
Download our free e-book
Their marketing budget was also updated to invest more in these core channels, and spent consistently throughout the campaign. Their digital marketing firm used internal team members, external sources and stakeholders to fulfill these strategies.
Results: Increased MQLs and Conversions with an Excellent ROI
Cornerstone OnDemand gained 189 closed-won deals, 2,837 MQLs, 25% conversion rates, and a 274% ROI:

Their leads were gained across various channels, specifically Google, LinkedIn, Drift, and Demandbase. LinkedIn proved to be the most effective channel, with 937 qualified leads, and the programmatic ad campaign resulted in a 39% increase in page views.
The CTA to download the free e-book was the most successful, proving that their leads want to learn more about HR software before investing in a platform. Since they stuck to a marketing budget and only spent money consistently, their CPL was reduced.
Dive Deeper: 5 Tips to Build a Seamless Omnichannel Customer Experience
A Lead Generation Case Study Proves Results
There's a reason why businesses should pay attention to a lead generation case study. These studies show how to create an effective strategy for lead gen and the tactics that brands have used to convert leads and gain new customers.
By studying these lead generation case studies, you'll gain a deeper understanding of what it takes to attract and convert high-quality leads into loyal customers. Apply these insights to your own business and watch your revenue and growth soar.
Hopefully you got inspired for your own lead generation strategy, but if you just want someone to do the work for you, Single Grain's experts can help!👇