Facebook Ads E-commerce Case Studies that Increased ROAS
While Facebook advertising can convert serious leads, creating a strategy can be daunting (and expensive) for a novice. But reading a Facebook Ads e-commerce case study is a little-known way to create a winning strategy the first time.
If you're looking for inspiration, here are four e-commerce Facebook Ads in which the stores enticed their target audience, increased B2C sales and ROAS, and kept advertising expenses down.
Facebook Ads E-commerce Case Studies that Increased ROAS
If you own an e-commerce business, it's easy to think you should put your advertising dollars in ad accounts such as Google or Amazon rather than Facebook. After all, the young generation isn't on Facebook anymore, right?
In reality, 426.8 million people in the 18-24 age group and 596.8 million people in the 25-34 age group use Facebook, making up a large chunk of the Gen Z and Millennial demographics:
In 2022, Facebook's ad revenue was worth $113 billion and it is still predicted to be a powerful advertising platform in 2023 and the future.
This is why more e-commerce companies have been investing in ads on Facebook.
Now, let's look at four Facebook Ads e-commerce case studies to see how they increased ROAS.
One of the best aspects of owning an online store is that sellers can target a niche audience and still convert leads and increase sales.
SkeletonHD creates a specific product for a niche audience: skull jewelry for men. All their pieces are authentic and unique, ones you can't find anywhere else. From bracelets with skull beads to chains with skull pendants, SkeletonHD offers high-quality jewelry for men who have an alternative edge.
However, SkeletonHD struggled to achieve an ROI on its Facebook Ad campaign.
The Challenge: Making an ROI on Rising Facebook Ad Costs
No, you're not imagining things – Facebook Ads are getting more expensive. With the average CPC as high as $0.97, this is a hindrance for many small e-commerce businesses, such as SkeletonHD. Specifically, SkeletonHD was struggling with the rising costs in customer acquisition and CPMs (cost per mille, also known as cost per thousand).
Though most competitors are investing less in Facebook campaigns and putting advertising dollars toward other platforms, SkeletonHD's owner Samer Biladi decided to invest heavily in a Facebook Ads strategy before costs increased even more.
Unfortunately, his efforts weren't successful. His customer acquisition decreased by 30%. He was able to attract more prospects but wasn't to convert them into sales.
Strategy: Automation
Although SkeletonHD didn't hire Single Grain, they did follow our advice from our post about critical Facebook Ads trends and then contacted us afterwards to let us know about their success.
The problem was that SkeletonHD's Facebook advertising strategy lacked management. They were using all of Facebook's advertising mediums, but were using the same ad for all. This wasn't helping with audience targeting, and they were only targeting the same Facebook users.
However, all this implementation and testing was taking a toll on Samer's time and resources. This is why Samer followed our advice and worked on an automation advertising strategy for Facebook.
The strategy consisted of multiple tactics:
Campaign budget optimization
Automatic placements
Automatic language translation
Dynamic formats
Multiple text optimization
With these tactics, Facebook's automation tools helped Samer stay on budget, place ads over various Facebook and Meta products, make his ads available to a global audience, generate high-performing ads, and add different text versions for the same ad.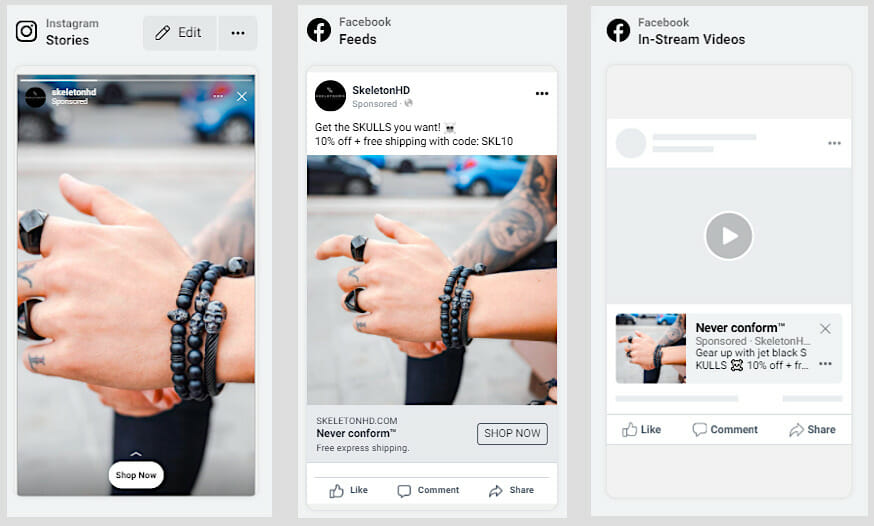 SkeletonHD's strategy also emphasized certain aspects, such as placing ads on stories, optimizing ads for mobile and using more video content.
Results: Increased Facebook Reach by 5X
Even though SkeletonHD increased its ad spend by 300%, they also:
Increased their Facebook reach by 5X
Improved their CPM by 15%
Increased conversions by 7%
Improved engagement by 19%
Because of these results, SkeletonHD doubled their overall business revenue.
Dive Deeper: How This E-commerce Store Doubled Its Revenue Using Our Facebook Ads Advice
Seltzer Goods is a woman-owned company that makes modern goods for the home. Unlike competitors, Seltzer Goods creates products that are creative and can inspire laughter and even curiosity in the onlooker.
Seltzer Goods was on its way to the top when the pandemic hit. As with many businesses, their sales dropped. To keep driving leads down the sales funnel, Seltzer Goods decided to increase their ad spend.
The Challenge: Increase B2C Sales During the Pandemic
Seltzer Goods has two main audiences: B2B wholesalers and direct-to-consumer sales. During the pandemic, their B2B wholesale sales were decreasing. To offset the damage, Seltzer Goods focused on their B2C market, tapping into the e-commerce lockdown demand that many online businesses were experiencing.
Seltzer Goods also had a unique advantage over competitors – they sell many fun activities that can be enjoyed at home. For example, Seltzer Goods sells many unique puzzles and game books that keep customers busy: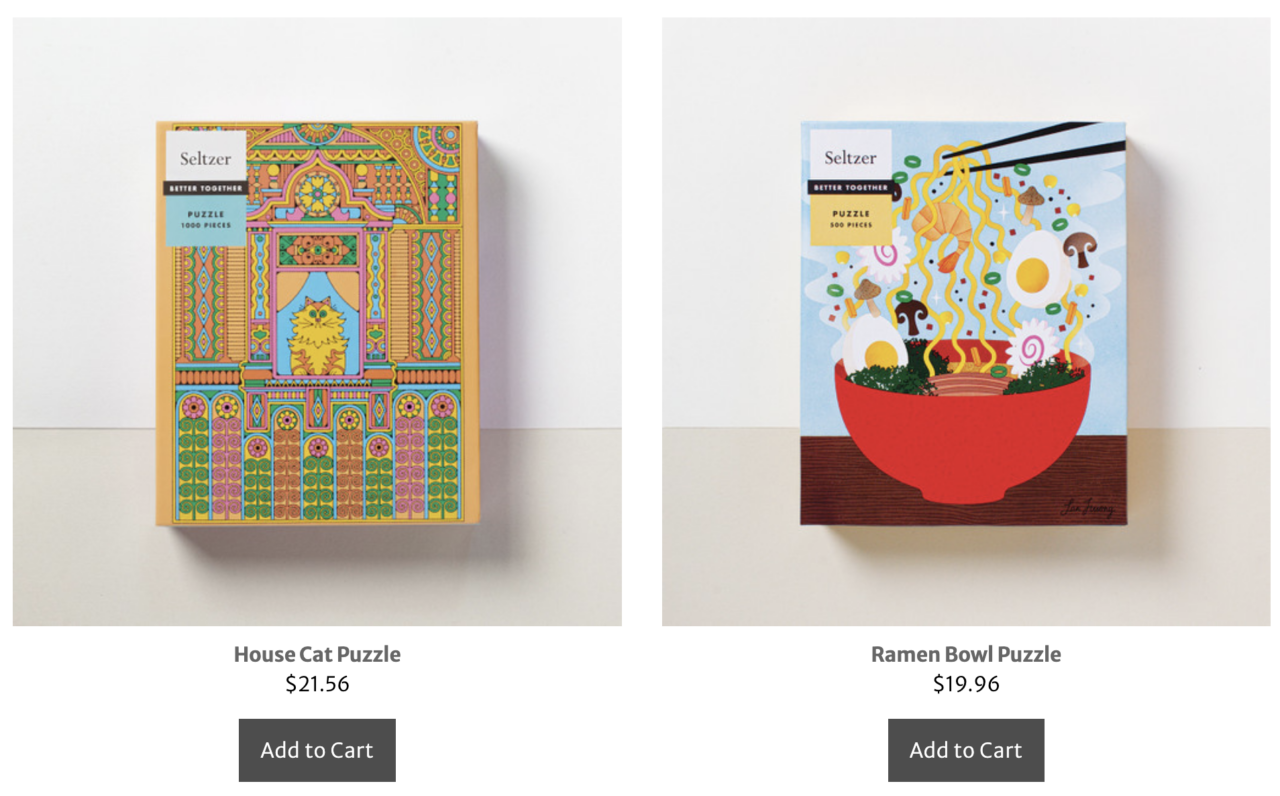 There was one main problem – Seltzer Goods didn't have enough awareness in the B2C market. This is when they decided to invest in an advertising strategy on Facebook and Instagram. The main components of their strategy were to write creative ad copy, scale their budget and target a cold audience.
Strategy: Create a Strategy from Scratch
Even though Seltzer Goods knew they needed a social media advertising campaign, they had never created one. So they contacted an advertising company to create an entire strategy from scratch.
The first thing the ad company did was add Facebook Pixel to the company's website to collect data on website traffic and customers. This data showed that Seltzer Good's audience was more active on Facebook and Instagram, where most of the advertising strategy would occur.
Since Seltzer Goods wanted to target a cold audience, the ad company implemented a See, Think and Do sales funnel: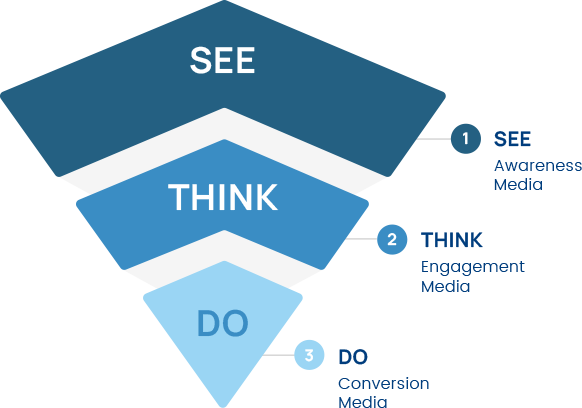 This funnel first raises awareness, then entices engagement in the second stage, leading to conversions at the final stage. This strategy included no retargeting ads.
Seltzer Goods used Facebook audience insights to target qualified shoppers while saving time and money. They kept their ad creation and management simple, largely using automation to place ads. The products they targeted included activities, specifically puzzles, that users could do while staying at home.
They kept their ad spend low and used a one-day click delivery optimization, shortening the buying cycle even more. The ad company tested a few ads, running two different ad creatives against the same ad copy simultaneously to see which led to more conversions: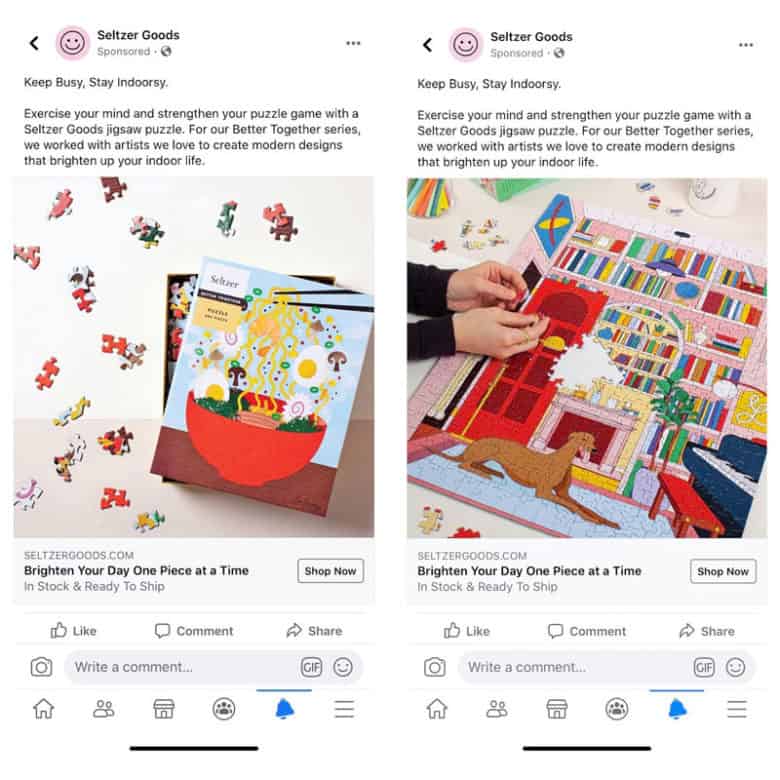 The copy stayed on brand: it was positive, relevant to the product, and offered a message of togetherness in an unpredictable time.
The ad company identified three types of audiences:
Add to Cart users
Key page visitors
Purchasers
This expedited the data collection process, identifying who was more likely to view the website versus those who purchase products.
Results: Increased Monthly Revenue and ROAS
Even though Seltzer Goods had to create a Facebook advertising strategy from scratch, their efforts resulted in a 25% monthly revenue increase and a 4.5X ROAS.

They also achieved a 785% increase in monthly revenue, a 319% increase in clicks, a 105% increase in total brand impressions, and a 105% CTR increase.
During the campaign, Facebook and Instagram accounted for 25% of Seltzer Goods' sales. They achieved all of this while spending less than $10 per CPA.
Dive Deeper: What Is Marketing Automation: Definition, Benefits & Uses
Market Square Jewelers is a multi-million dollar company that sells estate and antique jewelry. They have a brick-and-mortar store in Cambridge, Massachusetts, and a successful e-commerce store. But when they first launched their online store, they had little brand awareness outside their physical location and were experiencing heavy competition.
Market Square Jewelers knew that running Facebook Ads was the best strategy, but they knew they would need help.
The Challenge: Raise Brand Awareness
Since they were facing heavy competition, Market Square Jewelers knew the first step was to raise brand awareness, and the quickest way to achieve this was by investing in an advertising campaign.
Market Square Jewelers turned to an advertising expert who got them started on a Facebook advertising strategy.
Strategy: Target Female Buyers
To save time and costs, they focused on promoting their most popular product – their estate and antique engagement rings: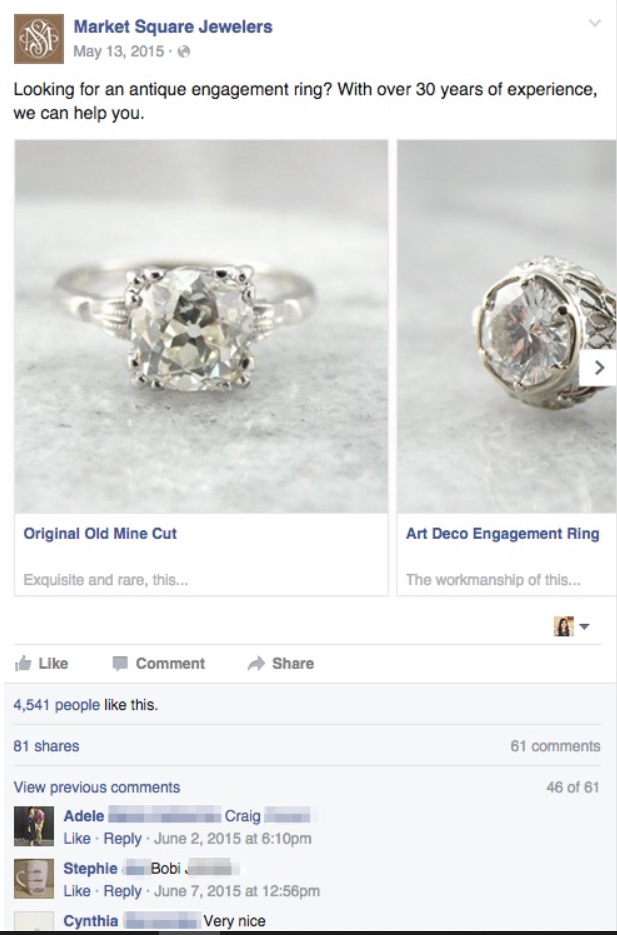 Market Square Jewelers realized they had an advantage over the competition: Since they offered unique and niche engagement rings, they would attract more female attention. This is different from other jewelers, who target men in the hunt for the perfect engagement ring.
The ad expert helped Market Square Jewelers create carousel ads using high-quality images of the engagement rings. Even though Market Square Jewelers was new to e-commerce, they had decades of experience in their local market, which they included in their ad copy. This helped the store establish credibility in the online market.
To stick to an ad budget, Market Square Jewelers consistently spent $7.50 on ads daily.
Spending a little bit over a long-term period (6-8 months) will result in consistently running ads, which will pull more leads down the sales funnel. Brands can also choose to spend more or less with this method; Market Square Jewelers spent more during the first part of their campaign and decreased their spending over time.
Results: Increased Reach
Market Square Jewelers targeted more female researchers in their engagement ring ads, and the results paid off big time. The biggest success was that the brand gained a total reach of 277,580. But these aren't the only figures the brand achieved.
From their advertising campaign, Market Square Jewelers saw these results:
25,653 clicks
478,928 impressions
5.36% click-through rate
40% sales increase
1,631.63% increase in Facebook
Market Square Jewelers achieved these results with a $0.06 cost-per-click and only spending $1,495.88 over the course of six months.
Dive Deeper: 16 Branding Trends to Increase Awareness
Spending a day relaxing on the beach sounds like a dream. But by the end of the day, sand is everywhere. Everywhere! All over your clothes, belongings and even your towel. Even after shaking off your towel, there are still traces of sand that get all over your car and home.
Sand Cloud found a solution for this common annoyance. They created a unique line of sand-free beach towels made of high-quality Turkish cotton in unique designs. The company also supports marine life, and 10% of its profits go toward marine conservation.
Even though they were already successful, they wanted to use Facebook's creative advertising tools to generate more sales.
The Challenge: Attract the Parent Demographic
Sand Cloud is a young company that opened in 2014. They mainly attracted the 18-24 consumer base and wanted to increase sales among the older demographic, specifically parents. This would not only increase sales, but improve their current advertising campaign.
They always used a creative ad strategy to draw the attention of the younger crowd so they decided to use these same tactics to draw attention from parents.
Strategy: Feature Families in Their Ads
Sand Cloud's previous advertising efforts didn't feature families – their ads featured young people on a luxurious beach vacation. To drive more sales from parents, they included more family-friendly media and ad copy: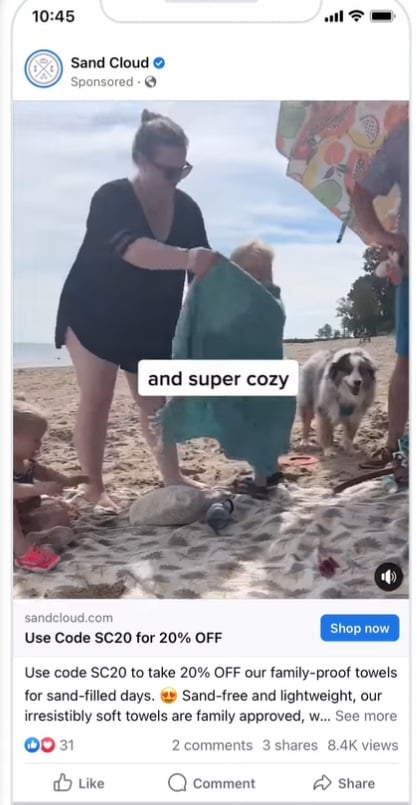 They started with a video ad featuring parents with two young children and a dog. The video showed the family having fun on the beach, using Sand Cloud's beach towels. The parents dried off the kids and dog with the Sand Cloud towels. There was even footage of the kids cuddling up with the sand-free towels in the car.
They included their ad copy directly in the video as text overlays. The messaging was positive and built trust, such as "100% organic." The ad included a "Shop Now" button that directed viewers to the company's website.
In addition, they used A/B testing to compare the performance of the new ads with their previous ones.
Results: 30% Increase in Reach
Sand Cloud achieved an impressive 30% in new customer reach when using the new ads compared to the previous ones. Attracting a slightly broader audience still resulted in a 24% lower cost per purchase.
Dive Deeper: How to Run A/B Tests that Actually Increase Conversions
Use a Facebook Ads E-commerce Case Study to Influence Your Campaign
Facebook Ads are still a core part of any e-commerce company's advertising strategy. But creating a successful campaign can be difficult since Facebook's advertising costs are increasing.
The social media giants also offer many advertising tools and products, so it can be difficult to know which strategies will work for your ad campaigns. Store owners can get inspired by a Facebook ads e-commerce case study to see which tactics worked for other sellers, and try to replicate their own successful advertising strategy.
Hopefully you learned how to improve your Facebook Ads, but if you just want someone to do the work for you, Single Grain's Facebook Ads experts can help!👇