"Don't put all your eggs in one basket" sums up why you should use multiple channels in order to maximize your opportunities to acquire customers.
After some rounds of testing, you will discover which ones work best so that you can really go after those channels that are producing new business for you and your company. When you focus on just one way of marketing, you miss out on so many other opportunities to grab your target audience's attention.
Managing multiple channels to acquire customers is your best bet at covering all grounds in order to reach your audience. Today, many business owners focus their attention on social media marketing. Yes, Twitter, Instagram, and Facebook all have a large number of users, but that doesn't mean that your customers are using those sites. In the end, you could be pushing out messages that fall on deaf ears and as a small business owner, you don't have that kind of time to waste.
We cover all grounds when marketing our business by using multi-channel customer acquisition. Over the years, we've tested what works and what doesn't. These are the three channels that we see the highest rate of return on.
1) Search Engine Optimization (SEO)
SEO is the way a website is indexed and the rank it appears in a search engine results pages (SERPs). In order to increase your ranking in the search engines, you need to research how people are finding your business.
For example, if a potential customer is looking for your service, you have to think about which keywords they would actually type in to Google or Bing to find the service that your business supplies. To ensure that they find you and not your competitor, you would use SEO tactics such as including popular keywords related to your industry on your website or contributing guest posts to other blogs and creating backlinks.
This is by far the number one way that businesses acquire customers.
Natural Language Keyword Strategy
You should always be researching and using keywords for your website and guest posts, but keep in mind that the way people search for items on the Internet has changed. Now they are searching via natural language (long-tail keywords use natural language).
Search Engine Watch explains:
"Natural language search is search carried out in everyday language, phrasing questions as you would ask them if you were talking to someone. These queries can be typed into a search engine, spoken aloud with voice search, or posed as a question to a digital assistant like Siri or Cortana."
Moz found that websites that use natural language can yield higher search volumes over time: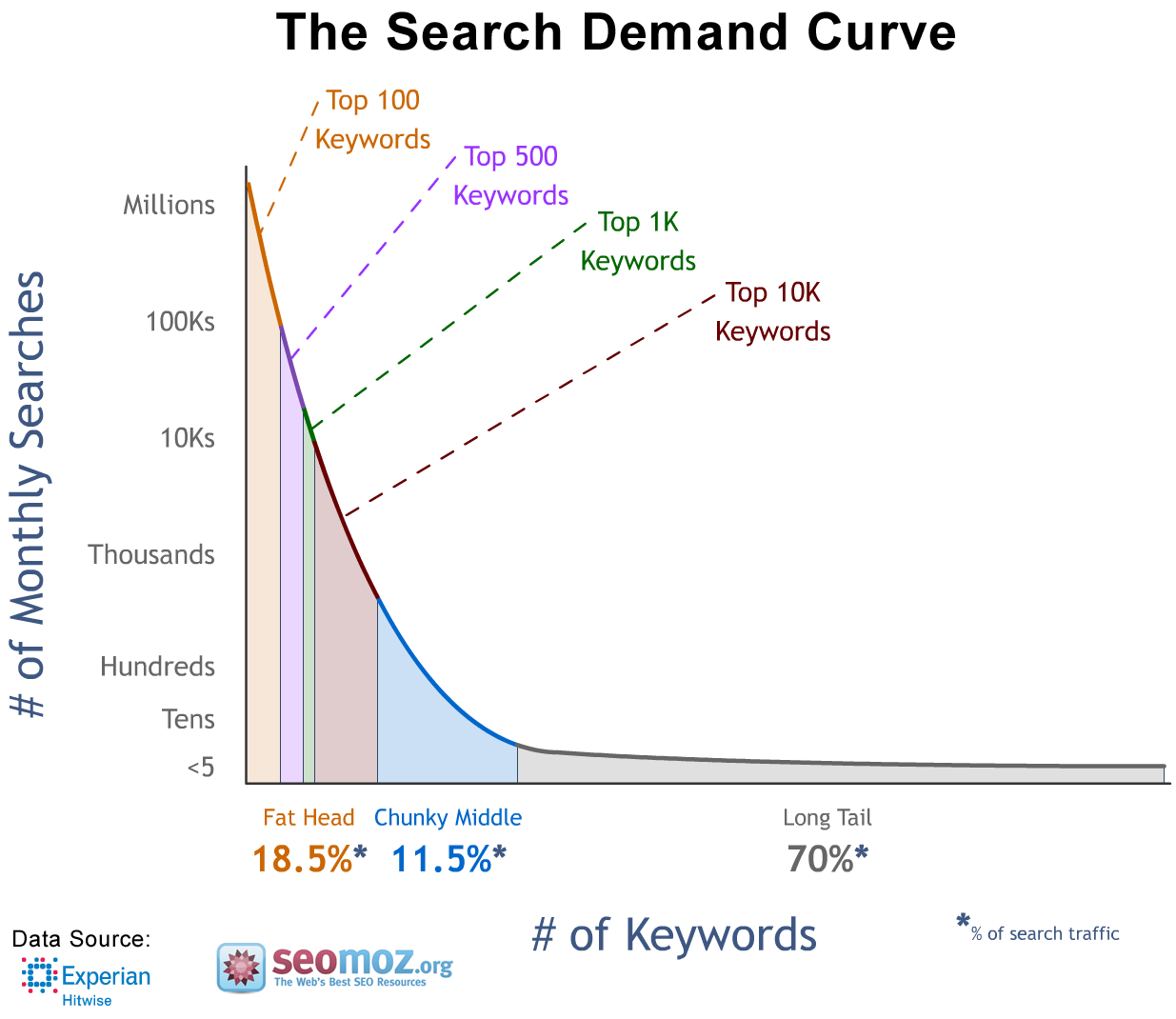 Guest Posts
Another way to use natural language is to create quality guest posts on other companies' blogs, which is is a great way to gain new customers.
Contributor to Search Engine Journal Brian Liang shares what he's learned from his most successful guest posts:
"By ensuring that the article was of higher quality than competing articles and continuing to promote it, I was able to get the article ranked on the first page of Google."
The better the quality of the article, the more shares and visitors to your site.
Further Reading:
A) How to Find Places to Guest Post
The biggest question people have about guest posting is where to find blogs that are accepting posts. There are hundreds of blogging communities out there where thousands are asking for others to contribute to their blog. A Google search will yield plenty of results: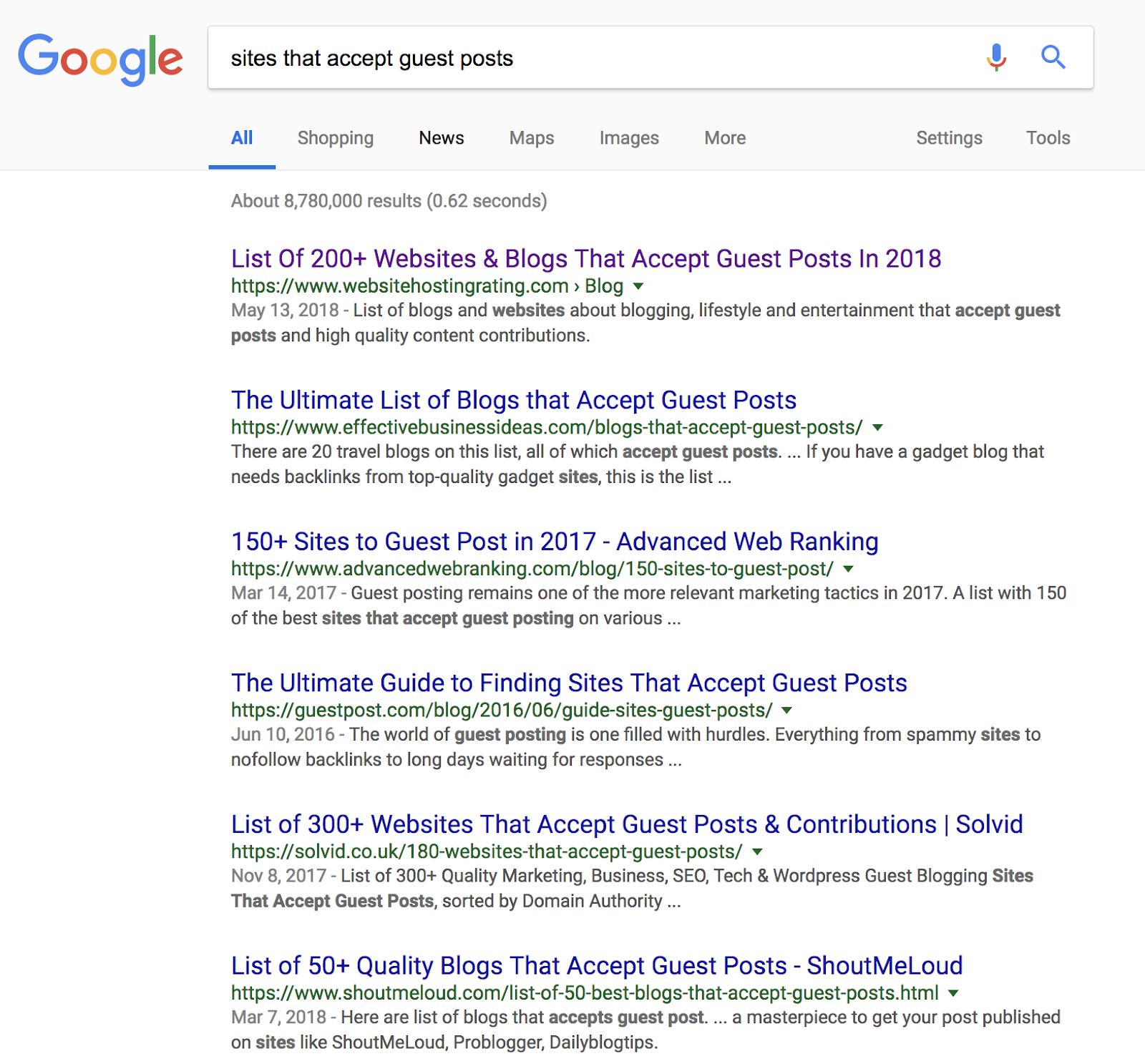 Other ways to find guest post opportunities is to visit Writers in Charge which breaks down sites that allow guest posts by category.
B) Reach Out to Bloggers to Guest Post
Once you've found a handful of places that accept guest bloggers, you need to reach out to the site owner or editor and see if they are accepting guest posts at this time. A polite email does the trick and most likely they will accept your offer to contribute an article.
Kissmetrics explains that guest blogging shouldn't be a form of advertising:
"Occasional mentions, stories, or examples are OK to illustrate a point, but the majority of the post should be focused on something other than your business."
Also, it is important to respect the blog you plan to contribute to by reading any guidelines they may have before you pitch an idea to them. Nothing will get your email into the trash folder faster than completing ignoring their guidelines.
C) Sign Up for a Service like Influence & Co 
If you want to skip the searching and asking to post step, you can sign up with Influence & Co or a similar service that will get you into the publications with which they are partnered. It's important to note that becoming a member costs a yearly or monthly fee, but it is something to consider when thinking about tactics to acquire new customers.
D) What Type of Posts to Write
So as long as it is within the site owner's guidelines, a recent survey from Moz reports that the types of posts that people share most are lists or videos: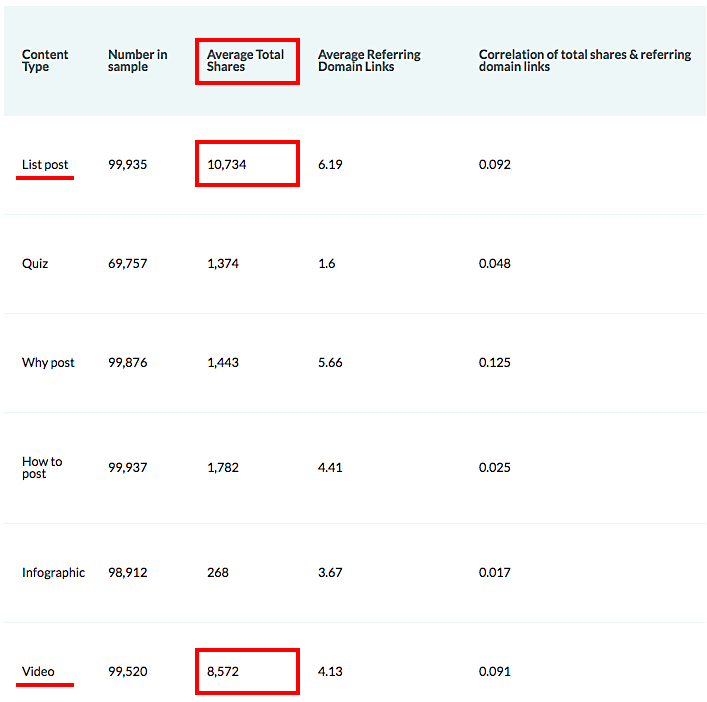 The main reason why is because of smartphones: more people are visiting the web via a mobile device and find these types of material easy to navigate and share.
Not much of a blogger? There are other ways to contribute to someone's site, like writing a review or testimonial which is becoming key when searching for local businesses. In fact, 68% of people need to read at least four testimonials before feeling that they can trust a business.
Take advantage of guest posting and (if all goes well!) you could be a repeat author, increasing your opportunities to bring customer awareness to your business.
Further Reading:
E) Get Those Backlinks
When one website links to another it creates an inbound or incoming link, better known as a backlink. Getting bad backlinks or abusing them can do more harm than good: Google can tell if you are building links too quickly and will flag your site, hurting your chance at ranking high in search results.
Research from EarnedLinks revealed the importance of using backlinks: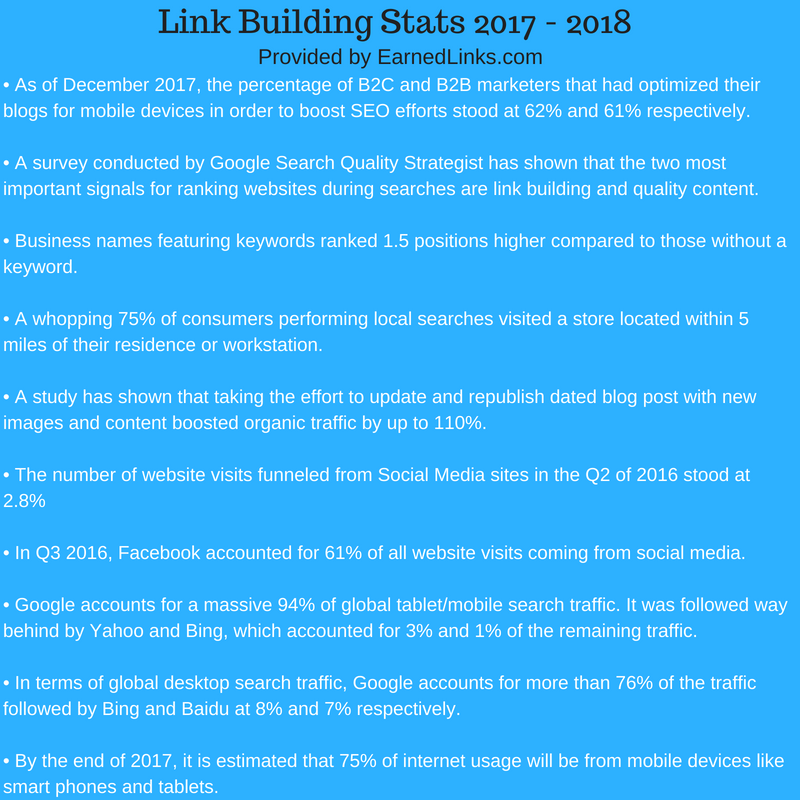 F) Research, Research, Research!
There are tools out there that will help you identify what types of backlinks your competitors are using and how the ones you've created measure up to them. It's best to review your backlink strategy using the following tools:
G) How to Build Good Backlinks
Now that you know more about your backlinks, as well as your competitors', it's time to build a stronger funnel. To do so, first look at what matters the most to Google and focus your efforts there. The number one thing that Google cares about? Whether your site is trustworthy and not abusing backlinks.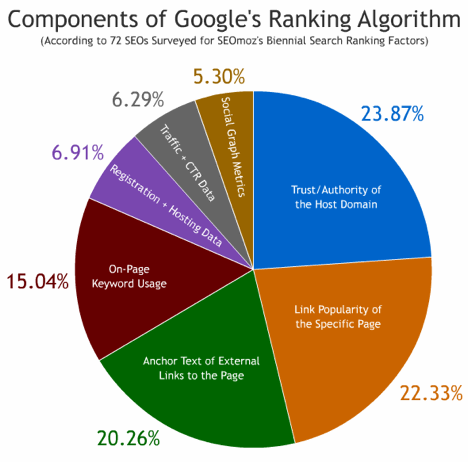 Backlink guru Brian Dean has had great success with backlinks. He knows from experience that building them takes time, but pays off. As he writes: "To date, my SEO tools list has been shared on social media over 18,000 times."
As previously discussed, guest posting is one way to achieve this. There are other ways that still abide by Google's algorithms and help your site rather than hurt it. The various types of backlinks you build will help you to become seen as an expert in your industry, and Business.com shares the top ways of building backlinks:
Conduct surveys. If you have a legitimate and valuable survey, others in your industry can link to it.
List your site in business directories. Find business directory sites and make sure you are in them. If you are, check that your listing is up to date.
Create data-driven reports. People want to keep up with the direction their industry is going in. When others stumble upon your reports, they are more likely to share any up-to-date data that you have to offer.
Build internal links. Don't forget about your own site! Building links internally is a way to keep people on your site and show Google that you have other content that people should know about.
SEO, guest posts and backlinks are a triple threat when it comes to acquiring more customers. Together they create a well-diversified marketing strategy that increases the visibility of your business on the web.
Click To Tweet
2) LinkedIn
Facebook, step aside! It's time to connect with people you've never met before or only briefly met. Despite what the Internet says about connecting with strangers, the popular business social media site LinkedIn is a sure way to do so safely.
At Transcription Outsourcing, we use LinkedIn to connect with current clients as well as those in the legal, law enforcement, academic, business, and healthcare industries. We like to send a polite message to see if they are in need of our transcription services. Do it incorrectly and you'll push people away and get a bad reputation. Do it properly with a custom email, and you can gain new clientele.
First Thing First – Your Profile
Before sending out any invites to connect, or any InMail messages for that matter, you need to look the part. Choose a nice professional profile photo of yourself or your company and add a banner that represents who you are.
Time Magazine reports that those with a profile picture get more views and more messages than those without. They also suggest having fun with your headline:
"If you're actively looking for a new gig, think about how you can use this space to grab a recruiter's attention. There are a million 'Marketing Director' profiles; something like 'Master of Digital Pharmaceutical Marketing' will get way more eyeballs."
Make your profile complete by adding as many details about your background and education. Those who include their education appear 17 more times in searches than those who don't. Same goes for your location: adding this will make you appear in up to 23 times more searches.
Send an Invite to Connect
When you send an invite to connect with someone, it is best if you do so with the personal message option. You have 300 characters to introduce yourself and say why you want to connect. Make each character count and get straight to the point about why you feel they should add you to their network.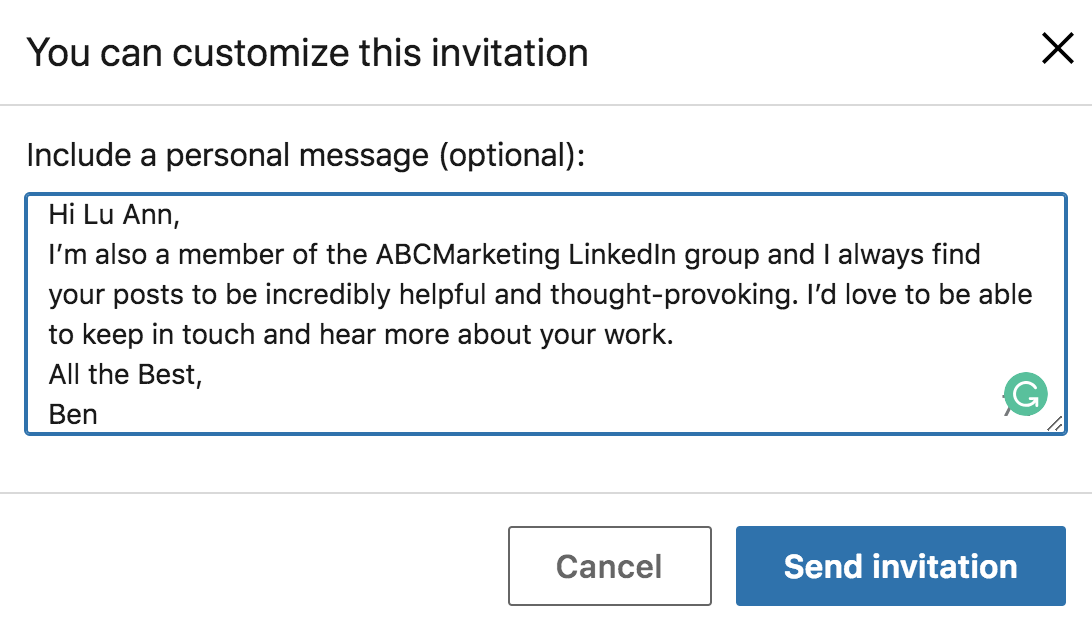 Messaging a Connection with InMail
Personalized messages have a higher rate of being opened. The one thing that you don't want to do when using InMail is write a generic message and send it to all your contacts. HubSpot lists nine components to a good InMail marketing message:
Have a clear and specific subject line.
Address the person by their first name.
Identify who you are.
State your commonality (this could be a group, connection, interest, or industry).
Comment on their recent activity.
Offer your service or product.
Ask a question to get a conversation going about why they should consider your service or product.
Show your interest as to why you want to help them resolve their situation.
Have a clear call to action.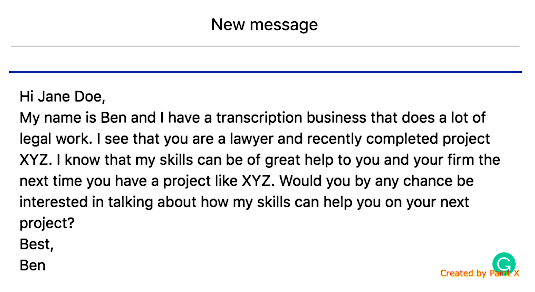 Even if they aren't interested in your resources, you've at least gained a connection. Plus, they'll appreciate your note and be more inclined to pass along your information to someone who does need it.
3) Marketing Agency 
Is your head spinning with all the research and work that multi-channel customer acquisition requires? Do you have too much going on as a business owner to suddenly become a marketing expert? That's when you take a step back and let someone else take the reigns.
A digital marketing agency can do all this for you. They are experts in Facebook advertising, paid search, email marketing campaigns, and optimizing websites and landing pages. Advertising isn't cheap and having an expert who can track how your campaigns are doing means that your money will be well spent.
Most businesses agree that the benefits of outsourcing their marketing to an agency gets them ahead of their competitors and stay ahead (I made this pie chart based on CapitalOne stats):

Why Not Hire an In-House Employee or Intern?
John White, founder and CMO of Social Marketing Solutions, recommends what to look for when hiring a marketer:
"It has been my experience that the best social media marketers have a background in something related to marketing or business development. People without it have a harder time understanding ROI. They may not have the analytical skills needed to monitor the metrics that directly affect the company's bottom line."
With a marketing agency, you get a team of experts that have previous experience working on marketing campaigns in a range of industries and are most likely familiar with the one you are in.
Further Reading:
What to Look For in a Digital Marketing Agency
When you decide to hire a marketing agency, don't go in blindly. Forbes explains that there are a few items to think about when hiring the right marketing agency for your business. Before we hired our marketing agency, we took the following steps to ensure that we would get the most out of our investment:
A) Visit Their Website
Before you go around emailing and calling marketing agencies, visit their website and see what types of marketing campaigns they do.
Bernard May of National Positions says:
"Clients should understand how the team is made up, how the different specialties work together, and how they understand success in the context of the client's business."
Many times you will find their expertise prominently displayed on their site. Right off the bat, you will be able to eliminate some agencies versus talking to multiple salespeople.
B) Will They Focus on Your Needs?
What works for one business, doesn't always work for another. A marketing agency should listen to you and focus on what will help your specific business.
Michelle Taylor of BETAH Associates, Inc. says:
"It's only with those agencies that fully listen, hear and then respond to what a client expresses as their desired goals and outcomes, that true information sharing, brainstorming and solutions will flow."
Interview your top three picks to see which one will dedicate their time to creating a marketing strategy that is original and unique to your business.
C) Check Their References
Before hiring an agency, be sure to ask for references, past and present, that you can speak to. Heidi Nazarudin of Marque Media says that this is one of the most important steps to take when hiring a marketing agency:
"It will save you a lot of heartache and money. Any good agency will be able to provide you with scores of great references."
You should treat hiring a marketing agency as you would hiring an employee. An experienced marketing mind can make all the difference when it comes to multi-channel customer acquisition. It's critical to work with a team that structures their work so that it is in tune with your company's needs.
Final Thoughts
Multi-channel customer acquisition has helped us grow our business to where it is now. It doesn't have to be a tedious process and the ROI is worth all the effort. More channels continue to become popular as the Internet grows so there will always be a channel that suits your business, making this the marketing tactic to use.