For any emerging SaaS company in the B2B space, developing an effective marketing strategy requires tremendous skill and experience that most marketers lack. 
The complexities of communicating with multiple stakeholders for months until a sale is completed and retaining them long enough to justify the acquisition costs are what breaks many startups before they can get over the dreaded "valley of death."
A B2B SaaS marketing agency can provide the professional help you need to overcome all these issues. But how do you find one? And how do you make sure they are the right fit for your business?
This guide that will help you answer these questions so that you know what to look for when hiring an agency to take your B2B SaaS business to the next level.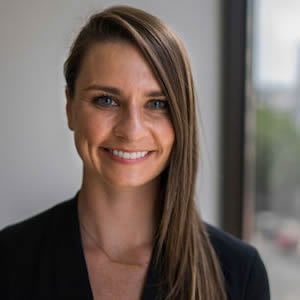 Jacqueline Foster
Demand Generation Marketing, Lever.co
We can count on them to bring new ideas to the table consistently
What Does a B2B SaaS Marketing Agency Do?
A B2B SaaS marketing agency takes care of strategizing, executing, and managing marketing campaigns for B2B SaaS companies. 
Tech startups hire B2B SaaS marketing agencies due to the complexities of SaaS as a business model. Unlike traditional digital marketing, which has an almost exclusive focus on the top of the funnel, SaaS requires optimizing for the middle and bottom of the funnel as well as beyond the purchase stage.
The "pirate metrics" model that angel investor Dave McLure famously developed illustrates the five stages of a customer's journey:
It starts with acquisition, where marketers traditionally focus their energies, and then moves to the activation and retention stages. In these two stages, the marketer's job is to get the newly acquired user to find value in the product and keep using it based on their early success.
During the revenue and referral stages, the marketer is required to get people to pay for the product (and, sometimes, to upsell and cross-sell them) and refer their colleagues. As a whole, this funnel shows that the work of a SaaS marketer is much more complex than that of a traditional marketer.
Although a SaaS marketing agency may implement a strategy that involves working with traditional digital channels like organic search and social media, it most certainly involves much more than that, as the image above shows. 
Some examples of the capabilities the best SaaS marketing agencies provide their clients include:
Optimizing the customer onboarding flow to increase the activation rate

Creating nurture and reactivation email campaigns to lower the churn rate

Improving customer retention through retargeting campaigns

Testing new pricing models that boost revenue

Setting and optimizing a referral program
Any SaaS marketing agency worth their while will take a deep look at your company's niche, product and past marketing experience to decide which parts of the funnel to work on and what tactics will be required.
Dive Deeper:
* What Is B2B SaaS? Everything You Need to Know
* Turning a Lead into a Prospect with MOFU Content

How to Choose the Right B2B SaaS Marketing Agency
As we explained in our guides to choosing your Google Ads agency, content marketing agency and NFT marketing agency, there are a set of requisites a B2B SaaS marketing agency must meet before you hire them.
Given the unique challenges and skills a SaaS marketing agency must have, focusing exclusively on factors like price and experience won't make it. The best SaaS marketing agencies should also meet the following criteria:
Broad Experience and Skills
A SaaS marketing agency should have extensive skills and experience managing a wide range of marketing channels such as SEO, paid media, and email marketing.
More importantly, a SaaS marketing agency should also have skills in some of the following fields:
Analytics (quantitative analysis)

Customer research (qualitative analysis)

Running tests

Web development

Product management
This doesn't mean an agency must deliver all these services at once. Instead, it means the agency you hire needs to handle at least a few of them. It also must be willing to work with your team, and even with other consultants or agencies that take different parts of the growth process.
Process Over Tactics
Generating brand awareness, attracting buyers, and closing sales in the B2B space requires a strategic and long-term approach to marketing. 
Marketing tactics are undoubtedly necessary, but it's more important to learn about the processes a SaaS marketing agency uses to achieve the results with their clients. You should learn about their methods to:
Research your product and customer base

Implement quantitative analysis and qualitative customer research

Idealize potential experiments and tactics

Prioritize said experiments and tactics

Coordinate the design and execution of the projects
Strong B2B Focus
SaaS companies share a lot of common challenges, regardless of whether they target other businesses (B2B) or consumers (B2C). However, it'd be a mistake to hire a SaaS marketing agency that works mainly with B2C companies. 
The differences between marketing in the B2B and B2C spaces are great enough to justify working with an agency that specializes in the former rather than in the latter. Some of these differences are as follows:
Buying Cycle

: B2B purchases have longer timeframes, sometimes taking more than a year to complete. They also require working with multiple stakeholders (i.e., decision-makers), which require different communication campaigns than in the B2C space.

Financial Models: B2B purchases usually have lower upfront profit margins due to the required initial marketing and sales costs but compensate over the long-term — this is why lifetime value is such a crucial metric in the B2B SaaS space.
Customer Success

: The activation and retention stages for B2B companies emphasize what's known as "customer success," whereas engagement is more important in the B2C space.
Dive Deeper: SaaS CAC: A Guide to Customer Acquisition Costs
Red Flags to Look for Before Hiring a B2B SaaS Marketing Agency
Some agencies like to position themselves in the B2B SaaS space as a synonym for digital marketing. Undoubtedly, creating and running a marketing strategy for a B2B SaaS business marketing strategy will require working with channels like SEO and paid media. 
However, as we've seen, traditional digital marketing agencies focus almost exclusively on acquiring leads and customers, whereas a SaaS marketing agency takes care of the entire SaaS funnel.
For that reason, you need to pay attention to their experience working with SaaS companies in the B2B space and the skills they have that show that they do more than just digital marketing.
Common red flags that may indicate this is not the right B2B SaaS agency to work with:
No experience or specific skills in the B2B SaaS space

Poor communication (doesn't return calls, doesn't let you know what's going on, talks a lot but doesn't say much)

Doesn't share their marketing strategy for your business with you, the client who is paying them

Guarantees specific results (often in an unrealistic period of time)

Uses one formulaic strategy for all clients

Doesn't market their own agency very well 

A lot of negative reviews or no reviews at all
On the other hand, if they talk about onboarding experiences and churn rate, upsells and pricing experiments, referral programs and lifetime value, they are a good agency to work with.
Dive Deeper: Top B2B Marketing Mistakes You're Making (And How to Fix Them!)
What Does a B2B SaaS Marketing Agency Charge?
Considering that the work of a SaaS marketing agency is much more complex than that of a traditional agency, pricing the former's services usually takes a tailored approach.
Some marketing agencies charge flat fees, others narrow their work and charge by the hour or by the project. Some agencies in the advertising industry charge a percentage of the ad spend or based on the campaign's performance. SaaS marketing agencies rarely fit either of these cases. 
Do you need to increase your retention? You may have to rethink your product entirely and spend thousands of dollars creating a new onboarding experience that sets your customer's expectations appropriately. How much will that cost?
Only the agency you decide to work with will be able to tell you. They may only take care of finding the issues that lead to poor retention in the first place and charge you on an hourly basis. If they also were capable of strategizing potential solutions and directing the development, that could increase the costs even further.
Whatever the case, the best SaaS marketing agencies take a custom approach. Make sure they sit down to discuss your problems deeply until they find what you need to do. And have this conversation with a few potential agencies so you can compare prices and services.
5 Best B2B SaaS Marketing Agencies
Now that you know what to look for in a B2B SaaS agency, here is a carefully curated list of the best agencies and their specializations.
Specializes In

: SEO, paid media advertising, content marketing

Top Clients

: Salesforce, Amazon, Intuit

Pricing:

Custom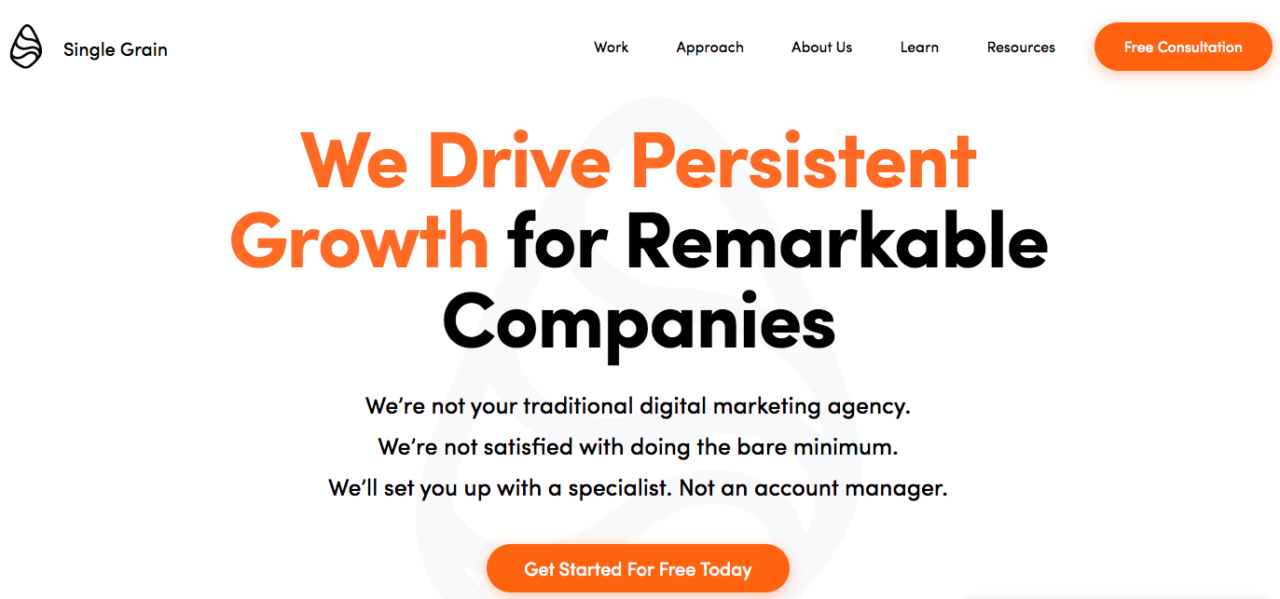 At Single Grain, we have worked with everything from large B2B SaaS companies to small businesses, helping them scale their marketing results. 
We have faced every challenge SaaS companies face; that's why our solutions are proven to increase brand awareness, achieve product-market fit, and boost the performance of every step in the funnel. 
We do that by taking a deep look at your value proposition, customer base, and product. From our research, we execute campaigns that lead to your desired results.
Even though some agencies stop at lead generation, we take it even further by working with your CRM to ensure that we're driving qualified leads.
Specializes In

: SEO, social media, UX

Top Clients

: HubSpot, Drift, InVision

Pricing

: Minimum project is at $100,000, which works out to a $200-$300 hourly rate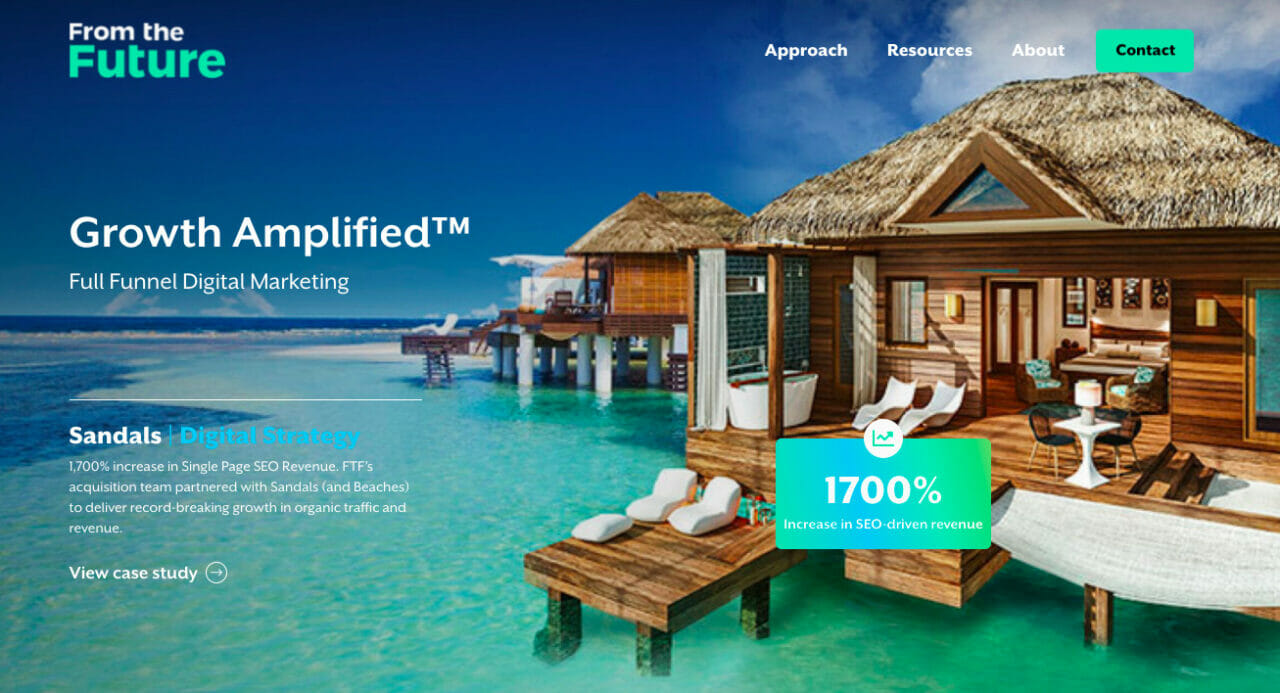 Defined as a "full-funnel digital marketing" agency, From the Future provides all sorts of digital marketing-related services, such as SEO, PR outreach, content marketing, CRO, and analytics.
Their clientele is almost exclusively made of mid-market to enterprise-level companies. According to the company, "our ideal client generates $50M+ in annual revenue and seeks to dominate its market with an integrated strategic approach including Search Engine Optimization (SEO), Social Media promotion, and industry-leading UX Design."
Specializes In

: Conversion rate optimization (CRO), inbound marketing, social media

Top Clients

: Reccodo, isMOOD, Pixofix

Pricing

: From one-time $90/hour consulting to $15,000/month projects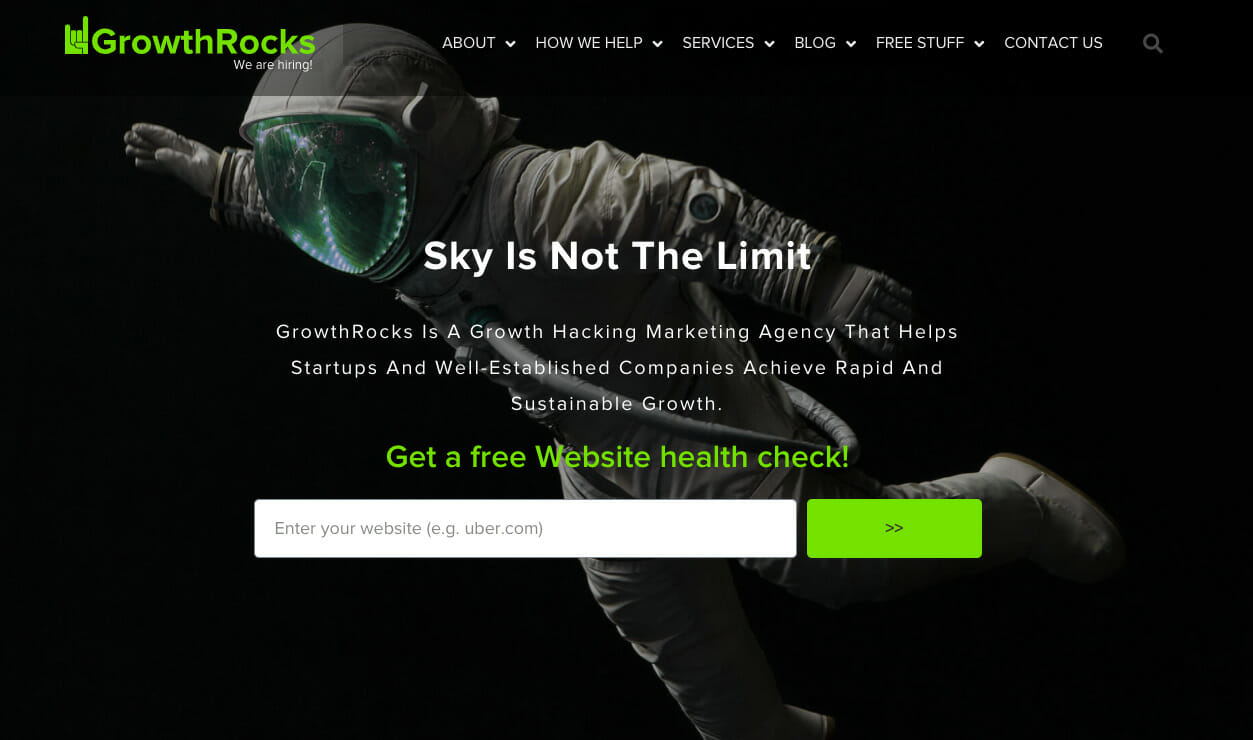 Growth Rocks is a pure growth-focused agency that works with SaaS companies in the B2B space, helping them achieve early traction, find product-market fit, and increase the testing pace.
The company serves both resource-strapped startups that need project-specific consulting services and established businesses that require a hands-on approach.
The company explains that their hourly consulting package is a "two-hour intensive, single topic consultation driven by the major pain-point of the startup." This package introduces "the growth hacking mindset to the startup's team and to describe the topics and funnels that they should be examining at their present phase of corporate development."
Compared to the other agencies in this article, the agency is ideal for startups with tight budgets that need help from experienced growth hackers.
Specializes In

: Inbound marketing, CRO

Top Clients

: ByteDance, Ventract

Pricing

: Custom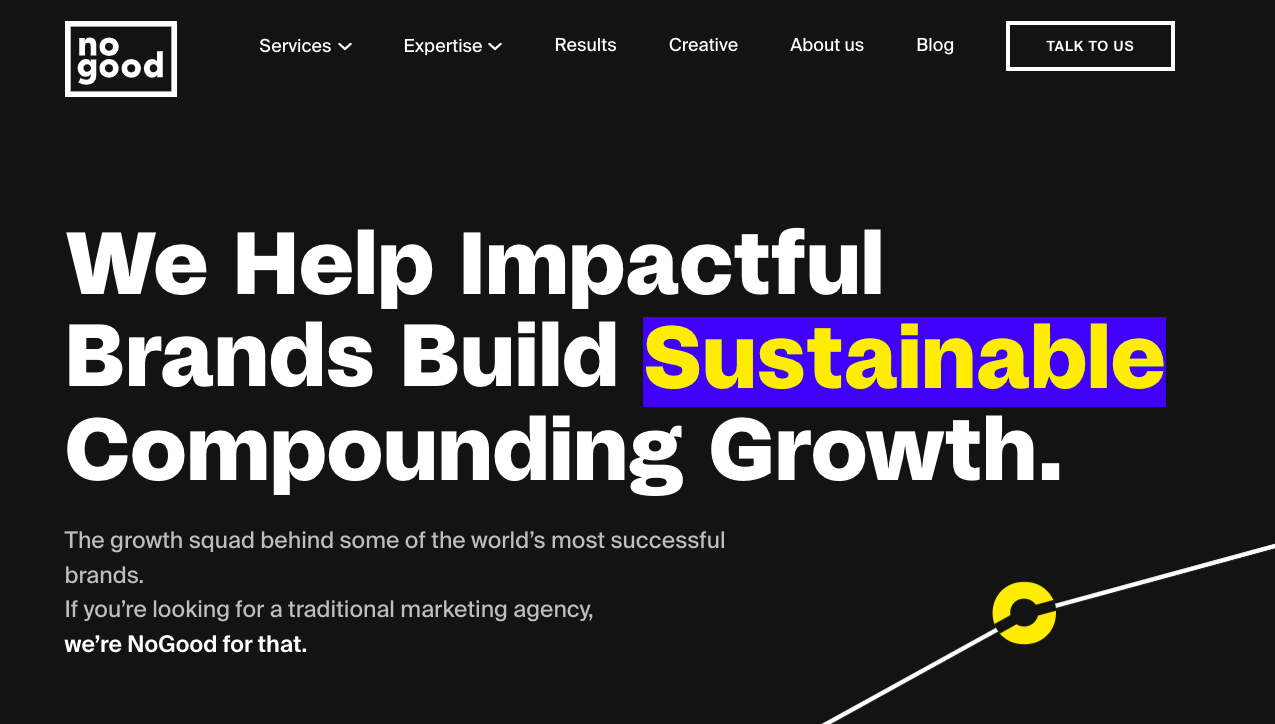 Based in New York City, NoGood is a SaaS marketing agency founded and run by proven performance marketers and growth hackers. The company states they have "successfully grown many New York and Silicon Valley brands and increased revenue from hundreds to millions."
NoGood has received a significant amount of social proof from their work, as TechCrunch has named them one of the best-verified growth agencies in the U.S.
Their focus is mainly focused on the fin-tech, e-commerce, and crypto industries. The company explains their method as a "proven full-funnel, high-velocity experimentation approach [that] helps our partner SaaS brands rapidly scale for less." Some of the services include building landing pages, customer persona research, SEO, content marketing, and PPC.
Learn More: An NFT Marketing Checklist for Your Crypto Project
Specializes In

: SEO, content marketing, email marketing

Pricing

: Starts at $1,000 per project, or $100-$149/hr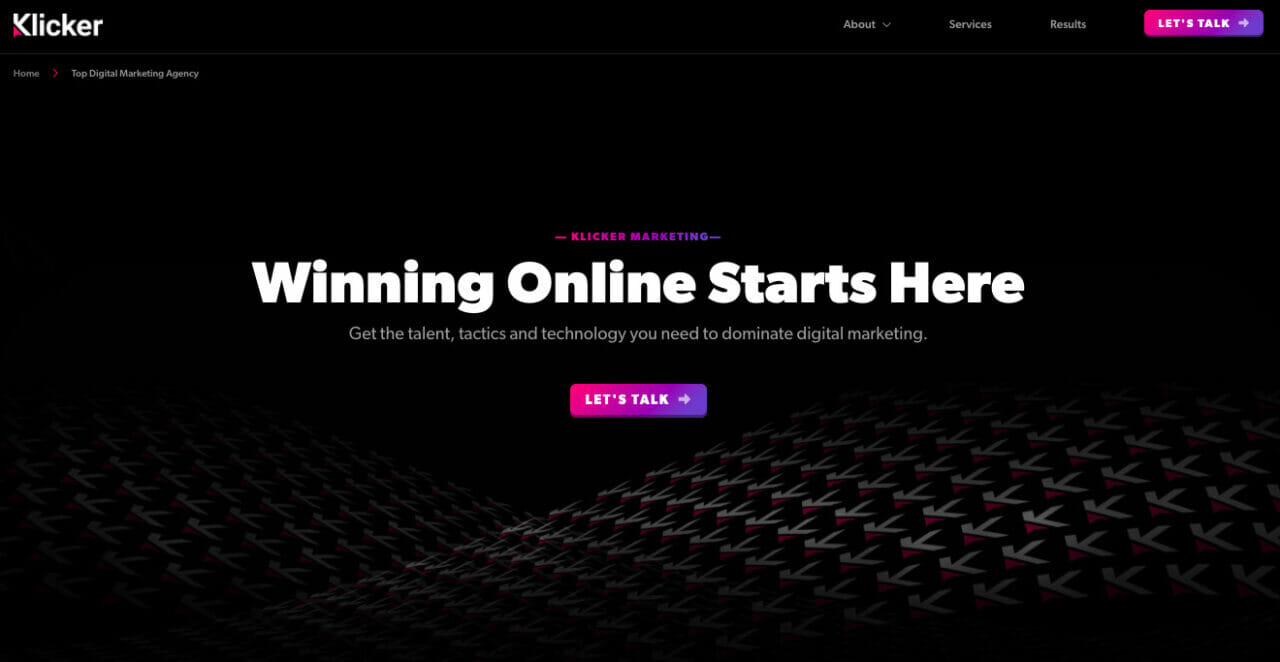 Klicker is a small agency that works mostly with small- to medium-sized SaaS companies. They pride themselves in taking an ROI-centric approach with a strong focus on SEO, PPC, and content marketing. 
However, they are also experienced in email marketing — especially lead nurturing — and remarketing. These two channels are perfect for improving activation and retention.
Dive Deeper: How Remarketing Can Help Increase Conversions
Hire the Right SaaS Marketing Agency
Now that you know about the best SaaS marketing agencies and how to hire them, you need to get started. These five tips will help you with that:
Pick one stage of your funnel and work on it

. No matter how experienced a SaaS marketing agency may be, their work can only be effective when they work on the most pressing issues. For that reason, pick a stage of your AARRR funnel that's most underperforming, and get the agency to work on it.

Look beyond acquisition

. B2B SaaS companies can't rely on acquisition alone; every funnel stage is equally important. What's the point of acquiring new users if they don't use your product? Look at every stage of the AARRR funnel and find one that's not working properly.

Be channel-agnostic. The SaaS marketing agency you decide to work with shouldn't force a specific channel only because they're experienced with it. Given how unique each SaaS product is, the channels you use matter less than the journey the customer goes on with your company. That's what's called "channel agnosticism.

" Work on the channels that best fit your specific buyer profile to boost the results of each of your funnels.

Emphasize strong communication channels

. Given how complex marketing for SaaS is, make sure the agency you work with defines clear and transparent communication channels. If the involved teams don't can't rely on each other, it will dampen the rest of your work.

The product is critical

. SaaS companies usually use their product as part of their marketing work. Get your product and engineering teams to work closely with your SaaS marketing agency.
Schedule your FREE consultation with Single Grain's B2B SaaS experts to discuss your project requirements.  👇
Or learn more about what we can do for you here 👉  B2B SaaS Marketing Agency