Get Ahead of the Competition: 6 Powerful Enterprise Search Engine Marketing Strategies
Enterprise search engine marketing is challenging because it involves optimizing large websites with thousands of pages which might have complex technical issues.
But a robust SEM plan optimizes your enterprise entities and gives your company a competitive edge.
In this post, we will take a look at six powerful SEM strategies that can help your enterprise rise to the top of the search rankings, improve your website's visibility and attract more potential customers.
So whether you're just starting out with SEM or looking to take your marketing efforts to the next level, you'll walk away with actionable insights and expert advice that will help you create a more effective and successful enterprise search engine marketing campaign.
What Is Search Engine Marketing (SEM)?
Search engine marketing, or SEM, is the practice of promoting your website on leading search engines using paid advertising and organic search engine optimization techniques to generate valuable business leads.
SEM includes Search Engine Optimization as well as other marketing methods like Pay-per-Click:
The most common form of SEM is PPC marketing, where you discover the major keywords that your primary competitors are using to generate leads. After carefully analyzing the keywords and the ad formats, you create effective PPC ad campaigns to outrank them in the search engine result pages (SERPs).
The other primary form of SEM is SEO, where you identify the main keywords your competitors are targeting to generate organic leads. Then you make changes to your website to optimize the different landing pages for the search engines and users. After the on-page changes are done, you acquire high-authority backlinks to your site to outrank your organic competitors in the SERPs.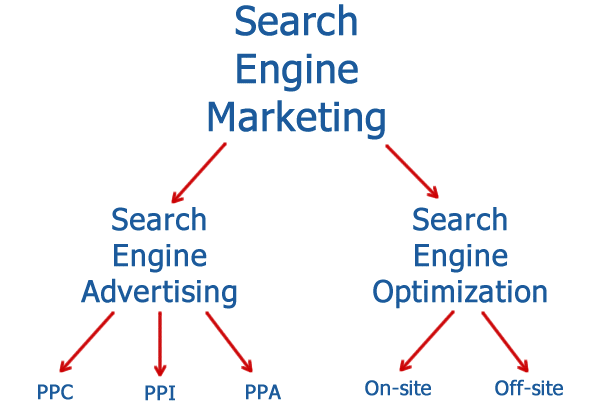 SEM is a powerful digital marketing tactic that helps target potential prospects at different stages of the buyer journey.
Dive Deeper: What Is the Difference Between SEM and SEO?
6 Best Enterprise SEM Strategies
Managing enterprise SEM campaigns can be challenging if you don't know the right tactics to scale your business.
So in this section, we'll go through six powerful search engine marketing strategies that can help improve your online visibility and drive more traffic to your sit.
1) Develop a Keyword Strategy
The first step in running effective enterprise-level search engine marketing campaigns is the identification of the right keywords to bring in new customers.
To prepare a list of keywords you should target to reach buyers at different stages of their buying journey, it's wise to use a keyword research tool like: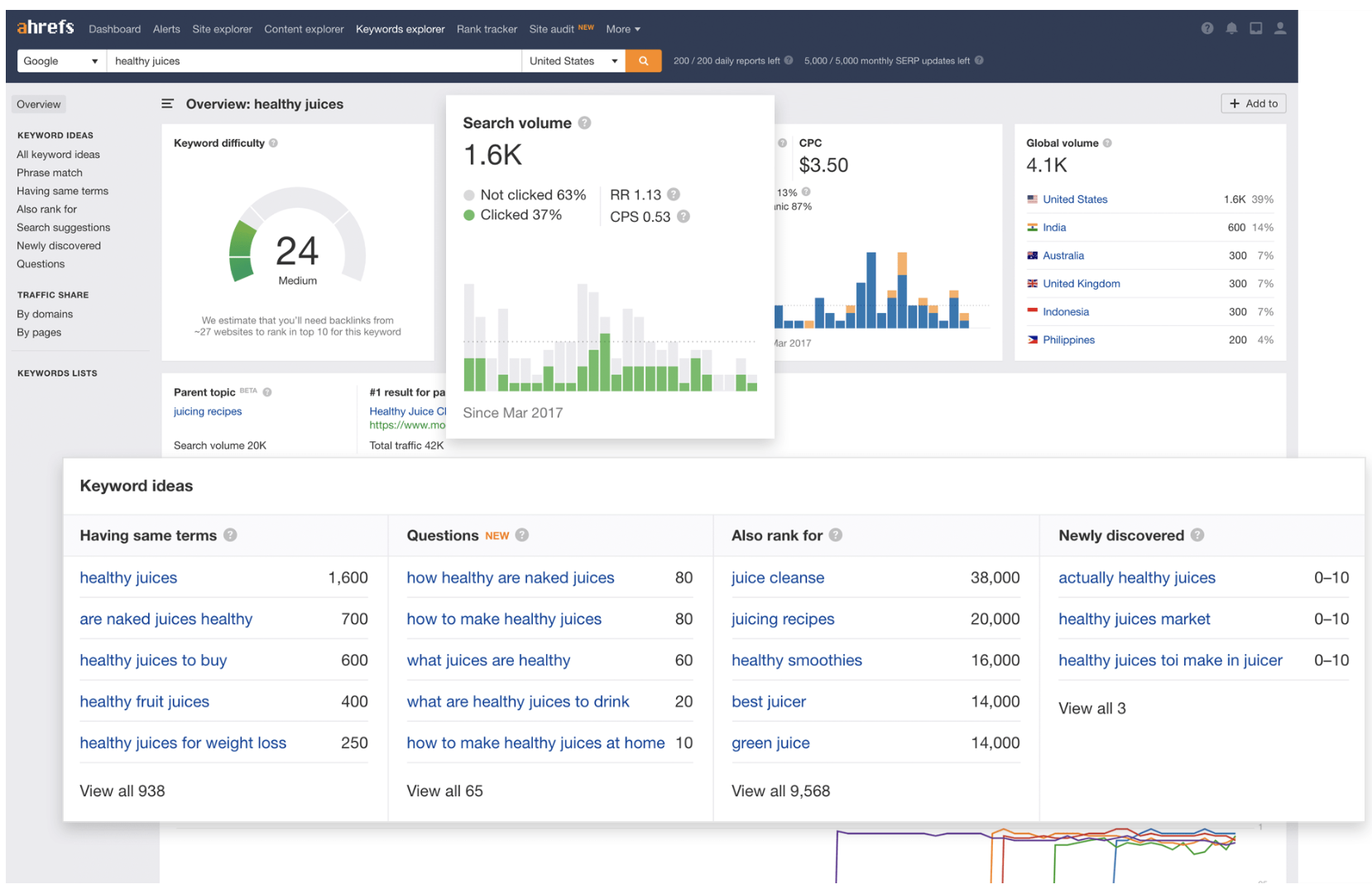 For example, if you are selling CRM software, your primary keywords could be "CRM system," "CRM tool," "CRM software," "cloud CRM software" and others.
The keywords should be divided into two major categories – primary and secondary:
Primary keywords should contain high search volume competitive keywords.
Secondary keywords should contain long-tail and low-competition keywords.
Once you have finalized your list of keywords, perform keyword mapping to assign related keywords to each landing page.
Taking the example above, I would target the keywords "CRM software," "CRM tool," "CRM system" and "cloud CRM software" on a single landing page because they are all semantically relevant to each other.
After keyword mapping, you should use your target keywords and their long-tail or semantic variations on the important elements of the page, such as:
Description tags
H1 tag
First paragraph of the page's content
H2 and H3 tags
Whether running PPC marketing campaigns or performing SEO, keyword-optimized landing pages are vital for increasing your website positioning in the SERPs.
Dive Deeper: SEO Keyword Research Made Easy in 2023
2) Create Quality Content
It's simple: Google ranks high-quality content at the top of the search results.
To stay ahead of your competitors, you should create relevant, authoritative and unique content on topics that can bring in customers at all stages of the user journey.
There are four major stages in the buyer journey:
Awareness
Consideration
Purchase
Retention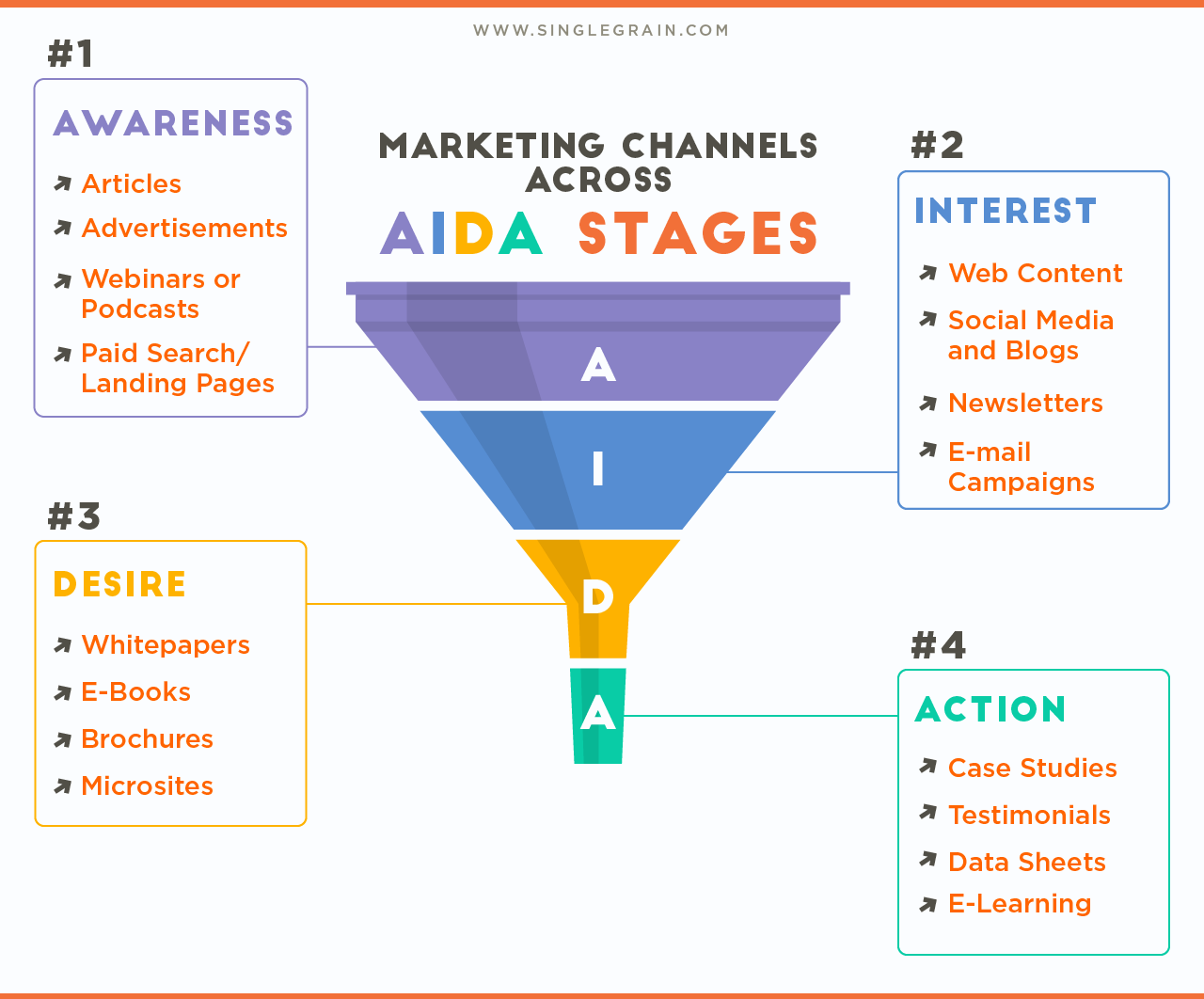 Here is a table listing each of the four buyer journey stages and related keywords, using the same CRM example above: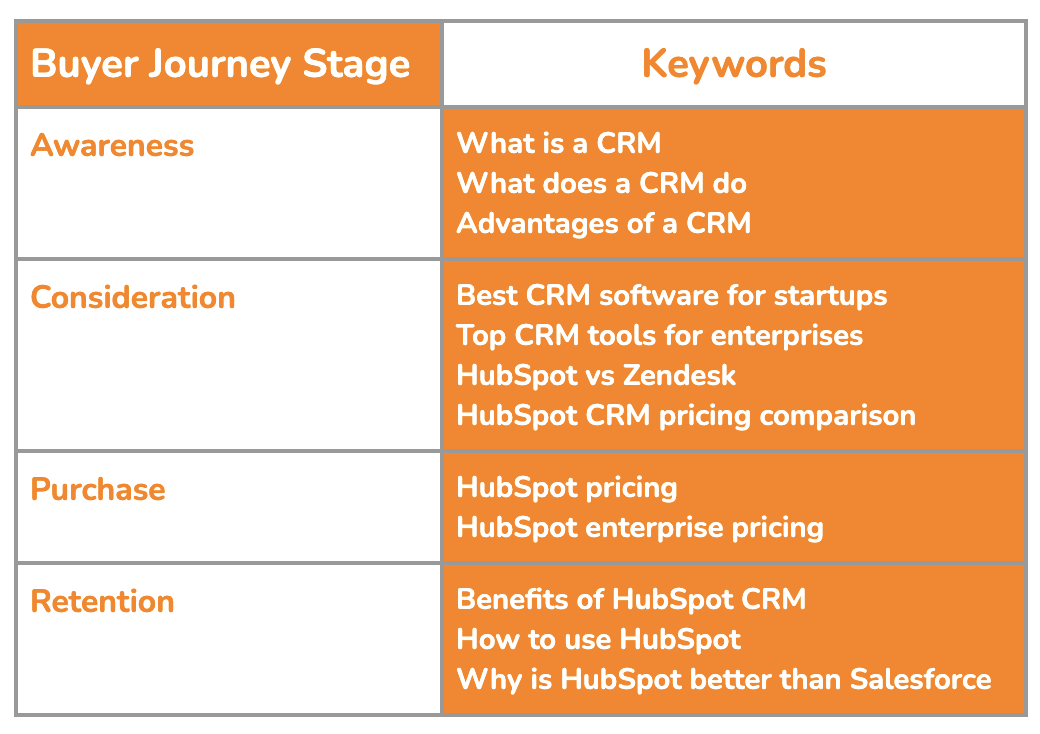 Also, create content that specifically caters to the search intent of the user: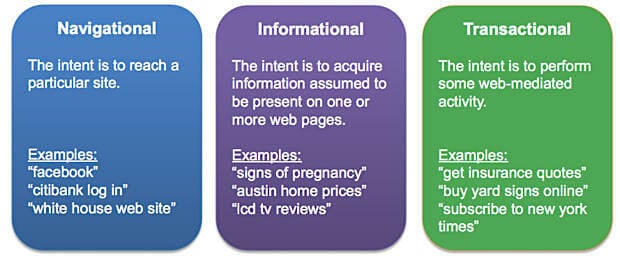 For instance, if you are targeting the keyword "how to use CRM to increase sales," you should create content that contains the exact steps and tips to use CRMs in order to raise sales – and not on improving customer service, because that's a different topic.
Moreover, you should prepare different types of content for targeting audiences on various channels where they might be present. Here are some of the content types you should consider creating depending on your products or services:
Videos
Infographics
Webinars
Emails
Case studies
Social media posts
PPC ads text and banners
You can use these content formats for promoting your enterprise using SEO and PPC marketing.
Dive Deeper:
* 17 Engaging Video Content Types that People Love to Watch
* 12 Types of Interactive Content to Drive Better Engagement
* What's the Right Content for Each Stage of the Marketing Funnel?

3) Optimize On-Page Elements
Optimizing your website is necessary to help search engines understand your site structure and its content. Here are the key on-page optimization techniques you should follow for your enterprise website:
Create a Logical URL Structure
You should have short, intent-specific, keyword-rich and easy-to-understand URLs that help readers have an idea of the contents of the page. For example, if the page is about "best CRM for startups," the URL should be "yourdomain.com/best-crm-for-startups" and not "yourdomain.com/best-crm," because, in the latter case, the intent of the searcher is not accurately matched.
Optimize the Meta Tags
Meta tags provide information about the web pages on your site to search engines. They should have keywords and your business' USP to compel the searcher to click on them. The most common forms of meta tags you should use on your site are title, description, and canonical tags.
The title and description tags provide a short description of the page content to the search engines and users. The information contained in these tags gets displayed in the SERPs, so they should be concise and compelling and include your primary and secondary keywords. Canonical tags help search engines identify the preferred version of a URL when there is more than one identical content accessible through different URLs.
Optimize Your Content
Search engines love original, relevant, comprehensive, engaging and authoritative content. Your enterprise website should have content relevant to the search query and user intent. Also, longer content performs better in the search results. Hence, you should create longer blog posts and articles, and be sure to optimize your content for best results.
Go After the Featured Snippets
Optimizing for featured snippets can help improve a website's visibility and click-through rate. Use long-tail keywords, answer questions, use a list format, add visuals and use structured data to increase your website's chances of appearing as a featured snippet. Perform competitor analysis using tools such as Semrush to find the queries that trigger featured snippets and identify the types of snippets that appear: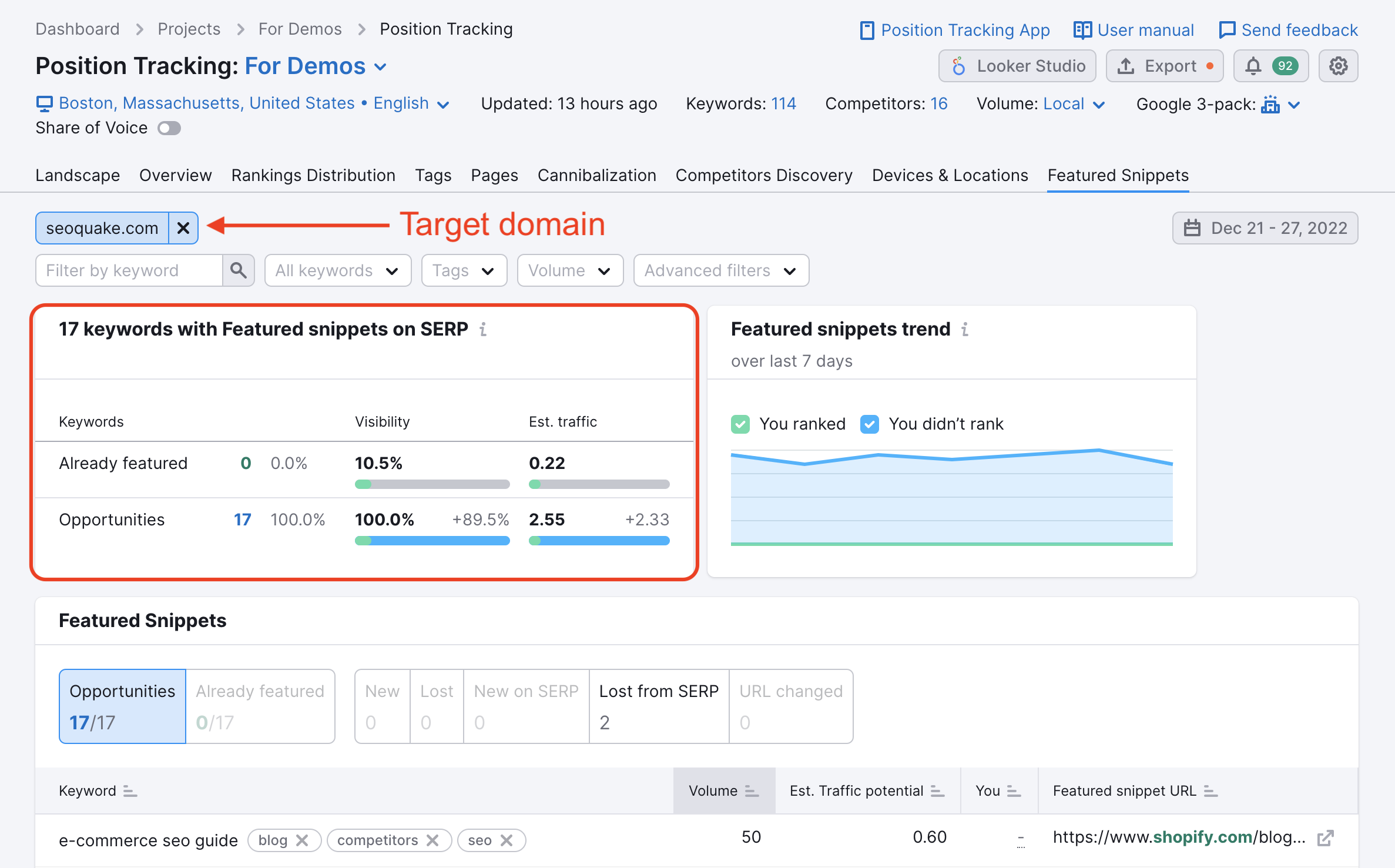 Then create similar snippets to make your site rank at the top of the search results for such queries.
Dive Deeper: Featured Snippets: How to Optimize for Position Zero
Increase Site Speed
You should always try to have a faster-loading website because Google and other leading search engines use page speed as a prominent ranking factor. Use the PageSpeed Insights tool to measure the speed of your website and get suggestions to reduce the loading time of your landing pages: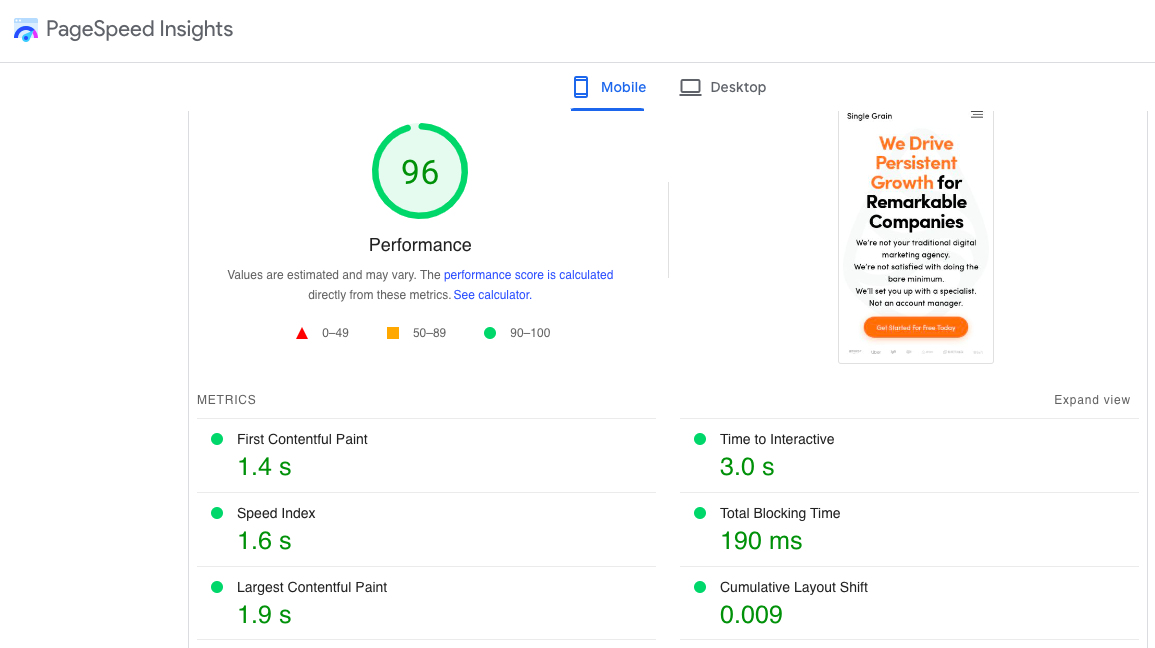 Optimize Internal Links
A major part of enterprise SEO rests on internal links. Use breadcrumbs for easy navigation and add descriptive anchor text focused on target keywords to boost the organic presence of your site: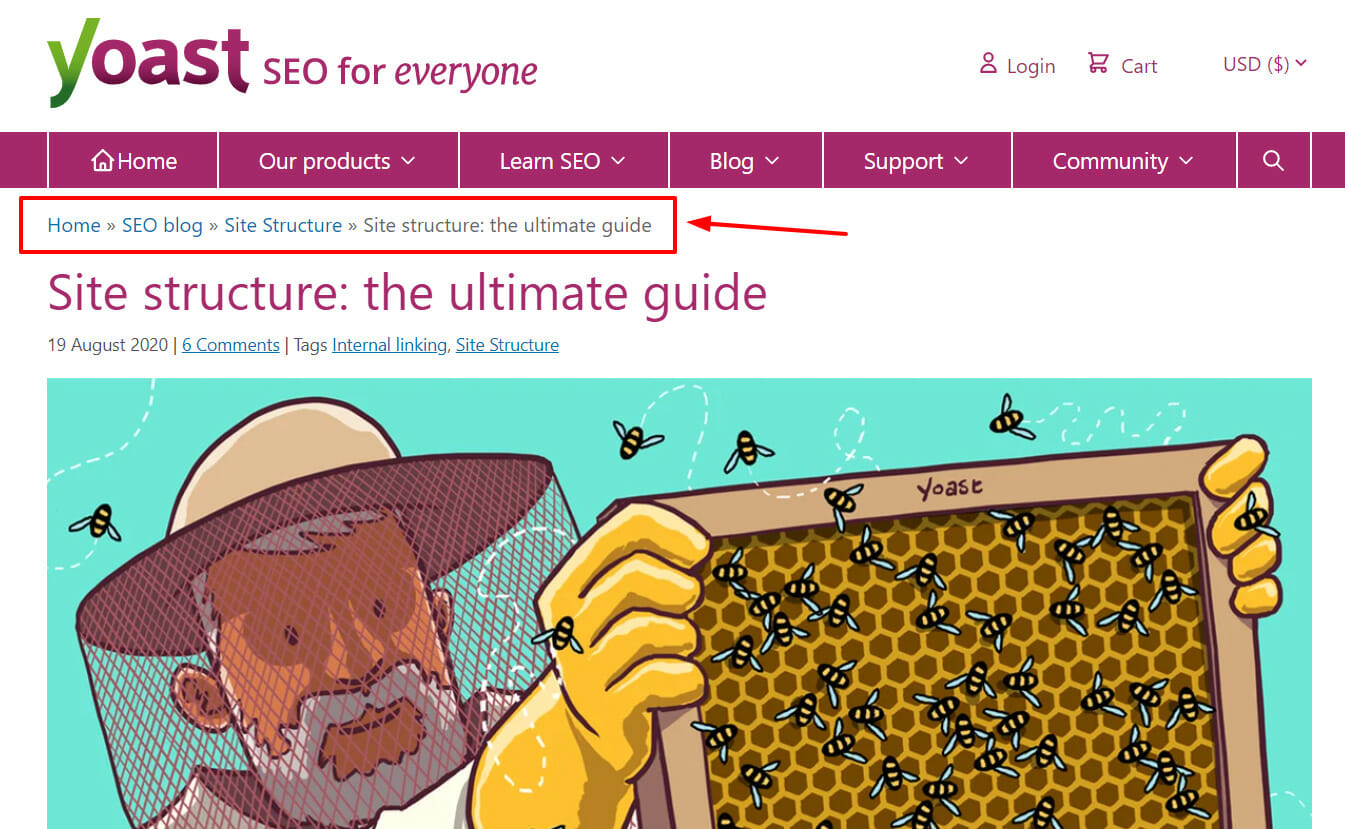 Dive Deeper: How to Implement Internal Linking for SEO (Step-by-Step)
Compress Images
Optimizing your site's images directly impacts site speed which is crucial for a better search engine presence. You can use a tool or plugin like TinyPNG or Optimizilla to compress images before uploading them to the website.
Use Schema Markup
You should add relevant Schema markup to the HTML of the webpage using microdata, RDFa or JSON-LD formats. Adding relevant structured data helps search engines better understand your website's content and also increases the CTR, which leads to more traffic and conversions.
Dive Deeper: What Is Enterprise SEO? (Definition, Examples & Tools!)
Add Social Sharing Buttons
Adding social sharing buttons on your web pages is an excellent way to acquire more social shares for your content. You should add social sharing buttons in places that are easily visible and accessible to users.
4) Optimize Off-Page Elements
Effective enterprise search engine marketing can only be done after you successfully optimize both your site's on-page and off-page elements.
Here are the primary off-page optimization techniques to improve the organic visibility of your enterprise website in search results:
Link building: When other websites link to your website, it is considered a vote of trust by search engines, which makes your website more valuable and trustworthy. Search engines use links as a ranking factor, and a higher number of quality backlinks can improve your website's search engine rankings. Some of the best ways to acquire relevant links to your site are creating quality content, doing guest posting, building broken links, and participating in online discussions on relevant industry forums.
Social media optimization: By optimizing your social media presence, you can improve visibility, engagement and brand awareness on leading social media platforms to drive more traffic to your website. Create high-quality, visually appealing, informative and relevant posts for your target audience that is present on social platforms.
Local listings optimization: Claim and verify your business listings on major search engines, such as Google My Business, Bing Places for Business, and Yahoo Local. This will allow you to control your business information, respond to reviews and improve your visibility in local search results. Ensure that your NAP (Name, Address, Phone) information is consistent across all your business listings. This helps search engines verify the legitimacy and accuracy of your business information.
Dive Deeper: 8 Ways to Use External Links to Improve Your SEO
5) Run Paid Search Advertising Campaigns
Search engines like Google and Bing handle 8.5 billion searches daily:
Hence, running paid search campaigns is an excellent way to promote your enterprise business.
The primary benefit of running paid search campaigns is that it helps display your company and its products and services at the top of the SERPs, which can help you generate more leads and win more customer trust.
Here are the key steps to run effective paid search advertising campaigns:
Have clear campaign goals: The common goals for starting a PPC campaign are building brand awareness, increasing traffic and generating leads. You should identify the target audience for your campaign based on these goals.
Use primary keywords and their LSI variants in your landing pages: The use of keywords in your landing pages is vital for the success of your Google Ads campaign because it leads to a higher search relevance and ad quality score. A higher ad quality score reduces your overall PPC cost, which further improves your ROI. You should use keywords in the title, main content, URL, image alt tag, and subheadings. Avoid repeating the same keyword; instead, use synonyms and LSI variants of your seed keyword.
Create compelling ad copy: Your ad copy should be user-focused to bring in more traffic to your site. Avoid generic language and check ad strength to generate higher engagement on your ads.
Use a clear call-to-action: Your ad CTA should be clear and persuasive to inspire audiences to take action. Try using a strong command verb and give your audience a reason to click on your ads.
Set up ad tracking using Google analytics: Use Google tag to measure your site conversions as the tag sets new cookies on your domain, which ensures that the ads can measure conversions more accurately.
Retarget your website visitors: Retargeting increases the chances of ad conversion because it helps you reach people who have already visited your website. Hence, you should use retargeting to receive more engagement on your ads.
Dive Deeper: Retargeting 101: Why It's Essential for Any Marketing Funnel
6) Re-optimize Your Campaigns
You should always measure the progress of every digital marketing channel to better understand the returns on investment from each of them.
There are several website analysis and tracking tools you can use to measure the performance of your website, like:
Remember to create measurable key performance indicators (KPIs) for your SEO or PPC campaigns, as this can help you make better decisions. Depending on the channel performance data, you should re-optimize your campaigns to improve ROI.
Dive Deeper:
* The Quick Guide to Enterprise SaaS SEO
* Enterprise SEO Software: How to Choose the Best SEO Platform for Large Sites

Last Word on Enterprise Search Engine Marketing
In today's digital age, having a strong online presence is essential for success, and enterprise search engine marketing can give your business the competitive edge it needs to thrive.
SEM strategies can help significantly improve a business's online visibility, reach their target audience and achieve their goals and long-term success.
So start putting these six powerful SEM strategies into action today, and get ready to take your enterprise to new heights!
Schedule your FREE consultation with Single Grain's enterprise SEM experts to discuss your needs.👇