The Benefits of Lead Generation Outsourcing
You and your team work diligently to attract and nurture leads down the sales funnel. Your efforts are successful…until you lose the leads you have been working so hard to attain.
What's happening? If your current lead gen strategy isn't successful, it may be time to call in a professional. But you shouldn't contact the first company you find.
In this post, we'll help you understand the benefits of lead generation outsourcing and how to find the right lead gen company.
What Is Lead Generation Outsourcing?
There are many reasons why more businesses are taking advantage of outsourcing this process.
By outsourcing lead generation services, you can produce 43% more results than if you relied on your in-house team.
When your business attracts potential clients (or leads), they go through a process that determines whether or not they will buy your products or services. This process of lead generation involves various tactics — including content marketing, SEO, email marketing, PPC, trade shows — to bring your lead down the sales funnel until they make a sale: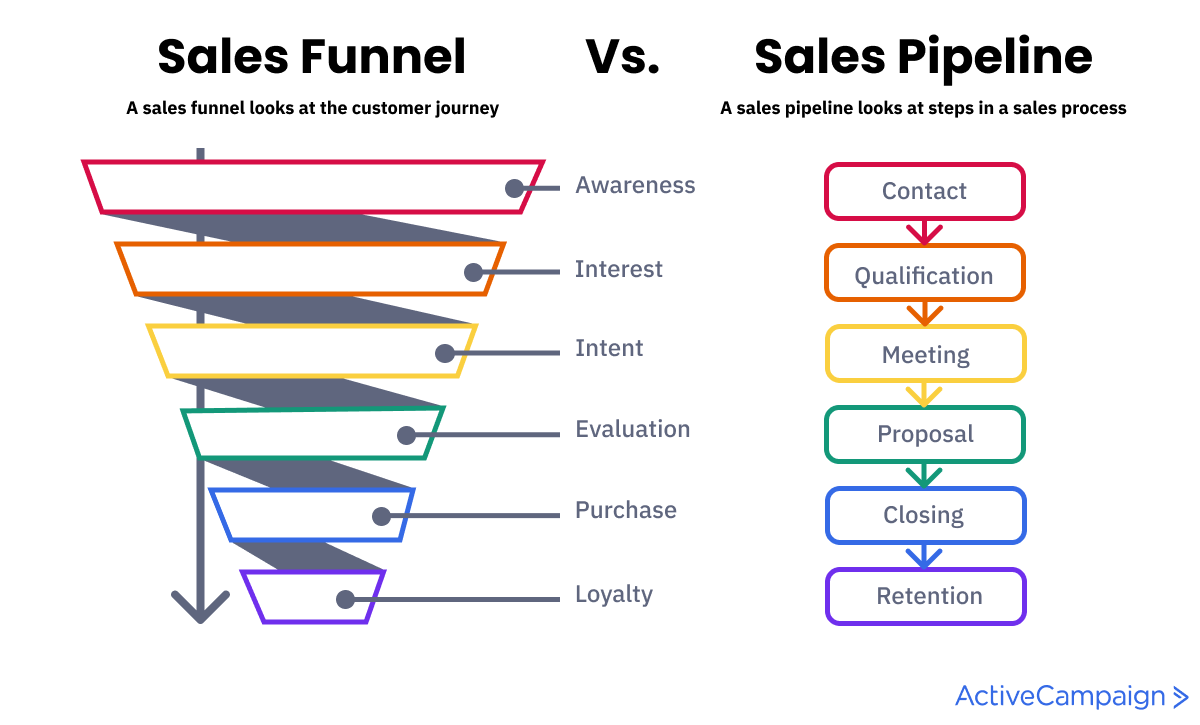 While businesses can handle these tactics in-house, hiring an agency is another option.
Outsourcing lead generation is when a business hires a third-party company or service to manage their lead generation strategy. They will handle all lead nurturing tactics, such as opt-ins, creating ads, making landing pages, and testing these strategies to ensure that they deliver results.
Benefits of Lead Generation Outsourcing
You can look at a lead generation company as your partner that can help you achieve more sales than you would if you acted on your own.
But there are other benefits of outsourcing lead generation, too.
They're the Experts
Lead generation freelancers and firms handle these tasks every day. It's safe to say that they're the experts at all things lead gen. They know many tricks and lead gen strategies to attract prospects to your business while using various types of content and advertising to nurture those leads until they make a sale: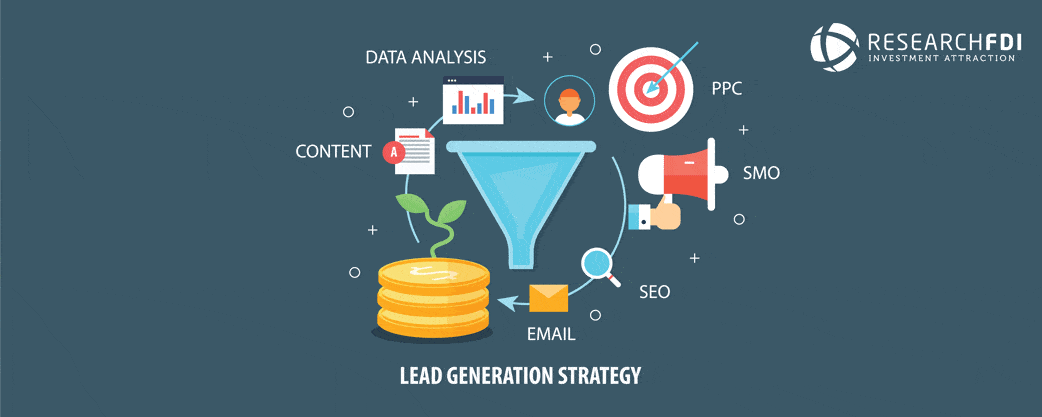 Lead generation professionals also know how to nurture leads at every stage of the sales pipeline. They create personalized outbound campaigns and high-quality content to draw leads in. Once they capture a prospect's attention, they use additional strategies such as opt-in email forms to nurture these leads.
Lead generation professionals will also test these strategies to ensure that you see results. If their efforts are successful, you will have numerous leads in your sales funnel simultaneously, leading to more conversions and sales:

Since they know all the tactics to bring a lead down the sales funnel, most businesses achieve results quicker. This leads us to our next point.
Dive Deeper: The Types of Videos to Use at Each Stage of the Marketing Funnel
Close More Deals Faster
Since lead generation services are experts in their fields, they know all the tricks to increase sales and close deals faster.
Another reason why outsourcing companies can offer quicker sales is that they focus on quality leads. These leads are more likely to support your business and become return customers. Lead generation experts nurture these leads to make sure you get the best ROI.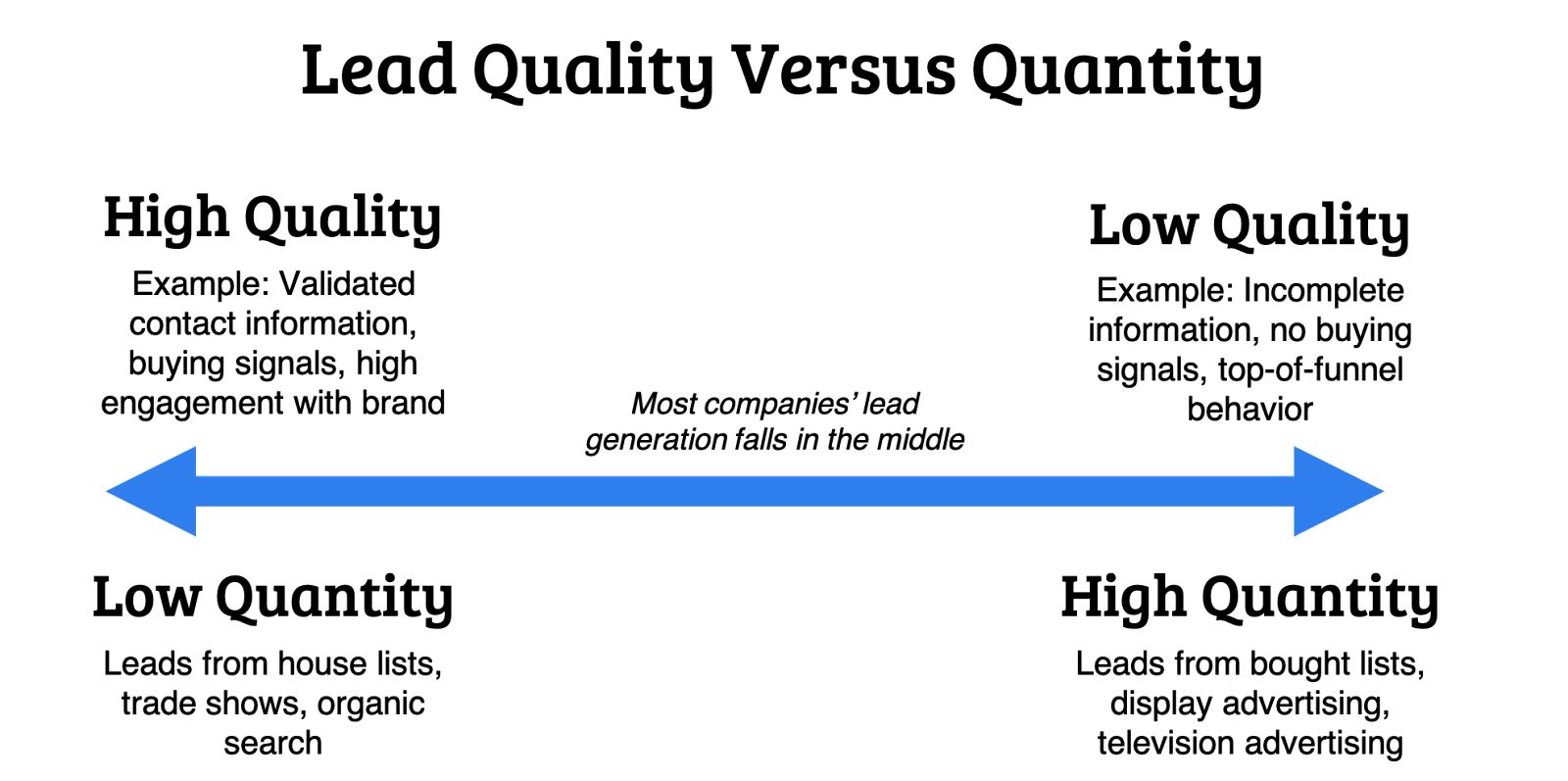 How do lead generation experts know who is a qualified lead? They focus on marketing qualified leads (MQL) and others that interacted with your brand.
Marketing qualified leads are at the stage that precedes the normal lead stage, meaning that they're more likely to become a customer. This knowledge is determined by the organization's lead intelligence, which tracks specific behavioral and engagement characteristics. This can be determined by a repeated interest in the content of your website or engaging with a sales-related CTA.
Since these leads know the basics of your company, it's easier to finalize a sale.
Dive Deeper: 7 Easy Ways to Generate and Convert More Qualified Leads
Focus on Your Business
Face it, you're likely not a lead generation expert. And if you throw this task on staff members without lead generation experience, you won't experience the results you need. Plus, lead generation consists of many strategies that are time-consuming and expensive to implement.
Lead generation services will take this arduous task off your hands and get to work converting prospective customers while you focus on the core functions of your business.
Dive Deeper: Best Lead Gen Digital Agency: Top 5 Choices for 2023
Earn a Better ROI
Since lead generation services know the right techniques to grow sales, you'll not only save money but will earn more. Lead gen agencies have a refined approach to lead conversion, meaning they will attract more leads and earn more sales for you at a faster pace. You'll not only see these results in your increased revenue, but also in your impressive ROI: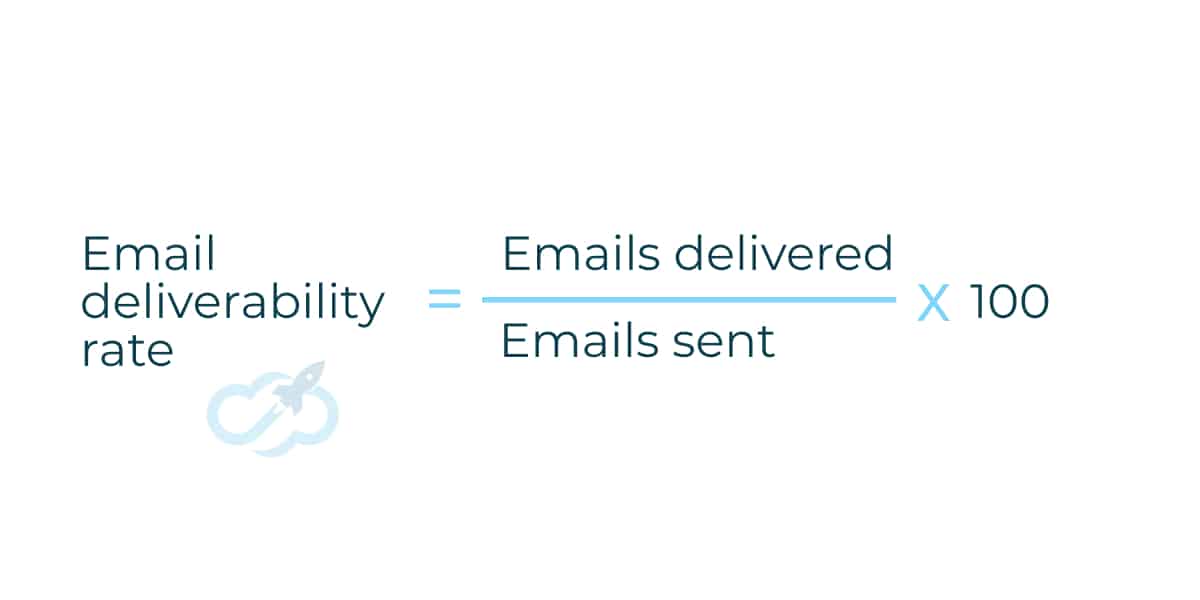 Plus, businesses still save more money than if they were to hire employees. You're not paying salaries, benefits and other expenses associated with hiring full-time workers. This is especially beneficial to SMBs since it's more cost-effective to outsource lead gen than hire in-house.
Most lead generation outsourcing professionals or firms will charge per lead, a flat hourly rate or even a subscription to access their full range of services.
When to Use In-House Lead Generation
There are times when you may want to handle your own lead generation efforts. This makes more sense if:
You're in a niche industry or have other specializations
You have already hired lead generation experts
You prefer to prioritize specific tactics, such as inbound marketing campaigns, to generate leads
You would rather your customer data only be accessed internally
You have a specific customer profile
While most lead generation companies offer high-quality services, you risk working with a company with a bad reputation. Plus, there will be little oversight on your end. For example, a campaign may result in off-design, lack of branding, poorly written content or messaging that doesn't align with your business practices.
Hiring in-house lead generation experts is best for businesses that want to develop strategies and use an internal sales team rather than let another company handle these important tasks.
Dive Deeper:
* 9 Mission-Critical Lead Generation Metrics You Need To Track
* 10 Best Lead Generation Tools to Drive High-Quality Traffic in 2023
* Best Lead Generation Tactics for Content, Email & Social Media Marketing

How to Find the Best Lead Generation Companies
Your lead generation company will serve as more than an outsourced service; they will be your partner in business growth. To find the best outsourced lead generation company, follow these best practices.
Ask Google
Outsourced lead generation experts know a thing or two about SEO and will use the power of Google to attract new leads. If you type a query, such as "lead generation outsourcing services," many options will appear. Click the top three to five results – if they make the top of organic Google searches, they will likely be able to help you achieve the same results. Look at their portfolio and read reviews to understand if this is the best company for you.
Don't forget to consider the Google ads and click the "Top Lead Gen Companies" guides. These companies have excellent advertising knowledge and are reputable names in their niche.
Look Up Case Studies
A reputable lead generation team will not only promise results but will back their work up with data.
A quality case study will cover the tactics used and the success rate. It will mention key metrics such as marketing qualified leads (MQL), number of sales, conversion rates, time on website/bounce rate, sales qualified leads, and ROI.
A case study may also include areas where the lead generation company failed. The data may consist of metrics such as neglecting lead nurturing, overlooking post-conversion lead nurturing or not analyzing lead quality. While these metrics may be off-putting, this data also shows the lead generation company is transparent and honest.
A reliable lead generation company will offer this data in its portfolio. If they don't, you can request this data from them. Prioritize case studies in your business niche, which will prove the lead gen company can engage your target audience.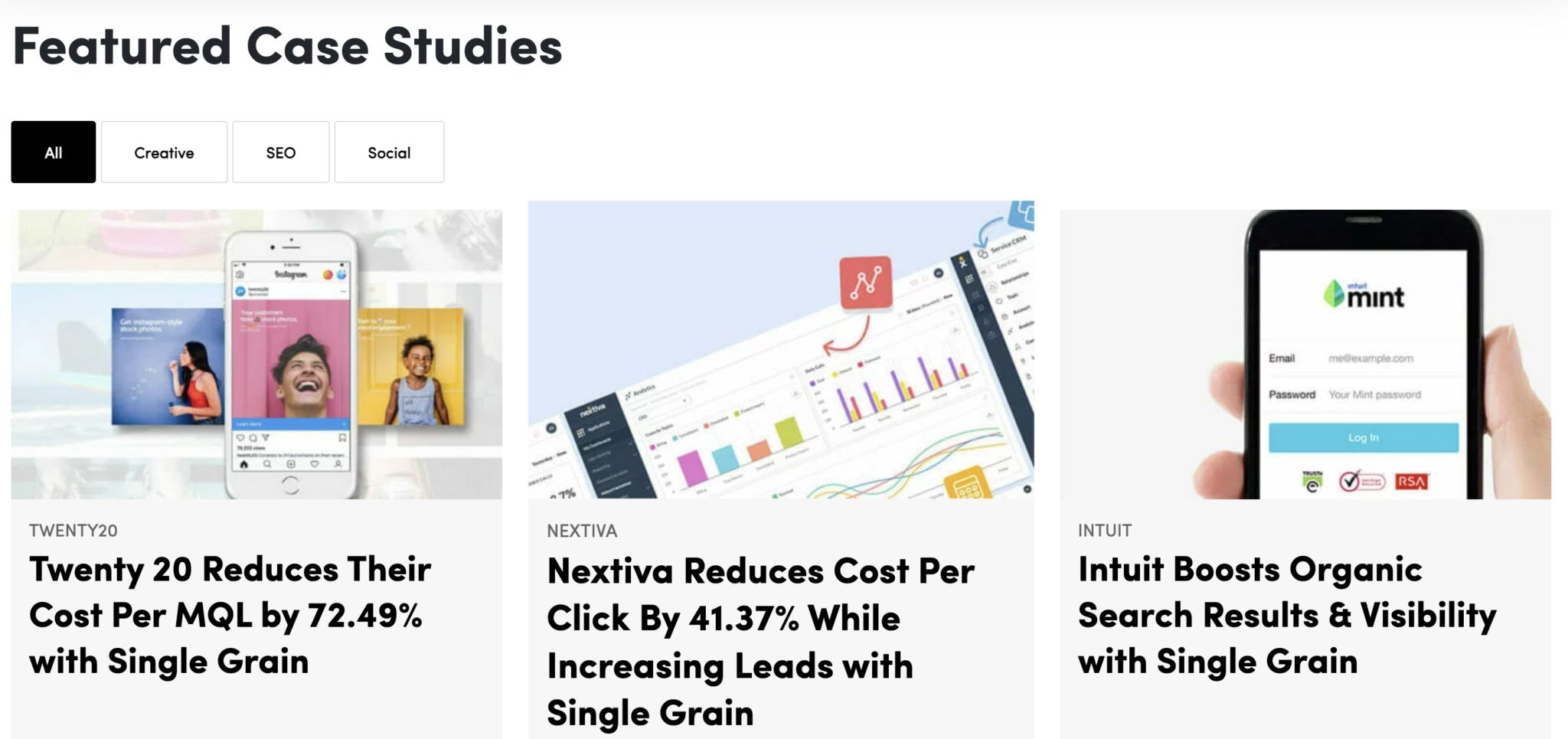 Read Reviews
Businesses should also look at third-party websites like G2, Capterra, Software Advice and Clutch to read honest reviews from past and current clients:
Reviews tend to be more trustworthy than testimonials, which are the positive reviews businesses post on their websites. Businesses will seek client feedback for the sole purpose of posting a positive testimonial, and the review could be biased.
On the other hand, reviewers are under no obligation to post the review and only want to inform other potential customers of their experience working with the company.
While reviews offer more insight into a lead generation team, it's also important to be realistic. Some reviewers exaggerate their experiences. There's a chance that the client was also more problematic than the lead gen service. Read positive, negative, and so-so reviews for a well-rounded view of the company.
Ask About Their Process
Most lead generation companies offer a free consultation: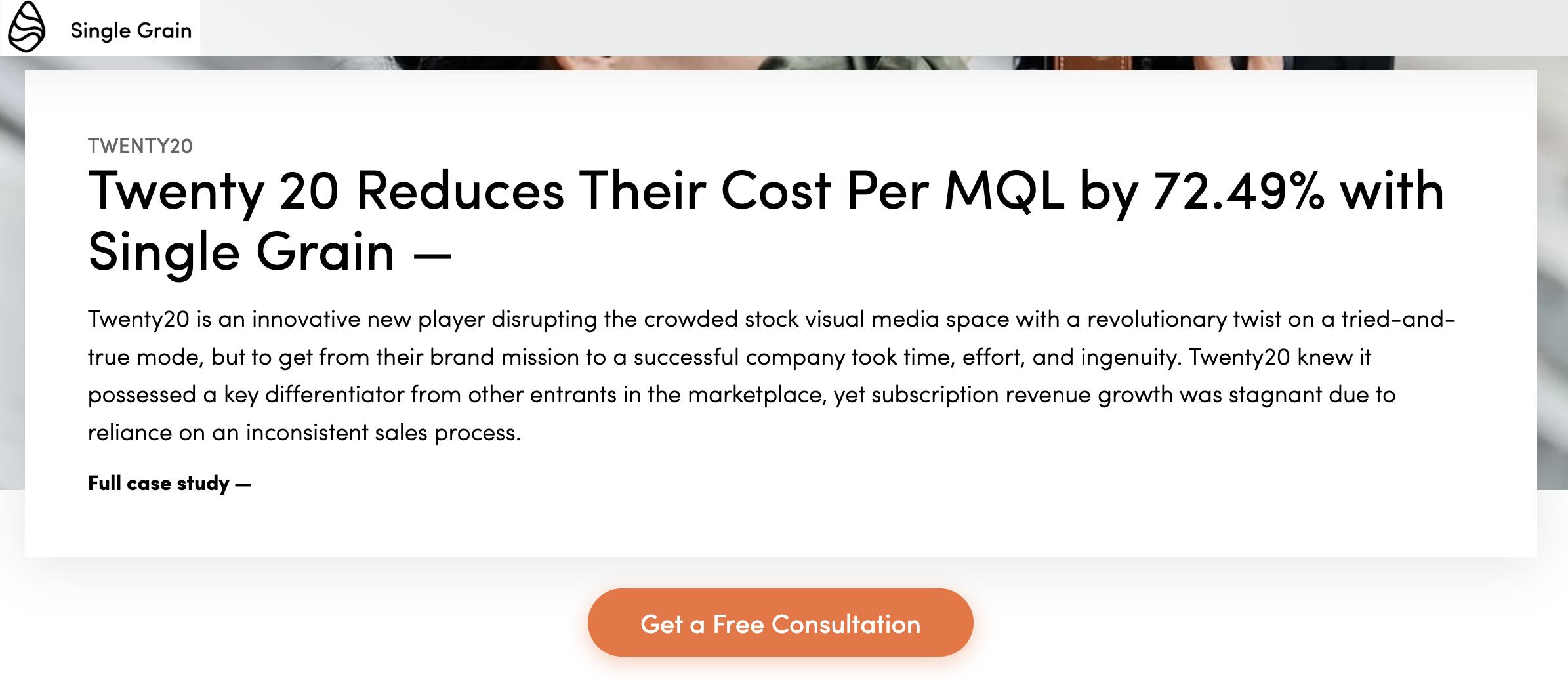 Take advantage of this offer and use it to learn more about their lead generation process. You can start this interview by asking how they target prospects and create buyer personas. Then you can go into the specifics of how they generate leads.
These questions will give you more insight into their strategy:
Which tactics do you use? Mention specific ones such as email marketing, opt-in forms, advertising, landing pages, content marketing, SEO, etc. You can inquire about using traditional methods, such as direct mail for a local business.
Do you focus more on an inbound or outbound marketing strategy? Or do you use an omnichannel marketing approach?
Do you keep up with the latest marketing trends?
When you create buyer personas, how would you analyze our audience? Which demographics do you use? You can also ask if they use general demographics, such as age and gender, or if they would focus more on career demographics, such as income, profession, and education level.
Which tools and software do you use?
How far will you handle the lead nurturing process? Will you handle it until the lead contacts or until they buy from us?
From here, you can request documentation of their process. Consult with different companies and compare their methods. Choose the ones that best fit your strategy.
Dive Deeper: B2B SaaS Lead Generation: How We Improved Axure's Lead Quality Overnight
Final Thoughts: Is Lead Generation Outsourcing Right for You?
If you prefer handling your leads and sales in-house, lead generation outsourcing may not be for you.
But if you're struggling to nurture high-quality leads down the sales funnel, it may be time to consider lead generation outsourcing. You can bring in a third-party expert to handle the entire process, from attracting prospects to closing the sale. Plus, you will benefit from their experience and expertise in this process.
For most businesses, outsourcing lead gen will save time and provide a better ROI.
Ready to increase your quality leads and grow your business? Click below to request your free lead generation consultation. 👇
---
Lead Generation Outsourcing FAQs
Is it better to outsource lead generation services?
This depends on your business. If you don't have the time and resources to handle your own lead generation campaign, outsourcing can save you time and lead to more sales – if you find the right expert.
But if you already have skilled in-house lead generation, marketing, and sales team members, they know your brand best. You can also use a combination of hiring in-house and outsourcing to ensure that your lead gen efforts stay on brand and are successful.
Which services does a lead generation agency offer?
When you outsource lead generation experts, they will use different strategies that capture every step of the marketing funnel.
This includes inbound marketing tactics, such as content creation, on-page SEO, and landing page creation, and outbound marketing tactics, such as advertising, print media, trade shows, cold emails, and cold calling.
You can outsource all lead generation tactics or only certain parts. Always know which services you're getting when you hire a lead generation outsourcing company.
How much do B2B lead generation companies charge?
This depends on the company. Many companies charge per lead, varying between $40 to $190 per lead. Other costs, such as marketing expenses and your industry, may also factor into this rate. Some may charge per hour or offer subscription pricing.
Lead generation companies may also consider your business size and budget when working out a rate, ensuring that they can grow with you.
What are the three approaches to lead generation?
When you outsource lead generation, they will focus on content, search engine, and social media marketing.
A content marketing strategy and SEO go hand-in-hand as they will allow you to earn better search engine results and engage your audience. In fact, search engine optimization is one of the best lead generation strategies. The more visible you are on Google, the easier your leads will find you.
A lead generation company will optimize your web pages for high-ranking keywords, create a responsive and attractive website, guest post, and use local SEO tactics, such as creating a Google My Business account and optimizing your website for NAP data if you're attracting a local audience.
Content that provides value will target prospects, nurturing them into quality leads. This is why lead generation is one of the top goals for content marketers. Creating content such as white papers, webinars, videos, e-books, and blogs will help you convert more prospects.
Social media not only attracts leads but does so at a faster rate. Businesses can use features like social selling to convert more leads. You should also create high-quality social media content to nurture leads, aiding the decision-making process.
What is sales process outsourcing? Is it different than lead generation outsourcing?
The two are similar, but they have their differences. Sales process outsourcing is when a third-party handles tasks related to your sales cycle. Unlike lead generation, which combines inbound and outbound marketing efforts, sales process outsourcing uses different strategies.
This can include:
Customer relationship management
Territory management
Sales tracking
Planning routes
Hosting conferences, conventions, and events
Cold calling
Negotiation
Data capture
Both types of businesses have one goal: to earn more sales. A lead generation company may use some outbound marketing methods, such as trade show marketing and cold calling. But both businesses handle this approach differently.
Before choosing a lead gen or sales outsourcing company, research the differences and decide which professional is best for your business.