10 Best Lead Generation Tools to Drive High-Quality Traffic in 2023
61% of marketers consider generating more traffic and new leads to be their biggest challenge.
And it doesn't help that most of your first-time website visitors never come back. So what's a marketer or sales rep to do?
Use lead generation software — that's what!
When people show interest in your business, these tools notify you so that you can get in touch with leads, convert them and drive more revenue.
In this article, you'll find our curated list of the 10 best lead generation software to help you grow your business.
Let's dive in!
---
---
What Is a Lead-Generation Tool?
A lead generation tool (or lead gen tool) is software that helps you capture information from people, or "leads," who are interested in your company's product or service. These tools automate the lead collection process so that you can focus on other areas of your business.
Lead generation tools help you nurture and convert them into paying customers.
Each lead generation software works differently depending on the channels they generate potential customers from, such as landing pages, social media (particularly LinkedIn for B2B leads) and email. Some lead gen software tools:
Find emails from your target audience
Capture emails and other information
Create surveys and polls
Facilitate customer support
Benefits of Using a Lead-Generation Tool
Lead generation tools can help you attract and convert leads into customers with less time and effort than you'd spend if you were doing it manually.
But there are other reasons why lead gen tools are important, too, including….
1) Improved Customer Insights
To convert your cold audience into qualified leads, you need to know what they're thinking, what they want and why they behave the way they do. You need to know their pain points in order to provide them with the perfect solution (i.e. your service or product).
Lead generation tools help you capture useful data from your prospects, which gives you a better idea as to why people express interest in your offer — or why they don't. Either way, you can then figure out your product's best and worst features, understand your customers' needs, and personalize your sales pipeline for better lead nurturing.
2) Qualified Leads
More leads = more revenue.
If the majority of your leads are cold or lukewarm, you'll work a long time for very little return on investment (ROI). In fact, according to Gartner, only 44% of marketing leads pass through sales as a potential good fit.
Lead generation tools use lead scoring to evaluate prospect data and identify the people who are most likely to purchase your product. These tools track their personal information and interactions with your business to determine which leads you should focus on, and which ones you should put on the back burner.
3) Improved Marketing Tactics
As you run lead capture campaigns, you want to know which marketing strategies brought in the most valuable leads, right?
Lead gen software has powerful analytics reporting that shows you the results of all your marketing campaigns. This will help you build new campaigns and refine existing ones to resonate with your most qualified leads.
This, in turn, increases the number of your high-value customers and conversion rate, and reduces the time spent on cold leads.
Dive Deeper:
* SaaS Lead Generation: How We Improved Axure's Lead Quality Overnight
* The Anatomy of an Effective SaaS Lead Generation Strategy
* 9 Mission-Critical Lead Generation Metrics You Need to Track

Features to Look for in a Lead-Generation Tool
Although most lead automation tools work differently, they do share some key features that you should look for when selecting the best lead gen tool for your business, whether you're a startup or an enterprise.
1) Easy to Use
Whether it's a simple tool, such as an email finder to help you build your email list, or powerful software, such as a full CRM platform, these lead generation tools need to be easy to use. If you can't figure out how to use them, they're useless to you.
When shopping for lead gen tools, look for the ones that have an intuitive interface and provide training resources. This significantly reduces the technical issues you'll face as you use it. Many tools offer a free plan so you can test it out first before opting for a paid plan.
2) Automation
One of the focal points of a good lead generation tool is automation: they automate data analysis and lead collection.
It's not necessary to automate every type of lead-related task you have, but your lead gen software of choice should give you the option to do so.
3) Tracking Functionalities
Make sure the lead gen tool you choose has targeting and tracking options so you can collect data from high-value prospects.
It's not enough to just collect leads. You should be able to track and streamline these leads' interactions with your company in one dashboard.
4) Data Analytics
Data analysis plays a vital role in converting leads into customers. The lead generation tool you invest in should have advanced analytics and reporting features that show you accurate information about your prospects. This will help you identify what you're doing right and wrong, and make data-driven business decisions.
The tool should also have a feature that allows you to prioritize and segment leads at different stages of the customer journey: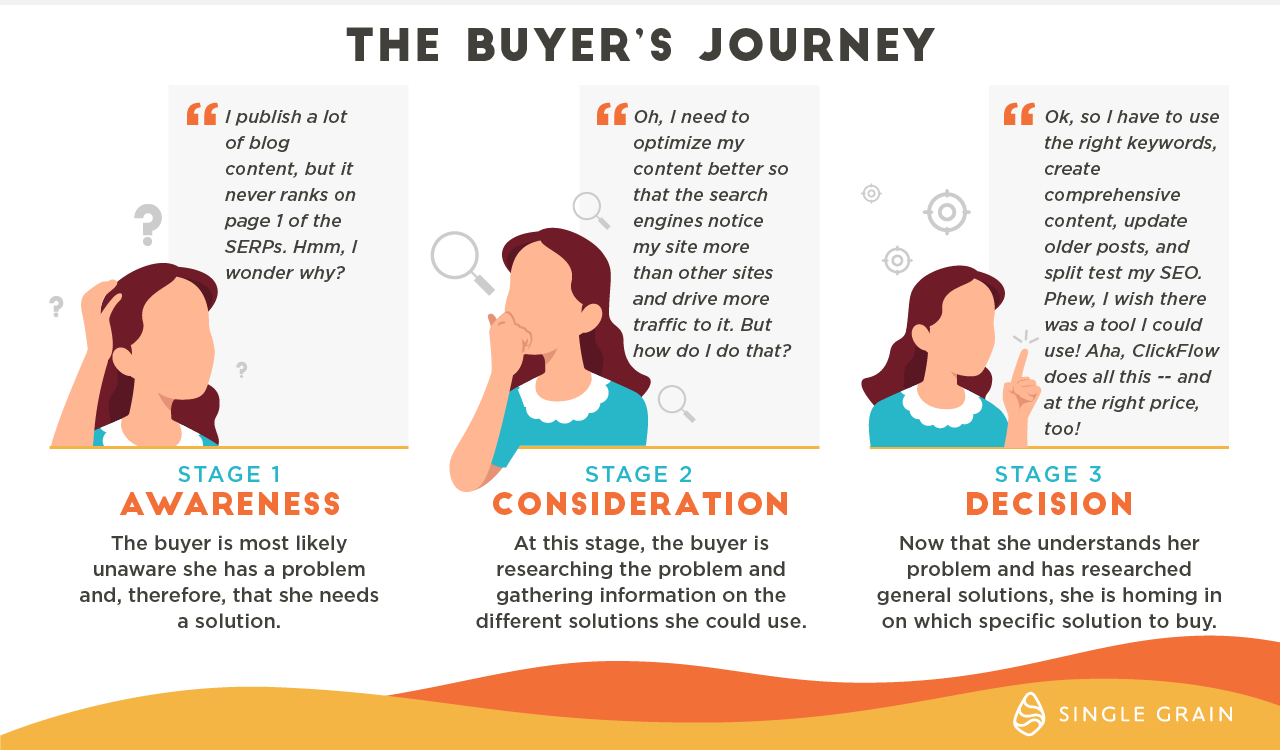 5) Customer Relationship Management (CRM)
As you look for the best lead gen tool for your needs, you'll likely come across some customer relationship management (CRM) tools. Lead generation is a feature of CRM tools, as it involves nurturing customers in your sales funnel and building a dedicated customer base of subscribers.
If you think that a CRM is too big for you right now, think again. There are scalable customer relationship management tools such as ActiveCampaign or Zoho CRM designed specifically for small, but fast-growing, businesses. Most CRM tools allow you to choose which features, such as AI, predictive sending or conditional content, you want to invest in as you grow.
6) Seamless Integrations
Your lead generation tool of choice should integrate seamlessly with other tools, such as email marketing tools, CRMs, etc., so you won't need to switch browsers constantly. These integrations reduce manual labor and let you share data across other business tools your team is using.
10 Best Lead-Generation Tools
There are tons of lead-gen sales tools on the market right now, so it can be difficult to know which one is best for your business needs.
To make it easier for you to decide, we have put together this list of the best lead generation software, as well as their key features.
Who it's for: Small businesses, SaaS companies, and agencies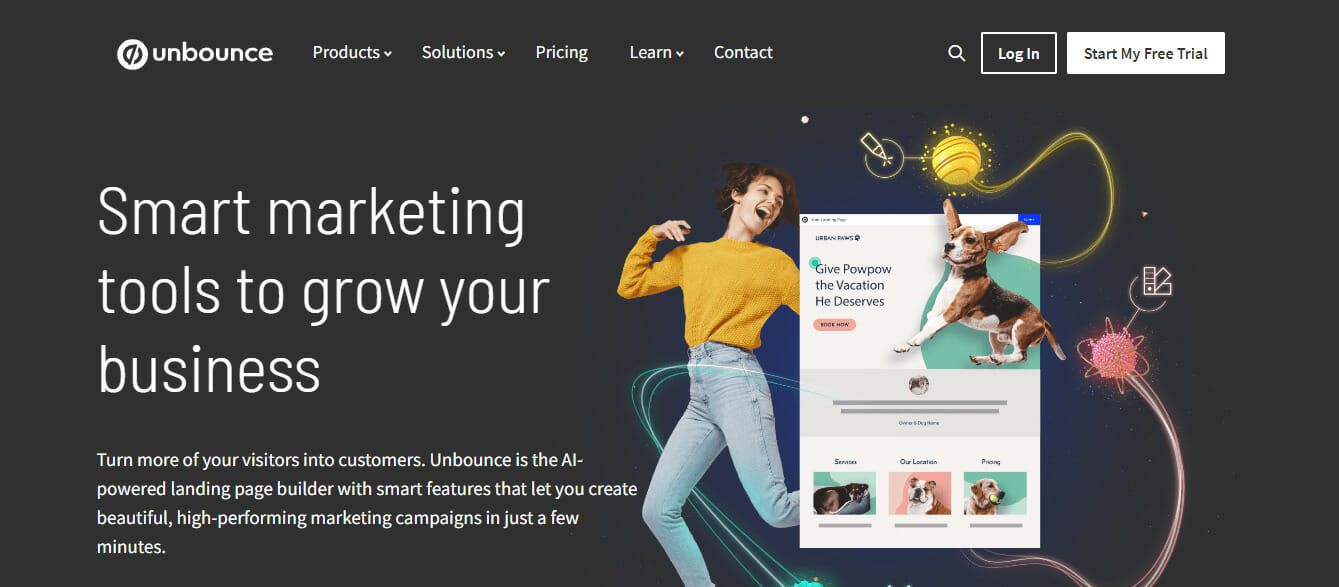 Unbounce is a tool designed to help small businesses build custom landing pages to grow their audience, generate leads and drive revenue.
This tool allows you to create your landing page from scratch using its drag-and-drop builder. Or you can use one of the several customizable templates they offer.
Unbounce also uses artificial intelligence to deliver the most relevant data insights that will help you create landing pages that drive the highest (and most valuable) conversions.
Key Features of Unbounce:
Drag-and-drop builder
Free customizable templates
Smart landing page builder
Design assistant
Conversion mapping
Advanced targeting options
A/B testing
Opt-in pop-ups
Real-time editing
Reporting and analytics
Third-party app integrations
Pricing:
14-day free trial
Launch Plan (starts at $81/month)
Optimize Plan ($122/month)
Accelerate Plan ($203/month, billed annually)
Dive Deeper: MQL vs. SQL – Serve Up The Right Type Of Content To Your Leads
Who it's for: Bloggers, marketing agencies, e-commerce websites, and small businesses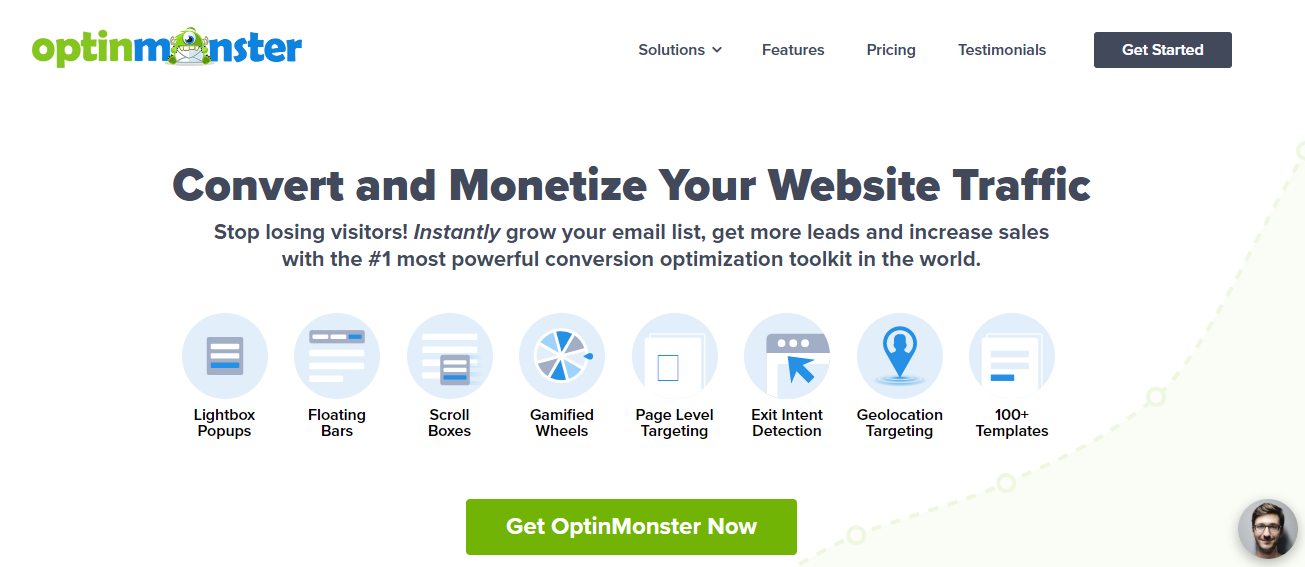 OptinMonster is a lead generation software that allows you to build marketing campaigns that generate high-quality leads. With this tool, you can design conversion-focused, mobile-friendly forms, pop-ups, slide-in windows, and more. And you can do all this with their easy-to-use form builder.
It has powerful targeting rules, from page-level targeting to onsite retargeting, that help you get your campaigns in front of the right people. You can also target campaigns by location, device type, activity and inactivity.
OptinMonster integrates with powerful third-party tools like HubSpot, MailChimp and Zapier. And since it focuses on attracting mobile traffic, it works well on mobile devices, too.
Key features of OptinMonster:
Form builder
Behavior personalization
Advanced targeting rules
Mobile-friendly forms and pop-ups
A/B testing
Animated MonsterEffects technology
Exit-intent technology
Conversion analytics
Powerful third-party integrations
14-day money-back guarantee
Pricing:
No free version or trial
Basic Plan (starts at $9/month)
Plus Plan ($19/month)
Pro Plan ($29/month)
Growth Plan ($49/month, billed annually)
Dive Deeper: Retargeting 101: Why It's Essential for Any Marketing Funnel
Who it's for: Businesses and agencies of all sizes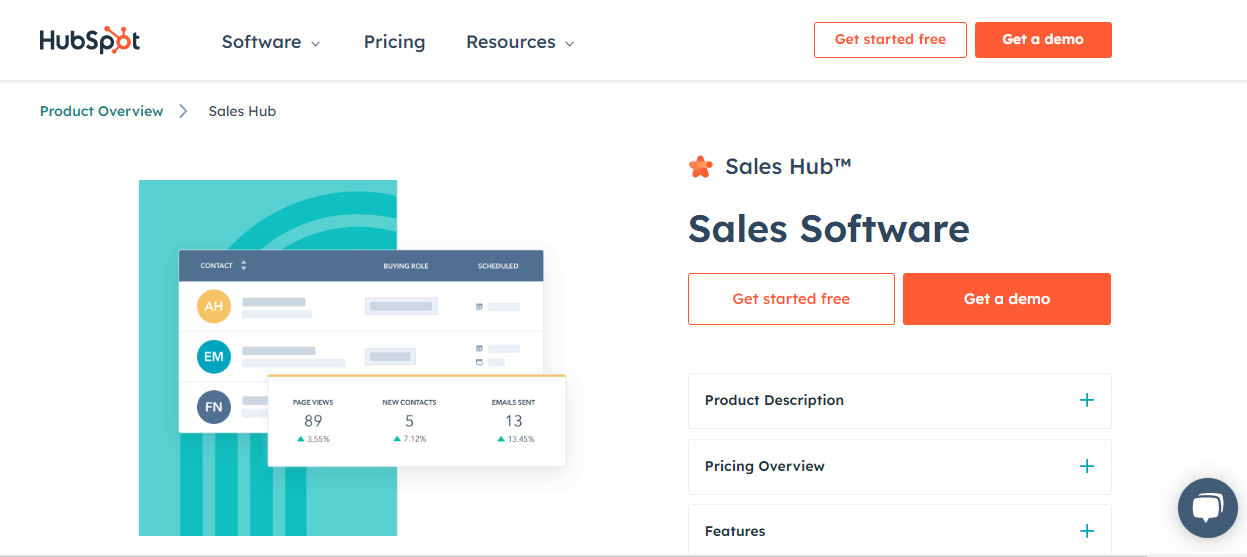 HubSpot Sales is one of HubSpot's marketing software tools that helps you build and automate all sales processes for your businesses. This allows you to sell more products in less time.
You can use HubSpot Sales to automate follow-up emails and turn repetitive processes into templates. You can also connect it to your online database, so you can see your data on a dynamic dashboard that you can access from any device. This dashboard tracks and records metrics related to your customers' behavior — which is critical for generating leads of high quality.
You can use HubSpot Sales alone or combine it with other HubSpot Hubs: Marketing Hub, Service Hub, CMS Hub, and Operations Hub.
Key Features of HubSpot Sales:
Pipeline management
Sales automation
Email marketing
Email templates
Visitor tracking
Powerful analytics dashboard
Custom reports and report templates
Third-party integrations
Pricing:
Free demo
Starter Plan (start at $45/month)
Professional Plan ($450/month)
Enterprise Plan ($1,200/month, billed annually)
Dive Deeper: What Is Marketing Automation: Definition, Benefits & Uses
Who it's for: Small, medium and enterprise-level businesses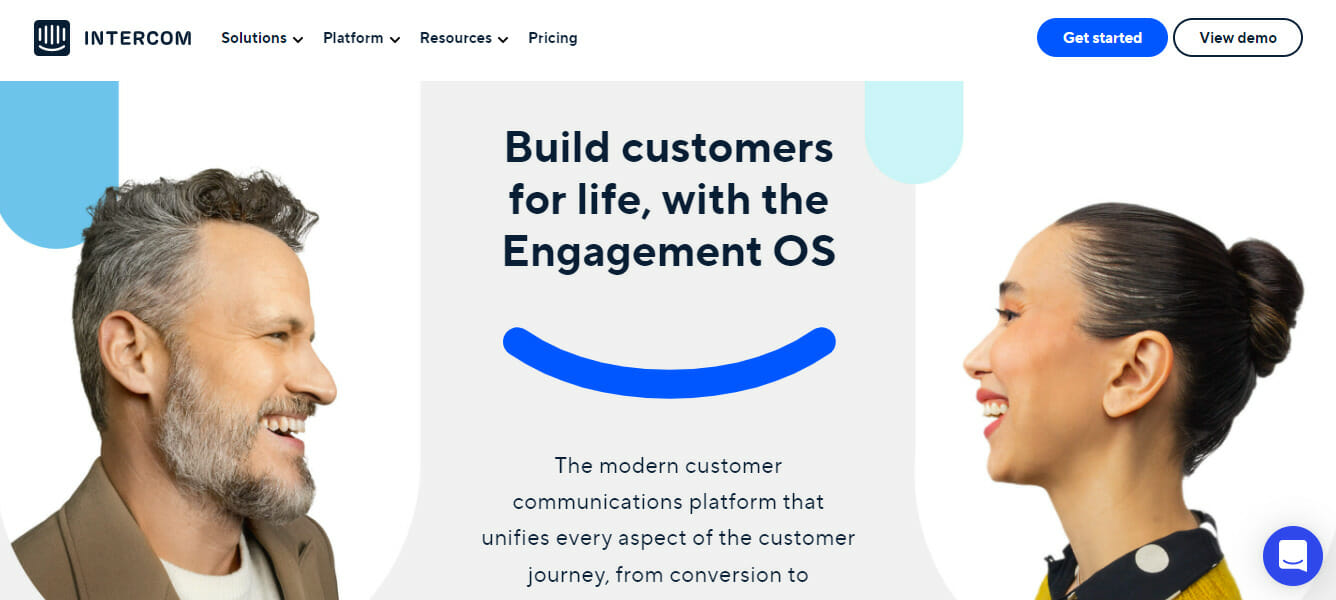 Intercom is a customer support software that uses behavioral targeting and user intelligence to help businesses understand and improve their customer communication. This tool provides a better way to acquire, interact with and retain customers.
With Intercom, you can send behavior-triggered emails and targeted messages to your customers. The live chat feature helps your sales and customer support teams make announcements, onboard users, and manage conversations. Intercom offers a help desk and knowledge base to assist their customer support teams solve customer problems faster.
This software tracks customer data to see who your customers are and how they interact with your business. You can segment your users by the actions they take and get the data you need to engage customers more efficiently.
Key Features of Intercom:
Audience segmentation
Live chat
Behavior-driven messages
A/B testing
Email campaigns
Key message grouping
Personalized reply templates
In-app email/message composer
User event tracking
Real-time performance monitoring
Rich message composer
Extensive app integrations
Pricing:
14-day free trial
Price varies depending on the needs of your business.
Dive Deeper: How to Use Event Marketing to Generate Leads & Close Sales
Who it's for: Businesses of all sizes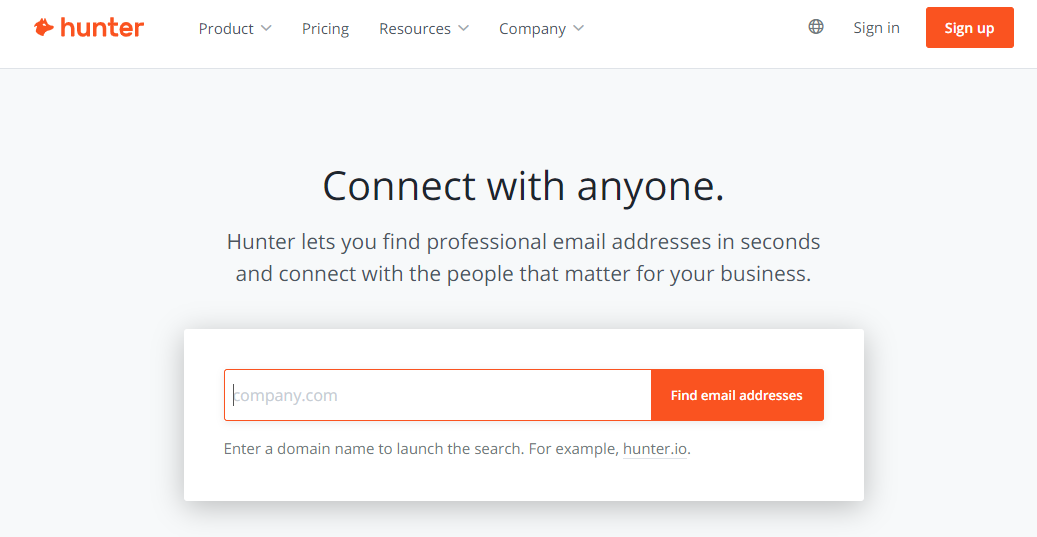 Hunter is a lead generation tool designed to help businesses find emails to aid their cold outreach process. This tool crawls the internet and indexes professional email addresses that are publicly available.
All you need to do to find someone's email is to type their name and company name into the search bar. With Hunter, you can automate your entire outreach process by verifying the email addresses you find and then sending cold emails.
Key Features of Hunter:
Bulk email management
Email verification tool
Free cold email templates
Campaign optimizer
Browser and Google Sheets extensions
Gmail integration to send email campaigns
Pricing:
Free forever plan.
Starter Plan (starts at $39/month)
Growth Plan ($69/month)
Pro Plan ($139/month)
Business Plan ($279/month, billed annually)
Who it's for: Small businesses, solopreneurs and nonprofits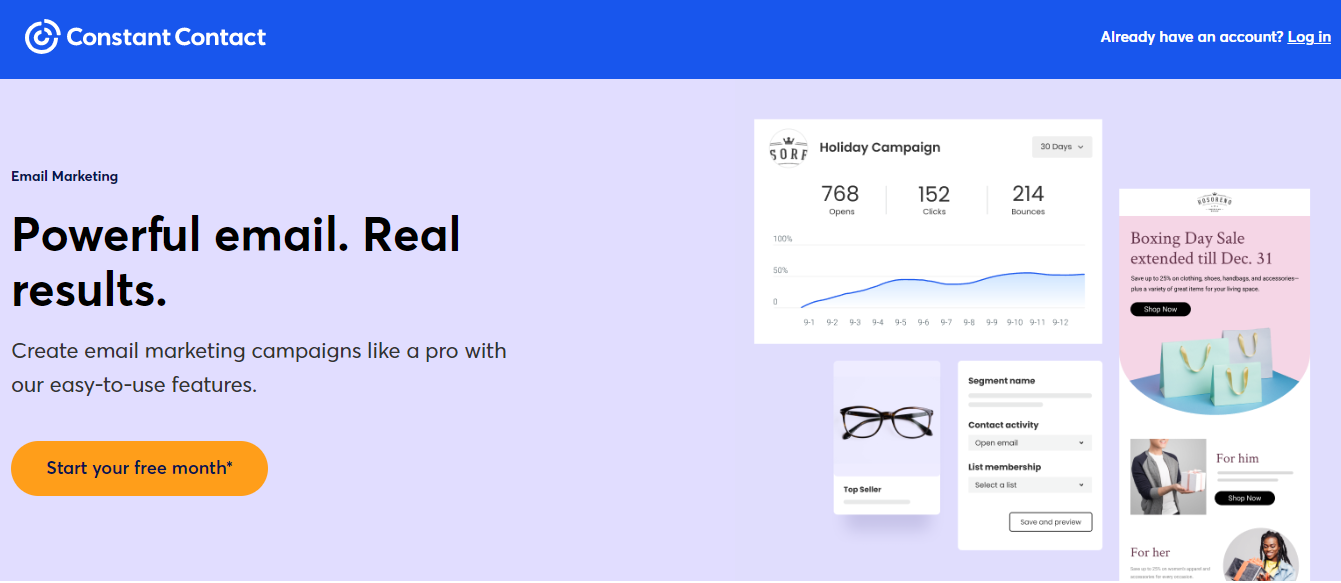 Constant Contact is an all-in-one marketing platform that helps you grow your brand, get more leads and generate more revenue. While this tool offers a slew of features, Constant Contact's focal point is its email service provider.
This tool provides 100+ customizable email templates and an easy-to-use drag-and-drop editor. It also comes with built-in features that help you use social media to attract quality leads and convert them into paying customers.
Constant Contact has tracking tools that track your marketing campaign's results in real-time. The data you get will inform future campaigns. To make campaign tracking easier, you can integrate Constant Contact with content management systems (CMS) like Shopify and WordPress.
Key Features of Constant Contact:
Drag-and-drop editor
Landing page editor
Customizable email templates
List segmentation
Social share for emails
Real-time campaign tracking
Campaign comparison
Click segmentation
Email marketing automation
Client management
30-day money-back guarantee
Third-party app integrations
Pricing:
60-day free trial
Core Plan (starts at $9.99/month)
Plus Plan ($45/month)
Who it's for: Sales teams in businesses of all sizes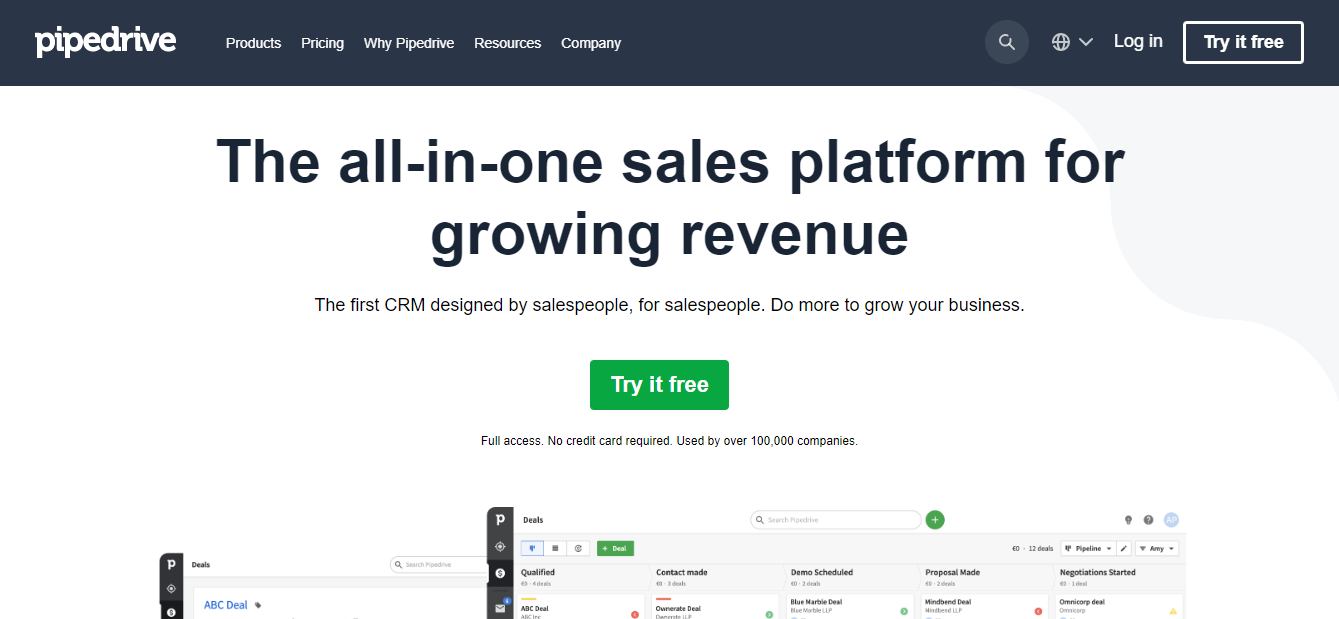 Pipedrive is a platform that helps sales teams design and manage their sales pipelines more effectively. This software has all the features businesses need to attract prospects, nurture leads, spot good opportunities, and close deals.
With this software, you can create visual sales pipelines and segment leads into buckets for easier follow-up. It also allows salespeople to automate administrative tasks so that they can focus on other, more important, tasks.
Pipedrive has a powerful add-on called  LeadBooster, which includes a chatbot, livechat, and Prospector features that helps customer support teams interact with customers, find leads, and guide them down to the bottom of the sales funnel. The Prospector tool helps sales teams instantly identify high-value leads based on things like location and job title.
Key Features of Pipedrive:
Workflow automation
Activity tracking
Smart Docs
Contact history
Sales pipeline view
Sales reporting
Email tracking
Revenue forecasting
Email inbox
Powerful API
Multi-language
24/7 support
Seamless integrations
Pricing:
14-day free trial
Essential Plan (starts at $14.90/user/month)
Advanced Plan ($24.90/user/month)
Professional Plan ($49.90/user/month)
Enterprise Plan ($99/user/month, billed annually)
Dive Deeper: What's the Right Content for Each Stage of the Marketing Funnel?
Who it's for: Large organizations and enterprises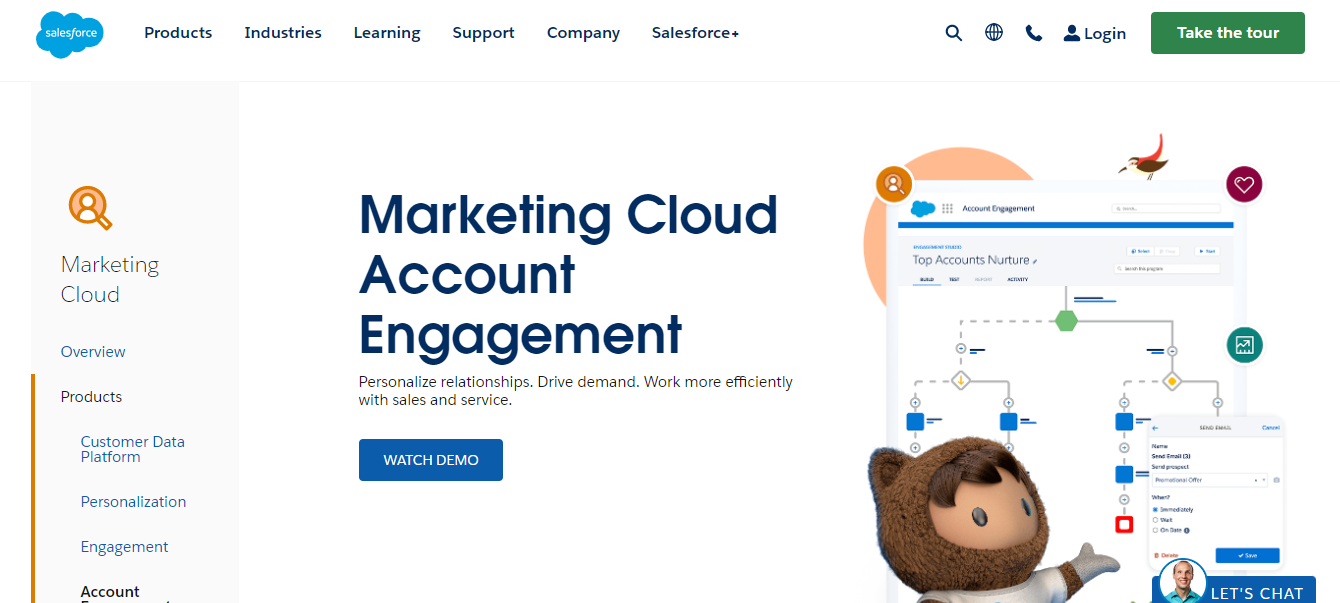 Pardot is a lead management and marketing automation software that helps marketers connect with prospects and close more deals. This tool helps businesses generate more leads and move them down the sales pipeline. It also helps them engage with buyers through personalized campaigns.
This tool has features that enable businesses to set up and deploy data-driven marketing campaigns with minimal effort. It also helps you visualize and test all aspects of your marketing campaigns to better understand your customer experience and improve campaign performance.
Pardot is owned by and integrates with Salesforce, one of the most powerful CRM tools on the market.
Key Features of Pardot:
Customizable dashboards
Sales alignment
Email marketing
Personalized messaging
Activity tracking
SEO and SEM tracking
Lifecycle reporting
ROI reporting
Analytics
Real-time alerts
Social media marketing
CRM integration
Pricing:
No free trial
Growth Plan (starts at $1,250/month)
Advanced Plan ($2,500/month)
Plus Plan ($4,000)
Premium Plan ($15,000, billed annually)
Dive Deeper: 7 Unconventional Ways to Generate More Leads
Who it's for: Project managers, user researchers, and UX designers in SMEs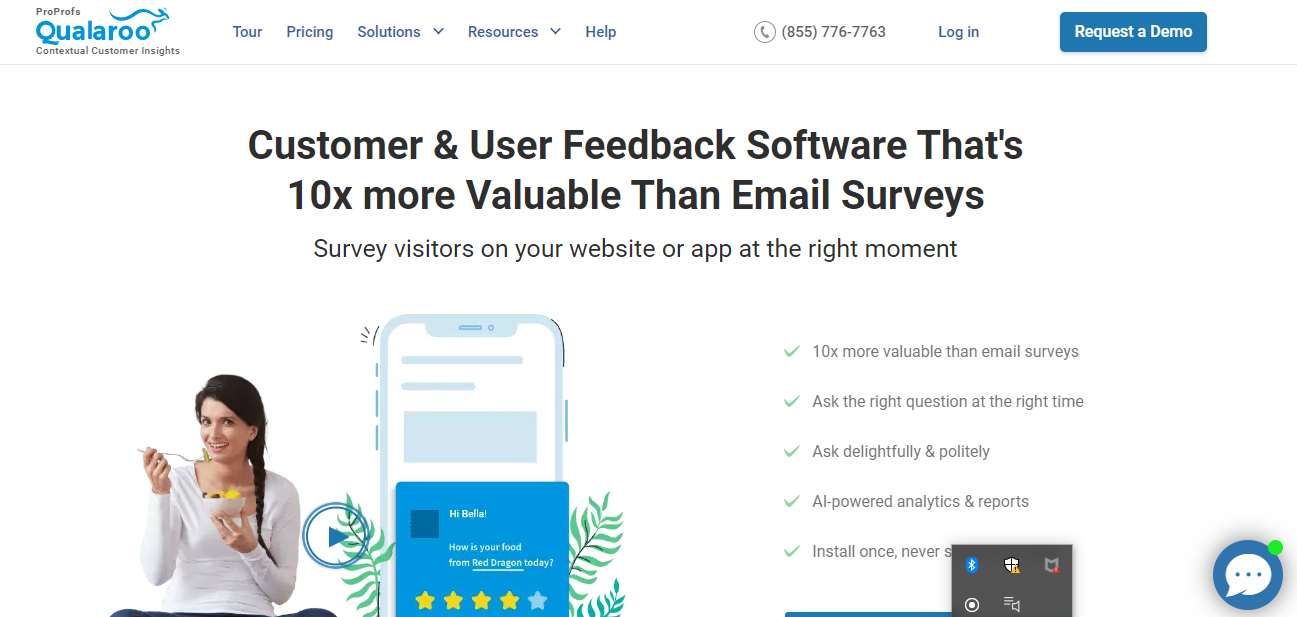 Qualaroo is a survey tool that allows marketers to collect customer feedback that they can use to improve products or services.
With this tool, you can set up open-ended questions targeted to a specific set of customers to give you a better understanding of the behavior of different kinds of users. Qualaroo instantly gathers your responses and displays them in its dashboard so that you can analyze them and implement changes as fast as possible.
Key Features of Qualaroo:
Custom survey tool
Design and layout customization
Question branches
Response filtering
Email marketing
Customer segmentation
Survey iteration
Customer targeting
Data visualization
Data analytics
Sentiment analysis
Third-party app integrations
Pricing:
15-day free trial
Essentials Plan (starts at $80/month)
Premium Plan ($160/month, billed annually)
Custom pricing for enterprises and websites with over 200K page views
Who it's for: Marketers and salespeople in B2B businesses and agencies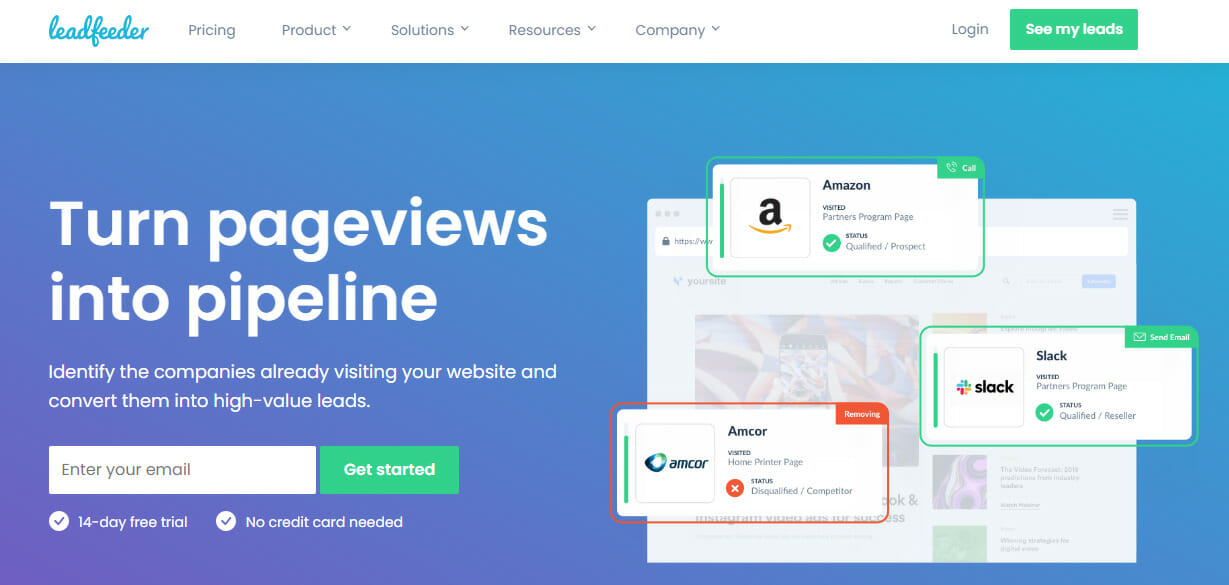 Leadfeeder is an app that tracks your blog traffic and tells you what your visitors do on your site, so you can decide who to target.
This tool uses network location and domain from Google Analytics to identify and monitor high-value leads. When certain companies visit your website, Leadfeeder will send you email notifications containing the appropriate contact information so that you can follow up on your leads.
This app also has lead scoring capability that ranks your leads from hottest to coldest. This way, you can discard cold leads and focus on valuable ones. The leads you generate will also give you a better understanding of your prospects' interests, so you can tweak your sales pitches accordingly.
Leadfeeder integrates natively with third-party tools like HubSpot, Zoho CRM, and Zapier.
Key Features of Leadfeeder:
Large contact database
Custom feeds
Visit details
Powerful filtering
Customer success manager
Automatic lead scoring
Lead filtering
Behavior tracking
CRM integrations
Pricing:
14-day free trial
Lite Plan ($0/month, free forever)
Premium Plan (starts at $79/month)
Choosing the Right Lead-Generation Software for Your Business
The lead generation platforms listed above have proven themselves to be some of the best software available on the market today.
The lead gen tools you decide to use should depend on the size of your business, your budget, your needs, and the marketing channels you use.
Most of these tools generate leads through different channels, so you can combine them in your MarTech (marketing technology) stack to get better results.
Schedule a free consultation with Single Grain's lead generation experts to discuss your needs.👇