Paid advertising is one of the most effective strategies marketers use to connect with their target audience.
While most paid advertising products use the keywords people enter into search to display relevant content, there's a new kid on the block that captures the audience's attention just before they perform a search — Google Discovery Ads.
This new ad type uses artificial intelligence to deliver highly personalized ad experiences to users who are ready to discover your brand.
Here's everything you need to know about Google Discovery Ads — including how to use them to grow your business.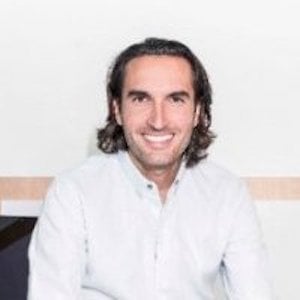 Yaniv Masjedi
CMO, Nextiva
Their expertise has helped Nextiva grow its brand and overall business
What Are Google Discovery Ads?
Before I get into the details of how Google Discovery Ads work, you first need to understand what Google Discover is.
Google Discover is a feed on the Google mobile app and Google.com mobile home page that displays content related to a user's interest: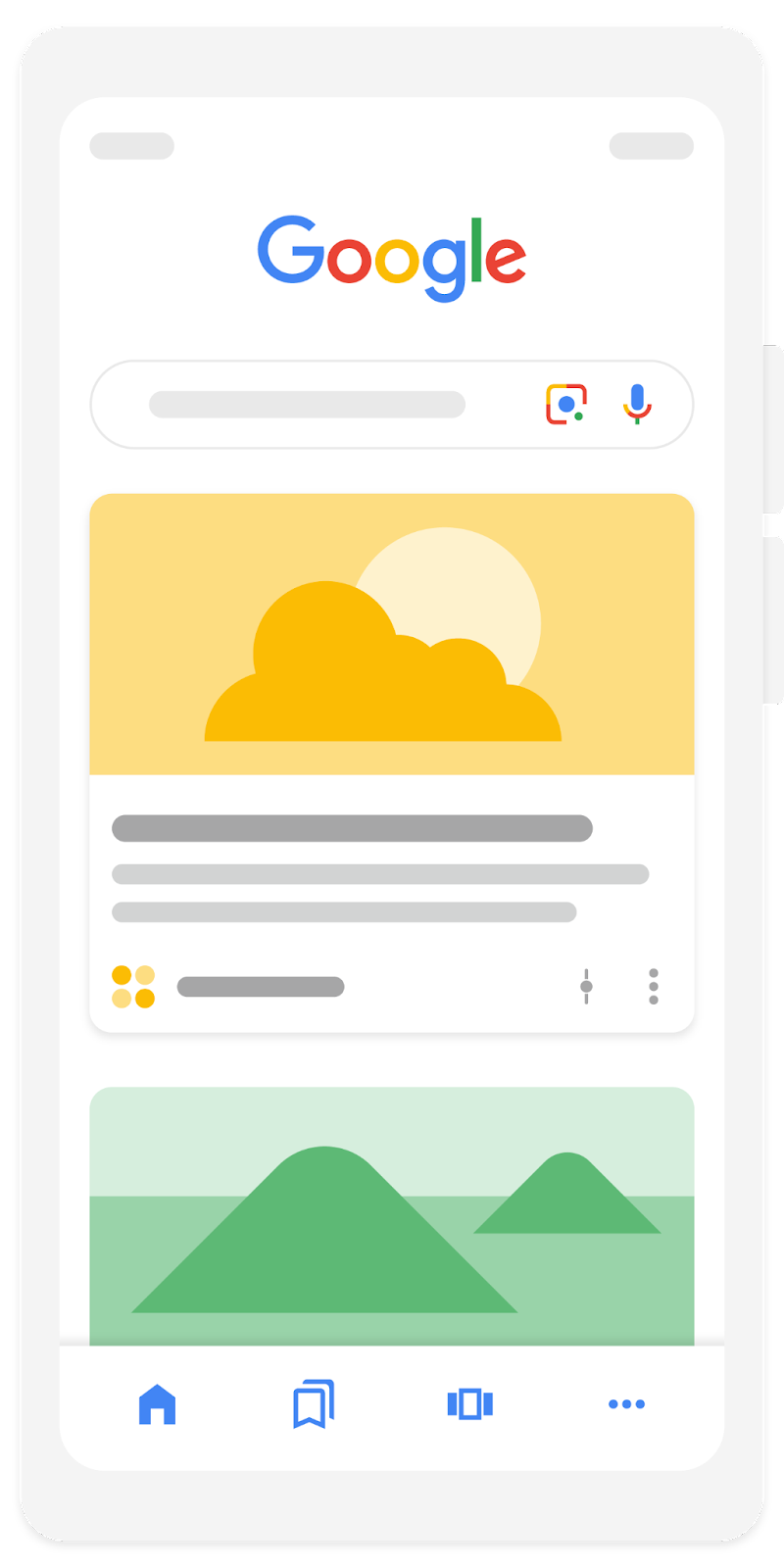 The feed is similar to the social media feeds of Facebook and Instagram in that it leverages user intent signals and online activity to present a personalized, browsable feed that advertisers can use to expand their digital footprint.
Thanks to Google's customer data and audience intent signals, Google Discovery Ads remove the guesswork from your paid advertising efforts and allow you to reach up to 3 billion users per month across Google properties.
The ads that are shown to users on the Discovery feed are quite different from Google Search Ads as the ads are driven by Google AI and not user queries. This means that the objective of Google Discovery Ads is to answer the user's questions or solve their problems even before they consult Google.
Google uses machine learning to segment users based on their online activity and uses this information to serve ads that are relevant to the individual. As people continue to use the Discover page, Google AI picks up their interests to deliver accurate content and relevant ads. If Google doesn't deliver accurate feed content, users can toggle their feed to ensure that they only come across content that's interesting to them.
Besides the fact that Google Discovery Ads are not driven by search intent, the other thing that sets them apart from other ad campaigns is their limited campaign settings.
For these ads, advertisers cannot change the following:
Ad rotation
Frequency capping
Device targeting
Delivery method
Placement targeting
Manual bidding strategies
Contextual targeting
Although it may appear to be a disadvantage at first glance, it's really not. Google Discovery Ads come with automated settings for targeting and bidding, hence freeing your time to concentrate on optimizing your campaigns and helping you control business spending.
It takes the guesswork out of your paid campaigns and makes them more effective. Instead of manually adjusting your campaign settings over time, Google's powerful AI will take care of this by leveraging its large data resources.
So, what do Google Discovery Ads look like?
Well, for one they are visually rich. So, in addition to being a normal Google ad with a title, meta description and URL, you also get a vibrant image or carousel to attract users to engage with the ad: But Google Discover Ads are not just limited to the Discovery feed. They also appear on the YouTube app and Gmail's Promotions and Social tabs.
This interconnection means that a single discovery campaign can help you reach billions of users on the Google ad ecosystem to achieve your marketing goals.
These ads are shown to users showing high-intent behavior, as determined by Google AI. As such, advertisers can use Google Discovery Ads to:
Improve their conversions using rich media
Reach new customers
Reconnect with past customers
You may also like:
* The Ultimate Guide to Programmatic Advertising for Brands in 2023
* How to Scale Your E-commerce Traffic Acquisition with Native Advertising
* How to Lower E-commerce PPC Advertising Costs with Email Marketing

What Are the Benefits of Google Discovery Ads?
Google Discovery Ads offer many benefits for advertisers looking to connect with their target audience in a seamless and engaging way.
Here are some of the things that Google Discovery Ads can help you with.
Widen Your Reach
Google Discovery Ads enable marketers to reach their ideal customers at scale with just one campaign.
Google distributes these ads on the YouTube app, Discover feed and Gmail app, thereby allowing marketers to connect with more customers as they browse their favorite Google platforms.
To convert the users who have interacted with the campaign, you can direct them to a landing page that contains user reviews that you can add with a Google review widget:
Once prospects read positive reviews from previous customers (and the longer the review, the better), they will gain trust in your brand and feel confident when performing the desired action on your landing page:
Deliver More Relevant Ads
Google Discovery Ads uses machine learning to study user behavior and interests based on their app activity, search history and other online activities.
Google then uses this data to identify user intent and deliver highly personalized and relevant ads that are valuable to the viewers.
The four types of user intent:
Informational: The user is looking to learn about something or solve a problem.
Navigational: The user is searching for a specific website because they're clear about what they're looking for.
Commercial: The user has a purchase intent which may not be immediate.
Transactional: The user intends to make an immediate purchase.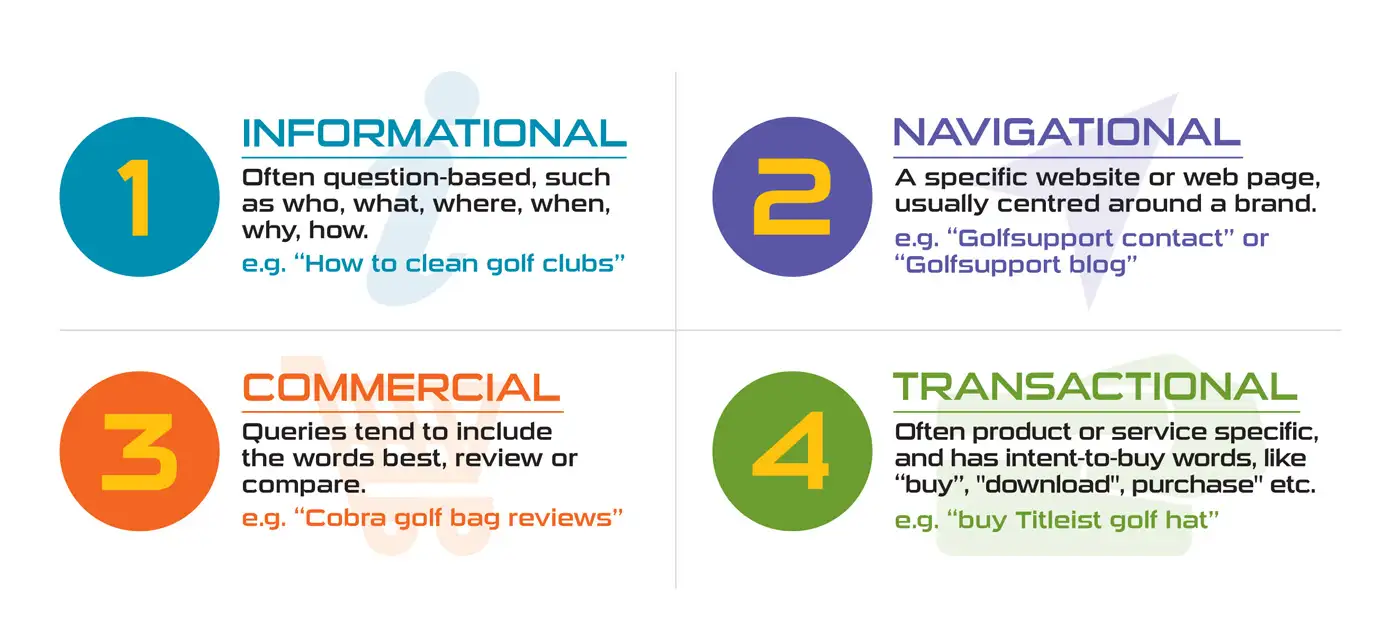 This saves marketers the trouble of researching to find out what customers want since Google AI takes care of that for them.
Dive Deeper: How to Implement User Intent to Build an Audience for Your Content
Drive More Engagement
Google Discovery Ads help drive user engagement by delivering visually immersive ad experiences that are integrated seamlessly into a user's browsing experience.
The visual nature of the ads is designed to showcase products and services in stunning visual formats that quickly grab user attention and motivate them to interact with the ad. These are particularly good for food products and brands, like this example of Discovery ads for DoorDash: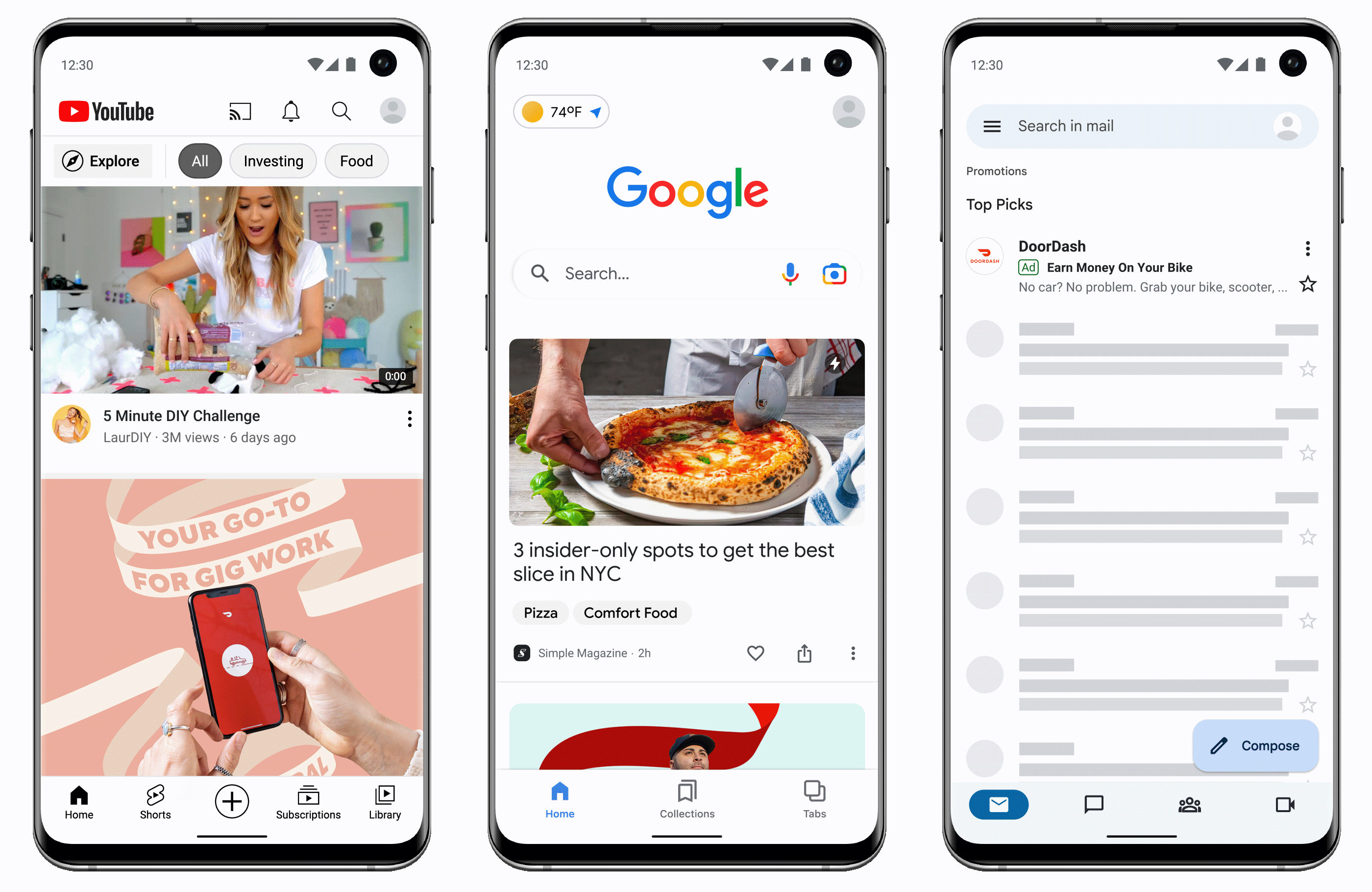 Or let's say you have a brand ambassador program with several famous influencers as part of it. You can take high-quality images of the influencers with your products. Adding these images to your Discovery ads will increase the visual appeal of your ad and boost the engagement rate.
Related Content: Overlooked SEO: Optimizing Images and Video for Search
Increase Brand Awareness
Google Discovery Ads are displayed on prime Google properties that are accessed by millions of users; a single discovery campaign gives you the ability to reach up to 3 billion users a month.
Having all these eyeballs on your ads will greatly increase your brand awareness. The more people know about your products, the more sales you will make. This makes achieving your sales goals easier, all thanks to Google Discovery Ads.
Related Content: The Complete Guide to Brand Building (Must-Read for Digital Marketers)
Simplify Account Management
Another benefit of Google Discovery Ads is simple account management. These ads have limited account settings, which means you don't have to do a lot to run a campaign.
Google handles the most challenging aspects of the campaign, like automated bidding, to free your time to focus on other issues like campaign optimization. Google then ensures maximum conversions based on your target CPA.
It might seem like you're putting too much trust in Google when you choose to run Discovery Ads, but Google's AI is very powerful and will do everything it takes to deliver excellent results.
How to Set Up Google Discovery Ads
Now that you know what you can achieve with Google Discovery Ads, let's take a look at how to create a discovery ads campaign from scratch to set you up for success.
1) Understand the Difference Between Discovery Ads and Display Ads
Before getting started with your Discovery Ads campaign, you need to understand how they differ from Display Ads.
We've already established that Google Discovery Ads are shown to users with high-intent behavior as determined by Google's algorithm. For instance, they are a great choice for e-commerce brands that want to introduce their products to a new audience.
On the other hand, while Discovery Ads are displayed on the Google feed, Display Ads are delivered on the Google Display Network. Display Ads don't always drive the same type of action as Discovery Ads since they are generally seen as a form of interruption marketing; they are shown when users are browsing an app rather than while they're actively looking for products or services.
2) Select the Type of Discovery Ad
There are two formats for Google Discovery Ads:
Discovery Ads feature a single image that acts as the main visual element of the ad. To maximize the effectiveness of Discovery Ads, you should use a high-quality image that captures the real essence of the product or service.
Discovery Carousel Ads are designed with a series of swipeable images that together communicate what the ad is all about. This ad format can be used to showcase multiple products or features in a single discovery campaign.
Discovery Carousel Ads can help marketers grab the attention of customers who want to see more than one product or feature before taking the desired action.
3) Start a New Campaign
Start a new Google Ads campaign from your ad account. Click the Campaigns tab on the left side of the dashboard and then click the "+" sign to start a new campaign: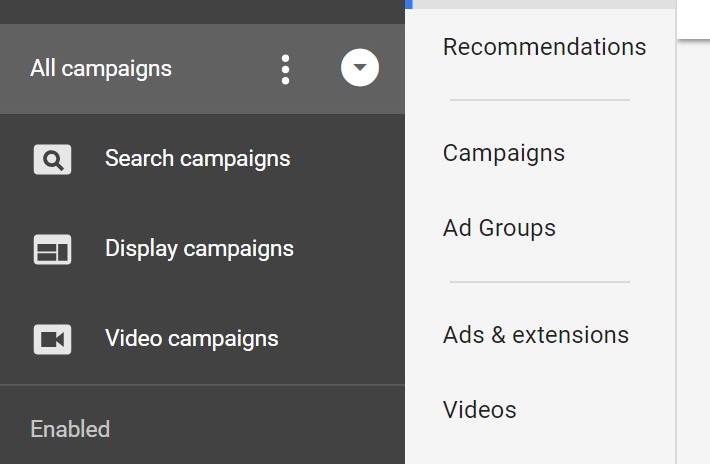 Before you can start creating your Google Discovery Ads campaign, you first need to choose your objectives. The marketing objectives you can choose for this type of campaign are:
Choose any of these objectives and click Continue. You'll then be asked to choose your campaign type — select Discovery.
4) Select Your Bidding Focus
After choosing your objectives and campaign type, set your bidding strategy. Discovery Ads only allow two options: Target CPA and Maximize Conversions:
Target CPA sets your bids to generate as many bids as possible at your set CPA.
Maximize Conversions option spends your entire daily budget and aims to generate as many conversions as possible within your budget.
5) Define Your Audience
Set your target audiences based on the following information:
Custom intent
Your data
In-marketing audiences
6) Choose the Discovery Ad Type
Select your ad type and put together your creative assets to create either a single-image discovery ad or a multi-image carousel ad.
After choosing your ad type, you will be taken to a page where you get to fill out the content of the ad such as the headline, images, and description.
Populate every ad property and check the preview before you hit save. Here's how to configure the different elements for the best performance:
Headline: The headline should be brief and aligned with the content of the ad. Ideally, it should be no more than 40 characters to ensure that important parts are not truncated when the ad is displayed. It's a good idea to analyze your headlines with a good tool.
Description: Ensure that your description is compelling enough to motivate users to perform the desired action.
Images: You can add up to 15 images in landscape or square format. If you're creating a carousel ad and need to take a screenshot from your promotional video, use good video editing software to capture the image.
You may also like:
* How to Create Compelling Text Ads on Google (with Examples)
* Best Google Ads Agency: Top 5 Choices for 2023
* Google Privacy Sandbox: What Does It Mean for the Future of Targeted Ads?

Best Practices for Creating Google Discovery Ads
In order to create the perfect Google Discovery Ads, follow these best practices:
Use high-quality images. Google Discovery Ads are visual in nature and demand high-quality images if you want to attract clicks. Consider working with a professional photographer to get the best visuals for your ads.
Limit the amount of text. This is not the place to write lengthy paragraphs about your products. These ads aim to pique the interest of users and encourage them to click the ad to find out more, so keep your text short and snappy.
Use targeted ad copy. Ensure that your ad copy is targeted to your audience for maximum impact. Consider their interests and demographics when crafting your message and write in a language that resonates with them.
Deploy at every stage of your sales funnel. Google Discovery Ads are quite versatile and can be used at every stage of the marketing funnel in the following manner:

Top of the funnel: Introduce customers to your brand with high-quality product images.
Middle of the funnel: Retarget users who have engaged your brand with personalized ads.
Bottom of the funnel: Drive conversions by targeting users who have shown a lot of interest in your products with special offers.

Build trust. Use your visuals and ad copy to portray yourself as a trustworthy brand.
You may also like:
* Retargeting 101: Why It's Essential for Any Marketing Funnel
* Geotargeting: How to Find the Right Customers for Your Brand

Examples of Google Discovery Ads
You now have an idea of what Google Discovery Ads can do. But what do they look like? Let's explore Discovery Ads across different Google properties.
Gmail Feed
Discovery ads are displayed on the Promotions or Social tab on the Gmail feed (in your email inbox):

Clicking the ad opens it just like an email and displays the ad message or offer: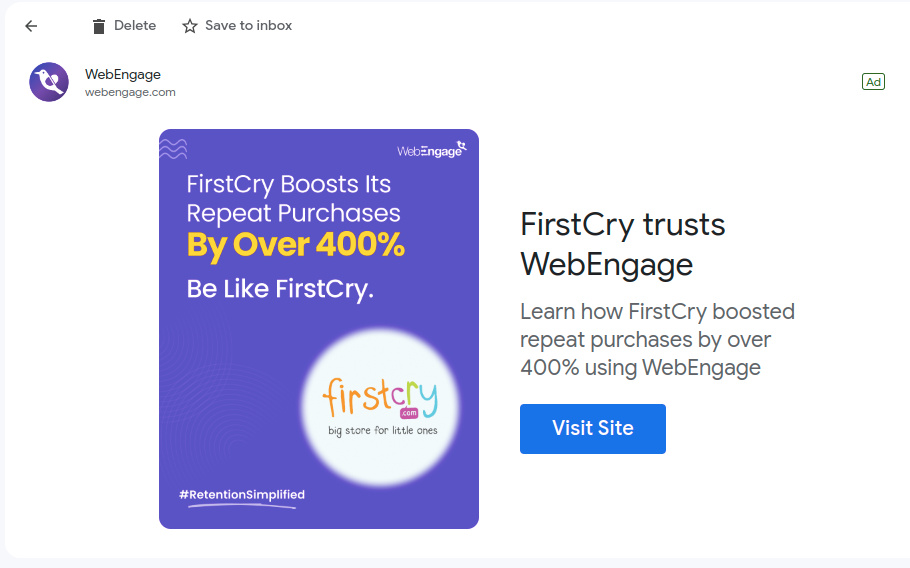 YouTube Feed
Google Discovery Ads also appear on the feed in the YouTube app: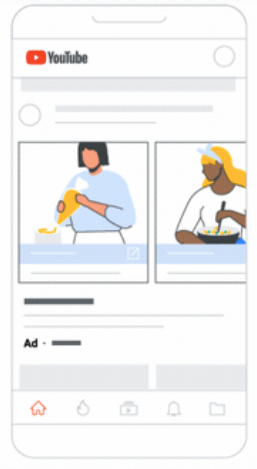 Google App Feed
Lastly, you will also find Discovery Ads on the Google app homepage feed: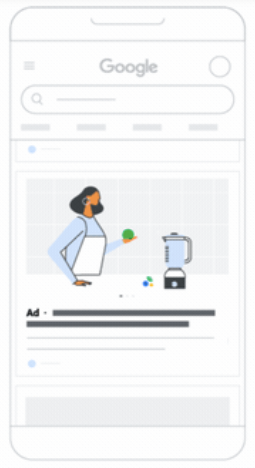 Last Word on Google Discovery Ads
As you can see, Google Discovery Ads are an effective way to reach millions of people and engage your audience across Google properties. These ads leverage Google's powerful AI to understand user behavior and show relevant ads to high-intent users.
As a brand, you can use the highly visual nature of these ads to grab user attention and drive them down the sales funnel with personalized ads.
Hopefully you learned how to start a Google Discovery Ads campaign, but if you just want someone to do the work for you, Single Grain's PPC experts can help!👇