Looking to launch an international PPC campaign on Google, Facebook, Amazon or other PPC ad platforms? This guide is for you.
International PPC marketing is one of the best ways to connect with global audiences. Optimized and ROI-friendly pay-per-click ads help drive targeted traffic, increase brand visibility and boost conversions across multiple countries and languages.
Whether you're a business owner looking to expand internationally or a marketer seeking to optimize your global advertising efforts, this article will walk you through the basics of running successful PPC campaigns on a global scale.
Let's begin!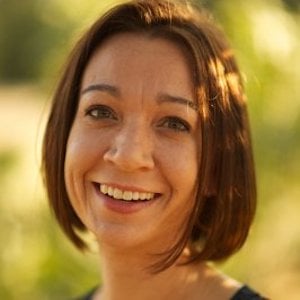 Kim Cooper
Director of Marketing, Amazon Alexa
Single Grain enables us to increase our impact without increasing our headcount
What Is International PPC Advertising?
International PPC marketing is the art of running targeted online advertising campaigns across multiple countries and regions. It involves reaching out to a wider, more diverse audience through display advertisements on SERPs, social media platforms, and various websites.
PPC advertising is a digital marketing strategy where advertisers pay a fee each time their ad is clicked by a user. In international PPC advertising, your ads appear in front of a global audience based on demographics, keywords, ad copy, creative assets, and bidding strategies to effectively connect with diverse audiences and maximize campaign performance.
International PPC advertising involves several key considerations and strategies to effectively reach and engage international audiences. Here are a few important aspects:
Market Research: It's crucial to conduct comprehensive market research to understand the target audience, their preferences, behavior and local competition in each international market.
Language and Localization: Advertisements need to be tailored to the language and culture of the target market. Translating ad copy is not enough; you must adapt it to local nuances to improve relevance and resonate with the audience.
Keyword Research: Conducting keyword research in different languages and regions helps identify the most relevant and frequently searched terms. This ensures that ads are displayed to users actively seeking related products or services.
Geo-targeting: Geo-targeting allows advertisers to specify the countries, regions or cities where their ads will be shown. This ensures that the ads are seen by the intended international audience.
Ad Platforms: Consider the most popular and effective advertising platforms in each international market. For example, while Google Ads might be dominant in some regions, platforms like Baidu in China or Yandex in Russia might be more suitable for reaching audiences there.
Conversion Tracking: Implementing conversion tracking mechanisms helps measure the effectiveness of international PPC campaigns. It provides insights into the ROI and allows for continuous optimization.
Budgeting and Currency: Determine appropriate budgets for each international market, taking into account exchange rates and cost differences between regions.
Compliance and Legal Considerations: Be aware of local advertising regulations, data protection laws, and any specific requirements in each target market to ensure compliance.
Dive Deeper: SEO & CRO: How Rankings and Conversions Complement Each Other
Importance of International PPC for Your Business
Here are the top advantages of incorporating PPC in your international marketing strategy:
Provides immediate results for your advertising efforts, unlike other marketing strategies.
Offers cost-effectiveness, since you pay only for successful clicks.
Enables your brand to reach the right market by aligning with other advertising tactics like search engine optimization and content marketing.
Offers flexibility and control over your advertising budget. You can set daily or monthly spending limits, adjust bids based on performance, and allocate your budget across different international markets as needed.
Enhances your brand awareness and creates a buzz among the audience globally.
Improves the click-through rates of your website, leading to better conversions and profitability.
Dive Deeper: International SEO: How to Optimize Your Website to Capture a Global Audience
How to Run a Successful International PPC Campaign
Setting up an international PPC ad campaign requires experience and skills that go beyond domestic PPC campaigns. It is always beneficial to get the help of leading digital marketing companies to help you set up an ad campaign in the USA, UK, Australia, India or other countries, depending on your goals.
Having said that, here is a step-by-step guide to create a successful international PPC strategy:
1) Identify Your Target Market and Countries
Understanding your audience's needs and pain points is one of the top factors when creating international PPC ads.
Create a buyer persona to identify your target market's cultural nuances, consumer behavior, local competitors and preferences: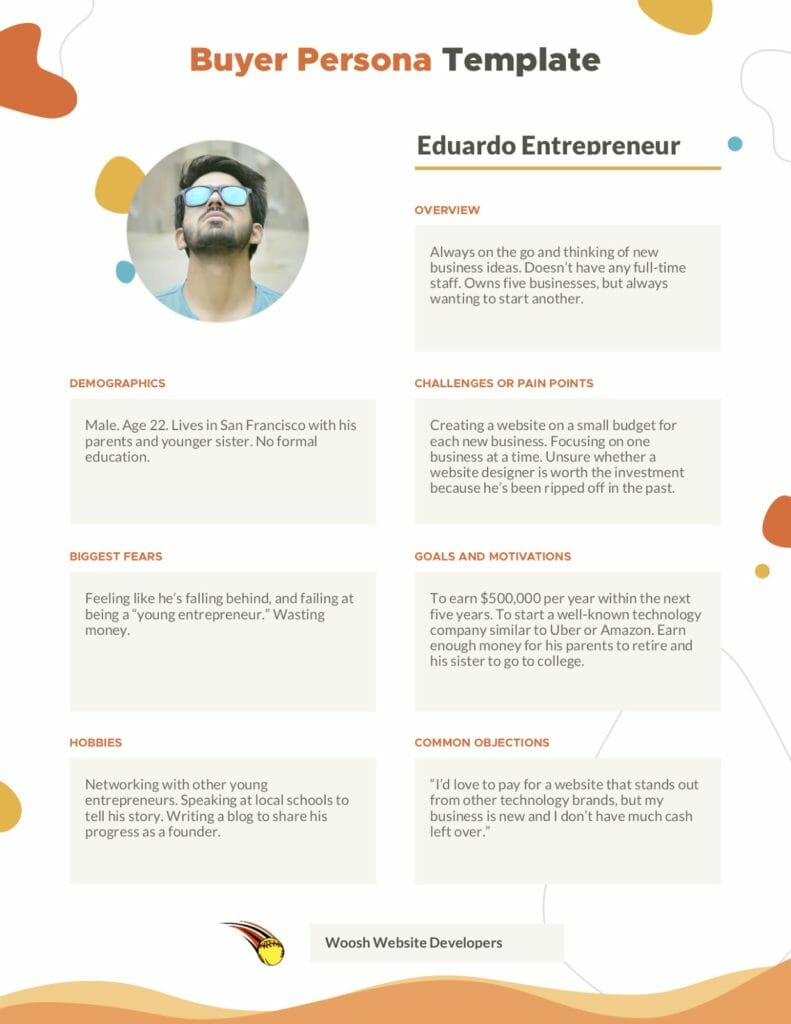 Localization plays a key role in adapting your campaign elements, including language, keywords, ad copy and creative assets, to resonate with the specific market.
To get a clear understanding of the market of a particular country, here are the top techniques you need to follow:
Conduct surveys, polls, and interviews on your website and social media handles to get a view of international markets regarding your brand, your products and services, and your brand niche.
Pay keen attention to your social media analytics using online tools like Mailchimp, Hootsuite or Sprout Social. It will provide you with the audience metrics and which country's audience is interacting with your brand the most.
Consider your website metrics to understand audience pain points, tastes and expectations from your niche. Evaluate audience behavior based on their geo-location, demographics, income and session time so you can create personalized PPC ads for each segment of the audience.
Get in touch with your sales and customer support team to understand the reality of an audience's needs and queries based on the interactions they have with customers from all over the world.
Identify and evaluate your competitors who have the same audience as yours. Go through their website, social media account, blog post, and ad campaigns to check what is working for them.
Dive Deeper: Segmentation 101: A Strategist's Complete Guide to Marketing Segmentation
2) Determine Your Target Keywords
Choosing the right keywords in your ads is one of the essential elements of successful PPC ads.
Start your research with users' search intent. It is essential to conduct deep research on why people will be searching for your products and services from all over the world.
Leverage the use of keyword research tools like Google Keyword Planner or WordStream to keep track of industry jargon, search queries, and trending phrases.
If you are an e-commerce business expanding into the German market, you should start by researching keywords relevant to your product or service. For example, if you're selling outdoor gear, you may discover that German consumers often search for terms like "outdoorausrüstung" (outdoor equipment) or "wanderschuhe" (hiking shoes):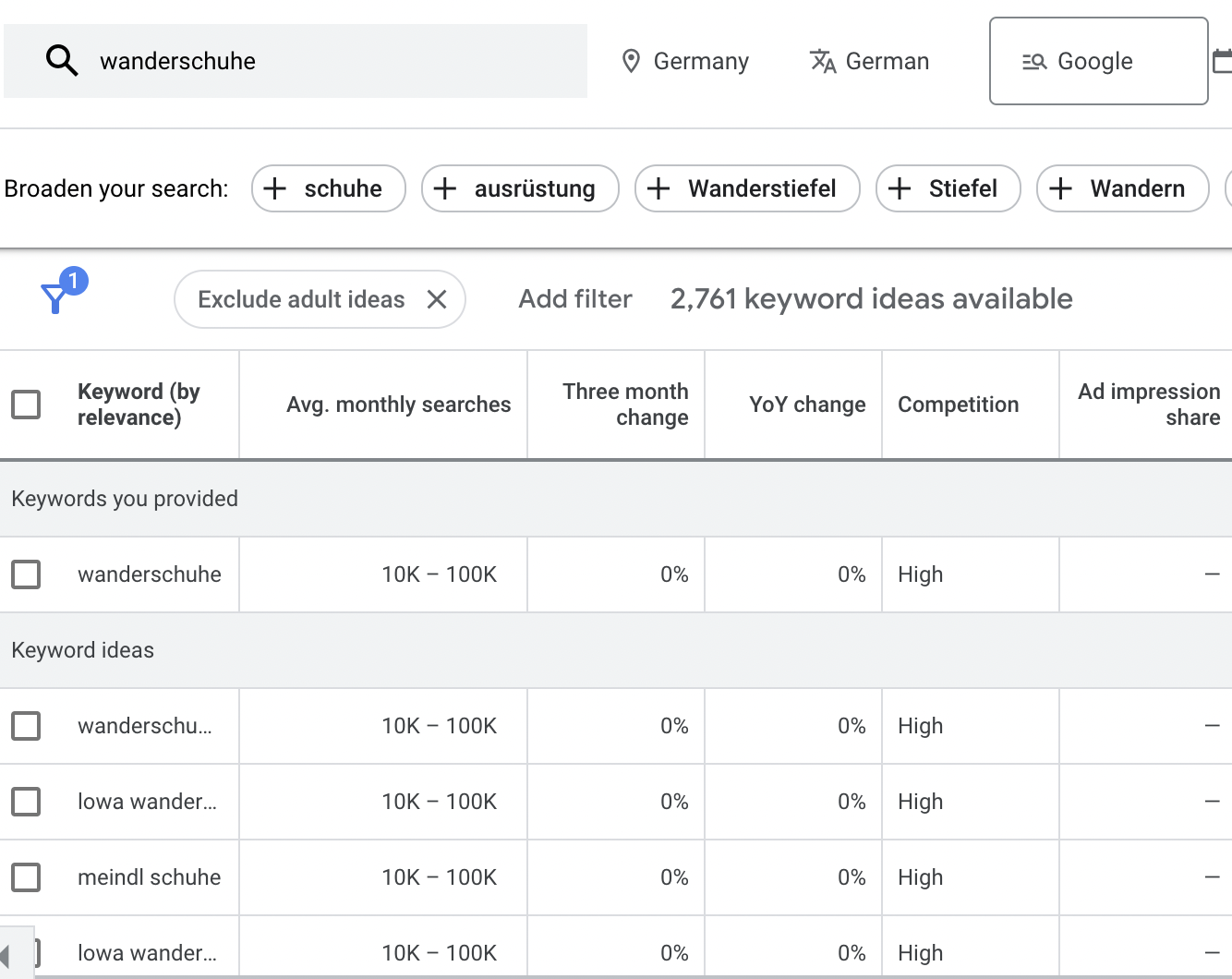 These insights enable you to align your PPC campaign with the specific search behavior of the target audience.
Create a list of all the potential keywords in multiple languages. Conduct a gap analysis to shortlist the target keyword for your international brand. This lets you find the keywords that you might have missed otherwise. You can conduct PPC keyword analysis using tools like Similarweb: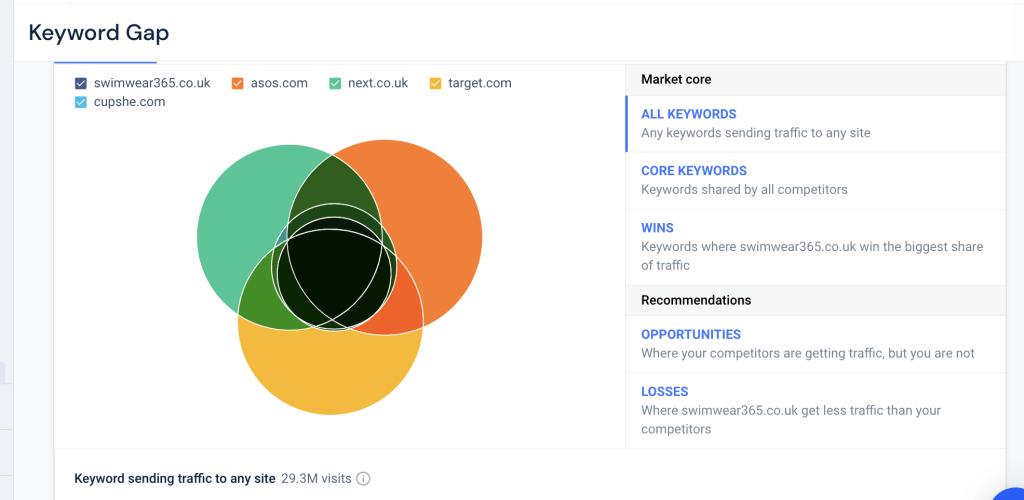 Make sure that your team has a clear understanding of the native language and words you have chosen for each country, and avoid nuances at any cost, as that can lead to adverse reactions to your ad campaigns.
Ensure that your marketing team focuses more on evergreen keywords, as they are likely to reap the rewards for your business for a longer time. Carefully evaluate the keywords metrics, including the low and high volume and competition.
Shortlist all the negative keywords. This filters out unnecessary terms and prevents your ads from popping up on wrong search queries. Target keywords with a mix of long-tail, short-tail, negative, and evergreen based on the search intent, metrics, and match types to increase the chances of reaching a wider audience worldwide.
Dive Deeper:
* SEO Keyword Research Made Easy in 2023
* How Zero Search Volume Keywords Can Generate a Ton of Traffic

3) Prepare an Ad Budget by Country
The price of your PPC ads may vary from country to country.
For example, let's say you have an e-commerce business selling fashion accessories, and you plan to expand your PPC campaign into three target markets: the United States, the United Kingdom, and Australia.
Research the average cost per click for your industry in each target country. This data can be obtained through platforms like Google Ads or Bing Ads. Similarly, determine the conversion rates for each country based on historical data or industry benchmarks.
Here is the Google Ads industry benchmark data for average conversion rate: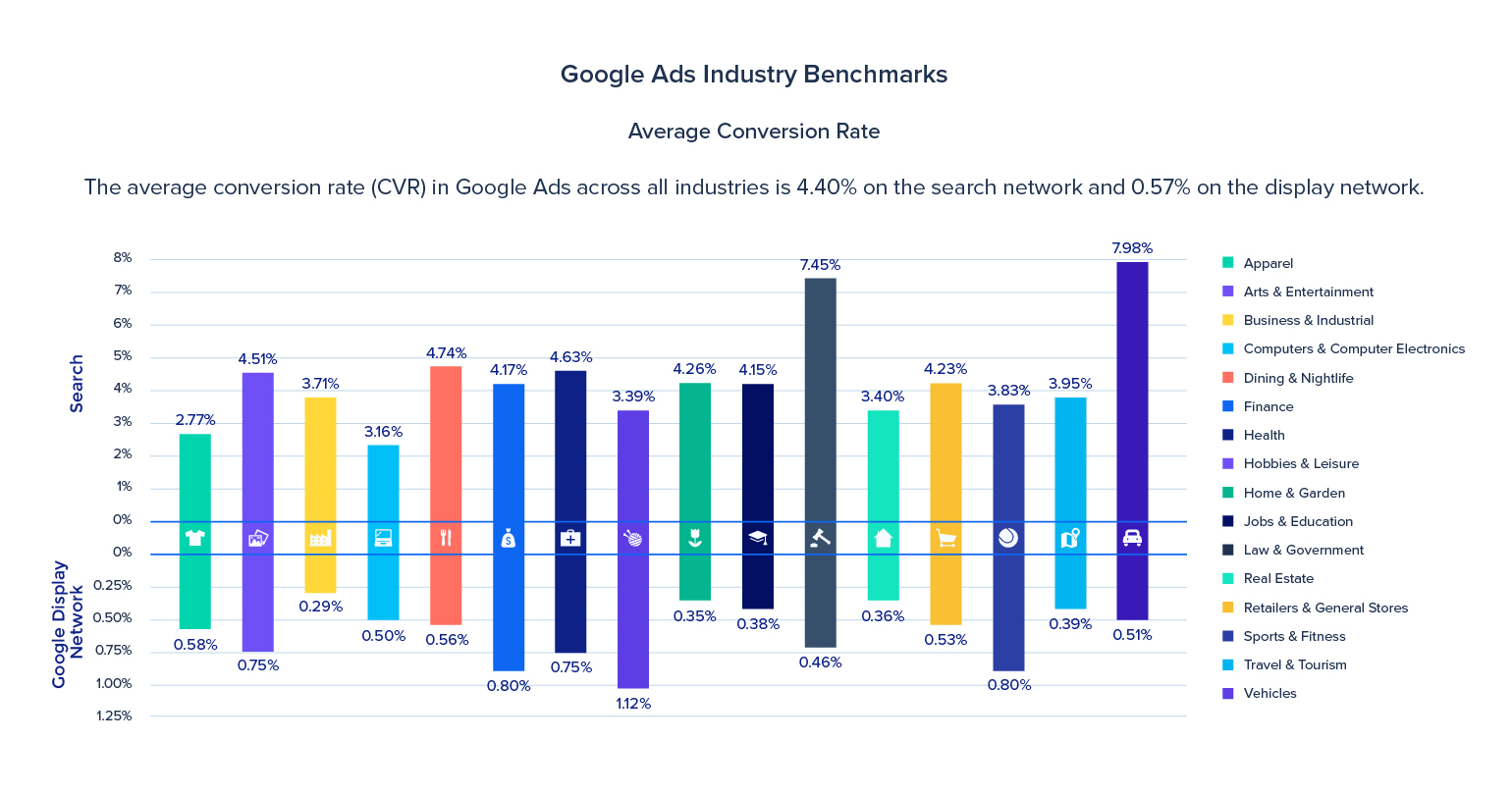 Here is the average cost per click around the world for people who speak English as well as for non-English speaking countries: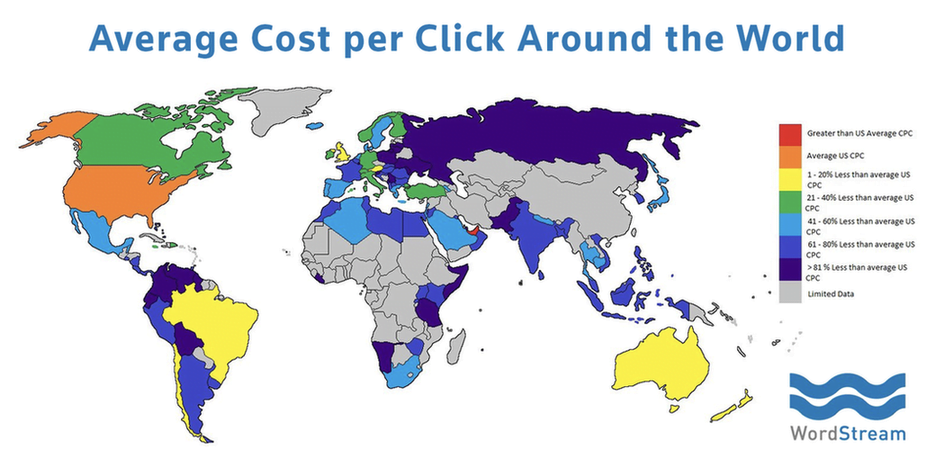 Here is an example table that displays the estimated clicks and conversion data by country: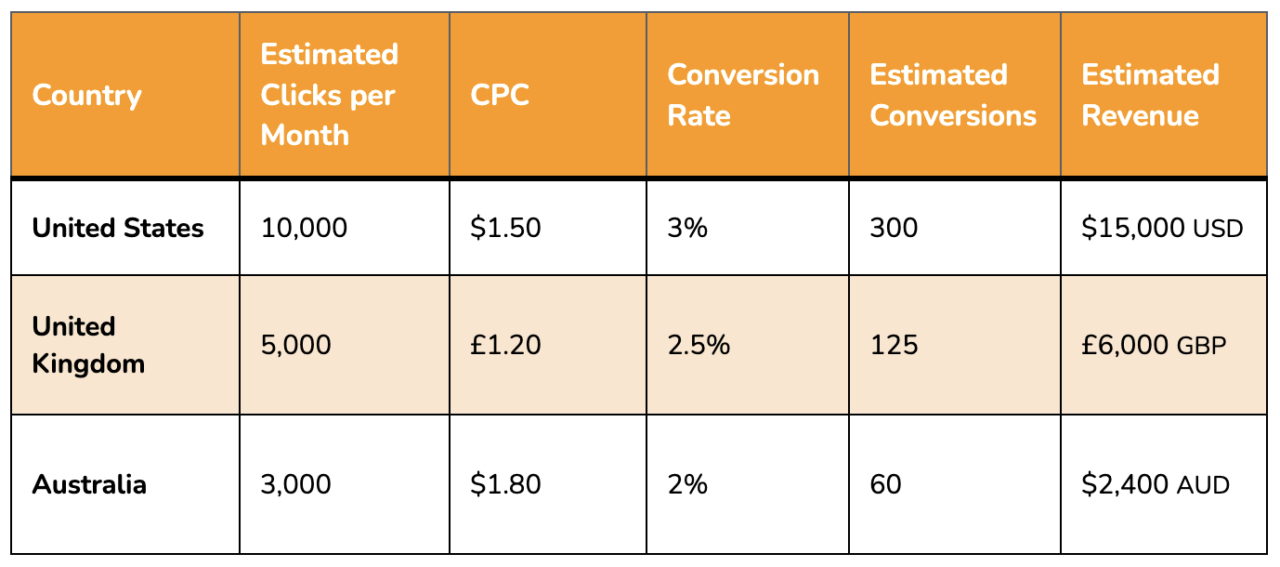 Per on the above table, you can prepare your ad budget based on your international PPC ads campaign goals. For instance, if you aim for a 30% ROI, you can allocate a budget of:
$10,000 for the United States
£4,000 for the United Kingdom
$1,000 for Australia
4) Leverage Localization in Ad Copy
Creating localized ad copy helps you reach the target country by connecting with international markets on emotional and cultural levels. It is essential to understand the pain points of local audiences of each country you cater to. Before creating the final ad copy, make sure you understand their local culture, country problems and queries that your company can help in solving.
Ensure that you refrain from creating the same campaign for different locations or even one region. Bring variety to the creativity of your ads to reach new audiences. Keep track of the trends and conditions of the regions where your brand is available to keep your ad copies ahead of your competitors.
Launch your ad copy on all possible traffic-driving platforms like:
Microsoft Ads
Yahoo Ads
Google Ads
Facebook Ads
Instagram Ads
Amazon Ads
Here is an example of a PPC ad from Genero, which targets different audiences based on their city locations and in regional languages: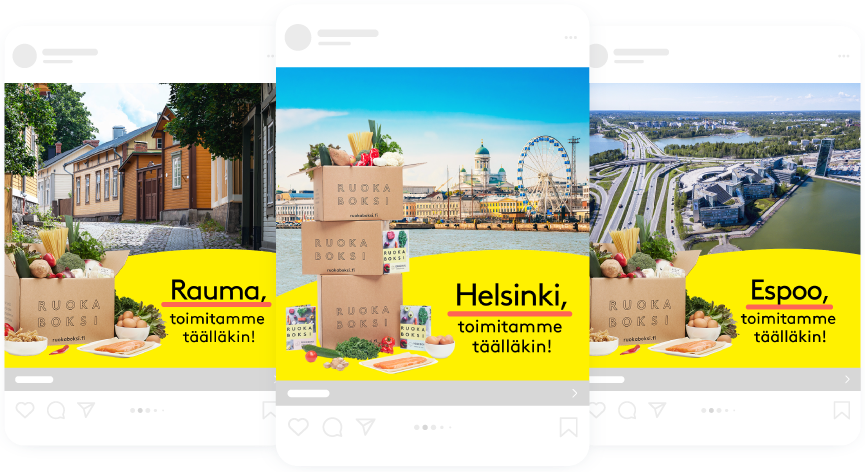 5) Monitor and Measure the Success of Your PPC Campaigns
Once you understand your target audience, create robust ad copy, and display them on search engines and various other platforms, you need to measure the success of your ads in every place of the world where your ad is shown.
Additionally, you should also check whether your PPC campaigns are driving traffic and conversion rates or whether your ad spend is just being wasted. There are various metrics to calculate the success of your ad efforts, which include:
impressions
search pages' position
CTRs
CPC
ROAS
With the help of tools like Semrush, Adalysis or Google Analytics, you can calculate the budget, wastage and success of your landing pages to give a boost to your international PPC strategy.
Additionally, you can perform A/B testing on your advertising campaigns created for various countries to get an idea of which ad copy is working best for which kind of audience and how you can optimize your campaigns further to drive more conversions.
Dive Deeper:
* 5 Important Landing Page Elements You Should Be A/B Testing
* Multi-Channel PPC Advertising Case Study: Boosting Your ROI
* 7 PPC Audit Tools to Optimize Your Ad Performance Across all Platforms

Top 5 Tools to Optimize Your International PPC Campaigns
Here are the top online tools that can be used to optimize your international paid ads advertising strategy.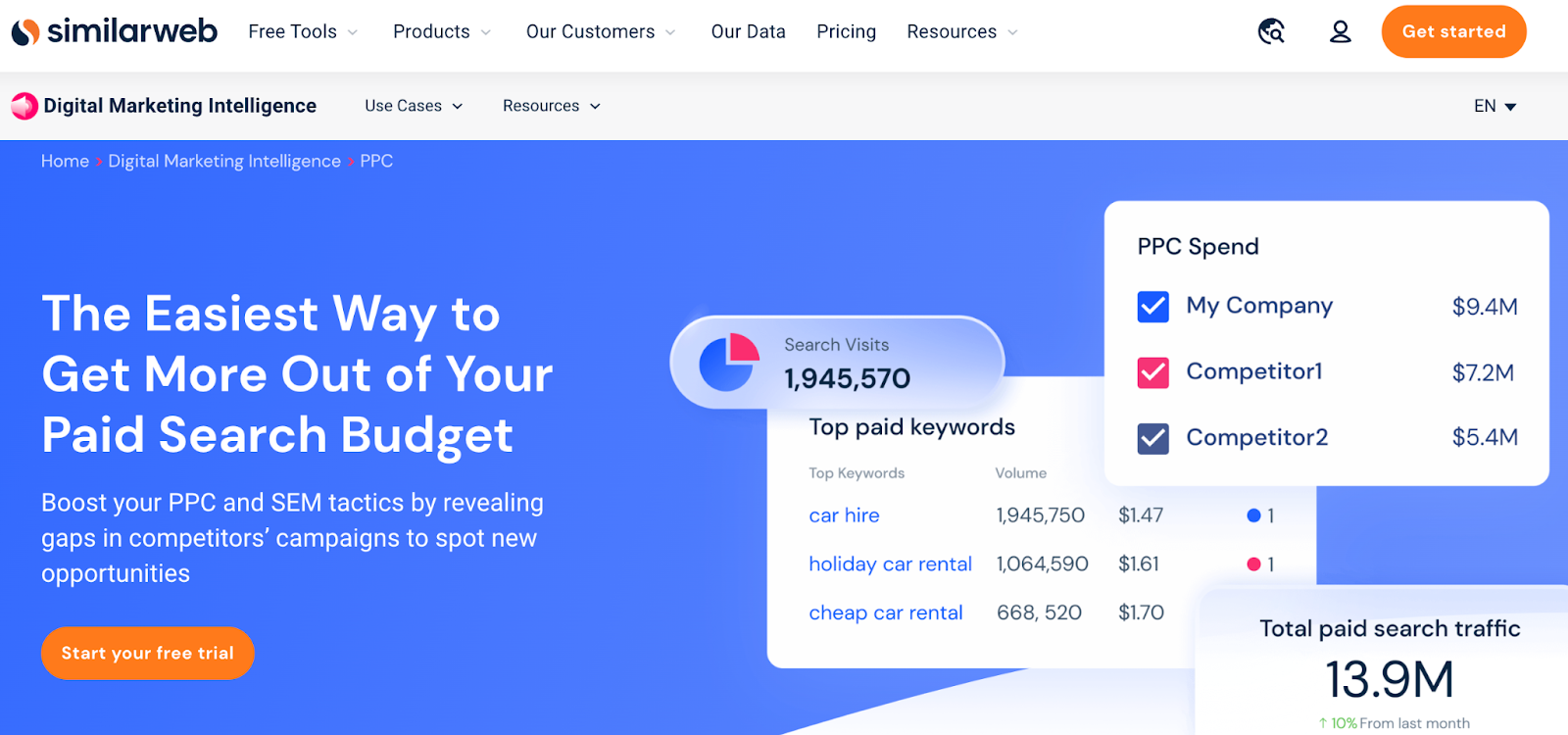 Similarweb is one of the top advertising tools for managing your international PPC campaign spend. It helps capture new markets by identifying the success of your niche competitors. Additionally, the tool lets you compare and evaluate your competitors' landing pages, Google search ads, paid keywords, and ad campaign budgets.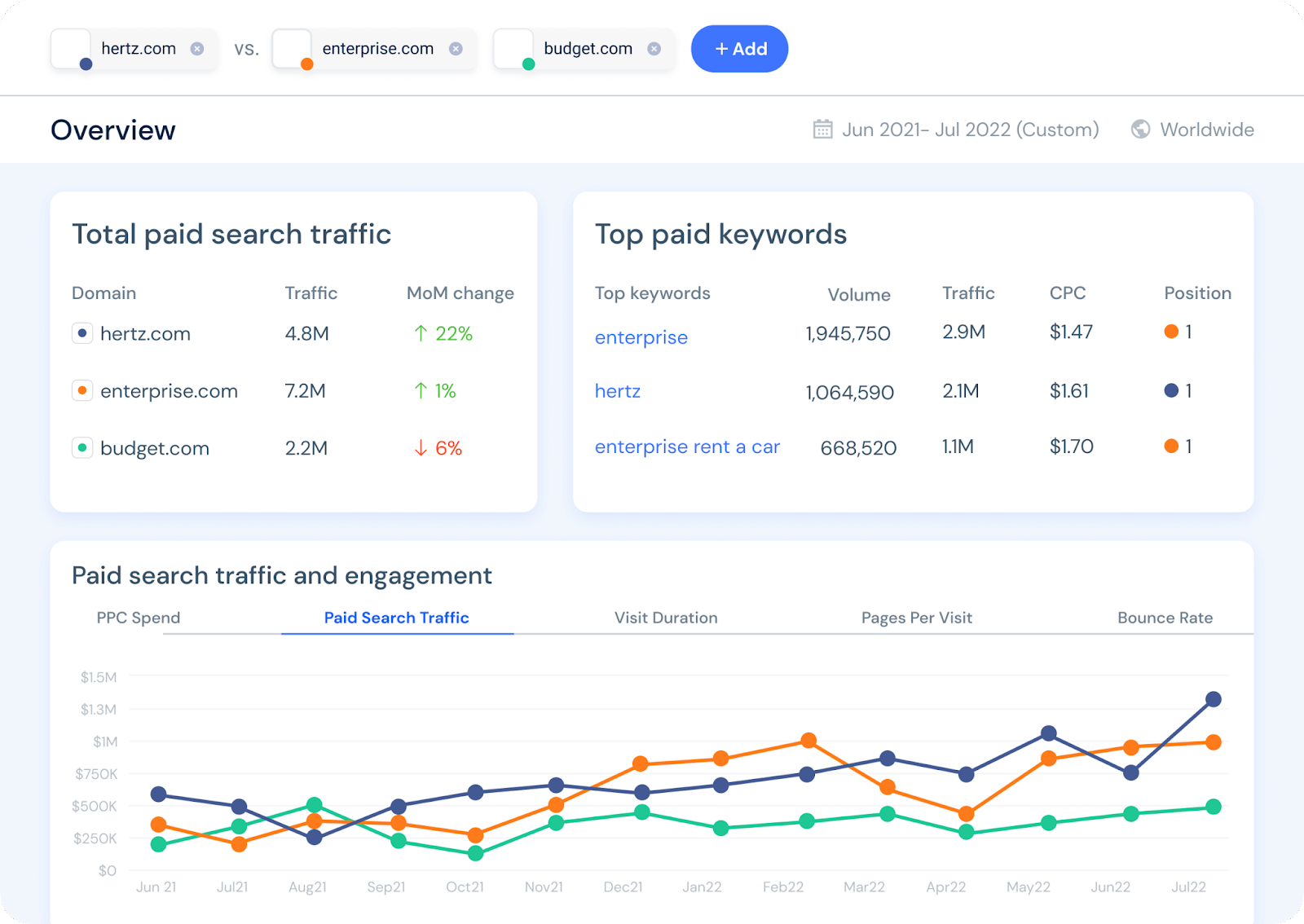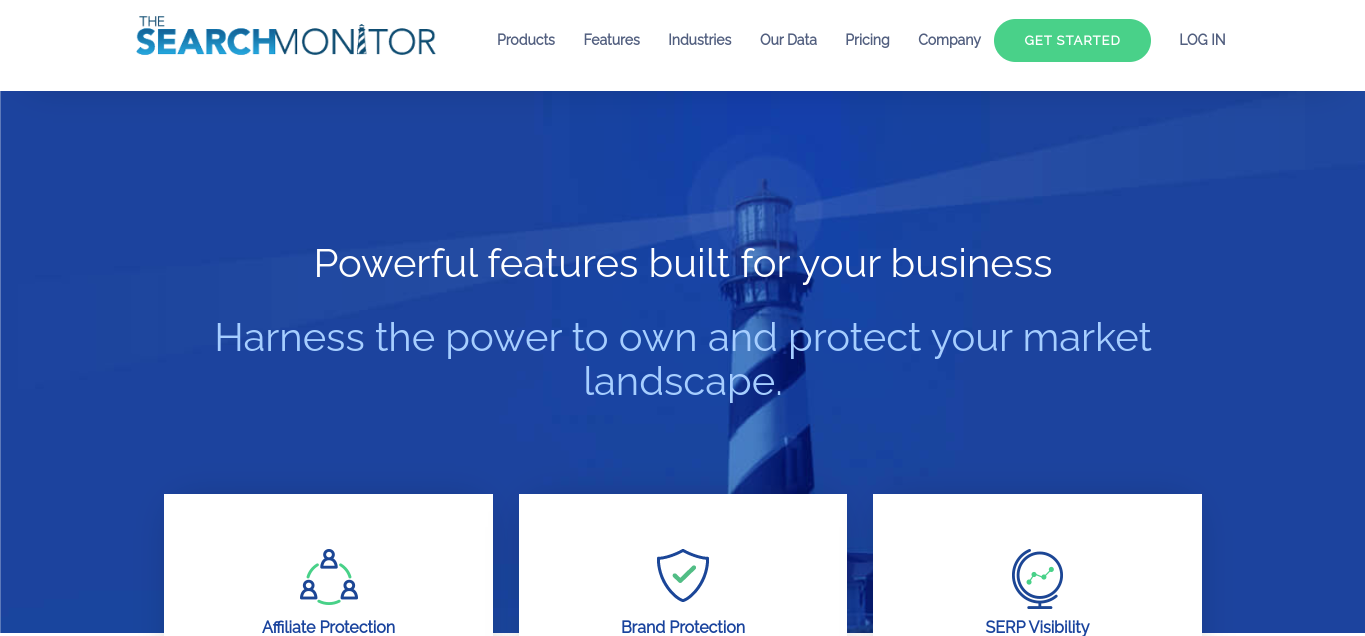 The Search Monitor is a leading digital marketing tool that lets you monitor and keep track of various ad campaigns on different locations and platforms. You can also keep a tab on the latest and market-trending keywords, which helps you in bidding and targeting the right ones for your ads.
With its brand protection feature, The Search Monitor lets you stay informed of your brand's trademark infringement on search engines, flag unauthorized ad displays in your niche, and enforce smooth communication with partners and dealers.
Another key feature of this tool that helps marketers is search engine result page visibility which helps you monitor your paid media and search listings with various metrics, including impressions, clicks, and spending.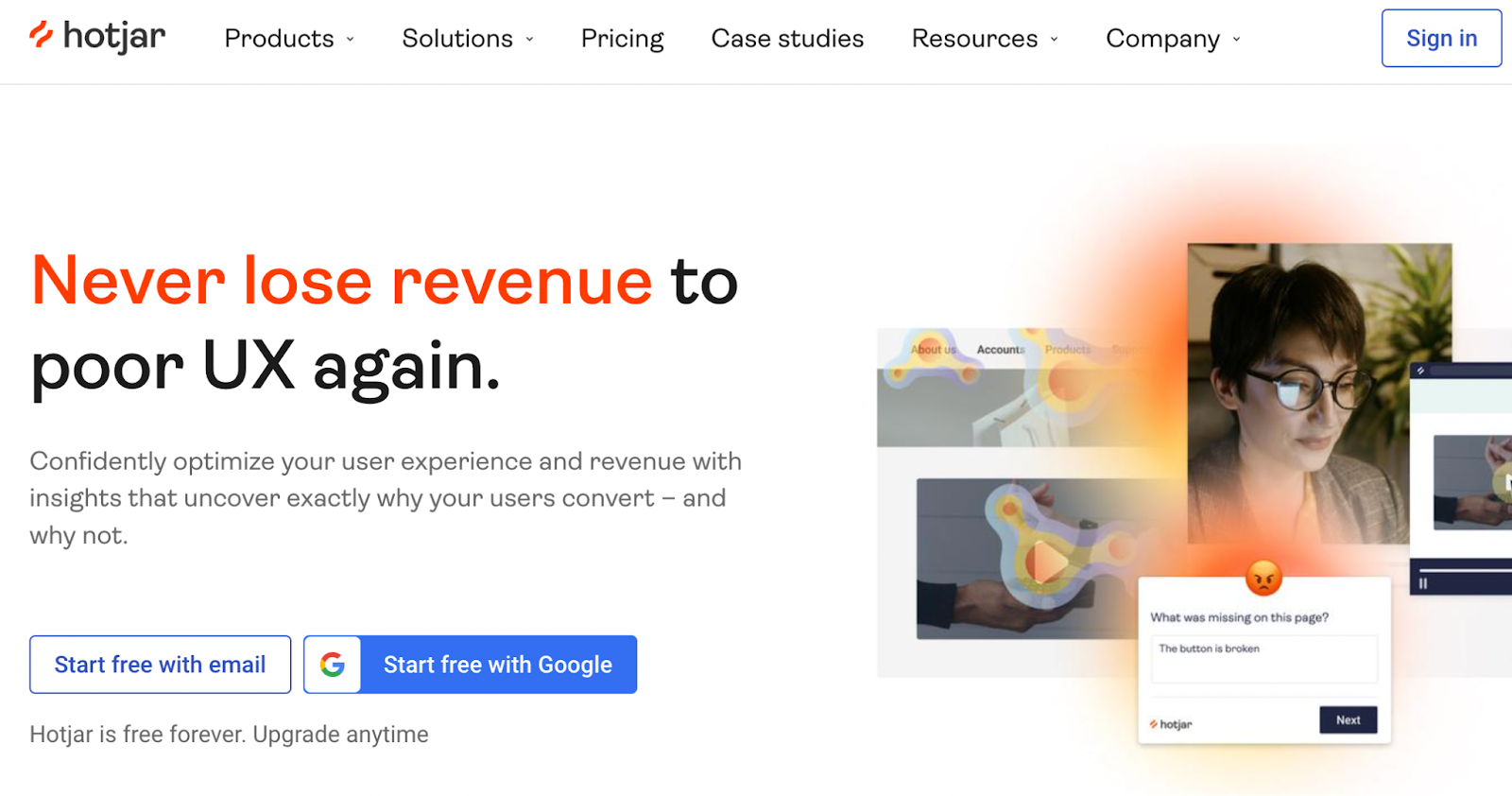 Trusted by more than 180 countries, HotJar lets you understand your potential customers' needs to help you optimize your global search marketing campaigns for them.
It is one of the top PPC analytic tools that offers heatmaps, session recordings, and click/touch tracking, which can be invaluable in understanding how users interact with your website or landing pages.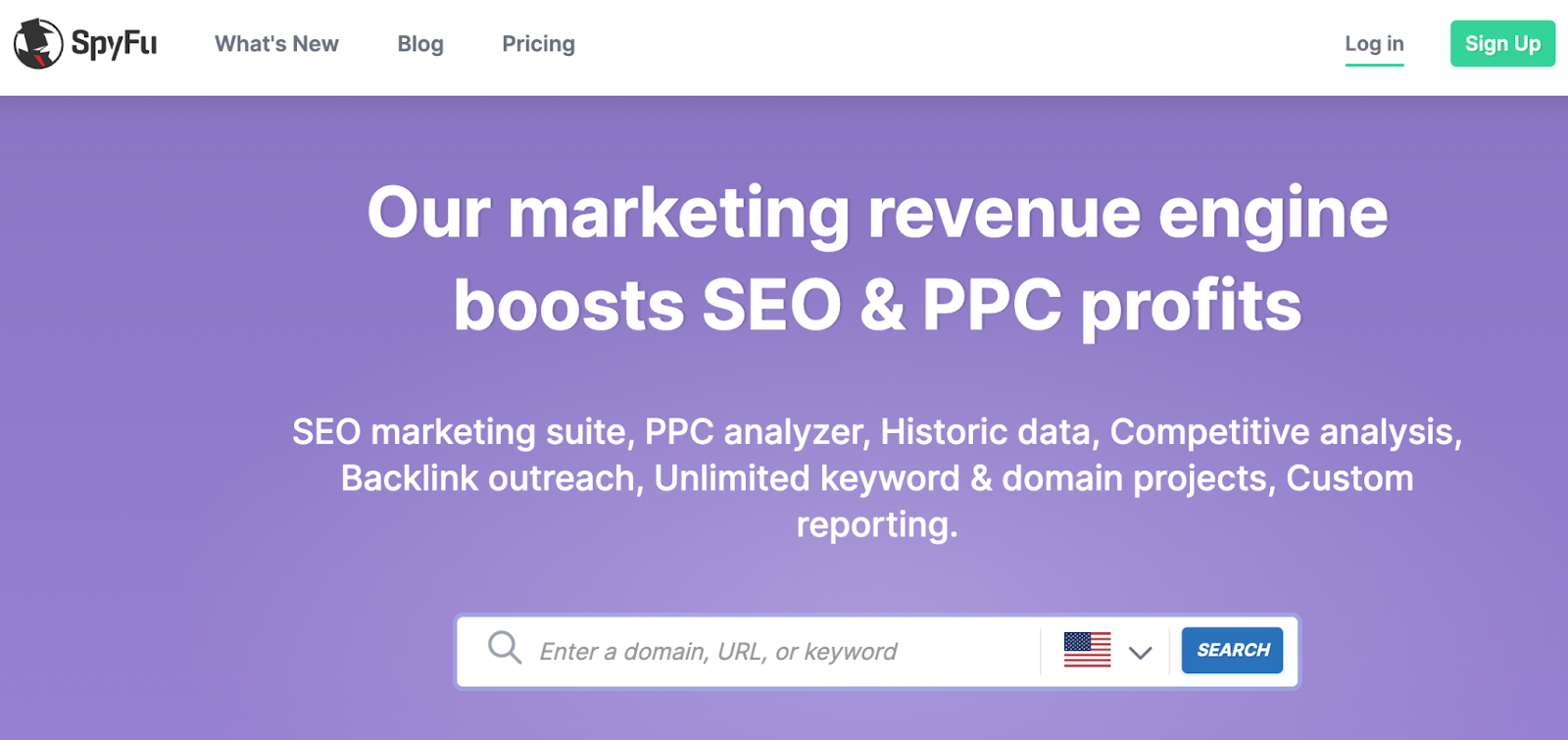 SpyFu is an essential tool to use when you invest in international PPC ads, as it allows you to keep tabs on the paid search activities of your competitors. You can research various categories of paid ads across various channels, including Google, YouTube, Shopify, and social media channels.
This PPC management software allows you to analyze competitors' PPC strategies in different countries and regions. You can identify the keywords they are bidding on, the ad copy they are using, and their estimated ad spend.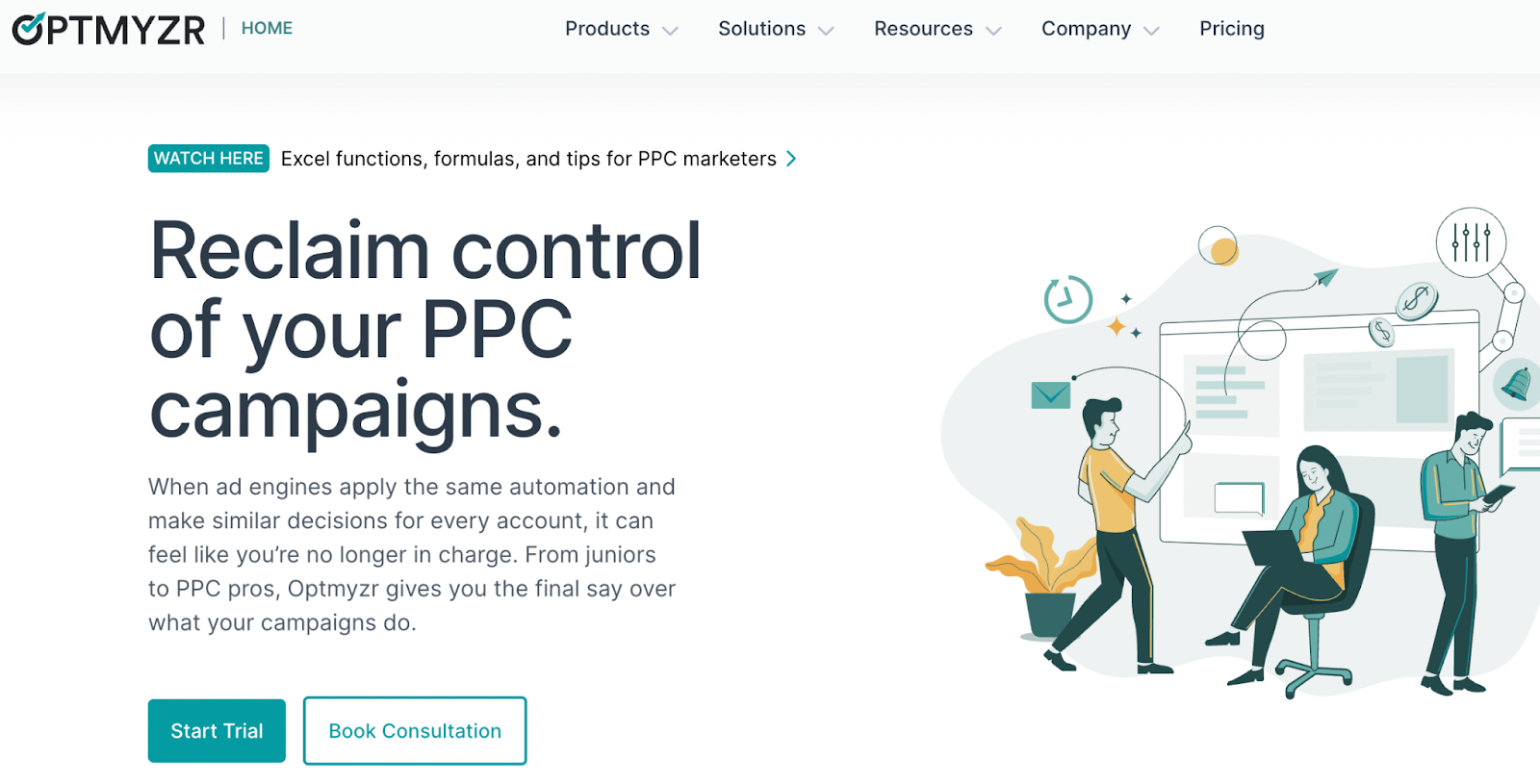 Optmyzr is a PPC management tool that offers complete control over your PPC campaigns by implementing automation.
Besides monitoring the performance of your advertising campaigns, Optmyzr allows you to optimize the ad copy, analyze the market responses, and automate the bidding process for various advertising platforms, including Microsoft Ads, Amazon Ads, Facebook Ads, Google Ads, and Yahoo Ads.
Dive Deeper: Demystifying Google Paid Ads: A Beginner's Guide for Online Advertising
Final Word on International PPC Ads
International PPC is different from regular PPC as the market you are catering to has different tastes, preferences and local cultures. Since the market size of global PPC campaigns is always more than local or national pay-per-click marketing, the tactics you include should be comprehensive and appealing enough to catch the audience's attention.
I hope this article helped you learn how to structure and manage your international PPC campaigns efficiently, including ad copy preparation and measuring campaign performance across multiple international markets.
Because of the complexity of global campaigns, not to mention compliance and legal regulations, is always better to get the help of international digital marketing agencies that have PPC experts targeting Google Ads and other popular global ad services.
If you're ready to expand your business worldwide, Single Grain's PPC experts can help.👇
---
International PPC FAQs
What is international PPC advertising?
International or global PPC advertising refers to running targeted online advertising campaigns across multiple countries and regions. It allows businesses to expand their reach beyond borders, connect with global audiences, and drive conversions on an international scale.
How is international PPC different from domestic PPC?
International PPC involves creating and running campaigns for different languages, cultures, and consumer behaviors, which requires comprehensive market research. On the contrary, domestic PPC focuses on targeting audiences within a single country or language.
What does an international paid media company do?
An international pay-per-click agency has a team of PPC specialists who help you advertise your brand across multiple countries and regions. International PPC services help you acquire more traffic and conversions, while reducing ROAS (returns on ad spend). These are the key functions and activities that an international paid media company performs:
Manages all your international PPC campaigns saving you time, effort and resources.
Automates your international PPC campaigns as well as the keyword bidding process.
Helps you choose the right ad format campaigns by country.
Measures your PPC progress and success from time to time.
Uses the best international tools and software to improve conversion rates and CTRs.
What is Amazon PPC?
Amazon pay-per-click is a digital marketing model that allows advertisers to display their products and services through display ads on Amazon to enhance digital visibility and product sales significantly.
Amazon's PPC platform also helps you reach international customers to grow the sales of your products. A leading e-commerce marketplace, Amazon charges a fee from the advertisers for each click they get on the ad through the advertising platform.