Multi-Channel PPC Advertising Case Study: Boosting Your ROI
In our commercial climate, it's practically undeniable that businesses need to have a strong online presence to reach potential customers. Among other digital marketing mediums, PPC remains a popular method for driving traffic to a website and generating more leads.
For this piece, we've assembled six different multi-channel PPC case studies that we hope will inform your own digital marketing strategy and help amplify your campaigns' results.
In each case study, we'll explore the specific challenges that each brand overcame through a combination of paid advertising and other various channels. We'll take a look at the tactics employed and the results achieved.
By the end, you will have a better understanding of how a multi-channel marketing approach can help boost your PPC advertising ROI.
Multi-Channel Digital Marketing Campaigns Help Brands Learn What Is Effective
Before we jump into the case studies, it's worth disclaiming that not every brand is going to see the productivity from every PPC channel that others have.
With the increasing number of PPC placements available to advertisers, it can be challenging to know which channels will work best for your company: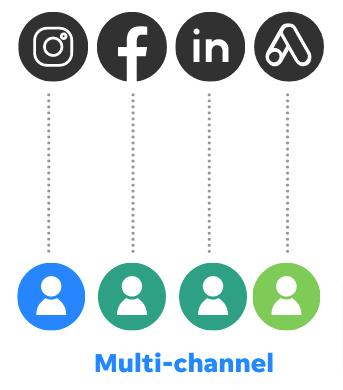 This is where rigorous testing comes into play.
Marketers should devote a portion of their budget to exploring and experimenting with different channels to thoroughly discover what placements will work best for them. Just because brand A thrived on of paid and organic social content doesn't mean it will work the same for brand B.
These case studies are intended to illustrate the opportunities for diversified advertising that you can try out for your brand.
Diver Deeper:
* 5 Tips to Build a Seamless Omnichannel Customer Experience
* Why You Should Use Multiple Channels to Maximize Your Customer Acquisition

1) CBS Sheet Metal – Revamped Their Website for SEO and PPC
CBS, a family-owned sheet metal business based in New Jersey, specializes in the design and fabrication of custom corrugated sheet metal products. They faced a challenge when their outdated website failed to reflect the quality of their work and couldn't generate enough leads from online sources.
The Approach
To address this concern, CBS contracted a PPC agency to build a new website that would improve the user experience and make it easier for customers to request quotes online.
The new website was designed to be modern and user-friendly, with a focus on showcasing the company's portfolio of high-quality products. It featured a responsive design that worked on desktop and mobile devices, as well as an easy-to-use quote request form.
The agency also planned and executed a mixed SEO and PPC strategy to improve the website's visibility in search results. This predominantly involved:
Optimizing the site's content and meta tags
Building backlinks to the site (of which there were very few to begin with)
Running paid search ads on Google
Running paid display ads on Google
The Results
As they measured and compared data, they saw that each metric (organic search, direct, display, and paid search) steadily rose: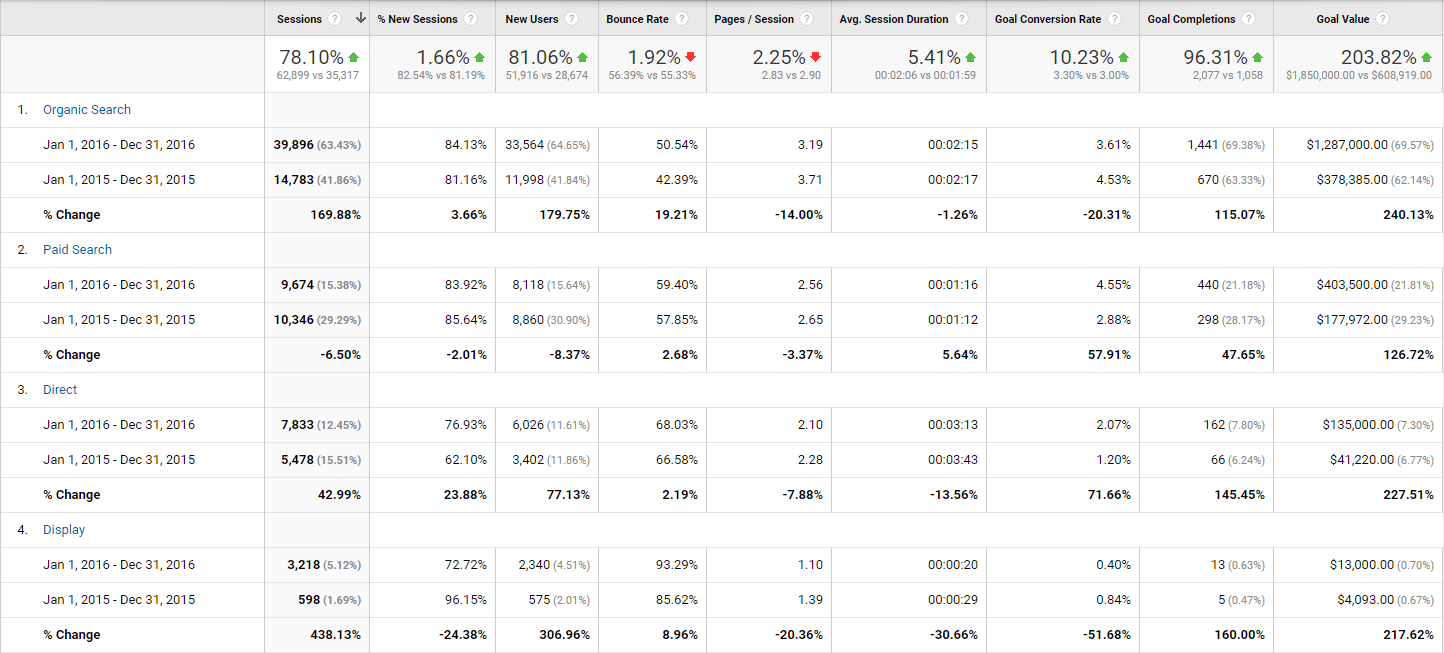 The new website generated a significant increase in leads and quote requests, and the site's overall traffic increased by 25%.
What's more, the agency's efforts managed to increase CBS's conversion rate from paid search by almost 58%.
The site also received positive feedback from customers and helped to establish the company as a leader in the industry.
Read the full case study here.
Dive Deeper: 15 Fast and Easy Ways to Improve Your Site's Conversion Rate
2) Unicef – Rapidly Raised Donations Through Paid Search, Display and Video Ads
With the holiday season fast approaching, Unicef was determined to aid Syrian children by launching a fundraising campaign that would touch the hearts of millions. To achieve its goal, it teamed up with IgnitionOne to create an integrated approach toward a multichannel marketing campaign hinging on first-party data.
The Approach
The campaign was made up of ongoing paid and organic search activity to support a display campaign. There were also video assets that ran alongside display and paid search campaigns.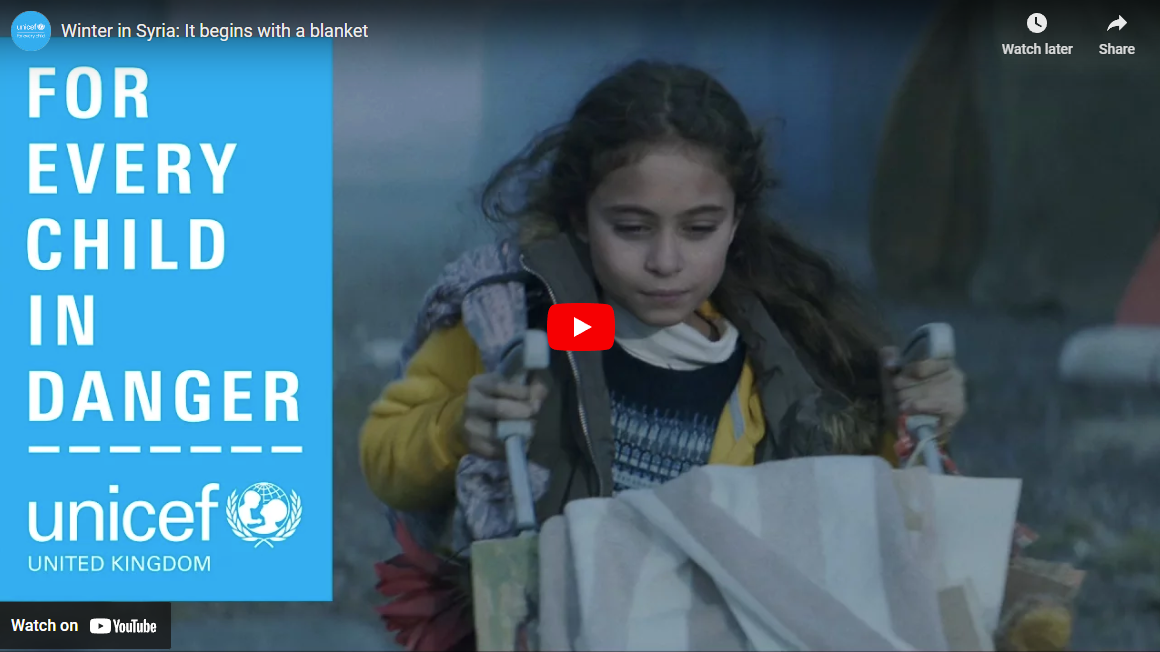 Unicef then retargeted visitors to its site who showed high engagement levels but didn't donate, which increased the chances of securing a donation.
The Results
The campaign generated more than three times the projected amount in donations through the UNICEF UK website. The cost per acquisition was 4.5X less than originally planned, which allowed Unicef to maximize the impact of each donation.
The display prospecting campaign served to approximately 5 million people, achieving a click-through rate of 1.79%, which is well above the industry average of 0.1%.
Read the full case study here.
3) The University of Nevada – Restructured a Haphazard PPC Strategy to Maximize Student Enrollment
Nestled near the serene Lake Tahoe, the University of Nevada, Reno found it challenging to attract targeted leads with their previous PPC agency's "kitchen sink approach." It seemed that everything was carelessly thrown into the mix – except for the ideal students.
With a vision to cater to their niche-based marketing goals, they needed a better solution, so they hired SEM agency HawkSEM.
The Approach
To cut through the noise and achieve the desired results, the agency devised a strategy that was focused heavily on placements where their target audience was most present.
Here's what was done:
Refined current ad campaigns: To tighten the unfocused areas, the contracted marketing agency restructured the campaigns, including keyword clean-up, geographic targeting and clear conversion tracking.
Crafted new CRO-focused landing pages: Each program received its own optimized landing page with targeted copy and a revised format to catch new contact form submissions
Ran display and YouTube campaigns: Potential students in close proximity to the campus were attracted through successful display ads and video campaigns.
The Results
The outcome of this "clean-up" was nothing short of remarkable:
A staggering 309% increase in conversions
An impressive 135% increase in CTR for search campaigns
A reduced cost per conversion by 43%
Read the full case study here.
Dive Deeper: PPC Consulting: Why It's Essential for Business Growth
4) Scooter Manufacturer – How a Varied Paid Advertising Approach Raked in $1,000,000 in Revenue
Scooters have come a long way since they were just a fun toy for kids. Nowadays, they have become a popular mode of transportation in the academic world; even with athletes creating events around them.
In this particular case study, Single Grain recognized the potential of this growing market and wanted to help our client grow their business.
The Approach
However, there was a challenge. While our client was an expert in scooters, they were new to the world of digital ads, and their ad spend budget was limited.
We knew that organic-traffic efforts alone wouldn't cut it. So we launched cross-device campaigns through multiple channels, including:
Google Ads
Microsoft Ads
Yahoo! Stream Ads
Our approach wasn't to spend a lot in any one area, but rather to ensure that the company had visibility on every major ad platform and every type of device, especially mobile, since that's where the target demographic spends most of their time.
We monitored every aspect of the campaign, from daily spend to ROI, and were ruthless in replacing underperforming ads and expanding the winning ads. From display advertising campaigns that drove brand awareness to product-listing ads, we left no stone unturned in our pursuit of success.
The Results
Despite having a limited budget, we were able to get high visibility and increase their market share, generating nearly $1,000,000 in revenue from a mixed PPC plan.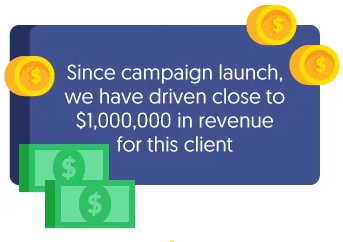 It just goes to show that with the right approach and expertise, even a small budget can yield big results.
Read the full case study here.
Dive Deeper: 6 Proven Advertising Strategies for Online Success
5) Rochester CVB – The Visitor Center That Brought in Traffic Through Paid Digital Channels
The Rochester Convention and Visitors Bureau (CVB) wanted to increase visits and build brand awareness for potential visitors and tourists.
The CVB collaborated with their PPC agency, Simpleview, to design a multi-channel online campaign for promoting 2014 visits to Rochester, Minnesota.
The Approach
Destination analysts conducted research to gain a better understanding of Rochester's awareness profile. A survey of over 400 higher-income regional travelers within 500 miles, the DMO's target drive market, and 300 leisure travelers on the DMO's email list revealed key findings that formed the basis of the "Love, Rochester" campaign.
The "Love, Rochester" concept was A/B tested against a more traditional theme across Google's display ad network and proved to be more successful.
Emails for the promotion were presented as if Rochester had written them to a known friend, signed "Love, Rochester," while display ads carried lines like "Can't wait to see you guys."
The media placements were spread throughout a mix of PPC ads and display ads over multiple networks, including:
TripAdvisor
Facebook
Google Paid Search
Google Display
The Results
The campaign crushed its goal, reaching the following metric achievements:
45,982 click throughs to the landing page
128% of the initial conversion goal (with 934 conversions compared to the projected 668)
2X click volume from Facebook
overall traffic exceeded its goal by 15%
1K+  email opens and 161 click-throughs, far surpassing industry standards
Read the full case study here.
6) Vets Now – How Short-form Video Ads Generated Over 1,200 Virtual Consultations
Vets Now, a UK-based veterinary service, offers out-of-hours care for pets across the country. During the COVID-19 pandemic, Vets Now launched a new service called Video Vets Now, which allowed pet owners to have consultations with veterinarians through video calls.
To promote this new service, Vets Now partnered with a digital marketing agency to develop a multi-channel advertising campaign.
The Approach
The campaign aimed to challenge and change traditional consumer behavior in the pet care industry.
Traditionally, pet owners prefer to take their pets to the veterinarian's office for consultations, but the Video Vets Now service offered a new, convenient option for pet owners. The campaign, called "Search, Pick, Click," utilized video content and animations to showcase the benefits of the Video Vets Now service: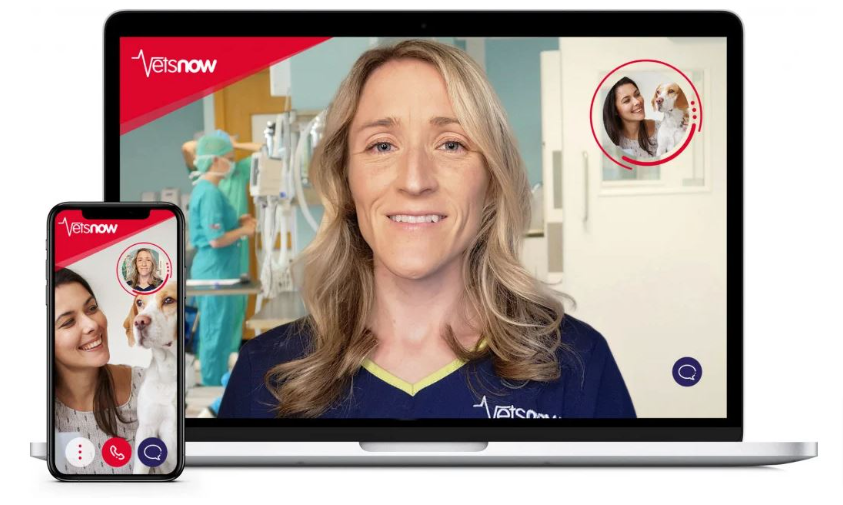 The campaign was supported by Google PPC and search ads, as well as Google Discovery, which targets users based on their interests.
The Results
The project significantly decreased Vets Now's average CPA and over generated over 1,200 consultations through paid channels.
The campaign also reached over 7 million users on social channels, partly driven by two TikTok campaigns. The success of the campaign on TikTok demonstrates the potential of this platform as a valuable paid advertising tool for businesses that are willing to produce short-form video content.
Having effectively utilized video content, search ads and social media to reach and engage with target audiences, the campaign was deemed a success.
Read the full case study here.
Dive Deeper: What Are Google Discovery Ads? (Everything You Need to Know)
Final Thoughts
Having your brand present in digital arenas is a crucial part of accessing potential new customers. A well-prepared and holistic PPC marketing strategy is crucial in driving website traffic and generating conversions.
Remember that not every channel we've highlighted may work for your brand. But through diligent testing, iteration and experimentation, you should be able to find the right placements that jive with your target audience.
Try not to discard one placement if doesn't work right away. Proper optimization takes time, despite what you may think. PPC placements are implicitly meant to work faster than SEO, but they still require finesse and proper configuration to excel.
With that, you should be well on your way to expanding your digital footprint and reaching new audiences.
If you're ready to grow your business, Single Grain's PPC experts can help.👇