Did you know that over 3,000 blog posts are published every minute? With so much new content being produced every day, the chances of "content overload" increases.
Google applies several filters with the help of its ranking algorithm to present only the most relevant and authoritative result to the searchers. Hence, as a business, it becomes crucial to achieve the top ranking for the content pieces that you are publishing each day or week.
Between 71% and 92% of web traffic goes to the first page of the search results.
Nothing much has changed since the launch of Google, as the majority of Internet users don't go past that coveted first page. This is why the role of content optimization is so important: It helps improve the relevancy of your content, defeat similar content produced by your competitors, and get your blog post on the first page of the SERPs.
In this article, we will learn the concept of content optimization, the techniques of content optimization, and also discuss several useful tools that help improve the process of content preparation.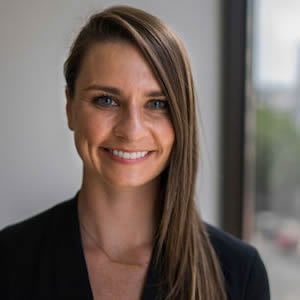 Jacqueline Foster
Demand Generation Marketing, Lever.co
We can count on them to bring new ideas to the table consistently
What Is Content Optimization?
Content optimization is a technique to make your blog post SEO friendly with the goal to acquire maximum traffic and conversions.
Content optimization deals with making changes to the blog post or article, such as:
Inclusion of primary keywords and synonyms of seed keywords
Adding appropriate meta tags
Writing a compelling meta description
Improving the readability score
Increasing the keyword relevancy score
Inclusion of relevant internal links
Optimized content has a far greater chance of ranking higher in the search results – and higher rankings lead to more traffic, increased sales, and extra profits.
Why Is Content Optimization so Important?
Now that you know what content optimization is, your next question is probably "Is it really that important?" The answer is yes. As stated earlier, content optimization is vital to improving the visibility of your content.
Here are the top reasons why content optimization is so important to your blog's or website's success:
It improves the overall quality of your content so that every article on your site is targeted for a particular segment of users.
It makes it easier for search engines to understand your content so that it ranks on the first page of Google, Bing, and other major search engines.
It increases the relevancy of content for your seed keywords. Hence, you can acquire targeted traffic resulting in higher leads.
Optimized content targets the user at every stage of the buyer journey.
It makes it easier for the readers to scan your content so that they can take the action that you want them to (download, sign up, purchase, etc.).
It helps you decide on the ideal frequency of posting new content on your site. Since the performance of every piece of content you produce is measured, you can generate the highest ROI from your content marketing campaigns.
Dive Deeper:
* How to Optimize Your Content Strategy with the Buyer's Journey
* 7 Segmentation Mistakes That Are Costing Your Business Money
* Google Analytics for Content Marketing: How to Track and Improve Your ROI

Content Optimization Goals
Before you plan your content optimization strategy, it is necessary to list your content goals. Your plan of action should then correspond to the goals you wish to achieve.
Content optimization goals can fall under any one of these four categories:
Achieve Top Rankings: This is, perhaps, the most common goal of every content optimization strategy. You should list this goal if you wish to achieve the top organic rankings for your target keywords.
Improve Branding: Another goal of content optimization can be branding. This goal is for when you want your brand to remain highlighted in the SERPs for every keyword that is significant in the buyer journey.
Increase Traffic: Another common goal is to increase traffic to your website. This goal helps improve both branding and conversions.
Increase Revenue: The end goal of every content marketing strategy is higher conversions. You should list this goal if you wish to acquire relevant traffic that converts easily.
Dive Deeper:
* How to Use Google Keyword Planner for Content Creation
* The Best Way to Track Your Keyword Rankings in 2023
* Why You Should Use Long-Tail Keywords in Your SEO Campaign

How to Get Started With Content Optimization
By now, you are convinced that content optimization is an indispensable part of your marketing strategy, right?
You have also written down your content marketing goals.
So, without further ado, let's begin the process of content optimization.
Here are some of the top strategies to follow for optimizing your content for higher organic rankings.
1) Optimize for Content Decay
Content decay happens when you stop revising, or updating, the older content on your site and, as a result, traffic to these pages starts to decline.
Content decay might happen for any of these reasons:
Your competitors are regularly publishing fresh content
There are new updates happening in your niche that you haven't included in your older content.
You have stopped promoting the older content, resulting in loss of new links.
All these factors contribute to content decay, which is a major factor for ranking decline.
One of the easiest ways to spot the pages that have lost traffic is by using a Content Decay tool.
You can see the percentage and the number of sessions of traffic loss since the peak.
Here are some actions you can take to gain back the lost traffic:
Check the current ranking of the pages that have declined in rankings. Start with your top-ranking 10-20 pages and analyze them for declines in traffic.
Update the content by adding around 1,000-2,000 words of fresh content after analyzing the top-ranking content in that category.
Add a video to increase time spent on the site or page by your visitors.
Improve the page speed because loading time is one of the most significant factors of Core Web Vitals, which is a vital part of the Page Experience Update. Pages that load faster offer a better browsing experience, and Google promotes instant loading pages in the search results.
Apply the skyscraper technique to add something unique to your pages that the top-ranking pages don't have. This could be a table, an infographic, a video, some fresh examples, etc.
Research some latest developments around the topic and refresh the posts with new and relevant information.
Start promoting the pages again to gain new links. Remember, links remain one of the most crucial ranking factors.
Dive Deeper: The Ultimate Guide to Link Building with Content for SEO
2) Do Competitor Research
Competitor research is a core marketing strategy in which you scrutinize your competition to learn what content marketing tactics they're using, as well as their strengths and weaknesses, in order to improve your own content strategies.
Research is an essential aspect of content optimization. Simply enter your seed keyword into Google and check the top 2-3 competitors.
Here are the things that you need to look at:
The Domain Authority (DA), Page Authority (PA), Trust Flow (TF), and Ahrefs Domain Rating (DR)
Quality and comprehensiveness of content
Word count of the posts
Freshness of content
USAge of keywords in the title, description, headings, and main content body
Number of backlinks
Number of social shares
E.A.T. score (here is a useful E.A.T. checklist that covers all the major factors), which stands for:

Expertise: The page needs to have quality content written by an expert writer with proven experience, knowledge or qualifications.
Authority: The site itself needs to have some authority on the subject.
Trustworthiness: The site needs to have other authoritative links pointing to it from similar, trusted websites in their industry.
Once you list all the comparison metrics, it becomes easier to refresh your content.
Dive Deeper:
* How to Uncover Your Competitors' Content Strategy
* How to Conduct Smart Competitor Research for Better Customer Acquisition
* Starting From the Bottom: How to Build Up Your Domain Authority from Scratch

3) Follow the Single Grain Blog Updating Guidelines
You always want to extract the full value of your content's ROI. Hence, every post on your blog should be updated regularly to start acquiring new traffic or gain back any lost traffic.
Several proven methods work to increase traffic to your website by merely updating your existing blog posts. These methods have been compiled by Single Grain, whose six-step blog updating guidelines are:
Rewrite the intro and conclusion because both these sections offer a summary of what is present in the article. These sections should be engaging and actionable.
Pick the weak sections in the article and replace them with stronger variations that are helpful for the reader. You can also combine 2-3 points under a single point to make it stronger.
Write as much as required depending on the topic. No specific word count, just make sure your article does full justice and offers comprehensive, accurate, up-to-date, unique, and complete information.
Update all the references used in your article and point to sources no more than 2 years old.
Replace all the older or irrelevant images with new ones.
Replace any older examples with fresh ones.
Single Grain did a case study and updated around 42 blog posts within six months. Traffic to the site increased by more than 8,000 visits by merely updating their older content.
Hence, content marketing is not always about preparing new content. Excellent results can be achieved by updating your existing content. This is what content optimization is all about.
4) Try to Get into Featured Snippets
A featured snippet is a special content box that answers the user's query. It basically reverses the order of regular organic listings, showing the description snippet first and then the URL of the website.
Getting your content ranked as a featured snippet can drive extra traffic to your website because Google shows your URL more than once – as a featured snippet and also as a regular listing.
A featured snippet is known as "position zero," meaning it is higher than the position 1 of the organic search results: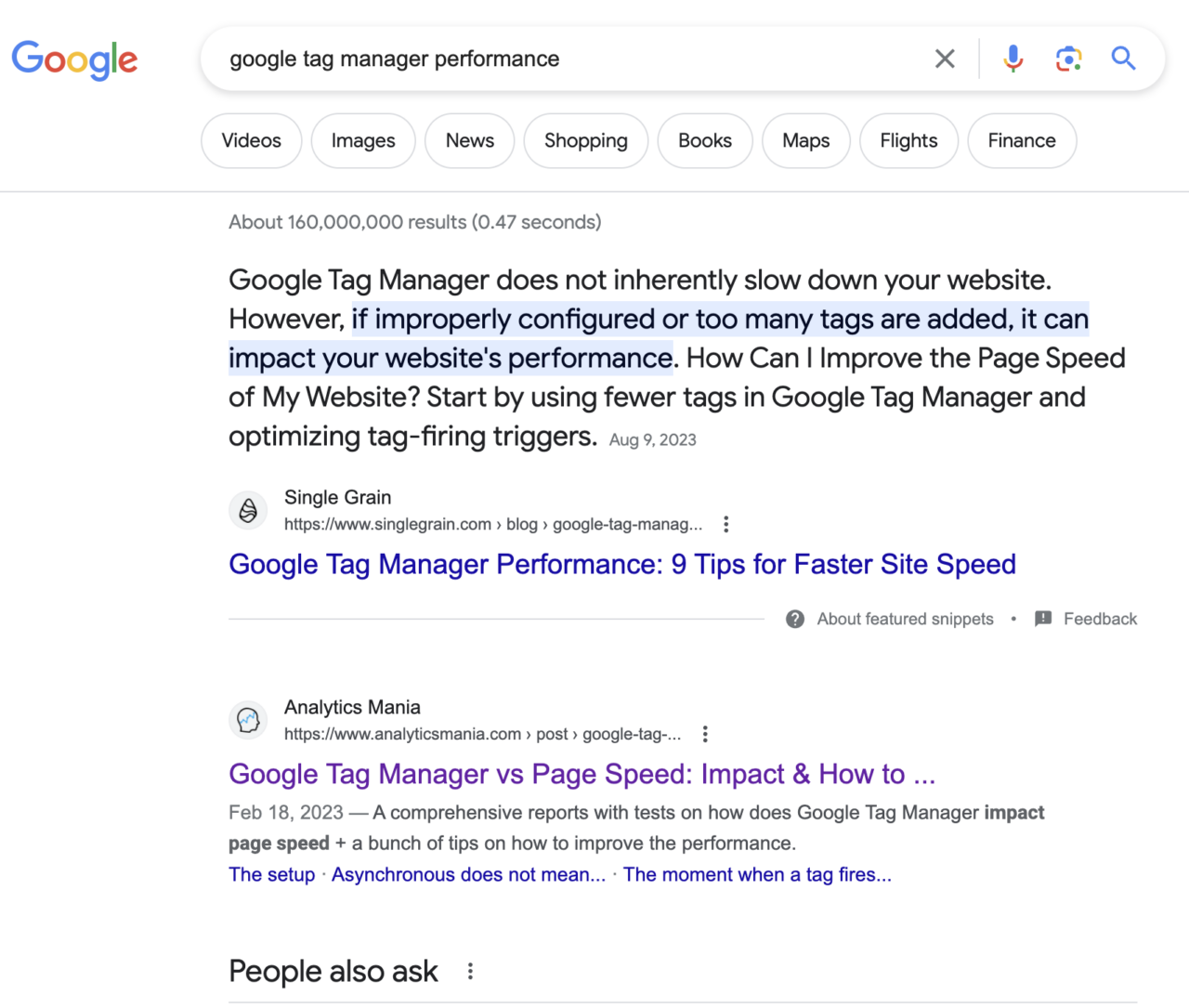 In an experiment conducted by Moz, it was proved that opting out of featured snippets resulted in a 12% traffic loss. Which goes to show that they are useful for gaining extra clicks, improving branding, and defeating your current organic competitors.
There is no special Schema markup that you can use to mark your pages as a featured snippet. Google's systems automatically pick the best results depending on the search query and display it as an answer box.
But there are several strategies you can apply as a content marketer to increase your chances of having your content listed as an answer box.
Here are some of the best methods to get your content ranked as a featured snippet:
Create content that specifically answers the intent of the user in-depth.
Follow a Q&A pattern to answer the question in order to make it easier for Google to pick the section of Q&A within the content and display it in the search results.
Boost your content with question keywords optimization. More than 19% of Google searches are questions. Try finding relevant long-tail question keywords using tools such as Answer The Public and prepare in-depth content on the topic.
Prepare high-quality content that is comprehensive, unique, entertaining, and user-focused.
Improve the readability score of your content by using simple and easy to understand sentences. Make it easy for readers to scan your content by using bullet points, short paragraphs, visuals, and videos.
Use SEMrush to find out how many featured snippets your competitors have. Create new content or optimize your existing content to grab those snippets: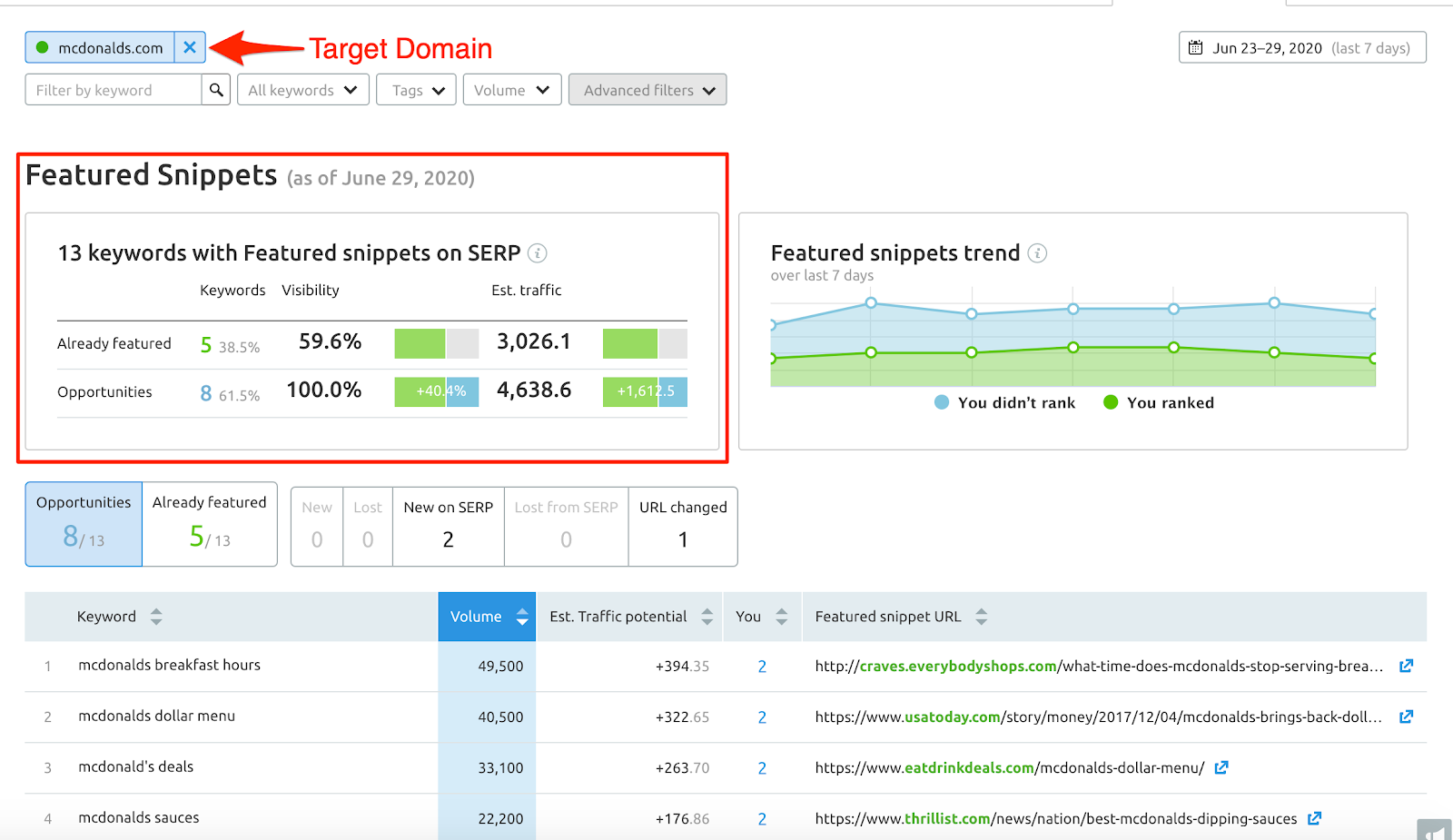 5) Boost Internal Linking
Google uses links as a major factor to rank websites. Both external and internal links are crucial for your content strategy. You can't control external links but you can certainly control internal links.
If there is a single best method to increase the visibility of your site's content, it is internal linking optimization.
Click To Tweet
The right linking strategy can boost the performance of the content on your site. Here are some of the best methods to upgrade your internal linking strategy:
Follow a site structure so that no resource on your website is more than 3 clicks away.
Add relevant contextual links to other pages of your site from your content (like Single Grain does with its "Dive Deeper" boxes sprinkled throughout).
Use a related content section and link to the closely related pages on your site from every thematic content piece. For example, if you have six pages on your site about "dog grooming," then all these pages should be interlinked to each other.
Remove links from unimportant pages.
Link your cornerstone content from the top navigation. Cornerstone content consists of the most important pieces of content in your site.
Fix all broken internal links. Using a tool like Ahrefs makes this easy: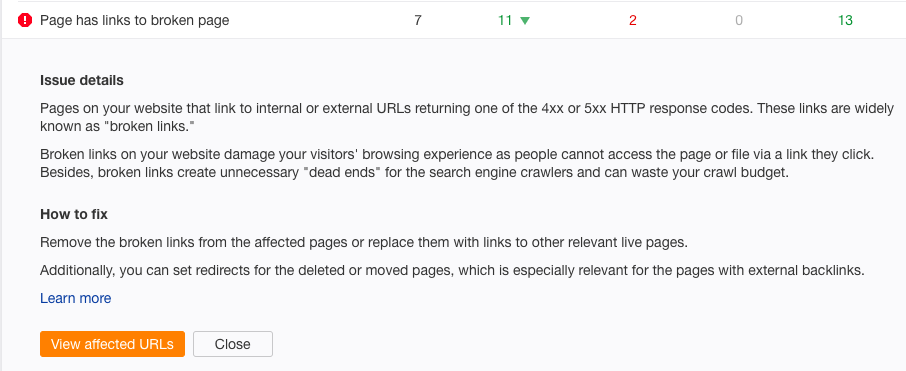 When you add relevant internal links to your cornerstone content, you make it look important in the eyes of Google. Content with the highest links (both internal and external) has the best chances of achieving the top organic search positions.
6) Improve the SEO Score of Your Content
You can't neglect SEO if you want to ace content optimization! Search engine optimization is the foundation of content writing and marketing.
Here are the best tips to make your content SEO friendly:
Add a relevant title and meta description to make it easier for search engines and users to understand the contents of your page. For example, if your content is about "preparing pasta," then your page title should be something like "How to Prepare Tasty Pasta in under 15 Minutes".
Use seed keywords, synonyms, and related phrases to improve the keyword relevancy score.
Follow a smart internal linking strategy as discussed in point five above.
Regularly upgrade your content by removing stale information and adding the latest data as discussed in point one above.
Leverage the power of SEO copywriting to add words and phrases in your content that increase content relevancy and persuade users to take action. User-focused and action-oriented content helps increase time on page and reduce the bounce rate, which are crucial metrics to measure user engagement.
Add accurate alt tags to allow search engines to understand the contents of the images used in your content. For example, if you add an image of a horse, then add a descriptive alt tag such as "a running horse" instead of generic names like "image1.png".
Repurpose existing blog posts to gain extra mileage from your existing content.
Create an AMP version of your content for faster loading.
Review Web Content Accessibility Guidelines (WCAG) to make your content reader friendly for those with disabilities.
Optimize your content for the page experience update by improving the loading speed of the site and fixing all UX issues.
Use schema markup to improve the way search engines read and understand your content.
Apply these strategies to make your content both search engine friendly and user-friendly.
Dive Deeper:
* SEO Strategy for Startups: How to Win in 2023
* 10 Effective SEO Techniques to Drive Organic Traffic in 2023
* How to Write Content for People and Optimize It for Google
* Beginner's Guide to Voice Search SEO

7) Optimize for Voice Search
Always think about the future when optimizing content because voice search will be the new normal soon.
Voice-based shopping will be a $40 billion business by 2022 and 50% of U.S. households will own a smart speaker by 2022.
Voice search is the future of the web, and you shouldn't ignore it in your content promotion strategy.
Follow these tips to optimize your content for voice search:
Include long-tail and question keywords in your content to make it rank for voice search queries. Use natural language phrases that people normally use while talking.
For example, for a query like "which is a better smartphone samsung or iphone?", the page from the ESR Gear blog ranks at the top (see image below). The page makes a comprehensive comparison between the features of Samsung and iPhone, and the page topic exactly matches the intent of the searcher: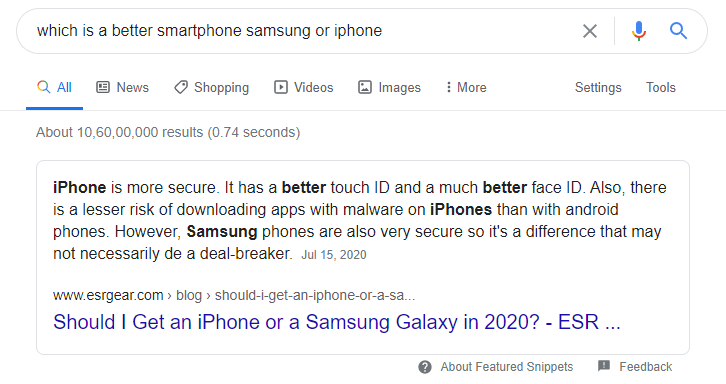 Follow a conversational tone for preparing your content because this is normally how users interact with voice search assistants like Google Voice or Alexa. Head over to Quora and see the conversations going on around your targeted topics. You can easily find the right tone for your content along with questions that people are asking the most.
Optimize for local search queries because voice searches are three times more likely to be local-based than text searches. For instance, if you're looking to rank for the query "best bakeries near me" then you can create a page showcasing the top three bakeries in your area and list the reasons why they are the best.
Apart from ranking your business as a Google My Business listing, you can even rank your site as an organic listing and double your chances of gaining extra traffic and conversions.
Try to get your content listed as a featured snippet because the answers listed in the answer box are read by voice assistants. For example, for the query "wallets under $100 Amazon" Rank and Style offers a listicle displaying the top-ranked wallets under $100. Preparing supportive content like this is a great way to up your product sales on Amazon.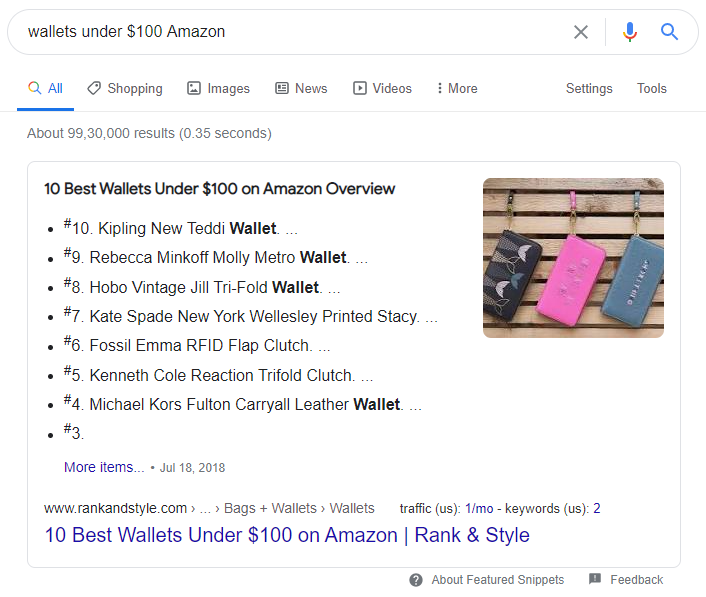 Make sure your website is mobile-friendly and loads at a fast speed. The ideal loading time for your web pages should be 1-2 seconds. Upgrade your hosting, optimize images, fix loading time issues, and perfect the UX/UI of your website.
Answer multiple similar search questions to produce in-depth content. This will help you to rank the same piece of content for several thematic questions. The "People also ask" section of Google is a great way to find such questions.
For example, for the keyword "voice seo guide," Google displays a list of similar questions that people ask while searching with that query: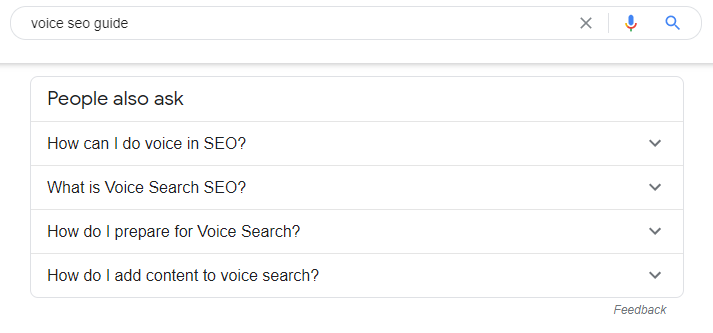 Content Optimization Tools
Tools are your best friend because they help you become productive and also reduce the chance of human error.
Content marketers who use tools are able to complete their work faster and in a more perfect manner as compared to their counterparts who are still using manual ways to write and promote content.
There are several useful writing tools that make your content optimization task easier. Some of the top content optimization tools are:
The readability score is a great way to analyze the level of education that one needs to read and understand your content. Remember, for most of the content on the web, a readability grade of 5-6 is required.
The Hemingway App lets you perform a quick check on the readability level and tells you the overall grade of your content. A grade of 6 is good, meaning that your content can be read and understood easily by most of people on the web.
Here is a screenshot of the tool displaying the grade of the content on the right sidebar: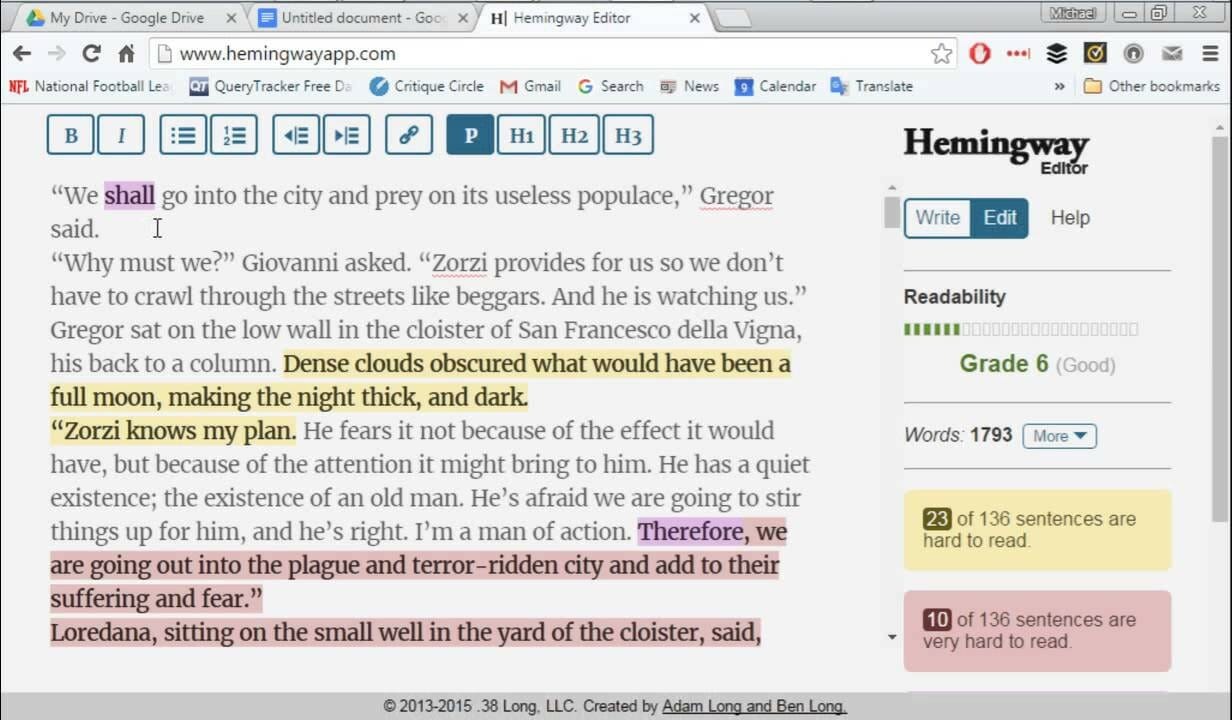 In addition, the tool highlights all the complex sentences in your content and suggests an easier alternative for them.
Sentences marked in red are considered "very hard to read." You should simplify them by breaking them down into two or more easy-to-read sentences. You can also try replacing the complex words with simpler synonyms. By the way, here's a great article on writing the perfect blog post (and it comes with free templates!).
Hemingway App is free to use. Every content writer should use this amazing writing tool to make sure their content can be read easily by a majority of their audience.
Grammarly is an online writing assistant. As the name suggests, this tool checks your content for spelling and grammatical errors and offers suggestions to correct them, such as adding proper punctuation, removing redundancy, improving vocabulary, and making your content concise and easier to read.
Grammarly rates your content on a scale of 0-100. The higher the score, the better the quality of your writing. You should opt for a score of 95+ to get the best results. Because it explains your mistakes (and not just fixes them), you can actually improve the quality of your writing and feel more confident about your writing.
Simply log in to Grammarly and paste the content to be checked. On the right side, you will see a list of suggestions divided under four categories:
Correctness
Clarity
Engagement
Delivery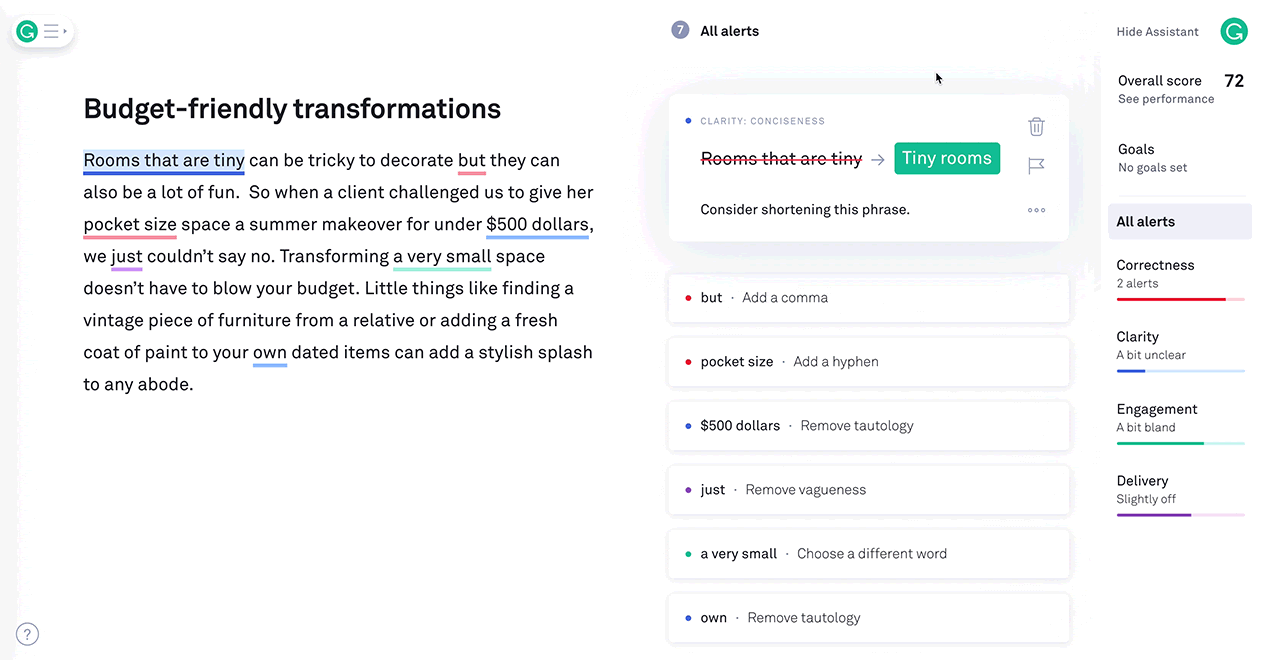 Clicking on the Correctness section displays all the grammatical errors along with suggestions to correct them. Keep in mind that not all suggestions are accurate (you may be taking poetic license or opting for a more casual style), so you should accept only the ones that make sense.
The Clarity, Engagement, and Delivery sections offer suggestions to make your content interesting, effective, and easy to understand.
The second best feature of this tool is the Content Editor. It shows the readability grade similar to the Hemingway App, but it also displays the exact keywords that you should add to your content to make it SEO friendly and maximize the organic traffic on that page: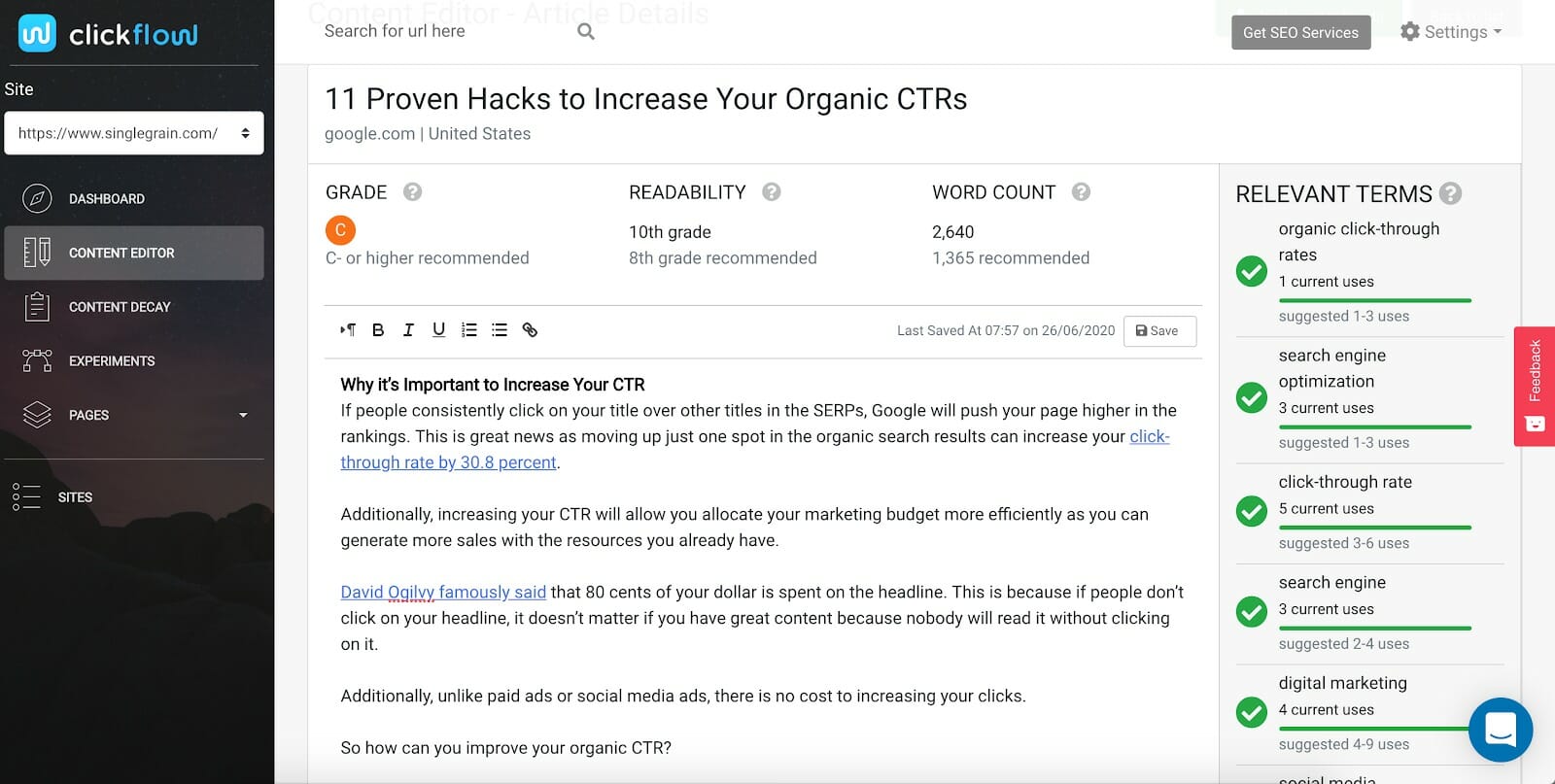 I personally like the Content Decay feature that shows a list of pages that are losing traffic (discussed above in Section 1: Optimize for Content Decay). You can immediately take action to fix the issues on the pages and upgrade the content piece to bring back the lost traffic. This is a really useful feature because most of the time, we concentrate our efforts on creating new pieces of content and forget the older pieces of content that are already bringing traffic to the site.
The Change Monitoring feature lets you track all the changes in your content and the results they bring in to your site. Hence, you remain completely aware of any changes that are resulting in conversions.
Copywritely is a content optimization tool to check for keyword inclusion, keyword redundancy, grammatical errors, and overall content readability.
Paste your content in the text editor, and the tool will display the major readability and SEO issues in it.
Copywritely analyzes content on six important parameters:
Uniqueness: It checks for the similarity of your content with other resources on the web. You should have content uniqueness of above 90.
Keyword Stuffing: Most writers make the mistake of stuffing content with too many keywords. With this tool, you can quickly check if your content lists certain words more than the recommended number of times.
Readability: The tool checks your content for the Gunning Fog index and Flesch Index scores. The higher the score, the better is the readability of the content.
Keyword Check: This feature lets you check whether you have included all the keywords in your content.
Grammar: The tool also checks for grammatical errors and offers recommended fixes.
The free plan lets you check four pages of about 2,500 words each.
Conclusion 
Every business is busy preparing content. Nowadays, companies have separate content writing and marketing departments to help them acquire traffic, leads and conversions via content. With so much competition, you have to create superior content to gain an edge over your competitors.
Follow the tips suggested in this article and use the tools as discussed to stop producing mediocre content and become a content optimization expert!
If you're ready to increase your traffic and conversions, Single Grain's

content optimization experts

 can help!

👇