7 Segmentation Mistakes That Are Costing Your Business Money
Are you looking to make your marketing campaigns more effective and generate a better return on the cash you're ploughing into it?
If so, you'll need to start segmenting your audience — something that allows you to identify different types of customers that your business can target, understand them better, and create uber-specific campaigns for them.
Segmentation allows you to come up with personalized marketing strategies. That's important, especially when 31% of consumers say they wish their shopping experience was far more personalized than it is currently.
But how do you segment your campaigns the right way and not accidentally alienate a huge chunk of your target audience?
In this guide, we'll explain how, along with seven segmentation mistakes you'll need to avoid if you don't want to flush your money down the toilet.
What Is Segmentation?
Here's a basic definition of market segmentation, according to Qualtrics:
"Market segmentation creates subsets of a market based on demographics, needs, priorities, common interests, and other psychographic or behavioral criteria used to better understand the target audience."
In other words…
Segmentation is the process of dividing your customers up into different groups, with each group sharing similar characteristics, to better give them exactly what they want.
Click To Tweet
It'll come as no surprise to learn that every product or service needs to be tailored to a specific customer. However, not all customers are equal; every market is composed of different people and organizations who can benefit from your product or service, and can be broken into various segments.
For example: Everyone needs to drink clean water, but some people might be traveling and need bottled water, while others work from home and need a water purifier. If you try to sell your product (bottled water) to everyone, you'll end up wasting precious marketing resources on people who aren't interested in it and won't benefit from it.
The same concept applies for your audience's interests.
Your audience might be split into people who enjoy fashion blogging and another who enjoy learning how to code, for instance. Generally, you'll find that people don't have an interest in both, so you need to break those interests down and add people to a specific segment that appeals to them.
It's time to trash the "one-size-fits-all" approach and divide your products or services into specific segments so that you can create unique marketing campaigns for each segment (bottled water vs. water purifier, or fashion bloggers vs. coders).
That's a superb way to cater to the 36% of consumers who express an interest in purchasing personalized products or services: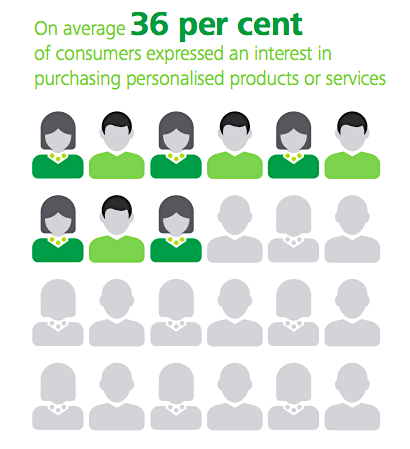 Dive Deeper:
4 Huge Benefits of Segmentation in Marketing
Market segmentation isn't just a short-term demand that buyers are hoping for. These days, consumers expect their marketing to be personalized — and segmentation is the quickest, simplest (and often most cost-effective) way to cater to that expectation.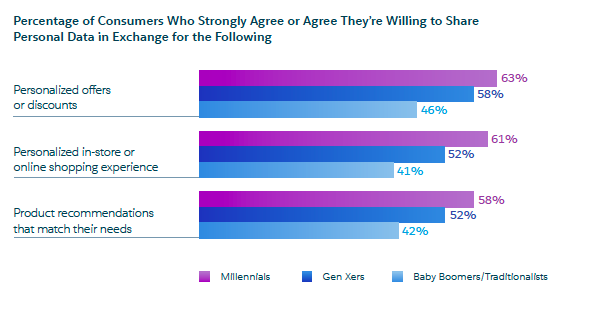 Here are four huge reasons why segmentation needs to be a priority for your marketing team:
1) Lower Marketing Costs
How much do you spend on marketing? Chances are, it's around 11-13% of your business' overall revenue. But according to a report by Rakuten Marketing, marketers admit that they expect to waste 26% of their marketing budget on the wrong channels or strategies. No matter how big or small your budget is, that's too much cash to waste.
The old strategy of mass marketing could be to blame, making it more difficult to see a strong ROI from your campaigns. If you're preaching about how awesome your product is to the wrong people, there's no chance they'll buy it, which contributes to a wasted budget.
Segmentation, however, allows you to limit your target audience and direct your marketing budget into specific communication channels that reach your target segment.
For instance, if your business makes spare parts for vehicles, there's no point in placing ads in general magazines like UsWeekly. The folks who read that type of magazine aren't in the market for your product and will thus ignore your ad.
On the other hand, it's a lot less expensive and a lot more effective to advertise in auto magazines like Motor Trend or Top Gear because the people reading those magazines likely have an existing interest in your spare vehicle parts.
You're able to find those cost-effective marketing channels for your business by segmenting your audience, just like the example above. Break down your target audience into several "groups", find out where they hang out, and meet them there. It'll work wonders on your bottom line.
Dive Deeper: 17 Ways to Acquire Your First 100 Customers
2) Increased Focus
Segments are similar to buyer personas in that the people within each segment have shared qualities, including:
Their interests
Their goals
Their challenges or pain points
This data allows you to understand your segments to a T.
Let's say you're starting from scratch and A/B testing which Facebook Ad headline works best. But since you already know the pain points of your segment, you've got a building block to start from.
Let's say a SaaS company that sells software that manages editorial calendars is wondering how to get more clicks from their Facebook Ads. Instead of running a boring headline like "manage your editorial calendar", they should cater to your segment's pain point — something like "view your social media, blog and email content all in one place".
Notice how much more focused you can get with your targeting, simply by using the information you've already collected about your segments?
Dive Deeper: 30 Winning Facebook Ads and Why They're so Effective
3) Better Product Development
According to Harvard Business Review, over 30,000 new consumer products are launched each year.
And 95% of them fail for one of these seven reasons:
Failure to understand consumer needs and wants
Fixing a non-existent problem
Targeting the wrong market
Incorrect pricing
Weak team and internal capabilities
Prolonged development or delayed market entry
Poor execution
You may be surprised to know that the top four problems can be solved if you simply segment your market correctly.
Ever heard the phrase, "If you try to make everyone happy, you'll end up making no one happy"? The same applies for your marketing campaigns.
By focusing on a specific market segment instead of everyone, you can quickly tailor your products and services to meet the needs of those customers — and even design future products and services with them in mind.
Let's put that into practice. Say your spa caters to professionals. Rather than just operate during normal business hours, why not take a look at their day-to-day routine and extend your evening hours to accommodate the hectic schedules of those who work 9-to-5?
If you didn't take a look at the lives of your target audience, you might have been cutting your chances of revenue down by a huge amount. Or worse, your might be forcing your spa business to shut down because you don't have enough customers coming through the doors during your existing opening hours.
Learn More: How to Turn a Minimum Viable Product into a Booming Business
4) More Happy Customers
Earlier, we mentioned that customers now expect personalized marketing. If you're still not convinced, consider these statistics:
71% of consumers believe personalized experiences would influence their decision to interact with emails.
80% of respondents indicating they are more likely to do business with a company if it offers personalized experiences.
88% of U.S. marketers reported seeing measurable improvements due to personalization, with more than half reporting a boost greater than 10%.
If that's not a good enough reason to convince you to start segmenting your audience, I don't know what is!
Are You Making One of These 7 Segmentation Mistakes?
Even if you've got clearly defined segments, you should always ask yourself: Are you getting the most out of your customer segments or are you leaving money on the table?
If you're making one of these seven segmentation mistakes, it's probably the latter.
1) Your Segments Aren't In-Line with Your Business' Goals
It's important that any marketing campaign you're creating is related to your business' goals. No matter whether that's gaining more customers, increasing your customer lifetime value (CLV) or simply generating more revenue, your segmented campaigns need to help you work towards it.
Let's say you have a segment of customers and their subscription for your SaaS product is up for renewal soon. What type of content would you send them?
Renewal-related information and promotional offers related to renewal
Information about new products and upgrades
It's option A, because your goal is to convince your users to renew their existing subscription, not to cancel it in favor of another, lower-cost tool. You can always move them to a new segment and send them the above information once they've renewed their subscription.
If you're unsure what your business' goals are, don't panic. Follow the SMART framework to set a goal and determine its success criteria:
Specific: Set a goal that is clear and specific to everyone on your team — from senior management to frontline staff (sales, support) — so that everyone works towards the same objective.
Measurable: Define the specific criteria that you will use to measure success. For example, if your goal is renewal, measure the renewal before and after segmentation. This will help you compare each segment's renewal rate and identify the most responsive group of people.
Achievable: Make sure your goal is reasonable. It will be difficult to come up with a single segmentation scheme that not only increases renewals and boosts cross-sell opportunities, but also reduces callbacks.
Relevant: Is the goal of interest to other stakeholders, such as sales and product development teams? Often, segmentation is a cross-functional exercise and goals need to be relevant to each team.
Time-based: Give your goal a start and end date so you can clearly evaluate segmentation success. And try to stick to these deadlines and avoid moving the goalposts.
2) You're Segmenting Based on Instincts, Not Concrete Data
Segmenting your market based on customer profiles or buyer personas is a good starting point, but no segment should be set in stone before you've got the data to back it up. Why? Because what you think of as a profitable segment might bring in low revenues for your business — something you can't see unless you look at actual numbers.
Granted, you might be getting good results by marketing to a certain segment and you're tempted to define it as a high-value segment. First, ask yourself this: Is it converting into paying customers? You might be surprised to find out it has a lower ROI than you initially thought.
If you lack the data because you're a small business or you're just starting out, don't let that be your downfall. Instead, conduct simple tests before finalizing your segments.
For instance, create an email marketing campaign targeting your desired segment and analyze the results. Does it bring more visitors? Are they converting into registered users? What percent of them converts to paying customers?
If the results aren't as you expect, it's better to target a different segment or take another look at your segment data to see if you're missing a quality that group of people share.
Just take Bic, the pen manufacturer, for example. They didn't have the data to back up a profitable segment and came out with a line of pink and lavender pens exclusively for women called Bic For Her — marketing the pen to women because it was "designed to fit a woman's hand".
Ellen DeGeneres created her own fake commercial for it and trashed the product on national television, saying:
"Can you believe this? We've been using man pens all these years! The worst part is, they don't come with any instructions. So how do they expect us to learn how to write with them?"
The Co-Operative also ran this campaign for Easter (we can guess that their ad meant to target parents, but it angered some people – and rightly so! – for the sexist nature):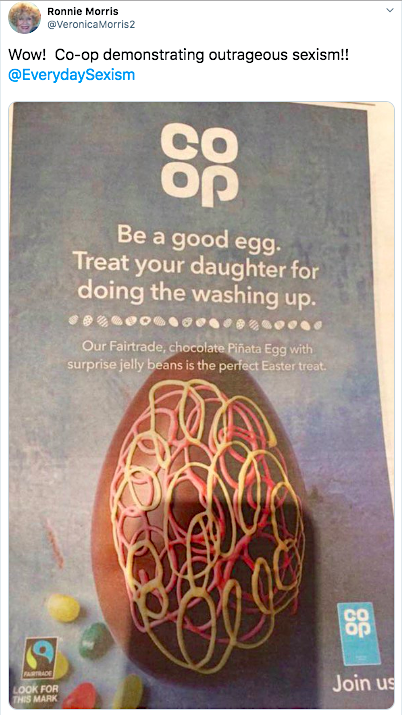 It goes without saying that you don't want this kind of negative press to spark after you start marketing campaigns to specific segments. Backing up your segments with concrete data can help to avoid those PR disasters.
3) You've Created Segments Based on Limited Data
If you've created segments based on a small amount of data fields and variables, your marketing strategy will be limited by that information.
Let's say you want to create special promotional offers for women. If you haven't collected data about the gender of your customers, it will be impossible to send emails to only women in your list. Email marketing platforms are smart, but they're not geniuses. That's why you should regularly evaluate your target customer profile, as well as your segments, to identify new information that you need to capture during data collection.
For example, now that you know you need gender data about your customers, you can update your lead-generation forms and new user registration forms to ask for this detail. Likewise, if you want to target people who've signed up for your newsletter, you'll need to make sure you've set up UTM parameters to track people visiting your website from your email marketing campaigns.
Remember: While your campaigns shouldn't be based on guesswork, they shouldn't be based on limited data, either.
Dive Deeper: Attract the Right Prospects With Buyer Personas (Includes Step-by-Step Templates!)
4) You're Using 'Dirty Data'
No matter what type of marketing campaign you're creating, I'll bet you have a ton of data: the CPC for your Facebook Ads, the click-through rate of your email campaigns, the unique pageviews on your blog post, etc.
But with so much data coming in so fast, it can be difficult to determine the right dimensions to analyze, which metrics to create, which relationships matter and, more importantly, what generates ROI.
Segmenting your audience starts with diving into this data and grouping together customers with similar qualities. However, if you're basing this on outdated, duplicate or erroneous data, you'll be left with inaccurate segmentation.
There's nothing more embarrassing than sending two different promotions to the same person at the same time — which is why you'll need to make sure that your data is clean, streamlined and accurate.
A report by Google found that 61% of marketers struggled to access or integrate the data they needed last year:

Here's how you can avoid being one of those marketers, and find the data you actually need:
Make a simple list of all the data sources that feed into your marketing database.
For each source, determine how frequently they're updated, and which data fields are supplied from each data source.
Decide which data sources are no longer needed or need to be updated.
Once you've done this, you should be left with a list of the data fields that you need to segment your customers. Use your list to look for places to collect them — via web forms, blogs, emails, surveys, social media pages or other avenues.
Next, identify any duplicate fields and determine which data sources are accurate. Are any of these sources passing to unnecessary data fields, such as middle initials or phone number, that you won't need for segmentation? If so, they're simply cluttering your data and should be removed.
Once you do this, your processes will be streamlined and you'll minimize the risk of using incorrect or outdated fields for segmentation.
5) You're Ignoring Channels while Developing Segments
Newsflash: You may be using multiple communication channels (emails, social media, blog) to reach your customers, but not all your customers want to hear from you on all your channels.
If you run a travel agency, you might find that your customers don't open your emails; they open emails only from their travel agent with whom they've booked. In this case, it's pointless to send a mass email asking them to book online when you know they prefer to chat with their travel agent, right? You can use that preference to your advantage and have their travel agent email them your promotions directly, rather than mass mailing them from your general "[email protected]" email address.
Similarly, instead of targeting all your segments via all social media channels, the key is to use the right channel for each segment that will connect with them based on their attributes and past activity.
One way to do that is to analyze the age distribution of users on the top social platforms. If your target segment is aged 18-24 years, then you're likely to get a good response if you reach them on Snapchat. On the other hand, if you're targeting folks who are over 65 years of age, then you should explore Facebook where 62% of seniors are active: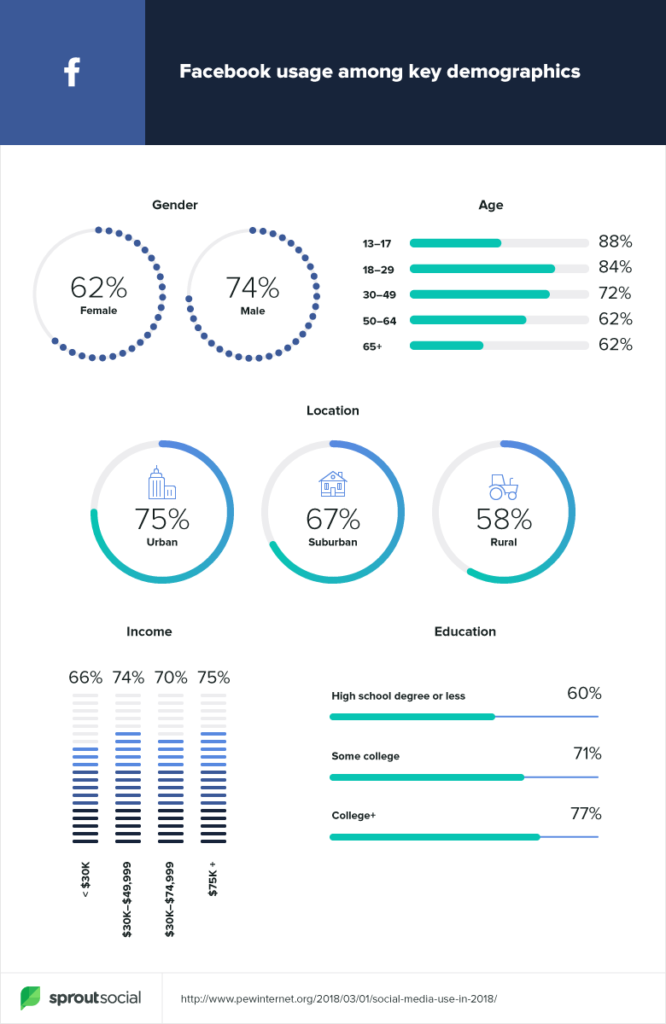 It's also important to factor in the nature of your product while segmenting your market.
Over 90% of B2B companies prefer LinkedIn for their product marketing, so if you're selling enterprise software targeted at senior management, it won't do any favors for your ROI if you spend day and night promoting products on Facebook.
Learn More:
6) You're Not Considering Time of Engagement
In addition to communication channels, you should also segment your market based on engagement time. Why? The answer is simple: Each segment responds differently when contacted at different days of the week or times of the day.
You may find that working professionals are more likely to respond to your emails during weeknights, for example, while stay-at-home parents respond during weekday afternoons. Sending emails outside of those time frames might lead to your content falling on deaf ears.
This data from CoSchedule shows that Tuesday is the best day to send an email: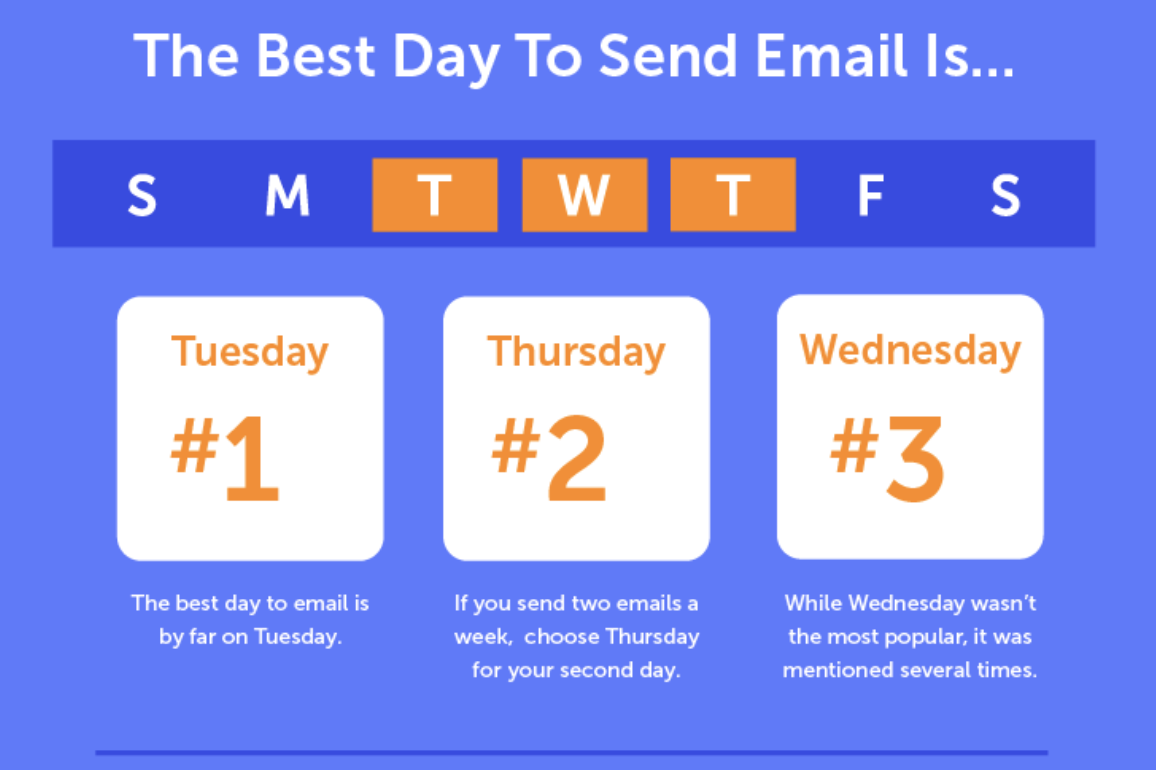 But take a look at your own email marketing data before copying. The best time to send an email, of course, varies from company to company and segment to segment.
The same applies to social media. It's essential to post your updates at the right time – aka, when your audience is online. There's not much point scheduling content for 1pm if that's 11pm in your segment's timezone.
You may be using criteria like frequency of purchases, last purchase date or renewal data to optimize your marketing strategy, but this additional information will help you reach your target audience at the right time — making it more likely you'll close the sale.
Learn More:
7) You're Not Tracking Segment Performance over Time
If someone were to ask what the "secret sauce" for successful marketing campaigns is, my answer would be simple: tweaking what you've already got.
A/B testing, or simply analyzing what's working (and replicating that in the future) is my best tip. But typically, businesses forget to compare one segment's performance with the other when evaluating their marketing strategy.
Tracking segment performance over time will allow you to measure the improvement in your marketing strategy for that particular group of people.
If your performance is:
Going up, you can find out what's working and duplicate it across other segments
Going down, you can figure out the problem and quickly fix it for future campaigns
Say goodbye to splashing thousands of dollars on a campaign that doesn't work and hello to "hacking" your way towards accurate, reliable segments and, therefore, powerful marketing campaigns.
Final Thoughts on Market Segmentation
Are you ready to refresh your segments and make sure they're working for you, rather than against? Not only will it make your efforts worthwhile, but avoiding these segmentation mistakes is bound to boost your marketing ROI.
If you lack the analytical capabilities or marketing expertise in-house, think about bringing in a consulting firm or outside help to segment your customers. Once you have proper segmentation acting as a starting point for your campaigns, it's only a matter of refining it periodically as your market grows or shifts.