We often think of conversion rate optimization (CRO) and search engine optimization (SEO) as distinctly different disciplines, or even being in opposition to one another.
Where an SEO specialist might want long-form content and images with smaller file sizes, their CRO counterparts would be pushing for short, snappy text and large, beautiful pictures. The role is different: those in SEO are focused on how to get visitors to your site, while those in CRO are focused on getting visitors to buy.
Except of course that these two can't work in isolation – they need each other in order for a website to be successful. This is why there has been a growing trend for specialists in the two fields to work together and synchronize their strategies. This can actually be a lot easier than you might think.
And thanks to a new admission from Google, SEO and CRO have never been more closely linked.
User Behavior Now Influences Rankings
Google recently published an article revealing some rather interesting information about the ways that search is changing and becoming smarter:

The article covered machine learning and "smart search," but perhaps most interesting was the fact that for the first time, the search engine acknowledged that user behavior was taken into account when ranking pages.
User behavior was always conspicuous in its absence from Google's algorithm. The search engine has always stressed that its goal is to provide the best possible results for users, and yet it appeared to be attempting to do this without using its own data on how users behave.
It now seems that RankBrain – Google's AI – is testing search results by presenting different sites higher up the rankings to see how users interact with those sites.
As Justin Aldridge, Technical Director at Artemis Marketing, says:
"It makes complete sense. Say the actual result for a search serves up a website in position four, it may actually be the most relevant result for the query, but the website isn't necessarily the strongest, meaning that it doesn't rank higher."
This shows that Google is beginning to understand the difference between a powerful website and one that contains fantastic information. Aldridge clarifies:
"RankBrain can test and see the effects of serving up that website in a higher position. It can then see if users find it more useful than the results the main algorithm would normally serve up before it."
Ultimately, what this means is that the websites that provide the best experiences for people are going to be the ones that rank the highest.
Dive Deeper: 
Here's How Rankings and Conversions Complement Each Other
Be Mobile-Friendly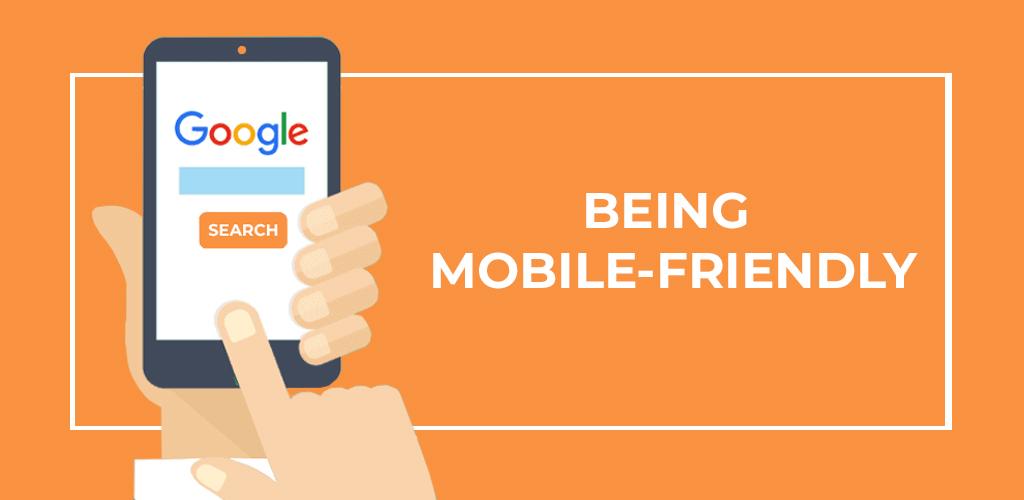 Google began officially rolling out its mobile-first index back in the early part of 2018, and since then it has become a major factor in determining how your site ranks.
There are many elements to mobile rankings on Google that webmasters need to think about – and improving mobile experience can be easier than you think. Firstly, fast page loading becomes absolutely essential. But additional SEO factors, such as how many pages visitors read and how long they stay, also play a role.
And the crucial thing to note here is that when you optimize the mobile version of your site, you will see a benefit both in terms of your SEO and your CRO. It has long been considered the case that customers are happy to browse, read and research on mobile sites, but converting is far less likely. However, this is no longer necessarily the case.
Mobile transactions accounted for around 52% of e-commerce in 2016, but by 2021 it is estimated to have a share as high as 73% of the market: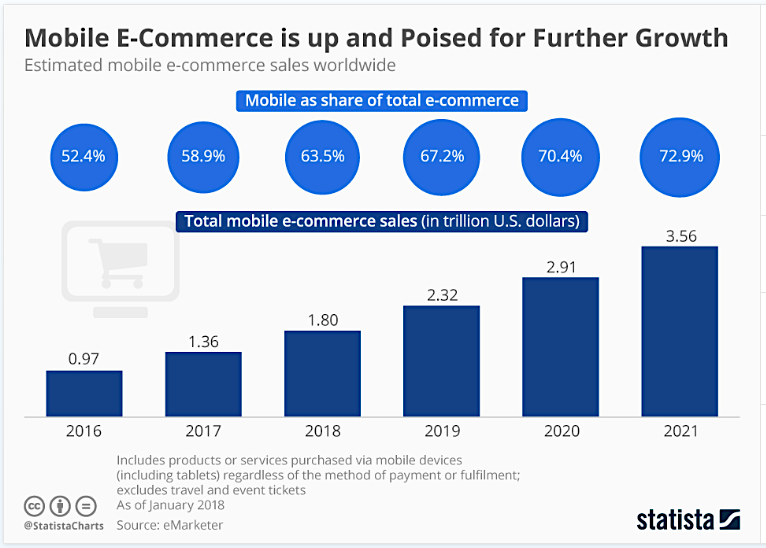 So, while it has always been understood that mobile optimization is important in terms of actual numbers of organic visitors, it is becoming increasingly important in terms of sales.
Dive Deeper: 
Speed Up Page Load Time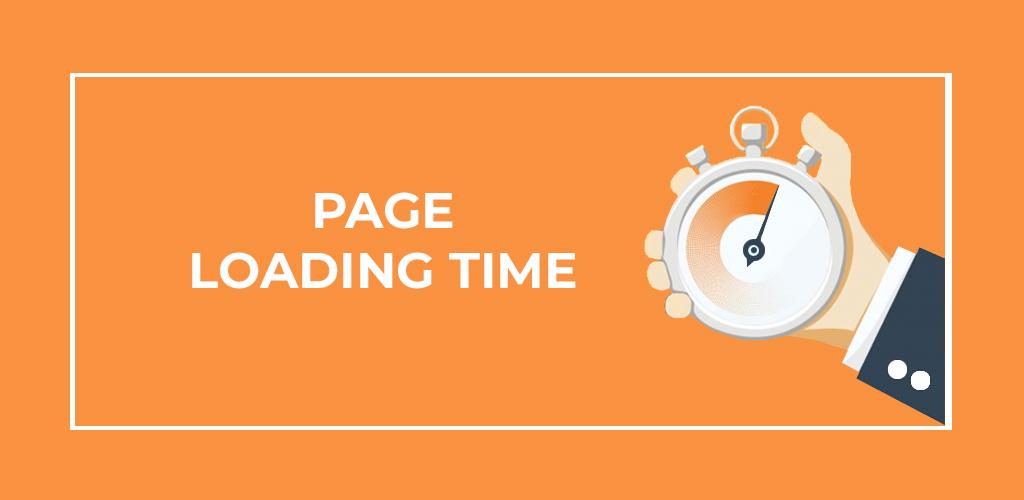 Page loading time is an interesting issue. While slow page load times are a ranking factor for Google in terms of getting your SEO right, it's actually a bigger problem for CRO. When a user clicks on your page from the search results, your page will begin loading. But if it loads too slowly and the user clicks away, this counts as a bounce from your site – of course, a huge negative from a CRO perspective.
But something that is absolutely crucial in terms of the Google saying that user behavior affects rankings is that now this bounce is no longer simply a problem for CRO – it has a massive effect on your SEO, too. If RankBrain sees users immediately bouncing from your site before it has even loaded, this shows that there is a real problem with it.
So what should you expect for a page loading speed that is appropriate for SEO and CRO benefits? Well, two seconds or less is considered to be the right amount of time for a page to load. At a speed of two seconds, websites can expect an average bounce rate of about 9.6%, at four seconds, this figure almost doubles to 17.1%, and if your page takes seven seconds, this figure jumps to 32.3%: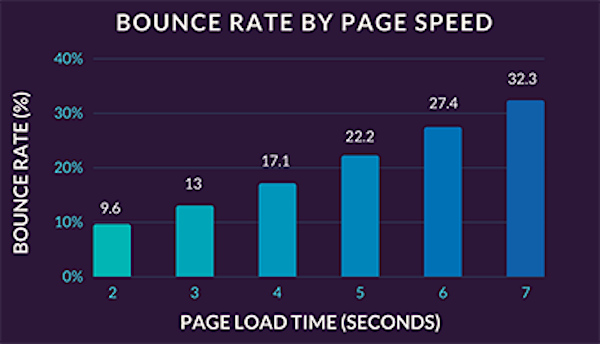 Additionally, page loading speed affects how many additional pages a visitor will read. The average number of pages viewed is 8.9 when the pages take two seconds to load. If they take seven seconds, it's just 3.7.
Dive Deeper: The 7 Most Important Ranking Factors in 2019
Improve User Experience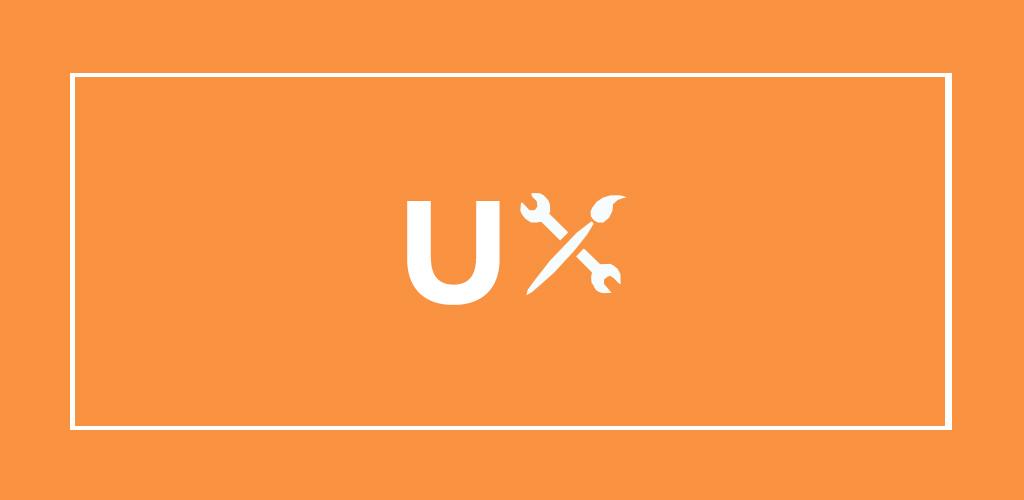 User experience (UX) has become a major factor across both SEO and CRO, as webmasters are interested in finding the best ways to draw customers in and ensure that they are getting what they are looking for from their site.
Google has actually created guidelines that can help businesses improve their UX. And while the search engine stressed that UX is not considered to be a ranking factor, the fact that user behavior is shows that once again, SEOers must take a keen interest in this subject in order to get as much as possible from it.
There are many ways to improve a site's UX, and often they are very simple strategies that almost anyone can implement. Here are some great ideas:
Allow guest checkout – Google recommends that you should not insist that users create an account with your site in order to make a purchase. Nearly a third of people who abandon their shopping cart on a site do so because the site asked them to create an account. Urban Outfitters is one of a growing number of retailers that allow their customers to check out as guests.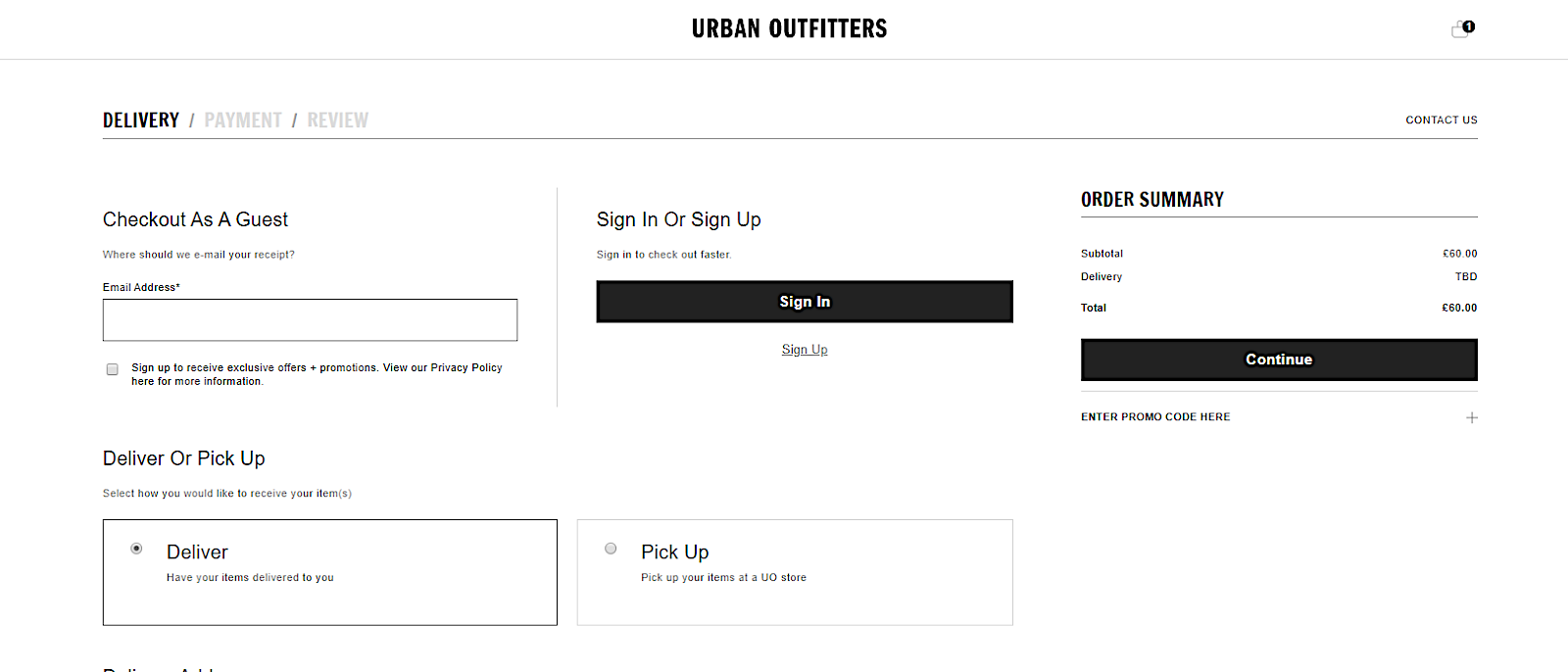 Include site search – Site search is an extremely valuable part of UX, and getting it wrong has negative consequences for CRO and SEO. One of the real keys here is that your site search must always return a result; even if there is nothing available under the standard parameters of the search, it's a better idea to show popular products instead. Additionally, make sure that your search function has an automatic spell-correct and offers suggestions when users start typing.
Improve your CTAs – Your calls-to-action (CTAs) are considered by Google to be an extremely important element of your UX, and there are some crucial ways to get them right. For example, you should ensure that your main CTA is above the fold on your page and that it is a clear and descriptive CTA (i.e. it explains exactly what will happen when you click on the button). This helps the customer understand why they need to click and primes them for what they are going to do on the next page. Eventbrite is a great example here – instead of a generic '"learn more" or "book now," the site reinforces its goal with a simple "Create an event" CTA.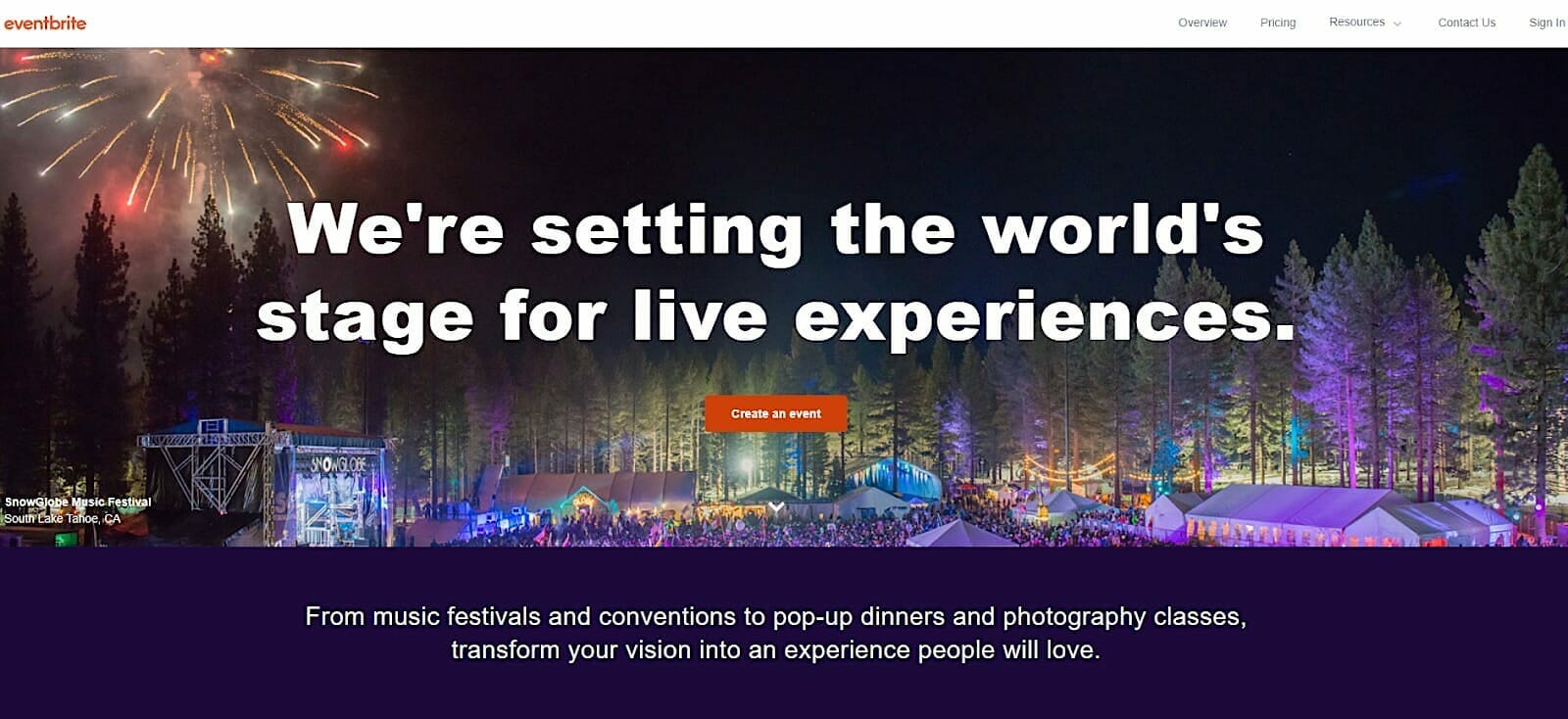 Simplify your forms – It is important to get your forms right, and in this case the answer is simple (literally). Google advises that forms should be as easy as possible for users to fill out and recommends a range of ways that you can achieve this. Firstly, if it is at all possible, you should allow autofill so that the form can be automatically filled out with the user's cached data. Just as important is reducing the number of fields to those that you genuinely need, and nothing else. Finally, it suggested that if you have a dropdown field with more than four options, you scrap it altogether and choose either manual entry, sliders or clickable buttons.
Dive Deeper:
A/B Test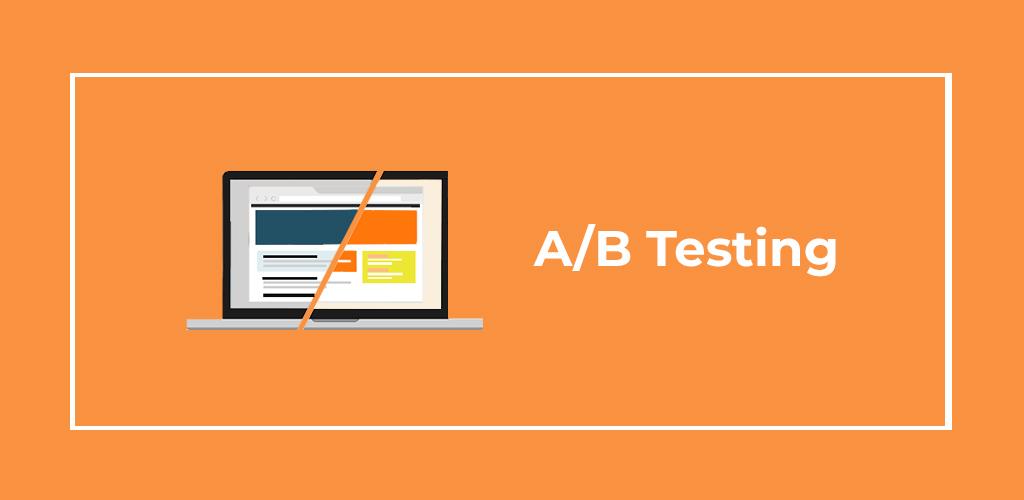 A/B testing has long been considered an essential feature of CRO. It's natural to want to try many different variations on the layout, form and content on your page to make sure that customers get to see the version that is most effective at making them convert. And once again, while this has been a little overlooked in SEO, it is now at the forefront.
To perform the best possible A/B tests, you need to first understand some details about the customers who are actually visiting your website. You need to understand who they are in terms of their demographic and background (i.e. buyer persona). You need to understand what they want from your site, in terms of the intent behind their visit. And you need to understand what they buy and how they behave.
When you understand these details, you are in a much better position to create content that is right for your site, and then run iterations through A/B testing to find which version is most effective.
Dive Deeper:
What About When SEO and CRO Are in Conflict?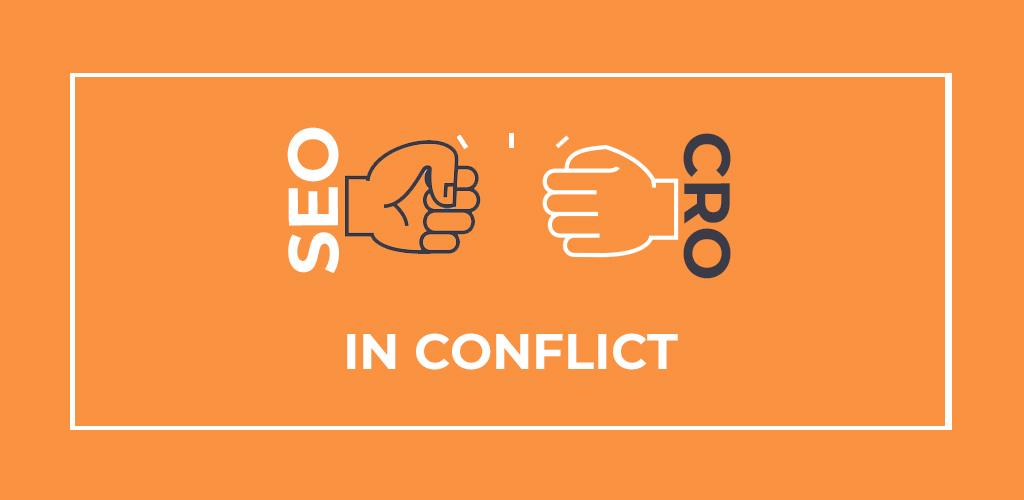 It cannot be denied that there are occasions when SEO and CRO would appear to be in opposition – or even that A/B tests would confirm that they are in opposition. What do you do, for example, when a change you make on your site sees conversions increase by 10%, but also sees you fall a couple of positions in the rankings?
This can naturally be a very difficult question to answer, depending on the situation. However, there are some universal truths here that need to be appreciated. Firstly, it's important to remember that page rankings naturally fluctuate, and that it is more important to follow overall trends rather than an individual movement in SEO.
Additionally, with Google now admitting that user behavior is a ranking factor, having a better site and a stronger conversion rate could actually be considered a big positive from an SEO perspective. So even if you see a short-term drop off in rankings, you can expect this to be rectified by RankBrain.
Ultimately, then, while it may seem that SEO and CRO are in conflict, it is generally the case that they will be working towards the same goal. And, likewise, if you are attempting to optimize your page either for conversions or for search engine rankings, you can (and should) do it with the other goal in mind.
Is It Best to Focus on SEO or CRO?
This is a natural question for webmasters and marketers, and the truth of the matter is that there is now a definitive advantage in combining the two policies, as one can only be effective with the other. When you come to consider the CRO work you are doing, it has to be in reference to your SEO efforts.
User behavior impacts SEO. And user behavior is affected by CRO. But user behavior can only be recognized as a requisite level of good SEO. It's an ongoing circle.
Final Thoughts…
It is essential that businesses look at SEO and CRO as a joint discipline with the same goals. Customers cannot convert if they aren't on your site in the first place and, conversely, there is little point in getting visitors to your site in large numbers if they are not then going to buy products or services from you.
Ultimately, it comes down to following the standard advice of Google: create fantastic content that users will love. The search engine is constantly becoming more effective at understanding the difference between websites that are "optimized" and websites that are actually useful to visitors. Given that it is Google's goal to provide searchers with the best possible results, it's much better to create the latter, rather than the former.
Dive Deeper: