International SEO: How to Optimize Your Website to Capture a Global Audience
Unless your products or services are specifically local, your business needs to target new markets: visitors from different countries.
Imagine that you are a grocery e-commerce store owner and you want to increase your market share in major countries, including the United States, Russia, India, China, Canada, Brazil, Australia, etc.
You will need a website to display your products to people from culturally diverse backgrounds who speak different languages and are looking for the products that you sell.
There are two major challenges you will have to face:
Acquiring traffic from different countries
Providing content to native speakers of these different regions
International SEO helps you overcome both these challenges. It helps your business grow globally and lets you target audiences from different countries in their native language. Global SEO strategies aim to provide an excellent user experience to all people visiting your site.
In this article, I will discuss the importance of international SEO efforts and the specific steps you need to take to optimize your site for a global audience.
Let's begin with the basics first.
What Is International SEO? What Is Global SEO?
Multilingual SEO and global SEO are simply other names for international SEO.
International SEO consists of optimization strategies that allow you to rank in regional search engines and acquire organic traffic to your business website from different countries in their native language.
Some of the global search engine optimization strategies used to improve the presence of a website internationally are:
International keyword research
Competitor analysis
Multilingual content marketing
User experience optimization
Multilingual content optimization
Global link building
Site speed optimization
Hreflang tag implementation
Site architecture optimization
Technical SEO implementation
Examples of Businesses That Have Grown Internationally via SEO
The best example of a business that has grown tremendously with the help of international SEO is Amazon.
Amazon currently operates in four different regions:
America – includes Brazil, Canada, Mexico and the United States.
Asia – includes China, India, Japan, Singapore, United Arab Emirates and Saudi Arabia.
Europe – includes France, Germany, Italy, Netherlands, Poland, Spain, Sweden, Turkey and the United Kingdom.
Oceania – includes Australia.
Amazon has country-specific domains for all its international locations. For instance:
Amazon.com for the United States
Amazon.sa for Saudi Arabia
Amazon.co.jp for Japan
Amazon.ca for Canada
Amazon.in for India
Amazon.cn for China
Amazon.de for Germany
The top three markets for Amazon in 2020 were:
the United States with 263.5 billion in net sales
Germany with 29.6 billion in net sales
the UK with 26.5 billion in net sales
Besides Amazon, businesses such as Apple, Google, Coca Cola, Toyota, Dunkin Donuts, McDonald's, Nike and Uber have a solid international SEO strategy to reach global buyers.
Toyota has taken its marketing strategy a step further and has a 'Toyota Bharat' website to target Indian audiences instead of opting for the usual .in domain suffix. 'Bharat' is Hindi for 'India' and originates from the Sanskrit word 'Bharata'.
This is important, because when businesses take into consideration the native culture and traditions of other regions, it becomes easier to connect with the people of that country.
The Benefits of International SEO
Here are some of the reasons why international SEO is essential for the growth of your business.
1) Reach Audiences Globally
International SEO enables your business to gain audiences globally by expanding the reach of your business to many countries at once.
If you have a business ready to be recognized as a global brand, you should include international SEO in your marketing strategy.
2) Acquire Massive Organic Traffic
Most websites often target audiences only in their native country, leading to maximum traffic acquisition from just one nation. Depending on the scope of your business, you can target as many countries as possible to acquire massive organic traffic to your brand.
The U.S. market is highly competitive, but acquiring traffic from other countries is relatively easy. Therefore, a carefully planned global SEO strategy is one of the best ways to improve the amount of organic traffic your website can get.
3) Increase Conversions
With increased traffic comes increased conversions. When your website starts ranking globally for your target keywords with high-purchase intent, you can increase the number of conversions on your site.
Every business is looking to improve its bottom line. If there are opportunities available in international markets to generate more leads and revenue for your business, you should not lag behind.
Opting for international SEO enables your business to grow conversions from low-hanging fruit keywords in other countries where competition is lower while the chances of conversions are higher.
4) Become an International Brand
Becoming a reputable international brand is challenging. But with powerful international SEO strategies, your brand can evolve to rule in the global market (move over, Amazon!).
An international brand sells in more than one country, so it must cater to different cultures. International SEO works to improve your website usability, uses native language targeting for content marketing, and implements CRO (Conversion Rate Optimization) strategies to acquire, nurture and convert the right customers.
And, when coupled with reputation management, SEO also helps manage your business's reputation internationally.
Related Content: How to Use Multicultural Marketing in Your Digital Advertising
How to Optimize Your Site for International Audiences
International SEO can be confusing if proper steps are not taken to optimize the site for every target location. But don't worry, we've made it easy for you! Just follow this step-by-step approach to keep the base of your global SEO strategy strong.
If your SEO process is done right, you will get the best results in the shortest possible time. However, if you plan your strategy incorrectly, it will be challenging for you to defeat your competitors.
Keep in mind that international SEO campaigns require more investment than local SEO campaigns or country-specific campaigns. Hence, if your start is wrong, you will lose both time and money doing things that bring little to no value.
Here are the steps that you need to follow for a successful international SEO campaign that brings results:
Step 1: List Your Target Countries
The first step is listing all the target countries where you want your products or services to show up in the organic SERPs.
I will continue with the example of the grocery e-commerce brand that is looking to establish its presence in several top countries of the world.
Here is an example table with a list of countries to target:

Keep in mind that many countries are missing from this table because I am just trying to show you how to do the research. Your list of target countries can be longer or shorter, depending on your business goals and budget.
Just ensure that your research is accurate and you do not leave out any target countries in this step.
Dive Deeper: Geotargeting: How to Find the Right Customers for Your Brand
Step 2: Determine Which Search Engines to Target
Although Google dominates the search engine market share in most countries, there are several places where search engines other than Google are more popular (gasp!). And not just Bing, either.
Now, based on my target countries list, I will add another column to the table and list the popular search engine(s) to target in that country: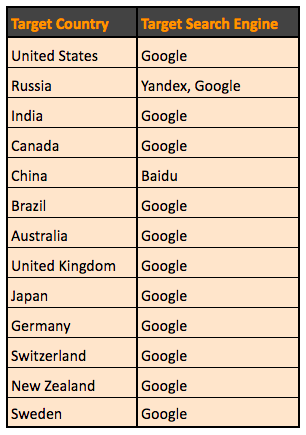 As you can see from the above table, I will have to target different search engines other than Google for Russia and China. Baidu is the most popular search engine in China, while Yandex holds the maximum search market share in Russia. For all the other countries, my SEO strategy will be for Google.
Step 3: List the Native Language and Country-Specific Domains of the Target Search Engines
The next step is adding the native language of your target country to the table. The next step is adding the local language of your target country to the table — for example, Spanish for Spain or Hindi for India. Next to it, you should also add the country-specific domain of the target search engines.
Here is my updated table: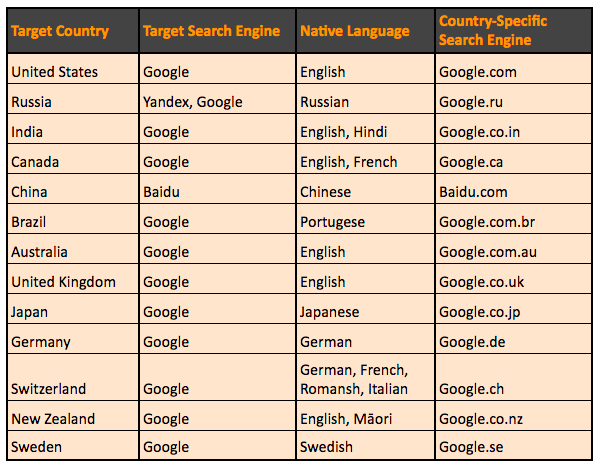 Now we have a nice list of our target countries, native languages, and target search engines.
Step 4: List Your Top Three Competitors
Before you can effectively plan your SEO strategy, you need find the websites that are currently ranking higher in your target countries.
Pick a primary keyword for which you wish to rank and conduct a search on all your target search engines to determine your top three competitors.
In my case, I will pick the primary keyword "buy groceries online" and discover my top three competitors on all the country-specific search engines.
Remember to conduct your competitor research in all the country-specific search engines and not just Google.com because different websites rank higher depending on your target location and language. Also, make sure to search in the native language of the target country because that's what most people would do.
After doing my research, I now have lots of data in my table: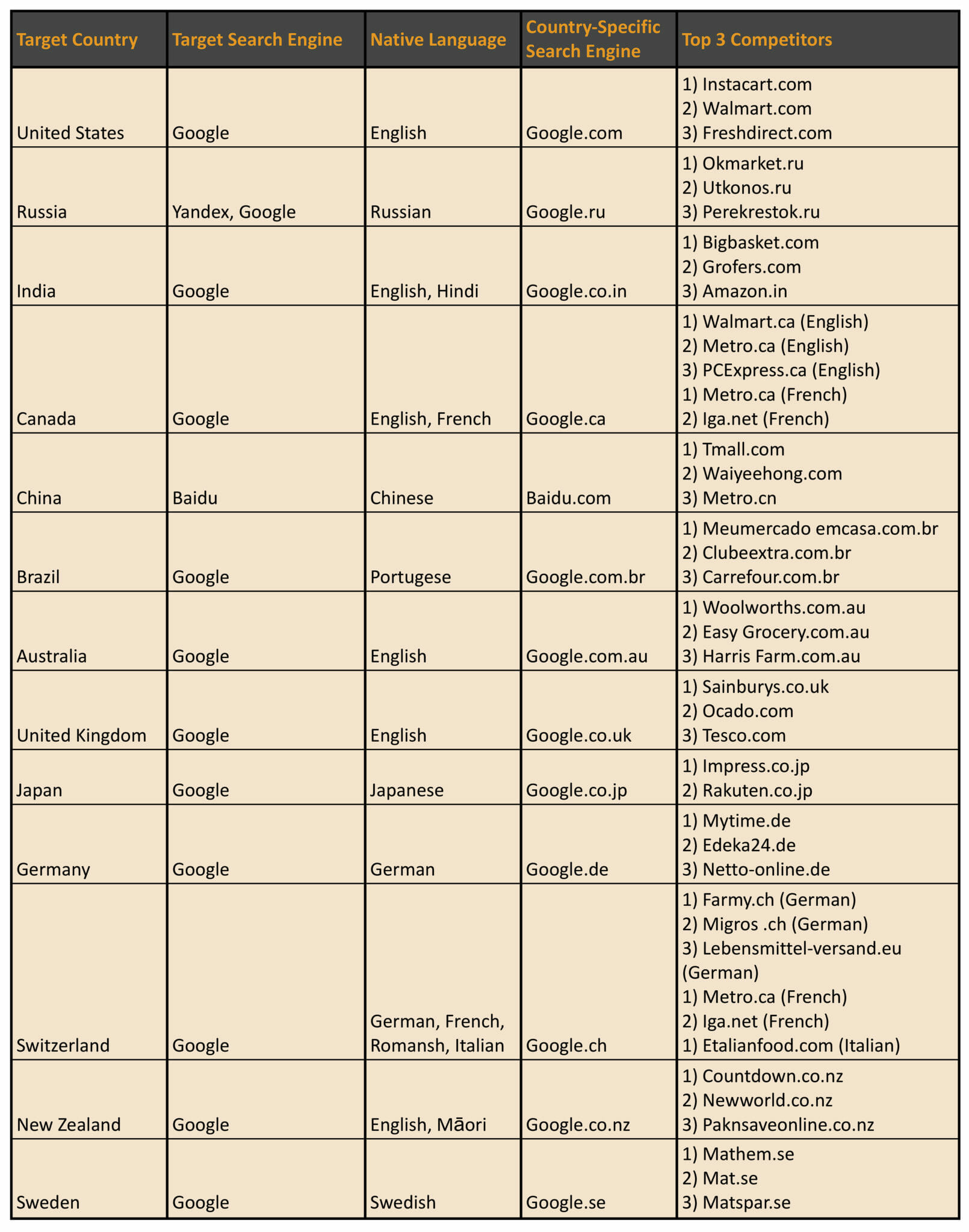 Now, it's time to use some tools to pull all the information about our selected competitors to help us defeat them in the organic rankings.
Dive Deeper: How to Perform Marketing Competitor Analysis (+ 6 Best Tools Comparison)
Step 5: Perform Competitor Analysis
Competitor analysis is a crucial part of every SEO strategy, whether international or local.
In this step, you will have to use some of the top competitor analysis tools for your research.
I am using SEMrush because it offers lots of valuable data like the keywords for which the competitors rank, the authority score of the domain, the number of branded vs non-branded keywords for which the domain ranks, the number of backlinks the domain has, etc.
To perform effective international SEO competitor analysis, enter your competitor domain in the Domain Overview section:
You will see lots of data. Now it's time to save the important ones necessary for your SEO strategy.
Here are some data pieces that are significant:
Note the authority score of the domain. The higher the authority score, the harder it will be to defeat the competitor. You will have to increase your domain authority score to beat your competitor's authority score to secure the first-page organic rankings in your target country.
Prepare a list of all non-branded organic keywords for which the domain ranks in the target country. You can easily filter the search location. These keywords require further analysis, and relevant keywords should be included in your SEO strategy.
Check the number of dofollow active links pointing to the domain. You have to acquire more links than your competitors. The higher the number of links a site has, the more difficult it will be to beat it in the top organic rankings.
If you already have an active domain in your target country, such as the United States, then you can use the Keyword Gap feature of SEMrush to enter your domain and compare it with all three of your competitors' domains: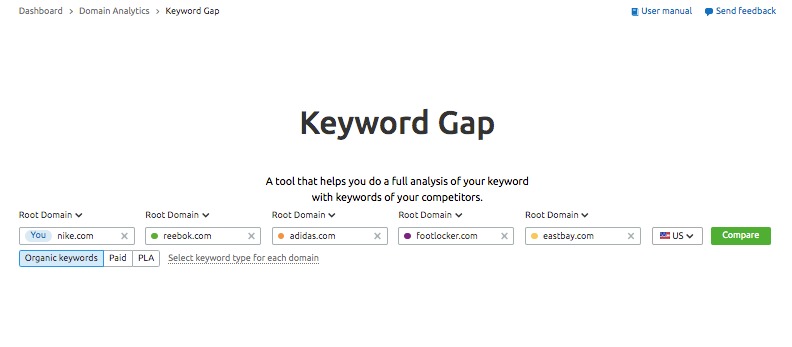 You will see the keywords for which your competitors rank, but your domain doesn't. You should include all the missing keywords in your SEO strategy after careful review and analysis
Similarly, you can perform a backlink gap analysis to determine the domains pointing to your competitor's sites but not your site:
Both keyword gap analysis and backlink gap analysis should be done only if your domain has an active presence in any of your targeted countries.
Dive Deeper: How to Conduct Smart Competitor Research for Better Customer Acquisition
Step 6: Conduct International Keyword Research
For international SEO, selecting the right keywords for the non-English searcher is key. It is easy to conduct SEO keyword research in the English language. However, when you do global SEO, you have to find keywords in the searcher's native language, depending on your targeting countries.
Therefore, keyword research for international SEO is both exciting and crucial.
Reverse engineering your current organic competitors in your target countries is the best way to find relevant keywords. You can use a keyword finder tool such as SEMrush to do international keyword research.
For example, if I want to discover all the keywords targeted by Amazon for acquiring customers from Germany, I will enter the country-specific domain Amazon.de in the SEMrush search box.
As you can see from the below screenshot, SEMrush suggests over 13.5 million keywords where Amazon is ranking with its Amazon.de domain on Google Germany: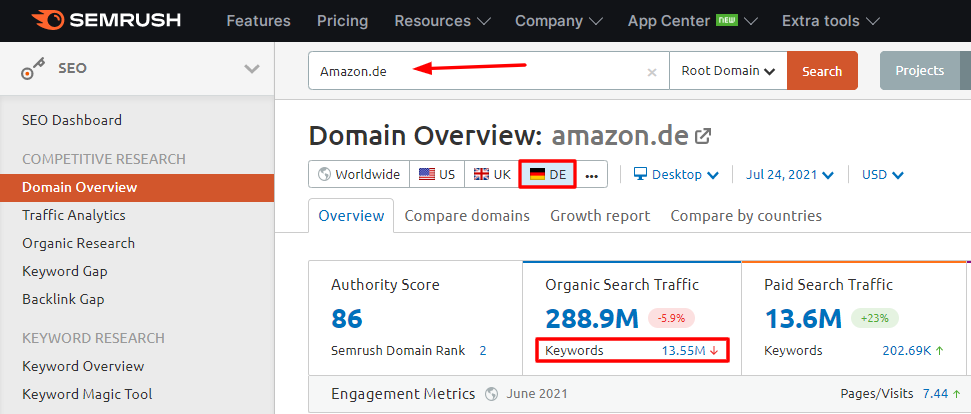 Dive Deeper: SEO Keyword Research Made Easy in 2023
Step 7: Decide on Your Site/URL Structure
Once you have an idea of your competitors and the domain or site structure they are using, it will be easier for you to decide on your site structure.
For instance, I have already figured out that most of my competitors use country-specific domains to target different countries. So I will follow the same structure and use relevant country-specific domains for my international SEO campaign.
Here is what I will use: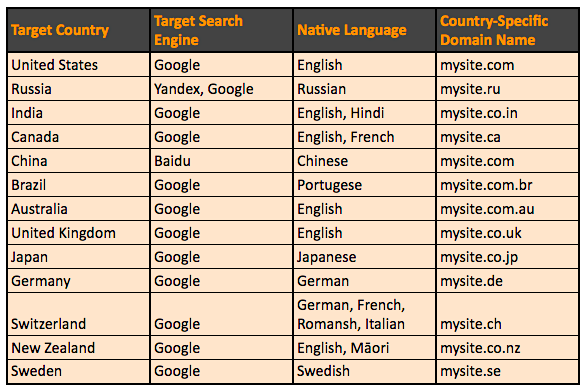 By the end of step seven, you should have your list of targeted domains for every country and a list of target keywords for every location.
When to Use Country-Specific Domains
Country-specific domains should be used when planning to serve entirely different content to users based on their target country.
In my case, I am running an online grocery store. Hence, my content and products will be different for different countries. Moreover, the prices, the currency and the shipping terms will all be different based on the target country location.
Therefore, it makes sense for me to use country-specific domains for every country.
When to Use the Hreflang Tag
Sometimes, situations can be tricky. Imagine you want to create a single domain to target three or four countries and translate just the template.
For example, you have a business consultation service and the main website template is the same with just language variations in content. In such a case, you should keep your main domain the same and translate your content to other languages.
You should go with a region-specific sub-domain to serve users from different countries. For example:
German language homepage: https://de.mysite.com/  
Chinese language homepage: https://cn.mysite.com/  
Japanese language homepage: https://jp.mysite.com/  
Russian language homepage: https://ru.mysite.com/  
Similarly, you can create different URLs with pretty much the same content but with regional variations.  If this is the case, you should use the Hreflang tag.
An Hreflang tag is an HTML attribute that tells Google you have different language-specific versions on your site to allow the search engines to serve the relevant regional-specific URL to the visitor.
Hreflang tags are also helpful in avoiding the duplicate content issue because you explicitly indicate that there are alternative pages on your domain.
Remember: If you do not translate the page content and still have separate URLs in your website targeting different countries, Google will count the pages as duplicates.
Hreflang Syntax
Here is the syntax of the Hreflang tag:
<link rel="alternate" href="url_of_page" hreflang="lang_code"/>
You should use this tag on the header of every alternate page translated in another language.
For instance, if you have four specific language variations of your English page, then here are the different hreflang tags examples that you should add in the header of every alternate page:
German: <link rel="alternate" href="https://de.mysite.com/" hreflang="de-de" />
Chinese: <link rel="alternate" href="https://cn.mysite.com/" hreflang="zh-cn" />
Japanese: <link rel="alternate" href="https://jp.mysite.com/" hreflang="ja-jp" />
Russian: <link rel="alternate" href="https://ru.mysite.com/" hreflang="ru-ru" />
How to Find the Country Codes of Hreflang Tags
You can use the Hreflang tag generator tool from Aleyda Solis. Enter your alternate page URL, choose your target language and country from the dropdown list, and the tool will automatically generate the Hreflang lang code to add in the header.
Here is an example: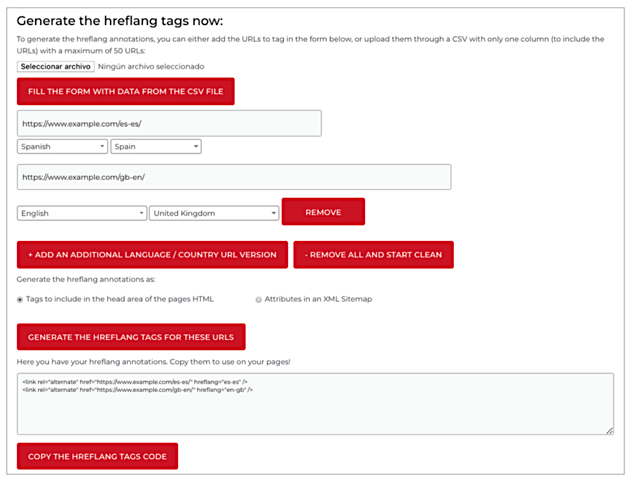 Related Content: Beginner's Guide to Properly Using Canonical Rel Tags to Improve Your Site's Rankings
Step 8: Perform On-Page Optimization
By the time you reach step eight, you will have your websites or country-specific URL structures ready. Now it's time to optimize them.
Here are some tips to optimize your global website(s):
Optimize Meta Tags
Add relevant meta tags to every page. If you are using the Yoast SEO plugin, then avoid displaying the site title on every page (by default, Yoast displays the site title on every page). Keep the title tags unique and user-friendly: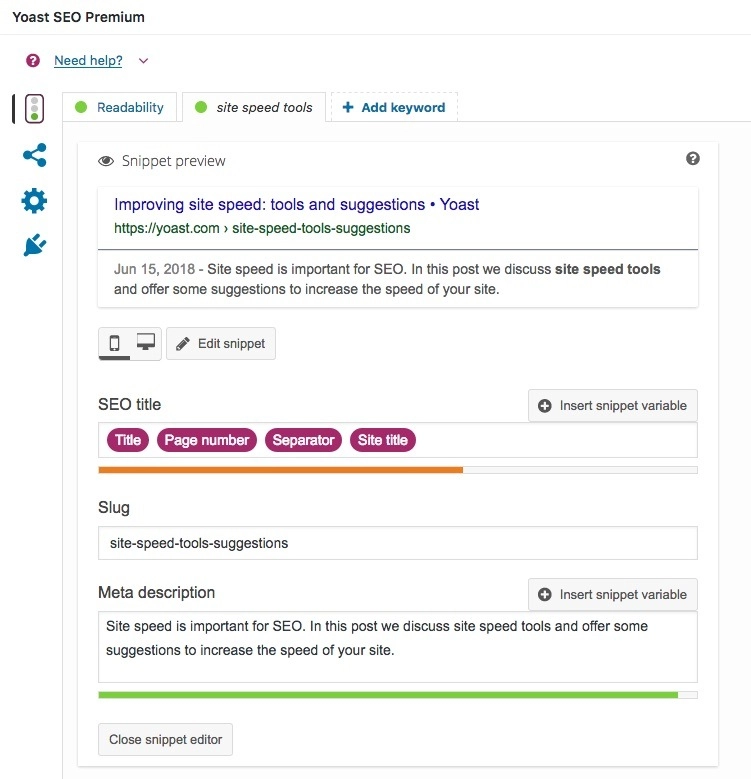 Include Keyword in URL Structure
Include your target keyword in the URL. Taking the example of the grocery shop, if I have to add different pages for every product, I should include the product name in the URL in the native language of the target country.
For instance, if the page is about "potato", then in the United States version, I will use the URL mysite.com/vegetables/potato, while in the Chinese version, I will use the URL mysite.com/蔬菜/土豆
Here is an example table to have a clear idea of the different URL structures that I have for the pages on my other domains targeting an everyday product such as the potato: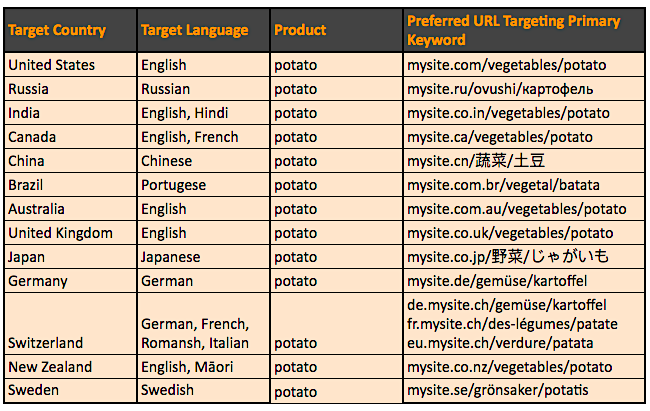 As you can see from the above table, the preferred URL structure targets the primary keyword in the native language of the users. When you create landing pages based on keywords, the base of your SEO strategy remains solid, and you can quickly start ranking on the search engines.
Add Content
Google understands the purpose of your page by analyzing the content you have on your website. Therefore, you should have lots of high-quality, engaging, accurate and fresh content on every target landing page.
As a rule of thumb, make sure you don't have content that contains fewer than 500 words. All your landing pages should have content in the range of 1,000-3,000 words. The higher the amount of content, the better the chances are of ranking at the top in the search engines.
Learn More:
* What Is Content Optimization? (And How to Ace It!)
* 30 Ways to Come Up with Great Ideas for Your Blog Posts
* 6 Tips for Scaling Up Content Production without Sacrificing Quality

Make Your Website Mobile-Friendly
60% of smartphone users directly contact a business from the search results. So optimizing your website for mobile users is crucial for international SEO success.
Ensure that you test your website for different mobile devices to allow users to place orders or contact requests easily.
Test each of your websites and URLs on the Google Mobile-Friendly Test tool. This will help you detect any issues users might face while visiting your site on their mobile devices.
Add Your Site on Search Console and Analytics
Make sure to add all your websites as separate properties on Google Search Console and Analytics.
If you are using a single domain to target different countries or regions, you should add a single property.
Google Search Console will automatically tell you if there is an issue with crawling, hreflang tag implementation, mobile user experience, page speed, core web vitals, and other problems that might affect your site's organic visibility, so make sure to check the messages you receive in your Search Console account and promptly fix them to boost the SEO of your website(s).
If you target users in countries where Google is not the preferred search engine, such as China, you should use the Webmasters tools and Analytics of the target search engine.
For instance, Baidu (China) offers its own Webmasters Tools and Analytics system. Similarly, Yandex (Russia) offers free Webmasters Tools and Analytics software to all webmasters.
Step 9: Plan Your Multilingual Content Marketing Strategy
Now you are all set to start your content marketing campaign. Content marketing is essential to reach potential buyers at every stage of the purchase funnel.
You should create content for the below four stages:
Awareness: Create content pieces that educate users about your product or service. For example, blog posts, videos and e-books are types of content you should create in the awareness stage.
Interest: Create content that makes your target audiences interested in your product or services. For example, webinars, white papers, emails, etc., are examples of content that fall under this stage.
Consideration (or Desire): People already know about your product or brand at this stage, and they start showing interest in making a purchase. Infographics, comparison blog posts, review blog posts, comparison videos, etc., do well at this stage.
Action: At this stage, people have made up their minds to buy your product or service. You should create content that has direct calls to action to enable buyers to make the purchase. Offers, giveaways, contests, emails, etc., are some types of content that work great at this stage.
Learn More:
* What's the Right Content for Each Stage of the Marketing Funnel?
*

How to Prepare Content for International Audiences
Preparing content for international audiences means you have to create content in different languages and test the efficiency of it by doing competitor analysis. Try to create regular blog posts and videos to acquire and nurture customers. Content is an essential part of your international SEO campaign.
You can create and analyze your content at the same time in order for it to rank high in any country targeting most of the world's popular languages: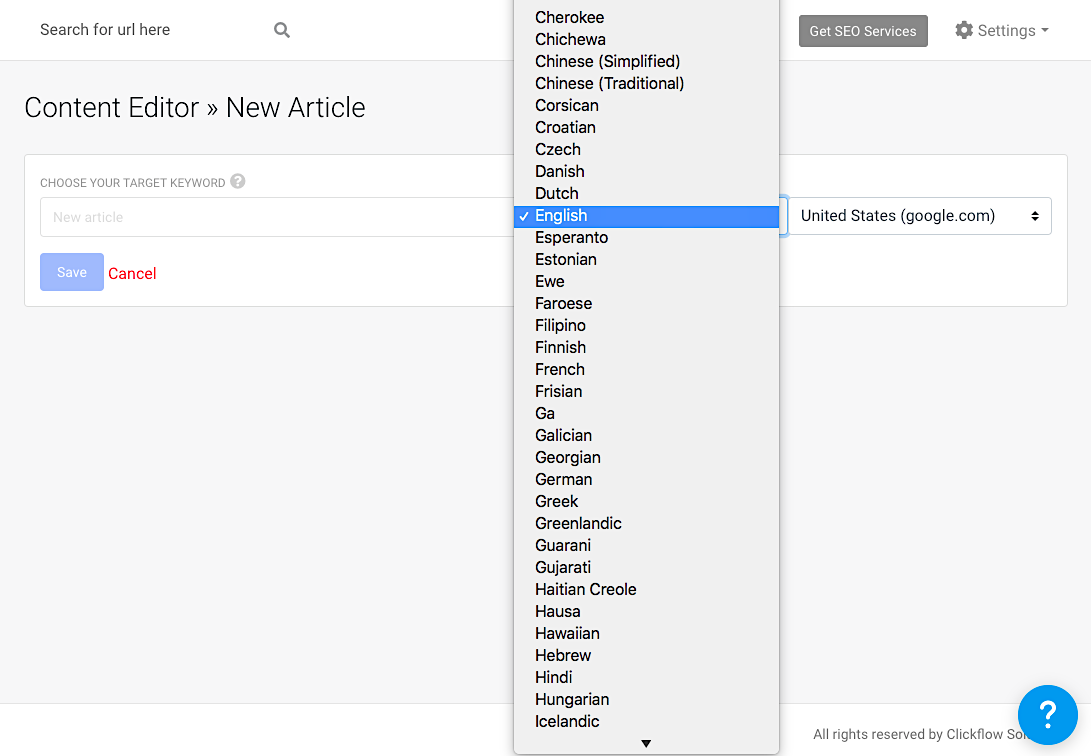 Step 10: Decide on Your Local SEO Strategy
You should not forget local SEO while doing international SEO.
Local SEO is the practice of optimizing your website for local audiences targeting a particular city. There are tons of queries that people use to find businesses in their city. If you can get your website ranked for such keywords, your international SEO campaign will be hugely successful.
You should create location-specific pages on your website to target audiences in every city of your target country.
For instance, if I am targeting the USA, then I should create different pages that target every city in the U.S., as shown in the below table: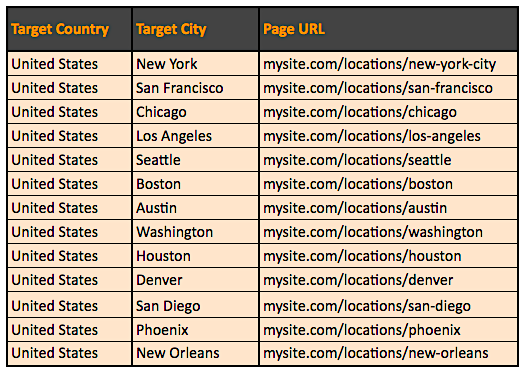 Creating city-specific pages helps me reach audiences who are searching with keywords such as "online grocery store in NYC," "buy vegetables online in Houston," "online grocery Los Angeles", etc.
Therefore, international SEO is not complete unless you target every relevant city in your target country.
Step 11: Plan Your Global Link Acquisition Strategy
Links are the second most crucial part of your SEO campaign after content, provided that you have created an SEO-friendly site structure.
When you are trying to establish a global brand presence, you should use PR and guest posting to help you improve the authority of your domain(s).
PR will enable you to acquire valuable media mentions and links. Guest posting will help you consistently gain links from regional and country- or city-specific websites.
Building links is an art, and only professional link-building companies can do this. You can get in touch with any link-building agency in your targeted countries and use them to grow the number of links pointing to your domain.
Remember, don't fall into the trap of buying cheap-quality links because this can harm your brand reputation.
Follow these tips for link building:
Create valuable content for your audience. High-quality content will help build links to your domain naturally.
Use PR agencies to share your business news with reputable media publications to expand your brand presence.
Run country-specific and language-specific guest posting campaigns to acquire relevant links.
Sponsor local events in your target countries. Often, local events are covered by regional news channels, and you have a good chance of securing a brand mention.
Get help from local influencers to improve your business presence. You can collaborate with bloggers and social media stars to positively cover your business products or services. Promotion will lead to publicity, and publicity will help you acquire valuable links.
Step 12: Work Towards Customer and User Experience Optimization
Exceptional customer experience results in customer loyalty. CX management enables businesses to meet customer expectations, and this also helps them beat their competitors.
It is necessary to understand how your customers interact with your business, what channels they use, and where they drop off from the buyer funnel. Evaluating these customer touchpoints and optimizing the micro-moments helps to improve customer experience.
Moreover, user experience should be a priority in your global SEO campaigns. Google and other search engines give preference to websites that offer an exceptional user experience.
The recent Page Experience update from Google is geared towards prioritizing websites with a friendly user experience in the search results. Here are some ways to boost the user experience of your website:
Improve site speed. Use the Page Speed Insights tool to analyze the score of your website and implement the suggested recommendations to boost your page speed.
Ensure that your site is mobile-friendly. Use Google Search Console to regularly review any mobile usability issues in your site and make efforts to fix them.
Fix all the core web vitals issues on your site. Core web vitals are a set of factors that Google considers to determine how user-friendly a website is. Sites with zero core web vitals errors are given preference in the search results. The Google Search Console offers suggestions to fix any core web vitals issues that might be present on your site.
Ensure that you have user-friendly navigation and a search bar to enable visitors to easily find products or services they are looking for.
Do not display annoying ads or pop-ups because too many ads degrade the user experience.
Take care of the feelings of your target audience and avoid displaying messages that might offend or hurt people.
Personalize the browsing experience of the users. People love websites that know what they need.
Add videos to your site because they help to increase the time on the page. Higher time-on-site sends signals to Google that people love spending time on the site.
Improving the UX of your website is not a one-day task. You should continue optimizing your website to serve the needs of your target audience in the best possible ways.
Step 13: Track Your International Rankings
Once you have implemented all your SEO strategies, you should start tracking the outcomes of your global SEO techniques.
You can use tools such as SEMrush or Ahrefs to track the rankings of your domains in different countries. I use SEMrush to track my rankings. Currently, SEMrush offers domain positioning tracking in Google and Baidu.
You can select the search engine of your choice in the position tracking tool and type in the location where the rankings need to be tracked. After that, you can add your target keywords. SEMrush will start monitoring the rankings automatically and start sending you reports regularly: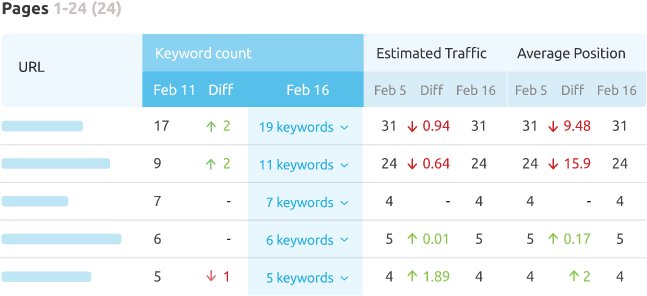 To check your rankings in search engines like Yandex, you can use tools such as the Georanker Yandex rank checker.
Step 14: Continue Optimizing Your Website
You should continue to optimize all your target domains because your competitors will also be working to beat your business.
Use Google Search Console's International Targeting Report to monitor Hreflang errors and set a site-wide country target for your entire site if you are using a single domain: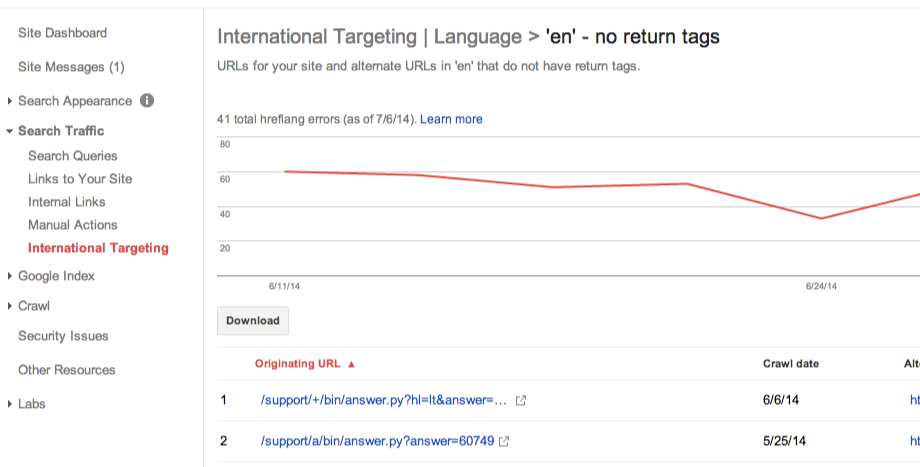 You should also regularly check all the properties in the Search Console (if you are using several country-specific domains) and fix any site issues that might be present.
Don't forget to check Baidu Webmasters Tools and Yandex Webmasters Tools to locate and fix any site issues to optimize your site presence on Baidu and Yandex.
International SEO is an ongoing strategy that requires constant monitoring and optimization.
Things to Avoid in Your International SEO Strategy
SEO best practices are key for success, so there are some things that you should avoid in your Global or Multilingual SEO strategy. Knowing these things will help you avoid making mistakes that could prevent your site from ranking higher or offering a better user experience.
Here are the things to avoid in your international SEO campaign:
1) Don't Automatically Redirect Users
You should never automatically redirect users based on their browsing country because you never know the users' preferred language. The best option is to let them select the preferred language of the website.
For instance, if an English speaker visits your website while on an official visit to France and you have set your site to redirect all visitors browsing your site within France to the French version of your site, other language speakers might get frustrated.
Hence, automatic redirection to different language versions of your site based on visitor location should never be done while doing international SEO.
It is important to note that automatic redirections to different language versions of the website are different than redirecting users to country-specific domains. For instance, visitors coming to your site from India can be redirected to the .in domain, while visitors from the USA can be redirected to the .com version. Remember that the language of both sites is in English. So, in this case, it makes sense to redirect users to the country-specific domains since the visitors use the same language.
Therefore, language-specific domain redirects are not recommended. Country-specific domain redirections can be done if the language of the main website and the redirected country-specific domain are the same.
2) Don't Do Machine Translations
It is not recommended to do machine translations to show content in a person's preferred language because auto-translations are not always accurate.
Inaccurate translations hamper the user's experience and might also cause duplicate content issues. It is always better to have a native-language writer prepare content in the targeted country's regional language.  
International SEO Checklist
Use the below checklist to make sure you have accurately implemented all the suggestions on your website discussed in this article:
✅  Choose your target countries
✅  Select your keywords
✅  Analyze your competitors
✅  Choose your ccTLDs or country-specific URL structure
✅  Add accurate Hreflang tags
✅  Perform on-page optimization
✅  Add your site in Google Search Console, Baidu Webmaster Tools, Yandex Webmaster Tools Google Analytics, Baidu Analytics, Yandex Metrica as required
✅  Apply international content marketing strategies
✅  Acquire high-quality links
✅  Perform local search engine optimization
✅  Increase site speed
✅  Make your site mobile-friendly
✅  Optimize your site for Page Experience
✅  Track your rankings
✅  Continue optimizing the content by updating it regularly with the latest and accurate information.
Final Thoughts on International SEO
International SEO is a must for global businesses that wish to target people in different countries and in different languages. Promoting your website internationally means more traffic, and a higher number of visitors results in more conversions.
Therefore, international SEO should be used as a strategy to acquire traffic and conversions from different countries. Use this international SEO guide to reach your target audiences in their preferred languages.
If you're looking for a full-service digital marketingagency that specializes in international SEO, Single Grain can help you! Click the orange button below 👇
---
International SEO FAQs
How does international SEO work?
International SEO works by helping search engines identify the domains or pages you have for targeting different countries and selecting the language-specific content for users visiting your sites or pages from other countries.
International SEO makes your business globally available via organic search in your target markets (countries or regions). You get maximum organic search traffic resulting in increased traffic and leads.
What are the three most important strategies for international SEO?
The three most important SEO strategies for international SEO are:
Selecting your preferred domain/URL structure
Optimizing your content for users in your targeted countries
Acquiring links to your domain(s)
What are ccTLDs?
Not to be confused with GTLD (generic top-level domains), ccTLD stands for country code top-level domain. Using ccTLD is the best way to tell search engines that your website and its contents target users in a specific country.
Some examples of ccTLDs are:
Example.co.uk
Example.in
Example.com.au
Example.fr
Example.cn
What is a multilingual website?
A multilingual website offers content in more than one language. The domain remains the same; only the content is translated into different languages.
What is a multi-regional website?
A multi-regional website targets users in more than one country. The domain remains the same; only the content is translated in different languages targeting different countries.
Can a website be both multilingual and multi-regional?
Yes, a website can be both multilingual and multi-regional.
How do you manage duplicate content issues with international SEO?
You should use the robots.txt file to block the automatically translated content because auto-translated content might be counted as duplicate content by search engines like Google.
How much does international SEO cost?
International SEO is priced higher than local SEO services because the work involved in global SEO is more complex. Different SEO consultancies charge differently depending on the scope of your project and their years of experience in the industry.