8 Enterprise PPC Automation Tools to Level Up Your Ads
PPC campaigns are highly successful, attracting and converting more leads than most other digital marketing tactics.
On average, businesses make $2 for every $1 spent on PPC advertising. And enterprises are at an advantage here – they generally have the budget to spend on a robust advertising strategy, often resulting in better PPC performance.
But adding automation to an existing strategy will help you amp up your ROAS even more. Keep reading to learn how enterprise PPC automation can convert more leads and see our tool recommendations.
What Is PPC Automation?
PPC automation refers to the use of digital marketing technology to run multiple advertising strategies and eliminate many manual advertising tasks. These strategies can include anything from keyword bidding to lead research, saving time and improving results.
The primary tools powering PPC automation are machine learning and artificial intelligence. Marketing teams use AI to calculate how and when users convert, their preferences, which devices they use and the messages they respond to. Some AI PPC automation tools can also identify the value of a bid, bidding higher on valuable keywords.
Machine learning is also integral to predicting future outcomes. PPC management software collects valuable marketing data, allowing advertisers to plan their campaigns strategically.
Dive Deeper:
* What Is Marketing Automation: Definition, Benefits & Uses
* 7 PPC Audit Tools to Optimize Your Ad Performance Across all Platforms
* PPC Audit Cost Analysis: How Much Should You Expect to Pay?

The Goal of Enterprise PPC
Enterprise PPC digital marketing campaigns involve more sophisticated strategies than those used by SMBs. Since enterprises manage a larger ad spend, they can execute complex tasks and oversee multiple ad campaigns. These efforts will increase leads and enhance online visibility, resulting in more sales.
But these aren't the only goals of an enterprise PPC campaign. They want to improve their targeted ads so their advertising dollars go to the right prospects.
The most successful PPC campaigns are in the top three Google Ads results, as they receive 41% of clicks on commercial search queries.
Since the strategies are complex and have multiple verticals, the largest corporations look for efficiency in an advertising campaign. This is why many enterprises use automation in their PPC strategy. It allows advertising teams to spend less time on manual tasks and make better PPC decisions. This results in more revenue and better ROAS.
Dive Deeper:
* Top 6 Tips for Executing a Successful B2B PPC Strategy in 2023
* Enterprise Local SEO: How It Works and Why It's Important
* Multi-Channel PPC Advertising Case Study: Boosting Your ROI

Benefits of PPC Automation
PPC automation does more than streamline your existing process. Here are some additional benefits of incorporating it into existing PPC campaigns.
Drives More Results
Enterprises will experience the best results from PPC automation since advertising teams no longer have to focus on manual tasks such as data sync, bid management, and reporting.
Machine learning delivers regular data on your PPC campaign and audience so that advertisers can make any necessary modifications. All these efforts will increase revenue, and advertisers can better manage their ad spending.
Better Monitoring of Your Ads
PPC management software will offer suggestions to optimize campaigns and identify any issues. This makes monitoring a PPC campaign easy, maximizing your ROI and ROAS.
One of the ways that automation can better monitor your ads is by using A/B testing. AI can use different copy, keywords, placements and times to test which are most effective. The tool can deliver the results to advertisers, giving professionals a chance to make profitable changes before the end of the campaign.
PPC automation tools will also offer advanced reporting, including key metrics such as brand reach, clicks and sales. Advertisers can use these metrics to gain insights, track results and make any necessary changes.
Advanced Ad Targeting
Enterprise PPC management software offers advanced ad targeting solutions, ensuring that you attract better leads. Advertisers can enter various demographic and data points, such as location, gender and age. Plus, the right tools can target leads in similar niches and with specific interests, ensuring that your PPC ads target those people who are more likely to buy your product.
These tools also target leads at every stage of the sales funnel. AI will optimize your ad copy with the most converting keywords. Use these keywords in the headline and ad copy to keep leads moving through the sales funnel: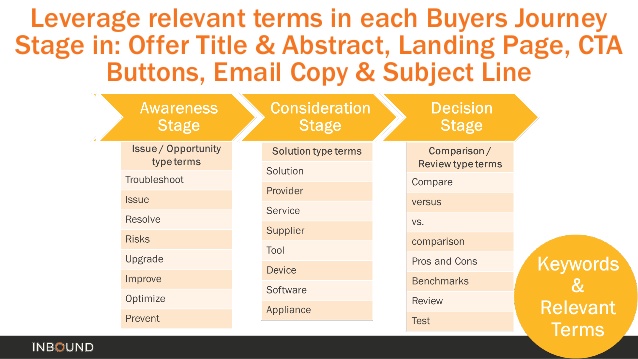 Automating retargeting ads is also crucial to ensure that you'll gain repeat sales. These ads push certain types of content, such as product promotions. With the right CTA, your enterprise will convert those who continually interact with your brand.
Versatility
Automation is extremely versatile, working with different types of PPC ads. Google Search Ads are the most famous example. AI can automate the keyword research and bidding process, optimizing only the most valuable keywords that will increase website traffic and conversions.
But Google Ads aren't the only area where enterprises can use automation. For example, if your enterprise is in the e-commerce niche, you would benefit from automating your shopping ads.
Since Google Shopping generates 1.2 billion searches every month, automating your shopping ads will result in more website traffic and reach more MQLs:
It will optimize your ads for the most valuable keywords and run A/B tests with different product images and titles. This way, you'll know which ads perform the best, resulting in more sales.
Cost Savings
You're not imagining things – Google's cost per lead is increasing:
Fortunately, automation used effectively will reduce ad spend:
First, automation can manage your budget. Advertisers can set daily and monthly maximums. The best PPC tools will set alerts if you're overspending. This way, your enterprise can better track your spending while still achieving results on Google Ads.
PPC marketing automation also comes with better ad targeting. Enterprises set core demographics, while PPC automation tools target those in specific niches, ensuring the ads reach the right people. All of these efforts improve ROAS.
Since PPC management software offers testing and reporting, advertisers can better monitor their ads and make any changes to improve website traffic, ad positions, conversion rates and impressions.This way, enterprises not only save money but generate more revenue.
Best Enterprise PPC Automation Tools
The most effective enterprise PPC management software will result in serious results while improving ad spend. Here are the best tools on the market.
Optmyzr offers one of the smartest PPC management software solutions for enterprises.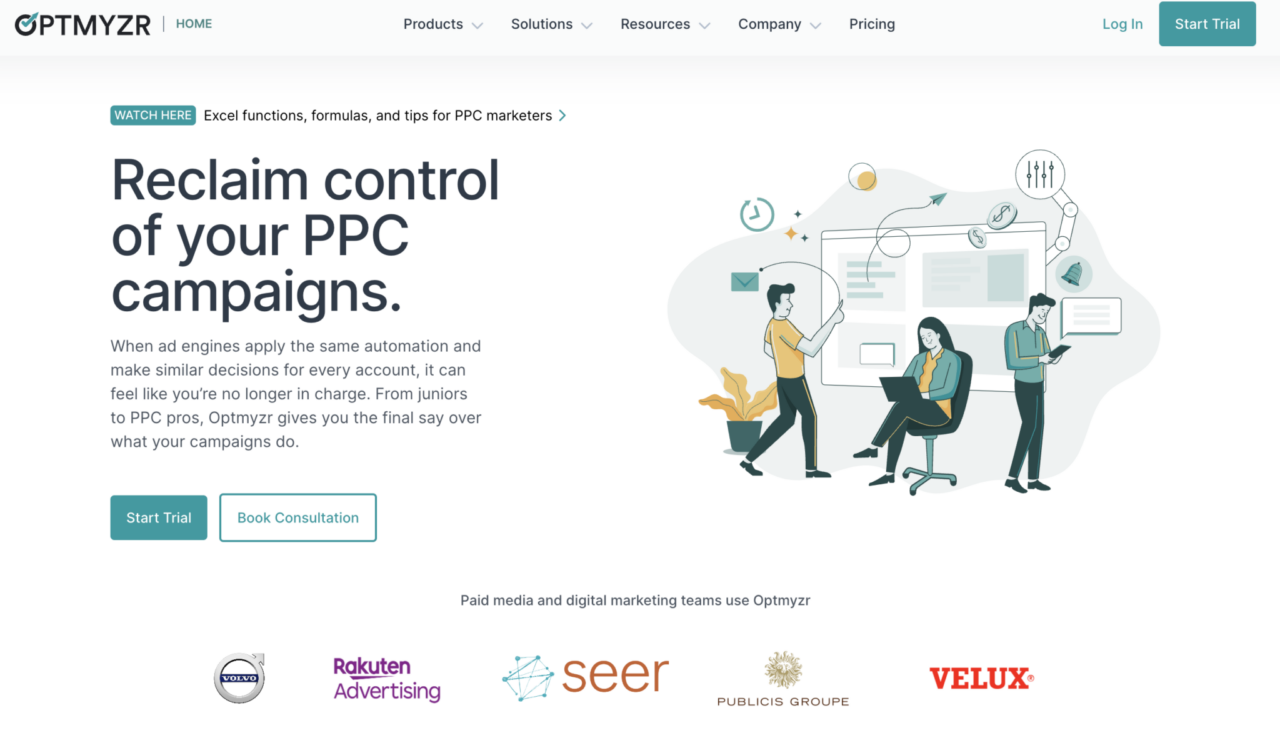 Their robust platform lets you manage multiple PPC marketing accounts, creating ads in bulk. It has impressive features, such as automation layers, data analysis and readymade templates.
This tool will manage high-level tasks, such as bidding, and enterprises will receive alerts for excessive ad spend and dipped conversions. It is also great for managing budgets, bids and keywords. It operates on Google Ads and Bing Ads, and offers a separate Amazon Ads service.
With AI, Google can help enterprises find new customers and improve their advertising strategies: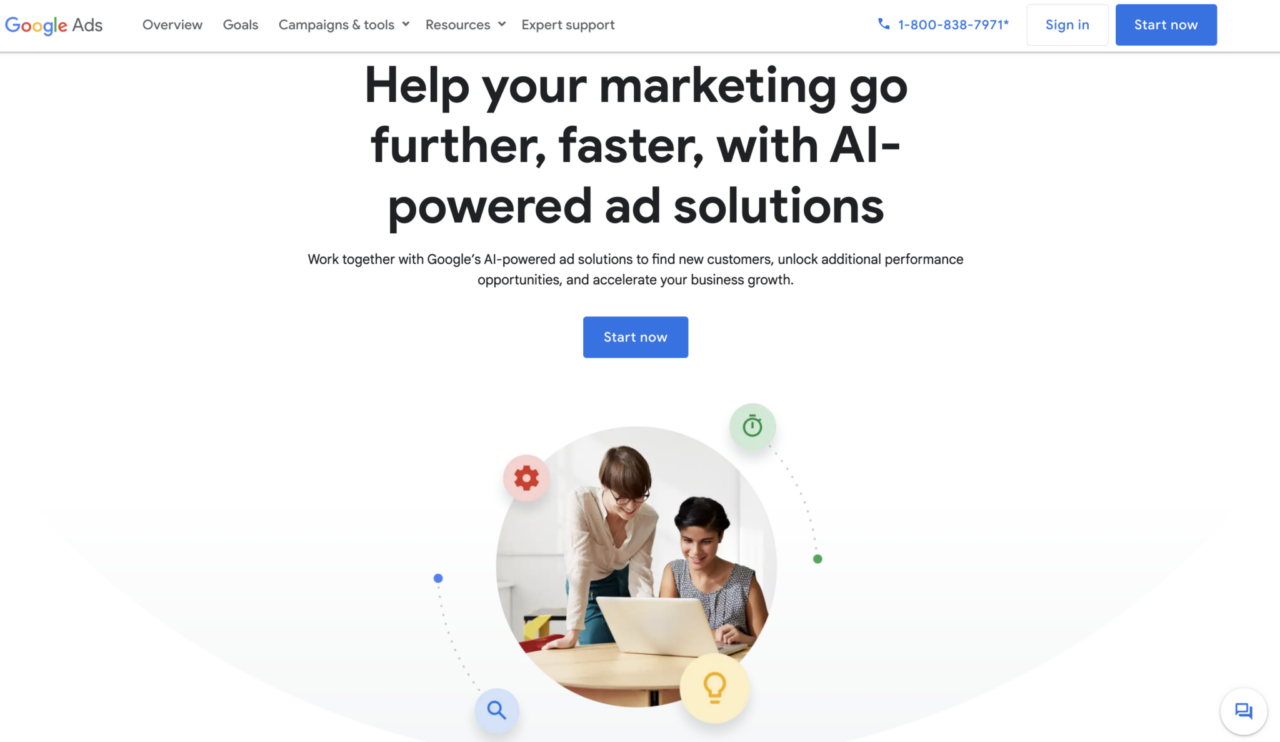 Since the platform offers all the tools you need to create and edit ads, AI will take your existing strategy to a different level. It will put your ads in front of more leads while controlling ad spend.
Some areas where Google's AI can power your strategy include bidding and measurements, converting more leads while saving time.
The only downside to this tool is that it may be too simple for enterprises. However, it's a free solution and better for enterprises that rely more on other marketing campaigns rather than PPC.
Dive Deeper: Best Google Ads Agency: Top 5 Choices for 2023
MarinOne is easy-to-use ad management software offering an all-in-one platform where enterprises can control advertising from all channels: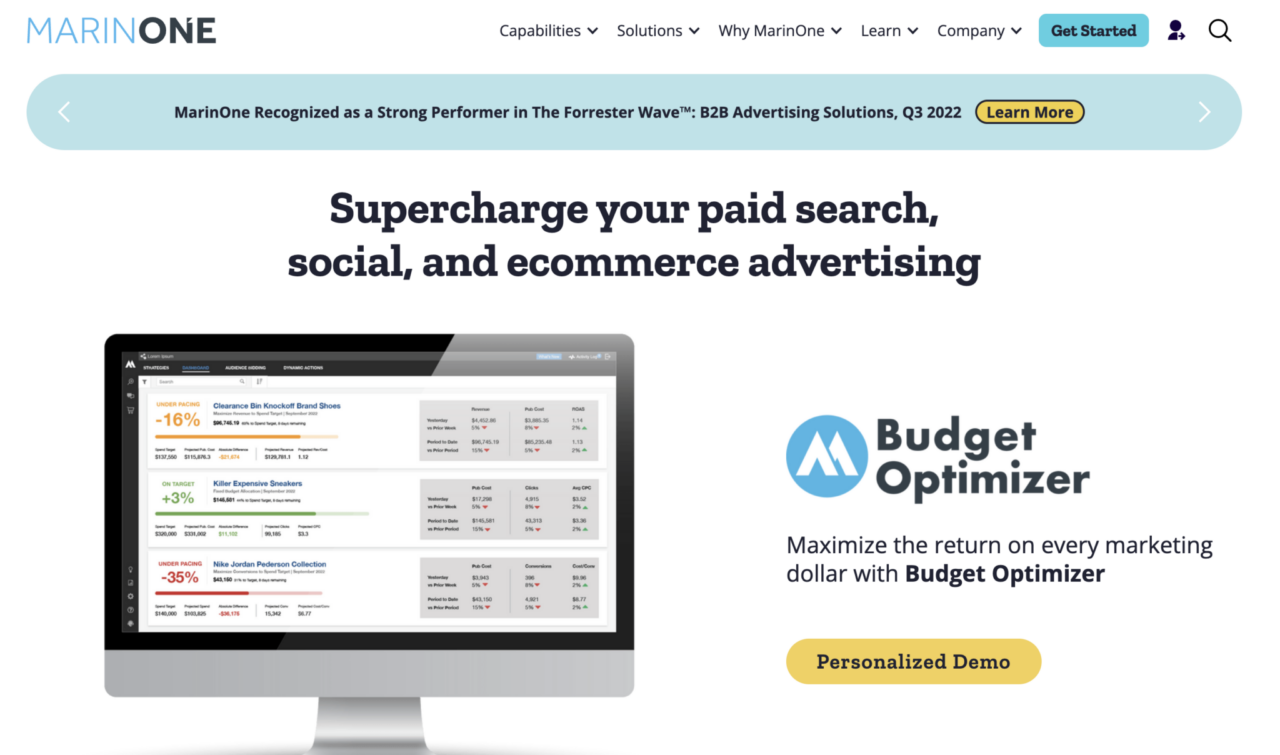 It can manage various ad campaigns across paid search, e-commerce and social advertising, with flexible automation tools designed to convert leads and increase revenue.
It can be used to automate various tasks, such as bidding and budgeting for ad spend. The Keyword Expansion service uses automation to identify new growth opportunities for conversions and clicks, saving advertisers time and money.
You can use automated alerts throughout your campaign to notify you of any unusual activity. It also reviews large changes, meaning that you don't have to do this manually.
This platform offers many advanced features but is still user-friendly. Enterprises can take advantage of bulk uploads, inline editing, auto text and shopping ad building, applying these features to large campaigns spread across multiple accounts. With year-over-year comparison, you'll always know you're improving your paid search performance.
Acquisio offers PPC management software tailored to enterprises: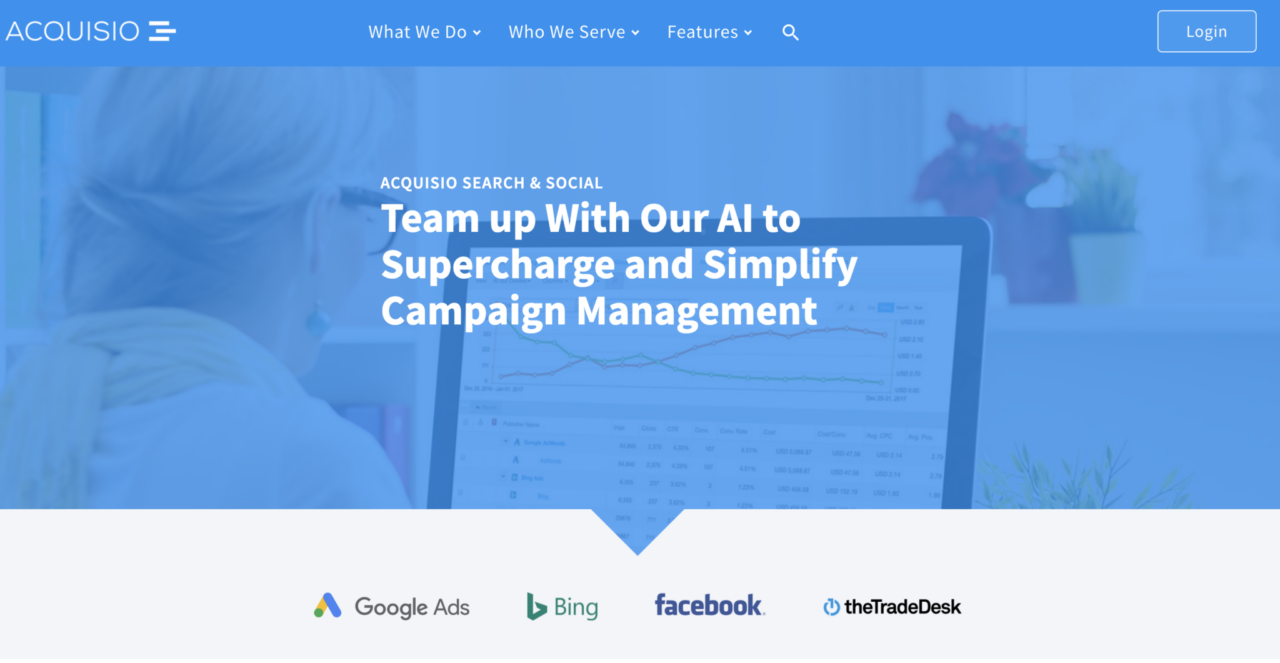 As the leading company for cross-channel PPC advertising, this software is powered by automation to manage every aspect of your campaign.
What makes this tool stand out is its self-learning algorithm. Over 30 algorithms will work on your campaign, tracking clicks, spending and conversions. It uses intricate campaign data to make bids, such as day of the week, seasonality, location, time of day, device and ad platform. This ensures that Acquisio can make intelligent bids without needing historical data.
If you need to customize any aspect of your campaign, its algorithms can adjust to your campaign objectives.
Captivise is an automated PPC advertising platform: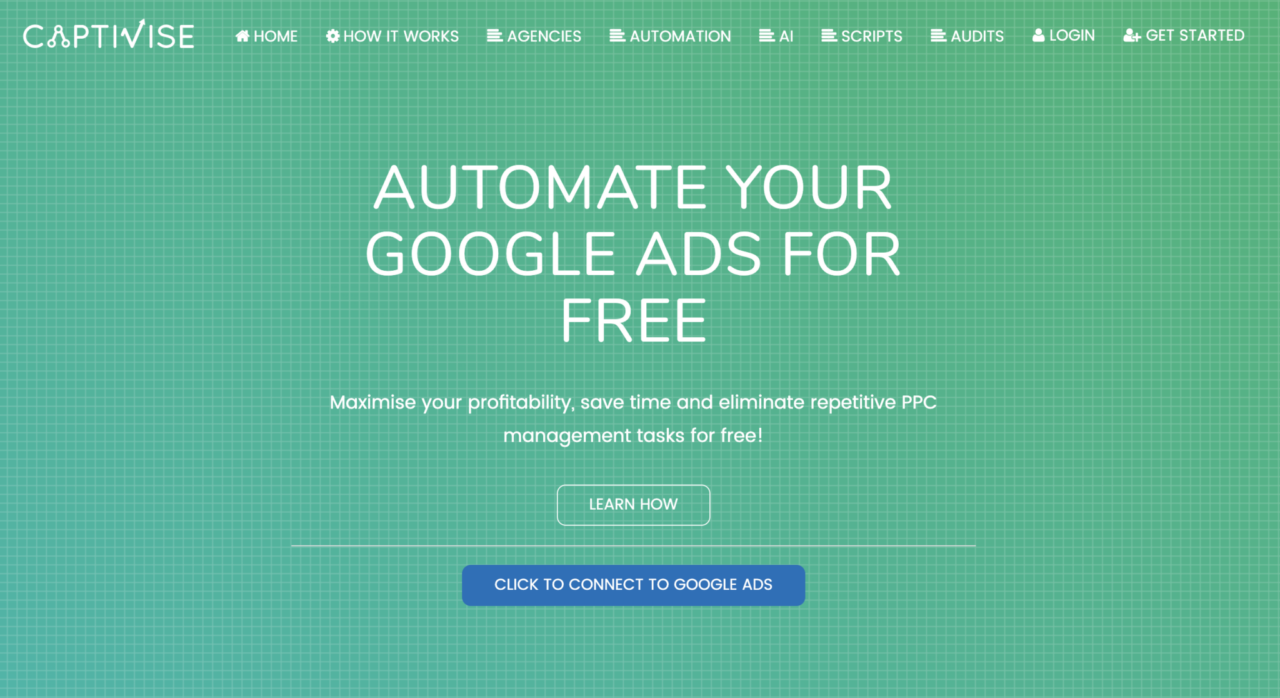 This PPC management software is free, but they will take out a percentage fee based on the total amount you spent during that period.
Even as a free tool, it is powerful enough for enterprises offering various automated tasks, such as:
SQAG (Search Query Ad Groups)
Keyword research
Negative keywords
Ad copy
First page/top of page bids
It also automates alerts, such as keyword over TCPA (target cost-per-acquisition) and keyword zero spend alerts. Their machine learning functions also adjust bids automatically. These efforts allow enterprises to maximize profitability while spending less on a PPC automation tool.
Dive Deeper: SEO Keyword Research Made Easy in 2023
Skai is an omnichannel marketing platform with impressive PPC management software.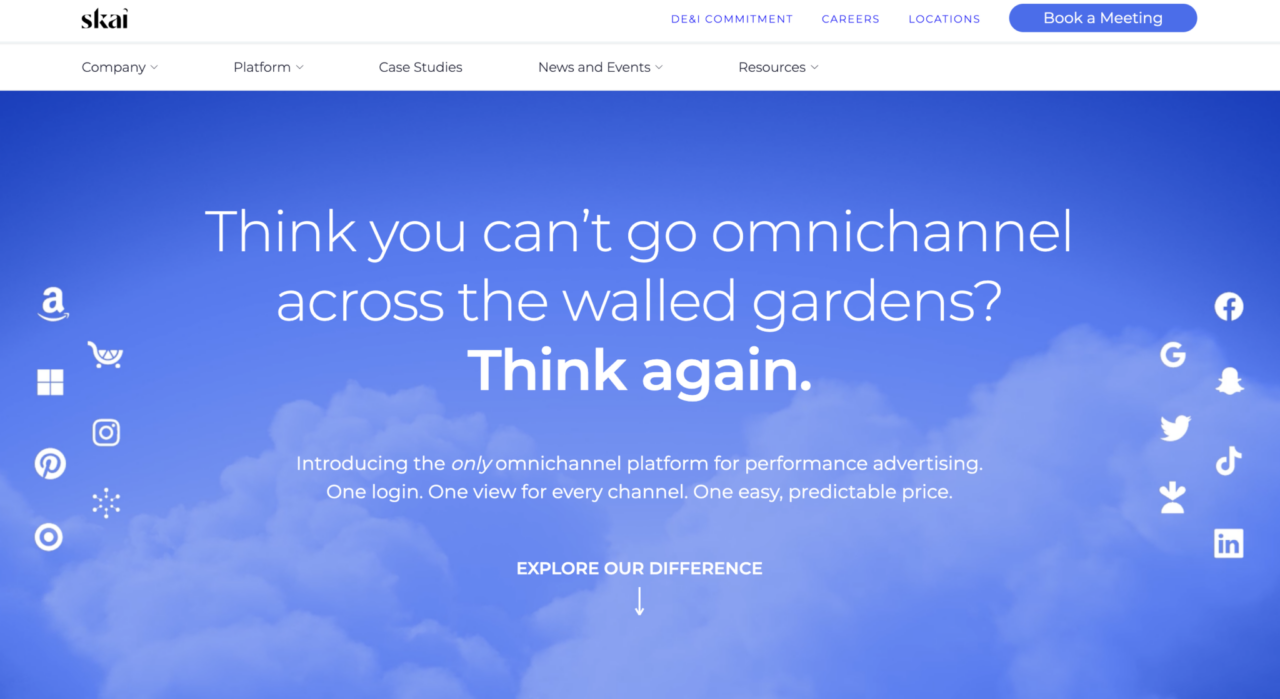 Out of all these tools, this one was designed for enterprises. Its AI-powered insights boost the efforts of some of its existing products. For example, with Search Term Analysis, AI will automate keyword management, making it easier to adjust search term optimizations and reduce inefficiencies.
The powerful features go beyond its AI-powered keyword tools. With algorithmic bidding, enterprises can customize PPC advertising on a per-campaign basis. The Budget Navigator finds the line between spend and ROI, pacing for customizations. The tool will also run pre and post-test experiments to scale testing and achieve faster results.
AdZooma is one of the most user-friendly ad platforms on this list.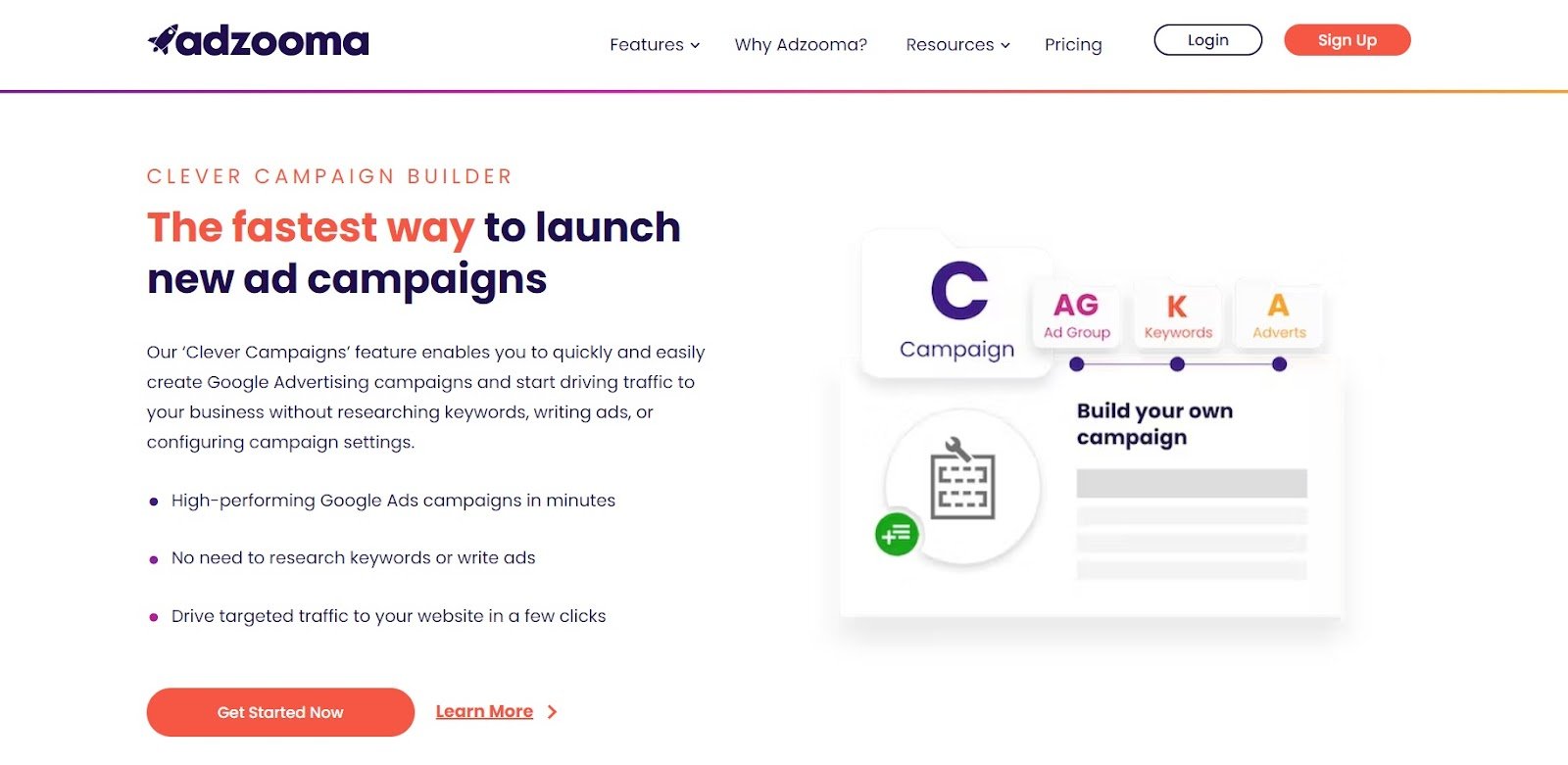 Launching your campaign is easy with their Clever Campaign Builder. You can build your ad campaign in minutes, with no need to write ads or research keywords. It will ask you a few questions to create your personalized campaign, including the keywords you'll target, and even create your ads.
The tool can apply automation to Google Ads, Facebook Ads, and Microsoft Advertising, optimizing your PPC management strategy across various platforms. Automation bots can apply pre-built strategies, adjust bids and set alerts to maximize campaign performance.
It can generate PPC reports in minutes, so you can always monitor your results. Advertisers can operate on a single dashboard, managing all campaigns in one place. The platform allows for bulk changes, and advertisers can see all data in one place.
Dive Deeper: A Simple Hack to Combine Facebook Ads and Google Ads
PromoNavi is a feature-rich PPC management tool: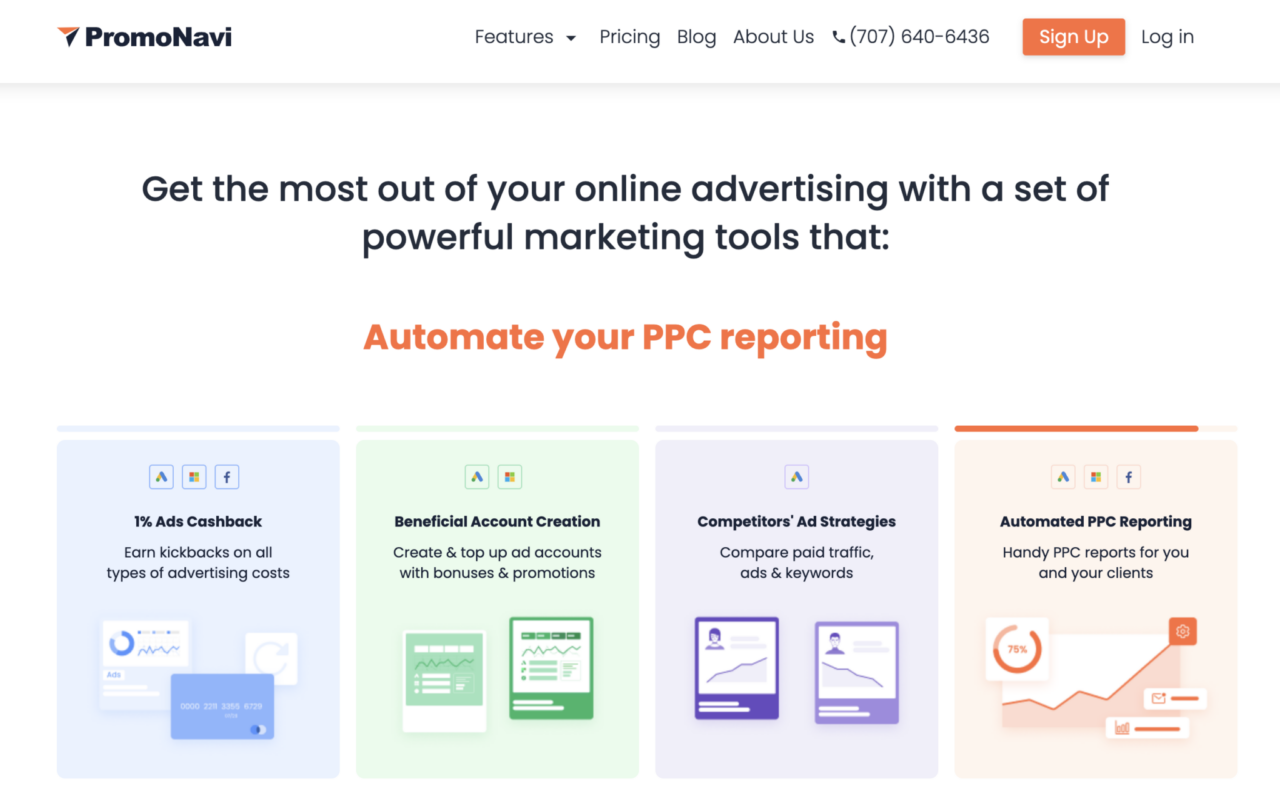 Some of the impressive features they boast on their PPC management software include:
Automated PPC reporting
Aggregated analytics dashboard
Keywords planner
Anomaly detector
Campaign + Ad Groups auto builder
These tools can be used on Google Ads, Microsoft Advertising, and Facebook Ads. Enterprises can automate daily tasks and schedule weekly and monthly reports. It offers a convenient dashboard that shows all advanced analytics and alerts.
This platform  includes PPC automation tools that many competitors don't provide. For example, their competitor analysis tool can uncover data about your competitors' PPC campaigns. This data includes how much traffic they generate, their strategies, the keywords they optimize and the number of ads they show.
Dive Deeper: E-commerce PPC Audit: The Complete Checklist
Last Word on Enterprise PPC Automation
Implementing enterprise PPC automation tools will improve your digital advertising campaign, helping you convert more leads.
With the ability to manage large campaigns and data sets, optimize ad performance and reduce manual tasks, these tools are essential for any enterprise business looking to take their PPC advertising to the next level.
By utilizing the eight tools discussed in this post, you can streamline your advertising operations, save time and money, and ultimately achieve greater ROI on your advertising spend.
Hopefully you learned how to implement PPC automation, but if you just want someone to do the work for you, Single Grain's PPC experts can help!👇