B2B businesses must emphasize social media marketing in their strategies.
But these companies must do more than post on social media; they must remain relevant, modern and knowledgable. The best way to achieve this is by keeping up with B2B social media trends.
In this post, we'll go over some key trends in B2B social media marketing and predictions for the future.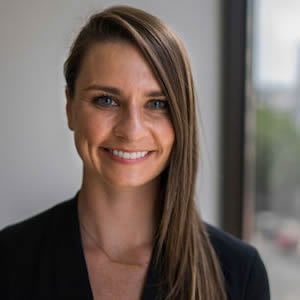 Jacqueline Foster
Demand Generation Marketing, Lever.co
We can count on them to bring new ideas to the table consistently
15 B2B Social Media Trends You Can't Ignore
Considering that 84% of executives in the B2B sector use social media content to make purchasing decisions, businesses can't afford to ignore these 15 B2B social media trends if they want to stay ahead of the game and succeed in the ever-changing world of social media marketing.
Trend #1: Authenticity and Transparency
Out of all these trends, this one is the most important and also the easiest to implement. Existing and potential customers expect nothing short of honesty from your brand. The days of hard-selling and pushy sales tactics are over. Even in a B2B world, your prospects want to make an informed decision.
This is why 63% of sales interactions don't end with the salesperson asking for a purchasing decision.
There are other reasons why B2B companies must exercise transparency. In the event that a business crisis occurs, you must be honest with your customers or clients. This is especially key with some current events, such as the sharp decline of the GDP and how brands are restructuring to keep up with a possible economic recession. Or in the case of a data breach such as the ChatGPT data leak or US House of Representatives data breach that happened earlier this year.
B2B companies must be transparent with their audience and explain ways they will assist their customers. People are a lot more willing to forgive – and stay a customer – if the business is honest with them and provides them with their recovery plan.
Trend #2: Social Selling Will Be the Norm
In past years, social selling was a strategy to assist current e-commerce processes. Now and in future years, social selling will be the standard for exceptional customer experience.
Fourteen industries see over 50% of revenue from social sales, including the key B2B sectors of advertising, healthcare, software and logistics. This is especially true among younger potential customers, who are dominating the business world.
Instagram is the leader in social selling since this platform offers many tools for e-commerce brands. Brands can create shoppable posts, where you can tag products in posts.
Live shopping takes this a step further, where brands can not only sell products but interact with customers in real time (one of China's most popular live streamers makes about $49.7 million in just one day of live streaming shopping sessions):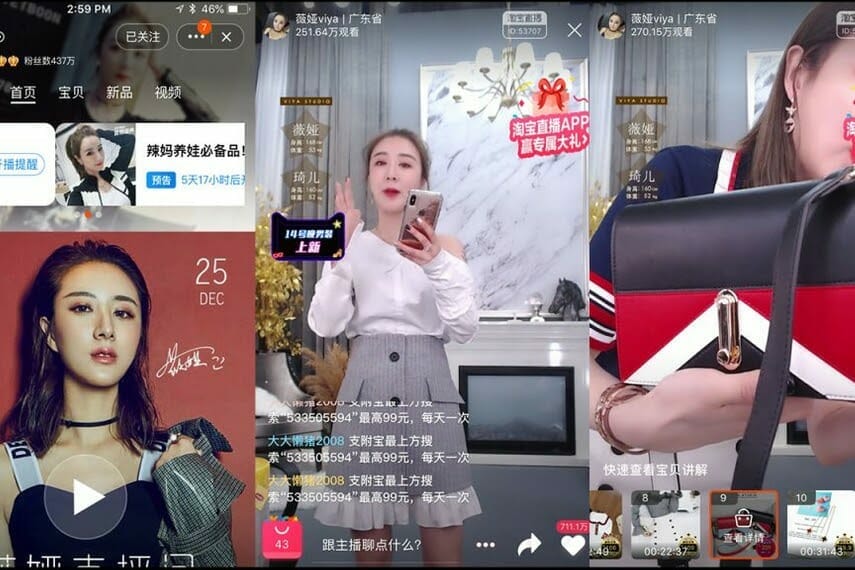 B2B e-commerce businesses should take advantage of these powerful features since they receive 20X more engagement on Instagram than LinkedIn.
Dive Deeper:
* What Is Live Stream Shopping?
* The Power of Social Shopping on Instagram (and How to Sell More)

Trend #3: Longer Social Media Marketing Sales Funnels
75% of B2B buyers use social media to make purchasing decisions.
Since more B2B buyers are shopping on social media, businesses must tailor their lead-generation campaigns for social media. However, expect your potential customers to take longer to travel down the social media sales funnel.
What does this mean for companies? Focus on the top of funnel stage: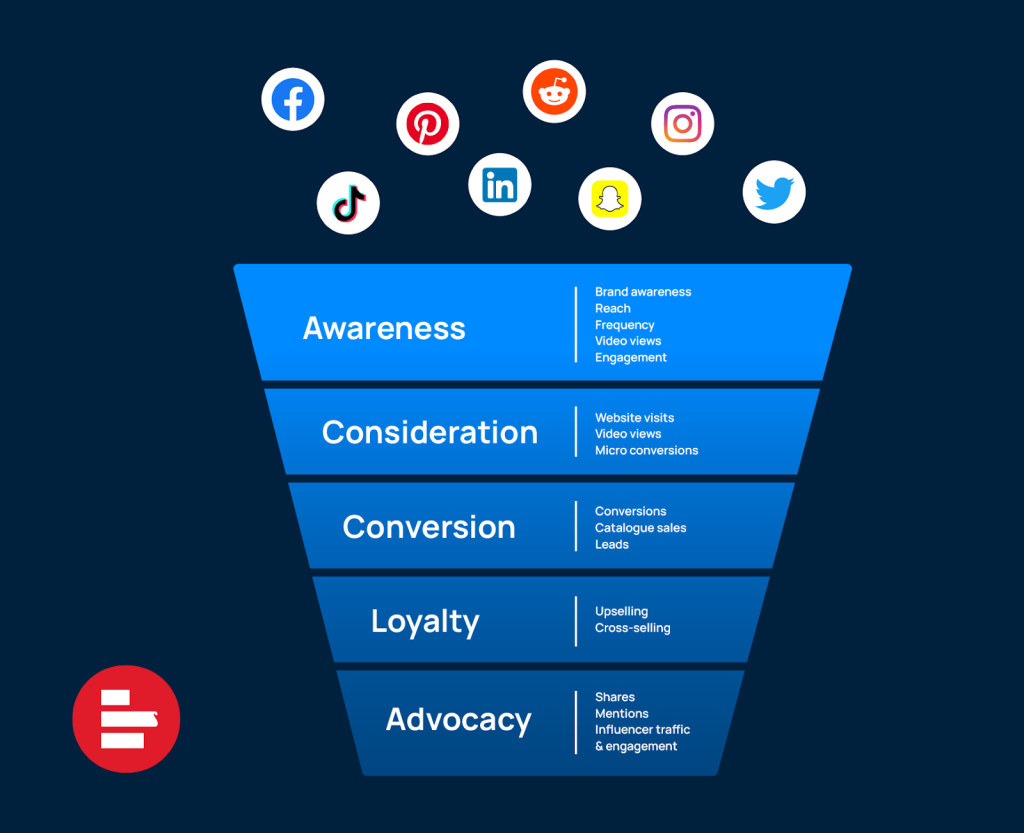 Specifically, devote 70%-80% of your budget toward the awareness stage. Invest in more social media videos and webinars to keep your content informational while improving the customer experience.
Dive Deeper:
* How to Build a Social Media Marketing Conversion Funnel
* How to Create a Powerful Marketing Funnel (Step by Step)

Trend #4: Customer Support on Social Media
Compared to B2C brands, B2B brands must have a stronger relationship with clients to ensure that they will be long-term customers. And since customers expect a response to a social media question or complaint in 24 hours, focus your customer interactions on your social channels.
Social media users don't only want responses to DMs. Responding to comments is also part of this strategy. HubSpot also has its own Twitter support handle, so customers can quickly Tweet questions to the CRM giants: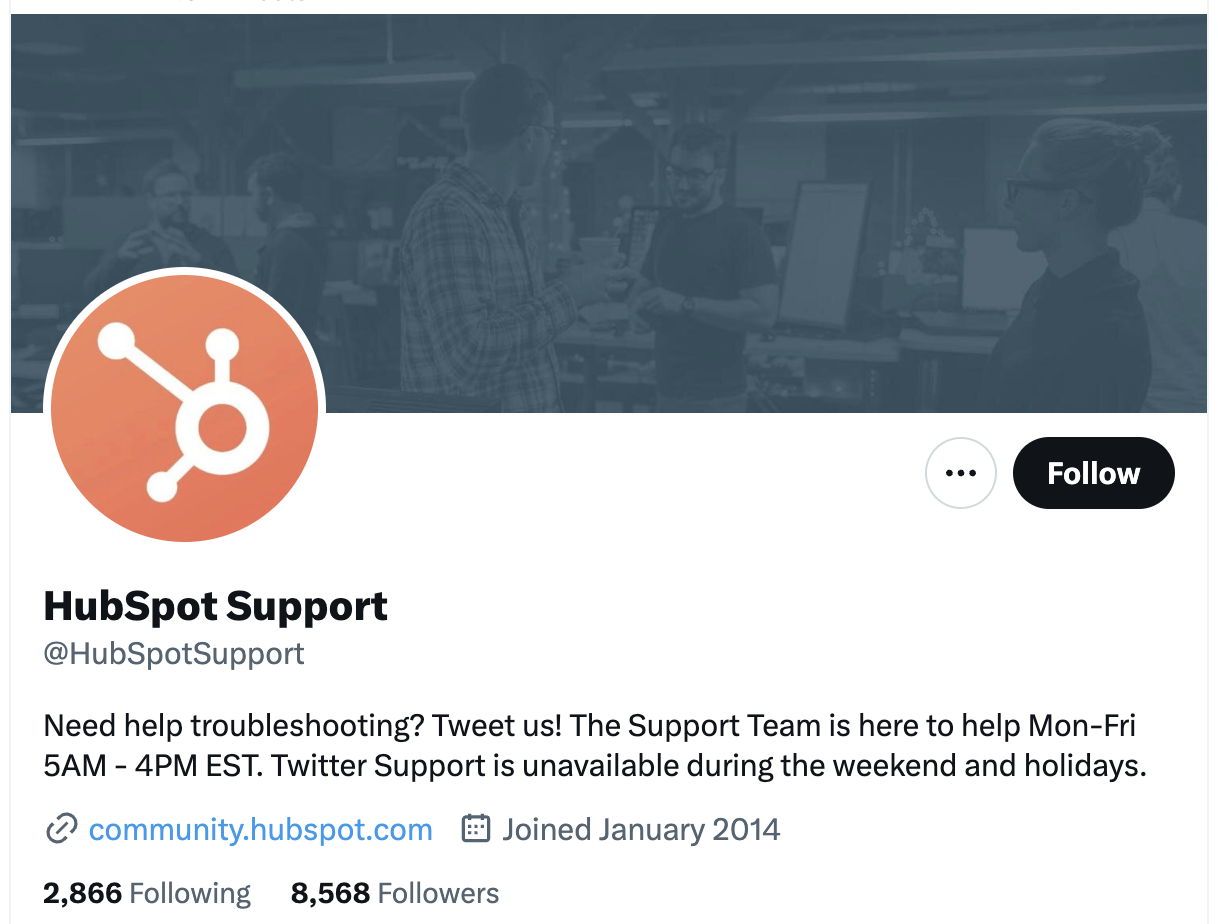 Using social media as a customer service channel is also a great social listening tool. You have better insight into what your customers need from your business, and you can continue to create marketing and advertising strategies by meeting these demands.
Which social channels are more popular for customer service? The simple answer is anywhere your customers are. For many brands, this includes TikTok, Twitter, Instagram, Facebook, WhatsApp, YouTube, and even Pinterest.
Dive Deeper:
* 6 Customer Service Trends You Can't Ignore
* How to Get on TikTok's For You Page and Increase Your Reach
* Facebook Messenger Chatbots: The Step-by-Step Guide to Getting Massive Results

Trend #5: Capture Gen Z
Did you know that Gen Zs are the most entrepreneurial generation?
62% of Gen Zs are interested in starting or have already started their own business.
The question is, how do B2B businesses target these young business owners? Previously, TikTok was the answer. But with the current congressional hearing, the future of TikTok is unclear.
There are still tried-and-true ways to target this demographic. If there's one thing that TikTok's popularity proves is that Gen Z loves video content, which is why a social media marketing video content strategy is key for all B2B companies.
Instead of TikTok, companies should focus on Instagram Reels. In addition to TikTok videos, the Gen Z crowd also consumes Instagram Reels since they offer the same engaging, bite-sized video content that made TikTok take off.
Gen Z values authenticity, and they respond to content that is funny, inspirational or helpful: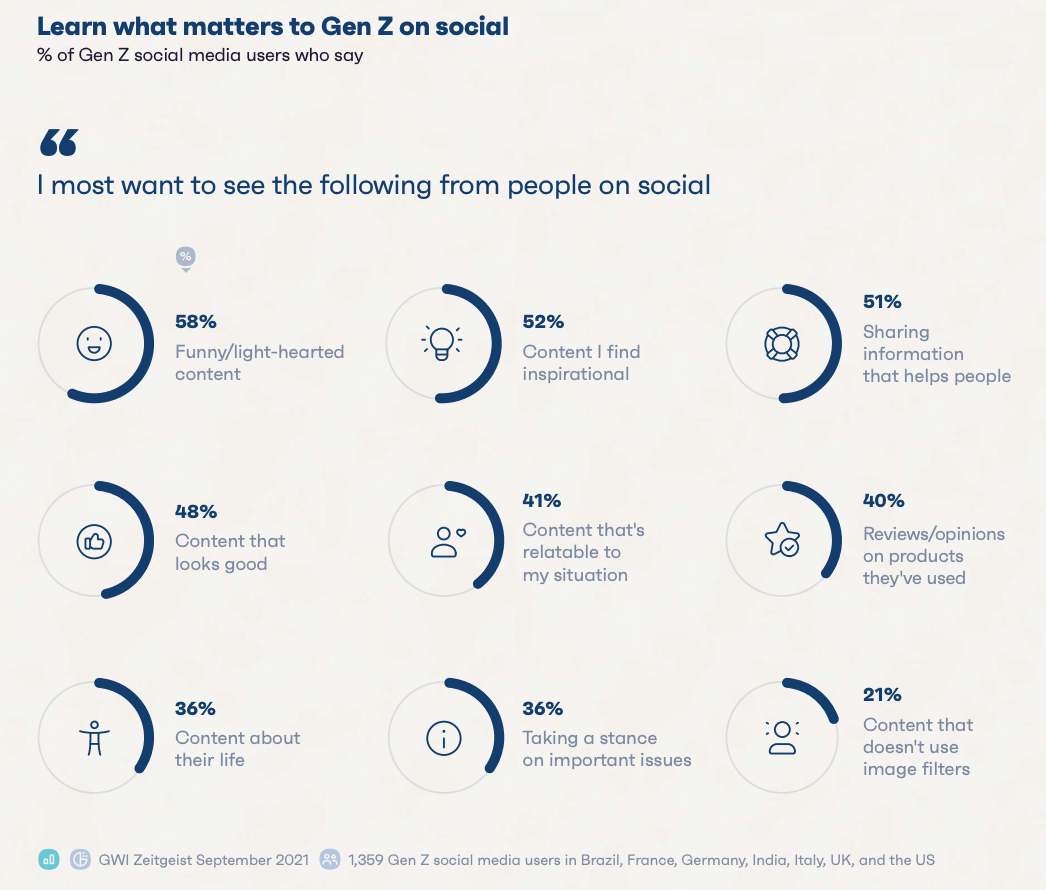 Gen Z also love "IRL" experiences. This post from Glossier catered directly to Gen Z's desire to be spotted "in the wild" with their first store opening in New York City: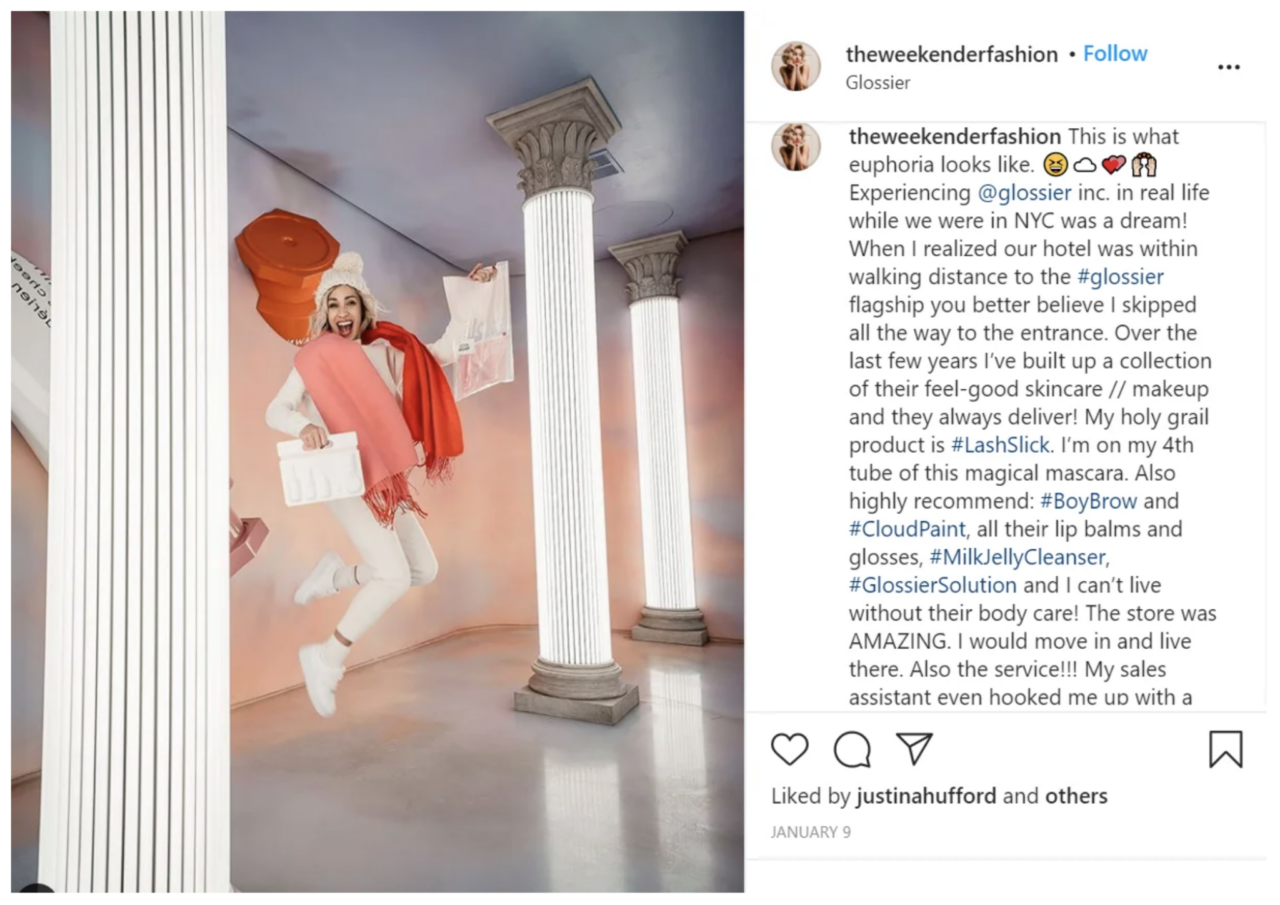 Dive Deeper: Social Media Marketing for Business Owners: How to Get Started in 2023
Trend #6: Don't Forget Facebook
Many marketers encourage other brands to develop a social media presence on channels other than Facebook since the younger generation uses TikTok and Instagram more frequently.
But Facebook is still the social media titan – in fact, 36.7% of the world's population uses Facebook every month. This is why generating leads on Facebook is still integral to your social media strategy.
But B2B marketers should tailor a Facebook strategy differently than in the past. Instead of trying to use it as an organic social media platform, use some of Facebook's unique features to engage with your audience.
For example, more companies are making branded Facebook Groups to share company information and industry insights. Social media communities are a great customer engagement platform, and your clients may use your Facebook Group to share their questions and issues.
If your B2B company still invests in Facebook advertising, tailor your campaign to fit your audience. And don't think they're all Boomers – Facebook's biggest age demographic in the U.S. is the 25-34-year-old market, making up most of the Millennial generation: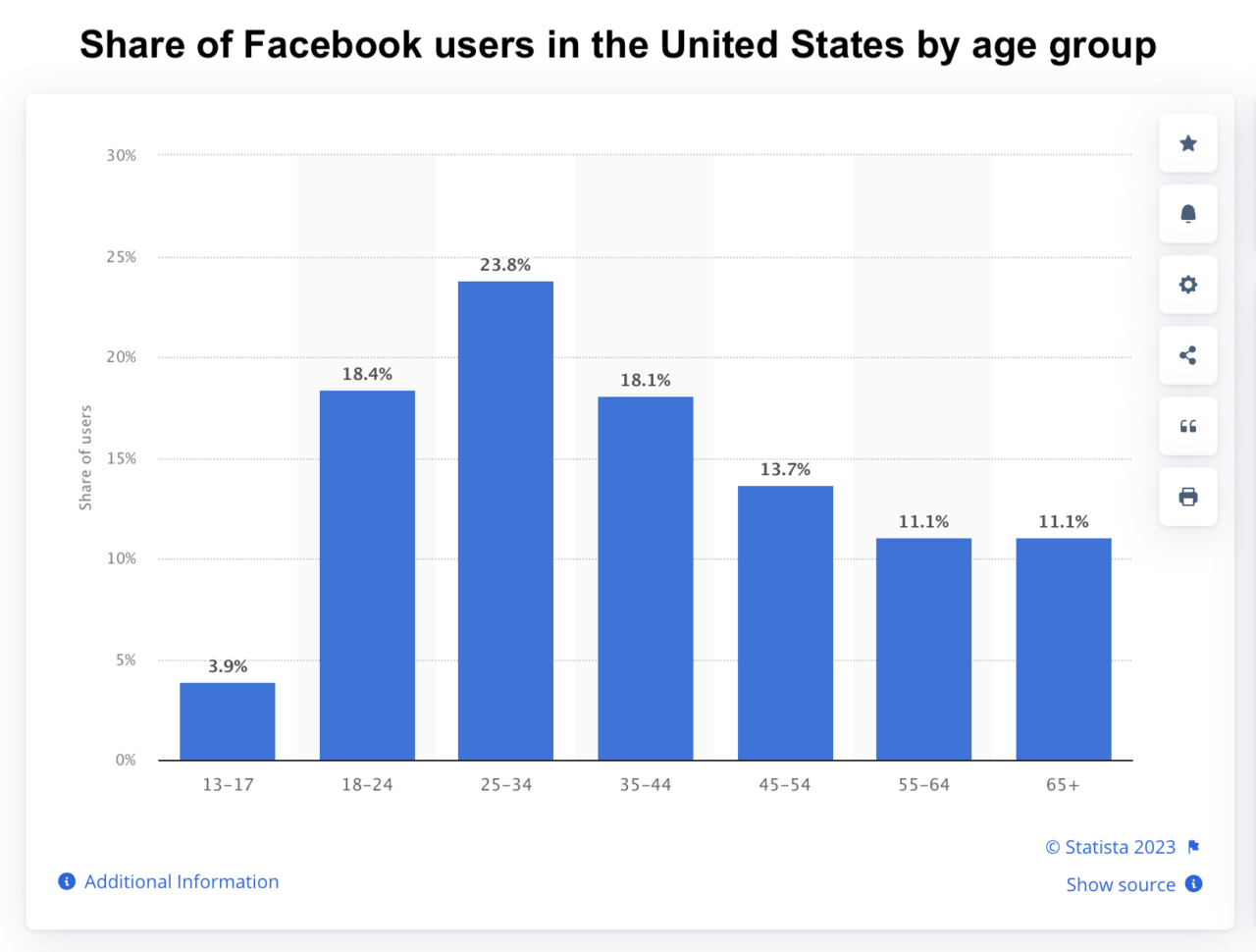 If your B2B company targets a global audience, India is the country most prevalent on Facebook.
Dive Deeper: How to Grow Your Facebook Group from 0 to 10K Members Without Spending a Dollar
Trend #7: Focus on Forums
Forums are another big social media marketing tactic for B2B companies. Being active on forums such as Reddit and Quora will improve social listening for existing and prospective customers, and brands can better understand their market.
This is especially true with Reddit. The forum giants separate their subreddits by niches, giving brands multiple opportunities to connect with their audience.
For example, the SaaS subreddit has 49K members, with a decent number online at all times: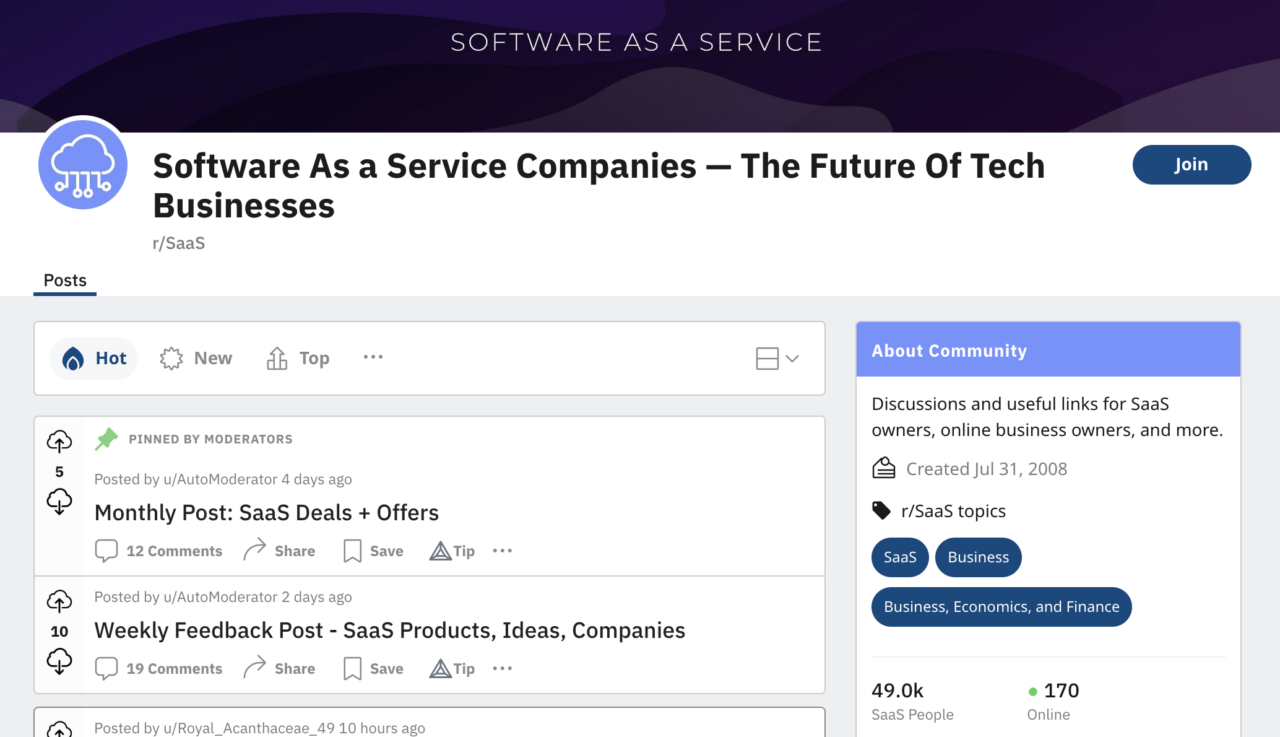 The subreddit has posts from business owners, marketers, tech professionals and more, and most posts are questions and recommendations. This is a great opportunity for SaaS companies to share their expertise and learn more about their audience. Just be sure to follow all rules of the subreddit.
Quora has also been a marketing research staple for years, and that isn't changing. This Q&A forum has over 300 million active monthly users and has long been where brands get content ideas, keywords and social listening insight.
Dive Deeper: Marketer's Guide to Advertising on Reddit
Trend #8: Broad Paid Ads
Broad paid ads refer to a type of advertising strategy in which advertisements are targeted towards a wide audience, without any specific demographic or behavioral targeting. This means that the ad will be shown to a large group of people who may or may not be interested in the product or service being advertised.
For example, say a company is launching a new line of athletic shoes and wants to create broad paid ads to increase brand awareness. They might create a campaign that targets a large audience based on general interests like sports, fitness, or fashion, without specifying any particular age range, location or other demographic criteria.
The ad might feature an attention-grabbing image or video of the new shoes in action, along with a catchy tagline or call-to-action, like Adidas' "Impossible Is Nothing" ad:
There are many pros and cons of broad paid reach compared to narrow paid reach, but there are also many reasons why more brands invest in a broad advertising strategy. If your B2B company targets a wide demographic of businesses, broad paid reach will result in more conversions than narrow reach.
Some ads also perform better on broad advertising than narrow, like product promotions and sales.
Broad advertising will also lead more prospects down the sales funnel. Broad reach strengthens the awareness and discovery stages, specifically targeting prospects who have never visited your website or downloaded your app.
Plus, anyone who can see your ad can leave a comment. This is a great way to engage with prospects by answering any questions or offering feedback.
Dive Deeper: 30 Social Media Advertising Statistics to Improve Your Strategy
Trend #9: Audio Posts
464.7 million people listen to podcasts worldwide. This is why the biggest social media channels are launching audio options.
Twitter is one of the best examples – they're currently testing a new feature called Twitter Voice Tweets, where users can release an audio tweet directly from the app. Facebook is also allowing users to create Soundbites, which are short-form audio clips: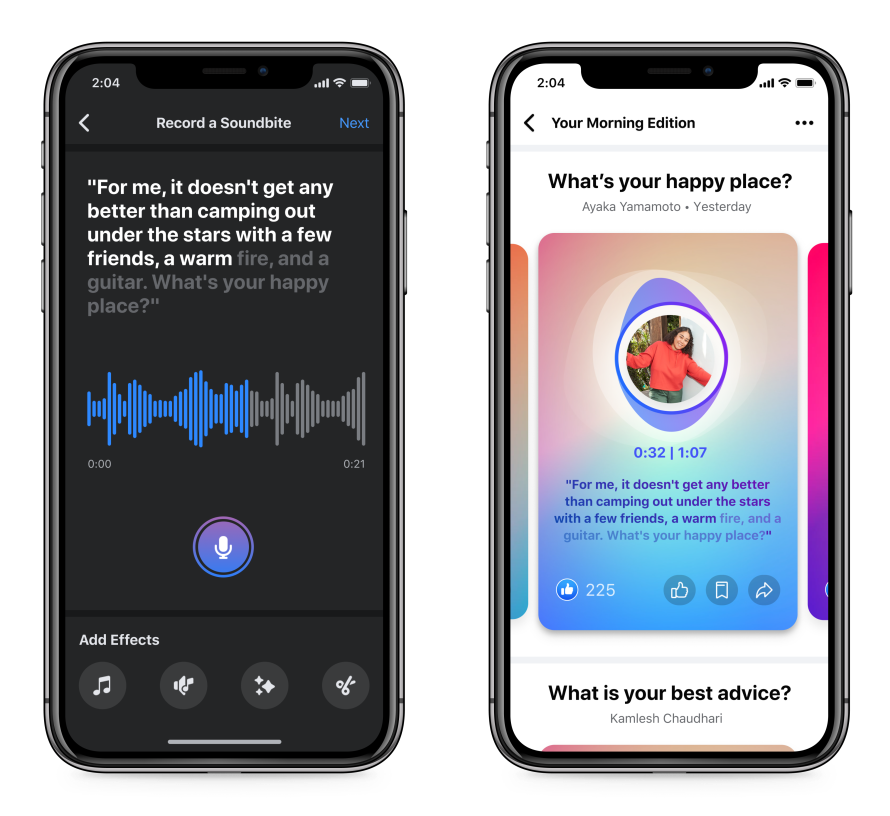 B2B brands should capitalize on this trend to target new and existing customers. MarTech states that podcasts are a top content channel for B2B companies since they help business owners make important decisions for their companies.
43% of B2B decision makers use podcasts to get business-related content.
Even though Twitter and Facebook are developing short-form audio clips, these are an engaging way to share business advice, news, updates, information, and more.
Dive Deeper: Audio SEO: The Complete Guide to Ranking Your Podcast Successfully
Trend #10: Bite-Sized Content
Even though TikTok's future is uncertain, one social media marketing trend that the video giants started is creating engaging, bite-sized content. Even though the average user spends two-and-a-half hours a day on social media, they're engaging less with individual posts.
This means B2B businesses must avoid long-form content and, instead, capture attention immediately.
Video is the perfect example. TikTok popularized the short-form video: The longest video on this platform doesn't surpass three minutes. Then Instagram Reels and YouTube Shorts followed.
But video isn't the only type of content that brands should condense. Keep written content short and concise, and use images to draw more attention, like this Instagram post for Earth Month from Adobe: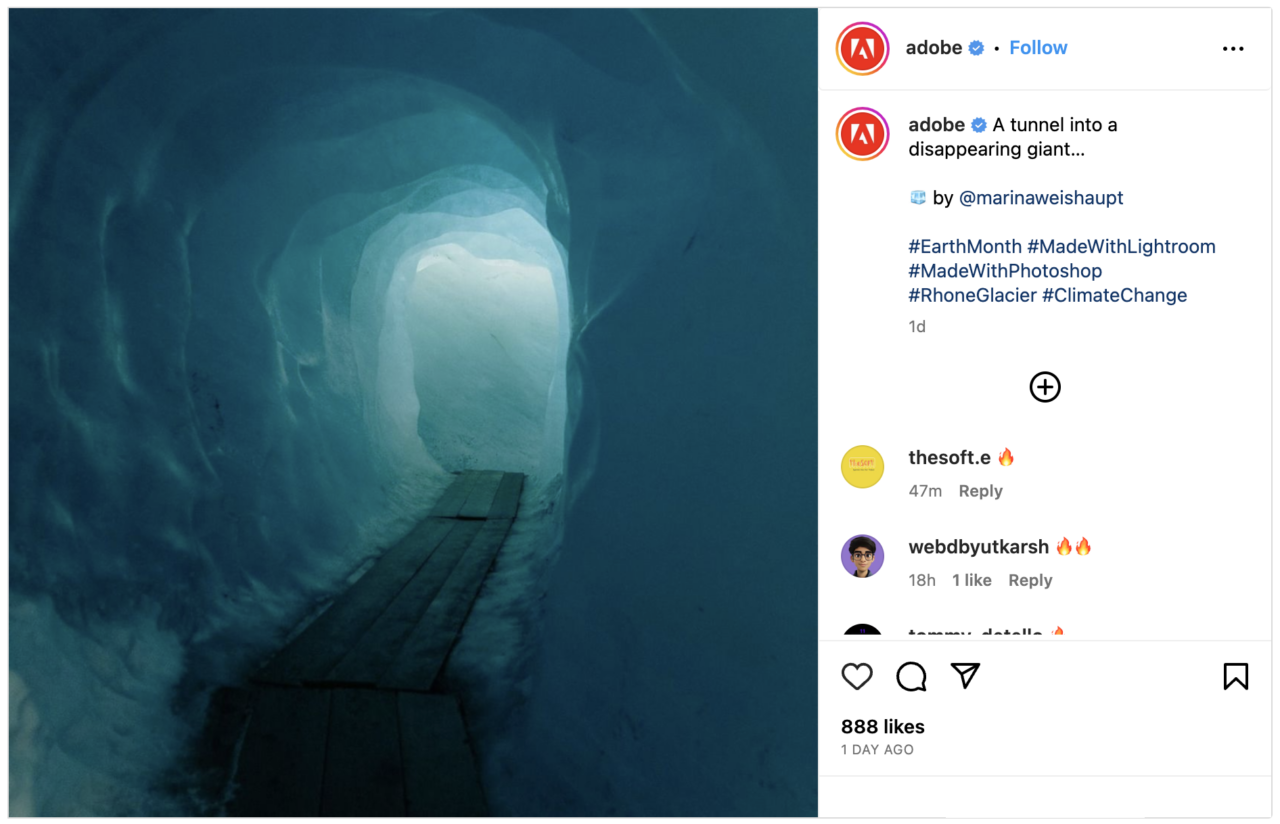 Adobe's Instagram page is an excellent example. They promote their products by releasing colorful images and pairing the media with short text.
Trend #11: Augmented Reality
Augmented Reality has been taking over the digital marketing space for quite some time. One of the best ways to use AR interactive content in a social media strategy is through filters.
Snapchat popularized this by adding silly filters, keeping more users on the platform. TikTok took this further to add filters in different categories, from appearance to quizzes.
How can B2B companies use AR in a social media strategy? Companies can either use filters supplied by these social media accounts to make their content fun or create branded filters: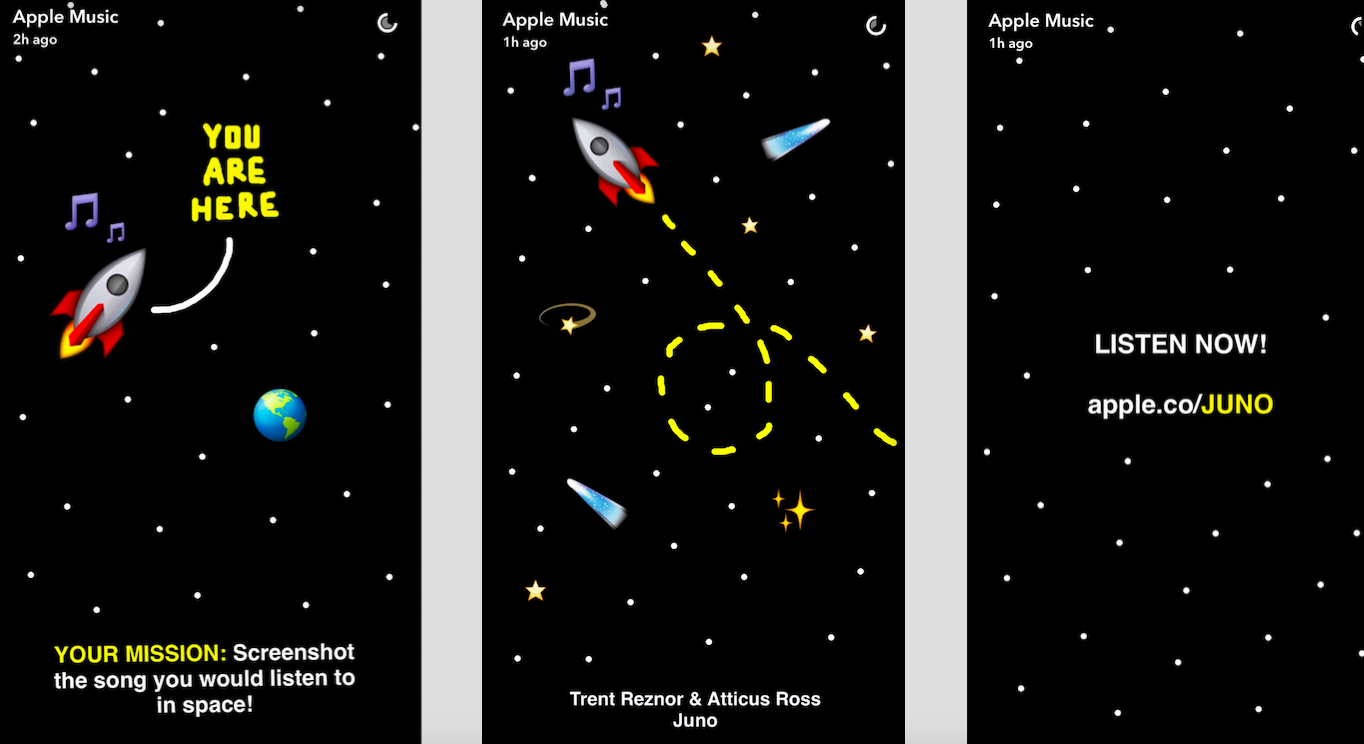 Filters don't have to be silly – oftentimes, interesting filters can improve your brand reputation. NASA's Space Helmet is a perfect example; they released this filter to promote Black Hole Week: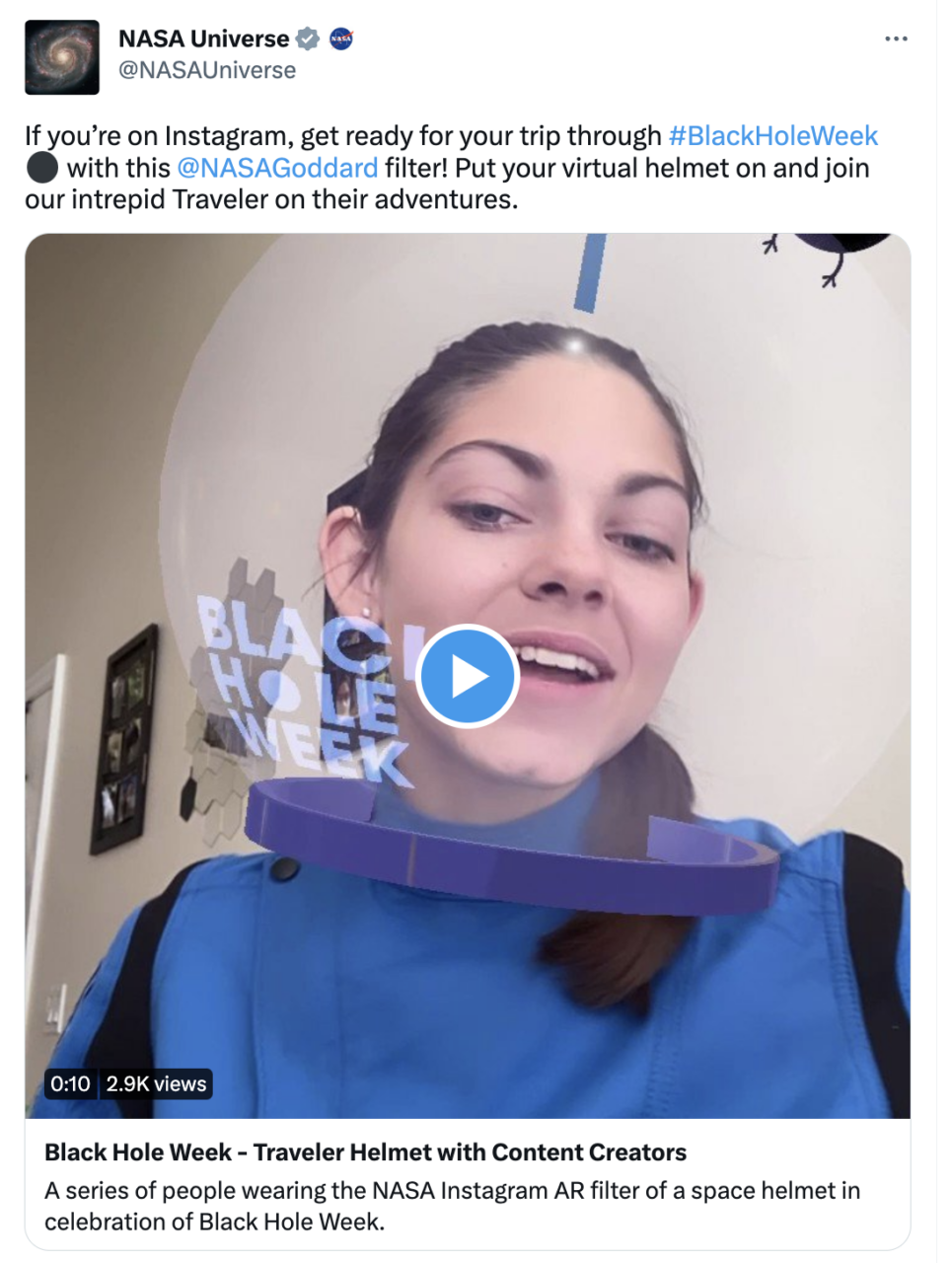 Even though this content was released in 2022, branded filters and other social AR examples are still predicted to be a trend in the coming years.
Trend #12: User-Generated Content
Since 90% of consumers say user-generated content (UGC) holds more influence over buying decisions than other popular forms of B2B content, such as SEO blogs and promotional emails, it's safe to say that brands should use UGC to generate leads.
There are many reasons why UGC captures the B2B crowd. This content is relatable to your target audience and establishes personal relationships. Plus, UGC is affordable and enhances brand authenticity.
Instagram and Facebook are the perfect places to host UGC content since both platforms are versatile and popular among B2B buyers.
Keep in mind that B2B companies will have to create content for UGC differently – not only capturing the individual, but also targeting key business objectives.
What are some UGC content ideas for B2B brands? Customer success stories, such as product use cases, are the perfect example. Your posts will be more engaging if your consumers include images or video content.
For example, Loews Hotels' #TravelForReal campaign is a perfect example of a smart UGC strategy. Guests were already sharing personal photos of their vacation stays at the hotel and hashtagging the company. So Loews decided to get in on the action and celebrate real hotel guests instead of hiring actors or models to promote their brand:

Dive Deeper: 8 Ways to Encourage More User-Generated Content (UGC)
Trend #13: AI and Automation
Artificial intelligence is becoming more advanced and sophisticated, making this technology a core part of many digital strategies.
In what ways can businesses use AI in social media? B2B brands can use AI for both organic and advertising posts.
Some AI social media tools have been popular for a long time, such as auto-scheduling posts. But AI and automation have come a long way since third-party platforms, such as Hootsuite, helped brands auto-schedule their posts.
AI benefits many aspects of the advertising process, such as automating ad monitoring. There are also tools, such as AI hashtag generators, that can deliver popular niche hashtags for each social media channel.
There are some AI tools that brands should stray away from, though, such as AI art and writing tools. For example, AI art can't be copyrighted, so your brand will have fewer protections when sharing this content. Getty Images sued an AI generator that used their unlicensed photos to create AI images. Even though the AI images are not copyrighted, the original photos used to create them did have copyright licenses that were infringed upon.
If you use these tools, use them as an outline or base for your content. For example, use an AI writer to generate ideas for social posts, then rewrite them to make them more personable.
Dive Deeper: 20 AI Tools to Scale Your Marketing and Improve Productivity
Trend #14: Shorter Live Event Videos
More consumers enjoyed watching live events and webinars during the pandemic. Since the world is open again, your target audience may prefer to attend these events in person. Live events won't disappear in the future, but they will change.
Taking the bite-sized content approach, live video content should be shorter and more concise to increase brand awareness and attract new customers. For example, instead of live streaming a convention, record a quick walkaround video of the event.
If you want to record an entire event, separate the videos into bite-sized clips categorized into different subjects or themes. Upload them all in a playlist so viewers can consume each short video sequentially.
If you choose to record a long-form video, focus on ones with an emotional impact, such as filming a keynote speaker and other thought leaders as TED Talks do so well: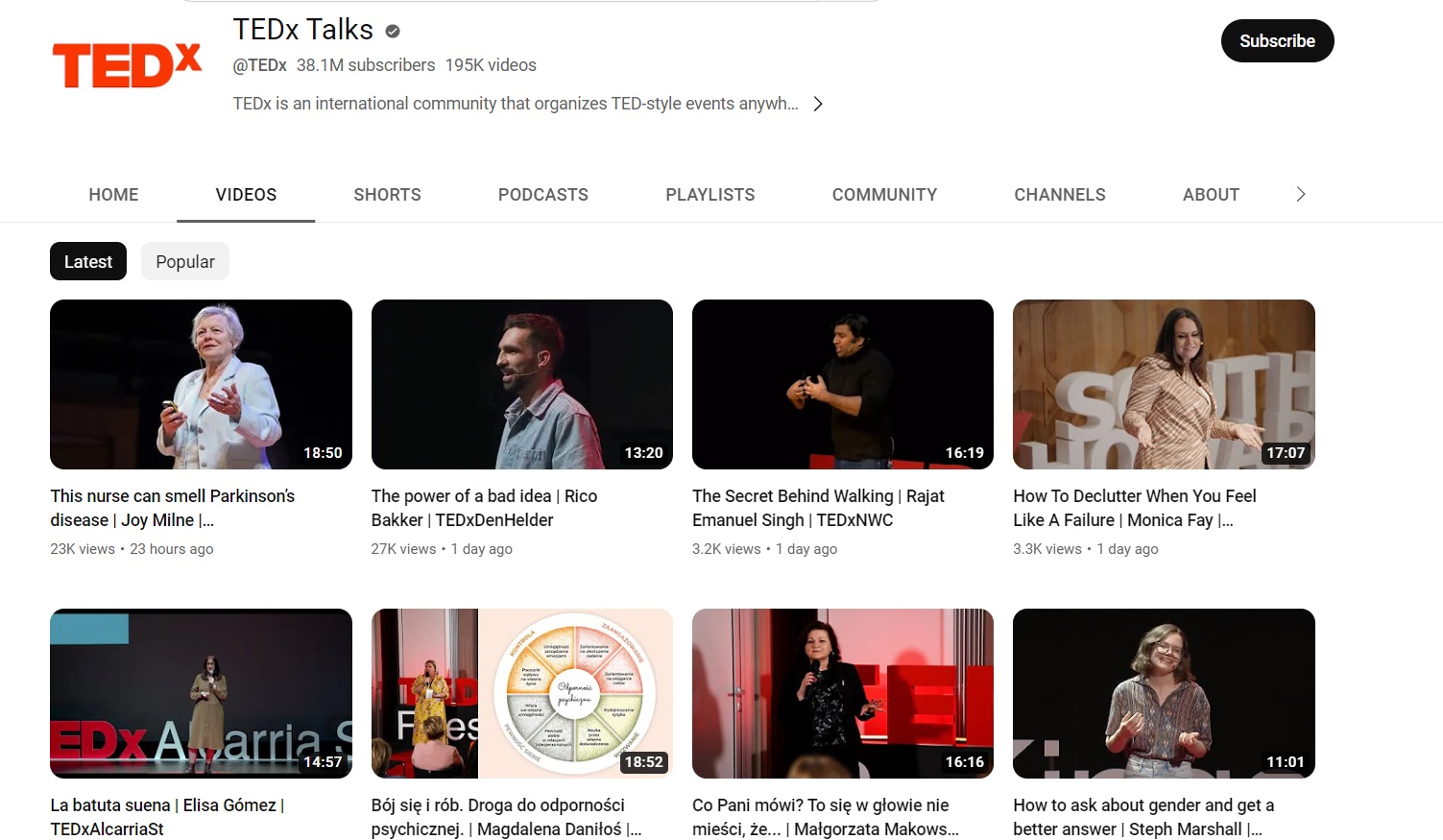 TED Talks' videos are as long as 20 minutes, yet the channel still has millions of subscribers, and each video can generate tens of thousands of views. But their speakers talk about new ideas, often doing so with emotion, which keeps viewers engaged throughout the speech.
While live events have been popular on Instagram and Facebook, B2B brands can still generate leads with YouTube videos. After all, B2B marketers still say YouTube is the fourth-most valuable social media platform.
Trend #15: Repurposing Content
A common mistake B2B social media marketing professionals make is posting social media content to try and get website visitors. Why not leverage social media and measure lead generation results from these channels alone?
Repurposing blog content is one way to do this. Instead of recycling content that already exists on your blog, recreate it to fit different social channels. This can include repurposing a blog for LinkedIn or even turning existing content into YouTube videos.
Single Grain Marketing did a great job with this on Twitter. Instead of linking a Top Marketing Trends article, they listed the trends on a Twitter thread and offered a sentence describing them. Then, they linked the blog to invite users to discover more details about these trends.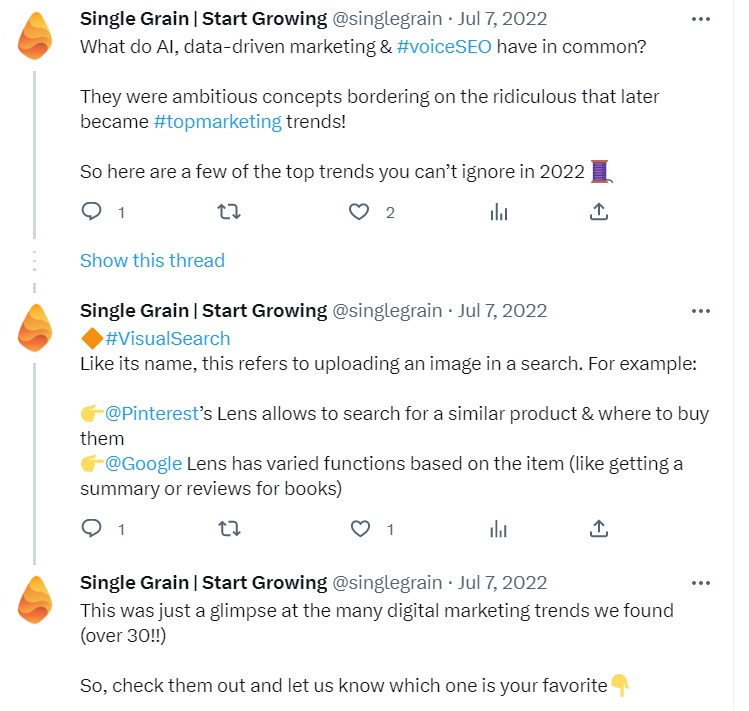 Dive Deeper: 9 Ways to Repurpose Your Old Blog Content
Use These B2B Social Media Trends in the Future
When creating a social media strategy for future years, B2B companies must know the trends to create a deeper connection with their customers. That's why following B2B social media trends is vital.
From repurposing content to audio social media posts, there are many social media trends that B2B businesses can expect for the coming years. These trends will influence everything from your content marketing efforts to lead generation.
If you're ready to grow your B2B business, Single Grain's B2B experts can help.👇