What's emerging right now in digital marketing is the most powerful marketing tactic we've seen in the last five to ten years: Facebook Messenger chatbots. Facebook Messenger marketing that uses chatbots is delivering massive results to the few businesses that are using them.
Here's what you'll learn in this article:
First, I'll give you a flyover view of the power of Facebook Messenger chatbots.
After that, I'll lay out a step-by-step guide to harnessing chatbot power to unleash massive results.
By the time you're done reading this article, you'll know everything necessary to use Facebook Messenger chatbots in your marketing — rapid list building, sky-high conversion rates, and a hyper-engaged audience.
Here's What a Facebook Messenger Chatbot Looks Like
There are two things you should know right off the bat:
Facebook Messenger marketing is the act of using Facebook Messenger to connect and communicate with prospective customers.
Facebook Messenger chatbots automate this process with dialogue and functionality.
The concept of Facebook Messenger marketing is beautifully simple, just like most unicorn marketing tactics.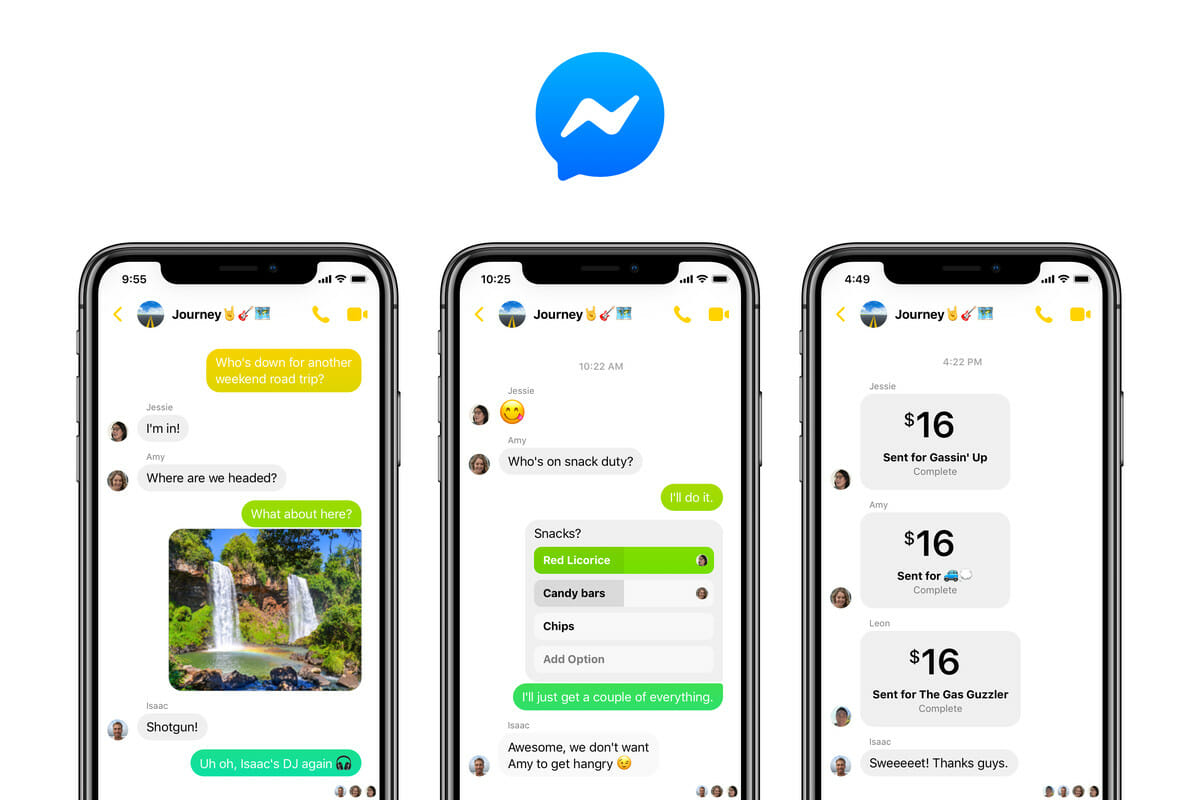 But the best part is how robust these chatbots are. If seeing is believing, I want you to personally experience a Facebook Messenger chatbot.
Click here to test drive an example bot yourself.
When you click or tap that link, you'll be redirected to Facebook Messenger. You can then interact with a simple Facebook Messenger bot. Don't worry. It's a dummy I created, so you won't be added to some list!
If you open the bot on your mobile, it will look like this: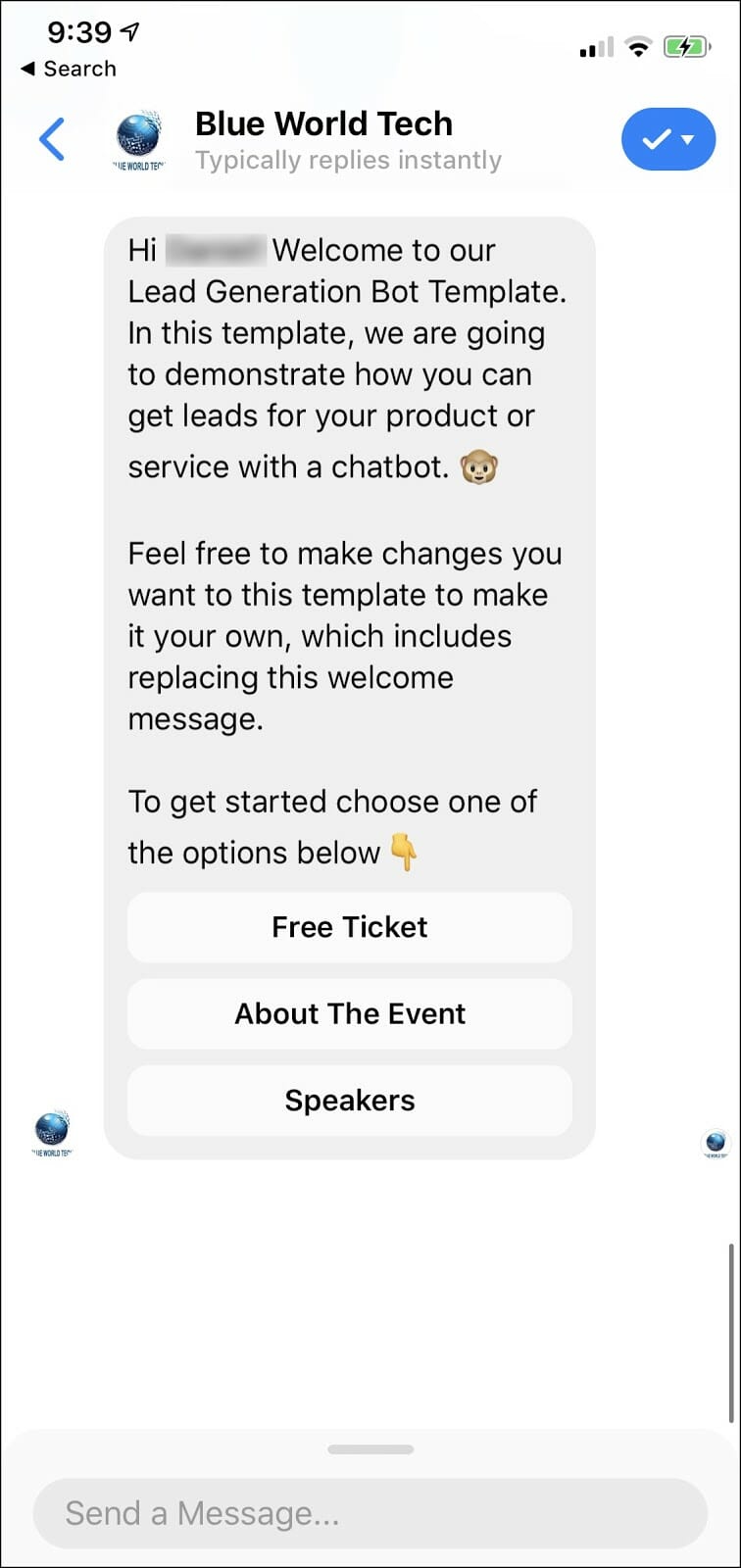 Facebook Messenger bots can do a ton of different things. Obviously, the bot above gives you a few options — getting a free event ticket, finding out more information about the event, learning about the speakers, etc.
Now, take a look at how a simple bot sequence can escalate quickly from an innocuous information-seeking interaction into a heat-guided missile: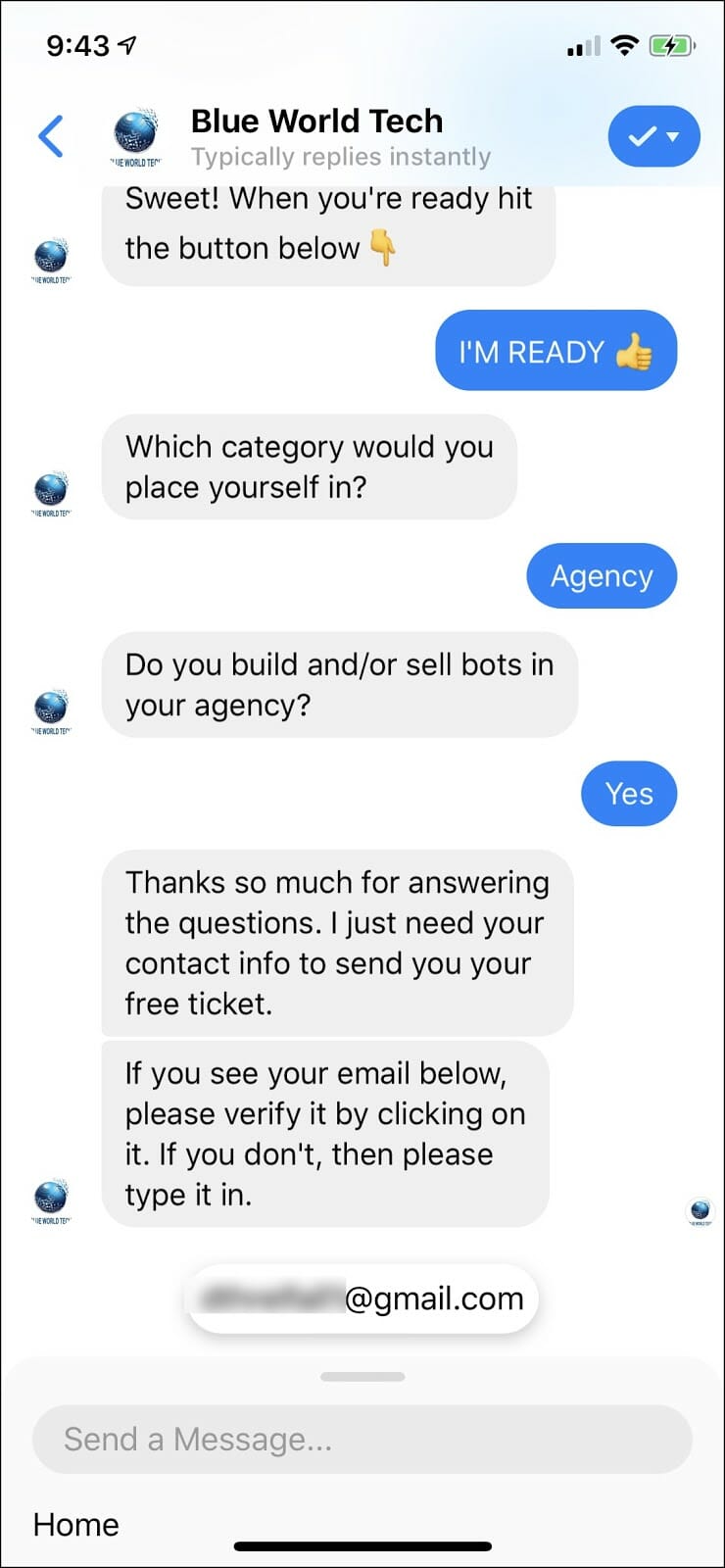 In just three taps, a curious bystander turns into a red-hot lead. And, thanks to the power of Facebook's API, they can hand over their email address with a final fourth tap. Gaining conversions like this has never been so easy.
And that's just one example of what a chatbot can do. What else can Facebook messenger chatbots do?
Qualify leads
Segment leads
Answer questions
Survey your audience
Host a contest
Collect contact information
Display products available for sale
Facilitate ecommerce transaction
Provide shipping updates
Report on the weather
Schedule appointments
Offer coupons
Make reservations
Whatever the nature of your business, Facebook Messenger chatbots can help. Check out these free and fully built chatbot templates to explore more Messenger chatbot functionality.
Dive Deeper: 
Results You Can Expect to Achieve with Facebook Messenger Chatbots
How successful are Facebook Messenger chatbots? What about open rates, read rates, clickthroughs and other KPIs?
The following screenshots display actual analytics from my chatbot builder, MobileMonkey, with campaign results that I personally experienced. This is the first time I've gone public with this proprietary data. You won't find this information anywhere else.
Instead of cherry-picking gleaming highlights from my illustrious marketing career, I've intentionally selected only recent campaign efforts.
First, here's the general information about my MobileMonkey business page:

Total contacts: the number of contacts in my Facebook Messenger contact list
Contacts this week: the number of new contacts I've gained in the past seven days
Sessions this week: the total number of interactions with my Messenger bots in the past seven days
Next, let me show you a recent campaign that I sent out — a survey to marketers regarding campaign ROI. In MobileMonkey, this kind of campaign is called a chat blast — a message sent to a certain number or segment of your contacts: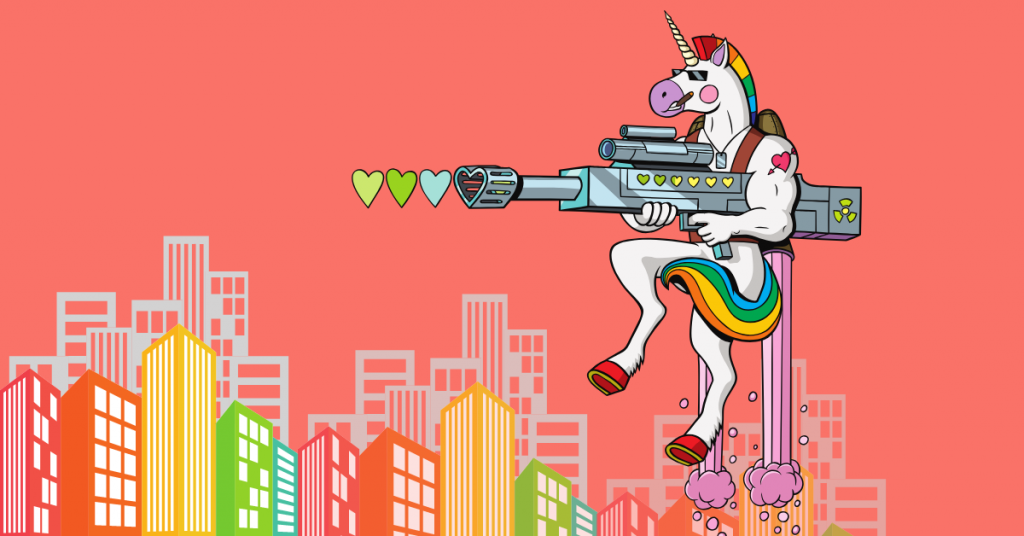 In email marketing, you might call it an email blast.
Notice that the very first line in this dialogue is an option for recipients to unsubscribe: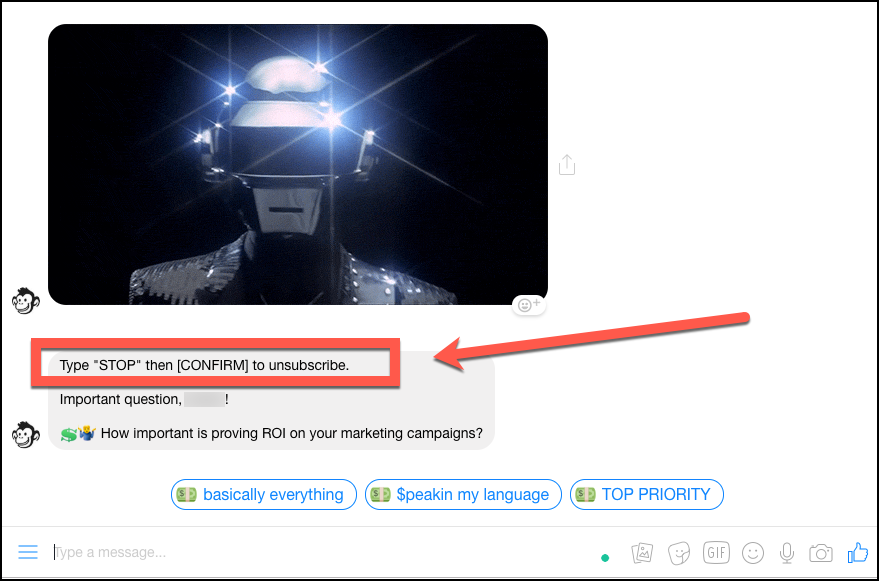 This is important because you don't want to get hit with spam complaints or blocks. (I learned this the hard way. I got put in Facebook jail because too many people blocked my Messenger bot.)
Even though I opened the unsubscribe gates wide, this boring-sounding campaign had decent results:

Of the 2,944 contacts who received the message, 70% of them read it.
To read a message in Facebook Messenger, you have to open up the Messenger app and tap the message or respond to the notification. This is equivalent to an open rate in email marketing. 70% shows very high engagement.
What about click-through rates? How many people actually responded? Only 8.2%, but this is still not bad, especially when compared to email marketing click-through rates.
Let's look at some more data. This time, I'll show you the results from a drip campaign. Yes, you can send ultra-successful drip campaigns with a Messenger chatbot. Here's how the drip campaign started out: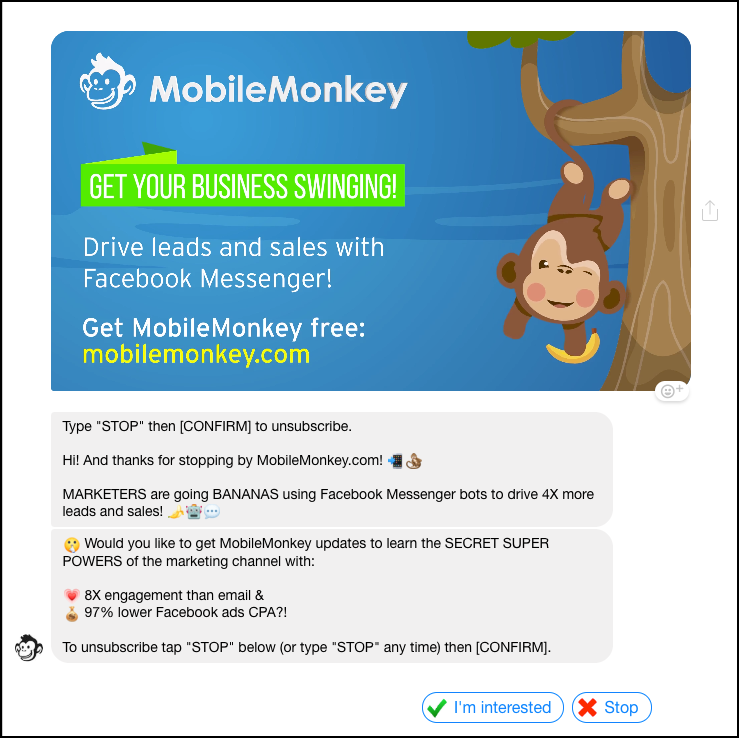 Again, the recipients have all kinds of opportunities to unsubscribe. I show them unsubscribe info at the beginning and the end of the message.
I sent this drip to 954 recipients. Of those 954, 113 of them chose to unsubscribe:

In my view, that's okay. That's good, actually. These recipients told me that this wasn't for them, and I would rather send my valuable stuff to people who do want to receive it.
If we're talking about email marketing, an unsubscribe rate of 11% from a single campaign would feel disastrous. But in Messenger, engagement rates — all kinds of engagement rates, even unsubscribe rates — are higher. With a drip campaign, that's okay.
Now, look at the other engagement rates:

I scored about an 80% read rate and a 52% response rate. This means that more than half of the recipients tapped "I'm interested" and proceeded through the drip campaign. This data is representative of the type of engagement that Messenger chatbots are capable of.
This is unheard of in traditional marketing channels:
Facebook display ads = 1% CTR
Email marketing = 10% open rates
That's what you've learned to expect. That's nothing when compared with Facebook Messenger chatbot engagement.
Dive Deeper:
6 Steps to Add Chatbots in Your Marketing Strategy
Now it's time to import this power into your marketing efforts. And here's exactly how to do it.
1) Select a Facebook Messenger Chatbot Builder
Important: The remainder of this article consists of six tactical points that you should follow in order to have the most powerful and robust Facebook Messenger chatbot strategy. Facebook Business manager does not have any Messenger tools, so you will need to select a third-party chatbot builder.
My company, MobileMonkey is one such chatbot builder (it's free), but there are many others. Check out the curated list from 99Signals or a list by an Entrepreneur contributor to make your selection.
As you choose a chatbot builder, follow these four guidelines:
Select a chatbot builder that is focused on Facebook Messenger.
Choose one that is easy to use.
Select a chatbot builder that offers plenty of features.
Choose a chatbot company that won't go out of business anytime soon.
Dive Deeper: How ManyChat Exploded into the Leading Messenger Marketing Program in Just 2.5 Years [podcast]
2) Begin Using Facebook Messenger Chatbots Immediately
The first-mover advantage applies to Facebook Messenger marketing. There are over 80 million businesses on Facebook, but only 300,000 bots being used by these businesses.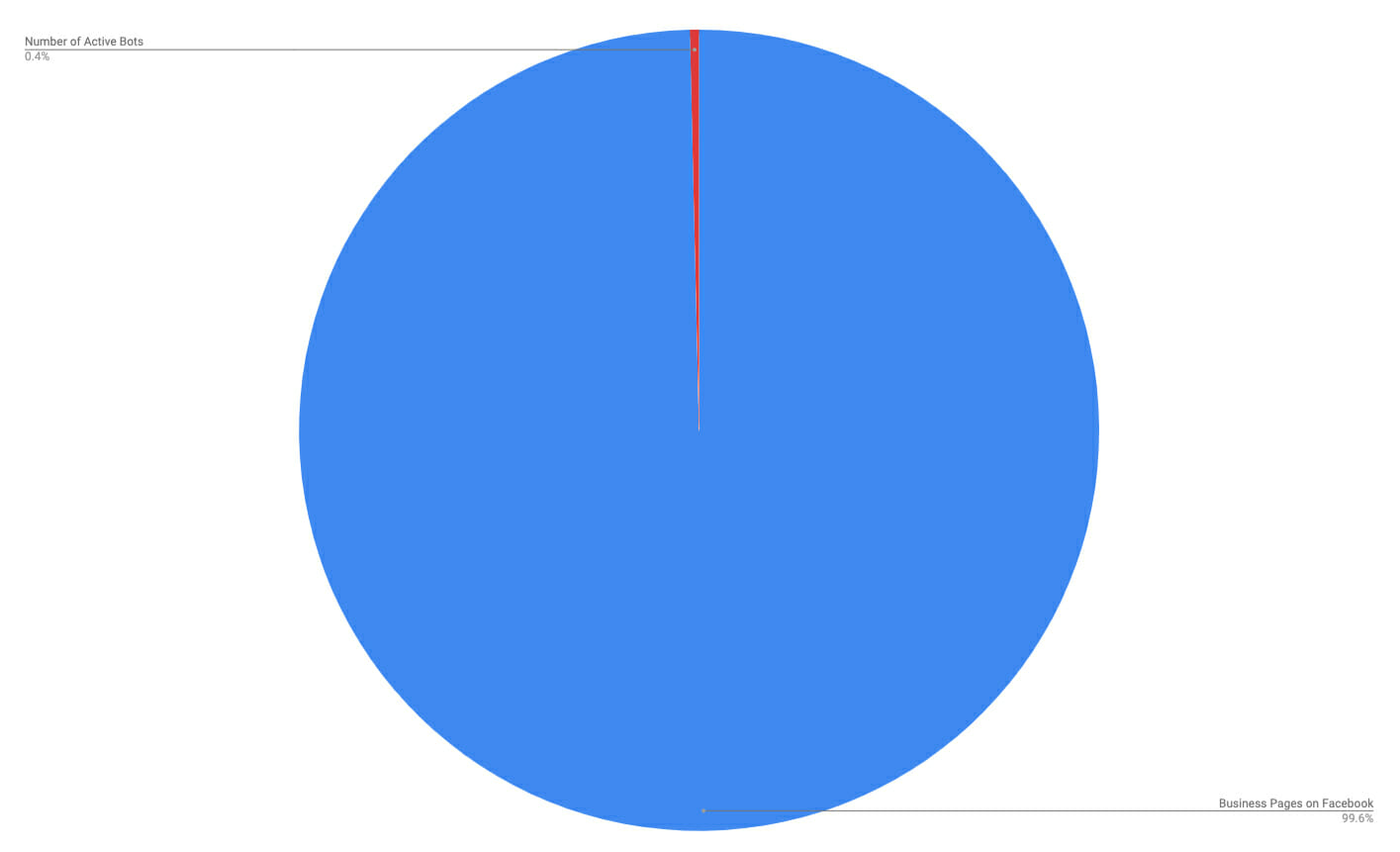 Businesses that implement chatbots now are effectively ahead of 99.6% of all other businesses that are actively involved in Facebook marketing. That 99.6% probably includes your competitors.
3) Use the Full Range of Facebook Messenger Chatbot Functions
Of the businesses that do use chatbots, they are mostly using one type of chatbot — a Business Page autoresponder: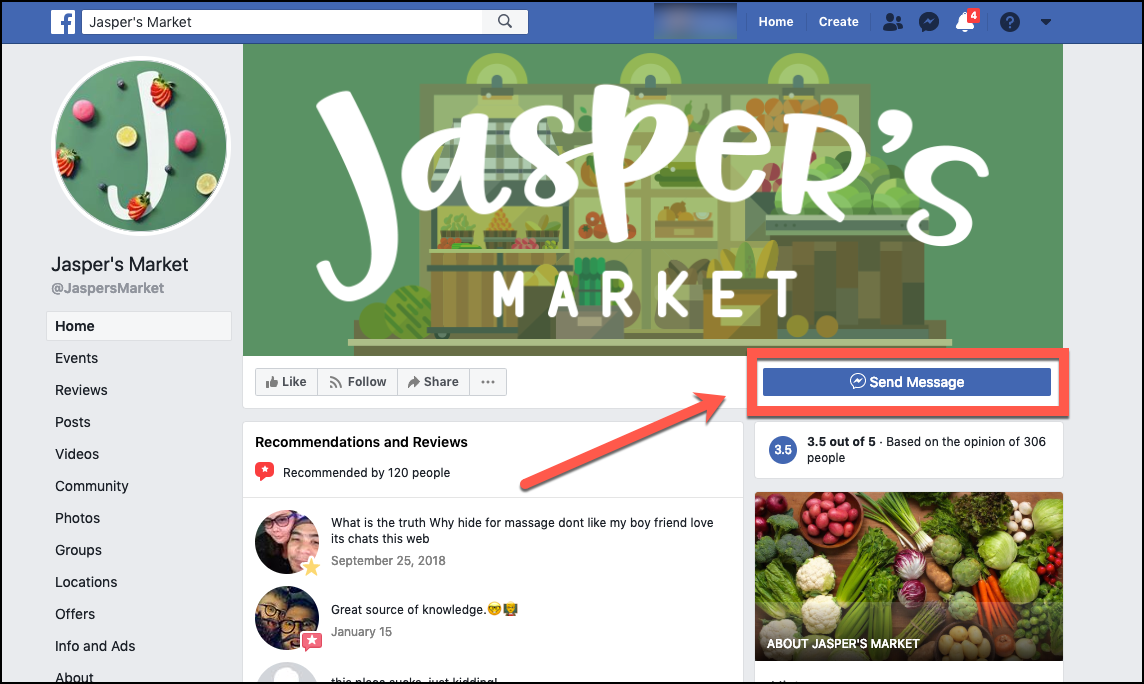 When you send a message to the page, you'll get an instant response like this: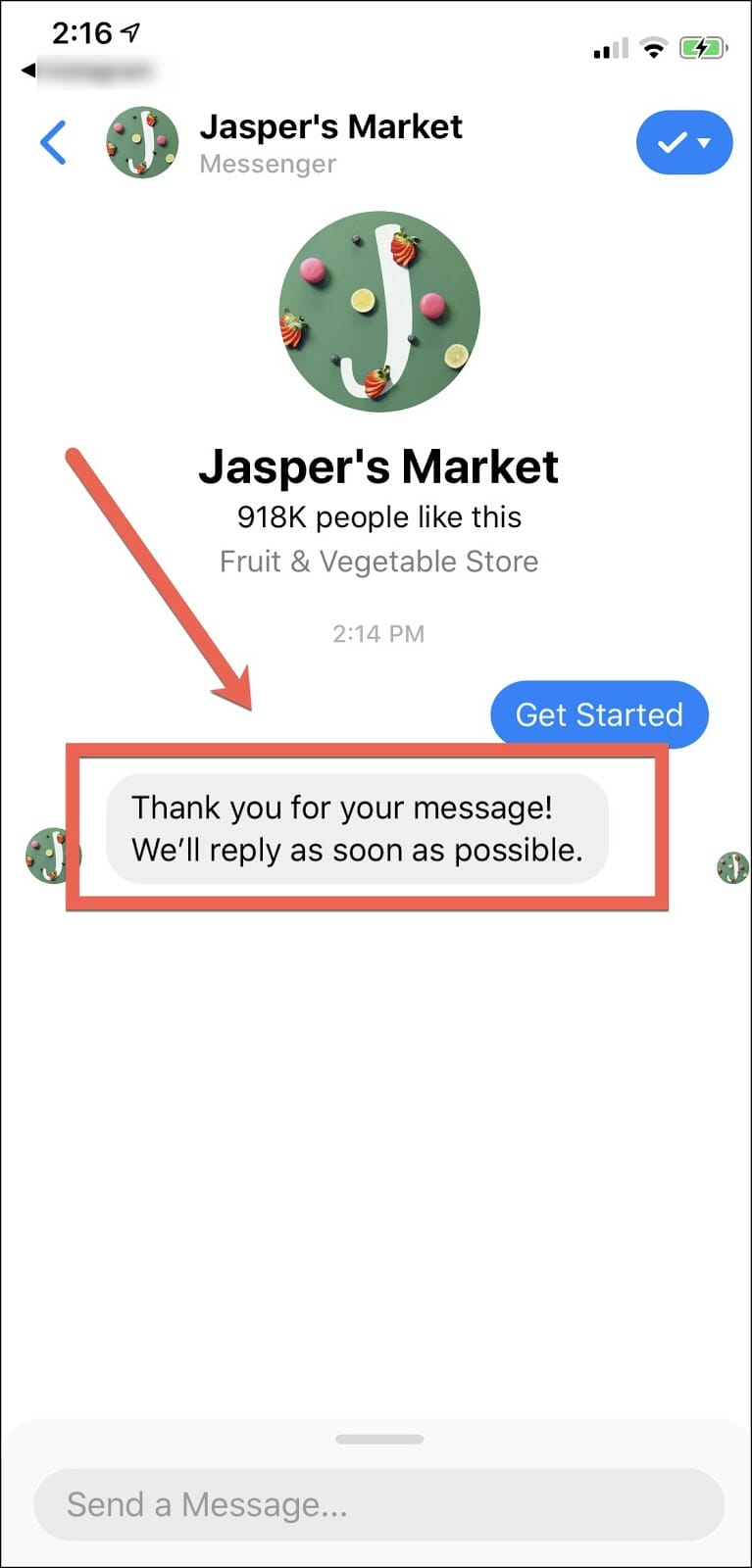 An autoresponse is nice, especially since it allows you to receive a high rating, according to Facebook's scoring. Unfortunately, these chatbots have extremely limited functionality. Often, such bots promise a quick reply, but fail to deliver.
It doesn't take much more effort to add more chatbot functions. Here are the four chatbot features that I love using:
4) Customize Messenger Chatbots for Your Specific Needs
Chatbots are eminently adaptable for virtually any business. If your business is on Facebook, then you can and should be using Facebook Messenger chatbots.
Let's use a random example — a dentist's office: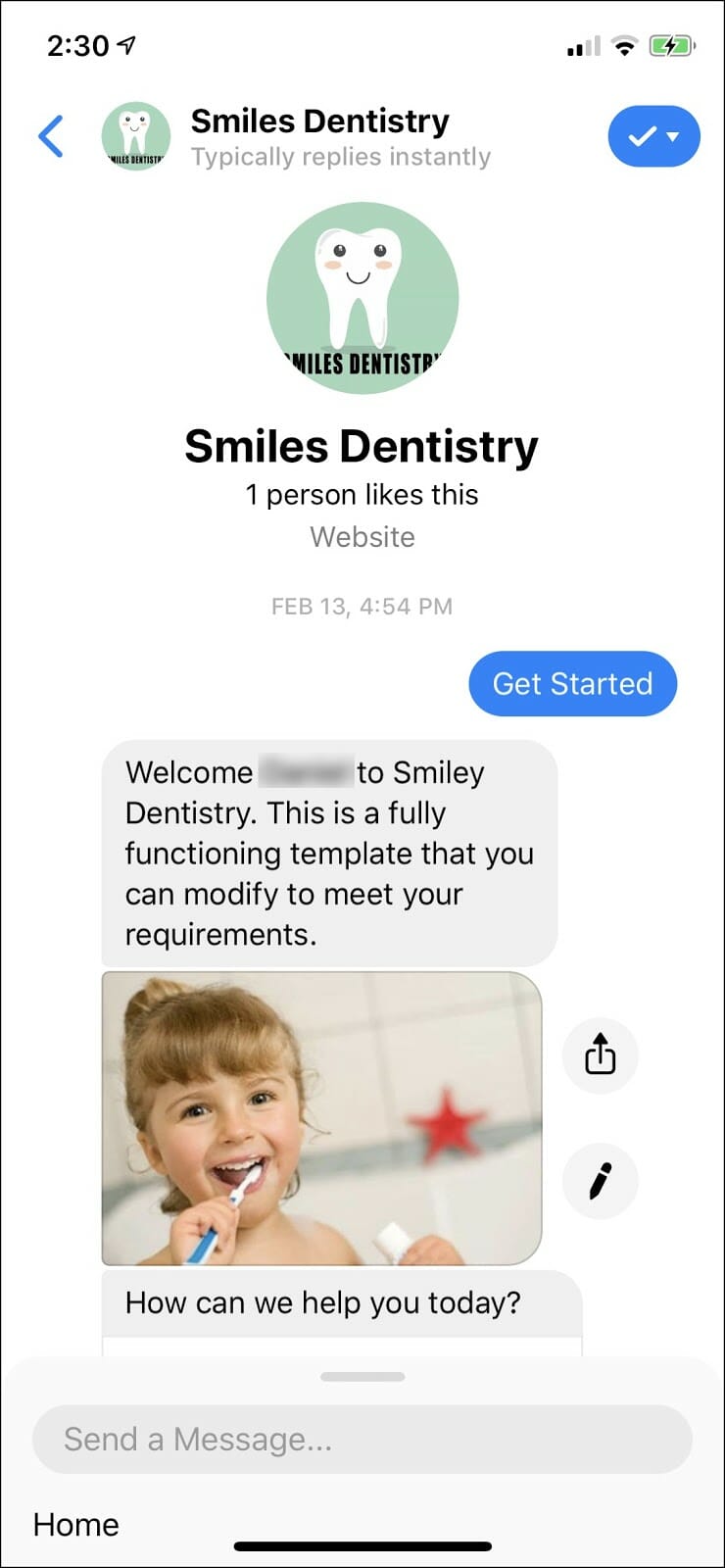 Adding and customizing a Messenger chatbot for a dentist's Business Page will take 1-3 hours. Once it's set up, prospective patients can do the following:
Schedule an appointment
See a list of services
Meet the dentists
Find out office hours
Get directions to the location
Get a free cleaning
Notice how easy this makes it for customers to get what they want or accomplish the tasks they need to do. Scheduling a cleaning takes just four taps: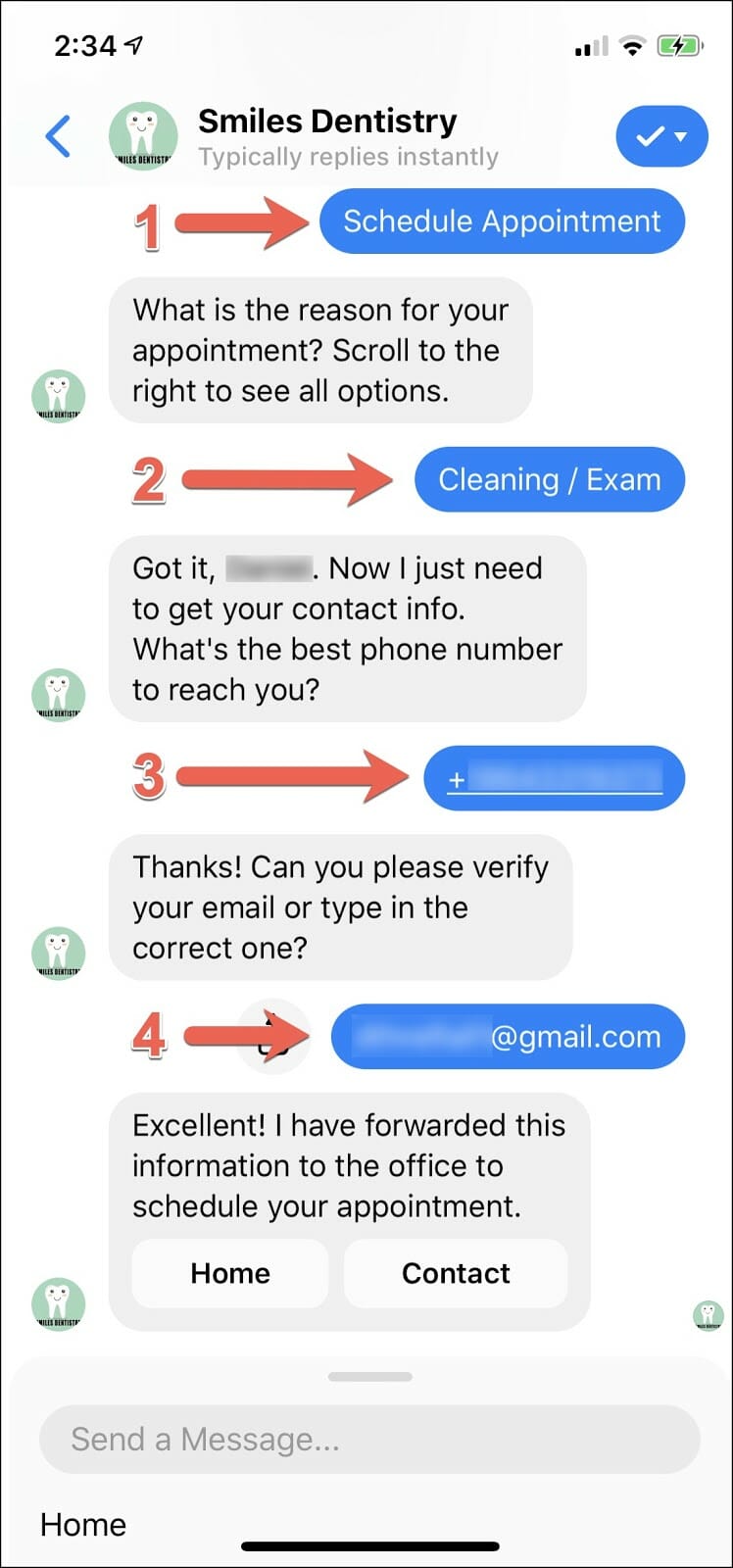 If you want to schedule the appointment immediately, you can link to an online calendar to allow your patients to select from available times.
In this situation, the Facebook Messenger chatbot saved the customer from the hassle of having to call in, be put on hold, talk with a receptionist, discuss scheduling, etc. Additionally, it allowed the dentist's office staff to seamlessly welcome a patient for a cleaning without taking up a lot of valuable time.
Just like that, chatbots can solve a host of customer support issues, lead generation, lead qualifying, FAQs, etc.
Dive Deeper:
5) Integrate Facebook Messenger Marketing Access Points on as Many Platforms as Possible
Facebook Messenger isn't just for Facebook. You can integrate Facebook Messenger data and functionality throughout all aspects of your business — order processing, scheduling, CRM, sales, etc. One of the biggest misconceptions with Facebook Messenger marketing is that it's confined to a single platform — Facebook Messenger. Nothing could be further from the truth.
The first place to start is with a chatbot widget on your website: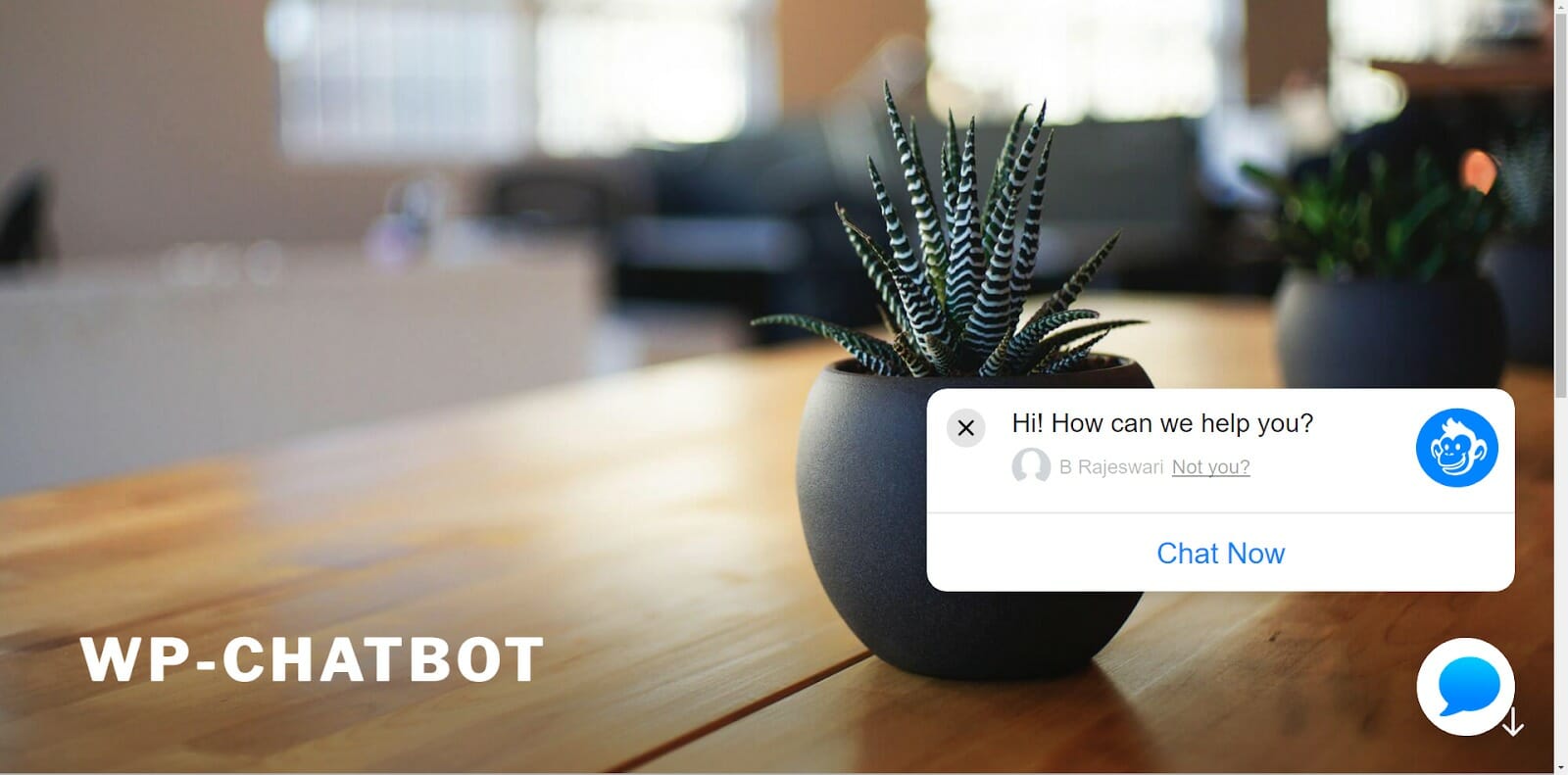 Once you've done this, you can successfully funnel your web traffic into your Facebook Messenger contact list.
Or, let's say you want to export all the data from your Facebook Messenger contacts. Easy: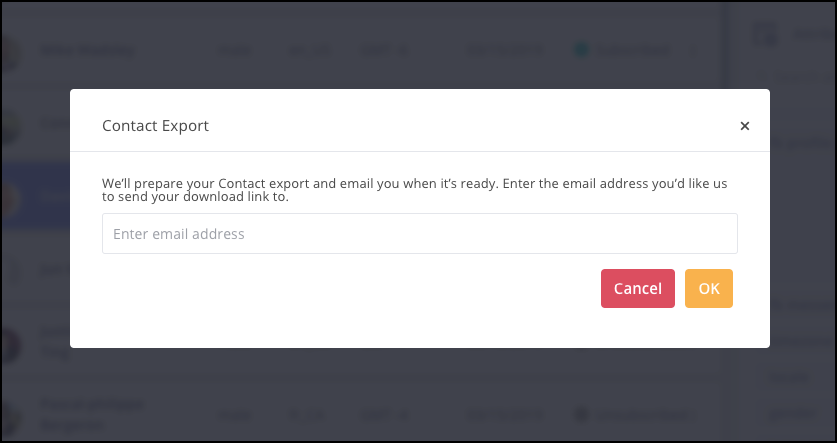 There are literally thousands of other ways to connect your WordPress chatbot to other aspects of your business:
Connect to an email marketing platform like MailChimp or Constant Contact
Connect to a CRM like Salesforce or HubSpot
Connect with a webinar platform like GoToWebinar
Get Slack notifications or SMS with new contact requests
Using one chatbot builder as an example, you can use Zapier or a webhook automation to interact with data and information from the chatbot: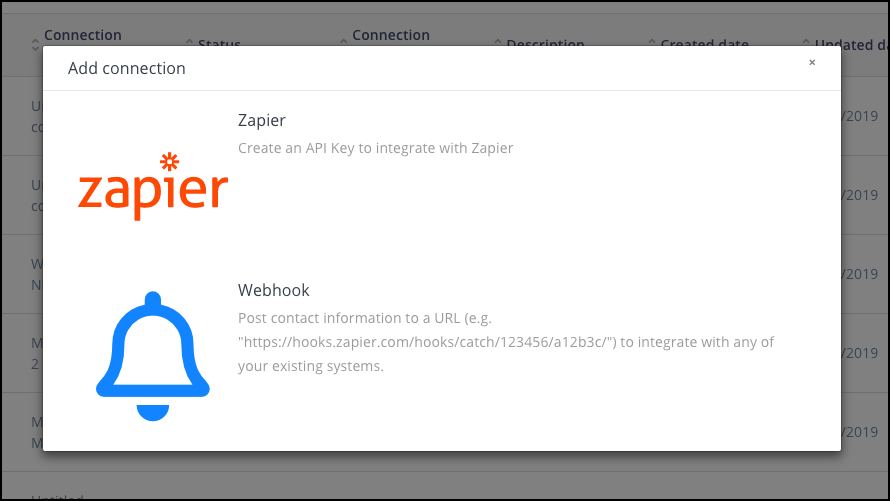 As always, if your customers want to talk to a live person instead of a bot, most chatbot builders allow for live operator takeover.
Dive Deeper: Omnichannel Marketing: Using the Content Sprout Method to Overcome Info Overload
6) Focus on Messenger Marketing List Building
Building a Messenger contact list is enormously important, even more important than building your email list. In fact, Facebook Messenger marketing makes email marketing look antiquated and ineffective.
Your Facebook Messenger contact list will grow organically over time, especially if you've integrated a chatbot plugin on your website. But you will also learn new techniques for gaining Messenger contacts through other chatbot-driven methods like click-to-messenger ads and Facebook post autoresponders.
Dive Deeper: How to Build a List of Messenger Subscribers with Facebook Comment-to-Messenger Ads
Messenger Marketing with Chatbots Is Essential
Marketers love to talk about "new eras" and "huge changes" and other buzzy concepts. I don't want my voice to get lost in that confusion. I do want to make the assertion, based on data, that Facebook Messenger marketing is a massive change in how we do marketing.
It's a tactical change, yes. We have a whole new channel that's bristling with power, features and functionality. But it's a behavioral change as well. Messenger marketing is a case study in what we already know is true: people prefer to interact, not just receive information. Instant messages, one-on-one channels and dependable feedback are inherent in the nature of communication and the brain's reward system.
Having spent fifteen minutes of your life absorbing this information, it's time to act. It will take less time to make your first Messenger chatbot (no coding required) than it took to read this article!