How to Build a Social Media Marketing Conversion Funnel
Social media marketing is exactly what it sounds like – a digital marketing tactic that makes use of social media platforms such as Facebook, Twitter, LinkedIn, etc. to generate more traffic to your product or service.
This type of marketing has been around for many years now, yet too many businesses are still shying away from it for one main reason: they don't know how to integrate it into their actual conversion funnel.
This article focuses on exactly that – how to build an effective social media marketing conversion/sales funnel.
What Is a Conversion Funnel?
The traditional way to explain a conversion funnel is as follows:
The conversion funnel is the process of converting someone from stranger to buyer – from becoming aware of your brand, to understanding the value you offer, to purchasing from you.
Click To Tweet
Laura Scott explains it well with this diagram: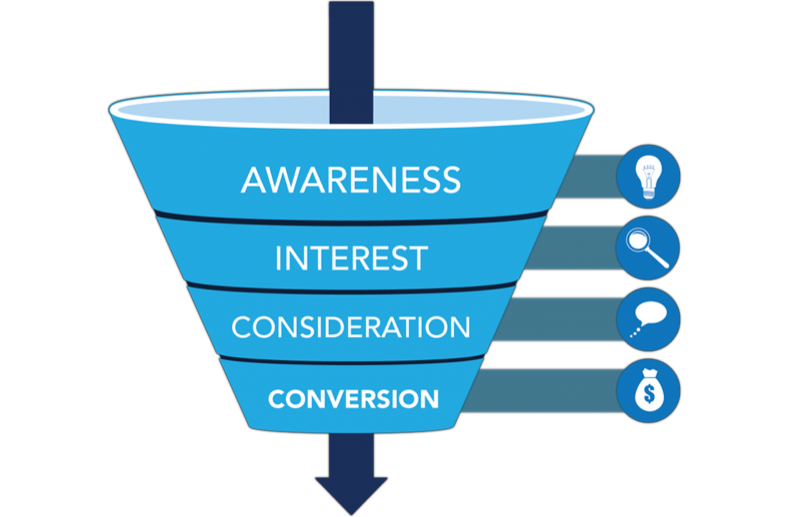 Single Grain has a more detailed explanation of the marketing funnel: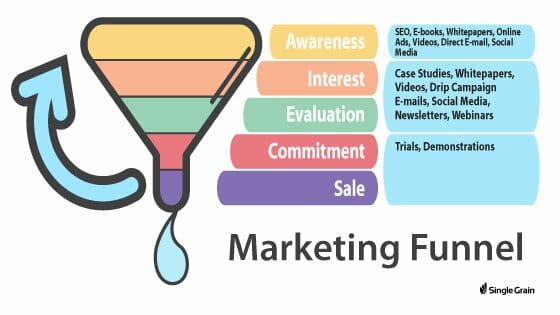 Because of extremely short attention spans (it's too hard to get and retain anyone's attention), global marketing ability (your competition is no longer limited to your locality) and a huge variety of sales and marketing channels (finding a place where your competition is still weak), the conversion funnel looks much more complicated:
It may include more steps
It doesn't end with conversion
Rand Fishkin offers a more detailed conversion funnel diagram: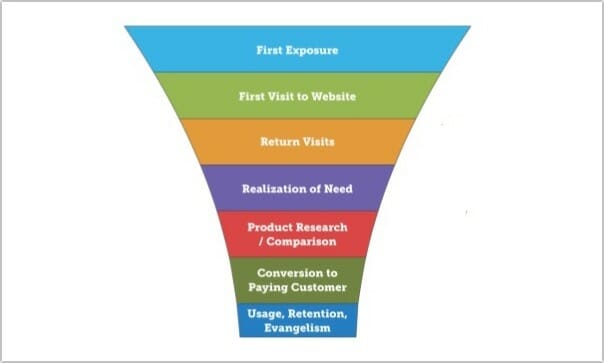 Buffer has a similar (and sideways) graph, but notice that their graph uses lots of colors to show many more conversion stages in between the steps, hinting that it may take much more efforts than expected: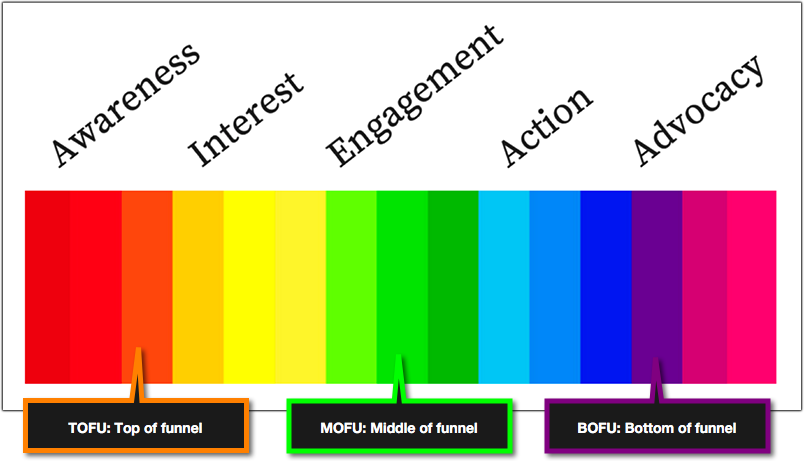 Further Reading:
Where Does Social Media Fit In?
The traditional argument is that social media is best used for the very first step in the funnel, i.e. awareness (or discovery, as some people call it).
That's definitely true, but the role of social media in your site conversion rate doesn't stop there! It can actually help on many more levels, if you do things right: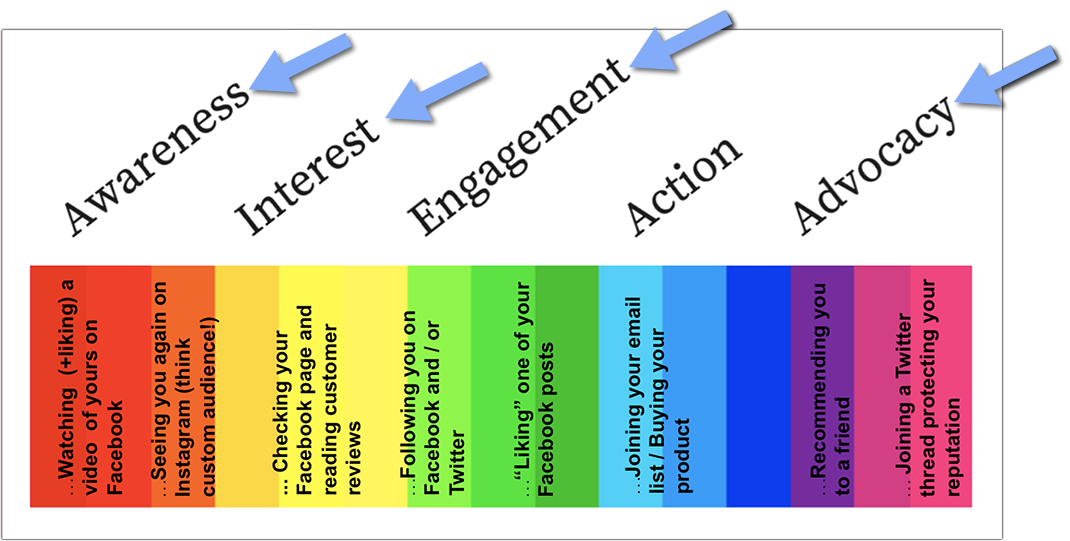 Let's turn this image sideways for easier reading: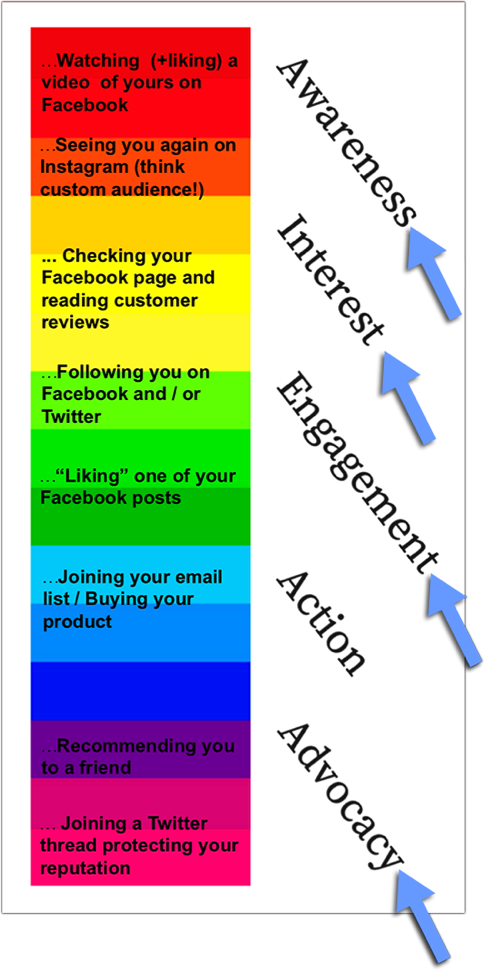 Notice how social media helps with (and even powers) each step in your funnel, from awareness to advocacy.
Keeping that in mind, let's try and build an effective social media conversion channel now!
Discovery + Interest (TOFU): Diversify Channels, Repeat the Message
Multi-channel and multi-step/multi-touch marketing is nothing new. It's been some time since marketers were first faced with the need to be in many places at one time:
Back in 2013 we were talking about at least 7 "touches*" to qualify a lead (a touch can be anything from seeing a tweet to receiving an email).
More recently, a study by Sprout Social found that 84.9% of people have to see something on social media more than once before they will purchase it: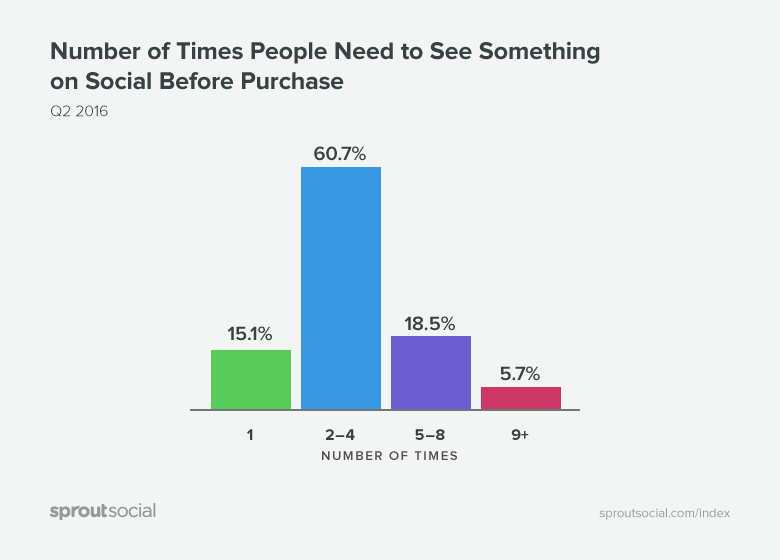 Many years ago I started talking about "being everywhere" tactic and how to make it work. There's no one perfect way to make sure your brand is everywhere – it all comes down to the niche and the nature of the business – but here are a few ideas for you:
Publish the same message throughout all your social media channels. Use scheduling tools to make sure it goes out at different times and re-word your message just a bit to avoid being too repetitive.
When it comes to Twitter, post the same message several times. The life span of a tweet is very short. To get more attention, consider scheduling the same message 3-5 times throughout the week at different times of the day. Use tools like Mavsocial to make this task easier.
Re-package your message into new formats and post it again. For example, publicize your blog post as a text/link first, then turn it into a simple visual (with steps or key takeaways or quotes) and publicize it on the same channels again. Another example could be turning your special offer into a neat banner and then into a cool quick video and publish it at least twice using different formats. You can use tools like Wave.video to easily re-package any format into a video.
Interlink your social media channels. Most platforms allow you to add links to other accounts, so make full use of the feature.
Although all of the above points make your content more discoverable and build awareness, it's not always easy to assess the success of your efforts or the ROI. What you can do is monitor your brand mentions and the organic growth of your social media channels; both factors let you see if you and your team are doing the right thing.
Consider creating a dedicated dashboard to make the assessment easier. Cyfe is a solid option for monitoring brand awareness (Disclaimer: as of recently, this is my content marketing client, but I've been an advocate for ages).
I use the following widgets:
Twitter search widget to monitor Twitter mentions
Google Trends widget to see the growth of my brand mentions around the web
Google Analytics widget to monitor the growth of direct traffic (this is another good indicator of brand awareness)
Google Analytics widget to monitor the growth of social media referral traffic
Facebook widget to monitor the growth of my Facebook audience
Twitter widget to monitor the growth of my Twitter following
Instagram widget to monitor the growth of my Instagram following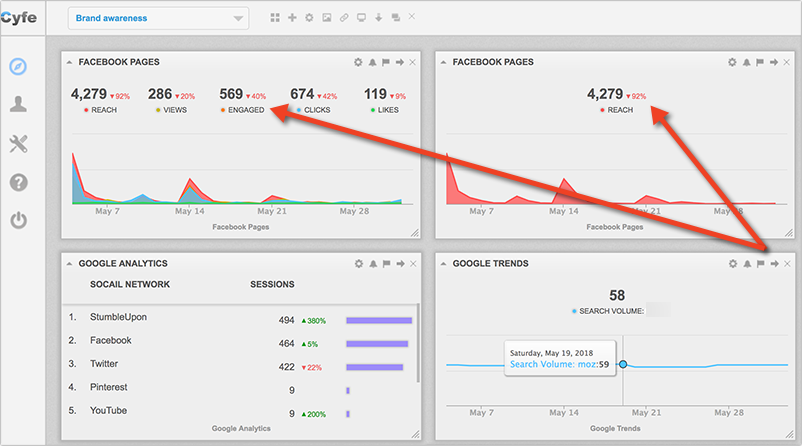 This kind of dashboard gives a bird's-eye view on your brand awareness growth and makes regular reporting much easier. It also signals any dips or other flags you may want to react promptly to.
Further Reading:
Engagement (MOFU): Interact and Talk Back (+ Build Custom Audience)
Engagement lies in the middle of the sales funnel and it works for nurturing and even validating leads. Engaged customers are more likely to remember your brand and buy from it. It helps brand awareness, creating interest and actual conversions.
Furthermore (and somewhat outside the actual topic of building a funnel), engagement builds data. On Facebook you can create a custom audience that includes everyone who ever liked or commented on your updates so you can market to them again. This increases conversions from your advertising campaigns because you are able to market to people who are already familiar with your brand.
To improve your social media engagement, invest the time to reply to Facebook comments and like and comment on updates that mention your brand and reviews, etc. Here are some tips:
Use (or encourage your social media team to use) instant desktop alerts about important social media messages in order to reply immediately. Tweetdeck is what I use, but tools like Mention and Awario are also good options to create email alerts and use mobile push notifications to get notified immediately.
Use Slack or alternatives to encourage your whole team to support your social media activity. You can automatically import your brand mentions, comments and articles mentioning you into a dedicated Slack thread so that your whole team can go there and engage:

Action (BOFU): Create Social Media Landing Pages
A landing page is an integral part of the conversion channel. As a marketer, your ultimate goal is for the user to land on your site and it should be convincing enough to bring you that conversion.
Social media leads are very specific: they are mostly lurkers and you have probably distracted them from talking to friends or checking family photos, so they may be slightly annoyed.
Click To Tweet
Your task, therefore, is to prompt them to pause their journey, start paying attention and get excited about whatever you have to offer.
Here are some of my tips and examples for creating an effective social media landing page:
Keep it short and make it a lightning-fast read
Use social media testimonials
Gamify the experience (e.g. let people play with options, scroll the map, etc.)
Use no more than one call-to-action
A/B test!
Try creating a strong sense of community on your landing page to inspire all those social media lurkers into action, like this example from Muzzle: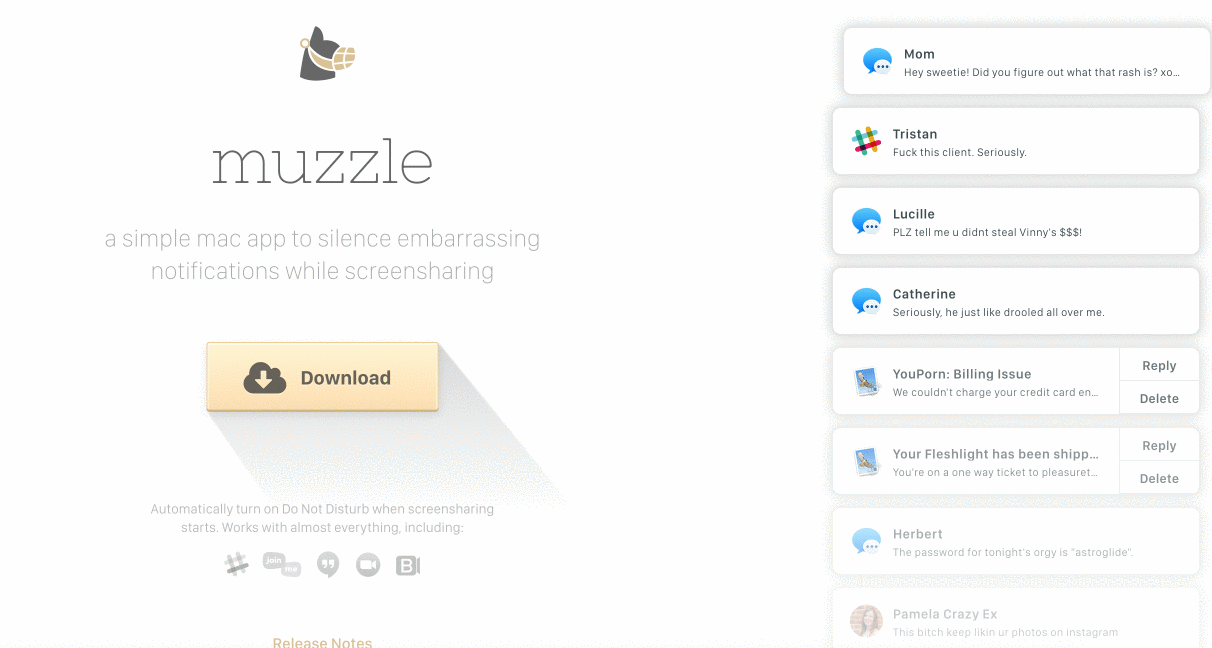 Action (BOFU): Adapt Your Message
As mentioned above, your social media audience needs to see your update at least twice to finally feel like buying. Yet, you cannot stuff your page with the same promotional message over and over again, unless you want to start losing your followers.
The solution is to follow that well known 20/80 rule where only 20% of your social media updates are promotional and 80% are neutral (useful, funny) updates to build engagement and loyalty.
The fun part is, those 80% can still help you build sales if you approach them smartly. Here are two non-promotional types of updates that can help your bottom line without scaring off your following:
Share content promoting your brand. Make sure those unbiased reviews and best-tool lists that mention your brand make it to your social media channels. These look totally natural (you being proud of being featured), nurture connections with your promoters (you tagging them and thanking them in your social media updates), and act as powerful testimonials (your followers seeing your brand's positive context on a regular basis).
Build content around your competitors' (weak) points. Do you have a better-known competitor? Research and monitor their weak points and show how your brand is different. If you want to see that in action, look at MeWe's Twitter account building its following on the lack of its competitor's privacy: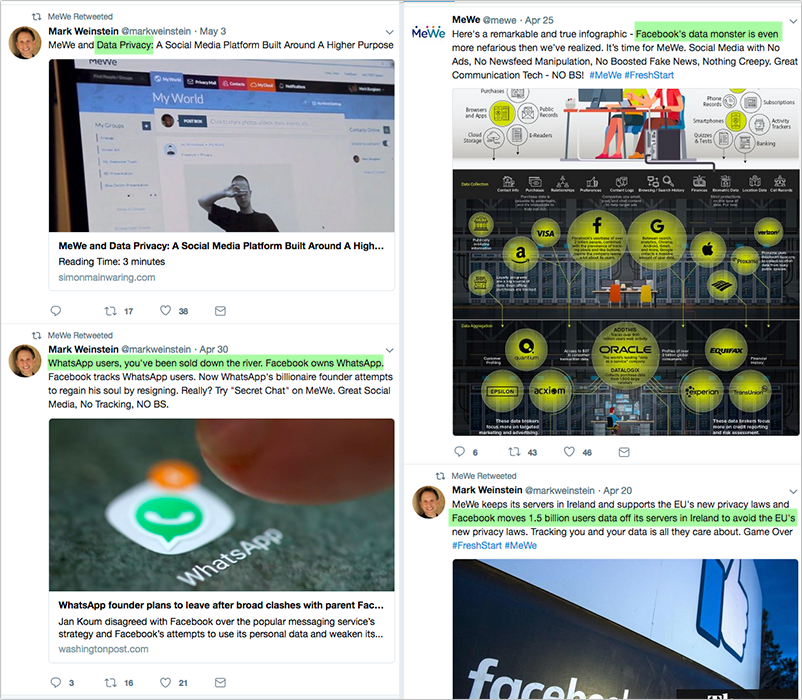 Tip: Use Serpstat to research your well-known competitors' weak points. Just type in your competitor's name and scroll through the list: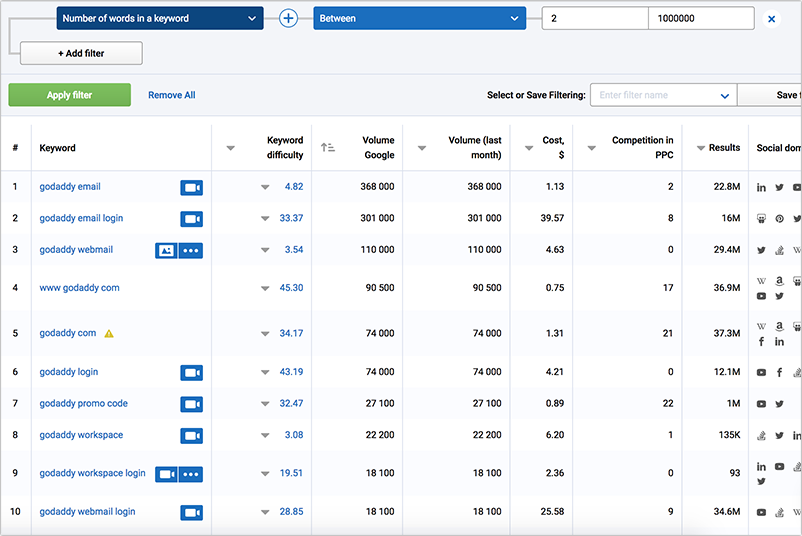 Now take this list and put it through Serpstat's clustering feature: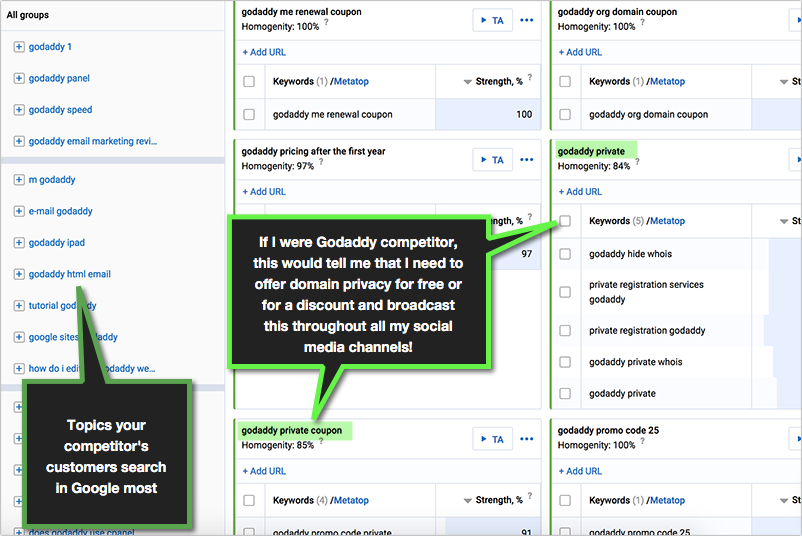 This feature will group your keyword list by relevancy using Google's search results as a metric, i.e. the more overlapping URLs there are in Google's search results, the more related those queries are.
This gives you a roadmap of social media updates. These are the topics that your competitor's users are most interested in, so build your social media updates around them to catch their attention. Those don't have to promote your business in any way but it will touch upon the user's transactional intent – that is, when users feel likely to commit or buy after reading content.
Further Reading:
Action + Advocacy (BOFU): Create a Secondary Conversion
Now, most of the above advice is pretty standard. With slight variations (when it comes to tools and examples), you'll hear most social media marketers suggest sticking to the 20/80 rule, using a multichannel approach, re-purposing your message and focusing on engagement.
All the above tips will definitely help you make your sales funnel much more effective. But here's one definitive truth that not many of us will admit: Social media is not that good at driving immediate sales.
Yes, it helps indirectly through building discoverability and increasing the amount of "touches" for your potential customer to finally remember you. But when it comes to direct sales, it's too distracting and too easy to lose attention for the actual sale.
In this respect, I love the quote from Viral Content Buzz host Susan Wenograd who was talking about Facebook advertising:
"…it's not a question of [Facebook advertising] flat-out not working… it's more so that the expectations aren't aligned to begin with. I've worked with coaches trying to sell a $3k mastermind and they sell 0, claiming FB doesn't work.
It works great if you understand you're dealing with cold traffic that you need to develop a relationship with. $3k mastermind course out of the gate? Not likely. But… leads for under $10 each who you then sell to later? Entirely doable."
This approach is simply gold and may help you finally see tangible results from your social media marketing. Now, there are two ways to use the tip:
You can focus on building leads (especially if you are in a B2B niche)
You can build a sub-product that will either work for tying leads to your brand or bringing in some additional income (or both)
While the first way is pretty straightforward (all you need is a good CRM system), the latter is a different and innovative tactic (which I bet you haven't thought of before!).
One of the most effective sub-products I have come across is a video course. It helps your brand on so many levels that it's almost unbelievable. Video courses:
Create a more suitable product for the bottom of your sales funnel
Position your brand as a niche authority and knowledge hub
Keep your customers close to your brand
Build more marketing opportunities
Set up a secondary income source
I've been playing with Udemy for a while and I'm now considering switching to Uscreen because it offers many more marketing opportunities. It even lets you create a custom branded smartphone app, making it so much easier to keep your students tied to your brand with push notifications: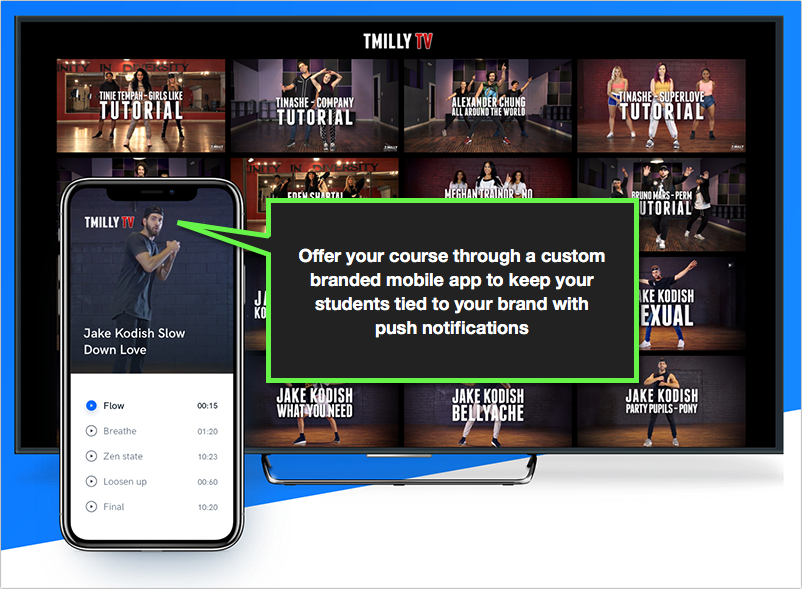 It's also much easier to create and set up a course. I've written a list of tips on how to re-package your existing brand-owned content into a video course. In terms of hosting and managing, Uscreen makes it a breeze.
Conclusion and Takeaways
There's no one way to build an effective social media sales funnel. You'll need to align your expectations and create a lot of tasks to streamline the process, but the above tips will help you move in the right direction:
Social media should be part of each step in your conversion funnel. It's important to expand your social media marketing tactics beyond broadcasting and include less measurable goals (like brand awareness and engagement).
Social media is not the best sales tool but it can help indirectly via higher discoverability and awareness, accumulated data, and building loyalty.
For your social media conversion funnel to work, adapt your expectation and offering (or even build an additional, more suitable product).