Social media advertising statistics can help you better understand your target audience, which allows you to make data-driven decisions that will, ultimately, improve your ranking.
Part of knowing which social media platforms are the best placements for ads requires extensive research to learn the utility of each social space, the demographics that are attracted to each, and the intent of the users there.
In this piece, we've curated thirty of the most important data points to help you form your social media marketing strategy.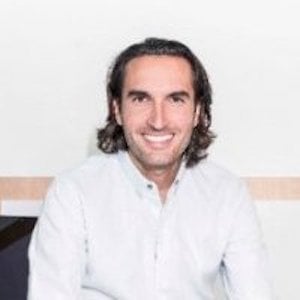 Yaniv Masjedi
CMO, Nextiva
Their expertise has helped Nextiva grow its brand and overall business
General Social Media Advertising Statistics
1) As of February 2023, the typical internet user spent 2 hours and 31 minutes on social media and messaging services combined (Tech Jury).
If you're just starting off with digital marketing, it's very important to realize the approximate usage of social media. That two and a half hours people spend on social will inevitably be interspersed with ads from different advertisers, and you want to insert yourself into that mix wherever is most applicable for your brand.
Dive Deeper: How to Unsuck at Social Media: Insights from Marketing Experts
2) Over 302 million people in the U.S. are active on social media (Statista).
That's a solid 90% of the total population.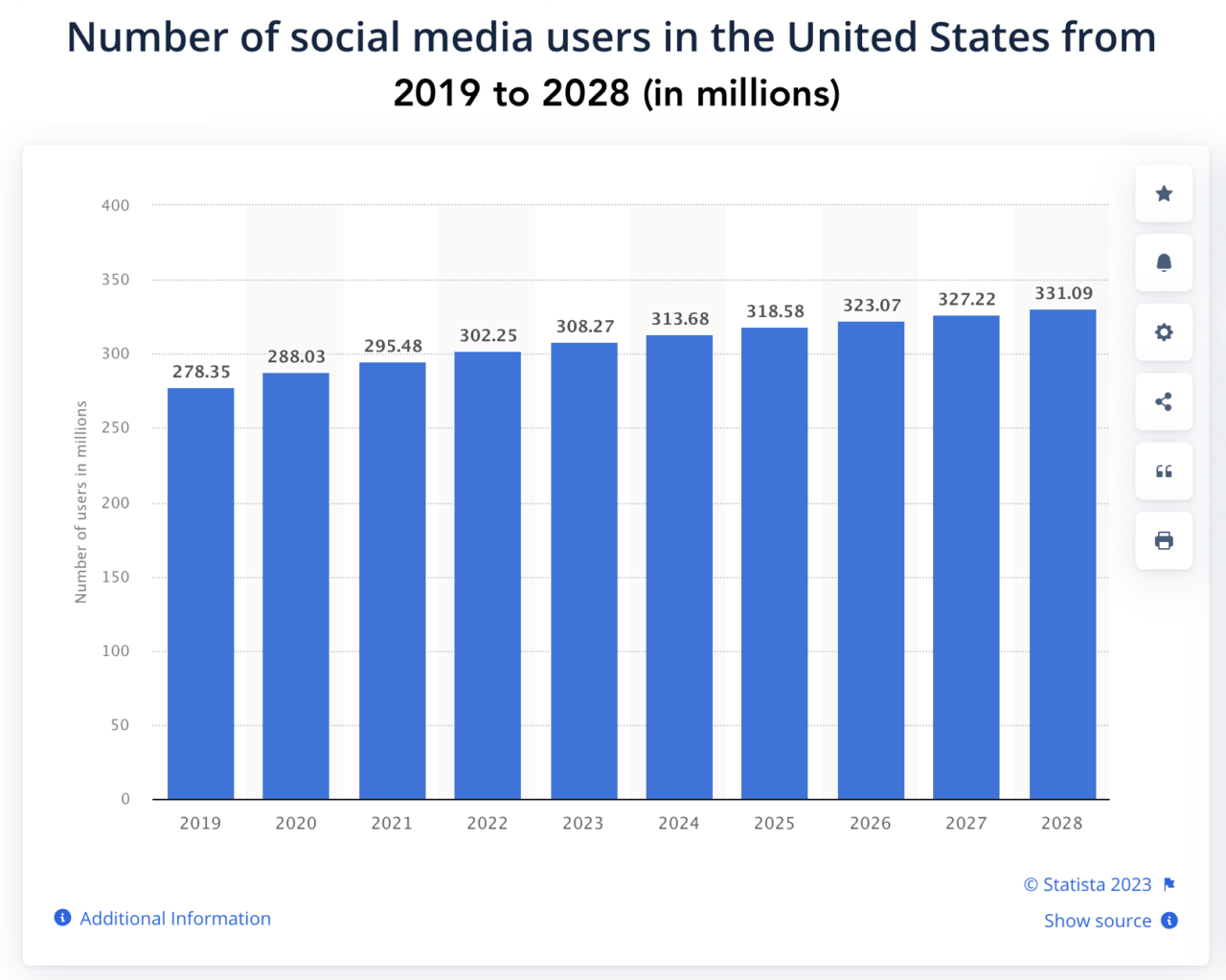 Humans are relational beings, and they naturally flock to digital mediums to scratch their social itch. A substantial portion of your audience is likely on social media, and it's up to you to figure out which platform they like to dwell on the most. Remember, it's rarely a question of if they're on social media. It's a question of which social media platform they're using.
3) It's expected that, by 2027, mobile sources would account for 130.5 billion of all social media ad spending worldwide (Sprout Social).
This figure highlights the importance of optimizing ad campaigns for mobile devices, as businesses look to reach audiences where they spend the majority of their time online. With more consumers accessing social media on the go, mobile-friendly ads are becoming increasingly crucial for marketers to effectively engage with their target audiences.
4) Customers who are engaged on social media spend 20-40% more money on goods and services (Bain).
Social media and e-commerce are becoming more homogenous every day. Social media is no longer just a vessel for social interaction, but also a place to share purchases and promote products and services to each other. All you have to do as the advertiser is input something worth sharing and your audience will do the rest.
5) 49% of customers between the ages of 18 and 29 confess to making a purchase in reaction to a social media advertisement (CoSchedule).
Social media advertisements can have a significant impact on purchasing decisions, particularly among younger consumers. As the importance of social media for commerce continues to grow, investing in effective social media advertising strategies can help businesses stay ahead of the competition and capitalize on consumer demand on social media.
6) 50% of social media marketers that have run ads on social media sites for at least two years have noticed an uptick in revenue (Small Business Trends).
Piggybacking off of point number four above, marketers that run social media ads are due to see sales sourcing back to social platforms. If it's a place your audience is present, chances are they'll be willing to hear your offer.
Dive Deeper: Social Media Marketing for Business Owners: How to Get Started in 2023
7) 93% of marketers worldwide believe that the main advantage of social media advertising is the expansion of brand awareness (Medium).  
For many marketers, social media advertising is seen as a valuable tool for expanding brand awareness. In fact, a recent study found that 93% of marketers worldwide view this as the main advantage of social media advertising.
By reaching large audiences on popular social platforms, businesses can increase visibility and promote their brand to potential customers. Through effective targeting and strategic ad campaigns, social media advertising can help businesses establish a strong online presence and boost brand recognition, ultimately driving engagement and increasing sales.
8) YouTube, Facebook and LinkedIn are the top 3 sites that marketers use to upload organic videos and video ads. (Wyzowl).
YouTube still reigns supreme as the primary ad space for video ads. Advertisers that have any sort of video component of their brand messaging would be wise to incorporate YouTube ads into their social media marketing strategy.

9) 92% of marketers in the U.S. use social media in their marketing plans (Statista).
With a wide range of social media channels available, businesses can choose the platforms that align best with their target audience and marketing objectives, creating tailored campaigns that deliver results.
As social media continues to play a significant role in modern marketing, businesses that prioritize their social media presence will have a distinct advantage in today's competitive landscape.
Dive Deeper:
* Video SEO: Boost Your Website Traffic with YouTube
* 18 Engaging Video Content Types that People Love to Watch
* 8 Benefits of Video Ads: Why You Need Them in Your Advertising Strategy

Facebook Advertising Statistics
10) The potential audience for Facebook advertising is 2.93 billion individuals (SMPerth).
With a wide range of ad formats and targeting options available, businesses can create tailored campaigns that effectively engage with their target audience, ultimately driving conversions and increasing sales. As the world's largest social media platform, Facebook remains a key channel for businesses looking to grow and generate sales or leads on social media.
Dive Deeper: 22 Strategic Benefits of Facebook Ads and Their Applications
11) The average cost-per-click for Facebook advertisements is $1.86 (Fit Small Business).
For being one of the most-visited websites in the world, ads on Facebook are resoundingly affordable. Couple that with the fact that almost three billion people are using the platform makes it an easy placement to experiment with. Not every brand will be cut out to work well on Facebook, however. Facebook Ads are often best reserved for consumer brands, but there are instances where B2B ads can work extremely well too.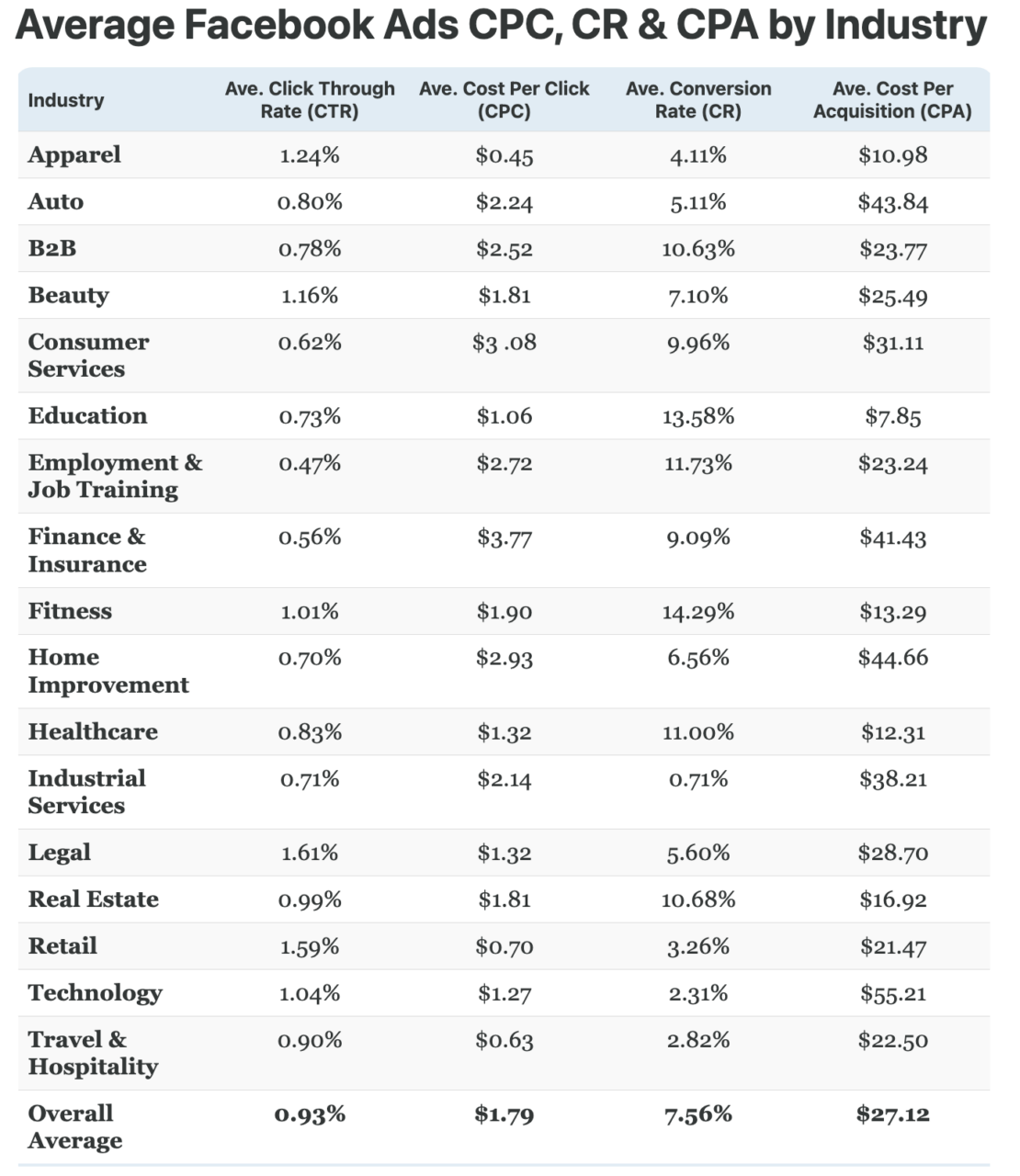 12) 71% of Facebook users believe video ads they see are relevant to them (Social Pilot).
Using Facebook's robust targeting capabilities and optimizing your video ads for maximum impact, businesses can create engaging campaigns that effectively capture the attention of potential customers, driving brand awareness, engagement, and ultimately, sales.
13) 93% of marketers use Facebook advertisements (Statista).
About 93% of marketers say that they use Facebook as part of their ad campaign strategy. Facebook has a huge international user base, making it a key marketplace for ad buying.
14) An average Facebook user clicks on approximately 8 advertisements each month. (Social Pilot).
At that rate, it should go to show that social media users on Facebook are not shy about engaging with sponsored content. So if you were thinking that users don't actually interact with ads on Facebook, the reality is quite the opposite.
Dive Deeper: How This E-commerce Store Doubled Its Revenue Using Our Facebook Ads Advice
15) The average conversion rate for Facebook ads is 9.21% (Wordstream).
Did we mention that Facebook Ads are cheap? Well not only are they cheap, but they command powerful conversion rates as well. In contrast, it's generally reasonable to expect a conversion rate of 5% across all verticals for Google Ads. Facebook averages almost double that.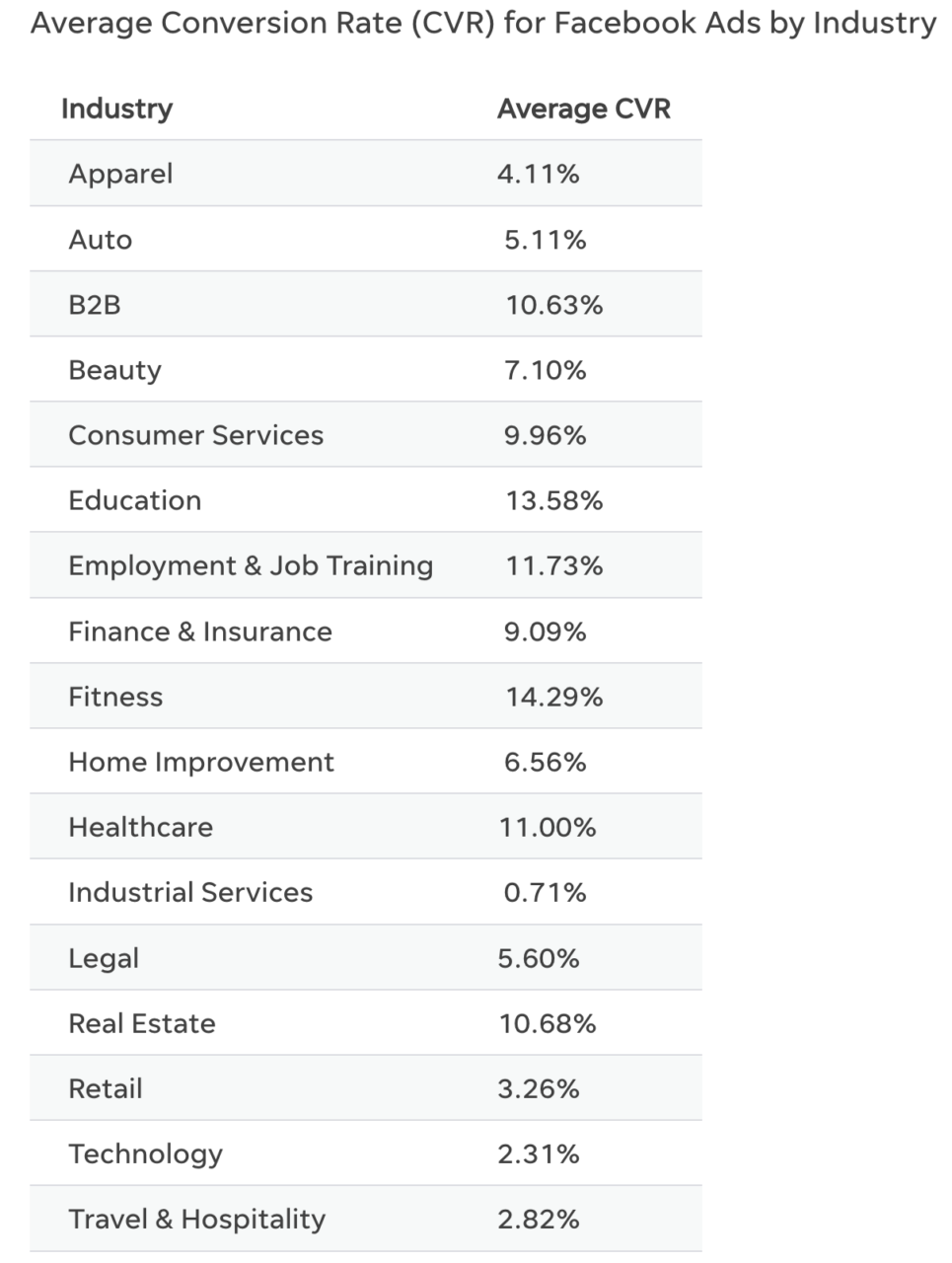 Dive Deeper: Facebook Ads E-commerce Case Studies that Increased ROAS
16) Facebook advertisements are seen by 62.6% of Americans and 33.3% of the world for individuals aged 13 and older (Hootsuite).
The fact that over half of America's adults are on Facebook makes it an attractive platform for businesses looking to reach a large and diverse audience, allowing them to create targeted ad campaigns that effectively engage with potential customers on a national or even global scale.
Twitter Advertising Statistics
17) Approximately 91.7 million Americans can be reached by Twitter advertisements in 2023 (Hootsuite).
Although it has a smaller crowd than Facebook, Twitter is still one of the mainstay social media sites that is great at consumer engagement and brand exposure.
18) Compared to other top platforms, 26% of social media users spend more time on Twitter viewing advertisements than in other places (Twitter).

Part of the nature of Twitter is that it deliberately condenses content into 280-character posts, meaning that content is always in short form. This means the content is able to be looked through at a way faster rate of speed than with most other social media sites. That effectively boils down to more potential ad slots being shown to users.
19) There are 544.5 million potential viewers for Twitter advertising in total, or 6.8% of the world's population (Hootsuite).
Alright, so we touched on the U.S. user base of Twitter, but it's also prudent to acknowledge the greater picture of Twitter's advertisement-ready audience. If your brand is looking to build brand awareness and recognition, try running a campaign on Twitter to point users to your website.
Dive Deeper: Are Twitter Ads Worth It in 2023 and Beyond?
20) The greatest times to post on Twitter are on Wednesdays and Fridays at 9 a.m. (Sprout Social).
If you want your tweets to get noticed, it's best to post them Tuesday through Thursday between 9 a.m. and around noon or 1 p.m.. These are the prime times when Twitter users are most active and engaged, giving your tweets a better chance of reaching a wider audience.
Snapchat Advertising Statistics
21) Advertisements that are 5-6 seconds long perform the best, and 64% of Snapchat ads are seen with the sound turned on (Snapchat).
Snapchat is all about short and punchy ads. Snapchat openly professes that 5 to 6-second-long ads perform the best on the platform, capturing users' attention without being too intrusive. Additionally, 64% of users watch Snapchat ads with the sound turned on, making it a great opportunity for businesses to incorporate sound and music into their ad content.
Dive Deeper: The Marketer's Guide to Snapchat
22) Nearly half of U.S. smartphone users are reached by Snapchat advertisements, despite the fact that the company's share of the country's digital ad industry is less than 2% (Hootsuite).
This might seem counterintuitive at first, but it's actually quite impressive that Snapchat ads are that prevalent among U.S. smartphone users.

Instagram Advertising Statistics
23) Instagram is the ideal platform for businesses wishing to connect with Gen Z or Millennial consumers, because 61% of its advertising audience is between the ages of 18 and 34 (Hootsuite).
If your business targets Gen Z or Millennial consumers, advertising on Instagram may be an ideal placement. According to Hootsuite, 61% of Instagram's advertising audience falls between the ages of 18 and 34, providing a significant opportunity for businesses to connect with this demographic on the platform.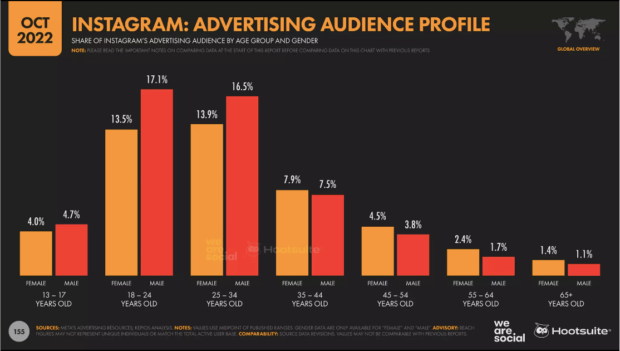 24) 758.5 million people make up the potential Instagram Reels ad audience (Hootsuite).
The portion of Instagram users that frequently use reels makes it a vast and valuable market for businesses looking to crosspost content on similar social media platforms like Facebook, Instagram, and TikTok.
Dive Deeper: 9 Tips for Creating Instagram Video Ads that Actually Generate Sales
YouTube Advertising Statistics
25) The effectiveness of mobile YouTube advertisements is 84% higher than that of regular TV commercials (Think With Google).
The old ways of TV commercials are being supplanted by watching YouTube. Now, YouTube is functionally its own TV station with official channels, which can share the same ads that we would see on normal YouTube videos.
26) Compared to advertisements on television or streaming services, 59% of YouTube users believe that YouTube advertising is more relevant to their interests (Google).
Before, traditional TV commercials were not curated. These days, ads on YouTube can be better served to suit user behavior and search patterns, delivering more relevant ads to the recipients that are more likely to resonate with them.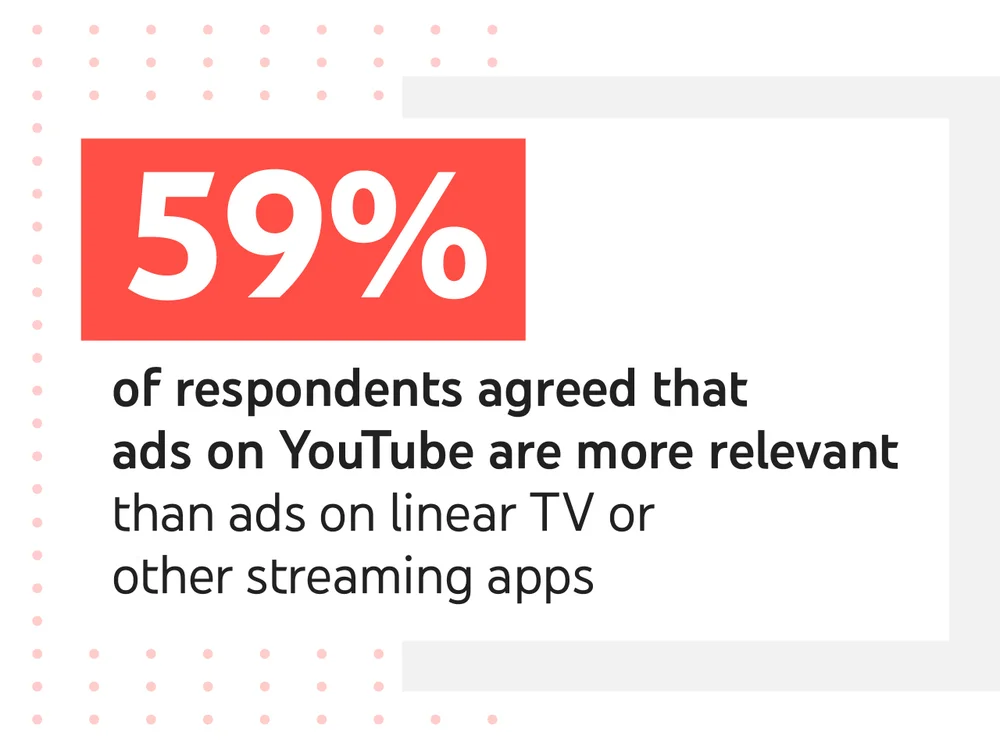 27) YouTube is used by 81% of U.S. adults (Pew Research).
This number is up from 73% just two years prior, making YouTube a powerful placement for serving video ads to an older, more mature audience. It's also a widely used platform that you can expect will contain your audience to some degree.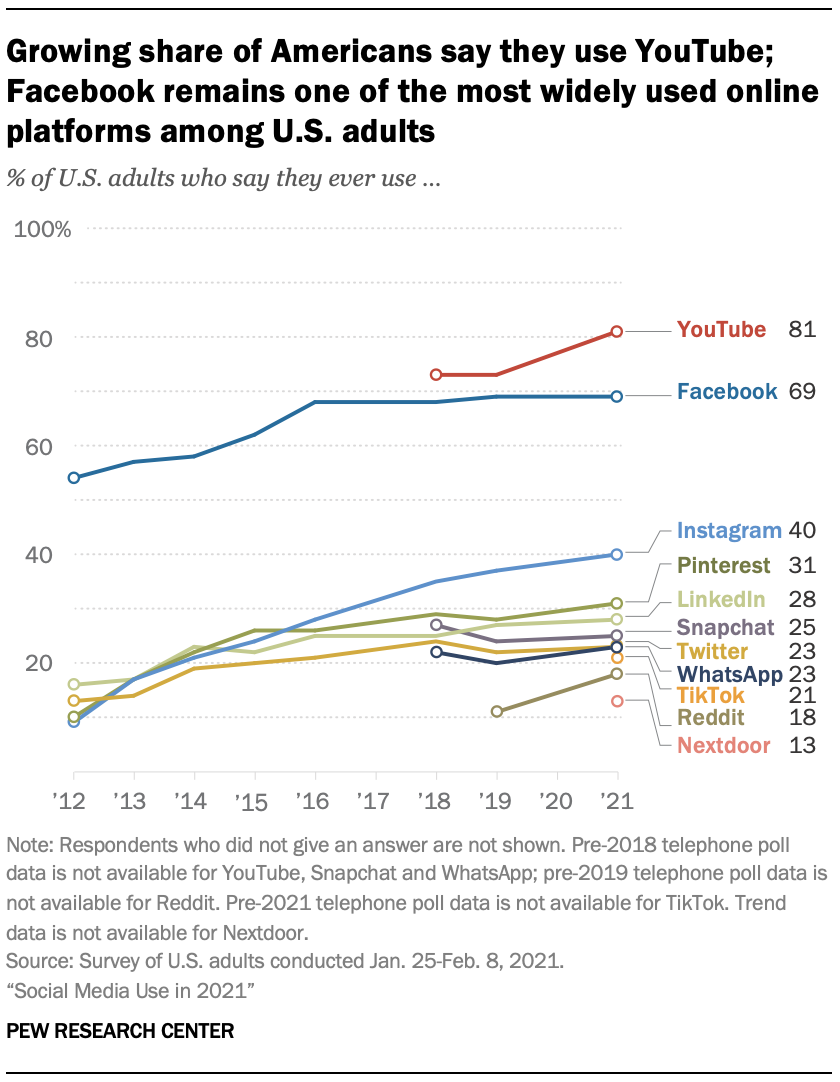 Dive Deeper: How to Pick the Right YouTube Ad Types for Your Ecommerce Business
28) A personalized thumbnail is used by nine out of ten of the top-performing YouTube videos (YouTube).
Imagery is key when it comes to enticing YouTube users to click on your video. For sidebar YouTube ads, this is especially true, as the initial impression of the thumbnail is the single most important facet of your YouTube ads right off the bat if you want to get good mileage out of your video ads from direct clicks.

Pinterest Advertising Statistics
29) The majority (38%) of Pinterest users in the U.S. are people aged 50 to 64 (Statista).
No surprisingly, Pinterest harbors a much larger audience of social media users in their fifties and sixties, making Pinterest a great advertising space for topical ads related to that age demographic.
Moreover, Pinterest attracts a lot of women who are interested in DIY crafts, cooking and baking recipes, and homemaking topics (among numerous other categories), so those industries are apt to thrive from advertising on Pinterest.
Dive Deeper: Is Pinterest Still a Good Platform to Advertise On in 2023?
TikTok Advertising Statistics
30) TikTok advertisements have the potential to reach 109.5 million people in the U.S. (Hootsuite).
It's amazing how in seven years, TikTok has managed to captivate a third of U.S. social media users, rapidly earning its spot as a media placement for advertisements. Á la Twitter, TikTok champions short-form video content in bite-sized snippets that advertisers can use to share company messaging, product reviews, and customer testimonies.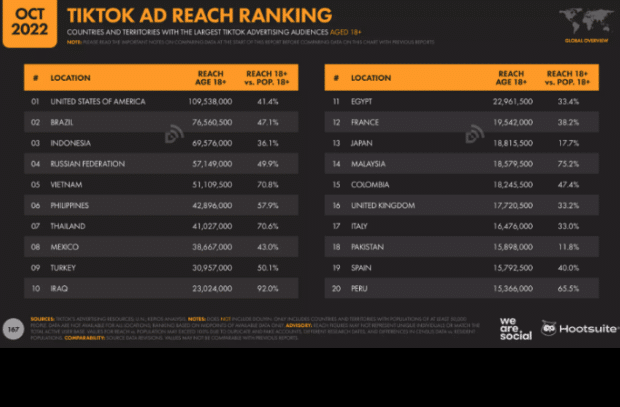 Dive Deeper: How to Launch a TikTok Ads Campaign for E-commerce
Wrapping Up Social Media Marketing Statistics
Alright, we've covered a handful of statistics that we hope will aid you in your strategic process and planning for your own social marketing efforts.
Of course, there are countless social media statistics that you can glean from the internet, but we hope you've found value in these we have presented, as we found them particularly relevant for our current climate with social media.
If you're ready to improve your social media strategy, Single Grain's paid social media experts can help.👇