"Attention shoppers: there's a sale happening right now — on your phone."
Live stream shopping (or simply live shopping) has taken over the e-commerce airwaves in China, fusing established shopping models like the Home Shopping Network or QVC with live video, content marketing, influencer marketing and entertainment value. In other words: entertainmerce.
According to Kleiner Perkins' Internet trends report, "live broadcasts have actually become the number one source of revenue per hour in China, ahead of mobile games, television, radio, videos and music."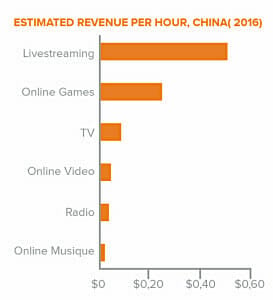 Live shopping can be anything from a fashion show to celebrities reviewing their favorite product, which encourages viewers to purchase the same item in real time:
This trend is experiencing explosive growth in the Chinese market with a projected value of $15.9 billion by 2020, up from just $1.8 billion in 2015. And now, thanks to Facebook Live, other countries like the United States are adopting their own versions.
Shopaholics, get ready for a retail adventure you never knew you were missing in your life!
What Is Live Stream Shopping, Exactly?
Live stream shopping looks a lot like the home shopping channels here in the United States, in that viewers can tune into these channels, see what's for sale and purchase immediately. But live stream shopping adds a few unique twists that bring this age-old practice into modern times.
The Premise
For starters, live stream shopping is, well, live. Rather than uploading previously recorded shows the way that television shopping networks do, live shopping hosts sell their wares in real time, and promotions only last as long as the live stream. The hosts often act as their own models or demonstrators, showing off all the features and functions of the products they're selling.
It's also highly interactive content. Users who tune in to shopping sessions can leave comments or ask questions, much like on Facebook Live videos. Hosts can see comments as they arrive and address them during the live broadcast. And when you're ready to purchase, just click the embedded link in the video and consider yourself checked out.
Live stream shopping levels up the concept of influencer marketing, in that the hosts are a mix of celebrities, models, micro influencers and major companies that want to promote their products (or someone else's products).
For many sellers, live stream shopping is their entire business model. Some head to the store to find deals to share with their audience, while others sit in the comfort of their own homes in front of the camera. For example, 19-year-old Wang Hao models leggings in her home for hours a day and provides insight as to which pairs are best for sub-zero temperatures.
"There are thousands of merchants selling the same thing and it's difficult to stand out, but [live streaming] lets me engage with viewers and there is a higher chance they will purchase something," says Hao.
It's also been a beneficial model for viewers. Buyers have direct access to a sales associate to learn more about pricing, material, shipping dates, sizing and product functionality. In some cases, it offers a pseudo "in-store" shopping experience without the travel costs or time investment. Buyers can discover new items they may otherwise have never found and purchase on the spot with confidence.
Dive Deeper: 
The Logistics
Platforms like Alibaba's Taobao and JD.com were designed to accommodate live stream shopping. Today, Alibaba alone has 617 million active mobile users and generated $768 billion in gross merchandise volume transactions in 2018, a year-over-year increase of 28%.
Brands, shop owners and individuals — like Luo Zhenyu who auctioned off his personal book collection, one of which started at 2.55 rmb and sold for 30,260 rmb — on these platforms can either broadcast their own live videos on their accounts or work with influencer marketers to promote and sell their products: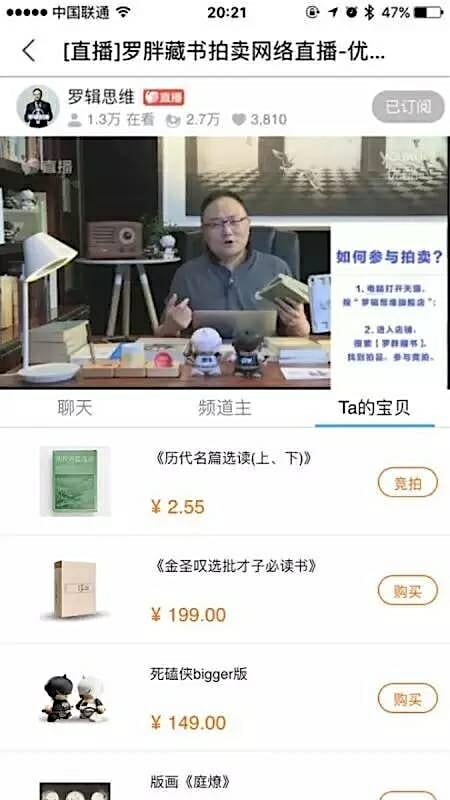 For the buyer, live shopping is fairly simple. You join the platform of your choice, then watch live streams of what merchants are offering. The current options are almost endless, with merchants doing everything from opening oysters to reveal their pearls to following farmers while they pick strawberries or harvest honey. Some live streaming sellers play video games on camera, while others rely on crazy antics like eating a mountain of food to stand out from competitors.
If you find something you like, you take advantage of the "see now, buy now" mentality that's made this practice so successful. Some merchants will even offer a discount if you buy during a specific time, hoping to spur a bump in sales.
The Sellers
For sellers who want to earn a living from live streaming shopping, the process is a bit different. Platforms like Taobao charge commissions on every sale, usually between 2% and 5%. But in order to start live streaming on Taobao, you need to earn at least 40,000 fans and have a steady history of business. In other words, you can't just open up an account on the platform and start live streaming.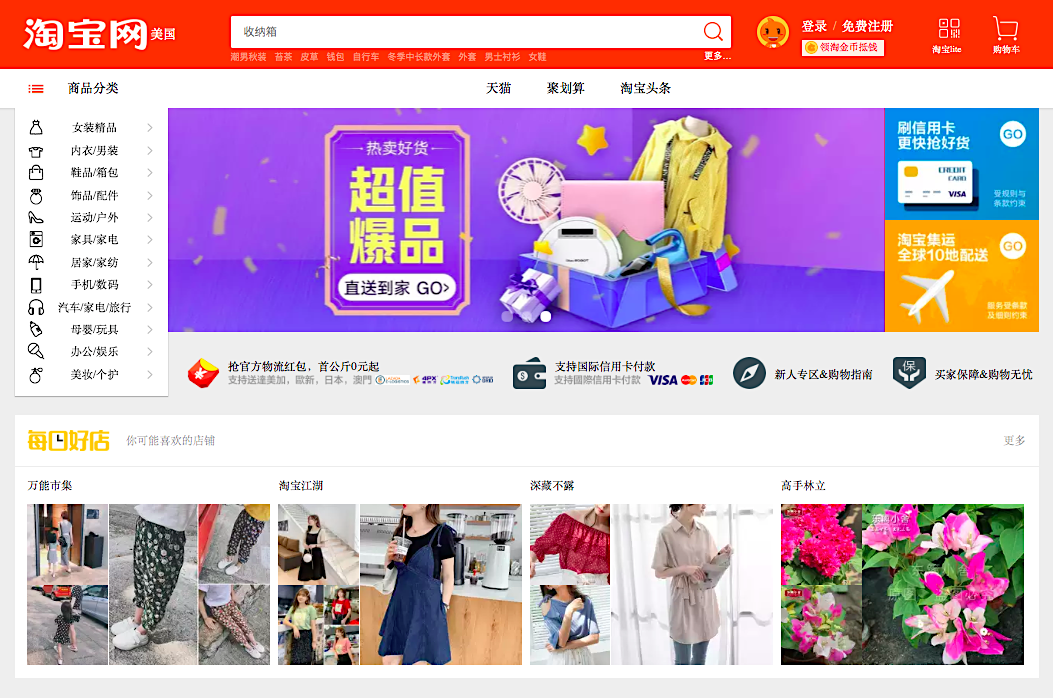 There's also competition to consider, which forces sellers to place a heavier focus on selling something unique or making themselves memorable. The results can be worth it, though: some stores make about 90% of their sales by live streaming on Taobao. Influencers who promote other brands' products also receive a commission on every item they sell, creating an income-generating option for those without a steady business history.
Others, however, struggle to make a viable living. With over 300 million live stream viewers in China alone, it can be understandably hard for merchants to stand out.
The Customers
Live stream viewers are traditionally men, but women are leading the charge with live stream shopping, making up more than 80% of viewership. Gen Z and Millennials are known content consumers and comprise the majority of both shoppers and hosts, typically ranging from age 20 to 35.
This factor shouldn't be surprising, given that a recent report from Accenture shows that more than 70% of Chinese Gen Z consumers prefer buying products directly from social media, compared to a global average of 44%.
Remember, this is the generation that's grown up using social media and other modern technology. They're not just comfortable using it; they see it as part of their daily lives, rather than something new and cutting edge.
Dive Deeper:
The Appeal
China's live stream shopping model may have grown its roots from the model of home shopping channels, but it offers an experience that no other outlet can compare to.
Live platforms supply the authenticity that modern buyers crave. There's no video editing or Photoshopping, so buyers can trust that they're seeing exactly what they'll get. They watch the hosts use, wear or test the products they're promoting. They get to see real people telling real stories about real products, which motivates them to buy.
There's also the two-way conversation that shopping via television or a traditional e-commerce website can't accommodate. It's as close to seeing and buying something in person as you can get without traveling to the store and handling the item yourself.
Even in the United States, where the shopping aspect of live streaming is just starting to catch on, buyers are able to find their own stars. In turn, influencers are able to be themselves and appeal to a niche market, rather than try to recreate the mass appeal messages that larger networks tend to pursue.
It's this immediacy of interactions and the creation of deeper connections between shoppers and brands that's fueling the rapid takeover of live streaming — so much so that the industry is expected to increase by $3 billion in 2019 alone.
What Are People Buying?
From locally farmed goods to luxury fashion brands, live stream shoppers can take their pick of just about anything they need or want. The sheer variety of products available from live streaming platforms is a major part of its appeal and has contributed to its go-to status.
Fashion vixens dedicate a large part of their day to trying on clothes in front of the camera, earning 20-30% of every piece they sell. They talk about what's trendy and engage with their viewers to increase sales, and many buyers say that watching their favorite "models" is every bit as good as hanging out with a friend.
Savvy buyers can find dirt-cheap items on live streaming shopping platforms. But some merchants are after the "tuhaos" — the white whales of shoppers that don't mind spending something like $2,000 on a virtual birthday cake on the live streaming app Inke.
Successful Live Stream Shopping Show Format
Though live stream shopping is very "in the moment," there's a lot of behind-the-scenes preparation that goes into every session. There's nowhere to hide and no retakes when the camera starts rolling, which is why professional streamers will spend hours planning each show.
Long live streams typically perform better than shorter videos, which is why many live streamers opt for longer broadcasts. They may also try to come up with ways to get the audience involved, as in Adidas' live stream, which featured an artist that worked off the viewers' requests (although this increases the complexity of the content, as well as the risk that something could go wrong):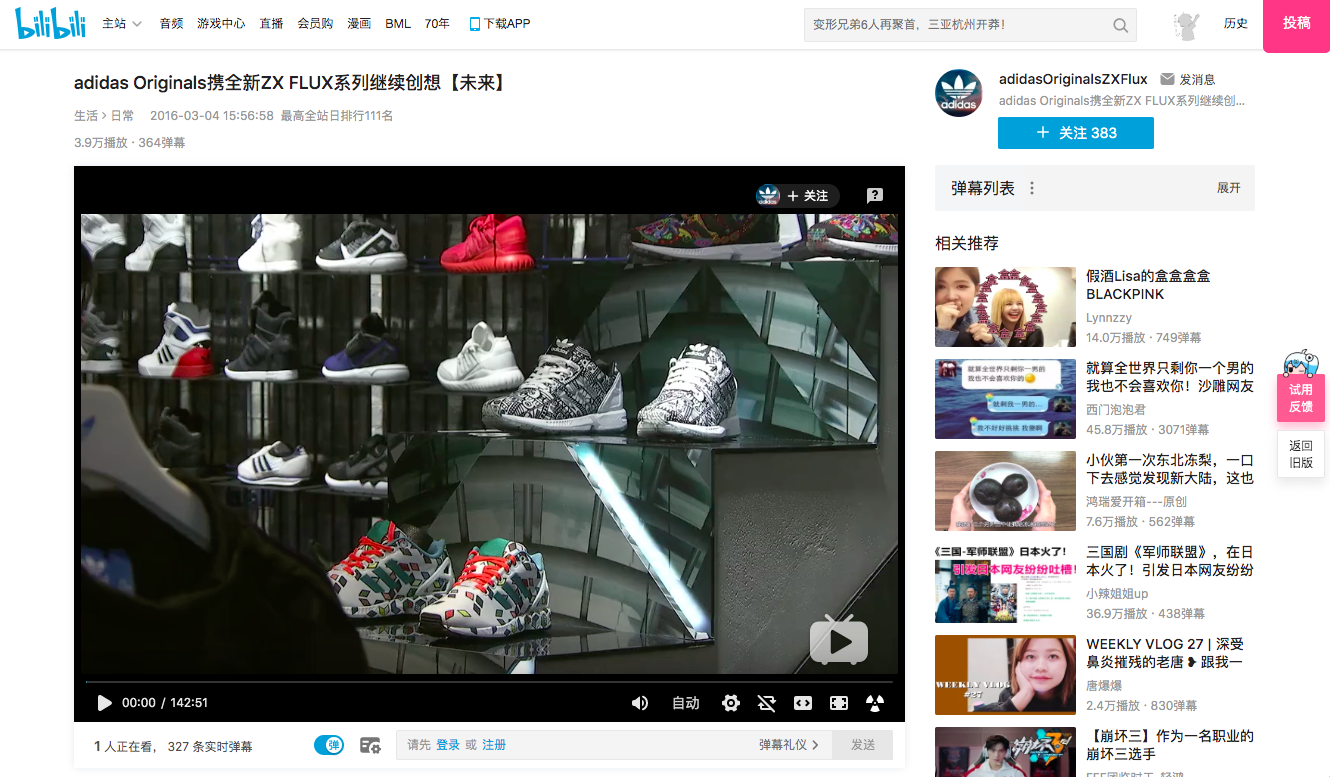 What you see in a live stream shopping session is just the tip of the iceberg. That's why many brands try to partner with influencers who have already perfected their systems, rather than go it alone.
Dive Deeper: 
How Brands Are Tapping into the "See Now, Want Now" Model
Brands are seeing dollar signs when it comes to the potential of live stream shopping and are putting their creativity to the test, such as:
Clothing brand Lane Crawford launched a live streaming event via Weibo to build brand awareness rather than drive direct sales. During the event, they even brought in a Feng Shui master to talk about pairing and wearing colors.
Fashion Week in Milan, New York and Paris saw an uptick in live streaming events of brands' fashion shows to Chinese consumers using the existing audiences of the influencers they partnered with, from celebrities to fashion magazines.
Hotel brand Hilton launched a live stream marketing campaign that asked influencers to live stream their enjoyment at Hilton hotels.
So far, the numbers paint a promising picture, both in China and the U.S. "Live streaming has helped increase daily visits to our product detail page by 5x and significantly grew our sales," says card game manufacturer Watch Ya' Mouth on their Amazon Live brand profile.
Taobao says that their live broadcasting platform has resulted in a 50% conversion rate and that their top seller has a following of over two million viewers and pockets about $4 million USD per year. For special events, such as Alibaba's Single's Day (November 11), the platform may earn as many as three billion views.
The potential for brands using live stream shopping is multifold: tap into a marketplace where millions of users are actively shopping every day, expand your audience by using influencers and spend less on more costly forms of advertising. What's not to love?
Will Live Stream Shopping Catch On in the U.S.?
Live streaming services in the United States have already taken hold, but they're now beginning to evolve to accommodate shopping.
Amazon already has its own live streaming service, Amazon Live, which allows brands to showcase products via live streaming: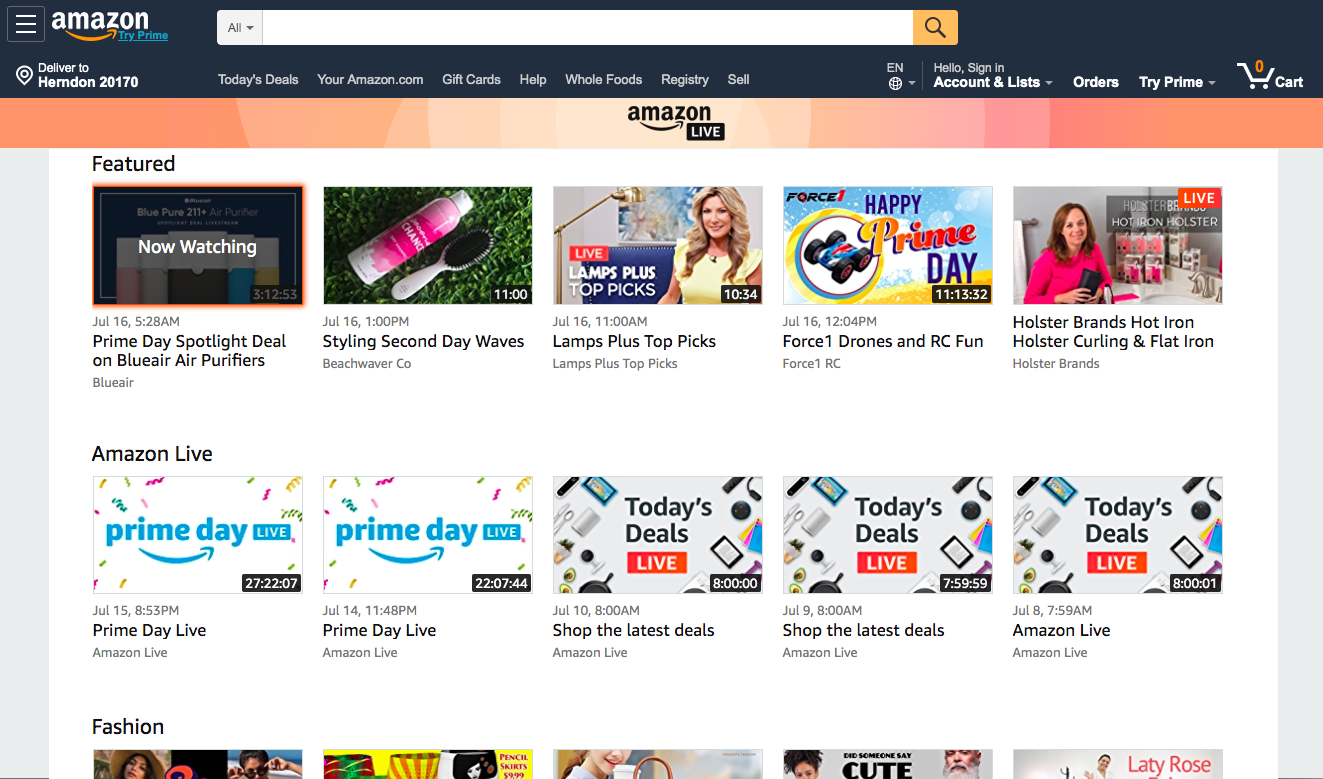 With this service, viewers can click on the links that appear under the video to learn more or make a purchase: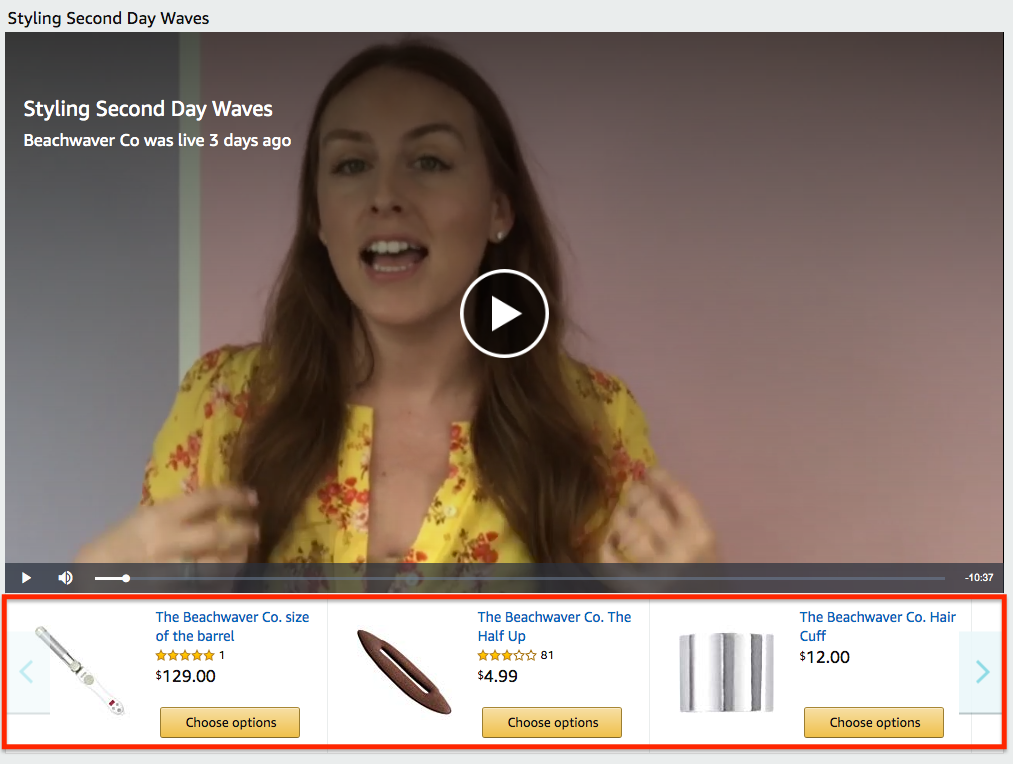 Home goods brand Wayfair recently announced a live streaming event to support sales related to "Way Day." The event will aim to follow the "see now, buy now" model that is currently all the rage in China.
The upgraded home shopping trend is most certainly catching on in the United States, but it's likely to take a form all of its own. If you're in e-commerce, pay attention. I'll be watching to see how companies employ this strategy in the coming year, as well as how content marketers will find new ways to use it.
Frequently Asked Questions (FAQs)
Q: How are live stream hosts compensated?
A: Sellers are paid normally as if they were selling a product, less any expenses.  Platforms like Taobao charge commissions on every sale, usually between 2% and 5%. But in order to start live streaming on Taobao, you need to earn at least 40,000 fans and have a steady history of business. In other words, you can't just open up an account on the platform and start live streaming.  Influencers also charge a percentage of profits to show the product.
Q: What are the differences between live shopping and influencer marketing?
A: The difference between live shopping and influencer marketing is the level of interaction. When you watch live shopping you can communicate with the people who are selling the product. When you watch influencer marketing, you are only watching a video demonstrating the product.
Q: What are the benefits of live stream shopping?
A: The benefits of live stream shopping are that you get to see the product in use and can ask questions about it.
Q: What are some of the most popular live stream shopping platforms?
A: Some of the most popular live stream shopping platforms are JD.com, Alibaba's Taobao and WeChat.
Q: How many live stream hosts are on Taobao?
A: Over 400,000 live stream hosts are on Taobao.
Q: What is the most popular live stream shopping show?
A: The most popular live stream shopping show is Shopaholics.
Q: What are some of the most popular items sold on Taobao?
A: Some of the most popular items sold on Taobao are clothing, shoes, home decor and electronics.
Q: How do Taobao hosts get paid?
A: Taobao hosts get paid through WeChat.
Q: Should I be setting up shop on these live shopping platforms?
A: No. Live streaming is a great way to promote your business, but it shouldn't be your entire strategy.
Q: What social media platform do you recommend to sell on?
A: Facebook Live is the best platform to sell on. Any live streaming on Facebook will get you a lot of customers.
Q: Do I need to pay commission to sell on Taobao and JD.com?
A: Yes. Taobao and JD.com charge commission when you sell their products.
Q: How do I earn more from live streaming shopping?
A: To earn more from live streaming shopping, you must have a large audience. If your audience is small, you won't be able to earn much from live streaming shopping.  Aim to have high quality products with good margins.
Q: What's the biggest challenge for live stream shopping?
A: Just like any business, the biggest challenge for live stream shopping is earning money consistently.