With the explosion of social media, user-generated content has quickly become an integral part of influencer marketing.
So if you're not making use of UGC, you're gravely missing out!
Simply put, user-generated content is more memorable, authentic and influential than traditional advertising mediums due to the fact that content made by real customers builds massive trust and authenticity.
In this article, we will discuss 7 reasons why UGC must be part of your content marketing campaigns, with examples of how brands have done it themselves.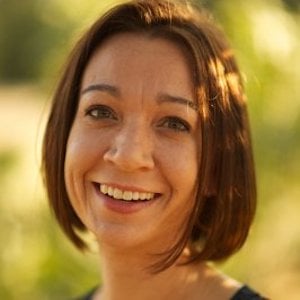 Kim Cooper
Director of Marketing, Amazon Alexa
Single Grain enables us to increase our impact without increasing our headcount
What Is User-Generated Content?
Before we jump into the first reason why UGC must be part of your marketing strategy, let's quickly define what it actually is.
User-generated content refers to any form of online digital media where users are allowed to create and share their own unique experiences or opinions about a particular brand or product on social media.
This customer's post of their favorite Starbucks drink is a perfect example: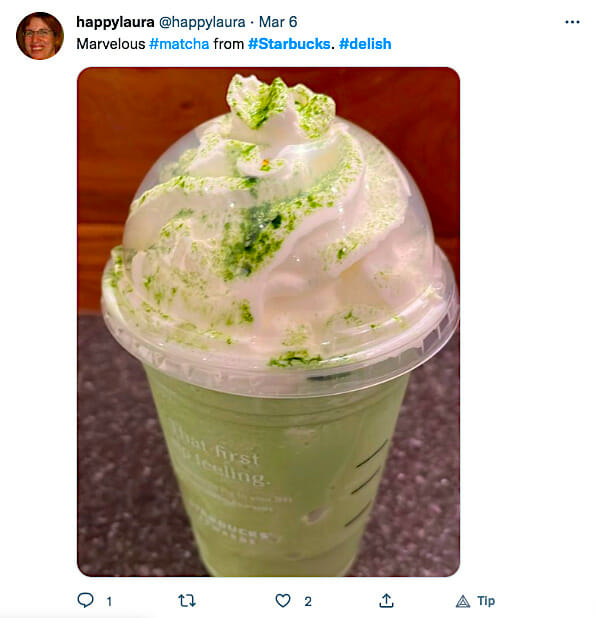 Consider these stats:
85% of consumers find UGC more influential than content from brands
60% of people say that UGC is the most authentic type of content (compared to just 20% for brand-generated content)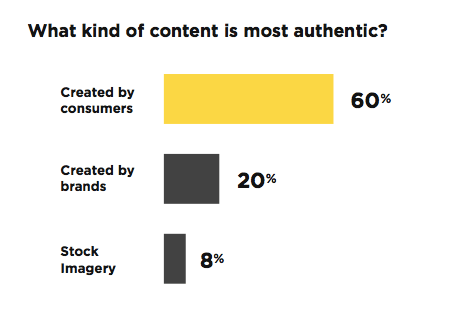 But keep in mind that this also puts a ton of pressure on companies to truly deliver outstanding products and services!
Dive Deeper: 18 Best Content Marketing Examples to Inspire Your Campaigns
7 Reasons Why UGC Is so Successful
In this section, I'll show you why user-generated content is so successful by providing examples of how international brands are implementing it.
1) User-Generated Content Is Truly Authentic and Memorable
UGC builds trust between brands and consumers because it is, by its very nature, authentic and real. In this sense, it's not unlike customer reviews and social proof, which both help drive conversions.
You don't have to spend advertising dollars to create this kind of marketing material, since all that's needed is something submitted by one of your own customers.
But if you still plan on using traditional advertising, then consider featuring UGC in them, which can boost positive engagement by up to 73%.
Remember, people tend to believe in user-generated content more than advertisements because it's less likely to mislead or misinform in the eyes of the consumer. In fact, people are 2.4X more likely to see UGC as more authentic than brand-created content: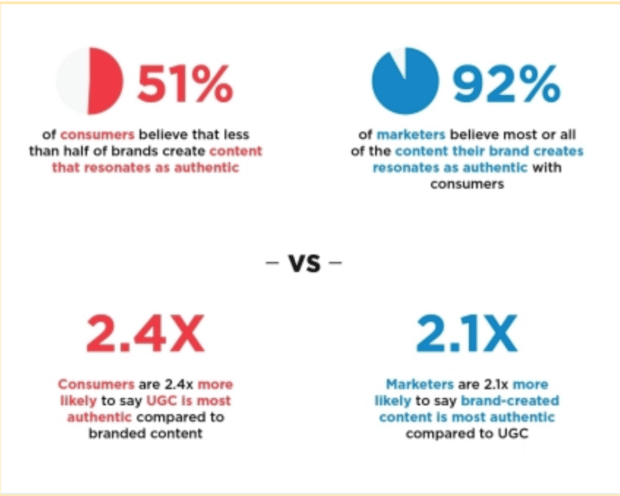 Unfortunately, customers are becoming more and more "banner blind" when scrolling through social media. Pair that with the average price of ads going up each year, and you can see why it's harder to scale.
The Case Study
A great example of user-generated content comes from a campaign by the outdoor clothing and gear company Patagonia. They launched an Instagram account called Worn Wear where customers can submit photos of their favorite Patagonia products that they've been using for years.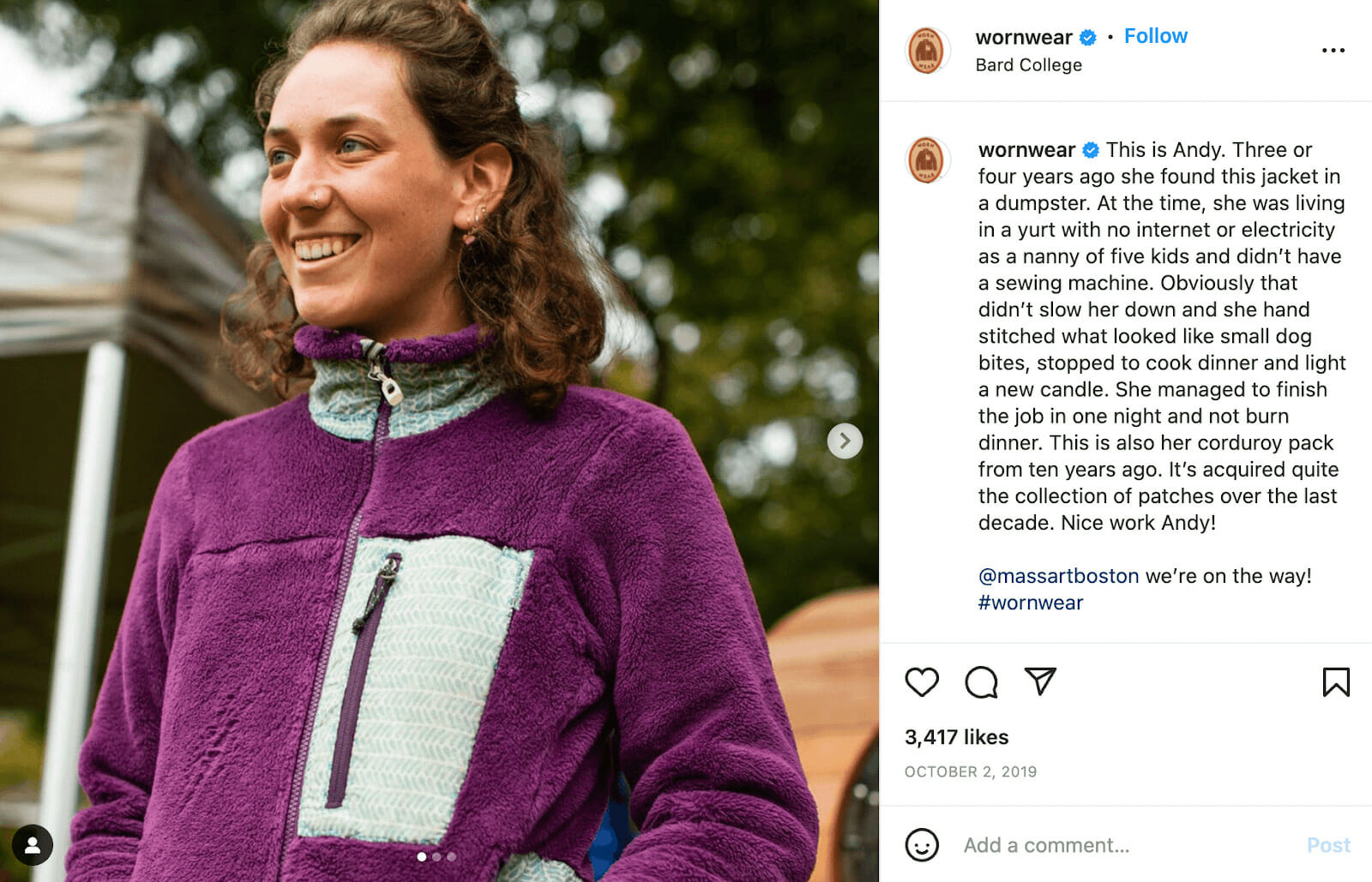 They now have a huge content portfolio on their website with Worn Wear Stories.
Why it's so successful:
Promotes authenticity and transparency between the brand and consumer
Builds trust in a unique way
Builds a community of passionate customers
Makes the brand more relatable
Dive Deeper: Establishing Trust Through Excellent Content – The New Digital Currency
2) User-Generated Content Builds Massive Trust
Imagine if you had one of your own customers create an amazing video about how they used your product and how it helped them achieve their goals.
The reason this is so effective is because people have been naturally drawn to stories since the dawn of humankind: Since people remember stories 22X more than facts and figures, storytelling in your content can boost conversion rates.
And chances are good that users are most likely part of a community with like-minded people who have similar issues – and would, therefore, be open to hearing solutions from people they trust.
There is a good marketing quote that rings true here: "People buy from people first."
The Case Study
A great example of this point is an Instagram campaign by the Canadian fashion retailer Joe Fresh.
They created a cute activewear collection for mothers and daughters, asking their audience to hashtag Joe Fresh for a chance to get featured on the main JF Instagram page: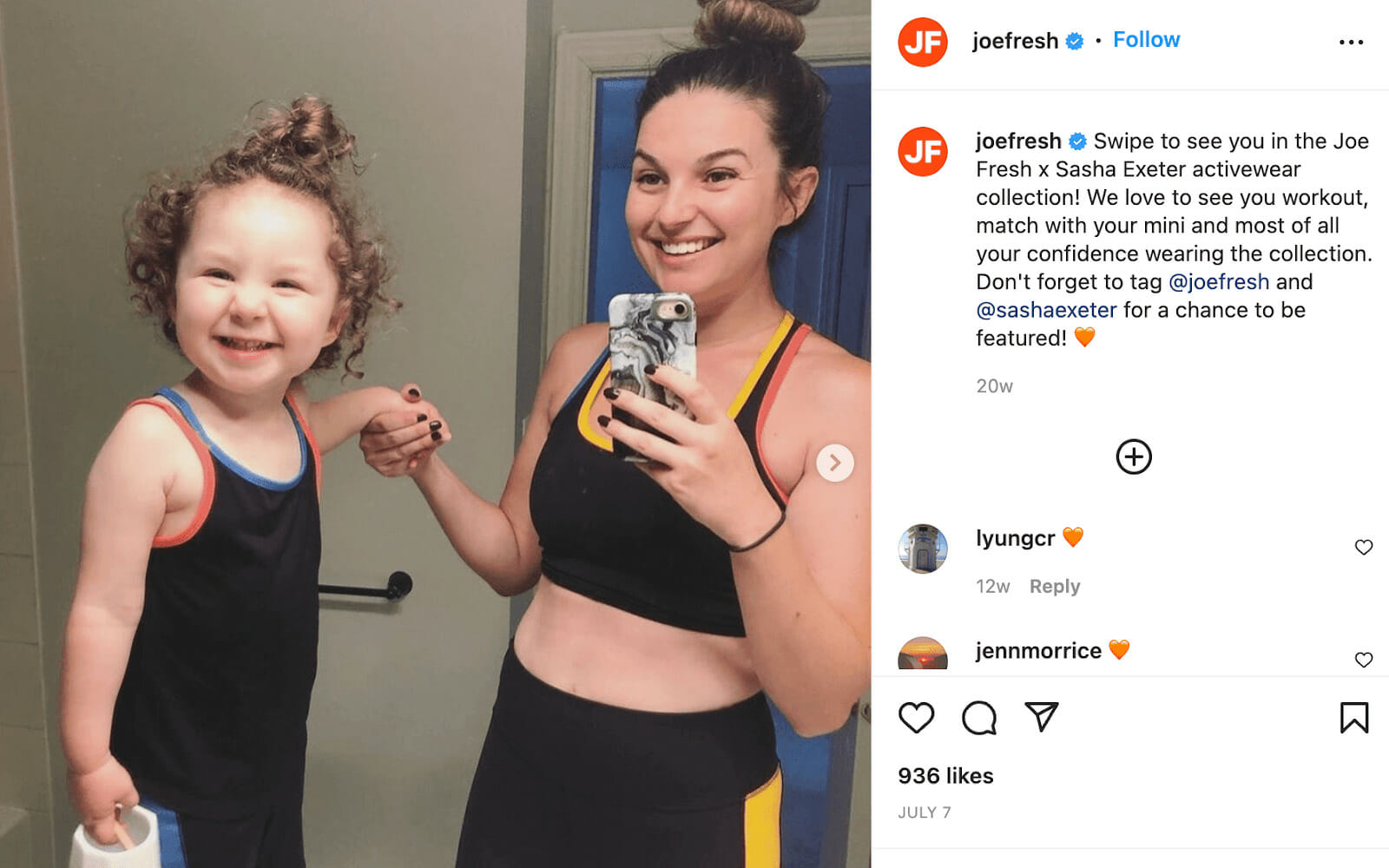 You can check out all the user-generated photos on Instagram, which drives more traffic back to their website, too!
Why it's so successful:
Builds trust by the target audience by sharing their experience that resonates with similar audiences
It's not just a review, but real a testimonial outside of the brand's domain
People buy from people first, and UGC bridges people to products
Dive Deeper: 9 Examples of Storytelling Marketing to Inspire Your Next Campaign
3) User-Generated Content Influences Purchase Decisions
It's no secret that product reviews influence user purchase decisions:
"93% of consumers say online reviews affect shopping choices."
But user-generated content is even more influential than the average online review.
What makes UGC so powerful and influential? Well, it's not just a product review, it's a personal recommendation (despite that you may be getting the recommendation by someone you don't actually know).
Last year, a regular woman (not an influencer, model, etc.) made a TikTok video of herself using an eye cream from skincare brand Peter Thomas Roth. This simple UGC wound up going viral and, according to the retailer: "The amount that sold within less than a week is equivalent to what we would normally sell in six months."
The Case Study
A great example of user-generated content influencing purchases comes from Outdoor Voices (an activewear company) on Instagram, featuring their clients wearing zip-off pants during an outdoor hiking session: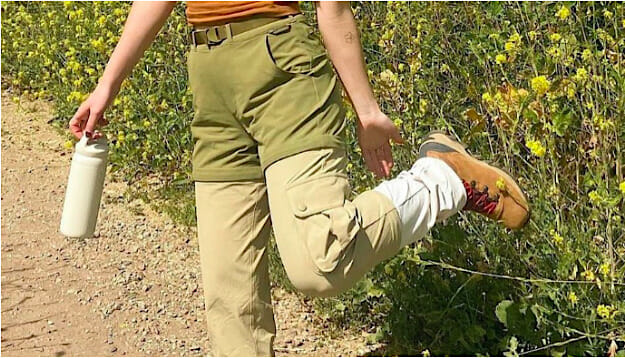 This "advertisement" features an authentic user testimonial showcasing the product in action, which is why it is so successful, with comments from other people such as:
"OMG, zip-offs take me waaay back to elementary school swag. Love it!"

"We need the overalls to come back. I'm begging!"

"So excited!! Been wanting a pair for a while now but the color I liked was out!"

"These pants were the best thing to happen to me"
Why it's so successful:
Positive testimonials by other people massively influence purchase decisions.
Blows regular reviews out of the water with real use cases by people demonstrating the product and why they love it.
Social proof is what user-generated content is all about.
4) User-Generated Content Scales Well
UGC is phenomenally scalable. It helps extend the reach of your brand by leveraging it across various social media platforms and amplifying your message through user sharing and, thus, increased engagements.
This encourages organic reach, which is a much more cost-effective way to promote your content than paid advertising. In addition, user-generated content can also be repurposed and used in newsletters, print materials, and on your website.
The key to user-generated content is that it spreads organically through social media channels since it has been created by fans of the brand who are keen to share their opinions (and selfies!) with others.
This means that UGC should be the backbone of your social media marketing strategy to get it into user feeds, where they will see and engage with your brand.
The Case Study
GoPro, one of the best small vlogging/action cameras, was already taking UGC seriously back in 2014 and incorporating it nicely into their marketing campaign.
They kickstarted their marketing by hiring professional stuntmen to film and show off extreme sports with the GoPro, which led to over 6,000 UGC videos being uploaded to their YouTube channel every day:
Why it's so successful:
A marketing team at a single company is limited, but a global consumer base is almost limitless
Customers turn into brand ambassadors with user-generated content
Dive Deeper: 3 Simple Ways to Scale Your Content Writing Fast
5) User-Generated Content Does Not Need an Advertising Budget
Due to the simple fact that it's created by users themselves entirely for free, creating user-generated content costs less than producing other types of marketing assets such as video ads and infographics.
You don't have to hire an expensive agency or freelancer for this type of work. Instead, tap into the power of your existing user community by asking them for help to promote your brand through their own channels: Facebook groups they are part of, Twitter accounts with large followings (if applicable), LinkedIn company pages, etc. It's free promotion!
And because user-generated content comes from real people rather than companies, it can have 8x more engagement compared to brand marketing materials.
The Case Study
A great user-generated content example is the interaction between Parachute and its social media community.
Parachute encouraged its customers to use the #MyParachuteHome hashtag on Instagram to share photos of their decorated living spaces and the super cozy lounge wear that seemingly blends in with the environment: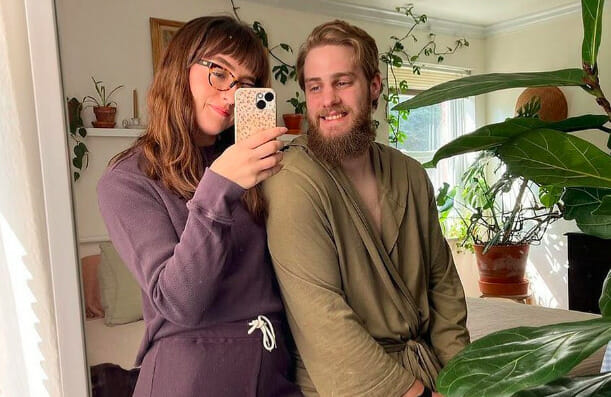 These UGC content pieces generate a ton of buzz on social media without the need for an advertising budget!
Why it's so successful:
Free promotion, with an organic reach that doesn't cost you anything but time
Higher engagement rate because of its authentic nature and real people behind it
6) User-Generated Content Builds a Community of Ardent Fans
UGC is a great way to engage and connect with your users and build a community in the process.
You can learn more about them and their interests, pain points and desires, which in turn may inspire new product features or marketing ideas that hadn't occurred to you before.
You can also ask UGC creators to help you promote your product and seek advice on how to improve it.
User-generated content ultimately makes people feel like they are part of a community, and that builds brand loyalty in an authentic way unlike anything else!
The Case Study
Another great example comes from Old Spice, the brand that created the insanely funny and viral videos answering real comments, building a community that would explode the brand to new heights.
Their YouTube channel has over 837K subscribers to date, which shows the power of cultivating a community. This was, of course, boosted massively with the help of Isaiah Mustafa, the "Old Spice Guy."
But it's not all about funny commercials, as Old Spice also used UGC to demonstrate its mission and vision with partnerships, like this video below:
Why it's so successful:
Creating a community of enthusiastic fans gives companies a chance to engage with their viewers in the comments section to learn more about how they think, speak and feel. It inevitably leads to discovering desires and a better product-market fit that would have been hard to learn otherwise.

UGC does not have to be from consumers alone, as demonstrated in the Old Spice interview above. It can also include influential people that your target audience resonates with.
Dive Deeper: How to Implement User Intent to Build an Audience for Your Content
7) User-Generated Content Encourages Brand Loyalty
Brand loyalty ties heavily into our previous point about building a strong community around your products because it allows customers to feel like they are a part of the brand. 
By sharing their own content or liking and commenting on others' content, customers feel like they are part of the brand and are helping it grow. This can encourage them to keep coming back as repeat customers and even recommend it to others.
Believe it or not, word of mouth is still a thing even in the digital age, just on a much larger scale with social media.
The Case Study
Perhaps one of the most famous UGC campaigns that fostered brand loyalty is none other than Starbucks! 
They got all coffee lovers with an artistic side involved in their #WhiteCupContest, where customers decorated their own coffee cups for a chance to get a gift card AND their design features in coffee shops: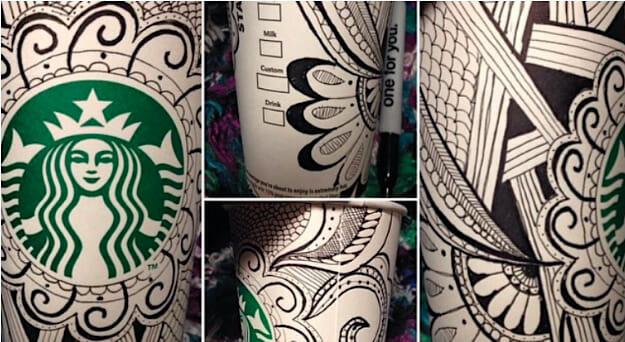 This sparked a massive wave of UGC content being created by customers all around the world, which made Starbucks the go-to coffee brand (not that they weren't already; but it certainly didn't hurt!).
Why it's so successful:
Customers started to love Starbucks as they got the chance to influence and be part of the brand with custom designs instead of a plain old boring white cup.

Why would anyone drink anything other than Starbucks with interesting and unique designs made by real people who all share the same passion for great coffee?
Dive Deeper: Word-of-Mouth Marketing — What Is It and How Do You Do It?
Ideas on How to Start Using UGC in Your Business Today
As you've seen from the examples above, UGC can be a powerful tool for businesses of all sizes. 
There are several different ways to start incorporating user-generated content into your business right now:
Perhaps one of the easiest and most immediate options is to launch an online contest or giveaway where participants are asked to create and share content on a particular theme or topic.

You could also post regular challenges on social media, soliciting user-generated images, videos or written submissions.
Another effective strategy is to commission original pieces of content from your customers. This could be anything from blog posts and product reviews to video testimonials and social media shoutouts.
But before you dive head over heels into implementing UGC, please consider the following:
Define your goals. What do you hope to achieve with UGC? More engagement? More leads? More sales? Defining your goals will help you create content that resonates with your audience.
Choose the right platform. There are a number of different platforms out there that allow businesses to incorporate UGC, such as Instagram, TikTok or even YouTube. Choose the platform that you know where your potential customers hang out on.
Ask for input from your current audience. One of the best ways to get started with UGC is to ask your audience for input. What do they like? What would be a neat contest or idea to pull off? Pose different questions and trial some ideas first with them. This will help you get started on the right foot with UGC out of the gate.
Whatever approach you choose, just remember that UGC can be a powerful tool for driving engagement and increasing brand awareness, and at no cost to you, it's definitely well worth experimenting with!
Dive Deeper: 8 Ways to Encourage More User-Generated Content (UGC)
Final Word on UGC
User-generated content is an important part of the user experience. It helps to create a memorable, authentic atmosphere that builds trust and can influence purchase decisions for your company's products or services.
If you want more sales without having to spend time searching for new customers with expensive ad campaigns, user-generated content could be what you need!
I hope that this article helped convince you about the power of UGC content and that it should play a bigger role in your marketing strategy.
If you're looking for a full-service digital marketing agency to help with your content needs, click the orange button below! 👇