Audio SEO: The Complete Guide to Ranking Your Podcast Successfully
Audio SEO is rising at a greater speed than you can imagine, and now podcasts have positioned themselves on the first page of the Google search results.
Back in 2018, Google's Podcast Product Manager, Zack Reneu-Wedeen, said:
"Our team's mission is to help double the amount of podcast listening in the world over the next couple of years."
Now, in 2023, the mission seems to be successful as podcast listeners have reached a new high – 485 million listeners worldwide! 
In this article, I will discuss what audio SEO is and explain the types of podcast carousels that Google uses. I will also share some of the best audio SEO strategies that you can use to promote your audio assets to grab more listeners.
Let's begin!
---
---
What Is Audio SEO?
Audio SEO is the practice of search engine optimization to improve the presence of audio content in the organic search results so that people can find and listen to podcast shows.
The goal of Google is to increase the popularity of podcasts and include it as another revenue stream for its search products. Hence, the search engine giant has started displaying podcasts in the search results along with text, images and videos. And with so much audio content across the web, audio SEO services are set to witness quick growth. 
The SEO practice can be divided into four broad categories:
Text SEO means ranking content-rich pages in the organic search results.
Image SEO is optimizing images for search engines to acquire more traffic to your site.
Video SEO is used to optimize videos on platforms such as YouTube to generate higher views and engagement.
Audio SEO means ranking podcasts in the Google search podcast carousels.
Here are some podcast and audio SEO stats that are worth noting:
What Is a Podcast Carousel?
When you enter search queries into Google that trigger audio results, then the search engine displays a list of relevant podcasts in the form of a carousel known, in this case, as a podcast carousel.
Here is what a podcast carousel looks like in the SERPs:

Types of Podcast Carousel
There are three different types of podcast carousels returned by Google depending on the searcher's intent. These are:
1) First Page Podcast Carousel
When you enter a search query into Google where the intent is to locate a particular podcast, you will see a podcast carousel containing a series of episodes fetched via Google Podcasts. Such a podcast carousel is known as First Page Podcast Carousel.
Some search queries for triggering a First Page Podcast Carousel are:
Experts on the wire
Marketing school podcast
Authority hacker podcast
The query show
Marketing scoop podcast
Here is an example of the First Page Podcast Carousel that comes up when you're looking for the Marketing School podcast: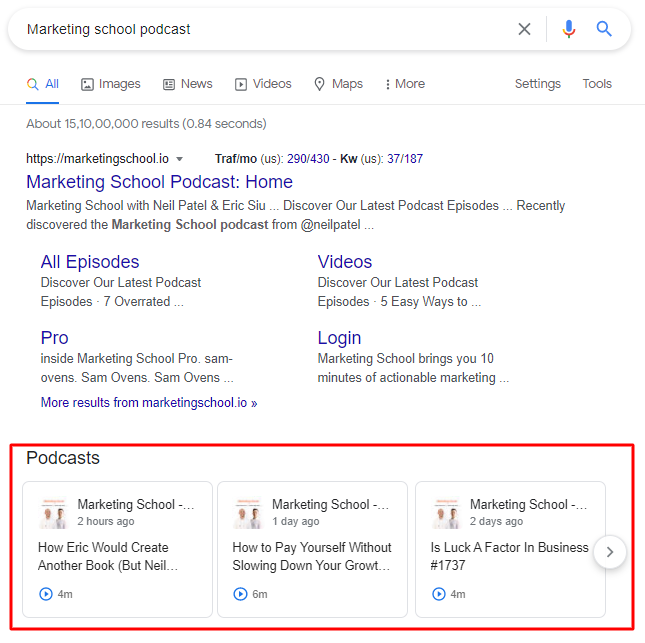 2) Position Zero Podcast Carousel
There are some queries for which Google displays a series of podcasts in position zero (a.k.a. featured snippet). I call these Position Zero Podcast Carousels.
Some example queries that trigger position zero podcast carousels are:
Best podcasts of all time Spotify
Stand-up comedy podcasts
Best podcasts for knowledge
Best podcasts for the stock market
Free podcasts to listen to
Most popular podcasts 2020
Here is what the Google position zero podcast carousel looks like: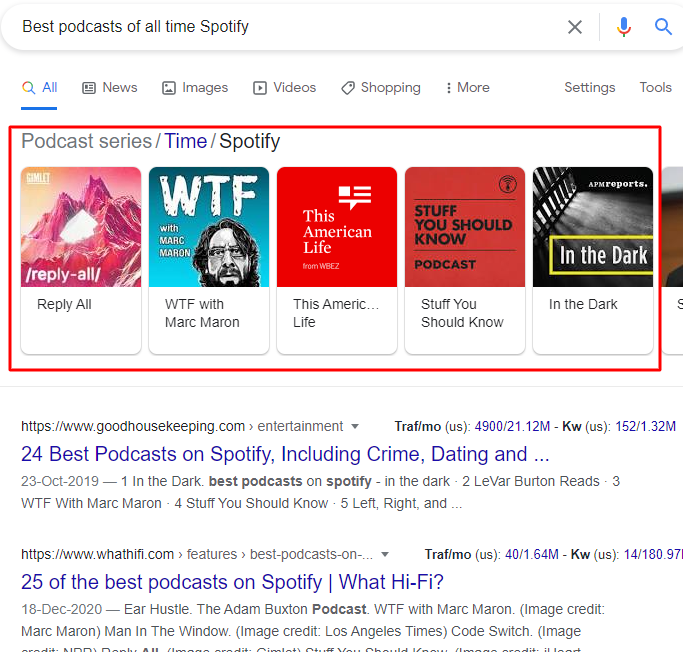 3) Related Search Podcast Carousel  
There is also a third category of podcast carousel that is displayed at the bottom of the search results page in the "Related searches" panel. Such a carousel is known as, quite obviously, a related search podcast carousel. These carousels are triggered for all queries that display either position zero or first-page podcast in the search results.  
Here's an example of a related search podcast carousel: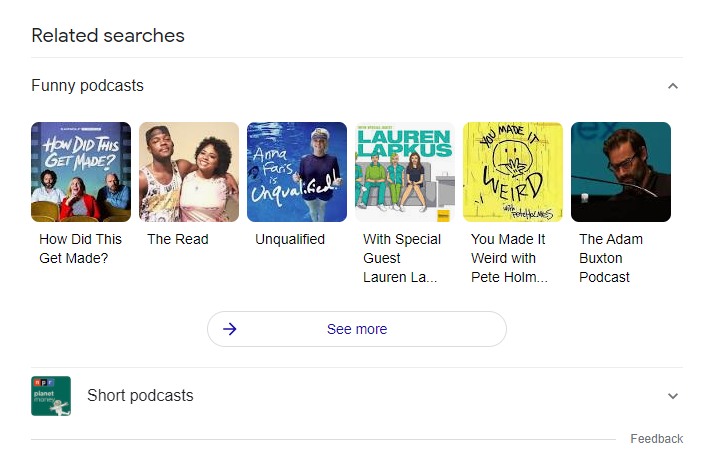 Related Content: The Ultimate Guide to Podcast Advertising
Types of Podcast Search Queries for Audio SEO
There are several different types of search queries that trigger podcasts. I have divided them into three types.
1) Navigational Podcast Queries
Here, the intent of the searcher is to find a specific podcast and listen to it quickly. Some example searches are:
The Marie Forleo Podcast
The Minimalist Podcast
Kwik Brain with Jim Kwik
My Favorite Murder
Welcome to Night Vale
Navigational podcast queries trigger First Page Podcast Carousels: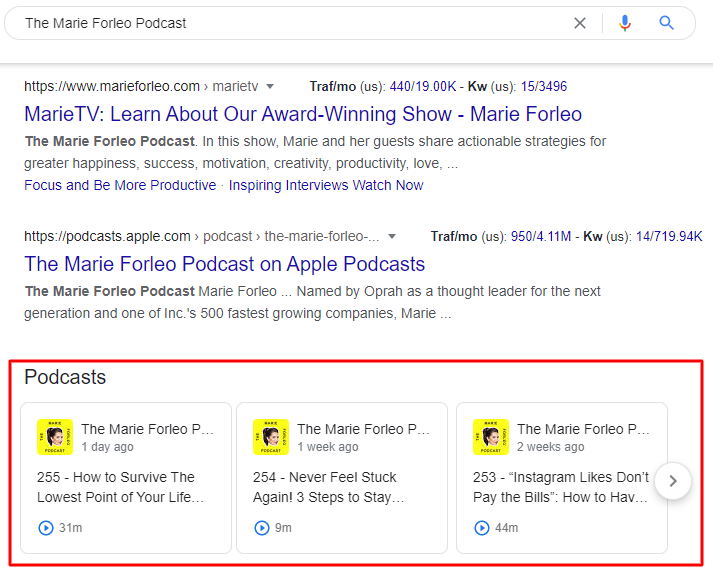 2) Informational Podcast Queries
When the intent of the searcher is to find more information related to podcasts, but they are not sure which podcast might be the best, then such queries are known as informational podcast queries.
Some example of these queries are:
Podcasts for freelancers
Best online marketing podcasts
Podcasts for kids
Podcasts for the keto diet
Best podcasts that make you smarter
Podcasts for nutrition
Informational podcast queries trigger the position zero podcast carousel because the searchers want to browse a list of podcasts to pick the best one: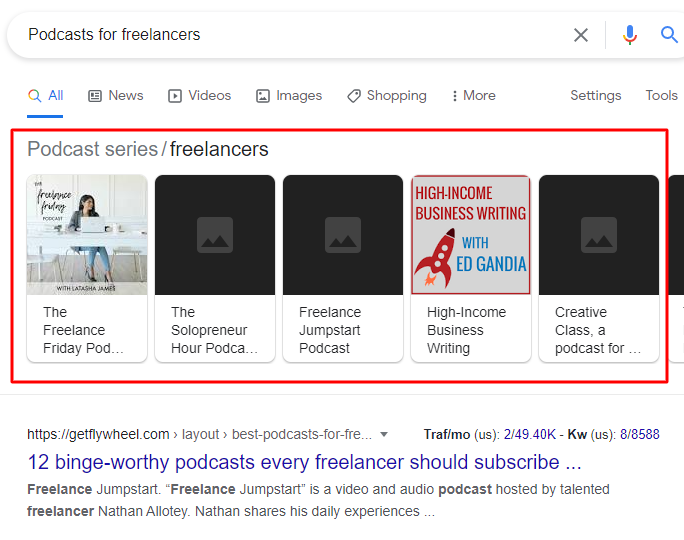 Related Content: 10 Best Marketing Podcasts to Help You Grow Your Business
3) Question-Based Podcast Queries
If you mix voice SEO and audio SEO together, then you get question-based podcast queries. When the searcher asks Google a question about podcasts, then such searches are known as question-based podcast queries.
Some examples are:
Which podcast should I listen to?
What are the 10 most popular podcasts?
Which are the best podcasts for motivation?
What are some podcasts to listen to about life?
Which are the best documentary podcasts on Shopify?
Interestingly, question-based podcast searches might trigger text-based results, images, videos or any of the podcast carousels. Therefore, if you are doing audio SEO, then you should not ignore content marketing because content is still useful to promote your podcasts in the search results for question-based podcast queries.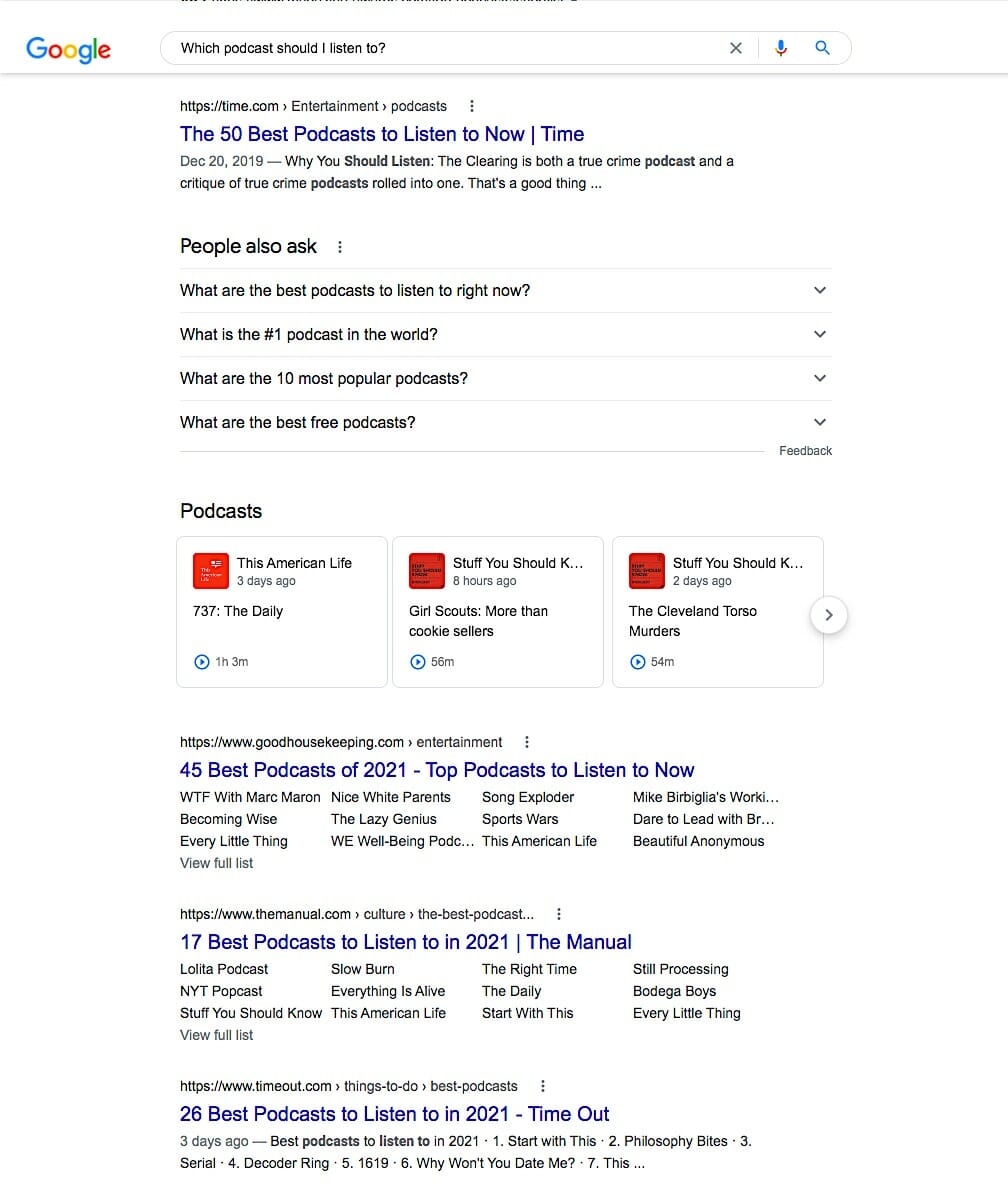 Related Content: 9 Podcast Trends You Can't Ignore in 2023
Is Audio SEO the Same as Traditional SEO?
No, audio SEO is not exactly the same as traditional SEO. By traditional SEO, we mean text-based SEO.
Every form of search engine optimization, whether it's text SEO, video SEO or audio SEO, is different from one another in some aspects. However, there are also some similarities between audio SEO and traditional SEO. Let's take a look at both.
This table lists the differences between audio SEO and traditional SEO: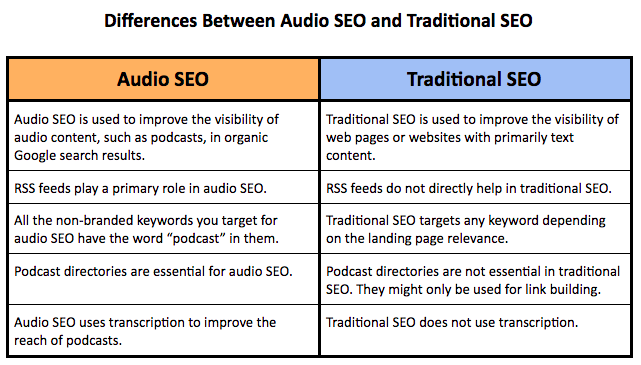 This table lists the similarities between audio SEO and traditional SEO: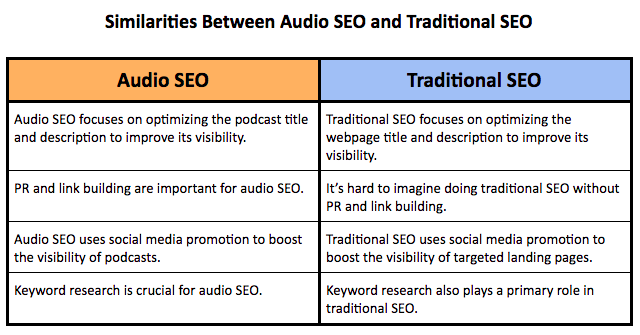 Why Is Audio SEO Important?
Audio SEO became important right after the announcement Google made in its May 2019 Google I/O Conference:
"In the coming months, we'll start surfacing podcasts in search results based on the content of the podcast, and let users save episodes for listening later."
With podcasts becoming a part of the first-page real estate in the SERPs, it was necessary for webmasters to start creating podcasts and gain a share of that coveted digital real estate.
We have all witnessed that text results are not the only type of content that Google prefers to display in the search results. Other content such as images, audio and video are prominent, and they show up consistently for relevant search queries.
Sounder made a comparison between website growth and podcast growth and found that podcasts are growing at an exponential rate: People are launching about 125 new podcasts every hour! Have a look at the below graph, which shows the number of websites launched between 2001-2006 compared to the number of podcasts created from 2020 and forecasted until 2025: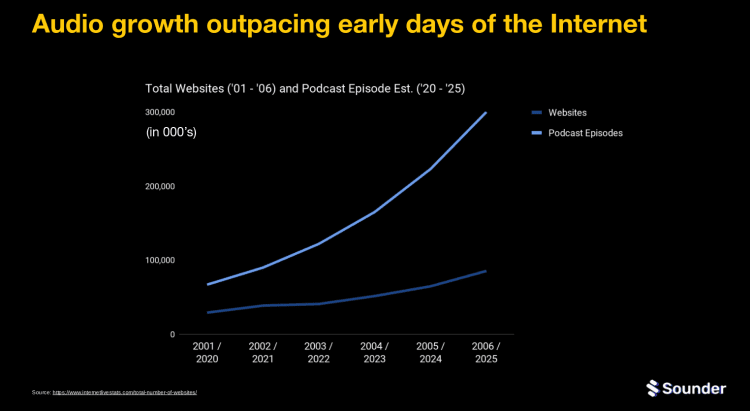 Therefore, it makes sense to start creating podcasts and/or investing in audio SEO to gain the upper hand in the search results. The sooner you begin, the easier it will be for you to reach the top.
Related Content: How We Built the Growth Everywhere Podcast to 109,000 Listens per Month
Audio SEO Algorithm: How Google Ranks Podcasts
Based on the insights obtained from a Google Patent, it is clear that the core job of their podcast ranking algorithms is to identify audio content that aligns with the interests of the users. The patent also states that Google can identify shows of a specific duration to help people who are looking to listen to podcast episodes, for example, during their commute.
To make it easier for you to understand what the audio SEO algorithm is all about, here is a step-by-step explanation of how Google ranks podcasts:
Step 1: User enters a search query where the intent is to find a podcast.
Step 2: Google identifies three different groups of podcasts: The first group has popular shows, the second has shows based on the searched category, and the third is based on a feed of shows.
Step 3: Subset of shows are selected from the first, second and third group of shows.
Step 4: Google identifies episodes from the selected group of shows.
Step 5: Google selects and ranks a subset of episodes.
Step 6: Finally, it presents the rankings to the user.
Here is a figure that depicts the process: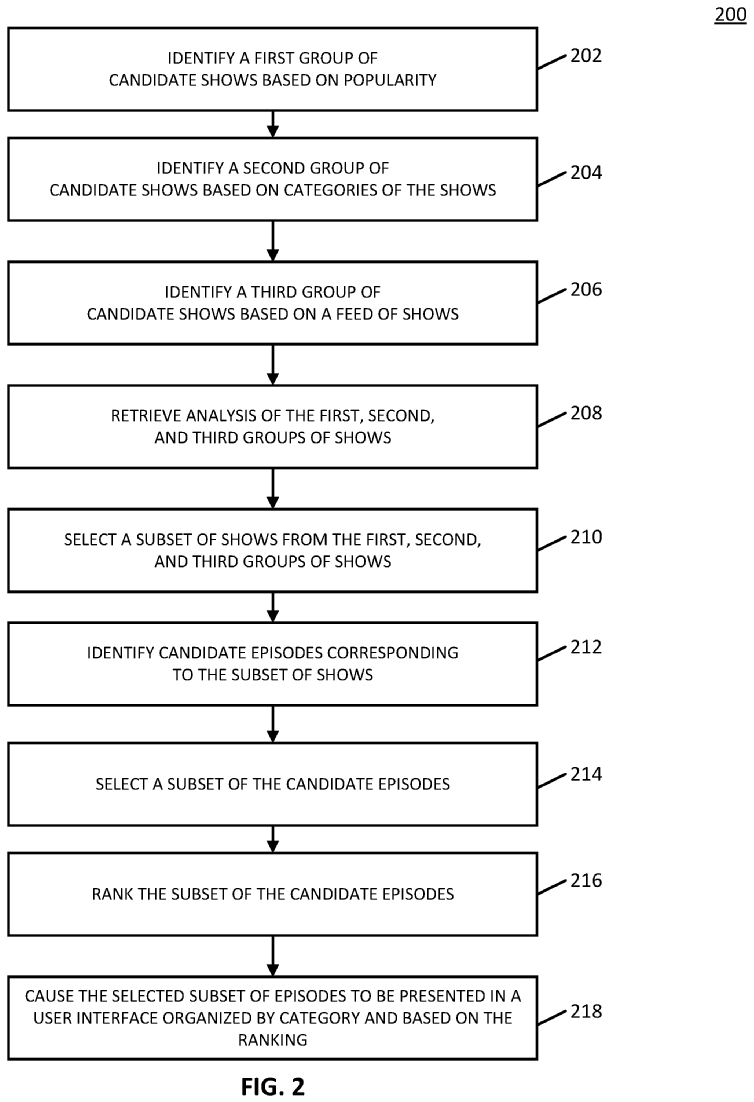 Google uses a special set of algorithms to rank audio content.
It is clear that the algorithm considers popularity and niche as the two biggest indicators to identify a suitable podcast. Podcast duration also plays an important role.
To get your podcast to rank higher in the SERPs, you must make it popular (I know, easier said than done!) and keep your episodes to the duration that your target audience is most likely to listen to. Hence, understanding the needs of your audience is vital before you begin audio optimization.
Moreover, add tags to help Google identify the topics of the individual episodes and make sure that you have good audio quality because the user experience is significant for audio SEO.
Now, let's understand the entire process of podcast optimization to rank your audio content in the Google search results.
Can Google Transcribe Your Podcast Content?
Yes, Google can transcribe your podcast content, but it is recommended that you transcribe your own podcast to help the bots better understand your episode. Why? Because Google won't be able to transcribe your podcast content in the same way that you can. Therefore, you should always publish a transcript.
11 Ways to Optimize Your Podcasts to Show Up in Organic Search
Podcast optimization can be tricky if you don't know the exact steps to follow to increase your chances of getting ranked in the Google search podcast carousel.
Here are the best ways to optimize your podcast for Google:
1) Understand Your Audience and Define Your Niche
The first step is understanding your audience because you should know the likes and dislikes of your subscribers.
Prepare an audience persona (like a buyer persona), look at your competitors and see the kind of audience they have, scan social media communities, conduct surveys, and monitor comments to understand your target audience better.
You must also define your niche because, as entrepreneur and best-selling author Seth Godin says:
"When you seek to engage with everyone, you rarely delight anyone."
Avoid making a podcast on a broad topic and, instead, concentrate your efforts on a particular niche. For example, instead of creating a podcast on start-ups, create one about SaaS start-ups or pet start-ups.
Make sure you have sufficient data on your niche because it will help to make data-driven decisions. If you understand your audience well and define your niche, you can easily create your audience persona, which you can use in your podcast marketing efforts to acquire relevant listeners who are genuinely interested in subscribing to your episodes.
2) Prepare a High-Quality Podcast
You can't expect every piece of content to rank well in the search engines. Similarly, not every podcast deserves to rank in the podcast carousel for relevant searches — only the best will rank.
Every creator thinks that their podcast is the best, of course, but certain criteria define great podcasts. These are:
Get specific on the main idea and the best way to express it to your audience in your show. Use language that your audience can understand quickly.
You already know the problems that your audience is facing (remember we did this in the first step?), so your podcast content should offer help/solutions to those issues. When you speak about what your listeners want to hear, your subscriber base will increase, leading to increased engagement, comments, citations, and links. Ultimately, your podcast will rule your niche, and Google will start displaying it in the podcast carousels.
Just as content is king for content marketing, podcast scripts are the king for podcast marketing. Keep it natural sounding and practice before your live recording. Editing is crucial, so edit your script and keep only the exceptional sections.
You can't record a podcast using just a simple microphone. You will need a variety of high-quality equipment to deliver outstanding sound quality, which is essential for a good podcast. You will need mixers, pop filters, microphone stand, headphones, headphone amplifier, and editing software.
Allow guests to interact on your live show. As much as they love the host, people want to listen to other people's thoughts and opinions, too.
Overall, your podcast should be the best in your niche.
Related Content: Podcast Production 101: The Complete Guide to Starting Your Own Show
3) Create a Podcast Trailer
A podcast trailer is a teaser of your podcast, just like a movie trailer gives you a quick preview of the movie. It gives your listeners an idea of what your show is about and lets you win more potential listeners. You should include your podcast USP in your trailer and add some music to build excitement.
Keep the podcast trailer 30-40 seconds long. The best way to start your trailer is to discuss the audience's problems because this will ignite interest in the minds of your listeners, and they will be persuaded to watch your entire episode. Remember to end the trailer with how your podcast will solve their issues or answer their questions.
Try to keep your trailer unique, and don't copy others in your niche. Tell people why your podcast is important for them. You can add short clips of your show just like you see in movie trailers. A podcast trailer is significant for bringing in potential listeners, which improves engagement and helps in SEO.
Here is an example of the podcast trailer for Carrier, which invokes curiosity in the minds of the listeners and excites them to listen to the show when it's launched:
4) Create a Website for Your Podcast
Every podcast should have a website. Don't add a landing page on your company website for your podcast. Create a new website for your podcast because having a website will help you acquire search engine rankings for branded keywords. When someone searches your podcast name on Google, your website should be displayed.
5) Add a New Landing Page for Every Podcast Episode
For every new episode, create a landing page because the more content you have on your site, the better your chances of showing up in the search results for relevant searches.
Each of your podcast episodes should have a topic and some keywords of their own. You can optimize every podcast episode for these keywords to increase organic visibility and get more listeners for your show. Creating these landing pages is a great way to present more information to Google about your podcast and your episodes which will help it rank in the podcast carousel.
Related Content: The Ultimate Guide to Creating a High-Converting Landing Page in 2023
6) Add Audio Transcripts for Every Episode
A transcript is a written version of your podcast episode. It covers everything from timestamps to individual speakers to sound effects. High-quality and accurate transcripts help Google understand the contents of your show.
Every podcast hosting platform allows you to add transcripts to your episodes. For instance, if you are using Simplecast, you can click on the "Add Transcript" button on the "Episode Details" page and paste in your transcript: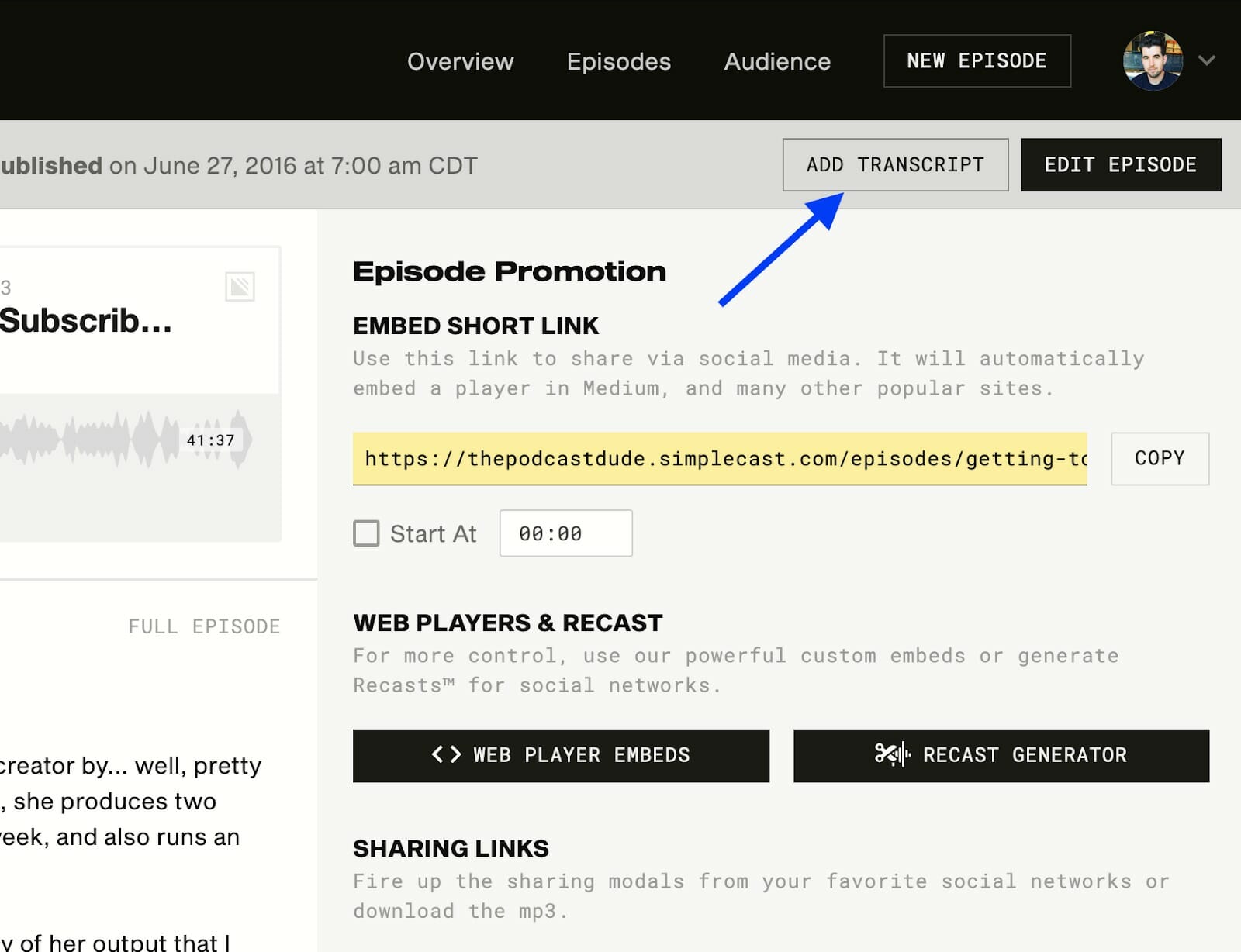 You can choose to write the transcript yourself or use podcast transcription services like Rev, which charges $1.25 for every minute of audio.
7) Optimize Podcast Metadata
Author name, title, description, and category are the four most vital podcast metadata that should be entered carefully. Here are some tips to follow to optimize your podcast:
Create a unique title and description for each episode you publish.
Give your podcast a compelling headline that makes the reader clearly understand what the podcast or the episode is about.
Don't over-optimize your keywords in the title and descriptions; just use the necessary keywords. For instance, don't write "Best Marketing Podcast By John Campbell". Give a name for your podcast and brand yourself. You can use names like "Marketing Mentors By…" or "Marketing With Coffee".
Don't add episode numbers in the title tag.
Provide an accurate description of your show. Only the first 100 characters of your description show up in Apple iTunes, so make sure you have your USP in it early on.
Choose up to three categories that closely match the content of your podcast.
8) Optimize Your RSS Feed
A podcast RSS feed helps push your audio content out to your listeners. To get an RSS feed for your podcast, you need to host your podcast on services such as SoundCloud (this process is explained in the below section).
Add a proper title, provide an email address, author name, podcast description, and a featured image. Make sure you include all the podcast-level and episode-level tags.
Here are the required tags:
<item> – It defines an episode of your podcast. You should have at least one item in your podcast feed.
<link> – It contains the homepage of your podcast.
<title> – It provides the name of the podcast.
<googleplay:owner> – It provides the email ID of the owner of the podcast.
<googleplay:image> – It provides the featured image of your podcast.
<enclosure> – It provides the fully qualified URL of the episode audio file. Extensions aac, m4a, mp3, ogg and wav are supported.
Here is an example of what your podcast feed should look like:
<?xml version="1.0″ encoding="UTF-8″?>
<rss version="2.0″
    xmlns:googleplay="http://www.google.com/schemas/play-podcasts/1.0″
    xmlns:itunes="http://www.itunes.com/dtds/podcast-1.0.dtd">
  <channel>
    <title>My Podcast</title>
    <googleplay:owner>[email protected]</googleplay:owner>
    <googleplay:author>Joydeep</googleplay:author>
    <description>Marketer's guide to audio search engine optimization</description>
    <googleplay:image href="https://www.example.com/podcasts/joydeep-audioseo/img/logo.jpg"/>
    <language>en-us</language>
    <link>https://www.example.com/podcasts/joydeep-audioseo/</link>
    <item>
      <title>how to do audio seo</title>
      <description>Here are the best ways to perform audio SEO and acquire more traffic to your podcast.</description>
      <pubDate>Tue, 14 Mar 2017 12:00:00 GMT</pubDate>
      <enclosure url="https://www.example.com/podcasts/joydeep-audioseo/audio/audio-howto.mp3″
                 type="audio/mpeg" length="35216300″/>
      <itunes:duration>25:00</itunes:duration>
      <guid isPermaLink="false">dzpodtop10</guid>
    </item>
9) List Your Podcast on All Podcast Platforms (Especially Google and Apple)
Podcast platforms host your episodes and improve their visibility to acquire more listeners. Here are the top platforms to list your podcast:
Google Podcasts
When you list your podcast on Google, people can listen to your show from various Google services such as Google search or the Google Podcasts app for iOs or Android.
Google Podcasts is a directory, and it does not store the RSS file of your podcast. To submit your RSS feed, visit Google Podcasts manager and enter your podcast RSS feed. Google will send a verification code to your email, after which you can submit your podcast for approval.
Make sure your feed is accessible by Google and has at least one episode. Also, it should have a supported audio format and at least one image that will get displayed in the search results. Here are the RSS guidelines to follow for Google Podcasts.
Apple Podcasts
Apple Podcasts offers a great way to monetize your podcast. To add your show on Apple Podcasts, you can either use an RSS feed or directly create your show using Apple Podcasts Connect. If you are creating a show, make sure you add all the relevant details such as the episode title, description, type, release date, episode number, and podcast website.
Like Google Podcasts, Apple Podcasts also requires that your podcast follow certain RSS guidelines to list your show. Also, make sure your podcast has at least one episode to get started.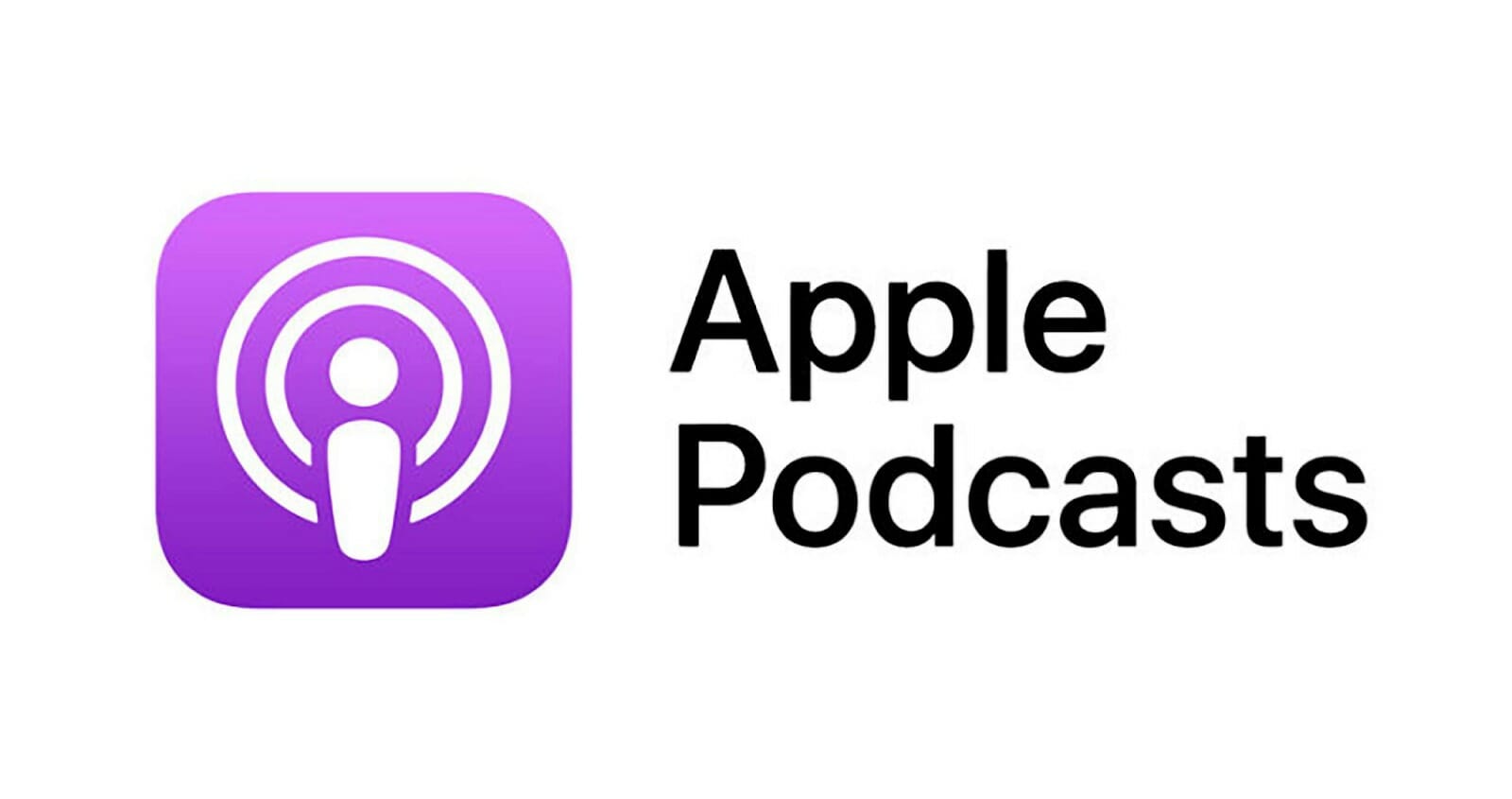 With Apple Podcasts, you can create subscriptions for your show, create channels to highlight your brand, use podcast analytics to see where listeners drop off, use the Apple Podcasts badge to promote your show, and embed your podcast in different places using a simple code. Apple offers everything to launch, promote, and monetize your show.
Related Content: 7 Creative Ways to Monetize Your Podcast
Audible
Audible is a podcast directory from Amazon. You can submit your podcast to Audible and Amazon music by visiting Amazon Music | Podcasters and adding the RSS feed of your podcast. Once submitted, it takes around 24 hours for your show to become listed.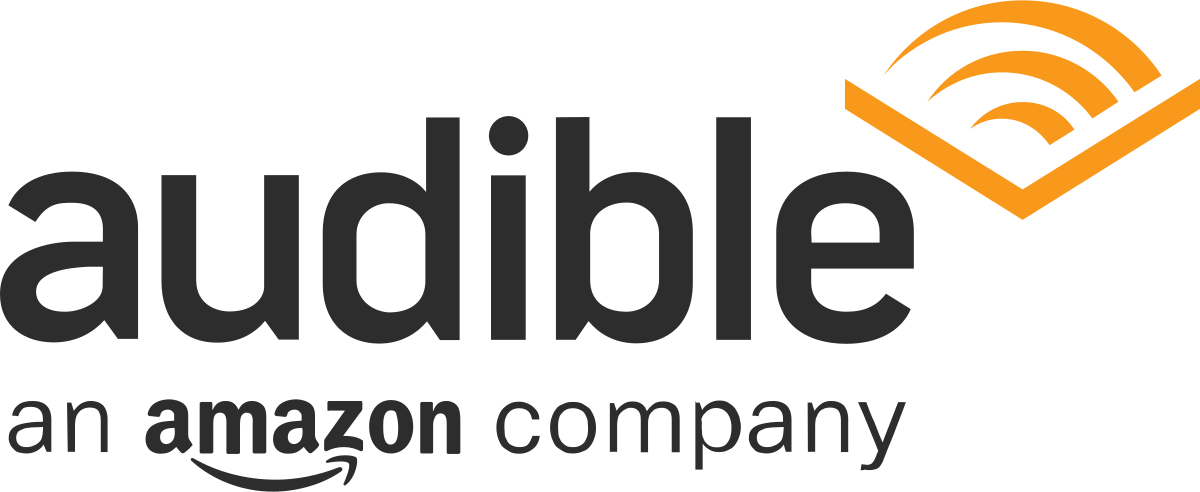 The Amazon music platform has 55 million global customers, so it is a great way to earn more publicity for your audio recordings. Amazon also offers free templates to promote your show on different social channels.
Spotify
With over 299 million listeners worldwide, Spotify is the second most popular platform to listen to podcasts.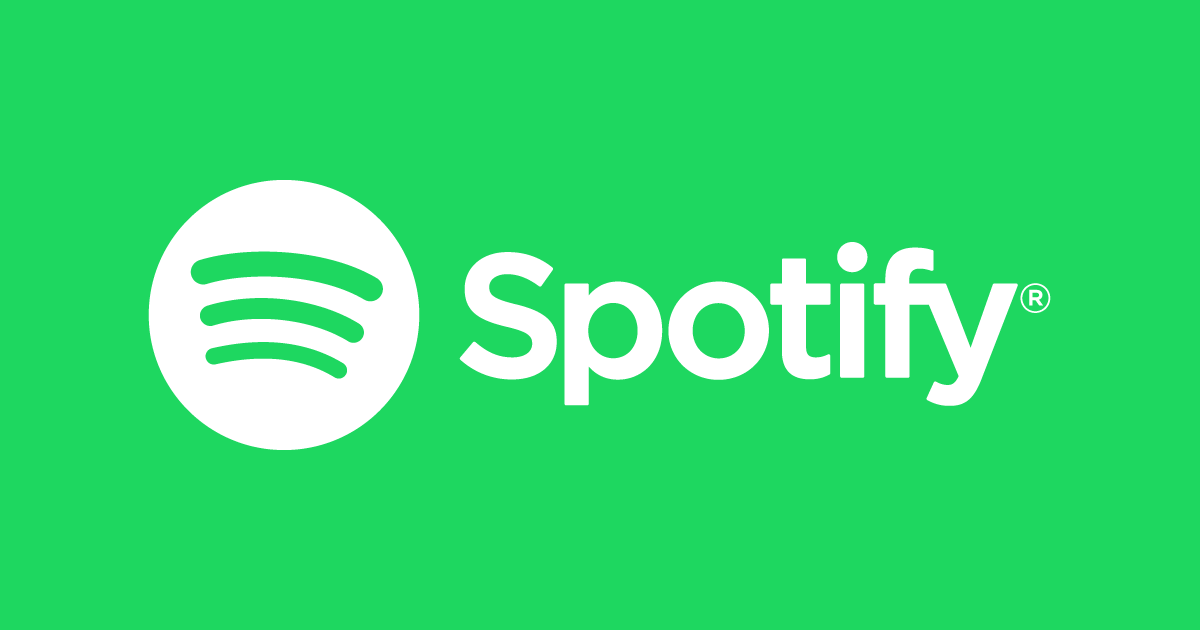 To add your podcast, visit Spotify for Podcasters and sign in to your account or create a new account if you do not have one. After you log in, you will be asked to submit the RSS feed of your podcast. Wait for the approval, which might take up to two days – although in most cases, your podcast is listed within a few hours. Make sure your RSS feed has a title, a cover image, and at least one episode. Here are the complete guidelines for Spotify's submission requirements for podcasts.
Spotify analytics gives you an overview of your listeners, like their age group or the episodes they love the most. It also helps you track the number of followers. To help you grow your audience, Spotify offers personalized playlists for users like "Your Daily Podcasts," "This Week's Top Podcasts" and "Brain Snacks."
Check out this 6-minute video How to Grow a Podcast to 1 Million Monthly Downloads:
TopPodcast
TopPodcast is another useful podcast directory to list your show. Kurt Laufer founded it in 2016 and it features daily top-ranked podcasts without the need to download an app.

The submission process is easy: Fill out the form with your name, email, podcast title, and Apple iTunes URL. The platform also offers opportunities for podcast monetization with different types of pre-roll ads.
SoundCloud
SoundCloud was founded in 2007 by Eric Wahlforss and has over 175 million unique monthly listeners worldwide.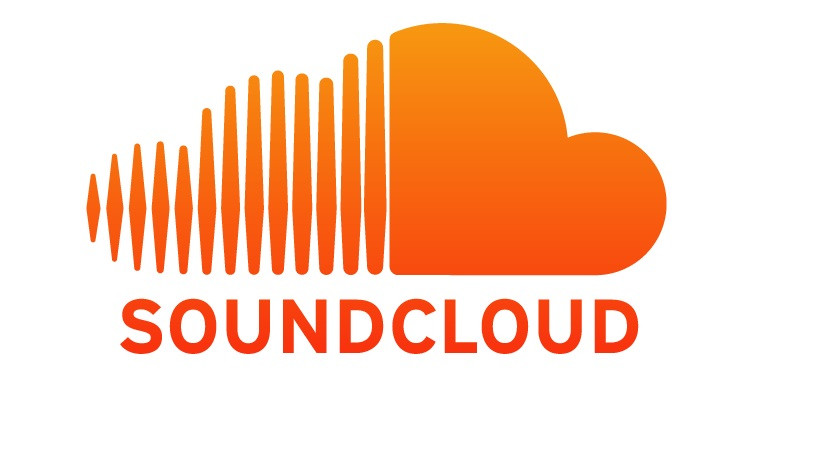 To get started, you need to create an account on the platform and use the name of your podcast as your display name. Then you can directly upload your tracks to the platform. You should choose a relevant category for your podcast as well as the language of your show. You can copy your podcast RSS feed URL from the content tab to be used on other podcast directories.
YouTube
Yes, you can start a podcast on YouTube! Listing your podcasts on the video platform giant is a great way to reach listeners who prefer watching videos. YouTube isn't technically a podcast hosting provider, but as the second-largest search engine, it would be silly to ignore it. The idea is to upload the audio with a single image (usually your podcast graphic) as the "video" portion.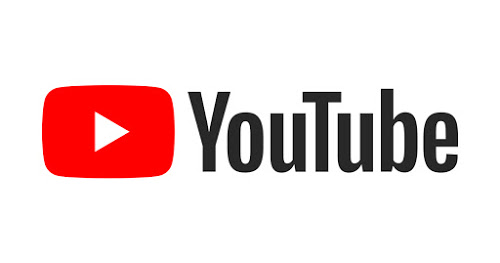 To get started, you need to convert all your audio files into MP4s and upload them on YouTube. More often, a static featured image serves as a background image for your video. You should add a relevant category, prepare an SEO-friendly title, write a transcript, and add relevant tags to make it easier for your audience to find you. Check out this article for more info.
Podchaser
With 1.8M+ podcasts in its database, Podchaser is a useful platform for podcast lovers. Every podcast gets a dedicated profile page to display episodes, reviews, and statistics. You can even curate your own list of favorite podcasts and share it on your social profiles.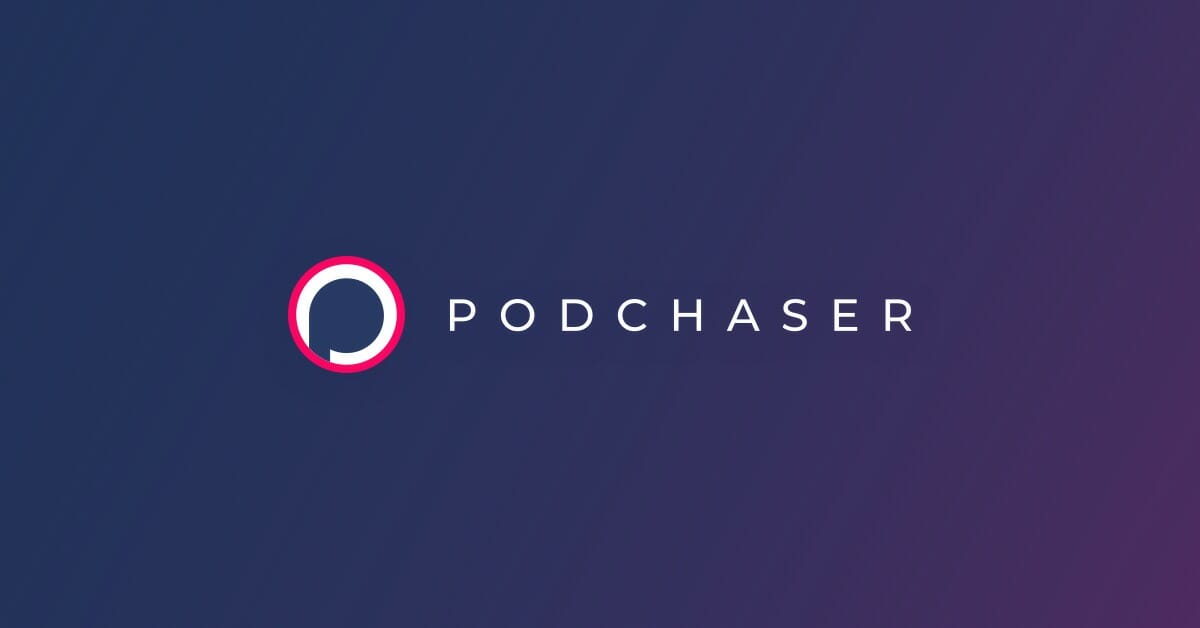 To add a podcast on Podchaser, you need to create a new account or log in using Twitter. After logging in, you can submit your podcast using your podcast RSS feed or your Apple ID.
Buzzsprout
Buzzsprout is a podcast directory with over 100,000 creators and has a rating of 4.9 by Trustpilot. Sign up for the service to get started. Once you log in, you will be asked to enter the title and description of your podcast. After that, you can start uploading episodes on your podcast profile page.
The free version lets you upload up to two hours of episodes each month, and the podcast is hosted for 90 days. If you are serious about hosting your podcast on Buzzsprout, you will then have to pay for the podcast hosting. The paid plans start at $12 a month, and you can host up to three hours of content with unlimited storage and indefinite hosting.

Moreover, you can add unlimited team members and import your podcasts at no additional cost. The platform also offers an audio filtering tool similar to the Instagram filter to make your podcast sound clear, crisp and well balanced. However, using the tool will cost you $6/month more. Considering that audio quality plays a vital role in optimizing the user experience, this tool is worth using.
Simplecast
Simplecast is a podcast hosting and analytics platform.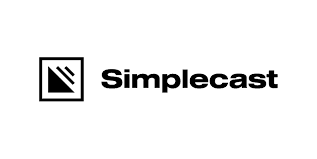 Register for the site and log in to your dashboard to create a new episode. Click on the "Add Episode" button and enter your episode details like title, episode URL, episode summary, and audio file. Save your episode as a draft.
Now you can publish your episode at a time best suitable for your audience. Simplecast offers different plans for podcast hosting. The basic plan starts from $15 a month and allows unlimited storage and uploads. You can also customize your show website with a custom domain to improve your podcast visibility.
Podbean
Podbean is a popular podcast hosting service that offers free podcast hosting for up to five hours and a 100GB monthly bandwidth. It offers easy podcast publishing with just a few clicks and as well as a free podcast website with your account. You can also schedule your podcasts at designated times.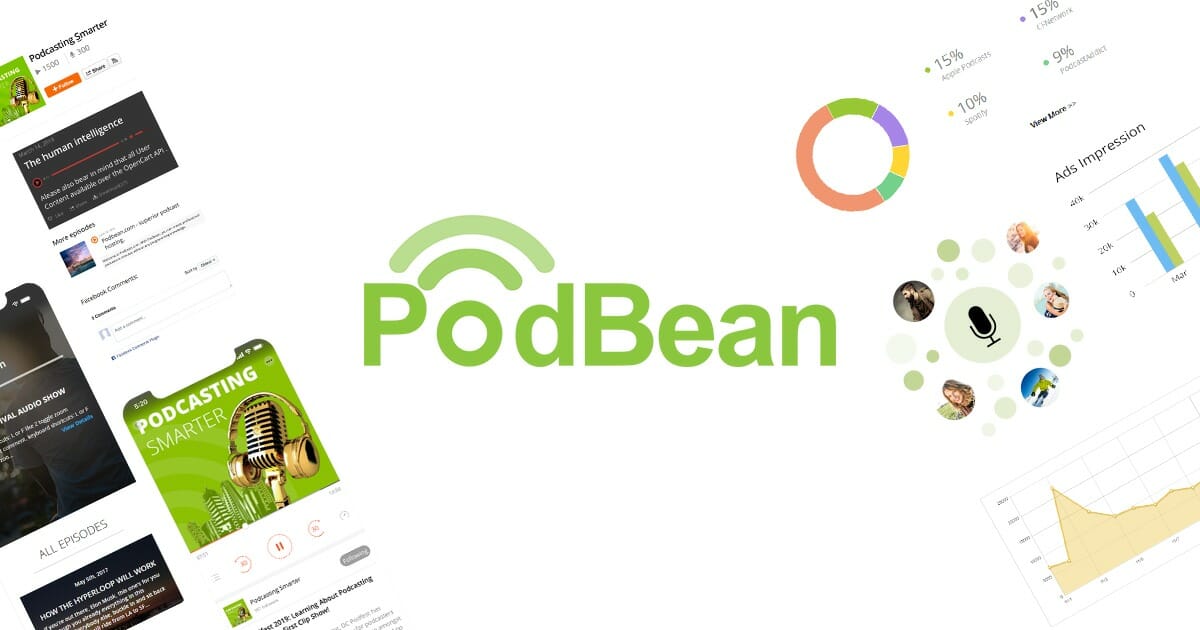 The tool provides comprehensive analytics to understand and optimize your podcasts for your audience. You can start with a free basic plan, but if you need unlimited storage space, then you can subscribe to the unlimited audio plan for $9 a month. This plan also allows you to map your custom domain to your podcast channel.
Stitcher
Stitcher is a podcast hosting and distribution service founded in 2008 by Noah Shanok and Peter deVroede.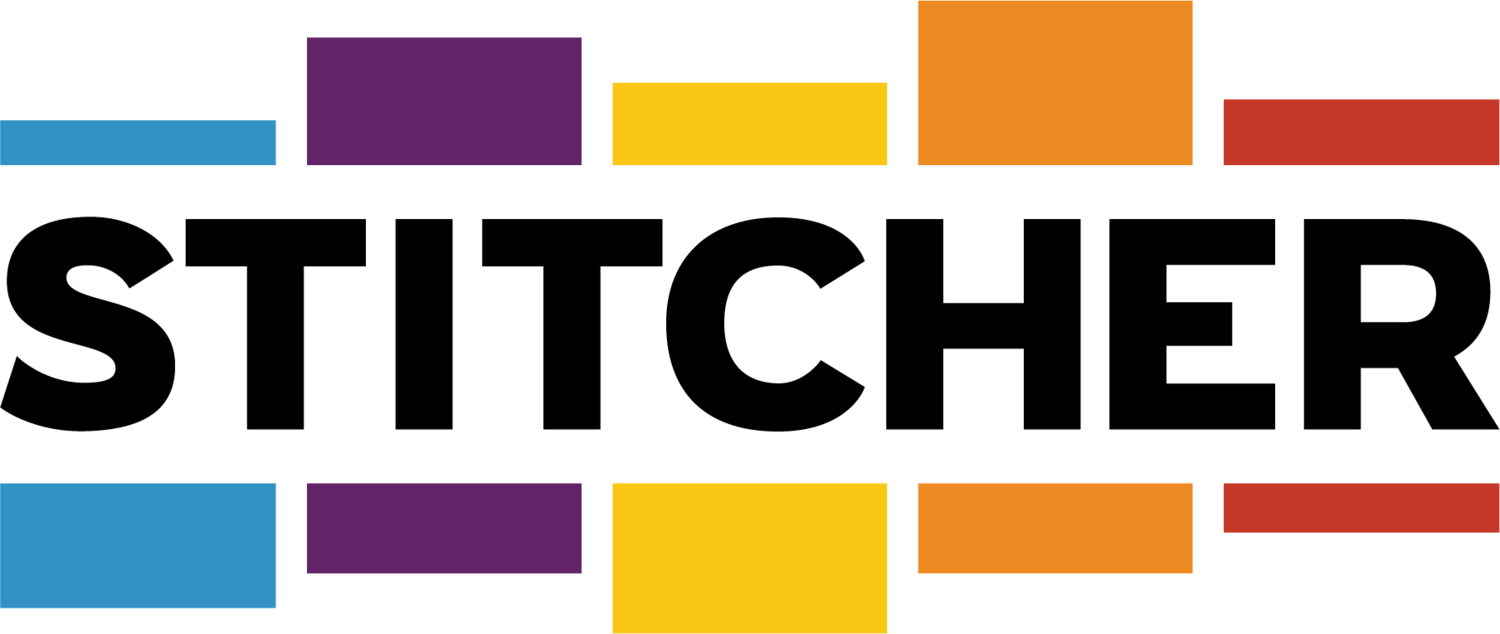 Join the platform and click on the "Add Show" button on your profile page and add your show using an RSS feed.
You can reach millions of listeners on Stitcher, one of the oldest platforms for podcast listening. Also, the Stitcher partner portal lets you learn more about your audience, and you can even earn money by becoming a Stitcher premium affiliate.
Blubrry
Blubrry is a podcast hosting platform for beginners.

The platform distributes your podcasts and also provides a free WordPress website. With powerful podcast analytics, you can watch your subscribers grow. The PowerPress plugin is a free podcast plugin that lets you publish your podcasts in minutes. Podcast hosting plans start at $12 a month, and have a 100MB of monthly storage and unlimited bandwidth.
10) Promote Your Podcast on Social Media
Social media is the best place to promote your podcast. Here are some of the top strategies to follow in order to reach prospective listeners for your podcast on social media:
Tag your co-presenters and guests when sharing your podcast episodes with your followers.
Use the top four channels for social podcast marketing: Facebook, Instagram, Twitter and LinkedIn.
Tailor your posts for different social platforms. For example, make your post visually appealing for Instagram users. 
Record some of your podcasts on Facebook Live to directly connect with your audience.
Use the right hashtags. For instance, if your ideal audience is women over 35 who are stay-at-home moms in Nashville, rather than using #yoga, #health and #wellness, use more specific hashtags like #health, #momlife and #nashville.
Host giveaways because they help to engage potential listeners and expand the reach of your podcast.
Here is an example of a podcast giveaway from Press for Champagne podcast creators: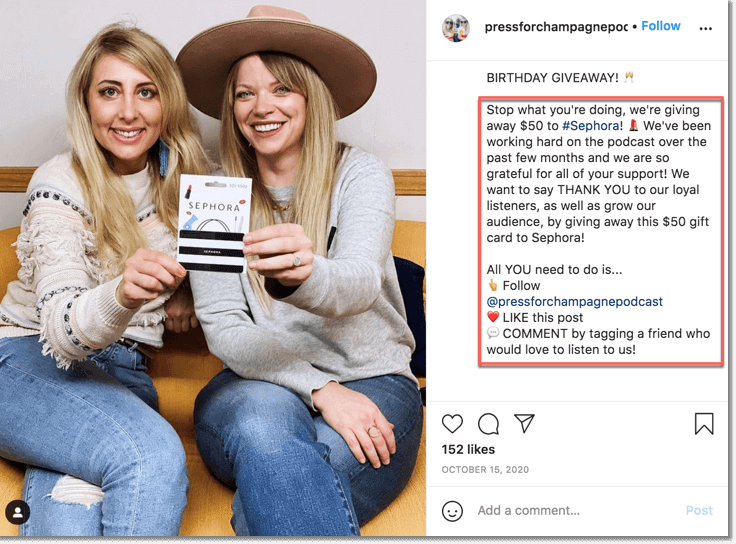 Related Content: The Most Underrated Tactic to Boost Your Search Ranking: Podcast Guesting
11) Earn Citations, Subscribers, Links and Reviews
The first eight weeks of your podcast is crucial. As soon as you launch a new episode, you should start the promotion. Citations, number of subscribers, links and reviews play a significant role in helping to make your podcast go viral. Here are some of the best strategies to get the word out:
Email your website subscribers to inform them about the new episode

 –

and include a direct link. Ask them to review it and share it with their friends.
Hire a PR agency to earn some solid citations, links and more subscribers for your show.
Ask your social media followers to review your latest episode.
Add your podcast link in your email signature.
Launch advertising campaigns to increase the number of subscribers and views.
Run giveaways and use Facebook Live to reach more people.
Ask your employees to tweet about the podcast or share it on their Instagram profiles.
Link to your podcast from your social profiles.
Publish some guest posts and earn some links as well as referral traffic to your podcast.
Promote your podcast offline while attending events and parties.
The above list is certainly not exhaustive. You should get creative and use other strategies to help your podcast become popular as soon as you launch it. Remember, early promotion is vital for podcast SEO success.
Related Content:
* How Much Work Does It Really Take to Build a Popular Podcast?
* Does Podcast Advertising Actually Work?

Top Tools for Audio SEO and Podcast Analytics
Wavve
Wavve offers two excellent tools for audio SEO. The first is Wavve video, and the second is the Wavve link.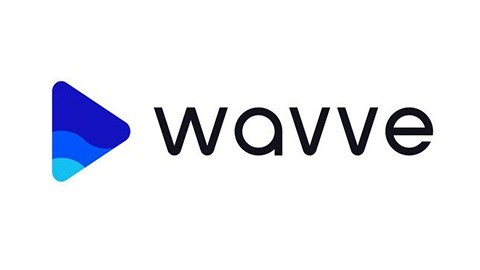 Wavve video creates animated videos for podcast sharing on social platforms. For instance, you can create your own podcast animation for Instagram sharing. This will help to increase engagement and acquire more audience members for your podcast.
Wavve link is a shareable website for your podcast. It offers a single page where all your listeners can choose a podcast platform of their choice to view your podcast. Once you connect your podcast feed, your fans can choose from Google Podcasts, Apple Podcasts, Spotify, and more to listen to your latest episodes.
The Wavve link is free to use, while the free Wavve video plan allows up to one minute of video time. The Alpha plan costs $10 a month, where you can create up to 20 minutes of videos.
Descript
Descript is a podcast editing software that lets you edit audio by editing text.

With a straightforward user interface, you can drag and drop to add music and sound effects. The Timeline Editor enables you to fine-tune your podcast quickly. It also offers both human and automatic transcription services with industry-leading accuracy.  
UberSuggest
Keyword research is an integral part of SEO, and it's no different for audio SEO. Ubersuggest is a powerful keyword research tool that lets you find the best keywords to better optimize your podcast.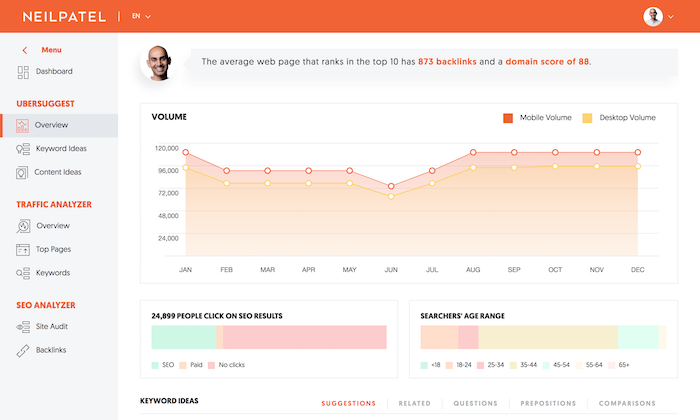 Ubersuggest displays the top keyword ideas for your seed keyword. The best part is, you can filter the keywords based on the searcher's age to tailor your podcast for your audience. The tool also displays the search volume and CPC along with related and question keywords that offer lots of ideas to base your audio SEO.
Apple Podcast Analytics
User engagement is all that matters for your podcast.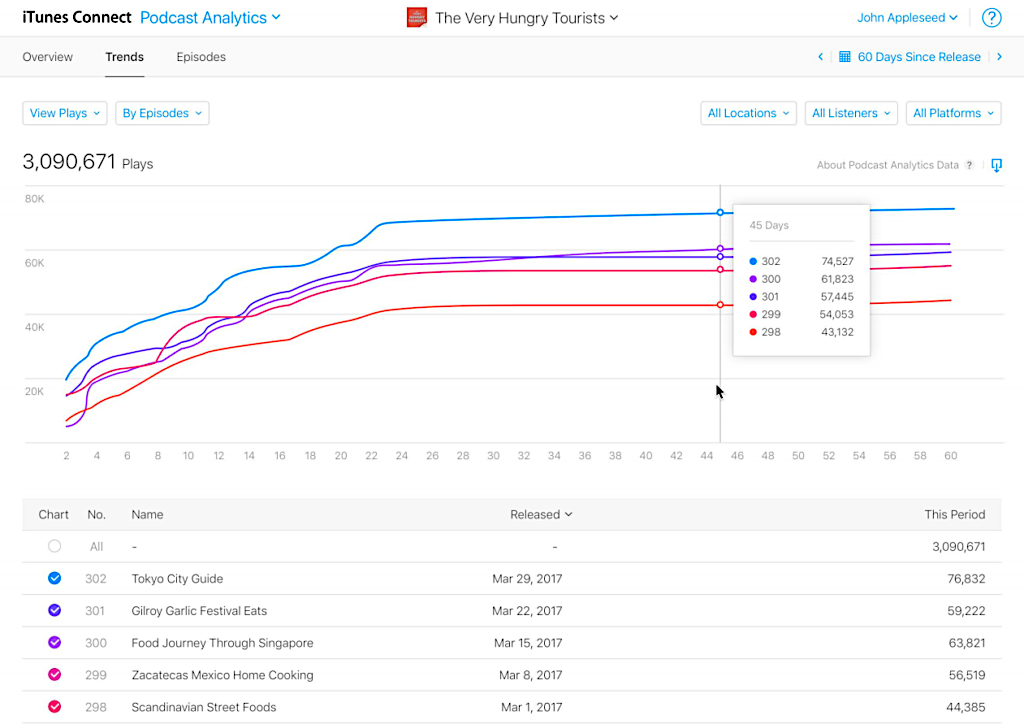 Apple offers a comprehensive podcast analytics platform via the Apple Podcast Connect interface to measure the performance of your podcasts. For instance, you can get answers to questions such as:
How many people are listening to your audio?
Where are they skipping ahead?
What is the performance of your shows over time?
How many subscribers do you have for your show, sorted by countries and cities?
The tool also lets you compare the performance of your different shows over time. Based on the insights you learn, you can take actions to improve the visibility and UX of your podcast to gain more subscribers.
Related Content:
* The Future of Podcasting: Where Is It Going Next?
* Why I Decided to Start Podcasting

What's Next?
The audio market is growing faster than you can imagine. However, audio SEO is still in its infancy. Therefore, it presents immense growth opportunities to your business if you take the first step to expertly optimize your podcast once you've launched it.
Recently, Google has updated the podcast carousel design, but it's not been rolled out officially. It's still in process. Here is what the new design looks like: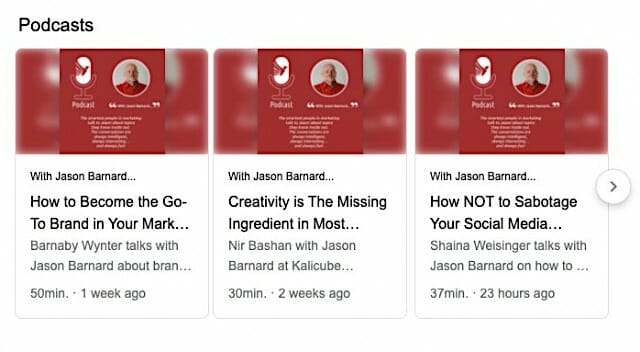 As you can see, the updated design offers a larger space for podcast episodes to include a bigger thumbnail image and 8-10 words of description. Therefore, podcast visibility in the search results is set to increase in the very near future.
In this audio SEO guide, I have tried to cover all the aspects of podcast and audio SEO to enable you to grab a high share of the audio search real estate. Don't wait any further; get your podcast ready and follow the steps discussed in this article to make it SEO-friendly! Good luck!
---
Recommended Podcasts:
Leveling Up, where you'll hear world-class entrepreneurs share actionable insights to help you grow. Hosted by Eric Siu.
Marketing School, where you can enjoy 10 minutes of actionable marketing advice every single day that will help take your business to the next level. Hosted by Neil Patel and Eric Siu.