TikTok is one of the hottest social media marketing platforms right now.
Marketers who want to reach these younger audiences know that they need to be on TikTok, and a key part of a successful TikTok campaign is to find your way onto the "For You" page (FYP).
So what is the TikTok For You page, how do you get on it, and how do you use it to increase your reach, impact and sales? We're going to answer all that and more.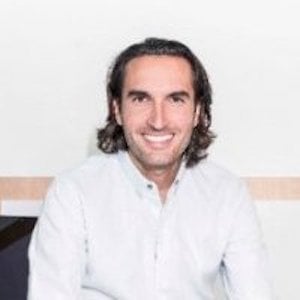 Yaniv Masjedi
CMO, Nextiva
Their expertise has helped Nextiva grow its brand and overall business
What Is TikTok's "For You" Page?
Immensely popular with Gen Z and Millennial users (which make up 60% of its user base), TikTok is also high intent: 30% of Gen Zs use the platform for researching purchase decisions. And a great way to reach this demographic is on the "For You" page.
The For You page is a personalized feed of videos that TikTok compiles for each user based on the content they're most likely to watch and interact with.
The FYP also serves as the desktop site's and the mobile app's home screen. When TikTok users open the app or visit the website, the FYP is the first thing that they're going to see: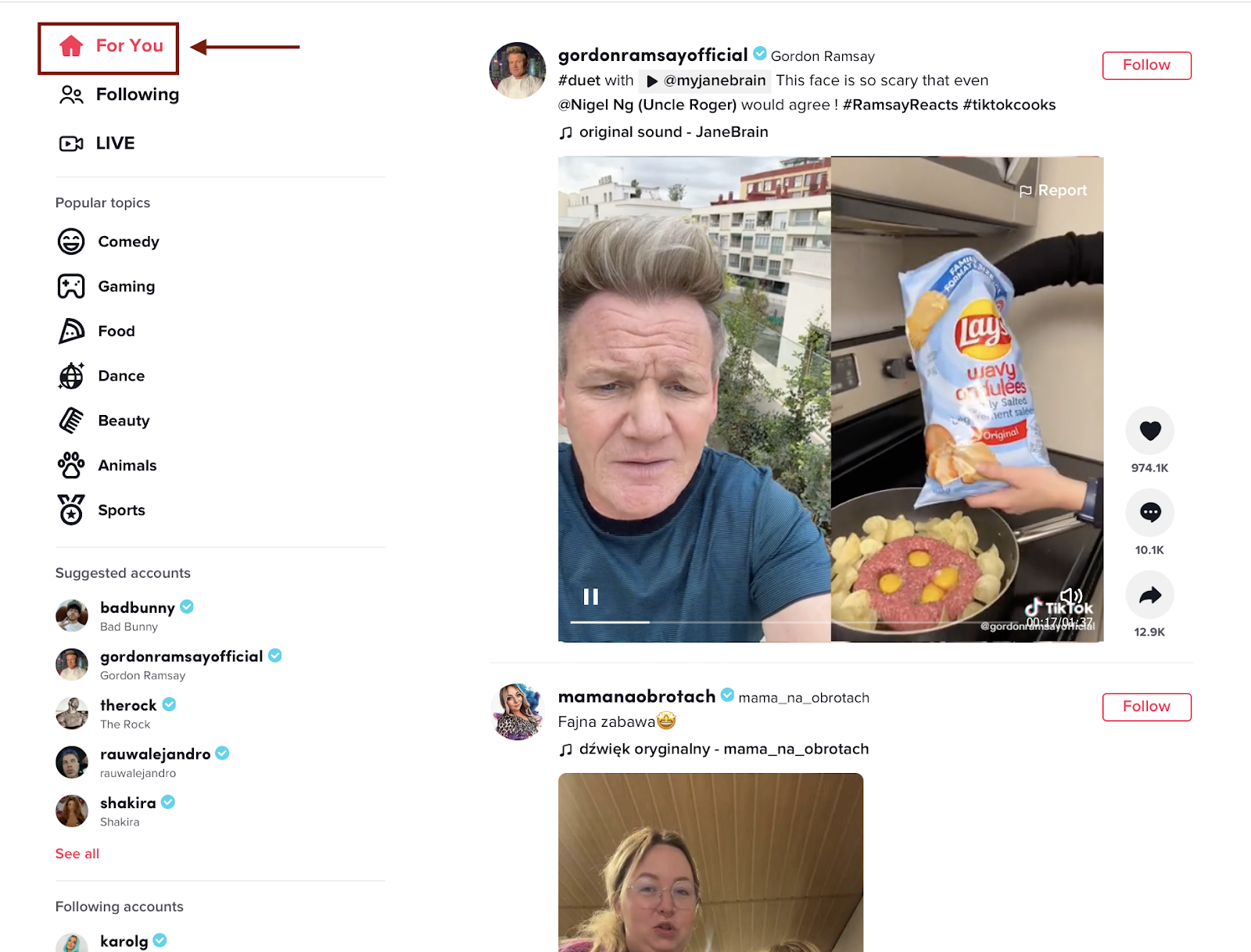 The FYP can—and often does—include content from accounts you already follow, but it isn't limited to that. It's also made up of videos from accounts you've potentially never seen. Because of this, TikTok's FYP is a great way to stay in touch with users who are already following you and to connect with new users who have never heard of you.
How Does the FYP Work?
As mentioned, the FYP is personalized for each user, meaning that TikTok curates a feed of content they think each person would be most likely to enjoy, share, save and engage with.
So how exactly does that work?
If you're familiar with Facebook's and Instagram's algorithm, the idea here is the same. TikTok's algorithm assesses the different types of content each user interacts with. It looks for the following cues:
User interactions on your videos like accounts followed, creators or comments you've hidden, videos you've favorited, videos you've marked as "not interested" or inappropriate, and types of videos that you like, share or watch all the way through to the end
Information of the videos you interact with, which includes captions and hashtags, trending sounds and effects, and trending topics in the video
Account and device settings, like your country, type of mobile device, categories you've selected and the language you speak
TikTok will assess all these factors and then curate a feed on your FYP that should ideally be hyper-relevant to you. This may take a bit of time (typically around a week or so) from when the user first signs up for the app, and it can adapt what it shows you as you change behavior and interests over time.
The FYP isn't the only way that TikTok beginners can discover your content. There's a "Discover" section in the app, where you can click on popular hashtags or view videos made with a specific song or audio track: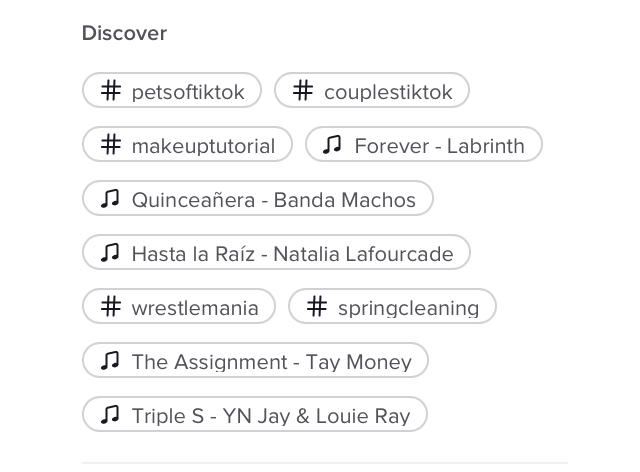 There's also a "Suggested accounts" section that shows accounts to follow based on your activity (these accounts are typically very popular on the platform, so it leverages that existing popularity to attract more followers):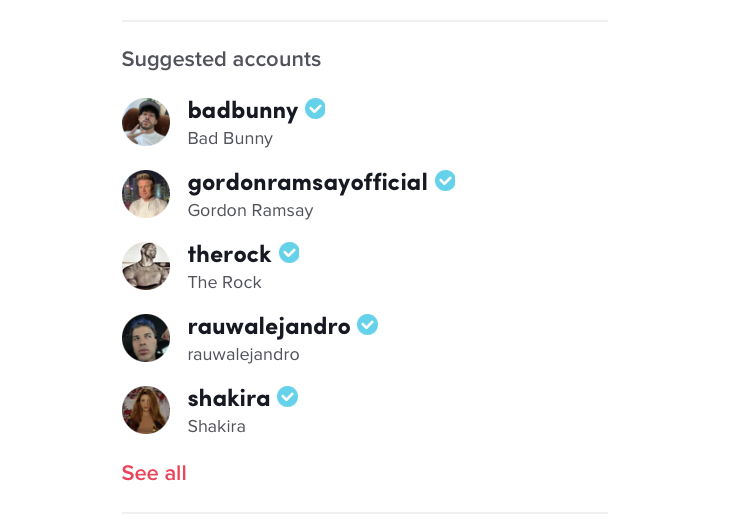 Why Is the FYP So Important on TikTok?
If you want to engage in TikTok marketing (and of course you do, because why else would you be reading this post?!), then you need to increase the chance of showing up on users' FYPs.
The FYP page is hyper-relevant to each individual, at least in theory, meaning that they're going to happily spend time scrolling through that feed. This can mean a higher engagement rate, i.e. having more of a user's attention when they come across your content for the first time.
This is ultimately the main discoverability feature that brands can leverage to grow their follower count fast and re-engage existing followers.
How to Optimize Content to Get on the FYP
Now that you understand that TikTok's FYP is an outstanding way to attract more followers and eventually more customers to your brand, here's how to get on the For You page.
There's no secret hashtag to add to your content, and no guaranteed strategy that will land you on every FYP across TikTok's landscape of users. (I wish!) There are, however, seven reliable tactics you can use to optimize your content to have a better shot of showing up on relevant For You Pages.
Let's take a look at those seven tactics.
1) Jump on Popular Trends
Even if you're a complete novice on TikTok, if you spend twenty minutes scrolling, you'll quickly realize that trends are a major part of the platform.
Trends are made up of popular-right-now audio tracks, which can include music, audio clips from movies or shows, and voiceover narrations. You'll see countless video all using a single song or track in a similar way.
The trending audio track "The Assignment" by Tay Money, for example, features thousands upon thousands of videos where users list a problem or request, and then lip-sync "I understood the assignment" with their solution:
You can make trends your own, but it's always a good idea to look what's popular right now and engage with it. It makes your brand relevant, which can increase your chance at showing up in the FYP.
And here's a reach-building bonus: Since a chunk of currently trending tracks are featured in the "Discover" section with their own feed, this section can also help you attract followers: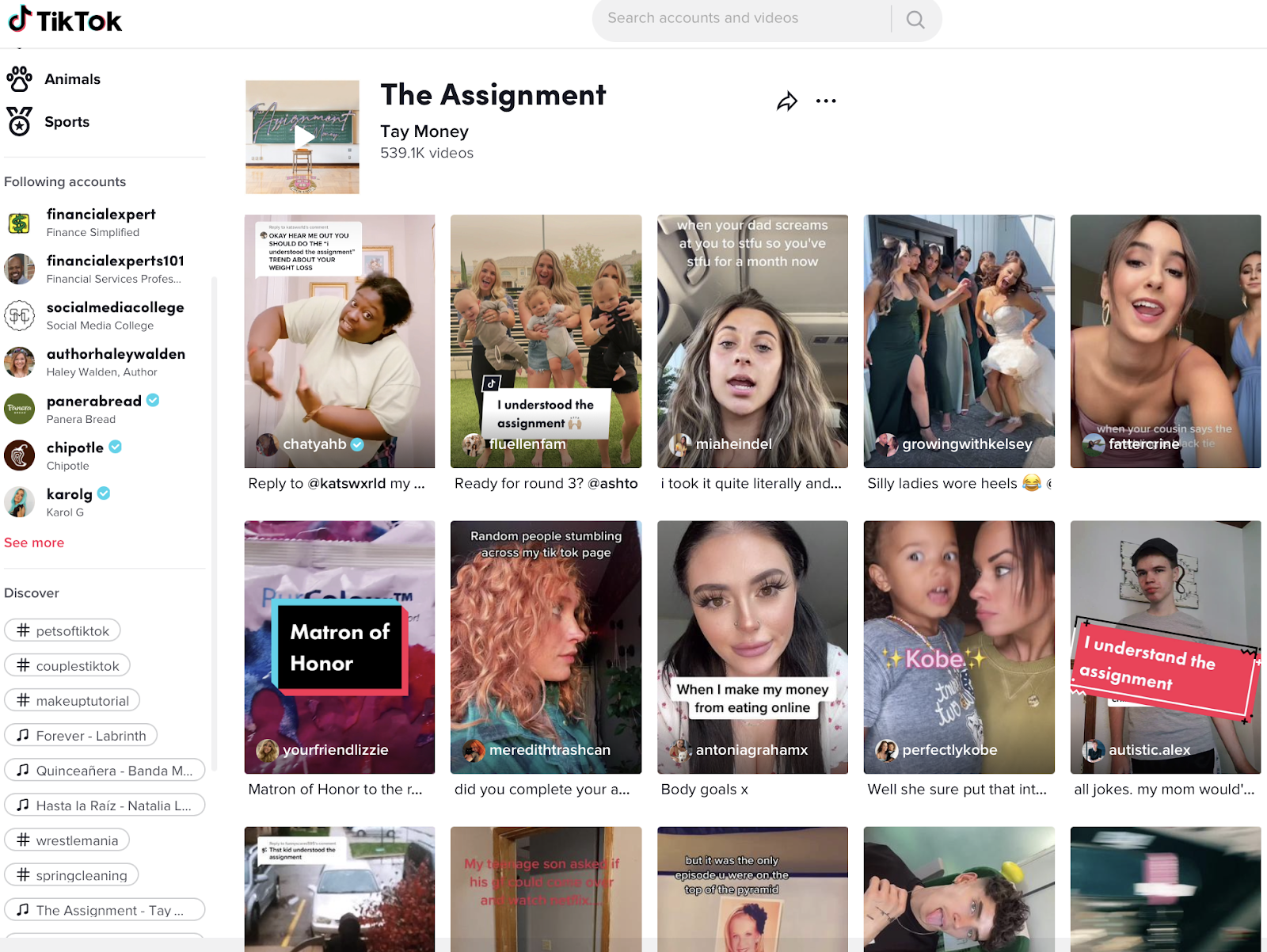 Related Content: How to Launch a TikTok Ads Campaign for E-commerce
2) Post at Peak Times
Want to get some of that early momentum on your videos so that they can get good engagement and hopefully show up in more FYPs?
Posting at peak times isn't foolproof, but it can help.
Every account's "peak posting time" will likely be a little different. To find out when your audience is most active, you'll need a TikTok Pro account. This will give you detailed analytics that can show you what days of the week your video views were highest. You can use these analytics to assess which days of the week to post, and then start testing different posting times: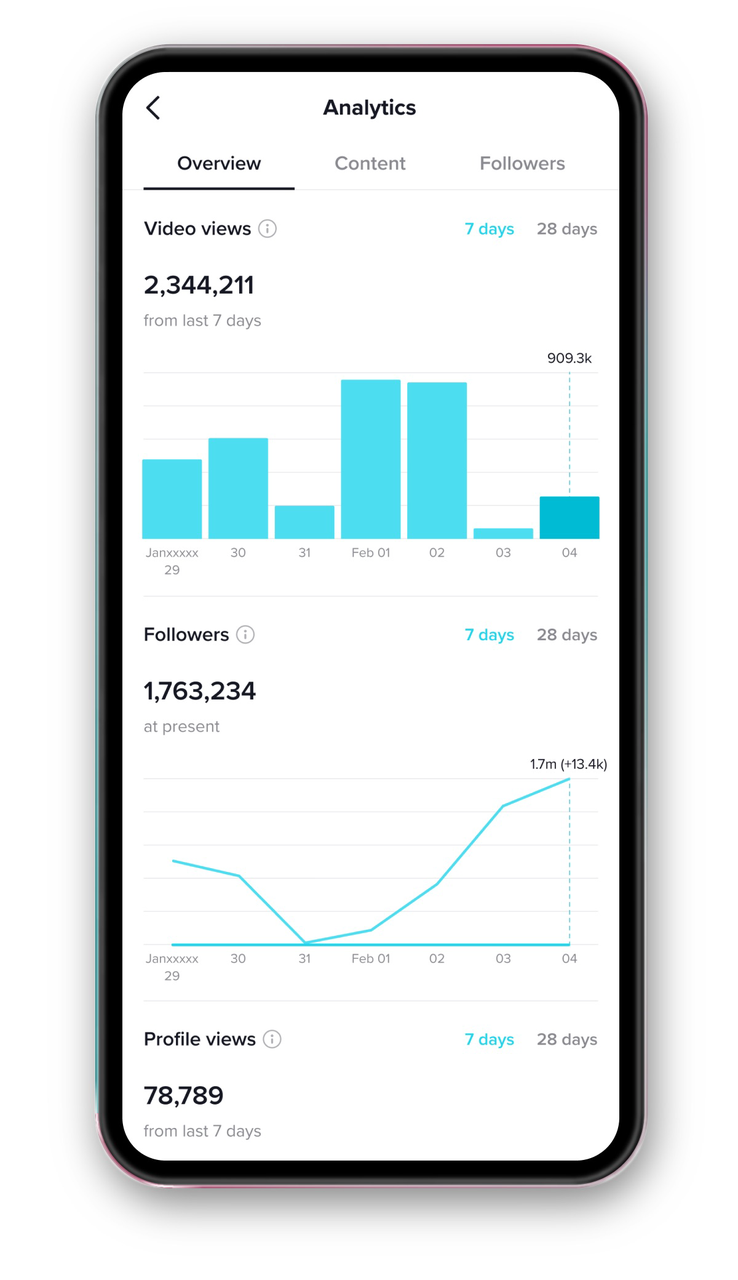 All this being said, there are a few general "peak posting times" that can give you a good starting point.
Hootsuite conducted a series of experiments and found that the peak posting time for maximum engagement is Thursday at 7 p.m.: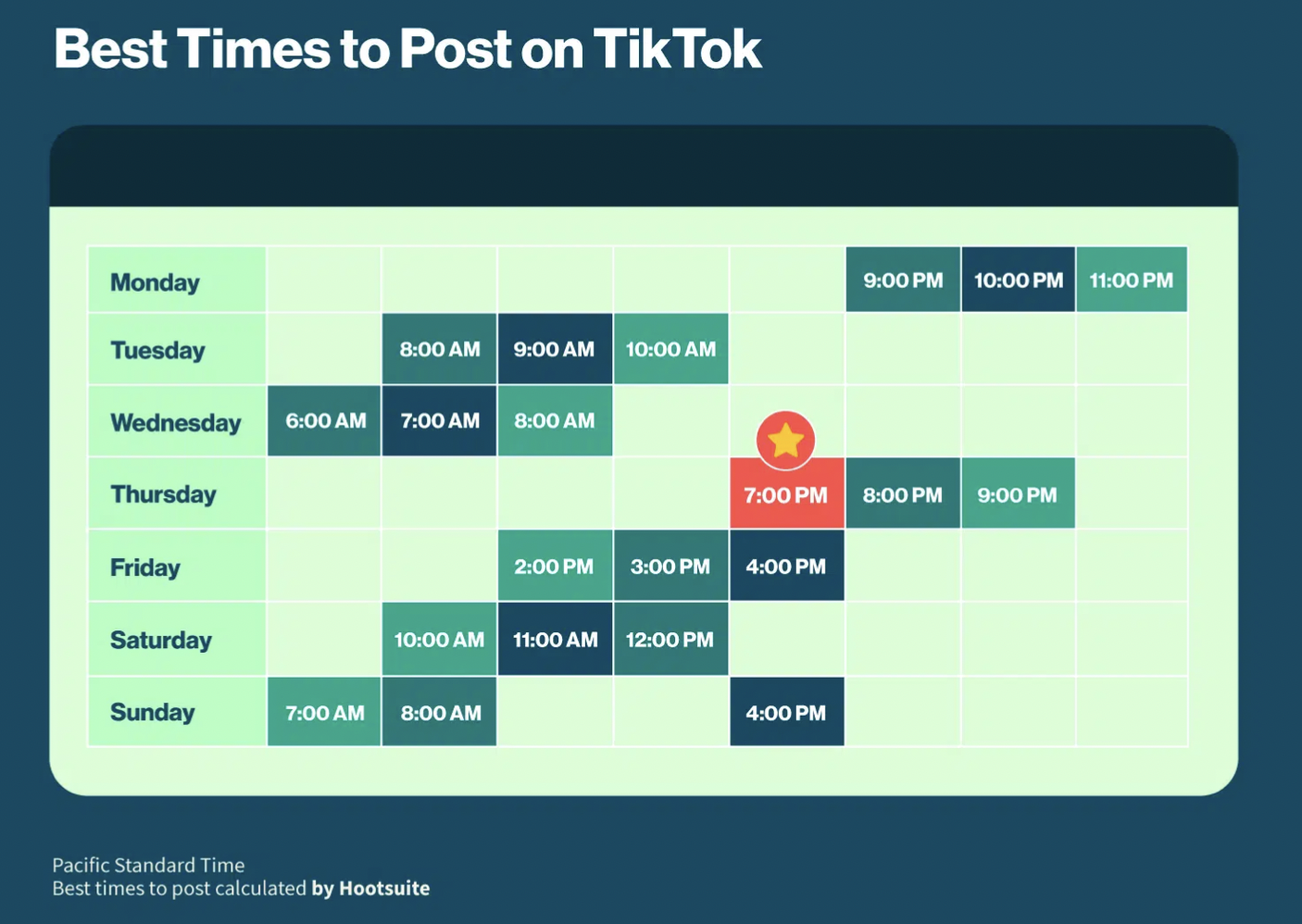 3) Use Reach-Boosting Hashtags
Hashtags are practically a staple for some social media platforms at this point, and TikTok is no exception.
Hashtags work by giving TikTok some context about what your video is about. They'll use this as a cue to show your video to the right people in their FYP. It also helps interested people find your content if they search for or view a trending hashtag, which can garner your videos the engagement that can help you get closer to the FYP.

It's important to note that hashtags are not some instant hack solution. It doesn't work by finding the most popular hashtags on the platform (which are terms like #meme and #love) and add them to your videos.
Instead, it's important to find hashtags that can:
add contextual clues for TikTok
be used by your target audience
Adding #TikTok to all your videos won't cut it. You need to choose hashtags that are relevant to your video and your audience.
The video below, for example, uses hashtags like #houseplants, #plantmom and #planttiktok while showcasing how to set up a plant stand. It has a decent chance of showing up in the FYP of users who have interacted with gardening or house plant content in the past: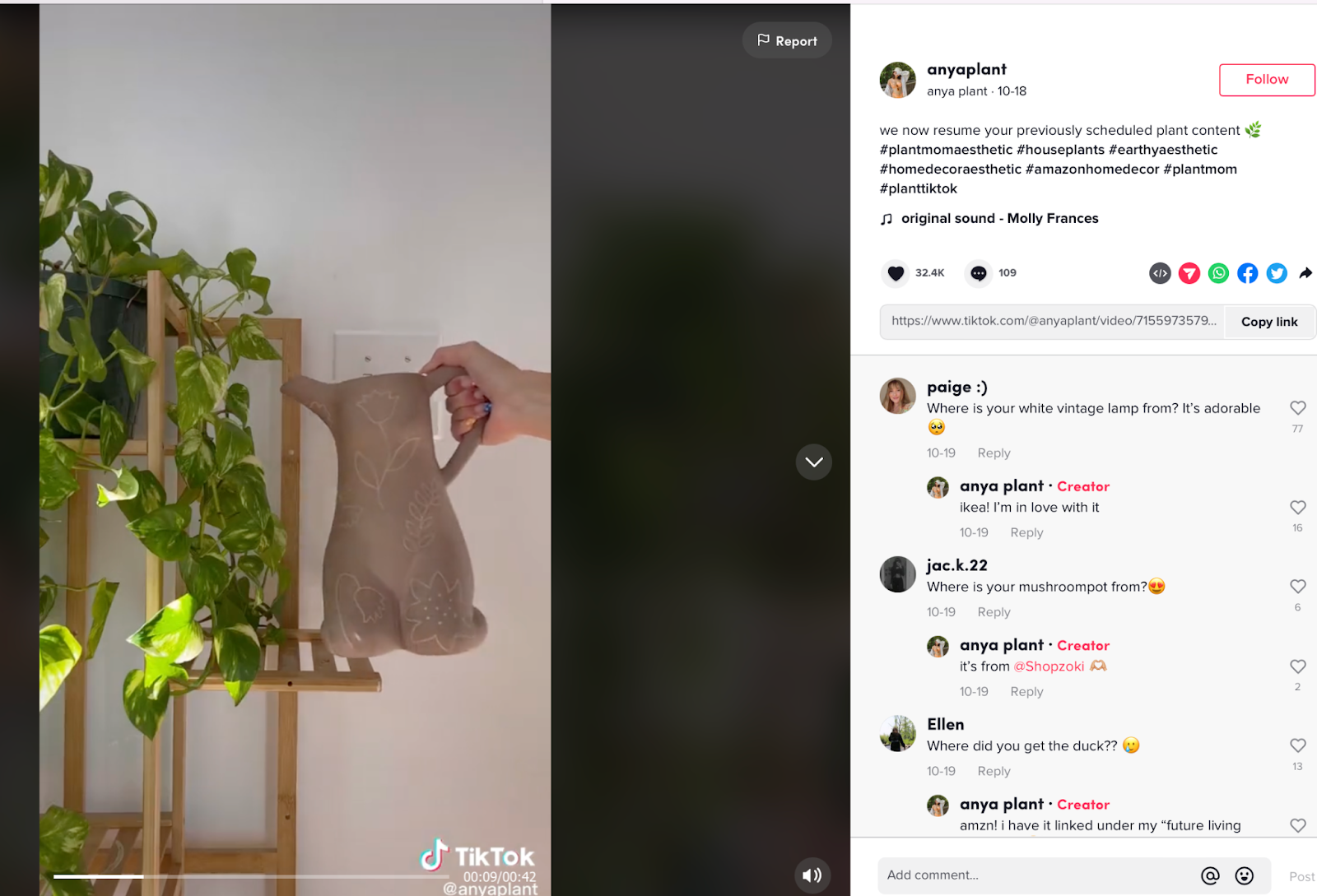 If you need help finding effective hashtags, look at some of the TikTok content in your chosen genre. See what hashtags your competitors and collaborators are using on their videos and consider making a list of any that you think fit your own content.
You can also use hashtag research tools. The website TikTok hashtags.com can show you hashtags related to a specific search term and how many overall posts and views those hashtags have received:
4) Be Creative
Creativity is always going to help draw attention, views and interactions. This is just as true on TikTok as it is on other platforms.
I know this isn't the most helpful tip in some ways: It's easy to say "Be creative!" and another to actually do it. But figuring out to create original content that will engage your audience in new ways is always a great strategy.
Here are a few options to help you up your creativity and originality on your TikTok videos:
Write down a list of content ideas that you'd like to see as a user
If you see other TikTok videos in your space, think about how you'd do it differently and what twist you'd add to it (and then do it!)
Opt for creative stylistic choices, such as: don't just talk to the camera, but add music, frame things in a fun way, and don't shy away from visual effects
This video is a great example of how to add a little creativity to grab user attention instead of just talking right at the camera (especially with the birthday opening):
Related Content:
* 7 Creative Ways to Make Your Blog Posts Stand Out
* 17 Engaging Video Content Types that People Love to Watch

5) Keep It Short
TikTok videos can now be up to 10 minutes long… but that doesn't mean they should be.
Remember that most users are on there to scroll; it's part of how the TikTok works. If they wanted to sit down in front of a ten-minute how-to video, they'd likely go to YouTube instead.
So focus on short videos that are sure to stop users when they're scrolling and actually keep them watching the whole way through.
Try to keep most of your TikTok videos under ten seconds.
From personal experience with a variety of clients, 10-15 seconds is the sweet spot for TikTok performance.
The occasional video can go longer, but make it the exception, not the rule. Shorter videos outperform longer ones.
6) Focus on Engagement-Driving Tactics
If you can drive more engagement, your videos have a much better shot of showing up in users' FYPs. Interactions are a critical part of how the TikTok algorithm works, so finding ways to intentionally boost engagement is key.
Engagement-boosting strategies include the following:
Asking users what they'd like to see next
Telling users to share an opinion in the comment, like "What's your favorite side?" or "How would you have handled this?"
Intentionally posting "hot takes" that are likely to attract a great deal of comments or shares
Related Content: 7 Tips to Improve Your Social Media Videos in 2023
7) Offer Value
One of the best strategies you can use to increase your success on TikTok and it's For You page is to focus on creating valuable content.
I'll laugh at a funny skit on social media, but I'll like, save and share content that actually teaches me something. My archives are full of vegan recipes, cleaning tips and dog training strategies because that's what is valuable to me.
When creating value-focused content, try the following:
Answer questions that your customers or followers typically ask online
Share inside information, like a little-known secret of your favorite marketing tool or why tapioca starch is the secret ingredient to your brand's cinnamon rolls
Break down information into short tips in the video and then elaborate more in the caption if needed
Think about trending topics and share your take
Opt for myth-busting content

—

this performs incredibly well on TikTok
Show users how to complete a specific task with a tutorial included
Related Content: TikTok Marketing: How to Get Started with Ads on This Platform
How to Personalize What You See on TikTok
If you want to quickly change what you're seeing on TikTok's FYP, you can take a few intentional actions to shift what appears in your feed. These include the following:
Search for content that you want to see (whether that's #spiderman or #yogaposes) and intentionally watch and like those videos
Make sure that your account settings, including location, are accurate
Report irrelevant content as "not interesting" to you, which can help remove some of the content that's already in your feed if you don't want to see it
Related Content: Best TikTok Ads Agency: Top 5 Choices for 2023
Final Thoughts on For You Pages
TikTok's FYP is a little like the holy grail of TikTok marketing. It can give you insane reach, and if you want to "go viral" (even on a small scale), the FYP makes it easy to do so.
It's important to remember that nothing you do will guarantee that you show up on the For You page, but taking consistent intentional efforts over a period of time will likely get you closer to that goal.
Keep a close eye on your analytics and take note of which videos are getting good engagement so you can optimize all future campaigns and hopefully increase the odds of showing up in more For You pages.
---
For You Page FAQS
Still have questions about TikTok's For You page? We've got answers! Check out our FYP FAQ.
Why is my TikTok not getting on the for you page?  
If you have a TikTok Pro account, you can see what percentage of users saw your content on their FYP. And you may realize that not many users at all are finding your content there.
If that's the case, any of the following issues could be at play:
You're struggling with momentum; you need to get initial views and engagement when you post a video, so try to engage with existing followers
Your content isn't connecting with your audience; it's possible that you're not using trends that your actual audience is interested in, or you aren't using them correctly, so try a new approach
You could be engaging with outdated trends
You're failing to give TikTok enough context about your videos through hashtags and descriptions, making it hard for them to show your video to the right people
How does TikTok decide what goes on the for you page?
TikTok's algorithm determines what goes on the FYP. It looks at cues like:
What specific users have engaged with in the past, including whether they've engaged positively or negatively
The user's settings, like country and language
How popular a single video is
The information they have about the video
What TikTok hashtags get the most views?
Hashtags can be tricky. You want to choose TikTok hashtags that are relevant to the content that you're creating and the audience you want to target.
While #love might be immensely more popular than #whitechristmas, the latter is a lot more specific and will help you connect with users you want to reach. Relevance is key here. That being said, you can take a look at some popular TikTok hashtags here.
Where is the for you page on TikTok?
TikTok's FYP is found on the home screen of both the mobile app and the desktop site. It's the first thing you see when you open TikTok.