Without question, the growing number of NFT fans are making NFTs sell like hotcakes.
Leading NFT marketplaces like OpenSea have generated $2.7 billion worth of Ethereum trading volume for the first half of January 2022. And, as per CoinMarketCap, the NFT market cap has reached around $23 billion: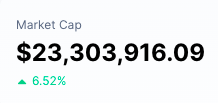 The only requirement is that you need to know how to market your NFT collectibles.
As with any other product, marketing plays an essential part in enhancing the business prospects of a blockchain company. No matter how attractive your NFT project is, if you don't create a marketing strategy, then you might not be able to attract buyers for your NFT collection.
Marketing an NFT project requires both skills and experience. If you are looking for a complete NFT marketing checklist to sell your digital art collectibles, this article is for you.
Let's begin.
P.S. Scroll to the bottom to download a free, clickable checklist of this post!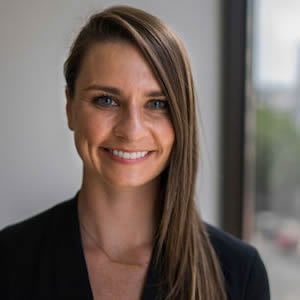 Jacqueline Foster
Demand Generation Marketing, Lever.co
We can count on them to bring new ideas to the table consistently
Why Should You Promote Your NFT?
NFT stands for non-fungible token, which is a proof of ownership recorded on a blockchain. Digital art is sold as an NFT, and every NFT is unique.
NFT marketing means promoting your NFTs across specific NFT marketplaces, blockchain communities, and social media platforms to reach prospects interested in buying your crypto art. It's important because proper promotion helps your NFT collectibles reach a wider community of buyers and keeps your target audience updated about your existing or upcoming projects.
NFT marketing strategies play a vital role in the difference between NFT project success and failure.
Here are the top reasons why smart promotion is the key to selling NFTs:
Build Brand Awareness: A dedicated NFT marketing plan helps you present your NFT collectibles to your target audience. It assists in product promotion and lets NFT buyers know about your NFT project.
Expand Audience Reach: As the NFT market gets more and more crowded, it becomes very difficult for cryptocurrency and blockchain companies to gain customers. Therefore, NFT marketing tactics are essential to stand out and expand your reach. It makes sense to market your NFT projects so as to reach as many potential crypto investors as possible.
Understand Your Customers: No doubt, marketing is a great way to promote your NFT products. However, it also helps NFT creators understand the purchasing habits of NFT buyers. It gives you an opportunity to understand the likes and preferences of your audience. Through NFT marketing, you can interact with your audience, get new ideas, and understand what changes you can make in your existing NFT projects to generate more sales.
Boost Revenue: NFT advertising helps you expand your reach and educate new audiences about your projects, thereby increasing the chances of a sale. Thus, a successful NFT marketing strategy helps to boost revenue.
Dive Deeper: What Are NFTs and How Do They Help Business?
The Complete NFT Marketing Checklist
An NFT marketing checklist is a comprehensive list of promotional tasks that can be implemented over a period to reach your NFT advertising goals.
The ultimate aim of such a roadmap is to follow a step-by-step approach to promote your NFT products. Keeping this checklist handy ensures that you do not miss any crucial crypto marketing techniques to best promote your NFTs.
Here is the best NFT marketing checklist for your crypto collectibles promotion plan.
1) Create a Teaser Video
Content marketing is essential for successfully promoting your NFTs, and video is especially ideal.
Create a video preview or animation for your upcoming NFT collection. Try to keep it short, like 30 seconds in length, just enough to tease potential buyers. Add high-quality images of your art, synchronize the background music, and have a great voice-over.
Here are a couple of excellent examples of NFT video teasers: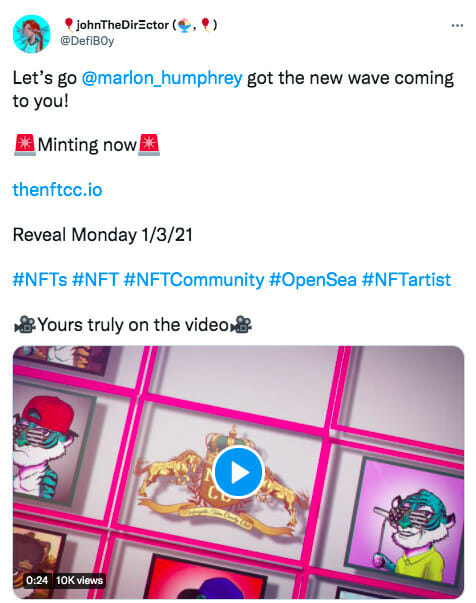 If you prefer to hire someone who is an expert at creating professional NFT project trailers, check out websites such as:
Creating teasers is a great way to generate excitement about your product. It adds to the hype of your upcoming NFT drops, leading to maximum audience engagement.
Dive Deeper: How to Craft a High Converting Explainer Video
2) Build Your NFT Community
Building an NFT community is a great way to communicate your business value and NFT worth with your target audience and stakeholders.
You can use social media platforms such as Twitter to connect with NFT art lovers. Look for relevant NFT artists by searching for appropriate hashtags (more on this in the next section):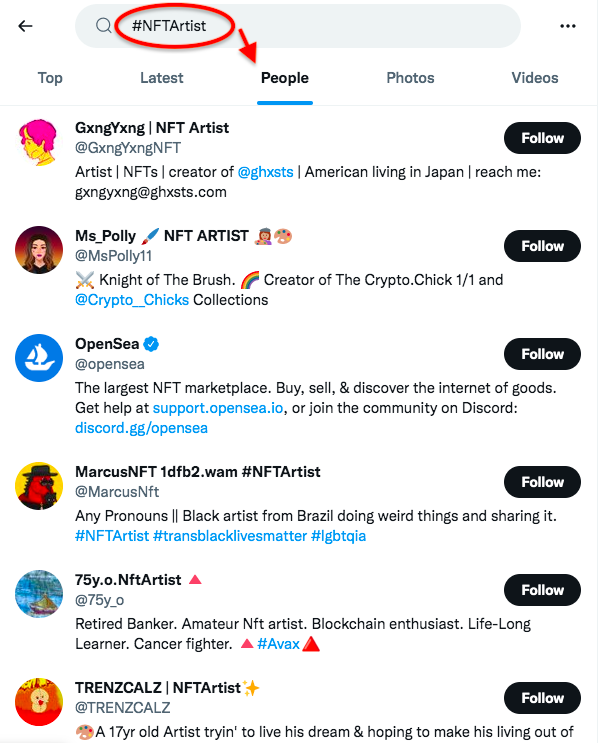 …and then inform them about your upcoming NFTs. In this way you can start to build an NFT community on this platform.
You can also use other social channels to create communities, such as:

Discord is a huge resource for promoting NFTs. People like VeeFriends and CyberKongz have done some phenomenal things on this platform. Discord is a free voice, video and text chat app that's used by tens of millions of people to talk about many things, including art projects.
Conduct opinion polls on social media and start replying to the audience's queries. It will help you attract crypto enthusiasts to your community.
You can also leverage the power of NFT Shilling. This is when someone promotes your NFT and also encourages others to buy it.
Dive Deeper: Best Community Management Agency: Top 7 Choices for 2023
3) Use Hashtags to Promote Your NFTs on Twitter and Instagram
Speaking of hashtags, you should make good use of relevant NFT-related hashtags to promote your digital art via social media marketing, particularly on Instagram and Twitter.
Doing so improves your chances of getting your artwork seen when your target audience searches for these hashtags.
Some of the most popular hashtags that you should use in your tweets are:
#nftart

#nft

#nftartist

#nfts

#nftcommunity

#nftanimation

#nftvideo

#digitalart

#nftcollector

#cryptoartist

#cryptoart
Dive Deeper: How to Promote Your NFTs the Right Way
4) Add Your Drop to the NFT Calendar
An NFT drop is simply the release of an NFT token. It is the exact date and time when a particular NFT becomes available for investors to buy. With the increasing demand for NFTs, investors prefer to watch for upcoming NFT drops so they can be the first to try and buy it.
This method also helps build up excitement by publicizing the NFT drop date in advance. Therefore, you should add your drop to places such as the NFT Calendar: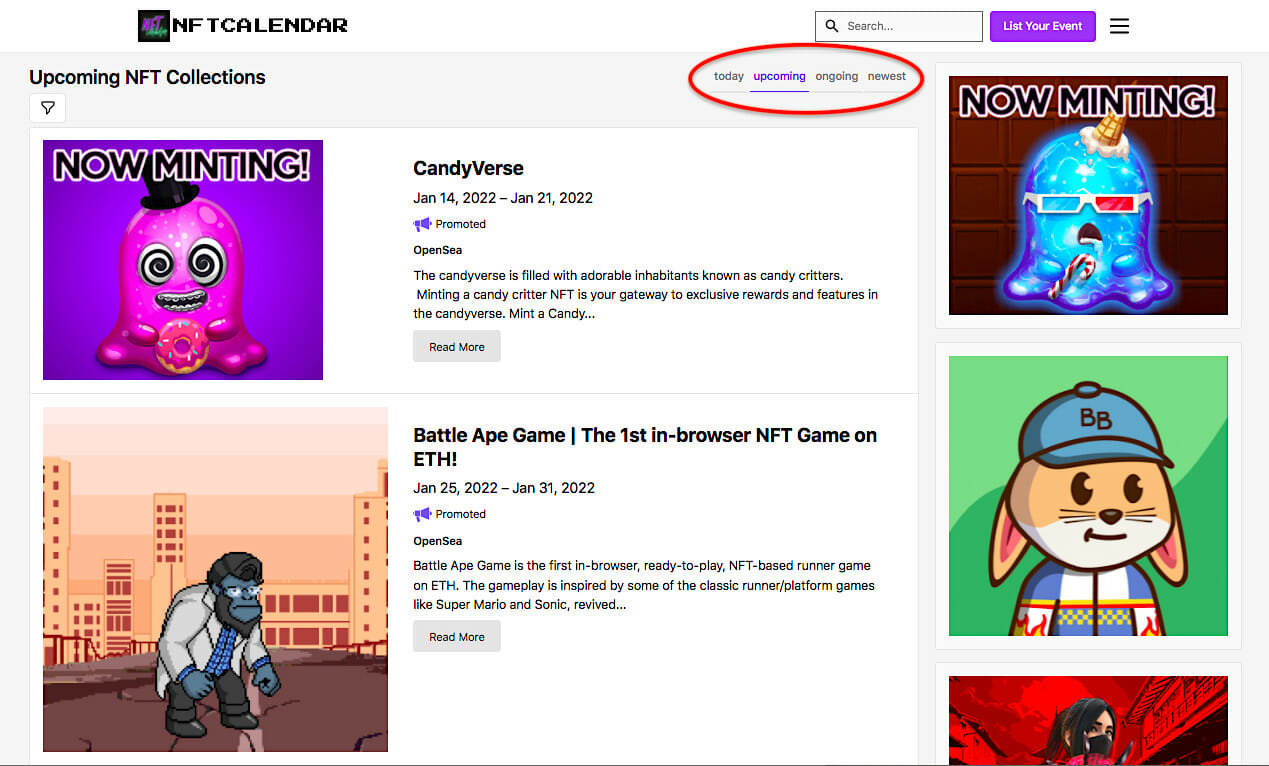 NFT Calendar is a one-of-a-kind NFT platform in the NFT universe to share releases of upcoming NFT events. It showcases the releases of well-known NFT collections as well as collections from new NFT artists who drop their crypto art collections on various marketplaces.
To add your drop to the NFT Calendar, you just need to fill in the following details:
Title of your NFT collection or artwork
The event description (they recommend 120+ words to increase your chances of getting listed)
Cover image
Date and time of your drop
Marketplace where your NFT drops
Event links (website, social media, marketplace URL)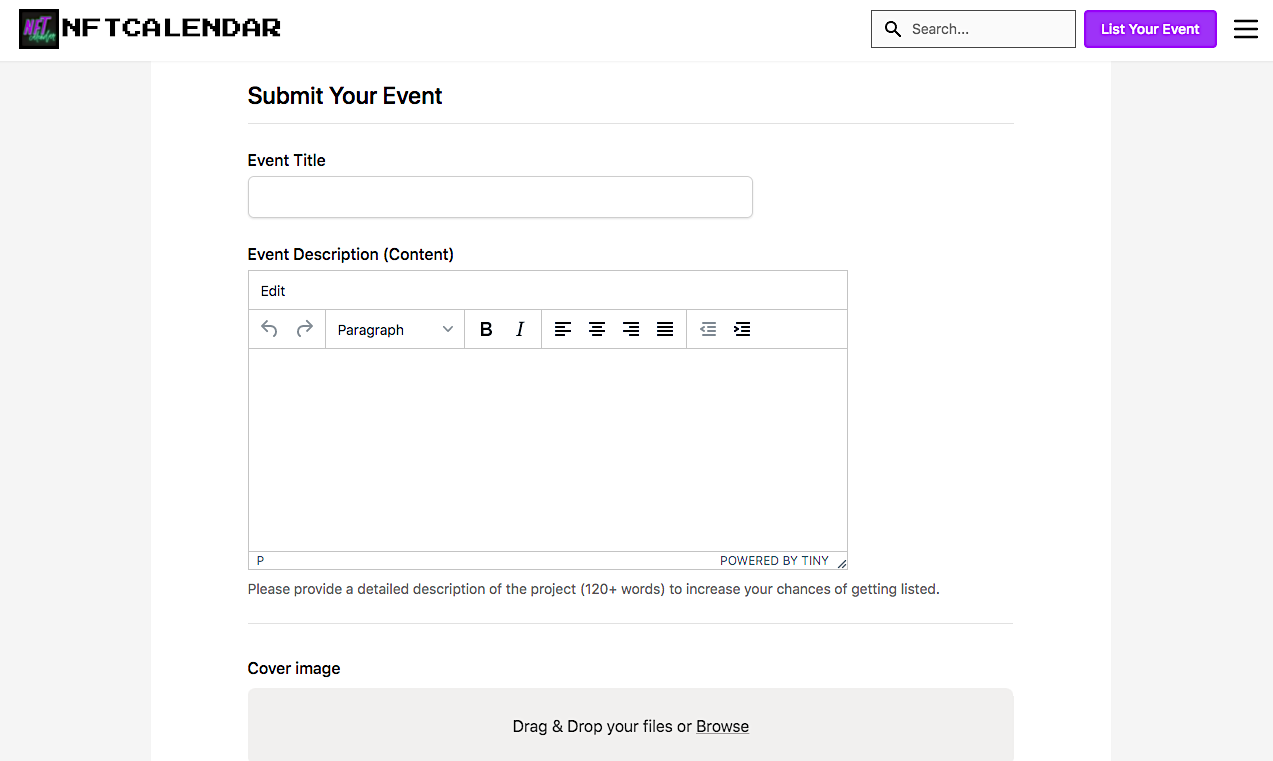 NFT Calendar also features some of your NFT drops on their Instagram and Twitter profiles, where they have a community of NFT followers.
Don't miss the chance of getting additional publicity for your digital artwork by adding your drops to the NFT Calendar.
Dive Deeper: NFT Strategy: Everything You Need to Know to Get Started
5) Start a Thread on NFTs
A "thread" on social media is simply a series of messages that are connected to each other (often the writer will number each message in the thread, such as: 1/10, 2/10, 3/10, etc.) to create a longer message.
For instance, @petergyang created this NFT thread on Twitter: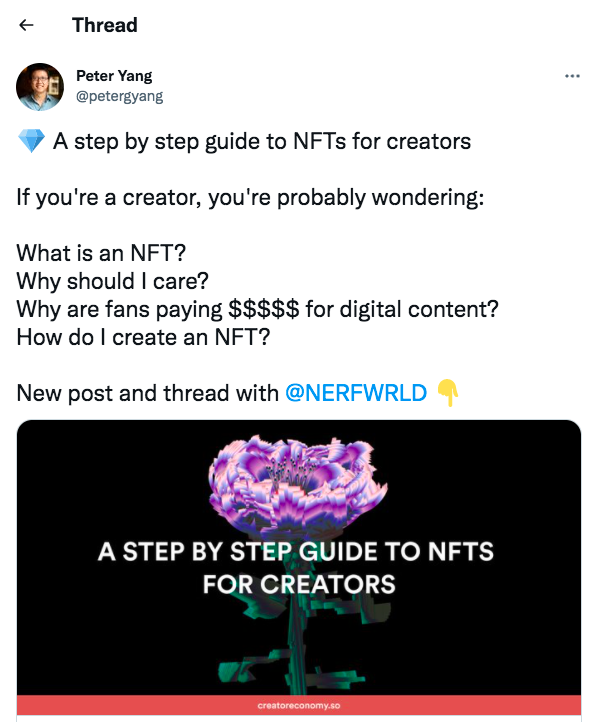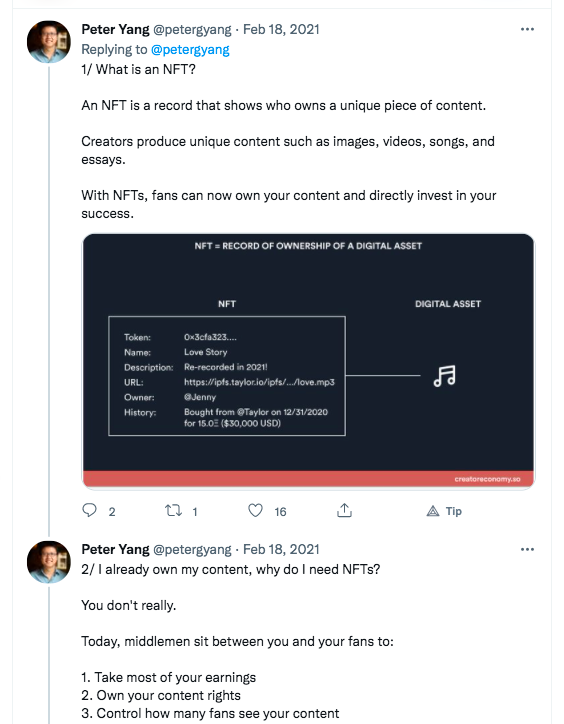 You can start a thread on NFTs on the following platforms:
Twitter
Medium
Quora
Reddit
Bitcoin talk
When you start a thread, make sure that it is easy to understand, entertaining, and engaging. Share messages that your audiences will love to interact with. Also, you can start the thread with your company name and a call to action for additional branding.
Your NFT thread should have these details:
Header featuring a slogan
Start/end date
Conditions
Website, white paper URLs
Quotations from the media
How your NFT is different
Important links, such as links to official channels and groups or drops
Relevant NFT hashtags
You can also create interactive content that engages viewers and persuades them to share the message with their followers by asking questions, such as "Which emerging NFT artists do you recommend keeping an eye on?"
You can also share educational content to guide users on how to purchase your NFTs on the marketplace.
6) List Your NFT on Popular Marketplaces
If you want to create a good customer base for your NFTs, then you should list your digital assets on popular NFT marketplaces where buyers gather to buy the top crypto art.
Think of an NFT marketplace as Amazon for your digital artwork.
There are many NFT marketplaces in existence, and each one has its own niche.
The first step is to select a marketplace for your NFT. Some support a wide variety of tokens, while others are a bit closed and only support specific tokens.
Here are the most well-known NFT marketplaces to list your NFTs in:
Once you have selected your desired marketplace, you need to open an account on it and also link your digital wallet to the account. Different marketplaces support different wallets. After registration, you can start selling your NFTs.
Dive Deeper: Top 5 OpenSea Alternatives
7) Use Email Marketing
Once you build an NFT community on your website and have a decent number of subscribers, you can start leveraging the power of email marketing.
Emails can help you provide regular updates to your subscribers who may just be the next NFT buyers.
You can launch drip email campaigns for new users, inform your subscribers about NFT drops, notify them about different NFT price trends, and educate them about the NFT market.
Sending regular email updates directly targets people who are already interested in your brand or your art collectibles and also boosts your NFT brand value. Your emails directly reach buyers, which creates a personalized touch and leads to higher sales.
Dive Deeper: How to Use Personalization to Increase the Impact of Email Marketing
8) List Your NFT in Popular Newsletters
In case you don't have an email subscriber base, you can collaborate with popular NFT newsletters such as NFT Hunters, which sends the best NFT projects directly via email to a large number of subscribers: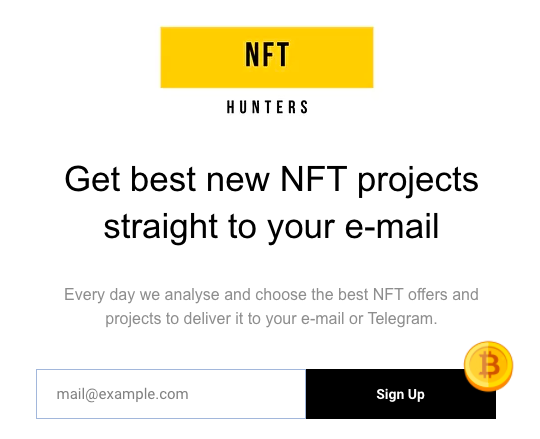 There are a lot of other popular NFT platforms that have their own newsletters, too, such as:
These platforms provide all the top NFT industry news through their newsletters. It's helpful to list your NFTs on these popular newsletters, because they track current trends and analyze what is happening in the crypto and NFT market.
You can contact your selected choice of NFT newsletter and request more information about adding your NFT release in their upcoming edition. In most cases, you will get a paid promotion option. However, it is of worth as it increases your chances of getting spotted by serious NFT buyers.
9) Run a Giveaway Campaign
Giveaway campaigns are an excellent digital marketing tactic to promote your NFT. You can run a giveaway campaign for your upcoming NFT collection to capture more attention from crypto enthusiasts.
You can also give away NFT collectibles or physical pieces of your art. This helps to create extra buzz around your NFT projects.
For example, DC gave away NFTs of comic book covers for superheroes such as Batman, Superman and Wonder Woman to anyone who registered for their FanDome event. Their NFT drop was highly publicized and had the goal of getting more sign-ups for their event.
Here are some tips to get the most out of your NFT giveaway campaigns:
Set up a few "rules" that participants need to follow to win NFT collectibles. These steps can be to follow your project on Instagram or Twitter, tag a friend in comments, or share the post on Instagram stories.
Schedule a time for giveaways. Ensure that you run a giveaway at least a week before the launch of your NFT project to create the required buzz.
Tag your NFT marketplace to make sure that users know where they need to go to buy your NFTs.
Giveaways are a great tactic to create awareness of your digital assets among your audience, and they also help to grow your followers and drive engagement.
Dive Deeper: How to Boost Your Website Traffic with a Giveaway
10) Improve Organic Visibility of Your NFT Project with SEO
As with anything else, search engine optimization helps your NFT project get the required organic visibility. With proper SEO, your NFT collectibles will get a better reach in the search engines for your potential audience who are searching for NFTs.
With the help of effective SEO techniques, you can help your NFT collectibles rank higher in the organic SERPs for searches related to NFT buying. If you're not very experienced with SEO, check out our beginner's guide: How to Rank Your Brand-New Website When You Don't Know SEO
You can also partner with an NFT marketing agency that are also experts at SEO, such as Single Grain, that can help your blockchain collectibles generate lots of organic impressions and clicks for maximum sales.
11) Partner with Influencers
Collaborating with NFT influencers with a huge follower base helps you tap into their often vast audience and make use of cross-promotion.
NFT experts have a loyal community of NFT lovers who follow their recommendations and listen to their opinions. Therefore, the greater the following and engagement levels of your chosen influencer, the higher will be the reach of your NFT collectibles. However, finding and collaborating with NFT influencers is not always as easy as it sounds.
Here are some tips to help you promote your NFT project through influencer marketing:
Look for an influencer who has good knowledge of the NFT or crypto market. Some of the top NFT Influencers are:
Create a video clip with influencers, as videos trend faster and the information is easy to digest.
Partner with crypto and blockchain bloggers to publish your interviews where you can promote your NFT project.
Livestream your NFT content with influencers.
NFT influencer marketing is a powerful strategy to generate the required publicity for your digital art and other collectibles.
Dive Deeper: Influencer Marketing Strategy: The Ultimate Guide to Growing Your Business with Brand Partnerships
12) Run PR Campaigns
Another way to promote your NFT project is by running PR campaigns. Investing in NFT press release promotion helps you distribute news about your NFT collectibles to create a solid online presence and reputation.
Before you run a PR campaign, ask yourself: Do you want to raise awareness or find buyers?
Based on your business goals, you can promote your NFT collectibles on popular PR platforms and NFT-specific publications.
Full-featured articles about your NFT collectibles, interviews and quotes will help get the word out about your NFT project, leading to more engagement.
Some of the top publications where you can publish your NFT PR are:
Forbes
Bloomberg
Cointelegraph
Coindesk
CoinMarketCap
The Guardian
Entrepreneur
Minstable
The Art Newspaper
Or you can hire a PR agency to send out your press releases in bulk to a number of places. Although many PR firms are adding NFTs to their roster of practice areas, such as 5WPR, it's best to connect with NFT PR agencies that specialize in the crypto space. They are experienced in creating sponsored content pieces to positively portray your project.
13) Run Ad Campaigns
Setting up advertising campaigns to generate relevant inbound leads using social media and search platforms is another great tactic. PPC ads will offer the much-needed visibility for your NFT products and will also help you attract a qualified audience who are looking to buy NFTs.
Here are a few tip for your ad campaigns:
Create keyword-focused and intent-specific landing pages to improve the chances of acquiring higher traffic to your NFT marketplace, and it will also help to lower the ROI.
Ensure that you target the right segment of the audience who are interested in NFTs and create personalized and engaging ad creatives to attract the buyers.
Run ad campaigns on popular social media platforms, such as YouTube, LinkedIn, Facebook and Twitter, for your NFT ad promotions. All these social channels offer targeted ad placement opportunities.
Use popular search engines for banner and search advertising include Google and Bing.
Dive Deeper: 10 PPC Trends You Can't Ignore in 2023
14) Conduct AMA Sessions
Conducting Ask Me Anything (AMA) or live-stream sessions allows you to directly communicate with your audience and build connections, since your audience can participate in the session to ask questions and get answers.
One of the biggest advantages of conducting AMA sessions is that you get the chance to get real-time feedback that you can use to improve your NFT products.
Some of the best platforms to host AMA sessions, because they have a large community of NFT enthusiasts, are:
Telegram
Clubhouse
Reddit
YouTube
Facebook
Discord
To conduct an effective AMA session for NFT promotion, keep these tips in mind:
Share the date and time of the AMA session in advance.
Allow your community to submit their questions beforehand. This way, you will be able to thoroughly prepare your answers to provide as much value as possible.
Keep a list of interesting questions, maybe 15, that you plan to answer first in your AMA session.
Ensure that the session is not too long or too short. A 30-40 minute session works best.
Allocate the last 10-15 minutes for a Q&As. This will help you interact with your audience in real-time and make them feel that their opinions matter.
Reward your users for attending your AMA session. You can conduct an NFT giveaway as a token of appreciation!
Once you are able to attract your target audience who are willing to join your community, you can then also hold internal AMA sessions within your community.
Dive Deeper: Live Streaming Videos: The Most Powerful Way to Share Content
15) Use Video Marketing
Create creative and high-quality videos to educate your audience about your NFT projects and encourage them to join or invest in your project.
You can create different types of videos such as:
Promotional videos to increase the hype of your digital art collectibles among the people
Technical videos explaining the architecture of the NFTs
Informational or educational videos explaining the importance of NFTs
Entertaining videos to increase engagement in your NFT community to attract more subscribers
NFT video promotion can act as a catalyst for your NFT marketing campaign.
Dive Deeper:
* The Ultimate Guide to Video Marketing
* 17 Engaging Video Content Types that People Love to Watch
* 20 Pre-Production Tips to Create Successful Video Content in 2023

16) Hire an NFT Marketing Agency
Hiring an NFT marketing agency is another good idea as they can help you to quickly gain exposure for your crypto project.
High-end NFT marketing services leverage the following tactics to promote your digital art collectibles:
Search engine optimization
Influencer and thought leader marketing
Twitter management
Public relations management
Blog management
Paid marketing
Community building
NFT marketing firms will prepare a custom strategy to market your project and apply up-to-date and innovative marketing strategies to generate the best returns on investment.
Always do proper research before you choose an NFT promotion agency for your crypto marketing campaigns. For instance, you should check out their experience in the NFT industry and read their case studies. NFT marketing agencies such as Single Grain have deep knowledge of the culture, community, technology, and growth tactics used for NFT promotion.
Examples of Successful NFT Marketing Campaigns
Here are the top examples of NFTs to inspire your next NFT promotion:
1) Coca-Cola: "Friendship Box"
Coca-Cola launched its NFT called "Friendship Loot Box" to celebrate International Friendship Day on July 30th: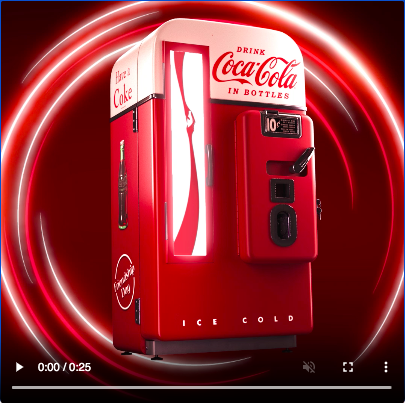 This NFT delivers a multi-sensory experience that combines metaverse and real-life loot boxes inspired by video game loot boxes.
The friendship box is a pack of four dynamic NFTs:
A "Coca-Cola Bubble Jacket Wearable" that can be worn in the Decentraland metaverse.
The "Coca-Cola Friendship Card," inspired by the original 1940s artwork.
The "Coca-Cola Sound Visualizer" with typical sounds associated with the drink.
The "Coca-Cola Vintage Cooler NFT," a digital version of the brand's 1956 retro vending machines.
In addition, it has hidden surprises that are revealed when opened.
What Coca-Cola did best was link the release of their NFT to an important date. They also conducted a live AMA session on Friday, July 30th, at 9:30 pm. Plus, they offered a chance for guests to enter to win 'Mythic' Coca-Cola wearable t-shirts and started a thread on Twitter introducing the Friendship Box NFT.
All the proceeds were donated to Special Special Olympics International, which is a long-time partner of the iconic brand.
2) Asics: "Sunrise Red" Digital Shoe
Asics is one of the best examples of NFTs. It is the first sportswear brand to launch its own NFT.
On July 15th, 2021, it launched the "Sunrise Red" collection that included limited-edition digital sneakers as well as a "Gold Edition" of unique items sold directly on the brand's site: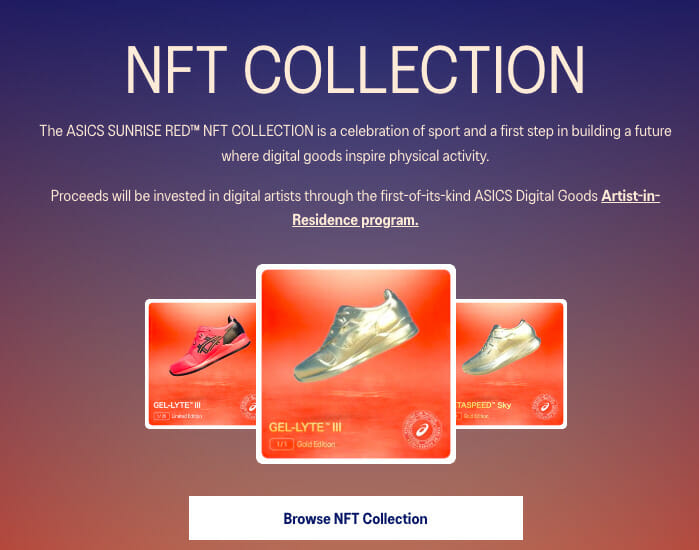 Successful bidders received the minted 3D digital shoe in OBJ files and their texture in PNG to use in animation projects and other applications.
The proceeds were reinvested back into the digital arts community through the ASICS' new Digital Goods Artist-In-Residence Program.
3) Taco Bell: "Transformative Tacos"
Taco Bell launched a series of taco-themed NFTs to commemorate the iconic dish through NFT marketplace Rarible. Four out of the five designs were animated GIFs, and the 25th edition was called "Transformative Taco," which sold out within the first half hour.
They also used Twitter to announce that they were selling taco-themed GIFs and images on Rarible:
Our Spicy Potato Soft Tacos can now live in your hearts, stomachs and digital wallets. https://t.co/IC8b45lmd9 pic.twitter.com/FJUcuwCuyy

— Taco Bell (@tacobell) March 8, 2021
Taco Bell combined the digital with the physical by rewarding a $500 e-gift card to the original owner of "Transformative Taco." All the proceeds went in support of education and career-building for the younger generation.
4) Team GM
The Great British Olympic team created history by becoming the world's first team to introduce an official NFT collection, which is sold exclusively through their website: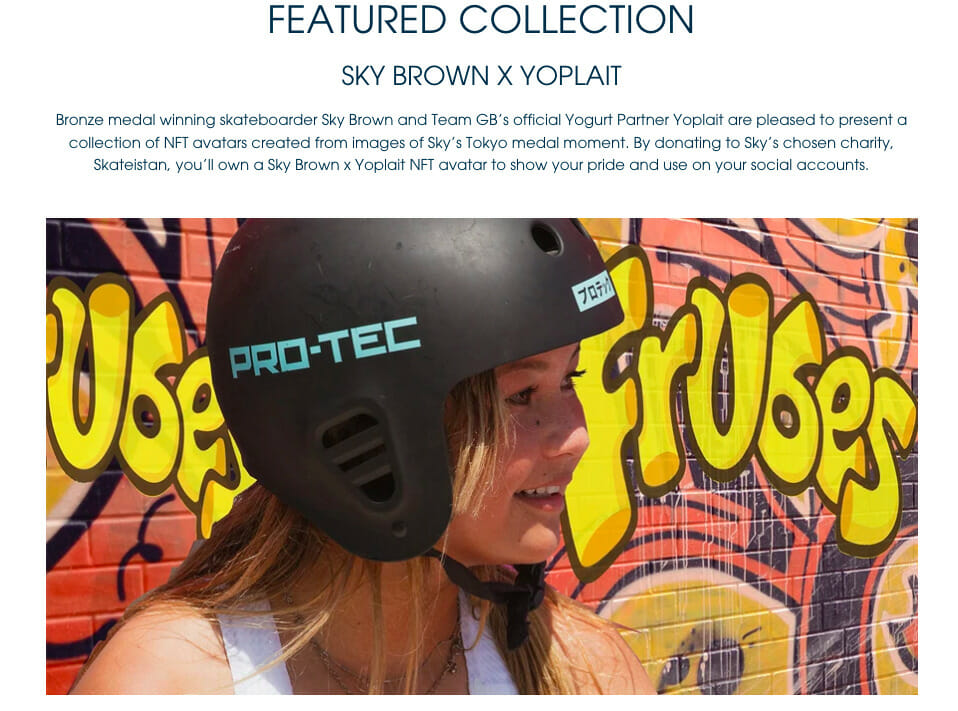 The collection consists of team GM's historical highlights, in collaboration with the artist Ben Mosley. It includes their five Golden Medal Moments from the Tokyo Olympics 2020 with exclusive content from the artist.
The regular releases of the NFTs give fans another chance to engage and connect with the team and games. This also creates a chance for the fans to support their favorite athlete, and all the earnings go to the British Olympic Association.
Dive Deeper:
* 5 Best NFT Marketplaces for Beginners in 2023
* NFT Strategy: Everything You Need to Know to Get Started
* 5 Examples of Brands Using NFTs to Monetize Their Work

Final Thoughts on NFT Marketing Checklist
Promoting your NFT products is crucial for acquiring the desired engagement and brand value. NFT marketing is important to build trust in the digital space, particularly in the new web3 landscape, without which NFT investors might not prefer to invest in your crypto project.
This NFT marketing checklist will help you gain the required credibility for your NFT collectibles, thus allowing you to earn more money from your projects.
Hopefully you learned how to market your NFT project with this checklist! But if you just want an expert NFT marketing agency to do it for you, click here.
---
Want a summary of the NFT marketing checklist outlined in this post? Click below to download your free clickable checklist to help you get organized: