Crypto community management is essential to boost a blockchain company's engagement and communication via niche-specific online communities.
Community management helps to educate a vast network of customers and investors who are present in different online communities across several social channels.
In this guide, I will list the top seven community management agencies and help you understand what a community management agency does and how to choose the right one for your business.
Let's begin!
---
---
Top 7 Community Management Agencies
Here is our curated list of the best community management service providers for blockchain businesses: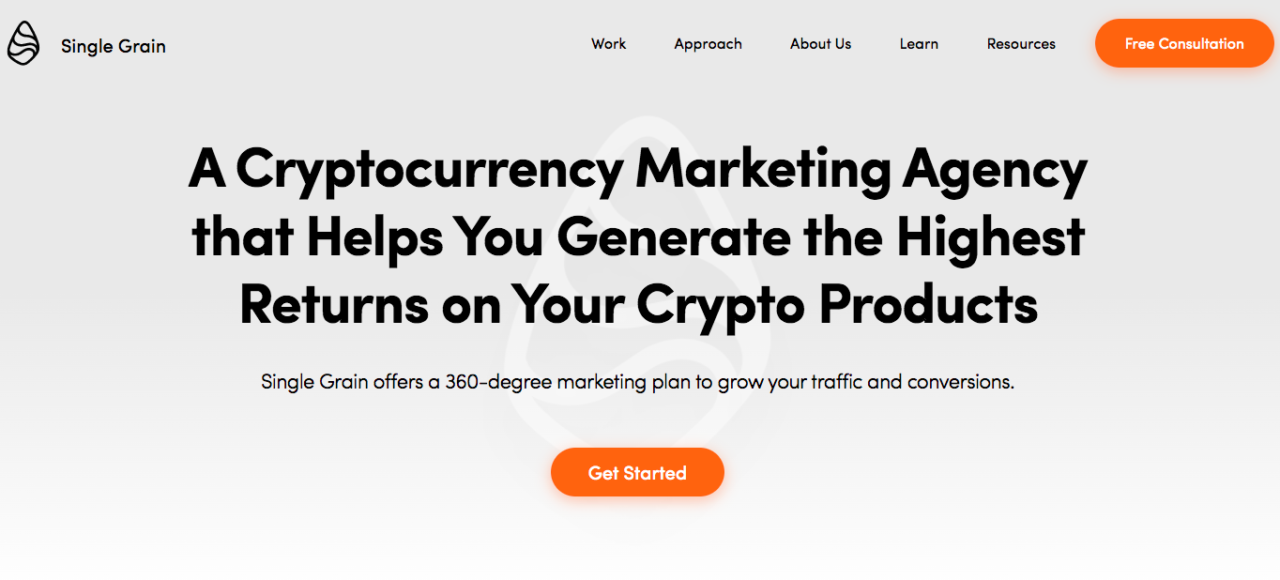 Single Grain is a leading digital marketing agency that offers crypto and NFT marketing services such as organic search promotion, paid media marketing, and content marketing. They also offer quality community management services to crypto businesses. It was established in 2009, and since then has been helping clients from Bittrex to Amazon grow their online presence and reap higher ROAS.
In addition, Single Grain CEO Eric Siu hosts two podcasts (Marketing School with Neil Patel and Leveling Up) which include up-to-date NFT, crypto and blockchain content. He has also created and marketed his own NFTs, and has a Discord community of over 4,000 members.
Single Grain specializes in:
Growing social media communities by creating engaging social campaigns.
Single Grain utilizes intelligent, innovative, and cutting-edge marketing strategies to promote your cryptocurrency product and services in relevant online communities.
They have a dedicated team of community managers for planning and implementing community growth management strategies to elevate the brand's presence.
Their content production team helps community managers by providing them engaging content to publish in communities.
They have a team of the best social media scientists who have a full understanding of your community management expectations and will help you network with the top crypto influencers through effective social media outreach campaigns.
Single Grain arranges AMA sessions, giveaways, and live contests in relevant social media threads and groups to build a strong community base.
To help you make the right decisions, they offer custom and personalized reports that contain lots of community engagement information like impressions, views, and engagements.
Top clients:
Blockgeeks




Bittrex




Polymath
Pricing: They offer custom pricing plans as per your business goals and requirements.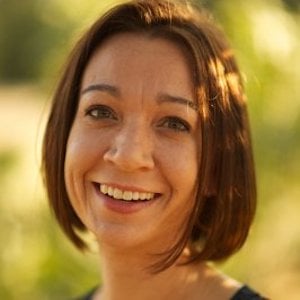 Kim Cooper
Director of Marketing, Amazon Alexa
Single Grain enables us to increase our impact without increasing our headcount
To learn more about Single Grain founder Eric Siu's approach to Crypto marketing, check out this video: 
2) Blockwiz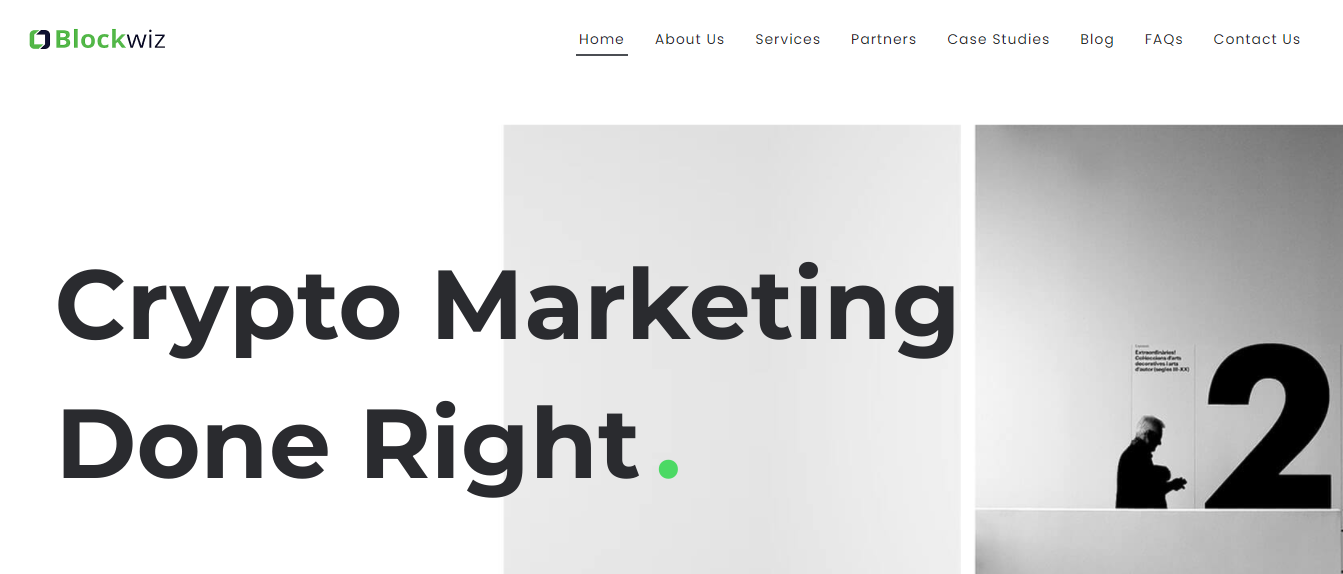 Blockwiz is a leading crypto influencer marketing agency that has a broad partner network with popular crypto publications such as Coindesk, Cointelegraph, and Bitcoin.com.
They have helped more than 160 clients and are trusted by hundreds of brands worldwide. The company has been awarded by the Corporate Vision 2021 Global Business Awards, Best Crypto Advertising Awards, and Top-Rated ICO Marketing Agencies Awards.
Blockwiz specializes in:
They have an expert content writing team that prepares unique and engaging content to drive exceptional engagement in target online communities.
They have experience in building and growing crypto communities over multiple platforms, such as Twitter, Discord, and Telegram.
They boost online presence and user engagement by creating new Twitter, Telegram, and Discord threads, spaces, groups, and channels.
To increase engagement and keep the community active, they run various quizzes and giveaways within the communities (and use anti-spam bots to keep the spammers away).
You get professional custom community engagement reports with in-depth insights and data delivered by professional analysts.
They help you collaborate with other popular and engaging communities to promote your business and products.
Top clients:
Immutable
CryptoBiz
Kucoin
Contact Details: [email protected]
Pricing: They offer custom pricing plans as per your business goals and requirements.
3) Token Minds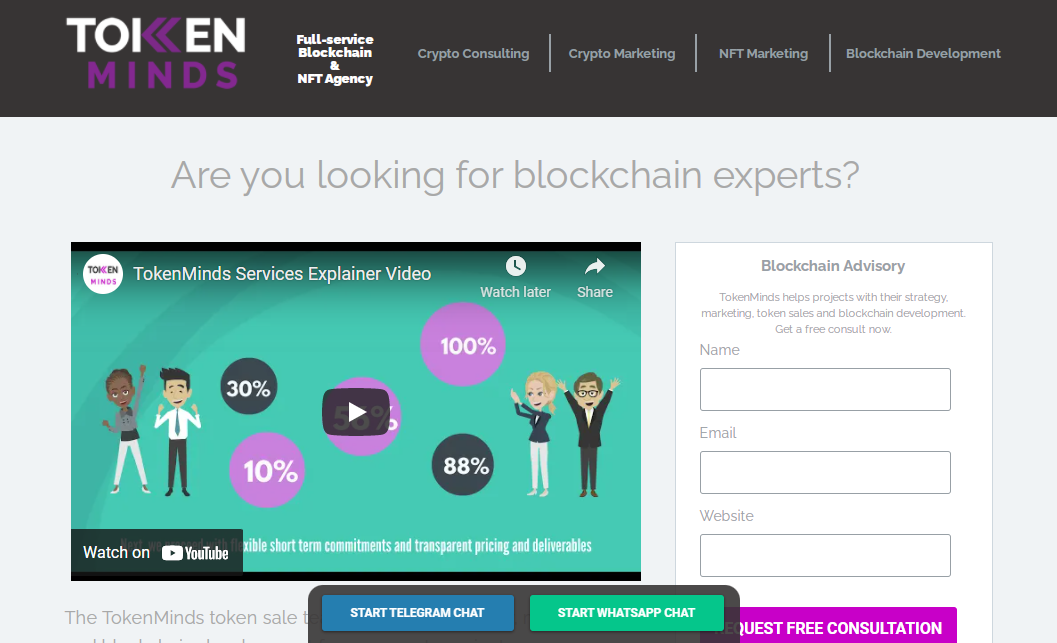 Token Minds offer new digital opportunities to crypto and NFT brands that help them grow their products and services online.
Their team helped hundreds of businesses generate more than $175 million, and they have won the No.1 Crypto Marketing Firm Award.
Token Minds specializes in:
They offer dedicated community managers to build and manage communities for you. Crypto managers monitor your crypto community 24/7 to answer queries and boost engagement.
They create a personalized content plan that helps to grow your crypto product community over Twitter and Discord.
Token Minds also sends you weekly and monthly reports where you can see important insights like the number of followers, likes, and comments.
They use proven strategies, such as airdrops, AMAs, contests and referral programs, to grow and nurture a supportive community.
They combine paid and organic methods to effectively grow the base and network of your crypto projects.
Top clients:
Contact Details: [email protected]
Pricing: Token Minds offers three pricing plans:
Basic community management starts at $1,500
Pro community management is priced at $3,000
Ultimate community management is priced at $4,500
Dive Deeper: Top NFT Research Tools for Finding High-Quality NFTs
4) Flexe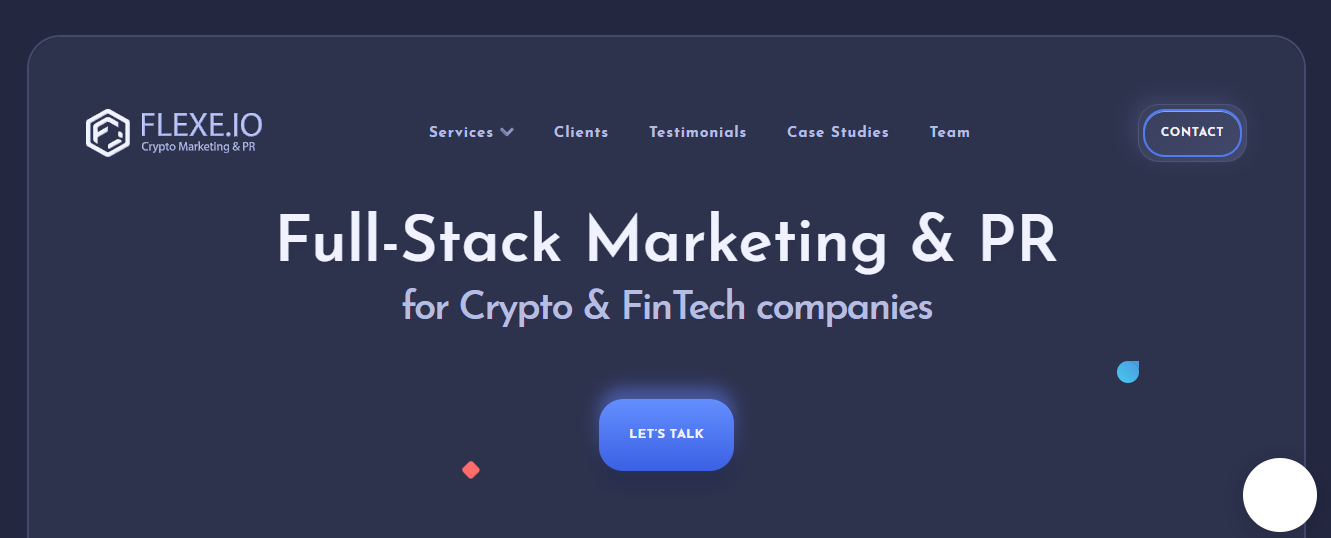 Flexe is a full-stack digital agency for FinTech and crypto businesses that offers a wide range of services from PR to social advertising and content production.
They have worked with 500 clients and have a partnership with over 150 crypto media platforms, including Forbes, Bloomberg, Yahoo Finance, Bitcoin.com, and Business insider.
Flexe specializes in:
Flexe has a team of content developers that helps you create engaging content for all your crypto communities.
They offer you a range of crypto marketing services such as Google Ads promotion, crypto influencer marketing, PR promotion, airdrop promotion, Instagram ads, Twitter ads, SEO, email marketing, exchange listing, etc.
Apart from Twitter and Discord community management, they also manage Airdrop, Telegram, Bitcointalk, and Quora communities.
They create monthly content production plans for your crypto communities and also add essential brand details with every post, such as your logo, emojis, website links, title, and hashtags.
You get weekly and monthly community growth performance reports.
Top clients:
Edgecoin
SwinCoin
DePocket
Contact Details: [email protected]
Pricing: Flexe offers custom pricing plans as per your business goals and requirements.
5) Coinbound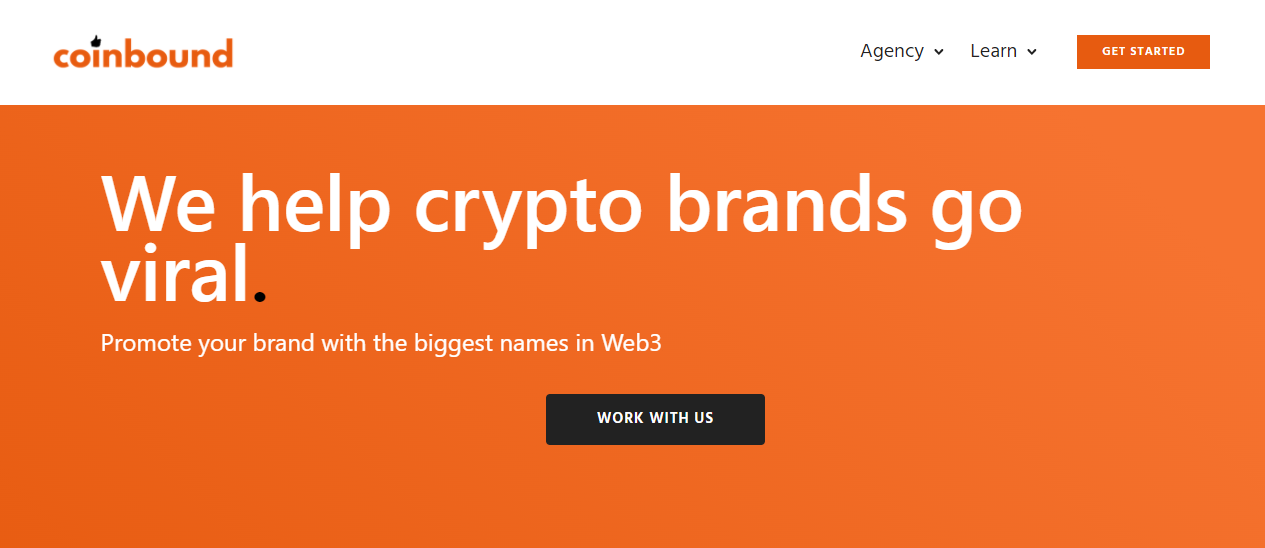 Coinbound helps crypto brands go viral. They have achieved the Top Digital Marketing Company and Top Rated ICO Marketing Agencies awards from leading platforms.
They help crypto brands secure wide coverage over media platforms like Forbes, Business Insider, and Bloomberg and host the popular Crypto Marketing Podcast to help blockchain brands learn cryptocurrency marketing tips from leading experts in this industry.
Coinbound specializes in:
Their crypto community managers help you set up your communities on platforms like Discord and Telegram.
They also have expertise in removing bots and spam from your communities to ensure that your community is free of spam and has genuine users.
As a leading community management agency, they offer dedicated community managers for every crypto client so that you can easily connect with them to discuss your goals and needs.
They also have collaborations with the top blockchain influencers, which you can leverage to increase the reach of your social media communities.
Top clients:
Pricing: Coinbound offers custom pricing plans as per your business goals and requirements.
6) CryptoVirally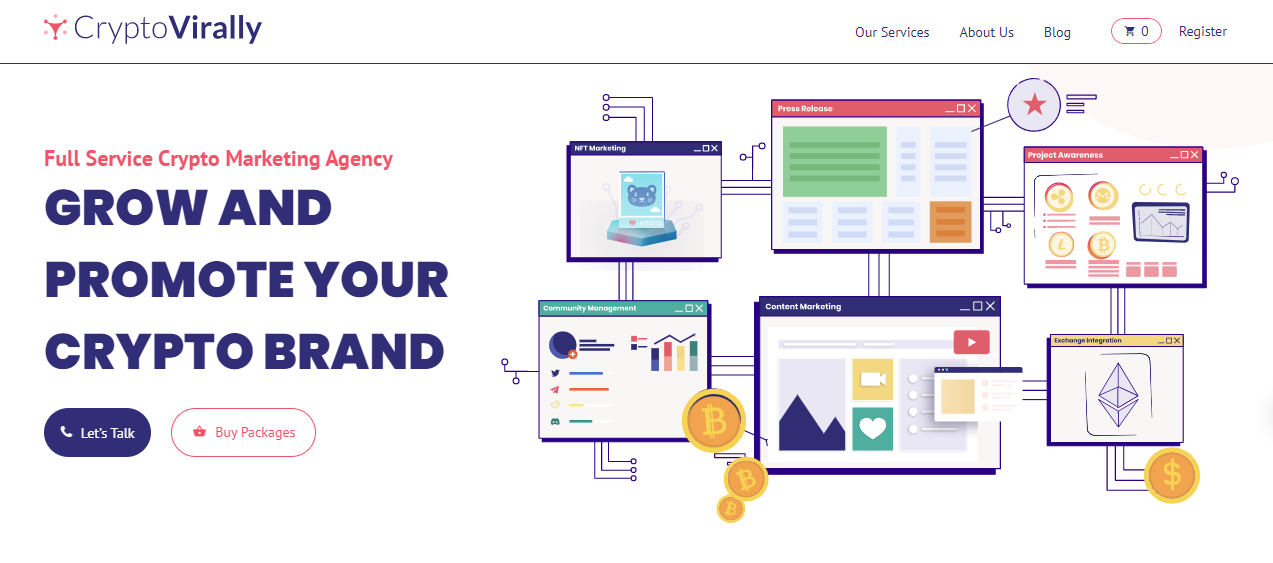 CryptoVirally is a full-service crypto marketing digital agency helping crypto brands achieve phenomenal growth. They have a passionate team of crypto marketers who always try to go the extra mile to get your project to the next level.
They offer services like organic search promotion, social media community management, social media promotion, crypto AMA session, content production, and others.
CryptoVirally specializes in:
They have a vast community building and engagement experience promoting crypto businesses on platforms such as Discord, Twitter, Telegram, Instagram, Reddit, and more.
They provide dedicated community managers offering 24/7 coverage.
Their team of social media experts has collaborations with popular social media influencers to help you boost your community reach.
They create multiple AMA crypto sessions on highly engaging channels like Twitter and increase your brand awareness.
They also have a team of designers who can help you create beautiful designs for your community posts to attract more users.
Top clients:
CoinStats
Coinomi
Shrimpy
Contact Details: [email protected]
Pricing:CryptoVirally offers three pricing plans:
The Silver package starts at $899, offering one community manager providing 8 hours of daily coverage.
The Gold package is priced at $1,299, offering two community managers providing 16 hours of daily coverage.
The Platinum package costs $1,599, having three community managers providing 24/7 coverage.
7) CROwdcreate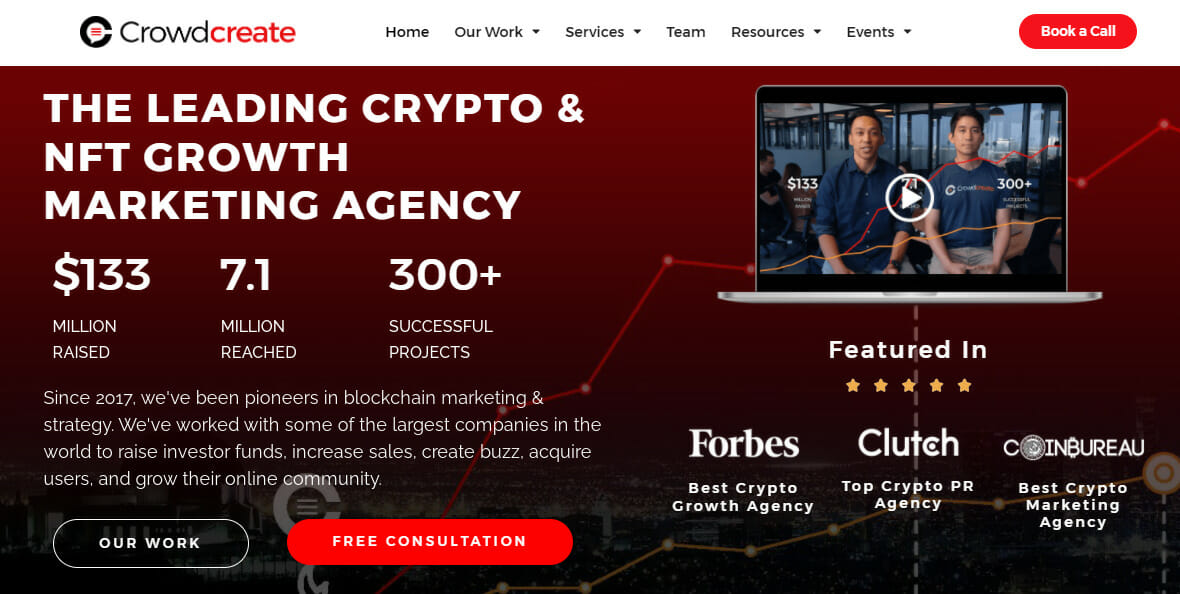 CROwdcreate is a leading crypto and NFT growth marketing agency, helping clients gain more exposure since 2017.
They have dedicated teams for almost every requirement, like content writers, advertisers, PR experts, outreach professionals, and video creators.
CROwdcreate specializes in:
CROwdcreate has over five years' experience building and managing crypto and NFT communities on different channels, including Twitter and Discord.
They are experts in researching and understanding your niche and creating niche-relevant content to build your communities.
They use the best social media management tools to craft your online community management strategy.
Their team monitors community involvement 24/7 and continuously tries to improve the engagements while removing the spam.
They boost community engagement by posting content, images, and videos in relevant threads and groups.
They assign a dedicated manager to your project who monitors your communities on a daily basis and provides various recommendations for improvements.
Top clients:
Contact Details: Via their contact page
Pricing: CROwdcreate offers custom pricing plans as per your business goals and requirements.
What Is Crypto Community Management?
A Community Management Agency is a marketing company that specializes in crypto community management – the practice of informing and engaging audiences in top mediums such as Discord, Telegram, Twitter, Facebook, Reddit and other online channels.
It's a good idea to start community management as soon as you plan your first ICO. Community management agencies offer dedicated experts to manage crypto communities for your crypto project, help you acquire more relevant customers and attract maximum investment for your blockchain projects.
The top responsibilities of a crypto community manager include:
Creating engaging content for publishing in communities
Answering user queries
Monitoring community's behavior
Collecting feedback from users
Removing spam from communities
Harmonizing communication between investors and customers
Organizing AMA (Ask Me Anything) sessions and giveaways in relevant threads and forums
Providing monthly performance reports
Building a community around your blockchain project is challenging. Hence, it's a great idea to hire a professional community management agency who can help you build and create communities on top platforms, such as Twitter and Discord.
Check out these stats:
Community management agencies create robust growth strategies to reap the highest ROI for your crypto organization.
How to Choose the Right Community Management Agency
Rushing off to hire the first agency you find without doing your due diligence first could be a mistake. Instead, take some time to do your research in order to find a reputable agency that's a good fit for your organization or project.
Here are the top things to look for before you hire a blockchain community management firm:
Industry Experience
Always look for relevant industry experience from any digital marketing agency. A crypto marketing agency should have experience working with clients in a similar niche as yours.
Some digital agencies also mention the industries where they offer their services. See if they serve businesses in the blockchain, crypto, and NFT niche, and find out how many years' of experience they have working in this space.
Agency Expertise
In addition to having experience in the crypto industry, a reputable community management agency should also have sufficient agency experience overall.
The best way to check their expertise is to take a look at the social media profiles of the businesses they are promoting and review the kind of posts and the level of engagement they're receiving. This bit of research will show you how well they are running social media campaigns and performing community management for their clients.
If they have boosted their clients' social media presence, then they have the potential to build a successful community for your brand.
Testimonials and Case Studies
Testimonials are the top factors to consider while choosing a community management agency. No matter what an agency says about itself, client reviews will tell you how well an agency served their needs.
You can (or should) find customer testimonials and reviews on the company website, on their social networks, on Google (when doing a search for the agency) and review sites like Clutch or G2 .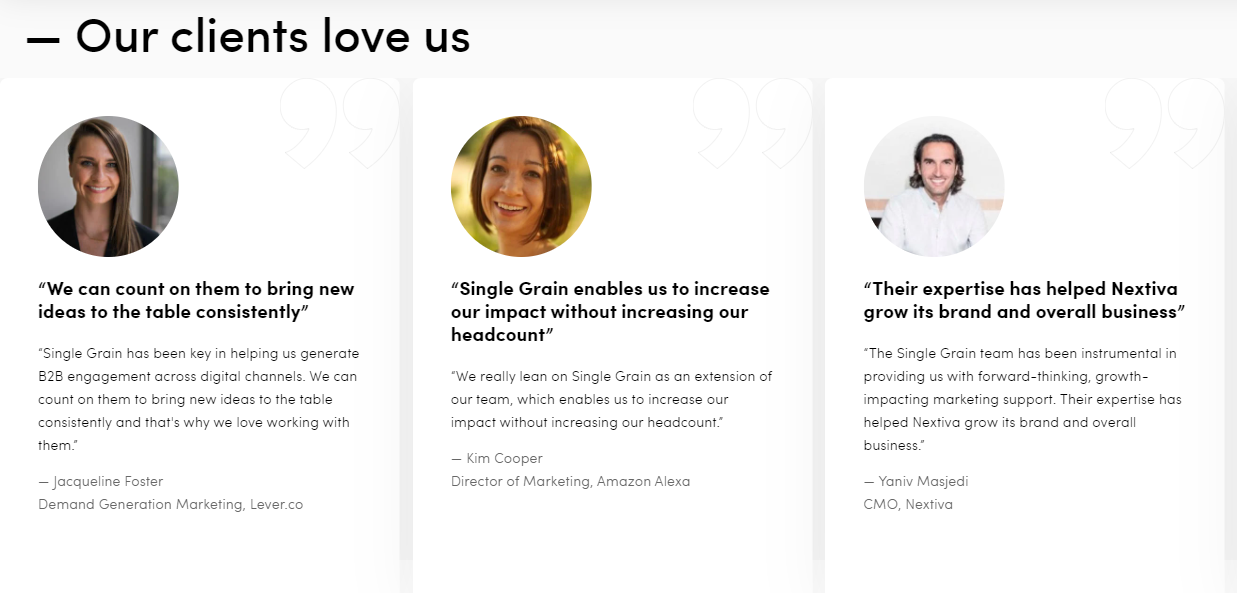 You should also check out relevant case studies (usually on their website) where they detail how they helped a brand achieve exceptional results using different crypto marketing techniques.
Spending time analyzing the overall information contained on their website will help you select the best crypto digital marketing company.
Dive Deeper: How to Write a Case Study that Converts Prospective Buyers into Customers
Market Reputation
Check the reputation of the agency in the market and find out if clients are happy with their work. To do this, you can visit their Google My Business profile and see how many ratings and reviews they have.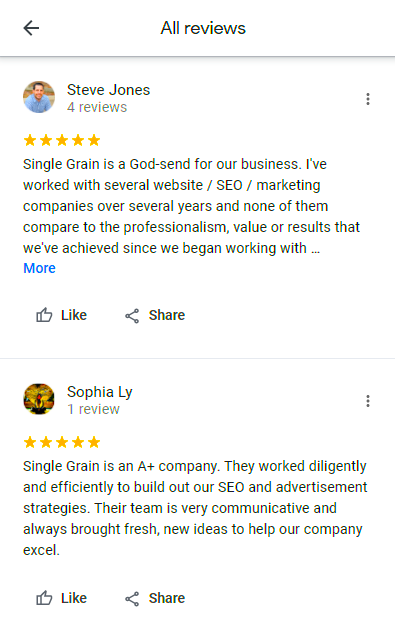 There are also other platforms you can check, like Clutch and Crunchbase.
Now that you have understood the steps necessary to find the best crypto marketing agency, let's jump to our list of the best crypto community management agencies.
Dive Deeper: An NFT Marketing Checklist for Your Crypto Project
Benefits of Working with a Crypto Community Management Agency
Here are the top benefits of hiring a crypto community marketing agency:
They Keep You Updated on the Latest Trends
Having knowledge of the latest crypto and NFT marketing trends is essential for defeating your competitors. However, if you aren't involved in crypto marketing activities, it is challenging for you to keep track of the latest developments in the industry.
Hiring a social media community management agency ensures that you stay updated on the latest crypto marketing trends, and you can rest assured that your campaign leverages the latest techniques for crypto promotion.
Dive Deeper: 6 Marketing Trends That Will Crush It for 2023 & Beyond
They Save You Money
It's obvious that hiring an in-house community management team is costly compared to hiring a digital agency.
To meet your business goals, you need to use multiple strategies and this requires individual experts for every aspect of your marketing strategy. Hiring niche experts for every task yourself is a lot more costly.
Hence, it is always a good practice to work with crypto community management agencies because they are cost-efficient and have skilled experts in managing your entire blockchain marketing campaign.
They Provide Expert Guidance
Trying to build or manage your community is challenging, especially if you are not skilled and do not know the right marketing tactics for community engagement.
A community management firm has an entire team of experts ready to help your brand create and grow a social identity. The combined experience of crypto team members provides expert advice and innovative solutions to market your blockchain business.
Working with community management agencies gives you the advantage of working with experts who have a vast amount of expertise managing crypto communities over social media platforms like Telegram, Twitter, and Discord.
Dive Deeper: How NFTs Can Be Used for Marketing
How Much Do Community Management Agencies Charge?
Community management agencies offer different pricing plans as per your project's goals, requirements, and KPIs.
The price depends on the number of hours the team of community managers works on your project on a daily basis. A dedicated crypto community management team working 24×7 costs more as compared to a community manager working 8 hours a day.
Most digital agencies offer custom pricing plans according to your exact requirement. You can get in touch with a management agency of your choice to discuss a plan that best suits your needs.
Dive Deeper: The Difference Between Audience vs Community
Now You're Ready to Hire a Community Management Agency
The Crypto and NFT market is booming and one of the best tactics to sell your crypto offerings is by investing in community management.
One final thing I'll leave you with are some questions that you should ask yourself before hiring a digital agency:
What community management services do they offer?
Which social media platforms do they cover?
Do they offer a team of community managers?
Do they have past experience working with blockchain, crypto, DeFi, and NFT brands?
How is the agency's market reputation, and do they have relevant customer testimonials?
Have they showcased case studies of the marketing tactics they used to help blockchain businesses succeed online?
Do they offer other crypto marketing services such as SEO, PPC, and PR management?
Do they offer custom pricing plans according to your business needs?
Finding a good crypto marketing agency is vital to boosting your crypto campaign success. Take your time to research the digital agency of your choice and have an initial call before you sign the deal.
If you want to promote your crypto organization or project by partnering with an excellent community management agency, Single Grain can take your brand to the next level. 👇
Or learn more about what we can do for you here 👉   Crypto Marketing Agency