5 Examples of Brands Using NFTs to Monetize Their Work
Non-fungible tokens (NFTs) are revolutionizing the world of art and finance unlike anything we've seen over the last 100 years. NFTs have not stayed within the realm of professional painters and musicians; influencers and entrepreneurs have been using them to monetize their personal brand.
Thanks to the power of NFTs, content creators are able to live off their passion through the blockchain like artists traditionally did — by selling their art to collectors. Their example has paved the way for everyone else who wants to do the same, including you.
Here are five examples of personal brands and content creators using NFTs to monetize their work.
What Are NFTs (Non-Fungible Tokens)?
A non-fungible token (NFT) is a unique digital asset that acts as a certificate of ownership for virtual assets (e.g. Tweets, images) or physical ones (e.g. paintings, photos). Each NFT represents a one-of-a-kind cryptographic item that cannot be interchanged with another and is maintained in a digital ledger called blockchain.
An object is called fungible when it can be interchanged for another similar one of a similar value — for example, when you interchange ten one-dollar bills for a ten-dollar bill, or a one-dollar bill for, say, a Coke can (because in this example, a Coke can is worth one dollar).
On the contrary, a non-fungible object isn't interchangeable. For example, you can't interchange a house for another one because two houses aren't alike, and although their values could be used in a transaction, they are not considered fungible. The same applies for art, jewelry, and NFTs.
NFTs have exploded in popularity over the past year. According to NonFungible.com, the NFT market had between 20,000-40,000 unique buyers in any 30-day period between March 1 and May 31 of 2023. They also estimated that in the first quarter of 2023, around $2 billion was spent on NFTs.
If you're still unsure what an NFT is, this SNL video might help 😁 :
Learn More: NFT Marketing: Everything You Need to Know to Get Started
Can You Buy an NFT?
Of course! NFTs are used to buy and sell digital art creations (e.g., digital art, music files, video games), and they are what verifies ownership of the work. 
Nowadays, anything can be sold as an NFT, like Twitter CEO Jack Dorsey's tweet:
just setting up my twttr

— jack⚡️ (@jack) March 21, 2006
The key lies in owning a unique piece of digital art with the highest chance of reselling it online.
What Gives an NFT Value?
An NFT is valued through the workings of supply and demand, the same way a piece of real estate or a painting is. Some aspects that give an NFT value include:
The scarcity of the item

The perceived value

The potential of reselling

The quality of the token

The influence of the brand or content creator
The scarcer someone considers a token, and the higher the perceived value, potential, quality or influence of the creator, the higher the NFT will be valued. As you will see later on, a brand or content creator can create an NFT out of anything buyers are willing to purchase.
Learn More: NFT Marketing Agencies: Best Way to Promote Your NFT Project
What Are the Best NFT Platforms?
With the growing popularity of NFTs, various platforms have been created to fill the needs of buyers and sellers. These platforms allow you to browse through the different NFTs, bid for the one you like, and buy it. Five of the largest and most popular are:
NFTs and Content Creators
We hear a lot about big businesses using and creating NFTs — Pizza Hut, Coca-Cola, Taco Bell, and so on. However, NFTs aren't only for Fortune 500 brands; in fact, we could say they are ideal for small content creators who want to monetize their skills and following.
These independent content creators who run blogs, YouTube channels, and TikTok accounts are the backbone of what's known as the "creator economy." The rise of the content creator can be traced back to the discontent that younger generations (the so-called "Generation Z") have with the traditional 9-to-5-based job industry; these creators want to live life on their own terms doing things they're passionate about. 
In 2023, CBInsights estimated that the creator economy has received over $1.3 billion in funding in that one year alone. They also expect it to double from 50 million to 100 million creators in the coming years.
With the help of NFTs, content creators can sell their digital creations without the need for intermediaries while taking control of their content rights and earnings. Peter Yang from Creator Economy uses the following example to illustrate the power of NFTs:
Imagine a musician named Taylor who got one million plays on Spotify. Traditionally, she would only make $800, which counts the money Spotify pays for the million plays (~$4,000) minus the intermediaries cut, which includes the record label, management, and more. What's more, the intermediaries would own her content rights and the number of fans that see the content.
Compare that case with an NFT, as Yang shows:
"Taylor created this song on 12/1/2020 (URL to song). She's selling its ownership to fans for $30,000. Each time fans resell Taylor's song, she gets 10% of the sale price.
A fan buys her NFT for $30,000. The marketplace takes 15%, so she earns 85% or $25,500. After a month, the owner resells it to another fan for $40,000 (she makes 10% or $4,000 in royalties). Instead of only making $800, Taylor has made $29,500 from just two transactions."
NFTs highlight the value of ownership and elevate the experience of owning a piece of your favorite content creator's content. The surge of NFTs led to the creation of a space known as "Decentraland," in which content is owned entirely by a creator's following: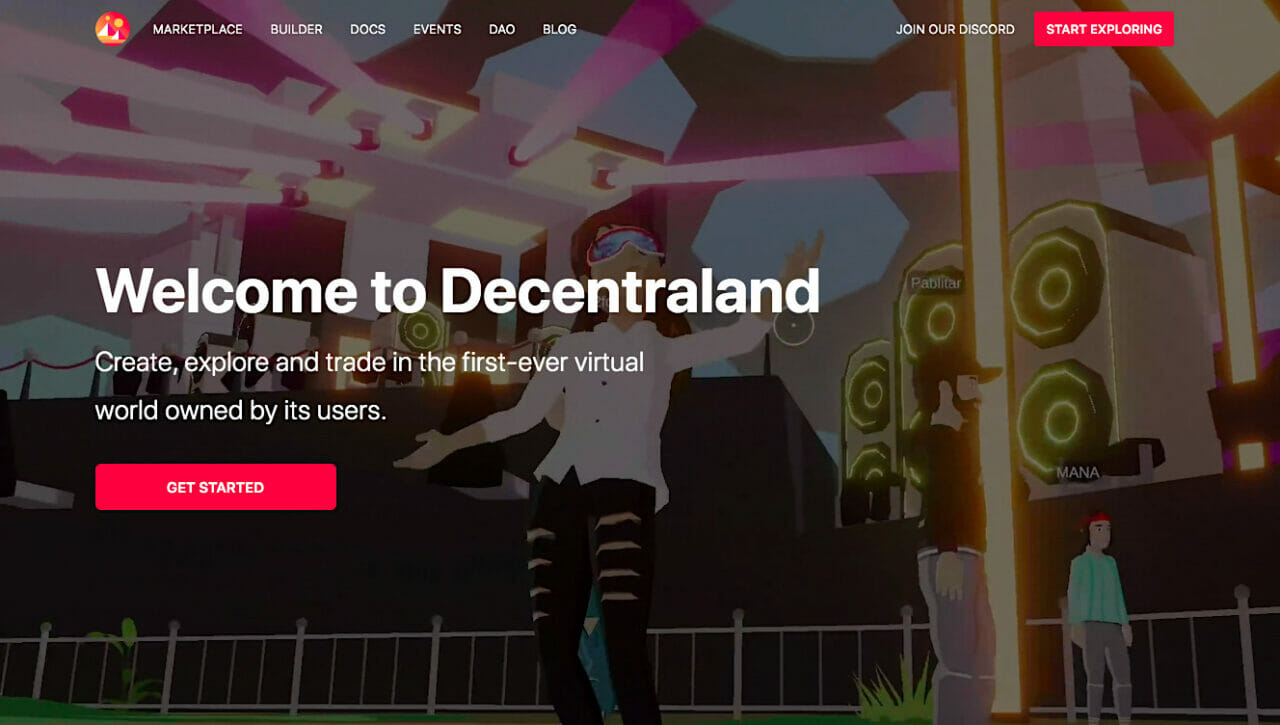 Although the concept of "collective ownership" may put some people off, the concept doesn't relate to any type of centralized power like in the days of the Soviet Union. On the contrary, it creates a perfect symbiosis between creators and their followers, benefiting both without relying on intermediaries.
Slowly, social media platforms are adopting NFTs to attract content creators and their highly engaged crowds. One such case comes from TikTok, which released Top Moments, a collection of digital assets inspired by trending videos.
With Top Moments, creators like Lil Nas X, Bella Poarch, Brittany Broski, and Curtis Roach will offer their fans the chance to purchase a limited-edition NFT. NFTs are here to stay, and this is only the start of something much bigger.
5 Examples of Brands and Content Creators Using NFTs
Now that you know what a non-fungible token is and what it's used for, here's a list of the five best examples of brands using NFTs.
1) Gary Vee
You probably know who Gary Vee is, but if you don't, he's the chairman of VaynerX, a modern-day media and communications holding company, and the active CEO of VaynerMedia, an advertising agency for Fortune 100 clients.
Most importantly, he's a serial entrepreneur responsible for starting over a dozen companies (such as Empathy Wines, Resy, and VaynerSports), an influencer, a public speaker, and a book author of several best-selling books like Crushing It! and Jab, Jab, Jab, Right Hook.
In May 2021, Gary launched a project called VeeFriends, an NFT collection of 10,255 hand-drawn characters that gives its holders immediate access into the VeeFriend's community and three-year access to VeeCon, a conference centered around business, marketing, entrepreneurship, and overall innovation.
This one is called Accountable Anteater:
Gary explains that:
"These characters represent the human traits that I most admire and that I believe will lead to happiness and success, both personally and professionally. I also drew inspiration from popular culture references and some of the beloved characters and entertainment figures of my childhood."
VeeFriends is supported on the Ethereum blockchain. Each token is backed with a specific message and meaning through metadata on the blockchain, which gives them a specific and exclusive utility.
Wily Wild Boar was purchased for 9.2900 $ETH ($30,008.47 USD) by https://t.co/Oqlgu9m4QL from https://t.co/AUyOym8s3u

Group: Admission
Conference: Core
Editions: 1 of 20 (#10)
Category: Mammalhttps://t.co/z96RYpSumi pic.twitter.com/3qLhPBIyJO

— VeeFriends Bot (@veefriendsbot) August 28, 2021
On October 1, Christie's auctioned five of Gary Vee's tokens for over $1.2 million. The "Empathetic Elephant" token got the highest bid, selling for $412,500, while the lowest, "Diamond Hands," went for $162,500.
Christie's pic.twitter.com/YGxkeyZ3KE

— Gary Vaynerchuk (@garyvee) September 14, 2021
Considering that Gary Vee has never been an artist by any means, selling five of his doodles through a traditional art retailer like Christie's is nothing but incredible. Such is the power of NFTs!
Take a look at Eric's short video: Gary Vee's Veefriends NFTs Traded Over $81M Because of THIS:
2) Paris Hilton
Paris Hilton defined the 2000s with her show The Simple Life, her catchy phrases, and her controversial personality. As heir of the Hilton family — the one that owns the hotel chain of the same name — she was born rich but made her fortune through the power of her influence and branding.
She currently owns 50 retail stores and 19 product lines, and sales from her 23 different fragrances alone have hit $2.5 billion. She also makes six to seven figures for public appearances and DJ sets.
As part of her personal branding strategy, in April 2021 Paris launched her own NFTs in collaboration with designer Blake Kathryn, including Planet Paris:

Two pieces of the collection, "Hummingbird in my metaverse" and "Legend of love," featured eleven editions for sale, with the "Iconic Crypto Queen" NFT only offering one edition:
In a CoinDesk interview, Paris said:
"NFTs have literally taken over my entire mind and soul. I'm obsessed. It's all I think about. I've never been so excited about something in my life because I really see this as the future. I'm just so obsessed with it that I actually have dreams about it every single night."
She seems to be honest, as her profile on NiftyGateway shows that she's bought more than 130 NFTs. She has also invested her fortune in Origin Protocol, a decentralized platform for launching NFTs, and joined as an adviser.
Learn More: What Is the Creator Economy (& Why Should You Care)?
3) Beeple
Beeple is the artistic name of Mike Winkelmann, a graphic designer from Charleston, South Carolina. Beeple, whom Fortune called "The Picasso of pixels," has worked on concert visuals for artists like Justin Bieber, One Direction, Katy Perry, Nicki Minaj, and Eminem.
In March 2021, Beeple became the top-selling NFT artist after his artwork "Everydays: The First 5000 Days"was sold for $69 million at a Christie's auction. The rare digital art piece is made up of a collage of daily photographs he took every single day for 5,000 days in a row:
According to the auction house, the sale positions him "among the top three most valuable living artists."
Beeple had sold his first NFTs in October 2020, with a pair going for $66,666.66 each, which eventually were sold for $6.6 million, netting him a part of that sale from royalties. In December, he sold a series of works for $3.5 million total. His success story can be explained by his massive following of around 2.5 million users, talent, and discipline.
4) Snoop Dogg
Snoop Dogg is the author of some of the most popular and influential rap albums ever that have put him as the foremost rapper of West Coast gangsta rap. He's an award-winning entertainer with 18 studio albums with over 40-million albums sold worldwide. He's also reached No. 1 countless times on Billboard charts internationally and received 20 GRAMMY® nominations.
In April 2021, Crypto.com announced Snoop Dogg's first NFT collection called "A Journey with the Dogg," which mixed Snoop Dogg's memories from his early years with art inspired by the NFT movement and an original track called "NFT."
The collection included eight limited pieces and a separate collection called "Snoop Dogge Coins," which were available for only one hour. One of his pieces, "Death Row," was sold for $108,000, an impressive record for a rapper.
108k bid on this piece ! Here we go! 20mins n counting ! pic.twitter.com/TXXMDa50zi

— Snoop Dogg (@SnoopDogg) April 4, 2021
5) Coin Artist
Marguerite deCourcelle, known as Coin Artist, is known for her unique blend of gaming-related art mixed with blockchain technology. She is credited with creating a genre known as "crypto puzzles," which gives Bitcoin prizes (or other cryptocurrencies) for solving puzzles.
One of her most famous crypto puzzles, "The Legend of Satoshi Nakamoto," went viral within the crypto community:
In 2018, Coin Artist founded Blockade Games, a blockchain game studio whose first game Neon District allows players to earn and buy NFT items.
In June 2021, one of her artworks was auctioned at Christie's and sold for $43,750. The piece, "F473 (Fate)," is a digital-born game with generative elements using HTML, CSS, React.JS, Javascript, dedicated web page, and polygon smart contracts:
Related Content:


* Is Cryptocurrency Right for Your Business? 
* Why and How to Accept Cryptocurrency on Your Website 
* Will Blockchain Technology Be a Music Industry Savior? 

How Content Creators and Small Businesses Can Take Advantage of NFTs
The five examples above prove that NFTs are a disruptive force in the new world of digital consumerism. Most importantly, both content creators and small businesses alike can leverage their popularity to monetize their following.
One aspect that characterizes the five examples shown here is the importance of having a loyal following and an influential position within a community. To gauge how loyal your following is, think of it this way: If you started a Patreon, would your followers sign up and donate? If so, NFTs could work for you.
Even if your art doesn't generate six or seven figures worth of sales, you can make four to five figures by selling a piece of your work to your following. The object you sell should:
Be

collectible

Have

potential for resale

Represent your

message

or

brand
In each of the five cases analyzed previously, the NFT sales were attributed to a mix of artistic talent, influence, and a strong following.
Beeple and Coin Artist are professional artists, so their sales had more to do with their buyers' appreciation for their talent. The cases of Paris Hilton and Snoop Dogg gear towards selling a token that represents who they are and what they stand for. Finally, Gary Vee's doodles mixed his passion for entrepreneurship with his artistic sense.
Before you decide to create and sell an NFT, you need to consider how technologically savvy your following is. NFTs are complicated assets, so if your audience doesn't understand the blockchain or has never used it, your NFT collection may not perform well.
Also, consider whether your existing work can be digitized and sold. If you sell digital products, like videos, graphics, or even books, you may be able to create an NFT out of them.
Check out Eric's video Why I Spent $110,000 On This NFT (& How I'm Thinking About the ROI) to get a better idea of the value of NFTs:
Final Thoughts on

Brands Using NFTs

The multi-million dollar NFT bandwagon has recently started to move its wheels. The five content creators we have shown in this article are trailblazers, the first batch of innovators who took risks and reaped the rewards. It might be time for you to ride the NFT craze, too! 

If you are a content creator and you are looking for a new way to monetize your audience, NFTs could be the answer. With the right approach, you could make them another tool in your arsenal to live off your skills and passion.

Related Content:


* How Blockchain Can Be Instrumental in Preventing Digital Fraud 
* What Is Blockchain Digital Marketing? 
* The Ultimate Guide to Blockchain Digital Marketing and Cryptocurrency