SaaS Email Marketing: 12 Best Strategies to Follow
Email marketing, when done efficiently, can boost your engagement rates, conversion rates, and help build a loyal customer base.
On average, the software industry has an email open rate of 21.29% and a click-through rate of 2.45%. But that doesn't mean your SaaS company can't have higher numbers. With top-notch email marketing strategies, you can increase engagement and generate more sales.
Let's get started!
12 Best Email Marketing Tips to Maximize SaaS ROI
1) Set Clear Goals
In order to make the most of your email marketing efforts, it is vital to set clear goals. Otherwise, how will you know if your approach is working or not? To figure out what goals you want to hit, ask yourself what action you want the user to take.
The answer to the above questions defines the following points:
Email content: Your copy reflects your goals. For example, if you wish to get subscribers to sign up for a free trial, you should send resources highlighting the benefits they will receive without spending a penny. If you want to convert the free trial user into a paying one, you should send them reasons to upgrade to premium.
Email recipient: Not every subscriber is a good fit for each email. For example, to convert leads into customers, you should send promotional emails only to non-paying users. But, to paying customers, you should share tips to help them get the most out of your tool.
CTA: Your call-to-action button depends on what you want to achieve. For example, if you want your subscribers to sign up for a free trial, a "try for free" CTA would be effective. If you wish to inform the user about a newly launched feature, a "learn how it works" CTA would work better.
KPIs: This includes the metrics you track to determine if your efforts are bringing in the desired results. If you want to increase sales, you should monitor the email conversion rate. But if you wish to reduce the churn rate, you should focus on the retention rate.
Here are the most common goals and the types of emails for SaaS businesses:

2) Spend Time Understanding Your Subscribers
When you know who your subscribers are (beyond their name and email address), you will be better able to satisfy their needs. This is similar to your buyer persona, but focused on your email subscribers: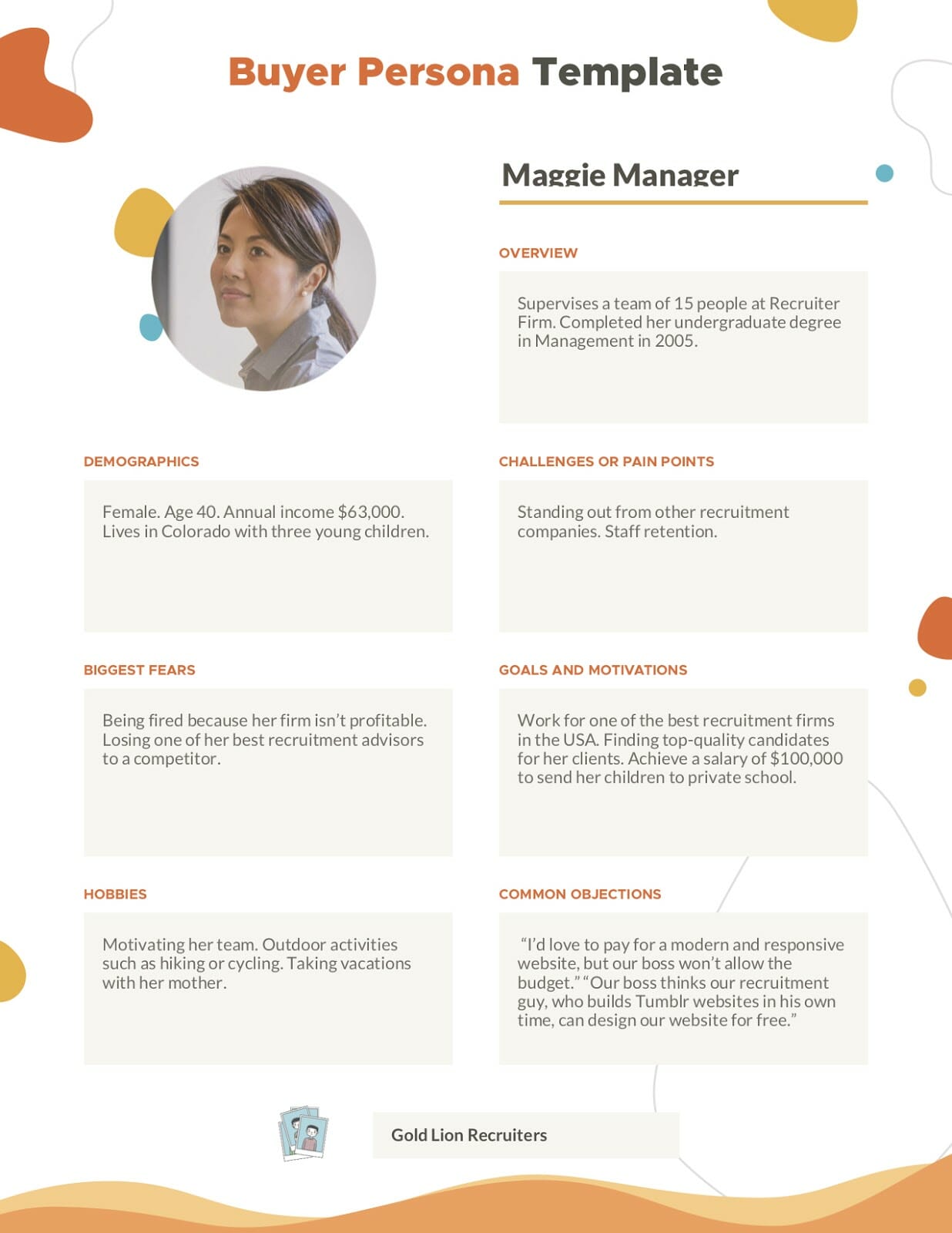 Here are some of the things that you should know about your subscribers:
The reason they subscribed to your emails
Their biggest pain point that you can help them solve
Their basic demographics (age, location, job title, company details, etc.)
Follow these tips to better understand your subscribers:
Check where they arrived from: Did they sign up for your newsletter from a blog post? Or a lead magnet? If so, which one? This helps you understand their pain points. You can use Google Analytics to track email clicks and link clicks.
Send surveys: This is the best way to get to know who signed up for your emails.
Track the emails they engage with: The emails they open and engage with indicate their interest and pain points. Also, check which links they click on.
Dive Deeper:
* SaaS Marketing Strategy: 12 Killer Ideas to Grow Your Company
* How to Use Personalization to Increase the Impact of Email Marketing
* Top Marketing KPIs that Every B2B Company Needs to Track
3) Tailor Content for Where the Subscriber Is in the Customer Journey
When you know where each lead is in the customer journey, you can better customize the email copy to take them to the next level. Here's an example of three stages of a customer journey:
For example, if a subscriber is in the consideration stage, you can send emails highlighting how your product can solve their problem without burning a hole in their pocket.
It is important to create email sequences that are effective. Here are the most common types of emails for subscribers at different stages of the customer journey: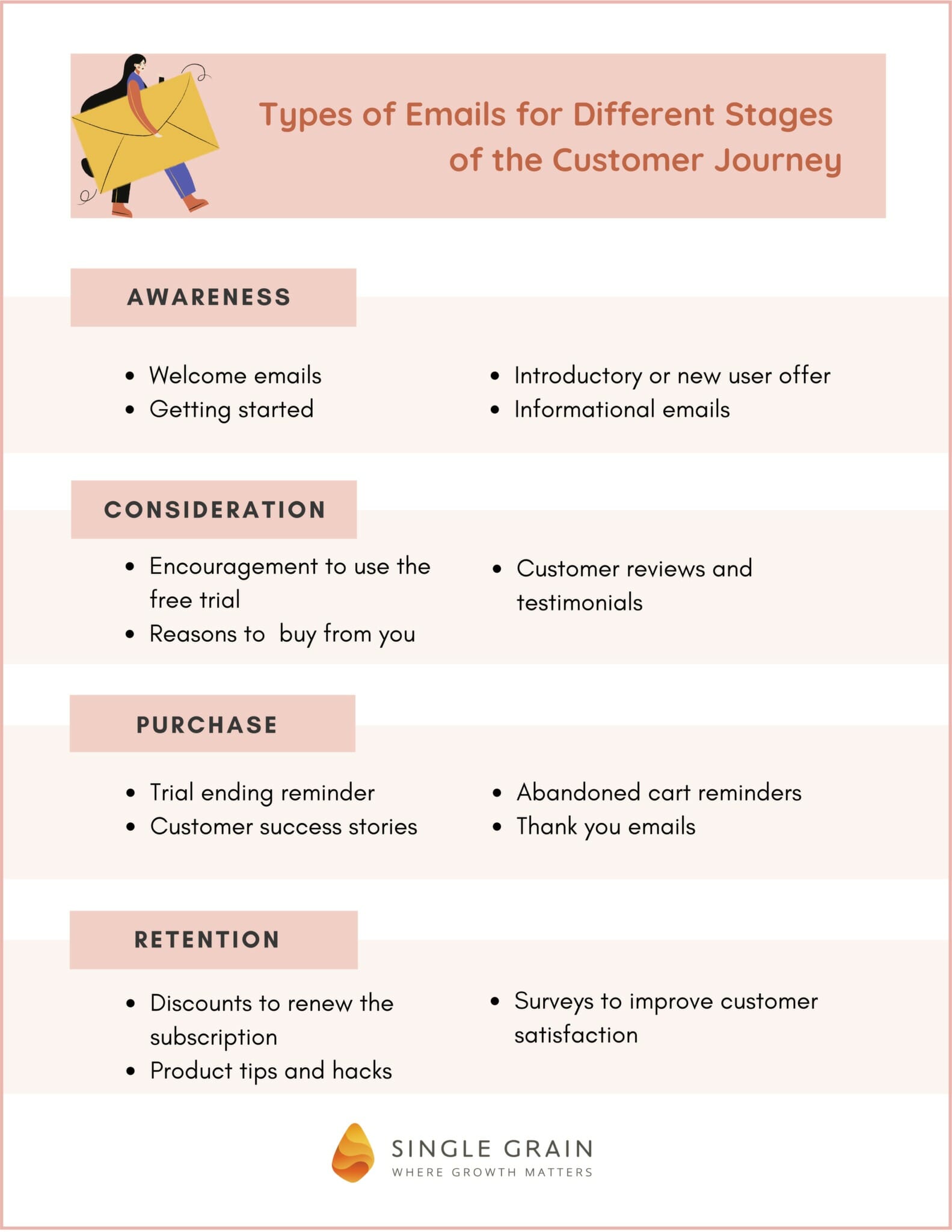 Dive Deeper: What's the Right Content for Each Stage of the Marketing Funnel?
4) Automate Email Marketing to Scale Quickly
Connecting with your subscribers at a personal level can seem daunting, especially if you have thousands of customers in your email list. That's where automation can help. مال مجاني
With email marketing automation, you can trigger emails based on the user's behavior on your website, create drip campaigns, and track performance metrics.
To automate email marketing, Sendinblue and MailChimp are the two best software. Set rules to send the right email to the right person at the right time. For instance, you can initiate a welcome email immediately after a user signs up. You can also trigger a "trial ending" email 3-4 days before to remind users to upgrade to a premium version.
Dive Deeper: What Is Marketing Automation: Definition, Benefits & Uses
5) Use Branding at Every Stage of the SaaS Buyer Journey    
In a SaaS buyer journey, prospects interact with different people (sales, tech team, support team, etc.) in your organization via email. Make sure to follow good SaaS branding practices to build authority and credibility. لعبة تربح فلوس
That means using a consistent tone for your SaaS brand. For instance, if you use a formal tone in your emails, make sure the entire organization uses the same tone. That way, no matter who sends the emails to the customer, the tone, or voice, remains consistent.
In addition, ensure that email signatures across the organization remain the same. You can use a tool like Office 365 Signature Management from WiseStamp to create a global signature for your entire organization. Here's a great example of SERanking using branding in an email signature: The image, brand name, website and contact information are all part of the signature. No matter who sends the email from the company, these things remain the same.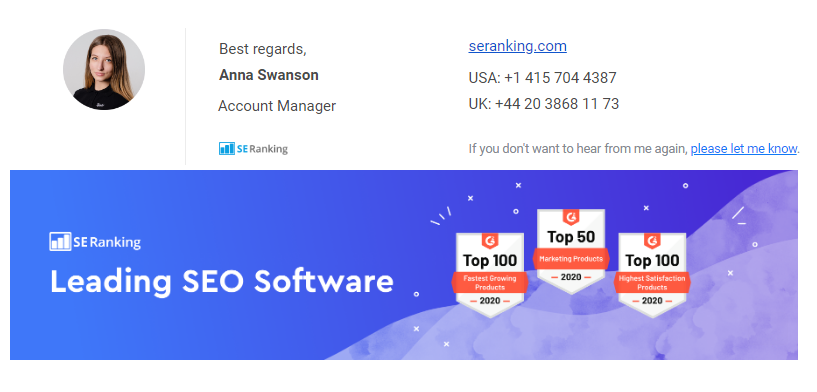 Dive Deeper: Buyer's Journey 101: What Your Email Data Says About Your Customers
6) Send a Mix of Informative and Promotional Emails
A word to the wise:
Send only promotional emails, and you will see an increase in the unsubscribe rate.
Deliver only educational or informative emails, and you might not generate any sales.
The primary motive of email marketing is to build a long-lasting relationship with your audience. Thus, it is essential to send a mix of both informative and promotional emails.
A good educational to promotional email ratio is 3:1.
This helps you position yourself as a go-to guide to assist your subscribers in solving their problems.
7) Ignite the "What's In It for Me" Factor
Your subscribers don't care about your product or upcoming event unless it benefits them. Hence, make sure that your email copy clearly highlights what's in it for them.
For instance, sending emails saying this might not get you many registrations:
"We're hosting a webinar on the topic 'how to improve your website's performance'."
But by tweaking it to something like this, you can get more people to sign up:
"We're hosting a webinar where you will learn how to maximize your site's performance, increase your website's rankings, and generate more sales."
After you write an email, read it as if you were a subscriber. Would you care if you received the email? Would you take the desired action immediately? If not, re-write the copy.
8) Allow Subscribers to Decide What They Want to Receive
By allowing subscribers to fine-tune their preferences, you achieve two things:
First, the engagement rate will increase because they will receive only emails that interest them.
Second, you get a better idea of their pain points, which will enable you to tailor your content accordingly and increase the chances of conversion.
For instance, SEMrush sent me an email asking me what kinds of emails I wanted to receive: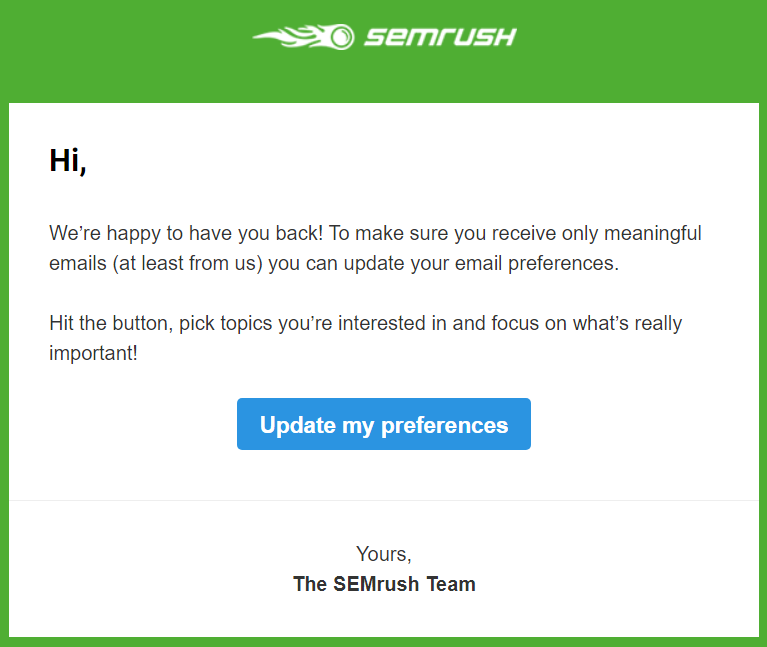 When I clicked on the "update my preferences" button, it took me to a page that provides detailed information on the types of emails I can choose to receive: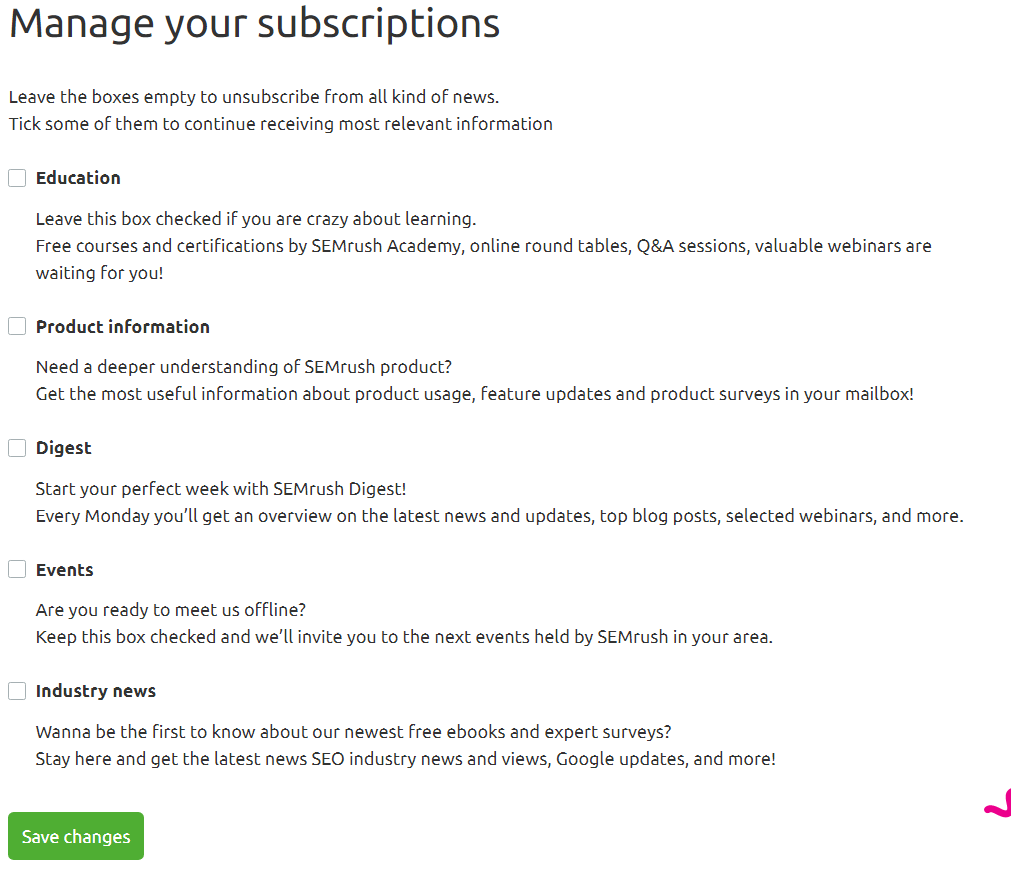 Dive Deeper:
* Is Netflix a SaaS? 25 Examples of SaaS Companies that Are Rocking It
* How Adobe Does SaaS Marketing: A Case Study
* 10 SaaS Business Lessons from $1B+ Unicorns (like Slack, Twilio, Lyft)
9) Curate a List of the Best Content in Your Industry 
By curating a list of the best content in your industry, even those not written by your brand, you indicate that you care more about providing value to your subscribers than promoting your product. This helps build trust with recipients, thereby increasing the chances of conversion in the long run.
Another benefit of curating a list of the best content is that it ensures that you send highly valuable emails regularly without investing a huge amount of time in creating them. كيفيه لعب البوكر
For example, Kinsta sends a weekly email consisting of links to their blog posts and other articles that might interest the recipient: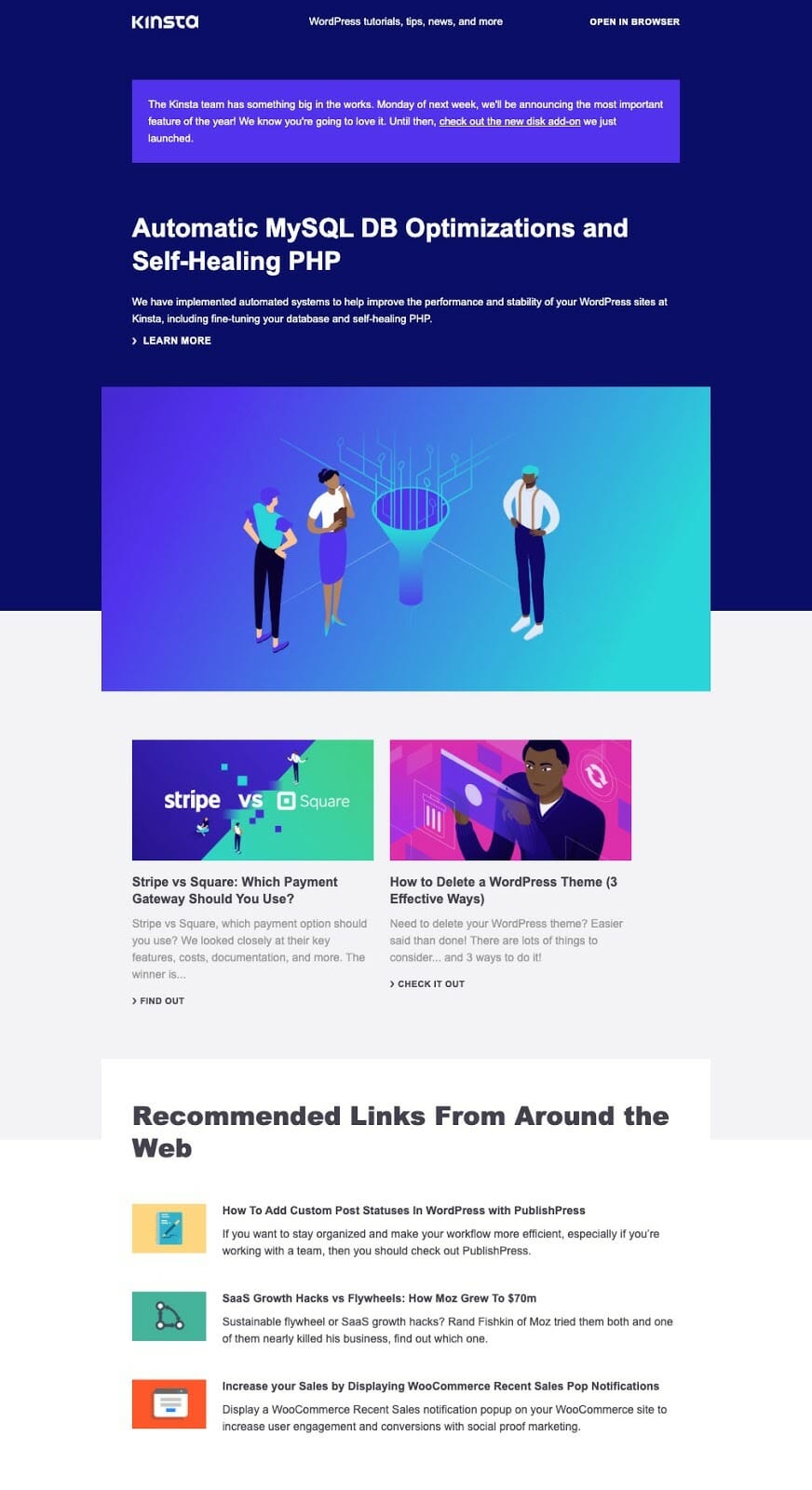 10) Incorporate Videos and Power Words into Your Email
Videos make it easy to understand even the most complex topics. By embedding a video in your email, you can capture your subscribers' attention, increase engagement, and build a long-term relationship.
Open rates by 19%
Click-through rates by 65%
And reduce the unsubscribe rate by 26%
The best way to incorporate video is by uploading it on YouTube and then embedding the link in emails.
Additionally, use power words in your email to improve its performance. Power words evoke an emotional response in the subscribers, encouraging them to take action. These power words work well in emails (especially the subject line):
Invitation
Introducing
You / Your
Update
New
See
Notification
How to
Special
Offer
Join
Free
Get
Here's an example of an email from Unbounce that uses videos and power words to promote a conference. It includes terms like "see," "today," "give," "act quickly" and "you":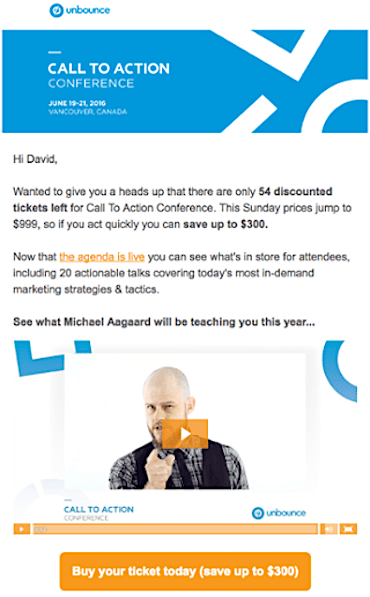 Dive Deeper: The Types of Videos to Use at Each Stage of the Marketing Funnel
11) Don't Ignore Inactive Subscribers
Don't give up on inactive subscribers too soon! They might not need your product right away, but they have shown interest in your product at one point. Thus, make the effort to (re)build a relationship with them, and they might purchase from you in the future.
Here are some ways to re-engage inactive subscribers:
Ask a question in the subject line of your email, such as "Are we still friends?" or "Hey [name], are we breaking up? Please say no!" You can use effective copywriting strategies to increase responses.
Give limited-time discounts to entice users into re-subscribing to your product.
Remind users why they signed up for your email in the first place. Give them reasons to engage with your emails.
Send a survey or questionnaire to understand why they are no longer engaging with your emails.
Examine the subscribers' past activity and purchases to understand their interests and tailor the content accordingly.
Here is a great example of a re-engaging campaign. It consists of a picture of a sad dog, indicating that the brand is not happy because the recipient is not engaging with its emails. It also highlights the reasons to stay subscribed, along with a CTA to do so: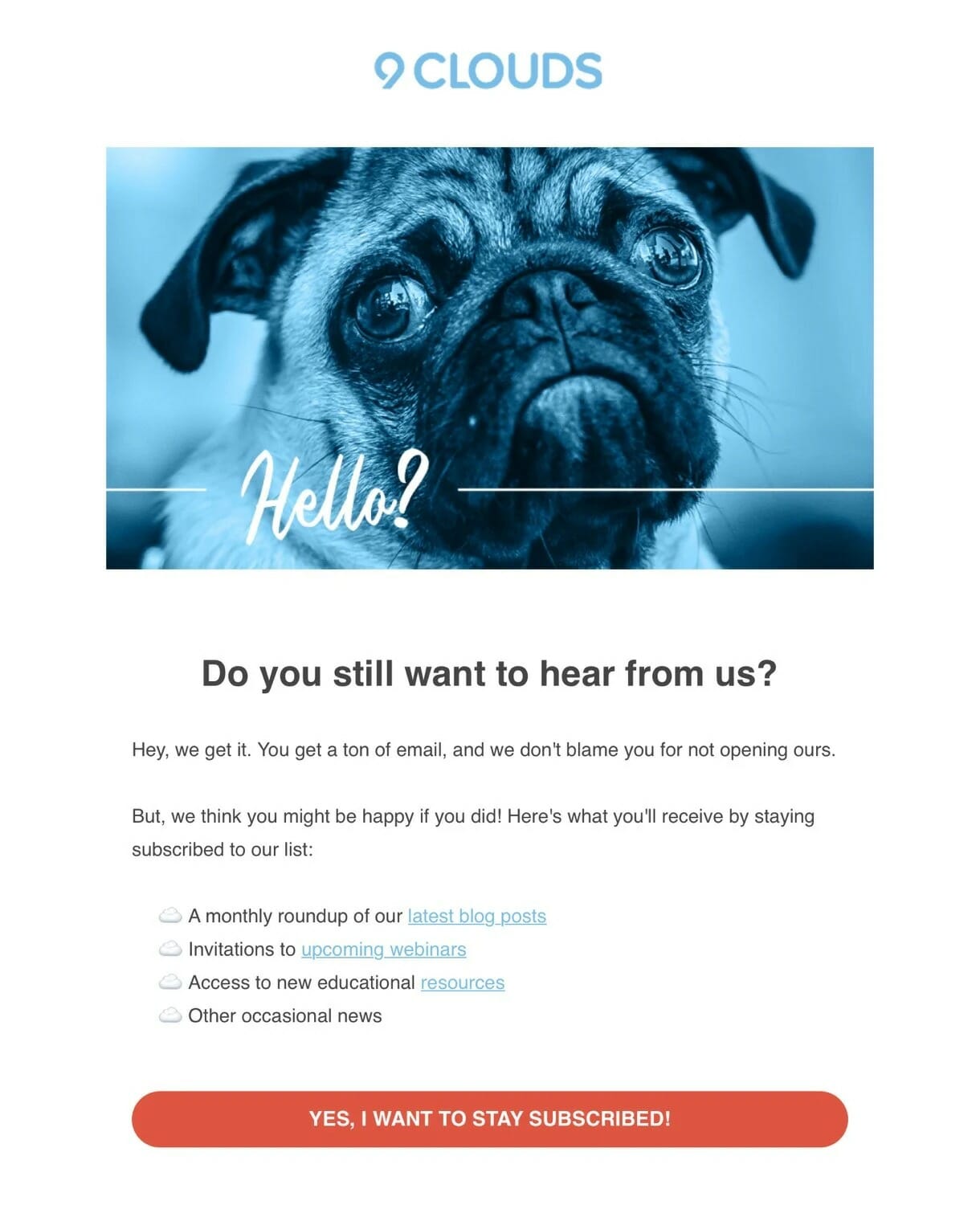 Dive Deeper: 5 Ways to Re-Engage Those Long-Lost Customers
12) Determine the Right Time to Send Emails for Better Engagement
It might be tempting to send emails to subscribers as soon as you launch new features or publish a new blog post. However, it is imperative to wait for the right time to send emails in order to increase engagement.
The best way to find the right time for emails is by analyzing past engagement details. Check your analytics to see which day of the week and time of day the most emails were opened and clicked. You can also run tests to understand the best time, day and frequency of emails.
You also need to decide on the right email frequency. Send too many, and you might annoy your subscribers. Send too few, and they might forget about you. The best way to determine the email frequency is by asking your subscribers.
Tip: Avoid sending more than one email in a day. This helps prevent frustrating your leads and build their interest in your brand.
Takeaway: SaaS Email Marketing Tips
When done the correct way, email marketing can help your SaaS business acquire new customers, retain existing ones, and build a loyal following. The 12 strategies mentioned above are tried and tested to deliver the best results.
Hopefully you learned how to get started with SaaS email marketing, but if you just want a SaaS agency to do all the work for you, click the orange button below!