Top 5 OpenSea Alternatives
Throughout 2021, we saw a rise in popularity in Non-Fungible Tokens and NFT marketplaces. These new asset classes in the crypto space have shown a penchant for making waves in the industry. NFT marketplaces are online markets that offer users and investors a way to buy, sell, or trade their NFTs.
The best NFT marketplaces offer their services to anyone interested in being part of this amazing and exciting industry. A handful of these digital marketplaces dominate the market. OpenSea, for example, is perhaps the most recognized name among NFT marketplaces.
But what if you don't want to use OpenSea? Fortunately, there are plenty of alternatives available.
What Is OpenSea?
Of course, you may be asking, what the heck is OpenSea?
OpenSea is a digital marketplace for crypto collectibles and NFTs. Founded in 2017, it's one of the most popular NFT marketplaces in the industry. Investors, collectors, and enthusiasts can all use OpenSea to buy, sell, and trade the NFTs they want.

As the world's first and largest peer-to-peer NFT marketplace, OpenSea is considered by some as the "eBay of the blockchain world." This is primarily due to the virtual collectibles, game items, and digital goods available through the platform and secured by cryptographic technology.
With OpenSea, anyone can trade their digital collectibles with anyone else in the world. With more than 4 million items on the platform, it's no wonder OpenSea is the largest marketplace for virtual goods. Plus, it doesn't hurt that users can access the market through a web browser or an Android or iOS device.
Why You're Looking for an OpenSea Alternative
There's no such thing as a perfect platform, and OpenSea is no exception. Even with its millions of items, there are still a few reasons to look for an alternative to OpenSea, such as…
Don't Want to Use Crypto
If you're deeply involved in the crypto space, you may wonder why this would be a drawback. There are still a large number of people who would prefer to use fiat money (i.e. physical currency), even when accessing crypto platforms. Therefore, the inability to pay for digital goods with fiat currency can turn off those who want to get started in the market.
Unfortunately, this also stunts growth, preventing new users and investors from accessing the market. Digital markets like OpenSea need to draw people in and meet them where they are, and if that involves accepting fiat, then so be it.
Interested in Other Marketplaces
It's no secret that OpenSea is a great place to sell your NFTs. However, there are plenty of other options available (which we'll explore momentarily). If you want to expand your customer base or reach into other regions, niches, or countries, it makes sense to look for other digital marketplaces.
Market Saturation
A third reason you might consider an OpenSea alternative is market saturation. OpenSea is where everyone goes to buy and sell their NFTs. It's a crowded marketplace. For buyers searching for something special or sellers looking for new buyers, looking at OpenSea alternatives isn't a bad idea.
Lack of Support
Unfortunately, lack of support is a common complaint about many crypto platforms and exchanges. When a problem arises, it's nice to know that you can reach out to someone and get the assistance you need. This is an area where OpenSea could improve. While the platform offers some basic help pages, the ability to interact with a real person would make it much more appealing.
Dive Deeper:
* How to Promote Your NFTs the Right Way
* What Are NFTs and How Do They Help Business?
* 5 Examples of Brands Using NFTs to Monetize Their Work

What to Look for When Choosing an NFT Marketplace
There is plenty to consider when selecting the NFT marketplace that makes the most sense for you, so consider the following points as you make your decision:
What Interests You
As you narrow down your options for the right NFT marketplace, take a moment and ask yourself, "What type of NFT interests me?" The good news is that there are plenty of choices. Do you want digital art? What about music? Are you interested in games? Deciding which type of NFT you want can help determine which OpenSea alternative you should use.
Fees
One of the most important things people forget about when using digital marketplaces is the fees. They'll often get all the way to the payment page only to be greeted with a significant transaction fee. Don't let that happen to you.
Do your research beforehand so you'll know exactly how much you're going to pay in fees. Keep in mind that what one platform considers transaction fees might be called something else on another.
For instance, Ethereum fees can go as high as $50 per transaction, while Binance fees for simple transfers can be as low as $0.10.
Market Volume
Another important question to consider is, "How much volume does the marketplace have?" For example, where would you buy Bitcoin? Would you use a platform with a significant amount of transactions between buyers and sellers or one with minimal volume? The same applies to digital marketplaces. If you plan to buy and sell your digital goods, you need a platform that offers plenty of volume.
Liquidity
Along the same lines as market volume, you want a platform that offers plenty of liquidity. If we stick with the Bitcoin analogy, large exchanges make Bitcoin very liquid. You can buy and sell anytime you want. While NFTs aren't as liquid as digital coins, if you choose a market that doesn't offer decent liquidity, you may be looking at a long-term commitment between you and your NFT.
Top 5 OpenSea Alternatives
Now that you know what to look for, here are five of the best OpenSea alternatives.
Rarible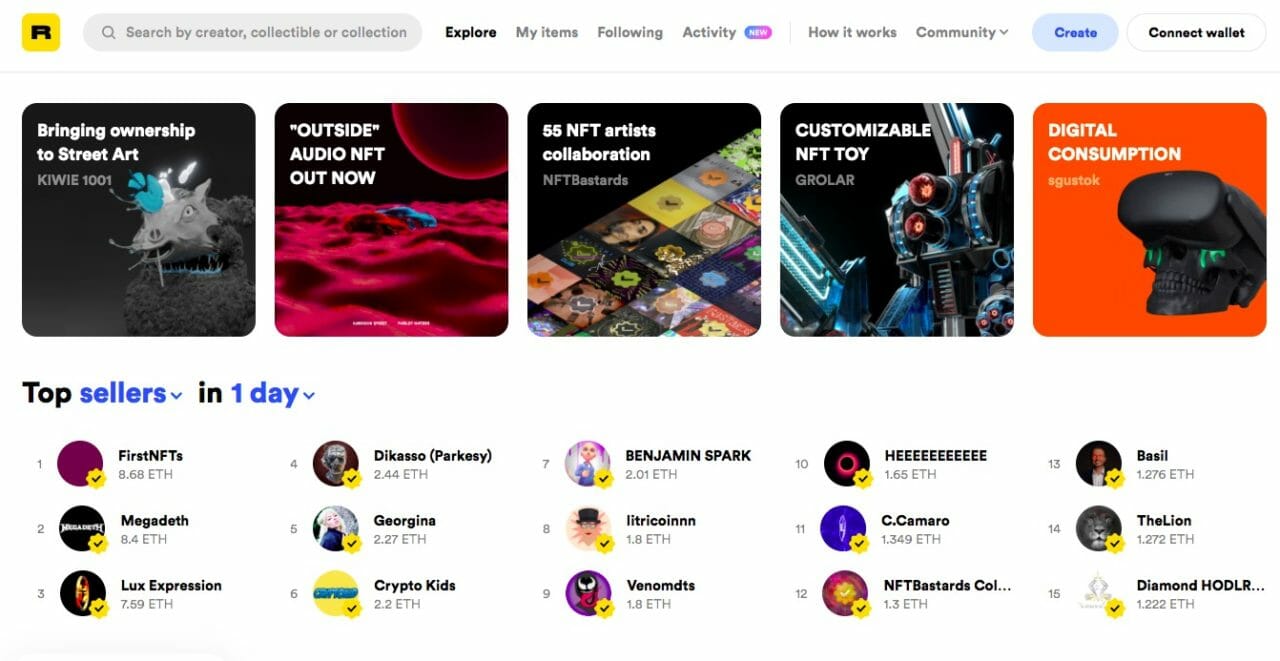 Aside from OpenSea, Rarible might be the most recognizable digital marketplace in the industry. If you want a digital marketplace that has it all, Rarible is an excellent alternative to OpenSea. The platform breaks its NFTs into categories such as art, games, music, photography, domains, and many others.
Rarible is an ideal platform if you're looking for a marketplace with plenty of volume and verified creators. The platform uses badges to confirm and authenticate creators, so you know your NFT is legitimate. Plus, you can see your Rarbile NFTs on OpenSea, which is helpful if you plan to use both platforms regularly.
Top features of Rarible include:
Mobile application support
OpenSea integration
Uses RARI token for governance
Supports MetaMask, WalletLink, and Formatic wallets
Offers direct messaging app that lets creators and users communicate
Buyers and sellers both pay a fee of 2.5% of the sale, which serves as the listing fee on the platform. However, the seller can choose to take on the entire fee, which is 5% of the transaction price. Keep in mind that Rarible doesn't use fiat currency, so you'll have to pay that fee in crypto.
Mintable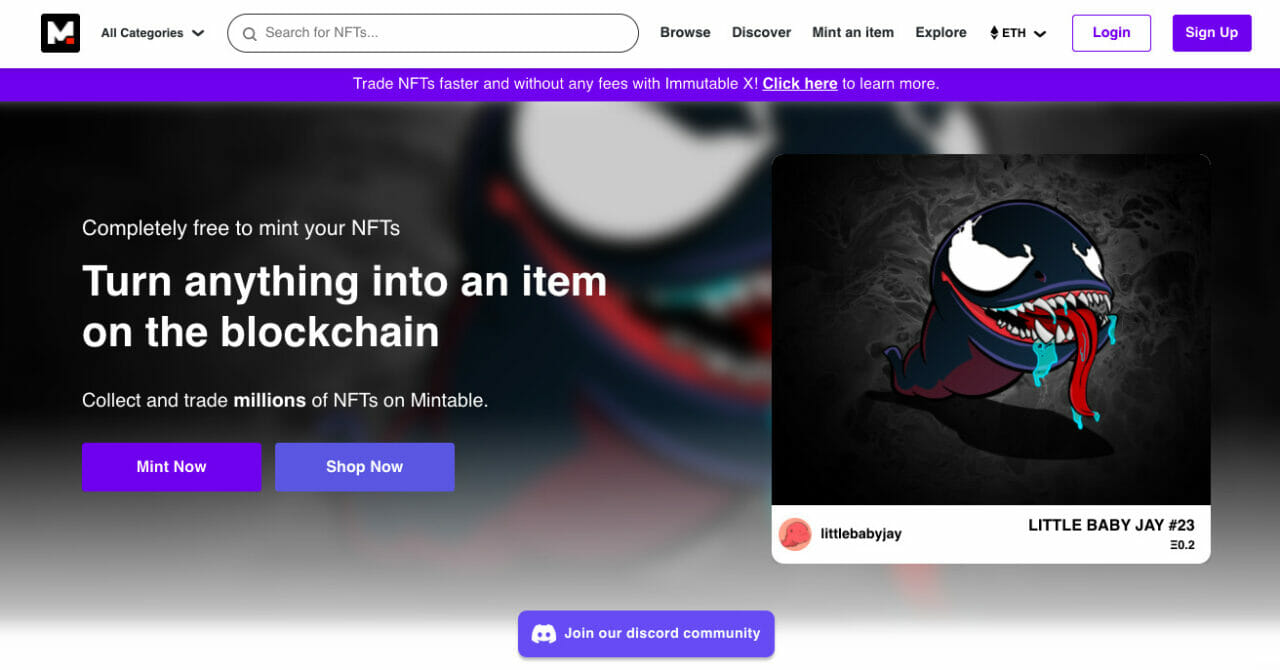 The second OpenSea alternative on our list is Mintable. This Singapore-based NFT marketplace launched in 2018 and allows users to buy, sell, trade, and mint NFTs to their heart's delight. You'll find plenty of categories available on Mintable, including art, games, music, and collectibles. Plus, Mintable now supports USD, so if you want to use fiat currency, Mintable could be the way to go.
NFT creators like Mintable because it allows for "Lazy Minting." This means creators can put their work on the marketplace without having to pay the gas fees upfront, which is what many other platforms require. Mintable also supports videos and e-books if you're looking for a little more diversity in your NFTS.
You'll get the following features when using Mintable:
Lazy minting
Simple and easy to use website
Live chat functionality through Discord
Supports Ethereum and USD
Customer store and advertising packages available
Mintable charges 2.5% on nearly all platform items. However, there are a few exceptions. For example, you'll pay 10% on gasless and printable items. In addition, while you can create items for free on Mintable, you will pay more in transaction fees when you go to sell them.
SuperRare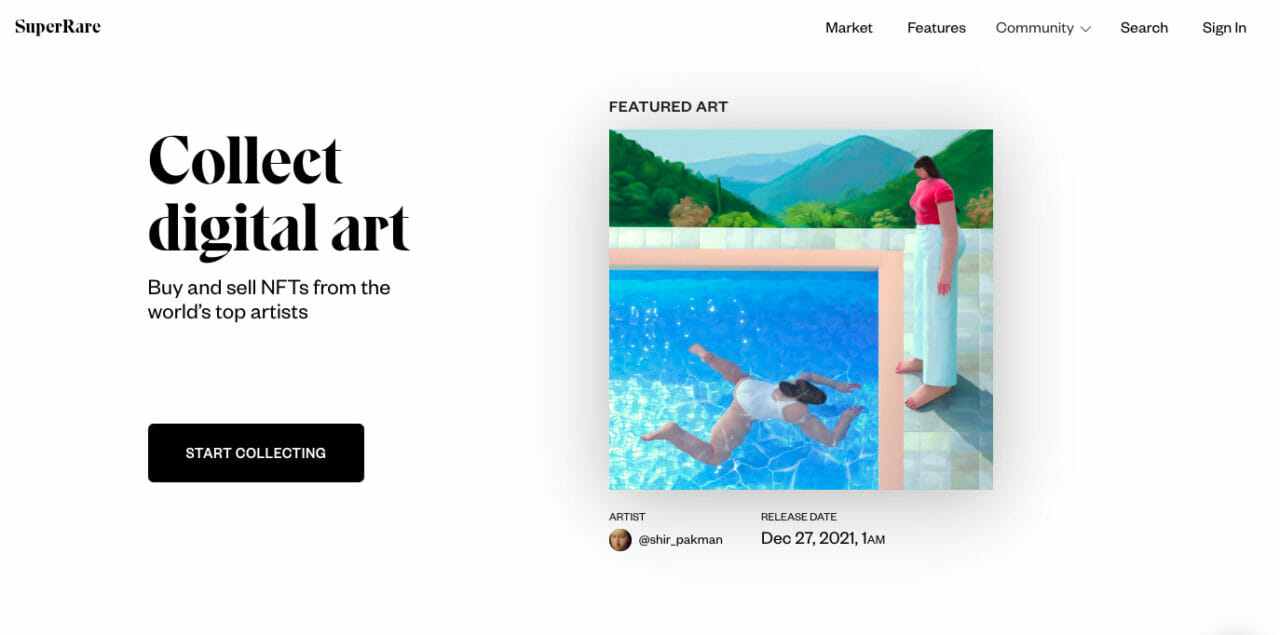 SuperRare is an Ethereum-based digital marketplace for rare and exotic items based in Delaware. Creators can only list items on the platform if they're invited to do so, which is what makes SuperRare so appealing. Only the best and highest-quality items are available on the platform.
With SuperRare, users can quickly and easily find what they want since there aren't a lot of items cluttering the site. If you're into new and budding artists and artwork, SuperRare is the digital marketplace for you. In addition, the platform regularly promotes new releases, which is another way it supports its artists.
Features available on the SuperRare platform include:
Access to exhibitions and special releases
Single-edition digital artwork
Shared contracts with other artists
DAO puts the platform in the hands of the community
$RARE token used for governance
SuperRare has plenty going for it, including transparency in platform fees. For starters, every time an artist sells an item, they receive 85% of the purchase price. Additionally, all sales include a 3% marketplace fee, which the buyer pays.
Dive Deeper: How Social Tokens Will Change Marketing Forever
KnownOrigin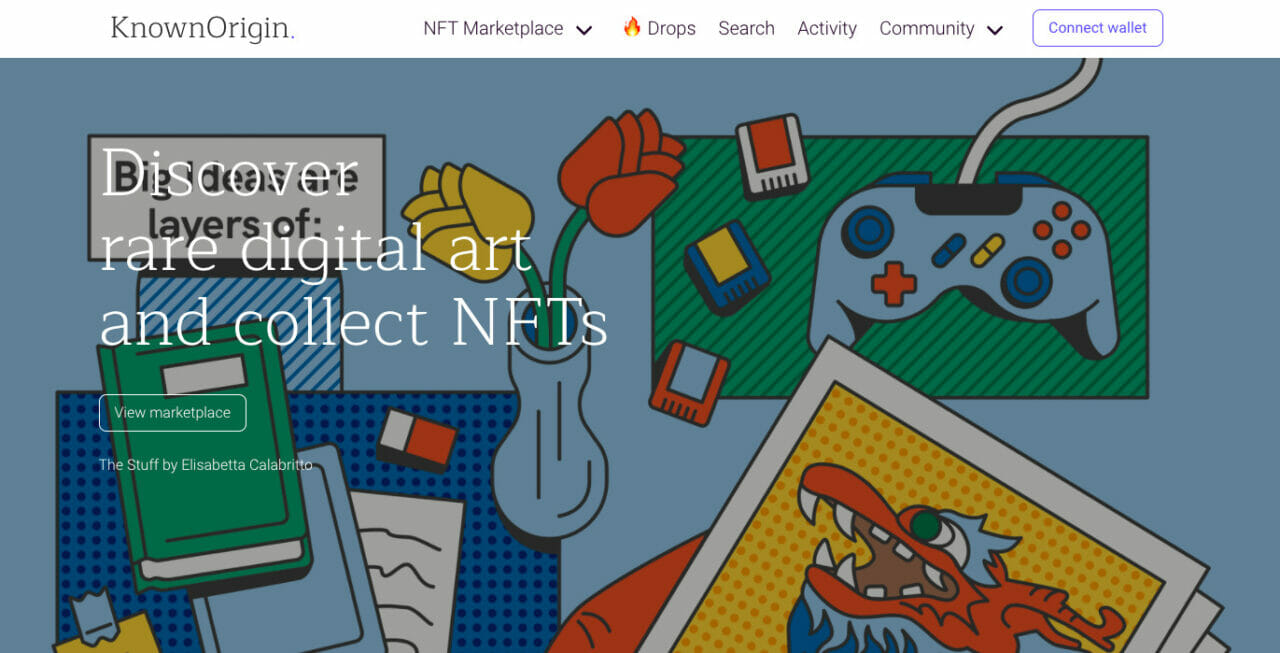 KnownOrigin is a lot like SuperRare in that it only offers curated, professional items to its users. These gallery-like, high-quality pieces are perfect if you consider yourself a discerning NFT collector. Unfortunately, the platform doesn't do a lot of volume, so if you're not planning on holding on to your NFTs, Known Origin probably isn't the platform for you.
You'll only find an emphasis on digital artwork when using the KnownOrigin platform. That means you won't find any of the outlandish or "uncouth" images you'll find on other, more open platforms. As a result, you're not likely to find wacky avatars on KnownOrigin. If that's what you're looking for, you're better off going somewhere else.
Features available with KnownOrigin:
Buy NFTs with debit and credit cards
Shareable gallery links
Formatic, MetaMask, and WalletConnect support
Dedicated portal for artists to print NFTs
Curated collections and content
KnownOrigin gives 85% of the purchase price to all artists on the first sale. The remaining 15% goes to the platform as a commission fee. Secondary sales are split as follows: 85% to the seller, 12.5% to the artist, and a 2.5% commission fee.
Foundation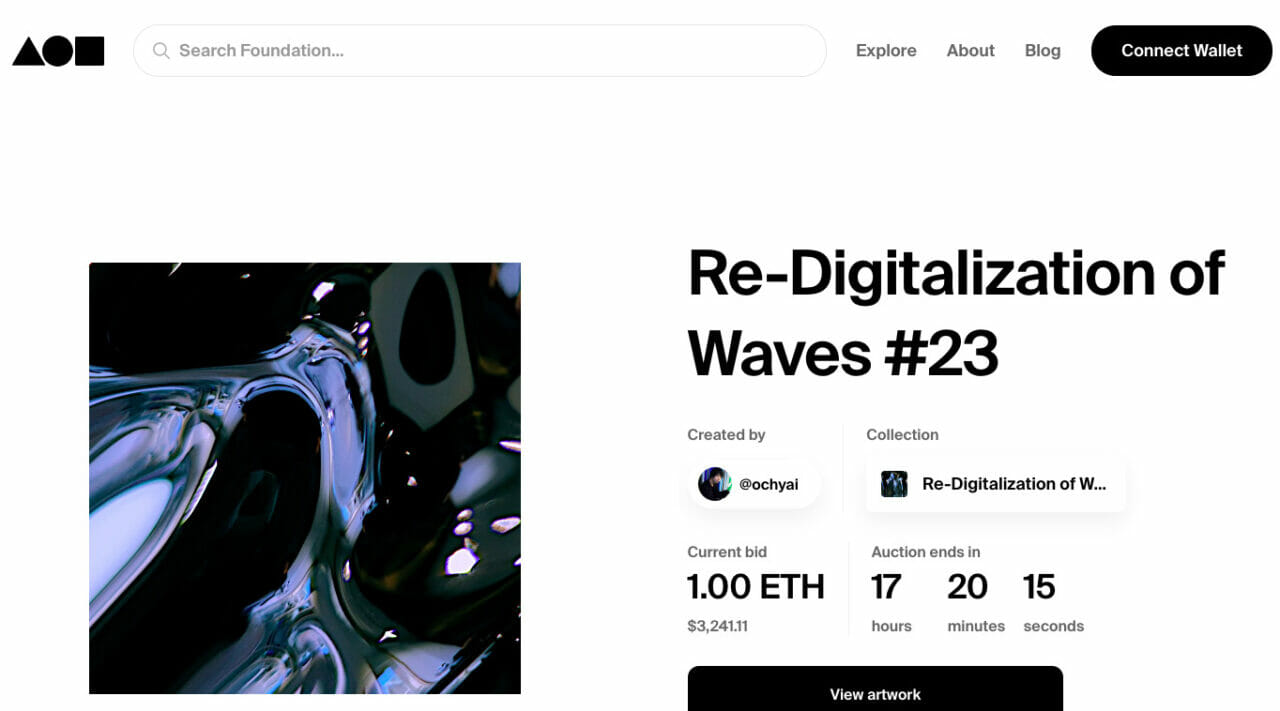 The last OpenSea alternative on our list is Foundation. This digital marketplace refers to itself as a "creative playground" for NFT creators. With a trading volume exceeding $79 million, users on the Foundation platform will have no trouble buying, selling, and trading their favorite NFTs.
One fun thing that Foundation incorporates into its platform is timed auctions. Add some excitement to buying NFTs by bidding on them much the same way you would on other auction sites. However, Foundation is an invite-only digital marketplace, but if you know someone already creating on the platform, they can send you an invite.
One last thing to note about Foundation is that it's the platform known for Nyan Cat:
There are plenty of features available through Foundation, including:
Live bidding on auction items
Supports MetaMask and Torus wallets
More serious collectors and investors
Great for finding new artists and exhibits
Foundation's primary market offers all artists 85% of the initial sale price. A 15% service fee is taken out and kept by the platform as a service fee. For the secondary sale of an NFT, the seller receives 85%, the original artist gets 10%, and Foundation gets the remaining 5%.
Dive Deeper:
* NFT Marketing: Everything You Need to Know to Get Started
* NFT Marketing Agencies: Best Way to Promote Your NFT Project

Dive Into OpenSea Alternatives
It's clear that OpenSea isn't the only digital marketplace in the NFT industry. There are plenty of alternatives available for anyone who wants to get involved in the market. Whether you want to create your own or purchase rare or valuable items, there's a digital marketplace for you.
Single Grain can help you take the next steps in your NFT journey. Click below to schedule your free NFT marketing consultation. 👇