5 Best NFT Marketplaces for Beginners in 2023
Let's be honest. We're all beginners in the NFT space. It's a new concept and there are plenty of pioneers willing to test the waters. That's why you're here.
NFT marketplaces are important for those who want to get their feet wet and learn by doing. It only takes a few minutes to set up an account on these marketplaces and it takes even less time to create an NFT. These are the easiest places to get started, so beginners will learn quickly and be up and running in no time.
In this article, we'll address the best NFT marketplaces for beginners, why they're the best, and how you can easily get started.
What Are NFT Marketplaces?
NFTs are the newest crypto asset class and marketplaces make it possible to create them. NFT tokens have unique identifiers that make them one of a kind. Every NFT is different, and it's attached to an individual asset. This asset could be a painting, a picture, or a piece of property.
NFT marketplaces are specific online platforms that enable users to store, create, buy, sell, and trade NFT tokens. They are basically Amazon-like marketplaces for digital-only assets. 
Art and digital assets are some of the most commonly available NFTs on NFT marketplaces because they're highly unique and desirable. NFT marketplaces service this growing sector of collectors and prospectors by providing a central location for these people to find and purchase one of the most exciting asset classes in 2023: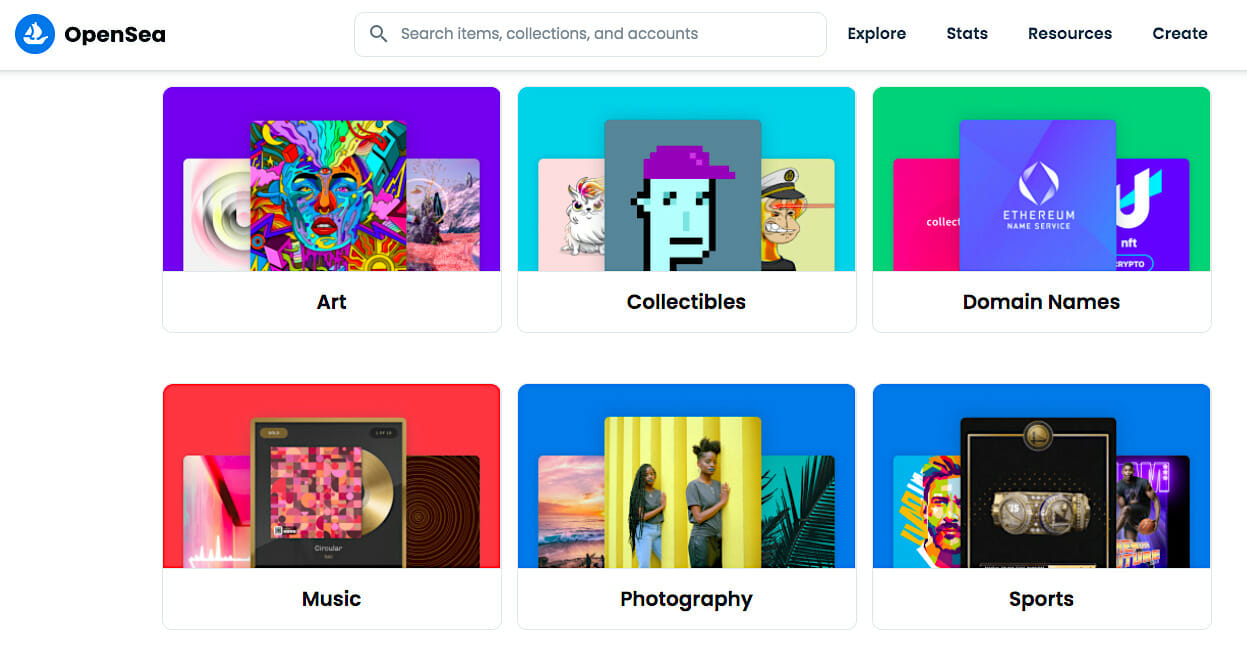 NFT marketplaces allow users to create or browse NFTs. Some marketplaces curate what you see on their homepage while others are more open to displaying anything. NFTs can be purchased at a fixed price or through an auction.
Ethereum is the largest system that supports NFTs, but there are others. Art and universal marketplaces are the most popular, but again, there are other types, like virtual real estate, digital collectible cards, and in-game items.
While some marketplaces are specific to certain dapps (decentralized applications), others are not. There are also some NFTs that require you to use your wallet to fund your NFTs at creation, while other marketplaces simply take a percentage of the sale once your NFT is purchased.
You need a crypto wallet to dabble in the NFT space, but for beginners who don't have any crypto yet, it's easier to use a marketplace that doesn't require you to fund your NFTs up front.
Let's take a look at different marketplaces with a variety of regulations so you'll have a better idea of which might be best for you if you're just starting out.
Dive Deeper:
* How to Promote Your NFTs the Right Way
* 5 Examples of Brands Using NFTs to Monetize Their Work
* NFT Marketing: Everything You Need to Know to Get Started

5 Best NFT Marketplace for Beginners
Now that we know what NFT marketplaces are, here are the five best options for beginners.
1) Rarible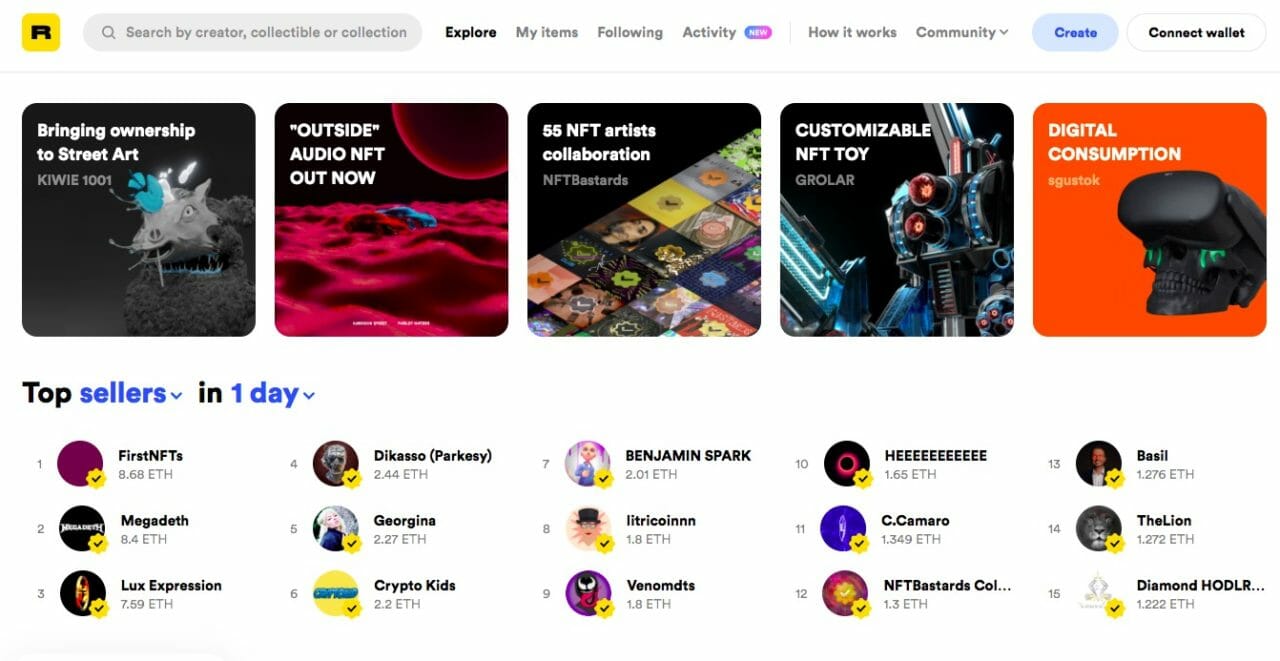 Rarible is perhaps the easiest NFT marketplace for beginners to understand. It was the first platform I tried when I was dabbling in it, and it took mere seconds to get set up and start creating NFTs of my own.
There are no barriers for entry on Rarible, so anyone can do it. They don't require your artwork to get approved before creating an NFT and you don't have to fund it up front, so beginners can easily try it out and learn as they go.
You first have to download the MetaMask crypto wallet extension in your Brave or Chrome browser and set up an account. This account then links to your account on Rarible and allows you to create, buy, sell, and trade NFTs using the crypto assets you have in your MetaMask wallet.
Rarible allows you to build an NFT portfolio of collections you like or invest in art you think might have a future. NFTs currently available on Rarible are art-oriented, but they do have a few other things.
2) OpenSea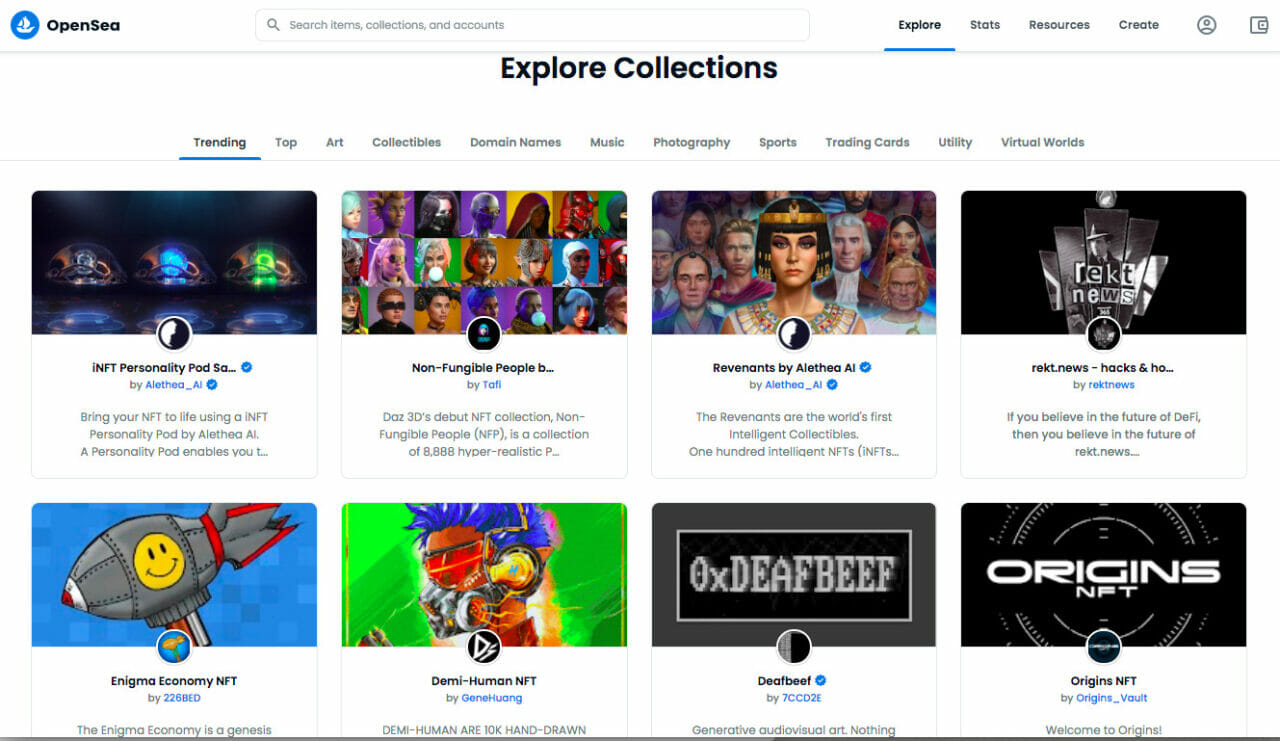 OpenSea is one of the most popular NFT marketplaces, and it's also a great place for a beginner to start if you're interested in more than just artwork. They have sports collectibles, domain names, trading cards, and virtual worlds available.
To get started with OpenSea, you have to connect your wallet, but they support over a dozen different wallets including MetaMask, Coinbase Wallet, WalletConnect, and Fortmatic: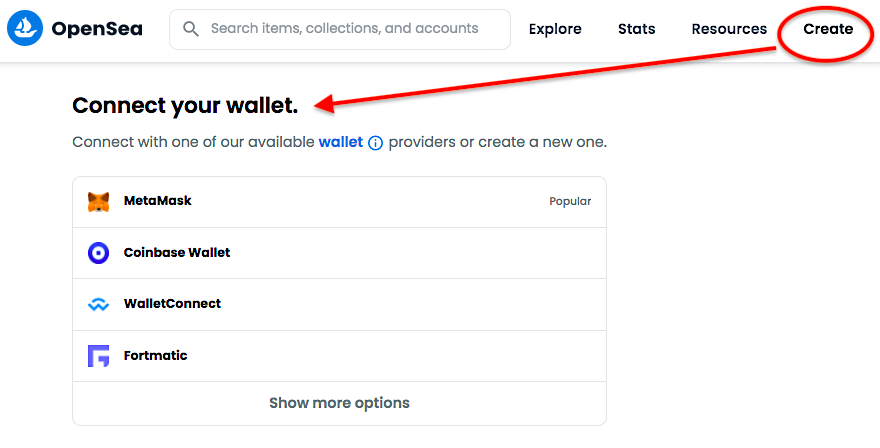 Like Rarible, OpenSea doesn't require you to fund your NFT up front, but they take fees off of the back end. This type of structure is called "lazy minting" because the item is not minted – i.e. publishing your NFT on the blockchain in order to make it available for purchase – until it's sold, at which point you pay any fees associated with it.
One of the unique things about OpenSea is that you can choose a specific duration when you put your NFT up for sale. If your NFT is only relevant for a certain period of time, you can select whether you want it to be for sale from a wide range of custom calendar options.
3) SuperRare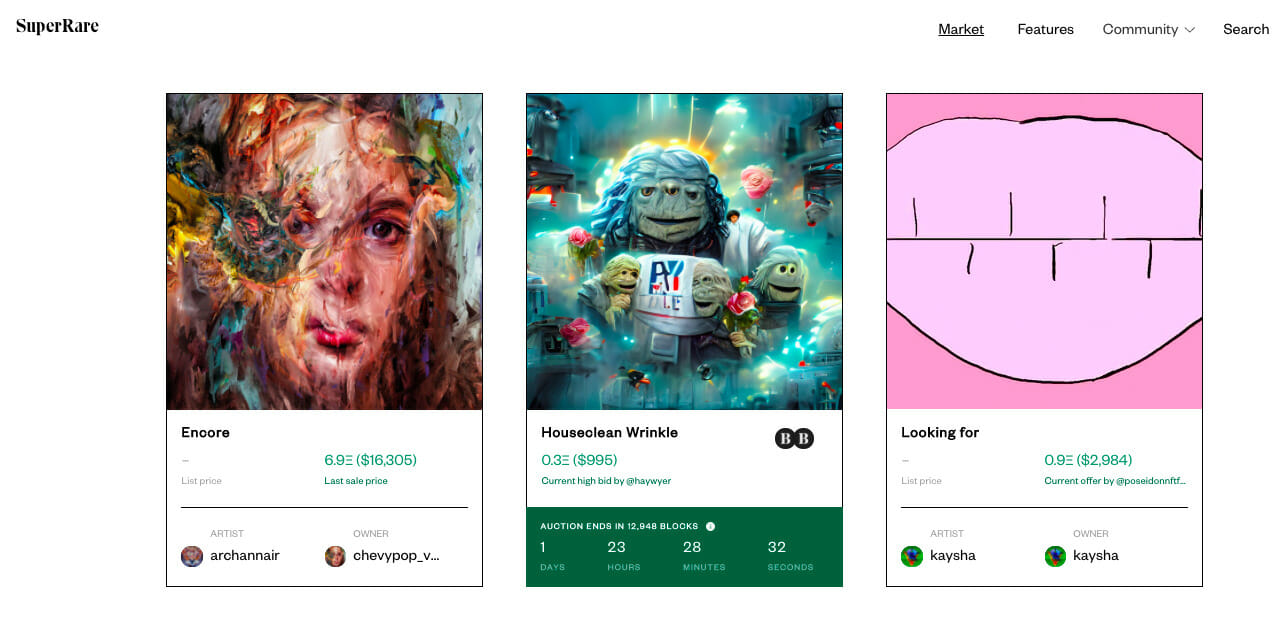 SuperRare is a lot like Rarible in that they primarily focus on art, but they offer more premium NFTs. It's a marketplace for more serious artists, and their collections are heavily curated by the site owners. To begin using SuperRare, all you have to do is connect your wallet using MetaMask, Fortmatic, or WalletConnect. However, not just anyone can mint an NFT.
SuperRare only hosts art-centric NFTs, and everything must be approved before being listed for sale. They have exhibitions, projects, and special releases. The seller pays to mint their NFTs up front and in order to use SuperRare, you have to have an invitation from an existing user.
The thing that makes this marketplace one of the best for beginners is that, despite needing an invitation, it's still very easy to use and a fantastic place for artists who want an alternative way to sell their creations.
4) Foundation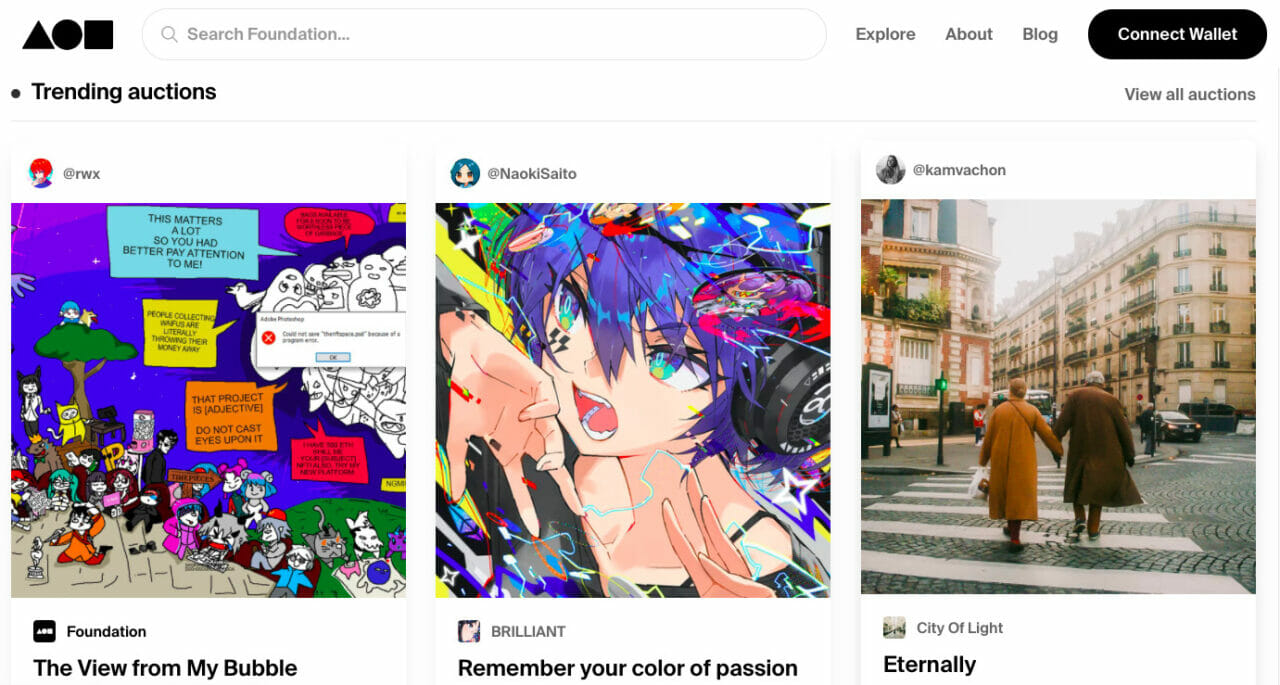 Foundation is one of the most popular NFT marketplaces, with a record all-time trading volume of almost $48 million. All you need to do to get started is connect your MetaMask or WalletConnect wallet and verify your social media account via Twitter or Instagram. This two-step verification cuts down on spam and makes sure all users are legitimate.
Not only can you mint your own NFTs on Foundation, but there's a community of members to help support you on your journey.
This is a great tool for beginners to learn more about NFTs, how they work, and get their questions answered when they run into hiccups.
Foundation is structured a lot like a social media network with followers, a news feed, and an activity log. This interface provides a familiar experience that makes the transition a lot easier for people who've never used an NFT marketplace before. By joining the Foundation community, you can encourage and support others and lead the curation of a community-led platform. Foundation returns the power to the creator's hands.
Currently, Foundation features artwork from all genres. The only downside is that you have to wait to be accepted before you can mint your own, but you can still bid and buy artwork from others.
5) Axie Marketplace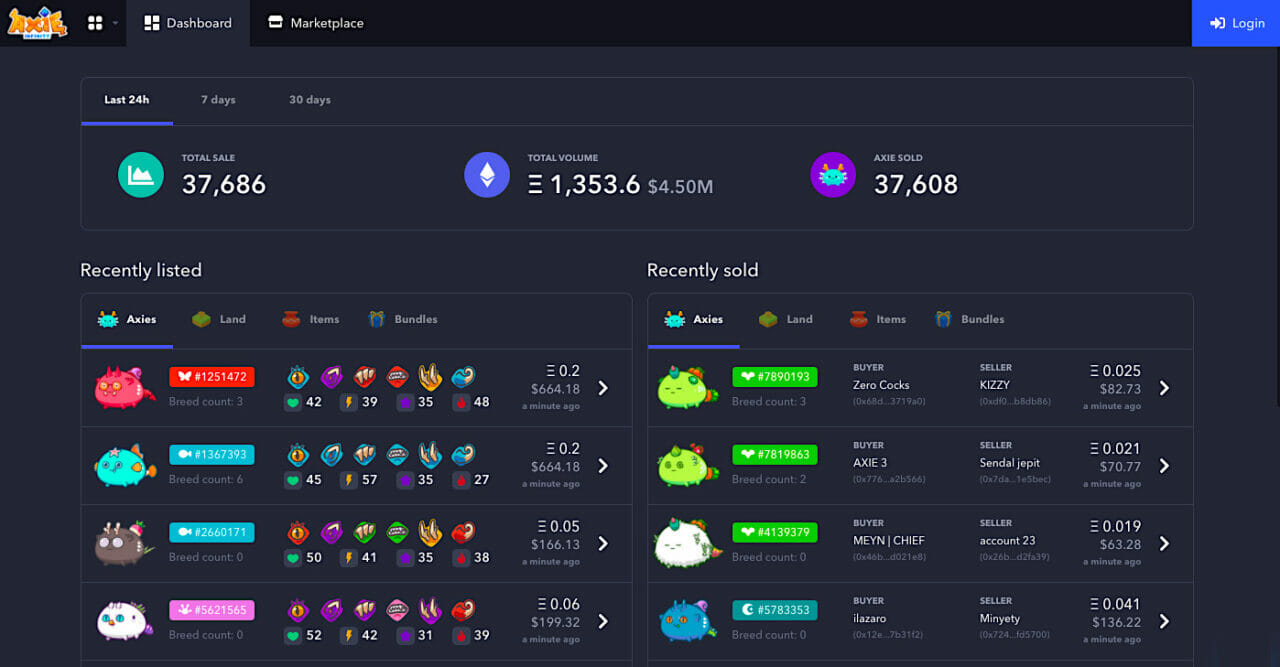 Axie Marketplace is the Tamagotchi pet of the NFT space. On this second-largest NFT marketplace, you can create, breed, buy, and sell characters. It's part of Axie Infinity, an NFT-based online game that allows you to play with your characters: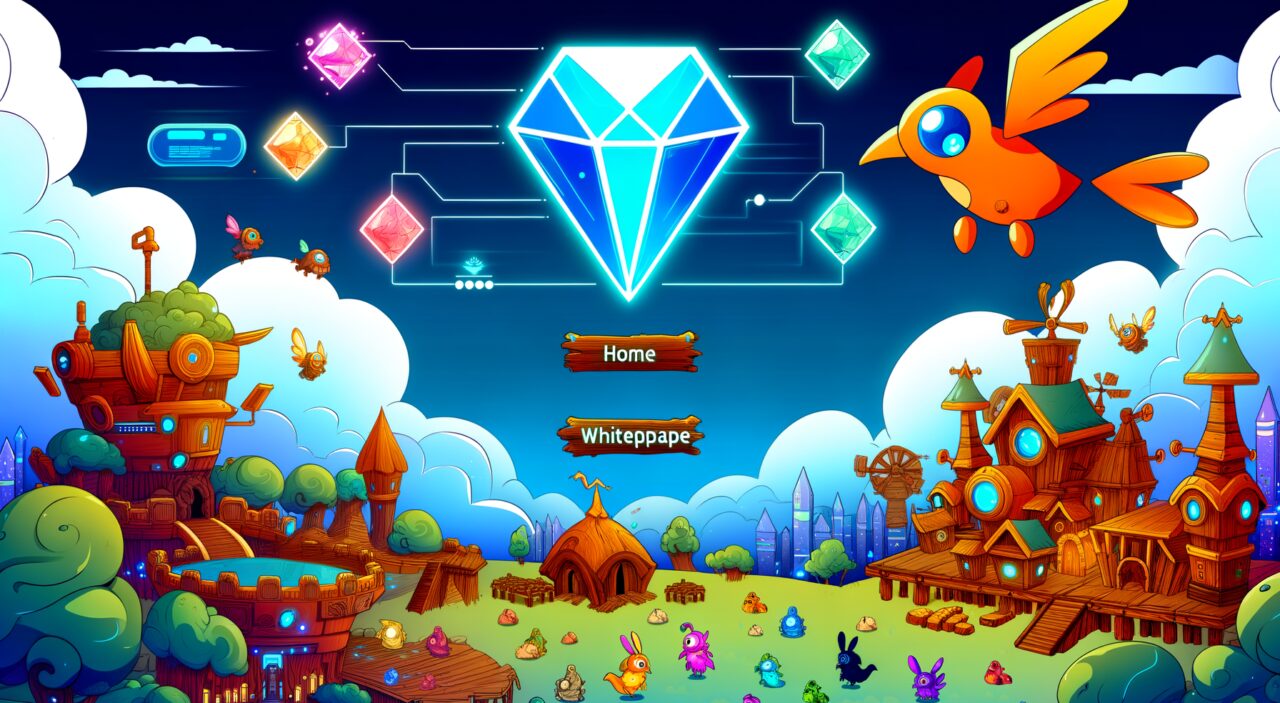 These characters are called Axies, and they're collectibles that are rapidly gaining in popularity. You can use your Axies to battle monsters and earn tokens when you win. Just connect your Ronin wallet to get started: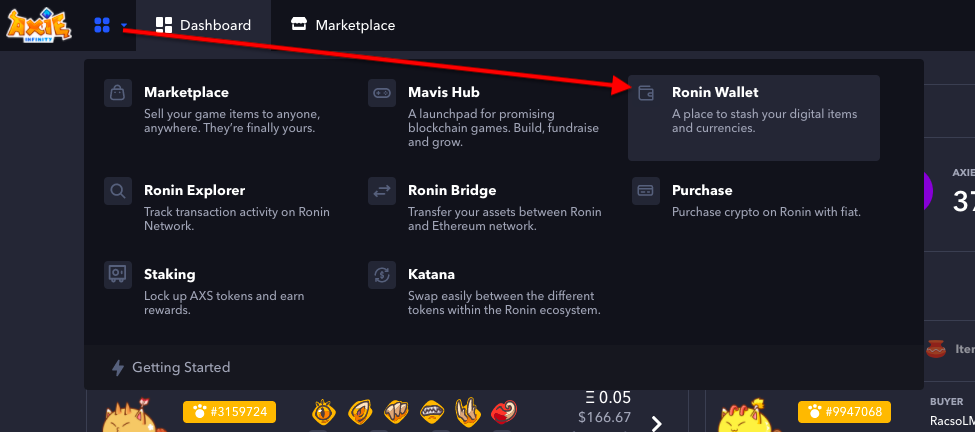 Currently, characters are the only NFTs you can deal with on the Axie Marketplace, but it's a fun way to dabble in NFTs, play a game, and learn more about how NFTs work before investing in something larger. While this is a great place for beginners to start, the only downside is that Ronin isn't quite as user friendly as MetaMask.
Dive Deeper:
* NFT Marketing Agencies: Best Way to Promote Your NFT Project
* How Social Tokens Will Change Marketing Foreverk
* What Is Web 3.0? The Future of the Internet

Final Thoughts
It's up to you which marketplace is right for you, but having a foundation of knowledge in the NFT space can help make the decision easier. After reading this beginner's guide, you'll quickly learn what you're looking for and be minting your own NFTs in no time.
If you're new to NFTs, they can be confusing, but you don't have to figure it all out on your own! Get a free NFT marketing consultation if you need some guidance navigating the NFT space. 👇
---
NFT Marketplace FAQs
Which NFT marketplace is best?
The answer depends on what you're looking for, but one of the best NFT marketplaces for beginners is Rarible, thanks to its ease of use and quick setup. Anyone can use it, and you don't have to be approved first.
What is the most popular NFT marketplace?
The most popular NFT marketplace by far is Foundation. They have a huge user base and their all-time trading volume is the largest of any other marketplace. The platform is incredibly secure, which is why so many people like it.
What is the best NFT app?
Enjin was one of the first wallet apps designed for NFTs and was designed with these types of digital collectibles in mind. While other apps have added NFT support, Enjin was built for it. They also have a built-in cryptocurrency swap in the app.