A lot goes into getting your online pages SEO-friendly so that they have the best chance possible to rank well in the SERPs. Plenty of marketers are familiar with the basics: you need to optimize for a designated keyword, include a meta description, and have a strong headline.
We've noticed, however, that there's one SEO criteria that a large number of brands consistently miss even if they're doing everything else correctly: Their SEO page title (aka title tag).
One study found that 36% of SEO experts believe that the SEO page title (the title that's shown in the search results) is the most important optimization element in on-page content:
Brands who neglect to create and optimize these title tags, therefore, could be derailing their progress and results.
Whether you're just learning about SEO page titles or could use a refresher (and some handy downloadable templates), this post will go over why SEO page titles are so important, best practices, examples, and SEO page title formulas to help you improve your blog post ranking.  
What Is an SEO Title? 
First, let's clear up one thing:
SEO titles are not the same thing as blog post titles.
Your blog post title (which will be your H1) will show up on your website's blog page and at the top of the post, like this example: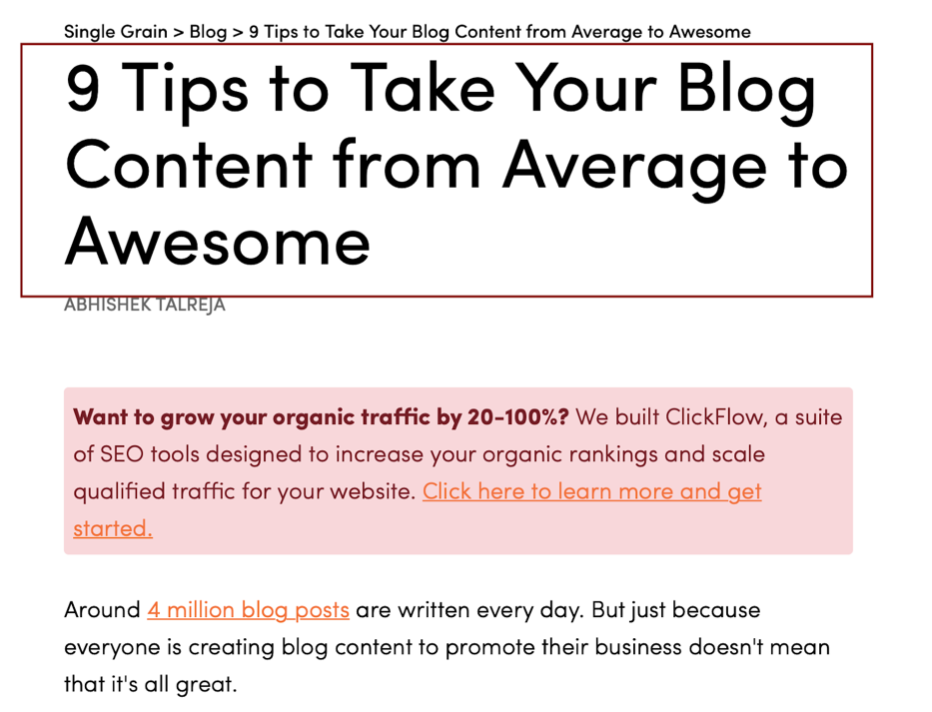 On the other hand, the SEO page title is what shows up in the search results. This is the first "headline" that users will see, which will tell them what the page is about and, hopefully, compel them to click on it. You can see this here:

You can use a tool like Yoast (which integrates with your CMS) to add an SEO page title just as you would a meta description or to designate a primary keyword. You can set this to be the same as your H1 title (seen as the mauve circled "Title" below) or you can manually alter it to something else: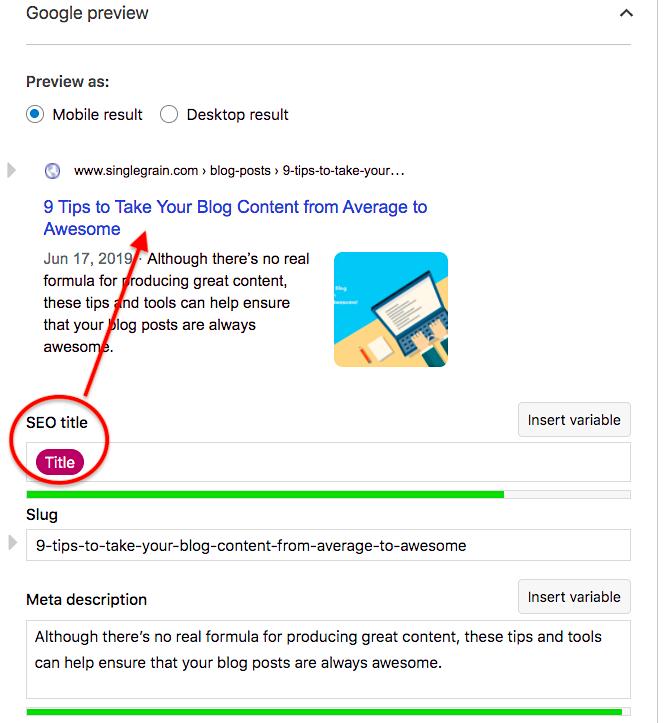 Because titles are so important and can directly influence both user clicks and SEO ranking, it's essential to make sure that they're well-optimized to rank high and capture user attention (which we'll show you how to do in a moment!).
Related Content:
* 10 Effective SEO Techniques to Drive Organic Traffic in 2023
* 12 Key SEO Trends That Every Content Marketer Needs to Know
* How to Create a High-Performance Content Marketing Strategy in 2023

Differences Between SEO Title and H1 Heading
So far, we've mentioned that SEO titles can be the same as your standard H1 heading or blog post titles, but this isn't always the case.
There are several reasons why the SEO title might be different from what's displayed on the page:
The first is length. Sometimes, we choose H1 headlines that need to be a bit on the long side to get the cadence exactly right and to fully capture user interest. While this can help increase clicks on your site or get the user's attention, it does not show up completely in the SERPs, which negates the purpose. Instead, it shows an ellipsis (three dots) that cuts off the rest of the title:

The second may be keyword-related. I've seen some creative things happen with keyword strategies in the past. Sometimes people will use the keyword in the SEO page title, but not use it exactly in a full headline because it fits awkwardly due to phrasing. Other times, the writer may be trying to optimize for two high-powered keywords, and they place one in the headline and one in the page title.
The third could just be format optimization. The headline you use on a product page may be creative and interesting but not as hyper-descriptive as what users might want to see when browsing different options in search. You can see this in the example below.
The SEO page title says "Cruelty-Free Makeup l COVERGIRL":

But when you click on it, the headline and product tag on the page just say "Cruelty Free":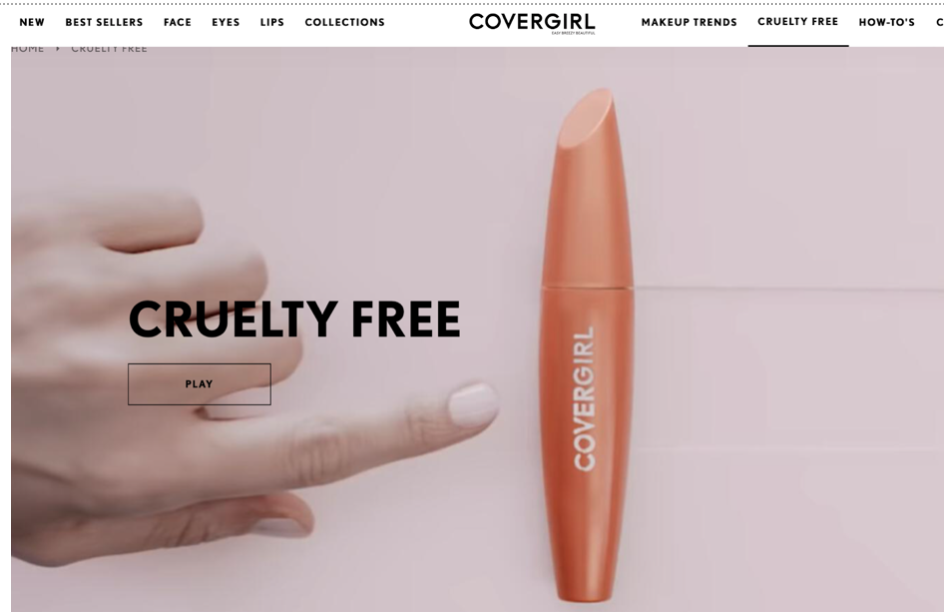 In this case, it made sense to have a different SEO page title. They were able to optimize for the keyword "cruelty-free makeup" even though makeup is implied by the actual landing page. They also feature the brand name in the page title because it's well established and trusted; it gives them an edge and lets customers know they'll be taken to a product page instead of a review page.
How Do You Write a Title for SEO? (Best Practices)
Ready to rock your SEO page titles? There are a few best practices that you always want to keep in mind when writing a strong SEO-friendly title for your blog post.
Let's take a look at each one with some thorough examples to show you how to implement the strategies correctly (and incorrectly!).
Stick to the Ideal Character Count
Technically, there is no limit for how long you can make your page title, but since only the first 50-60 characters are displayed, that's what you should aim for. So whenever possible, it's best to have your entire title show up in the SERPs. 
Look at the two examples below, which are optimized for the same keyword. Which one looks more complete? Which are you more willing to click? If you're going by the SEO page title alone, seeing the full title is likely to influence your choice of clicking on option two.


Use Your Target Keyword
SEO pros know better than anyone that optimizing a post for a single keyword can feel beyond redundant. You need to place it in your H1, in your subheads, in your meta description, in your text, in the alt text on images — and now your SEO page title, too?
It's crucial that you're using your target keyword in the SEO page title, because it shows users that your post directly aligns with what they're looking for.
Here's an example from Google search for the keyword "set a table for Thanksgiving," which implies that I need help setting one up to impress my vast array of guests: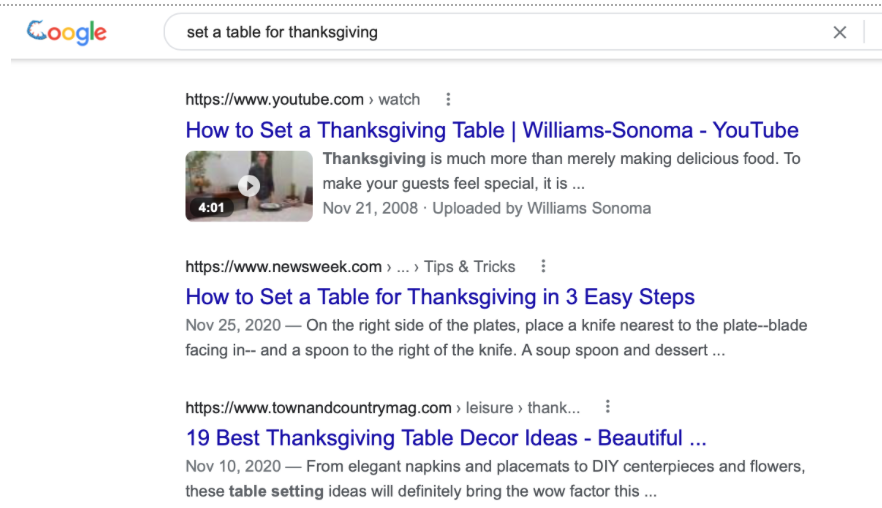 These searches could theoretically both align with my search intent, but:
Only the top one uses my actual keyword: "set a table for Thanksgiving."
Another uses a slight variation with "how to set a Thanksgiving table."
But the third result, "best Thanksgiving decor ideas," is only semi relevant. What if I'm looking for help on what types of silverware I'm supposed to have or whether or not I need placemats? That post may contain that information, but it doesn't seem like it from a glance.
Including the keyword that you're targeting in the SEO page title directly increases the likelihood of clicks, because it's telling users "yup, I've got exactly what you're looking for."
Be Direct
We put a lot of work into creating interesting H1 headlines for our site pages and blog posts, but sometimes that's not what's best in the SERPs.
SEO page titles often benefit from being extremely direct. You can still be creative, but you want to say exactly what the post is about in the briefest way possible.
Here, for example, are two posts that are both focused largely on sharing water-saving tips that readers can implement at home:

One, however, has the title "What Is Water Conservation" followed by the brand name twice, while the other has the title "How to Save Water at Home: 15 Tips to Conserve Water."
You can see in the meta description from the first post that there's actionable information, but users who are scanning quickly are only going to notice the page titles. And in this particular case, the second post seems more relevant. Click.
Include Your Brand Name
Including your brand name in the SEO title can be a good call, especially when you're looking to build brand awareness (which of course you are!). It can also be beneficial if you're trying to leverage your established name into driving more clicks.
While we don't recommend using it twice like Constellation did in the last section example, automatically having your brand name show up in SEO titles can work to your favor. Keep in mind that this will cut back on the page title character count that you have to work with, but for certain pages like product pages it's crucial.
We use this strategy at Single Grain whenever possible:

It's effective, and though it requires shorter page titles in the headline part of the formula, it still is worthwhile in most cases. Keep in mind that if the title simply cannot be shortened enough to accommodate our brand name, we won't use it. 
Related Content:
* How to Write Content for People and Optimize It for Google
* How to Write Hero Headlines to Skyrocket Click-Through Rates
* 30 Ways to Come Up with Great Ideas for Your Blog Posts

SEO Page Title Formulas/Templates
Now let's learn how to create strong SEO page titles that will rank well and get clicks.
It's important to write for people first and Google second. Sometimes that's easier said than done, but the following SEO page title formulas (which we've broken down based on use case and industry) can help.
Key Pages for Service-Based Industries
These are the SEO page titles that you'll apply to landing pages or individual service pages for service-based businesses. Think dentists, painters, marketing consultants, etc.  
Here are the templates to get you started an example of what they'd look like:
[Adjective] [Service Offered/Keyword] – [Brand Name]

Experienced & Trusted In-Home Nursing Care – NurseUnited
[Service Offered/Keyword] That [Benefit] – [Brand Name]

In-Home Care That Treats Your Family Like Ours – NurseUnited
[Pain Point] With [Service Offered/Keyword] – [Brand Name]

Premium Care & Comfort With In-Home Nursing – NurseUnited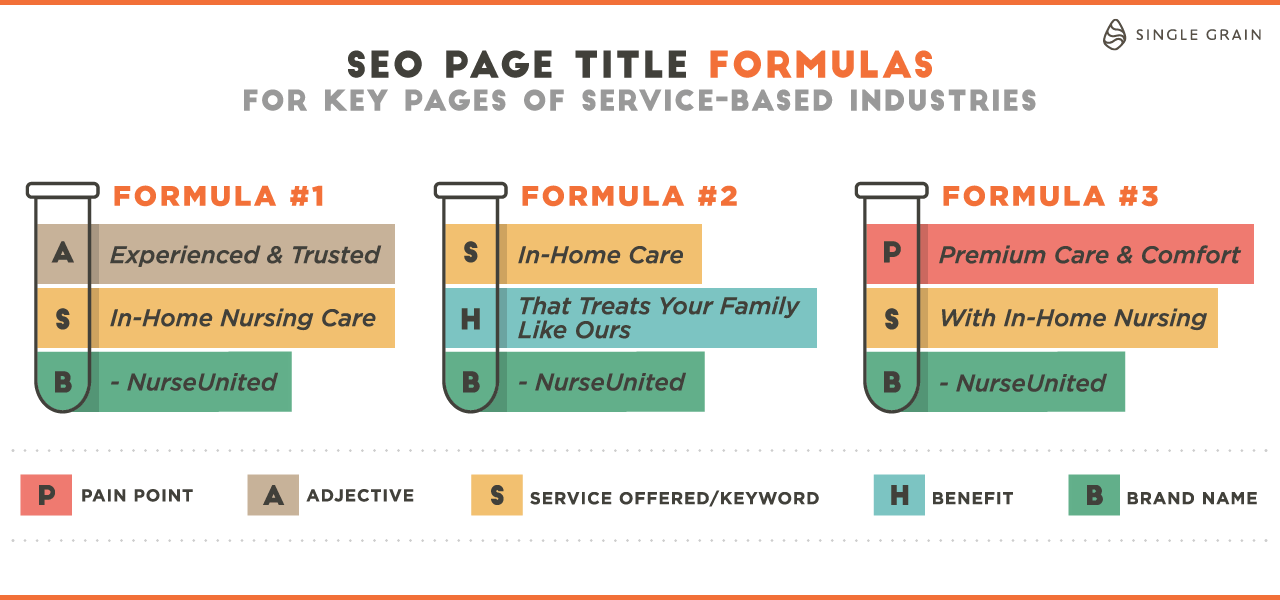 Product Pages & Landing Pages for SaaS Brands
SaaS marketing can be a beast of its own, and with plenty of SaaS brands understanding the importance of marketing, it can be a competitive industry. These SEO page title formulas will help, as most allow you to create multiple product or landing pages based on audience segment if needed:
[Adjective] [Type of Tool] – [Brand Name]

Teamwork-Friendly Social Media Management Tool – MySocial
[Type of Tool] For [Audience Segment] – [Brand Name]

Social Media Management Tool For Agencies – MySocial
[Brand Name]: [Descriptive Purpose of Tool Including Keyword]

MySocial: Social Management Tool & Reporting Dashboard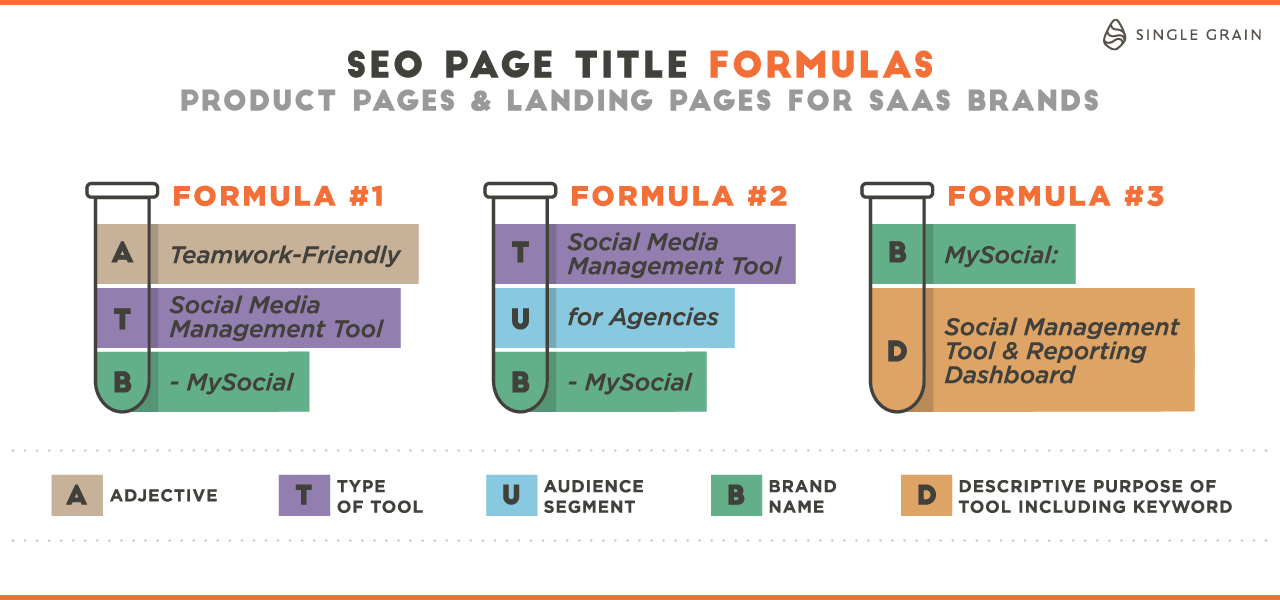 Product Pages for E-commerce Brands
Product pages (which may include landing pages, product category pages or single product pages) need SEO page titles that show users that they've finally found the product they're looking for.
[Use Case] With [Product] – [Brand Name]

Get Glowing Skin With Super Tint Moisturizer – Tintia
[Product Description]: [Product] – [Brand Name]  

Makeup & Skincare in One: Super Tint Moisturizer -Tintia
[USP] [Product Type] For [Audience] – [Brand Name]

Organic Tinted Moisturizer For Sensitive Skin – Tintia
[Product Title] | [Brand Name] | [Special Offer]

Shine-Free Liquid Foundation | Tintia | Free Shipping On Orders Over $50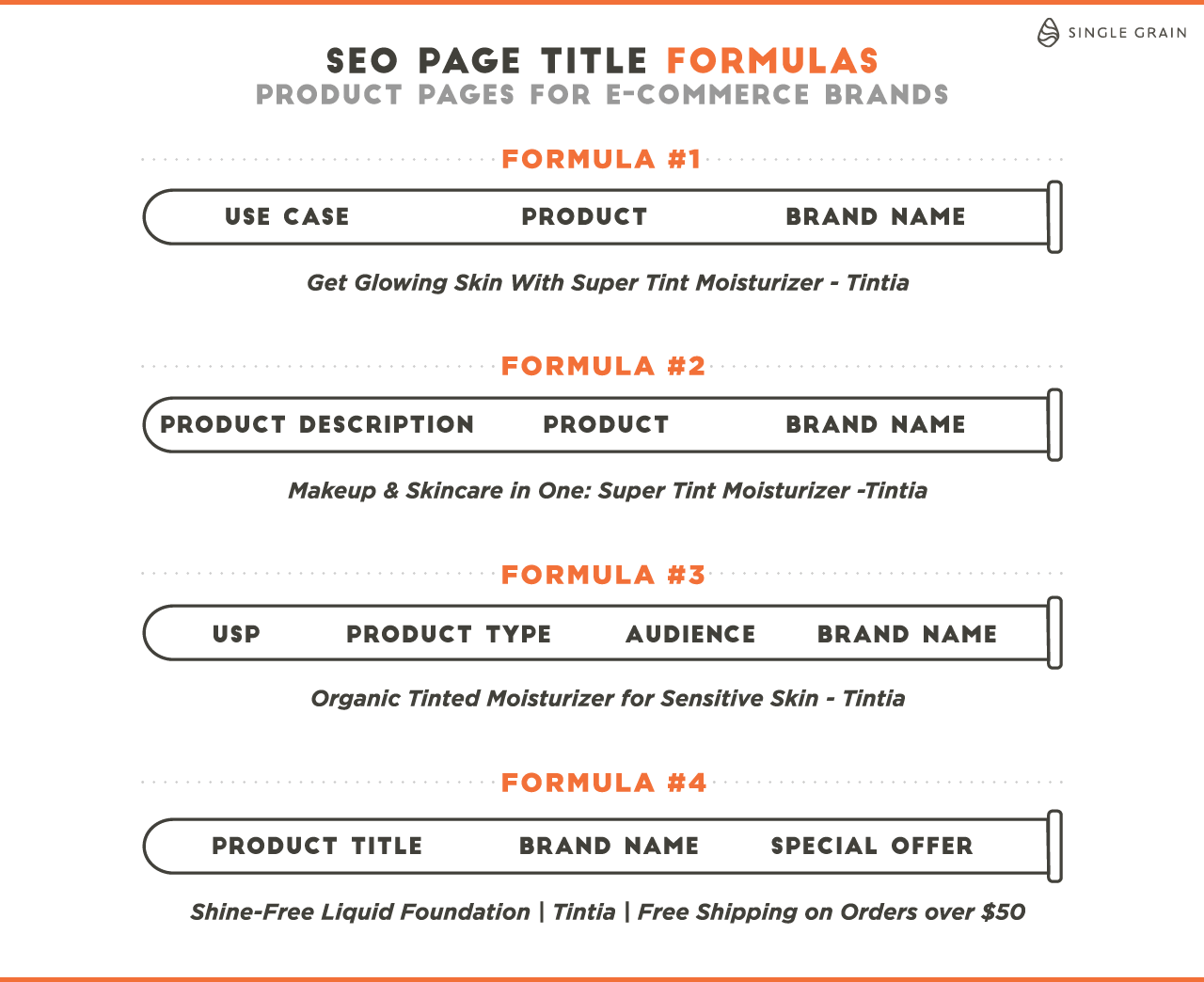 Looking for an SEO page title for your e-commerce Home or About pages? These can work, too:
[Brand Name]: [Brand USP/Tagline]

Tintia: Organic Makeup That Feels Like Skincare
[Brand USP] – [Brand Name]

Organic Makeup That Feels As Good As It Looks – Tintia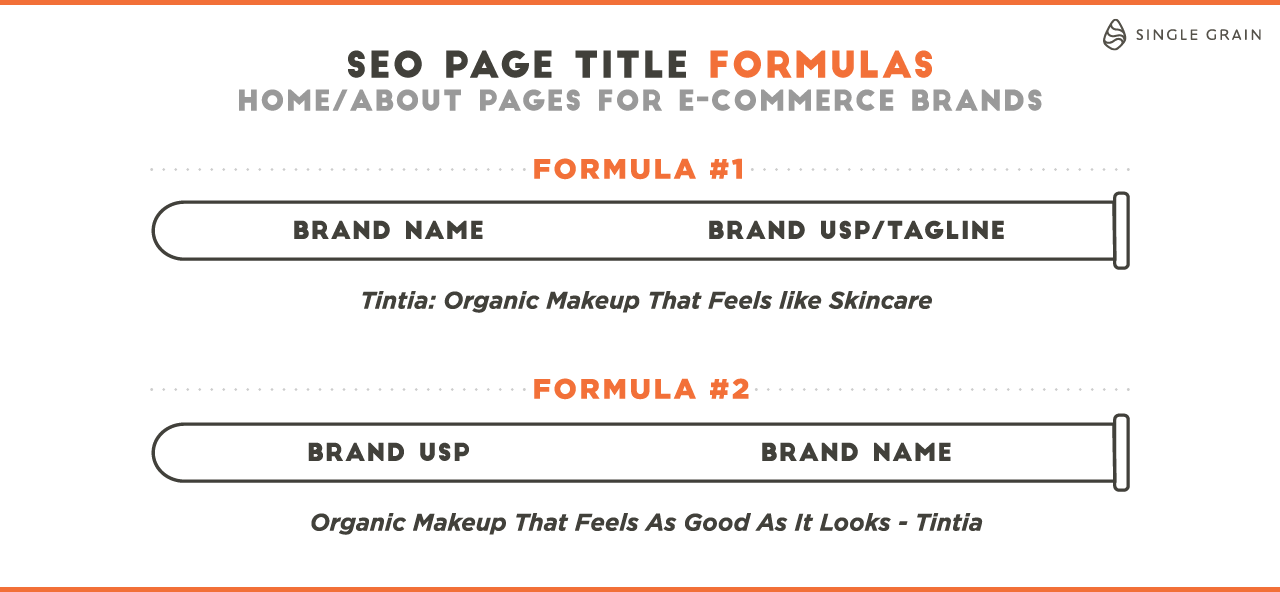 Blog Posts & Lead Magnets
Have blog posts and lead magnets that you want to rank well in the SERPs? Of course you do! We know there's a good chance that most of our readers have been dying to get to this section in particular.
While there's plenty of room to be creative with SEO page titles for blog posts, these page title formulas listed below are a great place to start.
Note that you can add the brand name to the title, but we've left them off here since we're going to look at more diverse examples for each post.
[Number] [Noun like: Steps/Ways/Tactics/Strategies/Insights] to [Goal]

6 Signs That You Could Benefit from Therapy
6 Tips to Combat Cart Abandonment on a Magento E-Commerce Store
8 Key Demand Generation Strategies to Capture & Convert High-Quality Leads
How to [Goal] [Pain Point] 

How to Get More Ad Results Without Breaking the Bank
How to Hire a CMO Who Is a Perfect Fit for Your Company
How to Conduct Smart Competitor Research for Better Customer Acquisition 
Case Study (optional): How [Your Brand/Their Brand] [Use Case/Results]

Case Study: How Tintia Used MySocial to Boost Social Growth by 10%
Case Study: How We Used Strategic Content Marketing to Grow Our Traffic from 0 to Millions
E-commerce SEO Case Study: How Primary Arms Increased Organic Revenue by 47%
[Impact]: Why [Reason to Take Actions/Care]

Cleaner Air: 8 Reasons Why You Should Invest in Air Purifiers
Amazon Basics: Why You Need Automatic and Manual Campaigns
Customer Loyalty: 5 Reasons Why Live Chat Helps Your Business Go the Extra Mile
[Solution]: How to [Pain Point]

Creative Marketing Strategies: How to Market a Cannabis Company
B2B SEO: How to Rank Your Business Website Higher in Search
Social Media Marketing for Business Owners: How to Get Started in 2023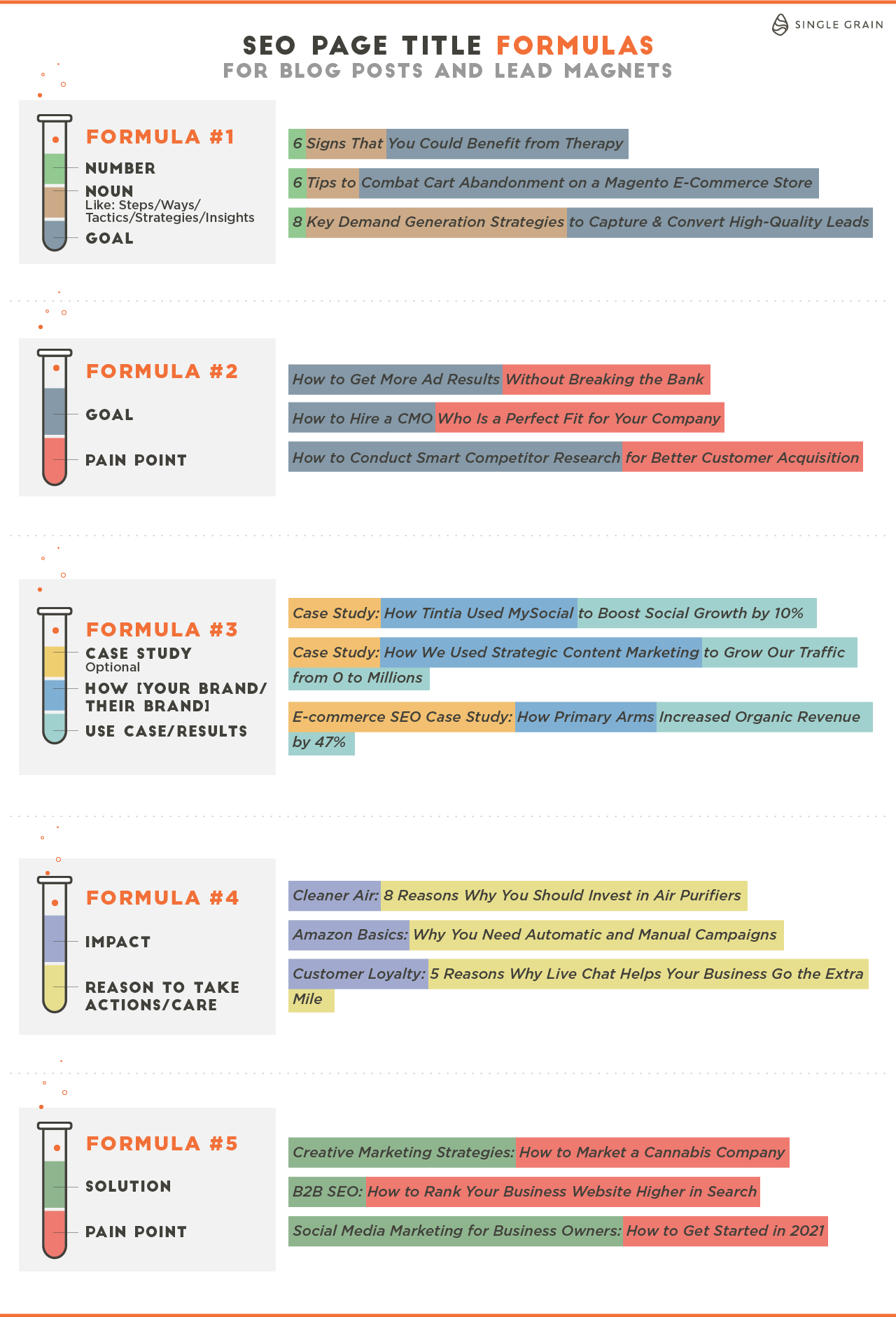 How to Test Your SEO Page Title
Once you've strategized, brainstormed, chosen and set your SEO page title, I'm sorry to say that the work isn't quite done just yet.
It's important to test your SEO page titles just as you'd test any other aspect of every marketing campaign that you're running. Since it can directly influence clicks, this is essential.
Fortunately, there are tools that can make this easier.
Get all the formulas in this post in one place! Click below for your free infographic 👇
Final Thoughts on SEO Titles
SEO page titles are one of those all-important but often-forgotten parts of SEO; most content marketers and brands that I've worked with don't even realize the distinction between H1 headlines and SEO title tags or the importance, and often don't even bother to set the SEO title in their CMO.
Taking the time to make sure that your page title is optimized for user interest and SEO is crucial, and will be well worth the effort. To get a head start, make sure that you're split testing your titles — and be sure to try out some of our SEO page title formulas to see how they work for you!
---
If you need help increasing your online visibility, search ranking and site traffic, Single Grain's SEO experts can deliver data-driven results for you. Just click the orange button! 👇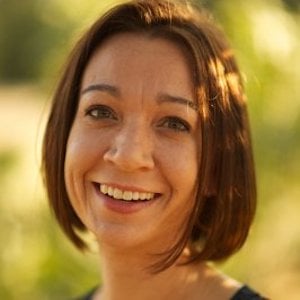 Kim Cooper

Director of Marketing, Amazon Alexa

Single Grain enables us to increase our impact without increasing our headcount