Companies that are just getting started with local SEO would be hard-pressed to find something more worthwhile than creating and optimizing a Google My Business (GMB) listing. A well-maintained listing can improve your visibility for local search terms and help you effectively present your brand to local customers.
When consumers are searching for a local service, they've often already made the decision to buy. They are just looking for the right company to provide the product or service. In fact:
When people in your area make that search, you want to ensure that:
Your business is visible. Google My Business is the simplest and most effective way to make sure that your business is showing up for relevant local searches.
You are presenting your brand effectively. Low-quality listings push away potential customers.
Your business easy to find and contact. A quality listing with relevant information makes your business easy to find in GPS systems and easy to contact through phone or email.
Since launching in June 2014, Google My Business has become the go-to platform for local businesses to extend their reach in local search and connect with new customers: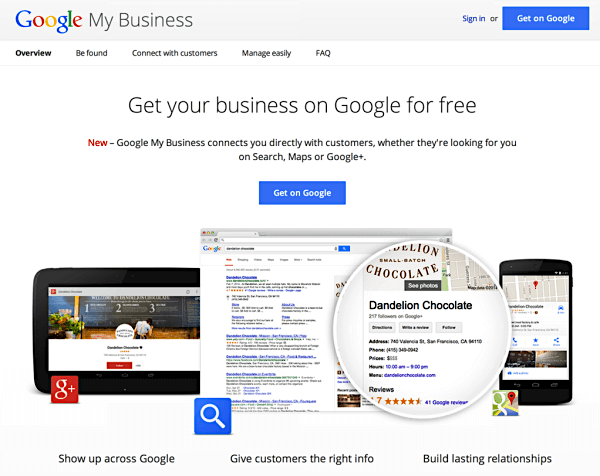 In this article, we'll give you a complete run-down of what Google My Business is, why it is important, and how you can create your high-quality listing to start driving new business to your location.
What Is Google My Business?
Google My Business is the successor to Google Places. On its launch, Google My Business included features that extended the functionality of the Google Places program, spearheading a complete re-branding of the platform.
GMB is a platform that gives you control over how your business appears on Google properties like Search and Maps: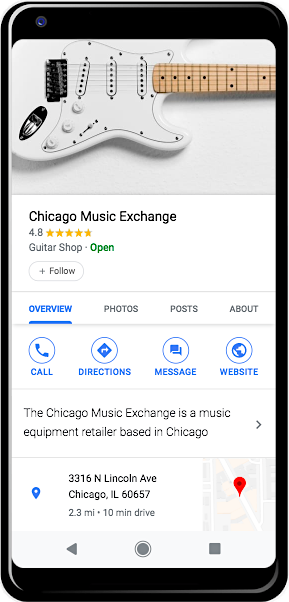 Creating a listing gives you control over your business name, business locations, and hours that are shown when people search for your business or your local category on Google.
Additionally, GMB allows you to monitor (and respond to) customer reviews, add photos of your location or your products, and learn more about how people are searching for your business.
Putting your best foot forward in Google Search is critical for driving new customers. Not just for the visibility, either — but to make sure that your business can compete with others in your area and stand out from the crowd.
Dive Deeper:
How Much Does Google My Business Cost?
Google My Business is free. Once you create your account and verify your information, you can regularly update your information as things change, optimize your profile to draw in more customers, and better understand your position in local search. Alternatively, companies can use Google Ads to advertise and increase their visibility in Google Search.
Now let's dive into how you can create your own GMB listing and verify your information with Google.
How to Create a Google My Business Listing
Google has made it exceptionally easy to create, verify, and edit Google My Business listings.
1) Log in to Your Google Account 
GMB listings are directly tied to your Google account. The account that you use to create your listing is the account that will have administrator rights over the listings moving forward.
For that reason, make sure that you have account recovery and security measures in place (including two-factor authentication) so that you don't lose your account and therefore lose access to your GMB listing. It can be a complicated process to recover a breached Google account.
2) Go to the GMB Page 
Once you're on the Google My Business page, click on "Manage Now" in the upper-right hand corner of the page:

You can sign in to your Google account here if you haven't already. You'll be taken to a new page that asks for details about your business.
3) Tell Google the Name of Your Business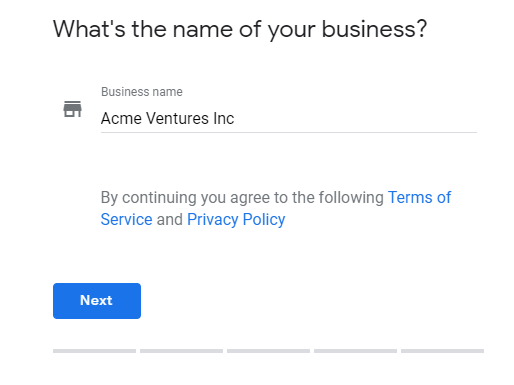 If in the past you've had a Google My Places listing, you'll be able to select your business from a drop-down menu as you type your business name in.
If you don't currently have a listing, you'll be able to create one.
4) Enter Your Location Information
Now you'll be prompted to provide your business' location information. First, you'll be asked if your business has a physical location that customers can visit: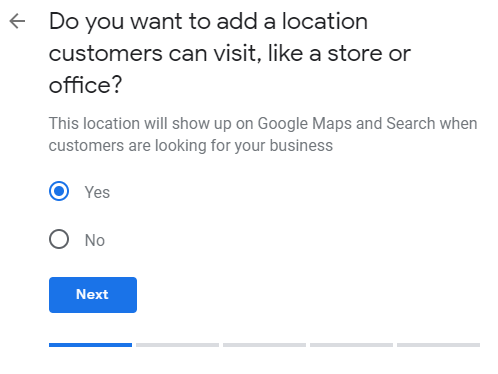 If you do, select "Yes," and click "Next."
You'll then be taken to a page where you are asked to enter your business' address. Remember — this is the address that searchers will use to locate your business. Make sure it's accurate.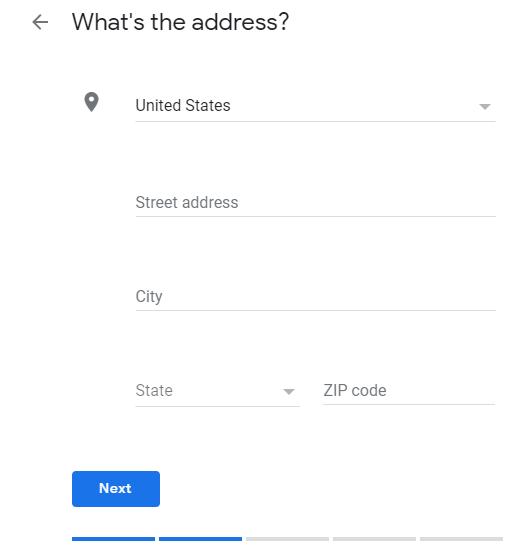 5) Let Google Know if You Serve Your Customers Elsewhere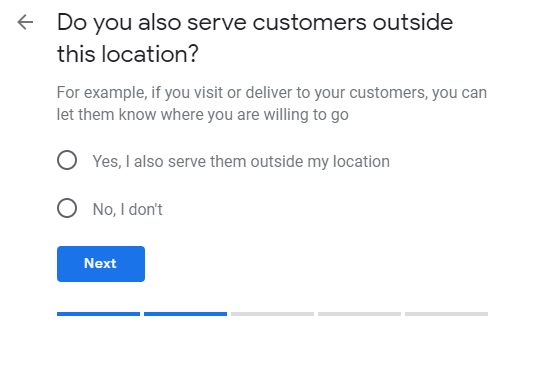 This option is ideal for companies that serve customers in their homes (appliance repair, pest control, roofing) or at other locations (mobile vehicle mechanic, car towing, shuttle service).
Giving the correct answer here will open a window that asks more questions about your service area. This is important — you want to make sure that your business is showing up for all search queries within your service area. A roofing company limiting themselves to a single city may miss out on a lot of what would otherwise be great business.
Dive Deeper:
6) Select Your Business Category
Next, you'll be taken to a page where you can select your business category: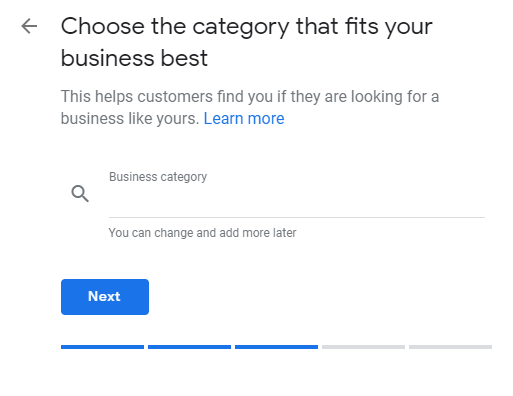 It's important that you choose the right category so that Google can properly sort your business and ensure that your business is shown for relevant industry searches.
7) Provide Your Business' Contact Details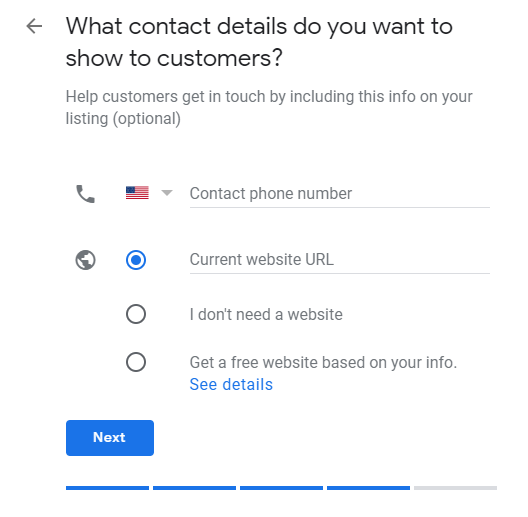 Here, you supply your phone number and website address for your business. If you don't have a website, Google also offers the ability to create a free, basic auto-generated website.
8) Finish Your Submission and Verify Details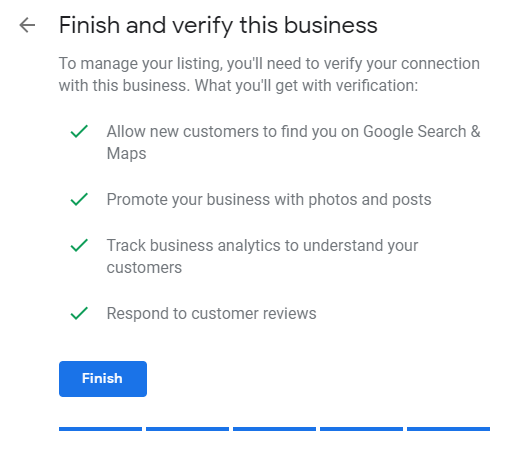 When you're done, click "Finish" to submit. You can always go back and edit any information that needs to be corrected at a later date.
Now you'll want to verify the information that you've provided. Here's that process.
Verifying Your Google My Business Listing Information
Google attempts to verify all information in their Google My Business listings. There are several ways in which you can do this:
Verify GMB by Postcard
One popular way to verify your GMB information is by postcard. Google will ask you for an address to send the postcard to via snail mail (most likely your business address):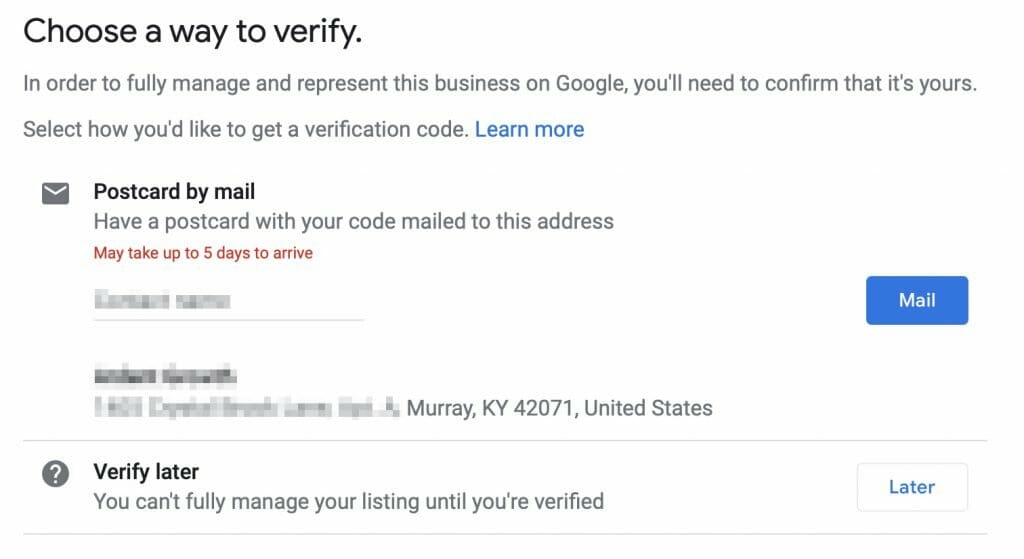 The postcard typically arrives 4-5 days later and will include some simple instructions along with a verification code that you'll use to verify your information: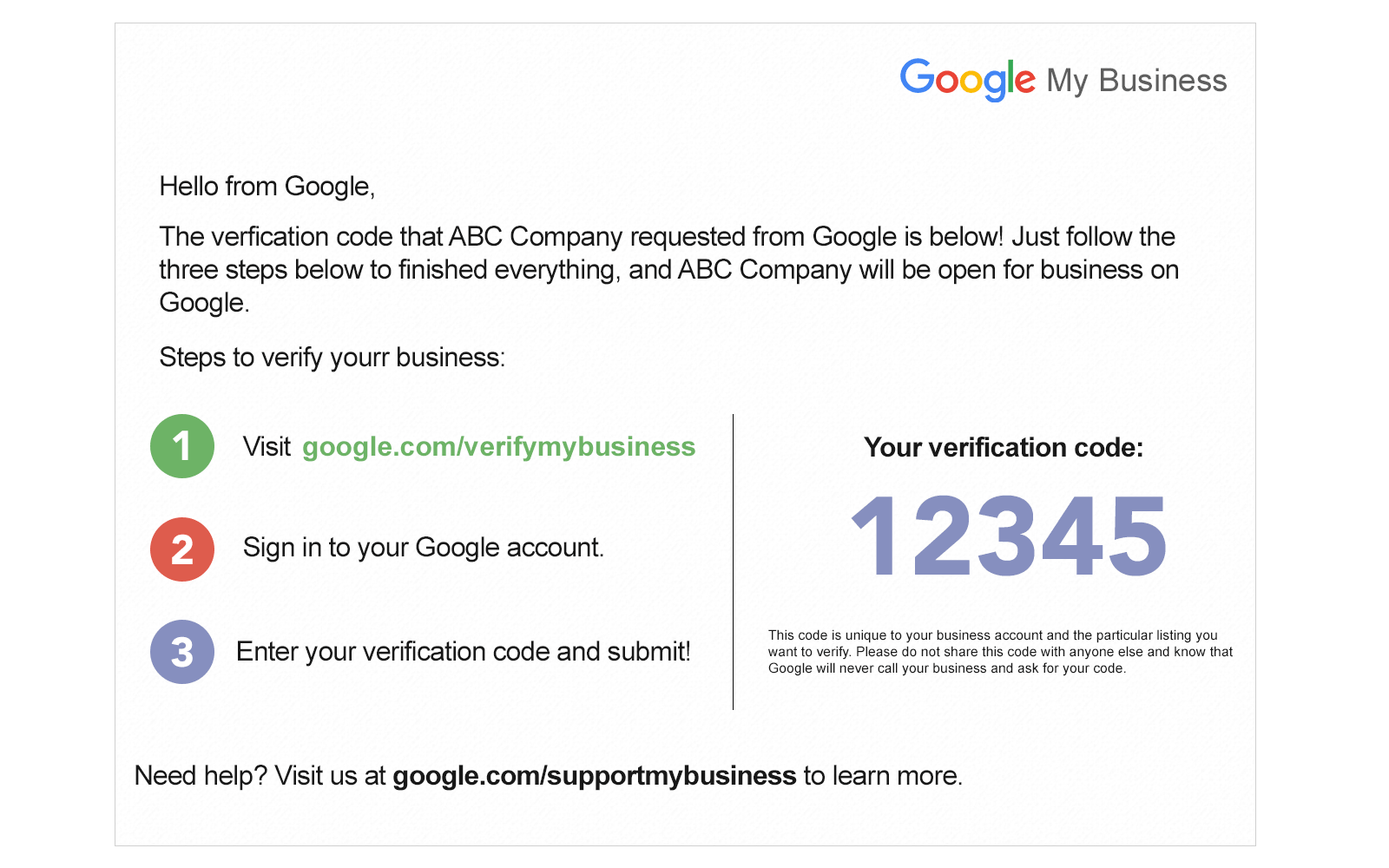 If the postcard never arrives (or if you misplace it), you'll be able to request a new postcard in your Google My Business account.
Verify GMB by Phone/Text
Verifying GMB by phone is a faster option. Not all businesses are eligible to verify by this method, but if you are you'll be in the system in a matter of minutes.
You can verify by phone by logging into your GMB account and selecting verification by phone. If you have already submitted your information but have yet to verify, you'll be prompted to choose a verification option.
You'll receive a verification code via text message, along with instructions for using the code, just as you would with the postcard.
Dive Deeper:
Verify GMB by Email
You can also verify your Google My Business account through email. Not all businesses are eligible for email verification.
Choose this method by logging into your GMB account and selecting the "Verify by email" option. You'll receive an email within minutes and there will be a button in the email that you can click to be taken to the verification page.
Bulk Multi-Location Verification
For companies and franchises with more than ten locations, the process can be a bit more complicated. Trying to verify every location one-by-one would be time-consuming and more likely to lead to listing mistakes — which is not good for your business or Google.
To be eligible for GMB bulk multi-location verification, you must not be a service business (that handles customers in multiple locations) or an agency that is attempting to verify locations for different businesses.
To bulk-verify more than ten locations, you'll be required to fill out a verification form with your business name, country, operation locations, and contact names and information for your company. You may receive access to a Google Account Manager who can help walk you through the process.
If you would like to learn more about bulk verification in Google My Business, read Google's help document on requesting access to the feature.
Tips for Optimizing Your Google My Business Listing
Now that you've created and verified your business information, you'll want to begin to fill out your GMB profile.
Optimizing your Google My Business listing is critical for putting your best foot forward, attracting more customers and, ultimately, becoming a business that Google tends to recommend (i.e. show first in the SERPs).
Log in to your GMB account and click on "Info" from the sidebar: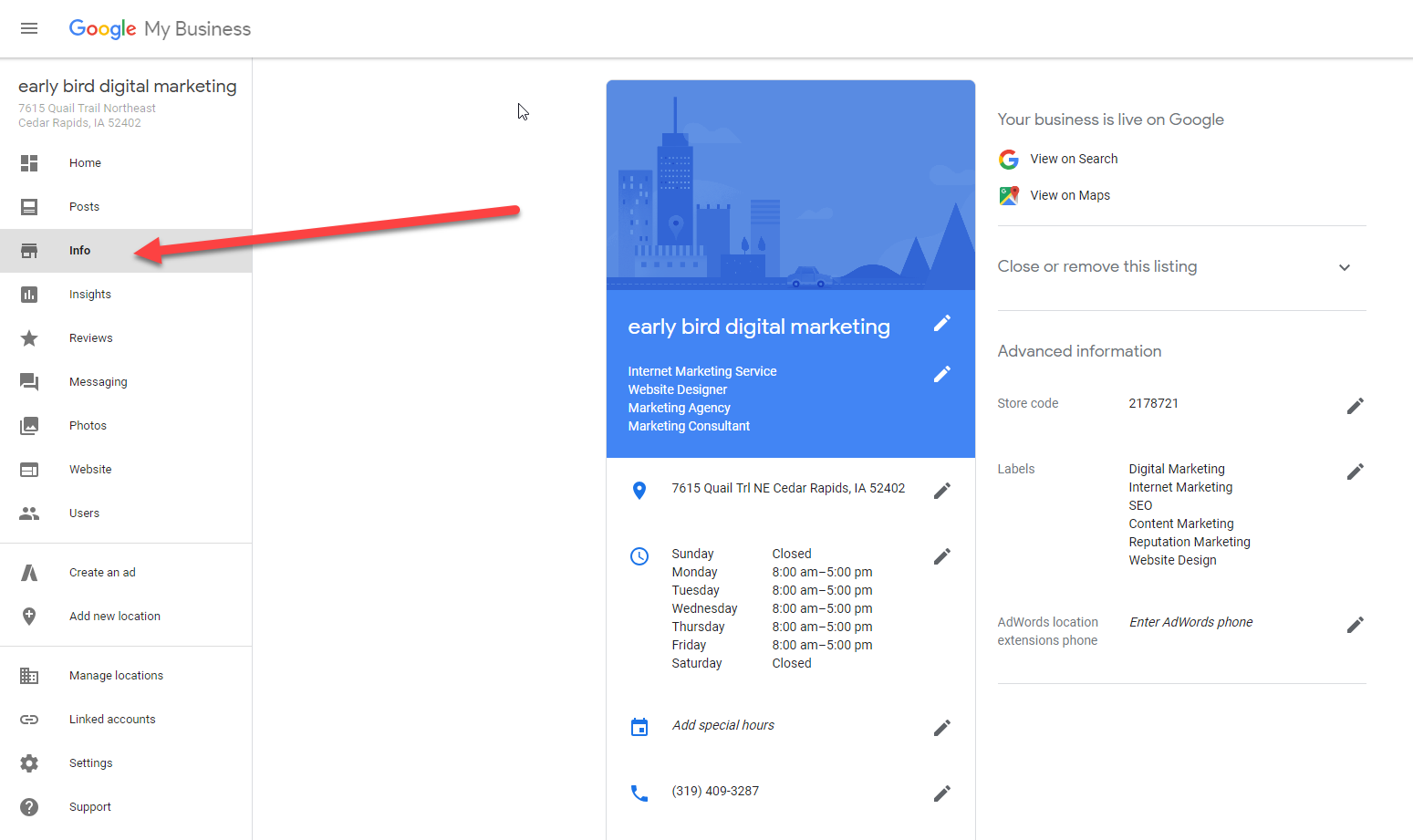 Include as much information as you can to ensure that your customers have access to anything that they'll need to know. Some of the important info that you can put in your GMB profile includes:
Your business profile photo
The area that your business serves
Your operational hours
Phone number
Calendar and holiday information
The year your business opened
Website URL
Wheelchair accessibility
Wi-fi accessibility
Fill out all your information because the more details that you can provide to potential customers, the better. Help them make a beneficial decision for themselves.
Choosing Google My Business Photos
A big part of optimizing your Google My Business listing is in the photos that you choose. Photos are critical for establishing a first impression with new customers, so it is important that your photo choices convey the things you want them to convey.
GMB Cover Photo
Your Google My Business cover photo is the most important one. The cover photo will be the largest photo that shows up in your listing and is the most visible to customers who are checking out your business.
Here's an example from a roofing company: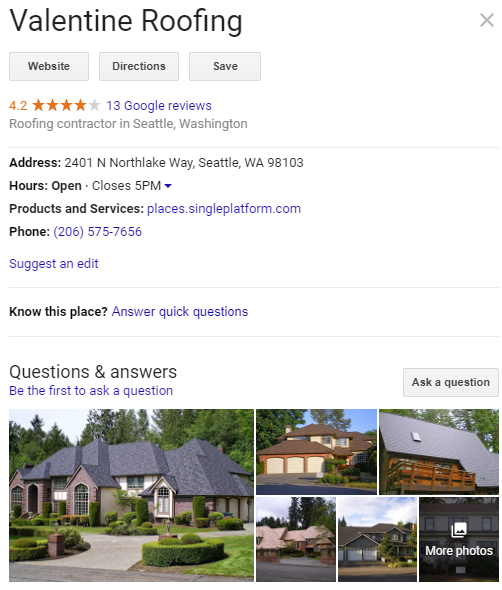 In the above example, the roofing company has chosen a beautiful house with a brand new roof for their cover photo. This is effective because it shows their customers that they can deliver exactly what they are looking for. While it might be tempting to include your logo here, it is typically a better choice to choose pictures of your location or products for your GMB cover photo.
Because your cover photo is the most visible photo on your profile, it's likely to be the first photo that searchers click on to learn more about your business, so be thoughtful with your choice. Choose a photo that accurately represents your company — your place of business, your product, or your service can be excellent choices for GMB cover photos.
GMB Profile Photo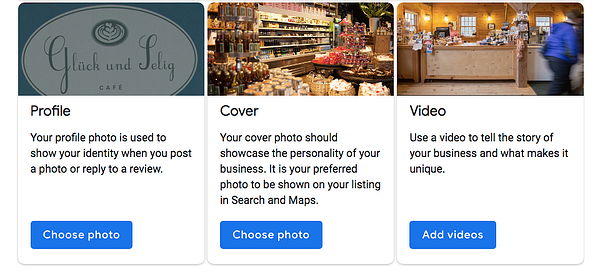 Your Google My Business profile photo is another important choice. This is the photo that will show up next to your business name whenever you:
Upload new photos
Respond to a review
Share a new post
Most often, companies will use their logo for their GMB profile photo.
Other Photos
You can upload as many photos as you'd like to your account. The more that you add, the better your would-be customers will understand your business.
Some photo ideas that you can upload to your GMB account include:
Photos of your place of business. This has the added benefit of helping customers recognize your business when they see it in person.
Photos of your products.
Photos of your team delivering your service.
Pictures of satisfied customers with your product.
Be creative with the types of photos that you share on your account. The more personable you can make your business, the better the chance you have of connecting with new customers.
GMB Videos
In GMB, you aren't limited to photos. You can also upload videos. There are some constraints that you have to keep in mind when uploading videos to your GMB account:
The video must be 30 seconds or shorter.
The video must be 100 MB in size or smaller.
The video must be 720p in resolution or higher.
Uploading videos like short introductions to your business or descriptions of your product or service can be a great way to introduce interested local customers to your business and stand out from the competition.
Dive Deeper:
Google My Business Reviews
One of the most powerful features of Google My Business is the ability to monitor and respond to reviews from your customers. Often, GMB reviews are one of the first places that potential customers look to learn more about your business and seek out social proof from satisfied customers.
Using Google My Business, you can respond to reviews left by your customers, both positive and negative. Responding to positive reviews can be a great way to solidify a connection with satisfied customers.
Responding to negative reviews allows you to fix broken customer relationships, respond publicly in a professional manner, and ease concerns that the negative review might create with future customers.

Google reviews are not only the most direct way to connect with both satisfied and unsatisfied customers, but to put your professionalism on display for future customers. Customers love to know that businesses love them and can respond professionally and quickly to any questions they may have.
A Powerful Tool for Local SEO
Google My Business is a powerful tool for local businesses. It gives them a chance to put their best foot forward with eye-catching photos and videos. It gives them the ability to respond to customers publicly and build bridges. But, most of all, it gives local businesses a quick and easy way to ensure that all of their listed information on Google is accurate and up to date, making their business more accessible to prospective customers.