Have you ever noticed that small menu on the top of any page of a website that shows you the navigational position of the page you're visiting?
Typically, breadcrumbs appear with a small arrow, like this: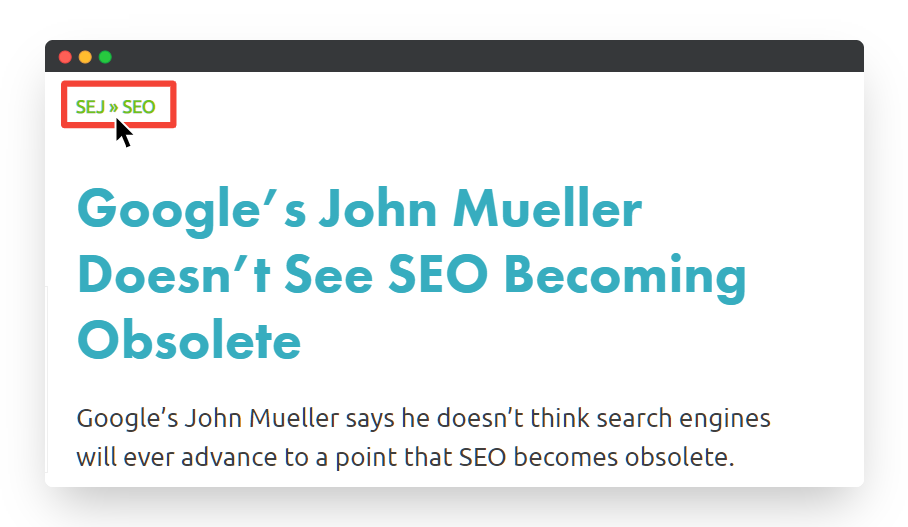 But what exactly are these breadcrumbs, why do so many websites use them, and what makes them part of the basics of SEO?
To answer these questions, I've put together this detailed guide on breadcrumbs in which I explain how they affect your website's SEO.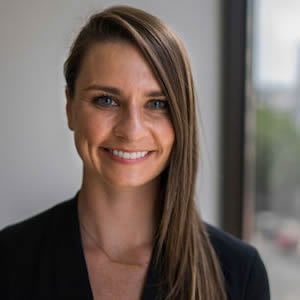 Jacqueline Foster
Demand Generation Marketing, Lever.co
We can count on them to bring new ideas to the table consistently
What Are Breadcrumbs?
Breadcrumbs are essentially navigational elements of a website that can help a visitor understand where exactly they are on the site.
The leftmost link in the breadcrumbs is that of the home page. Each successive link next to it shows the category, subcategory, and so on. This allows you to see how far you are from the home page of the website.
Typically, these breadcrumbs appear at the top of your page right below the navigation bar. For instance, note how Yoast has added the breadcrumbs: The leftmost link is the home page while the rightmost link is the post the reader is currently on. The links placed between them are the categories and subcategories that the post belongs to.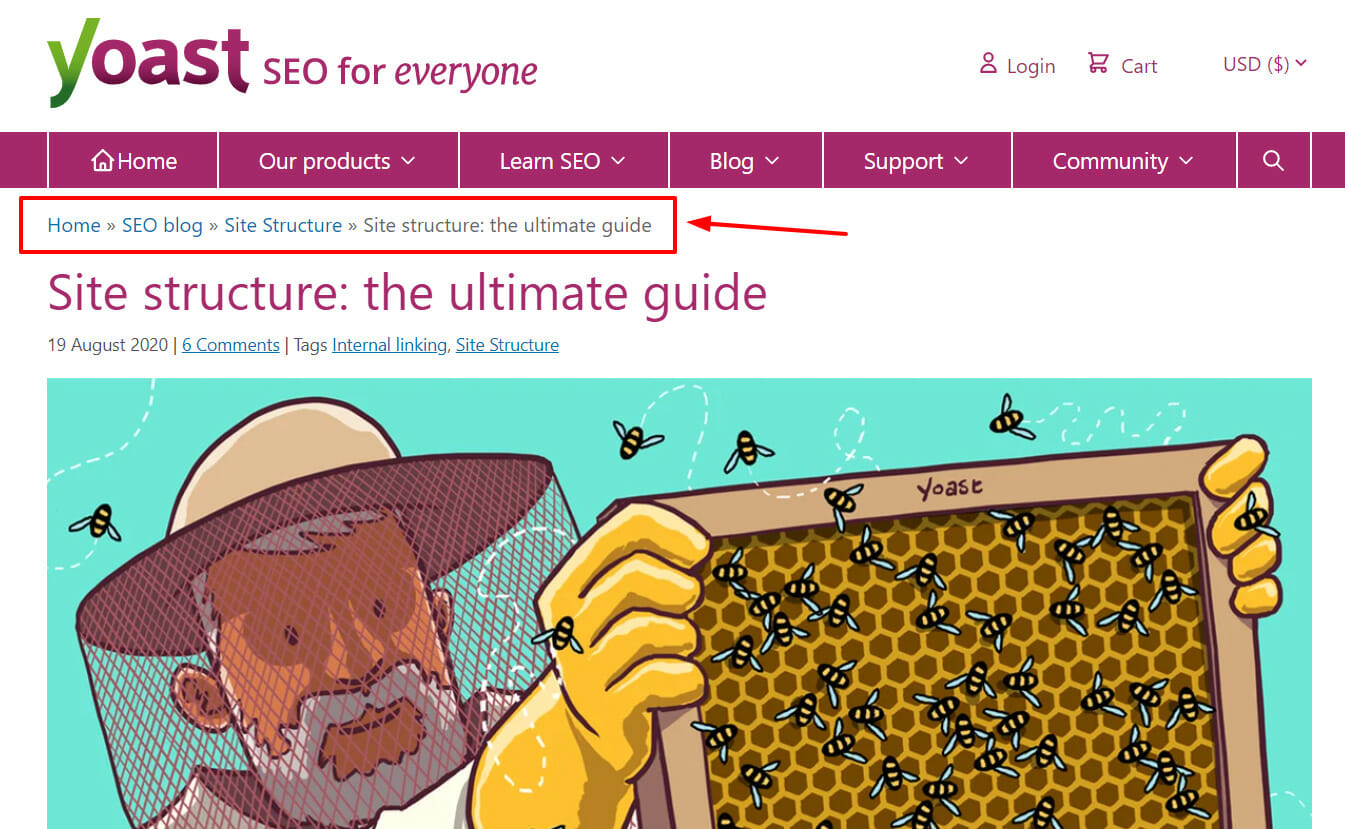 Types of Breadcrumbs
There are three main types of breadcrumbs. Let's take a look at them.
1) Hierarchy-Based Breadcrumbs
These are the breadcrumbs that you saw in the example above and are based on the hierarchy of the website structure:
Home >> SEO blog >> Site Structure>> Site structure: the ultimate guide
These breadcrumbs tell you how you can get back to the home page from the page you're currently on. Each link in these breadcrumbs can be seen as a hierarchy level with the home page being the topmost level and the current page being the bottom level.
2) Attribute-Based Breadcrumbs
As the name suggests, these breadcrumbs are based on the categories under which a particular page falls. These breadcrumbs are typically used for e-commerce websites where you'd have numerous product pages.
When you navigate to a particular product, you'll know exactly which category and subcategory it falls under. For instance, note how Amazon uses breadcrumbs to show you the category that this product (Roku Streaming Stick) falls under: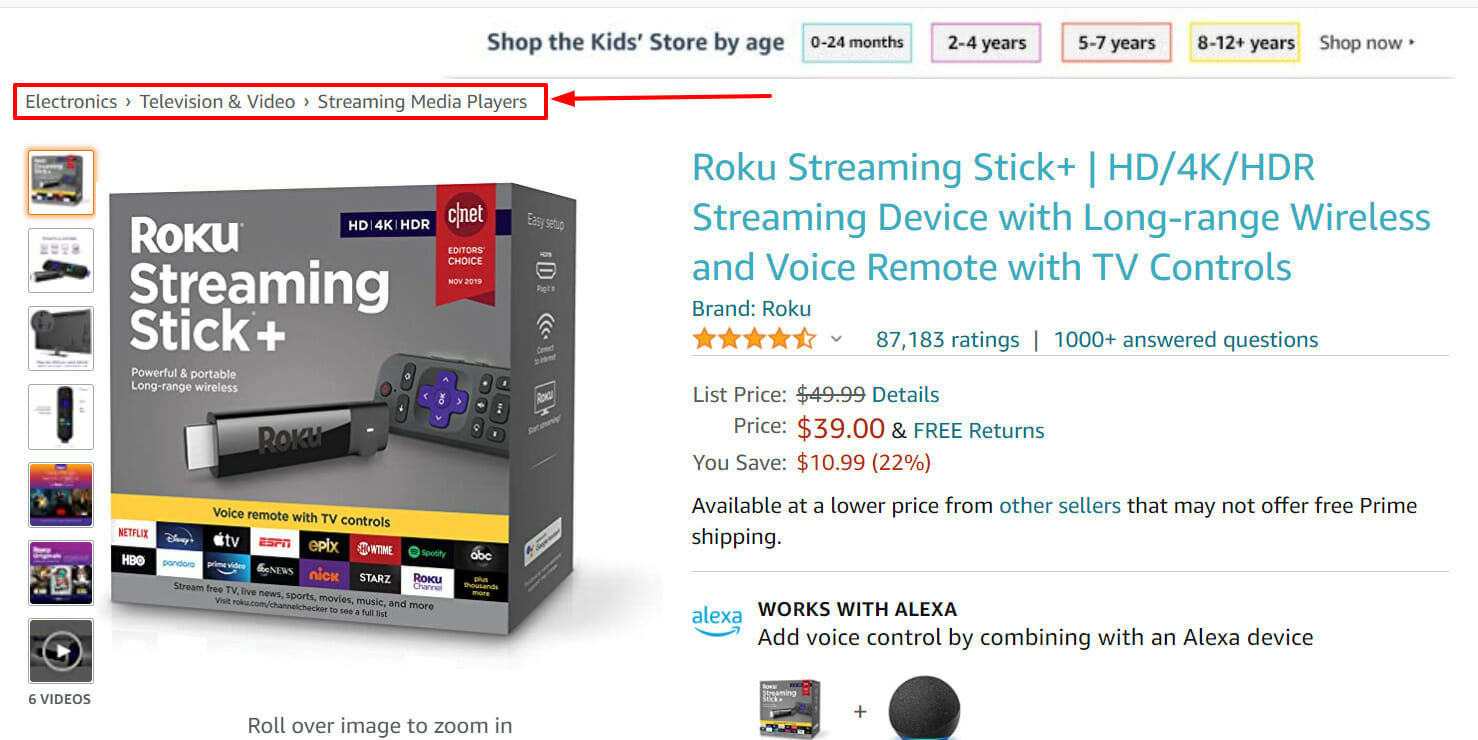 3) History-Based Breadcrumbs
Unlike hierarchy- or attribute-based breadcrumbs, history-based breadcrumbs show you the path that you've taken to arrive on the page you're currently visiting. You could consider them to be an equivalent of the browser history that shows you the pages you've visited on a website.
This way, you'll have an exact idea of how you got to a particular page once you landed on a website. You can then seamlessly navigate to the previous pages using the back button.
For instance, note how Nordstrom uses history-based breadcrumbs well:

Now that you know what breadcrumbs are and the different types, let's take a look at why they're important for SEO and how you can leverage them.
Dive Deeper: How to Implement Internal Linking for SEO (Step-by-Step)
Breadcrumbs in SEO: Why Should You Use Them?
So, breadcrumbs can show you the pages that you've visited on a website and even the categories and subcategories. Fair enough.
Here are five ways breadcrumbs help with SEO.
1) Improve User Experience
One of the biggest advantages of leveraging breadcrumbs in SEO is that they can help improve your website's user experience.
How do they help with that?
When you incorporate breadcrumbs into your website, your visitors will be able to navigate through your site seamlessly. They can jump to the parent categories and subcategories with a single click. It also gives them a fair idea of where exactly they are on your website.
Both these factors contribute to improving the user experience of your website.
And how does this help with SEO? Well, SEO is all about user experience. Search engines want their users to have a good experience while looking for the information they need. As a result, they give priority to websites that deliver a better UX.
This is exactly what using breadcrumbs can help you achieve.
Along with breadcrumbs, you should also improve the loading speed of your pages to improve user experience and SEO. For this, you can use an image compressor to reduce the sizes of your photos so that they can load quickly.
Dive Deeper:
* 7 Mistakes in UI and UX That Are Costing You Engagement
* CWV Update: Why Google Keeps Changing How It Measures Your Site's UX (and What to Do About It)

2) Reduce Bounce Rates
Your website's bounce rate also determines your rankings in the search engine results pages (SERPs).
If most visitors leave your website after visiting a single page, the search engines assume that they didn't find helpful information on your site. This, in turn, will cause the search engines to push your website down in the SERPs.
You don't want that to happen, right?
That's why it's important to use breadcrumbs on your site for SEO. They can offer your visitors an alternate and simpler way to navigate through your website. This encourages your visitors to view multiple pages of your website before they leave. As a result, your bounce rate will reduce, thus improving your SEO.
3) Boost Search Rankings
While breadcrumbs can play a major role in improving your website's user experience and reducing bounce rates, they can also impress search engines.
Google leverages breadcrumbs to categorize and contextualize your content. And guess what? Breadcrumbs also show up on the SERPs. I'm sure you must have seen them above the SEO title for numerous listings in the SERPs. Those are nothing but breadcrumbs:

Unlike URLs, these breadcrumbs clearly show where the page is located on your site. As a result, there's a good chance that searchers may click on your listing and visit your website.
Dive Deeper: 21 Paid & Free SEO Tools That Will Improve Your Ranking
4) Increase Time Spent on Site
Bounce rate can be a big spoilsport when it comes to the average time a visitor spends on your website.
Higher bounce rates mean that visitors are typically spending a shorter time on your website. This could be detrimental for your SEO results, as search engines may deem that your website isn't useful for searchers.
How can breadcrumbs help here?
As mentioned above, breadcrumbs play a major role in reducing the bounce rate of your website. Visitors can click on them like internal links and navigate through your website. This, in turn, helps boost the average time spent by visitors on your website.
For instance, if you're on Eduard Klein's blog, you can seamlessly explore the various blog categories for which he writes a post, just by using the breadcrumbs. This helps him improve the average time spent by users on his site.

5) Drive More Conversions
Along with increasing the average time spent by users on your website, breadcrumbs can have a direct impact on your revenue, especially if you own an e-commerce store.
People visit your e-commerce website with the goal of finding the product that they're looking for. If they find it in the first go, you'll have a conversion right away.  But what if they're not able to find it? There's a good chance that they may leave your website, which could lead to your losing a customer and some revenue.
So your goal is to keep them on your website and nudge them to continue their search. This is where attribute-based breadcrumbs can help you boost your conversions. For instance, let's say a visitor is looking for a 65-inch TV on Best Buy but lands on the page for a 75-inch TV that they don't want.
They might bounce away from the website.
However, with breadcrumbs, they'll easily be able to see all flat-screen TVs with a single click. This may prompt them to stay on the Best Buy website and continue searching for the TV they want to buy.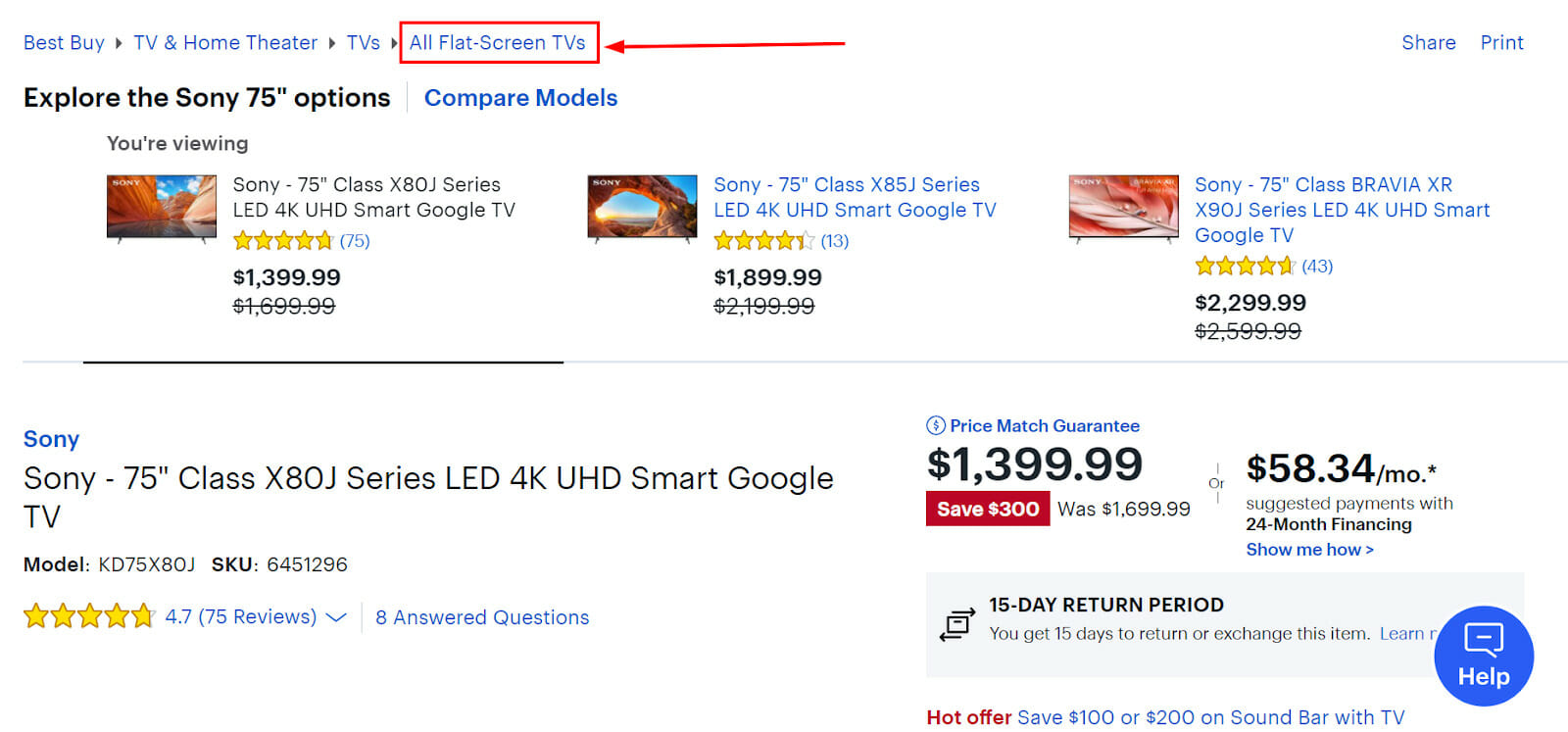 Dive Deeper:
* SEO for E-commerce Sites (Beginner & Intermediate)
* How to Lower E-commerce PPC Advertising Costs with Email Marketing
* How This E-commerce Store Doubled Its Revenue Using Our Facebook Ads Advice

How to Implement Breadcrumbs for SEO
Now that you know that breadcrumbs can help improve your SEO, let's take a look at how you can implement them on your website.
Typically, you'd need to have some technical skills to implement breadcrumbs on your website, so the best way to go about it might be to hire the services of an SEO expert.
However, if you run a WordPress website, you should be able to do it yourself. All you have to do is install an SEO plugin like Yoast SEO that allows you to add breadcrumbs to your WordPress website with the click of a button.

But what if you don't want to add breadcrumbs to all your posts?
Thankfully, there's a way to add breadcrumbs to individual posts and pages. You can do so using the Yoast SEO breadcrumb block on WordPress. You can easily add this block in the WordPress Block Editor by clicking on the "+" and selecting it.
Once you've added it, that particular page will get breadcrumbs: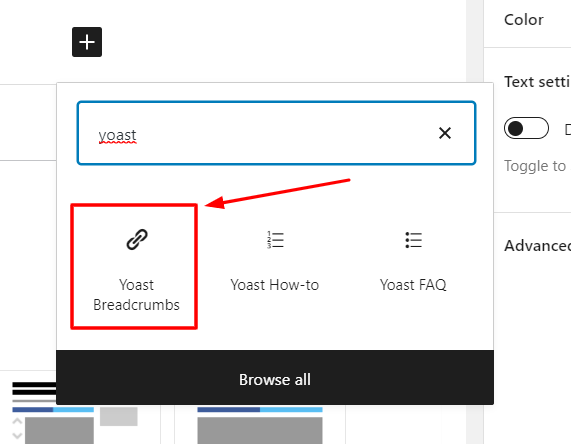 Breadcrumbs Best Practices
Now that you have a good understanding of breadcrumbs, their advantages, and how to add them to your web pages, let's take a look at the best practices to follow.
1) Visibility
Adding breadcrumbs to your website or specific pages isn't enough. One of their most important purposes is to serve as a guide to navigate through your website. Hiding them would be counterintuitive in such a situation.
Instead, you should make all efforts to place them on your web pages in a prominent spot to ensure that your visitors can find them easily. Typically, you should consider placing them above the fold. However, make sure you don't use extremely large font sizes, as that might take the attention away from other more important elements on the page.
For instance, note how Search Engine Journal has incorporated breadcrumbs well above the fold: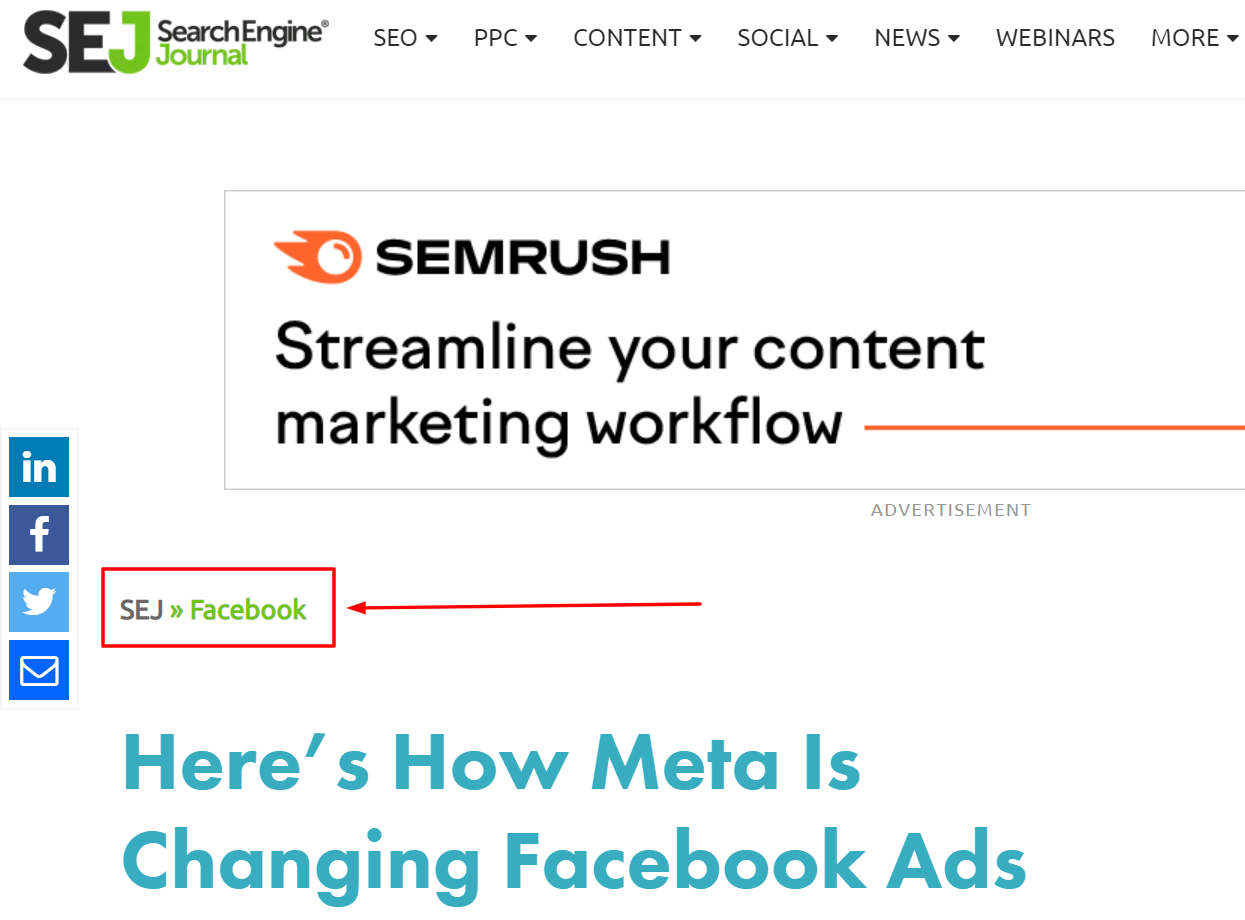 2) Mobile-Friendliness
Mobile traffic now accounts for half of all web traffic worldwide: 54.4% of all web traffic in the fourth quarter of 2021 originated from mobile devices. This means that your website must be built with a responsive design. All elements should render well on mobile devices to provide a better user experience.
The same applies to breadcrumbs. You should develop a mobile-friendly breadcrumb trail so that your visitors can easily navigate through your site whichever device they are viewing it from.
Here's a great example of a mobile-friendly breadcrumb trail. Walmart has added breadcrumbs right at the top of the product page and the breadcrumbs are rendered such that anybody browsing the site using a smartphone can easily see where they are and how to get back to the previous categories: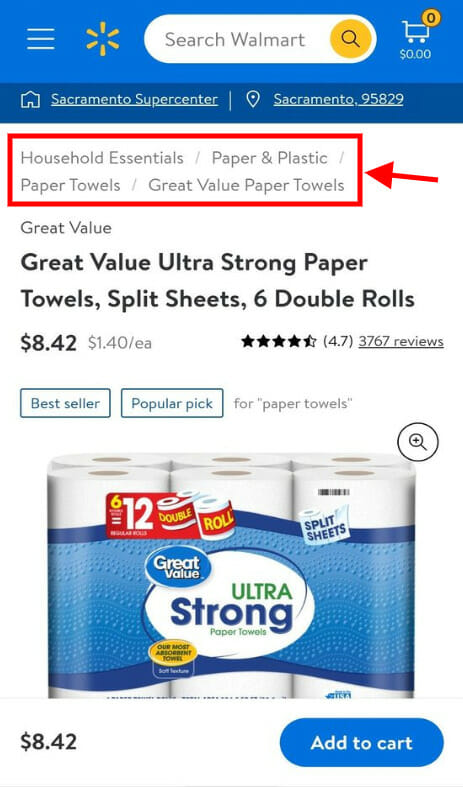 3) Schema Markup
Finally, as mentioned earlier, breadcrumbs also show up in search results. You can see them instead of a URL for a particular listing:

The reason behind this is the breadcrumb schema markup. A schema markup is a type of structured data (i.e. code added within your HTML) that provides a detailed description of a web page:
This schema markup lets you highlight your breadcrumbs so that search engine bots can understand them better. Schema markups are also used to get listed in featured snippets.
When you add schema markup to your website, the chances of breadcrumbs showing up in your listing in the SERPs increase. This, in turn, can potentially increase your click-through rate (CTR) as the breadcrumbs convey the content of your page better than a URL.
While you'd ideally have to write structured data code for breadcrumbs, Yoast SEO can do the job for you if you're a WordPress user. If you've enabled breadcrumbs there, your schema would be auto-generated by Yoast. Otherwise, read Google's breadcrumb schema markup guide.
Dive Deeper:
* 10 Effective SEO Techniques to Drive Organic Traffic in 2023
* How to Rank Your Brand-New Website When You Don't Know SEO
* 9 Quick SEO Tactics That Only Take 10 Minutes to Implement

Final Thoughts on SEO Breadcrumbs
Breadcrumbs play a major role in the SEO of your website.
They can help reduce bounce rates and increase the average time spent by visitors on your site. They also help you improve the overall user experience of your website and boost your rankings in the SERPs. Finally, attribute-based breadcrumbs makes it easier to engage visitors on your e-commerce store and increase conversions.
Hopefully you learned how to implement breadcrumbs on your website! But if you just want an expert SEO agency to do it for you, click here.