Enterprise SEO is challenging. It is not easy to manage a site consisting of several thousand pages or to track the performance of hundreds of keywords.
If you are auditing a massive site or building links for a large enterprise, every SEO task comes with its own set of challenges.
Thankfully, Enterprise SEO software assists marketers and SEO professionals in analyzing and tracking the performance of enterprise websites quickly and accurately.
In this article, I will discuss the basics of Enterprise SEO, the need for Enterprise SEO platforms, and discuss the top Enterprise SEO software that you should use for managing large websites.
What Is Enterprise SEO?
Enterprise SEO is a marketing strategy for large enterprises where the goal is to attract more traffic via search engines like Google. Large companies benefit from enterprise SEO services by seeing tremendous growth in organic traffic, which leads to increased leads, conversions and profits.
SEO professionals use the following strategies to improve the organic visibility of the business' website(s):
Goal setting
Competitor analysis
Keyword research
Site structure optimization
Site speed optimization
Content analysis
Content marketing
Link acquisition
Core web vitals optimization
Google Search Console and Google Analytics monitoring
Enterprise SEO is the preferred marketing approach for almost every large organization since it brings tons of relevant visitors ready to convert.
Dive Deeper: What Is Enterprise SEO? (Definition, Examples & Tools!)
What Is Enterprise SEO Software?
Enterprise SEO software is a collection of SEO tools that helps to optimize a website and assists with different SEO tasks.
For instance, the Enterprise SEO platform SEMrush offers a group of marketing tools such as the Site Auditor, The Position Tracker, The On-Page SEO Checker, The Link-Building Tool etc., each catering to a specific need of SEO professionals.  
SEO involves several activities, and for undertaking each activity, a combination of tools are used. There are several challenges that SEO professionals have to face while they are working to improve the organic presence of a large website or a collection of websites. Enterprise SEO software offers data-driven insights that directly impact large organizations' bottom lines and helps them beat their organic competitors.
In the following sections, I will discuss the different SEO challenges and how Enterprise SEO helps to solve them.
Enterprise SEO Challenges
Enterprise SEO has its own set of unique challenges. It is necessary to overcome them, but it is not easy doing so since a wrong move can damage your entire SEO strategy.
Here are the top Enterprise SEO challenges that inbound marketing teams face:
1) Managing CROss-Team Collaboration
When you are managing the search engine optimization of a large organization, you quickly realize the difficulty in managing communication and collaborating on projects when there are so many people involved.
Large companies have different departments for tackling the massive amount of work, so you often are required to communicate efficiently with several siloed teams, such as marketing, development, and sales in order to further your SEO work.
Hence, you need an Enterprise SEO platform that makes it easier for you to share relevant docs, files, videos and links to keep all the concerned departments and key people in the loop.
2) Optimizing Complex Site Structures
Large websites often have complex site structures. Since there are so many elements involved in the site design, it becomes heavy, leading to higher page load times.
Auditing a big website is not easy, either. You need an Enterprise SEO tool to quickly analyze the issues on the site to implement the possible fixes.
In addition, you need a crawler to crawl your site and identify the issues for you as and when required. With large sites, you should be running site audit crawls every day to locate new problems. It's a constant loop of: run a crawl, find the issues, fix them. Verify that the issues are resolved by running a new crawl. Issues are fixed, but now you catch a new problem. So you: run a crawl, find the issues, fix them. And so on.
Forget doing this manually because there is no way you can analyze hundreds or thousands of pages every day.
3) Discovering the Right Keywords
Keywords form the base of every successful Enterprise SEO strategy. You should pick the right keywords for every service to generate relevant traffic and conversions.
Moreover, you should know the keywords that your competitors are using in their SEO plan. Hence, you need lots of data.
A proper keyword mix involves:
Primary keywords related to every service that the business offers.
Secondary keywords based on your primary keywords.
Relevant keywords that your main competitors are using.
High-conversion keywords from the PPC campaigns that the company or its competitors might be running.
Long-tail keywords to target featured snippets.
Question keywords to target FAQ pages.
To do a lot of research, you need an Enterprise SEO platform that can perform extensive keyword research and provide all the data required to bring in qualified visitors to your site.
Dive Deeper: SEO Keyword Research Made Easy in 2023
4) Planning the Content Strategy
Content marketing is an essential part of every SEO campaign. To plan an effective content strategy, you need to analyze the content pieces that are ranking high for your target keywords.
Enterprise SEO software quickly gathers all the relevant content data and tells you the type of content you need to prepare to elevate your Enterprise SEO performance.
For instance, you can dive deep into the top 10 results for hundreds of keywords in your SEO campaign strategy and find the exact word count required to outrank your existing competitors. You can also find out which LSI (Latent Semantic Indexing) and related keywords to use in your content.
With such powerful data-driven insights, your SEO strategy is bound to offer a good ROI.
Dive Deeper: How to Create a High-Performance Content Marketing Strategy in 2023
5) Building High-Value Links to the Target Domain
Link building is the most performed SEO task. High-quality link acquisition needs a solid strategy.
You should have data related to:
The number of links required to outrank your competitors.
Domains that are linking to your competitors but are not linking to you.
Kind of links your competitors are acquiring consistently.
Domains that mention your brand but don't link to you.
Relevant websites that are accepting guest posts.
When you have all the relevant competitor data for link building, you can solidify your link acquisition strategy to boost the authority of the target domain.
Dive Deeper: The Ultimate Guide to Link Building with Content for SEO
6) Tracking Rankings of Hundreds of Keywords  
Enterprise SEO involves hundreds or thousands of landing pages. Therefore, you should have a robust tracking platform that automatically tracks the rankings of the target keywords in your target locations: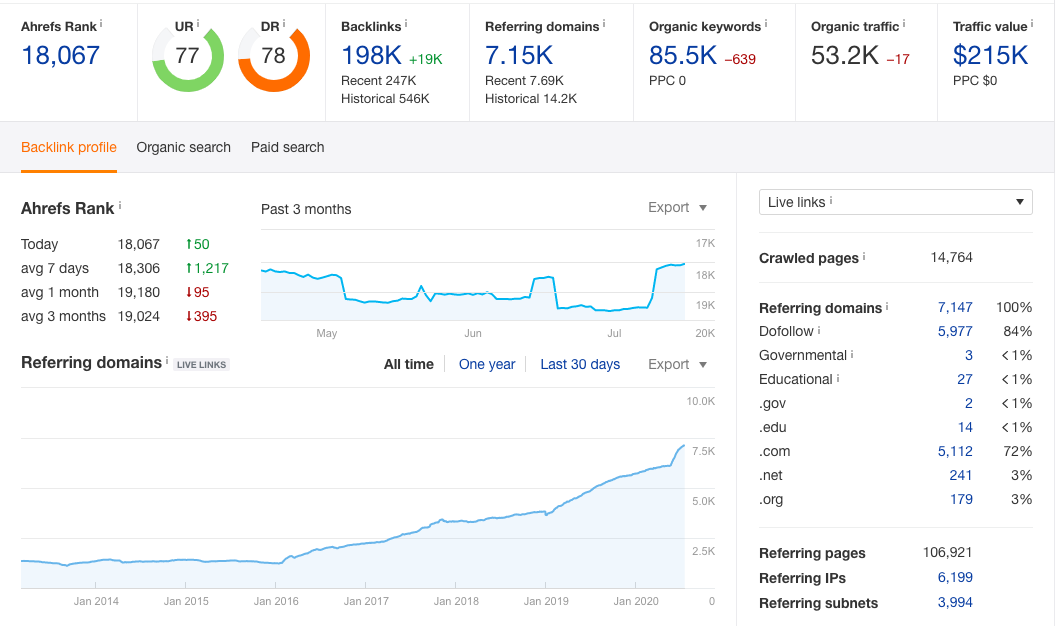 Several good Enterprise SEO platforms offer rank tracking features to automatically track your rankings and send alerts directly to your email.
Dive Deeper: Enterprise SEO Keyword Tracking: 6 Best Tools to Monitor Performance
7) Showing SEO Value to the Client or CEO/CMO
Reports are essential to show the value of your Enterprise SEO efforts to your clients or your boss.
Some of the vital SEO reports that you need to prepare are:
Keyword Research Report
Competitor Analysis Report
Site Audit Report
Traffic Analytics Report
Ranking Report
Link Building Report
Preparing reports manually consumes a lot of time and leads to a much lower level of productivity. Thankfully, there is powerful Enterprise SEO software that automatically generates different SEO reports for your clients.
Dive Deeper: 8 Essential SEO Reports to Create for Your Client in 2023
How Do Enterprise SEO Platforms Solve Enterprise SEO Challenges?
Enterprise SEO software saves time and resources by automating essential SEO tasks that you might otherwise do manually.
Imagine checking all the broken links on a large website. Even if your entire team was working on it, think of how time-consuming it would be to perform this task.
Enterprise SEO platforms offer the following advantages to solve your Enterprise SEO challenges:
1) Automate SEO Tasks
Critical and time-consuming SEO tasks are managed efficiently by Enterprise SEO tools. Some of the essential tasks that you can perform using Enterprise SEO software are:
Identifying and fixing duplicate content issues
Analyzing the keywords that your competitors are optimizing to drive conversions
Finding the top keywords that have high search volume but low competition
Getting insights on content ideas
Managing social campaigns
Finding longer, shorter or duplicate meta tags
Automating link building
Finding the risk of link penalty
Tracking the rankings of target keywords for different domains in several targeted locations
Monitoring brand reputation
Preparing detailed SEO reports
Automation of crucial SEO tasks improves your site's organic visibility in the search results and helps keep your site health safe.
2) Keeps All the Data in One Central Location
With Enterprise SEO software, you can keep all your data in one place. There is no need to use several tools and juggle between them.
All your competitors' data and your own domain's data are kept together so that you can compare the SEO strategies when needed.
Enterprise SEO software makes it easier to stay on top of your competitors and beat them by reverse engineering their marketing strategy.
Moreover, when all your data is in one central location, you can easily find any issues, download data, prepare reports, and quickly deliver them to the client when needed.
3) Improves the Productivity of Your SEO Team
Your SEO team should perform tasks that require mental acuity, like planning a strategy, and not repetitive or menial tasks – the SEO software should take care of those.
Therefore, when you start using an Enterprise SEO platform for your organization, you can drastically improve your marketing team's performance. Most SEO tasks are automated so that your team can stay on top of all the issues that the domain has and promptly fix them on time.
This means that you can work with a smaller team of specialized SEO professionals instead of having to hire lots of people to do labor-intensive tasks. Hence, an Enterprise SEO platform helps you reduce costs and improve productivity.
Dive Deeper: 10 Effective SEO Techniques to Drive Organic Traffic in 2023
4) Regularly Detects Critical SEO Issues
The best part of working with an automated SEO platform is that it regularly detects critical SEO issues on large websites.
Websites having thousands of pages are updated regularly. New pages are added, old pages are removed, and some pages are updated. There is always a risk of duplicate content, broken links, orphan pages, missing title tags, missing heading tags, longer or shorter description tags, etc.
You can have peace of mind when you know that an Enterprise SEO tool works 24X7 to detect issues. You regularly receive alerts that keep your SEO team prepared for the next task.
Dive Deeper: How to Fix 15 Common On-Site Technical SEO Issues
5) Improves the Quality of Your Content
Content is one of the top priorities in every Enterprise SEO campaign. Some tools can assist you with high-quality content writing and editing to achieve high rankings.
Google and other search engines rank web pages based on content. Hence, the best way to produce content for your target keyword is by first analyzing the content that is ranking in the top 10 of the SERPs.
Enterprise SEO software helps you quickly perform a content check and lets you know the word count needed to outperform your organic competitors. Moreover, you also get recommendations to keep your content copy user-friendly and engaging to acquire more clicks and conversions: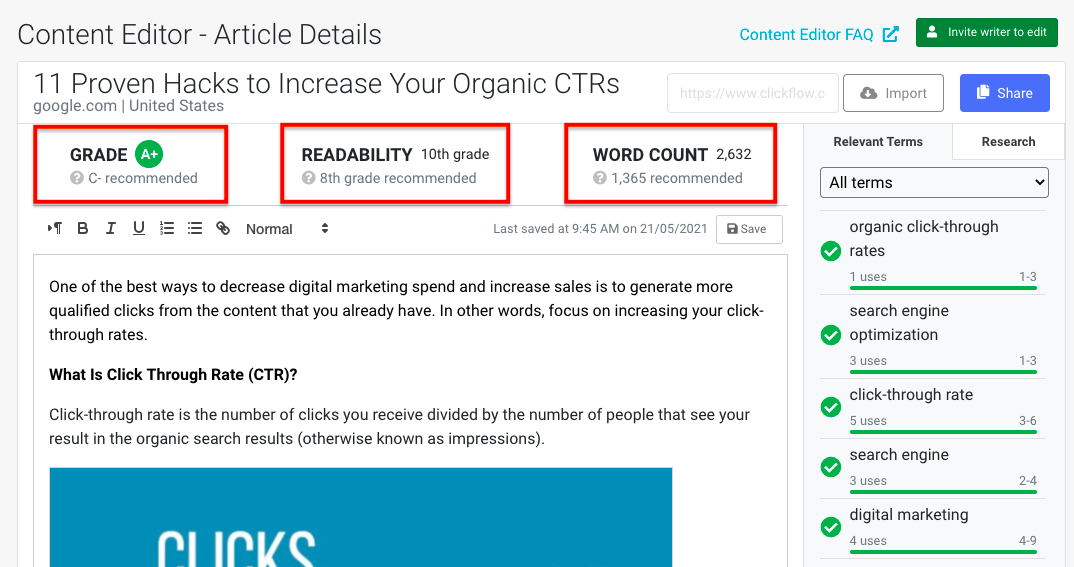 6) Makes SEO Reporting a Breeze
SEO reporting is an essential activity for every SEO team because it helps your clients or boss understand the company's value from your SEO strategies.
When you work with Enterprise SEO platforms, you get access to several different reports that include lots of data. You can prepare branded reports that outline the issues, the fixes and the results.
When you keep all the concerned departments in the loop, you can justify the value of your SEO work.
Top Enterprise SEO Platforms
This list comprises the best Enterprise SEO software, several of which should be present in every SEO's arsenal:
Title/Meta Testing
2) SEMrush
SEMrush is one of the top marketing software used by Enterprise SEO agencies. It offers a wide range of tools for every SEO task. 
Site Audit Tool
The Site Audit tool is a SEMrush crawler that crawls your website to detect any SEO issues that might impact the organic visibility.
All you need to do is run a site audit and the tool will automatically list the errors, warnings, and notices after performing over 120 on-page and technical SEO checks.
For Enterprise SEO, you need a tool that can prompt crawls and detect issues in several thousand pages at once. SEMrush can crawl 1,000,000 pages per audit: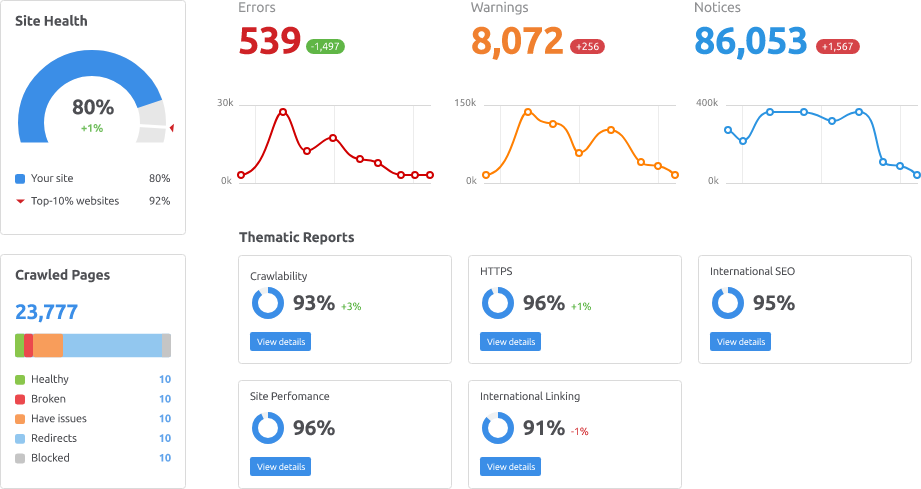 Keyword Overview Tool
SEMrush has one of the biggest keyword databases on the market. The Keyword Overview tool offers relevant insights on any keyword.
For instance, you can see the search volume, the keyword difficulty score, the CPC, related keywords, related questions, and keyword variations of your target keyword: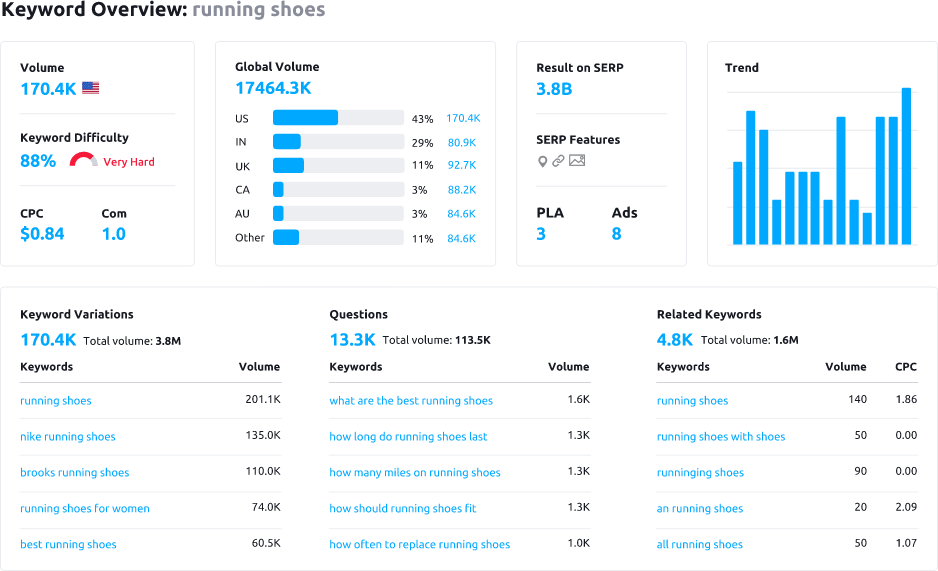 With such powerful insights on every keyword, you can elevate your SEO strategy and bring potential customers to your target site.
Keyword Magic Tool
Enterprise SEO campaigns require you to work with hundreds of keywords. Therefore, you need a tool that can find hundreds of new keyword opportunities with conversion potential.
The Keyword Magic Tool lets you find new keywords from a database of over 20 billion keywords in just a few clicks. You can determine the search volumes, keyword trends, keyword difficulty, top competitors, and cost per click for every keyword: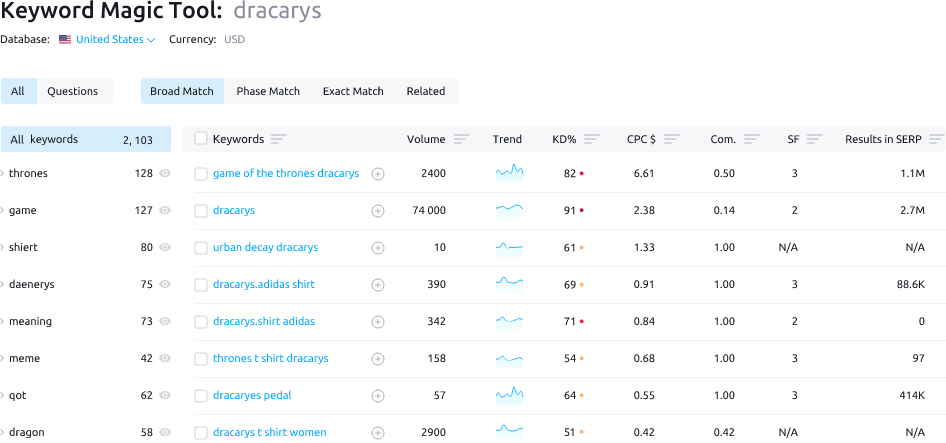 Since Enterprise SEO requires you to group hundreds of keywords by categories, SEMrush lets you collect and save all your keywords in one place: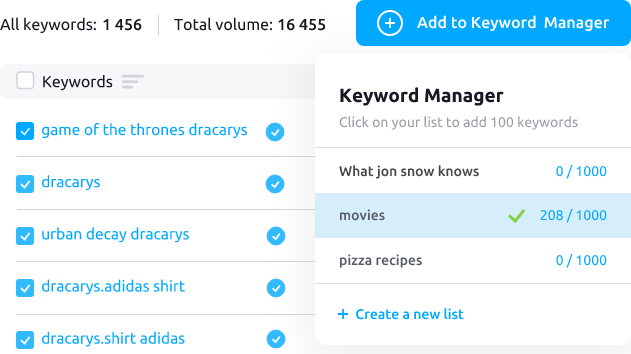 Position Tracking Tool
Tracking the rankings of hundreds or even thousands of keywords is not easy. You can't track the rankings manually because it would require way too much time and lead to unproductive work.
All you need to do is feed all your target keywords in the Position Tracking Tool, and the software will automatically track rankings based on your target location. Moreover, the tool will send alerts whenever there is a ranking fluctuation: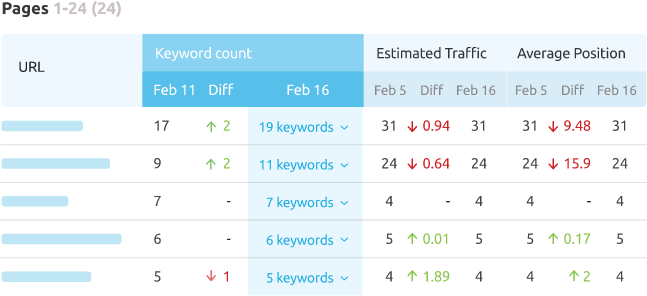 On-Page SEO Checker
The On-Page SEO checker is a revolutionary tool for Enterprise SEO specialists because it offers a structured list of to-do items in order to improve the rankings of your target page for the targeted keywords.
Just feed your target keyword and the target page into the tool, and it will show you some ideas to improve the rankings of your page. Ideas consist of things like content optimization, backlinks, technical issues, user experience: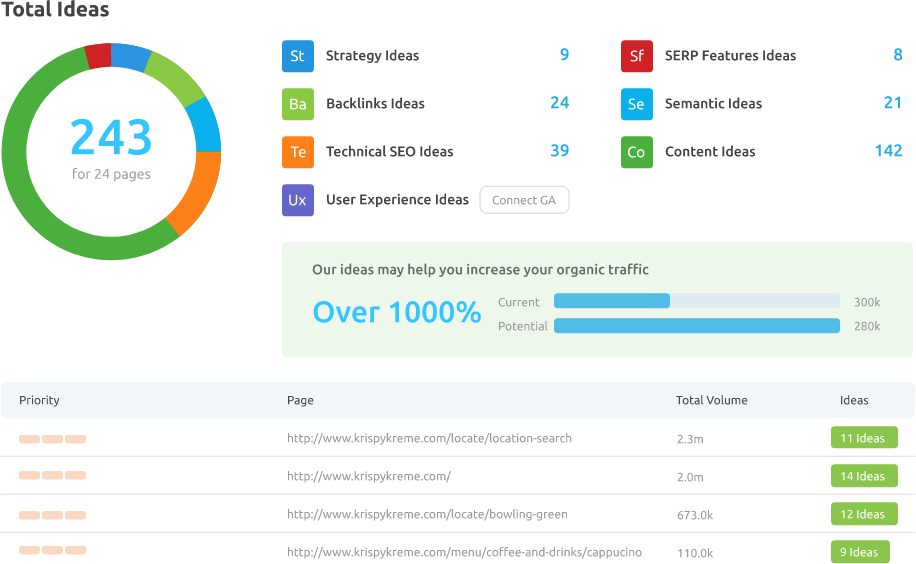 Domain Overview Tool
The Domain Overview tool lets you identify the crucial metrics affecting the organic visibility of a website.
With the help of this tool, you can find tons of relevant competitor insights in no time. Just enter your competitor's domain in the search box, and the tool will show you the exact keywords for which the domain ranks, the authority score of the domain, the number of links pointing to the site, the total organic traffic, etc.: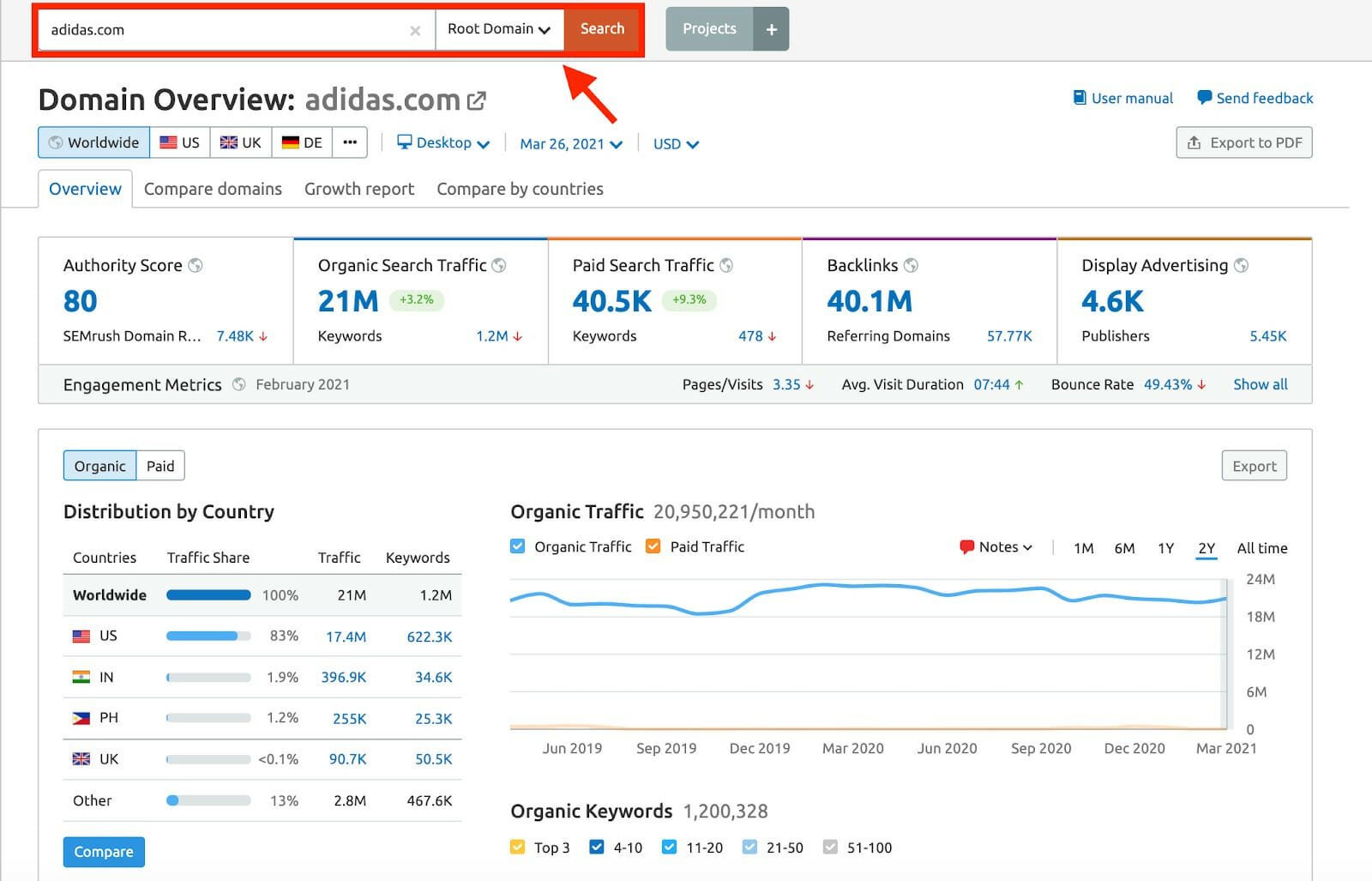 Such data is critical for reverse engineering your competitor's Enterprise SEO strategy.
Keyword Gap Tool
To use the Keyword Gap Tool, you just enter the domains of your top five competitors and the software will return all the organic keywords for which your competitors rank.
Keyword gap means finding the keywords that your competitors are targeting and ranking for, but that your target domain isn't: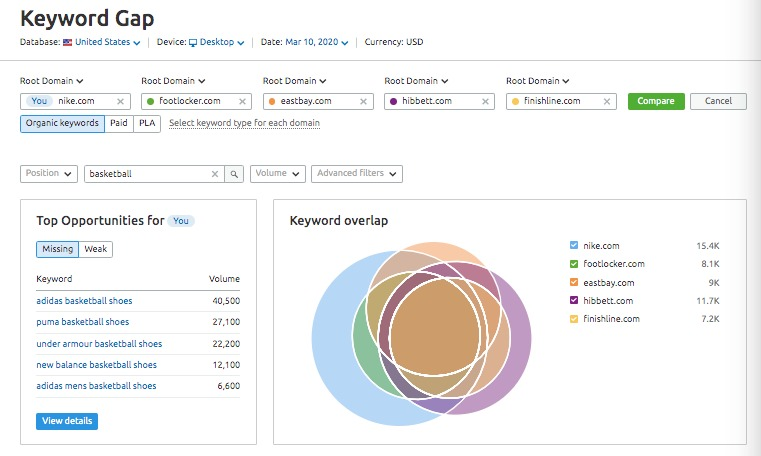 Keyword gap analysis helps to broaden the list of your target keywords to boost the success of your Enterprise SEO campaign.
Backlink Gap Tool
Like the Keyword Gap Tool, the Backlink Gap Tool displays the domains that link to your competitors but don't link to your website: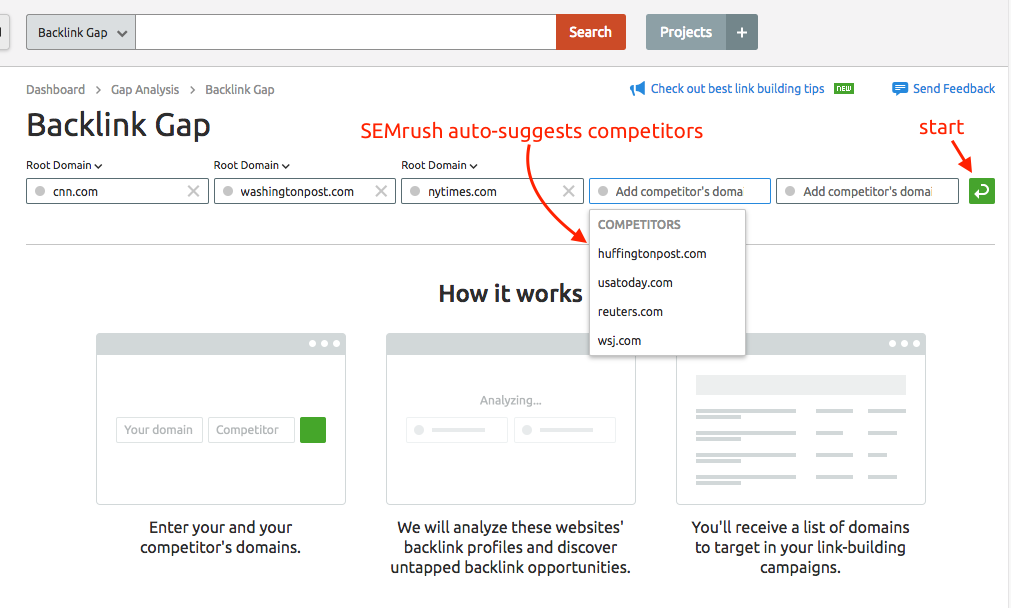 Using this tool, you can quickly determine the domains you should include in your link building efforts.
Link Building Tool
The Link Building Tool makes it easier for you to build links to your website. Feed it keywords and competitors, and the tool will present you with a list of possible links to acquire: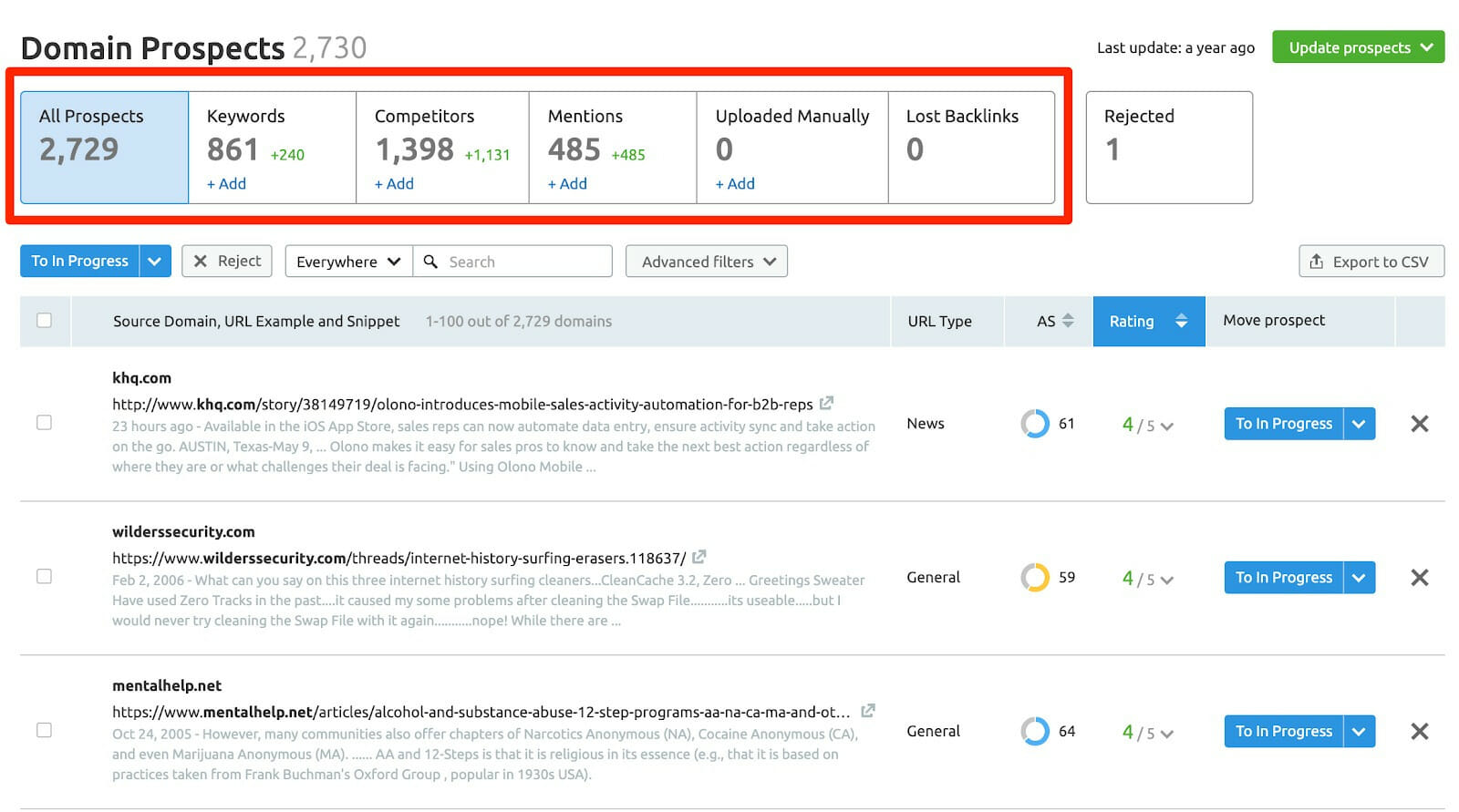 The best part of this tool is finding a list of domains that mention your business. You can conduct an outreach campaign to convert the brand mention into a link. Similarly, you can target brand mentions of your competitors and use the resources to acquire links to your domain.
Backlink Audit Tool
Potentially harmful links can damage the reputation of your domain and might invite Google penalties.
The Backlink Audit Tool from SEMrush analyzes the link profile of your domain and identifies all the toxic domains that you need to get rid of immediately: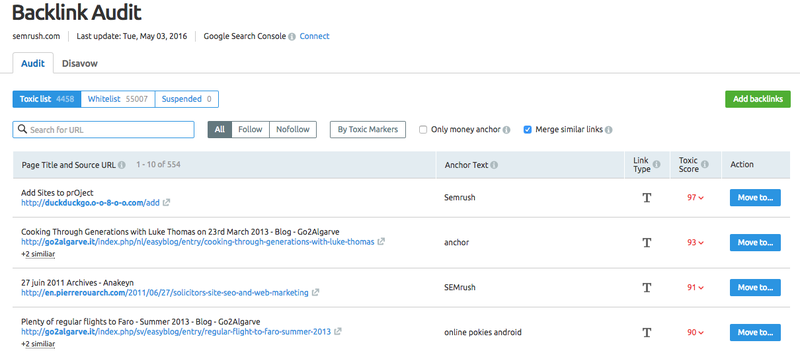 Removing the toxic domains helps to keep your link profile natural and boosts the SEO of your website.
SEMrush Pricing
The Pro plan starts at $119.95 a month, and you can add up to 5 projects or domains and crawl around 100,000 pages per month. This plan also lets you track up to 500 keywords for all five projects combined.
The Guru plan costs $229.95 a month with larger crawl limits of up to 300,000 pages and position tracking for up to 1,500 keywords.
The Business plan is priced at $449.95 a month with a crawl limit of 1,000,000 pages and position tracking for up to 5,000 keywords.
3) Moz Pro
Moz Pro is an all-in-one SEO tool set that offers several useful features to handle large business websites. With industry-leading metrics such as Domain Authority, you get a holistic picture of your SEO campaign performance to acquire quality traffic.
Keyword Research
Moz Pro Keyword Explorer is one of the oldest keyword research software in the industry and has been around since 2004. The powerful keyword research software lets you identify relevant keywords in less time.
The tool displays the keyword difficulty score, the search volume, the organic CTR, and a priority score, which is a unique score that represents keywords having higher volume and lower difficulty: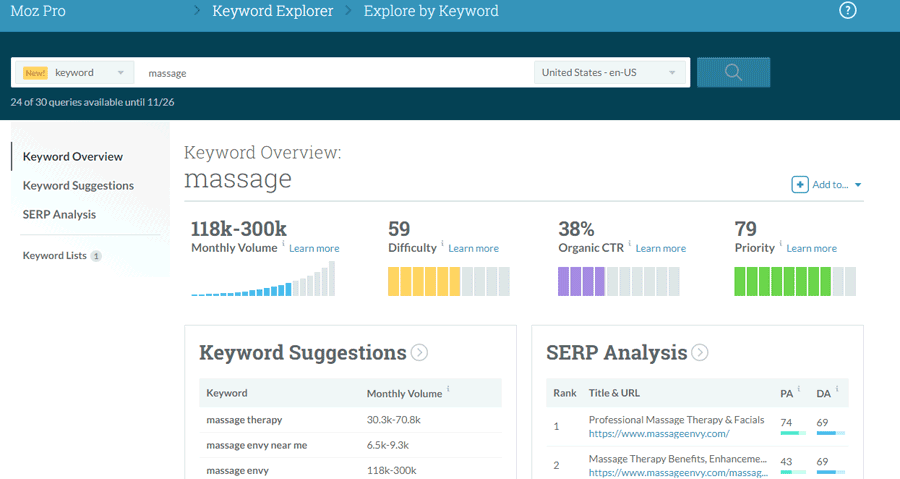 The software categorizes, prioritizes and compares keywords to outrank your competitors. You can also assign a custom score to your keywords based on the importance of that keyword to your business.
Rank Tracking
The Moz Pro Rank Tracker is one of the finest in the industry. You can easily track the rankings of all your target keywords based on target locations and determine whether your content ranking has moved up or gone down compared to the previous week:
​​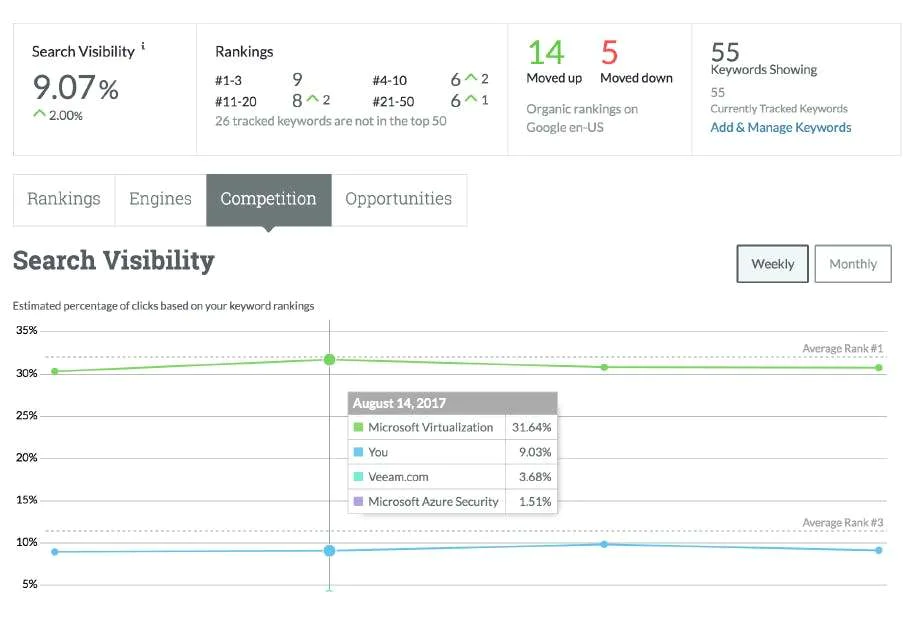 You can even track your competitors' movement in the SERPs to identify the gaps in your strategy.
The Rank Tracker also lets you compare your website visibility over desktop vs mobile to understand the different search behavior of your customers.
Site Crawl
Perhaps the essential part of the Moz Pro SEO toolset is the site crawl tool. You can uncover all the technical SEO issues of your site using this robust software.
You can quickly determine the number of critical errors and the suggestions to fix them. The tool is fast, and it displays issues by category: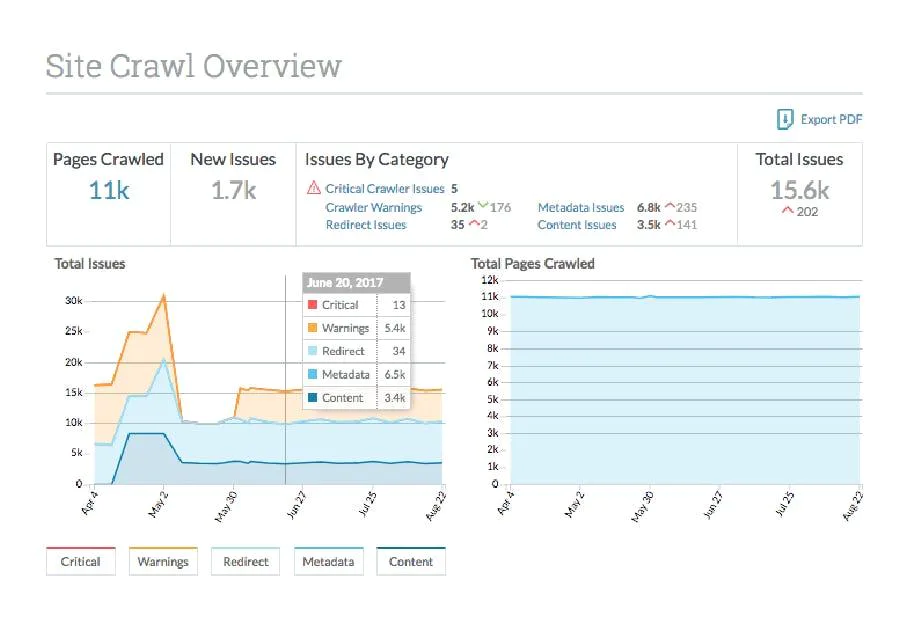 Moz Pro sends you alerts of any new issues it detects on your site so that you can fix them before they hurt your site's organic presence.
On-Page Optimization
The On-Page Optimization provides a Page Optimization score for every target landing page on your site. The higher the score, the better your page is optimized for the target keyword: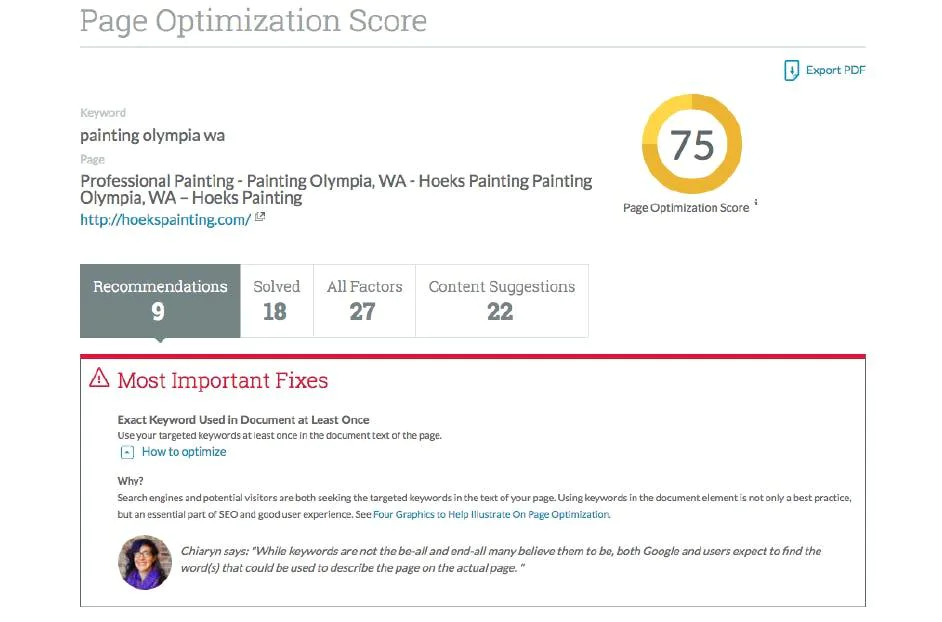 You can improve the SEO value and keyword relevance of the landing page by following the tailored SEO recommendations offered by the tool.
It becomes easier for you to dominate search engine rankings when you know how well each page is optimized for the targeted keywords.
Link Research
A quality link profile is required to improve the reputation of your domain. Trustworthy domains quickly acquire high rankings on Google.
If you are running an Enterprise SEO campaign, you want all the new pages added to the site to rank as fast as possible. The authority of the domain plays a significant role in this regard.
Links help build a site's reputation. The Link Research tool from Moz Pro lets you compare link profiles of your competitors and discover relevant link opportunities. You can easily track your link building efforts to see the progress over time: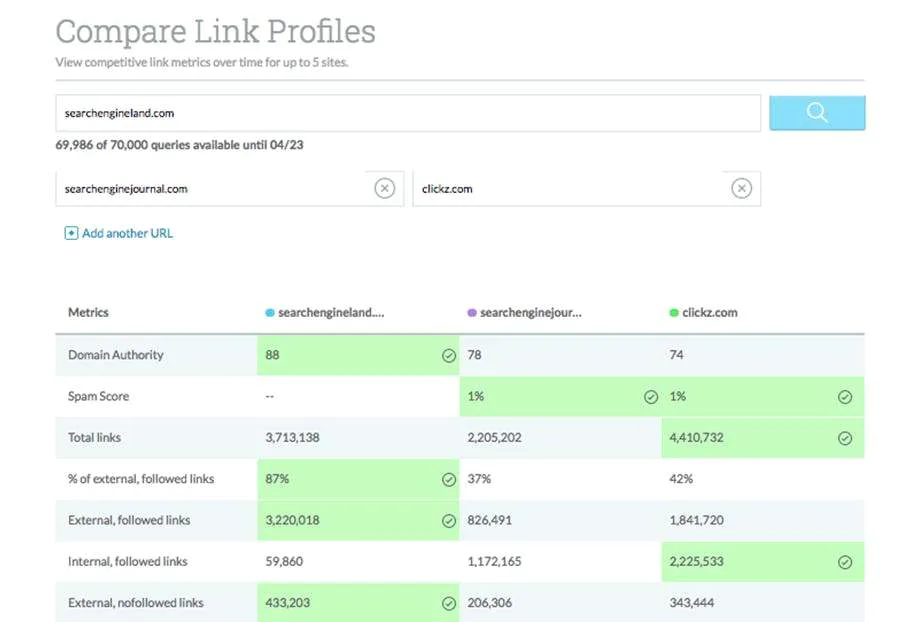 Custom Reports
It's crucial to communicate the status and progress of your Enterprise SEO work. Moz Pro makes it easier for you to build custom reports for your clients or boss.
Choose your report template, name your report, and export the report as a CSV or a PDF file. You can even set up automatic report delivery, and the software will send the selected report with updated data on a daily, weekly or monthly basis:​​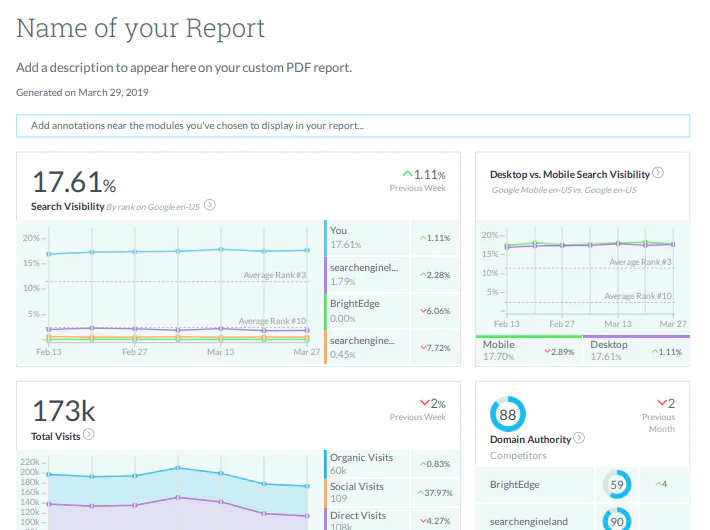 Moz Pro Pricing
The Standard Plan costs $99/month, where you can add three projects, crawl up to 100,000 pages a week and research around 150 keyword queries a month.
The Medium Plan is priced at $179/month, where you can add up to 10 projects, crawl around 2 million pages a month, and run around 5,000 keyword queries a month.
The Large Plan costs $249/month, where you can add up to 25 projects, crawl around 5 million pages a month, and run around 15,000 keyword queries a month.
The Premium Plan costs $599/month, where you can add up to 50 projects, crawl around 8 million pages a month, and run around 30,000 keyword queries a month.
4) Ahrefs
Ahrefs is an all-in-one SEO toolset that is trusted by thousands of marketers from the world's biggest brands, including Adobe, Netflix, Uber, LinkedIn and Facebook.
Site Audit Tool
With the Site Audit tool, you can quickly audit your site to find loopholes that are pushing you back from higher rankings.
Ahrefs checks your site for 119 SEO issues, including technical and on-page errors and provides in-depth recommendations to fix these issues with ease: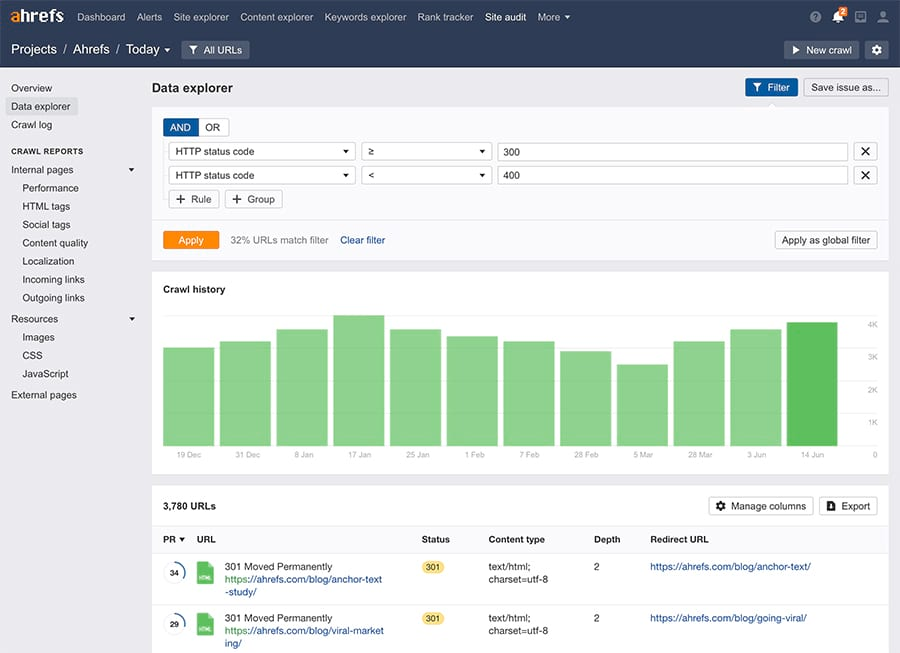 Ahrefs also allows you to schedule site audits or crawls daily, weekly or monthly:

Site Explorer Tool
Site Explorer lets you check different website metrics like organic traffic, keywords, backlinks, DR, PR, and traffic value: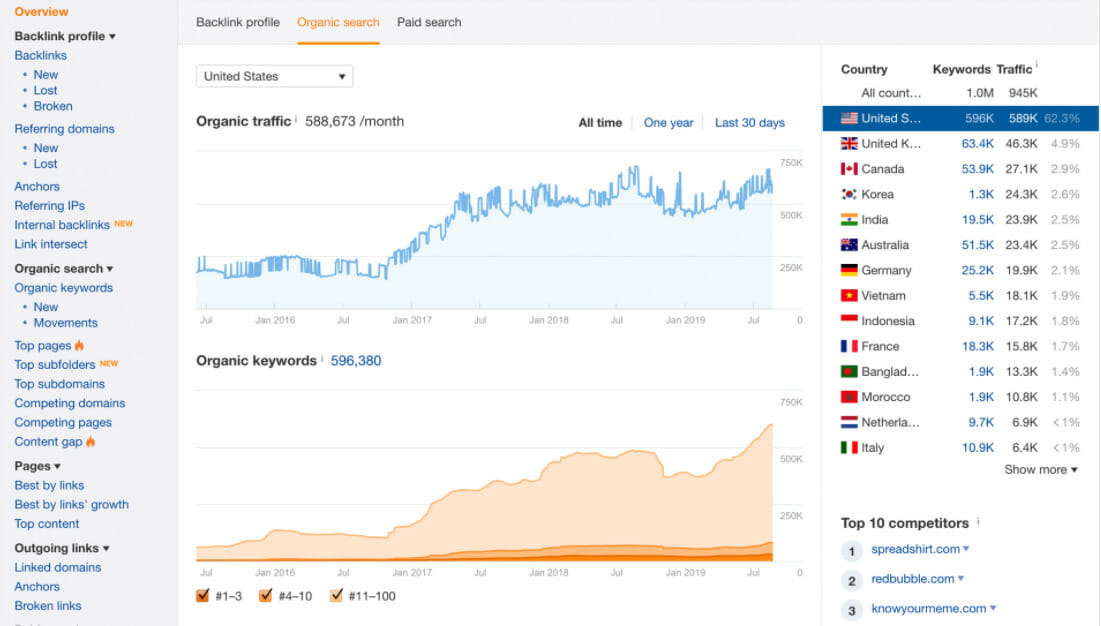 Ahrefs has a database of millions of keywords from over 150 countries that let you check for which keywords your competitors are ranking for and the traffic they are getting from each keyword: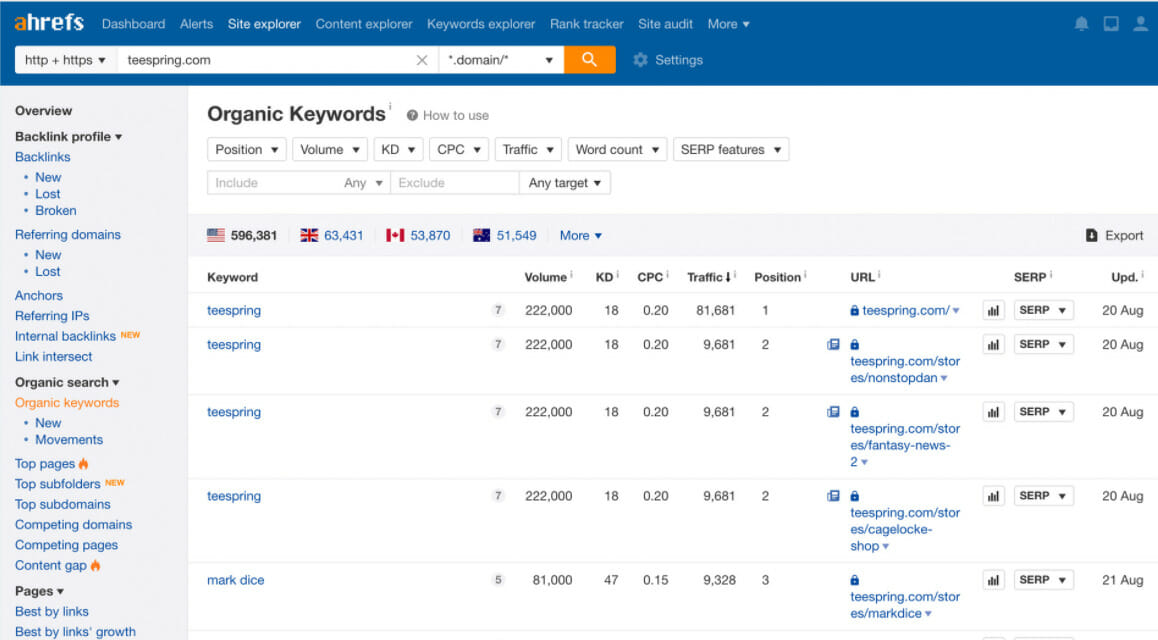 Keywords Explorer Tool
The Ahrefs Keywords Explorer tool helps you find thousands of keyword ideas with details like difficulty, search volume, CPC, and traffic potential: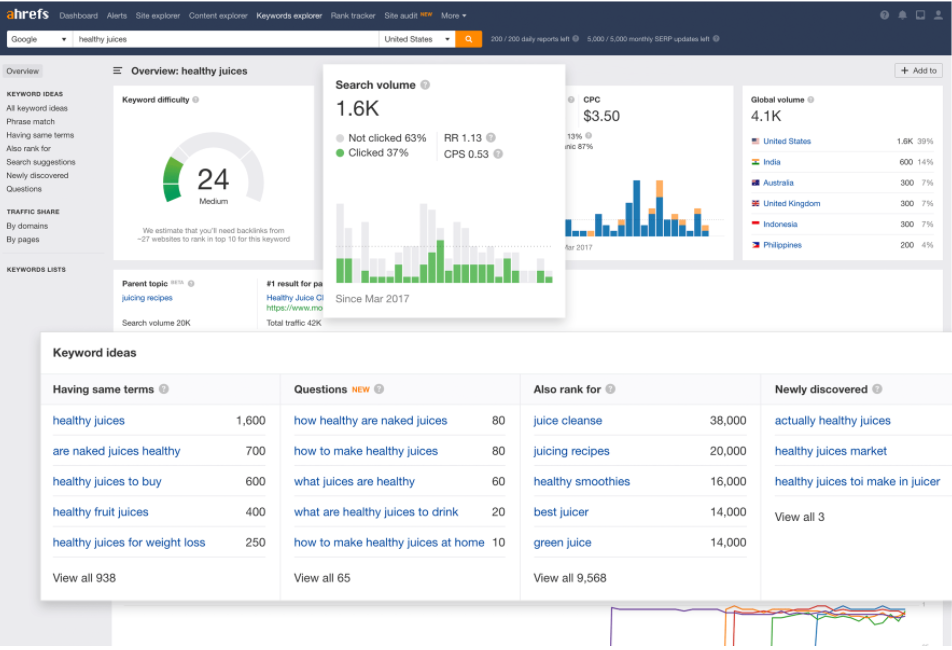 As you can see in the above image, Ahrefs generates thousands of keywords in various categories, such as phrase match, having the same term, also rank for, search suggestions, newly discovered, and question keywords.
The best part of Ahrefs Keywords Explorer is that you can discover keywords for ten search engines, including Google, YouTube, Amazon, Baidu and Yandex: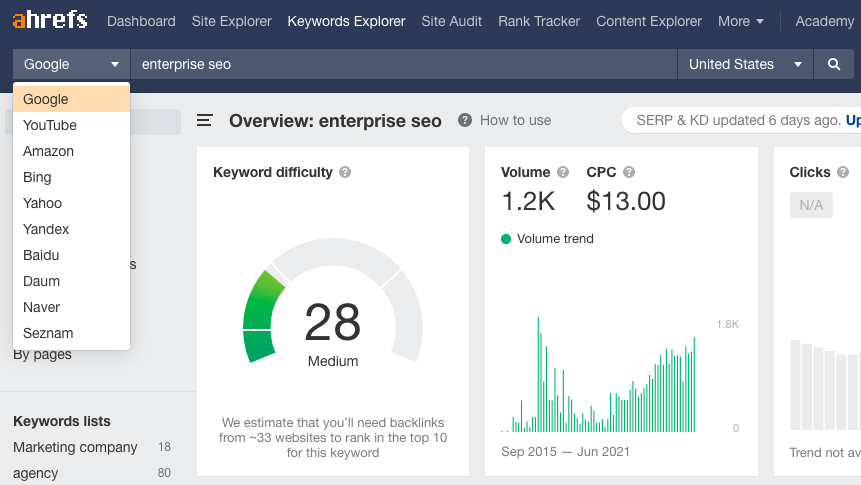 You can also view advanced SEO metrics like clicks per search and return rate, SERP overview, advanced filters, and keywords lists.
Rank Tracker Tool
To start tracking keywords, simply add keywords manually or import a list. Add countries and competitor URLs if you wish to compare positions.
You can track rankings for both mobile and desktop in 170 countries: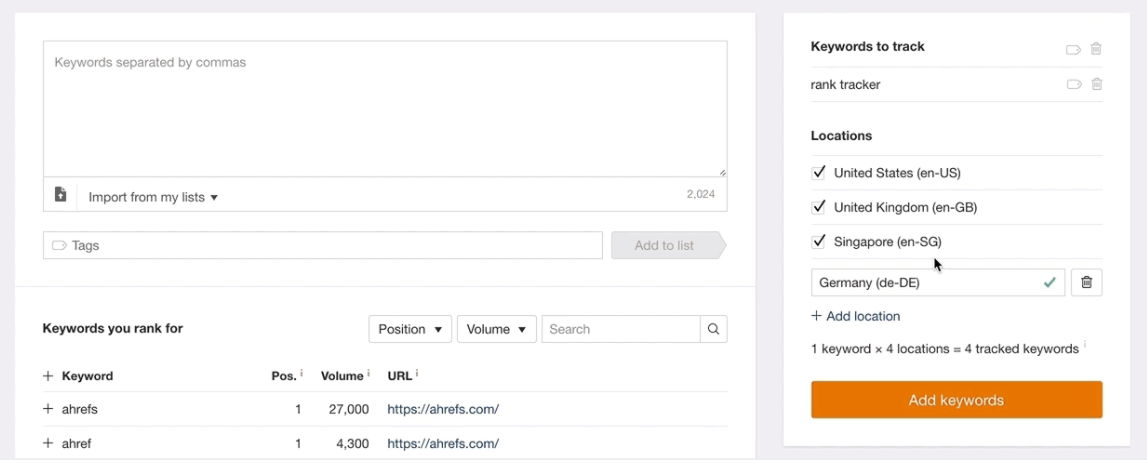 You also get visualized keywords rankings performance with average position, traffic, and visibility.

By using this feature, you can also see if your website is ranking on different SERP features like featured snippets, top stories, image packs, knowledge cards, videos, and sitelinks.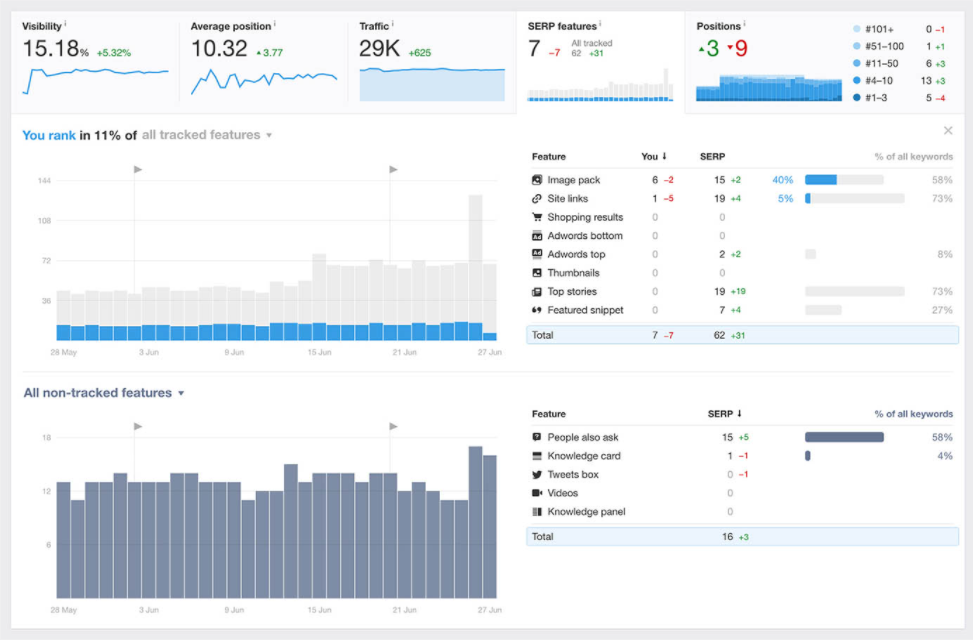 You can also receive scheduled keyword tracking reports directly to your email: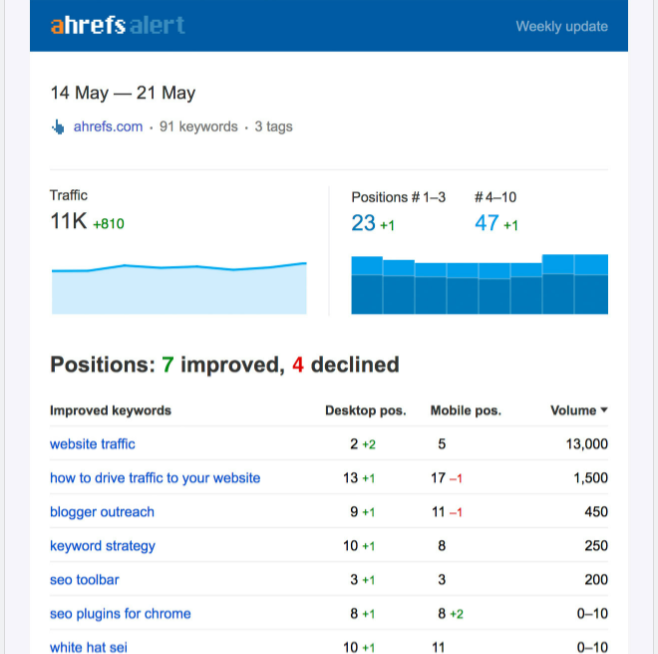 Ahrefs Pricing
The Lite plan costs $99 per month, in which you can add up to 5 projects with crawl credit of 10,000 and rank tracking of 500 keywords.
The Standard plan starts at $179 per month, where you can add up to 10 projects, with a limit of 500,000 crawl pages and up to 1,500 tracked keywords.
The Advanced plan costs $399 per month, in which you can add up to 25 projects or domains and track up to 5,000 keywords.
The Agency plan is priced at $999 per month with a limit of 100 projects and 10,000 tracked keywords.
5) SpyFu
SpyFu is a keyword research tool that also offers various SEO features like SEO reports, keyword tracking, and backlinks analytics. The software has a database of over 7 billion pages and 110 million domains.
SEO Keyword Research Tool
SpyFu's Keyword Research tool provides keyword data like CPC, SEO difficulty, monthly searches, and even estimated clicks: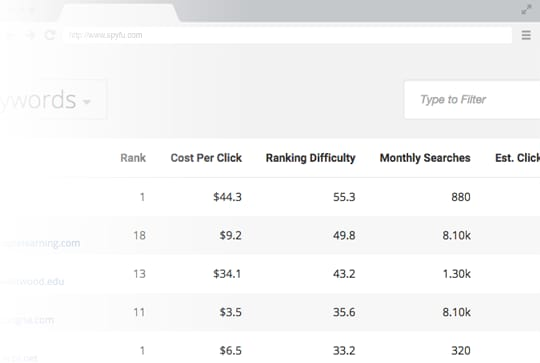 Competitors Research Tool
SpyFu helps you discover your top organic competitors with organic keywords history. You can also export the results in a CSV, Google Sheets or PDF file: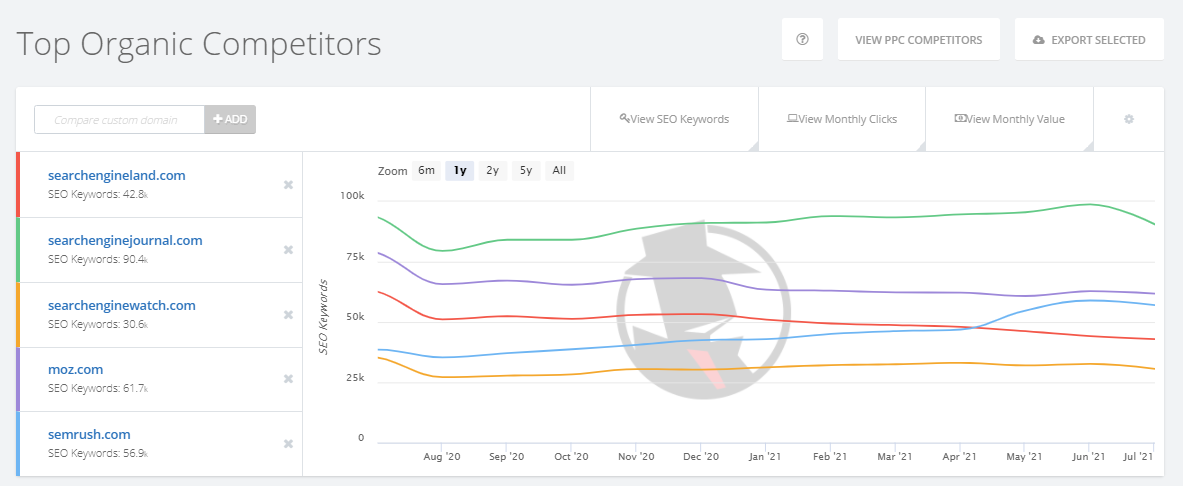 Backlinks Research Tool
The Backlink Research tool helps you find competitors' backlinks and uncovers opportunities to generate links on your website. You can get backlink data on competitors like organic traffic, domain strength, ranked keywords, and outbound links. You can also check the backlinks type like blogs, news, and directories: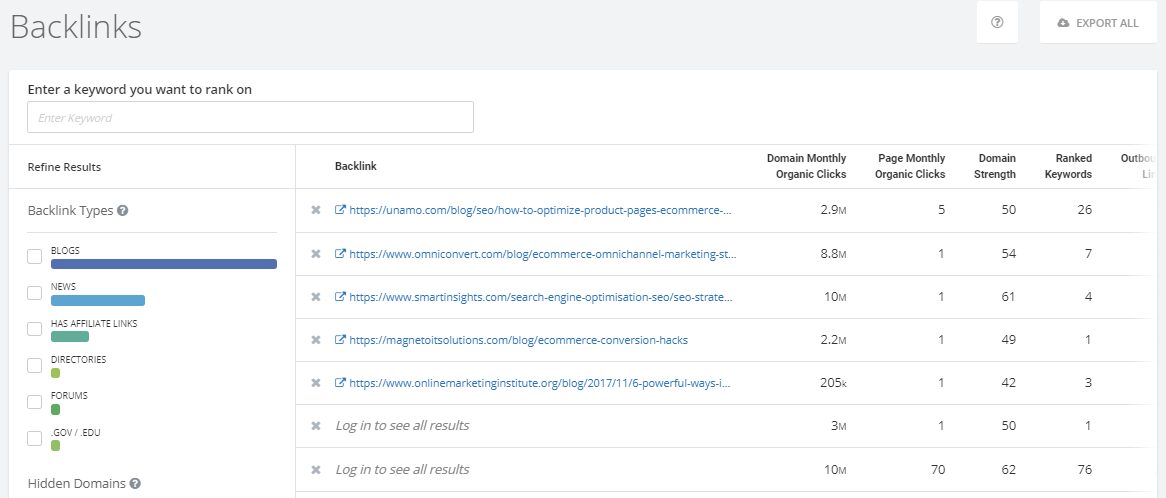 Rank Tracking Tool
With the Rank Tracking tool, you can accurately track the rankings of your projects and export them when needed. SpyFu also sends you weekly keywords ranking reports directly in your inbox: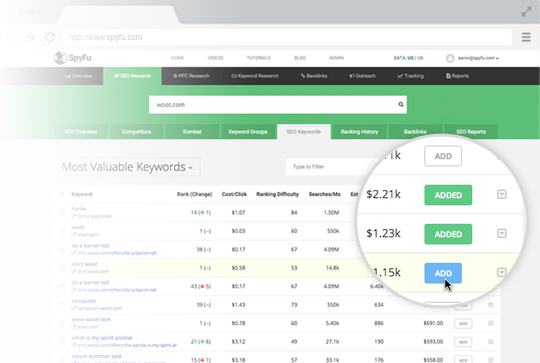 SpyFu Pricing
The Basic plan costs $33 per month with up to 10 SEO reports and 5,000 tracked keywords per week. 
The Professional plan costs $58 per month with up to 30 SEO reports and 15,000 tracked keywords per week.
The Team plan costs $199 per month with unlimited reports and 40,000 tracked keywords per week.
6) Majestic SEO
Majestic SEO is a popular backlink checker and link-building tool for SEO professionals. By using this tool, you can find both new and historical backlinks for any domain.
Site Explorer
Site Explorer shows essential domain information like the TF (Trust Flow), CF (Citation Flow), topical trust flow. Domains having higher TF and CF values rank higher on Google and are tough to beat in the SERPs.

You can also check incoming links languages: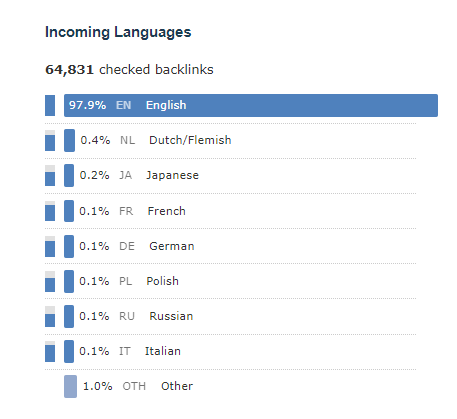 With a detailed backlink breakdown, you can check total backlinks, live links, deep links, direct links, follow links, and HTTP links.

You can also check anchor text distribution with referring domains, total links, deleted links, and nofollow links.

Majestic SEO offers other valuable features like Chrome and Firefox extensions, exporting data to CSV, Google Sheets, Excel files, and the Google Sheets data augmentation plugin.
Majestic SEO Pricing
The Lite plan costs $49 per month, and you can analyze 1 million backlinks.
The API plan costs $399 per month, and you can explore 100 million backlinks with full API support.
7) Screaming Frog
Crawling large websites is challenging because it is a memory-intensive process. Screaming Frog is an easy to use website crawling software for Windows, macOS, and Ubuntu. It is a valuable tool for conducting large scale technical SEO audits.
Top Features:
The SEO spider tool can audit broken links, errors, and redirects. It can also analyze page titles, metadata, meta robots directives, and audit hreflang attributes.
The tool can be used to generate XML sitemaps and discover duplicate pages on the site.
You can integrate the tool with Google Search Console, Google Analytics, and Page Speed Insights to fetch user experience data for all URLs.
The tool lets you optimize internal linking using tree-graph site visualizations.
You can easily schedule site audit crawls at chosen intervals to stay on top of your SEO strategy.
Overall, Screaming Frog is a robust Enterprise SEO tool that is most commonly used to find missing metadata or heading tags, duplicate metadata or heading tags, and missing alt tags on images.
Screaming Frog Pricing
The free version can crawl up to 500 URLs.
The paid version costs £149.00 (~$205 USD) per year, offers unlimited crawling, and provides technical support to resolve any issues you might find while using the software.
8) Google Search Console
A tool that comes straight from the house of Google, Search Console is must-have software for every website, large and small.
Google Search Console helps you monitor and optimize your website presence in Google's search results. It doesn't matter how big your website is, Google Search Console offers high-level data insights to improve user experience on your website.
You need to add your website as a property to start using this service.
Top Features:
Makes it easy for Google to easily crawl and index all the essential pages on your site.
With the help of the URL inspection tool, you can request indexing of your website URLs. Faster indexing helps with faster rankings.
The dashboard will show the number of clicks and impressions your website is generating. You can also identify the search queries that are bringing traffic to your site.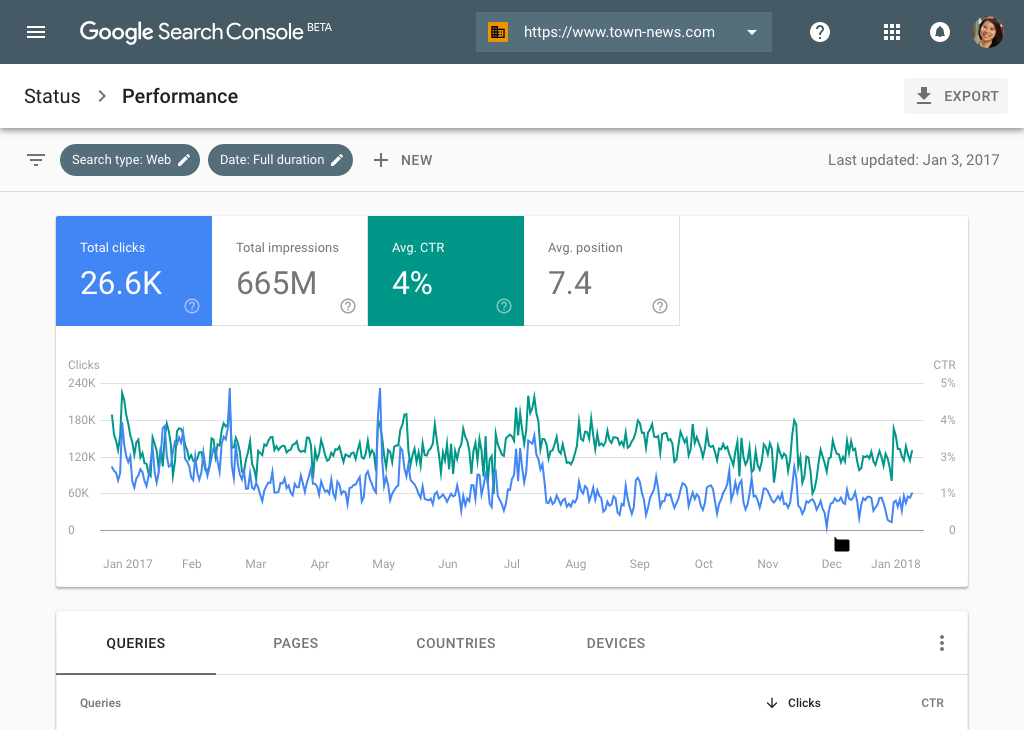 You can troubleshoot crawling issues, sitemap errors, mobile usability errors or page experience issues to offer an impressive user experience.
Search Console also lets you optimize the search appearance of your site by helping you identify the type of content that is sending clicks. For instance, you can see whether you generate clicks from AMP articles, review snippets, videos or rich results.
You can identify the Core Web Vitals issues affecting your site that are considered as Google ranking factors. Optimizing for Core Web Vitals improves your site presence in the organic search results.
Google Search Console Pricing
Google Search Console is free to use.
9) Searchmetrics
Searchmetrics is one of the smartest marketing tools for SEO marketers. It offers valuable insights that help you boost your search and content performance.
Research Cloud
With the Searchmetrics Research Cloud feature, you can check the overall domain overview, including organic rank, SEO visibility for desktop and mobile, top countries, and SERP features: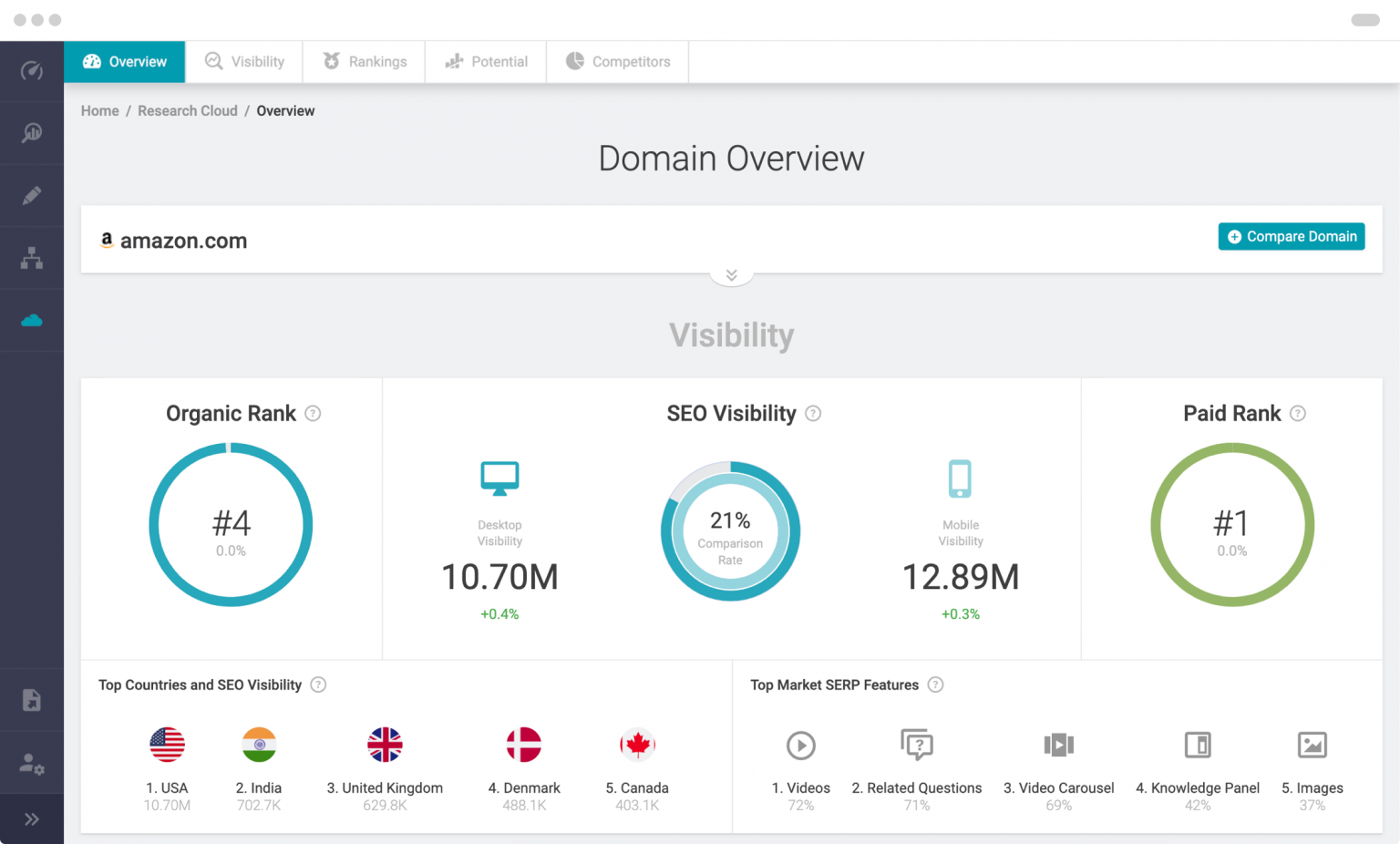 You can also compare the performance of your domain with your competitor's performance to identify potential SEO gaps.
Search Experience
The Search Experience suite allows you to track the performance of your target keywords. You can track rankings across 130 countries, multiple devices, 1,000+ locations, and different search engines: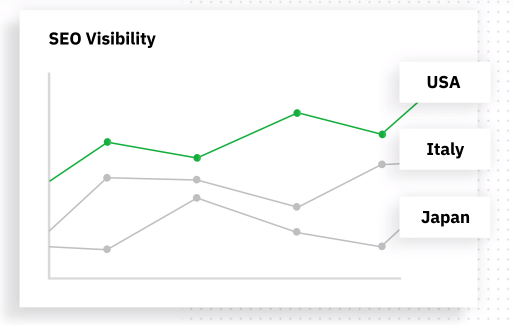 Audience Search Intent
By using the Audience Search Intent feature, you can find your audience's search intent to prepare relevant content accordingly: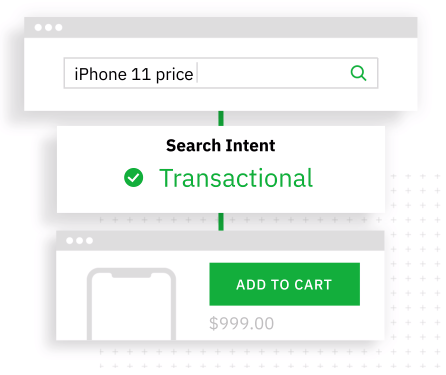 Site Experience
Searchmetrics' Site Experience offers useful technical SEO recommendations to improve your site performance: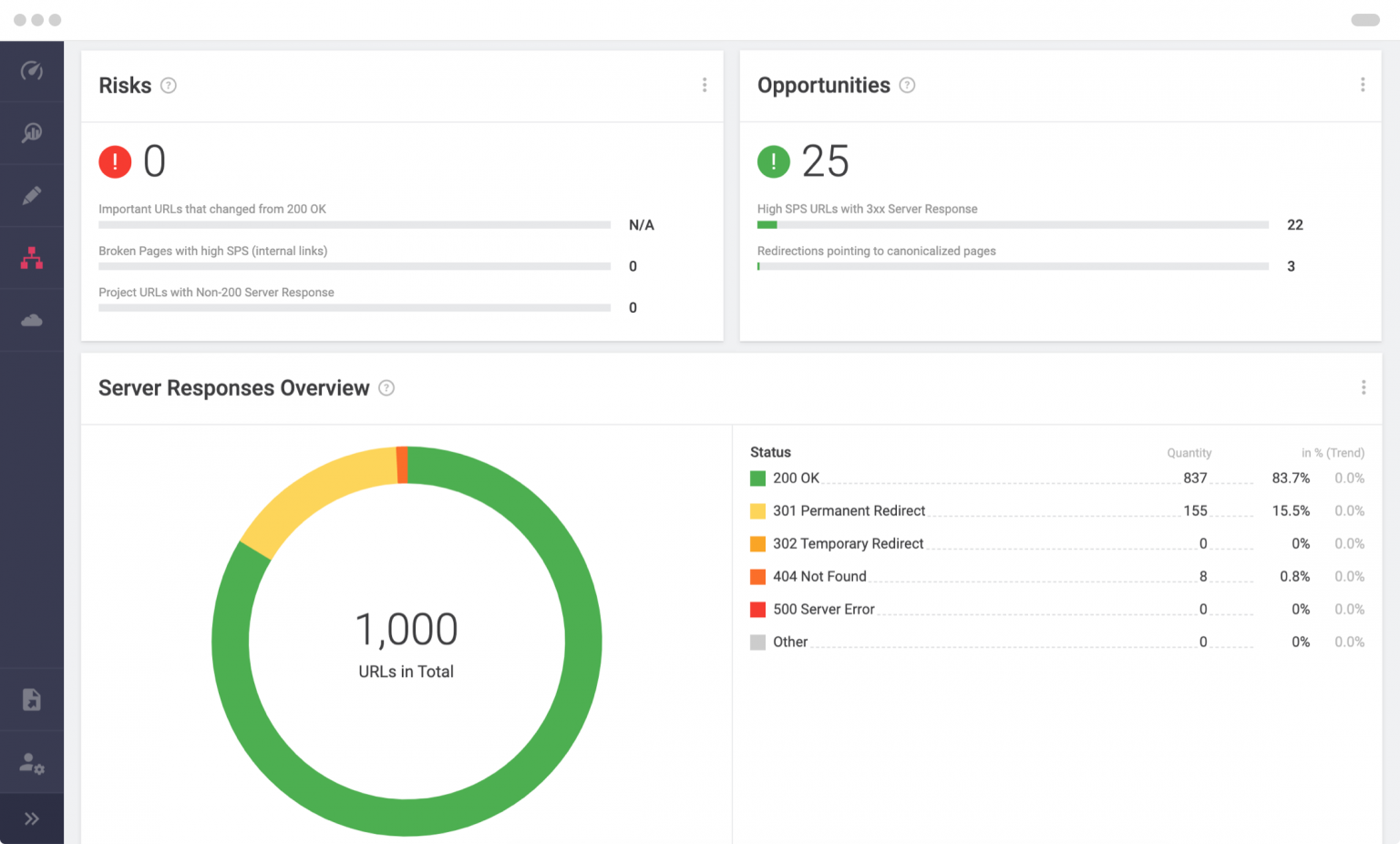 You get different on-page optimization recommendations and insights like internal linking suggestions, page speed improvement recommendations, and website structure suggestions.
You can schedule daily, weekly or monthly crawls to identify different technical errors.
Searchmetrics also offers a content optimization tool that enables you to write quality content and make your it SEO friendly. You get a content score and recommendations to add targeted keywords to your landing pages.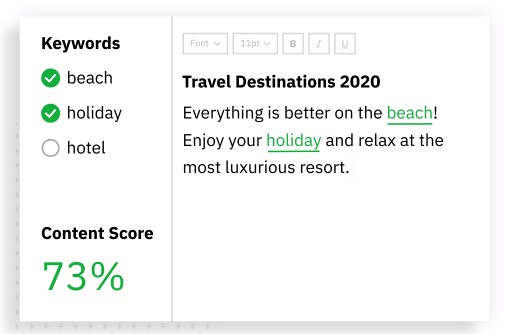 Searchmetrics Pricing
Searchmetrics pricing is not available on their website, but you can contact them here to get a price quote.
10) Google Analytics
Google Analytics is an excellent tool to understand how customers interact with your site. You can use various tools and reports to organize your data across different user touchpoints to offer a better experience and measure the success of your Enterprise SEO campaign.
Top Features:
You can set up goals in your GA account that helps you measure the most critical actions that users take on your website. You should have at least three goals set for your business.
Calculated metrics lets you create your own set of metrics based on your KPIs so that you can optimize user actions and increase revenue.
You can use content grouping to group your site content into logical categories to measure the performance of your target landing pages.
The Lifetime Value metric lets you understand how much value different users create for your business based on individual sessions.
The Behavioral Flow report lets you uncover the exact path users take to discover your content.
The Goal flow report enables you to see how users reach goal conversion. You can also see where users drop off from your site.
The Site Search feature lets you find the searches that visitors perform while they are browsing your website. You can use these phrases in your SEO strategy to target high-intent keywords for more sales.
Google Analytics Pricing
Google Analytics is free to use.
How Do You Know if Your Company Needs Enterprise SEO Software?
You can determine whether your enterprise needs SEO software or not by answering these questions:
✅  Do you want to increase traffic to your site?
✅  Do you wish to expand your business into several locations?
✅  Are you looking to cut costs while improving your profits?
✅  Do you want to increase the productivity of your existing SEO team?
✅  Are you looking for a solution to track your SEO ROI intelligently?
✅  Do you want to outsmart your organic competitors?
If the answer to the above questions is YES, then you need an Enterprise SEO platform.
You don't have to be an international brand to invest in SEO software. If your website consists of thousands or even hundreds of pages, you need an SEO tool that can perform quick site audits, detect issues, and suggest recommendations to keep your SEO strategies in top shape.
Every company wants to boost the productivity of its SEO team by acquiring new customers and converting the existing ones. The Enterprise SEO platform acts as a propeller and speeds up the efficiency of your SEO team. The result is excellent campaign results and huge profits.
Related Content:
* 9 Quick SEO Tactics That Only Take 10 Minutes to Implement
* 10 Effective SEO Techniques to Drive Organic Traffic in 2023
* B2B SEO: How to Rank Your Business Website Higher in Search
* SEO Strategies Based on Your Business' Unique Competitive Advantages

Enterprise SEO Software FAQ
1) What is the difference between regular SEO software and Enterprise SEO tools?
A regular SEO tool is designed to handle smaller websites and has limited crawling and issue detection capabilities. Enterprise SEO software easily handles large websites and processes large sets of content blocks to optimize them for the search engines. It also has unlimited crawling capabilities which works diligently to find issues on your site. 
2) What is Enterprise local SEO?
When more prominent brands have their business in several physical locations, local Enterprise SEO helps the company to optimize their business presence in every location. In such a scenario, you need an Enterprise SEO platform with strong local SEO capabilities.
3) Is Enterprise SEO necessary?
Yes, Enterprise SEO is necessary for all large organizations to help speed up their SEO efforts and improve efficiency of their SEO strategy, which will lead to acquiring much more relevant organic traffic and thus improve their bottom line.
4) How does Enterprise SEO software help improve ROI?
Enterprise SEO software works continuously to improve the organic presence of your website. With an increase in organic rankings, your business gets new customers, and the revenue often exceeds your investment in the longer run.
5) Which software is best for SEO?
Obviously, there is no one right answer that applies to all companies for all SEO tasks. Which SEO software you choose will depend on the size of your company, the goals you are trying to achieve, the specific challenges your business has, etc. But as a general rule, this list comprises the best software for Enterprise SEO purposes:
SEMrush
Moz Pro
Ahrefs
SpyFu
Majestic SEO
Screaming Frog
Google Search Console
Searchmetrics
Google Analytics
Final Thoughts on Enterprise SEO
Enterprise SEO undertakes a comprehensive approach to standard search engine optimization. It is the big kahuna of SEO because everything happens on a large scale. Whether it's site audits, content optimization, meta tags optimization, hreflang optimization, link acquisition, etc., every activity requires several target pages.
Improving the revenue of larger organizations is challenging. Enterprise SEO platform offers a helping hand to your SEO team to overcome this challenge and elevate your business profits.
Start using one or more of these Enterprise SEO tools to beat your competitors in the organic search results and get achieve better visibility. Improved branding, higher organic clicks, and increased conversions help your organization achieve all your business goals.